In the wee hours of the night here in North America, Ford Australia revealed the newest generation of Ranger. It's a truck that I have been hotly anticipating since I drove the Bronco this summer. And the results are better than I expected. It's stylish and has an interior that would make lower-end Audis green with envy.
There's one catch, though: This is the global Ranger, not the U.S. Ranger. And, as Ford's American PR rep told me, "We'll share more details about the next-generation Ranger for North America at a later date."
Despite this not being exactly as U.S.-spec rig, there's a lot to be excited about. So let's dig in.
Size & styling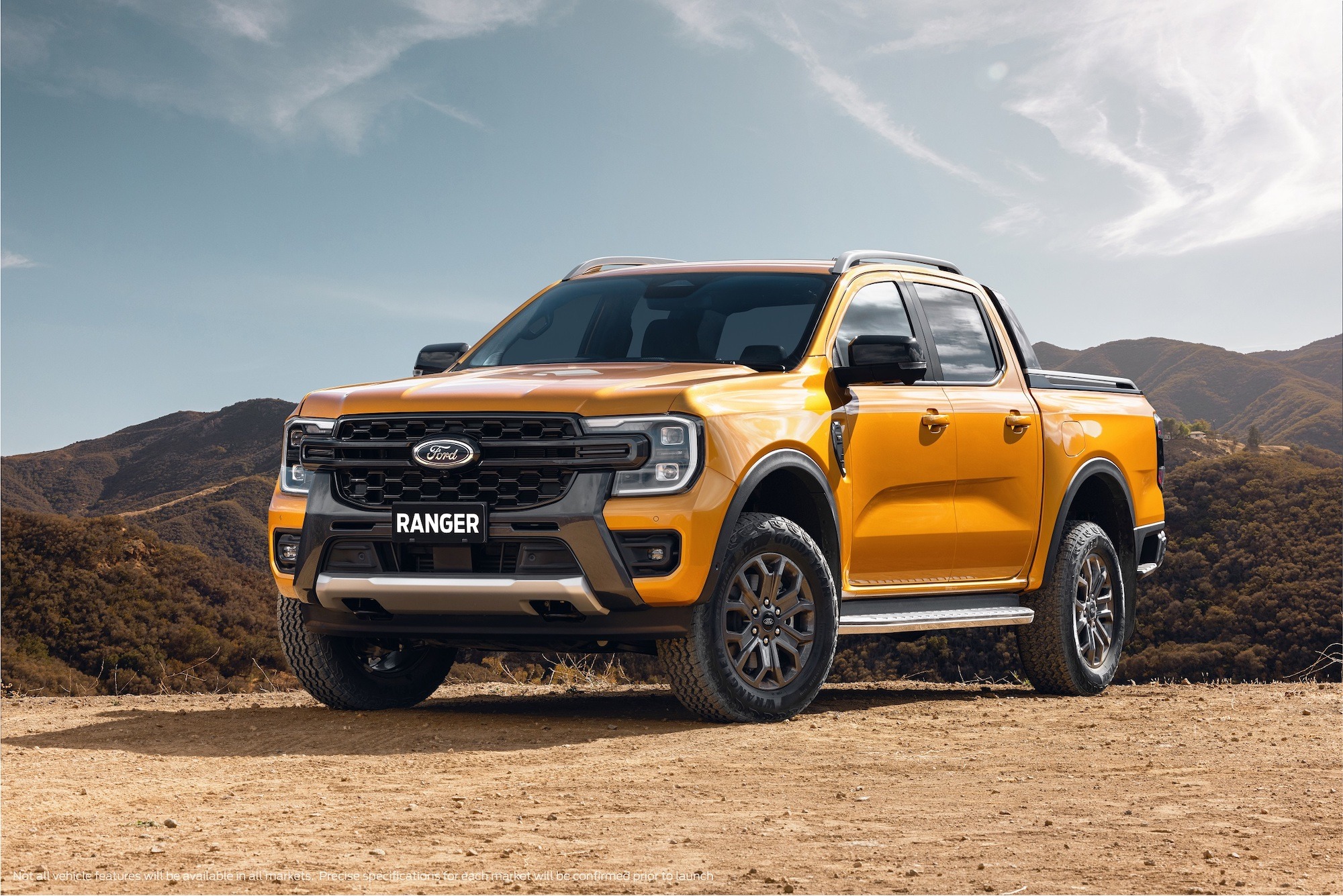 I think the current Ranger is great looking. I was worried that with the refresh it'd lose some of its understated styling cache. Designers have made nice stylistic improvements without cluttering the thing.
More than just reshaping the look, designers also stretched the truck just a bit — 1.9 inches to be exact. The front wheels are 1.9 inches further forward for better approach angles and the truck itself is also 1.9 inches wider, giving it a more planted feel on the road as well as a bit more interior space.
The headlights mimic the F-Series C-clamp lighting scheme and the grille is a bit F-150-ish, too, without being just a smaller version of the full-size family. I was worried the Ranger would just be a twee F-150 or an embiggened (totally a word) Maverick. It blends the two designs nicely and gives the Ranger its own feel.
The different trims, XLT, Sport, and Wildtrak (new for Ranger) have their own distinct design features, too. And there seem to be both four-door short bed and extra-cab long bed variants as well. Missing is the quad-cab long-bed version of my dreams, though.
Interior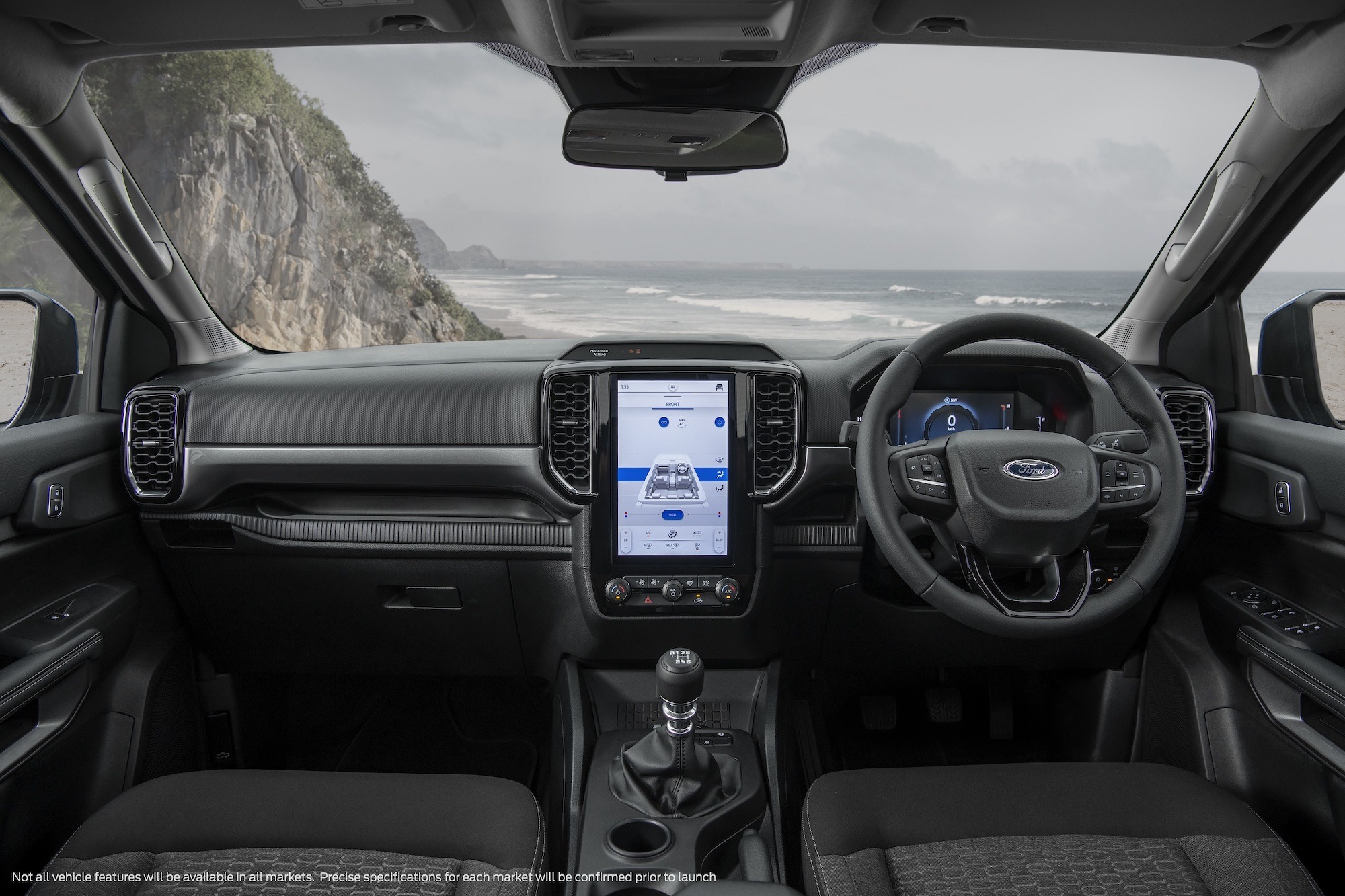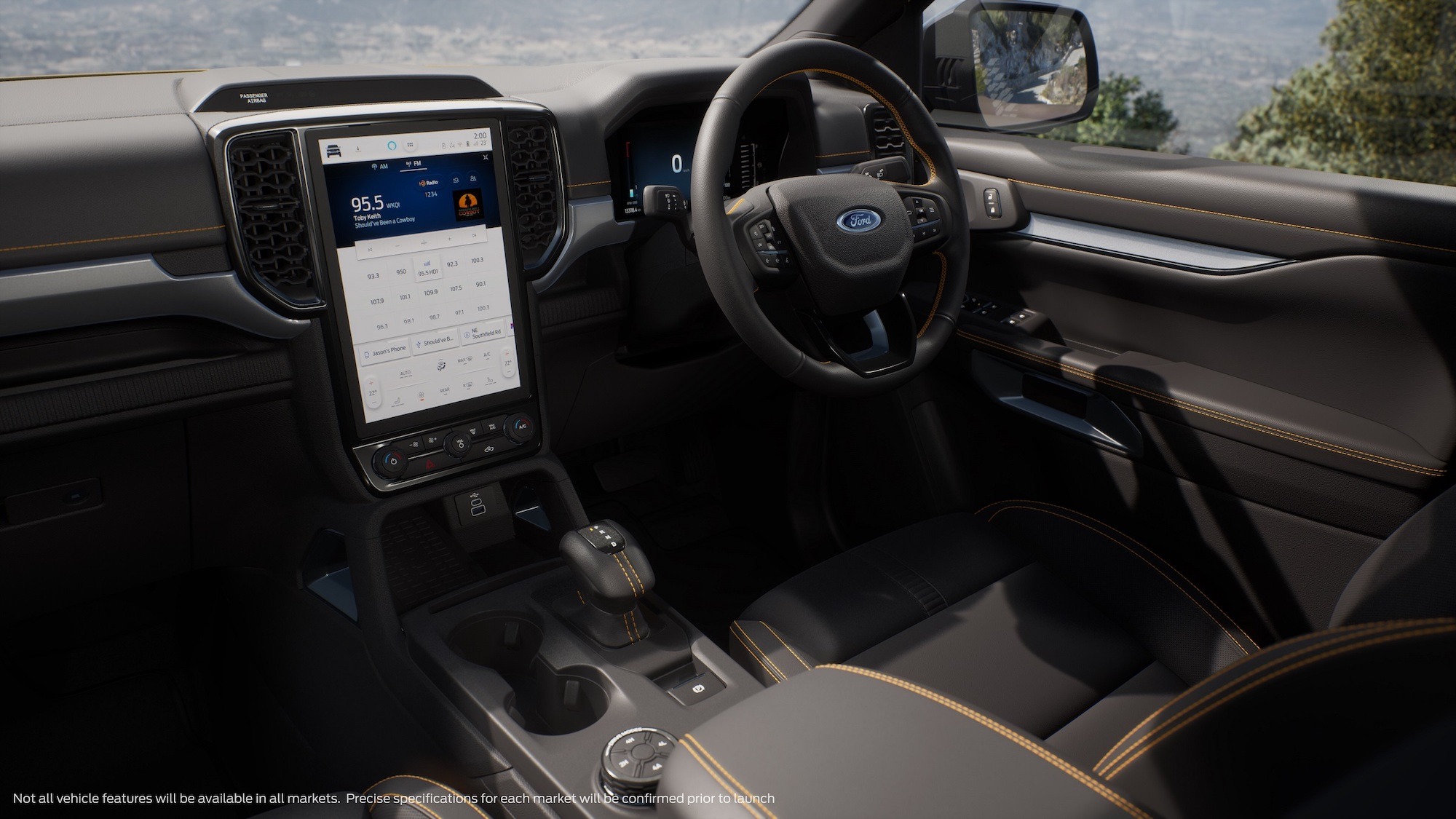 The most substantive changes to the Ranger come on the inside. The current Ranger, though it's only been sold in the U.S. since the 2019 model year, is based upon a very old global truck. This is most apparent when you plop down inside one. Looking around the current Ranger cabin, you feel like you've been transported back to 2006.
Looking at these images, the next-gen Ranger has an interior worthy of its time. For example, the touchscreen in the center dash has a portrait orientation and comes in a 10.1-inch size as standard. However, a 12-incher is optional.
The rest of the interior looks incredible, with accent stitching throughout and soft-touch materials as far as the eye can see. It appears to be on par with the kind of interiors Audi is producing, the brand most widely considered to be the king of interior design.
Propulsion
Since this is the Australian Ranger, the country that championed development of this Ranger, it's offered with a turbodiesel V6 or a 2.3-liter EcoBoost inline four-cylinder. I can practically promise you that the American Ranger won't be sold with the diesel.
Instead, since designers specifically reshaped the front end to fit a V6 engine, I am anticipating we'll see the gas-burning 2.7-liter EcoBoost V6 instead.
Studying the images of the right-hand drive, Australian-market model, we see both an automatic shifter and a manual. Likely, as is with the case with the current U.S.-spec Ranger, the manual option will not make its way stateside.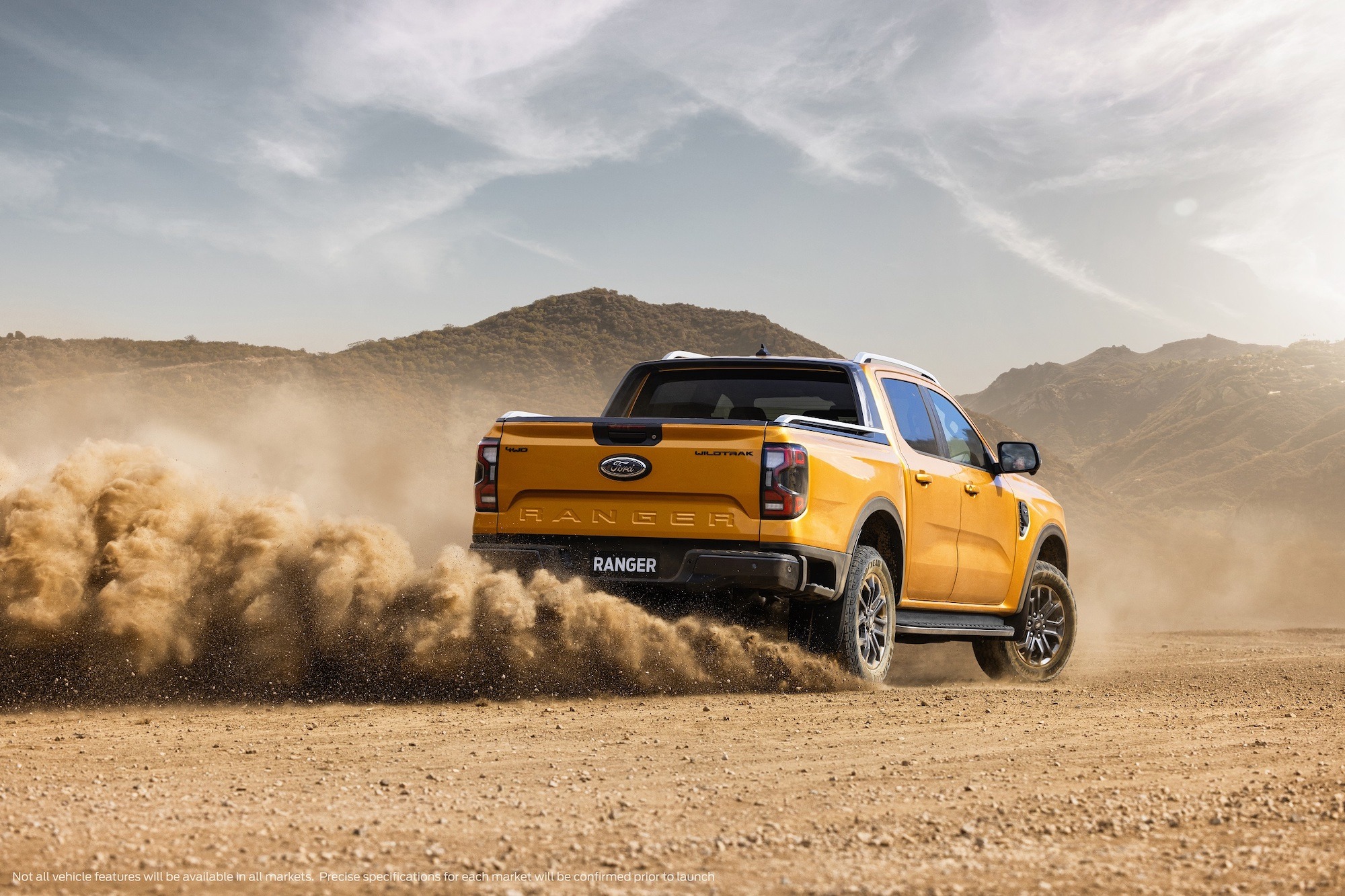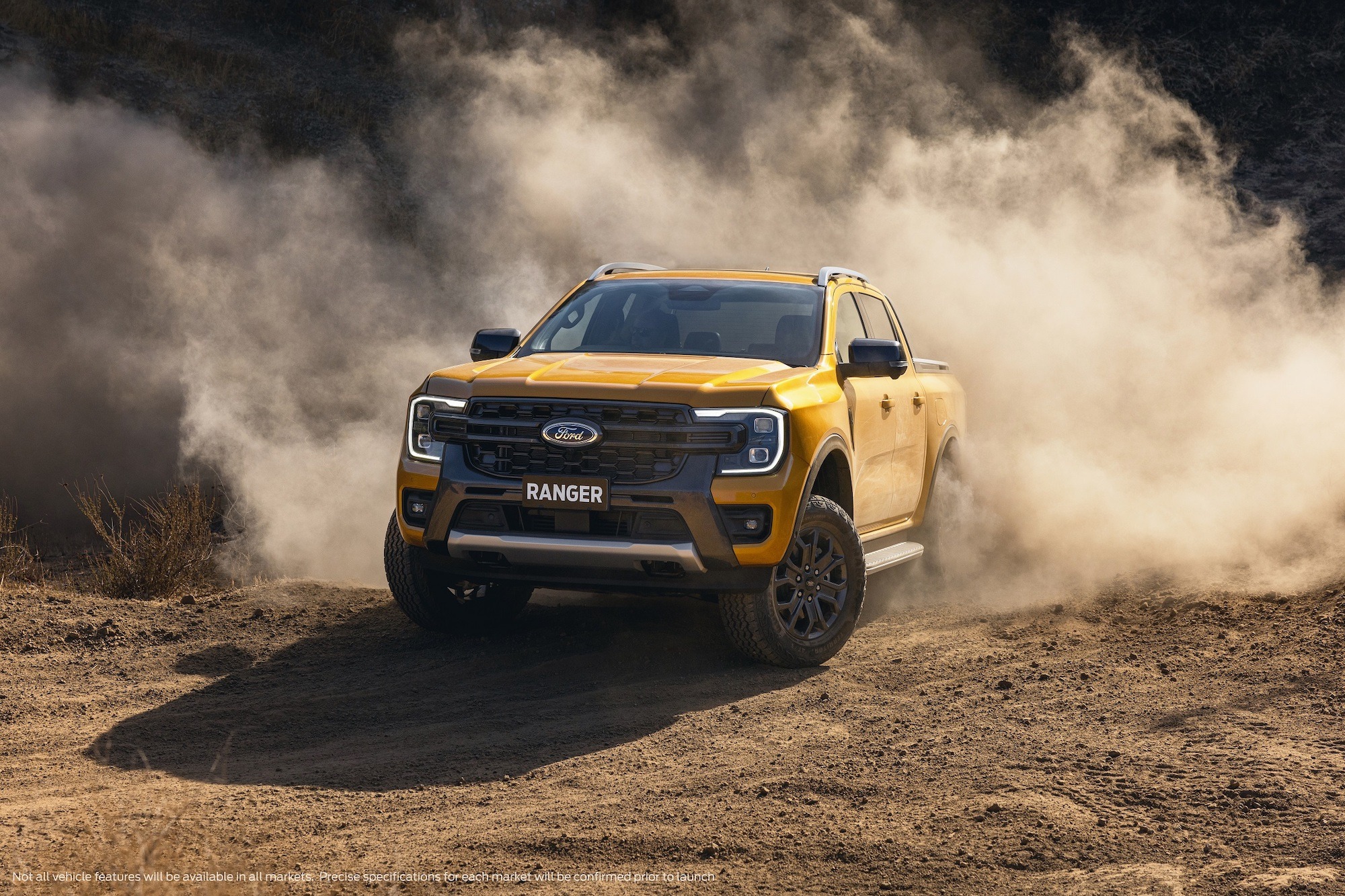 That said, this truck rides on the same next-gen global mid-size truck platform as Bronco. And Bronco is offered in manual. So, maybe there's a chance we will see a manual next-gen Ranger here, too.
The best is yet to come
Extrapolating from what we've seen from Bronco Wildtrak, a name Ford has now leveraged for the new Ranger, the next-gen Ranger will likely come in more off-road-capable trims. It's unlikely, though, that we'll see the Ranger Raptor here in America, though.
Also like Bronco, Ranger will be offered with a range of almost 600 fully factory-backed work, urban, and adventure accessories, depending on the market. These accessories include those developed in collaboration with global off-road icon, ARB 4×4 Accessories.
This effectively solves one of the biggest complaints I have with most new would be overland rigs: no aftermarket support.
I want a new rig, but I also don't want to have to drive it stock for 18 months before the aftermarket tools up. If I can pick up a new Ranger and some ARB kit for it in the same week, I would be extremely happy. Kudos to Ford for keeping its relationship with ARB going for more than just Bronco parts support.
All of this excitement is a bit premature because we don't yet exactly know what the U.S.-bound Ranger will be like. Or, worse yet, when it'll get here.
I am currently in the market for a new truck and this Ranger is exactly what I want. I sure hope Ford HQ pulls together its plans for the new American Ranger soon. I sure would like to have one in my driveway this year.