Say what you will, but the 80s brought us many great things including; mix tapes, mullets, neon, video games, and movies like Ferris Bueller's Day off and The Breakfast Club.
One lesser know, but still incredible product of the 80s was the Toyota Sunrader Truck Camper, and for all intents and purposes, it was the first widely-available lightweight, go-anywhere, home on wheels. There were two rolling around in my hometown in the late-80s and I loved them. Built on the ubiquitous and long-lasting solid front axle Toyota 4×4 Pickup, the Sunrader consisted of a fully-fiberglass, watertight shell with all the amenities, including; a wet bath / toilet, built-in heating and air conditioning, a kitchenette with a fridge and stove, and two sleeping areas.
Sadly, the 4×4 version of the Toyota Sunrader was only built between 1985 and 1988, so they are quite rare, Fortunately, there are still a few rolling around in the overland community.
Toyota needs to bring back the Sunrader, am I right? …Guess what? They did!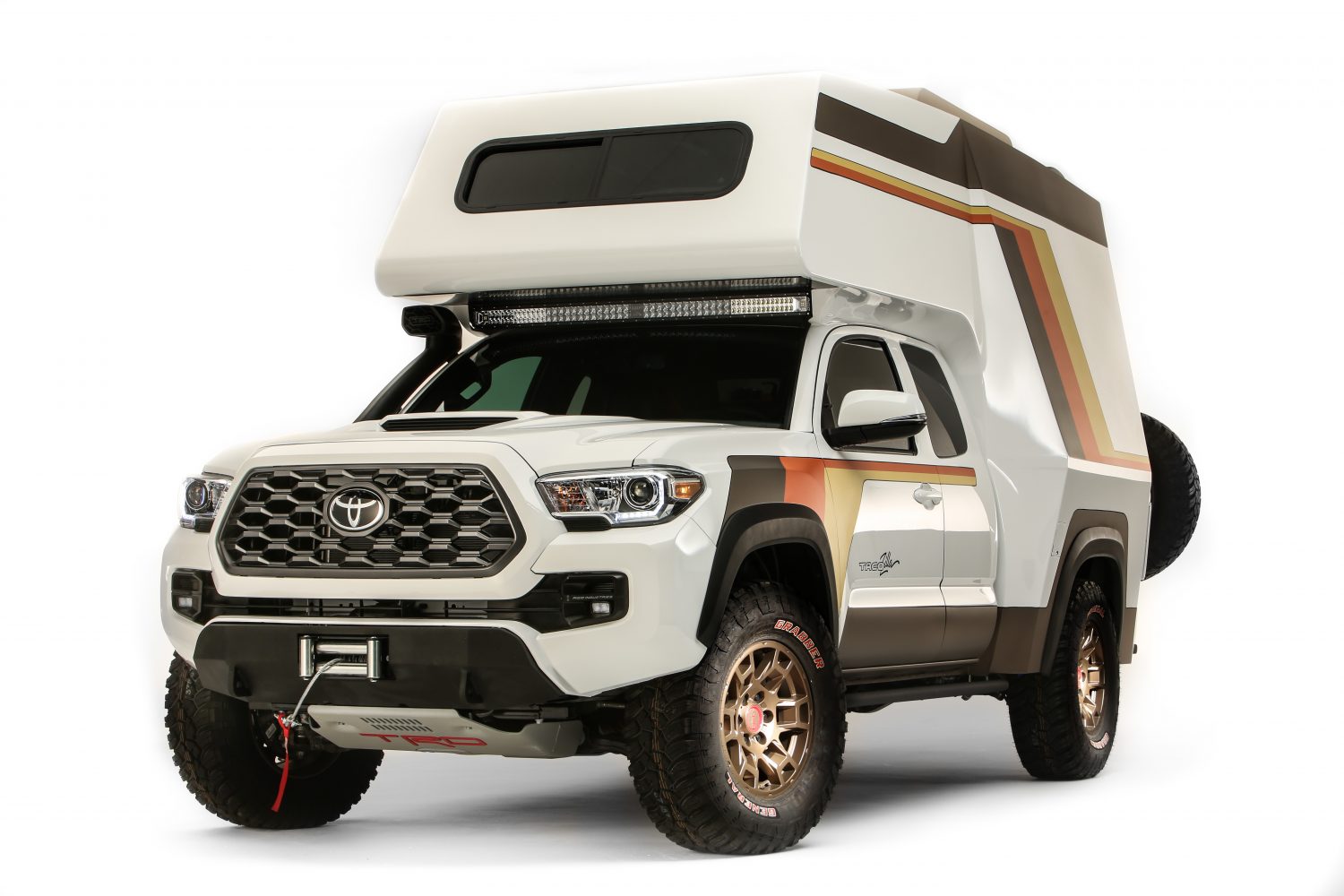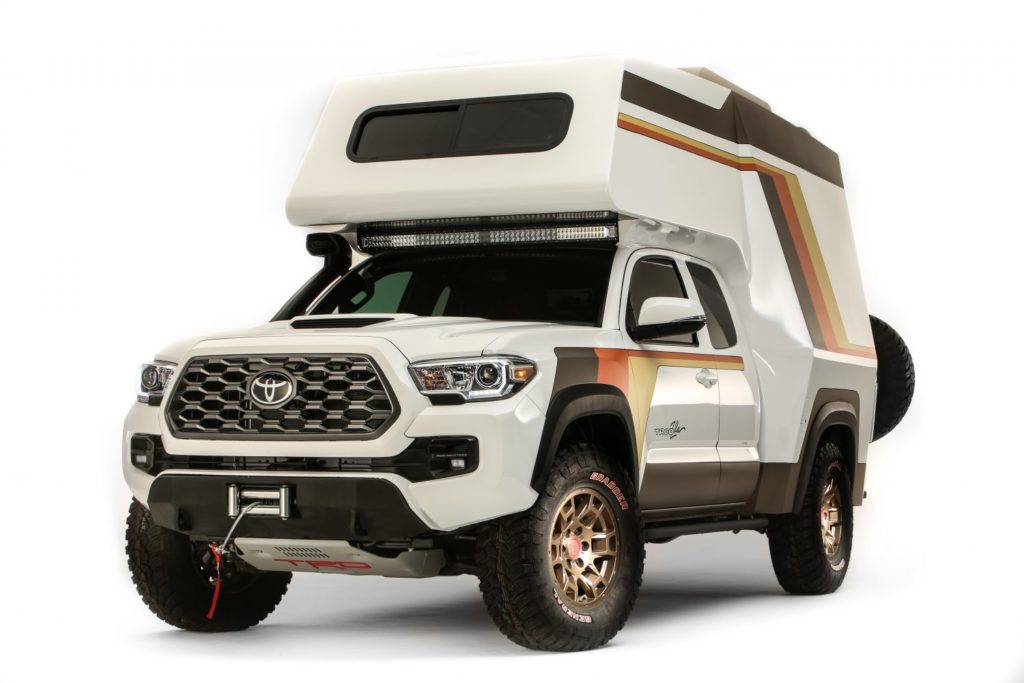 On display at The SEMA Show 2021, is TacoZilla, a go-anywhere, lightweight explorer built on a 2021 Toyota Tacoma TRD Sport 278 horsepower 3.5-liter V6 pickup, this home on wheels is outfitted for any type of adventure.
Marty Schwerter and the Toyota Motorsports Garage team wanted to create a camper that could go anywhere on the planet and be able to navigate the same steep trails that a normal off-road Tacoma can tackle. On the exterior, the team outfitted the rig with standard TRD Sport suspension with a two-inch lift and TRD billet upper control arms, TRD skid plates, TRD raised air intake, 17-inch TRD wheels wrapped in General Tire Grabber X3 285/70/17s. The perfectly-fitted RIGID lightbar and fog lights illuminate your way through the darkness.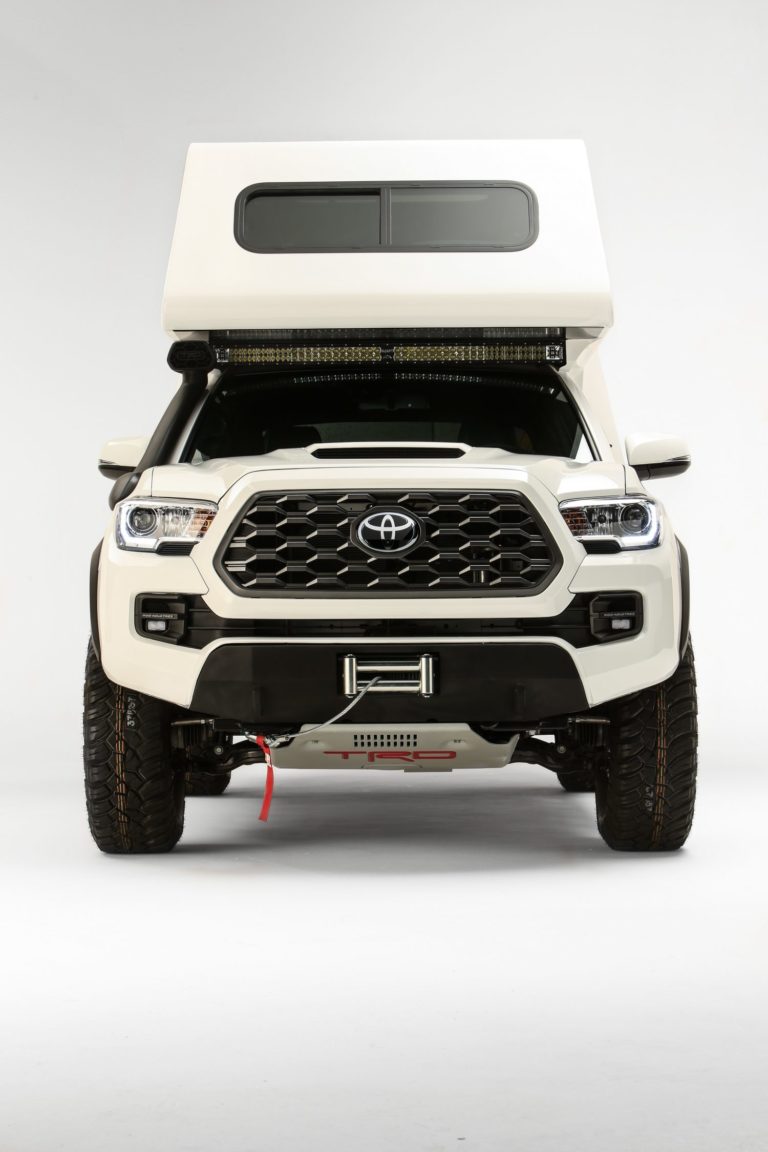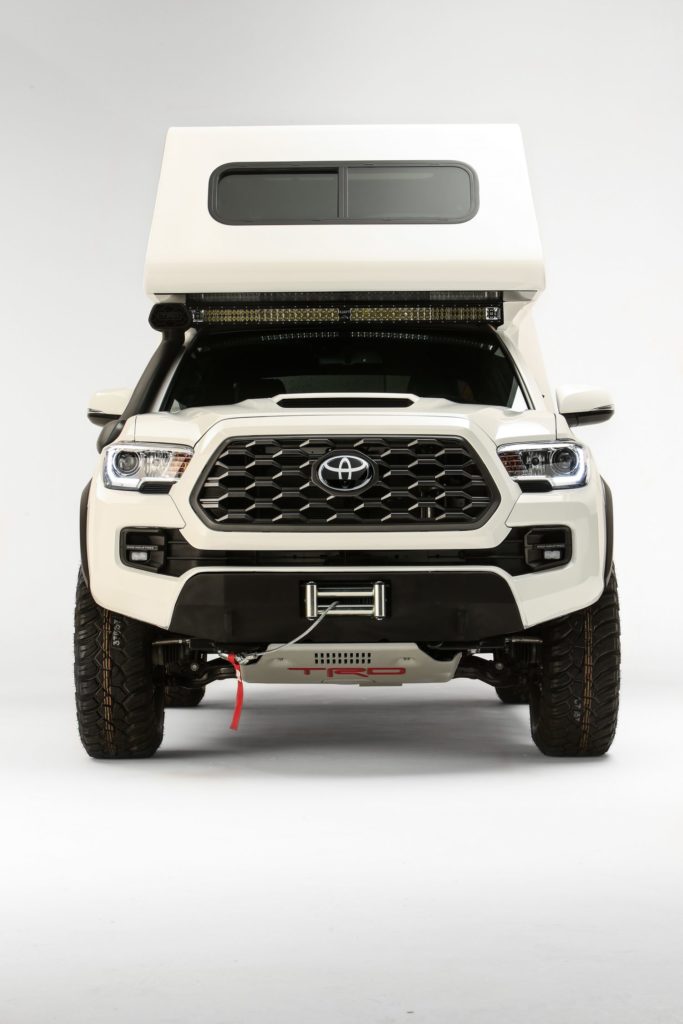 The camper itself is completely custom and while the 80s Sunrader camper was made of fiberglass, the 21st century TacoZilla version is all-aluminum. While it would have been simple to create a camper with sharp edges everywhere, Schwerter believed rounded edges and smooth aluminum surfaces would better complement the Tacoma's body lines and look more integrated and finished. I agree.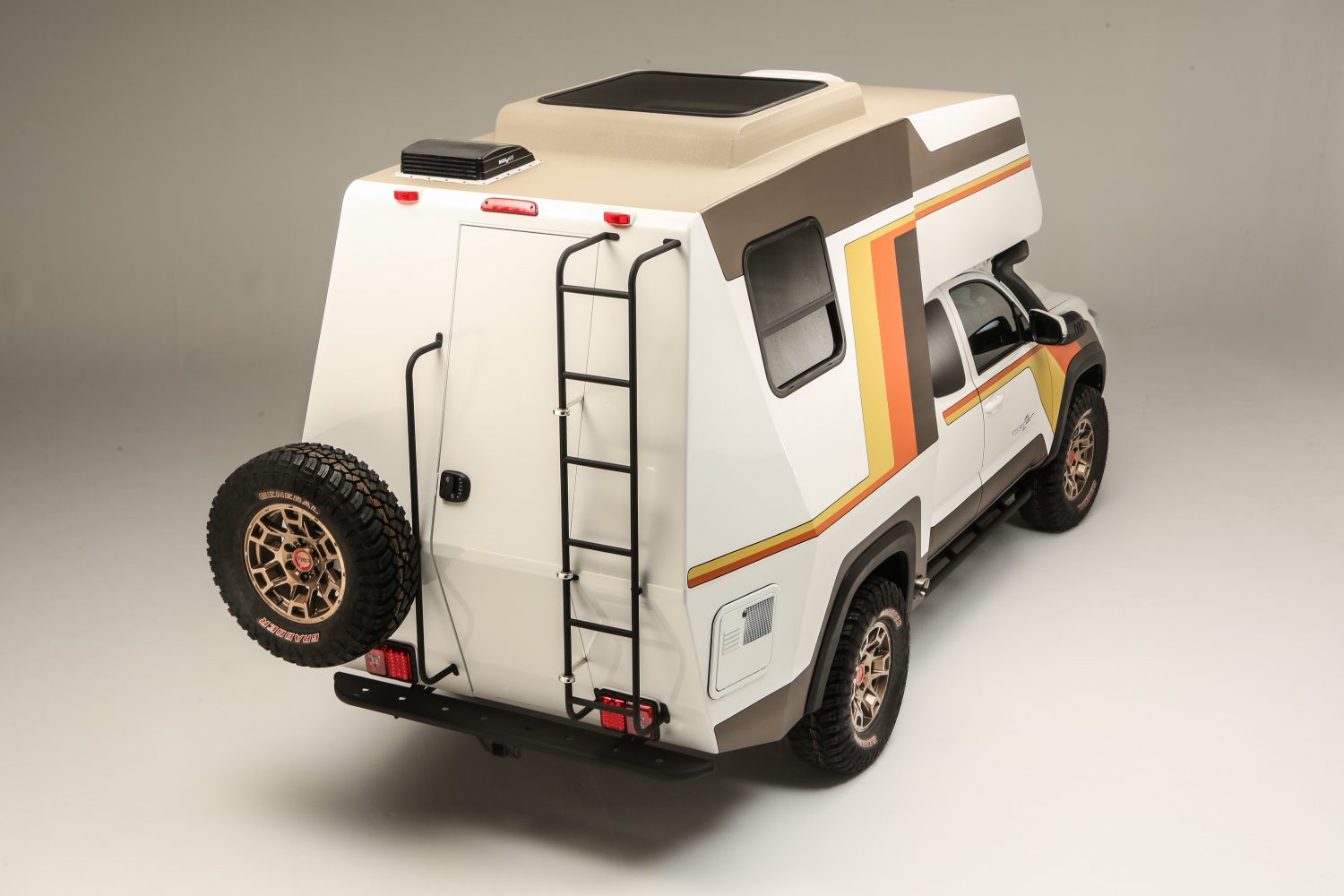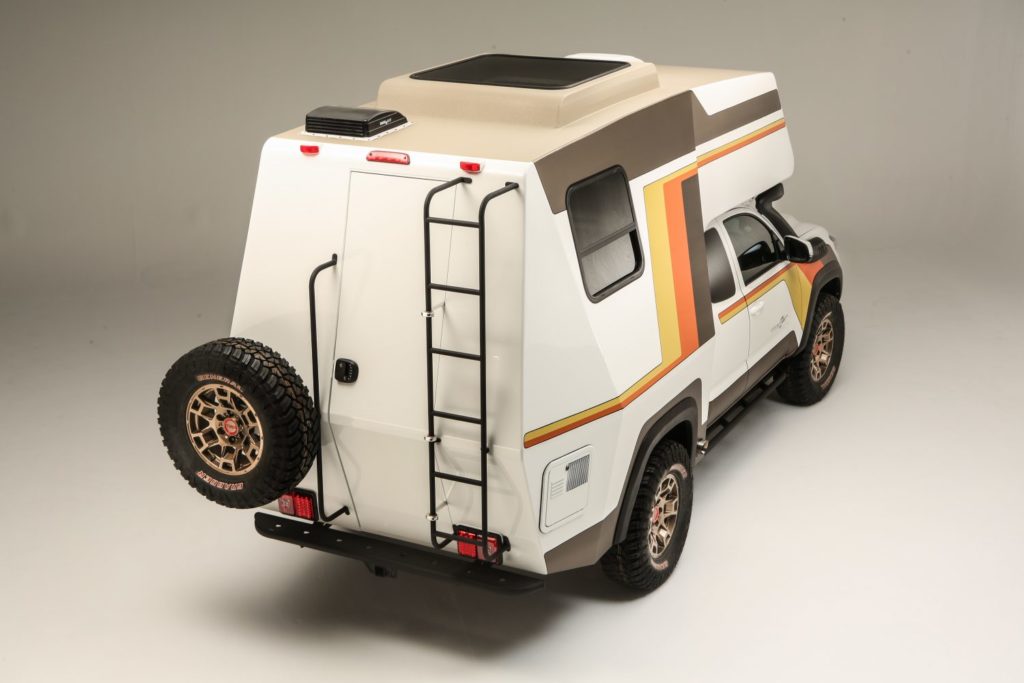 Going through the rear doorway, the fully-insulated interior of TacoZilla leaves nothing to be desired. It includes teak "sauna style" flooring, a full bathroom with hot-water shower, a full kitchen with a refrigerator, stove, and sink, a 3D-printed dining table that converts to a backlit piece of wall art, and a comfy sleeping space above the cab. A pass-though leads to the passenger compartment for quick access.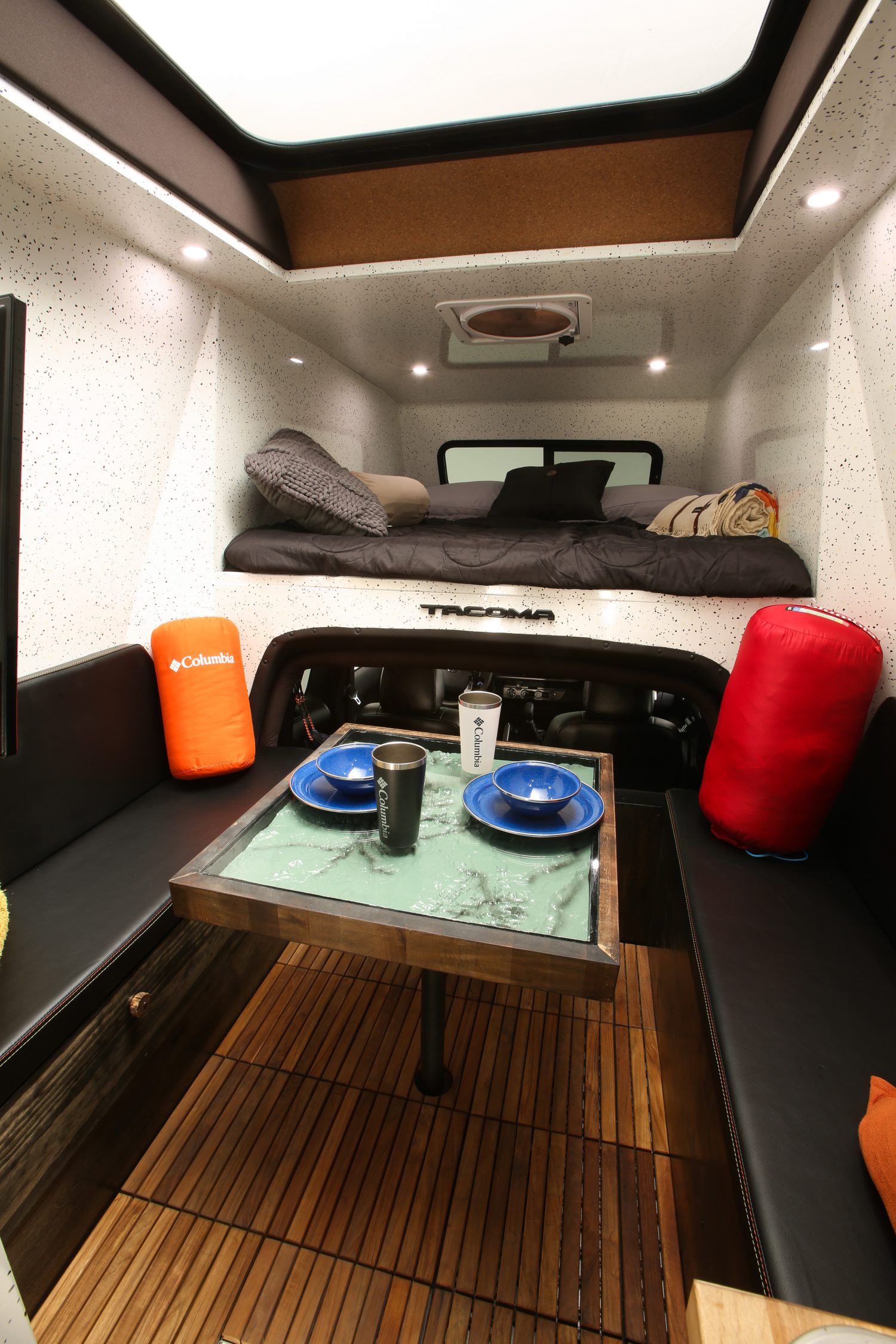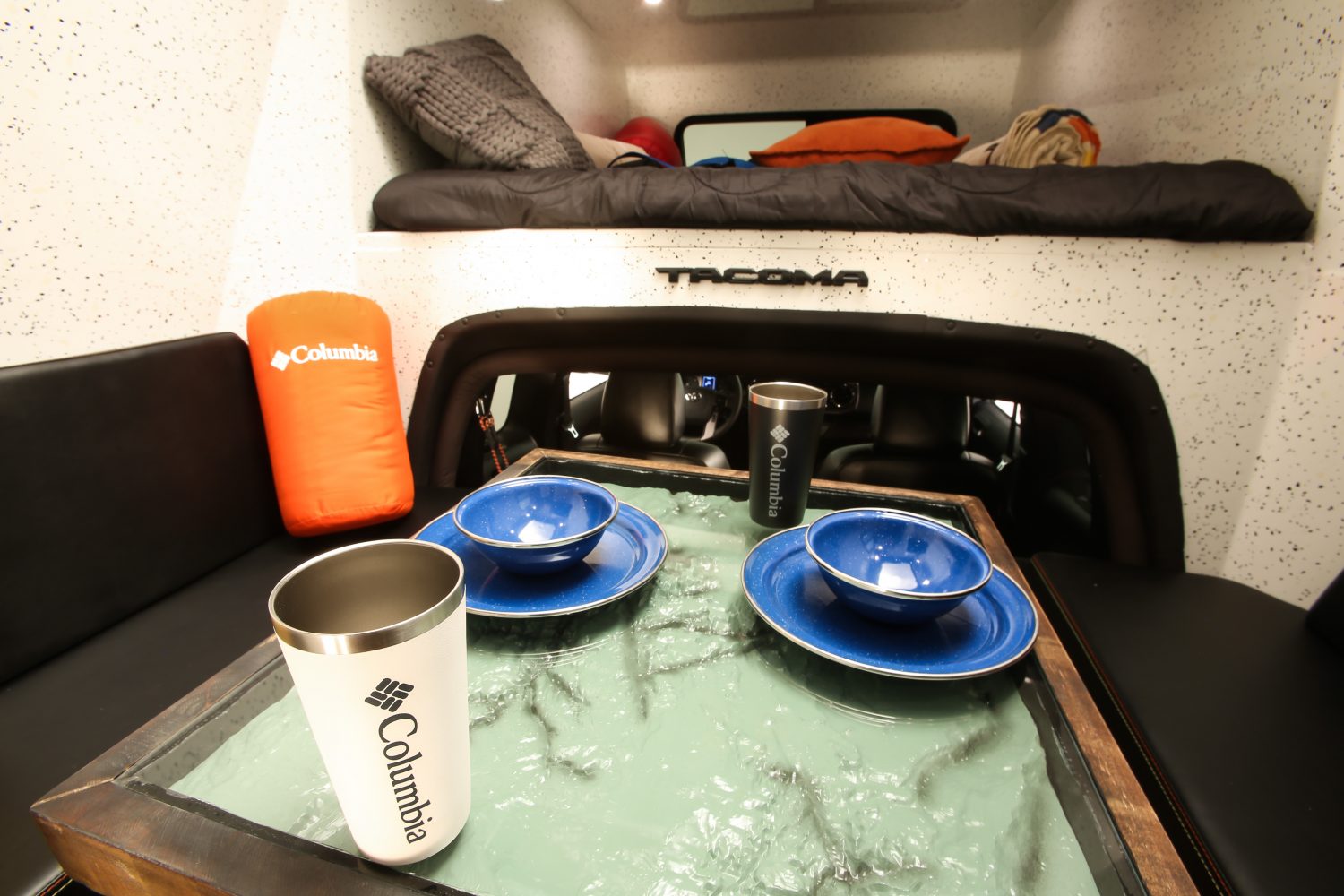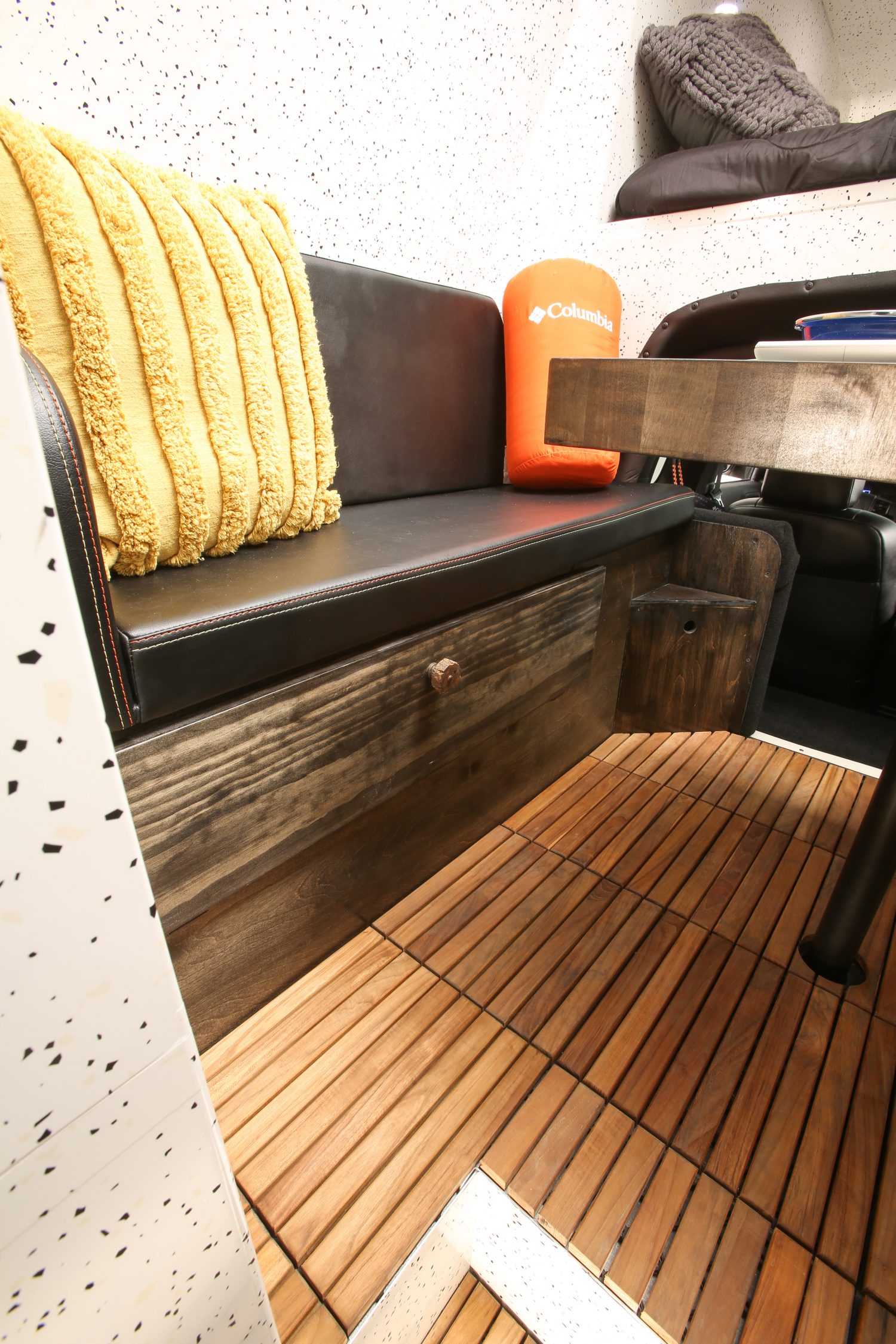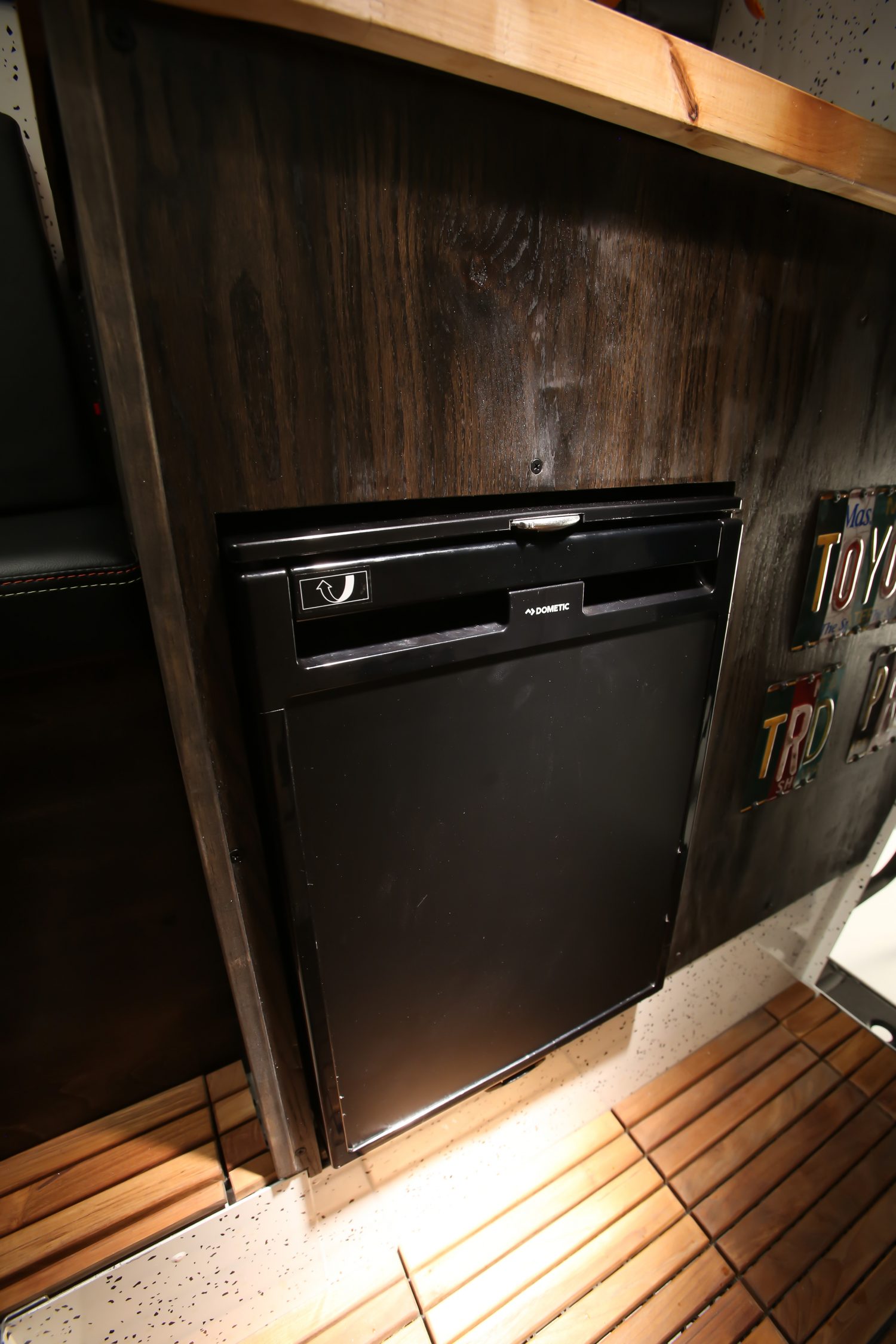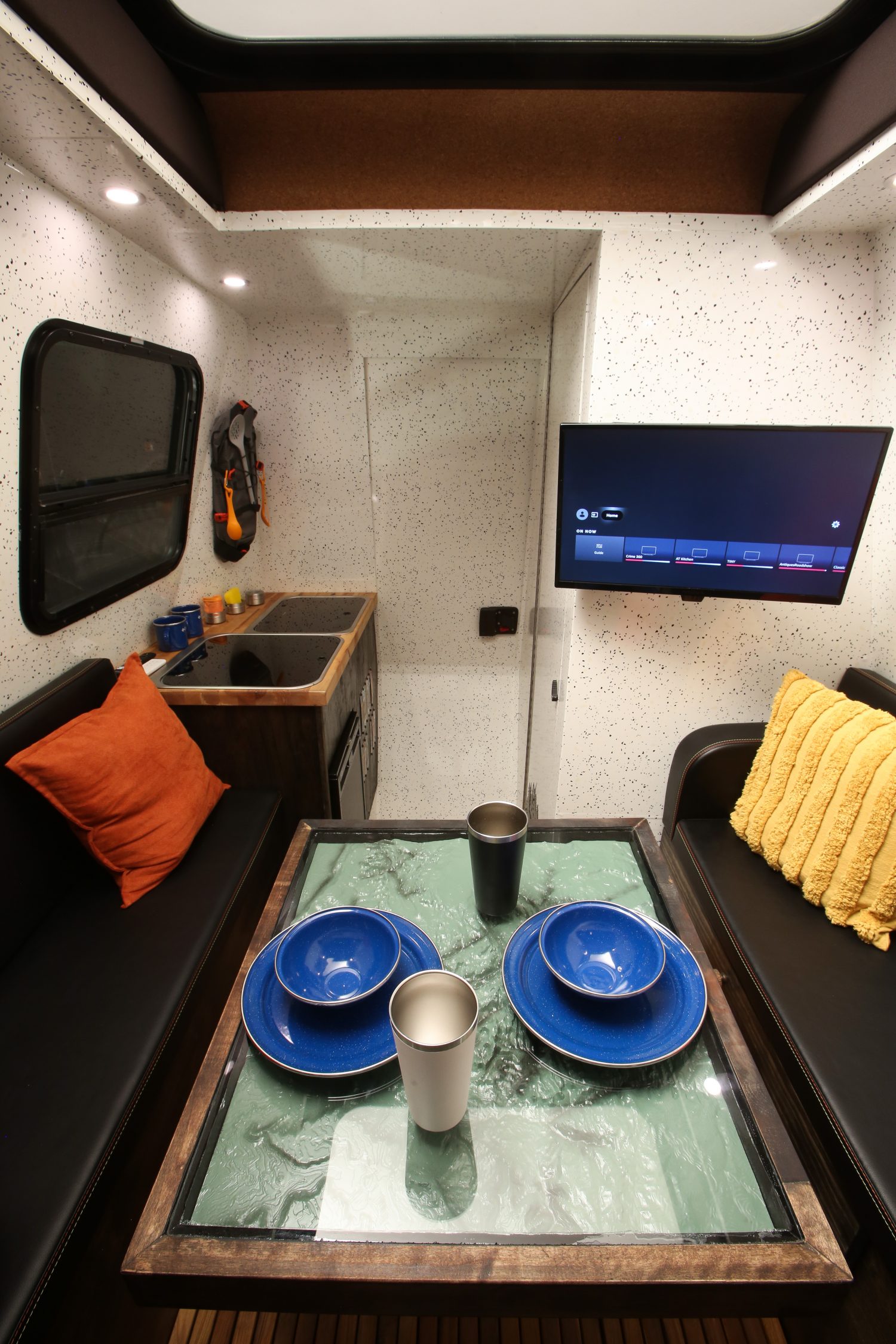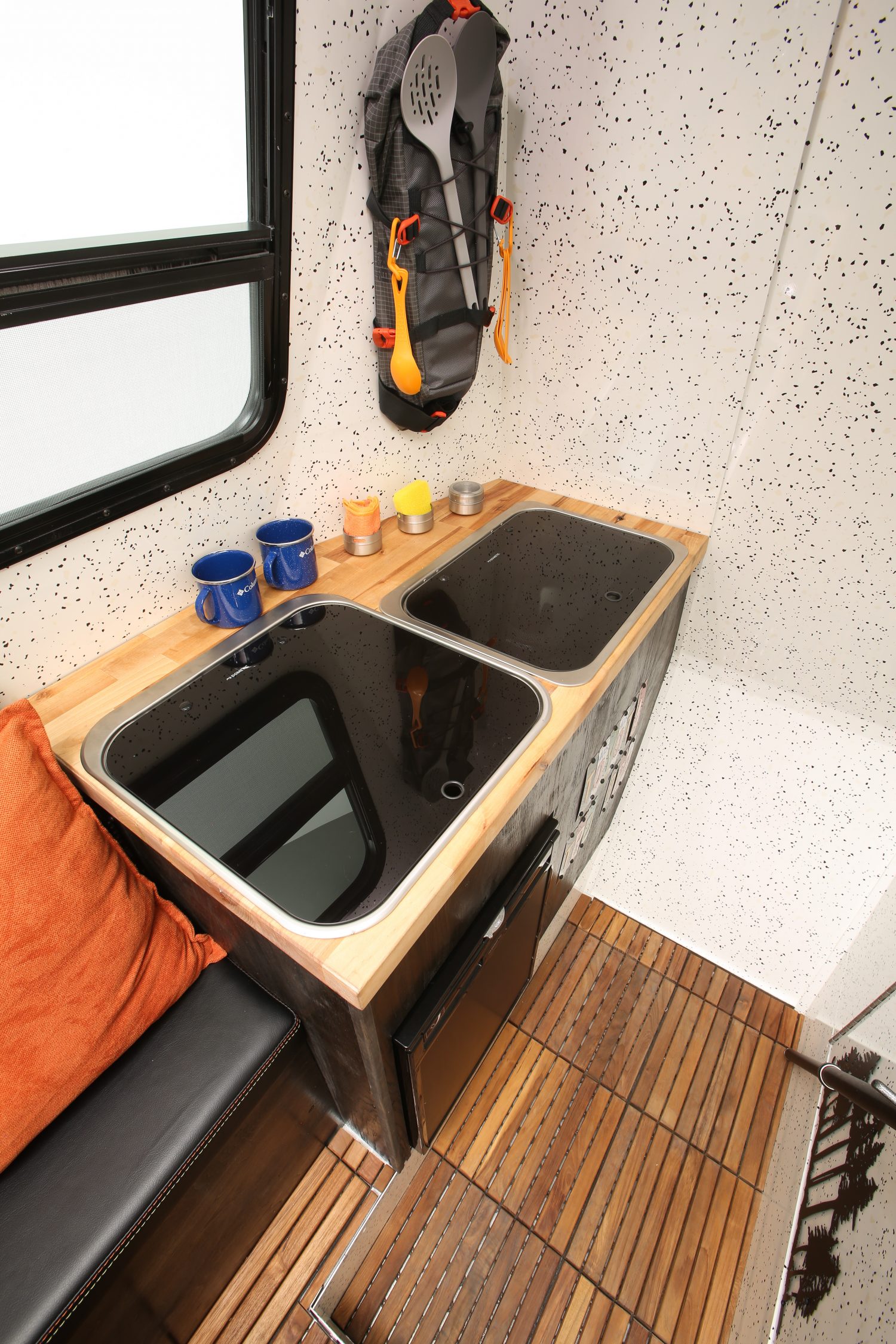 What do you say? Would you like to see these campers go into production? I know I would.