Many overlanders adventure with a furry copilot, and of course, we want our dog's gear to be high quality and dependable. With this round up of Kurgo products you can ensure that your dog is outfitted with great harnesses, hydration supplies, food bags, and more.
Enhanced Strength Tru-Fit Harness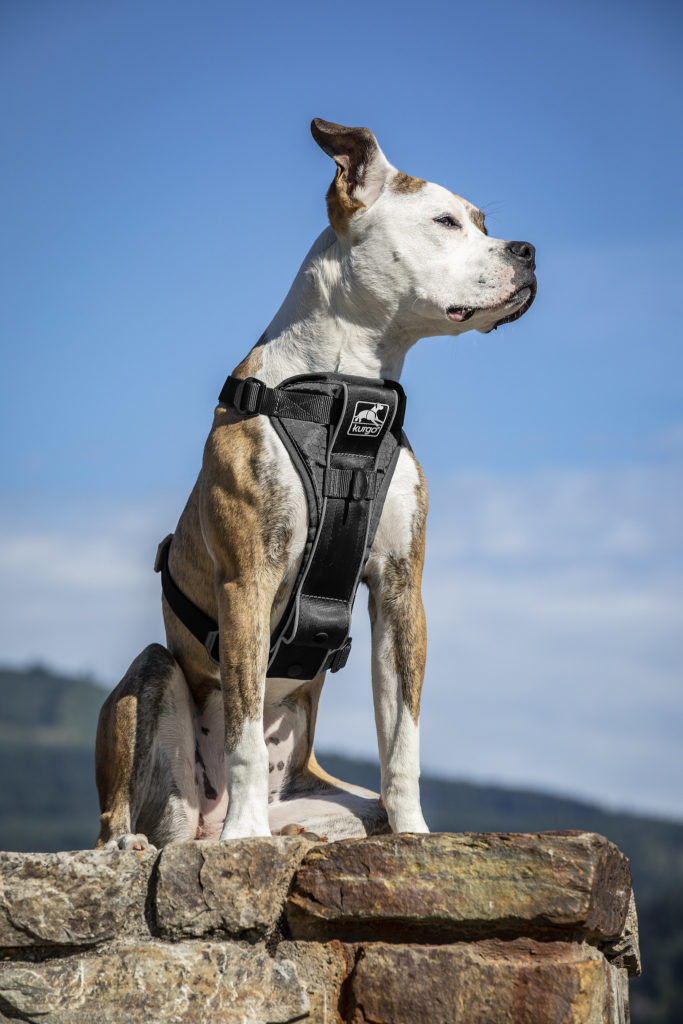 Some say opposites attract. We say comfort and safety don't have to be opposites in the first place. The Enhanced Strength Tru-Fit Harness's engineering is based on rock-climbing harnesses for world-class security; it includes five adjustment points for a custom fit and a padded chest plate for comfort. 
The Enhanced Strength Tru-Fit Harness is crash-tested for dogs up to 75 lbs. It features all-steel nested style buckles and hardware, and it includes a 10-inch seatbelt tether with an all-steel carabiner. This tether is designed to be compatible with any vehicle seat belt system. In addition, leash attachments on the back and front of the harness allow for ease of use outside the vehicle. 
We love that one harness is comfortable enough for everyday use, and it provides a safe ride to our four-legged copilots. The quality buckles make sure that dogs of every shape get a great fit, so there's no need to fret if your dog is super buff or on the slim side.
MSRP: $44.99
Tailgate Dumpster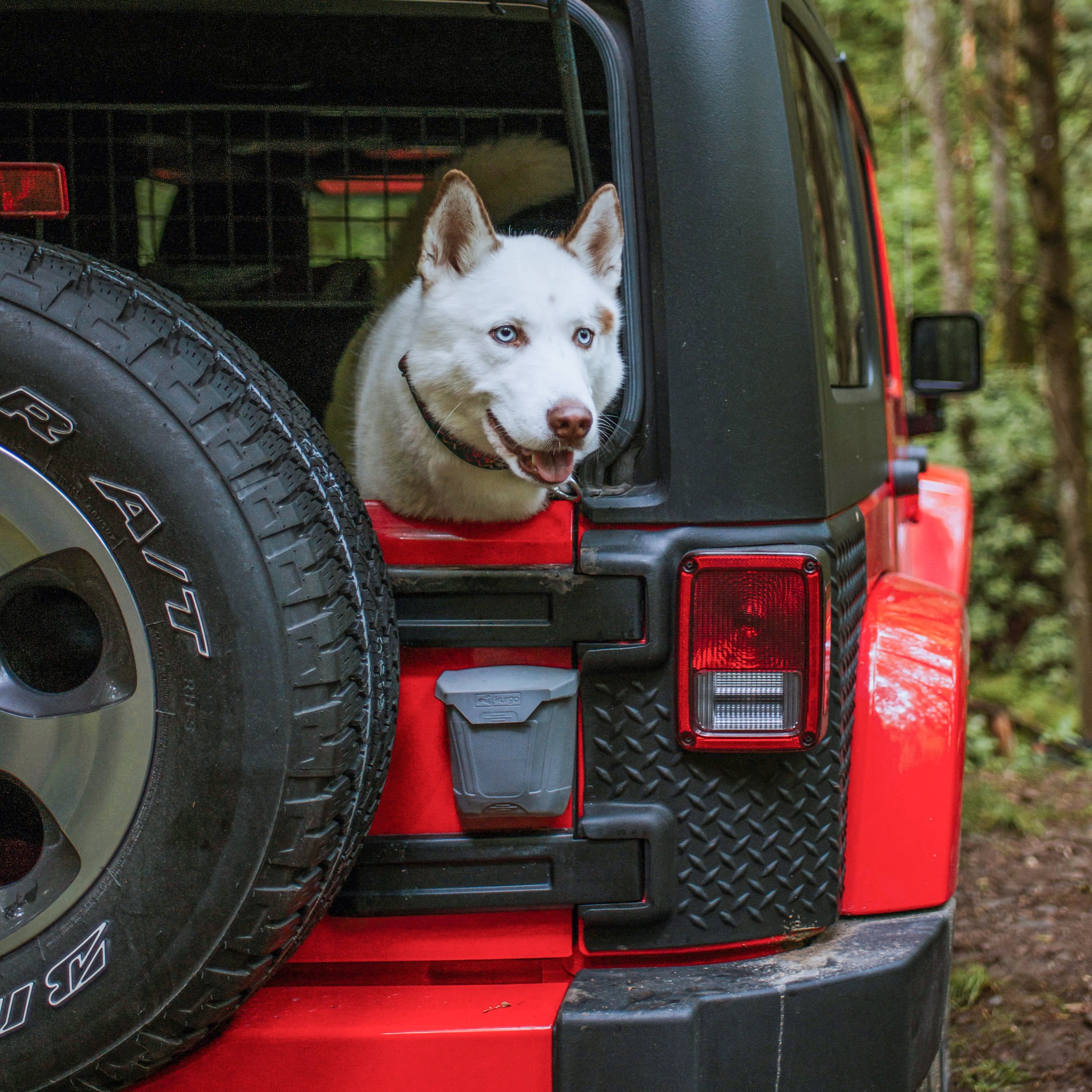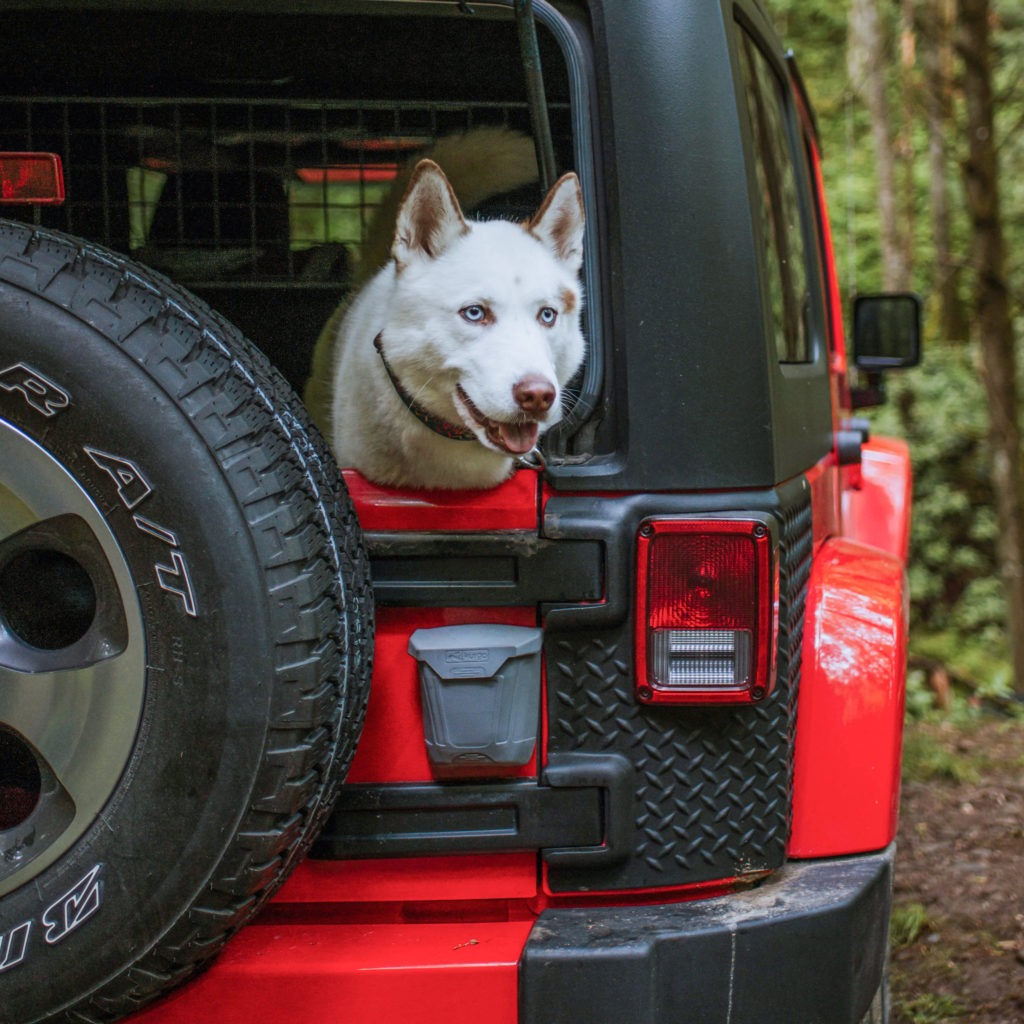 Picking up your dog's poop is one thing. Carrying it around for an hour and a half looking for a trashcan is another. The Tailgate Dumpster is a simple, long-overdue idea: a simple silicone wastebasket that attaches to your vehicle and keeps those little waste bags out of sight and out of mind until you can easily dispose of them. 
The Tailgate Dumpster holds one to two full waste bags and is made with 100% silicone. Powerful dual magnets on the back ensure a firm hold on the vehicle, and a single magnet on top keeps the lid closed. It measures 5 inches wides, 5.5 inches tall, and 2.5 inches deep. 
We love that the Tailgate Dumpster helps avoid that awkward bag-in-hand situation. It keeps the baggies isolated in an easy-to-clean container, and it's super easy to remove it from our rig when it isn't needed. Just in case things go wrong in transit, the silicone construction makes for an easy clean-up.
MSRP: $21.99
Wander Splash Free Bowl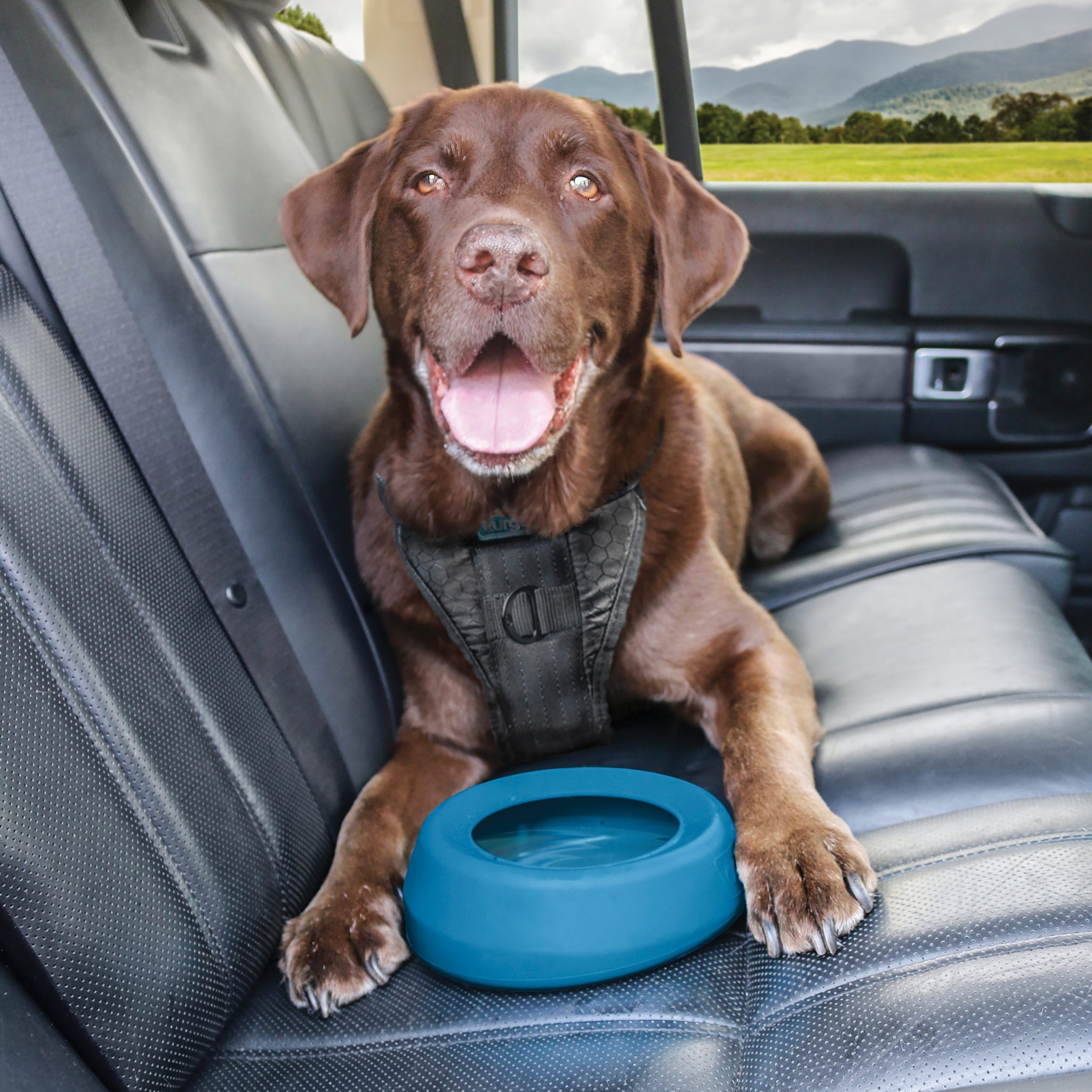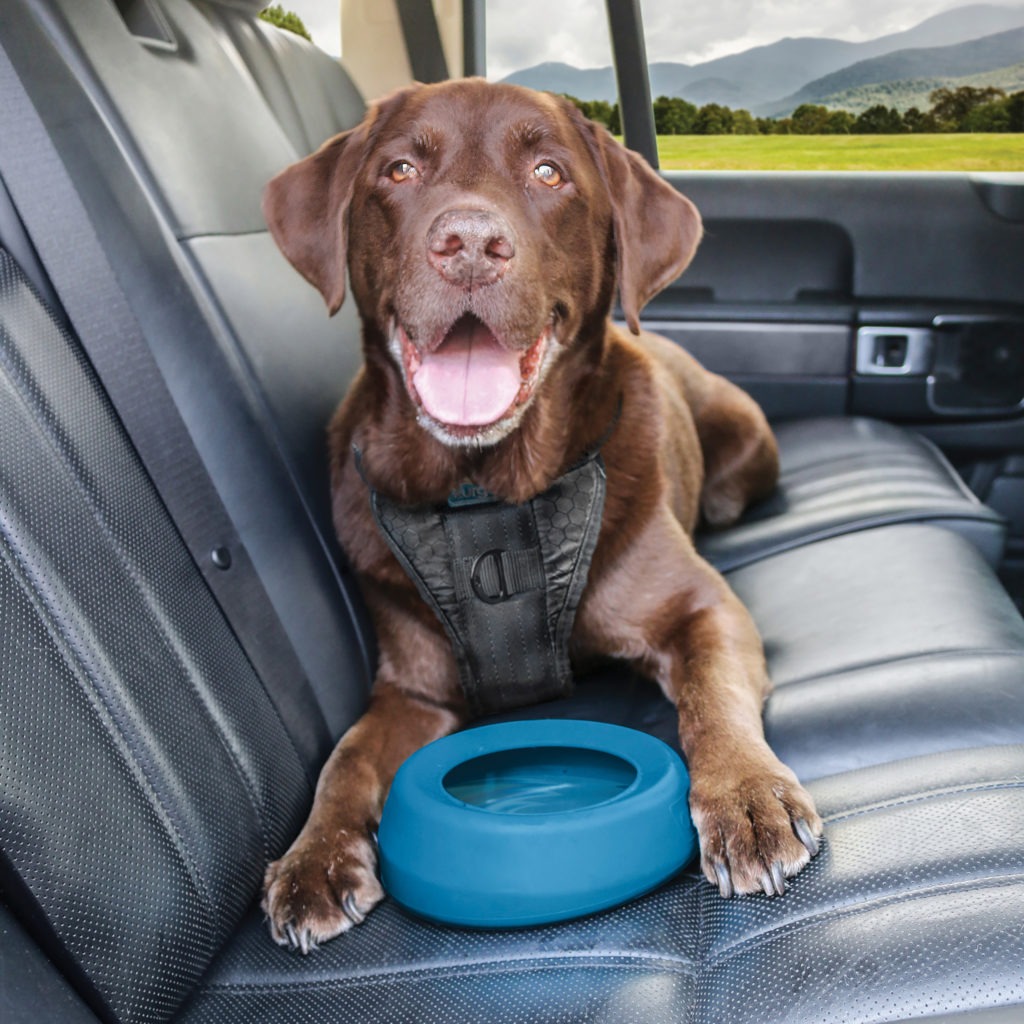 All too often, a thirsty dog ends up knocking over their travel bowl and requires assistance to get back to the business of hydrating. The Splash-Free Wander Water Bowl has cracked the code to prevent these dreaded spills. The high sides and tapered lip prevent splashing, while the unique wedge design ensures that it lays flat on the seat. Having a refreshing drink whenever you want softens the blow of missing out on opposable thumbs. 
With a 24 ounce capacity, the Wander Splash Free Bowl can quench even the thirstiest of dogs. It's PVC and BPA-free food-grade silicone construction keeps it lightweight and durable. It's suitable for food and water, and it's dishwasher top rack safe. 
We love the wedge shape design that allows for use on sloped surfaces, and the generous inner lip keeps even the sloppiest of drinkers from throwing water everywhere.
MSRP: $12.99
Baxter Dog Backpack
Some dogs just want to help; for a working breed, it's literally in their nature. So let them share some of the load on your next adventure with the Baxter Pack. Lightweight, durable, and fully adjustable with eight different adjustment points, it features ergonomic spine support and perfect balance for even weight distribution and ultimate comfort. It also features a large handle on the back because we all need a helping hand from time to time. So fill it with treats, toys, first aid supplies, and anything else she might need along the way, and let her feel useful.
We love the Baxter Pack's eight adjustment points for a nearly custom fit. The two saddlebags offer liberal room for adventure essentials and balance the load. The ergonomic spine support contours to your dog's back for a comfortable fit. Like several Kurgo harnesses, it features reflective trim for low light visibility, a rear-mounted leash hook, and it's machine washable on the gentle cycle. 
MSRP: $57.99
G-Train Backpack Dog Carrier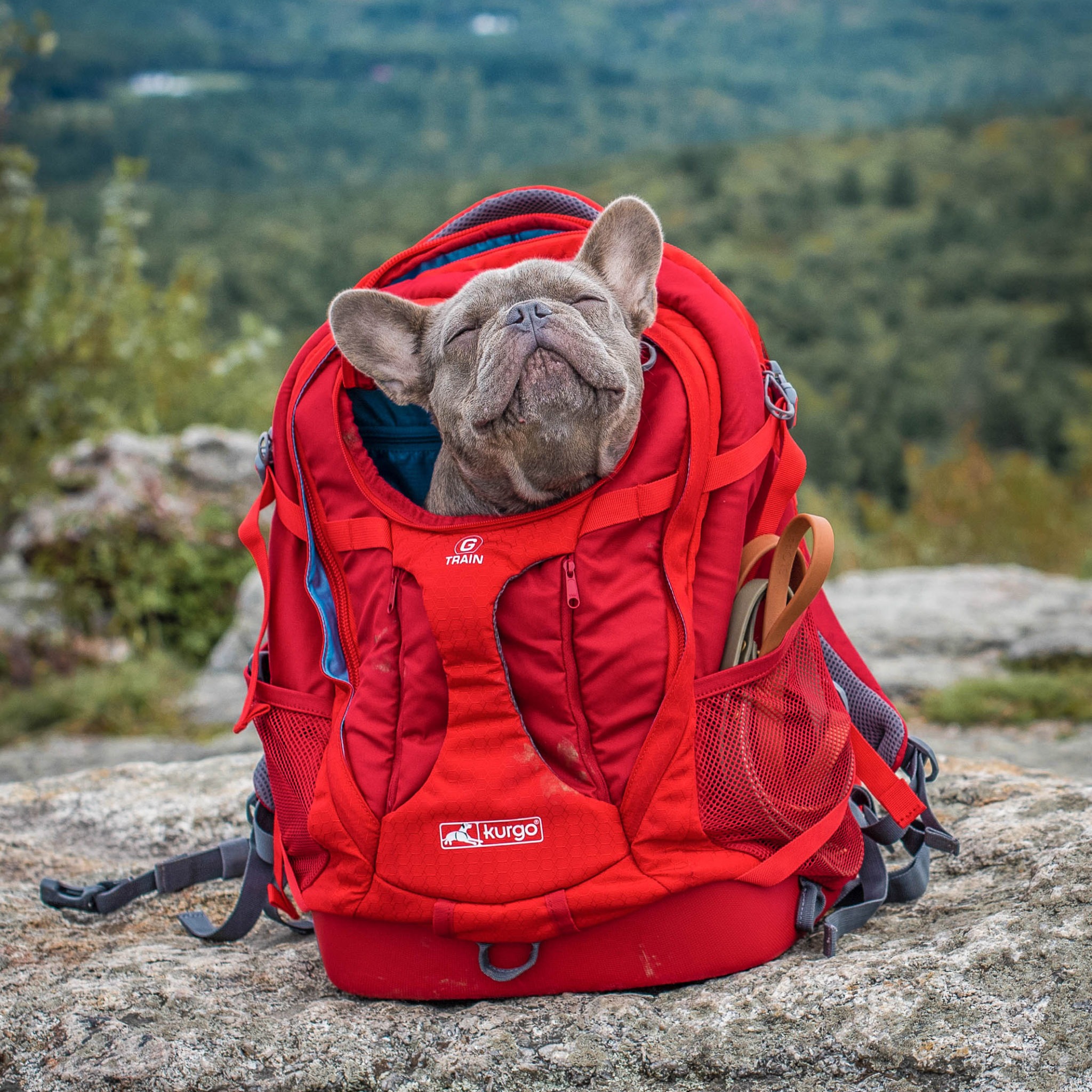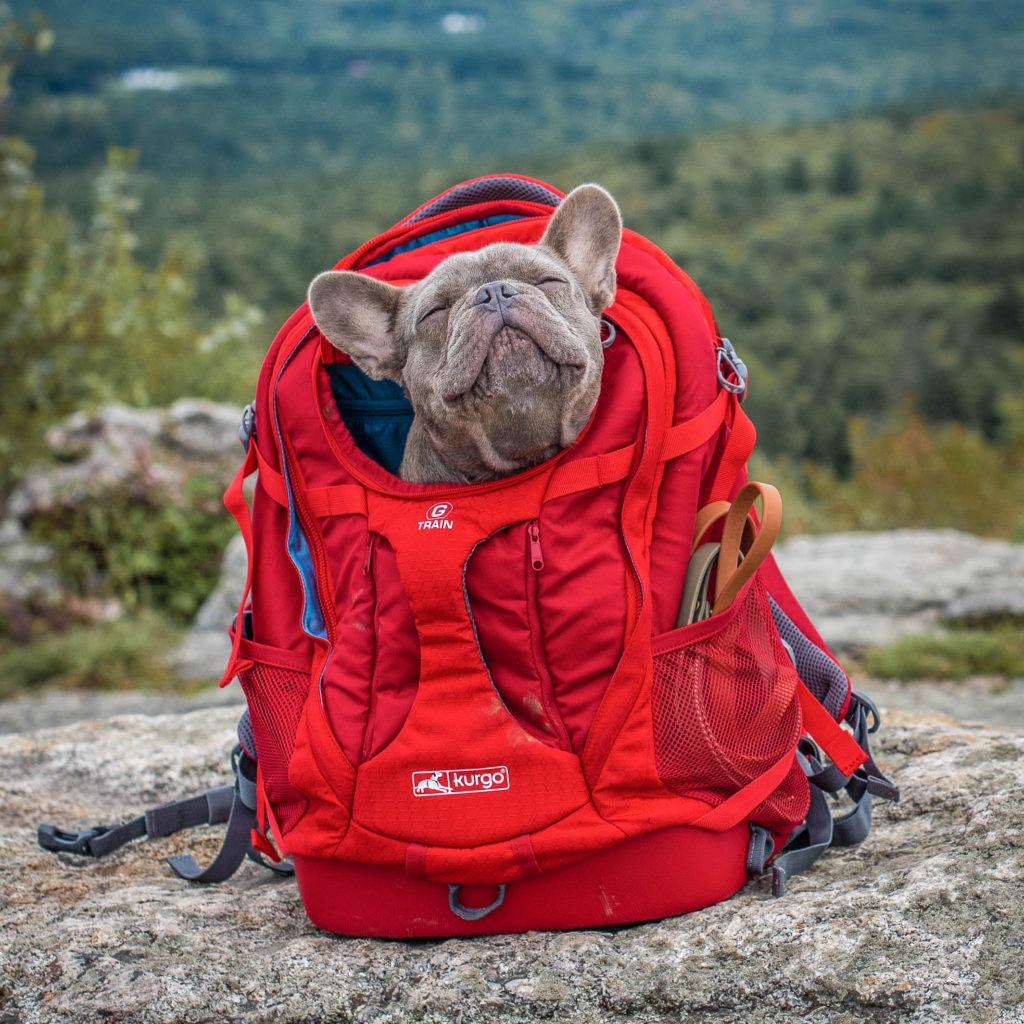 Not all dogs are down for huffing it up and down the trail, at least on their own four feet. So when your little buddy needs some help to see the sights, you can pack them along in the G-Trail Backpack K9 Carrier. 
As rugged and thoughtfully engineered as the best daypacks—think padded laptop compartment, a pair of water bottle holders, and an ample supply of zippered storage— the G-Train K9 Pack adds a pet carrier compartment with a zip-open mesh top that rolls neatly out of the way. You think your dog is cute now? Wait until you see his little face sticking out of the G-Train, watching the scenery roll by. 
We love that the G-Train Backpack K9 Carrier allows us to help our pups see the trail when they might not be up to the challenge. It's suitable for dogs up to 25 lbs. The fiberglass support rods, stow-away straps, and multiple handles make it a great pack. The ventilated mesh panels, interior harness tether, and the waterproof Armorsole™ bottom all make it an excellent place for your dog to hang out. 
MSRP: $149.99
Journey Air Harness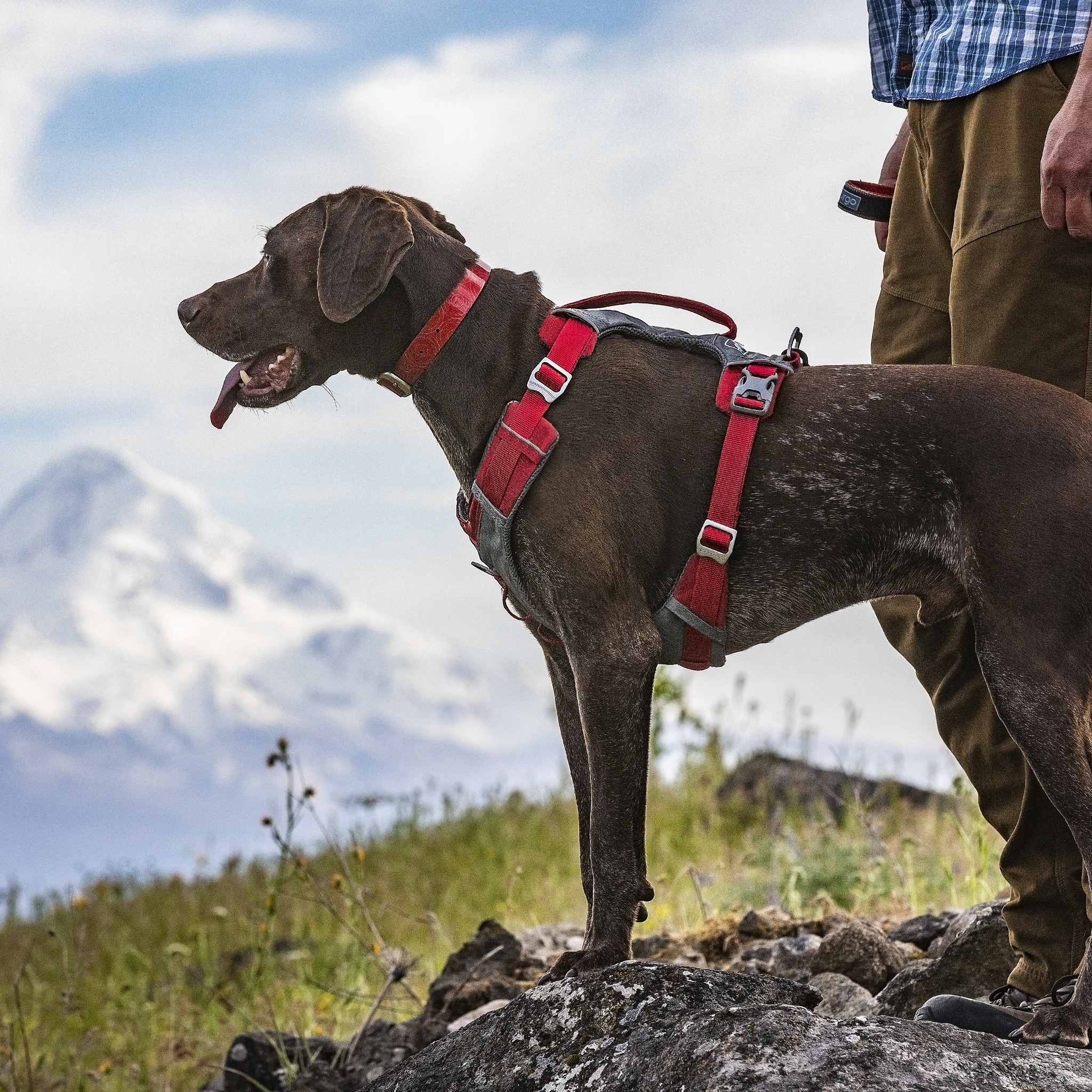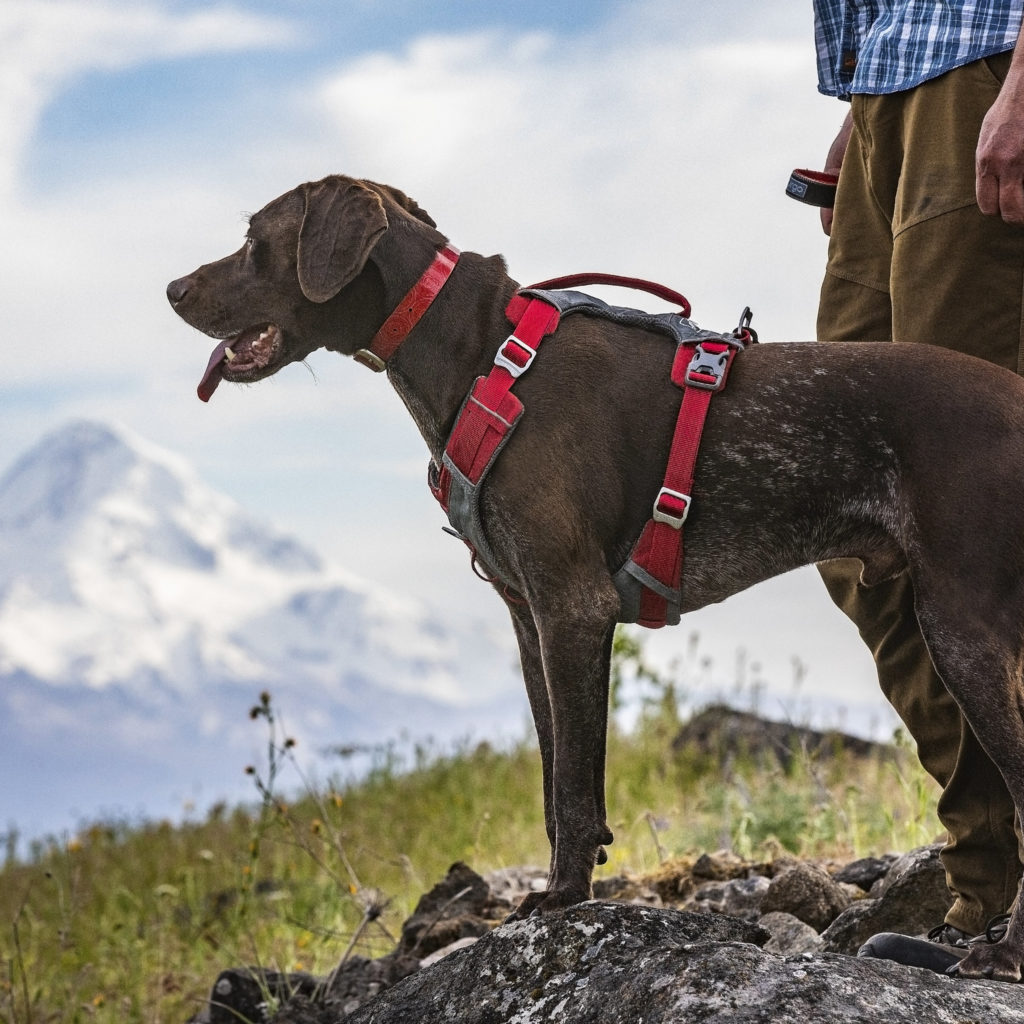 Designed for active dogs that are always out in front (you know the kind), the Journey Air Harness takes all of the best features of the original—the athletic cut, the convenient handle on the back—and ups the ante. It's a breathable harness featuring a deep V-neck that keeps the shoulders free, plus features a wide padded chest plate that helps cut down on strain to the neck. And with rust-free all-aluminum hardware, it comes in at a featherweight 8 oz., so your dog can forget the harness and focus on more important things, like smelling stuff, running, chasing things, and smelling stuff. We think this is the beginning of a beautiful friendship. 
Just like all of Kurgo's harness offerings, the Journey Air Harness is a great option to keep your dog safe, comfortable, and secure. It's made with tried and tested durable ripstop fabric and a breathable mesh inner and features four adjustment points, front and back leash attachments, lightweight aluminum buckles, and reflective trim. The back handle is great for assisting your dog up or down sketchy sections of the trail. 
MSRP: $44.99
RSG Townie Harness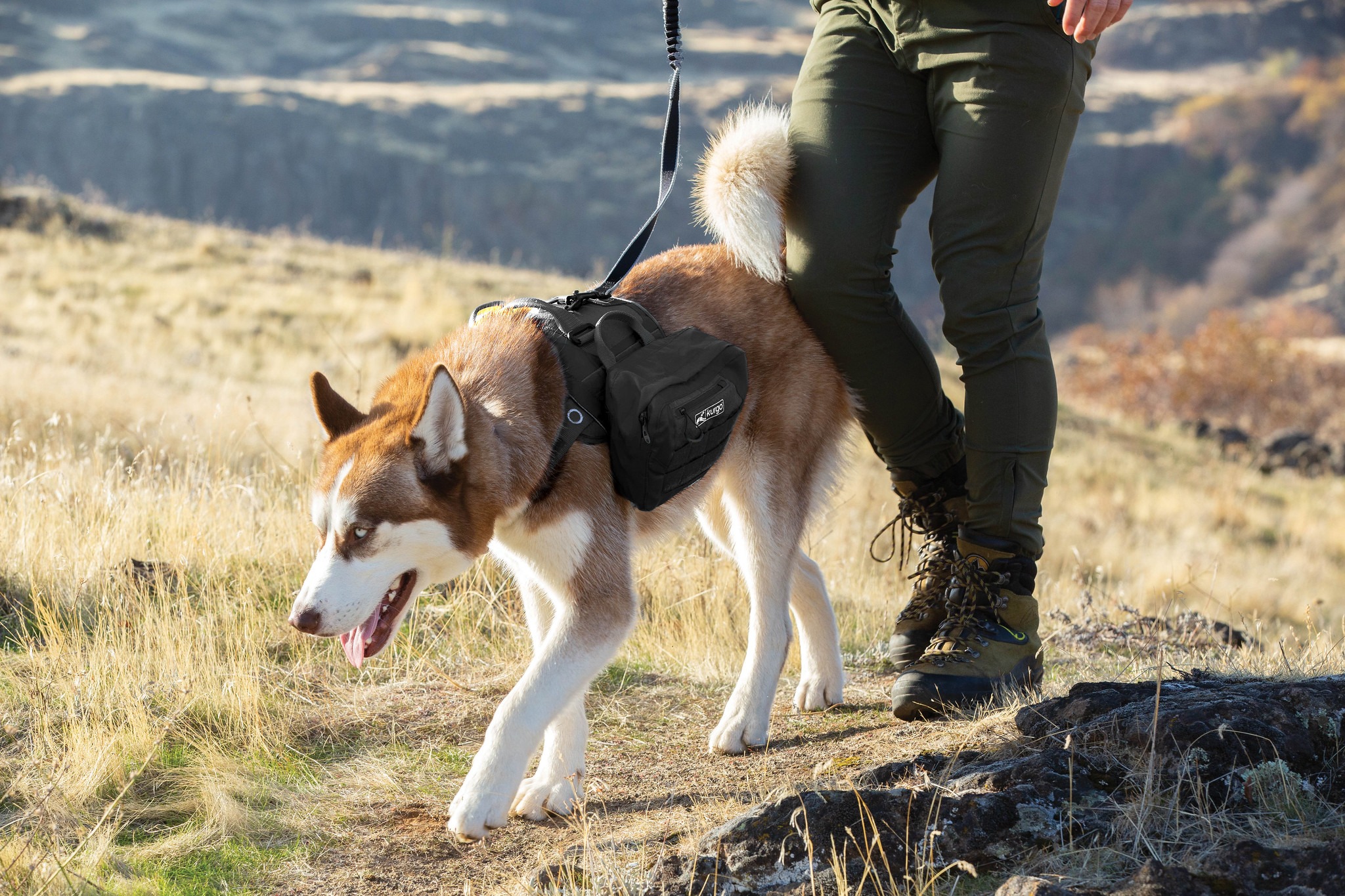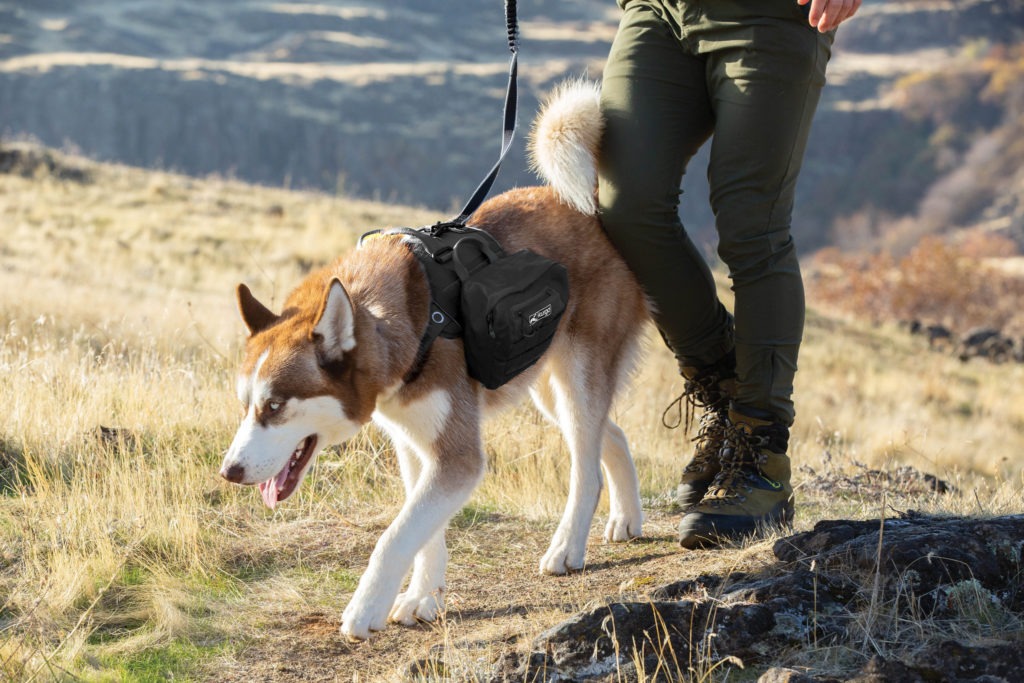 When it's time for an adventure, there's no need to spend 15 minutes getting a harness on your dog. Getting your dog in and out of her harness doesn't get much easier than the RSG Townie Harness, with its single-buckle design. Lightweight and simple in the extreme, it's the harness for dogs and their parents who see every snap, clip, and strap as a barrier to fun. But simplicity doesn't mean sacrificing strength. The Townie stands up to even the strongest dogs and their ambitious adventures with 400D Ripstop outer construction. With the MOLLE-compatible design, you can easily attach everything from an RSG Hydration Flask to Panniers, and you're off in a flash. 
The RSG Townie Harness not only makes it easy to get your dog fitted and ready to go but also packs in plenty of extra features. The breathable mesh underside keeps your canine buddy cool, and the integrated bottle opener helps you do the same. The top handle is great for assisting your dog into a lifted rig or maybe just keeping calm in a high-energy environment. We love the reflective trim that assists with nighttime visibility. With so many great features and an easily customized fit, it's no wonder that K9 athletes and service dogs widely use this design. 
MSRP: $56.99 – $62.99
Stash-n-Dash Harness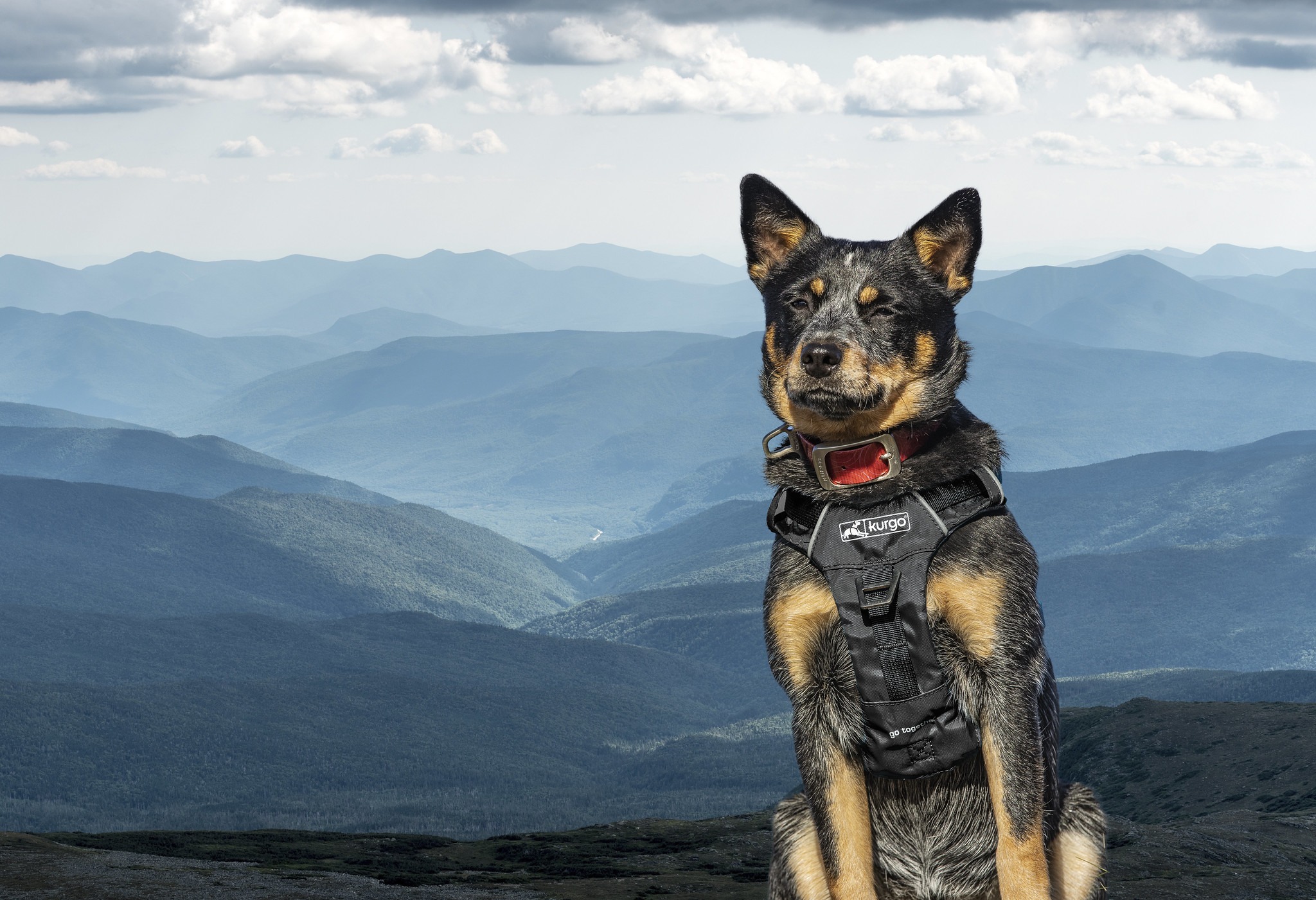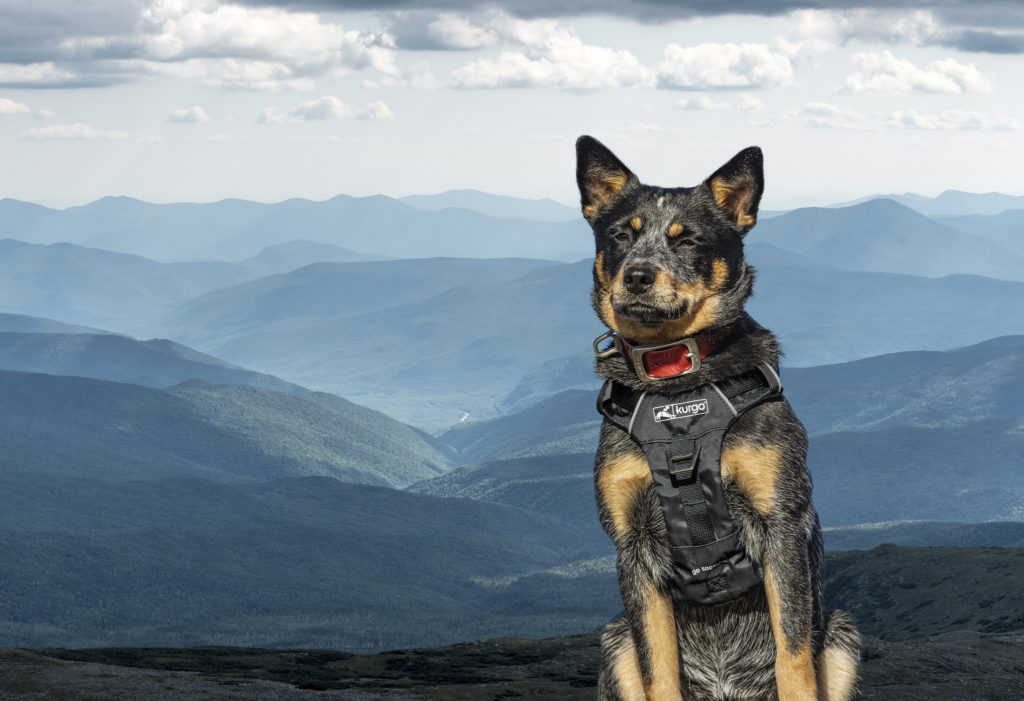 Part of being an excellent dog mom or dad is preparing for all kinds of situations before you head out the door with your pup. The Stash-n-Dash Harness is a minimalist, lightweight adventure harness that can be used for all sorts of activities like running or climbing. 
The Stash-n-Dash is easily packable. When not in use, it "folds" back into itself using an integrated pouch. Once packed away, the small bag will not take up much space in your backpack. When you need to quickly swap out a collar for a sturdy harness, simply "unfold" the harness from its pouch in just a few steps. 
We love that the Stash-n-Dash harness is there when you need it and packs away when you don't. Even though it packs away to practically nothing, it doesn't skimp on features. It's made with durable ripstop fabricate and breathable inner mesh fabric. It has four adjustment points for a custom fit, Nifco quick-release buckles, steel hardware, and reflective trim for nighttime visibility. It's perfect for running, hiking, and walking. 
MSRP: $37.99
Loft Wander Bed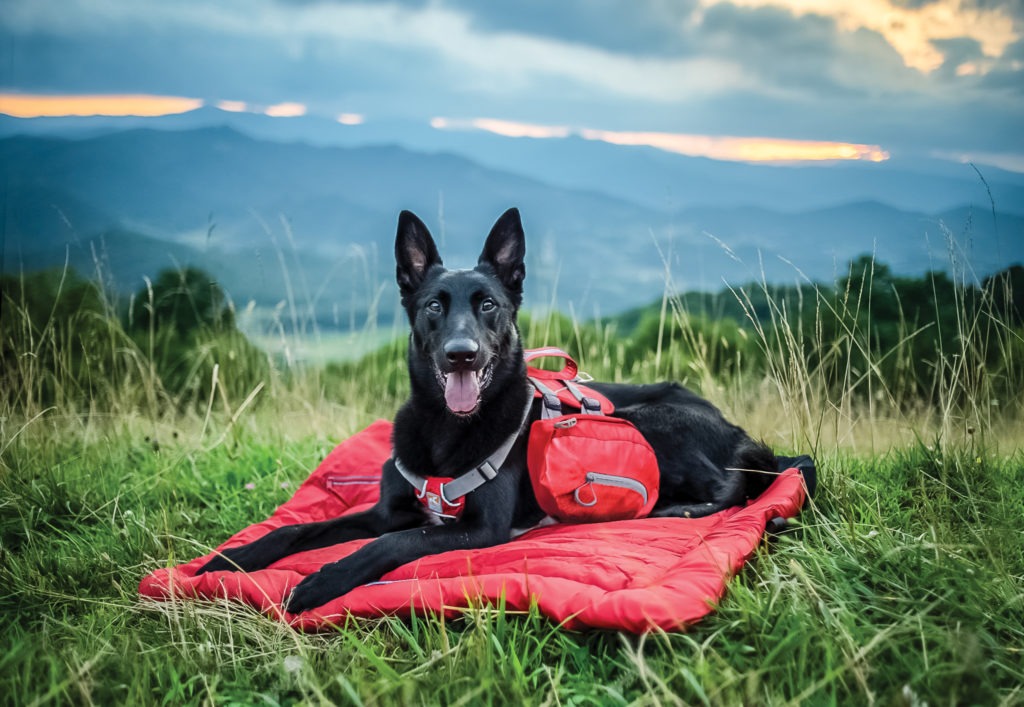 Do dogs like to go places? Well, they've got four legs, so do the math. 
With the Loft Wander Bed, no matter where you and your dog wander, she'll have a place to lay her head. Featuring a durable, water-resistant, ripstop top, and waterproof bottom, the Loft Wander Bed is the perfect campsite crash pad for your pup. It can handle any dog, no matter how wet, and any environment, from hotel floor to RV to campsite. The polyfill keeps things cozy, and its non-slip bottom makes sure she's secure. Meanwhile, the Loft Wander Bed rolls up into a compact sleeping bag-sized bundle with a handle for easy carrying. 
We love that our dog can be just as comfortable as us in camp. The Loft Wander Bed doesn't hold moisture, and better yet, doesn't hold that wet-dog smell. When not in use, it compresses well for storage. Plus, with a bit of obedience and some luck, it may help keep your dog off of your sleeping bag. 
MSRP: $64.99 – $74.99
Kibble Carrier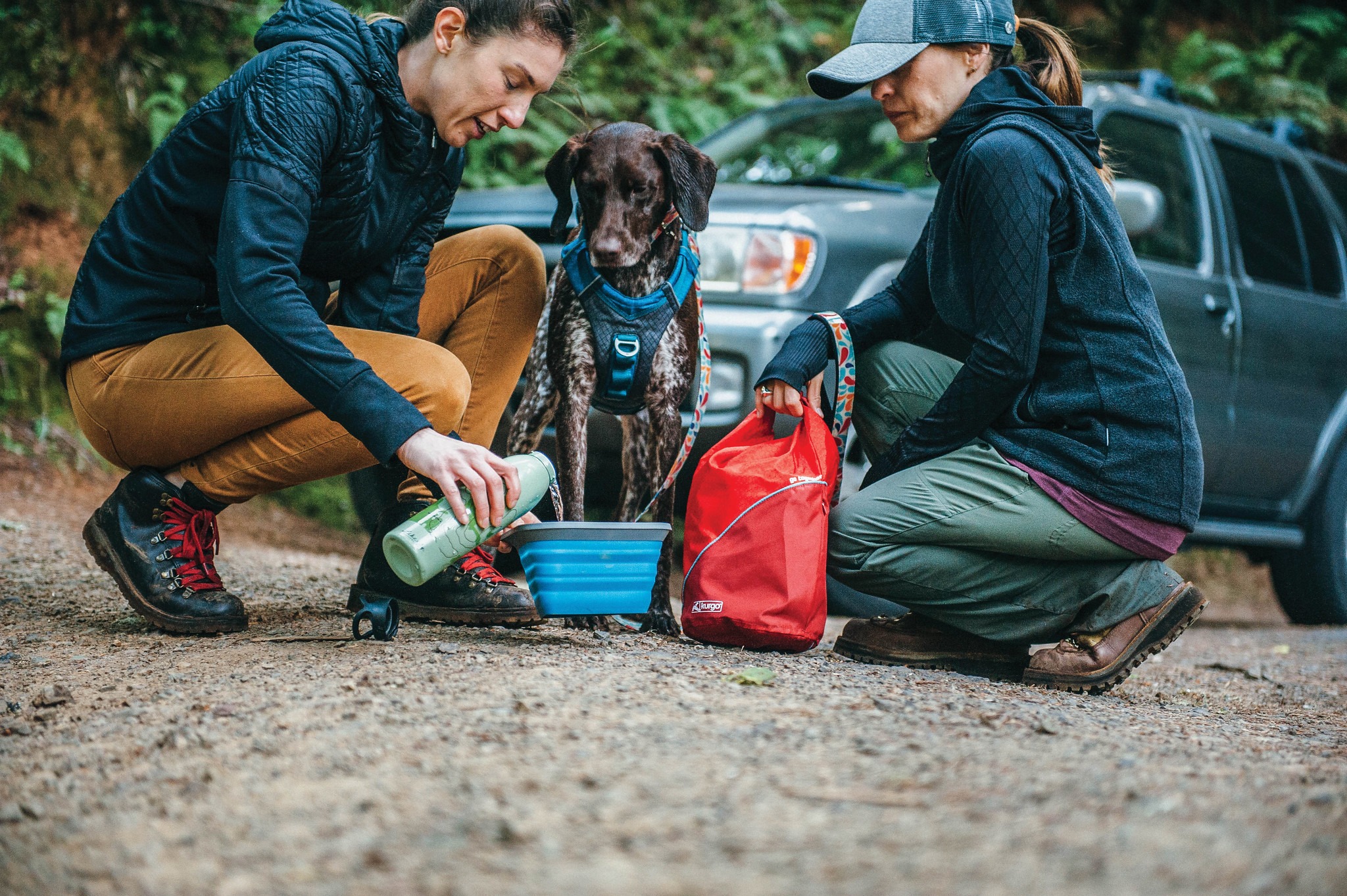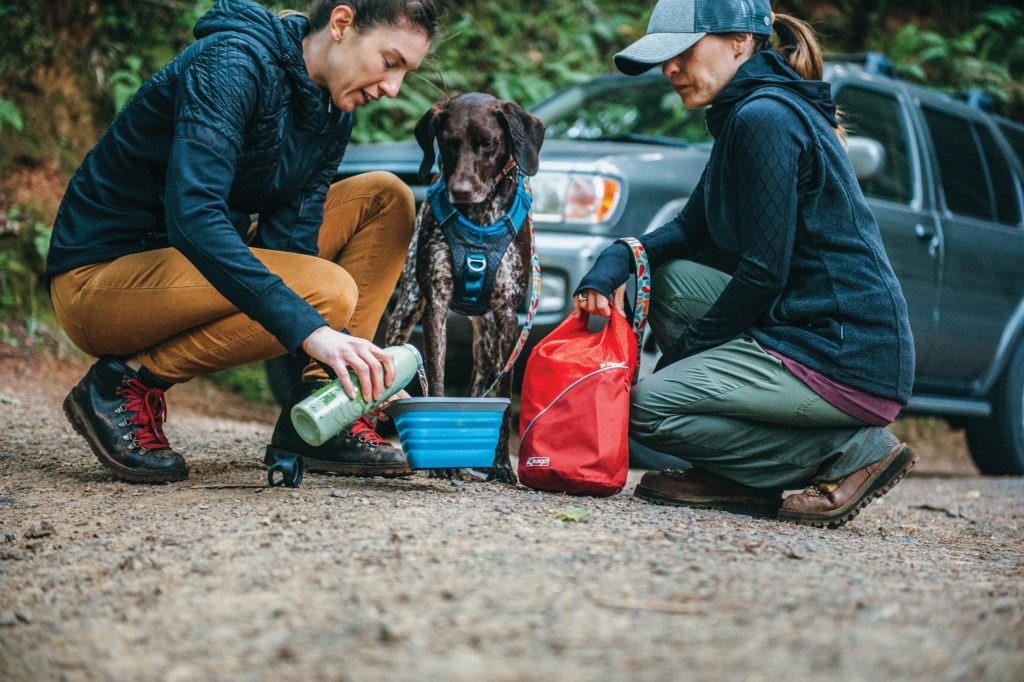 If your dog could talk, she'd tell you: protect the food at all costs.
The Kibble Carrier is constructed from tough ripstop material, so your dog can rest easy knowing her kibble is safe and all's right with the world. It's engineered like a waterproof river bag, the top rolls and clips to ensure security and freshness. The Kibble Carrier holds up to 5 lbs. of dry food so you can keep your pack, or one very hungry dog, well-fed. A discreet zippered pocket at the bottom is perfect for a Collapse-A-Bowl (not included).
We love that the Kibble Carrier not only keeps dry food safe and secure, but the food-safe PEVA liner with heat-sealed seams prevents kibble oil seepage. When you return from adventuring with your pooch, it's easy to hand wash and air dry the Kibble Carrier, so it's ready for the next trip. We love that the zippered side pocket is perfect for extra treats. The roll-top design also allows the volume to be adjusted while keeping the bag secure and neat. Your dog will surely love that special treats can be stored separately in the side pocket.
MSRP: $15.99
Disclaimer: This paid story was produced in partnership with Kurgo.