Storyteller Overland just announced a new addition to the MODE line of adventure vans, the MODE LT. For those of you familiar with previous Storyteller builds on the Mercedes-Benz Sprinter chassis, you'll be interested to learn that the new MODE LT is being constructed on the Ford Transit Chassis, a first for the Storyteller brand.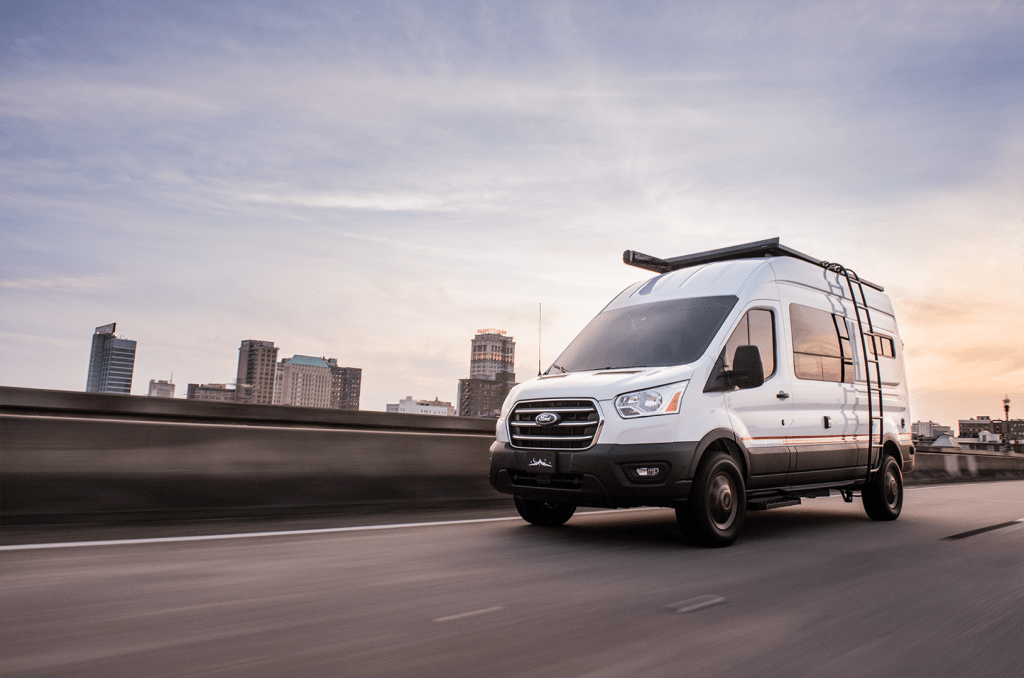 While Storyteller has had a prototype Transit build for a few years now, they never put it into production because Ford only offered a 2WD drivetrain on the platform – until recently. Ford's new AWD factory option is highly-capable and fits Storyteller's more adventure-oriented, off-road, and off-grid core client better. While the AWD system of the Transit isn't a perfect fit for folks who love offroad or backcountry travel, it is a great option for those who do a bit of "soft-roading."
The 2022 MODE LT is built on the Ford Transit 350 van, which boasts a 148-inch wheelbase, Ford's new All Wheel Drive system, a 310-hp twin-turbocharged 3.5-liter EcoBoost V6 with 10-speed transmission. The entire vehicle sits on Storyteller Transition Wheels wrapped in beefy BFGoodrich 255/70R16 KO2s. Obviously this van has enough pep to get out an explore some dirt roads.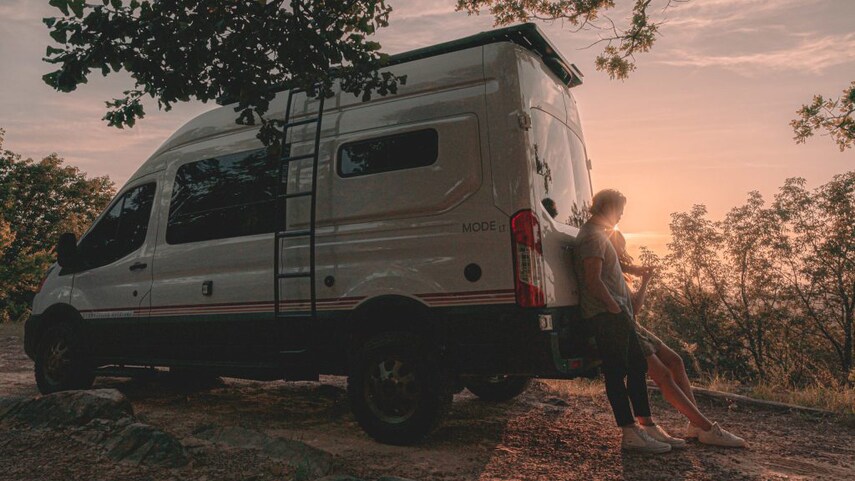 Exterior
The Exterior of the MODE LT features a roof rack with a sonic wedge wind deflector, which holds a powered awning with dimmable LEDs and a 90W solar panel (expandable to 600W), a tubular side mount ladder to reach your rooftop equipment, a 21-gallon fresh water tank, 24-gallon gray water tank, and full shore connections including water and power.
Interior
No interior photos of the MODE LT were released, but if our previous experience with Storyteller's build quality is any indication, we expect it to have the same durable fit and finish found in the rest of the MODE line of vans including; a galley kitchen with cabinetry, a stainless-steel sink and folding faucet, a dual voltage refrigerator/ freezer, a stainless steel microwave, and a 1500W portable induction cooktop that can move outside for camp cooking as well. Seating is taken care of by swiveling front seats and a 2-seater sofa bed. The bed area features Storyteller's patented Dreamweaver bed / convertible work surface. Like any true four-season camper, the MODE LT has air conditioning with a ceiling exhaust fan and a heating system for those winter ski trips.
The Storyteller Overland MODE LT retails for $153,748 and is available through Storyteller Overland dealers nationwide later this year.
Come see Title Sponsor Storyteller Overland at all three Overland Expo events in 2021 and check out their vans for yourself! Day Pass, Weekend Pass with Camping, or Overland Experience tickets are available at https://www.overlandexpo.com/