There are plenty of reasons to celebrate a flawless first day of the first-ever Mountain West show. More than a great start to the third event in the Overland Expo Series, Day 1 of Mountain West closed a 22-month gap between in-person Overland Expo events. The excitement of finally being able to gather together was palpable amongst the 280 onsite exhibitors and the thousands of fans who came through the gates on Friday.
Fans attended the dozens of classes and roundtable events, took turns hopping behind the wheel of the latest RAM Trucks the RAM Ride & Drive, and tested Kenda tires at Kenda's 'Designed for Your Journey' Ride & Drive — along with the other exciting Programming.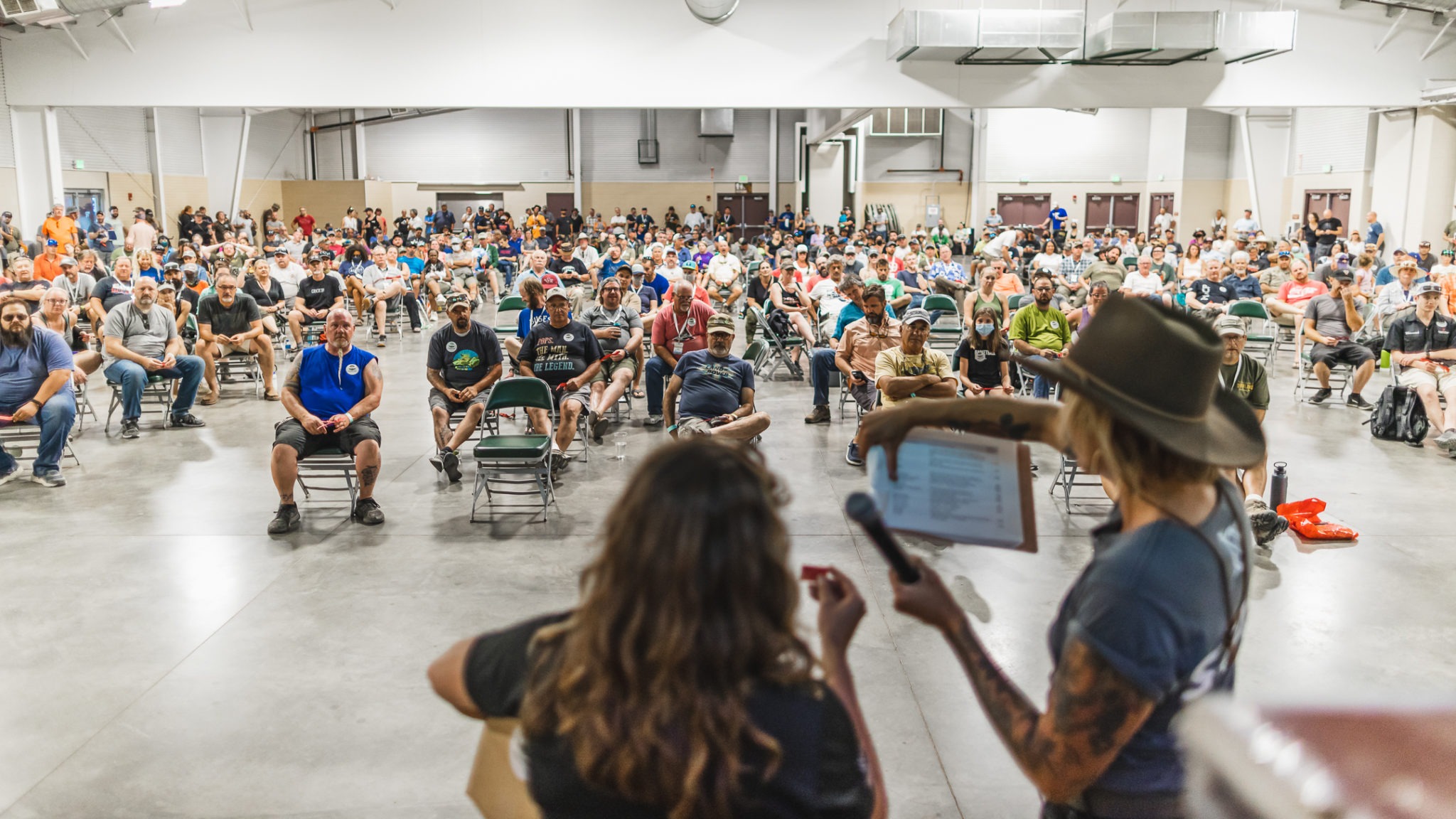 Mountain West wrapped up for the evening in the Winnebago Overland Theater for the Overland Expo Foundation raffle. More than 400 fans attended the raffle, hosted by Overland Expo Moto Ambassador Eva Rupert. Sales Director Anthony Sicola spoke about the mission of the Foundation, which will be further funded later this year by the proceeds of the Ultimate Overland Vehicle and Motorcycle auctions this fall. During the raffle, dozens of fans took home some incredible overland gear.
The raffle raised $10,000 for the foundation. We offer a big thank-you to the brands who donated awesome gear for the raffle.
Giveaways included:
MB Quart

MB Quart MBQJ-STG6A-1 Jeep® Wrangler (JL) / Gladiator (JT) Tuned Audio Package: Six Speaker 800 Watt STAGE 6 OEM Audio System Upgrade (Uses OEM Source Unit). — $1,300
RVDVD3.0 DVD Digital Source Unit with AM/FM, Weather Band and Bluetooth 4.0 Plus Multi-Zone Audio Control. — $200

REDARC

"REDARC WEEKEND ESCAPE BATTERY CHARGER KIT — $859

upTOP Overland

upTOP Overland Gift Certificate valued at — $899 good towards the purchase of our Alpha/Bravo Roof Rack OR TRUSS Bed Rack System via our website — $899

FIRMAN Power Equipment

FIRMAN 2100 Watt Portable Inverter Generator — $890

Sherpa Equipment Co.

— $500 Gift Card– racks and accessories — $500

BundutecUSA

Two Bundutec BunduCube Privacy Enclosures — $365

AntiShanty Overland trailers

Camp Chef Deluxe outdoor camping stove — $395
Camp Chef Camp Oven — $350

FreedomVanGo

Diode Dynamics Stage Series 3″ Light Pods with a FreedomVanGo Hat, T-shirt, and stickers — $335

Rago Fabrication

Rago BBQ and Spatula Set — $270

Pelican Products

20qt cooler + mug + headlamp — $200
Cargo55 +mug +headlamp
32oz bottle + go case

Gobi Heat

Terrain Heated Camping Chair, 2 heat zones, 3 heat settings — $199
A different company – cool backpack

7P Gear
Forrest Tool

Forrest Tool Max + Hat/Tshirt
Forrest Tool Max + Mechanical Impact Wrench

Mule Expedition Outfitters

Two Expedition 134 Storage Box — $130

GearMods

DIY Van Kitchenette — $2,500

Got Your Six Coffee Company

Six bags of Coffee, Camp Cup and French Press — $115

Deadman Offroad
Boreas Campers

Boreas Campers-branded Trasharoo — $75

XGRiD Campers

Trasharoo Spare Tire Trash bag — $50

JAX Outdoor Gear
Overland Journal

Four 1-year subscriptions — $45/ea

Lava Linens Adventure Towels

Lava Mini Adventure Towel — $44

DryFoxCo

DryFoxCo XL compact, quick drying full size towel with exclusive storage pocket — $35

OutdoorX4
Weekender Solutions

Small gift bag with a mini pry bar bottle opener — $20

Road Armor

SELF-RELIANCE MEDICAL Kit

John Redd with Edward Jones

Two Coleman Camp Chairs & two Under Armor Duffles — $120

onX Offroad

50 subscriptions Elite Subscriptions — $100