Arguably, the best part of Overland Expo is walking the exhibitor area and discovering all of the fantastic aftermarket parts and accessories for your vehicle or moto, or checking out new gear to help you enjoy your time at basecamp a little more.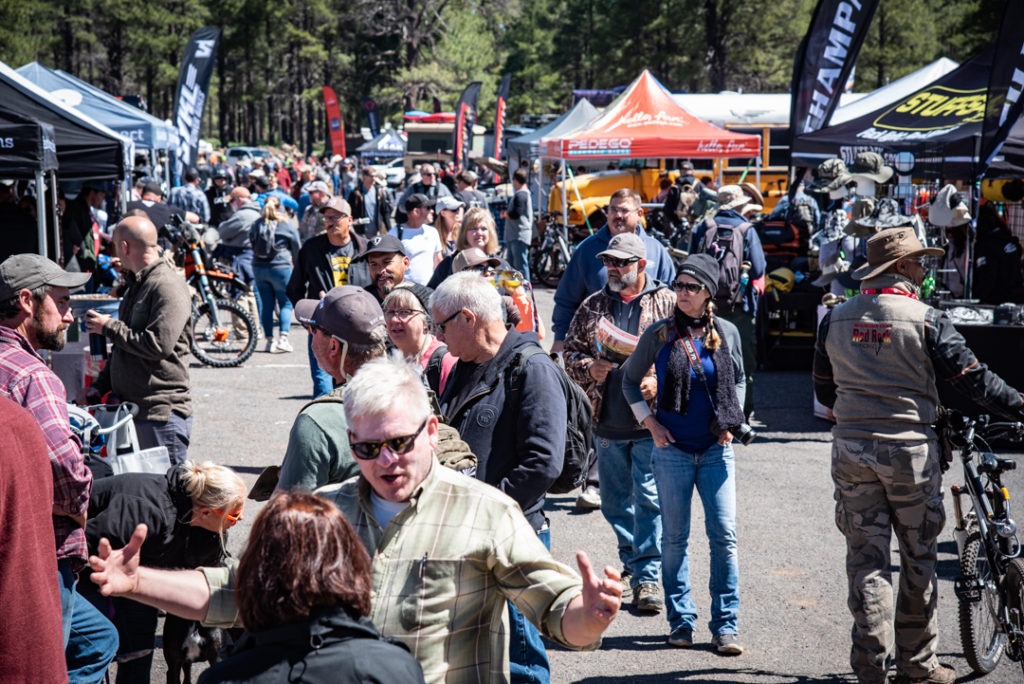 It's even better when you can save a bit of money in the process!
The list is just in of exhibitors at Overland Expo WEST in Flagstaff, Arizona that are offering a discount on that gear – so you can stretch your hard-earned dollars and spend more time out exploring!
Here are the deals in alphabetical order by exhibitor:
Adventure Tool Company: Nearly all Adventure Tool Company gear will be discounted by 15-20%.
AO Coolers: 10% off all products
BAMF: 20% off all orders at the show.
BoxoUSA: Get 10% off in our booth or online with promo code OVERLAND10 at checkout Sept. 24 – 30, 2021. Visit our booth or website boxousa.com today.
DryFoxCo: Buy 3 DryFoxCo XL quick drying towels, get the 4th free!
Expedition One: 20% off all Expedition One equipment
Expedition Overland: 1. Receive a free OVERLANDER patch with the purchase of regular priced items (While supplies last) 2. 50% off your first month's subscription to the all new Overlander Network!
Exploring Overland – Roseann & Jonathan Hanson: Stop by our table in the Author Tent for a free decal or patch—enjoy 15% any purchase when you mention this announcement. Don't miss Jonathan Hanson's new novel, Trail of the Jaguar, featuring a Land Cruiser 70-series!
Luno: 10% OFF all LunoLife.com gear with code: EXPOWEST10
MB Quart: Overland Expo 40% Off MBQuart.com – coupon code: overlandexpo2021
OVRLND Campers: Free stickers!
Peaceful Warrior Martial Arts – Peaceful Warrior Woman: Raffle for a FREE kubaton and t-shirt
PLUC: For Overland Expo events only we will match every $1 donated to a pound of litter removed from public lands. (Our normal is $5 per pound)
Sea to Summit: Come visit us at our booth and shop 20% off Sea to Summit product.
Raptor Series (OFFGRID Outdoor Gear): Inspector Flashlight – 1 for $7, 2 for $10, Chairs – $45, 45L Electric Coolers – $350, Rotomolded Coolers – $175, 8′ Awnings – $200, Voyager Rooftop Tent – $999 Shipped
REDARC: 10% OFF ALL REDARC GEAR
Rhino Adventure Gear: Discounts and deals on various rooftop tent products and accessories! Swing by the booth!
RockJock 4×4 by John Currie: 10% off discount code provided at our booth.
Talus Expedition Gear: Free recipe book or potholders with Omnia oven purchase. Omnia kit purchases for 5% or 10% off.
Talus Expedition Gear: $500 off Talus Galley kitchen drawer plus free shipping to contiguous U.S. or $1,000 off Talus Galley with in-store (Boise, ID) pickup.
Trekboxx: $600 off any complete System Alpha
VANQUEST Tough-Built Gear: VANQUEST Tough-Built Gear is having a 25% to 50% off show special on select models. Since 2011, VANQUEST has been building the TOUGHEST bags & packs for everyday carry (EDC), and help you stay ORGANIZED & PREPARED.
Wagan Tech: We will be giving away a free camplite to attendees with our attendee bag sticker insert (exclusions apply), and will be giving 20% off inventory
Check out our full list of exhibitors here: https://www.overlandexpo.com/sponsors-exhibitors/overland-expo-west-2021/
We hope to see you in Flagstaff, AZ, September 24-26!