While comfort items get a lot of attention, it's important to be prepared on the trail. Recovery equipment, adequate first aid kits, communication gear, and essentials like clean water should always take precedence when outfitting your rig. We've rounded up some of our favorite products to keep you prepared on the trail.
DMOS – Delta Shovel System
DMOS Delta Shovel System is portable, rackable, stashable spade shovels with brute strength to dig in deep and the toughness to survive. The Delta combines the sharp-pointed, big dig strength of
a full-length shovel with the stashable, ready-for-action utility of an e-tool.
The Deltas deliver state-of-the-art American engineering with heritage-quality American manufacturing. It's tested to survive 1,000-pounds of leveraging force, being dropped from a 5-story parking garage, and being driven over. The high-strength Delta multi-tool features a t-grip handle that extends to 51-inches and a patented, foldable locking 3-in-1 blade for power plus precision whether breaking rock-hard ground, digging wet, heavy mud, or trenching soft sand. Available in aircraft-grade 6061 aluminum or 14-gauge cold-rolled steel, the Delta can stand up to chores on the toughest trails.
We love that the Delta Shovel is not only a compact and strong tool, but there are several mounting and carry options available to keep it secure in or on our rigs. From lockable mounting plates, to spare tire adapters, and even backpack carrying cases, there's surely an option that works for everyone.
MSR $239.00
Forrest Tool Company – MAX Tool Kit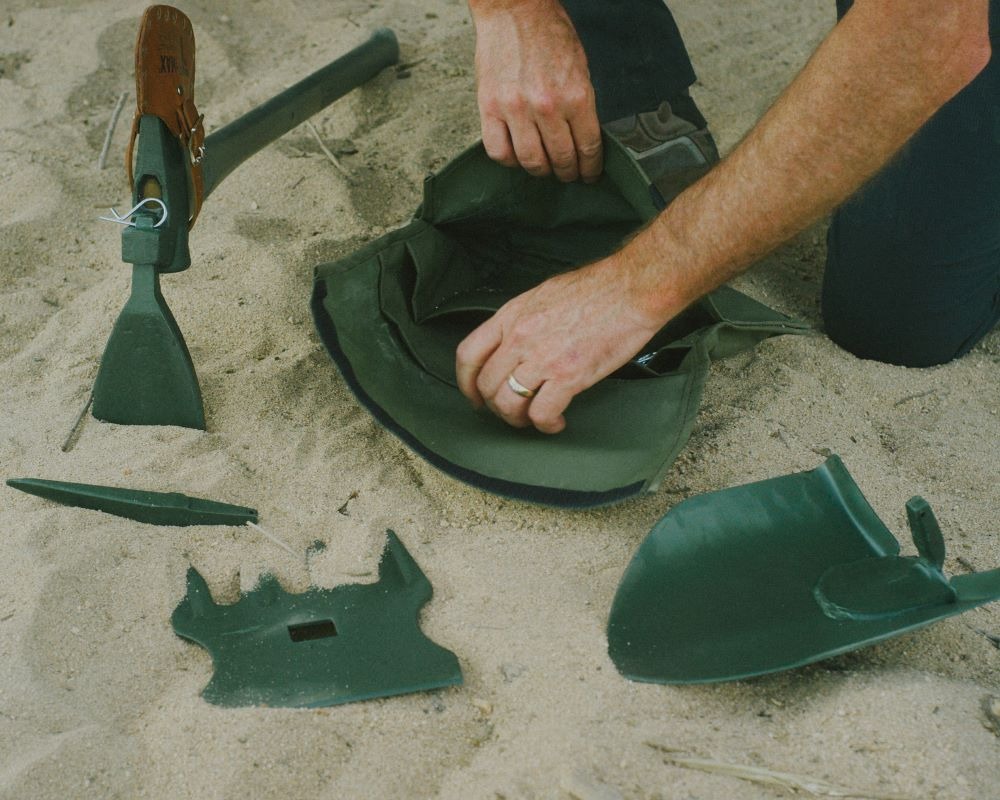 Having the right tool on hand when things go wrong outdoors is priceless, and you can't always pack every tool in your shed "just in case." That's why Forrest Tool Company builds the heavy-duty MAX® Multipurpose Toolkit. With eight commonly tool-heads in one lightweight, easy-to-carry, and easy-to-stow case, the MAX® makes it simple to have the tools you need wherever you go.
Since 1993, Forrest Tool Company has been manufacturing rugged, military-grade field tools and equipment. The Max® Multipurpose Tool combines eight heavy-duty outdoor recovery tools into a compact, durable, and easy-to-use kit that has become standard equipment on Army Light Tactical Vehicles.
We love that the Max Tool Kit allows us to easily take the tools that aren't always needed, but they're irreplaceable when you do need them. The entire package is easy to store away until you need it. The quality construction is evident as soon as you have the tool in hand, and it's bound to become "standard equipment" on our rigs for years to come.
MSRP: $250
Forrest Tool Company – Safety Impact Wrench®
Building on the desire to bring high-impact durability and compact mobility to heavy-duty tools for all outdoorsmen, Forrest Tool Company now manufactures the Safety Impact Wrench®.
Engineered and manufactured to top industry standards for strength and reliability, the Safety Impact Wrench® allows you to deliver high-impulse mechanical torque safely and easily to the most stubborn lug-nuts. It tightens and loosens with effectiveness. And the tool is so portable, so it slips behind or under the seat of your vehicle, ready to go when you need it most.
A flat can happen anywhere, even out in the field where power tools and pneumatic tools aren't readily available. The Safety Impact Wrench® quickly and safely removes lug nuts from light and medium vehicles using leverage and torque rather than an external power supply. The process is almost as fast as using any power-impact wrench.
MSRP: $158.00
Go Power – Duralite Portable Solar Kit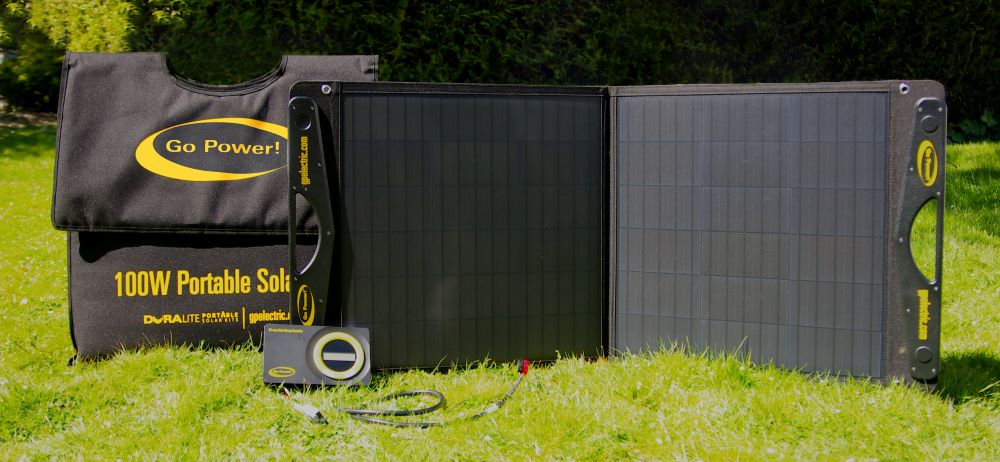 Park in the shade, charge in the sun! 60% lighter than traditional portable solar kits, the new 100-watt DuraLite kit is lightweight and easy to use. With built-in kickstands for easy setup, the DuraLite is ideal for all types of applications, from charging a trailer battery while on the road to trickle charging a car, ATV, or boat.
The low-profile, lightweight solar panels provide over 5-amps of charging power. Complete with 12-feet of cable, you can park and set up your tent or keep your van in the shade and place the panel in the sun. Designed for portability and easy storage, the 100-watt solar panel weighs just 8.4lbs at 2″ thick and the DuraLite features integrated kickstand legs and convenient magnetic clasps that keep the kit secure.
We love that the Duralite is expandable up to 300-watts with the addition of extra panels and the Duralite-100-E expansion kit. It includes several smart features like magnetic closures to keep the panel from opening in transit and rigid plastic handles with built-in USB chargers.
MSRP: $350.00 – $500.00
Guzzle H20 – Stream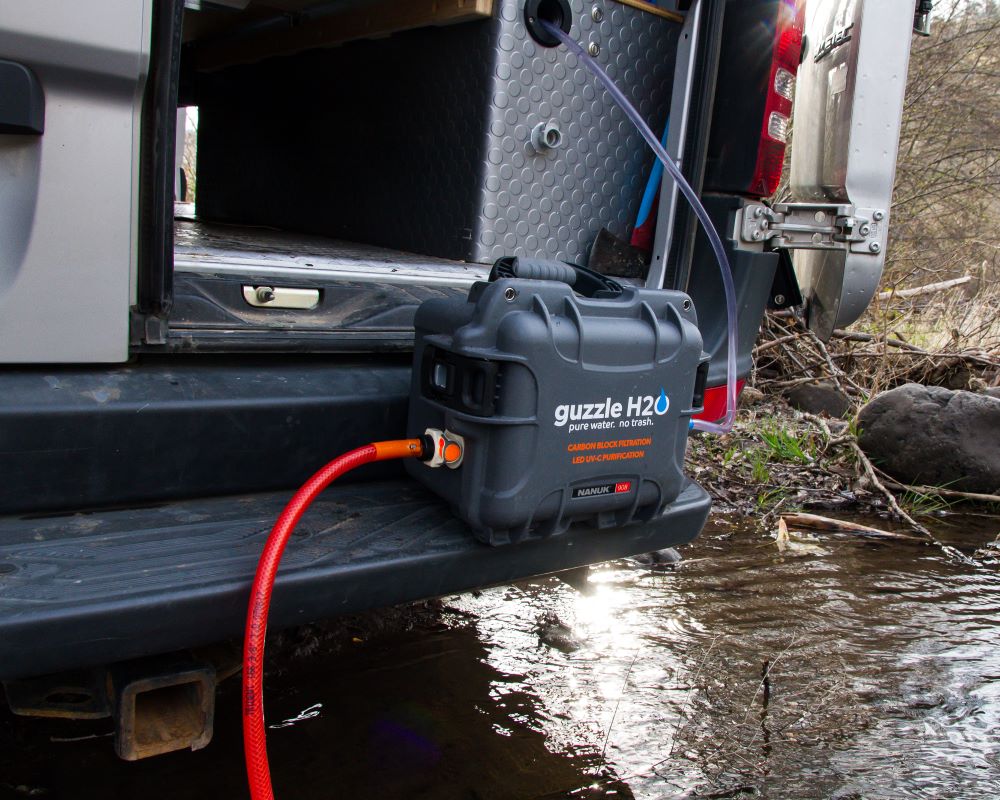 The Stream from Guzzle H2O eliminates any anxiety about finding water on your travels. At the press of a button, you can rapidly filter and purify drinking water from any natural freshwater source. Additionally, the Stream can be used as an inline filter and purifier when tanking up from faucets in campgrounds or any questionable source. This flexibility allows you to carry less water and keep your overall vehicle weight down. It also allows for longer stays when camping off the grid because you will never need to return to civilization to refill your water supplies.
All of Guzzle H2O's products leverage LED UV-C technology that provides at least 99.99% effective purification of bacteria, protozoa, and viruses. This new technology is rugged, maintenance-free, and 3rd party tested to EPA standards for UV sterilization, as well as NSF 55 listed. The Stream makes your water absolutely safe to drink without any pumping by hand, chemicals, waiting or clogging.
We love how simple the Stream is to use while out on the trail. The inlet and outlet hoses are quick connect fittings, and the whole system operates at the press of a button. Everything you need to filter, pump, and purify water is inside the case, so you can move easily to where the water is. The Stream pumps at 0.75 gallons per minute, and when connected to a faucet, will treat water at up to 1.1 gallons per minute.
MSRP: $1125.00
H3R Performance – HalGuard Premium Clean Agent Fire Extinguishers
A fire needs four things to exist: fuel, oxygen, heat, and the chemical reaction between them. Remove one or more of those essentials, and the fire is no more. HalGuard Premium Clean Agent Fire Extinguishers contains a liquid clean agent called Halotron 1, pressurized with argon to shoot between 6 to 15 feet when the trigger is activated. This allows you to stay a safe distance from the fire while the clean agent works its magic. In addition, HalGuard immediately cools the fire while at the same time morphing into a gas so it can better break the chemical reaction – even in hard-to-reach areas.
HalGuard comes in a number of sizes, but the most popular is the 2.5 lb. model HG250. Like all HalGuard extinguishers, the HG250 has a mix of features that sets it apart from other extinguishers on the market. HalGuard extinguishers are UL Listed and Rated, so you know they have been run through the wringer with standardized, repeatable tests that prove their effectiveness. Features such as discharge time, flow rate, and discharge rate are optimized for maximum safety and effectiveness.
We love the quality and reliability of the HalGuard Premium Clean Agent Fire Extinguishers. When considering gear that could be the deciding factor in an emergency situation, you want something that won't let you down.
MSRP: $253.95
Planetary Designs – OVLNDR Coffee Press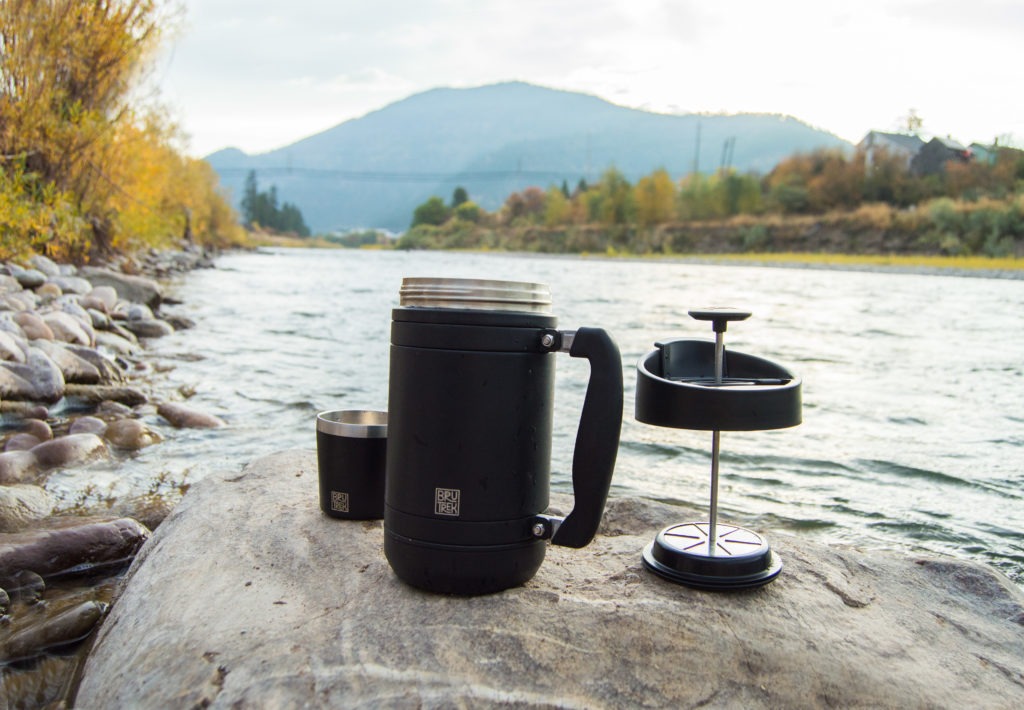 Made for the coffee-obsessed adventure junkie, the OVRLNDR from BruTrek is a truly easy-to-clean travel press. The OVRLNDR is perfect for on the road or in the campground, presenting a removable bottom that makes clean-up a breeze. Patented Bru-Stop® technology makes for a smooth, never-bitter cup of coffee that won't leave grounds in your smile.
Featuring a durable, double-wall, vacuum insulated stainless steel shell, spill-proof locking lid, and an integrated removable bottom, the OVRLNDR is functional, practical, and easy to use. The OVRLNDR is also perfect for brewing tea, cacao, or chai. So whether you're hitting the trail at dawn or cozying up for another couple of hours, the OVRLNDR will brew the perfect cup of coffee to start your day off right. Engineered for life outdoors, the OVRLNDR is truly one of a kind.
MSRP: $50
Planetary Designs – CarGo Can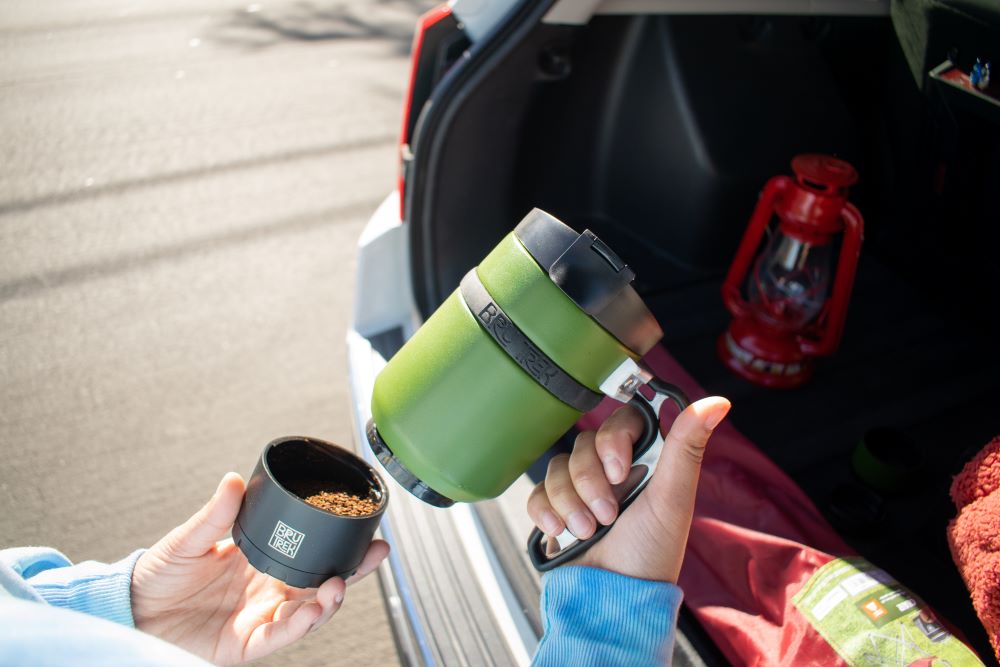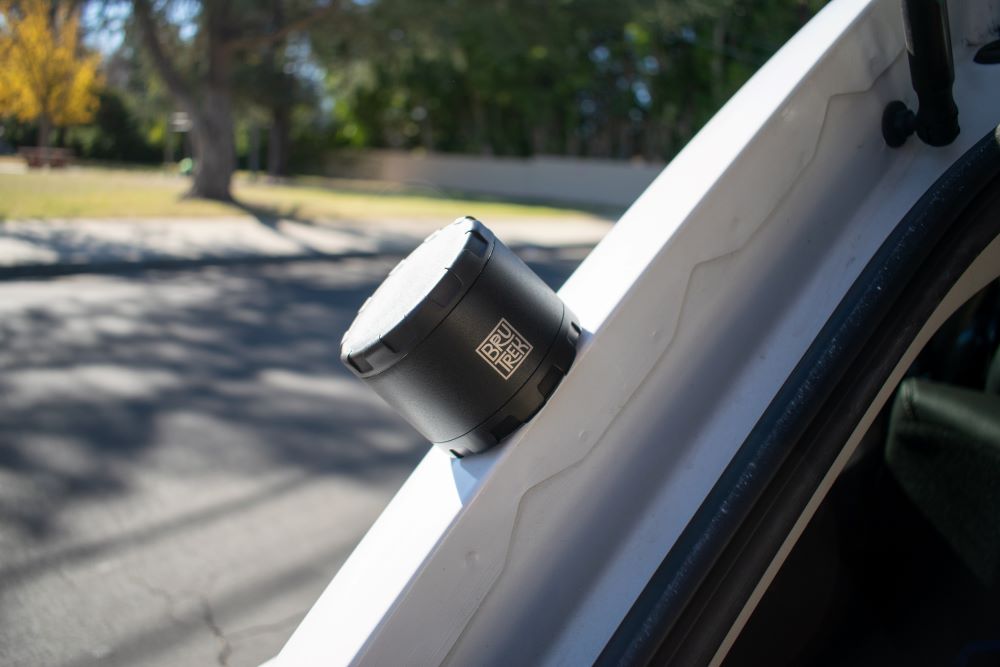 The CarGo Can is ideal for fitting in your rig for all adventures. A one-way valve forces air out as the inner lid presses down to keep your goodies fresh. The BruTrek® Cargo Can is perfect for pre-measured servings of coffee, tea, or protein powder. It's perfectly sized for just enough for a day or weekend of adventures! Also ideal for preserving herbs, spices, or any other goods that are oxygen, humidity, and light-sensitive.
Field-tested in Montana, the mighty CarGo Can works hard to keep what's inside fresh thanks to patented Airscape® inner lid technology. With an ultra-strong magnetic base and durable body, the CarGo Can is your go-to storage canister for all of the essentials.
We love that CarGo can is sized to hold just enough of whatever you want to keep airtight and protected on the trail. The writable lid eliminates the guesswork if you have multiple Cans in your camp kitchen. The magnetic base opens up nearly limitless possibilities for storage and organization.
MSRP: $16.00
Sea to Summit – Watercell X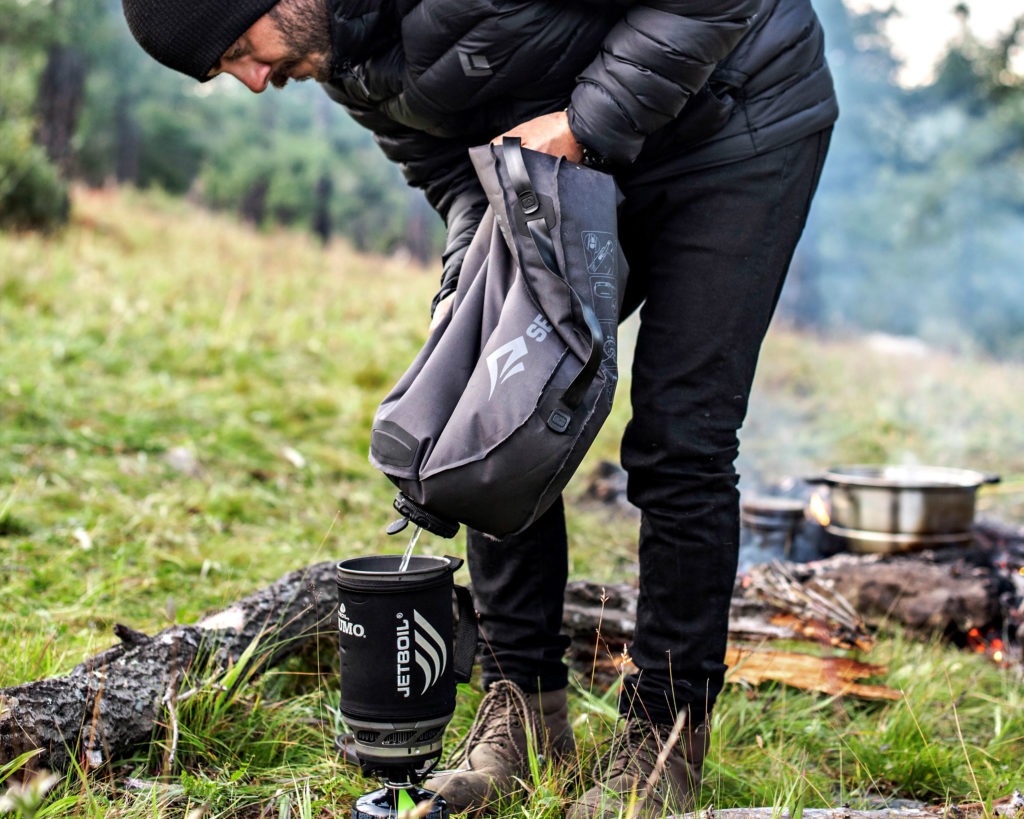 Watercell X – is the flexible and durable reservoir water bag solution from Sea to Summit. Tough and versatile, Watercell X stores, transports, and dispenses water wherever you need it. The 3D baffled, RF-welded TPU construction is compact and stackable, BPA and PVC free.
The standard 63mm wide mouth cap and integrated welded handle make filling simple and spill-free. Dispensing water is just as easy; the multi-function low-profile cap combines flow control and includes a shower head attachment. Hang, carry, and attach the Watercell X wherever your adventures take you using the welded lash points and adjustable strap.
These durable and space-efficient 3D cells maximize internal capacity yet have a relatively small footprint. They can easily be stacked and lashed together in the back of a 4WD or stowed in a kayak or backpack hydration sleeve.
We love that you can use the Watercell X as water bladders, jerry cans, and outdoor showers. Its adjustable webbing strap system makes it easy to hang and lash, and it's also compatible with most water filters and hydration hoses.
MSRP: $39.95 – $69.95
Sea to Summit – Big River Dry Bag

The Sea to Summit Big River™ Dry Bags are a durable, strong, and abrasion resistant option that uses a 420D nylon fabric with a TPU lamination. If your idea of outdoor recreation involves rugged sports like kayaking, canoeing, rafting, or motorcycle touring, these are the perfect storage bags to keep your gear dry.
A white interior laminate affords greater visibility, and hypalon lash loops allow secure stacking or attachment to vehicles, watercraft, motorcycles, and other equipment. The hypalon roll-top closure does not wick water, and the Field Repair Buckles can be replaced in seconds with just a Philips screwdriver.
We love the extra thought that went into the Big River Dry Bags. The oval bottoms prevent rolling, double-stitched and taped seams provide excellent durability, and the Field Repair Buckles make sure you're not stuck with a broken dry bag.
MSRP: $24.95 – $64.95