How many times have you needed a shady spot to get out of the desert sun or a quick shelter to protect you from a spring downpour and you didn't have one? If you're out exploring the backcountry or even heading to the local river fro the day for some fly fishing, you should consider an awning for your adventures.
Awnings are a quick way to add immediate value to your overland set up. An awning can completely transform the livability of your campsite — from keeping rain off your camp kitchen to shading you from the beating sun when the mercury rises. The addition of a screen room, a wind break panel, or the myriad of awning accessories can have a huge effect on your enjoyment of the outdoors.
In alphabetical order, here are some of our favorite awnings.
Best Overlanding Awnings
23 Zero Peregrine 270

Awning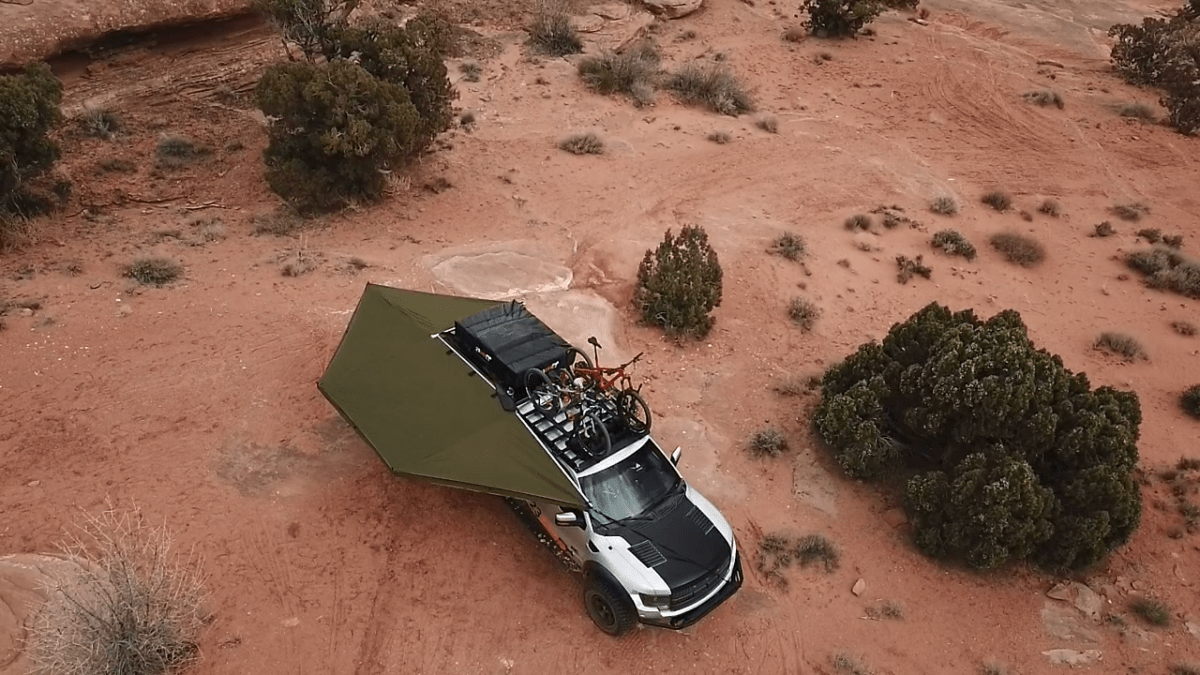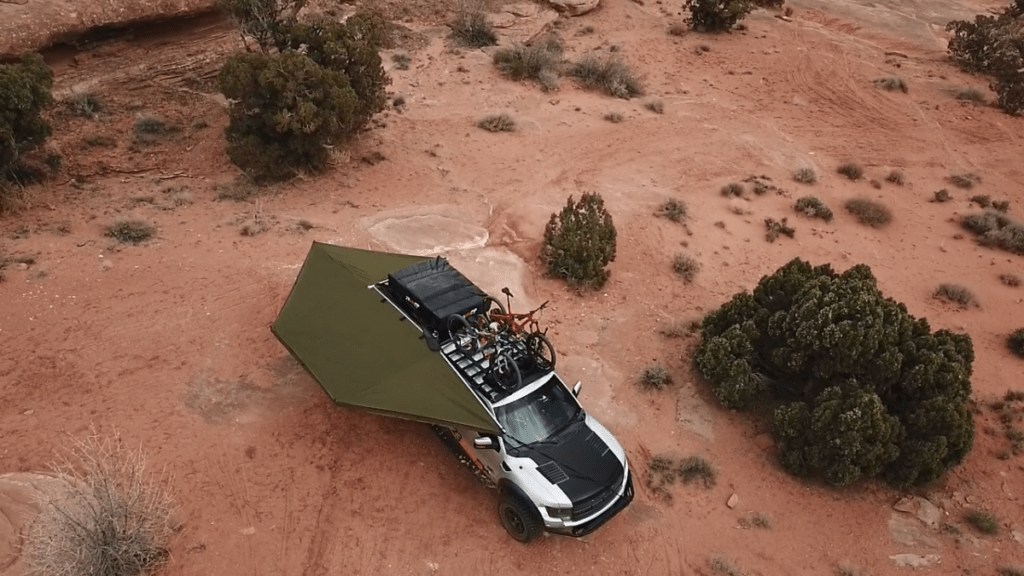 The Peregrine 270 Awning from 23 Zero offers an incredible amount of shelter and is the perfect choice for your overlanding or off-grid camp set up. This awning is ideal for overnight stays, meal breaks, and long-term base camping.
With a span of just under 20-feet along the length of the vehicle when fully deployed, the Peregrine 270 provides incredible shelter and coverage. With the optional two walls added, the Peregrine 270 provides up to 279 square feet of shelter around your vehicle – making it ideal for both sun and rain protection. The Peregrine 270 measures 88-inches when stowed and is surprisingly lightweight at under 51 pounds.
MSRP: $999.00
ARB Touring Aluminum Awning

with Light Kit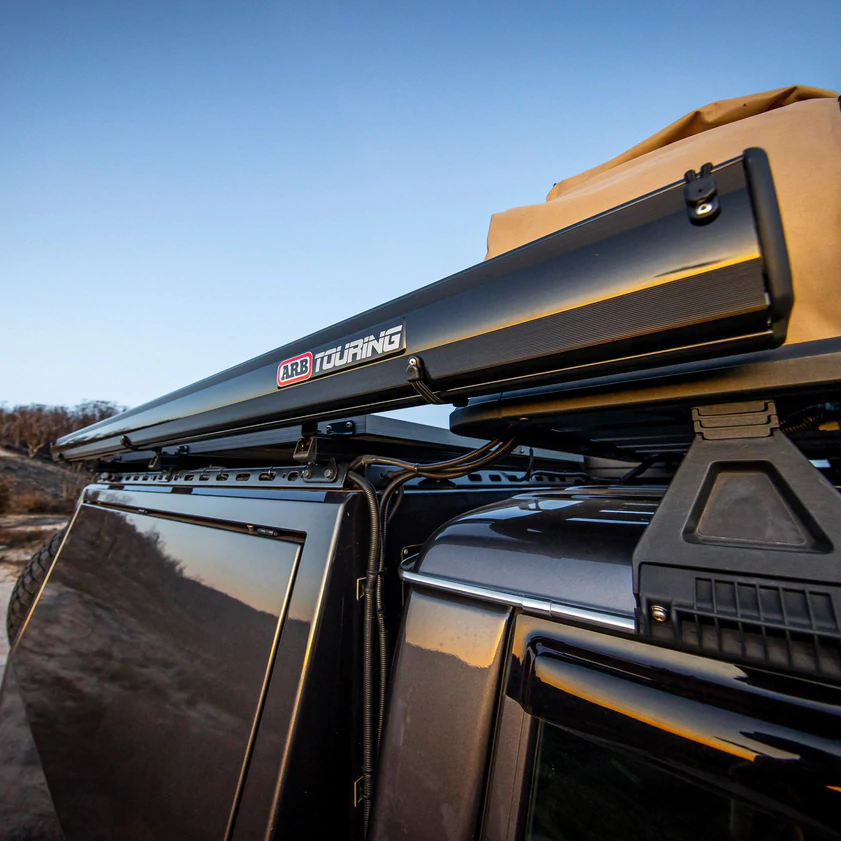 The ARB Aluminum Encased Awning is an upgrade from the standard ARB awning and offers a sleek look that removes the need for the old, sun-faded cover. The gloss black powder-coated aluminum encasement is easier to use than the traditional ARB awning and is easily deployed using three quick-release bungees and flip-up lid.
The awning material is abrasion resistant, waterproof, and UV protected and is perfect for shelter from storms or the sun. The ARB Aluminum Encased Awning can be fitted with optional lighting, screen rooms, and sun shades to provide even more relief from the elements. This awning can be deployed and stowed for travel in minutes.
MSRP: $686.00
Eezi-Awn Series 1000 Awning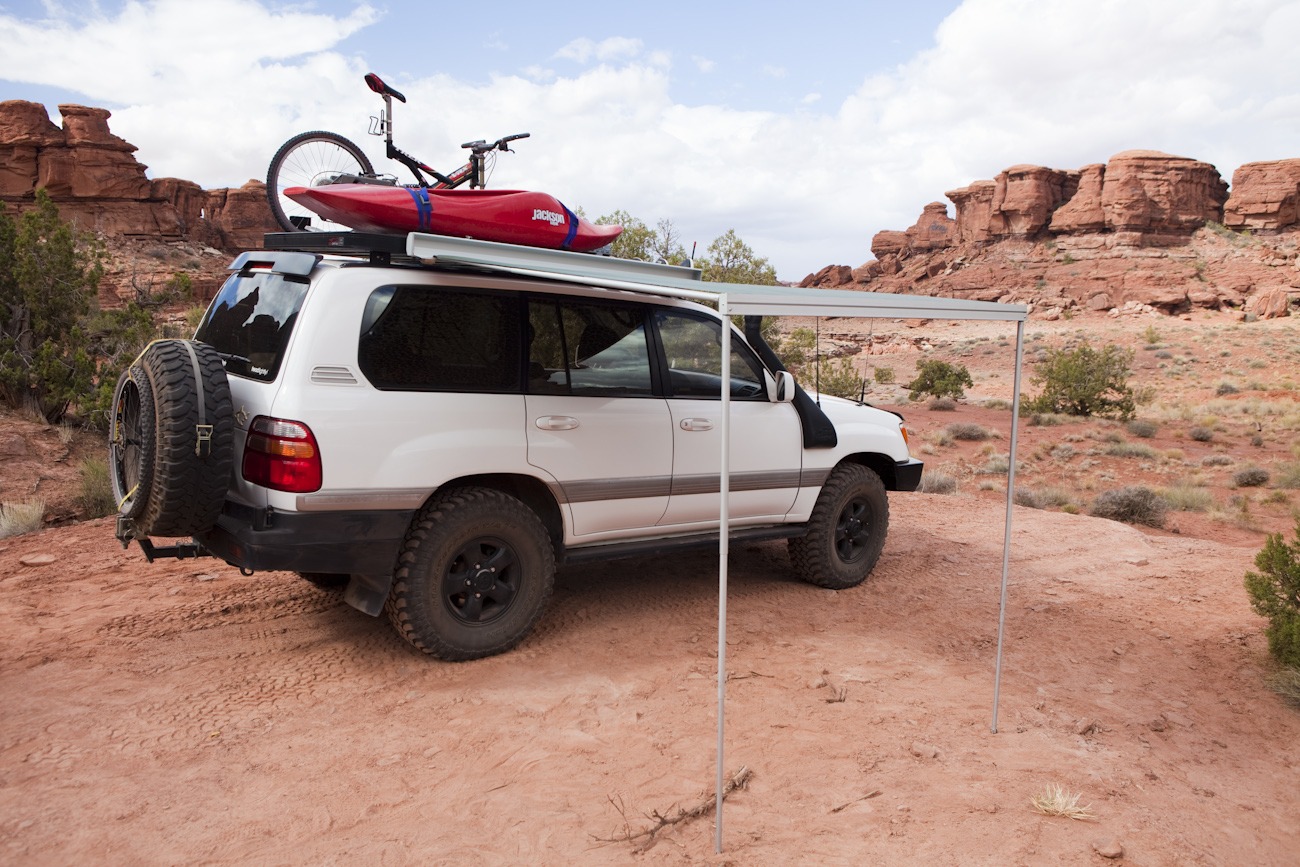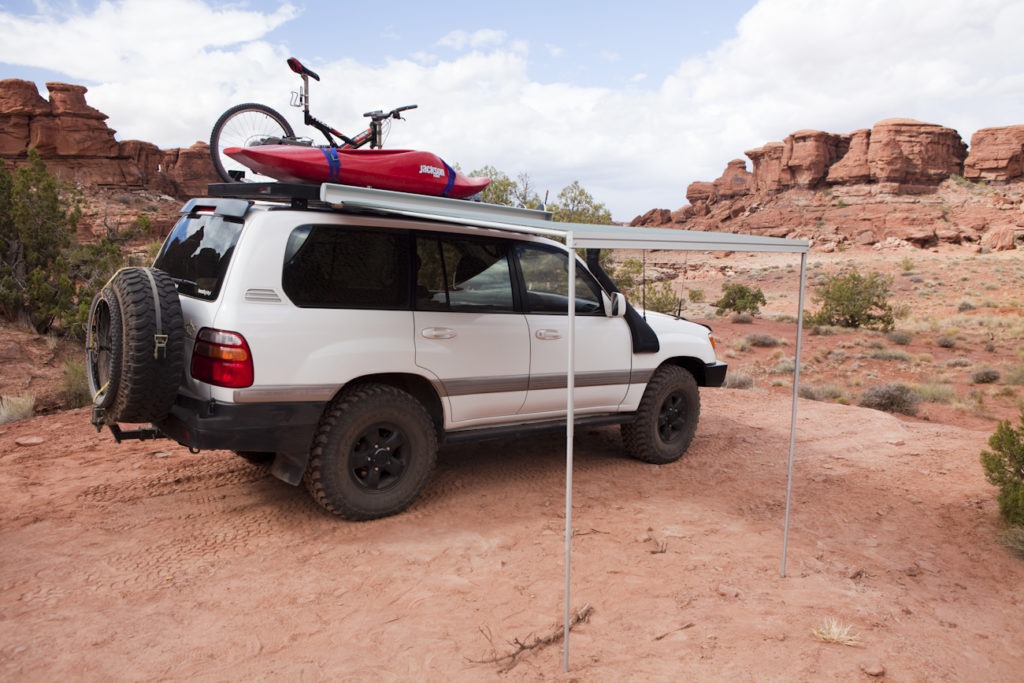 Combining the strength of a hard-case awning with the simplicity of a bag awning, the Eezi-Awn Series 1000 is ideal for those who want a relatively inexpensive option to attach to their vehicle's roof rack. Available in two sizes that covers around 50 square feet, the Series 1000 is covered in a PVC material and made from a light aluminum framework, keeping weight down below 30 pounds, extremely light for an awning of this size.
MSRP: $610.00
Front Runner Outfitters

Easy-Out Awning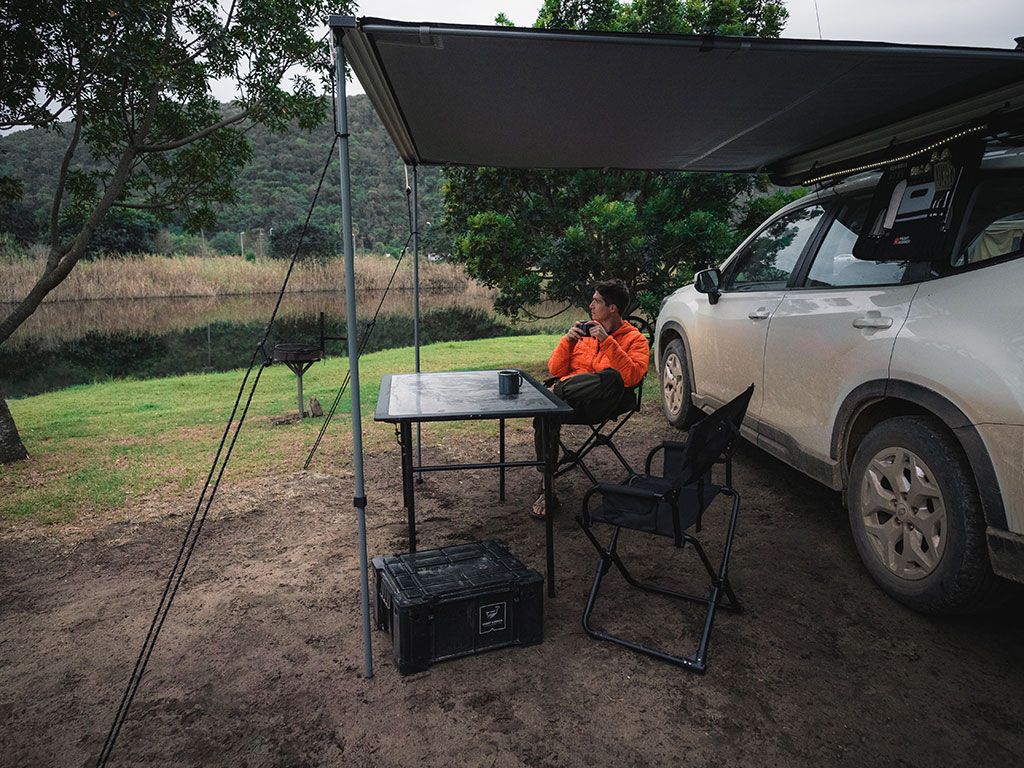 Always have shelter from the elements with the Front Runner Outfitters Easy-Out Awning / 2.5m, which mounts to your roof rack. When expanded, this awning measures 2.5m wide and 2.1m out from the vehicle, making it an ideal size for all larger vehicles.​
MSRP: $376.00
iKamper SkyCamp 2.0 Awning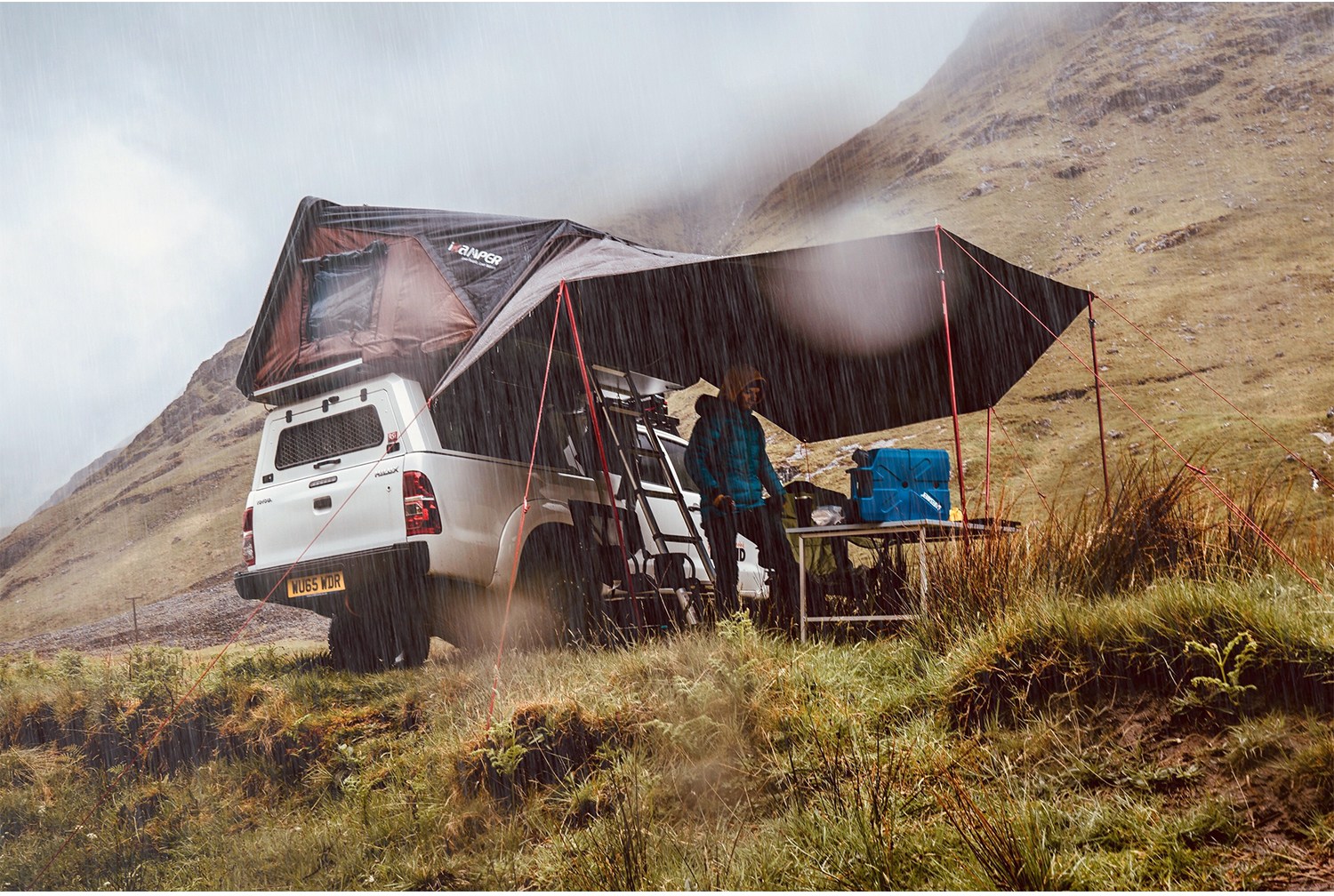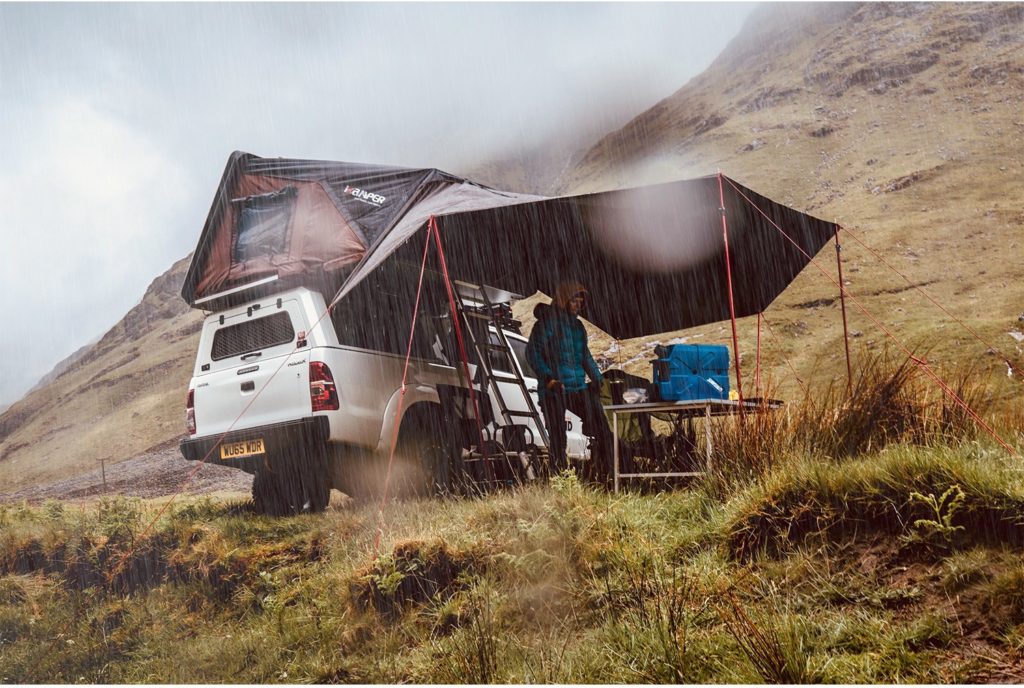 The Skycamp rooftop tent can be equipped with this awning that zips neatly into it, offering shelter from changing weather with minimal effort to quickly set it up. The coated polyester material that covers the four-pole structure is 100% waterproof and serves as a large rainfly for the tent's entrance. The oversized covering also keeps UV rays and heat out on hot days.
MSRP: $349.00
Rhino-Rack Batwing Awning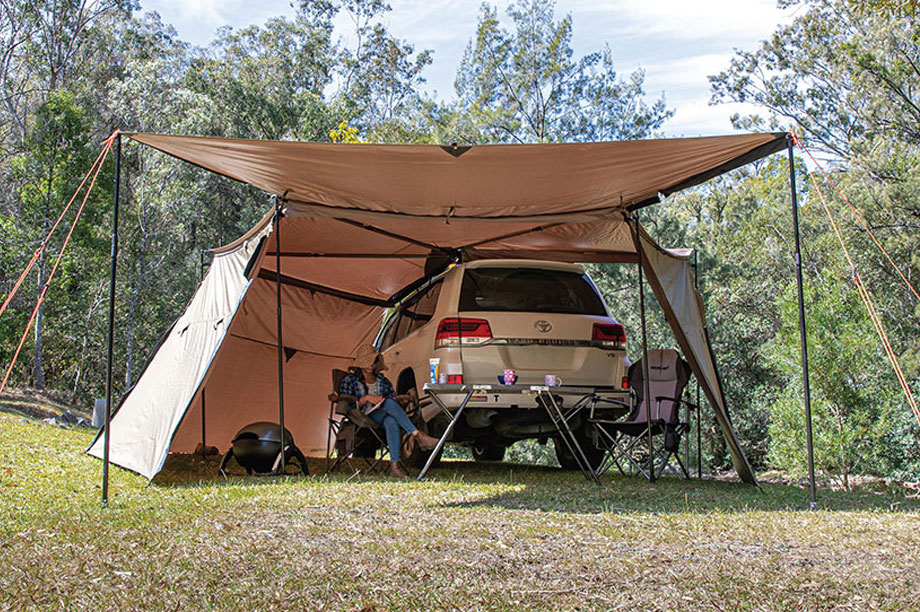 The Rhino-Rack Batwing Awning provides 270-degrees of shade and 11-square meters of coverage. The Batwing is made from a heavy-duty, water and mold-resistant material that has been tested and rated to UPF 50 + – offering maximum sun protection. The Batwing also is compatible with many of Rhino-Rack's existing awning accessories including side walls, extension pieces, and screen rooms – increasing your coverage even more.
MSRP: $796.00
Thule OverCast Awning
The Thule OverCast is a lightweight, manual awning that can be used in conjunction with a rooftop tent, cargo box, or other rooftop accessories. To simplify installation and setup, the awning comes with an adapter kit and is ready to mount to Thule and other aftermarket roof racks. Thule OverCast comes with guide wires to stabilize the awning in the wind and is available in 4-foot and 6-foot versions.
MSRP: $329.95 – $379.95