Our overlanding adventures are fueled by fuel, of course, which in this day and age means gasoline, diesel, and, more recently, electricity. Loading up for a long trip off the beaten path usually means adding some fuel storage to the mix, and combustibles like gasoline need to be handled with great care. Here's a short primer on how to safely transport extra fuel and the best containers that will keep you safe.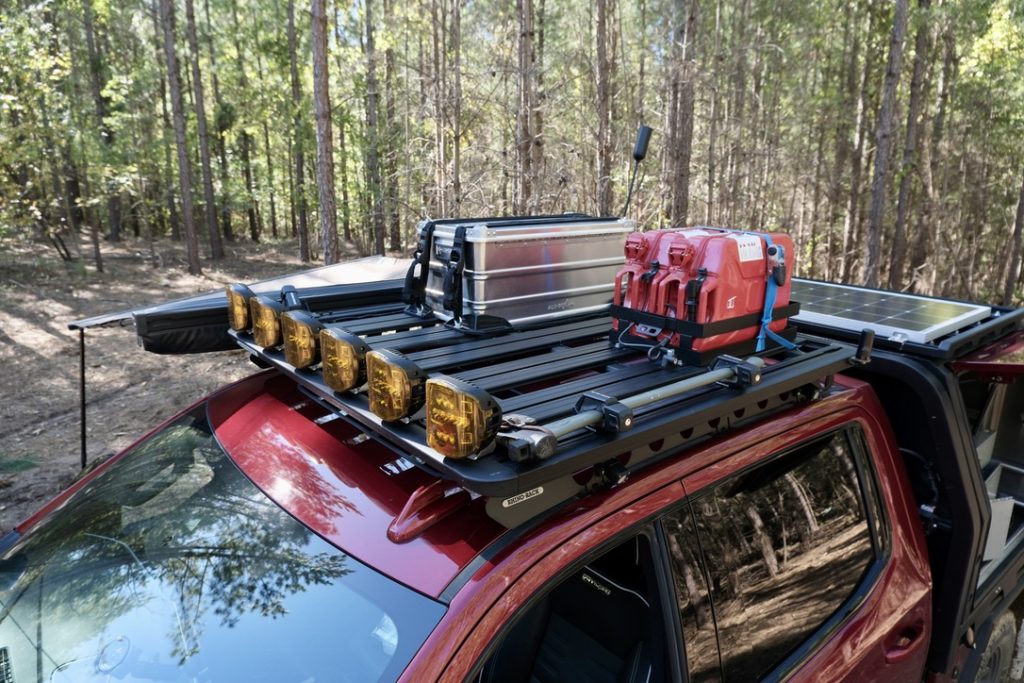 Gas Can 101: Safe Fuel Container Types and Colors
Since transporting fuel involves the risk of fire and explosion, both OSHA and the DOT have had their say in the U.S. on what makes a safe gas can or "jerry can," as they are also known. In general terms, they must be made of "metal or polyethylene (aka plastic) construction," and "they must have flame arresters, self-closing lids, pressure relief, and 100% leak testing features."
While gas cans come in various shapes, sizes, and capacities, in general, they are one of two approved types: Type I containers, which most of us recognize and have at home, have one opening for both filling the can and dispensing the fuel. Type II containers, which are a bit fancier, have both a fill and dispense opening.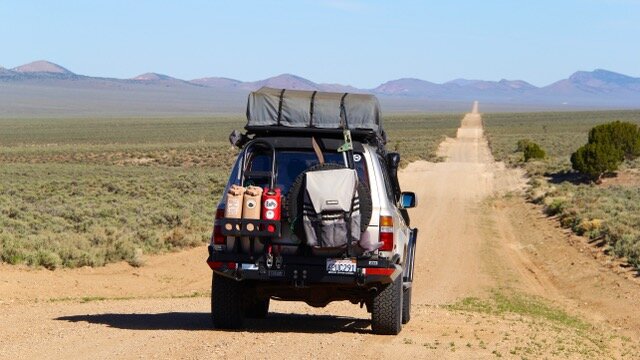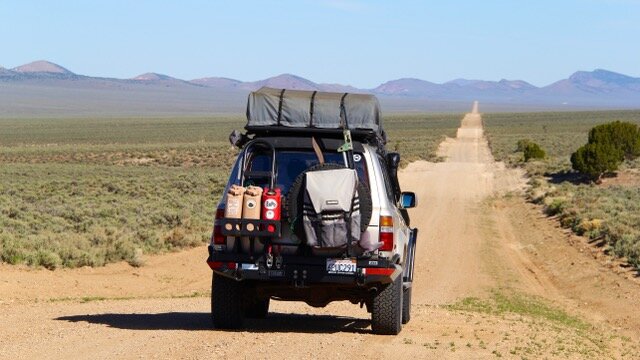 Type II gas cans can typically dispense fuel more quickly, and so are better for larger fuel loads, but Type I cans are the most common by far. Also, the maximum capacity for both is five gallons for an approved fuel container. Yes, you can get larger capacities for commercial applications, but typically, you'll fill containers with five gallons or less.
In general, if you buy a gas or jerry can at any U.S. auto parts retailer, gas station, or from a U.S.-based online retailer, it will likely meet those safety specifications. If you buy a super-cheap fuel carrier from some sketchy website and it takes six weeks to arrive, you may be taking some unneeded risks regarding quality and durability. Be sure to research your purchase carefully.
What About Motorcycles?
Overlanding via motorbike puts special pressure on the fuel supply since motorcycles typically can't carry nearly as much fuel, although adventure bikes tend to have larger gas tanks, and there are many aftermarket options for fitting a larger-than-stock gas tank.
Outside of getting a bigger main tank, there are essentially three options. The first is a Rotopax-type fuel cell mounted to the bike itself, typically on a rear rack, but I've also seen them mounted to the front crash bars. Obviously, a hard crash may result in a spill, so riders will have to determine how much risk they want to take with their fuel supply when locating it on the bike.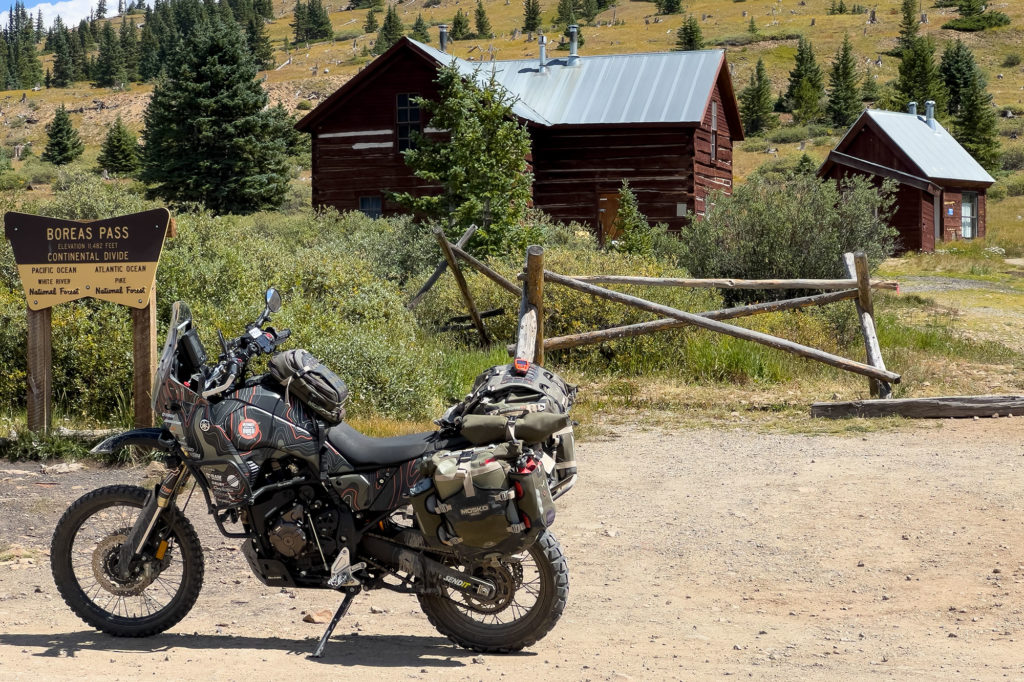 Another popular option for riders is a fuel bottle. These metal bottles completely seal the fuel in, so there's little chance of spilling, and they can be tucked into saddlebags or, more often, strapped to the back of a saddlebag (as below), allowing riders to carry multiple bottles. Typically, a fuel bottle holds 750 milliliters (25 ounces), which is the same capacity as a typical bottle of wine. However, you can get bottles up to 30 ounces. That might not sound like much, but when the main tank runs dry, the 20 miles or so it can get a bike might be enough to get you back to a road or that small town with a pump. That's why many riders often carry several fuel bottles if possible.
Another less common option is a fuel "bladder," or what is essentially a specially designed soft "bag" for gasoline similar to a hydration bag. More popular in Australia and Europe, fuel bladders might seem a bit iffy in terms of safety, but they offer larger capacities (up to 20 liters/4.4 gallons). When mounted correctly, typically on the bike's tail section or atop a hard pannier so they are protected in case of a tip-over, they are highly reliable in terms of safety. Still, it is a "bag" of fuel, so use extreme care when using fuel bladders.
Best Jerry Cans for Overlanding
Let's look at some of the best fuel storage/gas can options you should consider for your travels.
RotopaX Fuel Container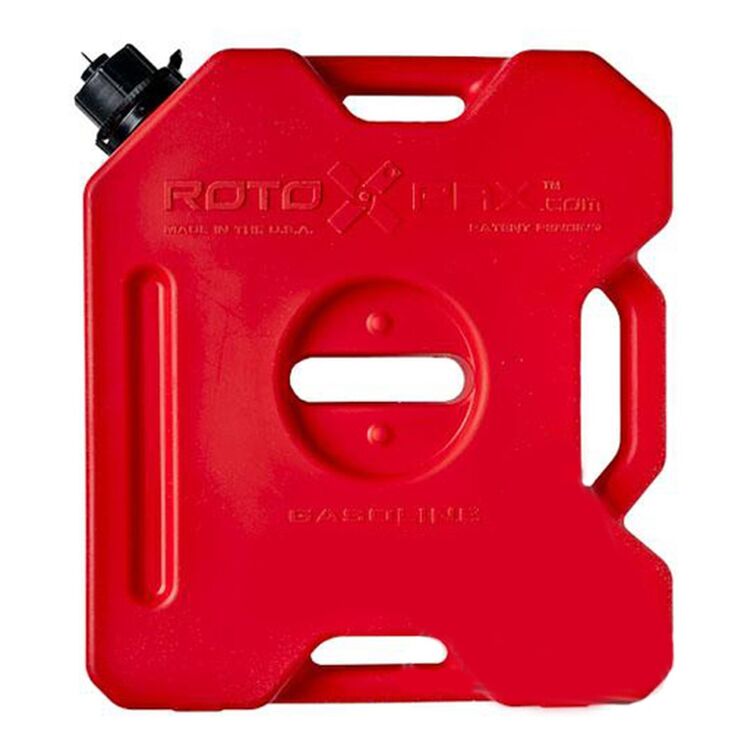 Available in sizes from one to four gallons, these are perfect for motorcycles and four-wheel vehicles. RotopaX Gasoline Packs are made in the USA from high-strength plastic and are individually pressure tested, ensuring a quality, leak-free product. These gas cans can mount to any flat surface using RotoPAX's proprietary mounts (sold separately) or your manufacturer's bumper or gas can mounting hardware. They can also be securely stacked when mounted for expanding capacity. Rotopax offers yellow, orange, black, and white containers as well for storing different types of liquids.
MSRP $79.95–$134.95
Front Runner – 20 Liter Metal Jerry Can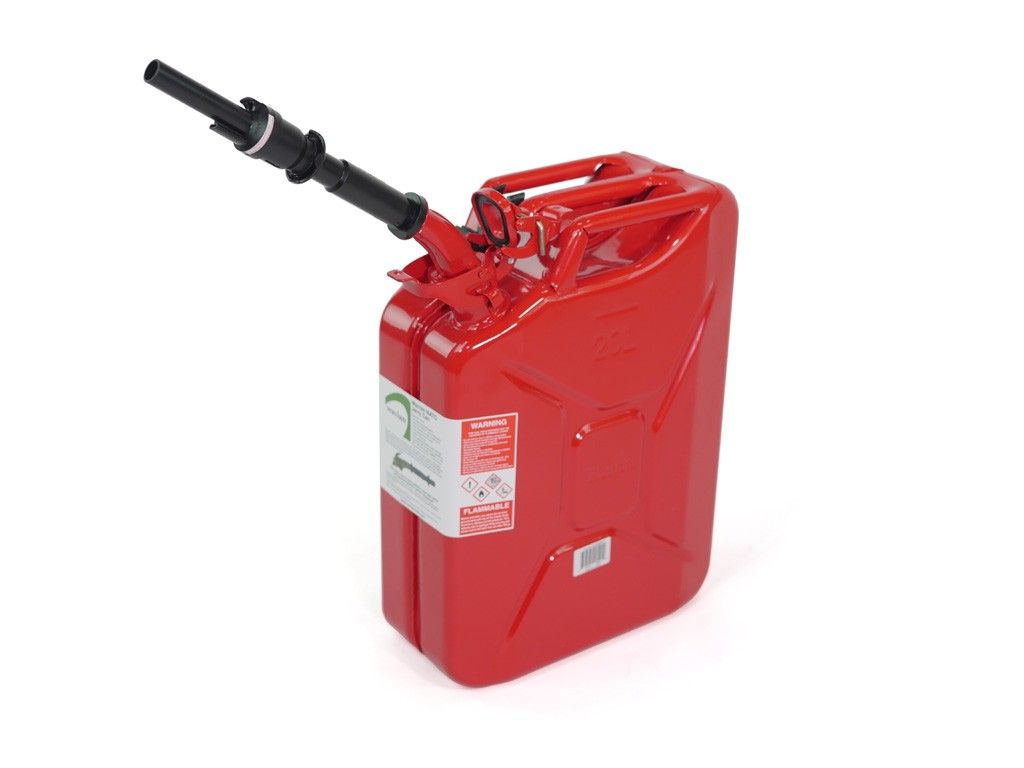 Front Runner Outfitters provide overlanders with a wide array of necessary trail gear, so it makes perfect sense they have the fuel category covered. This 20-liter jerry can features an internal breather, a splash-proof pouring spout, and an interior coated with Rezol to prevent rusting.
MSRP: $87.95
Front Runner Double Jerry Can Holder
There are a variety of mounting options for Jerry Cans, but regardless of what you go with, be sure that it's secure. A fuel spill is no laughing matter, so relying on bungee cords or other improvise options for securing Jerry Cans is a bad idea. Instead, go with a trusted solution like this mount from Front Runner. It can carry two full-sized Jerry Cans, and it's lockable, so your fuel is secured.
MSR 30-ounce Fuel Bottle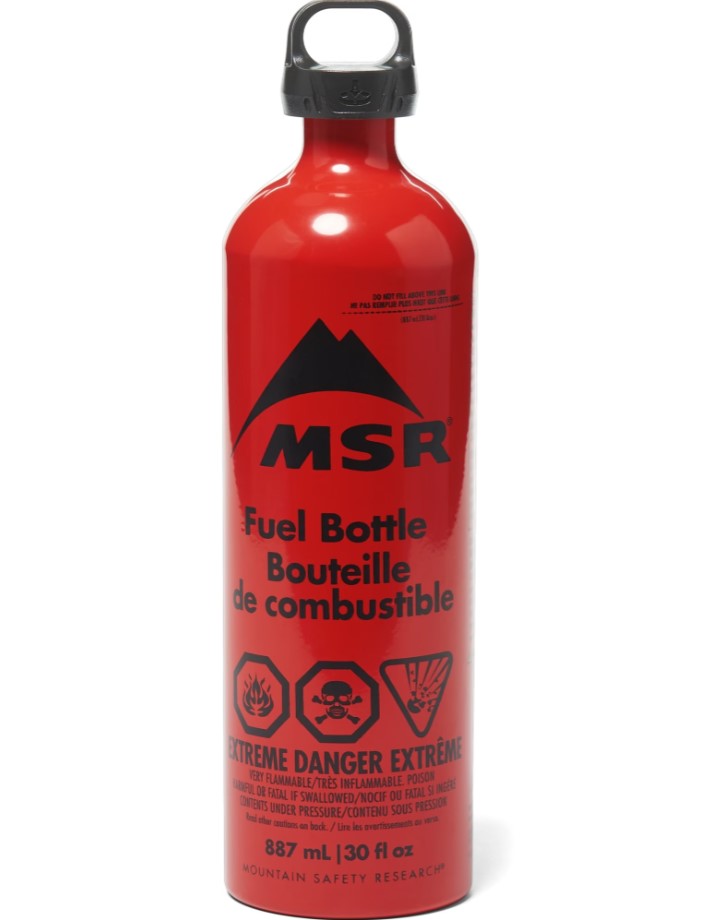 MSR fuel bottles are a favorite of adventure motorcycle riders. All-steel construction can withstand most impacts, and the cap seals completely, keeping gas and vapors in the bottle in rough conditions. Available in sizes from 11 to 30 ounces. Thirty ounces of gas may not seem like much, but on a smaller motorbike, it could mean another 20 or 30 miles worth of riding back to civilization. Many riders carry more than one. They also fit standard fuel stove supply connection caps for use as a cooking fuel supply.
Desert Fox 20-liter Fuel Bladder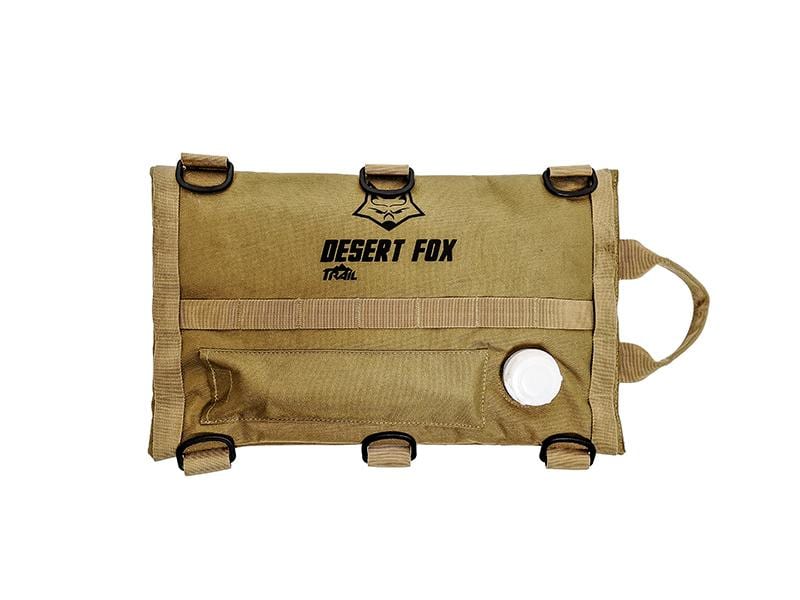 Desert Fox makes fuel bladders for motorcycle riders in sizes from three or six liters and even 20 liters – or over 4 gallons. So, depending on your adventure, you have options. The bladders feature numerous tied-down rings, multiple handles for easy pouring, a built-in spout storage pocket, and a tough canvas exterior. Desert Fox says the bladders are military-grade. They can also carry water or other liquids, but once you put gas in, you might want to earmark that bladder just for gas to be safe.