How many times has this happened to you? You're driving along, enjoying the scenery and the dreaded low fuel indicator lights up on the dashboard. You have thirty miles of fuel left in the tank, but a quick calculation tells you that you're over forty miles from the nearest gas station through some rough two-track and a drive down the highway.
I hope you brought extra fuel. If not, that's going to be a long walk.
Few things are as rewarding as getting deep into the backcountry – exploring the mountains, forests, and deserts. Unfortunately, getting way out there means carrying enough fuel to get from point A to point B (and back) safely. Knowing how much fuel to bring with you and how to store it is something every overlander — regardless of experience — needs to consider. But knowing which jerry can (or gas can) is best for overlanding isn't always intuitive — not all jerry cans are equal.
Over the last decade, through trial, error, and actually running out of fuel, I've found the best gas can for overlanding. But before I get into that, let me give you a bit of background.
When I was building out my dream rig a decade ago — a 1994 Toyota Land Cruiser — one of the challenges I needed to address was the storage of extra fuel for long overland trips. Having extra fuel on board (preferably mounted externally) is an important consideration for safety and peace of mind on trips, especially those that are off pavement in the backcountry.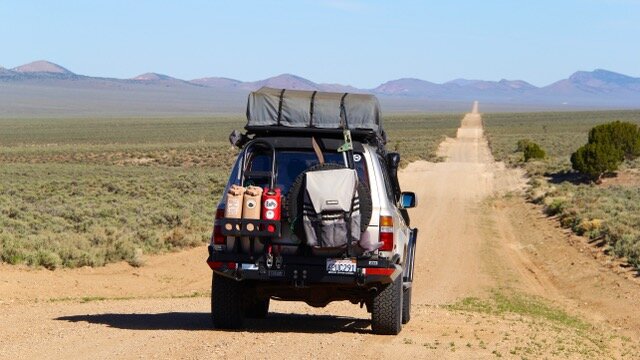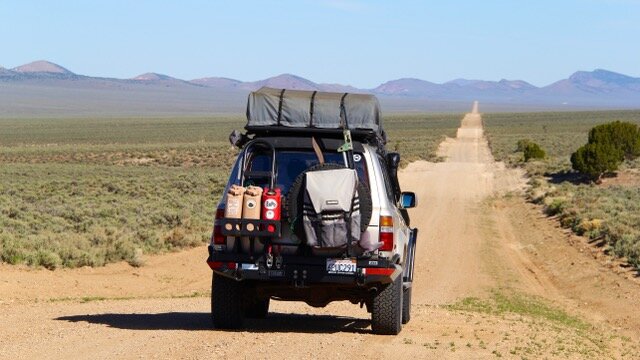 While gas stations are ubiquitous in the U.S. or Canada, finding a gas station when you need one in Mexico and Central America can be quite a challenge. In those situations, it is imperative to have an adequate supply of fuel to help you reach your next destination (or fill-up point). I've traveled extensively off the grid through all of North America, and I've used my extra fuel countless times to make it to the next town.
Knowing how much fuel to bring with you and how to store it effectively isn't always a simple equation. Fuel weight, mounting issues, and knowing the right gas can to purchase are important considerations — especially for those that are new to the overland style of travel. The safe bet is to carry at least five gallons of extra fuel with you on your adventures.
A U.S. gallon of gasoline weighs approximately 6.3 pounds and most external cans are about 20 liters, or 5.0 gallons each. So five gallons of fuel is about 31.5 pounds plus the weight of the gas can itself. This calculation is important because you need to know if the swing out on your vehicle bumper or your roof rack can safely hold the extra weight.
Best Jerry Cans for Overlanding
Let's take a look at some of the best fuel storage/gas can options that you should consider for your travels.
Wavian 20-Liter Steel Jerry Can with Spout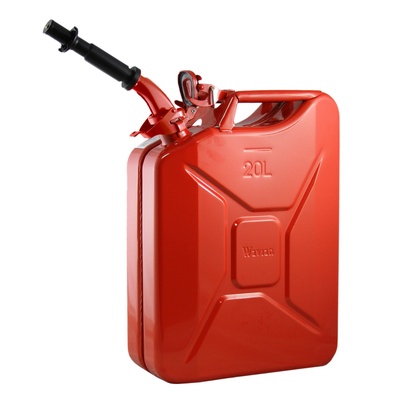 Built to tough NATO/ military specifications, this workhorse of a gas can is made from 0.9mm cold-rolled steel and painted in an epoxy-polyester powder coat for color durability. The Wavian Gas Can has a leak-proof bayonet closure and a locking pin in the cap to stop spills on corrugated roads or rocky trails.
I've been using this specific gas can for over five years. It is rugged, durable, and it hasn't failed me yet.
MSRP: $89.99
RotopaX Fuel Container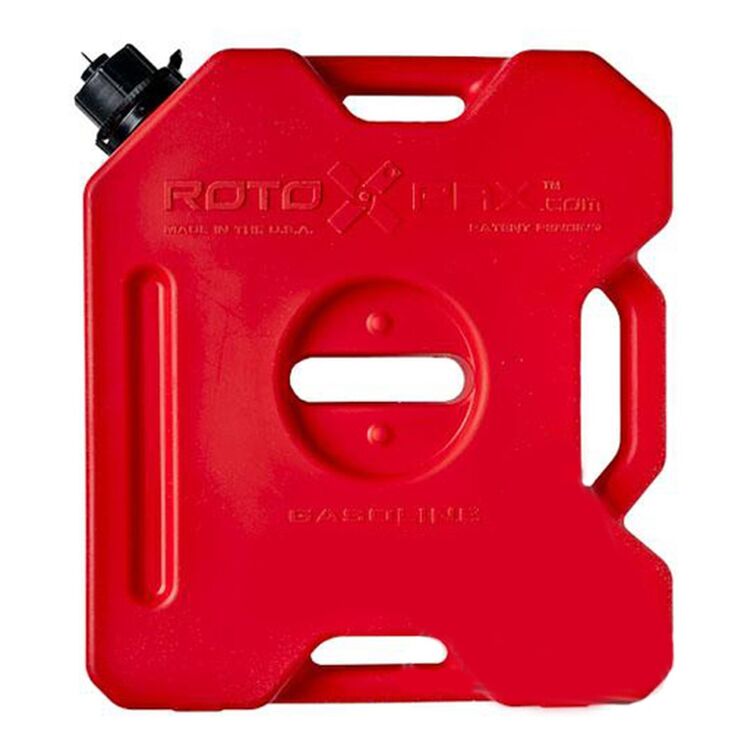 Available in 1.0, 1.75, 2.0, 3.0, and 4.0–gallon versions that are perfect for motorcycles as well as vehicles, RotopaX Gasoline Packs are individually pressure tested and manufactured 100% in the USA, ensuring a quality, leak-free product. These gas cans can mount to any flat surface using RotoPAX's proprietary mounts (sold separately) or to your manufacturer's bumper or gas can mounting hardware.
MSRP $79.95–$134.95
Rugged Ridge 20 Liter Metal Jerry Can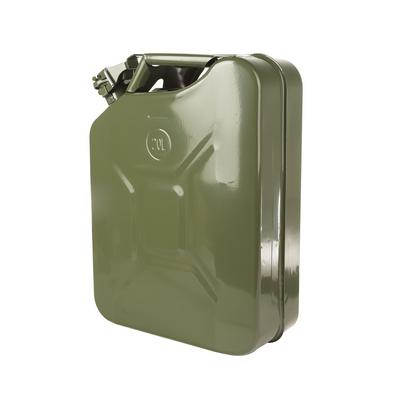 If you're looking for a safe and reliable means of carrying fuel reserves with you on those extended trips, Rugged Ridge Jerry Cans are a great solution no matter what you drive. Features stamped steel construction with a sturdy 3-bar handle, 20-liter capacity (5.28-gallons), a green gloss finish, and also includes a hinged fuel cap with a safety latch and locking pin.
MSRP: $62.99
Please note that I do not recommend the thin-walled plastic gas cans that you can find in many gas stations. They are not rugged enough to handle the extreme conditions that we, as overland travelers, put our equipment through. You're inviting leaks and a world of trouble if you keep your fuel in one of these cans. Don't do it! Cheaper is not always better in this situation.
Having a rugged gas can isn't the end of your needs. Pure gasoline begins to degrade and lose its combustibility as a result of oxidation and evaporation in three to six months if stored in a sealed metal or plastic container. You can store gasoline a bit longer with a gasoline additive like Sta-Bil Fuel Stabilizer, which when added to gas into your gas can will stabilize your fuel and keep it fresh for up to two years. I highly recommend purchasing (and using) an additive.
It takes one time running out of gas for someone to realize the importance of carrying and storing extra fuel on board their vehicles. It is doubly important for those that venture further off the tarmac and spend lots of time in the backcountry.