Todd Arnold's Storyteller Overland Beast MODE 4×4 van has seen backcountry trails, extreme terrain, and vehicle recovery situations that most Sprinter vans could only dream about. Todd's sense of adventure and his innate ability to seek out challenging situations that push his vehicle, his gear, and himself to new levels has led to him becoming a well-known member of the overland and #vanlife communities.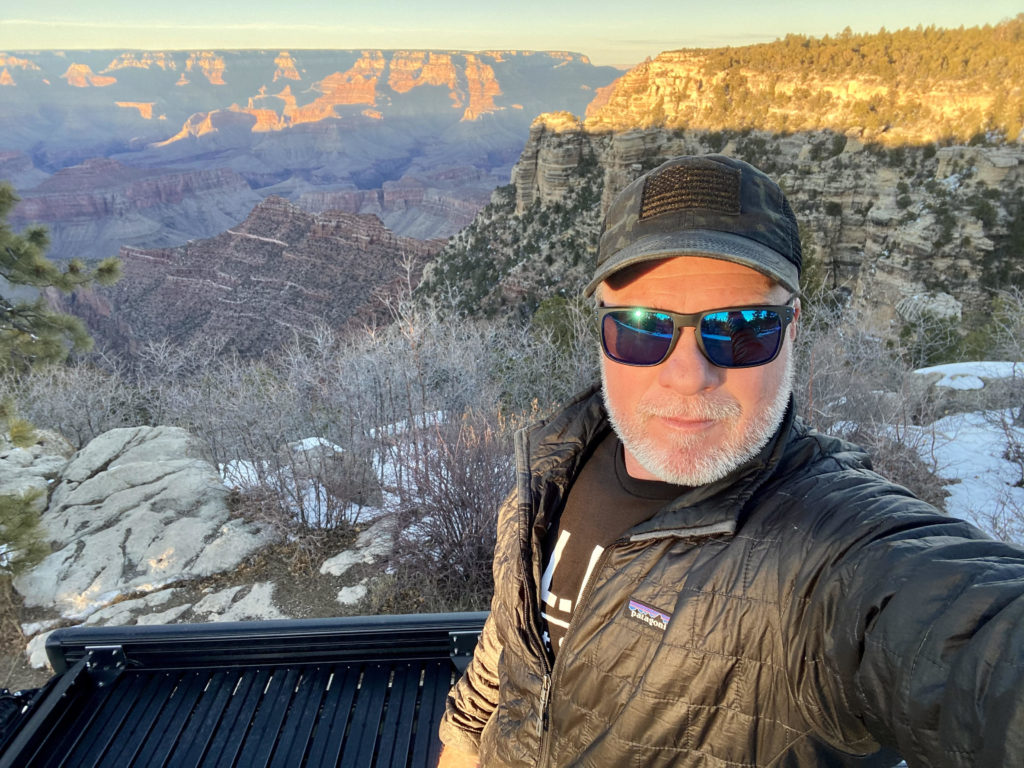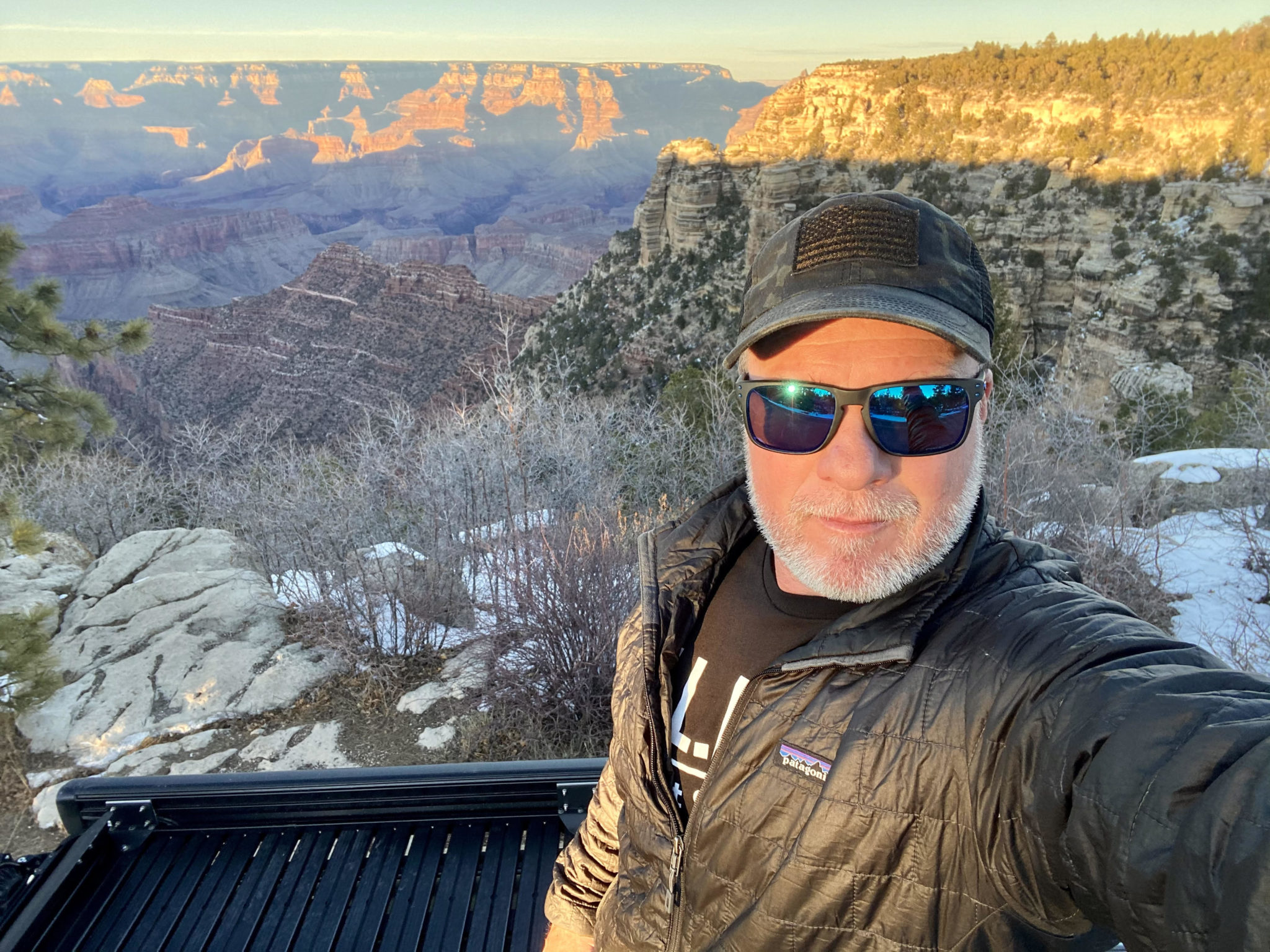 But he wasn't always a full-time traveler – for the last 20 years, he's run a very successful real estate business in Ponte Vedra Beach, Florida. While he loves his work, it took Todd caring for his father who fell ill and passed away for him to make the decision to embrace the "You Only Live Once" philosophy and head out on the road for a life of adventure. Todd says; "YOLO means way more now than ever to me. I'm not working to retire and start my life. As a matter of a fact, I never plan to retire, I just work the way I want to be able to do the things I want to do. Now I work remotely with a balanced schedule. Meaning I schedule where I want to be and what I want to do and make time to balance the important work needs back in Florida remotely."
In 2020, Todd rented an adventure van to find out what vanlife was all about. After spending Thanksgiving at a primitive campsite followed by more remote spots on the Florida coast, he got the itch to travel by vehicle as a way of life. Though he loved that first experience, the vehicle he rented just didn't fit his needs. When he got back from that trip, he reached out to his friend Grant Wilson of FreedomVanGo about building out a van of his own. After learning that build time would be over a year, he checked into the vans from Storyteller Overland, and as they say … the rest is history.
Todd landed on the 2021 Beast MODE 4×4, built on the incredibly capable Mercedes-Benz Sprinter 144-inch platform as his rig of choice. Right from the dealer, the Beast MODE is ready for anything with its 3.0-liter Turbo Diesel V6 engine that puts out 188-horsepower and 325 pound-feet. of torque. Storyteller bolts on an Agile Offroad Ride Control System, Fox coil-over shocks, and Method Wheels wrapped in 275/70/17 BFGoodrich AT KO2 tires. Storyteller includes a rear door-mounted full-size spare and 360 degrees of KC HiLites lighting around the rig.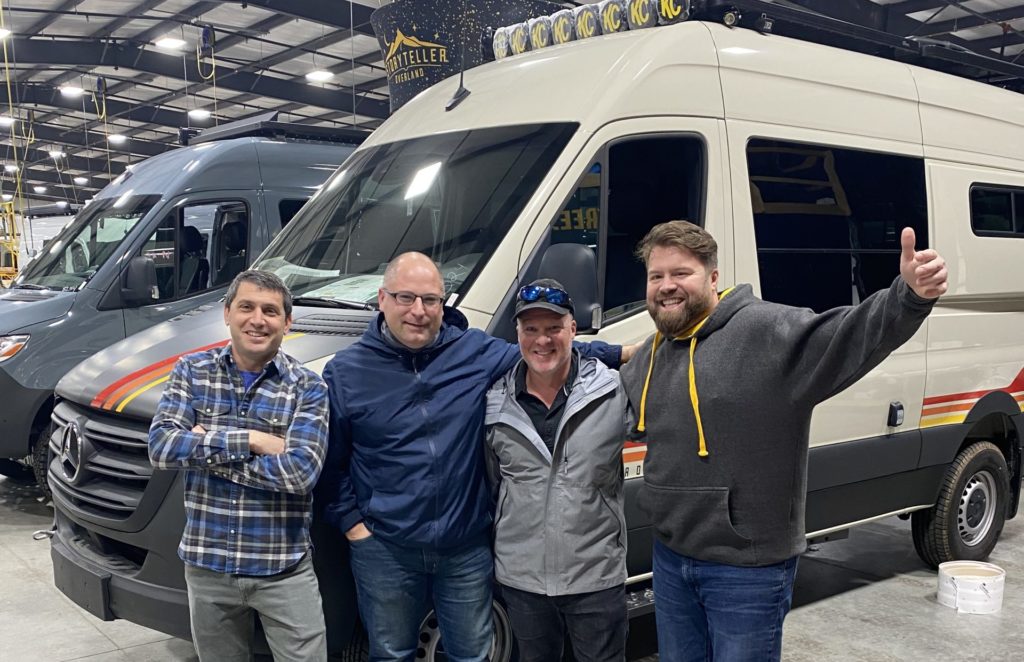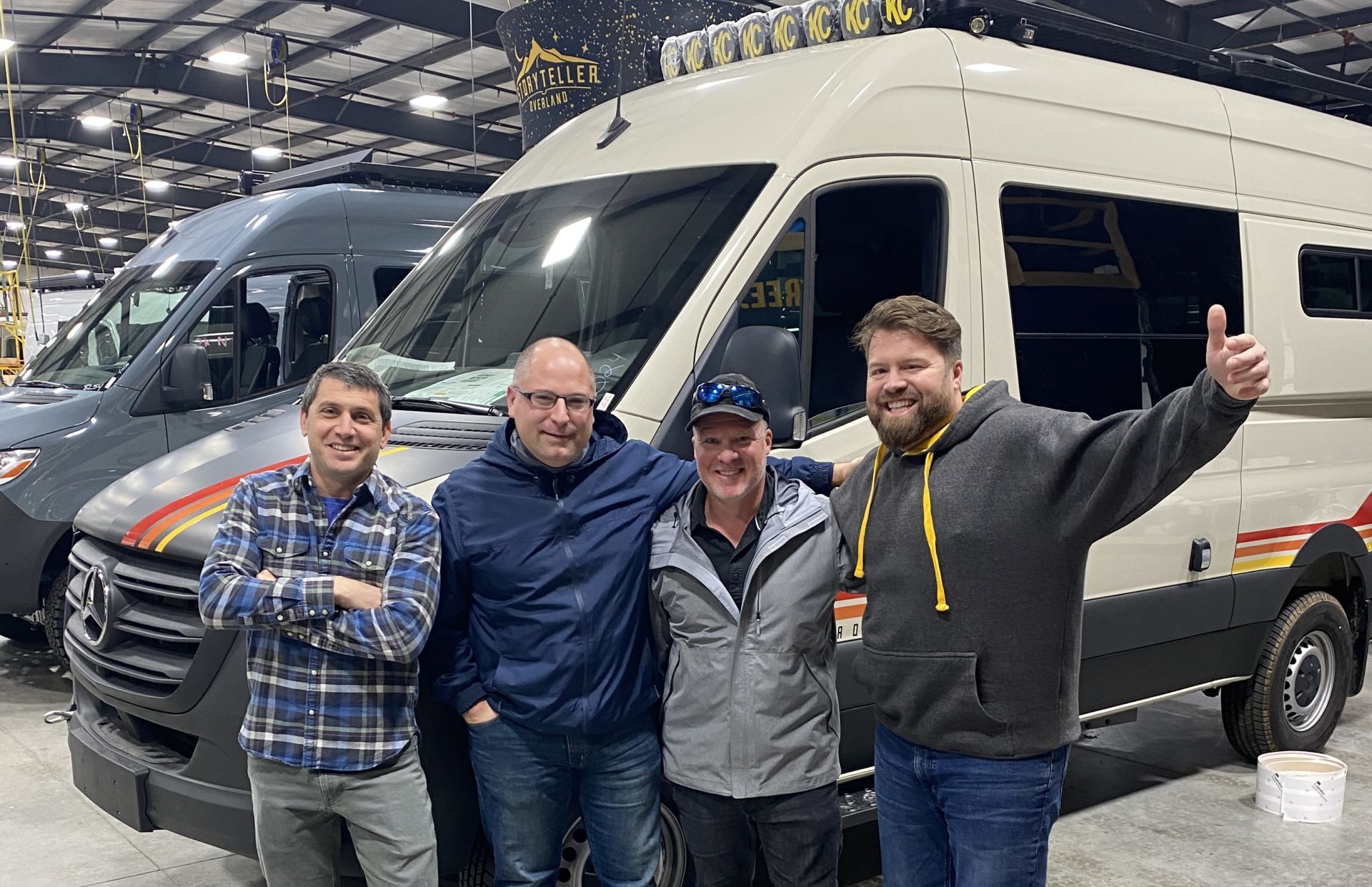 In his initial conversations with his buddy Grant, Todd wanted to know what parts and accessories he should add to his new rig. Grant told him, "The Beast MODE is already very capable. Why don't you go out and use it and then add parts as you need them?" Sage advice, because the more money you save in outfitting your vehicle, the more money you can put into actual travels.
In his journeys around the U.S., it became clear that Todd wanted to recover ALL the vehicles, and after a few times trying it, he knew that using tow ropes and snatch straps wasn't going to cut it. To make life easier, he added a CA Tuned front bumper, a 12,000-pound winch from Warn, and outfitted the winch with closed system winching accessories from Factor 55. On his recent trip across the country he recovered vehicles from sand, mud, and rocky terrain; including his personal record – 14 vans at an event in Central Oregon held in a silty field. Todd isn't afraid to break out the recovery gear and hook it up to anyone needing help getting out of a bad situation!
He also outfitted his Beast MODE with a Backwoods Adventure Mods Rear lockable box for more storage space and additional Rotopax fuel canisters for extra peace of mind when he's out in the backcountry.
The off-road capability of the Beast MODE is what drew him to the rig, but it's the interior that gets the majority of the use for him. Todd still has a home (and a business to run) in Florida, but for the most part he's living and working from the road, – so he needs space to set up his office and to be able to stow it away and convert it to living space when he's not working.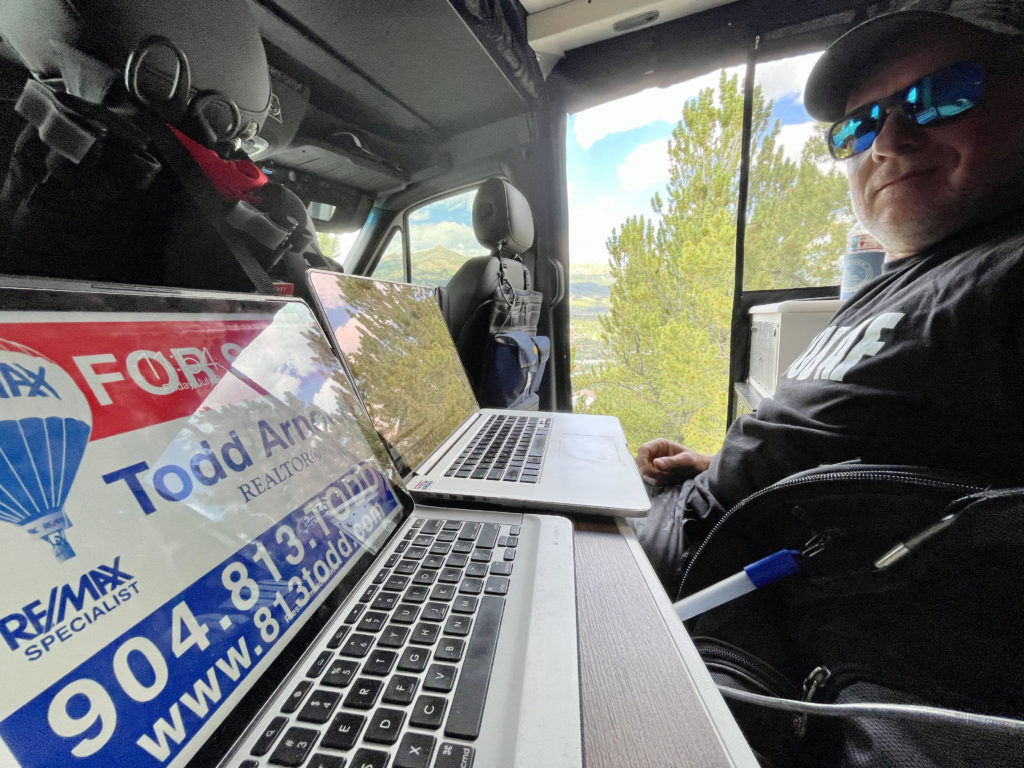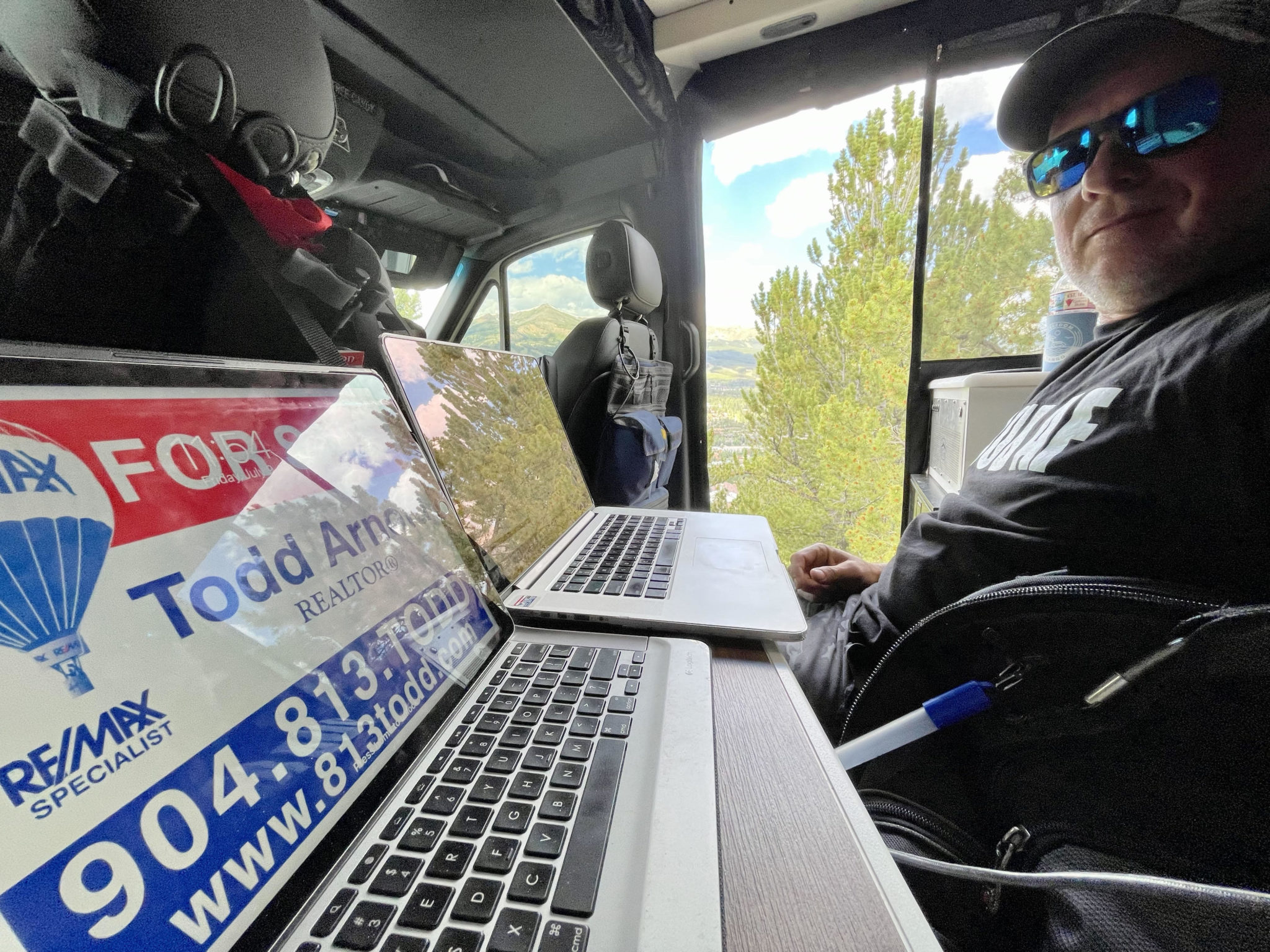 Storyteller decks out the Beast MODE with swiveling front seats with a GrooveLounge seating area directly behind them that sports seat belts for passengers and can be converted to a workspace or a secondary bed for company. The kitchen area is appointed with a fridge, microwave, and induction cooktop. The portable toilet and HALO shower system fold up and store out of the way when they're not in use. The Dreamweaver Murphy-style bed folds up to store mountain bikes or anything else Todd needs to carry with him. Temperature controls are easily accessible and diesel heat and a 13.5K-BTU air conditioner come standard. There are plentiful power ports and outlets accessible throughout the rig. Todd thinks of his Beast MODE as "a very well-outfitted tent on wheels, if something goes south you still have a pretty darn cool tent that can be fixed back up and get you back on the trail. But my favorite part is when I tell people about the power system and how I can run everything without using solar or a generator to run the A/C or induction stove all day."
Todd got to push his limits even further this past summer when he attended Overland Expo WEST in Flagstaff, Arizona on an Overland Experience ticket, giving him access to classes in 4WD driving skills and vehicle recovery techniques so he could take his knowledge to a new level. On the driving course, he pushed the capabilities of his rig farther than he thought he could – as evidenced in the photo below.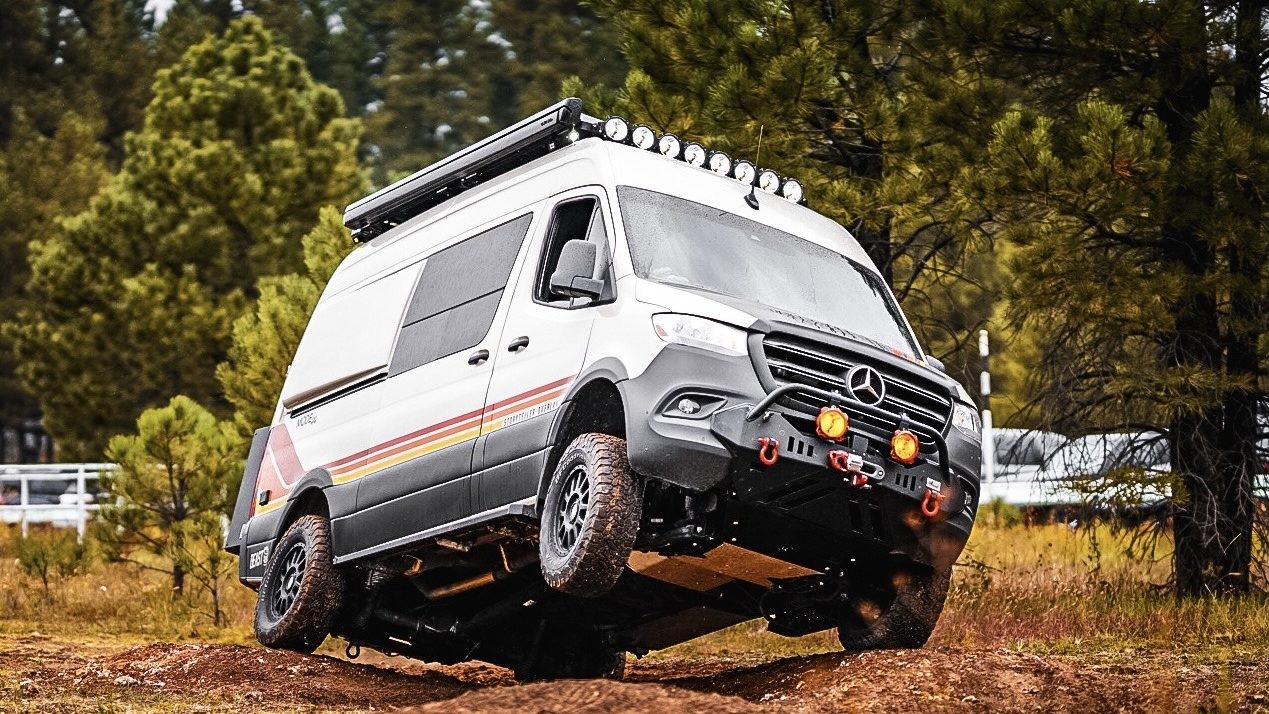 After a few cold months in the snow in the winter of 2020 / 2021, Todd is making sure the window covers are well-insulated and he plans to add more Havelock Wool van insulation in some drafty spots to make his travels more comfy for 2021 / 2022. His biggest upgrade this fall and winter though is a Rixen Heating System (a new feature in Storyteller's 2022 production line). Every mod Todd makes gets him excited to get out and spend more time playing – and of course working, in his Beast MODE.
You can follow Todd's travels on Instagram @813todd or you can check out the Storyteller Overland Beast MODE 4×4 at https://www.storytelleroverland.com/2022-beast-mode-4×4/