Overland Expo's The Compass editorial staff found a couple hours during the first-ever Overland Expo Pacific Northwest to walk the show, greet our exhibitors, and inquire about whether they had any new gear. And of those brands with new pieces of kit to hawk, we found a handful of products that not only liked but lusted after.
Whether they were downright stupendous or uniquely ingenious, these pieces of gear caught our attention. What's more, they've been added to our staff's ever-growing 'must-have' gear lists.
In no particular order, here are our favorite pieces of gear from Overland Expo Pacific Northwest 2022.
KOVEA — 40th Anniversary Collection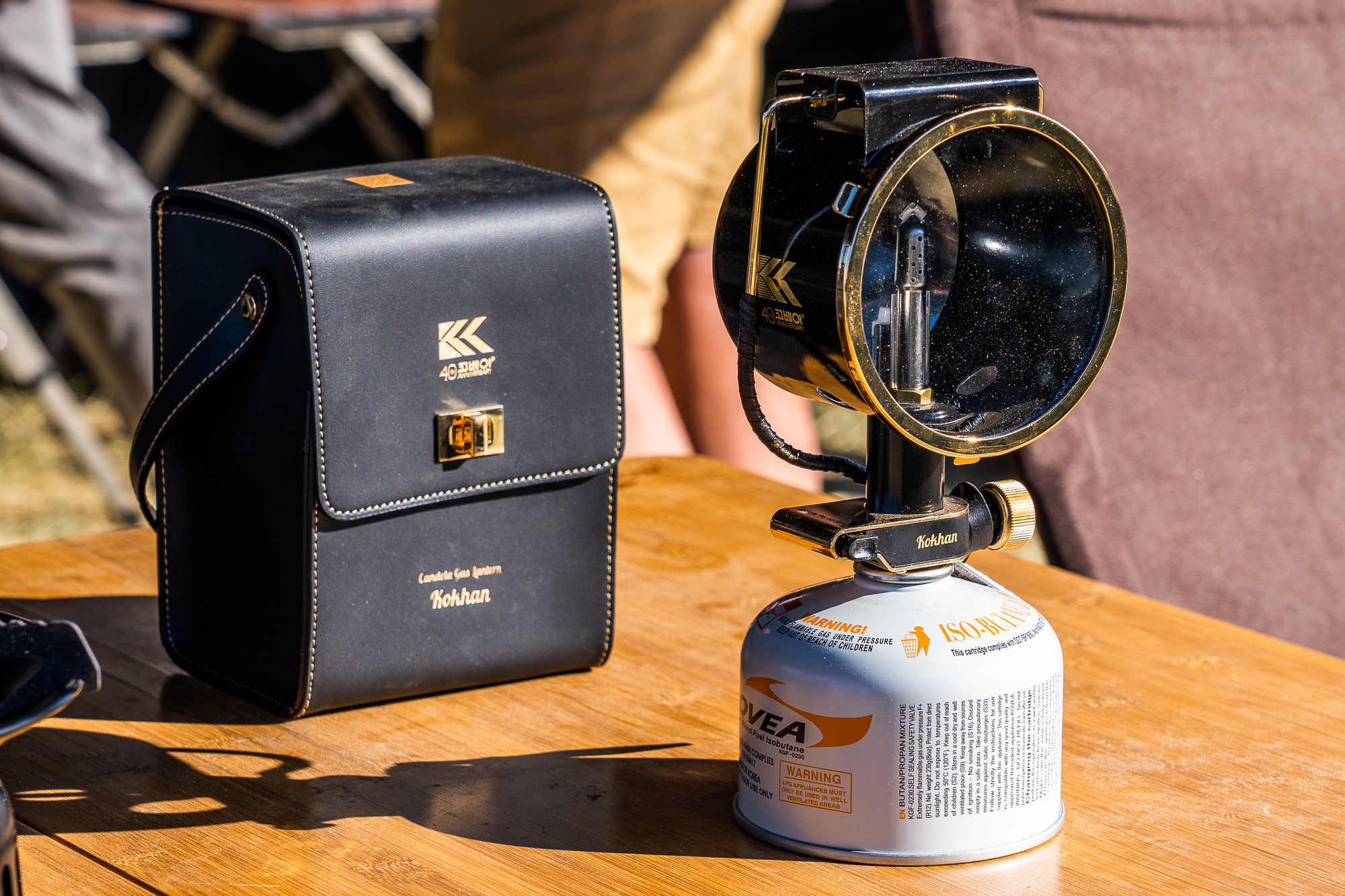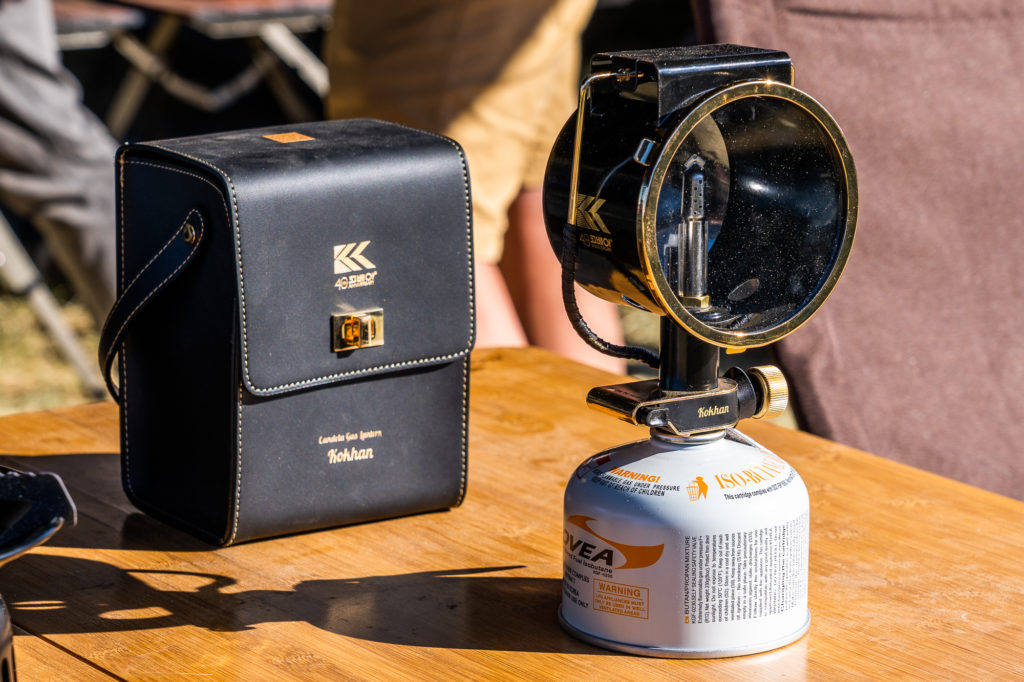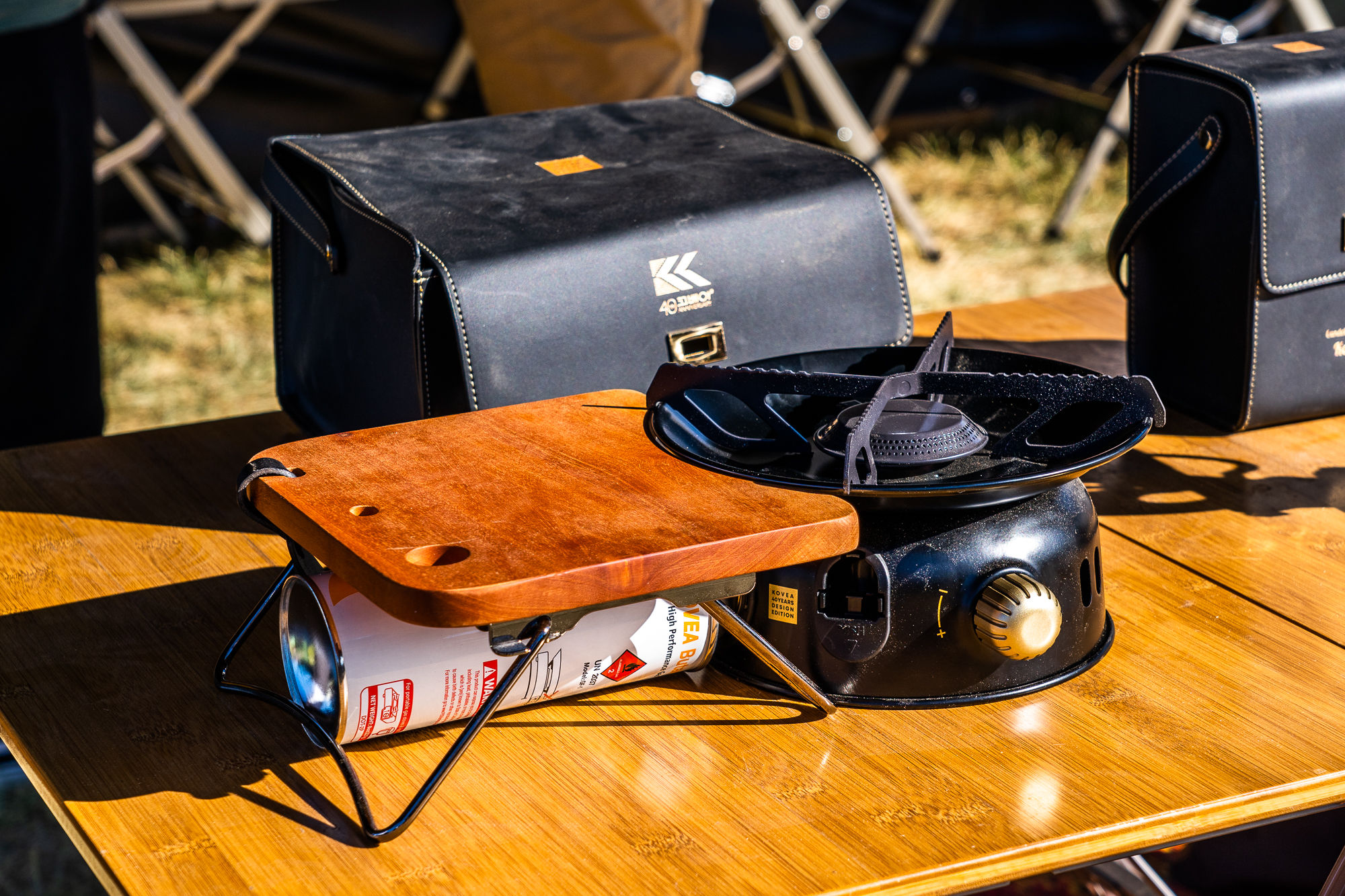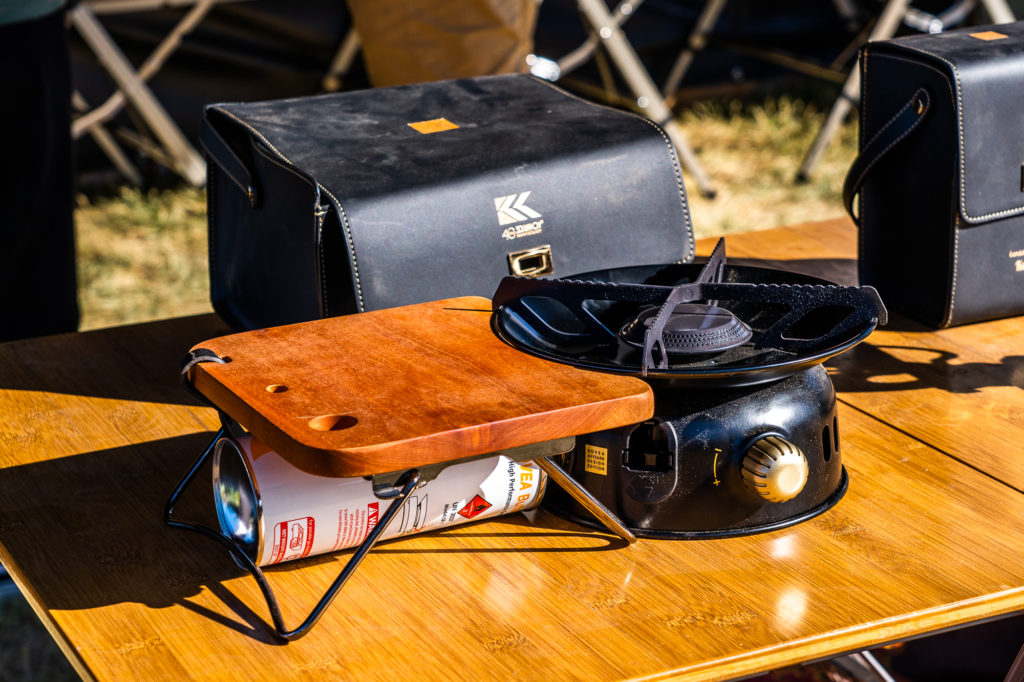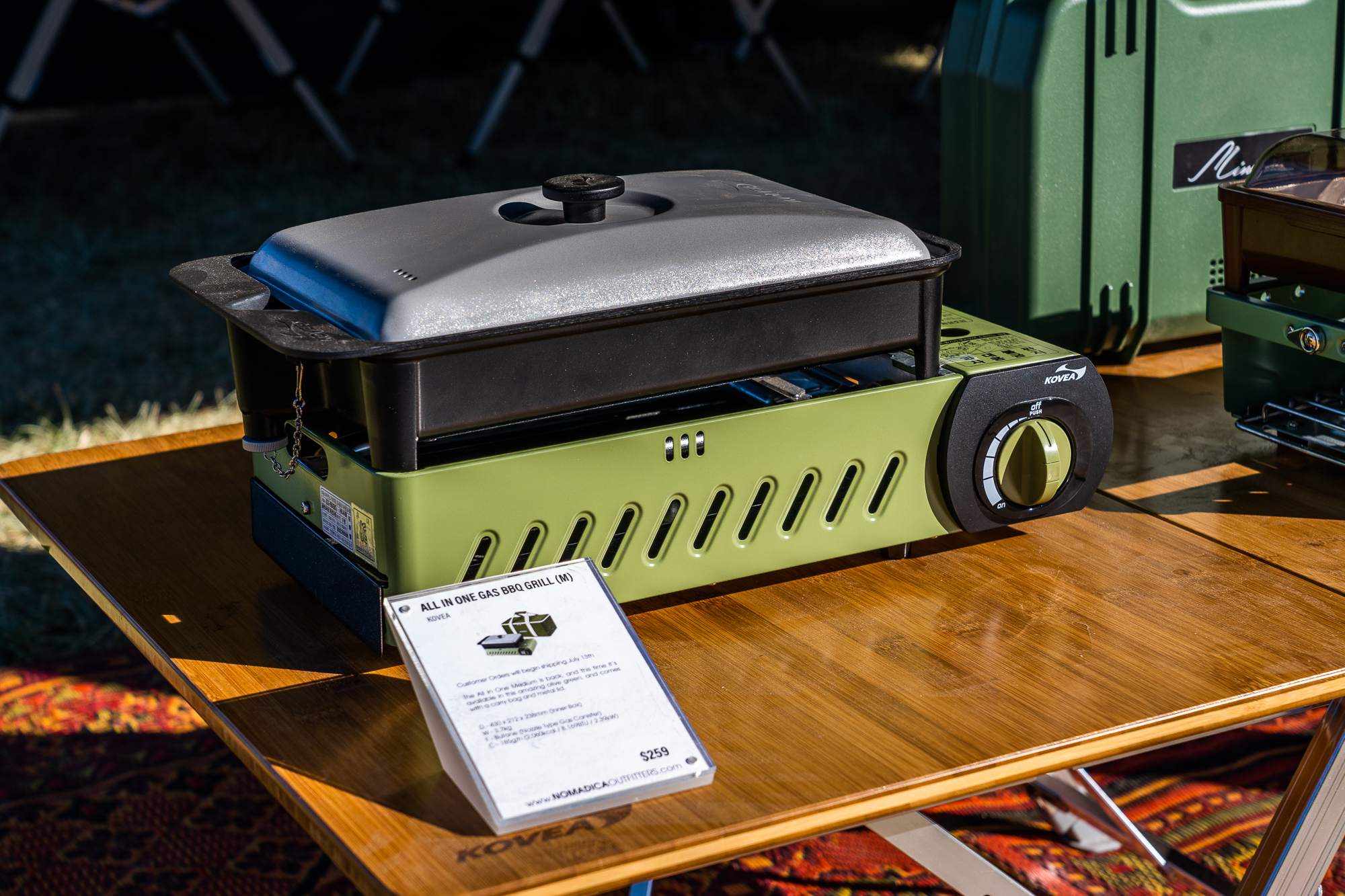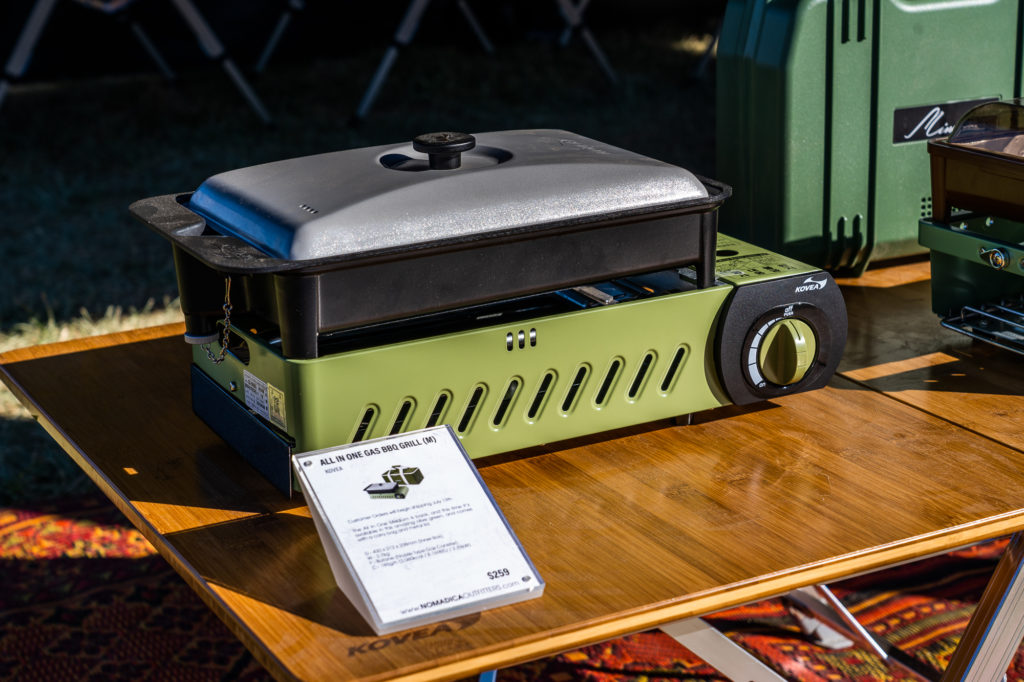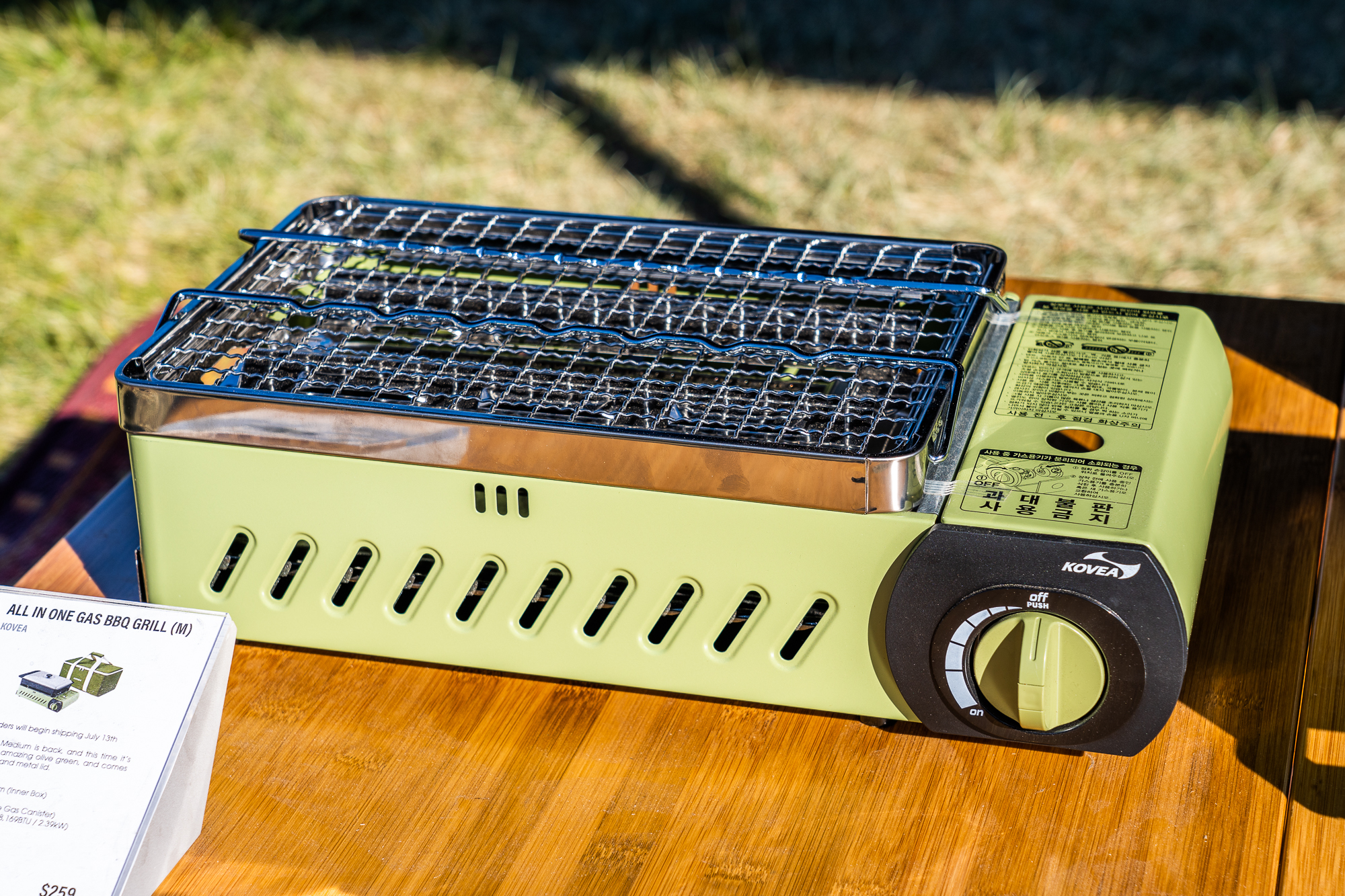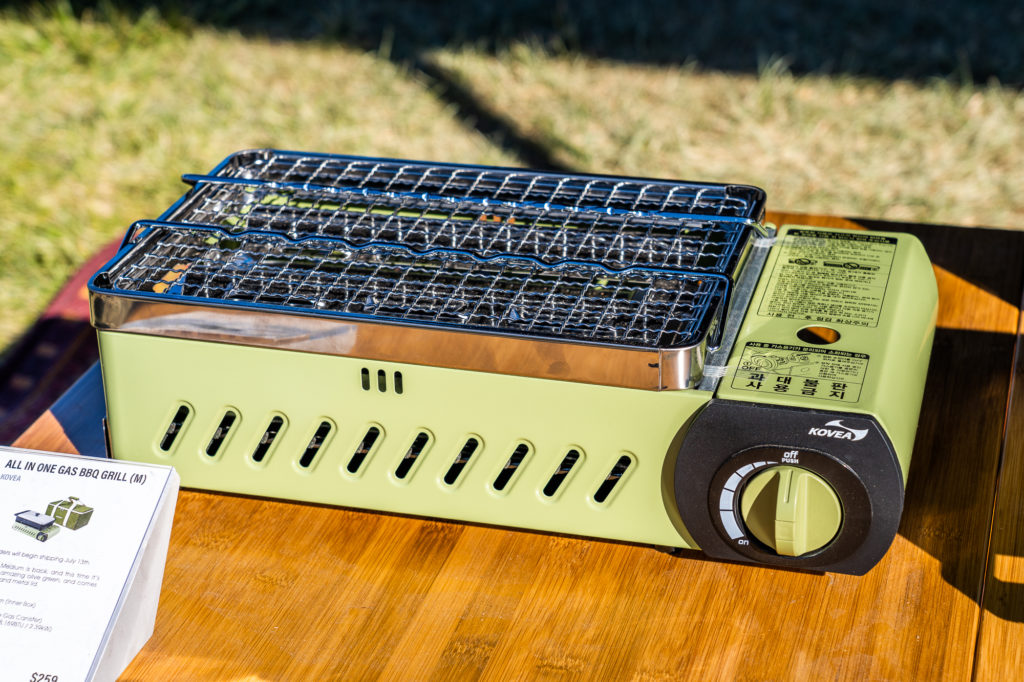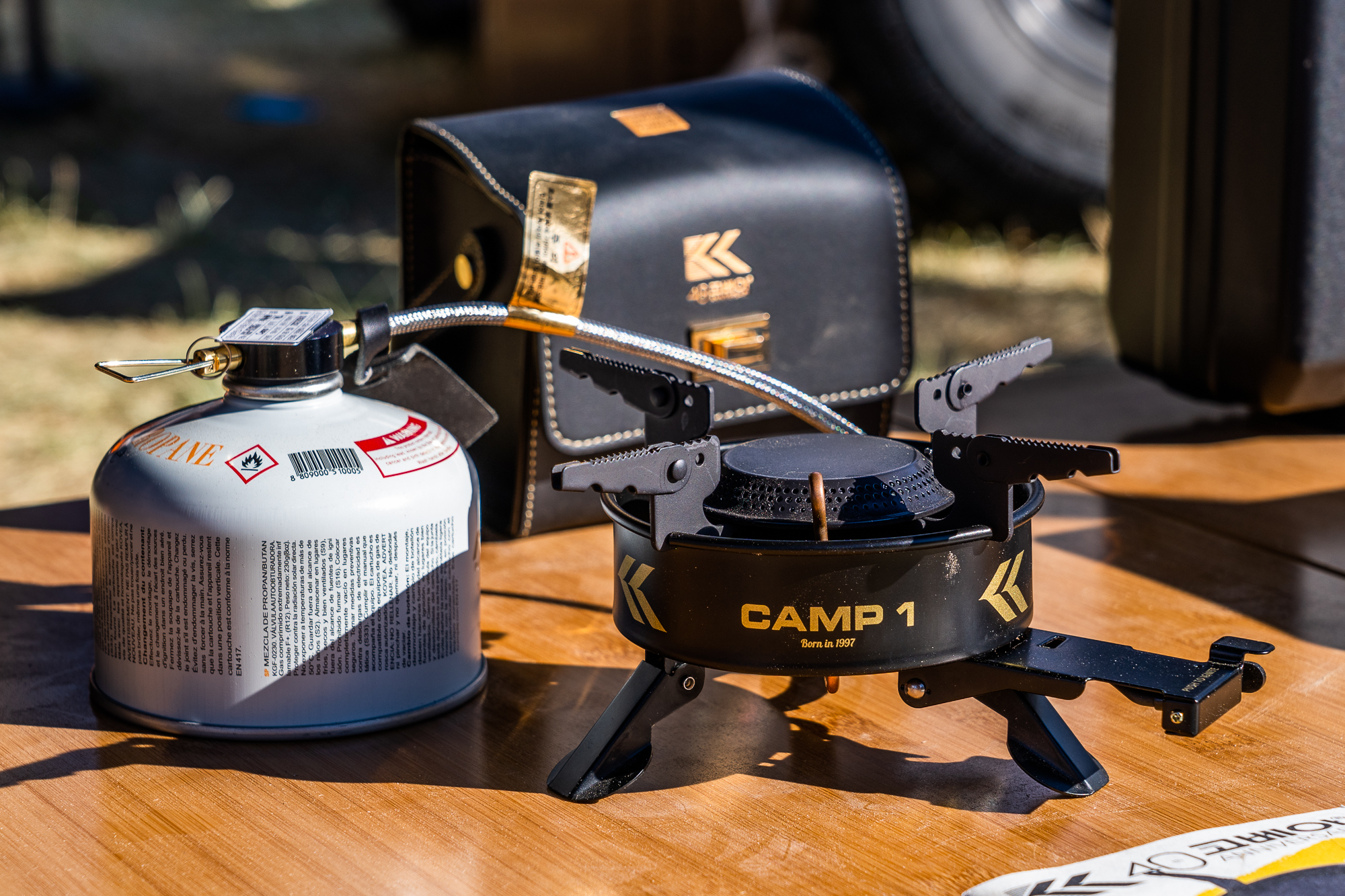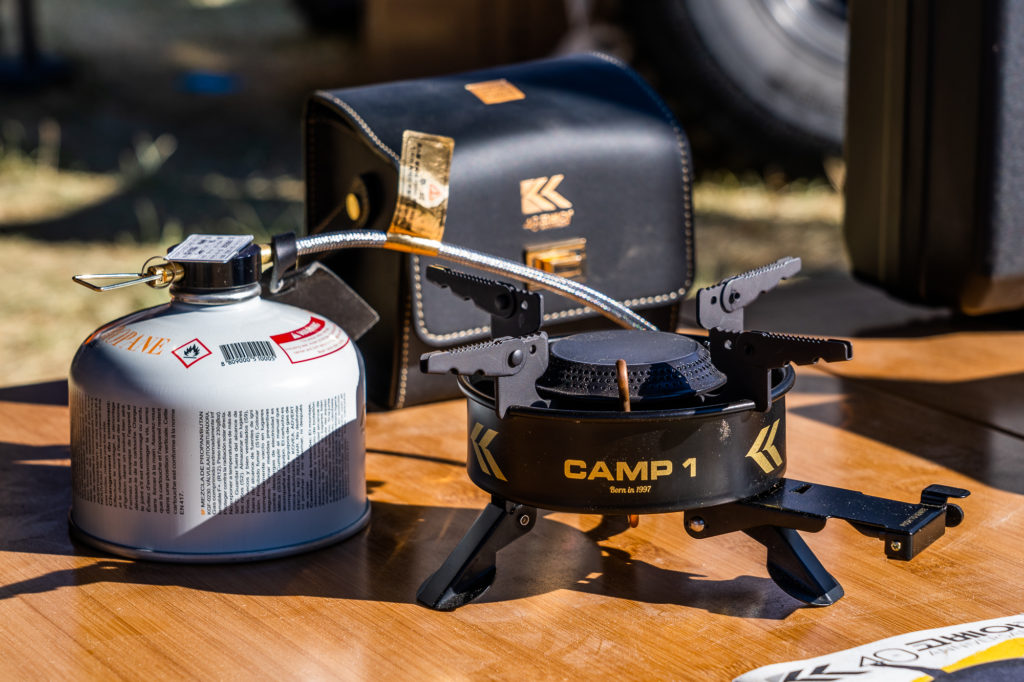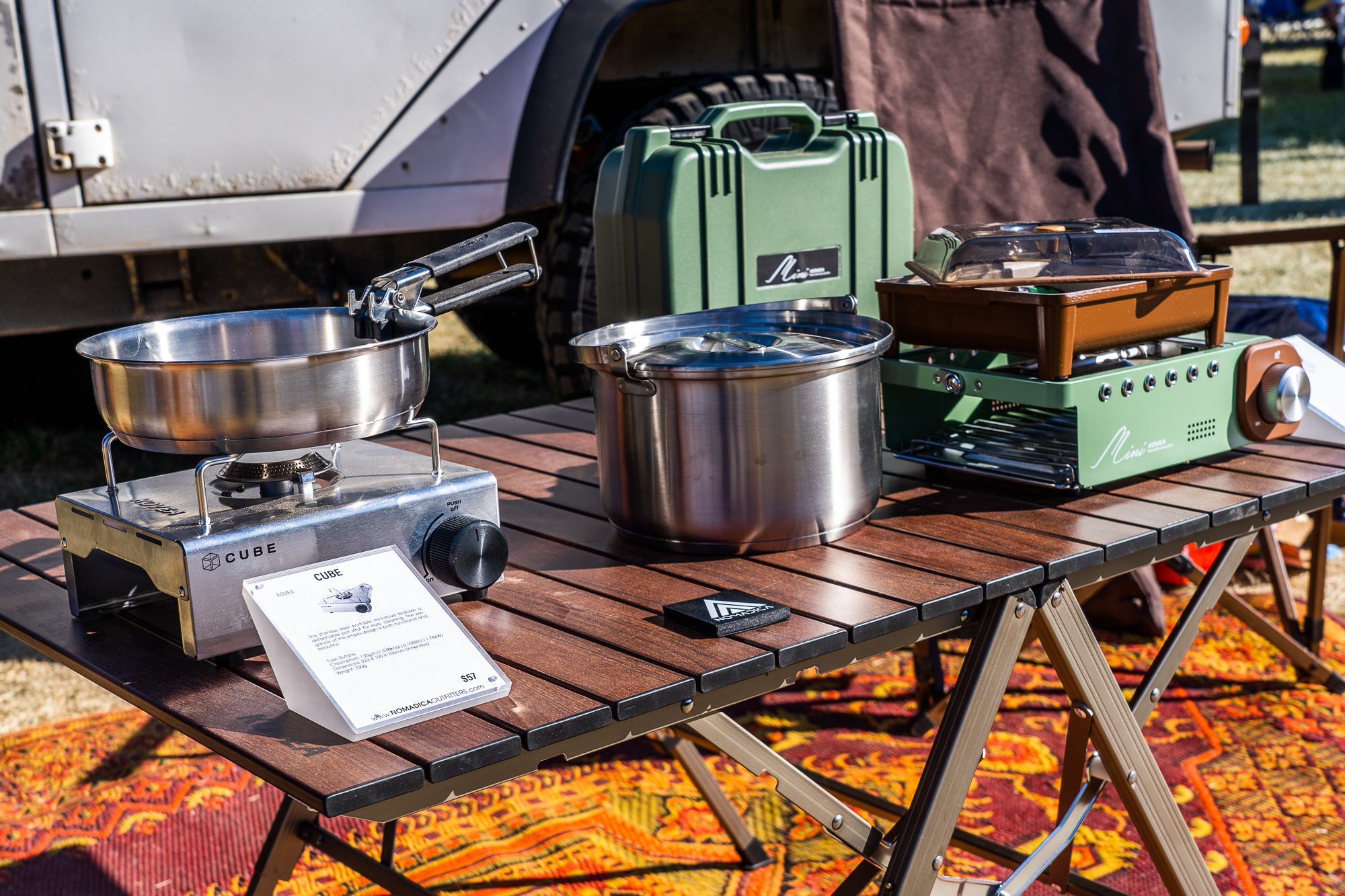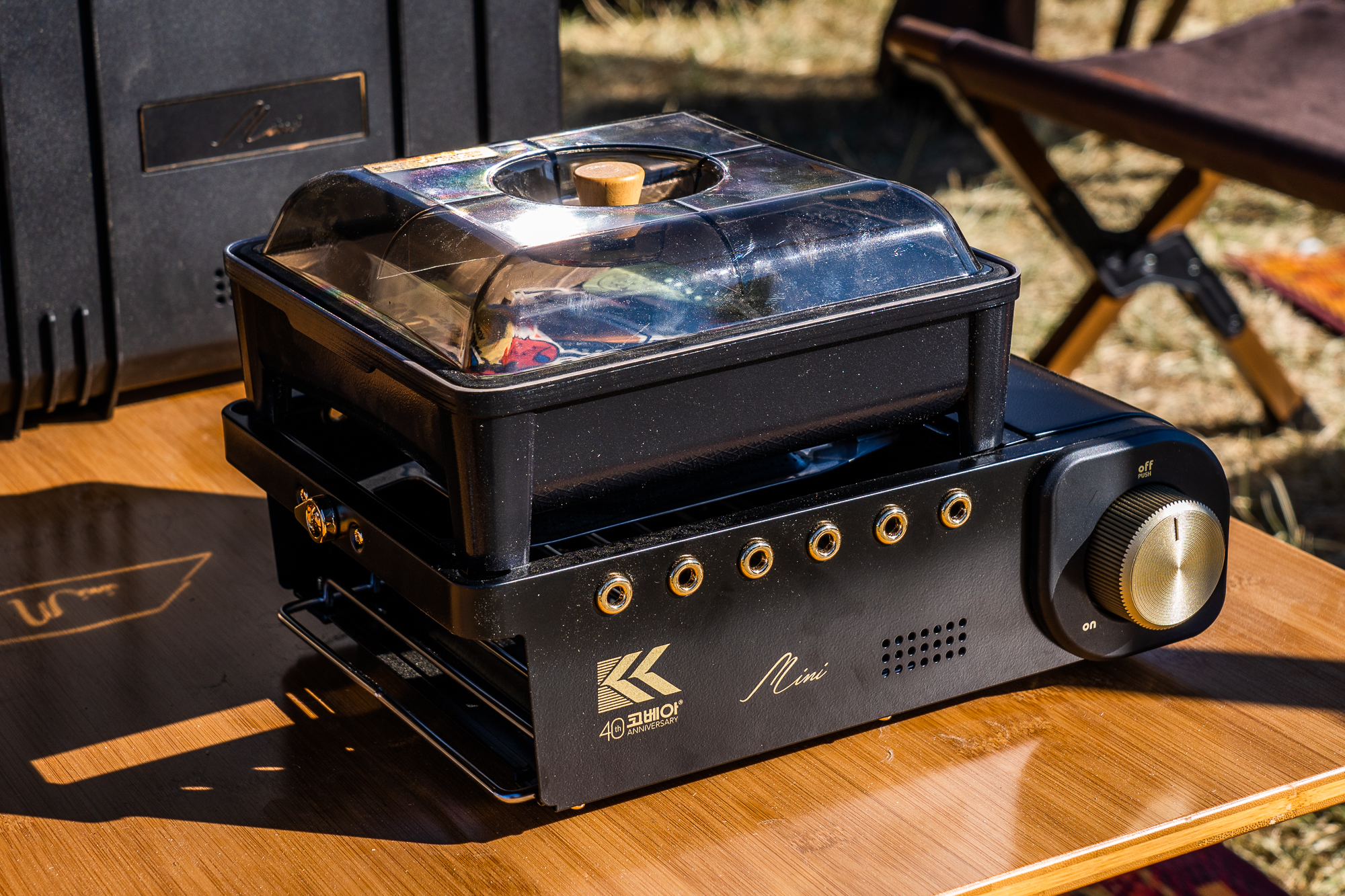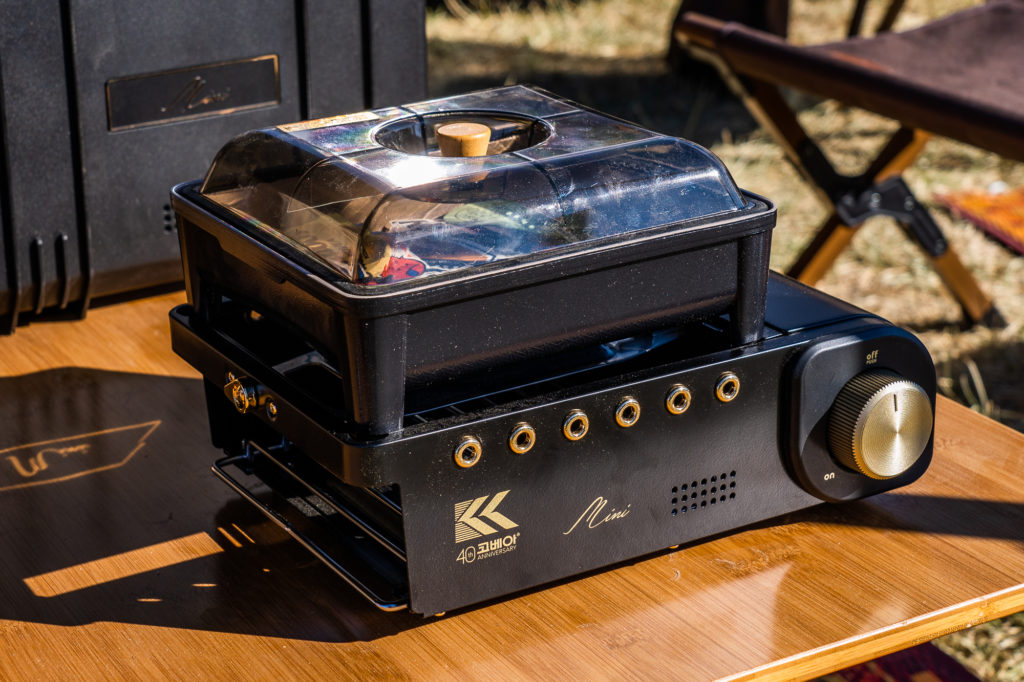 Korean camping brand KOVEA, the white-label manufacturer for most of all your favorite camping gear brands (no, really, look it up) is celebrating its fortieth year in business with an absolutely stunning new collection of butane- and propane-powered stoves, grilles, heaters, and lamps. Seriously, KOVEA sells a butane-powered lamp — how cool is that? Very, we reckon.
There are a bunch of items in the 40th Anniversary collection, but here's the link to the 40th Anniversary Slim Twin Propane Stove from Portland-based NOMADICA Outfitters.
This is the same great stove as the Original Slim Twin, but with a dedicated side mount propane hose. This means it's a propane only stove, but alleviates the need for legs and fuel adapters, reducing the price, and allowing for more versatile use on a variety of surfaces.
Features & Specs:
Two 10,500 BTU burners with fully adjustable flame control for excellent simmering capability
Powerful burners and 3-sided windscreen for windy conditions
Strong, nickel-coated steel cooking grate is built to hold your pots, griddles and skillets
Removable lid allows you to use a variety of pots and pans
Piezo-ignition
Includes a regulator adaptor for a 1-pound propane cylinder
Best Use: Camping
Fuel Type: Canister
Fuel: Propane
Auto Ignition: Yes
Heat Output (per burner): 10,500 british thermal units
Burn Time (Max Flame): 1 hr. 50 min. (per 1 lb. propane tank)
Average Boil Time (1L): 3 minutes
Dimensions: 21.3 x 13.75 x 2.6 in (folded)
Distance Between Burners: 11 inches
Weight: 9 lbs, 8 oz.
TEMBOTUSK — CAMP BASIN TABLE KIT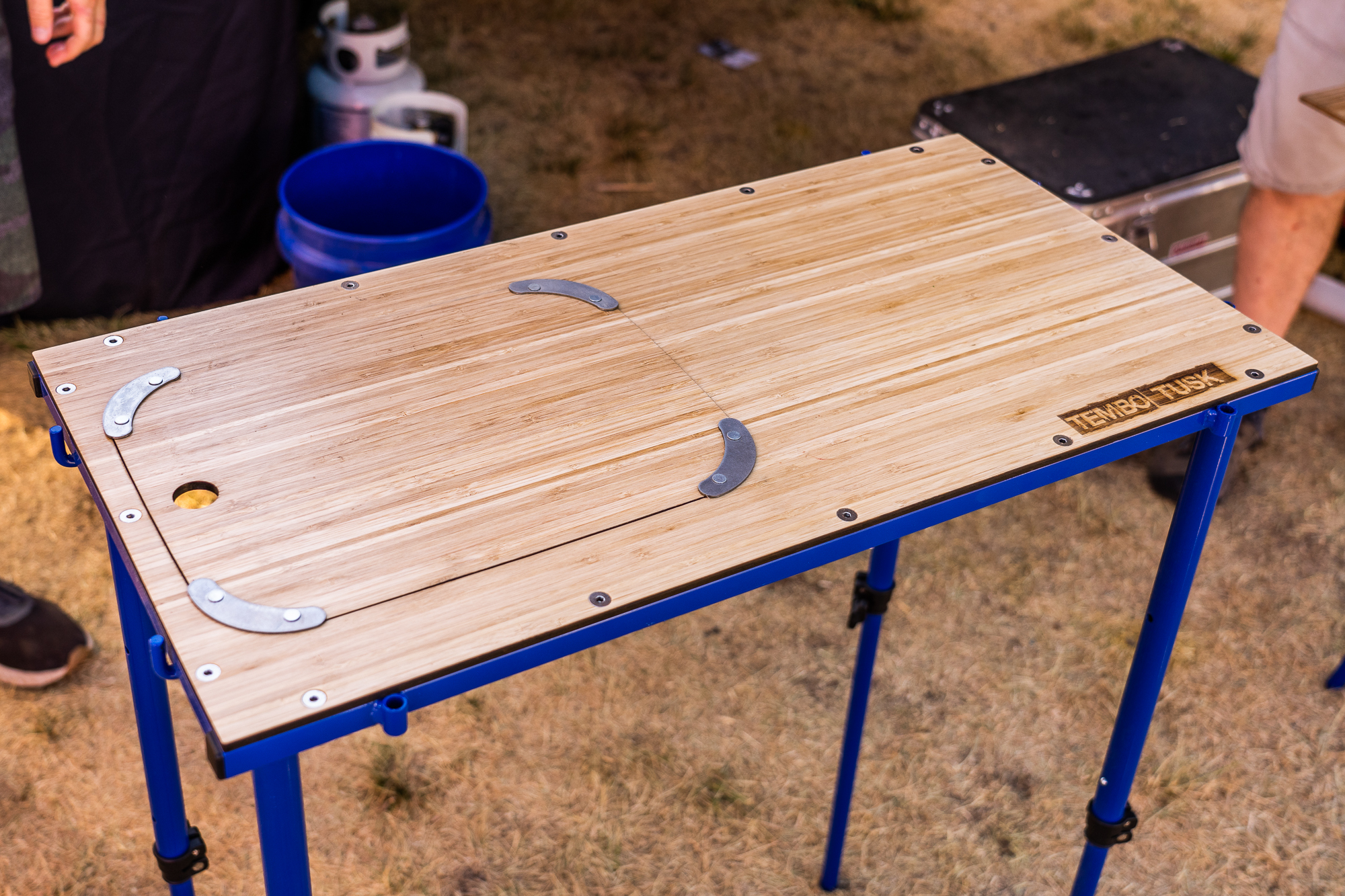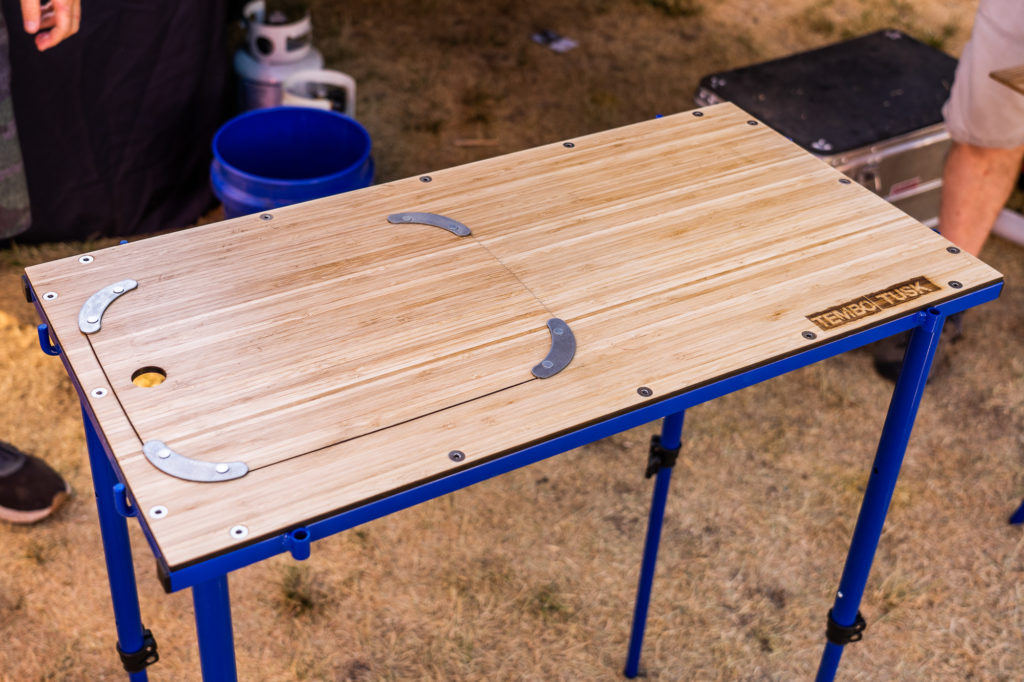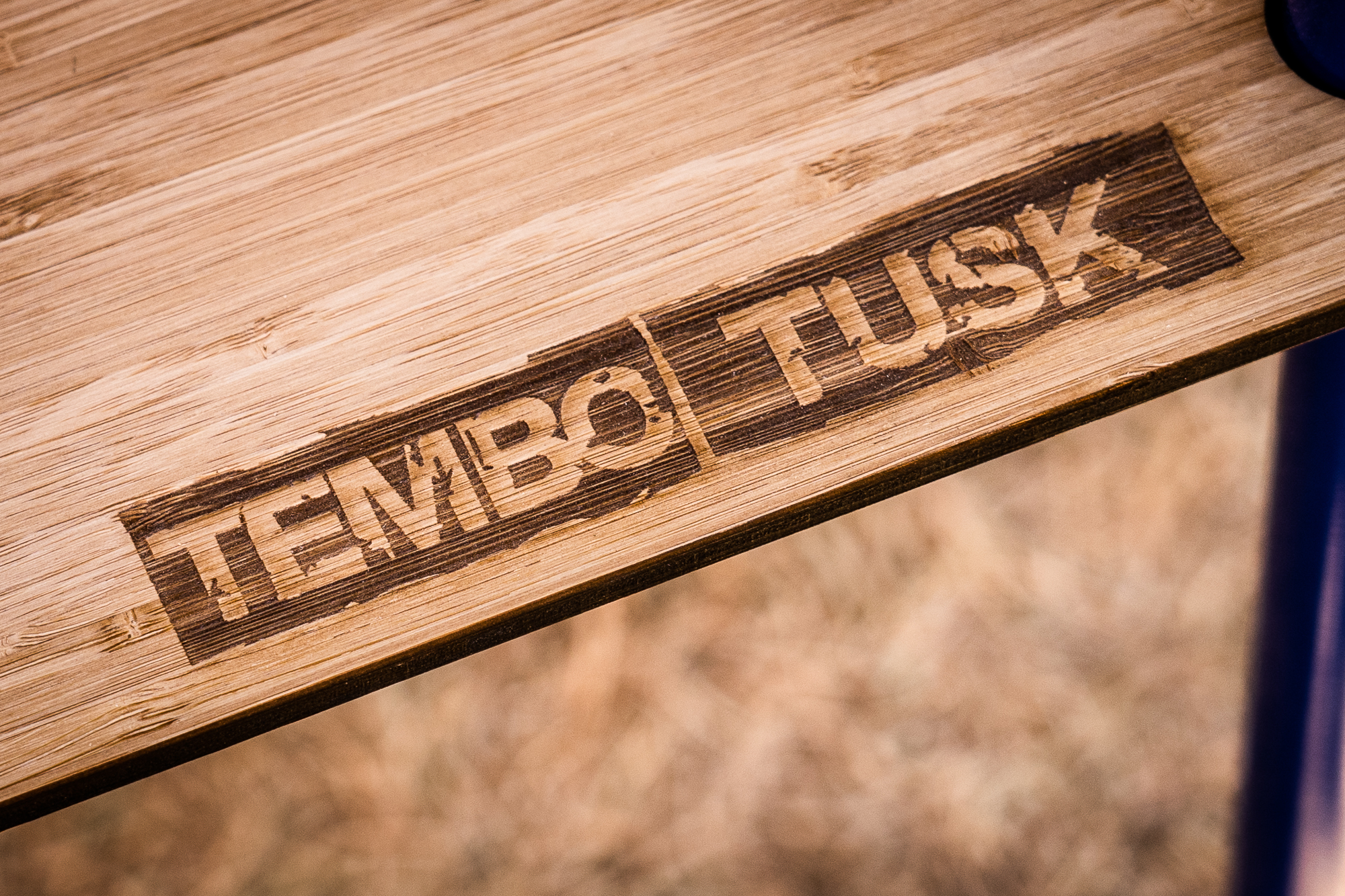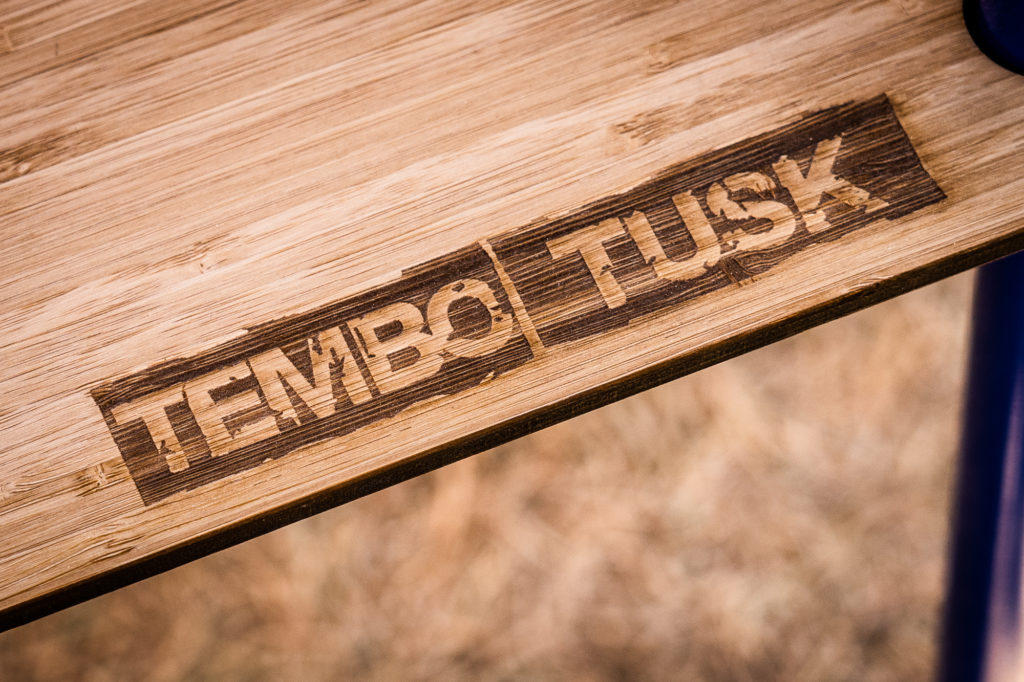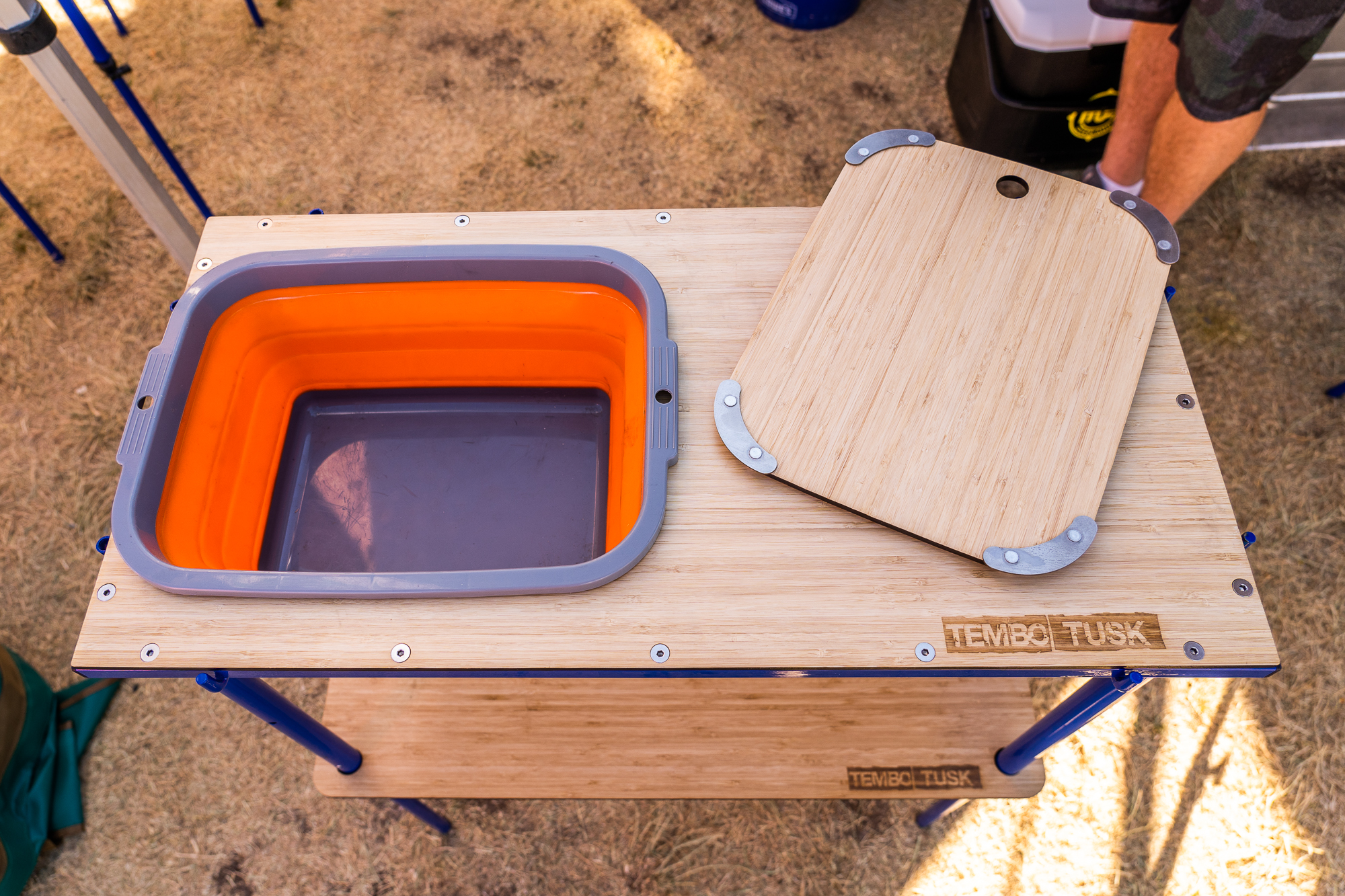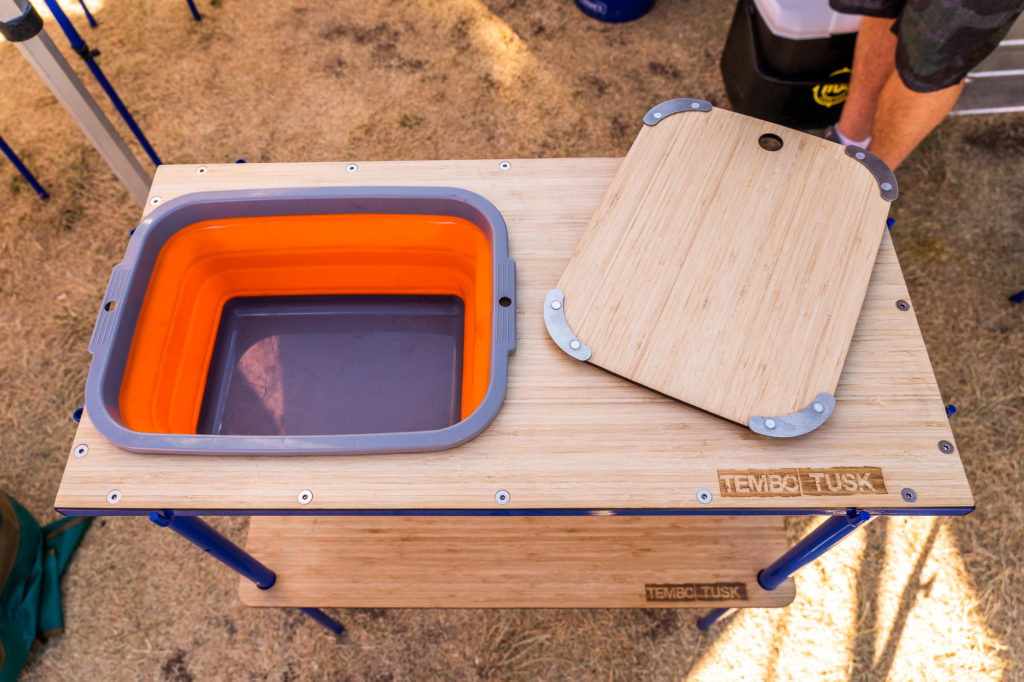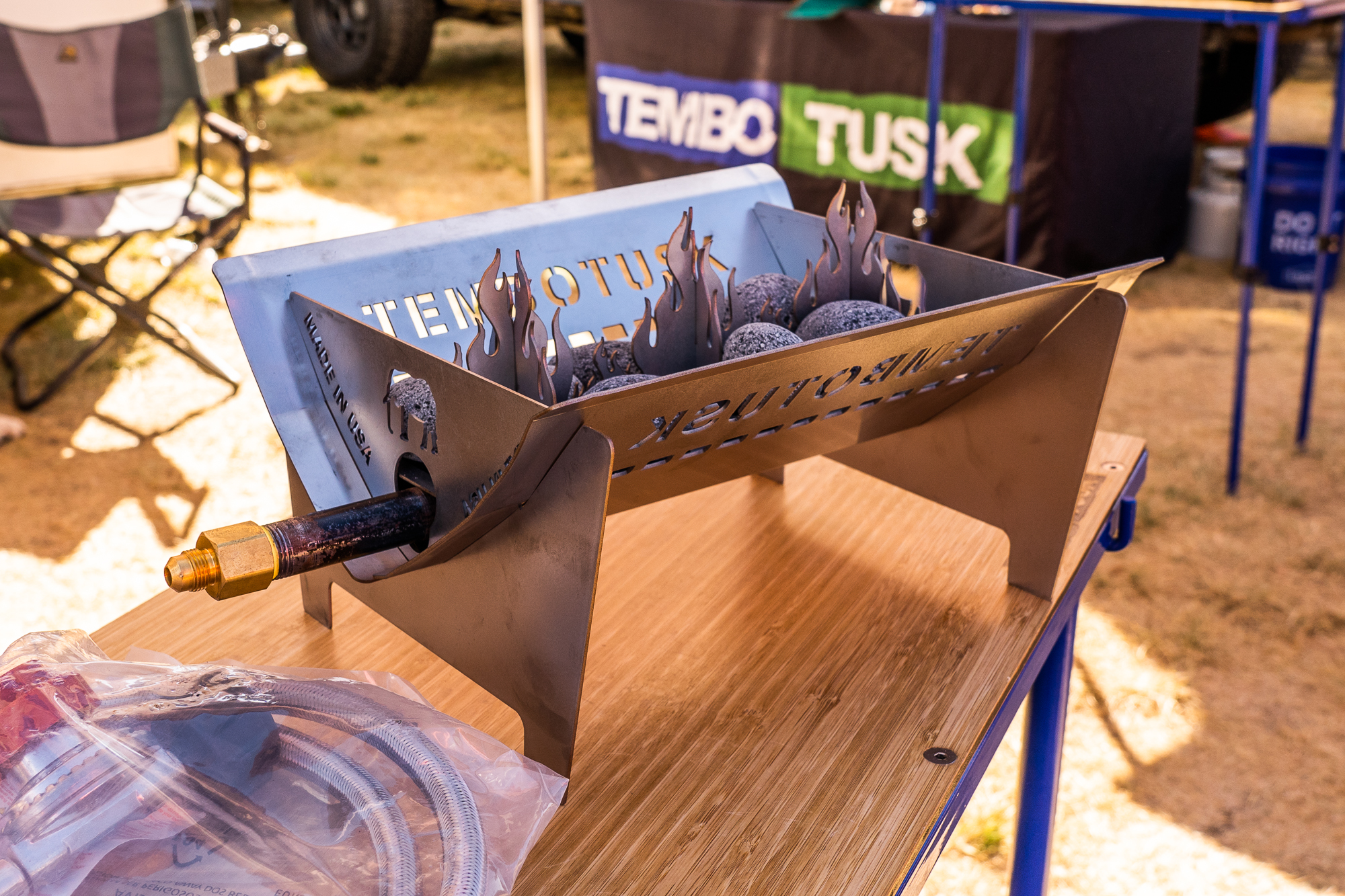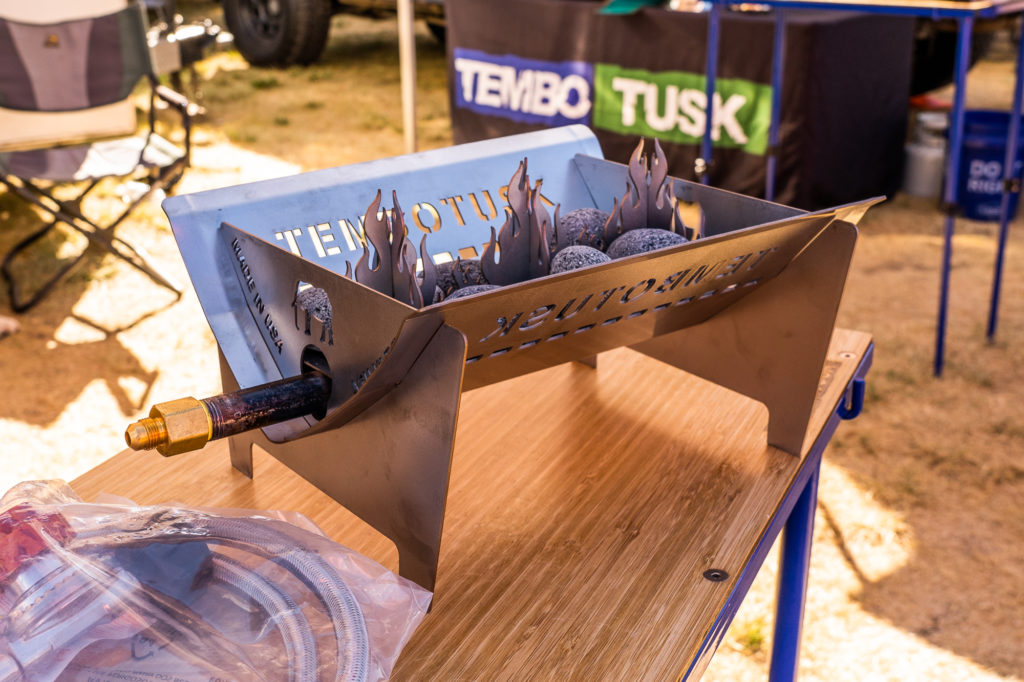 A couple of our staffers are on the tall side. That means that they have a tough time finding camp gear, especially tables, that suit their height. When we stumbled upon TEMBOTUSK's Camp Basin Table, we were psyched. Not only is it height adjustable, it also has provision for a flexible rubber bin as well as a lower shelf — so much to love!
The Camp Basin Table is constructed from metal and bamboo plywood. The Table  comes with an extremely durable carry bag with integral leg storage in the cover. Tables include Adjustable Legs for adjustments between 20″, 28″ and 36″  with infinite adjustments for uneven ground. 
The Table Bag is made of a duel layer heavy weight material with a full wrap half-inch padding. The interior has webbing on the interior side panels for reinforced tough construction. Marine grade thread is used for rough outdoor environments. Comes with a zippered pocket on the front of the bag, perfect for cutting board and utensils storage.
Dimensions:
Assembled:  15″ wide x 30″ long x 29″ high
Disassembled: 15″ wide x 30″ long x 1.25″ thick
National Luna — Power Pack 2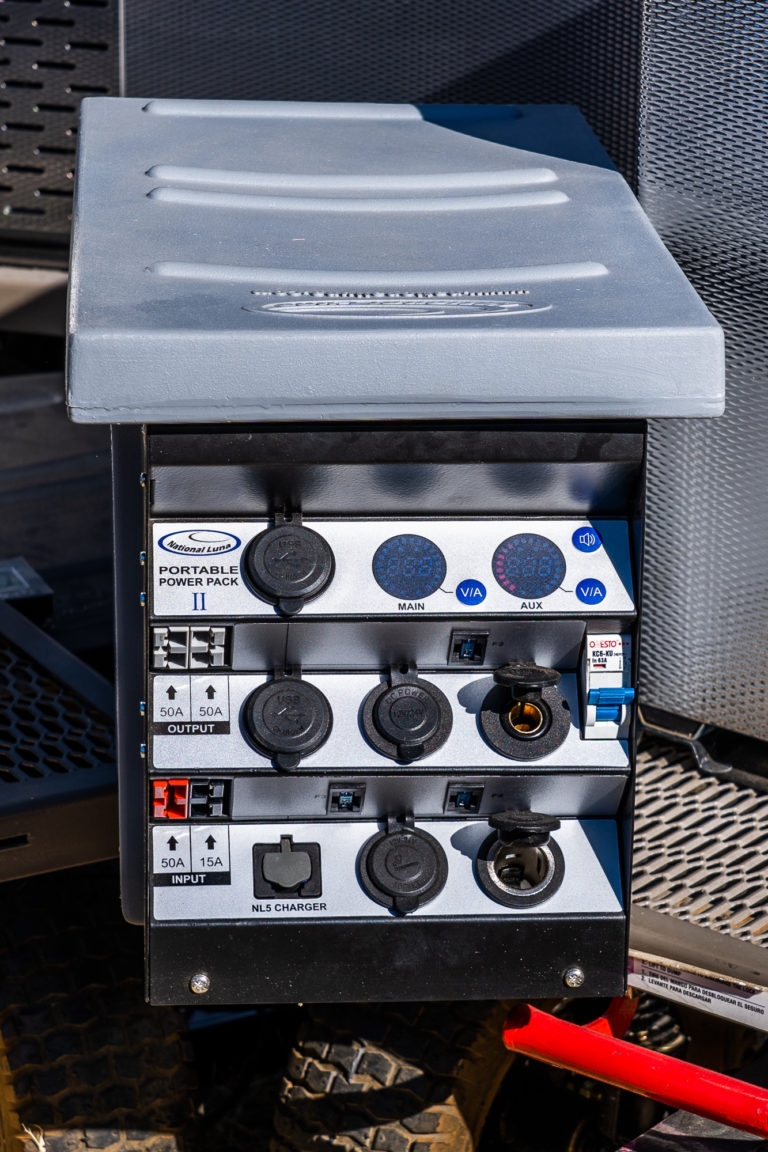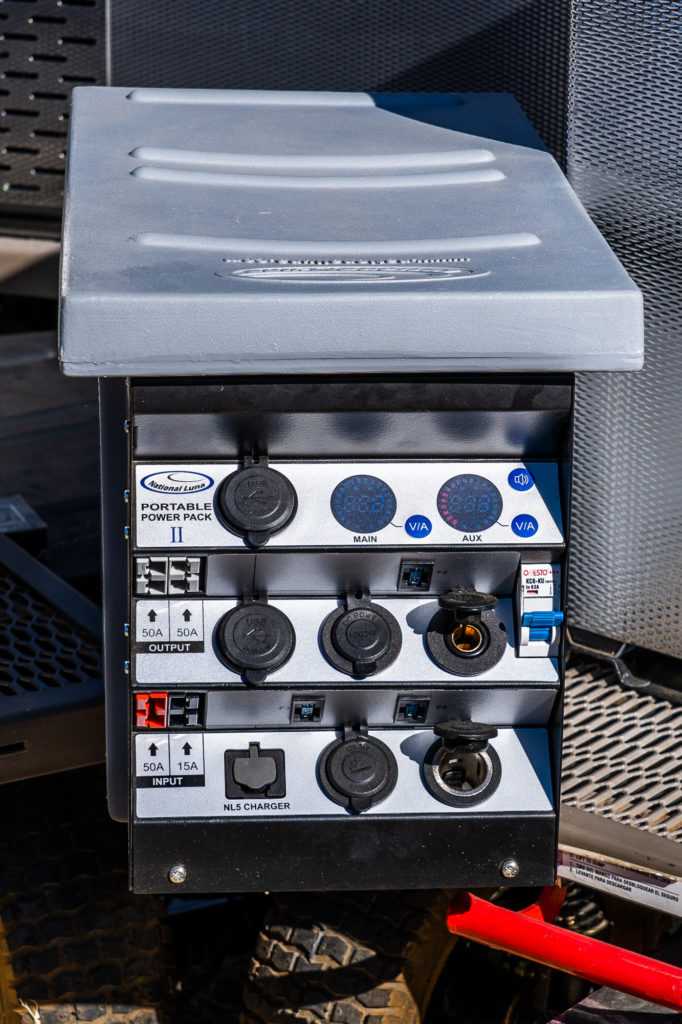 Thinking about running a dual-battery setup in your rig, but don't necessarily have space for a second battery? Our friends at Equipt have a smart solution from National Luna. It's the Power Pack 2, which puts all the power and versatility of a dual-battery system in a portable box. Oh, and it's Bluetooth capable.
Power Pack 2 features a new dual-battery display can show the battery voltage, charge current and load current. A configurable start timer and low-battery warning can be adjusted to suit a variety of applications. Ideal for use in 4×4 vehicles, trailers, caravans or even stand-alone in a campsite to power a fridge and lights.
Features:
Bluetooth®-enabled and compatible with NL Connect APP
Automatic dual-battery system and isolator
Voltage display for input and auxiliary battery
Displays charge current and load current
Adjustable low-battery alarm
Adjustable connection timer
4 x USB charge ports
2 x 12V DC sockets (Cigar)
2 x Hella-type sockets
2 x 50A Grey coupler plugs
NL5 Intelligent Charger port (charger available separately)
495mm x 258mm x 305mm (LxWxH)
Alu Box — RuumX Case Divider System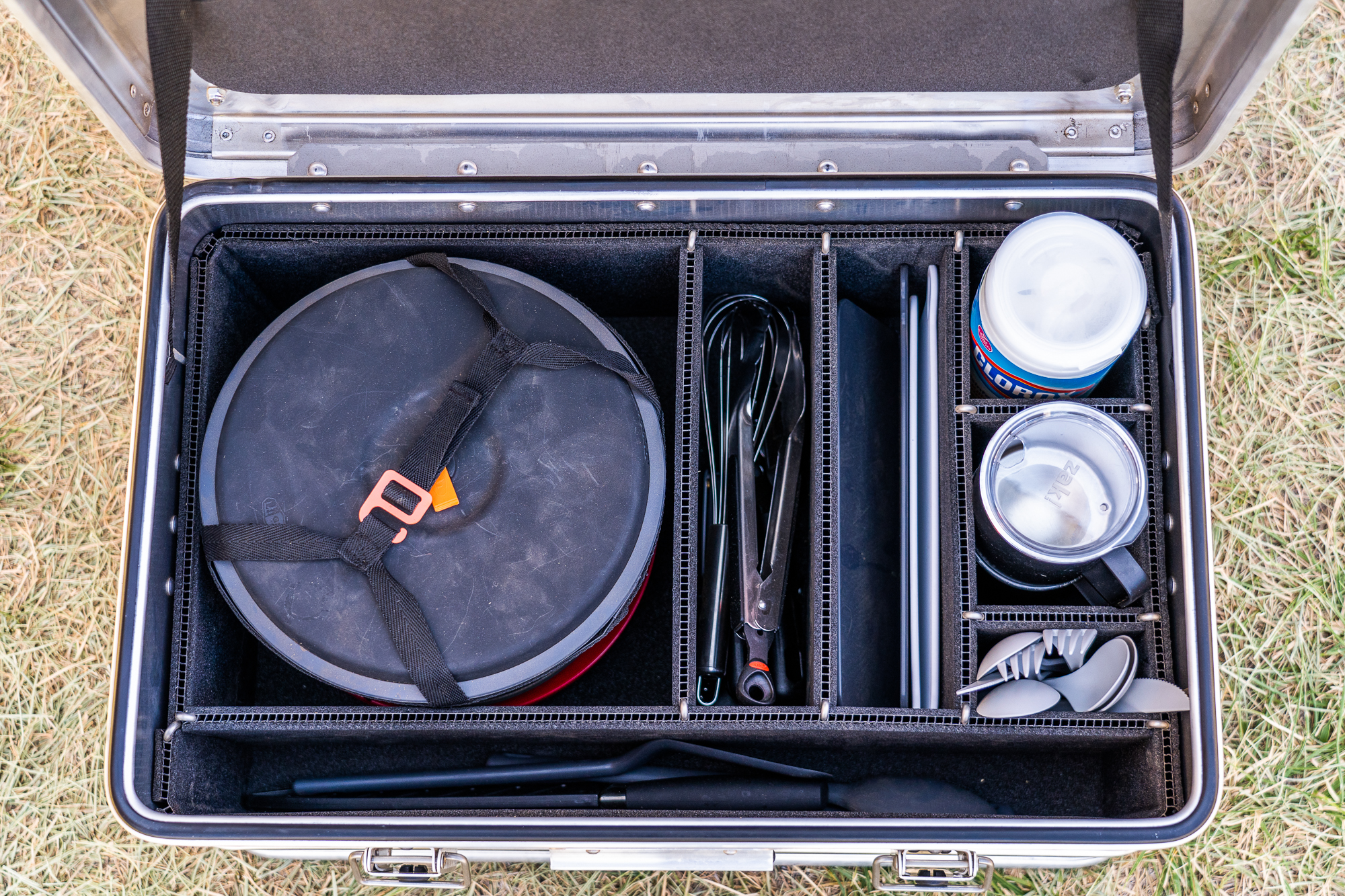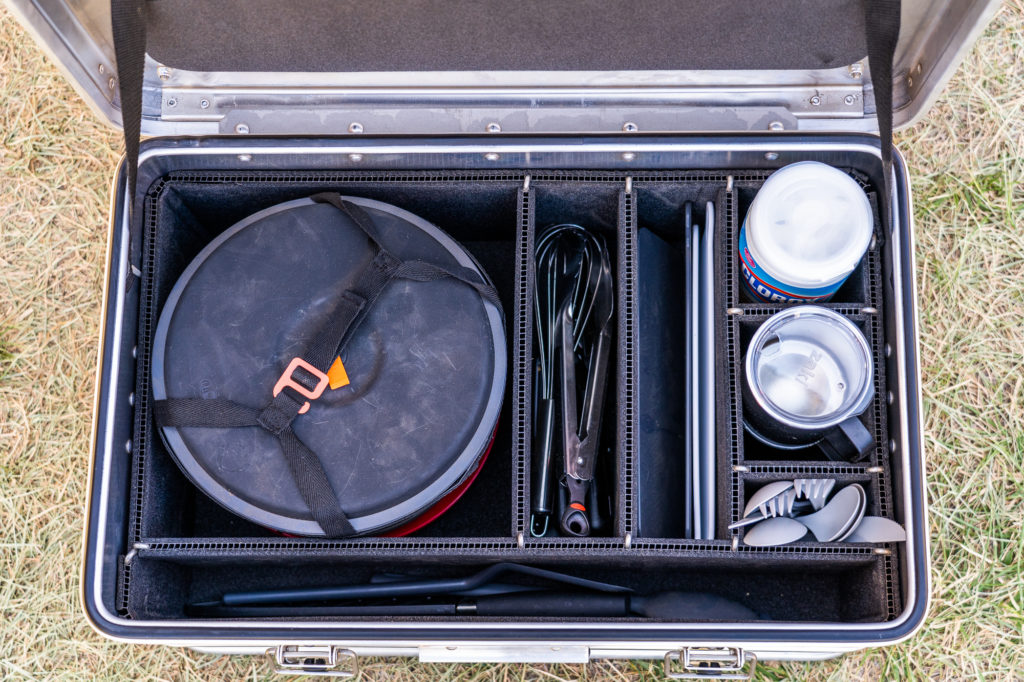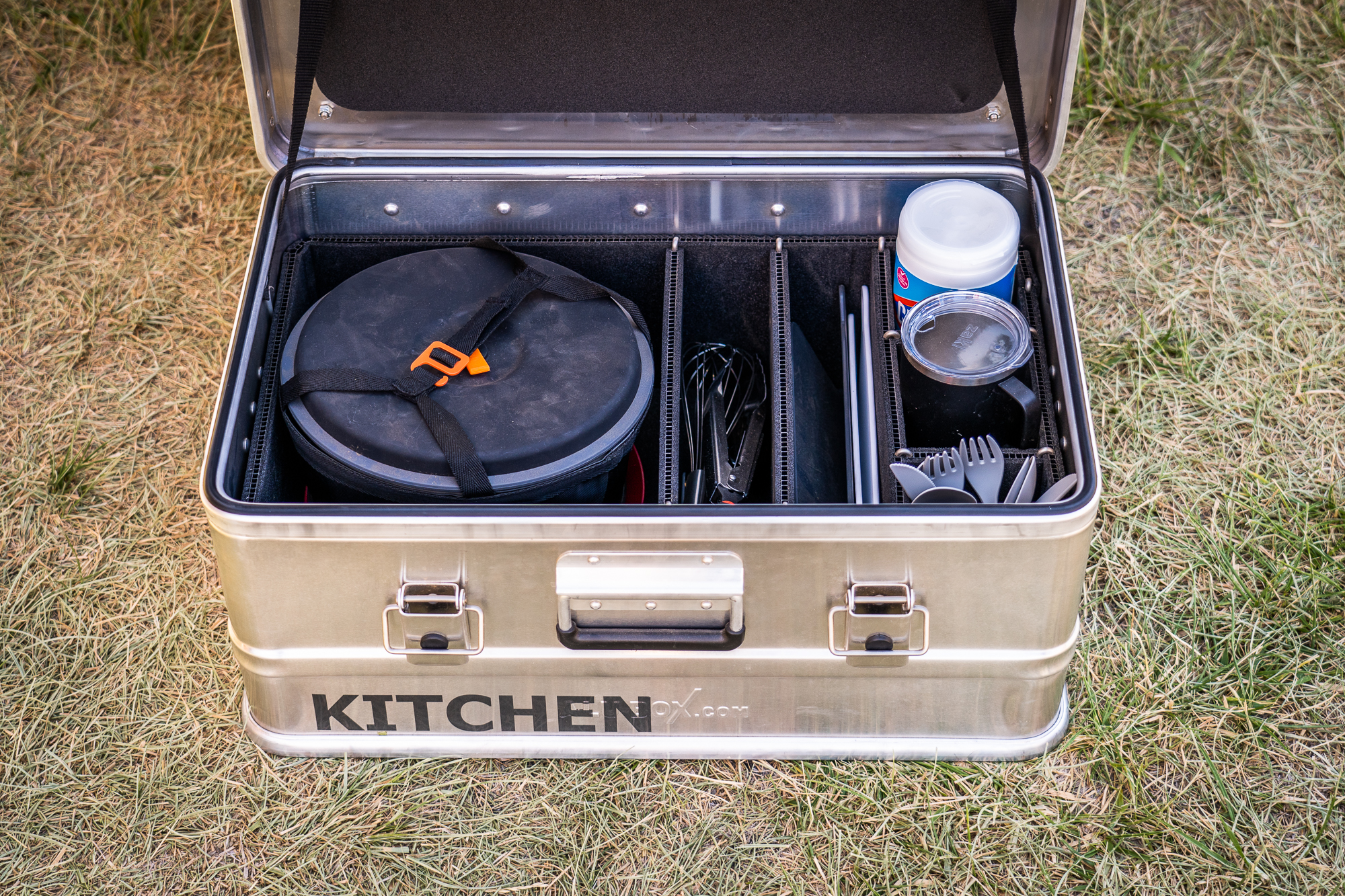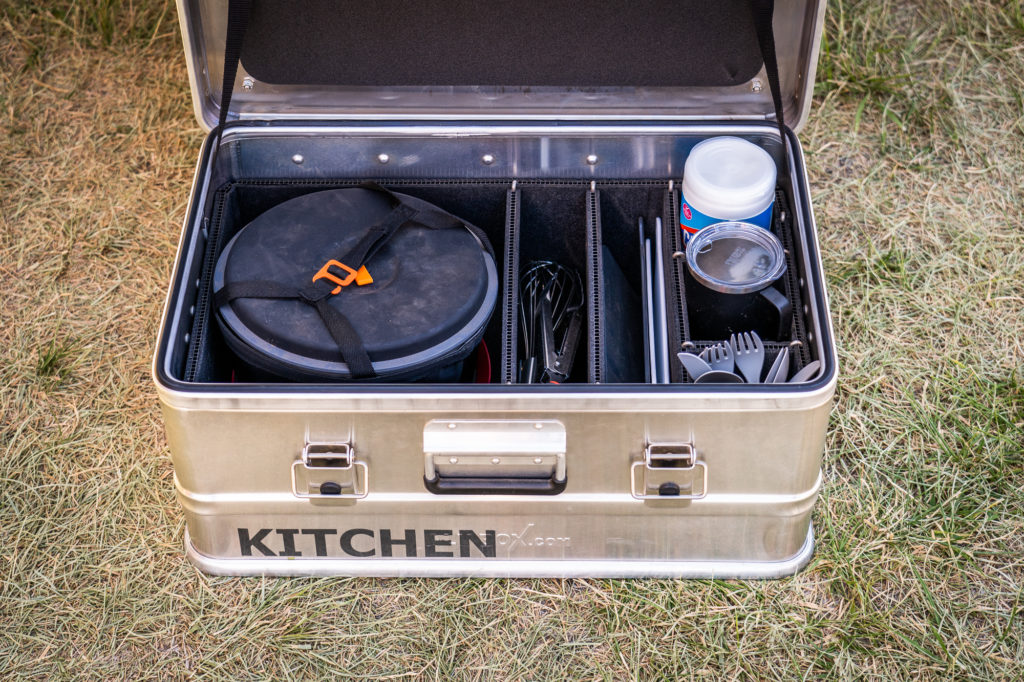 Our Editor-in-Chief, Nick Jaynes has build his overlanding kitchen inside an Alu Box, but it's not as neat as this nifty new set up from Equipt, the RuumX Case Divider System.
The RuumX (pronounced room-ex) case divider systems provide a simple yet sturdy solution for organizing your equipment. It is infinitely customizable in its design. Constructed of corrugated plastic panels sandwiched between two ⅛" walls of foam, the panels can be cut to any length that suits your need. Stainless steel pins provide the means to attach separate panels together in any configuration inside the AluBox case.
Each system comes with the following:
(1) ⅛" Foam Floor Panel with Adhesive Backing
(1) ⅛" Foam Lid Panel with Adhesive Backing
(1) Set of Perimeter Walls
(2) Long Sections of Divider Material
(3) Short Sections of Divider Material
Set of (18) Stainless Steel Pins
(1) 3M Cleaning Pad
Extra sections of divider material, egg crate lid material, and extra pins are also available for purchase separately.
TruckVault — Base Camp 1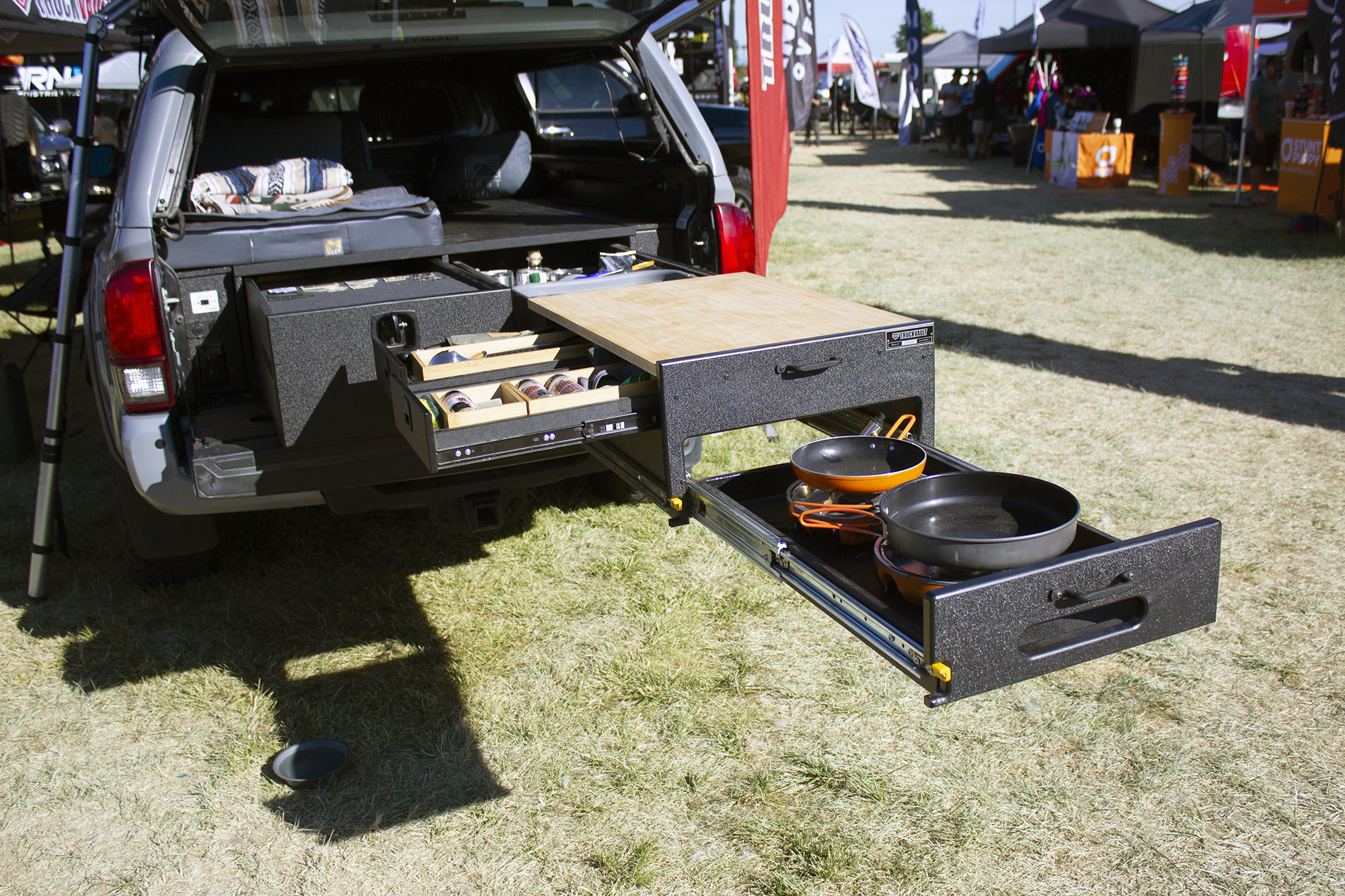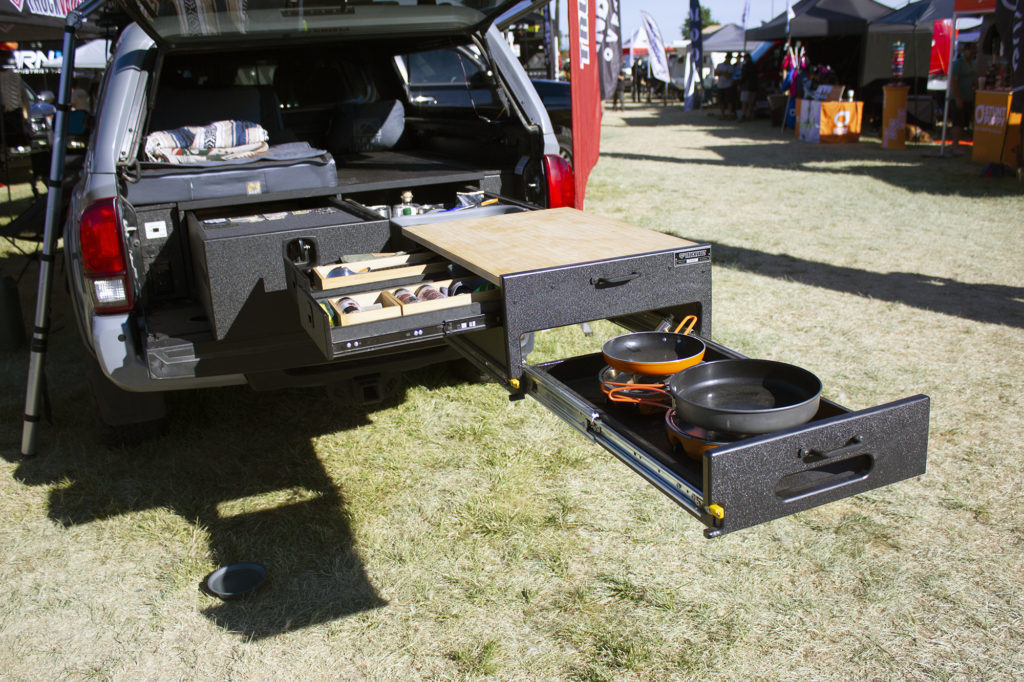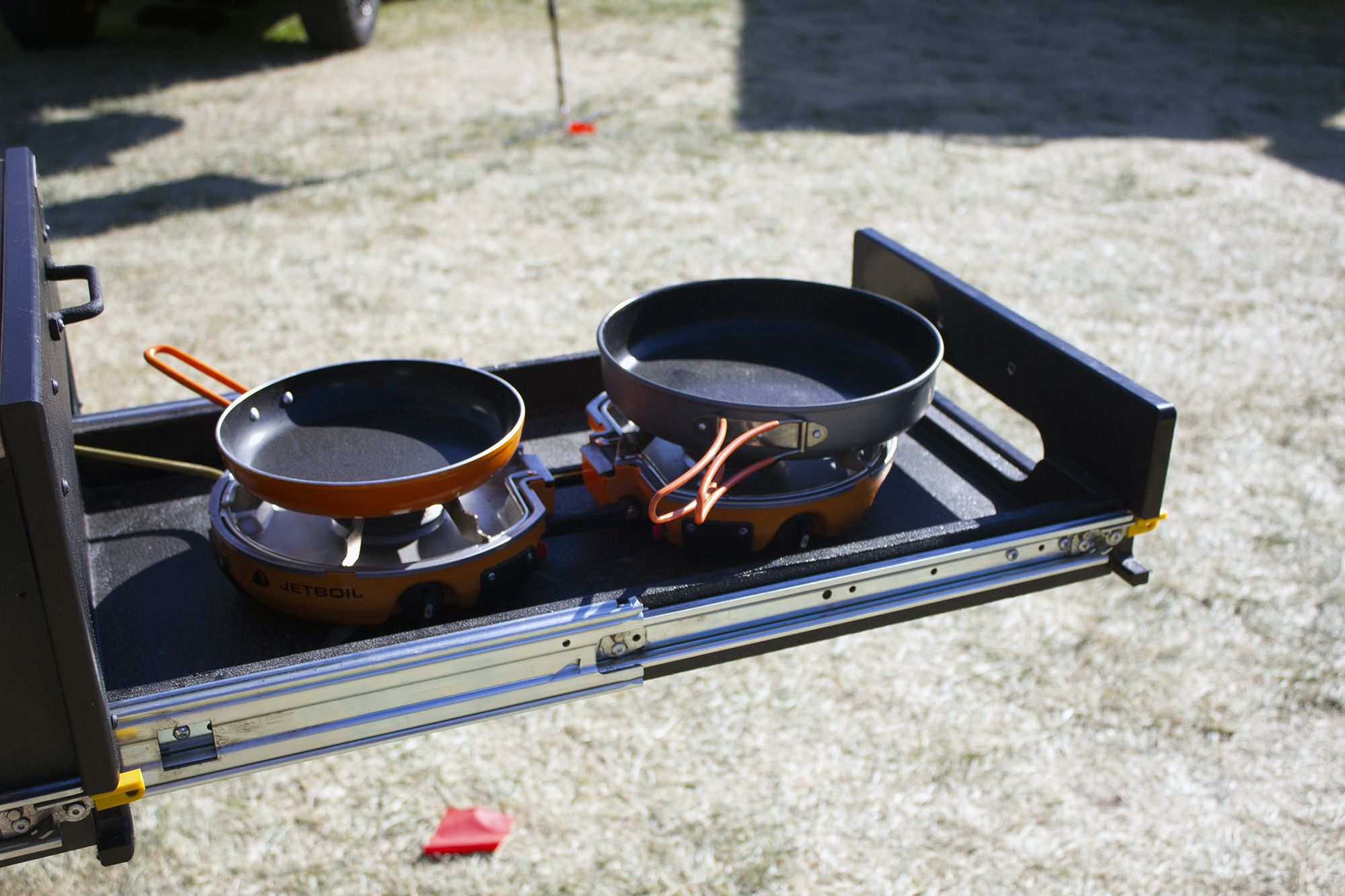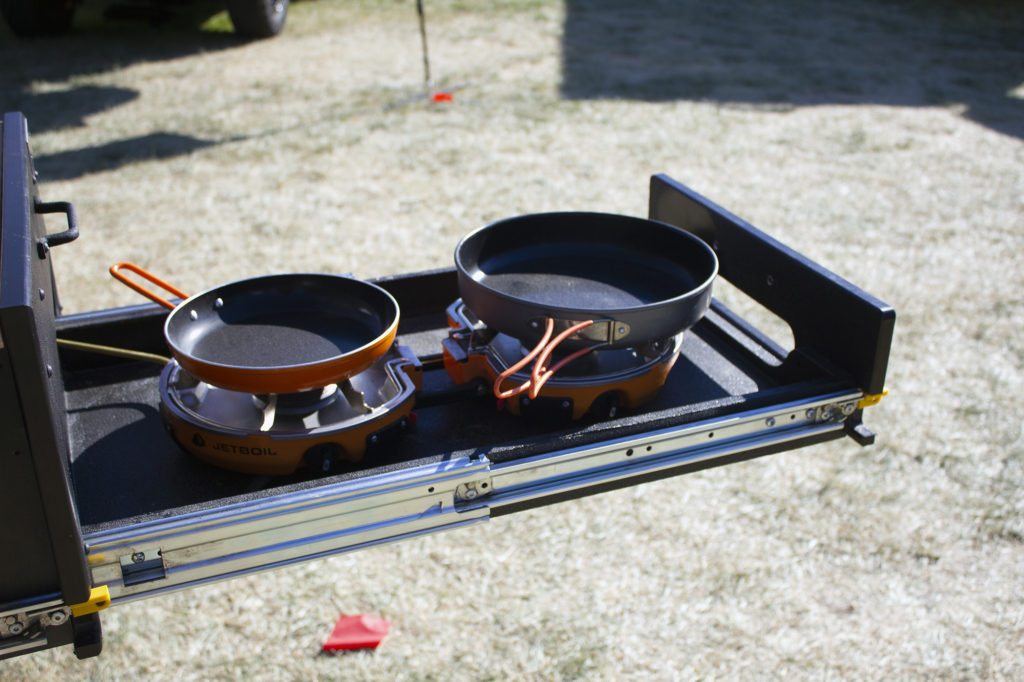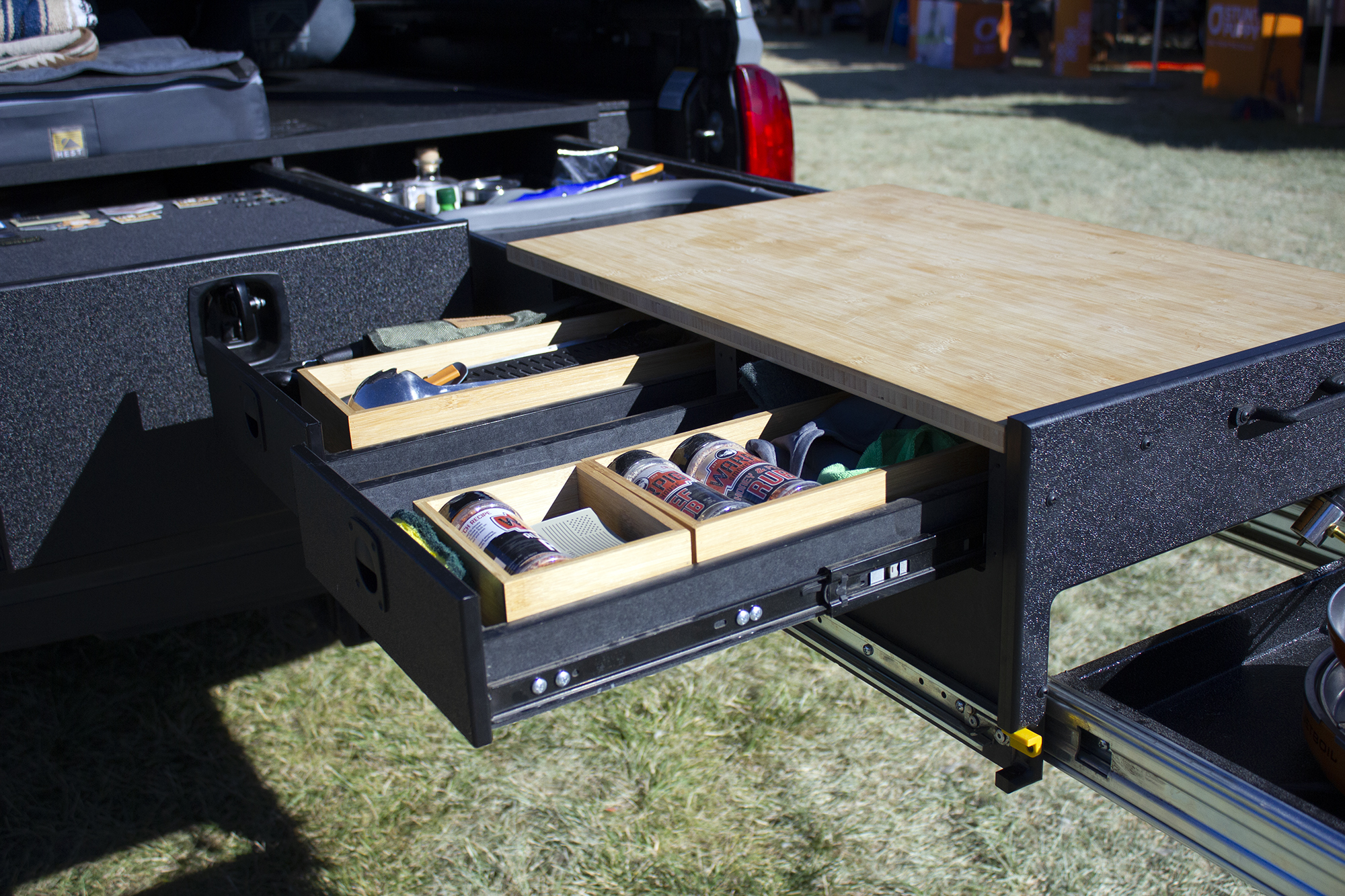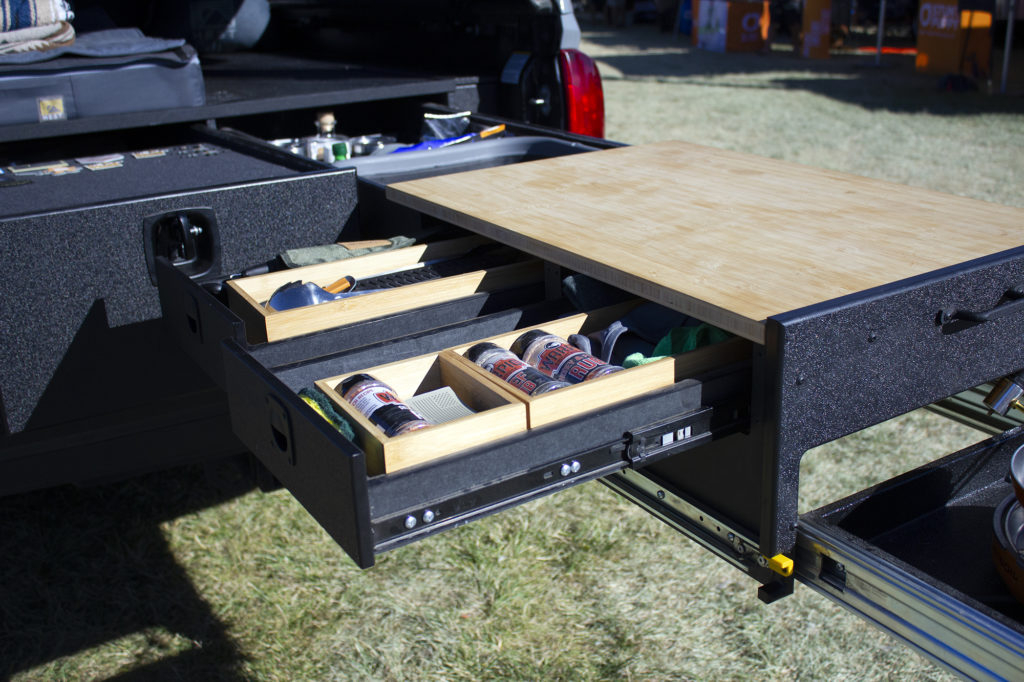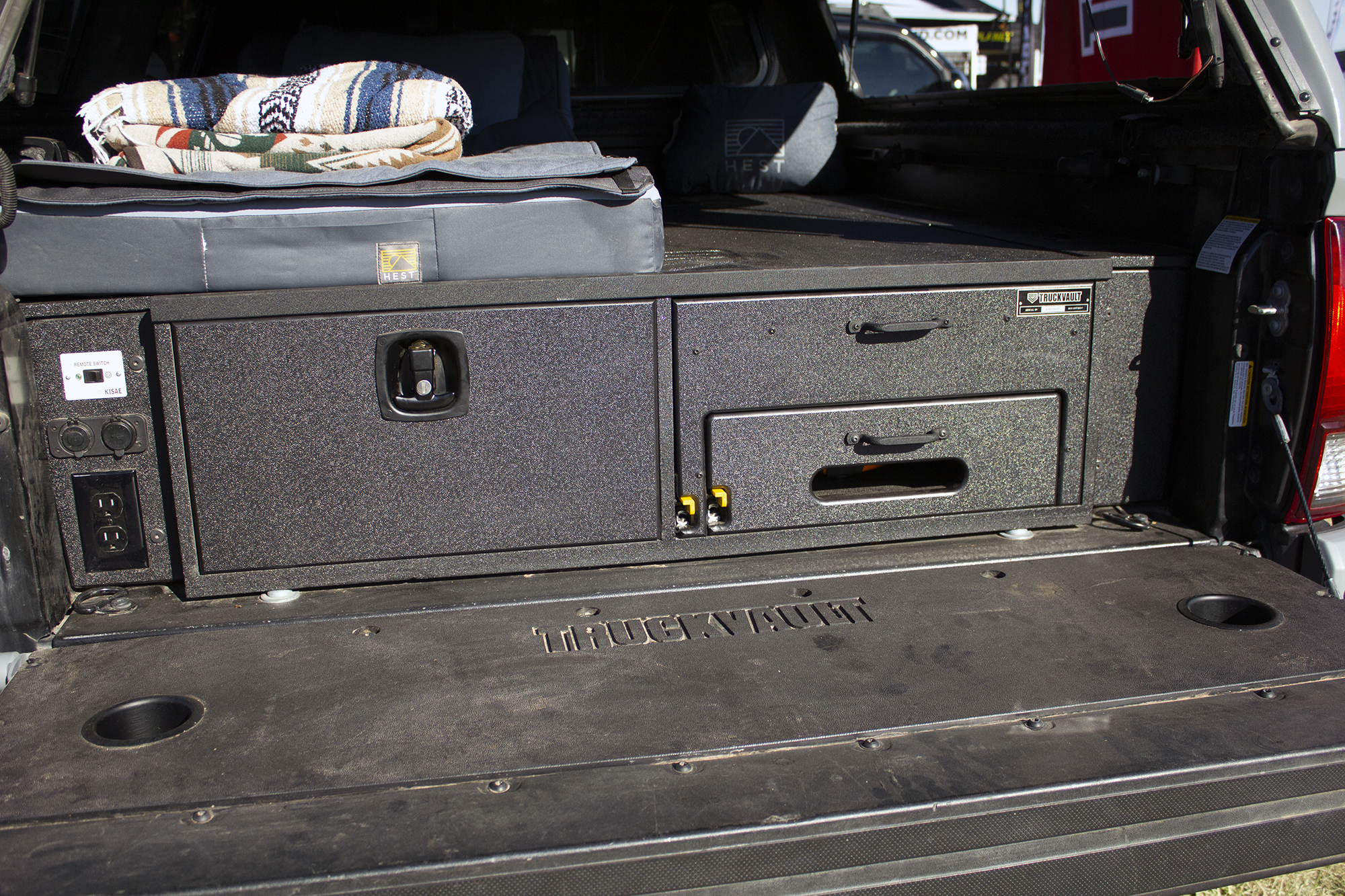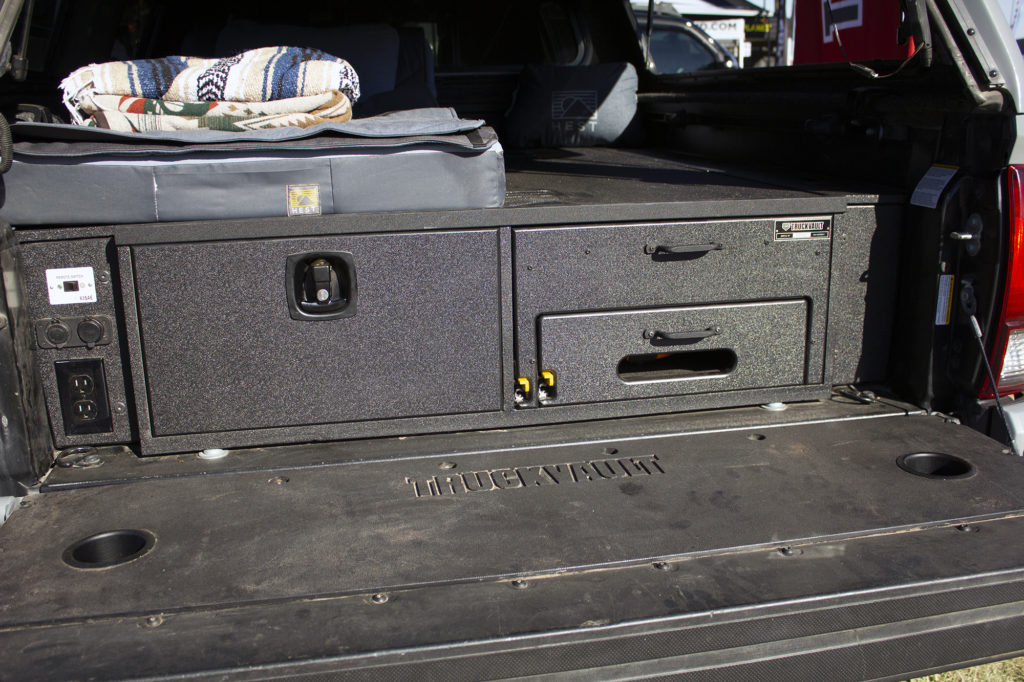 While slide out kitchen set ups aren't necessarily new, TruckVault's BaseCamp 1 caught our eye because of how clean the setup was. We particularly liked the small drawers under the amply sized cutting board. Perfect for your utensils and spices.
Craft Autoworks — Portable Kitchen System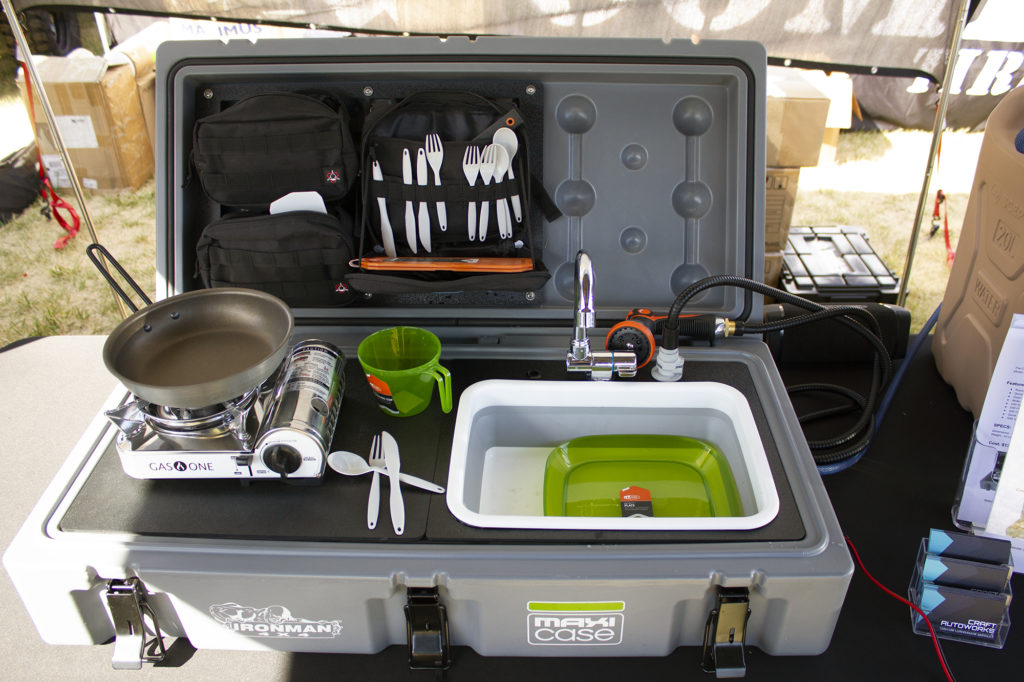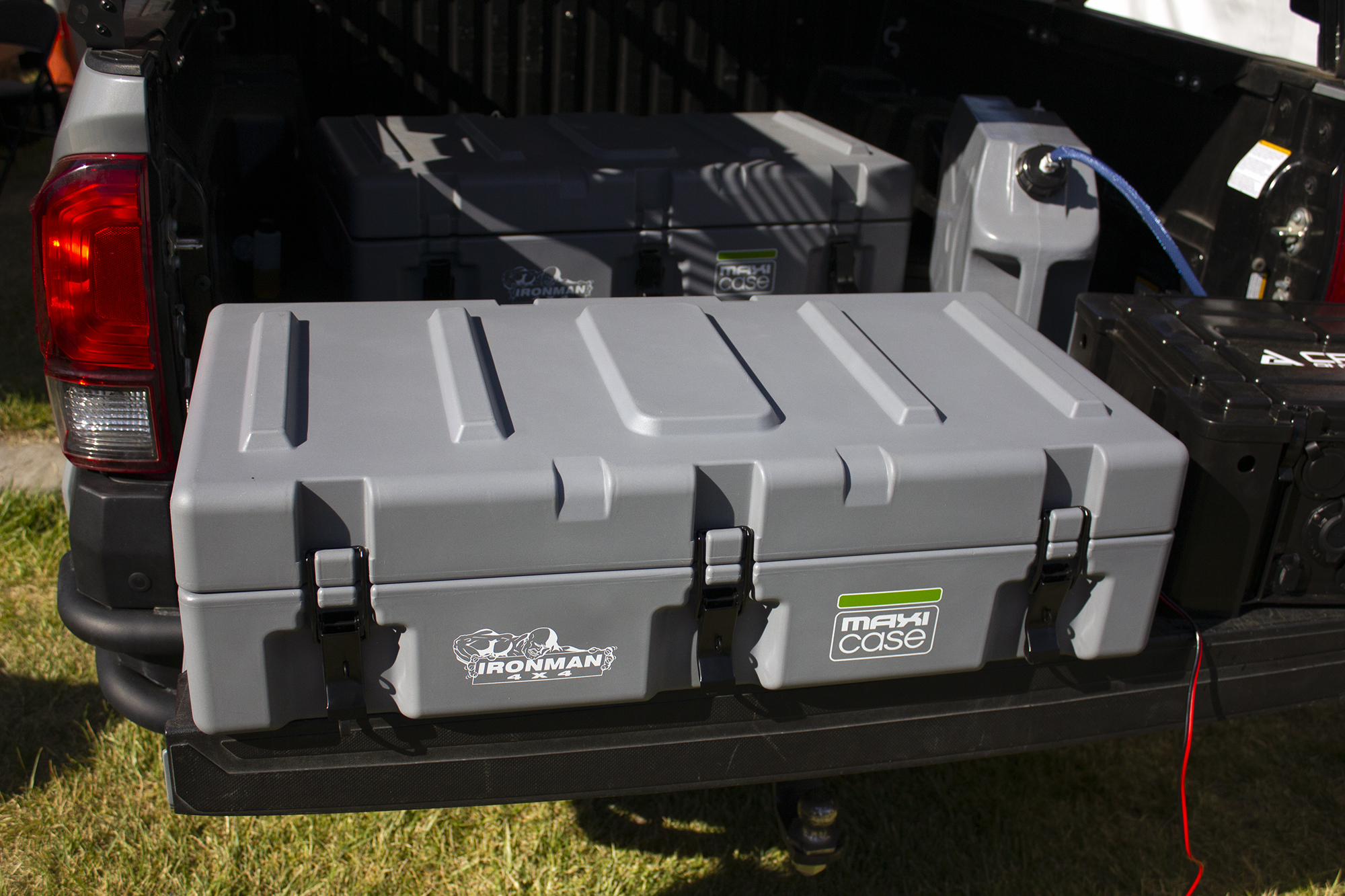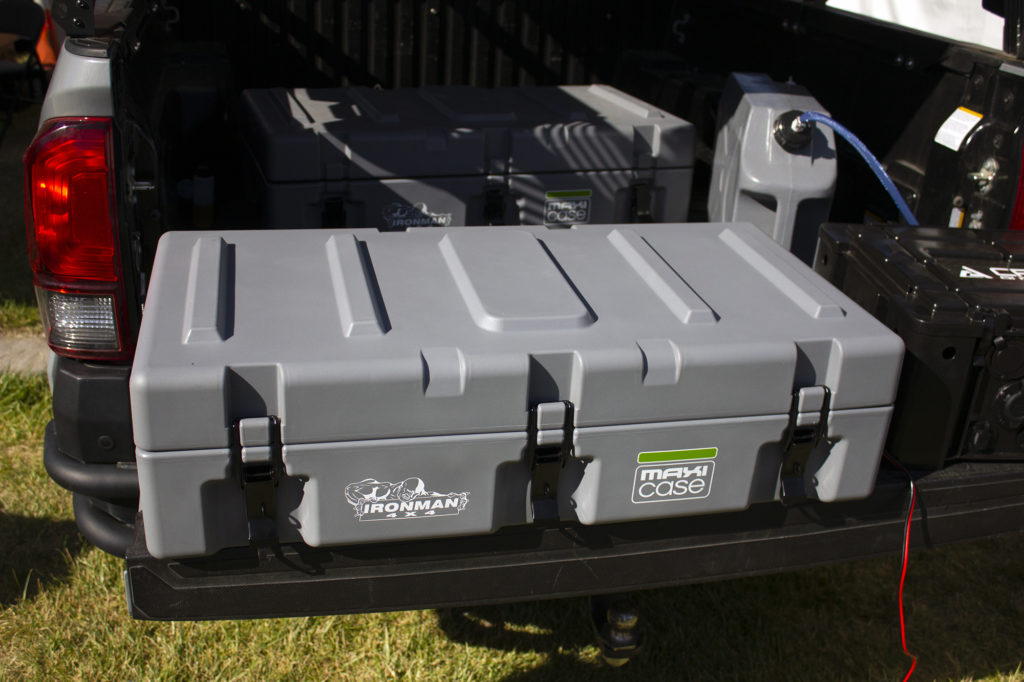 Looking for a durable camp kitchen contained all within a single box? With an electric pump operated faucet on one side, cutting board/prep surface with storage underneath, and three storage bags on a molle panel; the Craft Autoworks Portable Kitchen System has everything you need all in one easy to move box. Just add water.
Features & Dimensions:
Running water with removable sink and fold down faucet
Quick connect shower/sprayer attachment
GasOne Butane/Propane Cooktop
Molle Panel with 3 storage bags
GSI Spatula, Tongs, Large Spoon, Santoku Knife and 8" Frying Pan
GSI Plates, Cups and Utensils for 4
GSI Cleaning pad, rags, pan scraper and cutting boards
Quick connection hose to included 5 Gallon Jerry Can
SAE to Cigarette outlet connection for 12v power
35.5" x 18" x 10"
Weight: 43 pounds
Step22 — Chameleon & REEF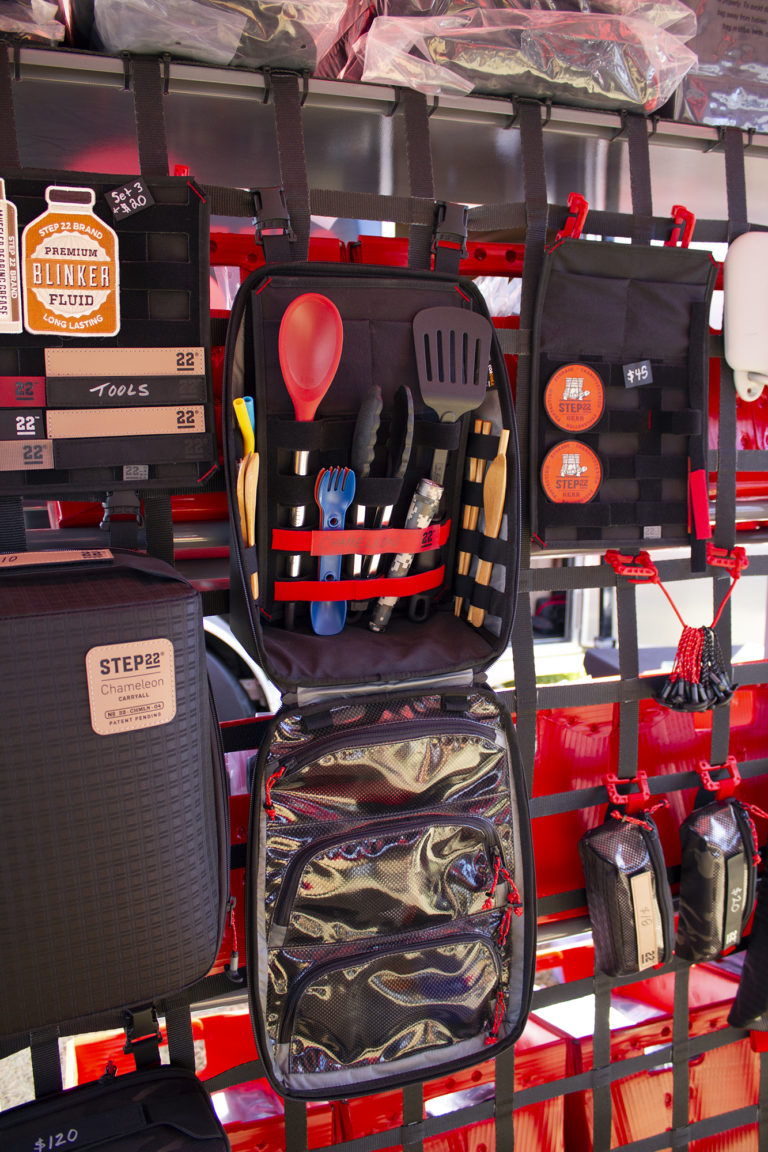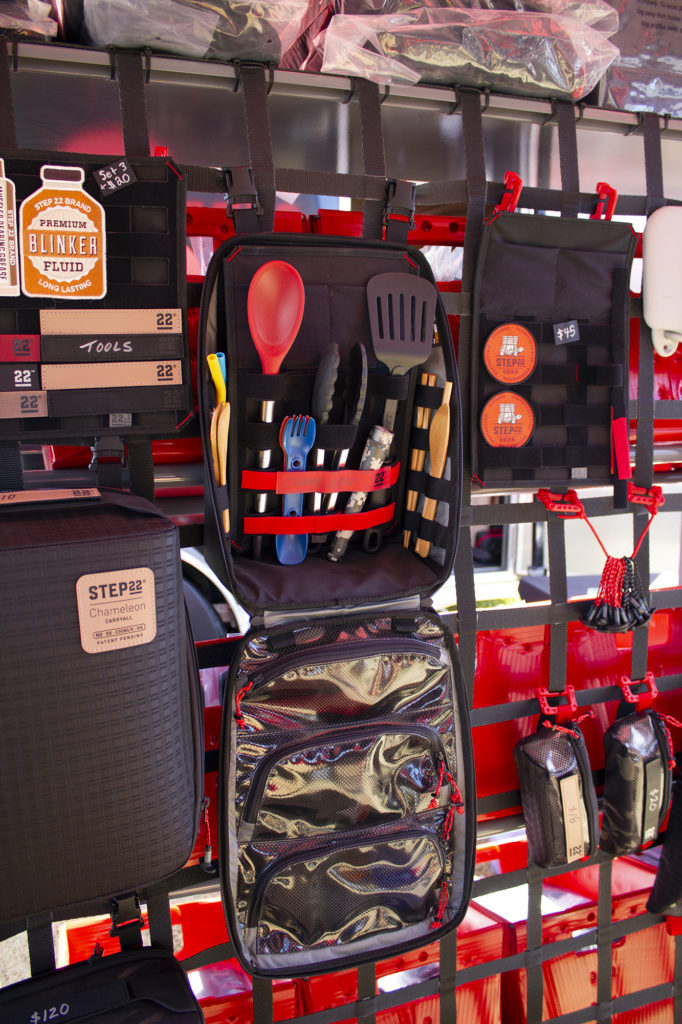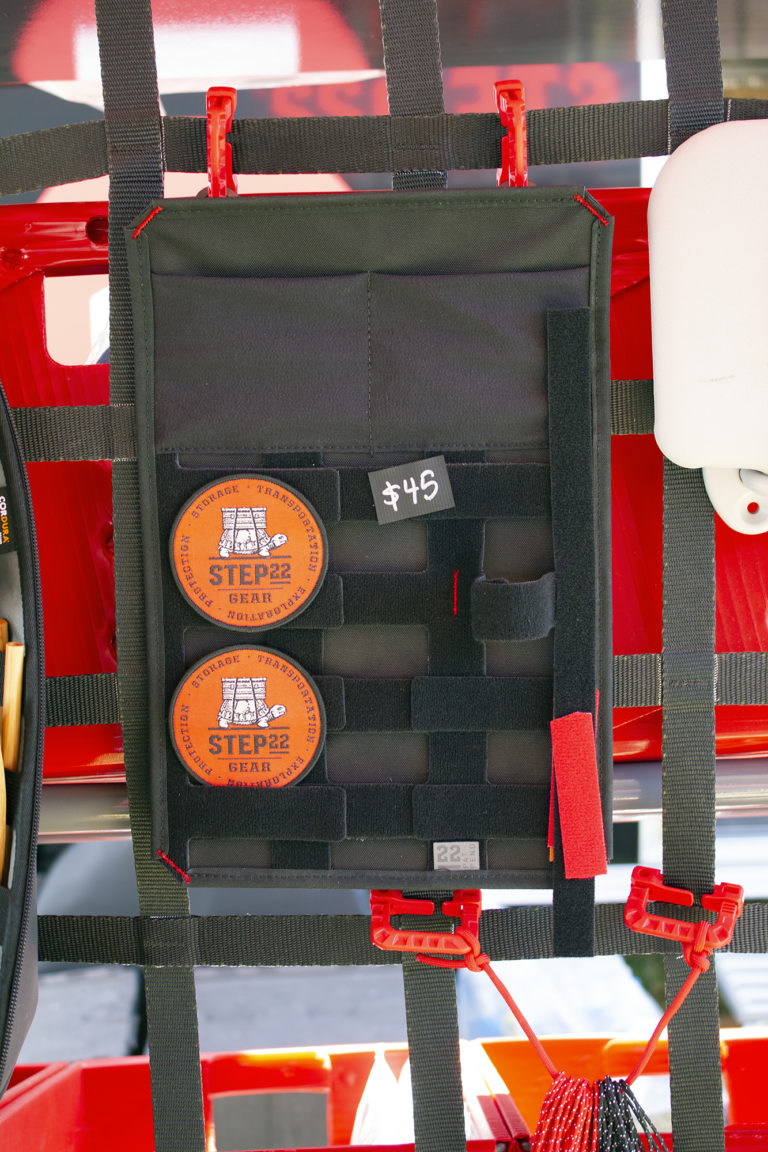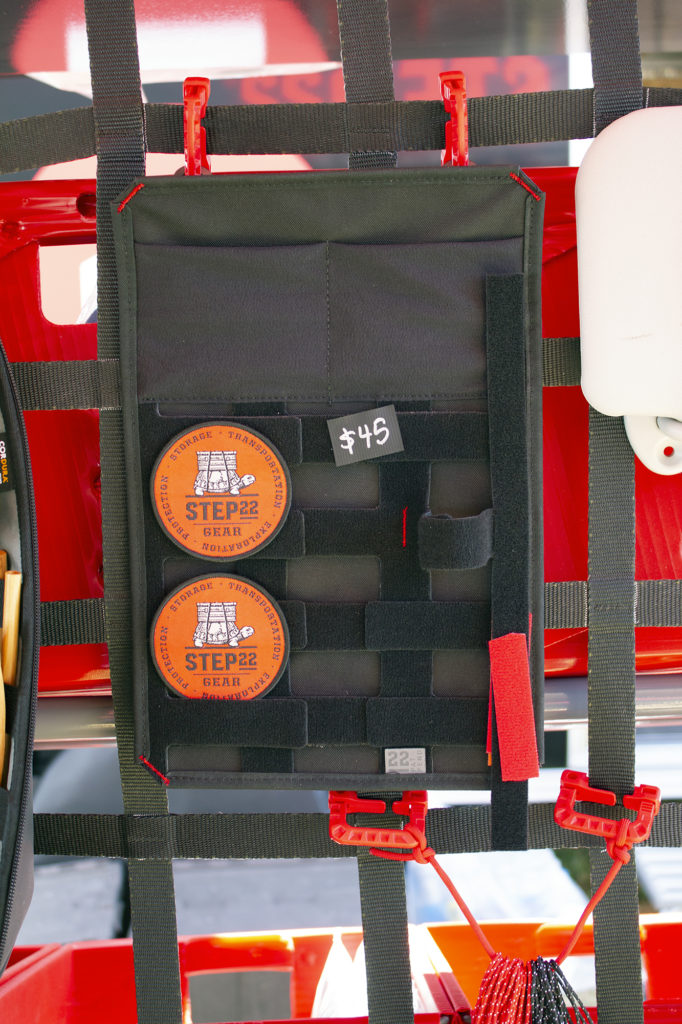 Step22 has established itself as a go to for some of the best storage bags on the market. And their new Chameleon Carryall and REEF panels are another great option. Designed to hang from the side of your rig (or door, rack, etc.) these will make a great addition to people camp kitchen setup.