Of all the vehicles on display at SEMA 2021, a few jumped out at us. These rigs stood out for a whole host of reasons. Some were big, incredible builds with thousands of man hours and thousands more dollars behind them. Other were simpler but had the certain something that just made them feel special.
Since they jumped out at us and stuck with us, wanted to share them with you. Without further ado, here are our 11 — yes, eleven — favorite overland builds from SEMA 2021.
Westin — Jeep Gladiator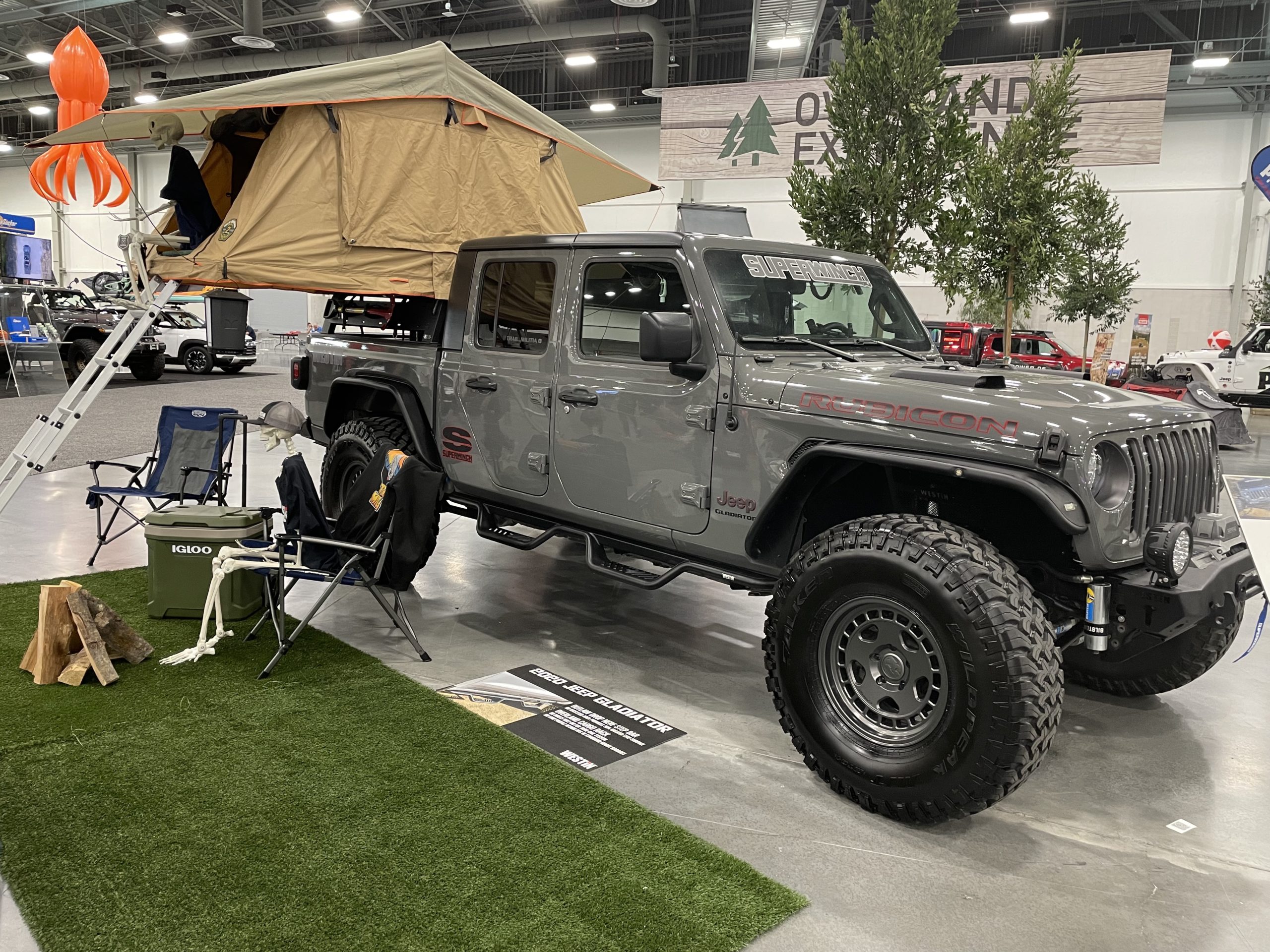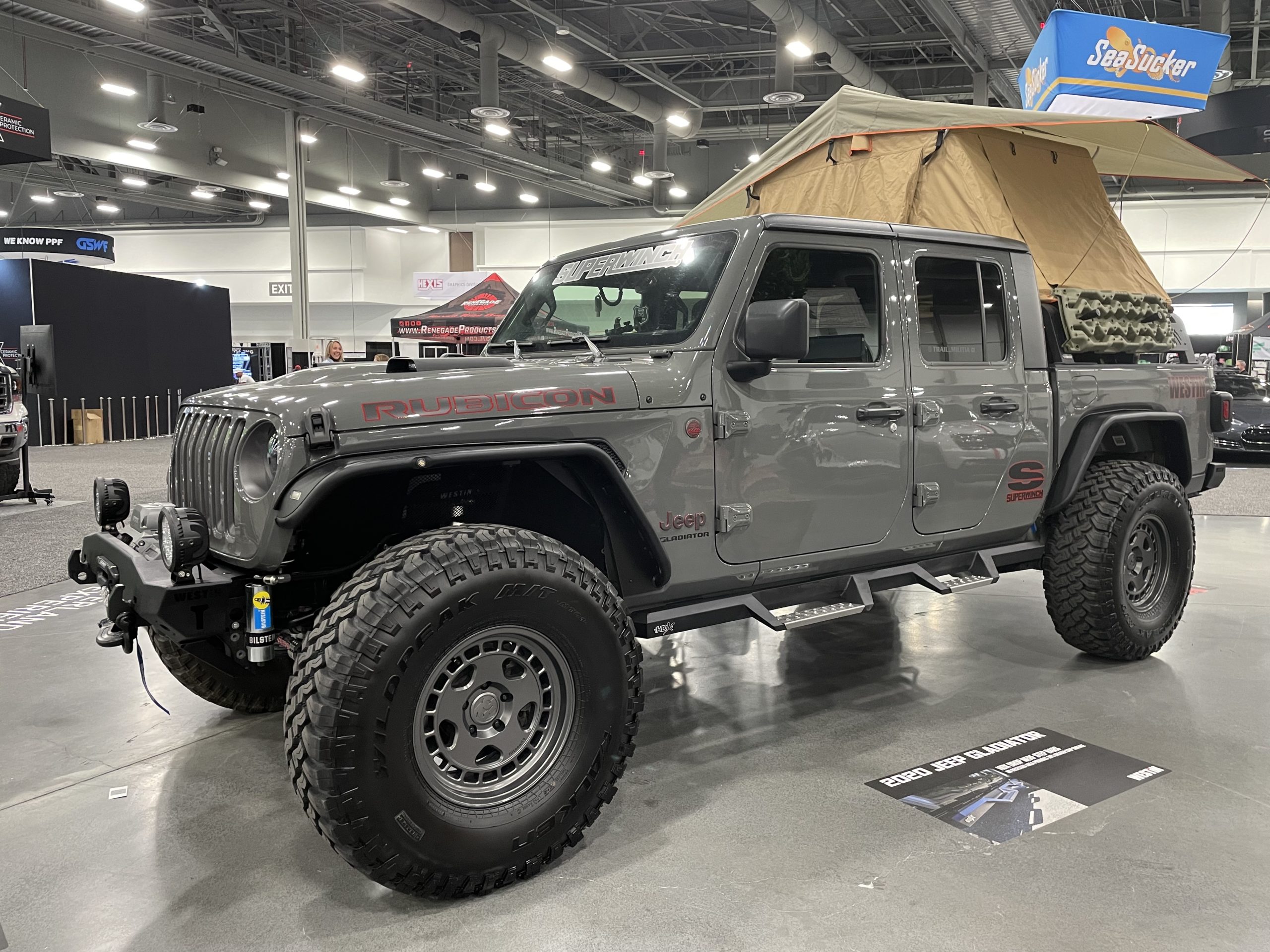 Our friends at Westin built up a capable but relatively modest Jeep Gladiator for SEMA 2021. It has all the best upgrades, from wheels to tires to, of course, side steps, and a rooftop tent on the back. At first blush, this Gladiator may seem extreme. But Gladiators just look that way to begin with — it doesn't take much to turn them from wild to extremely wild, like this rig.
Lexus Troopy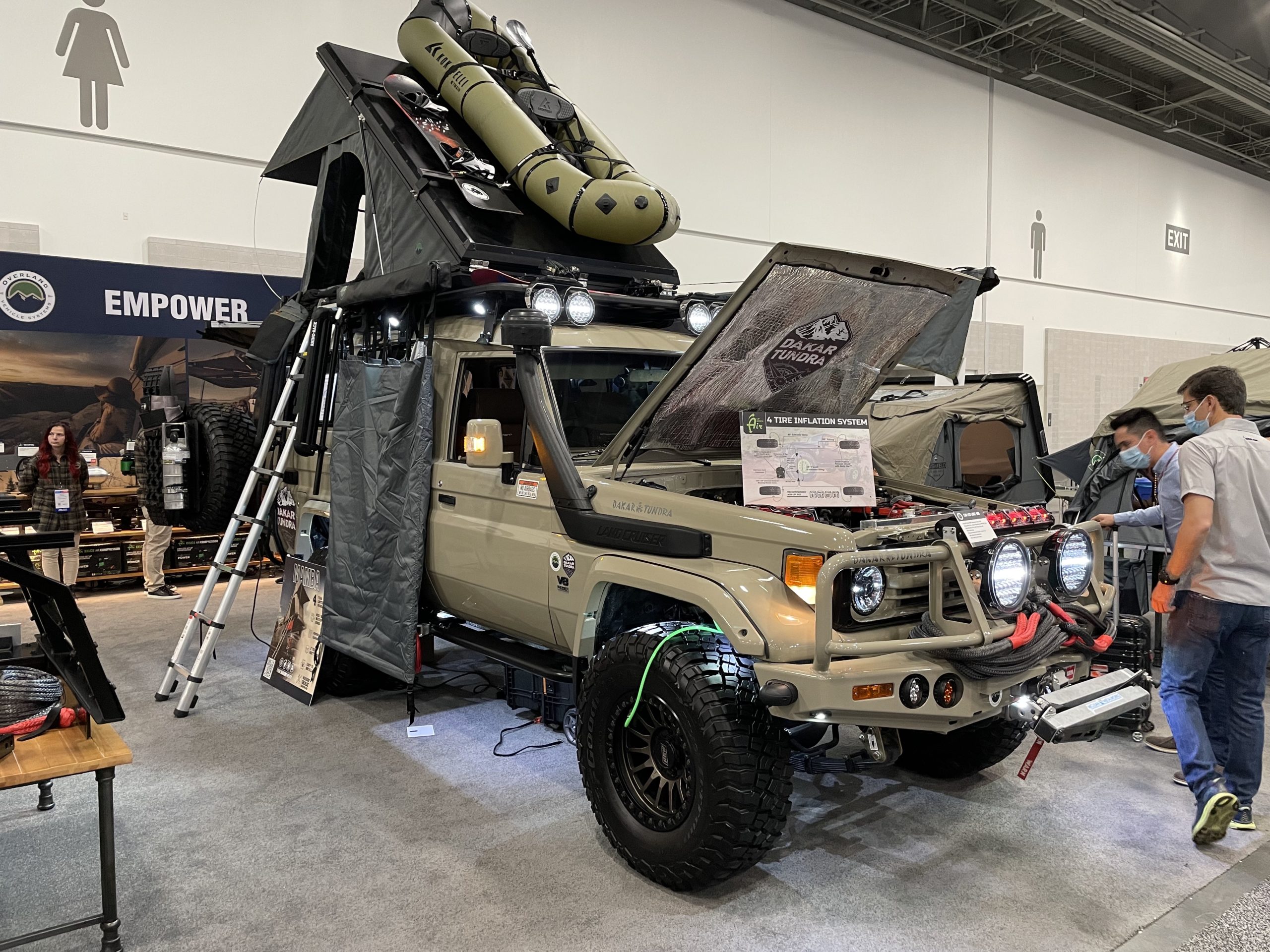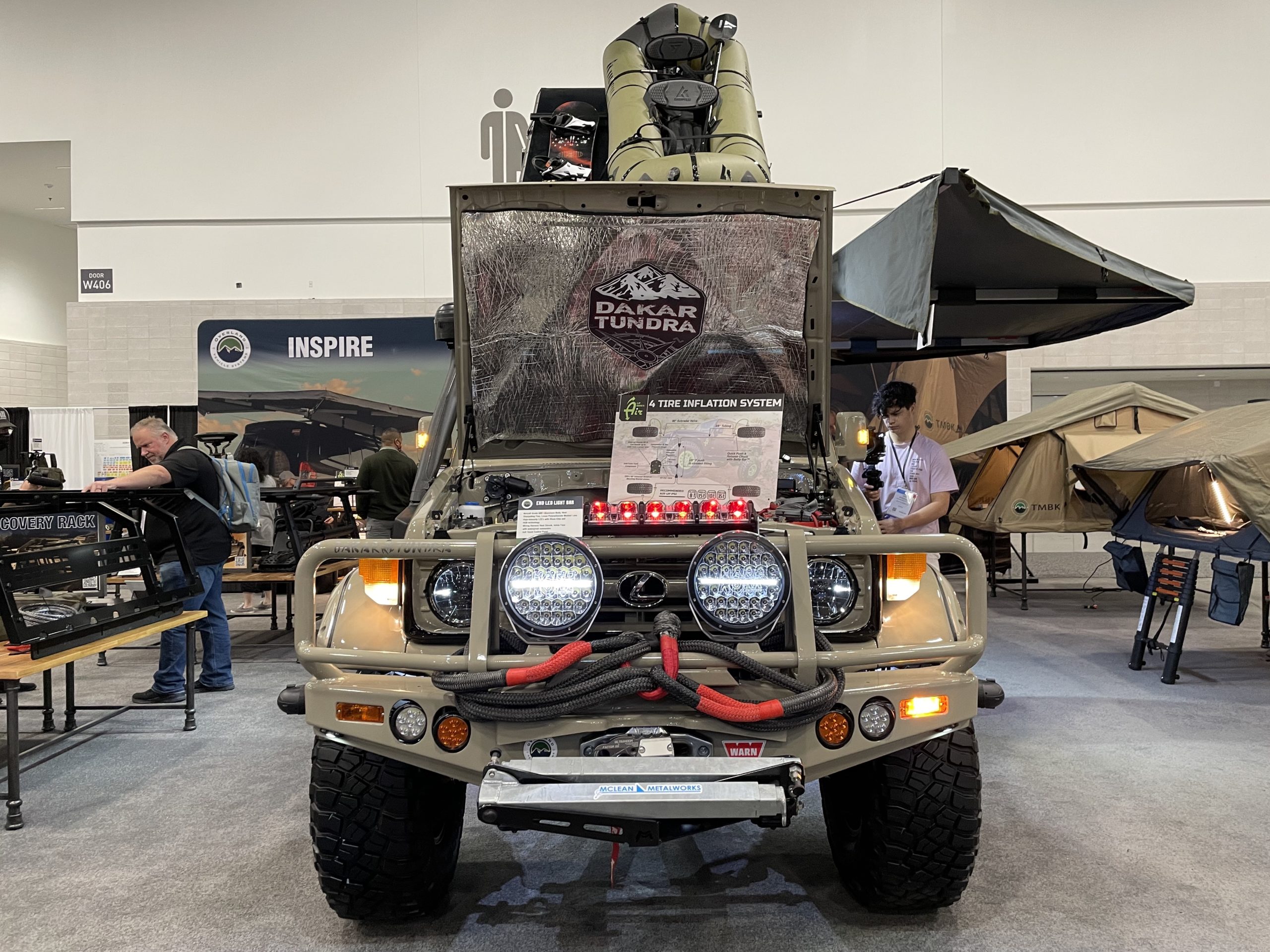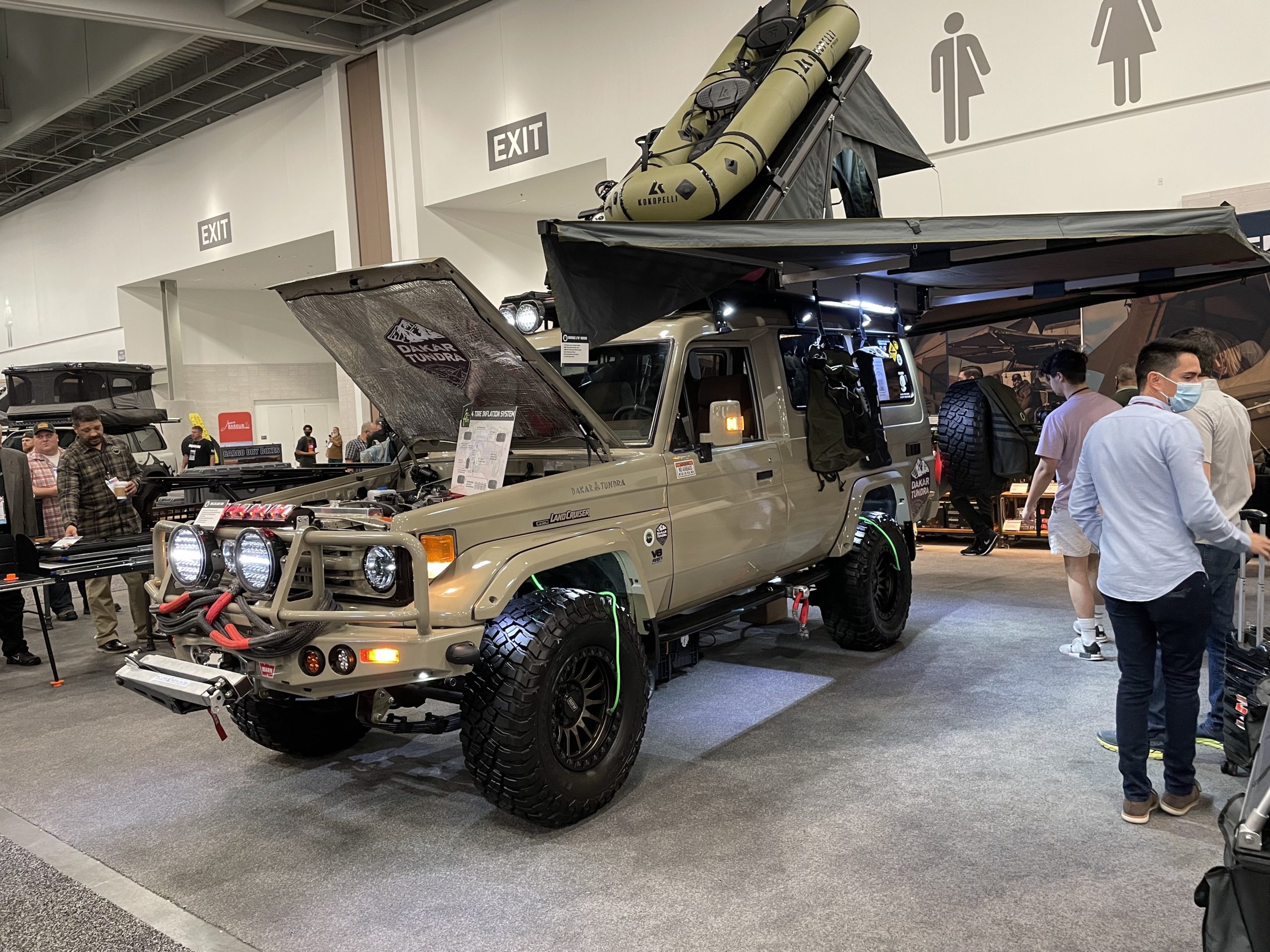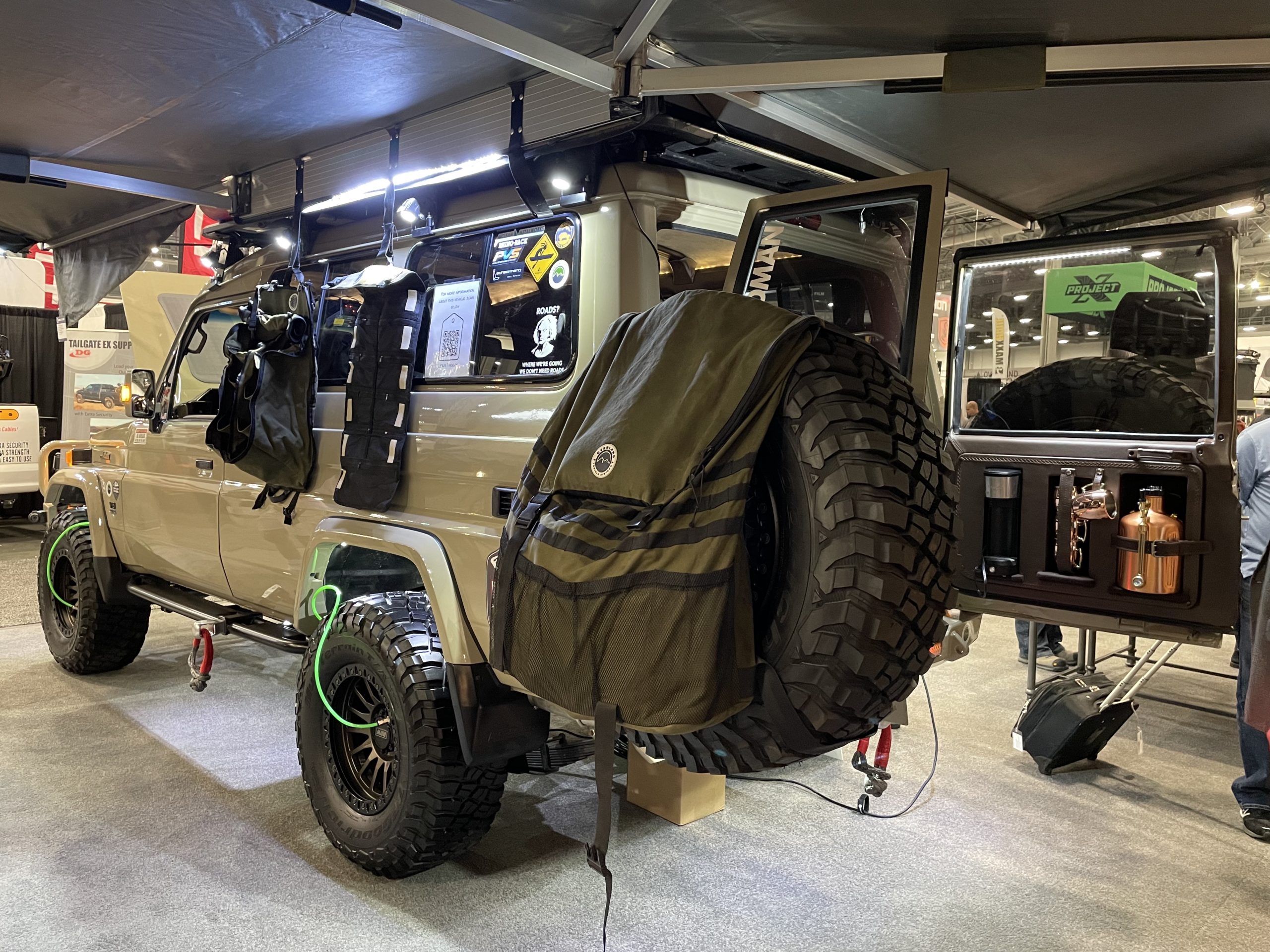 Before you ask, no, this isn't actually a Lexus. But it's so well spec'd that you might be convinced this came from the very precise minds at Lexus. Instead, this is just a very well appointed Toyota Land Cruiser 70 Series. Not surprisingly, this thing has all the bells and whistles. To some keen observers, this rig might look familiar because it's appeared at more than a couple Overland Expo events.
DOMETIC — Ford F-150 Freedom Tremor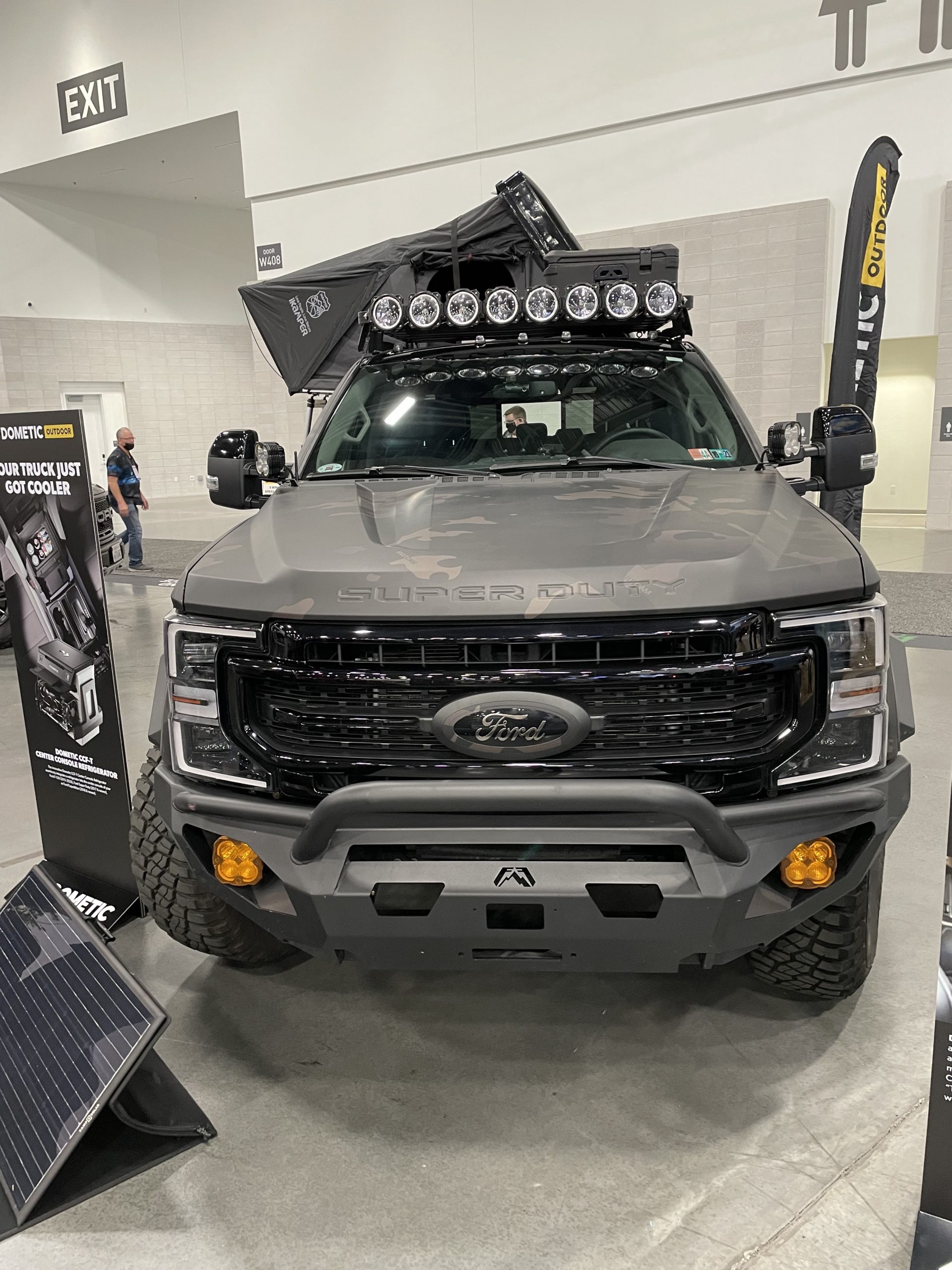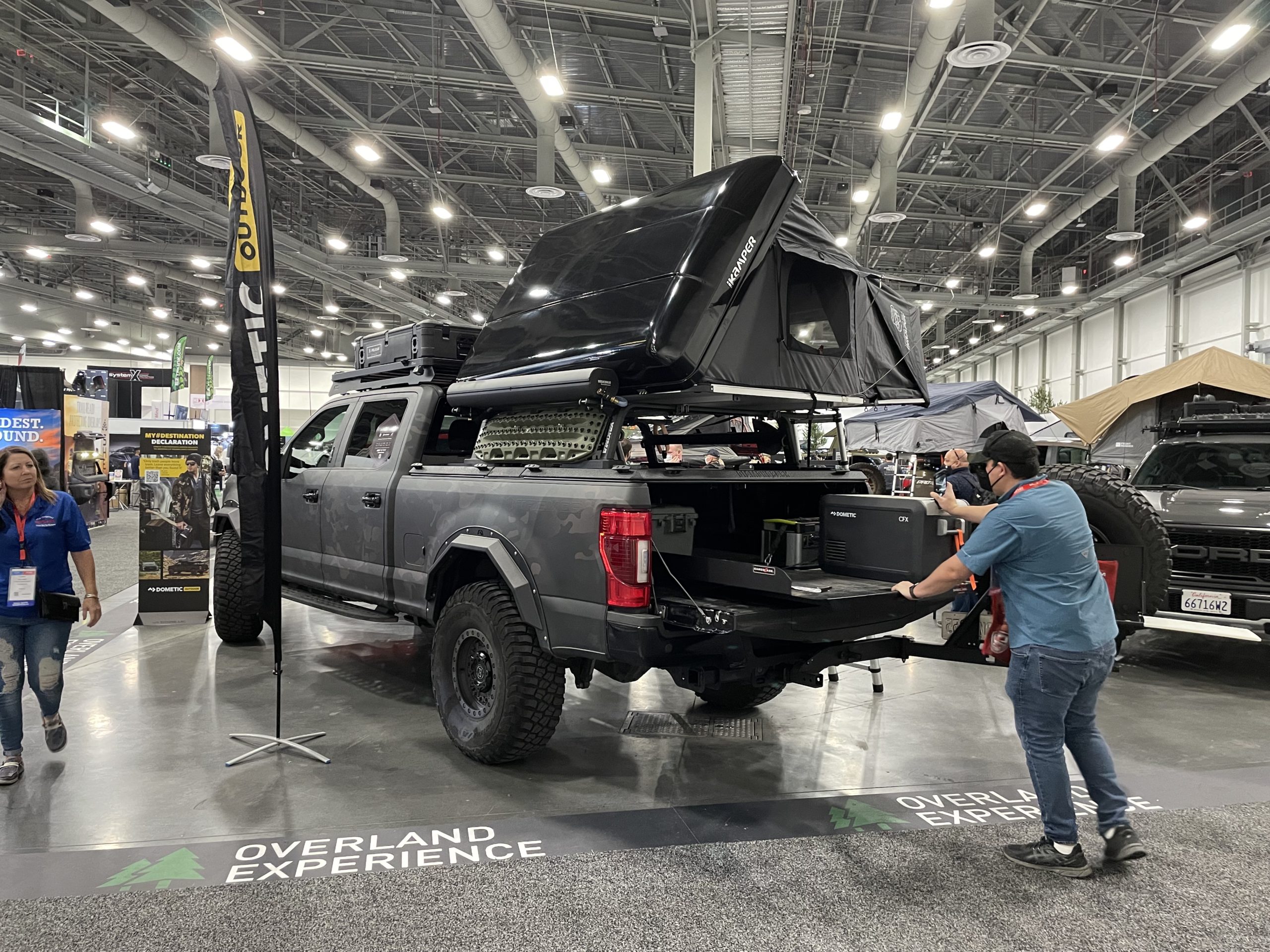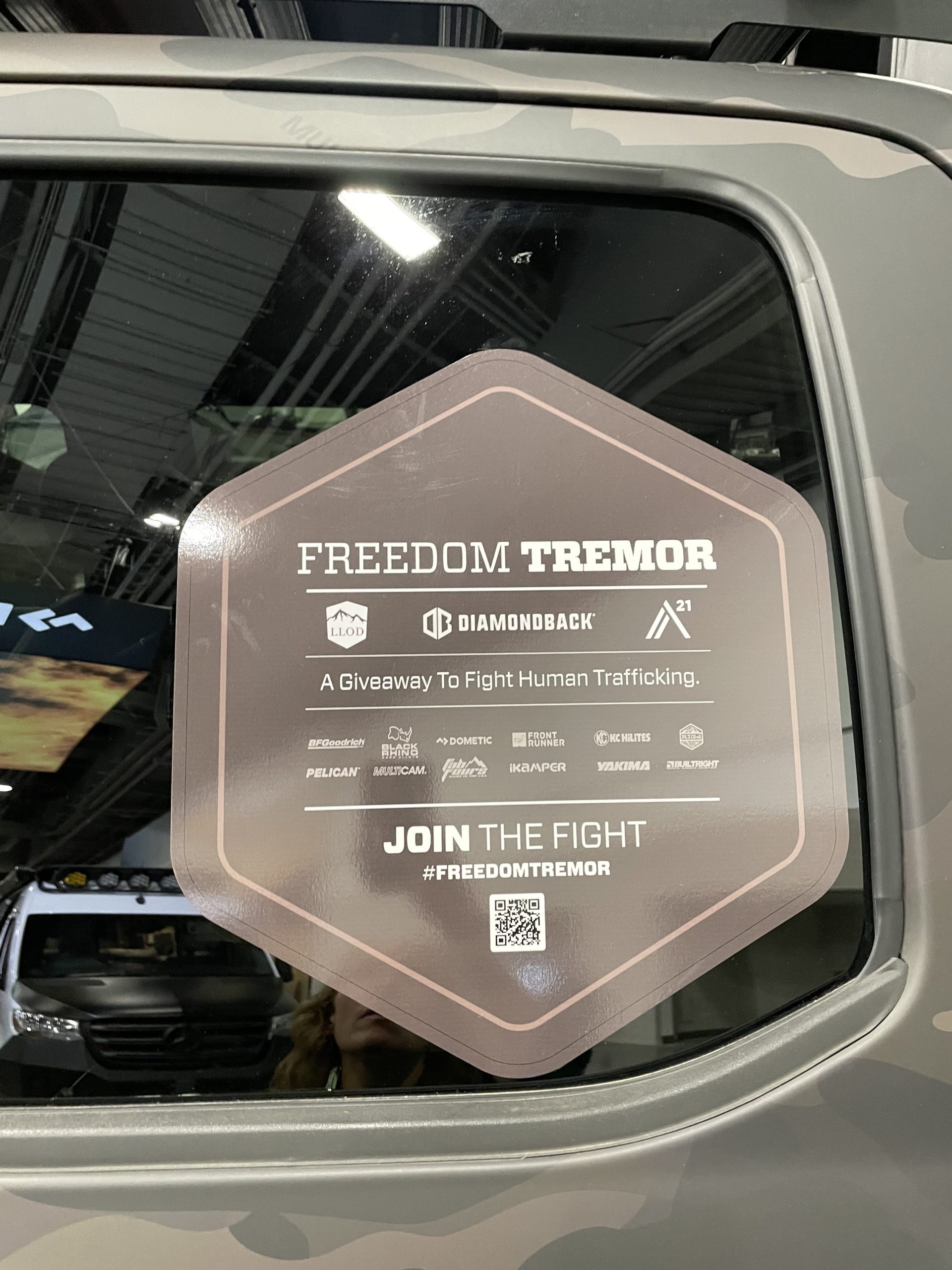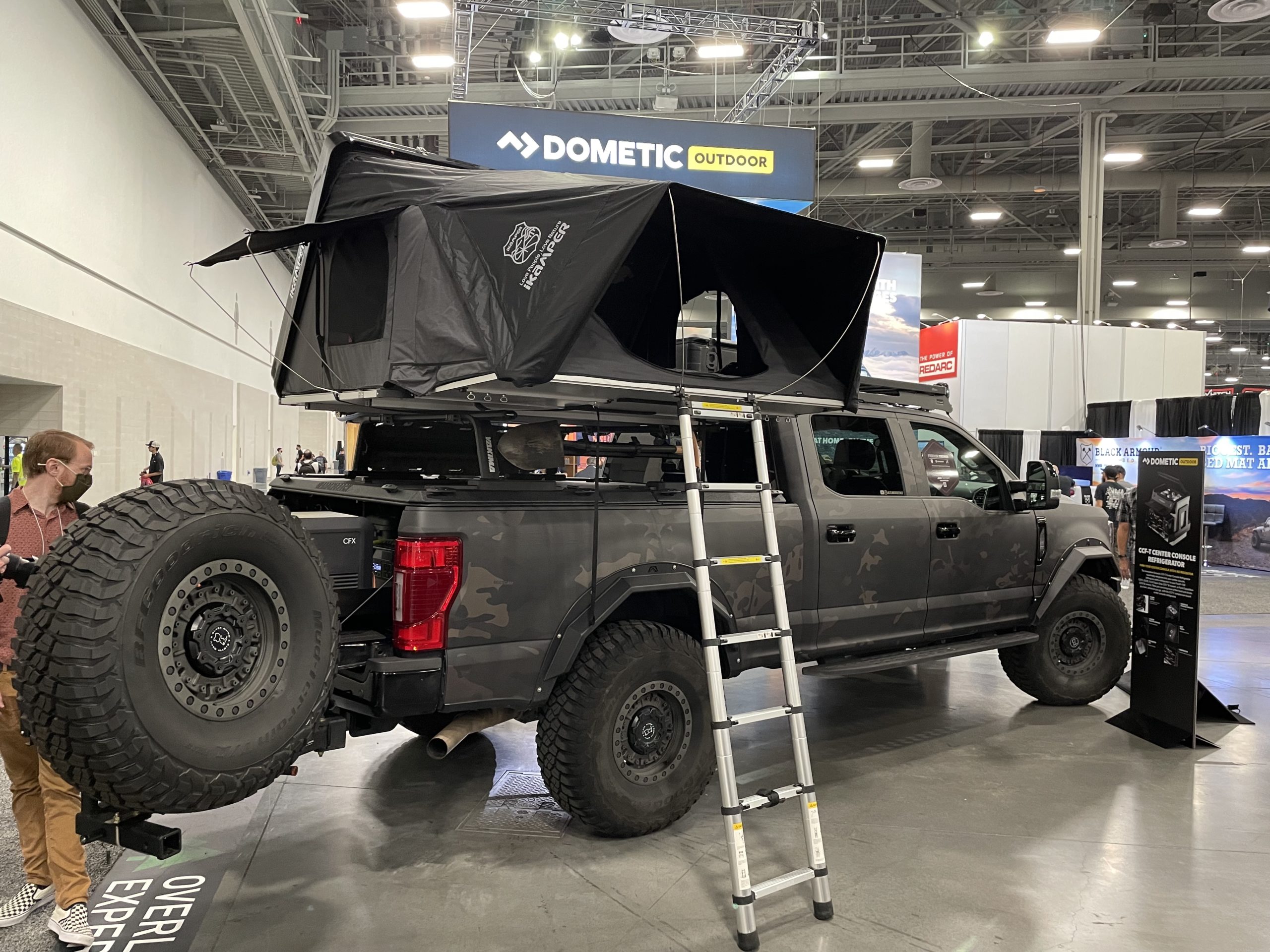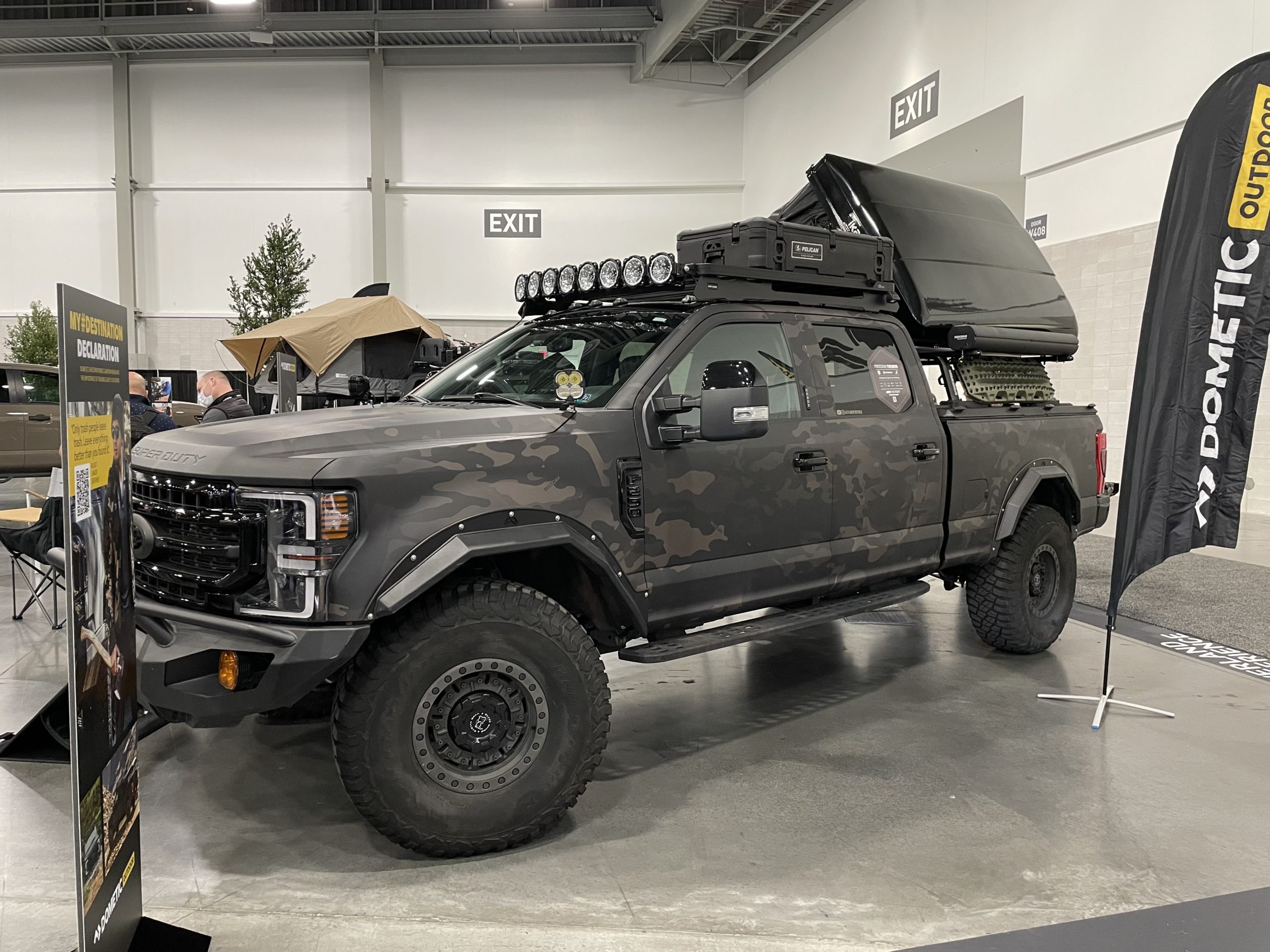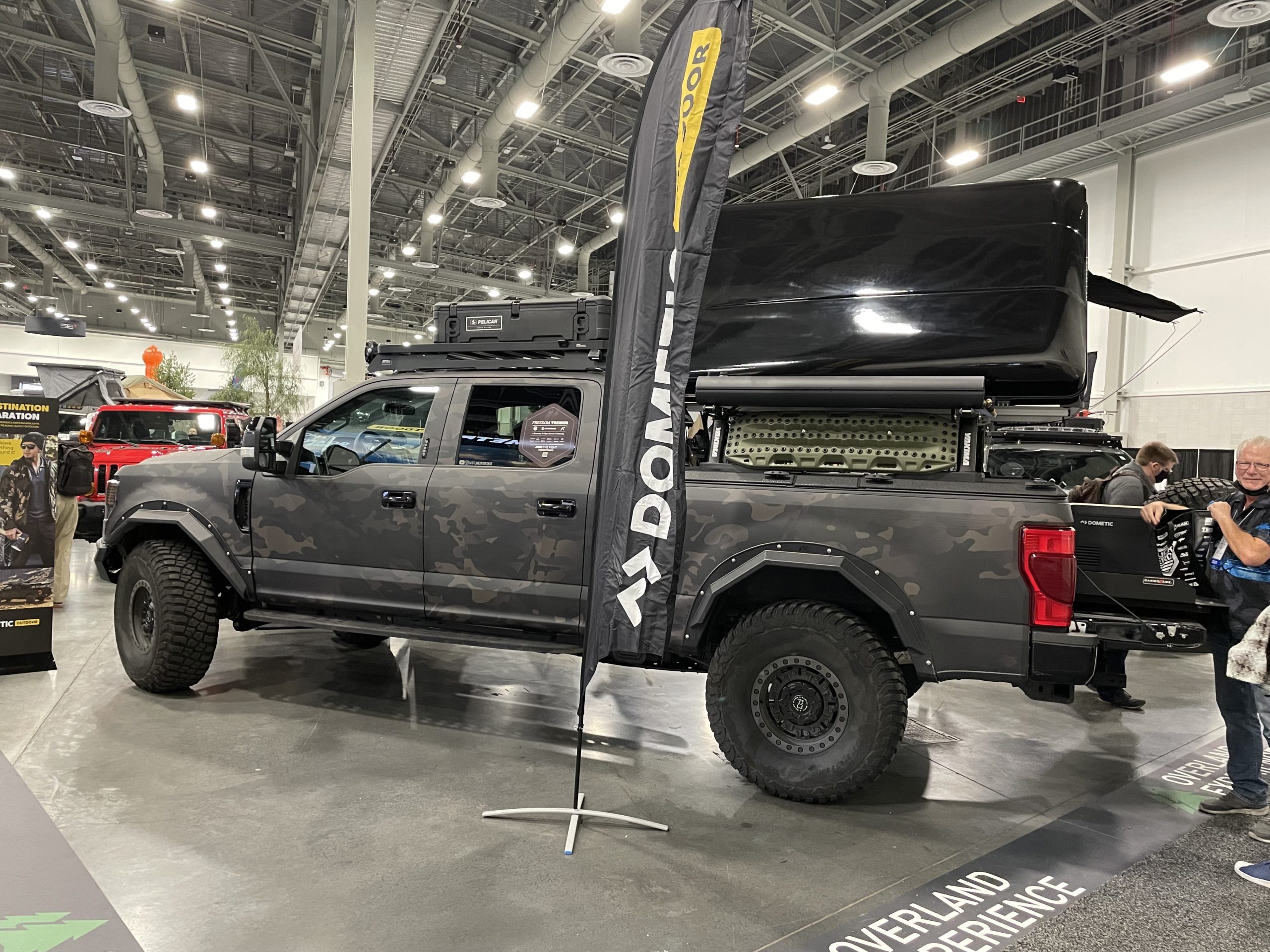 Something we noticed about SEMA 2021 was the number of full-size pickup truck overland rigs. And you know what? We're not mad about. Take the Freedom Tremor that was on display at the DOMETIC booth. It was very well built with lots of smart upgrades. Yes, this thing is so big that it might have its own zip code. But with the right driver on the right trails, there's surely no where this thing couldn't go. Moreover, it has room for even a full-size family, which we dig.
Overland Expo — Ultimate Overland 4Runner TRD Off Road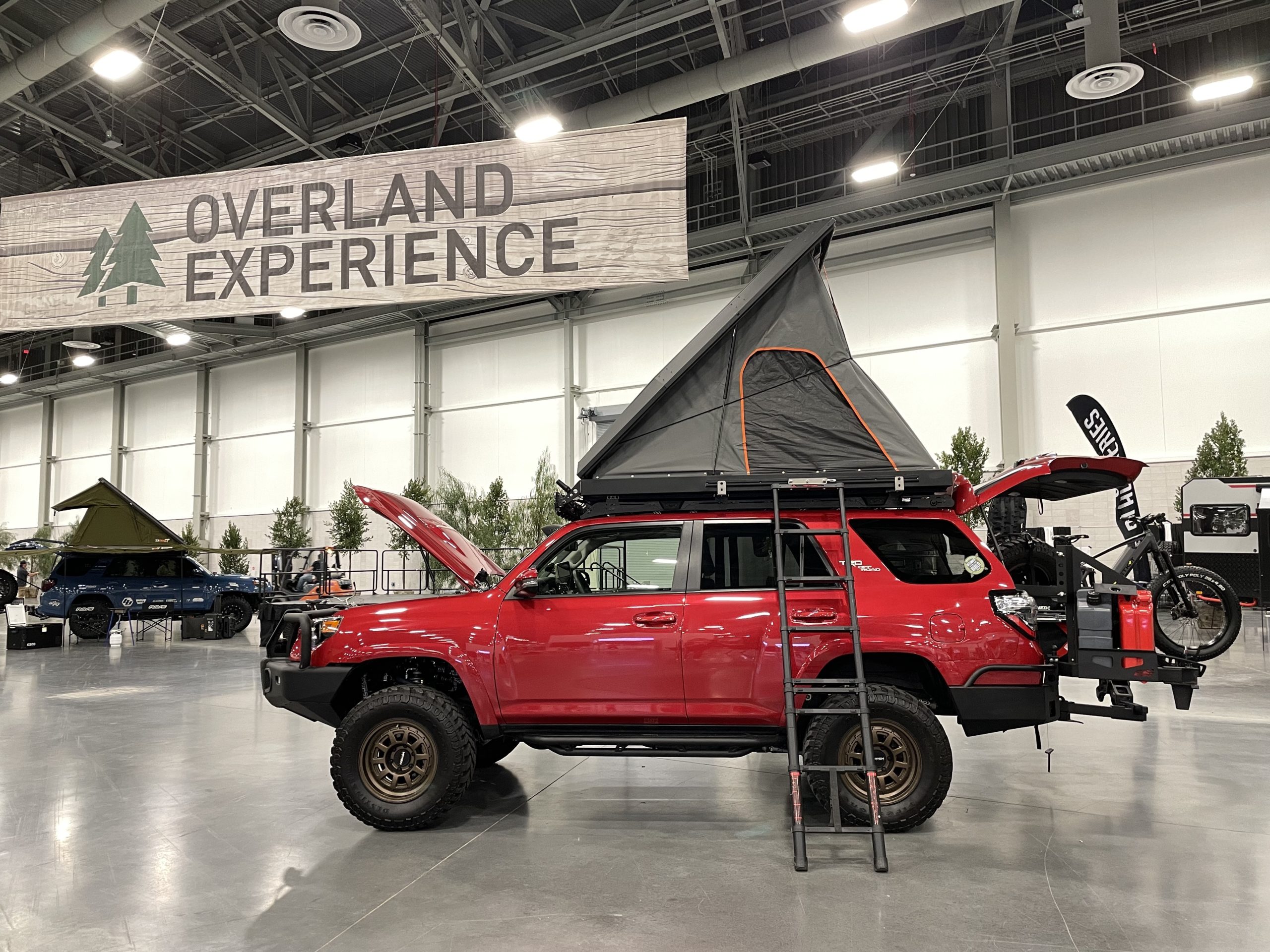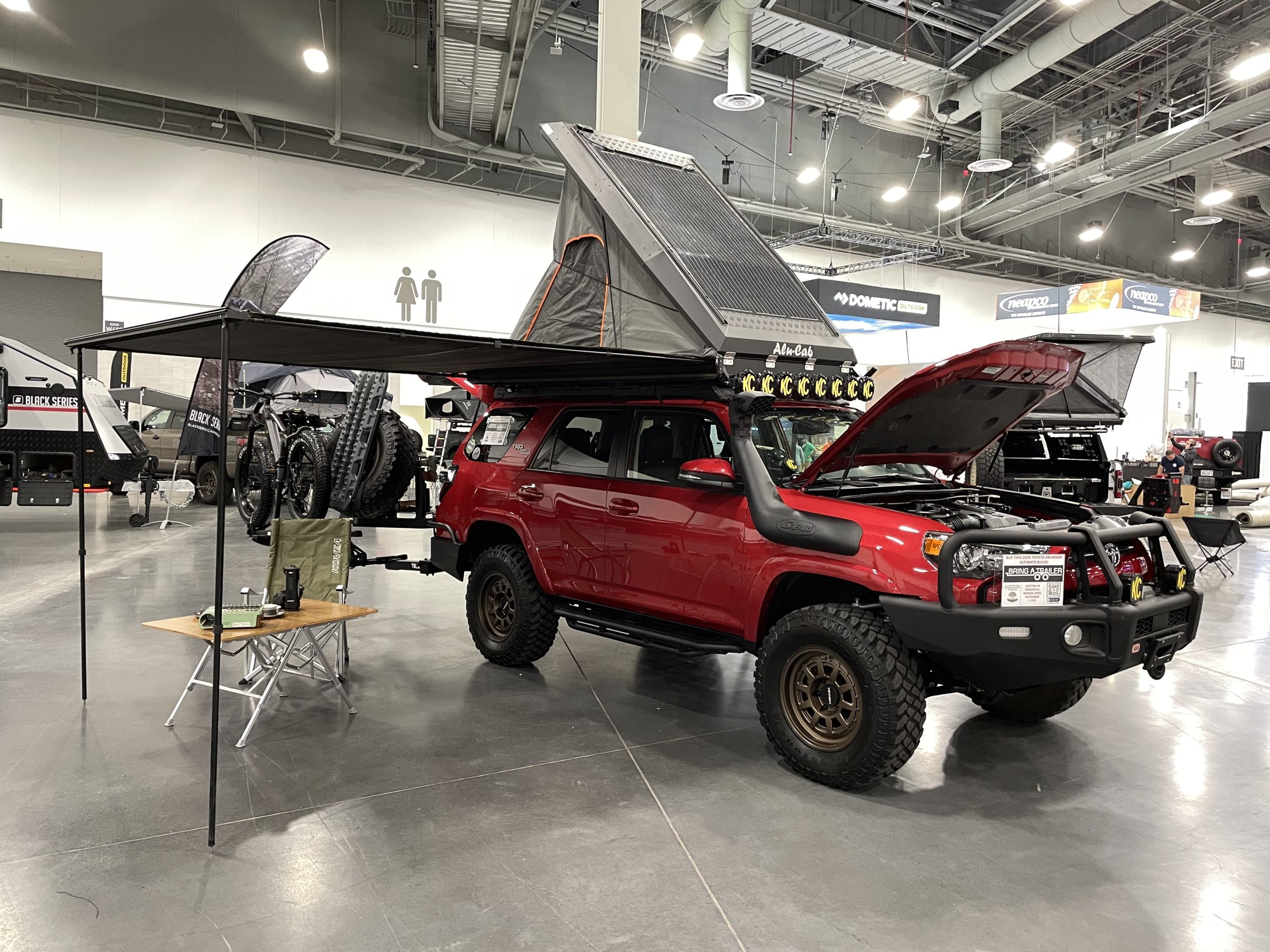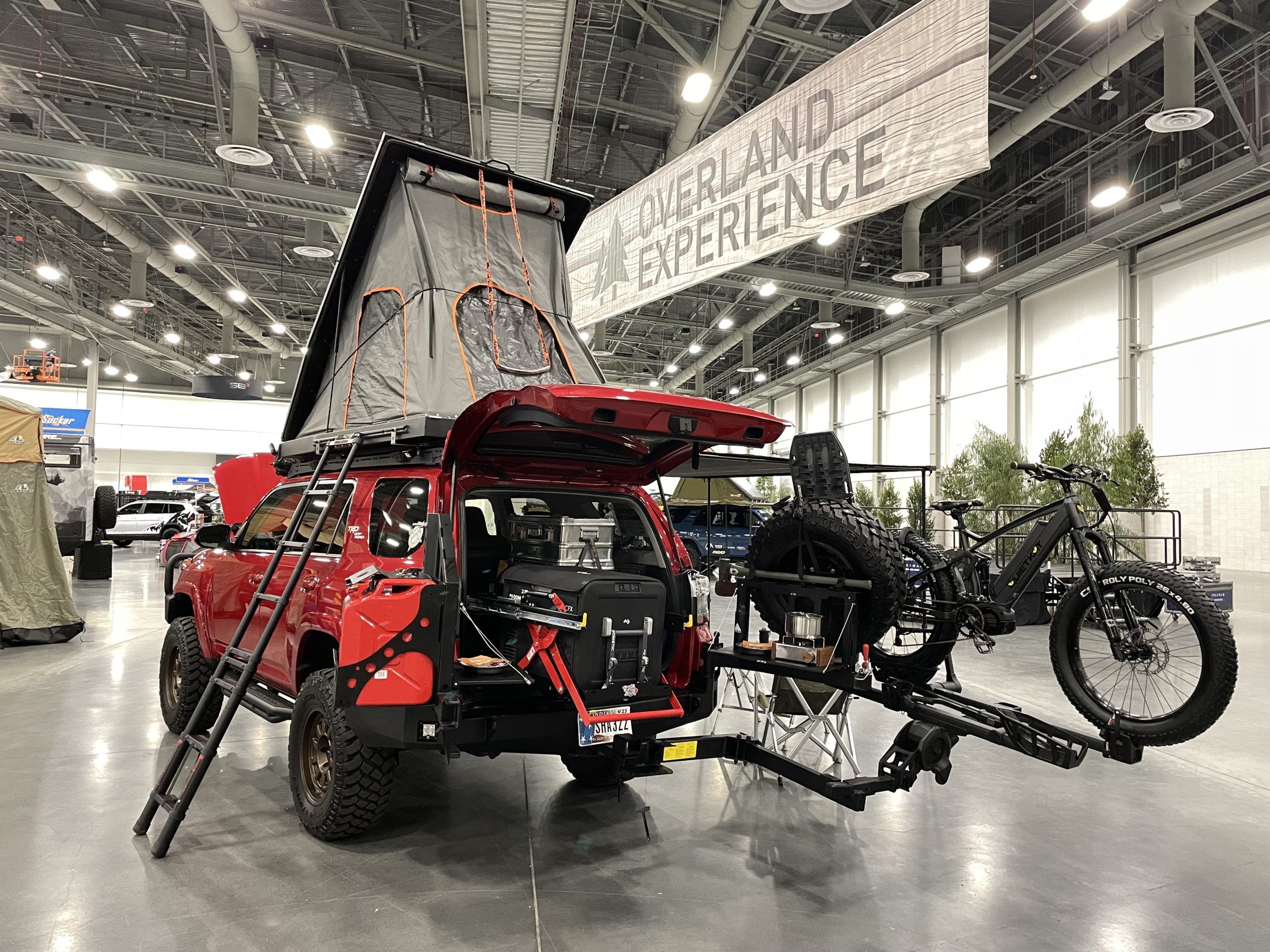 You didn't think we'd skip our own overland build, did you? We were really proud of how our Ultimate Overland Vehicle 2021, the Toyota 4Runner TRD Off Road, turned out. And it seems several other folks agreed with us. More than the verbal praise we received at the show, the 4Runner sold for $84,000 on Bring a Trailer — a new record for 4Runners. You can read all about this build on its dedicated build page.
WARN — Jeep Gladiator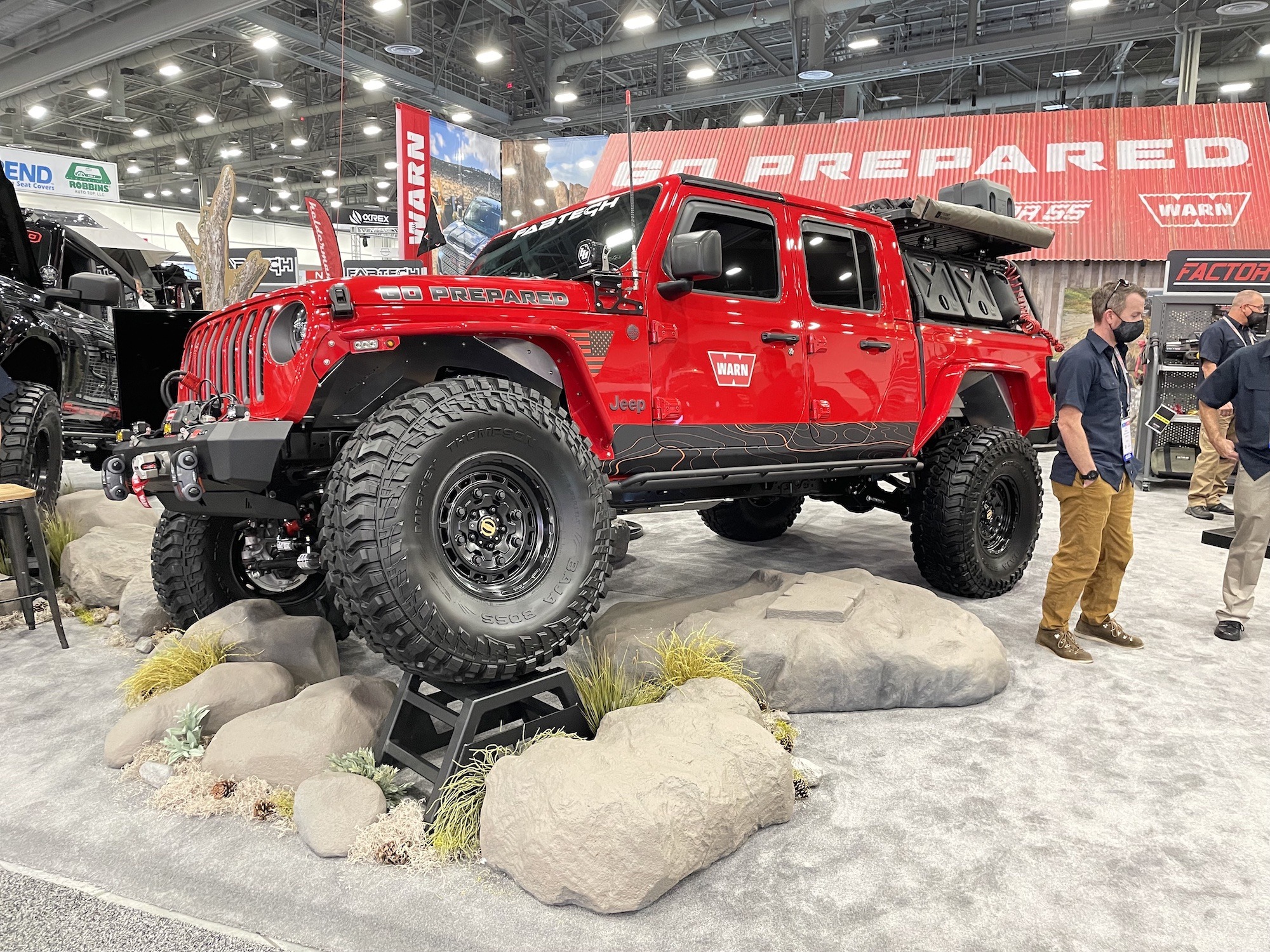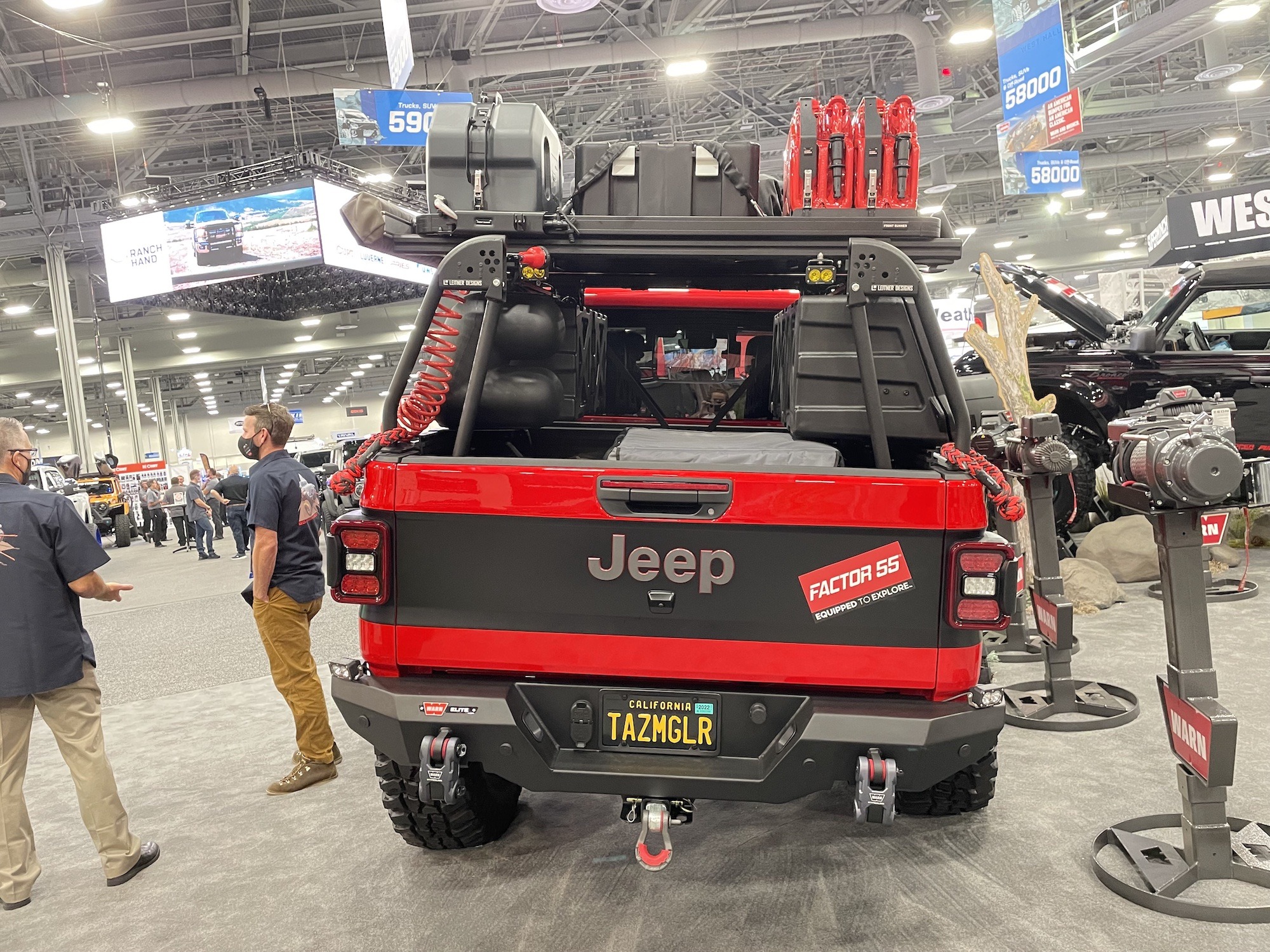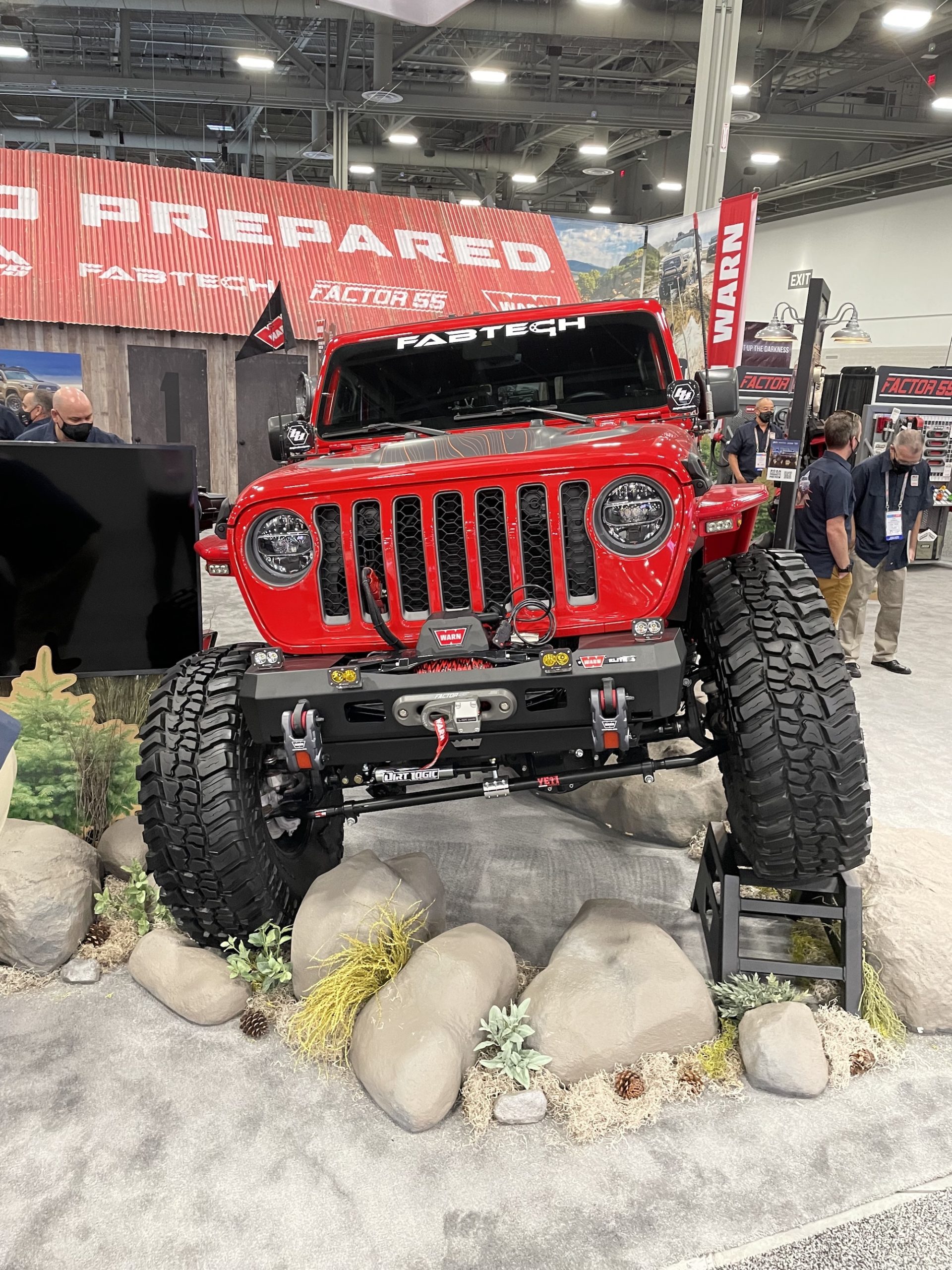 Our friends at WARN came big to the SEMA 2021 show with this absolutely stunning Jeep Gladiator, outfitted with tons of goodies, including a Leitner Designs bed rack. This truck might be a big bright and garish for some. But, hey, this is SEMA. If it's not loud and crazy, why is it even at the show?
Rhino-Rack — Chevrolet Silverado Trail Boss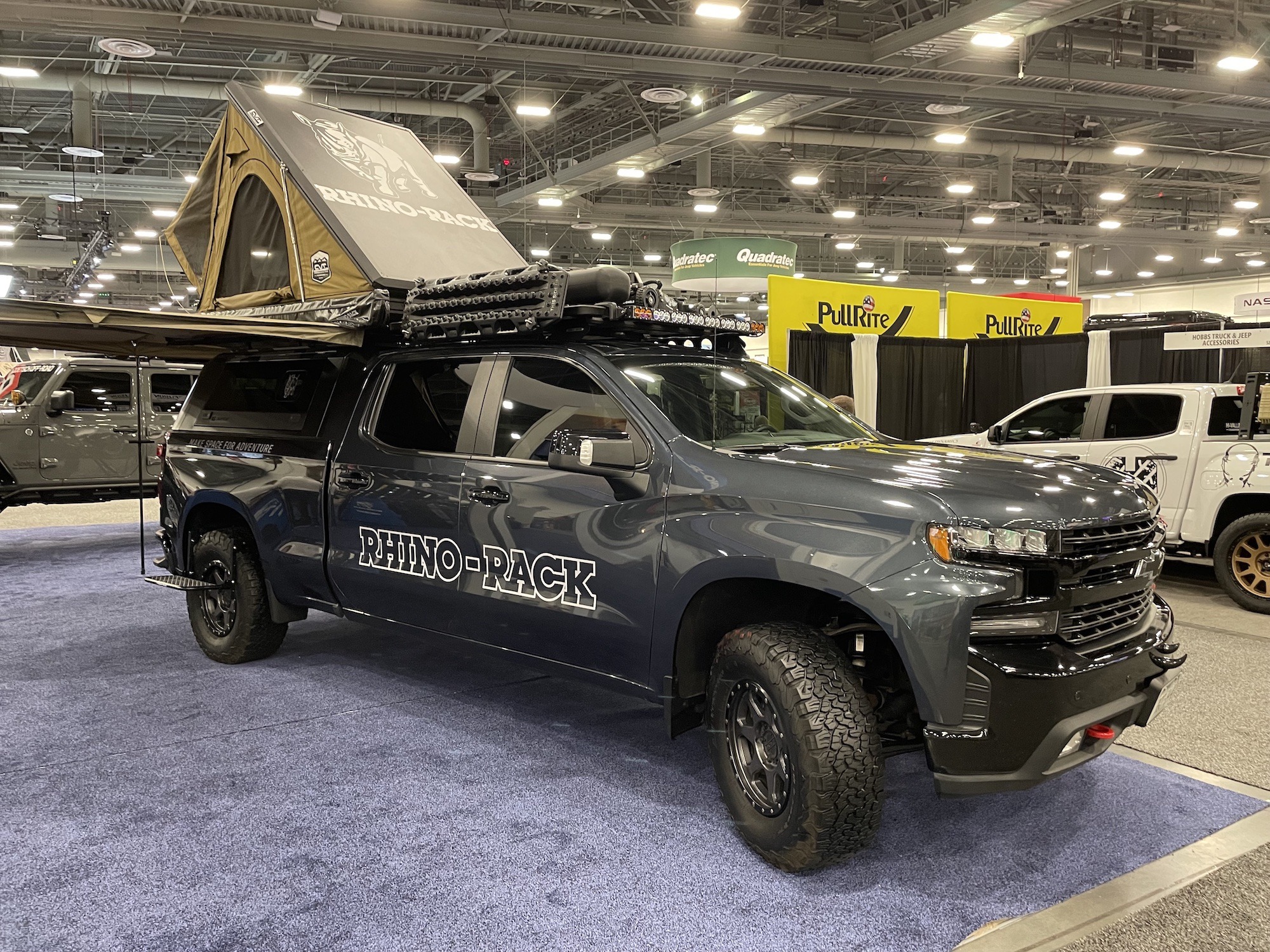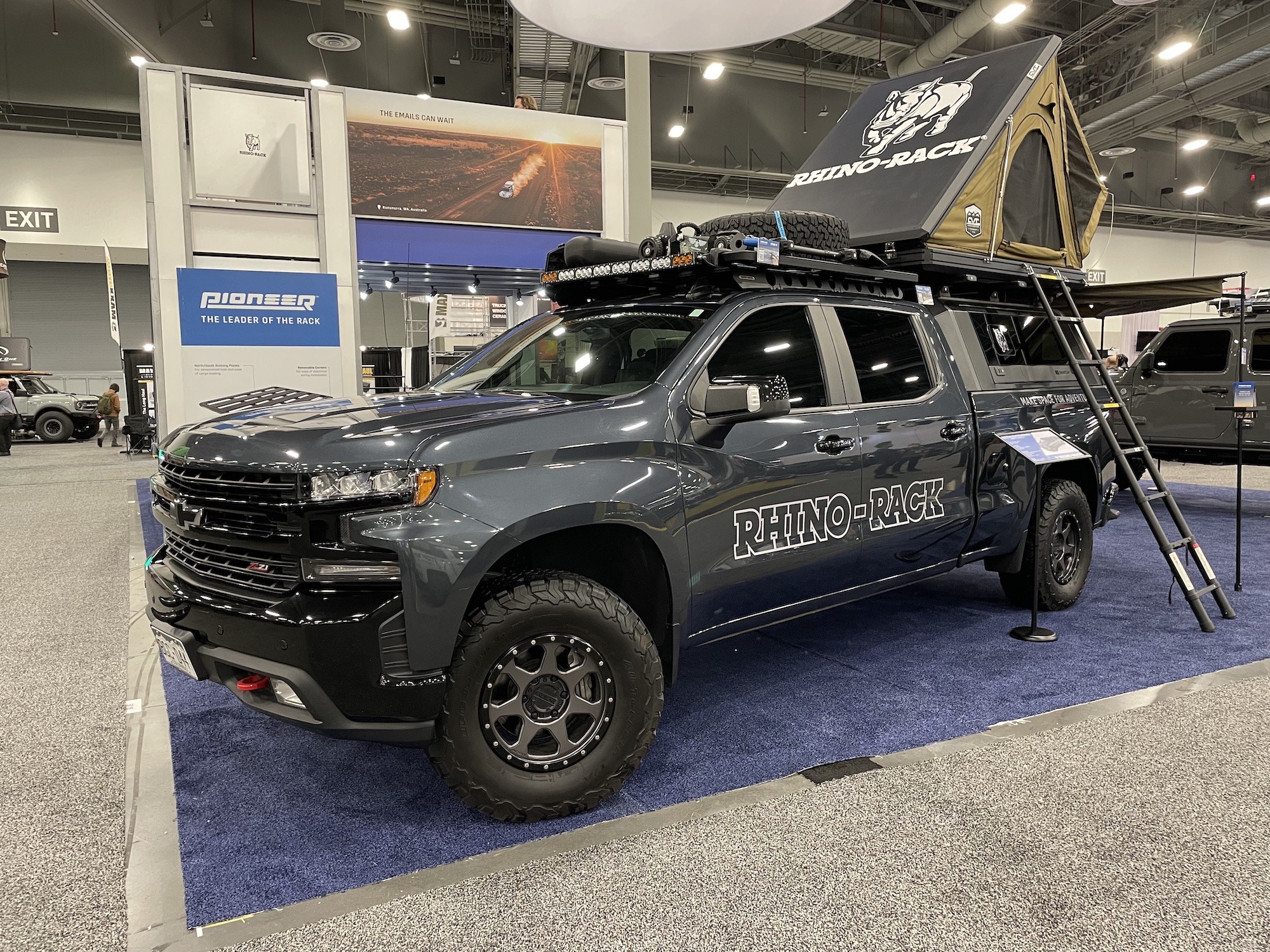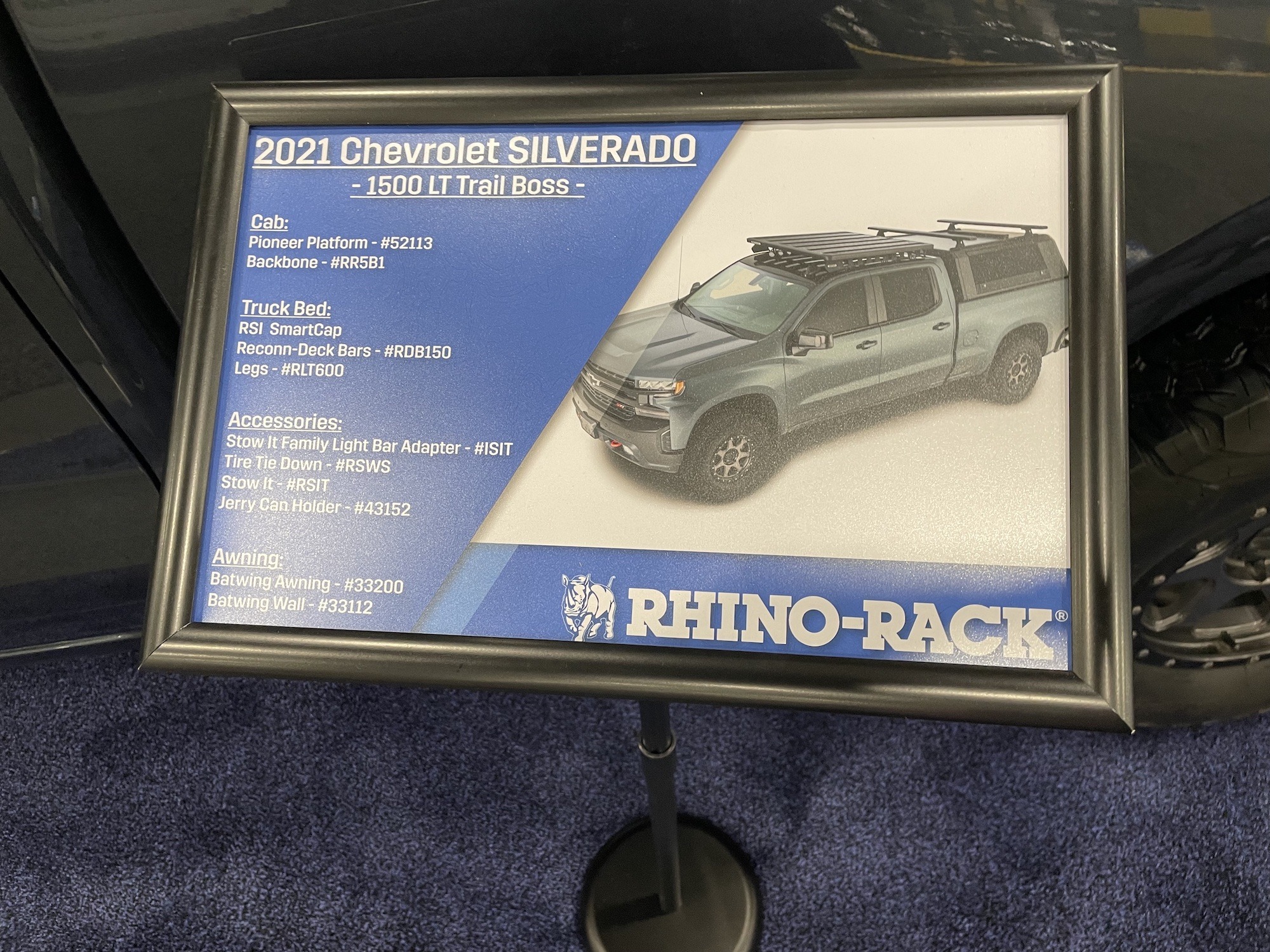 Here we have another full-size pickup build. Unlike the F-250 Tremor above, this Silverado 1500 is a bit more modest. It was built out by our friends at Rhino-Rack. It's got just enough stuff to get its driver out into the backcountry and stay for days. We really dig the Pioneer rack over the cab, which adds a ton of utility.
Hellwig Products — Ford F-150 XLT Sport Hybrid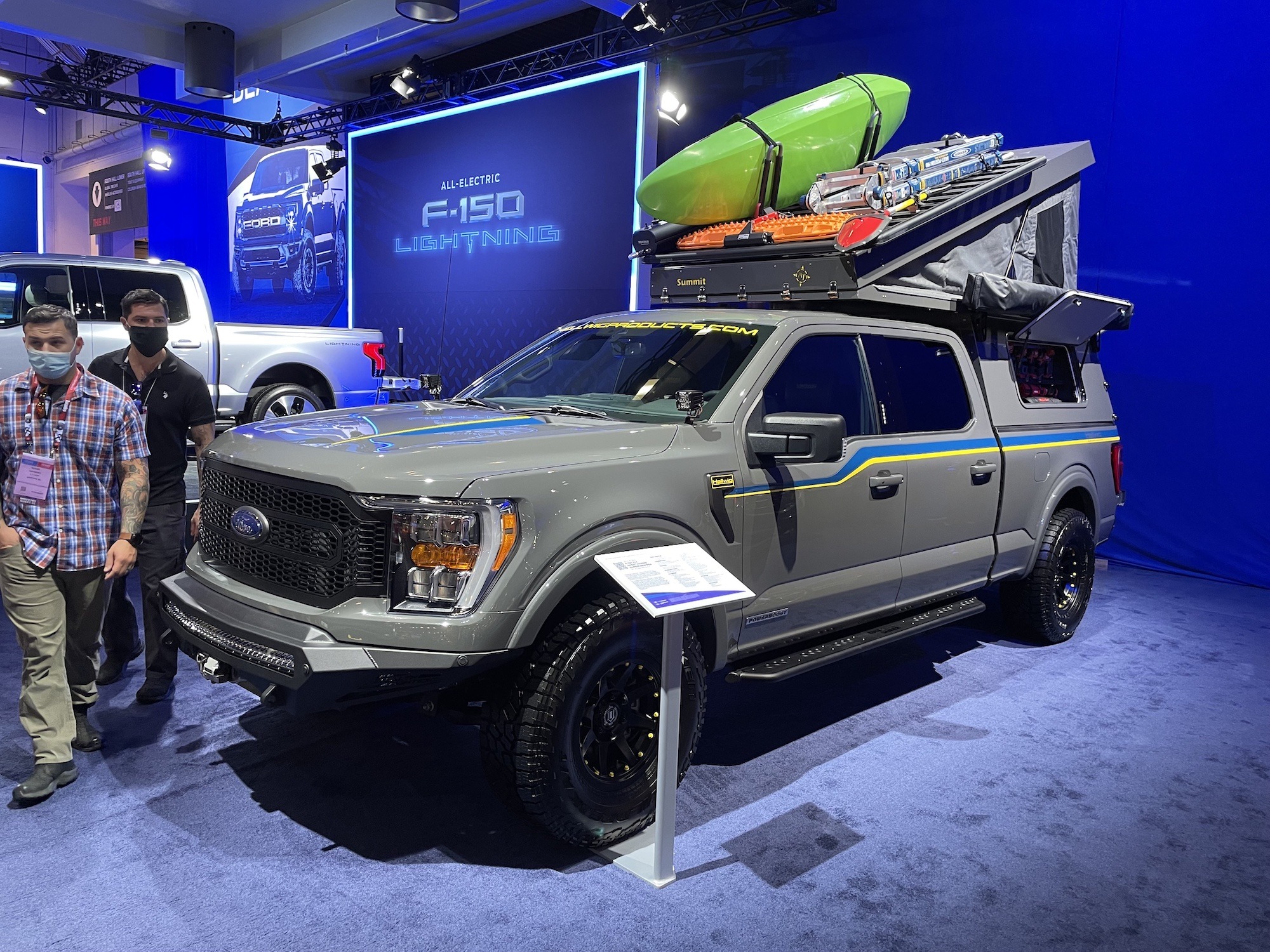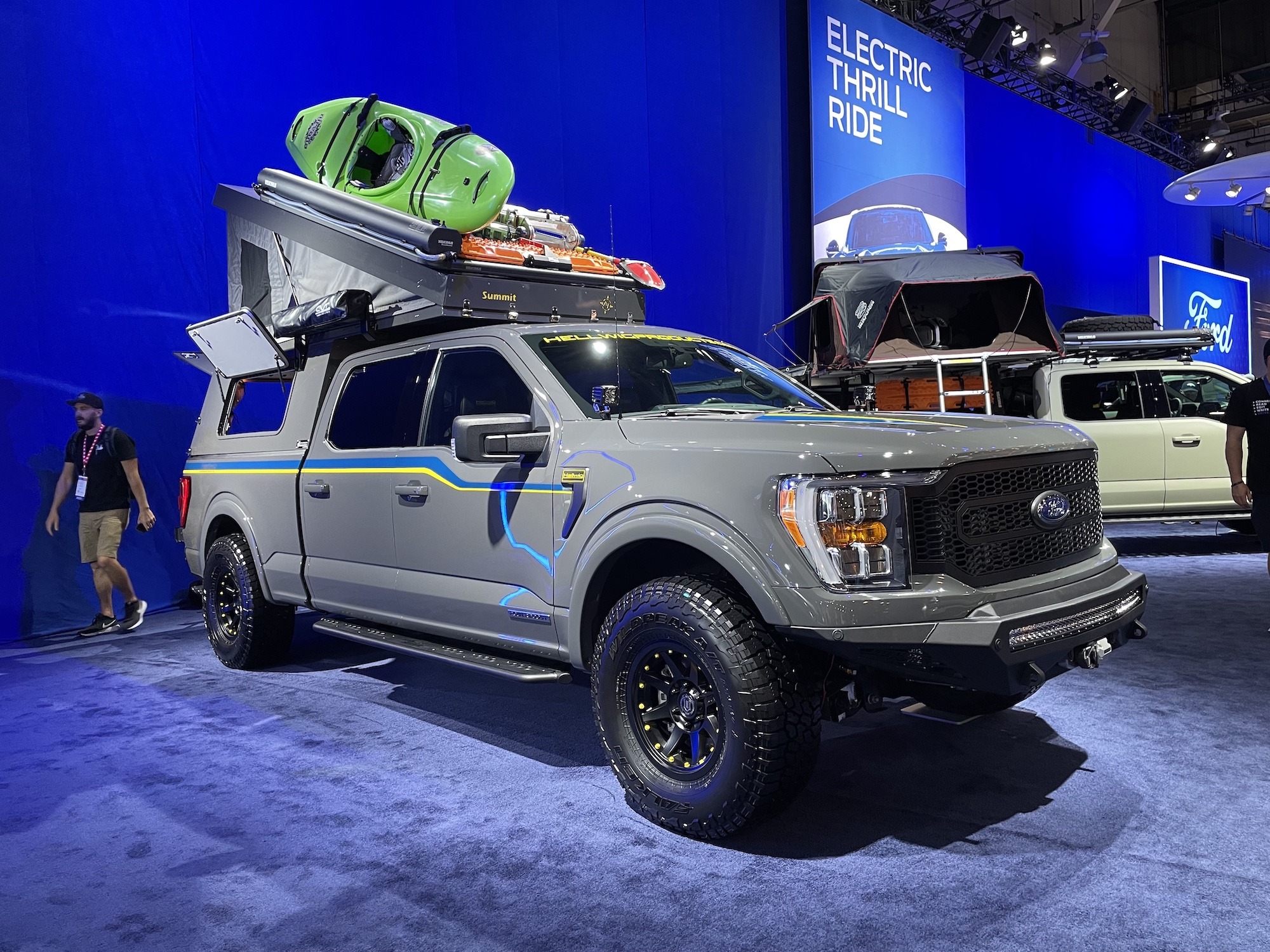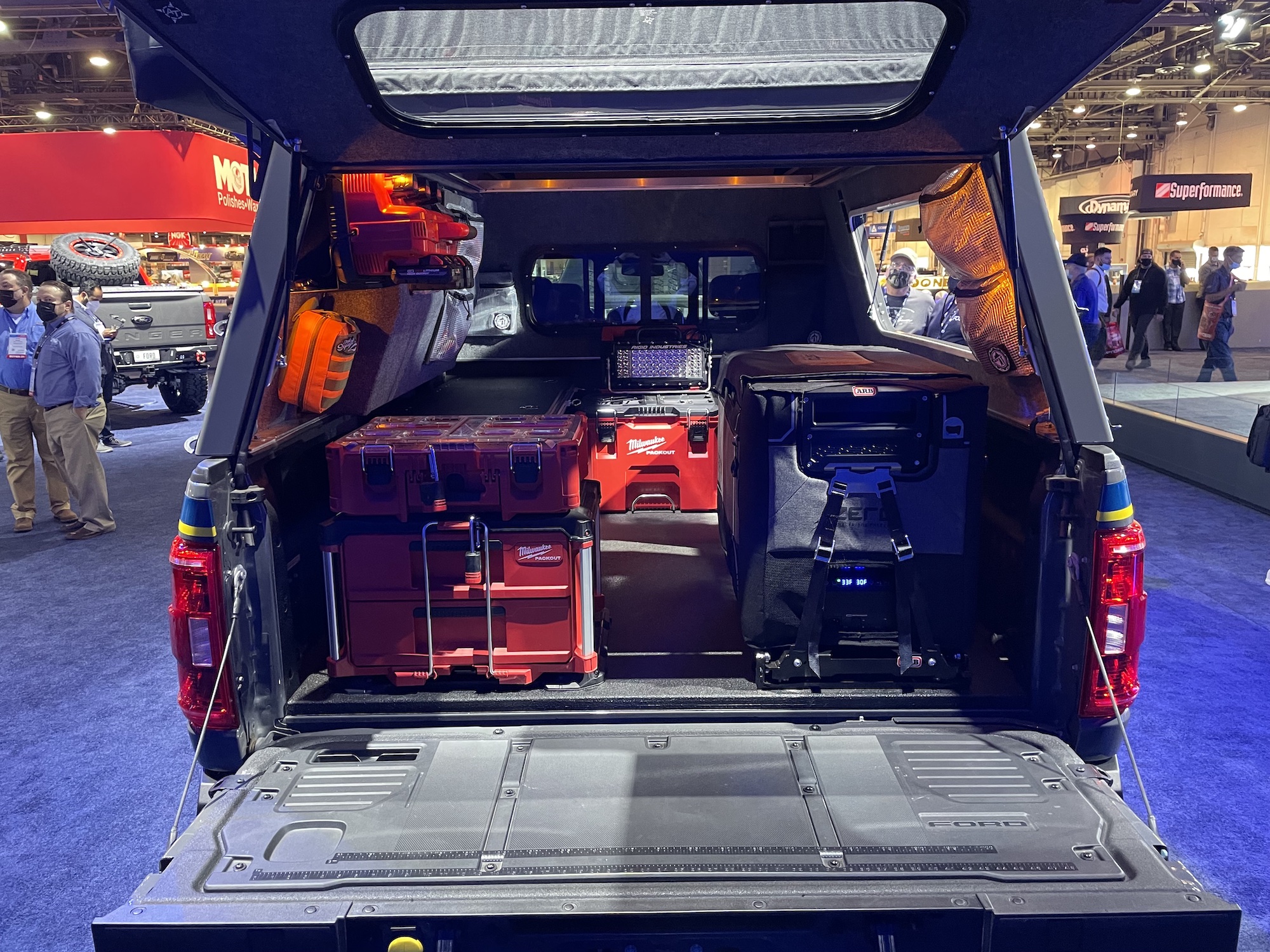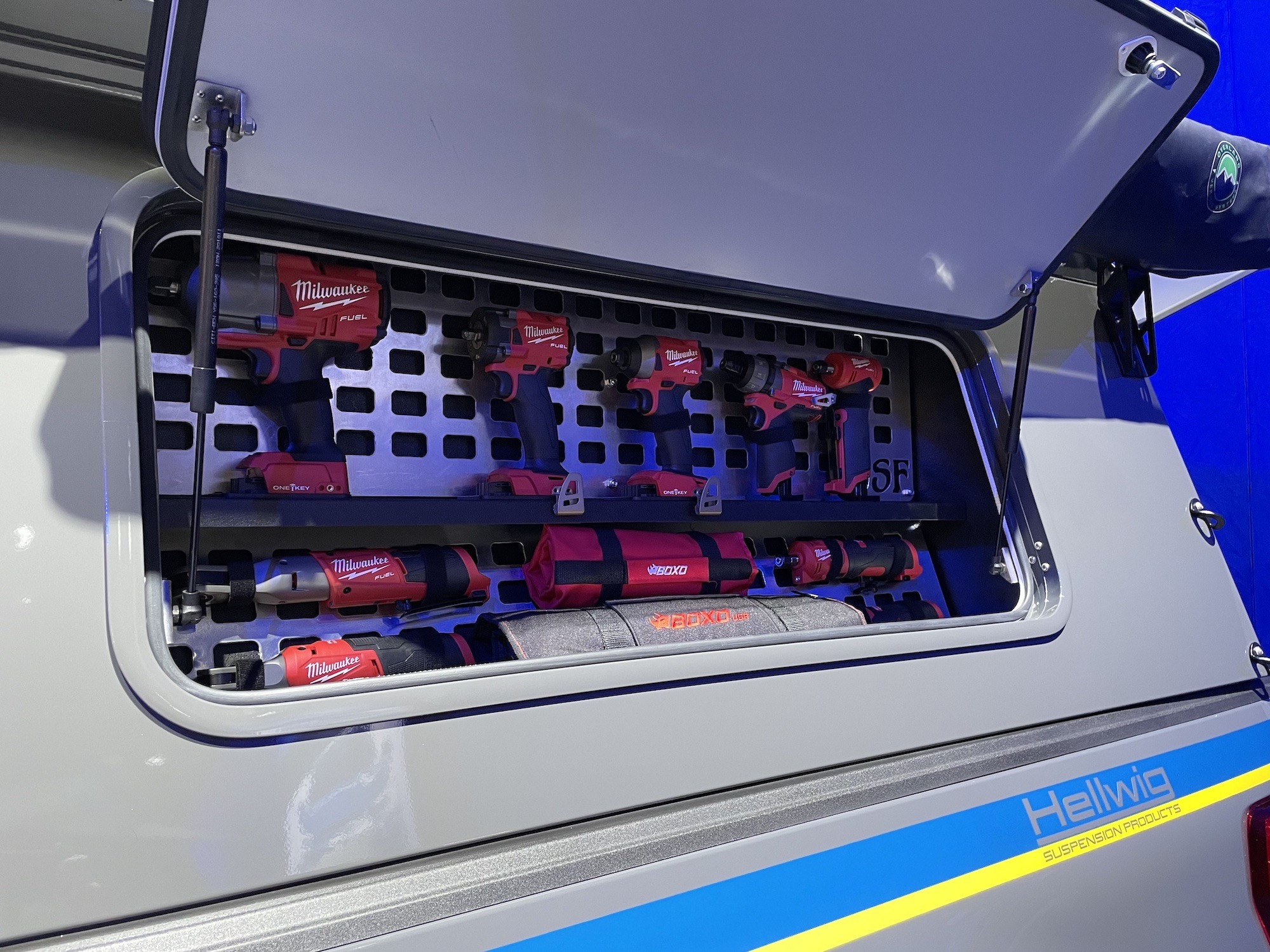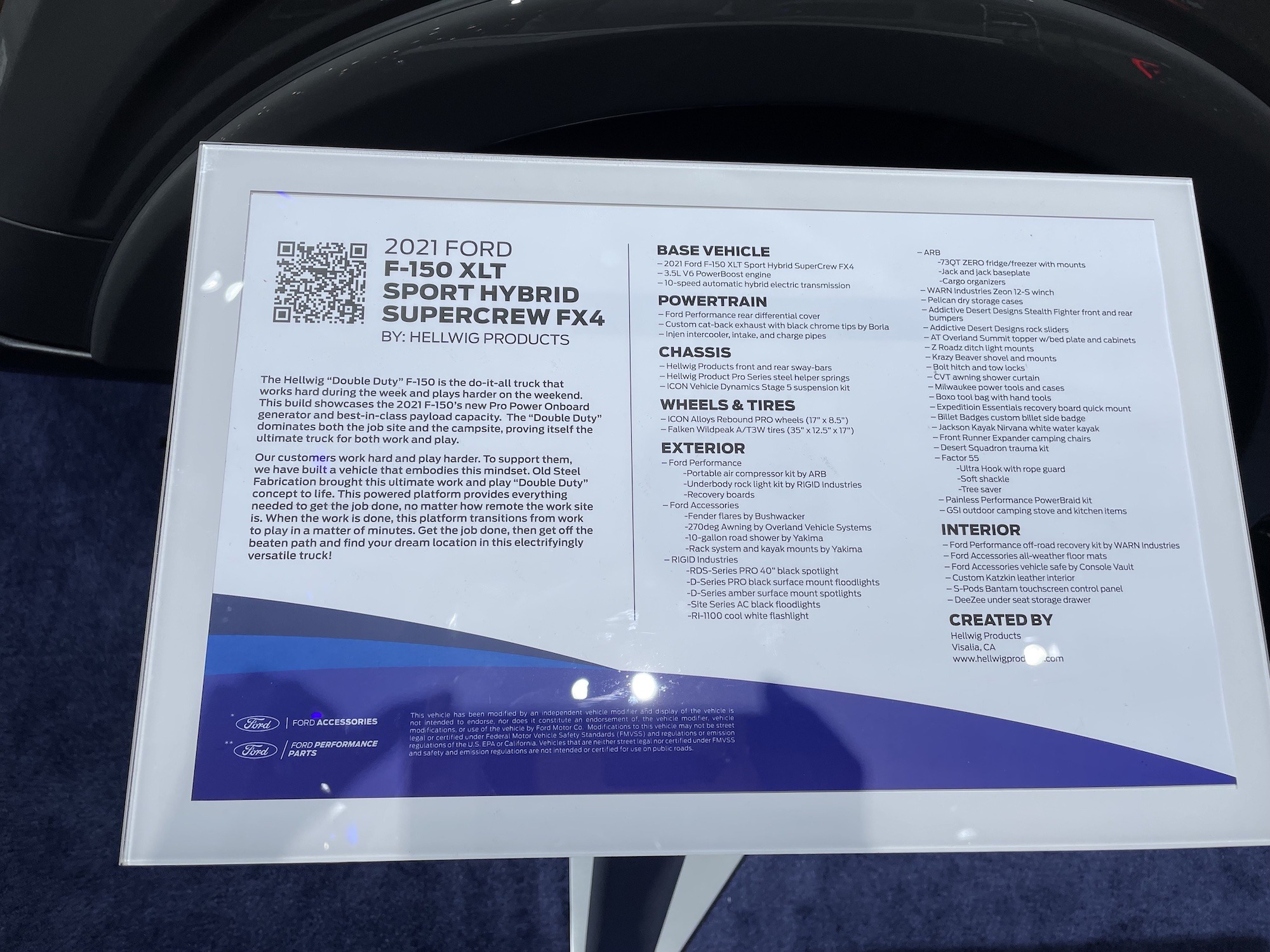 Hybrids are finally in the overlanding marketplace. And this F-150 Sport Hybrid from Hellwig Products proves that point. It has a ton of great stuff both for overlanding but also for vehicle repair. In this way, it plays double duty. It can be your work rig and your adventure rig. It has a slew of Milwaukee power tools on the side of the bed as well as all the stuff you'd need for overlanding.
J Robert Marketing — Ford Ranger Tremor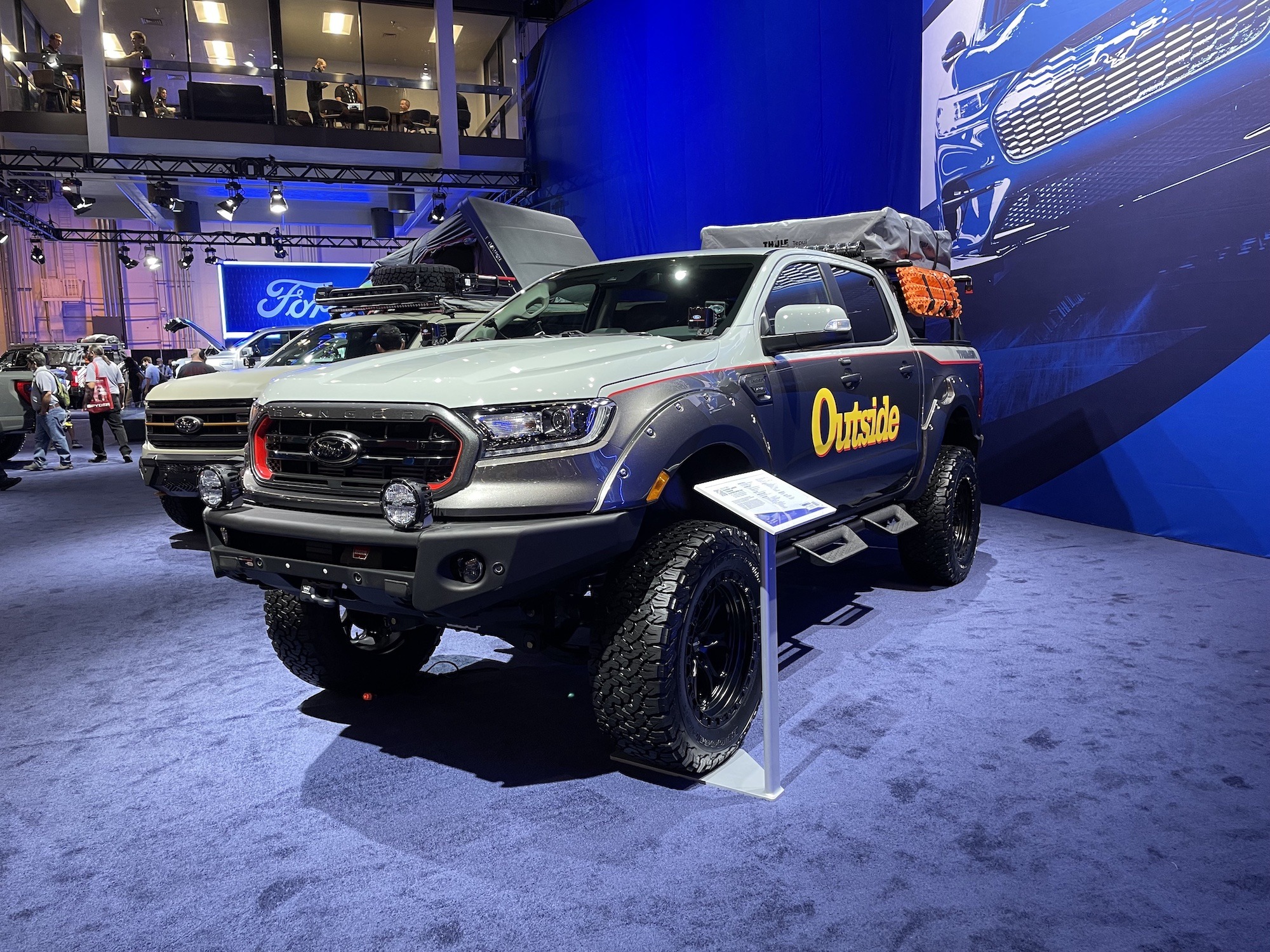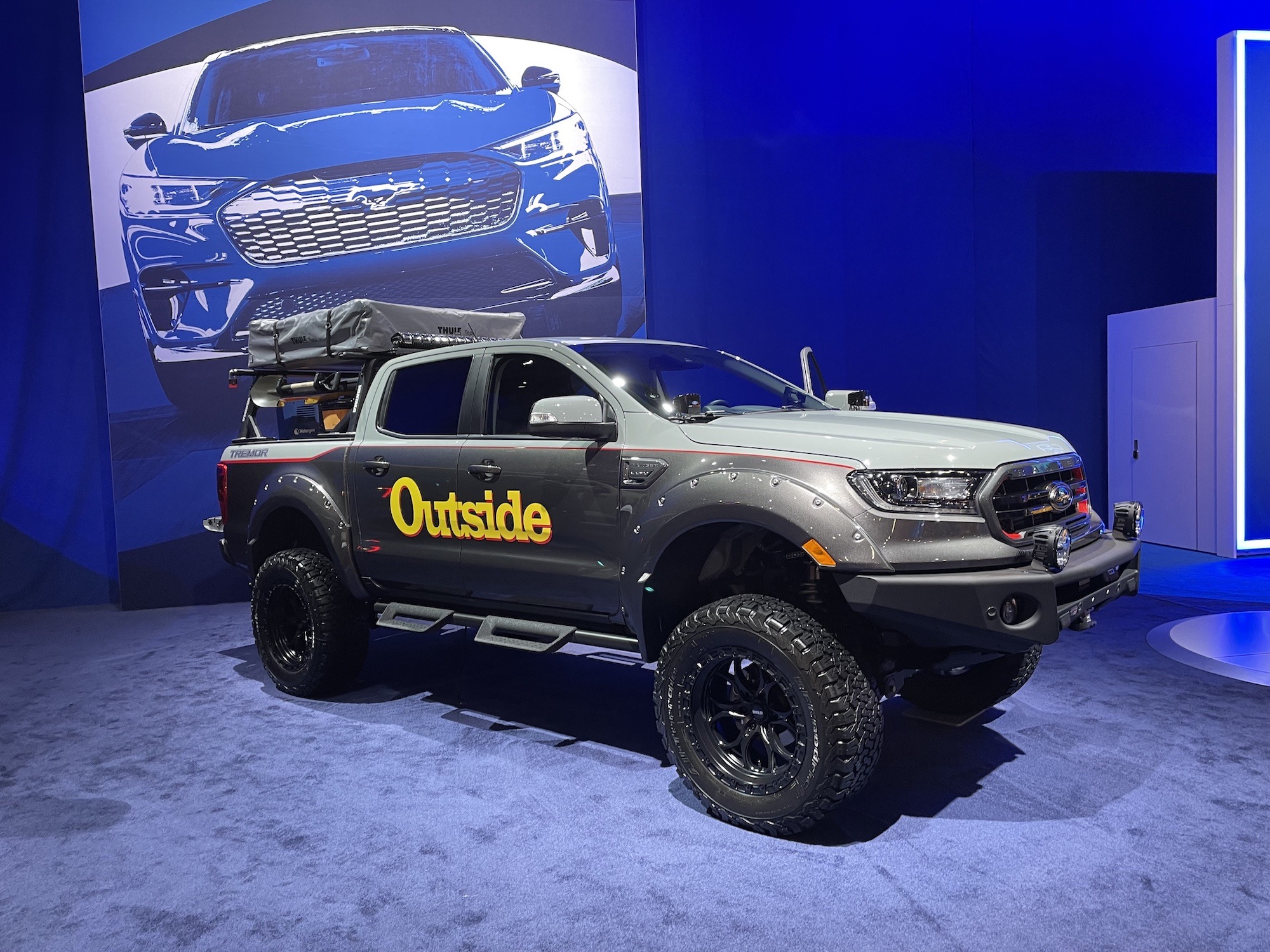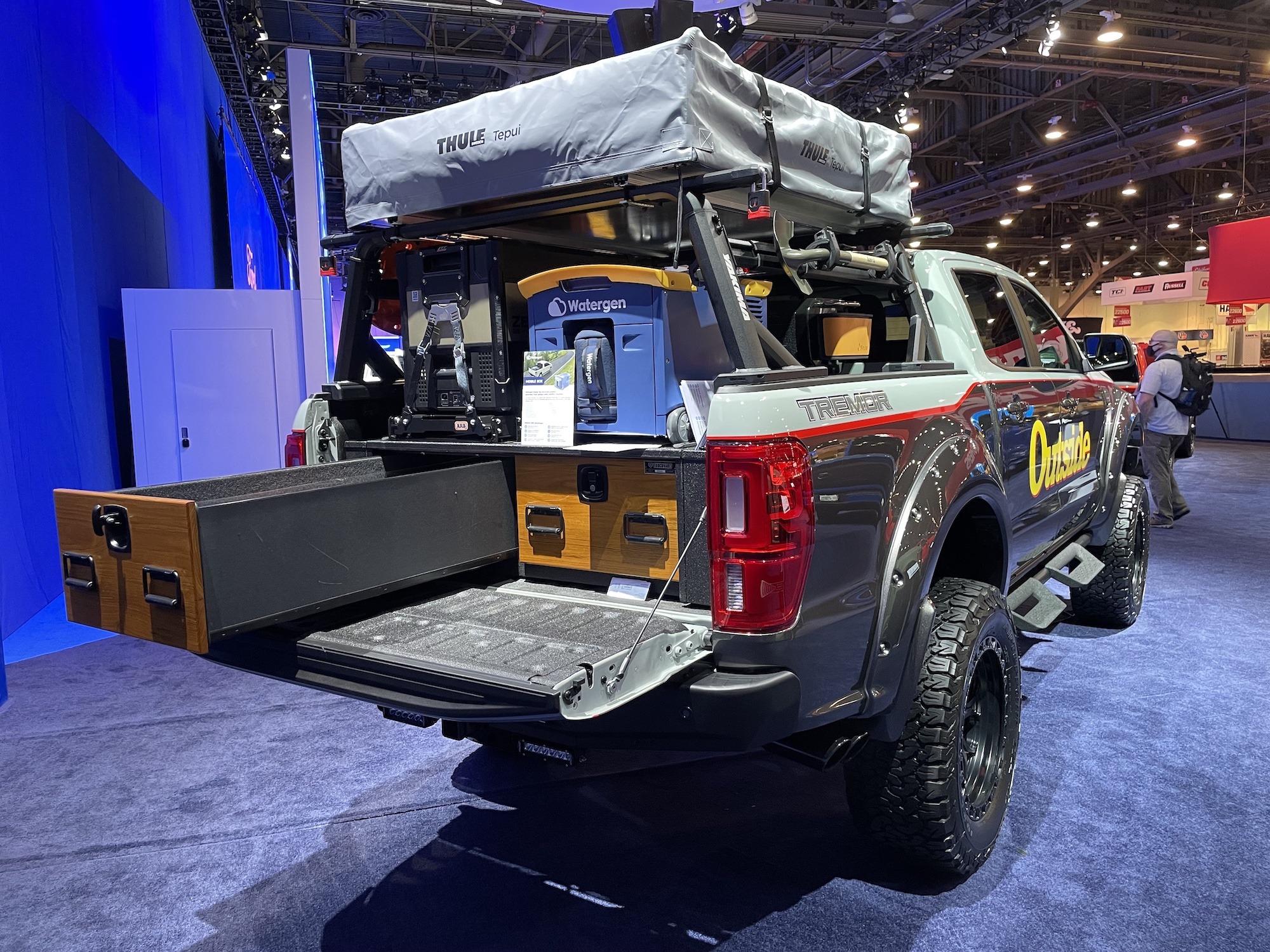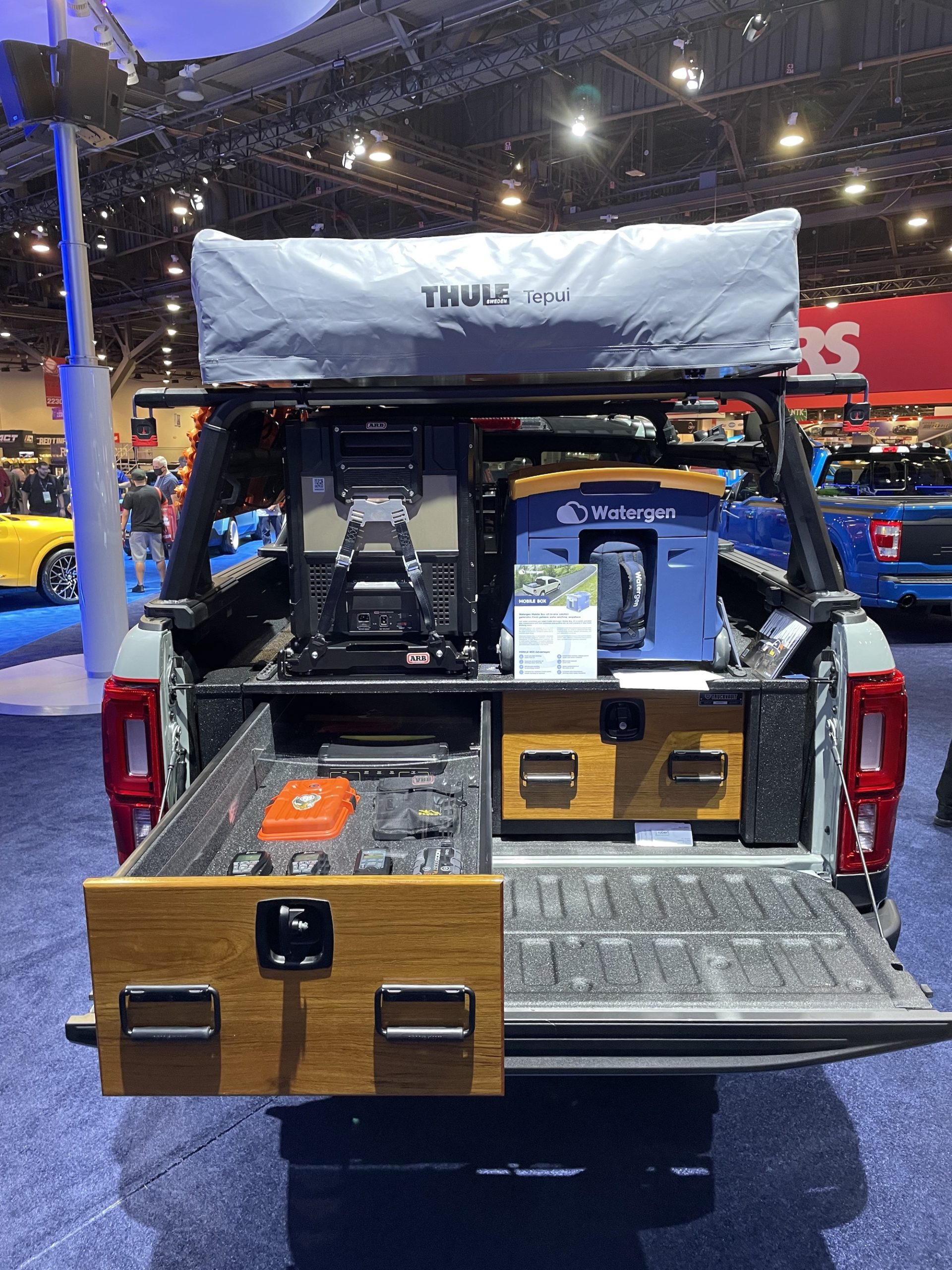 Iif you've ever wondered how much stuff you can fit in a Ranger, well, this Ranger Tremor demonstrates the pinnacle of Ranger accessorization. It's a bit too lifted for our tastes. But the rest of it is just right. Save the incredible lift height, this thing is fairly subtle. And we dig that.
BTR Customs — Ford F-150 Tremor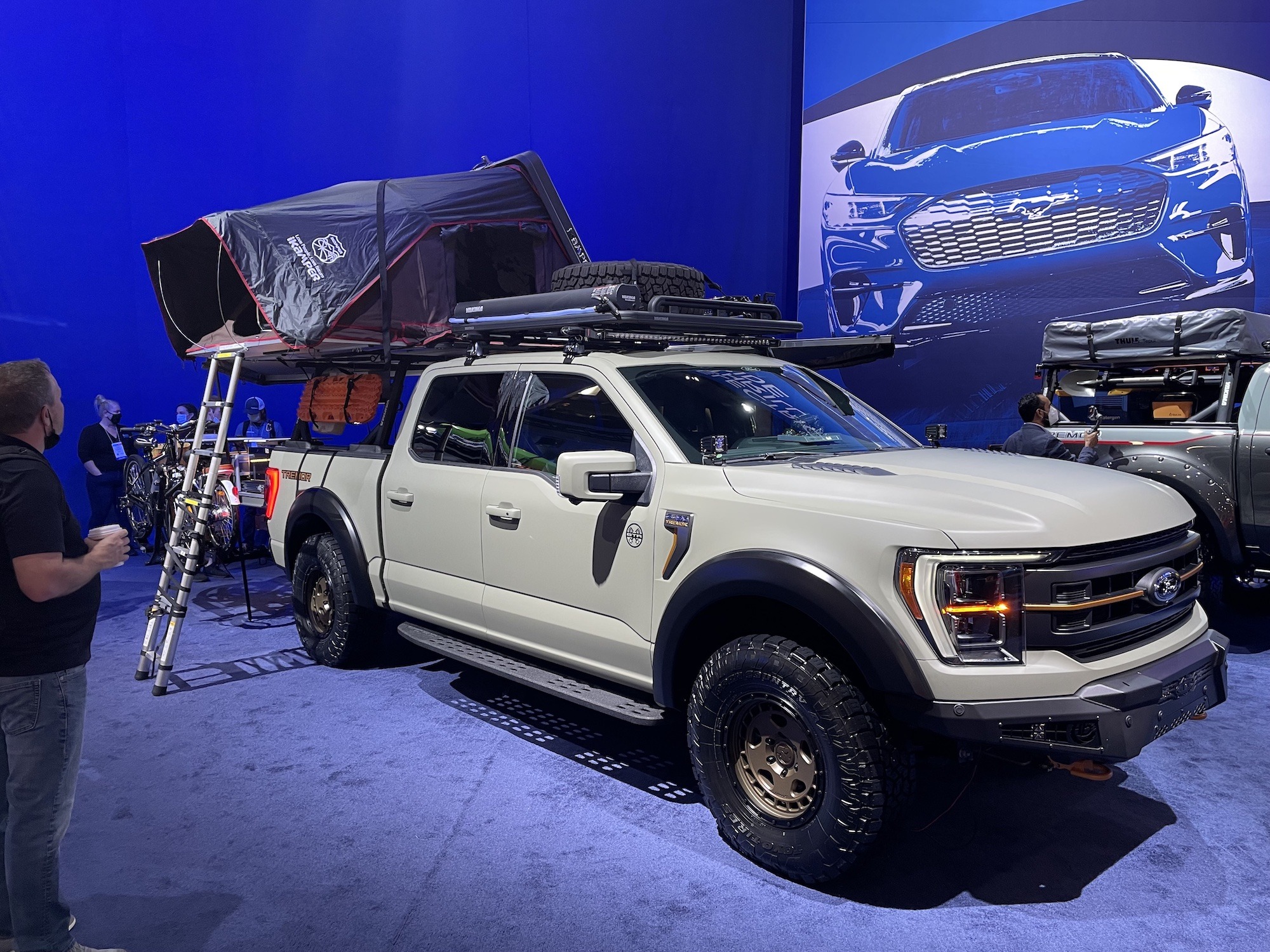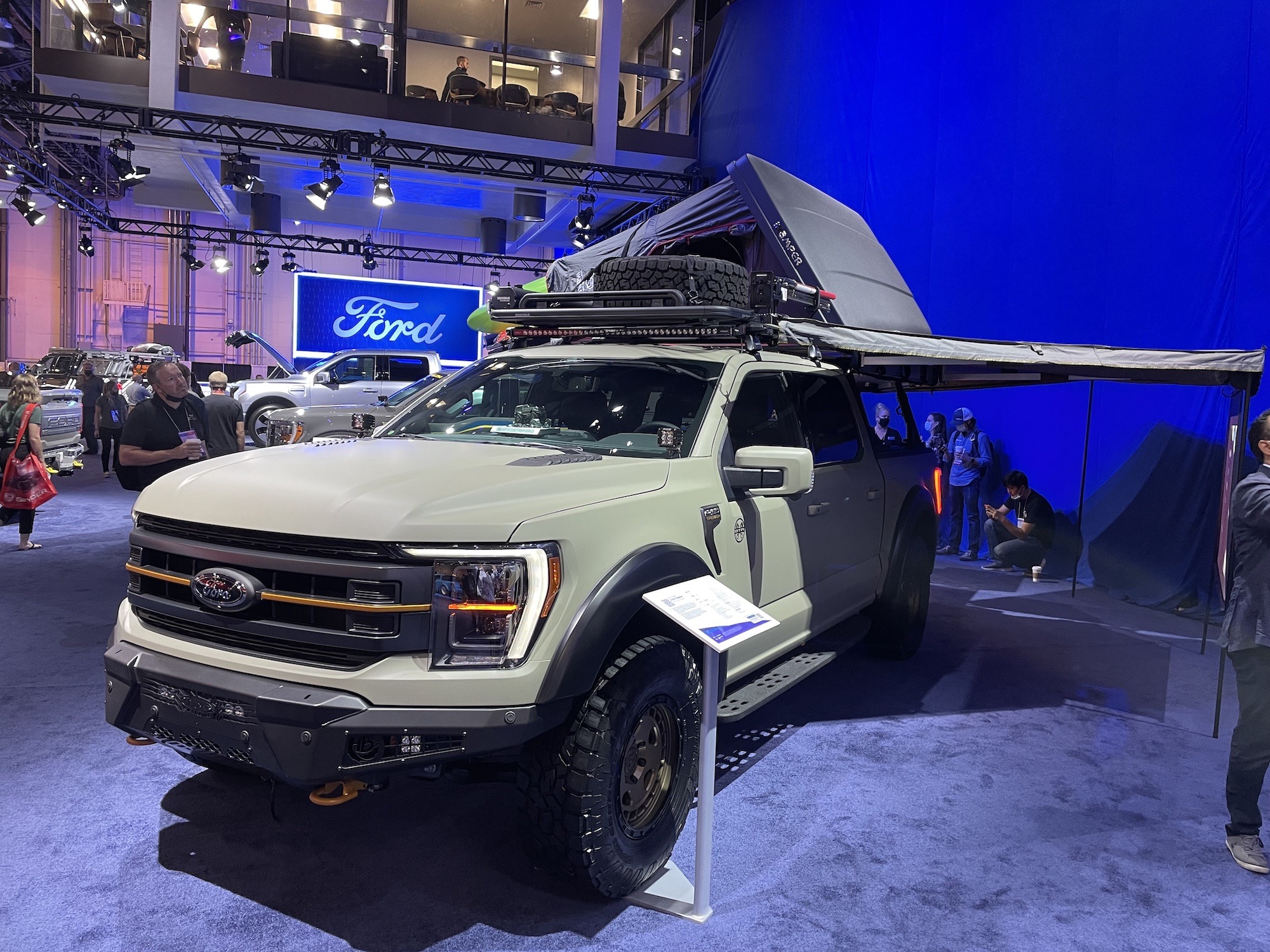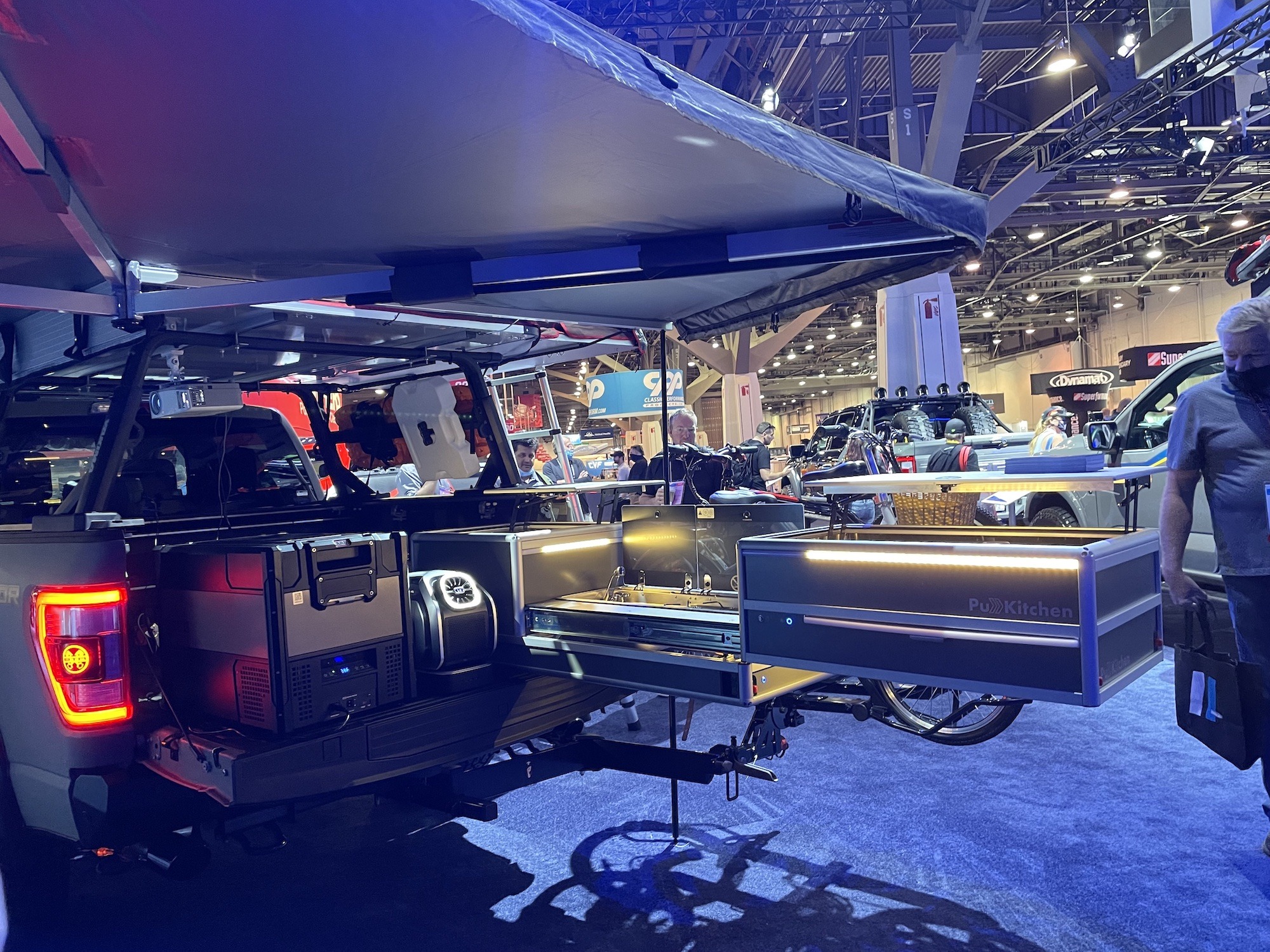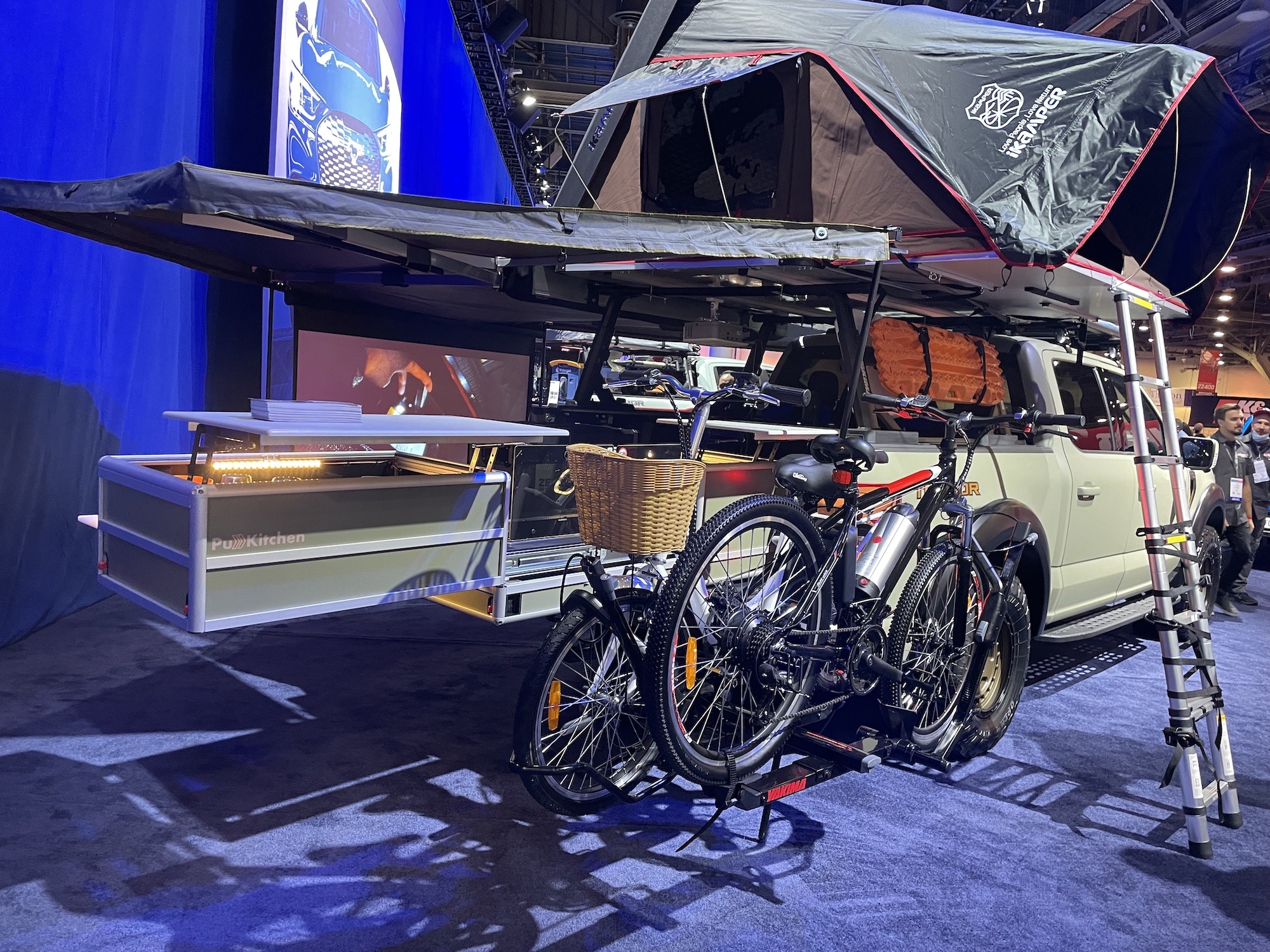 Honestly, we'd kind of forgotten that Ford made an F-150 Tremor until we saw this beast. We're glad we got reminded of it. That's because the new F-150 is incredibly good looking and, especially in the Tremor trim, very capable. We'd been wondering when the new F-150 would be outfitted in earnest for overlanding. This one very much fits the bill, with a PullKitchen, rooftop tent, awning, and bikes.
Chevrolet — Colorado Z71 Off-Road Performance Edition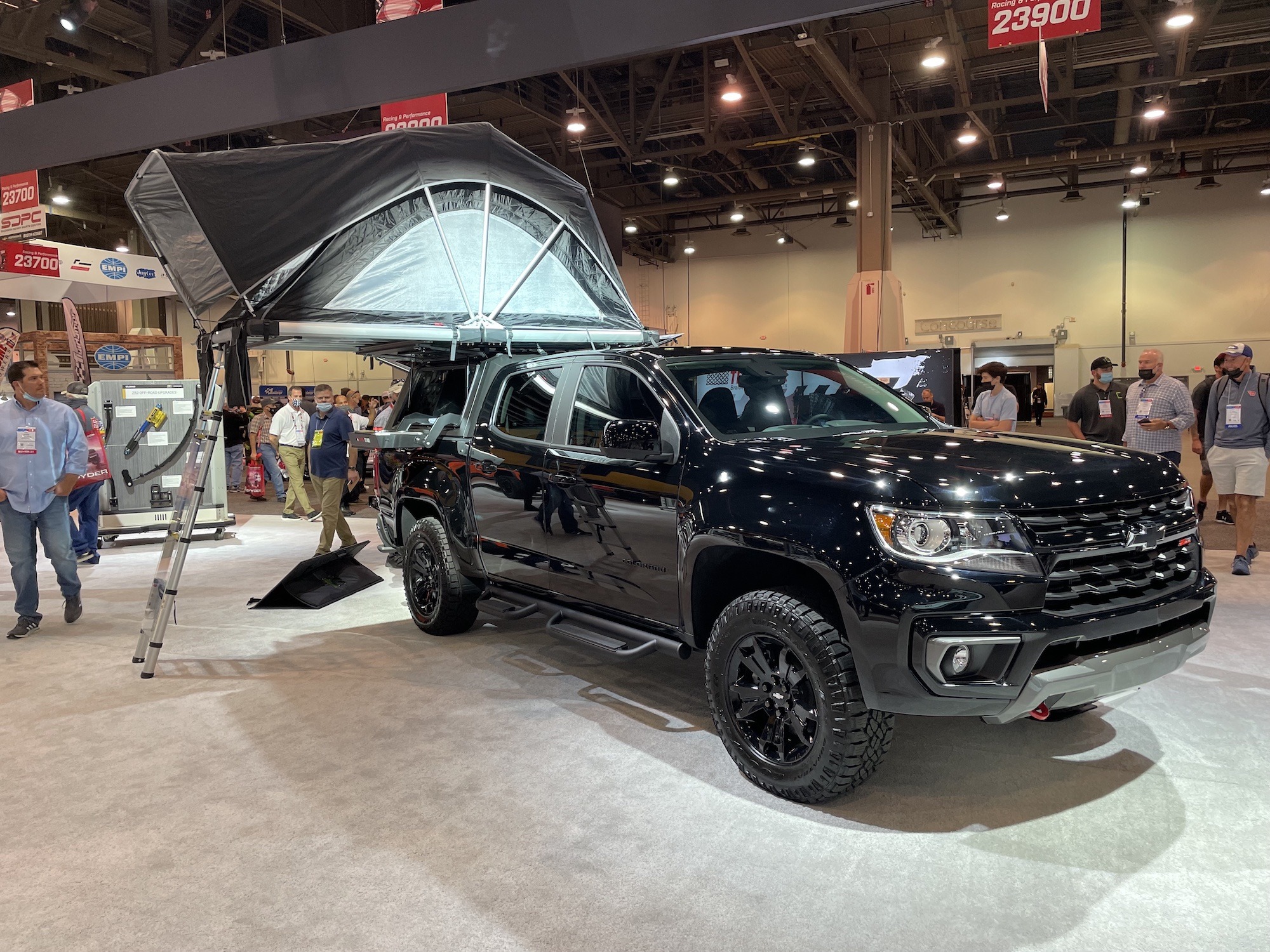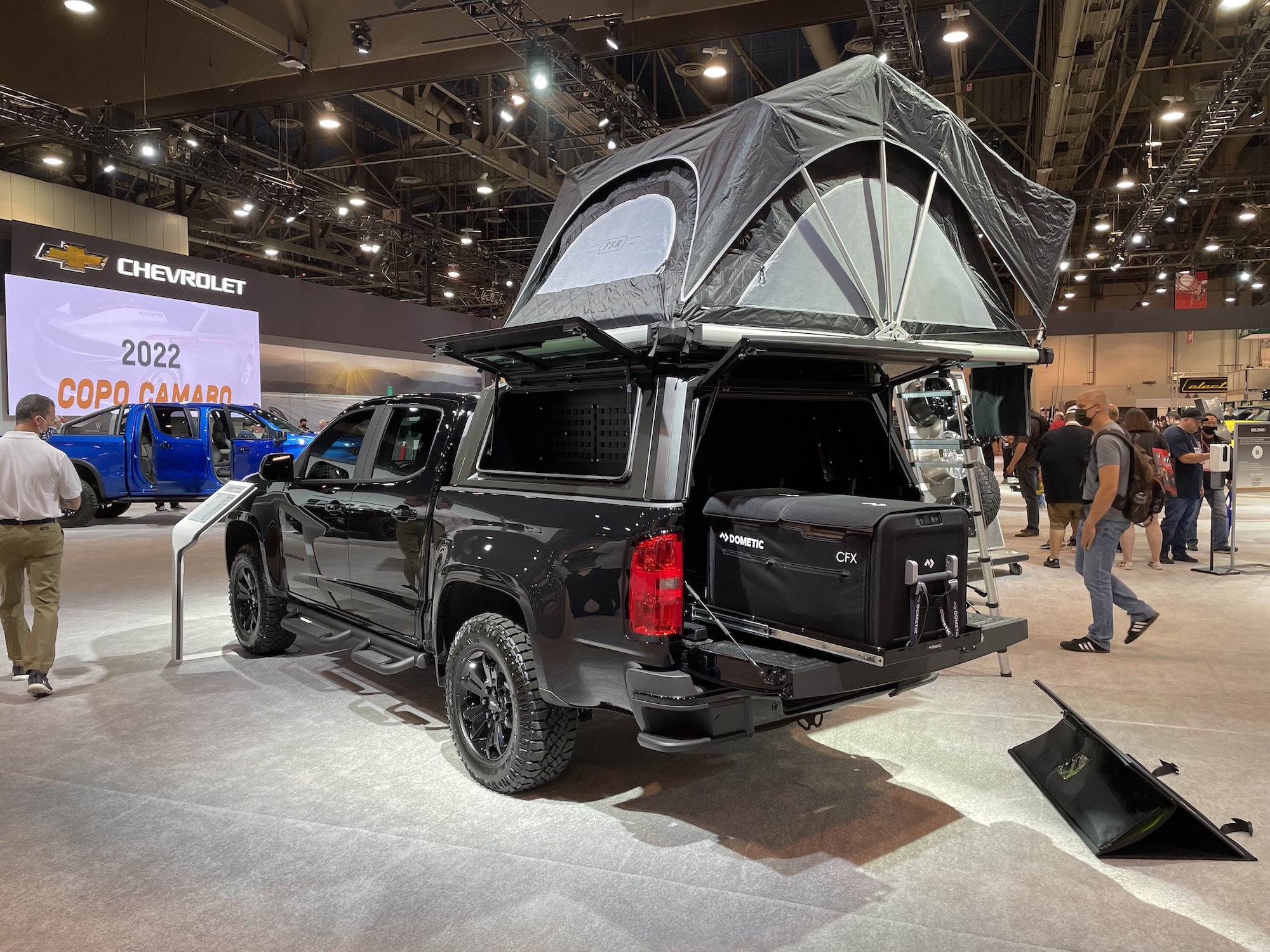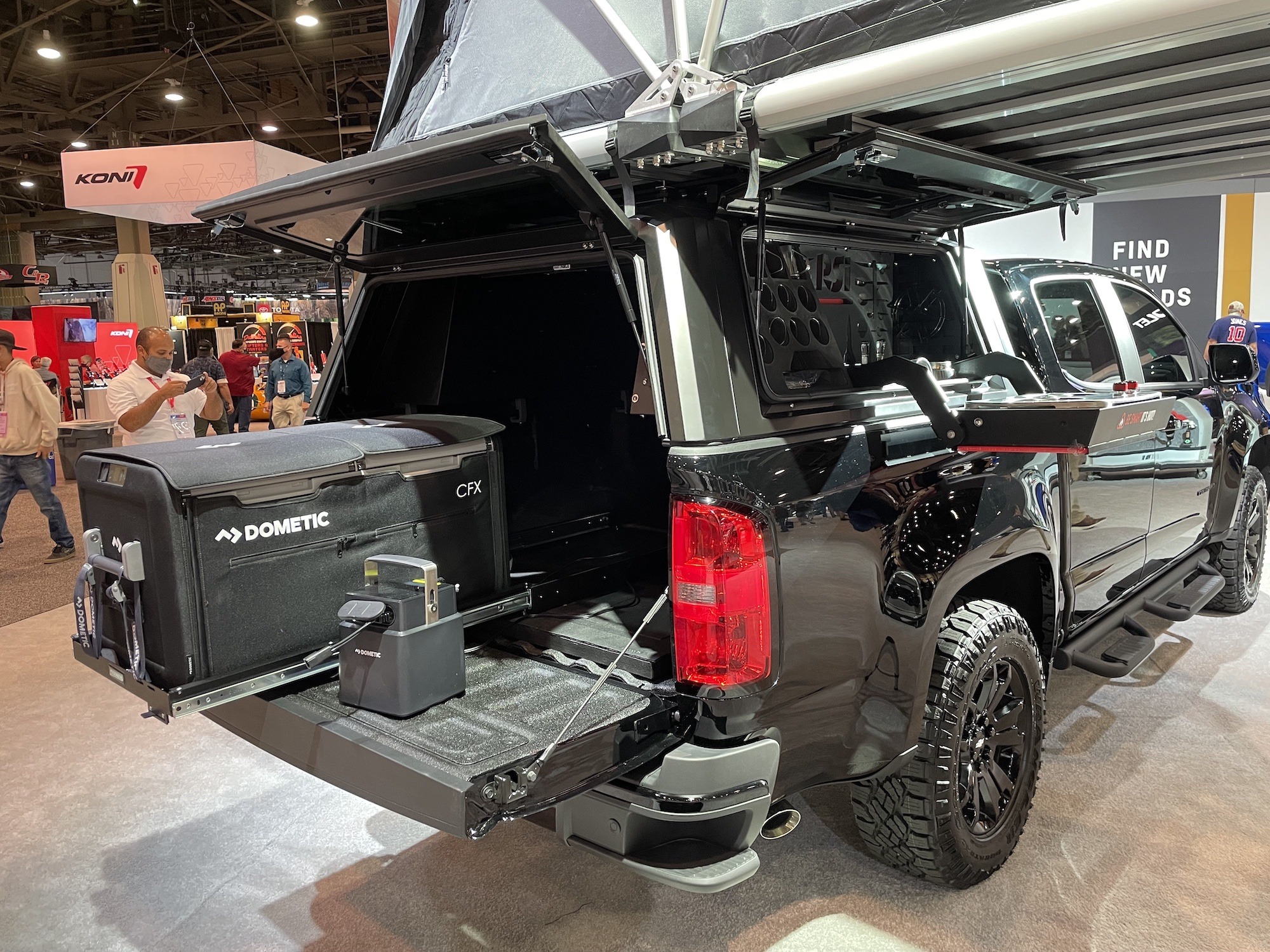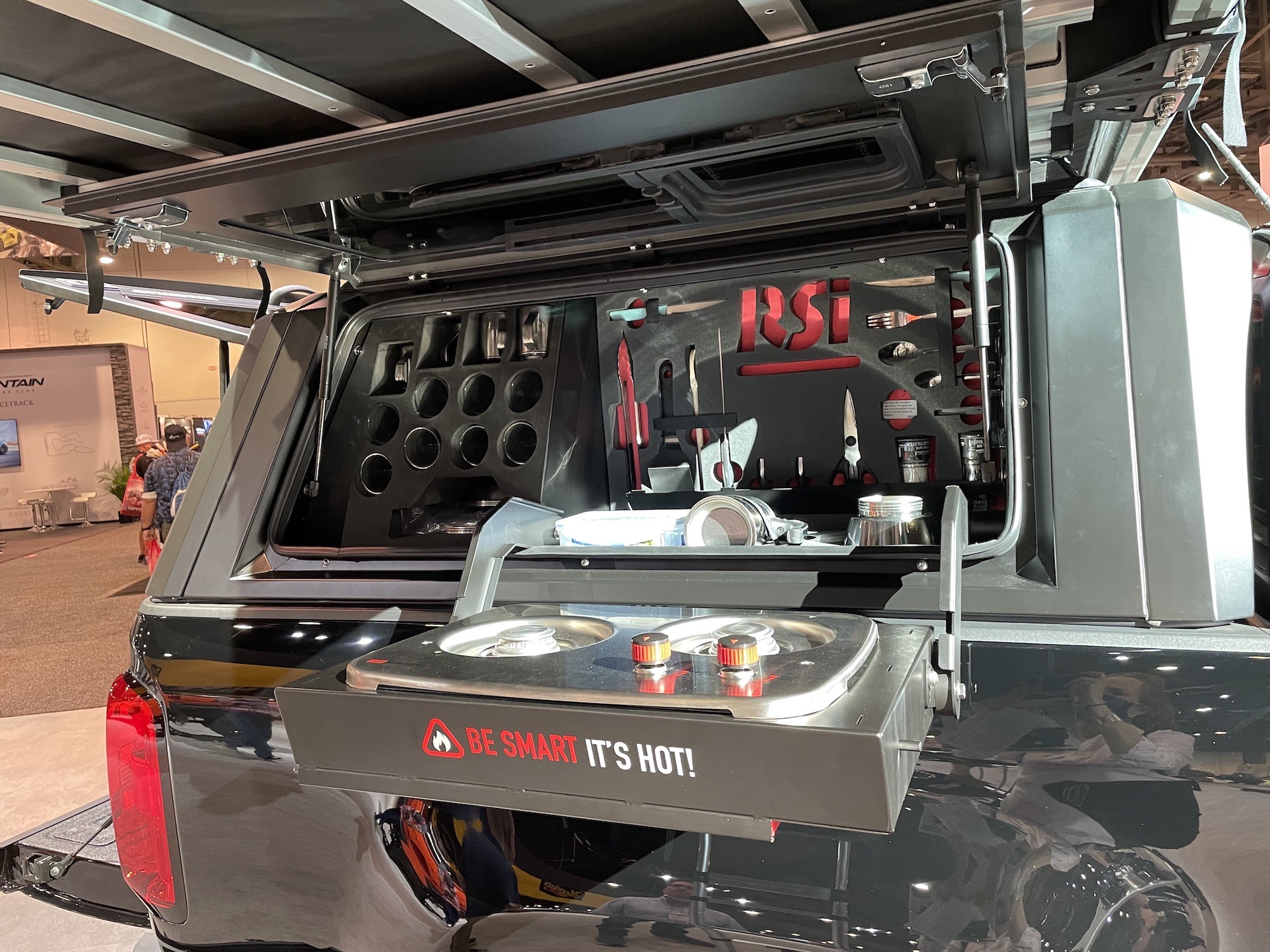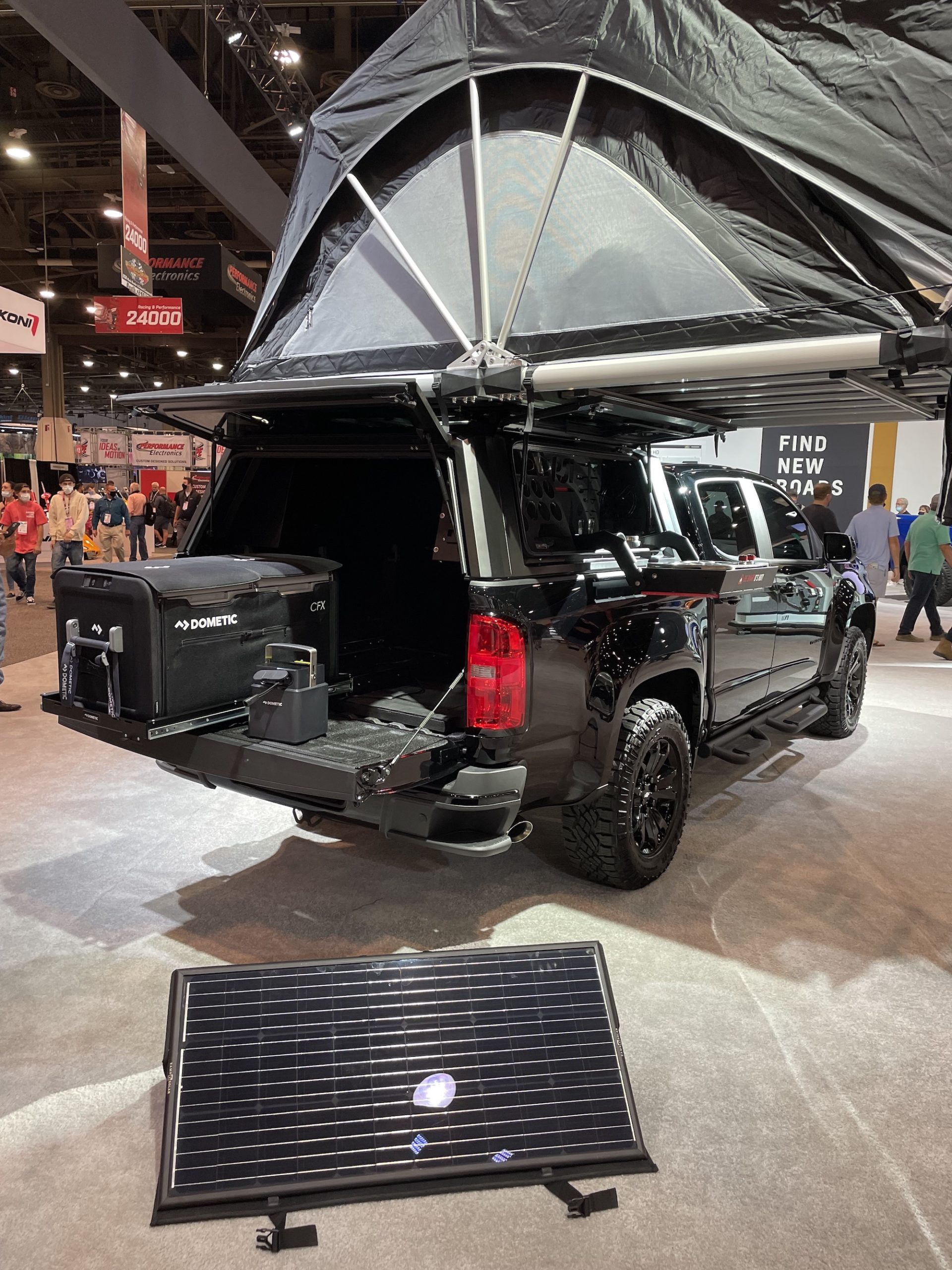 From our friends at Chevrolet comes another more subdued look at what a mid-size pickup truck overland rig can be. This build reminds us that not everyone needs a ton of gear. You can have a ton of fun with a fairly stock rig. Throw a fridge in the bed, protect it with a canopy, and bolt a rooftop tent to the top of that. And, bam, you've got an overlander, my friend.
Toyota — TacoZilla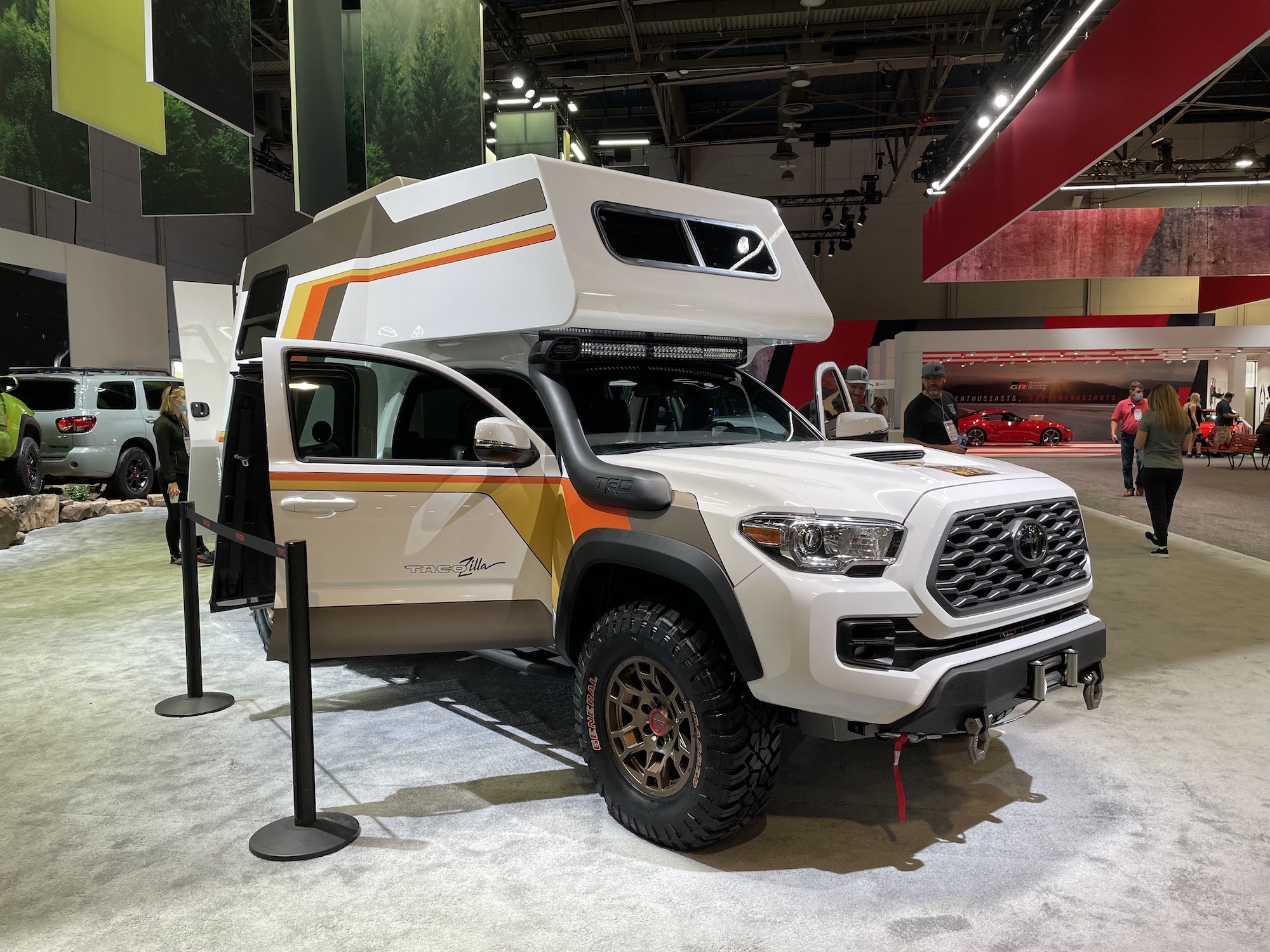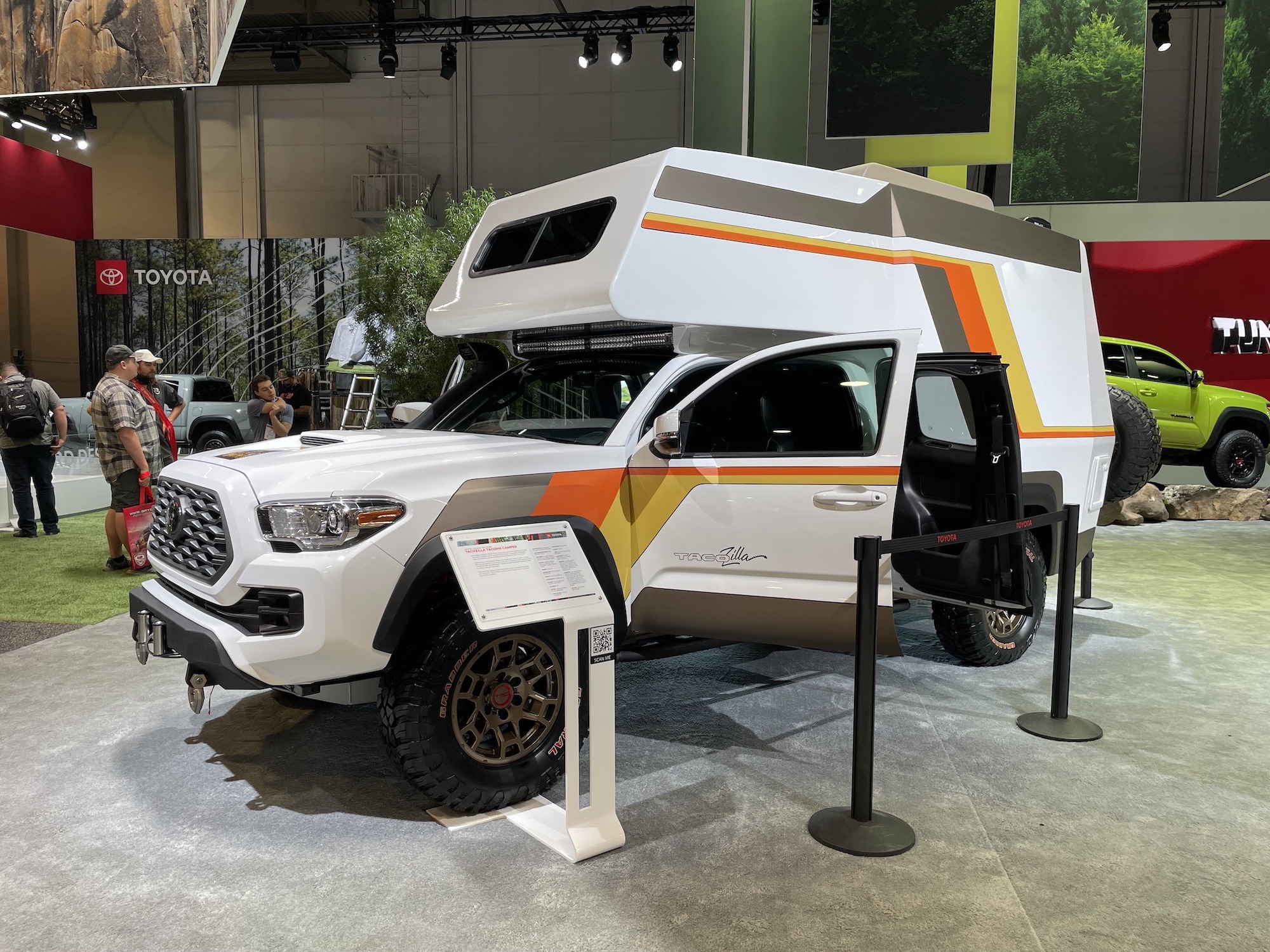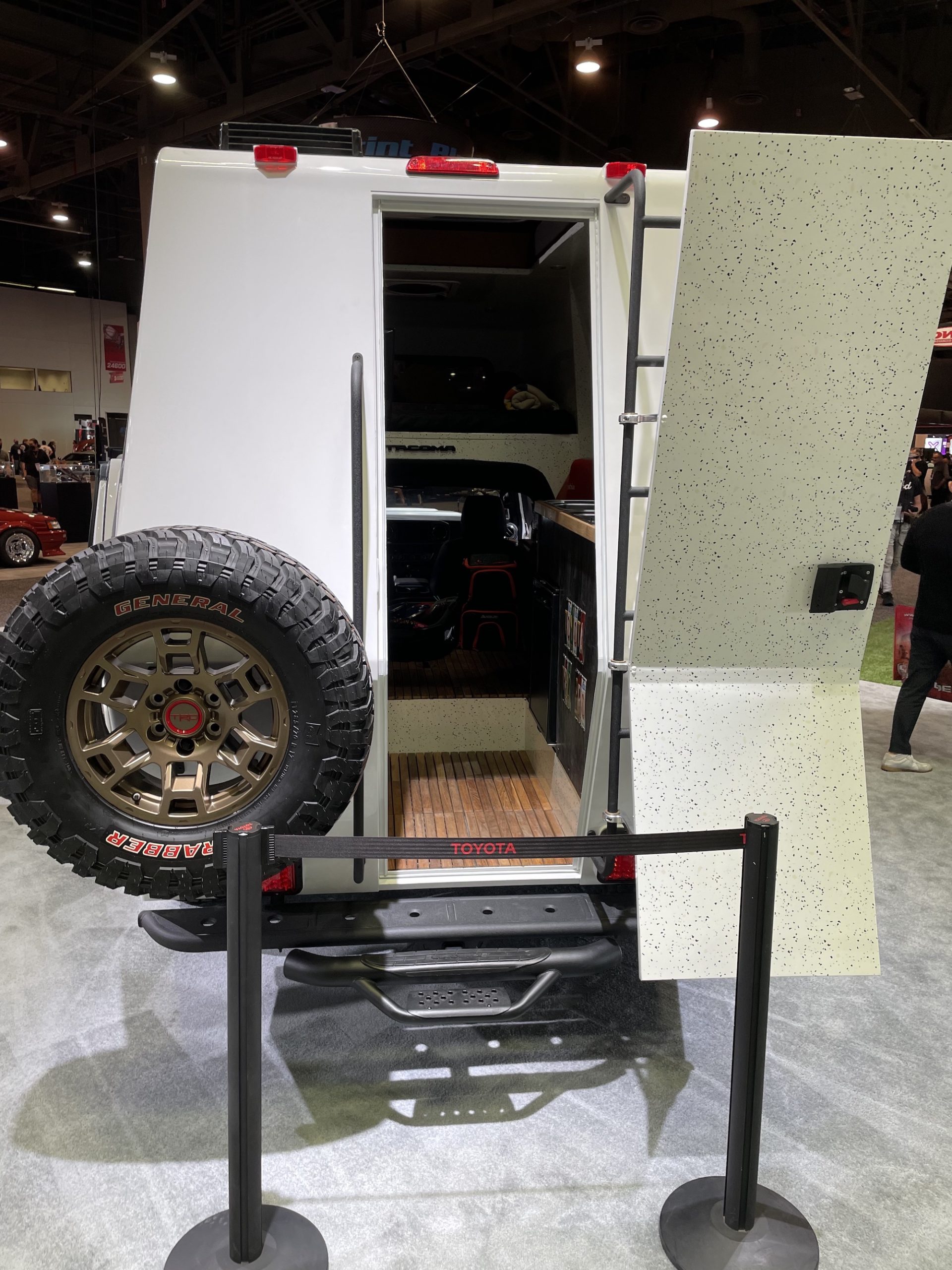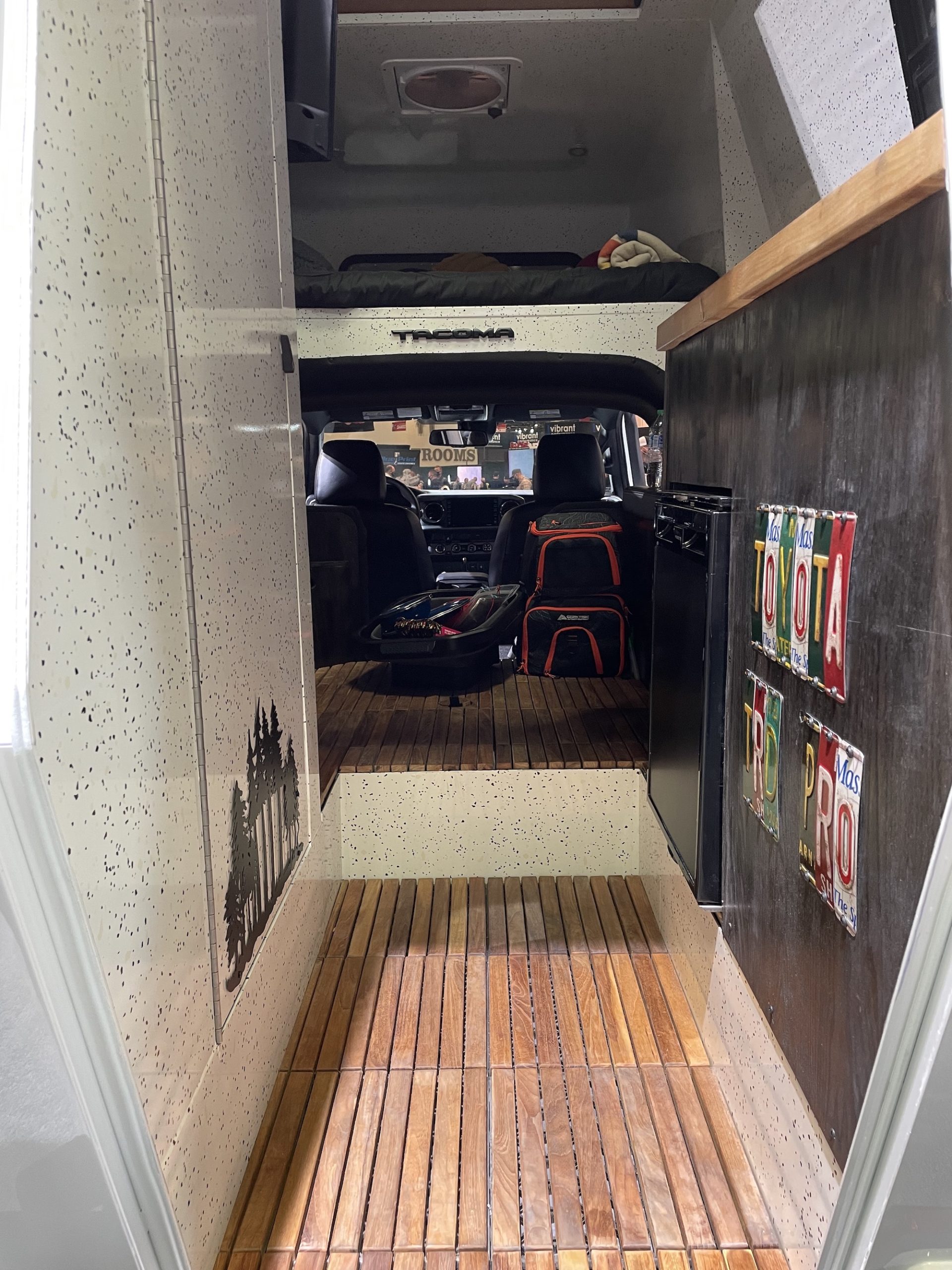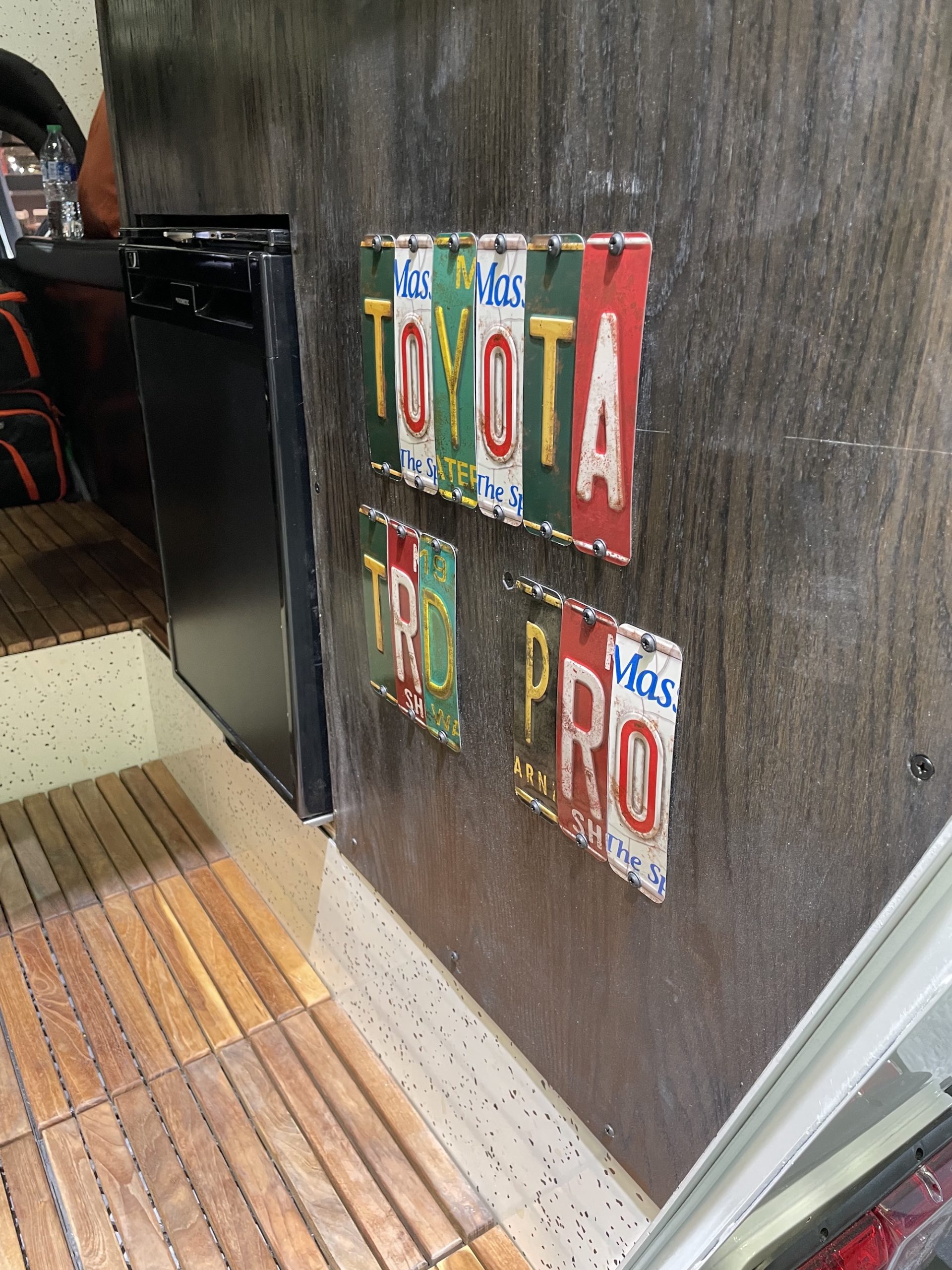 Now we take a hard right turn into the extreme with Toyota's incredible TacoZilla. This thing is so amazing that we gave it its own story. You can read all about the TacoZilla here.
Overland Expo — Honda Africa Twin ES Sport DCT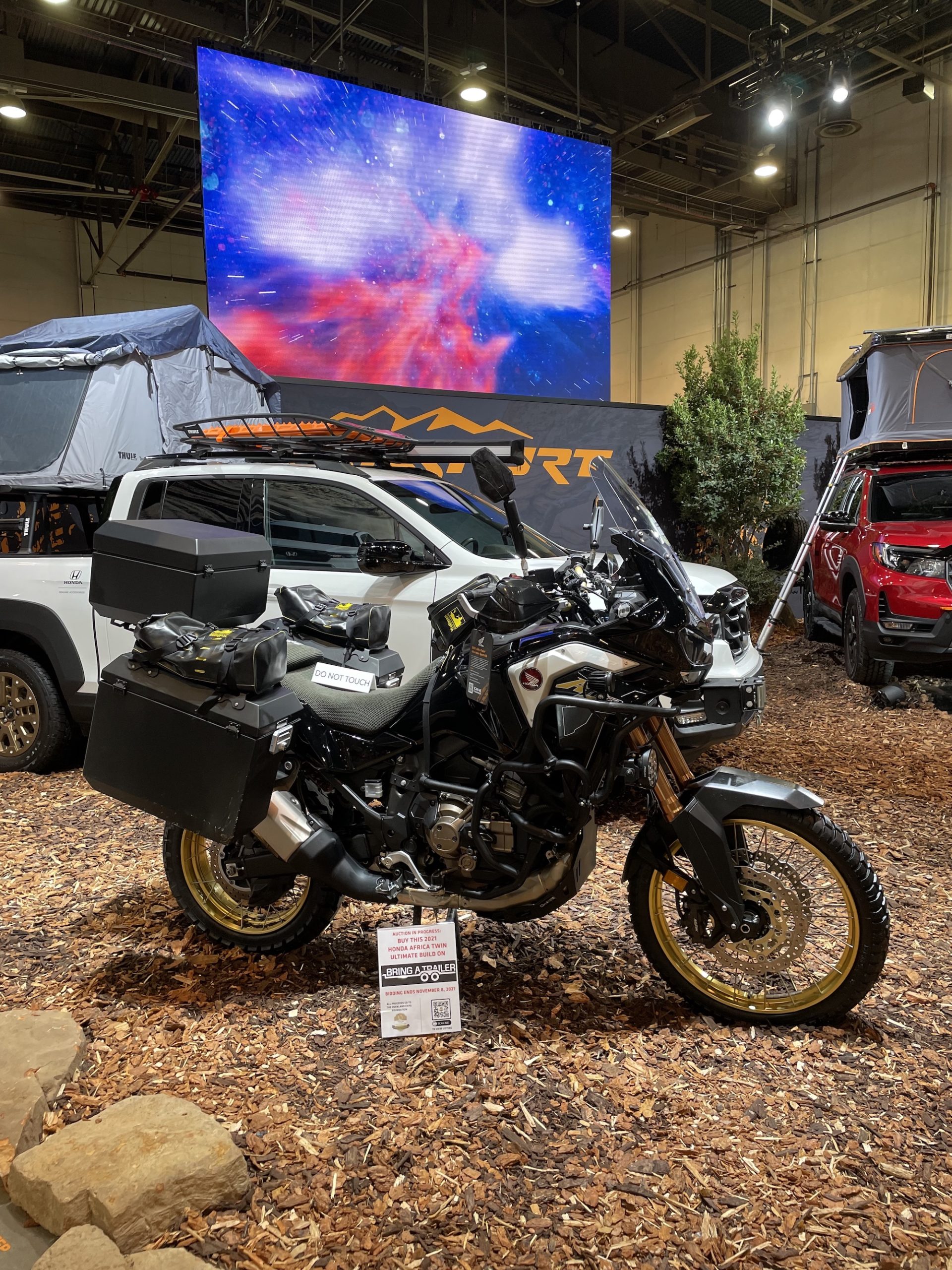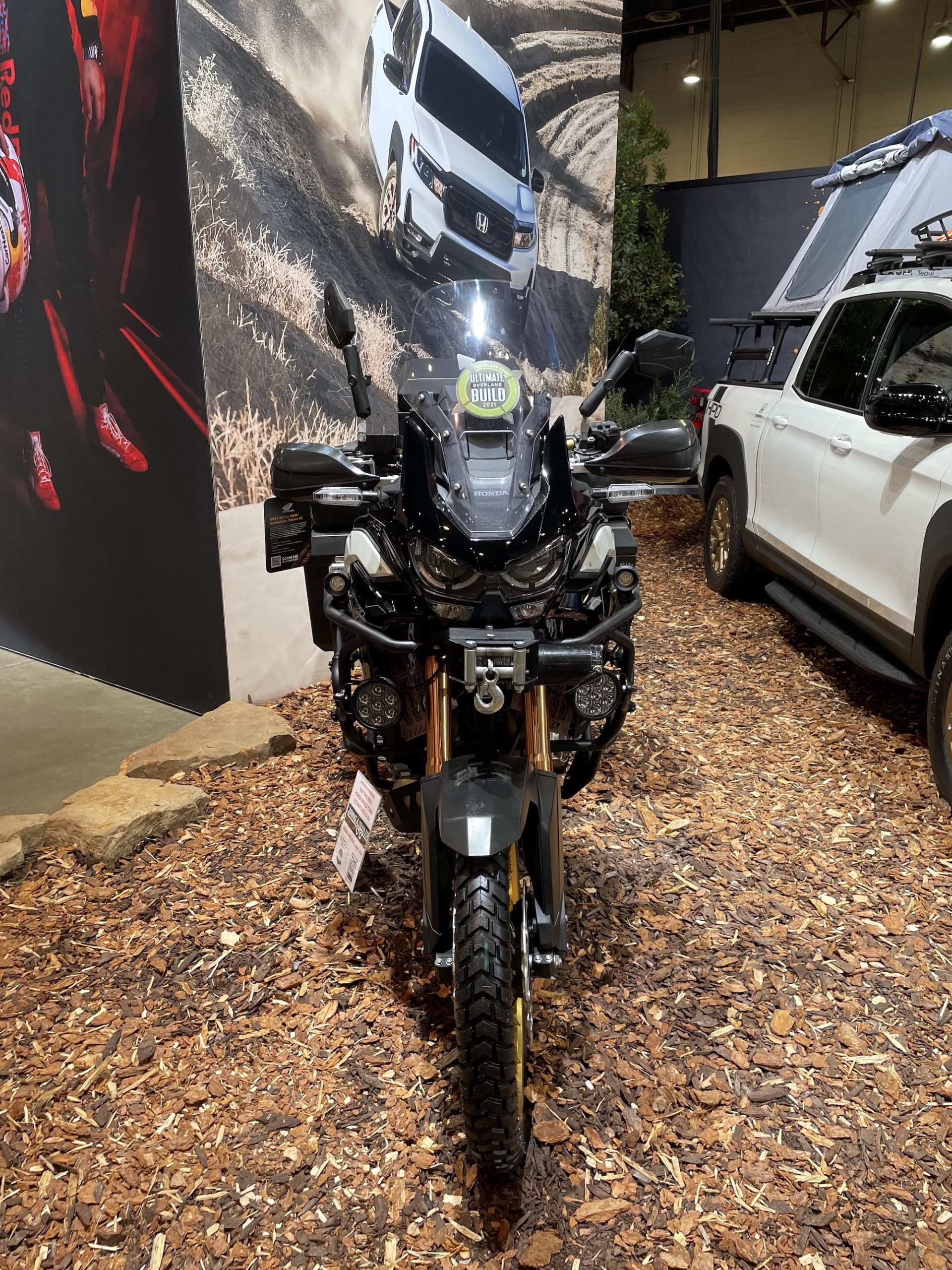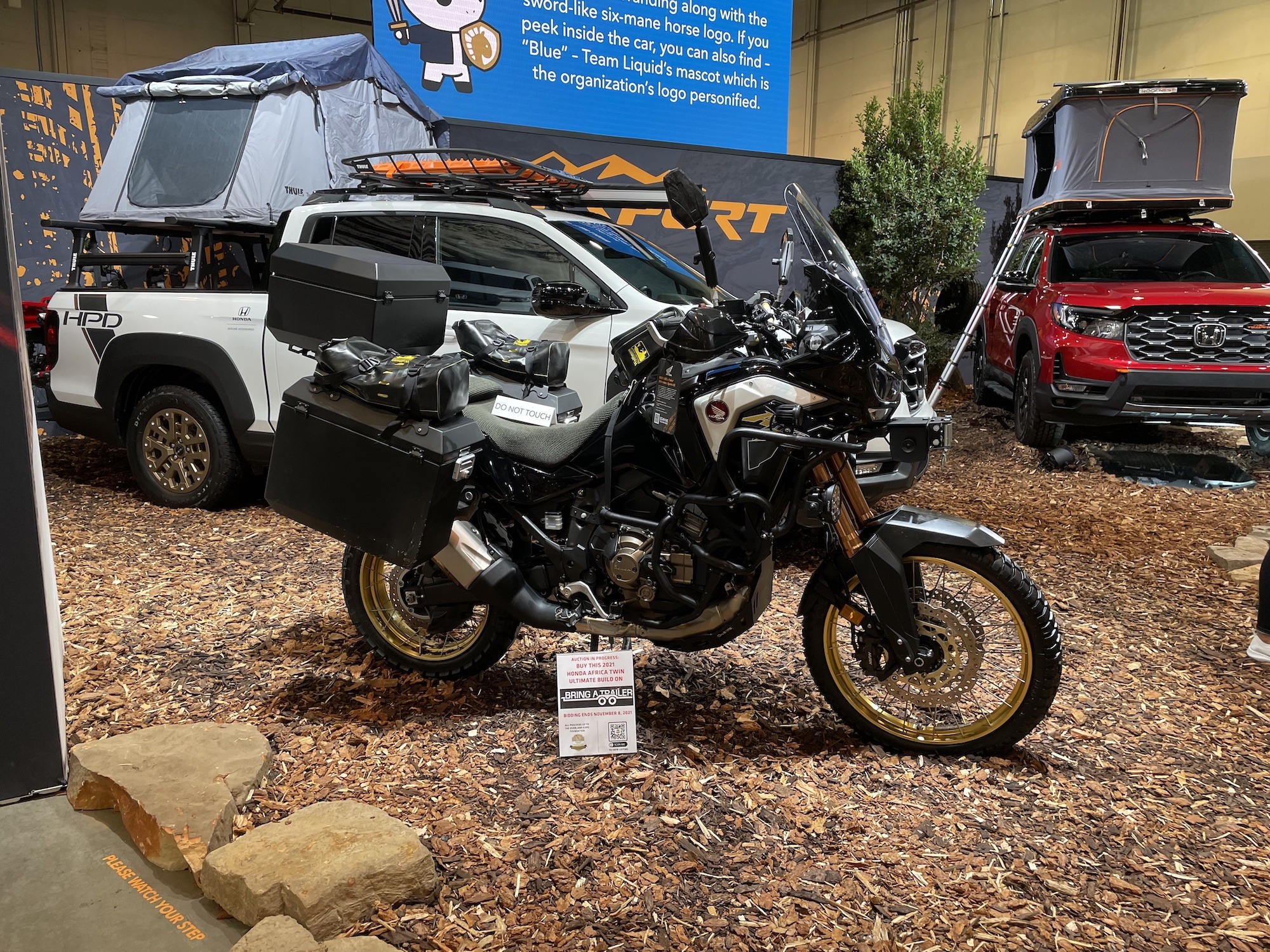 Last but not least, we have Overland Expo's Ultimate Overland Motorcycle for 2021, the Honda Africa Twin ES Sport DCT. Like our 4Runner, we are very proud of this build. It has all the best, newest stuff a rider could ask for on a world-conquering adventure motorcycle and a rider was lucky enough to scoop it up on Bring a Trailer for a cool $20,000. You can read all about the Ultimate Moto on its dedicated landing page.