Following the public debut of the 2024 Tacoma, we had the privilege to walk the campgrounds at Overland Expo West 2023 with some of the all-new Tacoma's design and engineering teams. We were on the hunt for some great overland Toyota builds. Though we didn't seek out just Tacomas, many made the list. This shouldn't be a surprise, though; Tacoma is indisputably the defacto choice for most overlanders.
We didn't have time to study every Toyota at the show (that would have taken days). But we had enough time to spy 10 that struck the engineers' fancy enough to put them on this best-of list. So, without further ado, in no particular order, here are the Best Toyotas of Overland Expo West 2023 as chosen by the Tacoma design and engineering teams.
2024 Toyota Tacoma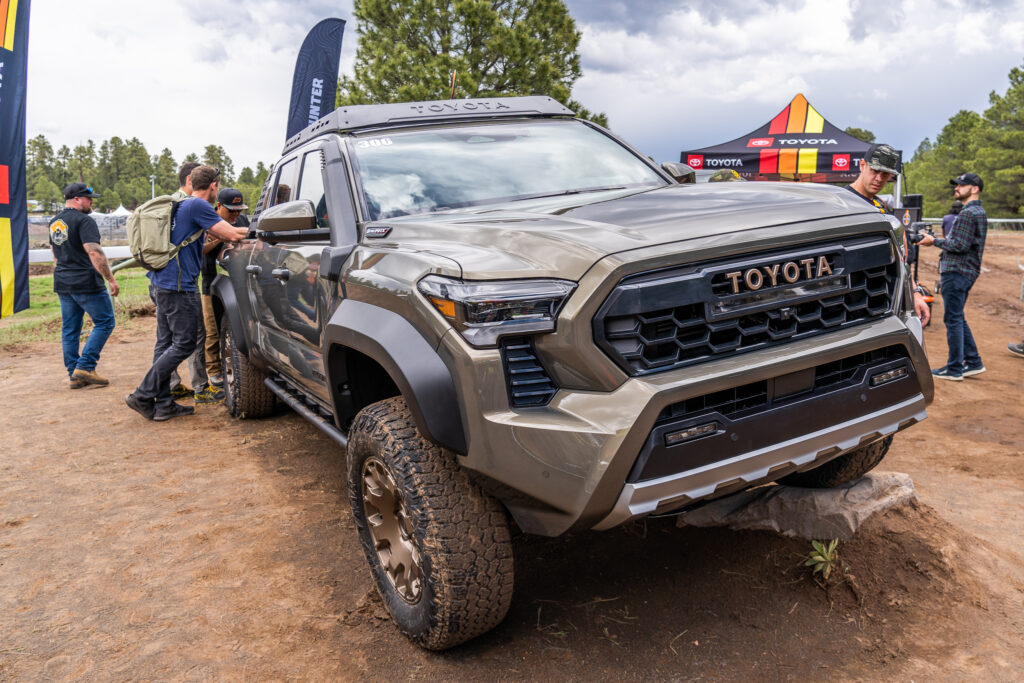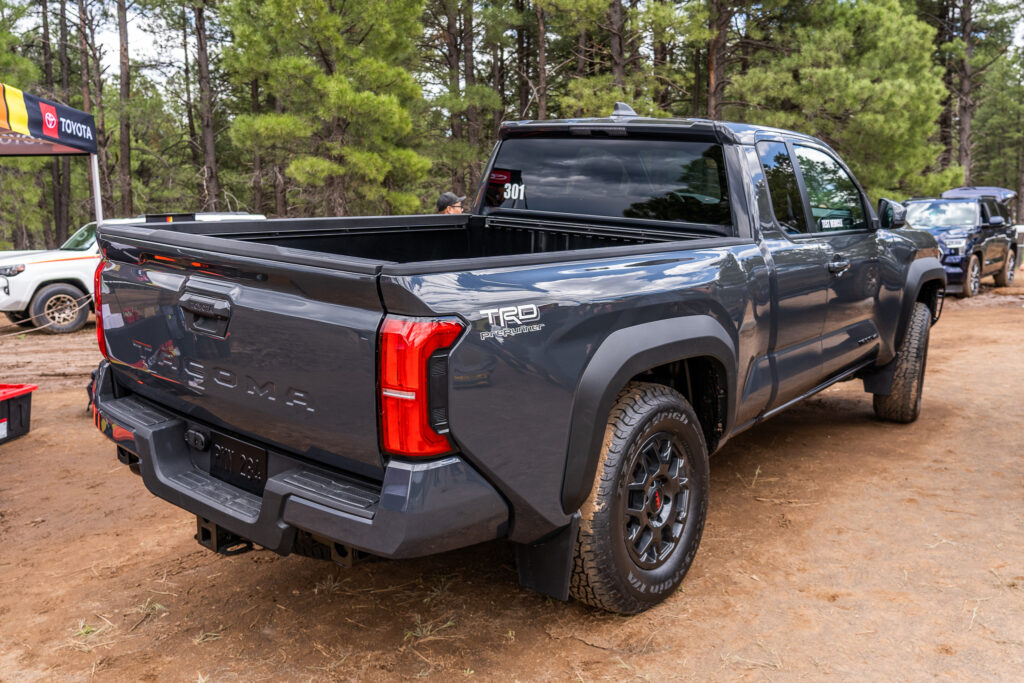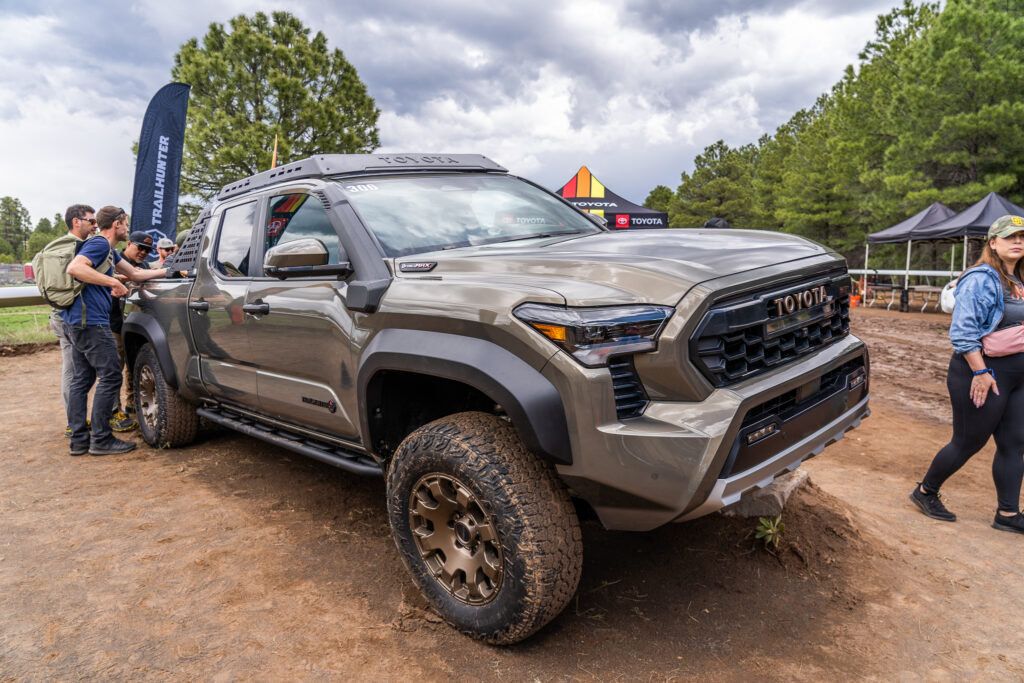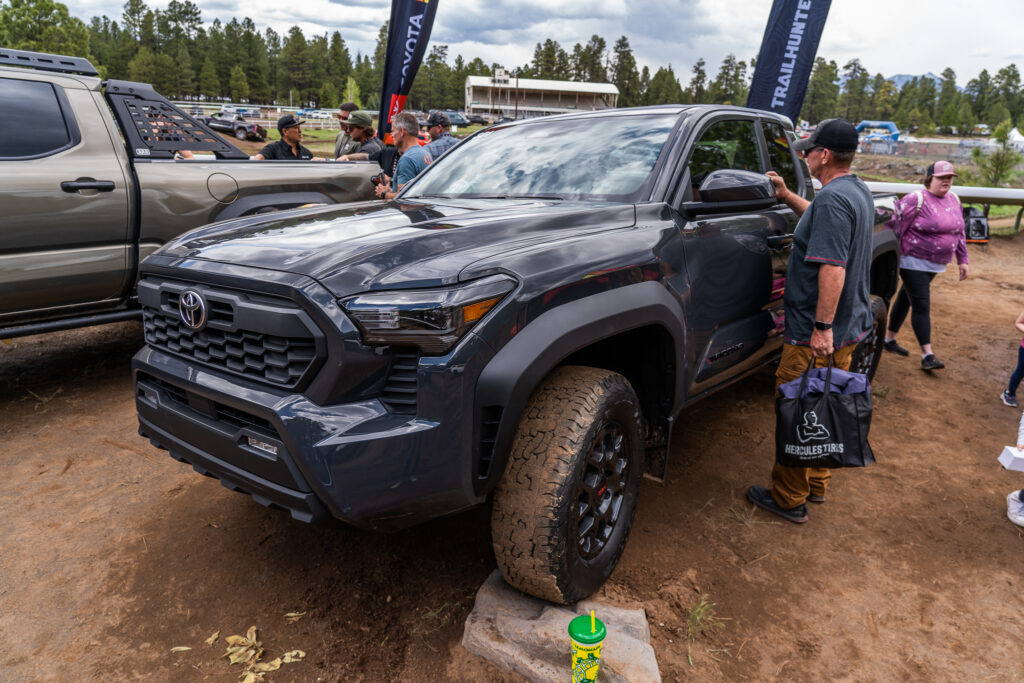 We have to start with the all-new Tacoma, right? I mean, it'd be inconceivable for us not to. Both Trailhunter and Prerunner trims are pictured here. If you want to know more about these impressive and distinct flavors of Tacoma, you can read our initial report on the Tacoma's debut here.
FJ60 Land Cruiser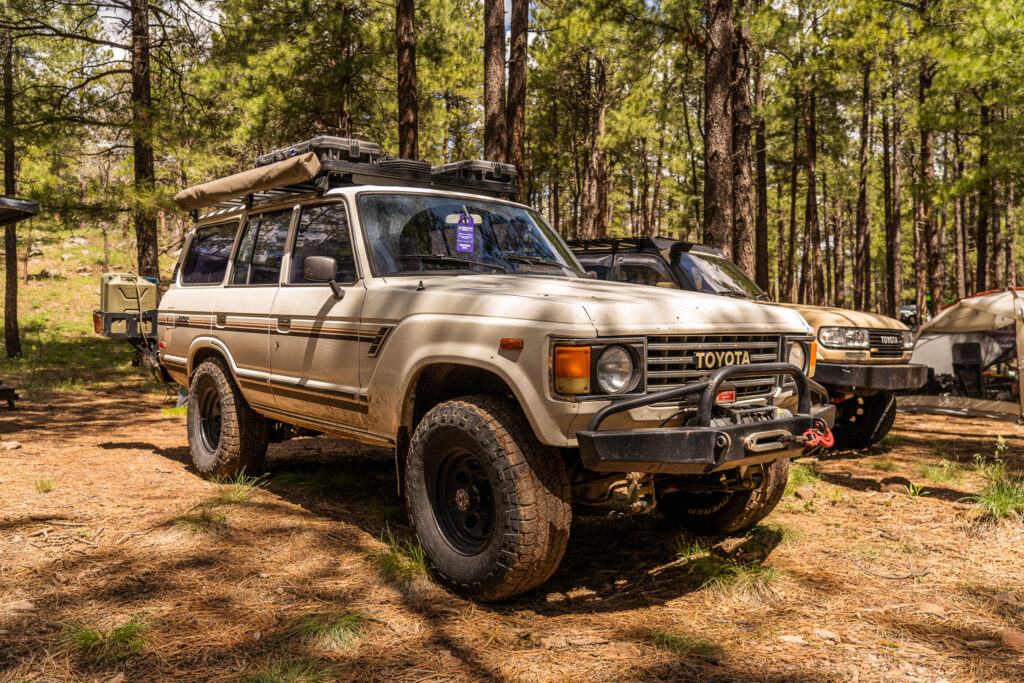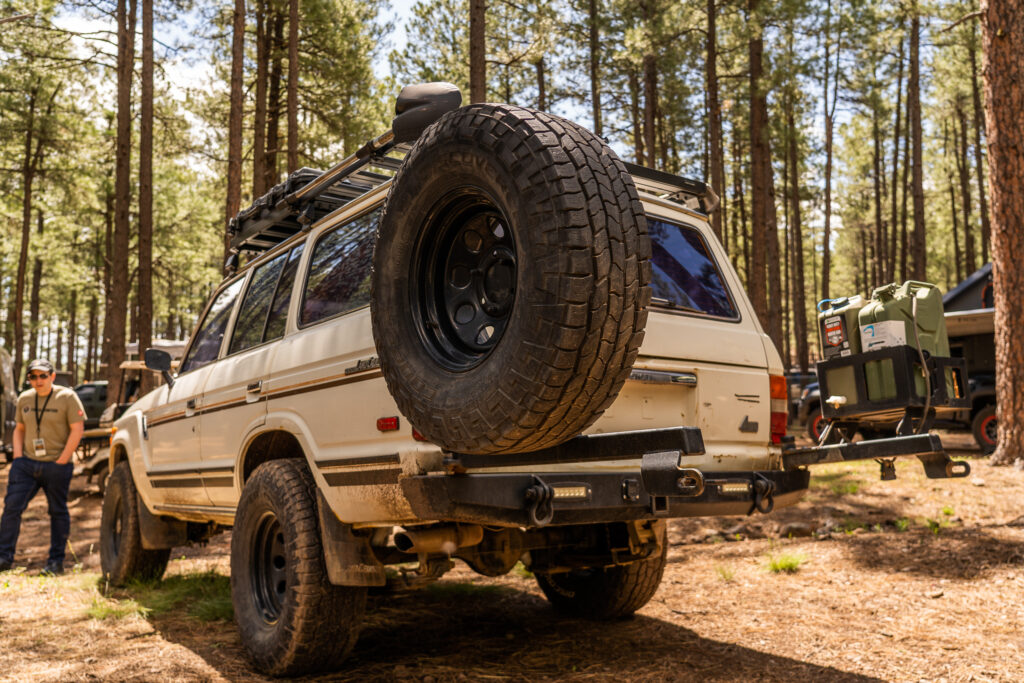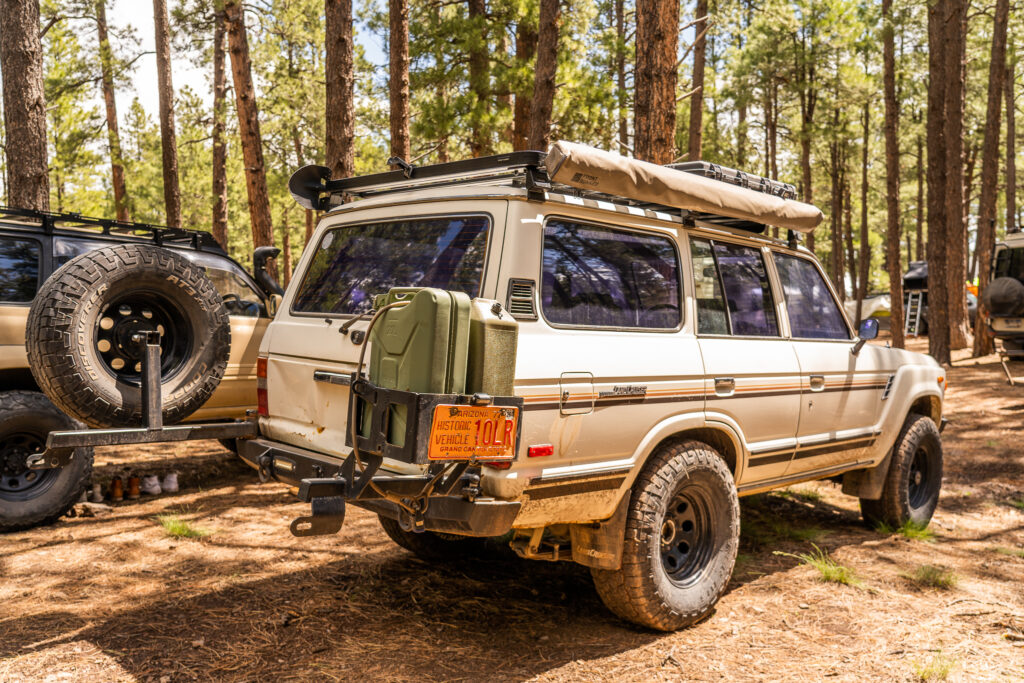 Like most of the vehicles on this list, the owner wasn't around when we stopped by to get the full story on this mean machine. It earned accolades for its vintage flare, as evidenced by the side stripes. The team especially liked the front winch bumper and rear swing-out.
HxJ80 Land Cruiser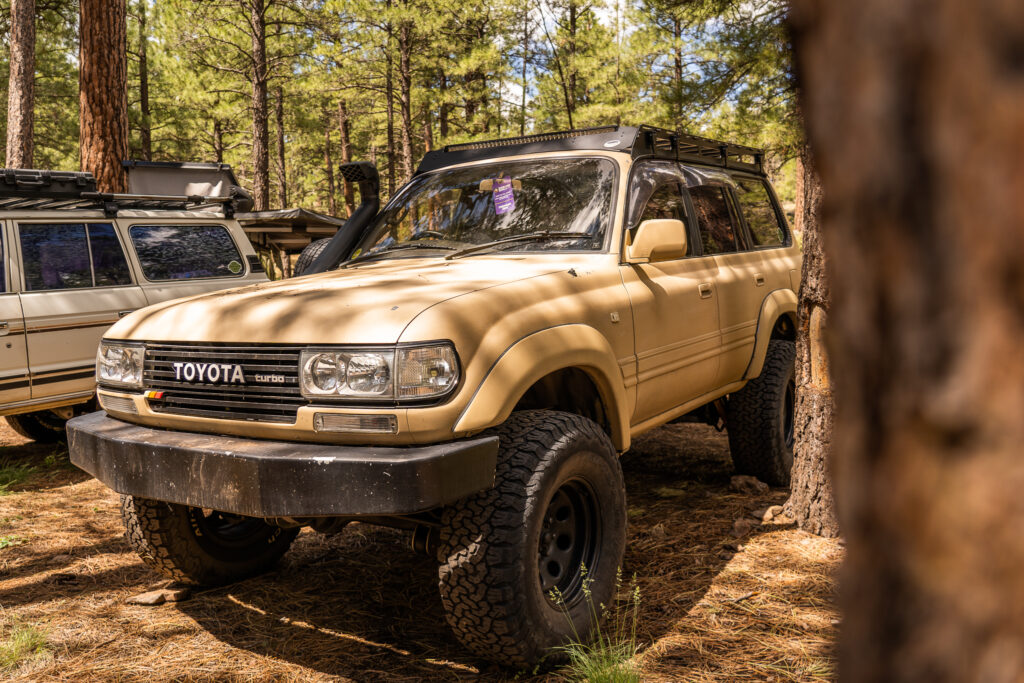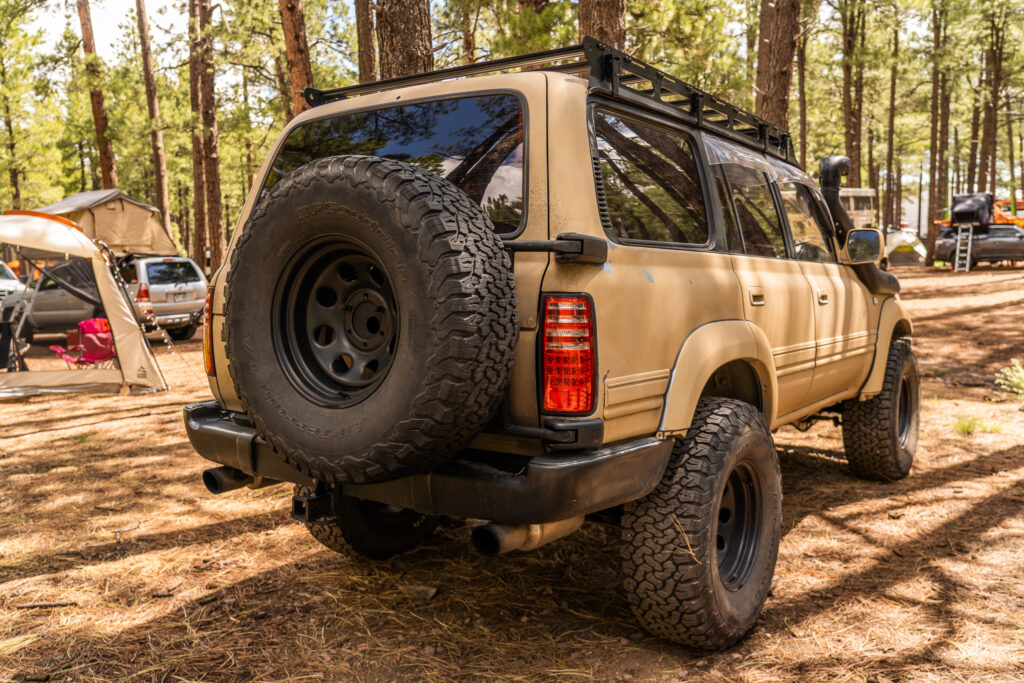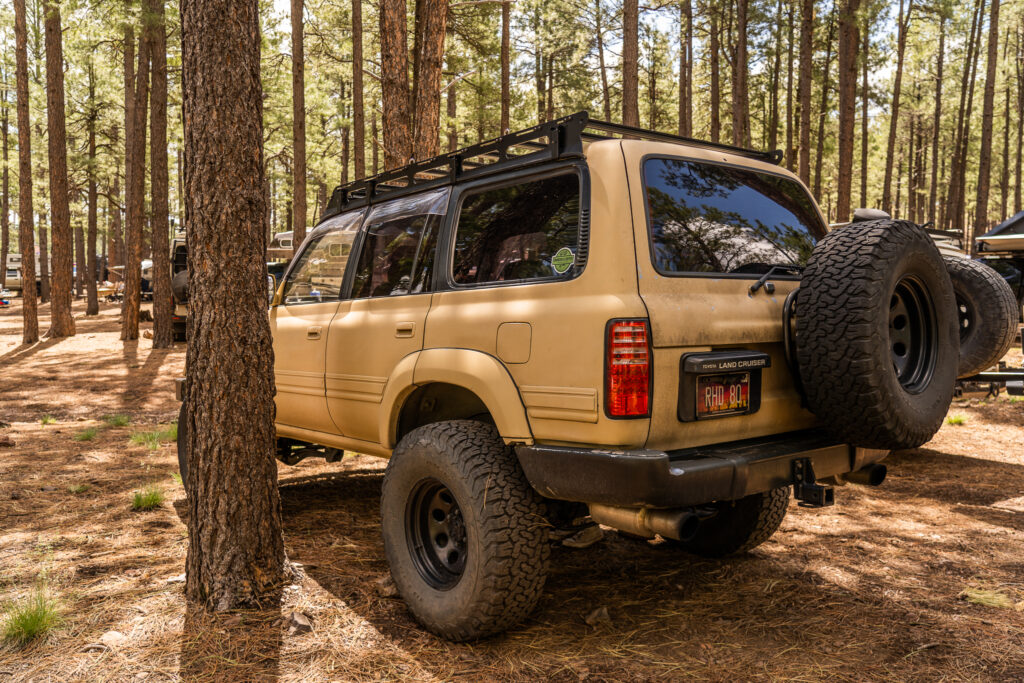 Parked next to the venerable FJ60 was this HxJ80. The Tacoma team loved this one, though, for its vintage rarity (right-hand drive and imported) and its tasteful mods. It's clear someone loves — and, importantly, uses — this rig. Kudos!
Third-Gen Tacoma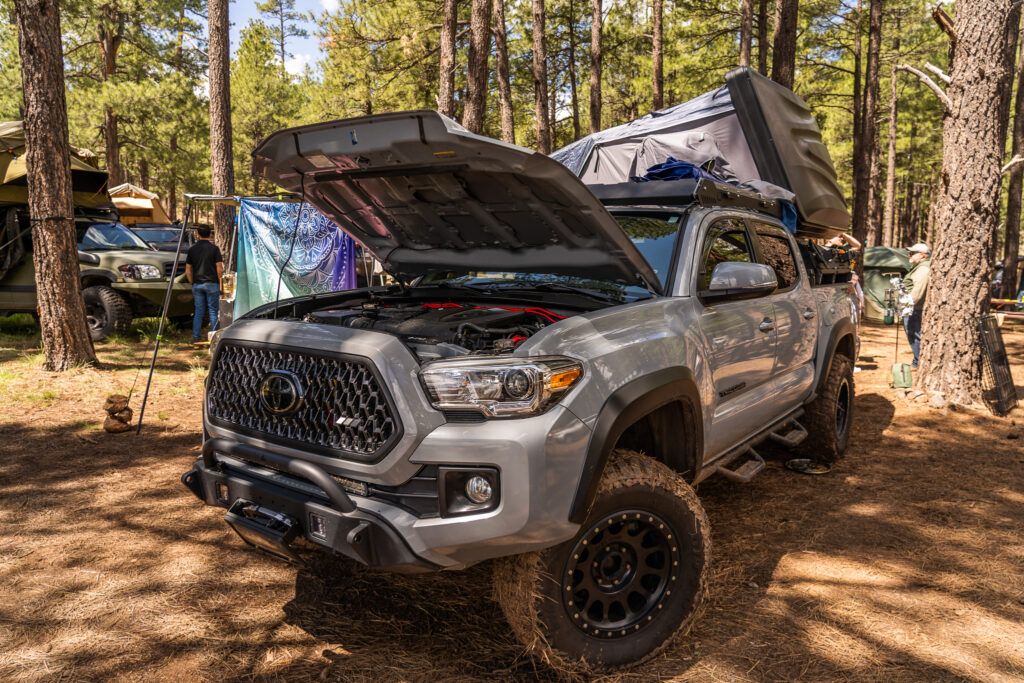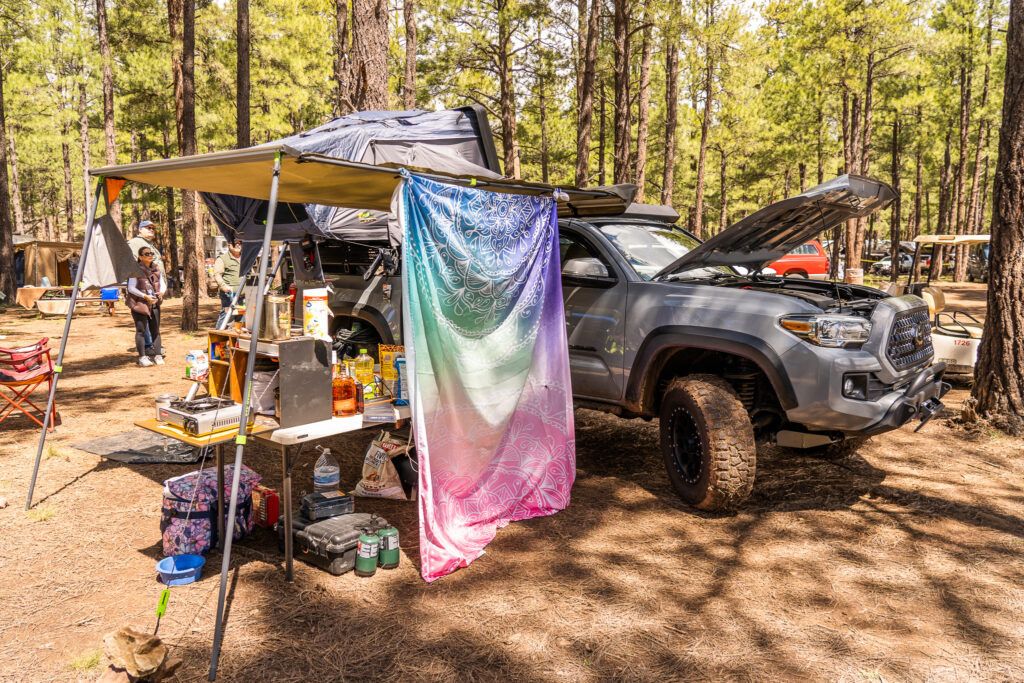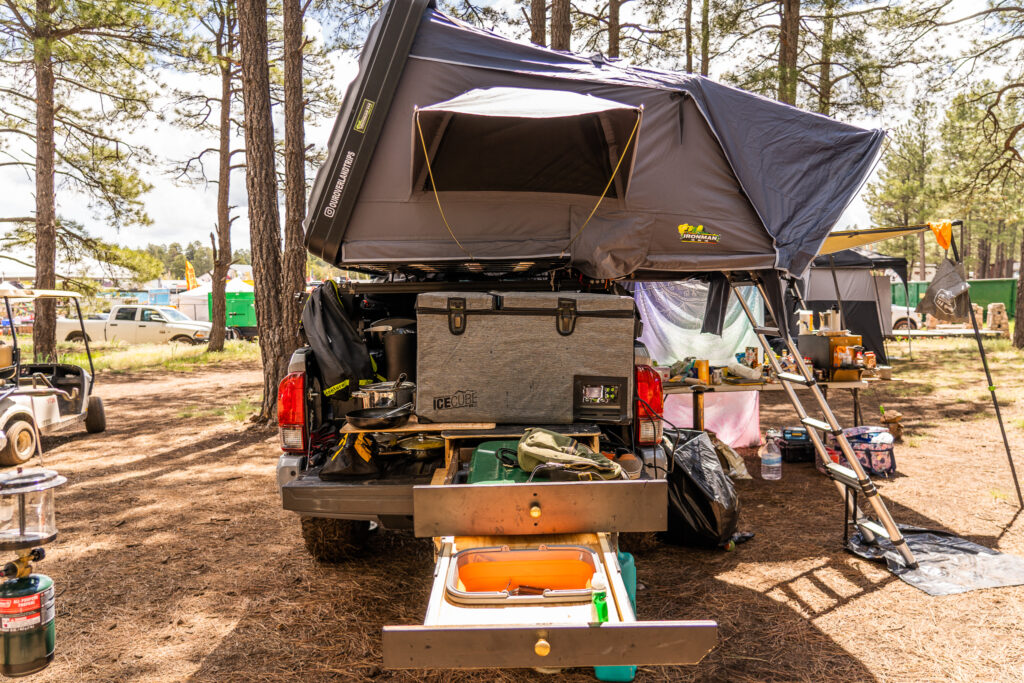 What immediately jumped out to the team about this Taco was the fact that it was very much a DIY kind of build. The ingenuity of the homemade slide-out kitchen was an especially appreciated feature. What's more, it was clear that, despite a build on a budget, these overlanders wanted for nothing. All the accoutrements of much more expensive builds were all accounted for.
Second-Gen Tacoma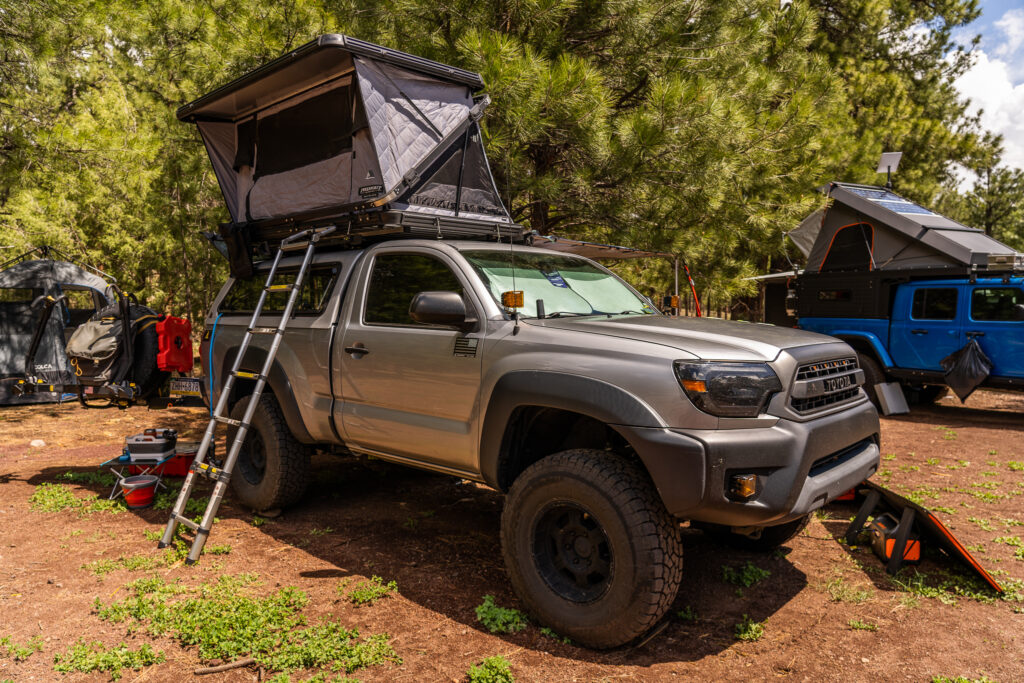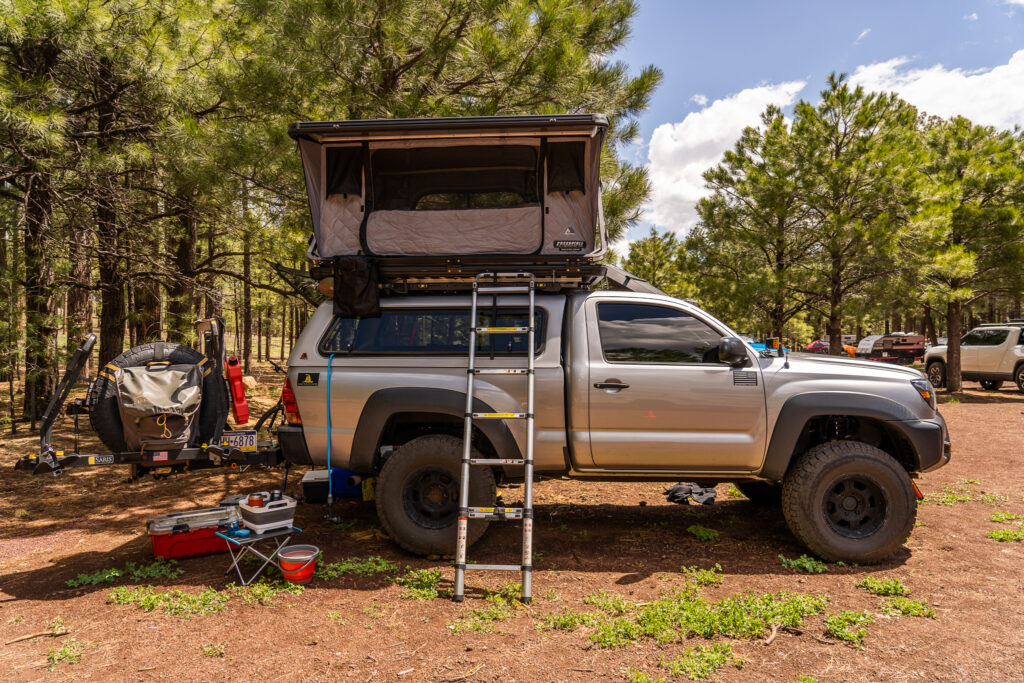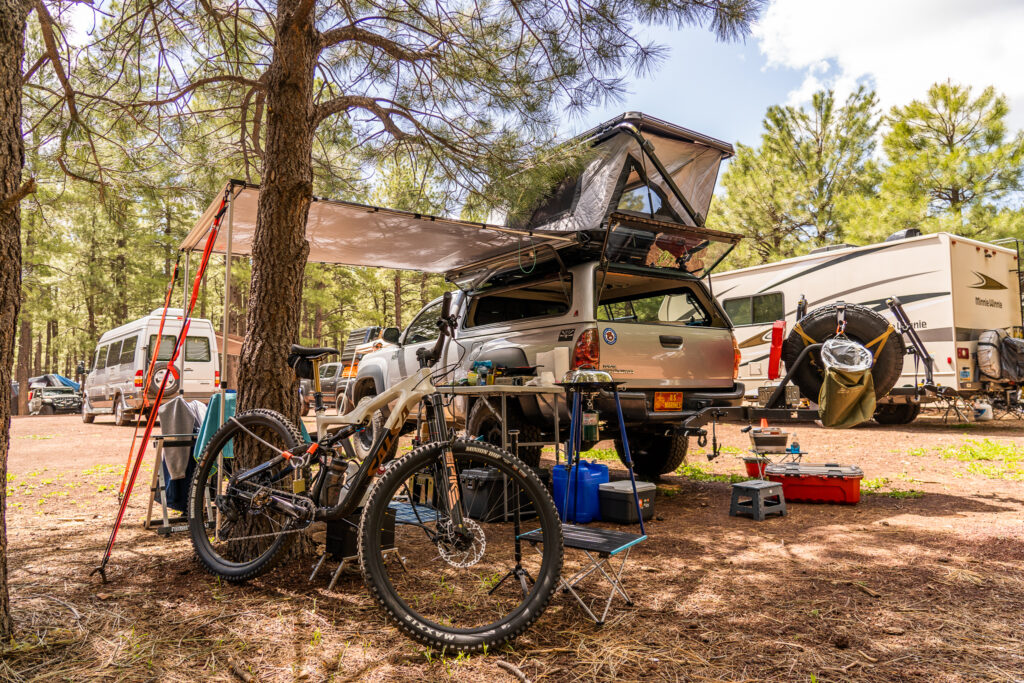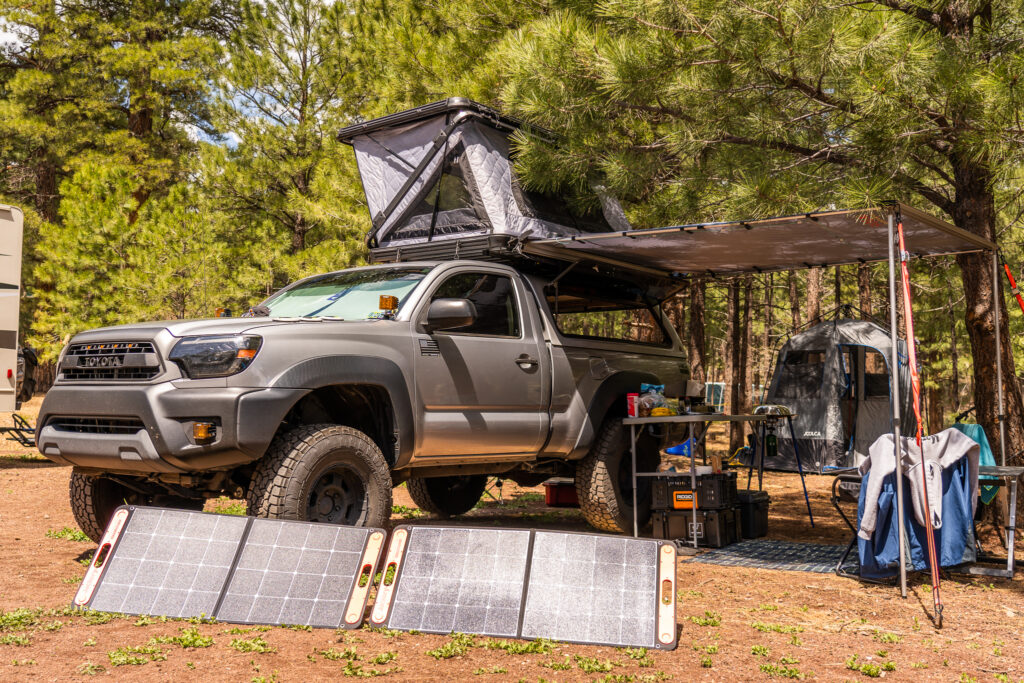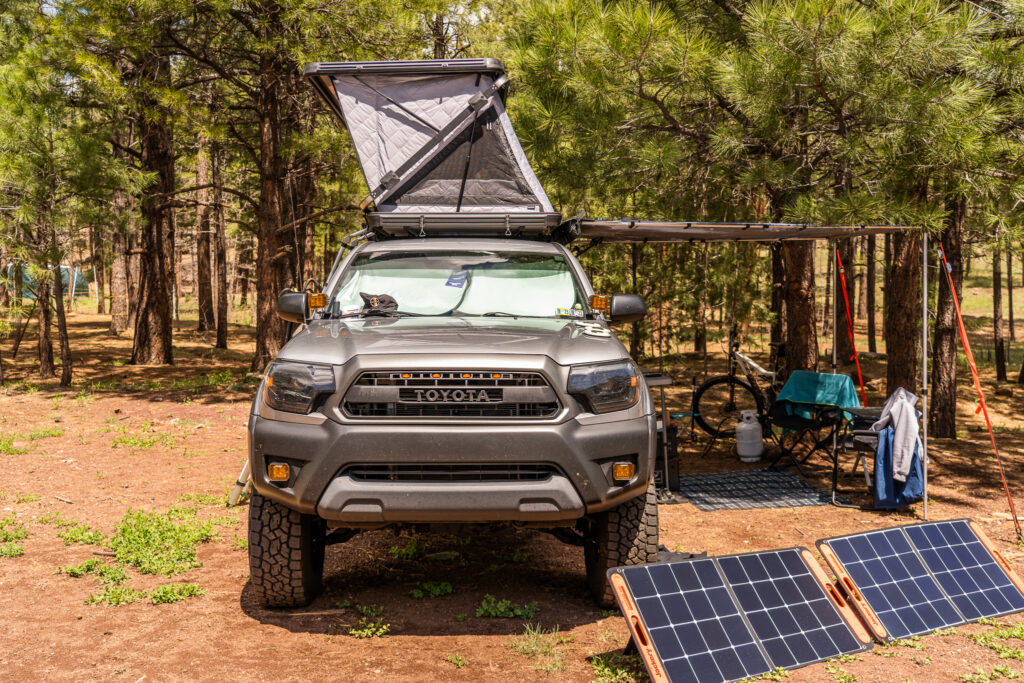 Here's one that had every one excited. First off, it's not every day you spy a second-gen Taco in the single cab, short bed form. It's rarer still to see it built out for overlanding with a rooftop tent, rear swing-out bumper, and awning. There was a short-lived debate between the designers whether the front fascia was stock — they just weren't accustomed to seeing a chrome-less second-gen. What an absolute gem.
Third-Gen Tacoma + Trailer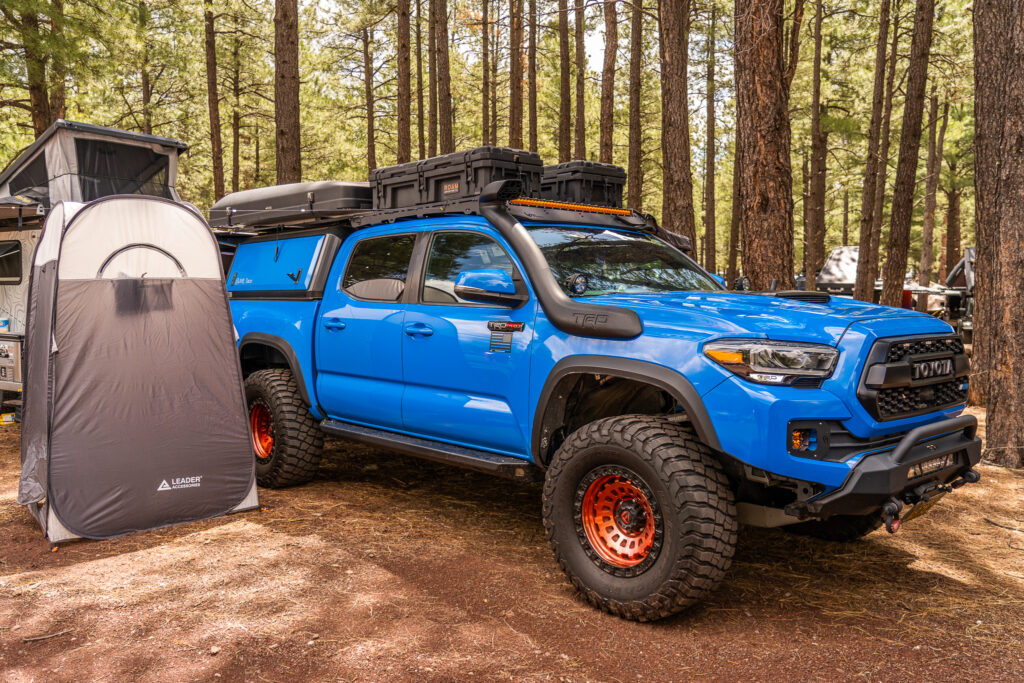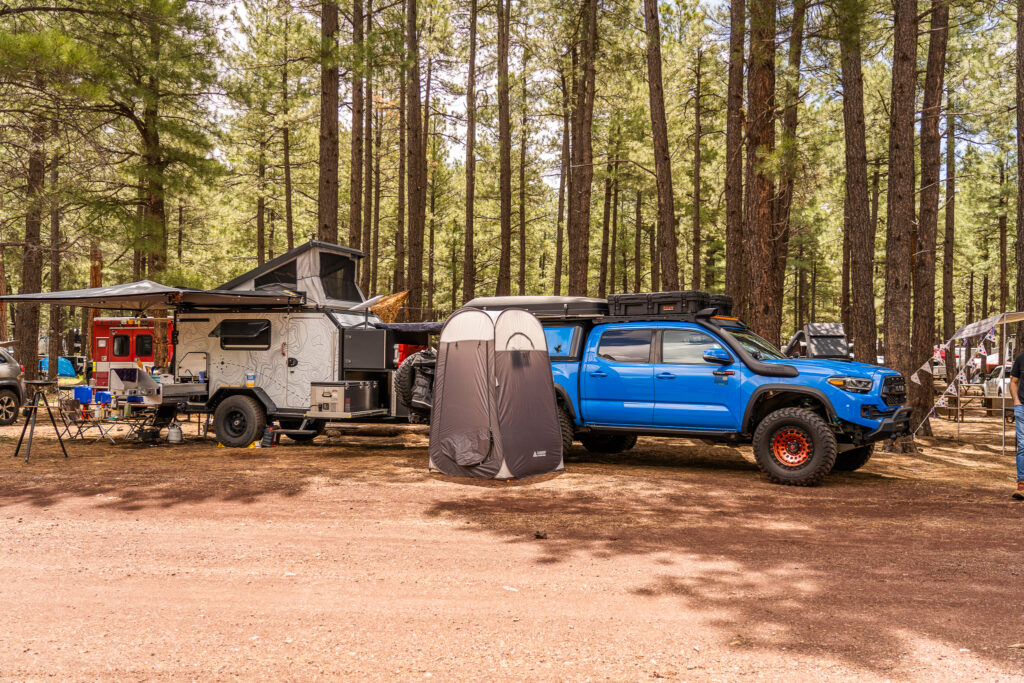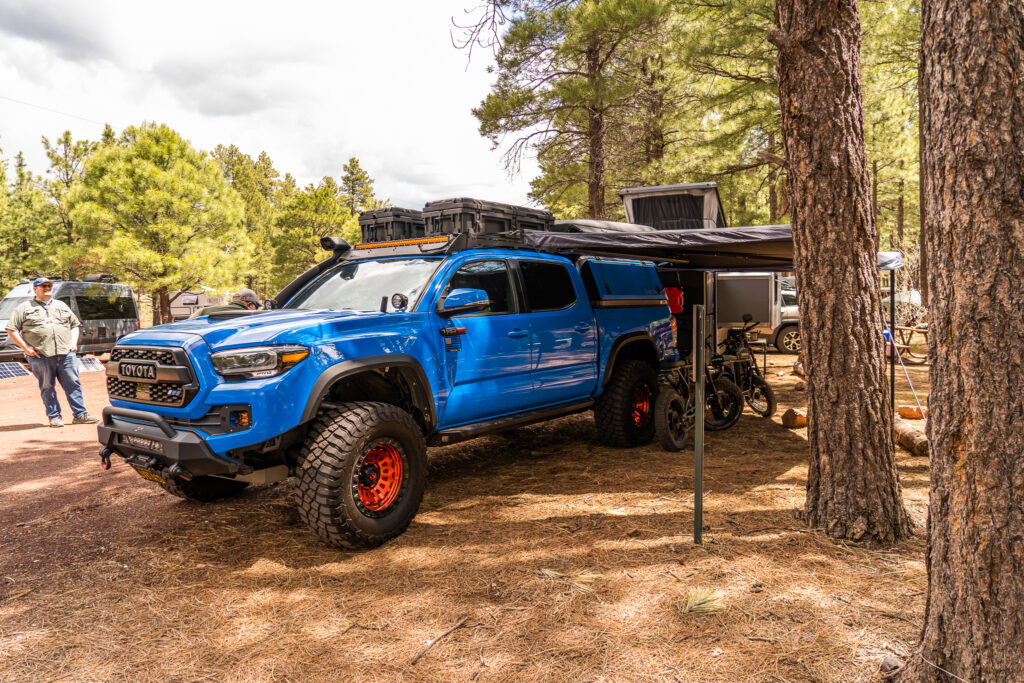 In just a few steps we go from overlanding in a Tacoma on a budget to overlanding in a Tacoma in which budget seems to be limitless. This friendly couple was a bit star-struck when the Tacoma team rolled up to their campsite; they'd recognized them from the night before at the Fireside Chat. The team appreciated the quality and quantity of the mods here. It's clear this beast and its trailer is ready for anything.
Third-Gen Tacoma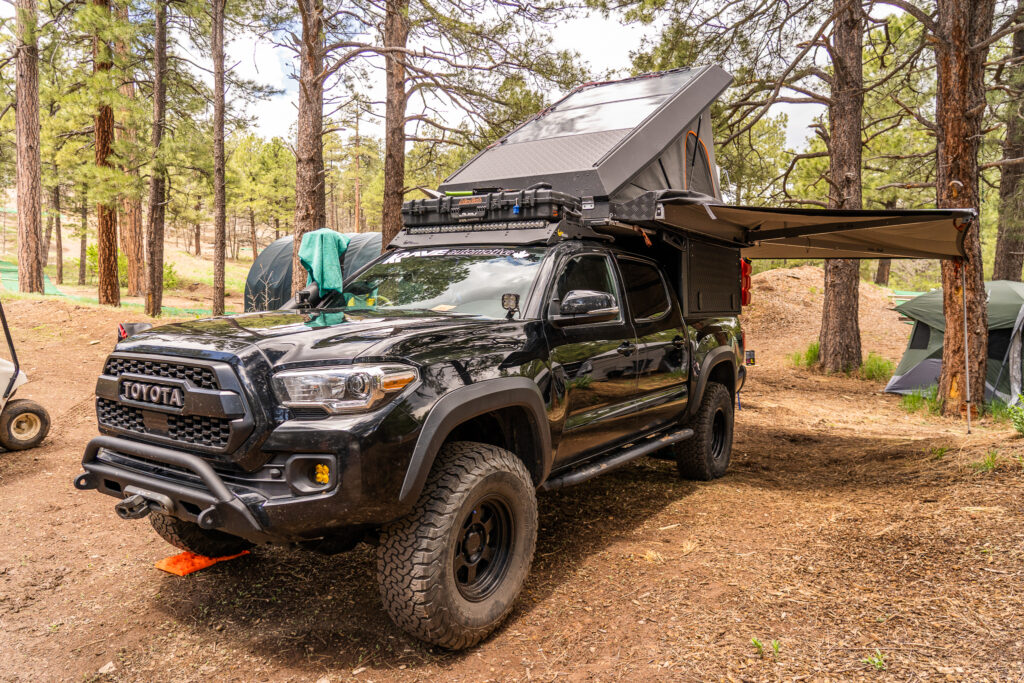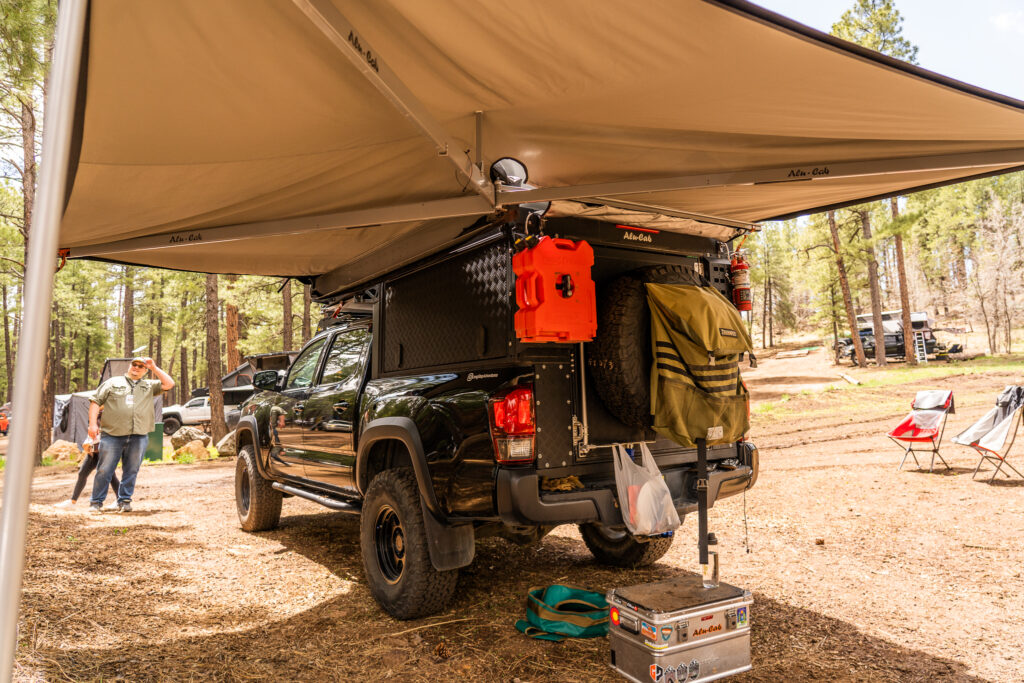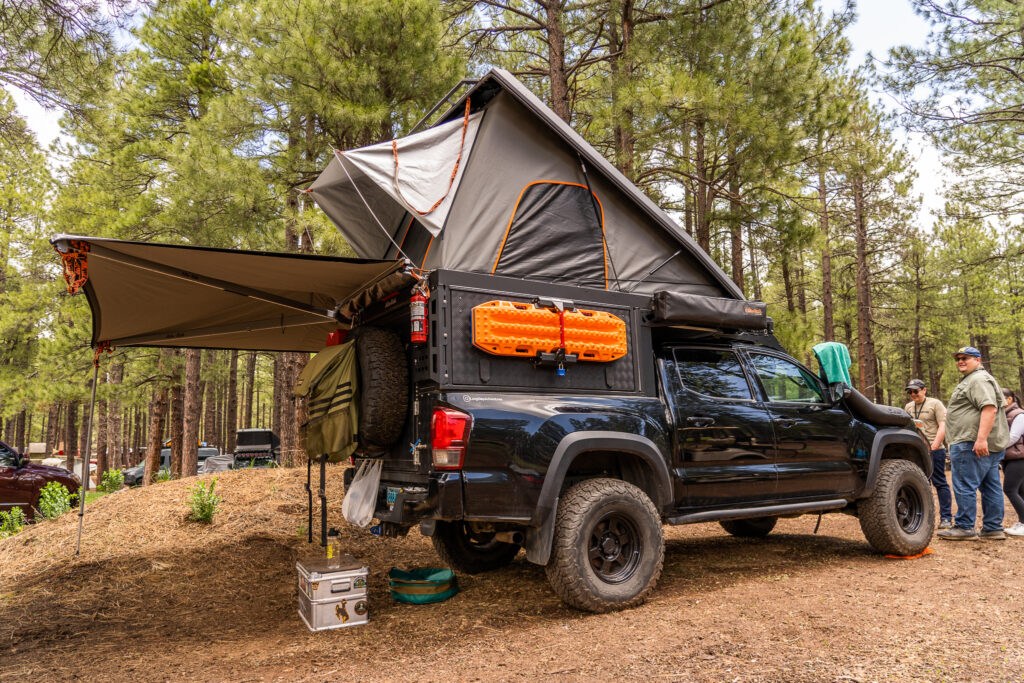 This owner took a modest build and made it wild with a very well kitted Alu Cab Cabin. Though we didn't get to talk to them, it was clear this overlander has an eye for the finest kit, but also doesn't boast about it. A very tidy rig.
FJ Cruiser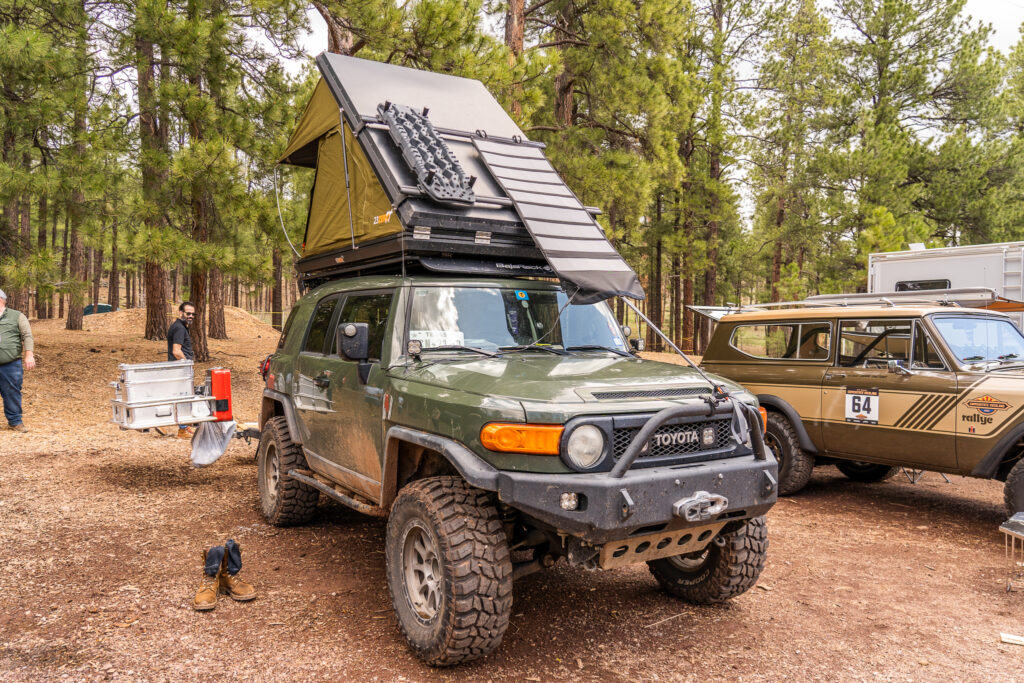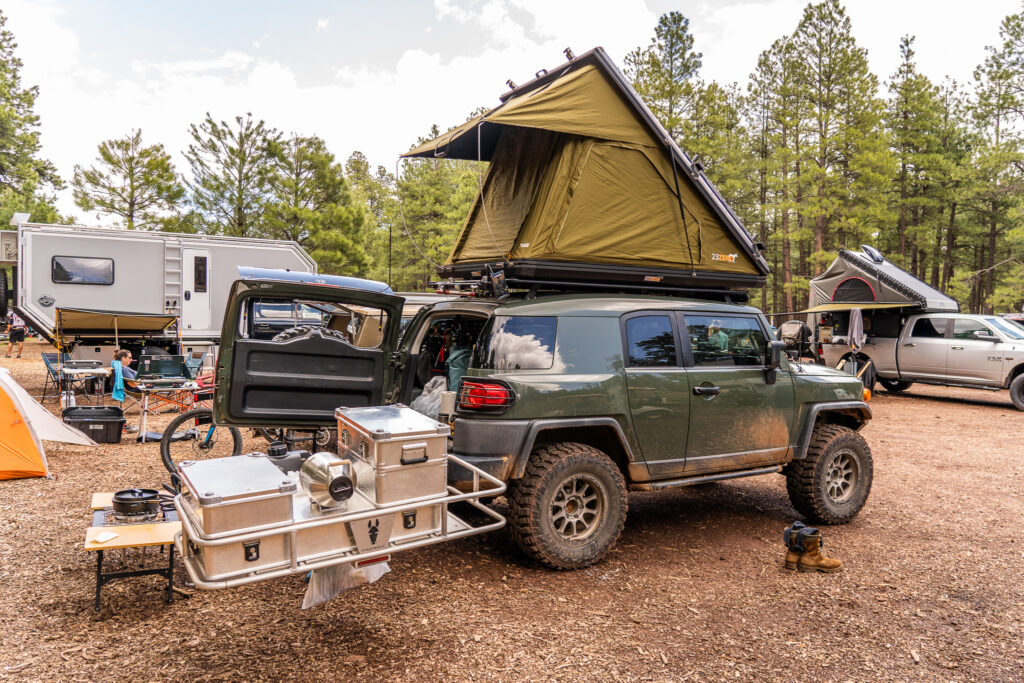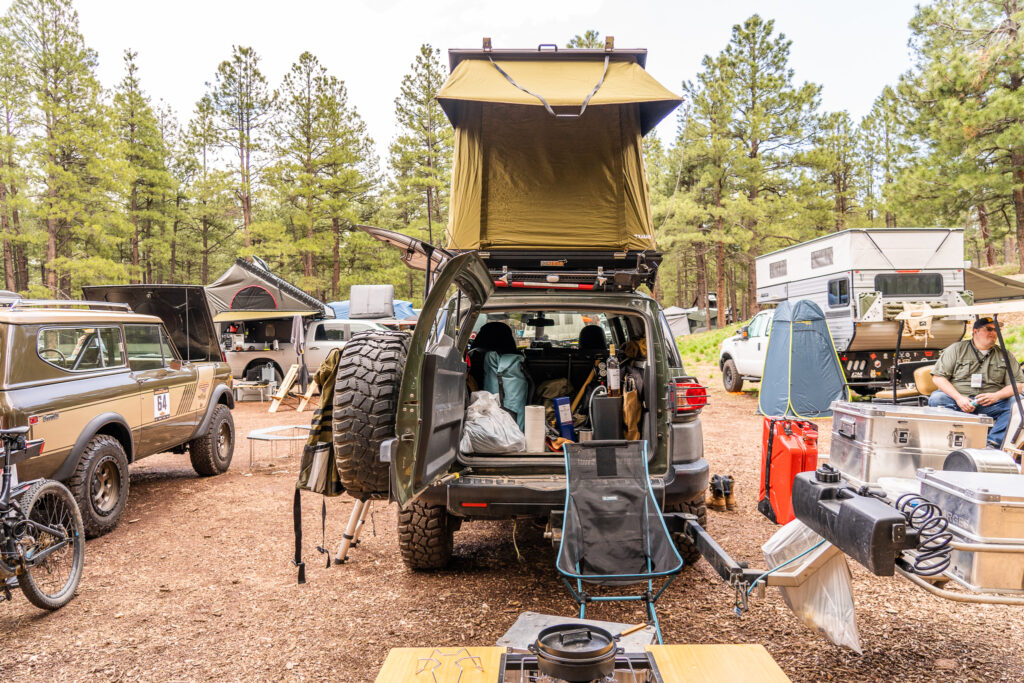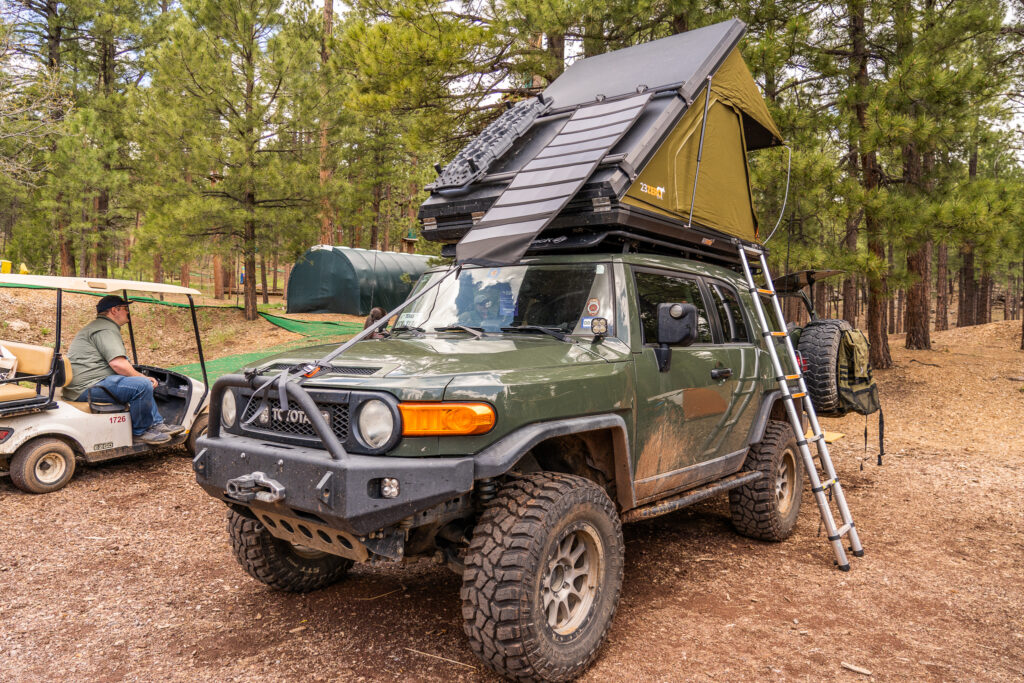 We were actually surprised how few FJ Cruisers we spotted on our outing. This one didn't make the list because it was one of the few, though. It made the cut because of how well-equipped and well-used it is. This owner traveled in from Texas over a week en route to West. Though the venerable FJ Cruisers don't afford overlanders much space for gear, this guy added a handy swing-out carrier, which handily solved that problem.
Widebody Third-Gen Tacoma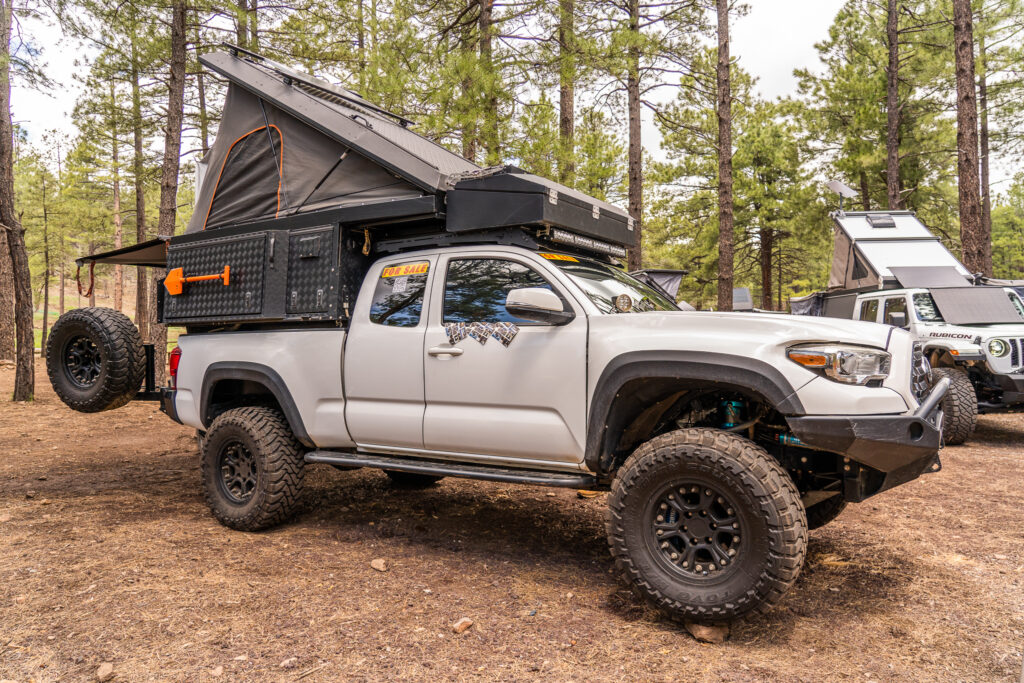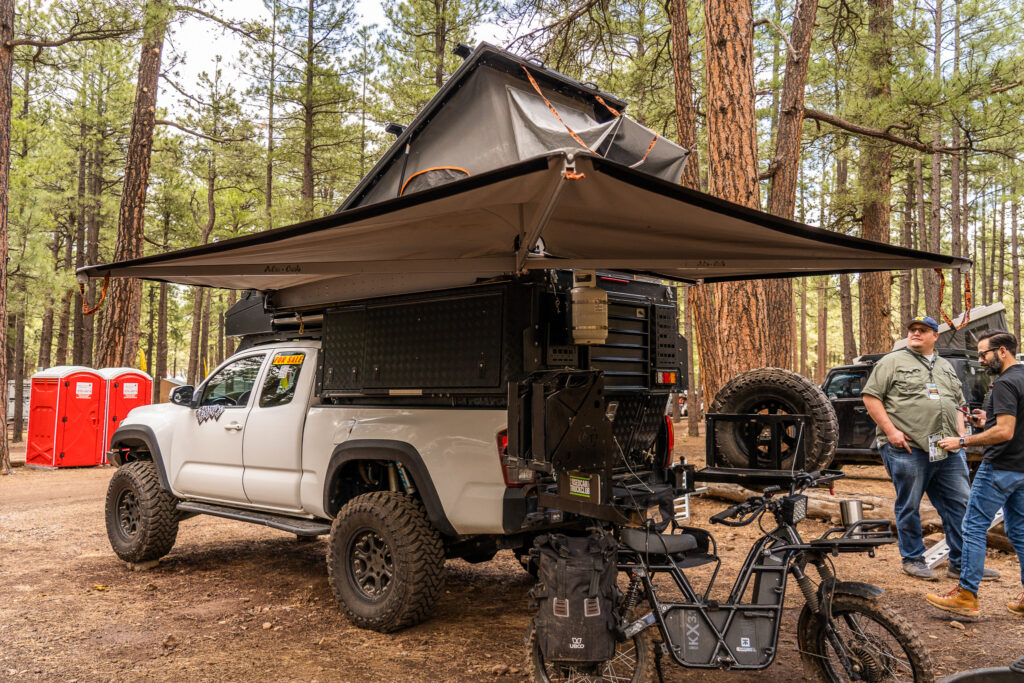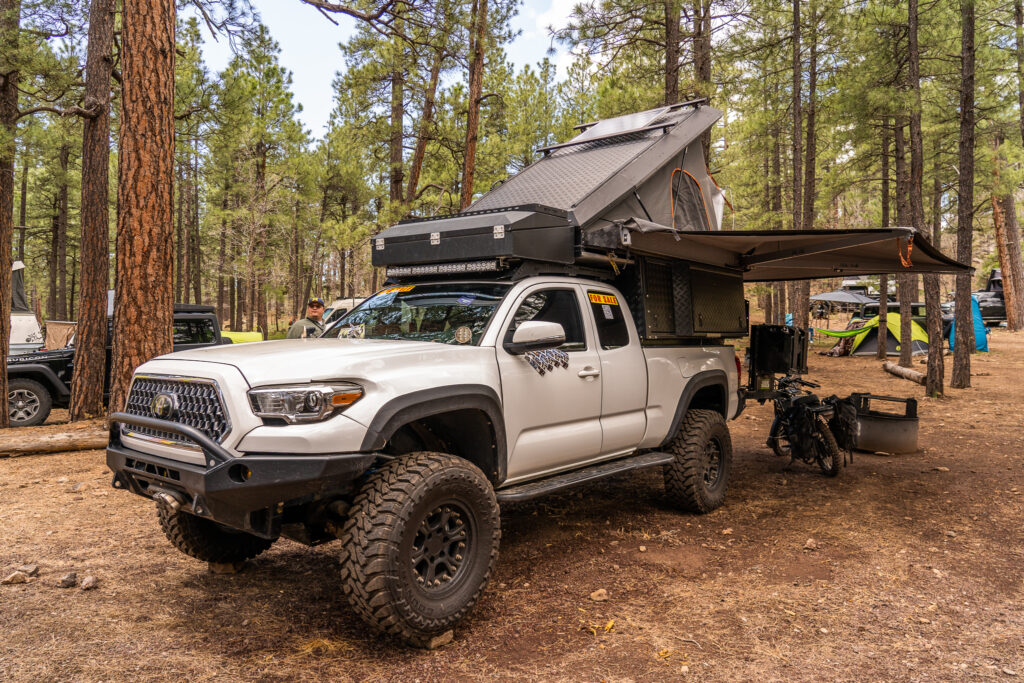 The exterior designer noticed straight away the investment made into this rig. Though it's sort of hard to tell, all four quarter panels were replaced with fiberglass wide-body units, which allow for a wider track and a meaner stance. Topping off this double-cab, long-bed build is another Alu Cab Cabin. Yes, it was for sale. No, we didn't look for an asking price.
Third-Gen Tacoma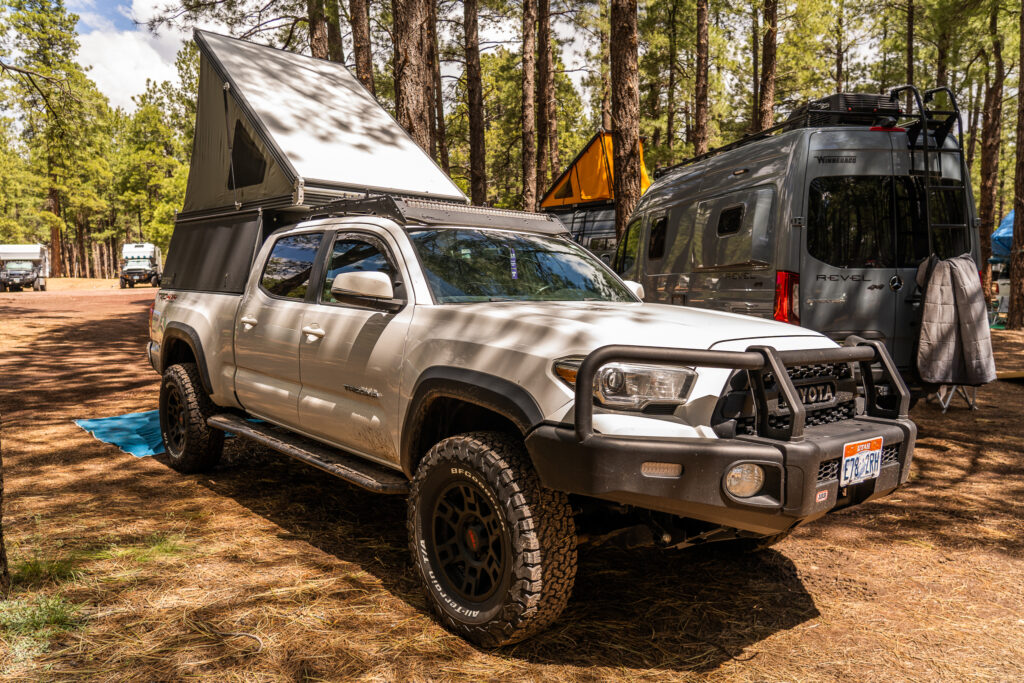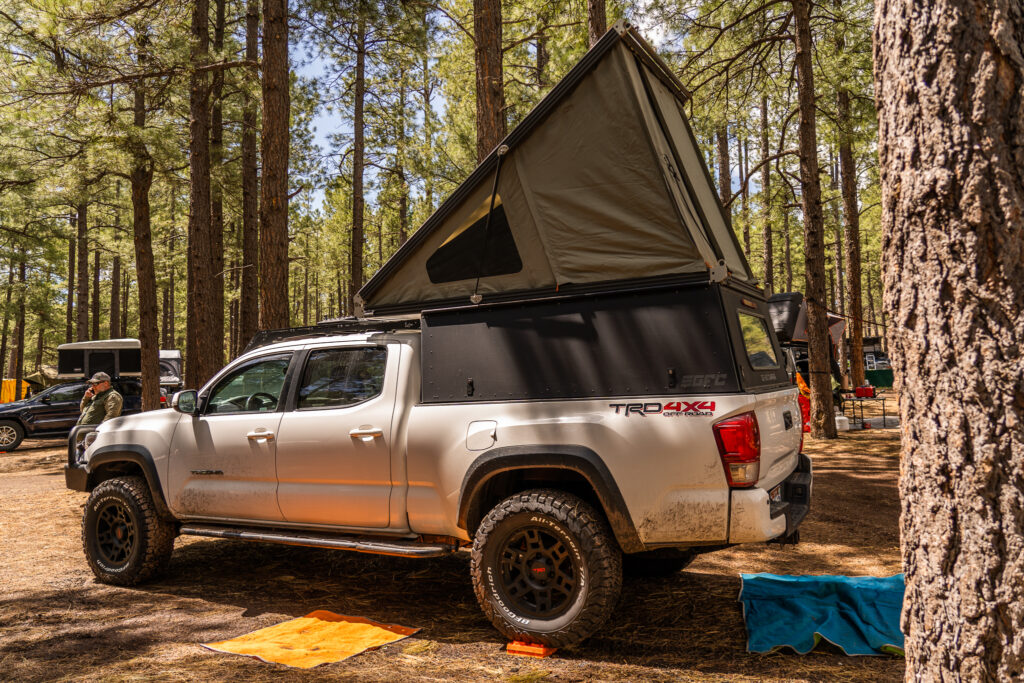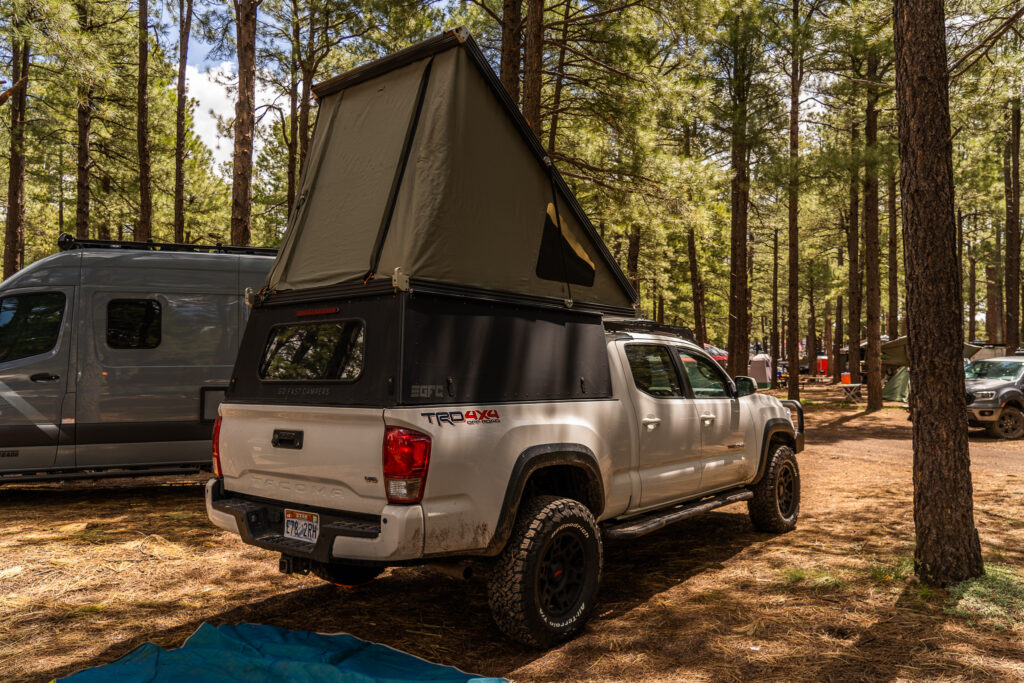 The designers were actually excited to see someone rolling on the TRD wheels. Add the ARB bull bars, Prinsu roof rack, and GoFast camper, and this is another modest but nicely outfitted Taco.
First-Gen Tacoma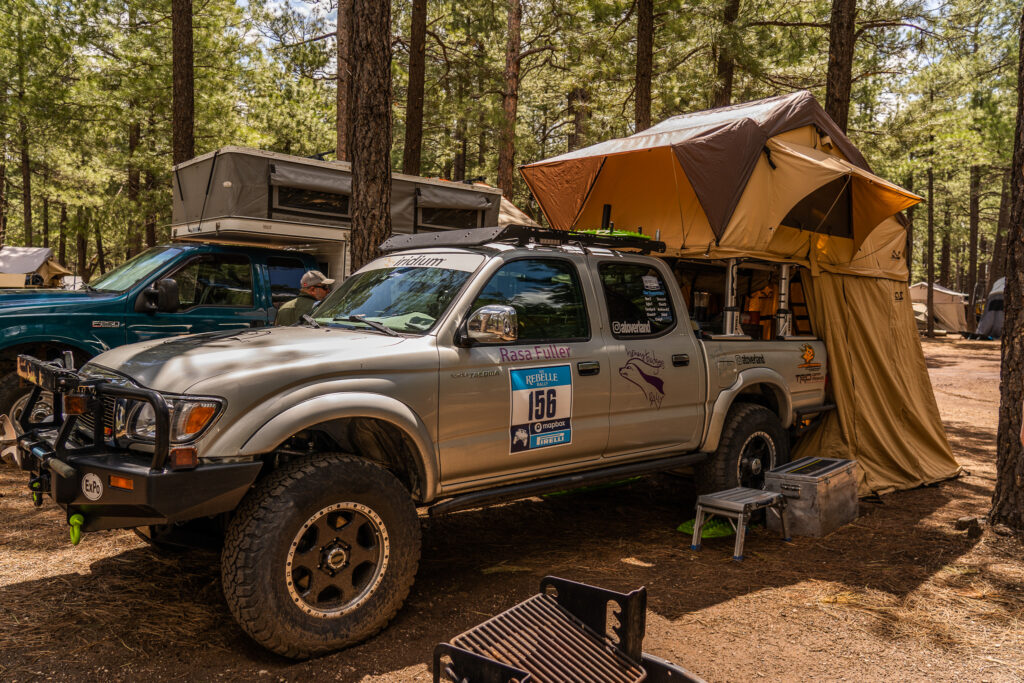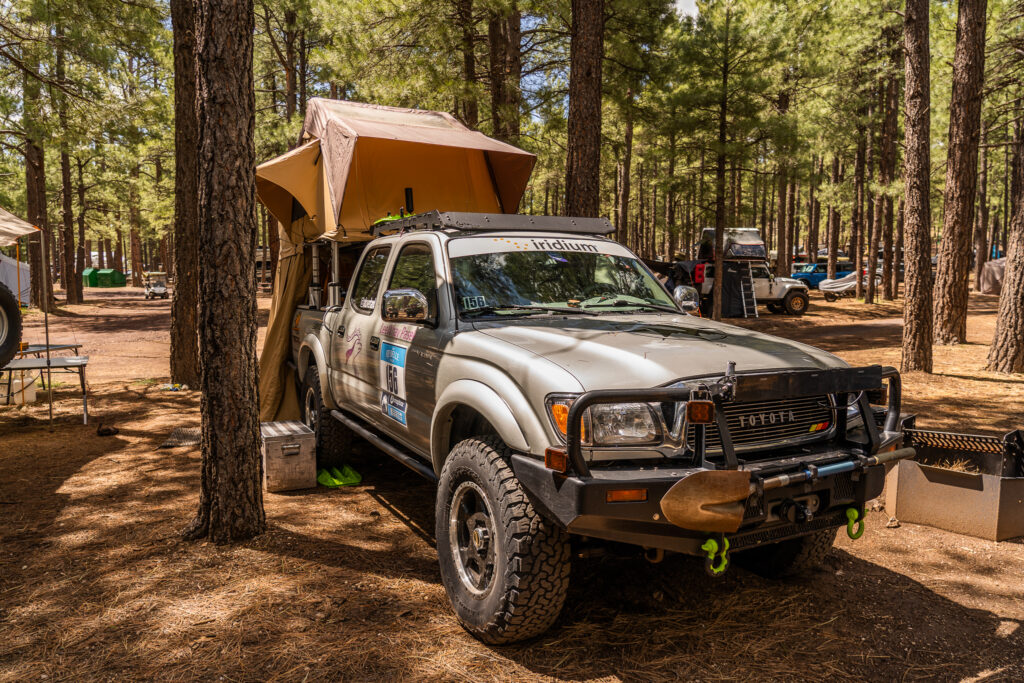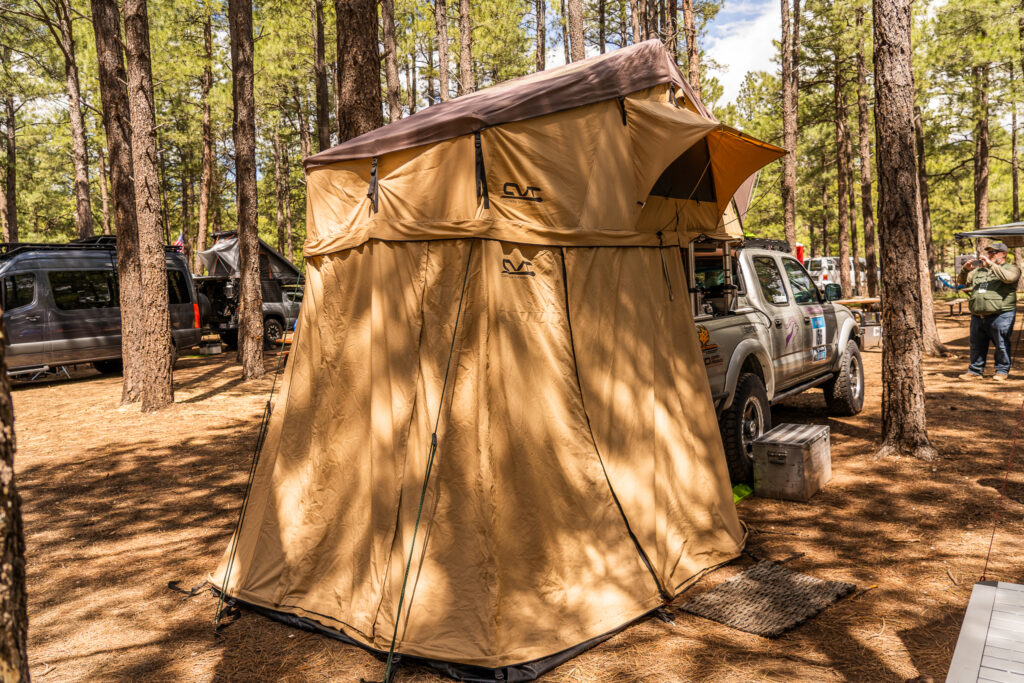 Last a certainly not least, we have a first-gen Tacoma in the Crewmax, short-bed configuration, which is always a treat to see. What's more, this rig had taken part in the 2022 Rebelle Rally, which earned it, and the owners we didn't get a chance to meet, much respect from the Tacoma team.