Geyser Systems' Geyser System + Heater redefines the experience of water off-the-grid.
The Geyser System + Heater is a hyper-efficient water management system that can be used to clean yourself, your gear, and your dishes using only 0.8 gallons of water. The efficiency of The Geyser makes the most out of every drop of water – meaning less hassle getting cleaned up and less water wasted. The small footprint takes up very little room in your rig.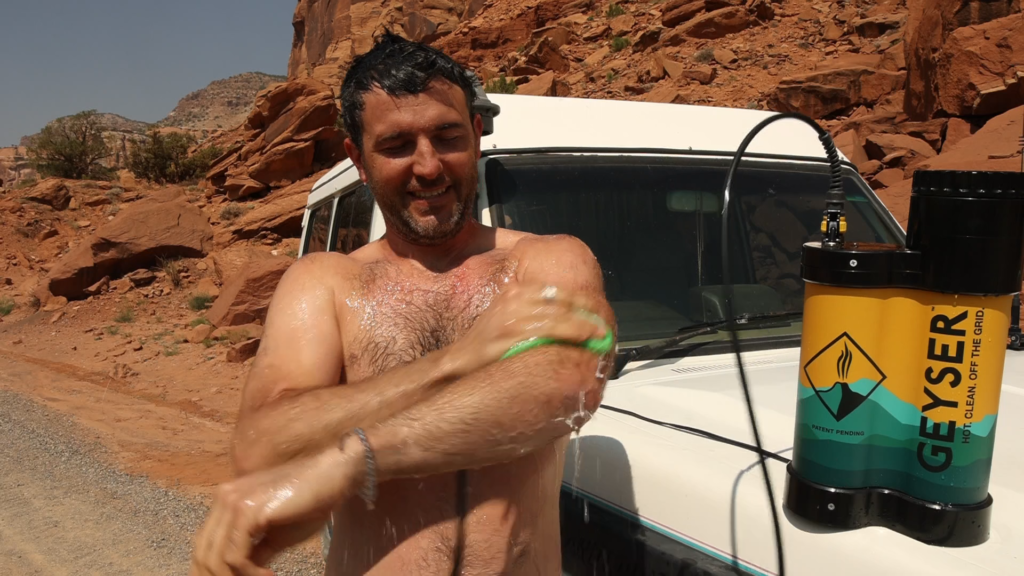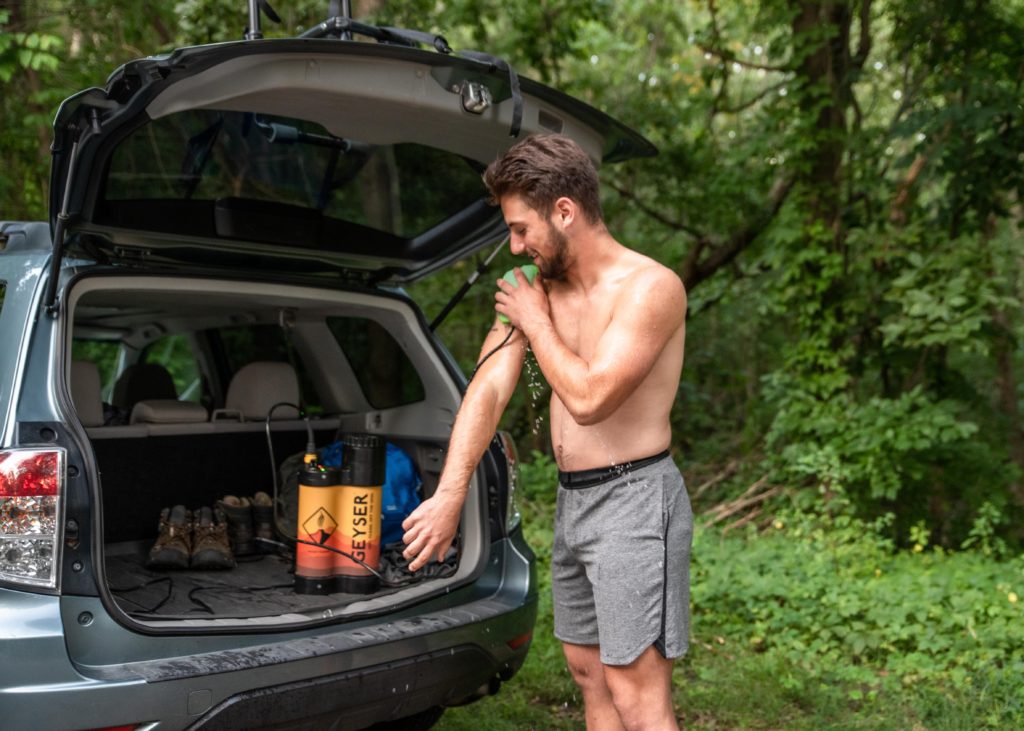 The Geyser provides up to 10 minutes of run time, making it 3-5x more efficient than other camping showers. Four people can shower in 45 minutes using less than four gallons of water. You can achieve a hot shower in less than five minutes by combining two-liters of cold water with one-liter of boiling water, or alternatively, use the built in heater (+0.8°F/minute) to heat your water.
At 7.9 pounds empty and 14.6 pounds full, the Geyser is among the most lightweight portable shower options available. The unit measures 9½" x 6¼" x 17", or 0.58ft³, and leaving more room in the back of a vehicle for other gear and supplies.
The Geyser runs off any 12-Volt source, like your rig's DC socket, a portable battery, or a generator using the included 20-foot SAE power cord. The pump operates at 2.5-3.1 amps. Heat mode operates at 9.8 amps. The flow control valve is fully adjustable (from 0.01 – 1.0 gallons per minute).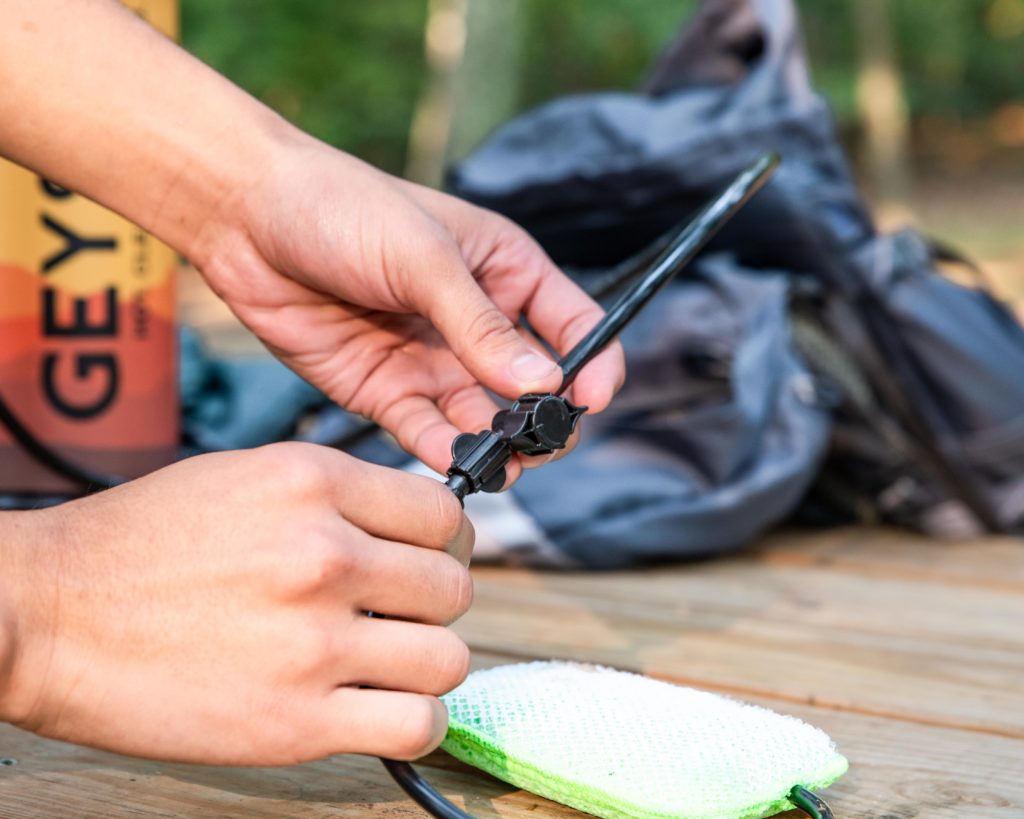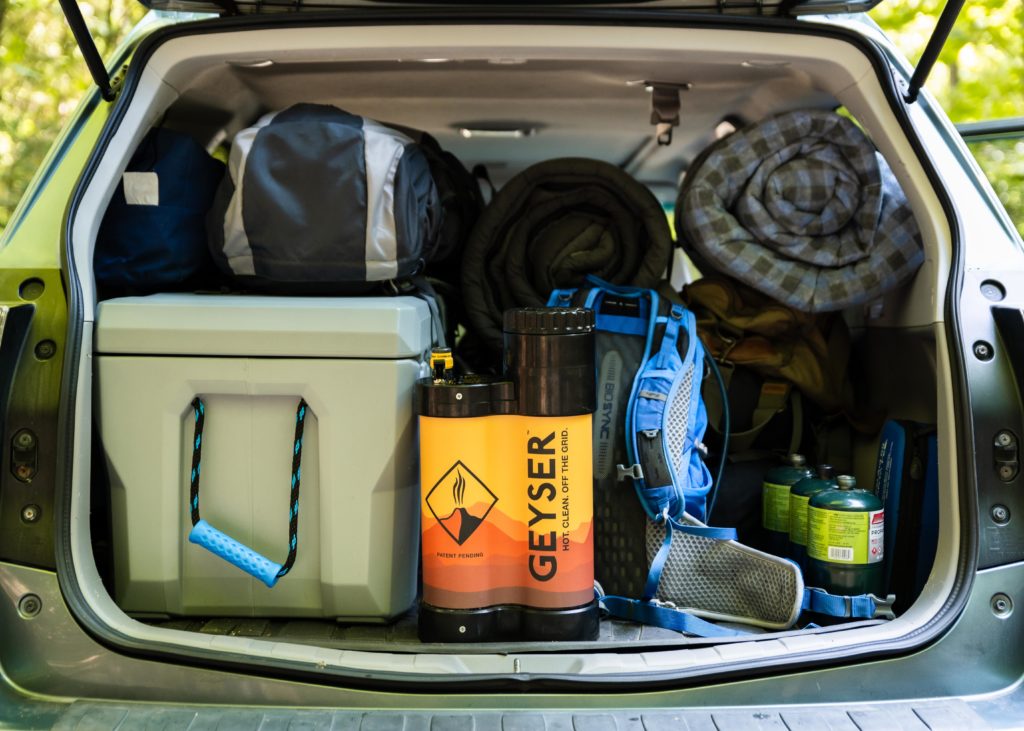 Detach the scrub to use as a spray nozzle for your gear. Geyser scrubs are tough on dirt, soft on skin, and are easily interchangeable for different users and applications.
The Geyser System allows for a compact, hot shower anywhere and makes the most of limited resources – water, electricity / fuel, and most importantly, time outside!
What to Know:
7.9 lbs. empty / 14.6 lbs. full
Add one-liter of boiling water to two-liters of cold water for an instant hot shower
Runs off of any 12v source
Pump Mode operates at 2.5-3.1-amps
Heat Mode (on Heater Model) operates at 9.8-amps
Scrubs can be swapped for multiple uses and include a reusable pouch
MSRP: $324.95