What's the best air compressor for overlanding? It depends on your tire size, budget, and how often you'll be adjusting your tires' pressure.
It might seem like a hassle if you're darting between the dirt and the highway multiple times in a trip, but airing down your tires is essential in overlanding. That's because airing down expands your tire's contact patch with the ground, giving it more traction. And traction is essential off road.
What's more, airing down can also make your off-road ride more comfortable, as going down from highway pressure (35 PSI and above) to trail pressure (25 PSI and below) lessens the energy transfer of impact trail imperfections into the vehicle. That's because, with lower air pressure, the tire's softer side walls will absorb more of the energy.
If you're going to air down, you then need to air back up once you hit the pavement. Driving at highway speeds with low tire pressure (below the manufacturer's recommended pressure) can cause damage to your tire's side walls, wearing them out prematurely. It can also be a driving hazard, as there is less control, especially during cornering.
So it's wise to air back up before turning back onto the highway. And if you're doing that, you'll need an onboard air compressor or air tank with enough compressed air inside of it to fully reinflate your tires.
Below are some of our favorite tire reinflating tools for overlanding.
Air Compressors
ARB — Twin Air Compressor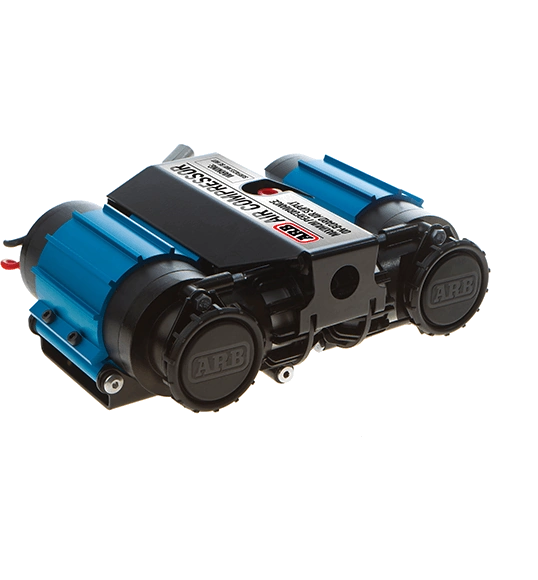 This compact vehicle mounted compressor has been designed to do everything! Activate your ARB Air Locking Differentials, air up a 35 inch tire in less than a minute and run air tools. This 100% duty cycle, 6.16 CFM compressor is built to support all of your compressed air needs. I have been using this air compressor in my rig for over ten years and the most I've ever done is blow a fuse. A real workhorse.
MSRP: $559.00
Ironman 4×4 America — AIR CHAMP PRO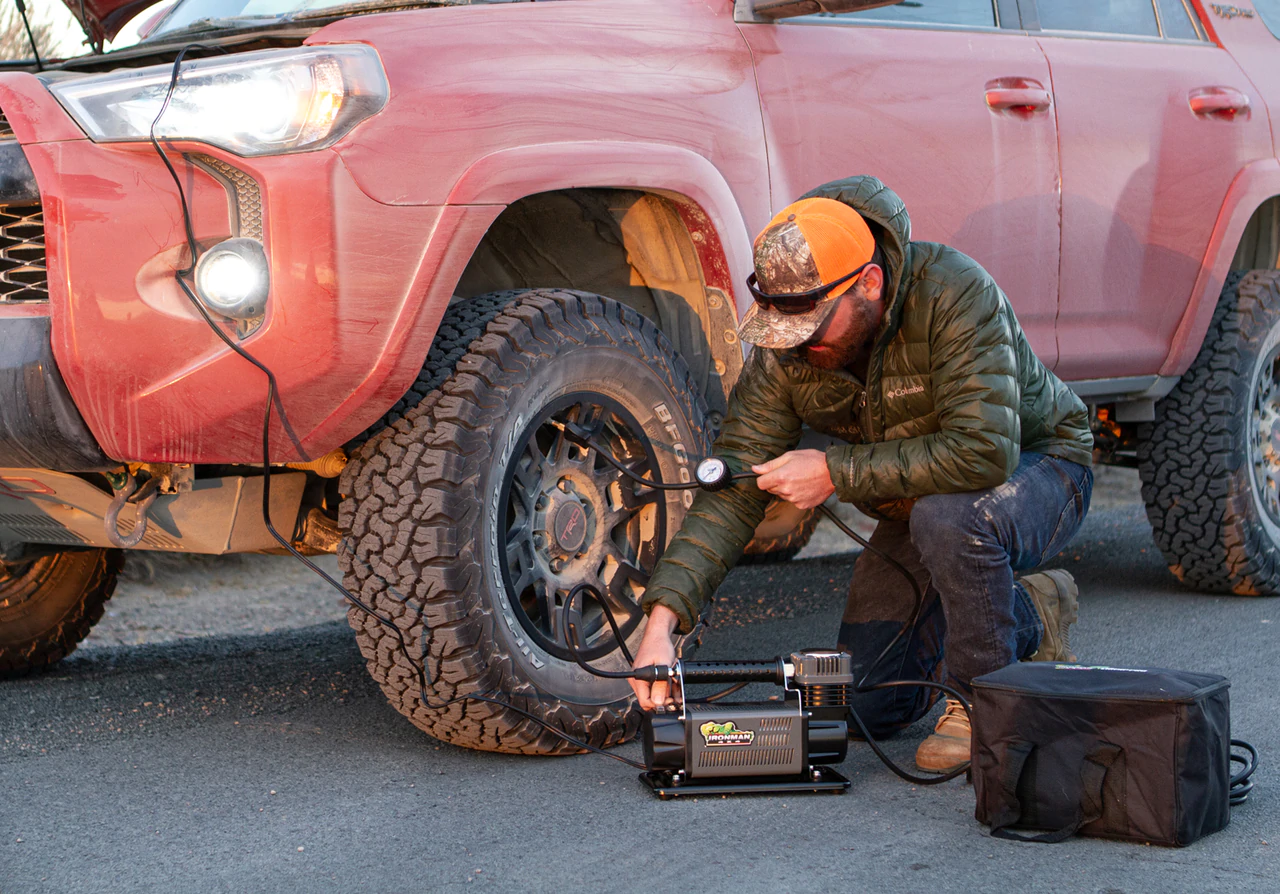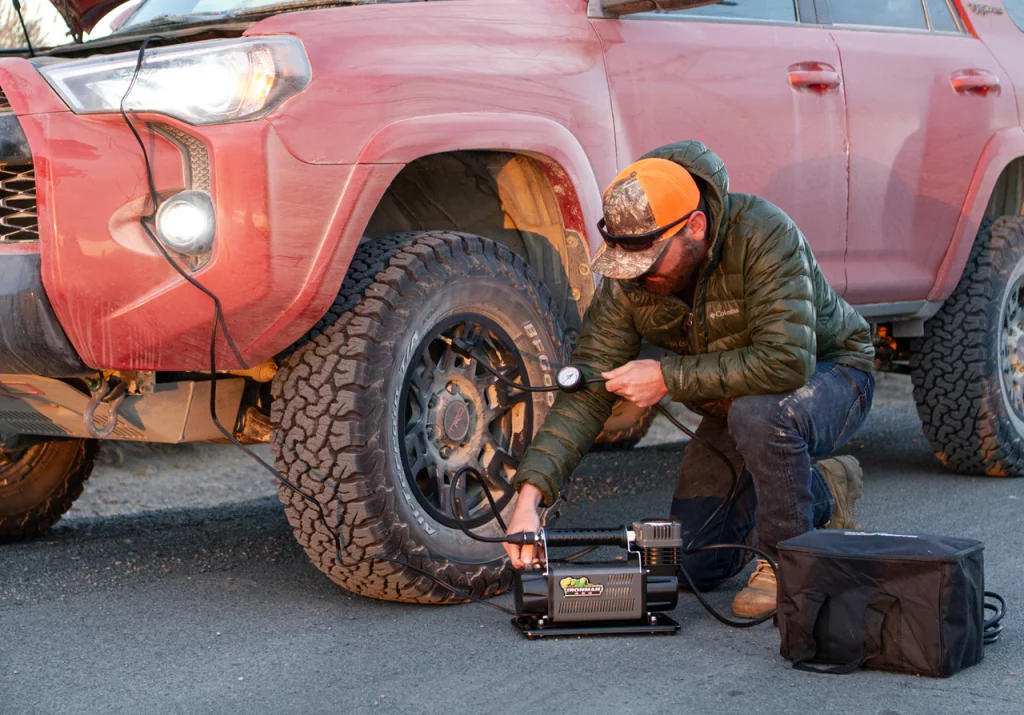 From our friends at NOMADICA comes the Air Champ Pro from Ironman 4×4 America. It is designed to withstand the harsh conditions of off-road travel, pumping out 5.65CFM (160L per minute) at a maximum 150 PSI. It is moisture and dust resistant and weighs just 19 pounds, so it's relatively lightweight. And the screw-in filter makes it easy to maintain and keep clean.
MSRP: $199.99
VIAIR — 450PA Automatic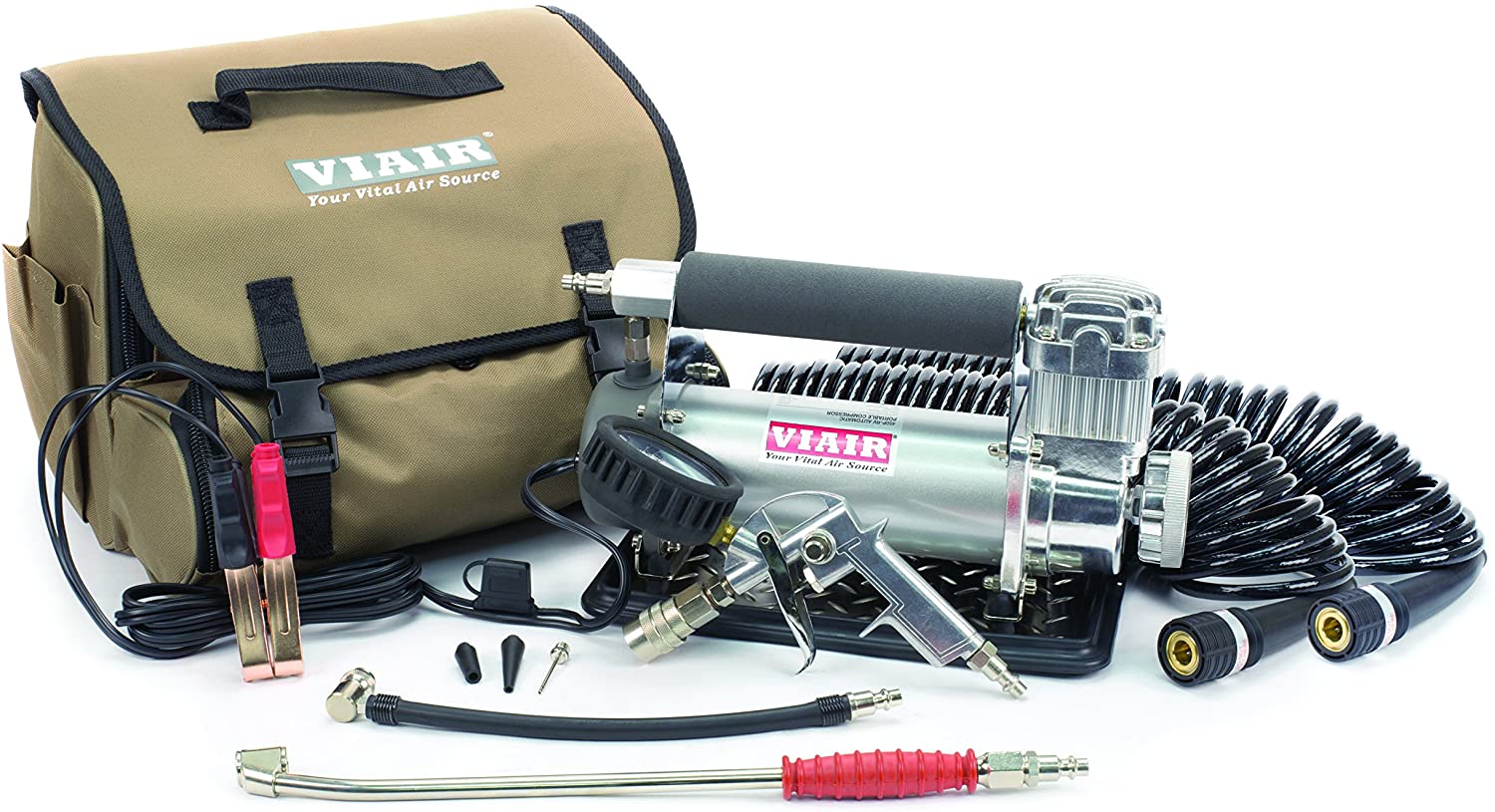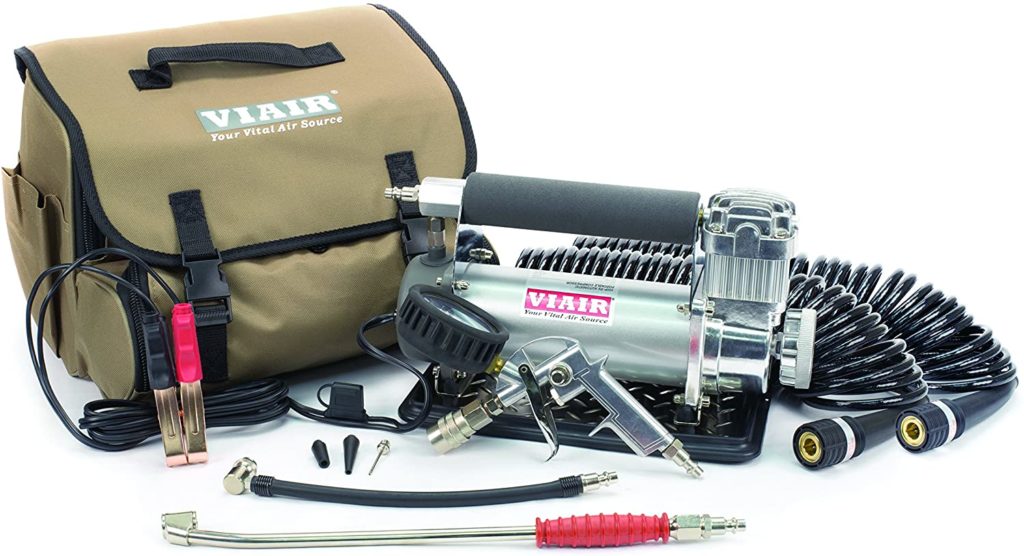 The VIAIR 450P-Automatic offers an automatic shut-off function in a larger powerful portable tire inflator. This 100% duty cycle unit is capable of pressures up to 150 PSI and can be operated for up to 40 minutes at a time before needing to be rested. The 450P-Automatic comes with a close-ended gas station-style air gun for added convenience.
MSRP: $386.00
Air Tanks
Power Tank — 15Lb Package B System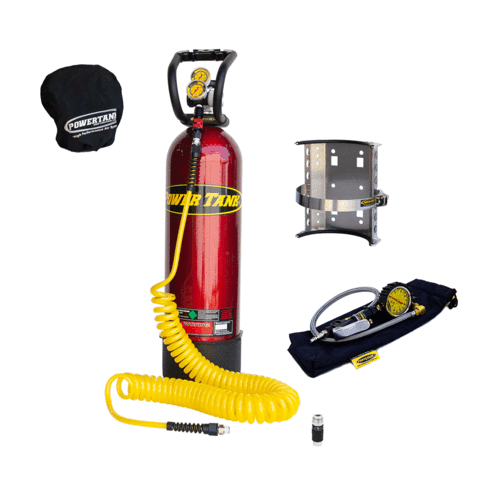 Power Tank comes in 10-lb. and 15-lb. capacities. The 15-lb. version is the one you want to go with for an overland rig. With a Power Tank you can air up tires, reseat tire beads safely, and run air tools at full power. As an example, the 15-lb. Power Tank can fill up to 42 37-inch tires before needing to refill your tank.
MSRP: $683.96
Tire deflators
If you're going to plan to inflate your tires, you should plan to smartly deflate your tires, too. So here are my two favorite tire deflators.
ARB — ARB E-Z Deflator Digital Gauge with Extended Stem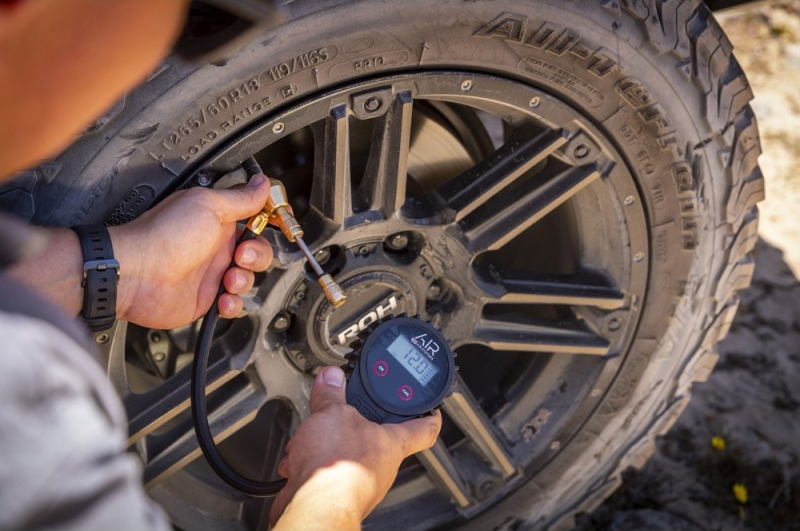 You've probably seen the orange ARB E-Z Deflator with the analogue gauge. I've owned and used several of those. I've grown to prefer the digital gauge version for ease of readability. ARB E-Z Deflator Digital Gauge makes tire deflation even easier thanks to accuracy of up to +/-1 PSI at 15-75 PSI, a large digital readout with a blue backlight display, and multiple pressure readouts, including PSI, BAR, KPA, and KgF.
MSRP: $79.00
Ironman 4×4 America — Air Champ Smart Deflator with Gauge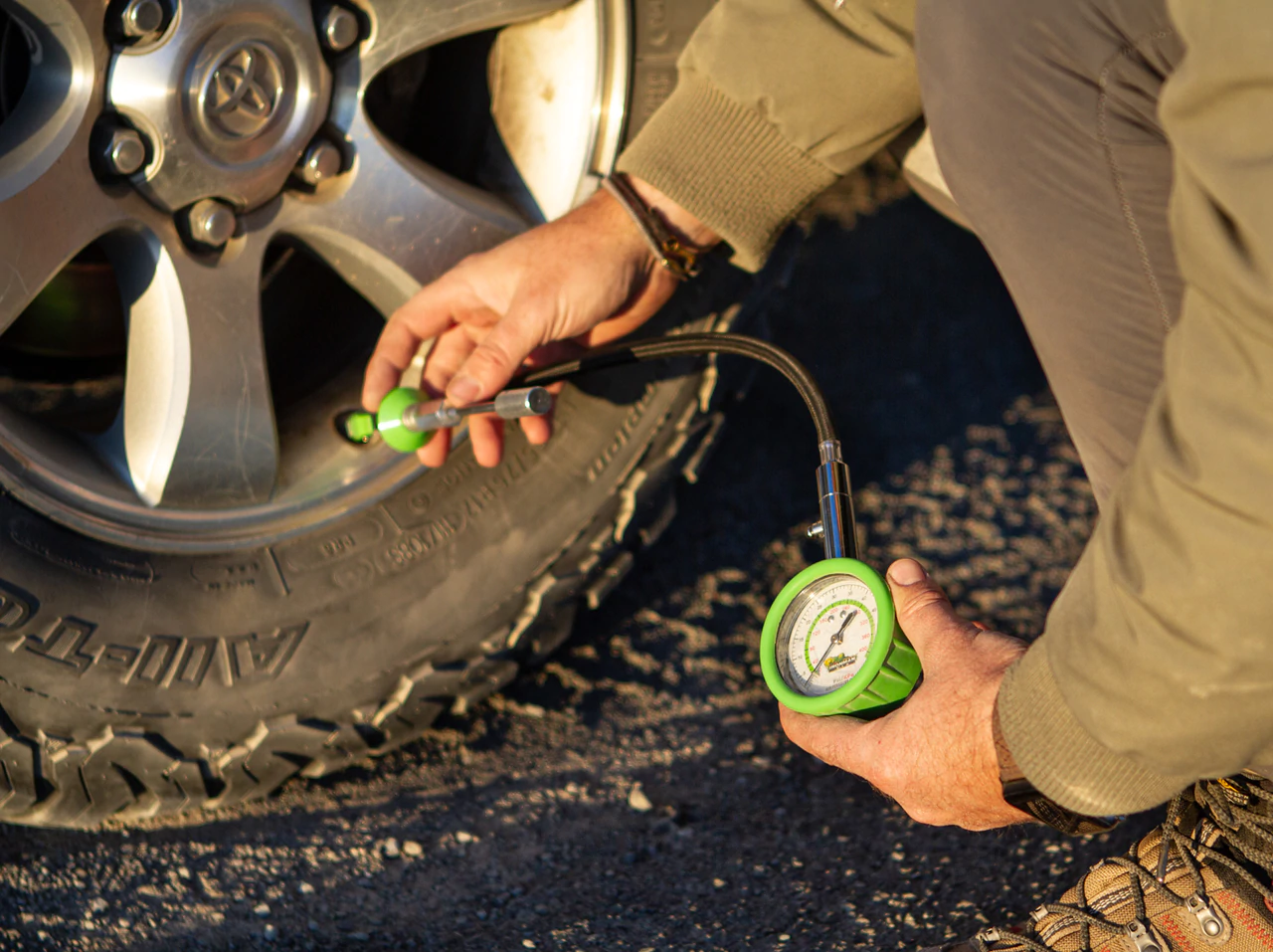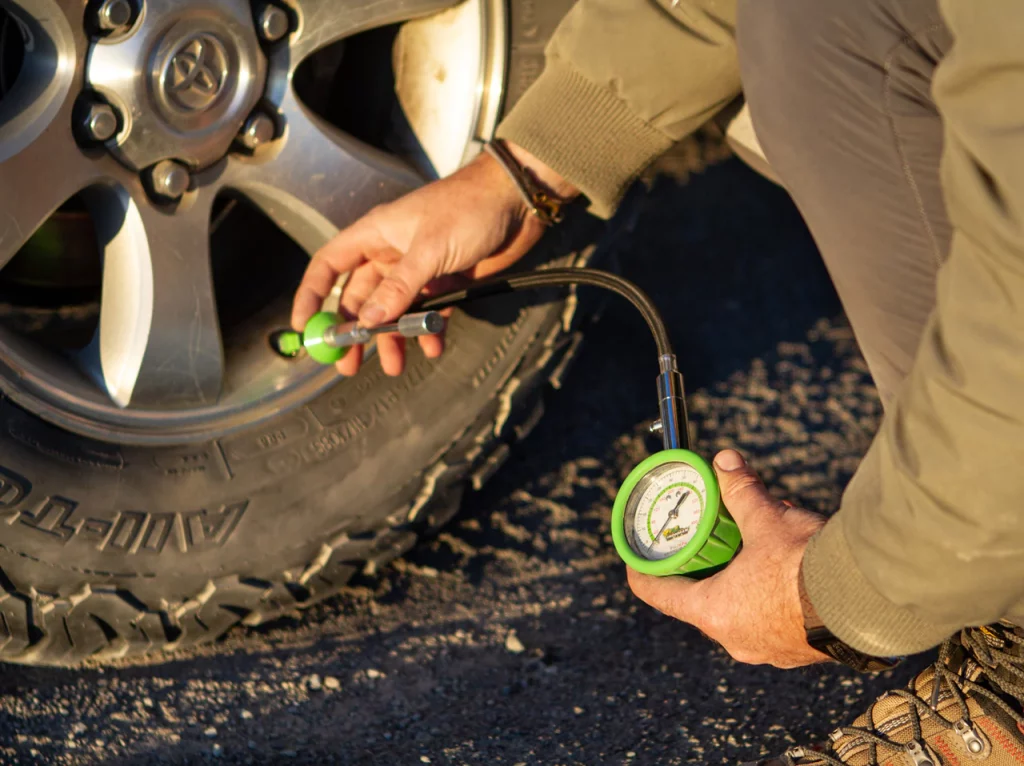 Although the ARB is incredibly accurate, screwing it on and off each tire valve stem takes extra time. I like the Ironman 4×4 Air Champ because it clips on in literally a second to the valve stem. The only issue with the Air Champ is that the knurled twister grip is just held in place on the piston with a tiny Allen key set screw that comes loose and can get lost easily. If you're willing to put up with that drawback, it's a great tool. Honestly, I keep both the ARB and the Ironman in my rig. The Air Champ displays 0-60 PSI and 0-410 KPA.
MSRP: $49.00
Final thoughts
Just a quick note, there are a lot of air compressors and air tanks on the market and you might find one that works better for you for a lower price, but the three that I included above are solutions I've actually used and the only ones I feel comfortable recommending to you.
My best advice is whatever you end up choosing, just make sure it is a quality system. Spending a little money upfront is often better than making the same purchase multiple times. That or suffering a compressor malfunction, leaving you without any way to reinflate your tires. Believe me, you don't want to end up in that situation.