At the end of the day, where you rest and relax can make or break the remainder of your journey. We appreciate tents and awnings that are durable, secure, and easy to use because the last thing you want after a long day on the trail is to take forever to get camp set up. Here are some of our favorite tents, awnings, and the racks that hold them.
23 Zero – Walkabout Roof Top Tent
23 Zero's Walkabout™ RTT's are uniquely designed for extended adventures and years of comfort. The fabric is a 280GSM Ripstop Polycotton Canvas and includes their revolutionary LST® technology blocking over 90% of sunlight and reducing internal temps by 20%. No longer do you have to be jolted awake, sweating, and squinting from the sun hitting your tent hours before you're ready to wake up. The LST fabric keeps the inside of the tent pitch black, even on the brightest mornings or hottest afternoons, and reduces the summer temperature inside the tent.
The Walkabout™ series are easy to mount to most vehicles with the appropriate roof rack and takes only minutes to set up and pack down while camping. The RTT is constructed with an alloy frame and all-metal moving parts, reducing weight without sacrificing strength and durability. The tent base has a tig welded internal aluminum frame with insulating foam inserted between each rib and bonded to the outer aluminum layers with non-petro chemical glues.
The extension over the telescoping ladder keeps you covered when entering and exiting the tent while still leaving room for the optional annex. The extension hoop is attached to the tent and utilizes a lever lock to adjust and attach to the snow pole to keep tension with minimal pooling, even in heavy rain.
Most importantly, the attention to detail is what really makes a difference! With features such as reinforced stitching or "bar tacks" at key points such as the fly attachment points and the double layer window toggles. The attachments that go into the seam joints are the same waterproof material as the tent body keeping the tent fully waterproof and eliminating any water ingress points
We love that the tents are available in 56, 62, 72, and 87-inch models so you're sure to find a size that works for your rig. Regardless of which model you pick the Skyview panels are included, so you can view the cosmos by unclipping the rain fly and staring through the sky view windows before drifting off to sleep. The 3-inch thick Sleep Comfort Rebound Mattress features a cotton top and waterproof base to provide maximum sleeping comfort and eliminates the need for a condensation mat, providing you with an incredibly comfortable sleep wherever your travels take you.
MSRP: from $1,899.00
Force Protector – Sweet Spot Vehicle Kit
This vehicle kit gives you everything you need to make what Force Protector calls the "SweetSpot" giving you just enough; overhead and one wind/shade/rain wall. It utilizes their Adapter Shade Panel (EXP), one Field Blanket to make the shade/wind/rain wall on any of the three sides, and the supporting items like poles, straps, and stakes all in one kit.
The Sweet Spot is intended as the basic building block for making scalable shelter. Its tapered trapezoid shape attaches quickly to narrower off-road vehicles, Sprinter-type vans, or side-by-side roll cages, providing short-term thermal protection from the elements. The Adapter Shade Panel is designed to be a modular system's starting point. Alone it provides quick shade and protection under its 6 x 10-foot footprint. Attaching a single Field Blanket (Which makes up the SweetSpot Kit) to either the sides or end gives you wind/shade/rain protection or keeps the afternoon sun off you as it descends. With standard ThermaShield snap spacing, you can attach additional Field Blankets in minutes, adding 60 square feet of protection each time.
The uses are only limited to your imagination. The Sweet Spot provides shelter both on or off your vehicle, keeps track of parts during repairs, protects yourself when lying under your rig in the hot sand, or maybe just snuggling up by the campfire. Like all ThermaShield products, the ASP provides many functions while giving you protection when needed.
We love that the Sweet Spot Kit provides an area with temperatures 20-40 degrees cooler, and you can add as many Thermashield blankets as you'd like to expand your camp set up. With padded corners and Hypalon-backed anchor rings, you can don't have to worry about paint damage on your vehicle. The anchor rings stay centered on the pole tips and provide a 270-degree stable arc to pull from. We also like the available SmartClip Adapters that allow you to lock in paracord when you need extra secure guy lines.
MSRP: $667.94
---
Kinsmen Hardware – 270° AWNING
The 270-degree from Kinsmen Hardware is designed, sourced, and built-in the USA. It literally only has one part that isn't sourced in the US, the spring pin, which comes from Italy. Kinsmen Hardware is a family-run business. Matthew Simmons designed their initial prototypes, he then built the frame, and his wife, Stephanie, sewed the material for the first awning. From there, they extensively tested their prototype before expanding their production.
With a deployment time of 25 seconds and an equally impressive storage time of 50 seconds, you can be sure that set-up and break-down are smooth and efficient. The Kinsmen Hardware awning is truly freestanding, with no poles included or required in conditions with wind gusts up to 55 miles per hour. Yes, they've tested it without poles in 55 mph winds. If you prefer poles, the awning accepts most aftermarket options.
The awning is constructed from Sunbrella® marine fabric that's built for 24/7 use on buildings and boats. The frame features powder-coated steel trusses, stainless and brass hardware with poly bushings in the main hinge, an industrial stainless spring pin for auto-locking open, and three pop-up arms for optimal water-shedding, minimal pooling, and no ponding. While on the trail, it's protected by a vinyl-coated polyester cover that features a flexible YKK zipper.
We love that the price includes mounting brackets and hardware specific to the application. Also, you can beat the deployment and storage times with a similar awning. The perimeter edge features both snaps and hook and loop trim so that you can add walls, enclosures, or lights. In addition, the awning includes a warranty for three years, and the frame is warrantied for five years.
MSRP: $2150.00
Loss Prevention Fasteners – T-Groove® Security Nuts
Unfortunately, it's become all too frequent to see a post on social media asking local overlanders to keep an eye out for a recently stolen rooftop tent or other accessories. With some common tools, a thief can strip expensive equipment off of your rig in a matter of minutes while it's unattended.
Loss Prevention Fasteners T-Groove® security nuts offer overland enthusiasts superb, top-notch security and peace of mind. Prevent theft, interference, and unauthorized removal of valuable automotive accessories. The T-Groove® nuts are made of weatherproof 316-grade stainless steel and are easy to install with the multi-use install socket. This specialty socket fits a standard ratchet and you can use an open-ended wrench so you can still install the hardware in hard-to-reach areas such as a roof rack.
The Loss Prevention Fasteners T-Groove security nuts are available in a variety of standard and metric sizes. In addition, you can purchase the T-Groove® nuts in pre-packaged kits or bulk quantities. Loss Prevention Fasteners also offers their hardware with custom branding for companies that are looking to add that extra bit of security to their products.
We love that such a simple and easy addition to our rigs can secure our rooftop tents, awnings, and other valuable accessories. The T-Groove® are available in 10-24 inch to ¾-10 inch diameter and M6 to M20 diameter. This variety of sizes available means that there's no reason to leave gear unprotected. By taking just a few minutes to install the T-Groove® security nuts, you can have peace of mind when your rig is unattended.
MSRP: Please call for pricing.
OFFGRID Outdoor Gear – Voyager Roof Top Tent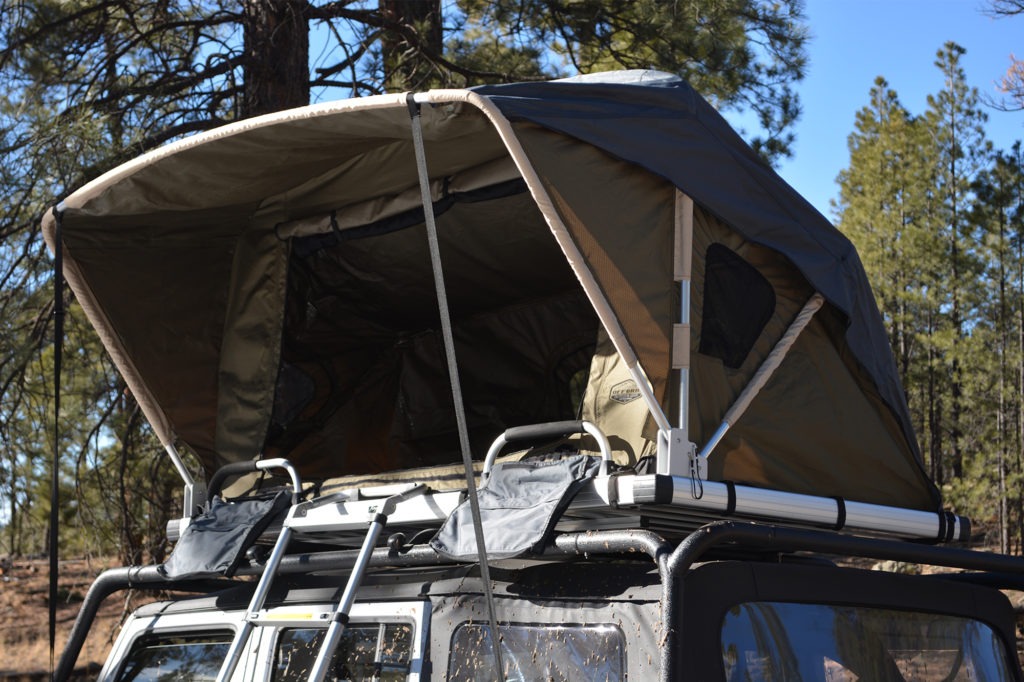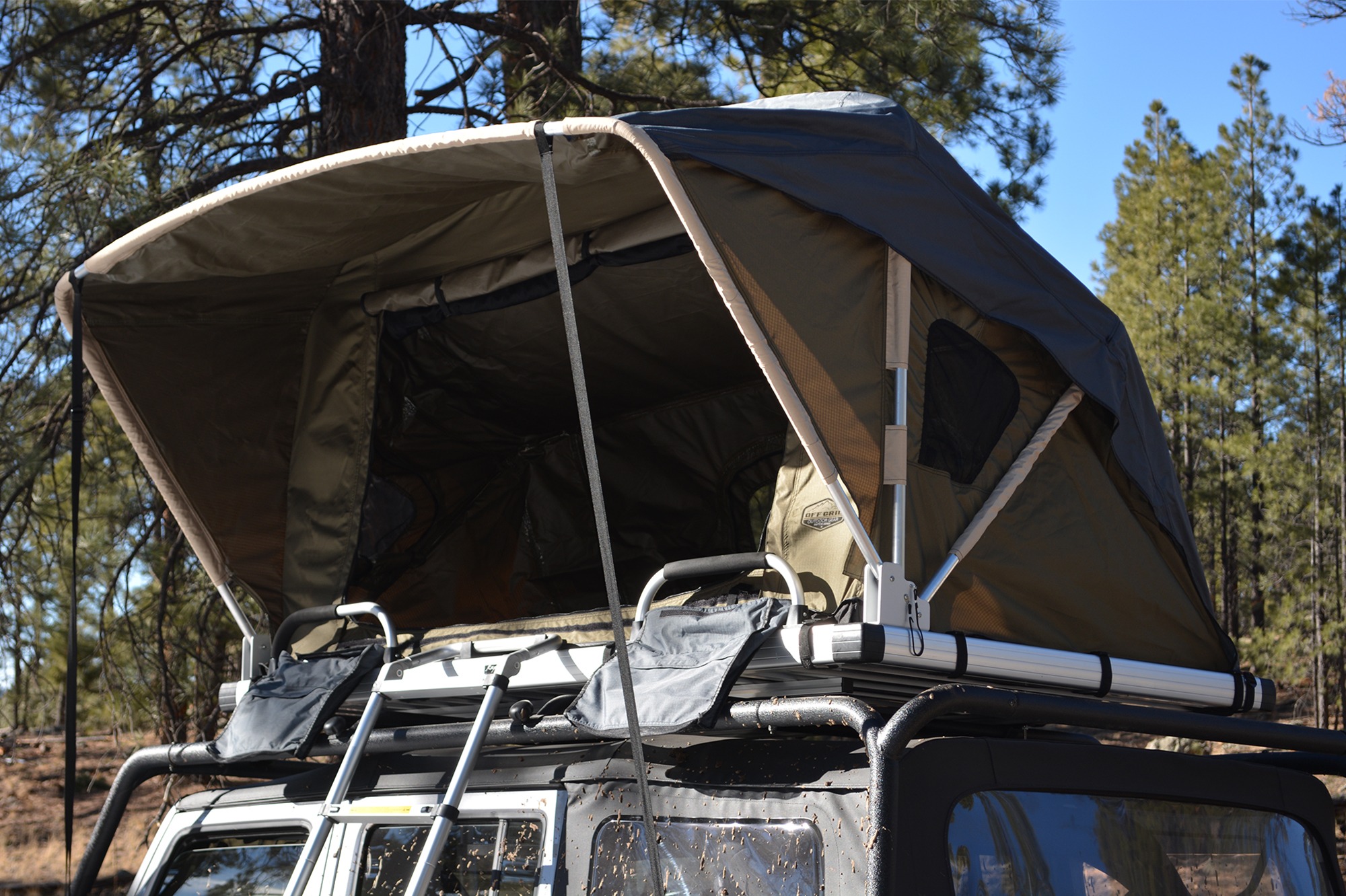 OFFGRID Voyager roof top tents are the perfect camping solution for Jeep, 4Runner, truck, and other SUV owners! These tents easily attach to any overhead roof rack with crossbars and include a 3-inch thick high-density foam mattress with a removable cover, waterproof rainfly, and a mosquito screen. The Voyager sets up in seconds and the unique design minimizes the steps needed to fully deploy the tent.
At only 160 pounds, it is the lightest manual rooftop tent in its class, and it's rated for a 750-pound max load. The Voyager still features an 84 x 54-inch and 3-inch thick high-density foam mattress with a removable cover. It sets up and closes in seconds. The aluminum telescoping ladder extends up to 8 feet and closes compactly to store easily. Two hanging shoe and storage pockets roll up and store with ease.
The tent's interior features a large living area, built-in pockets, and plenty of space to hang your gear. Its door rolls from the top down, allowing air to flow in and protecting you from the elements. The built-in awning creates a natural panoramic view so that you can enjoy all of your favorite camping spots from the comfort of your tent.
MSRP: $1,145.99
OFFGRID – Rooftop Awning
The OFFGRID Rooftop Awning is an invaluable addition to your camping setup. This awning is designed to shelter you from the sun and rain, as well as offering you a shady place to read or relax in a hammock. Since it's self-standing, it easily attaches to the side of most roof racks, baskets, cages, or crossbars. In addition, the awning features height-adjustable telescopic legs, velcro ties to secure the roof, thick reinforced aluminum extrusions, and it stores away conveniently in a heavy-duty nylon PVC zippered pouch for quick setup upon arrival to your destination. With a setup time of less than 1 minute, the OFFGRID Rooftop Awning proves to be a must-have for any camping excursion!
The 300 GSM PU Coated Polyester fabric means it's tough enough to stand up to backcountry use. It's also completely waterproof and provides UVP 50+ protection. The guy lines and stakes are included to secure the legs in adverse conditions.
We love that the self-standing awning takes less than a minute to set up. The one-year warranty is a great addition to an excellent product. When you're looking for some shade, or sometimes a place to get out of the rain, a vehicle-mounted option is the best way to beat the elements on the trail.
MSRP: $230.99
Rhino Rack – Batwing Awning
The all-new Rhino-Rack Batwing Awning offers 270 degrees of shade, covering 118 square feet, and the setup takes less than a minute. It's made from a ripstop material that is water and mold-resistant. The Batwing is loaded with unique features that set it apart from other awnings on the market. The awning arms lock via rare earth magnets. The awning legs fold out from the arms for easy access, and they can be packed away fully extended or at pre-set lengths.
The peg and guy line storage pocket is mounted to the awning to ensure they aren't misplaced or left behind. The bag itself is sewn to allow extra space for packing the awning. This helps you avoid struggling to close the storage bag and risking catching the material in the zipper.
We love that the Rhino-Rack has continued to improve on their award-winning Batwing design. The fact that it comes in both left and right-handed varieties means that we can set up our rigs in the exact configuration of our choosing. In addition, the Batwing fits all Rhino-Rack and Thule roof racks so there are plenty of options for those looking to incorporate this awning into their build.
MSRP: $749.00