Some overlanders are happy with a sandwich, some instant ramen, or a dehydrated meal when they're out on the trail, but when I have some time at camp, I enjoy open fire cooking outdoors. There's something special – even alchemical – about preparing your ingredients and cooking them in a dutch oven, a cast-iron pan, a potjie, or on a grill over an open flame. It is relaxing to sit back and tend to your meal while experiencing the outdoors.
Cooking over an open fire is not a new technique by any means. Our ancestors in the Paleolithic era threw hunks of meat onto open flame up to two million years before contemporary humans learned how to grill a perfect steak, but whether you call it barbecue, grilling, braai, yakitori, barbie, tandoor, barbacoa, or char siu, the technique is the same. Placing meat or veggies over direct flame to sear them creates a Maillard Reaction, a chemical reaction between amino acids and reducing sugars that gives fire-cooked food its distinctive flavor.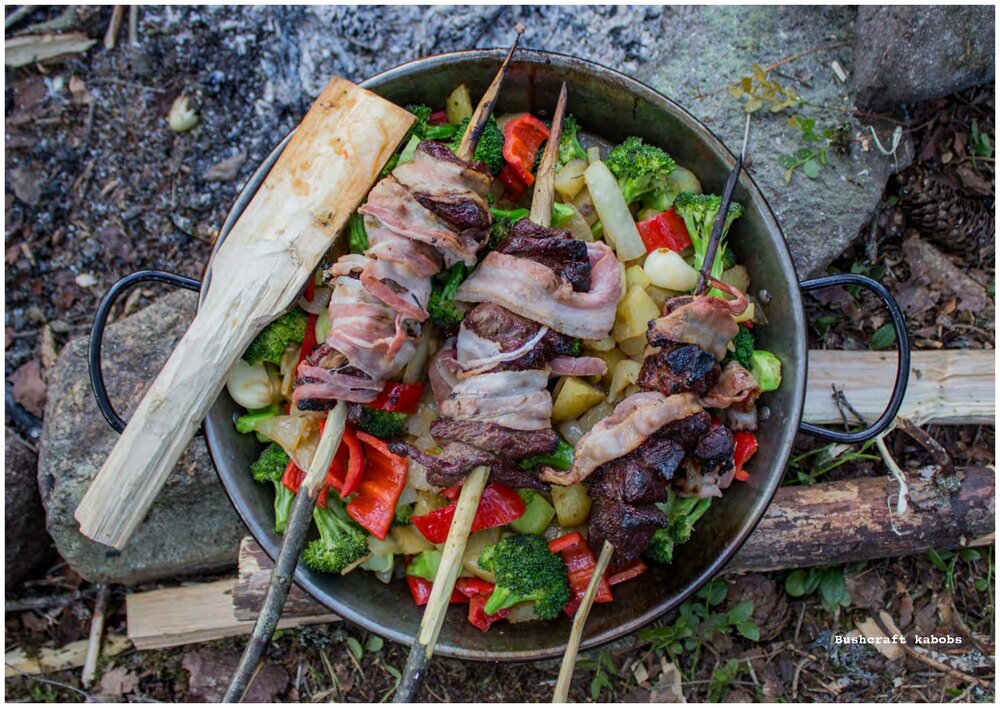 Since life began on the African continent, I thought I'd focus on two open-fire cooking techniques that originated in South Africa — potjie (pronounced poi-key) and braai.
Open Fire Cooking: Braai and Potjie
While a braai can be a verb and a noun, there is one thing it absolutely isn't – cooking with gas. Braai is intended to be cooked on an open fire, in fact, South Africans don't consider anything cooked over gas as a braai. In a braai, the fire remains lit after the food is cooked and becomes a gathering place where people can talk, and drink, get warm, and drink, and imbibe in their favorite adult beverages, also known as drinking. Or, as we call it, a perfect end to a great day in the backcountry.
On the other hand, Potjie (or potjiekos) is translated as "small-pot food" and refers to a cast-iron cauldron, also known as a dutch oven, that is meant to be cooked over an open fire of wood or charcoal. Potjie was brought to South Africa by the Dutch Voortrekkers, and this method of cooking is perfect for hearty stews, breads, potatoes, or anything you want to cook. If you don't have the first clue about how to cook in a potjie, there are tons of books available online to get you started – hit up your favorite online retailer, or better yet – go to a bookstore and order directly from the publisher.
True to their roots, South Africa-based Front Runner Outfitters has some great products to help you cook over open flames while you're out in the backcountry while saving precious cargo space in your vehicle in the process. Here are a couple of my favorites:
Potjie Pot / Dutch Oven & Carrier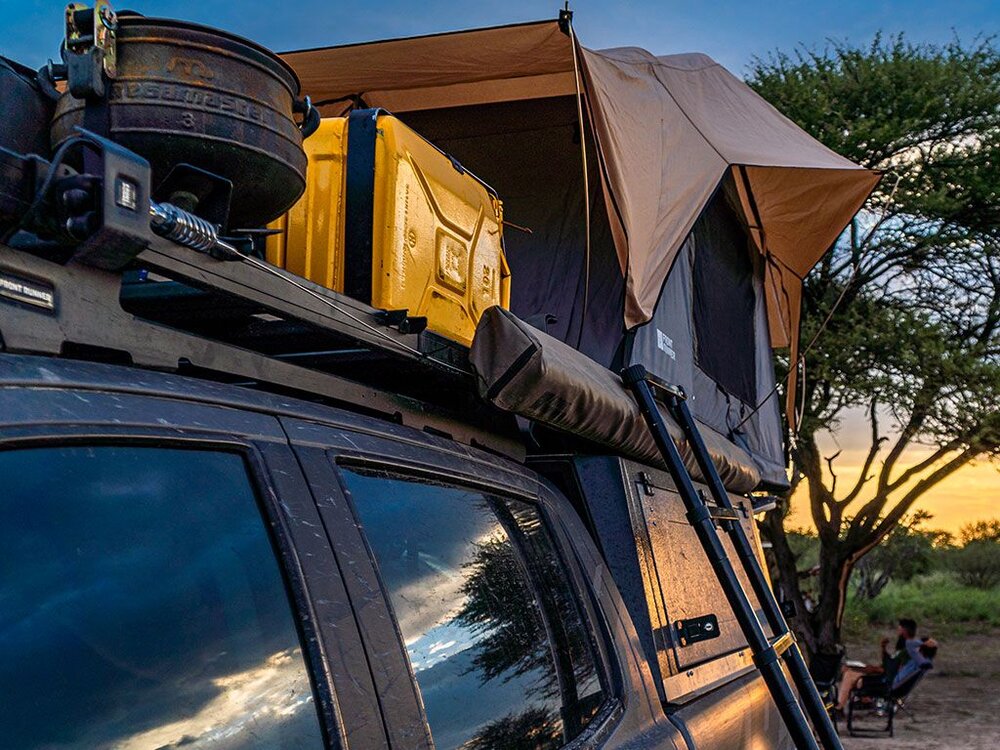 There's no better place to keep potentially hot, grimy, dirty, and cumbersome camp kitchen supplies than up and out of the way, outside the vehicle. Knowing that the Front Runner Potjie Pot Carrier offers a sensible way to travel with a potjie pot. The 2.1-gallon, cast-iron potjie pot is secured in the bracket by the three legs. The supplied ratchet strap threads through the lid of the pot and fixed points on the bracket. The entire system affixes to any platform rack with ease.
MSRP: $250.00
Front Runner Spare Tire Mount Braai / BBQ Grate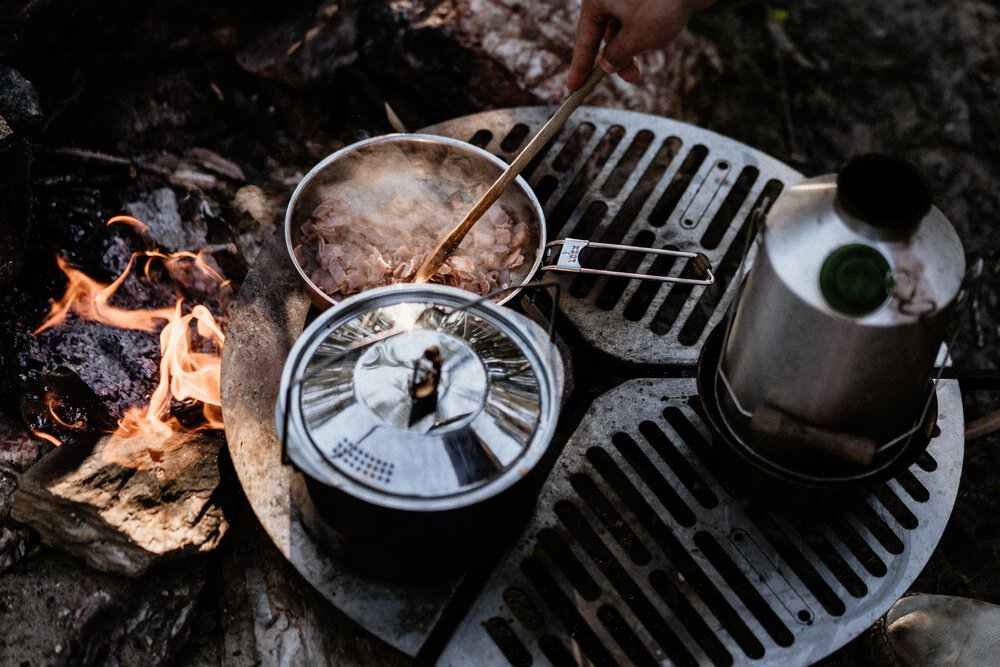 This ingenious stainless steel cooking grate stores over your spare wheel (fits 29" to 35" tires) and takes up virtually zero space. The grate features both grill and griddle sections which are useful for all types of cooking. This grill is designed to be used over hot coals and not over a roaring fire.
MSRP: $234.00
Originally based out of Stockholm, Sweden, camp cooking brand Primus also has some great products to help you get the most out of your open-fire cooking. Here are a few that I think are perfect for the overlander as they fold flat and take up very little space when not in use:
Primus Aeril Stove – Large
The Primus Aeril Stove is a grill for the campfire for wherever you roam. It folds flat for compact packing in cars, and the stainless steel construction keeps it sturdy for seasons of cooking camp meals traditionally. The grill grate adjusts its height closer or farther from the fire for customized control.
MSRP: $129.95
Primus Kamoto OpenFire Pit – Large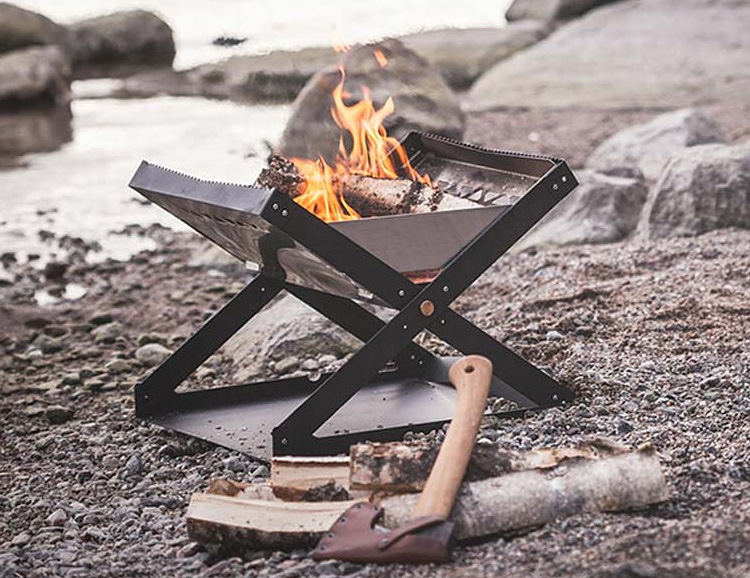 Being a good steward of our public lands means leaving no trace. The Primus Kamoto OpenFire Pit raises your fire off the ground so you can enjoy a fire without damaging the earth around your campsite. This fire pit folds flat for easy storage and includes a grilling grate for cooking up your favorite delectables.
MSRP: $179.95
Primus Skewers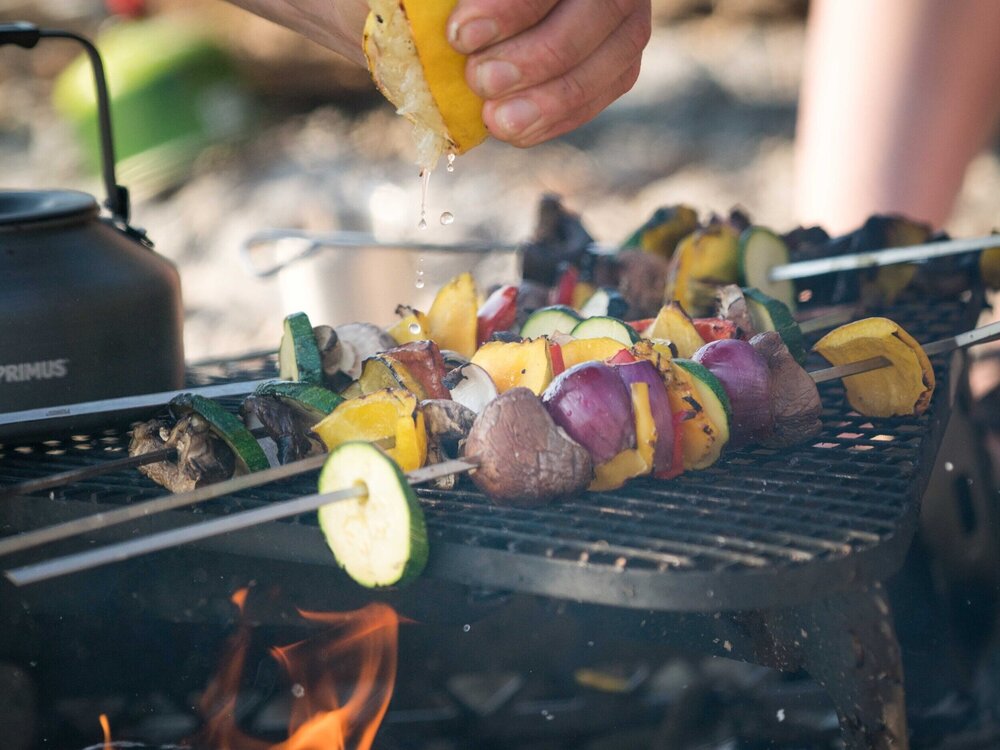 Kebabs are so simple for a quick camp dinner and a great way to use up veggies and meat from the fridge! These skewers are great for easy cooking over an open fire. The sharp tip makes it easy to stick your favorite foods on the skewer, and the flat shape ensures the food will stay on and turn when you are ready to turn it. Since they're flat, it is easy to find a home for them in your rig. 
MSRP: $19.95
Oh, and one more thing. Here's a link to Primus' Culinary Heights Cookbook to help you elevate your open fire camp meals: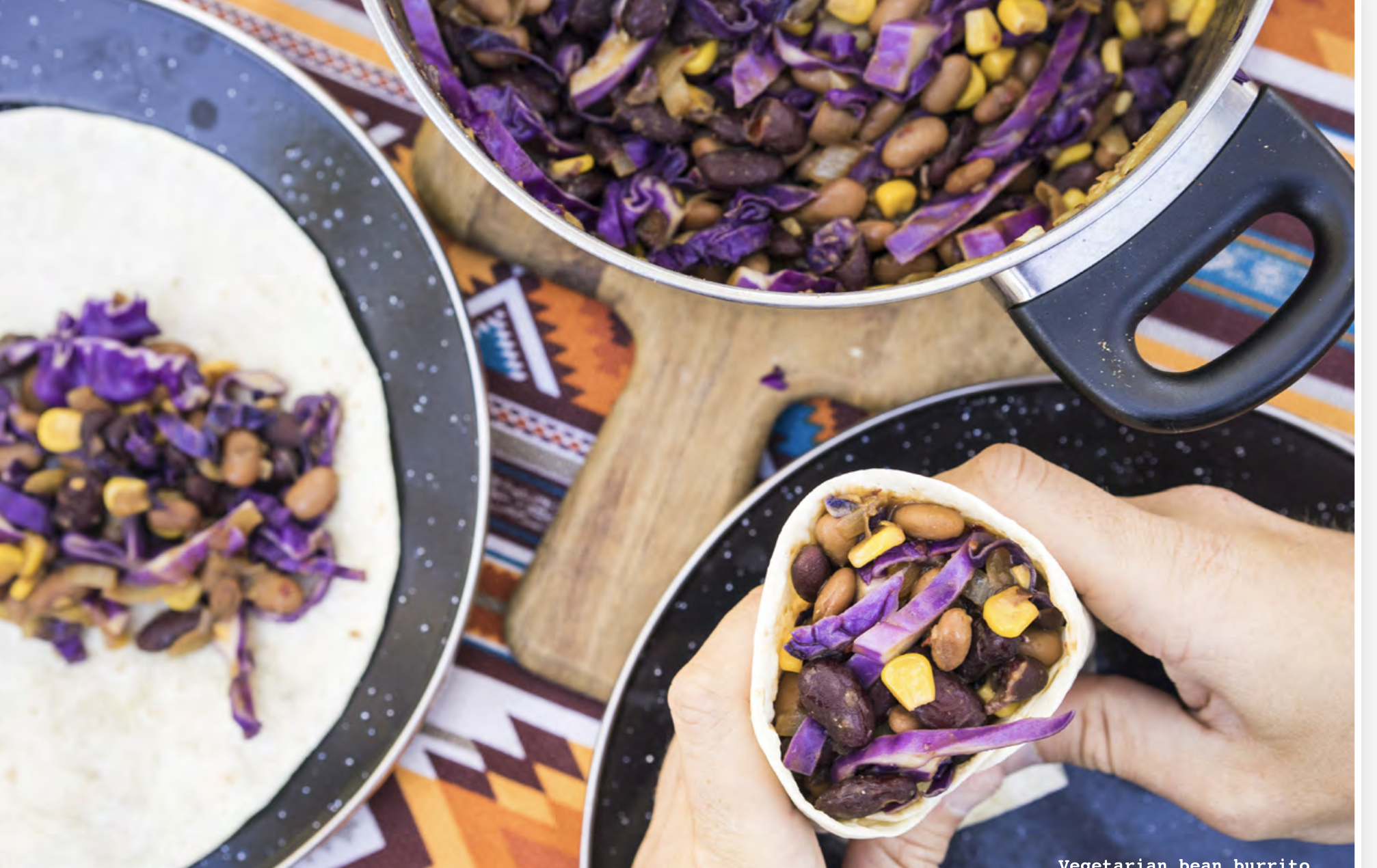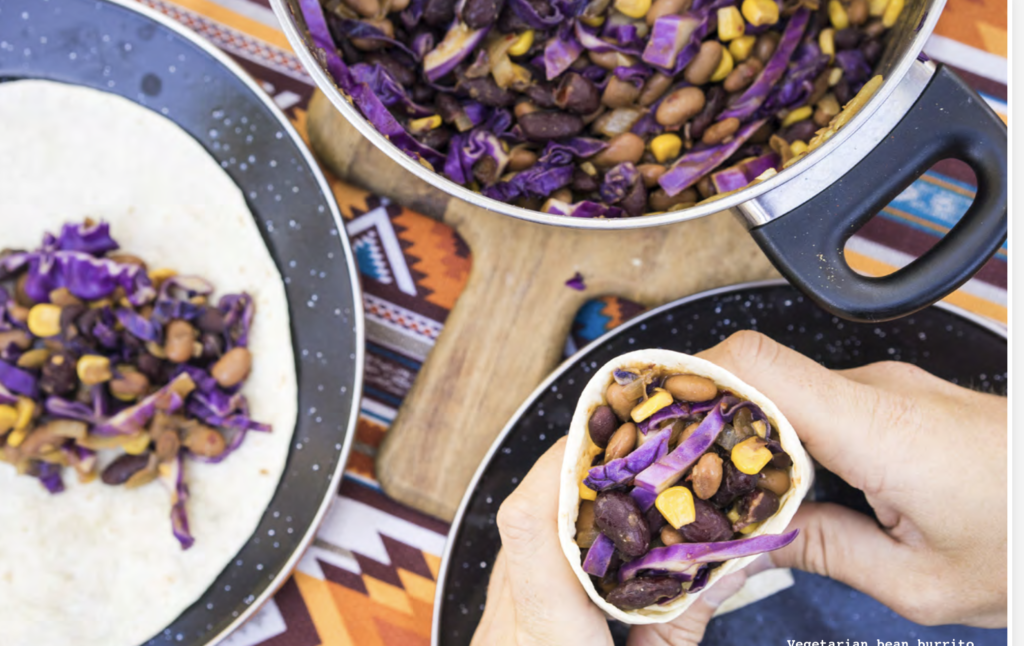 I hope you enjoy some open-fire cooking when you're out on the trails next!