By: David Hilgendorf
For this How-to, David Hilgendorf rode Overland Expo's 2021 Ultimate Overland Motorcycle, Honda Africa Twin DCT. The Africa Twin will be a part of other storytelling throughout the year. Follow the Africa Twin's adventures on its official landing page.
So, you've succumbed to calls of overland adventure and purchasing a shiny new dual-sport motorcycle. If you're anything like me, your eyes readily glaze over with visions of summiting mountains and crossing deserts on your new, shiny steed.
Before you set out into the wilderness on said new moto, it's important to know how to do it, as well as what to pack.
I'll use my recent seven-day trip from Denver, Colorado to Flagstaff, Arizona on Overland Expo's Ultimate Overland Motorcycle as an example of how to get outfitted and get going on your own adventure-moto journeys.
Gather knowledge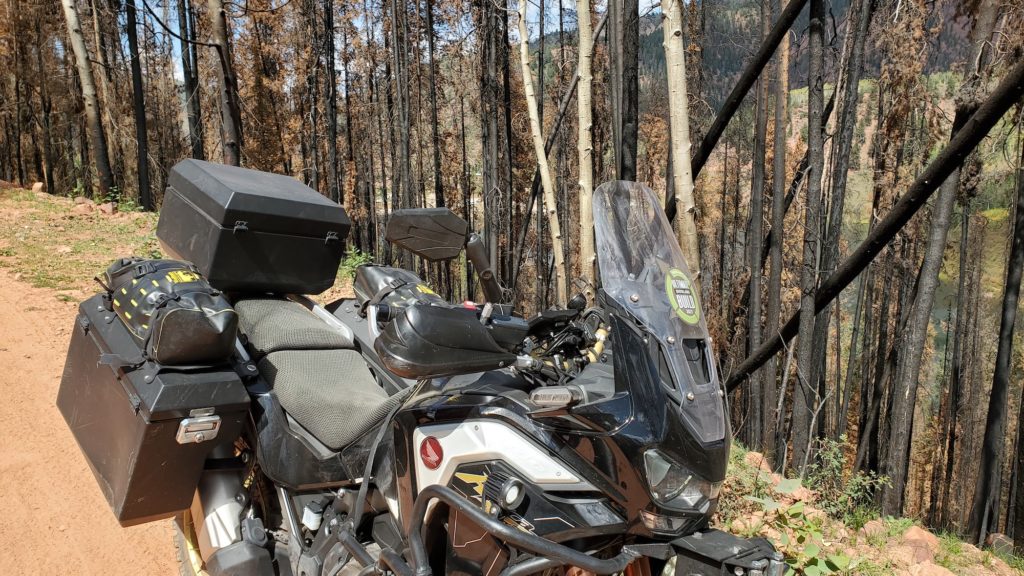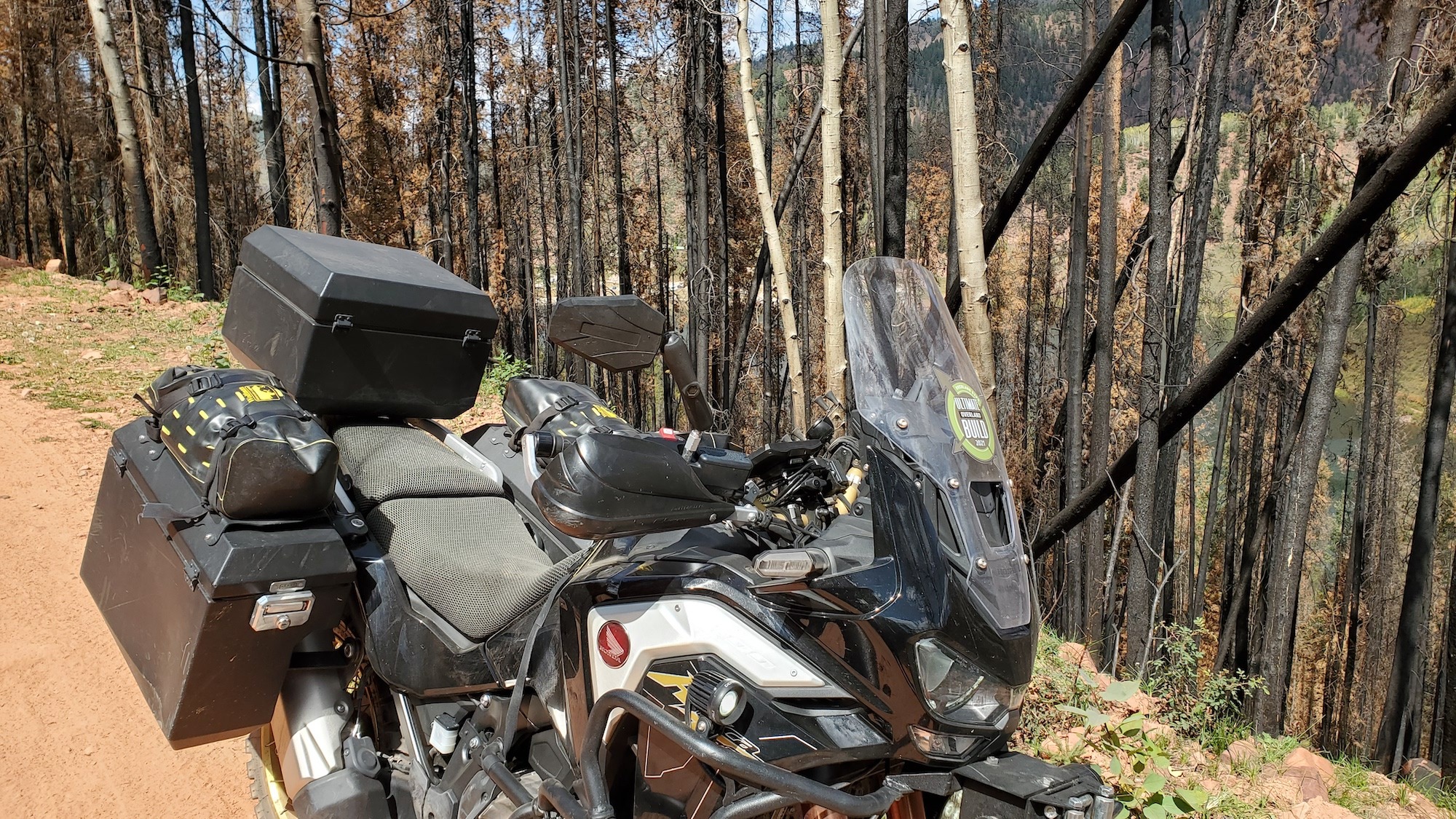 It wouldn't be wise to attempt to fly an airplane or sail an ocean without some prior training and practice. The same goes for off-road motorcycling. Riders raised in the dirt have a distinct advantage; if you know how to ride whoops on a dirt bike, adventure moto won't be too difficult to master. However, those migrating from the street should start slowly and work on improving their skills gradually.
Dirt riders often understand that weight is a detriment to off-road mobility. Unfortunately, most adventure bikes weigh more than 500 pounds, and fully loaded with fuel, gear and rider, can push half a ton. If you've never ridden that much weight through sand or mud on two wheels, you certainly don't want to make your first attempt alone in the heat of the desert or at high mountain elevations. Picking a heavy motorcycle up without solid footing is an entirely different proposition and one that could make an Olympic weightlifter curse.
Fortunately, there are plenty of educators who teach skills to ride motorcycles better off road, no matter what size your steed. We are big fans of Bill Dragoo's DART training, offered at every Overland Expo. Get trained, then practice the skills learned, before you embark.
Likewise, it pays to understand the terrain you plan to ride. Riding through the Rocky Mountains is entirely different than a trip through Baja Mexico. Taking high-clearance 4×4 trails is a much tougher proposition than cruising graded logging roads. Do some route research by reading forums, or speaking with other adventurers who have ridden the roads recently. Contact the local land management agency for recommendations and road condition information. Better yet, find a local guide who is familiar with the area.
As a backup to planning and common sense, bring a road atlas or other paper maps of the area you are riding. Make sure to download offline maps to your phone, if you plan to use its built-in GPS. We chose to invest in the Garmin zūmo XT, with its ultra-bright 5.5-inch, glove-friendly, and rain-resistant display.
It can be a challenge to get complex off-road maps and waypoints into and out of Garmin devices. However, once configured, they are very reliable at keeping you on track. When paired with a Garmin inReach Mini satellite communicator and a data subscription, you can send text messages or emergency calls from almost anywhere via satellite, and even post your progress via GPS tracking in real time online. And you thought you were getting away from it all!
Kit it out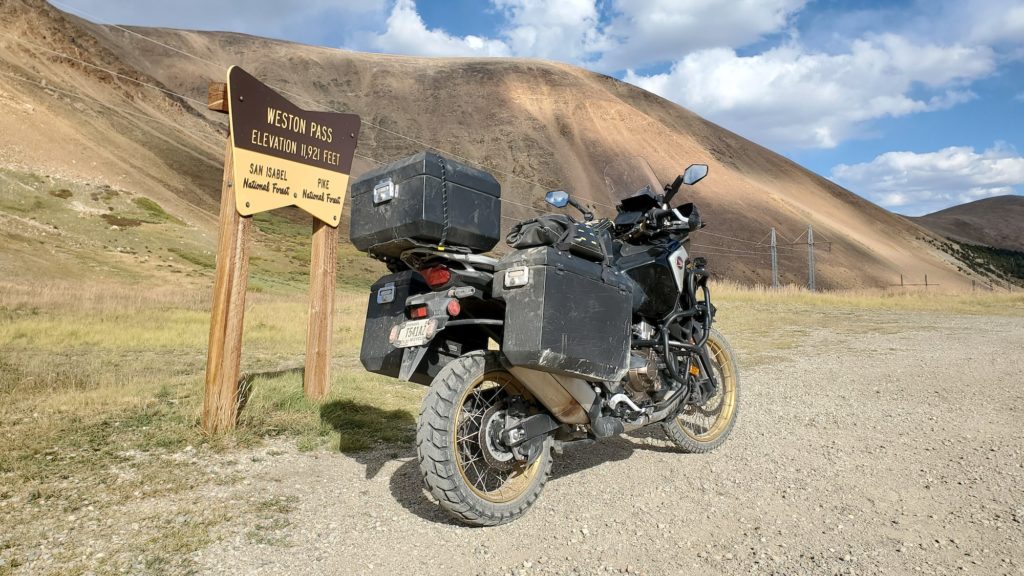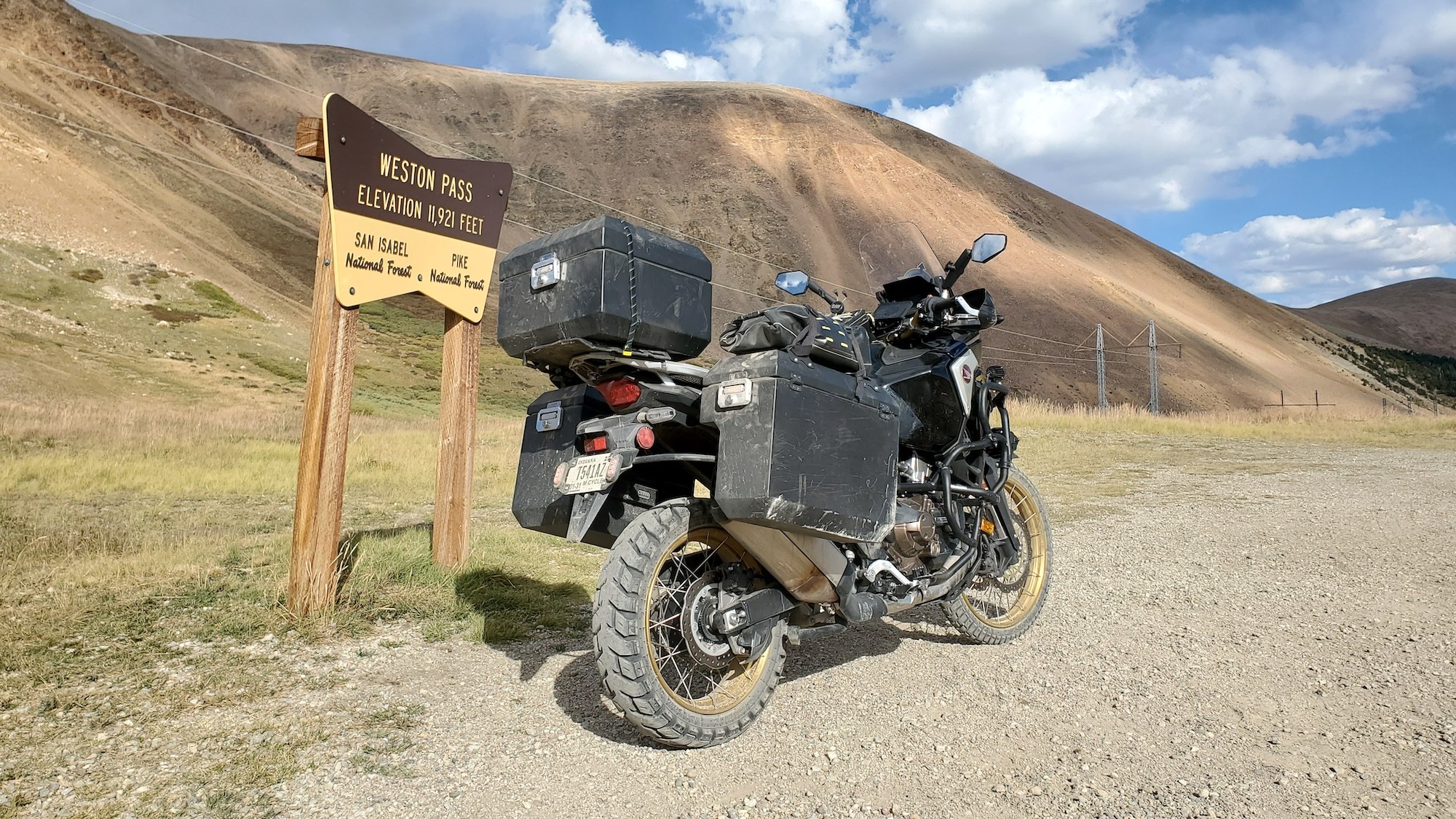 While any stock adventure bike can handle gravel roads, novice adventurers would do well to start with a super-user-friendly bike. The Honda Africa Twin Adventure Sports ES with its automatic DCT transmission makes hobbling over tough terrain a simple twist of the throttle; it is impossible to stall. It's reliable and can be serviced practically anywhere.
When riding in soft terrain, laying the bike down is inevitable. It is wise to add crash bars, engine guards, and a skid plate, like those included in the Outback Motortek Ultimate Protection Combo MAX package, which we installed on our Ultimate Build. We topped that off with AltRider Radiator Guards, to keep the pointy bits out of our coolant, which would end any ride prematurely. It's fun to listen to rocks plunking off of the guards, knowing the engine is safe.
For complete overkill, we custom mounted a 12-pound Superwinch LT2000 to the crash bars. It offers 2,000 pounds of pull strength, attached to 49 feet of cable, and operated by a low amp, one-horsepower motor. Hey, you never know.
A cheaper solution would be a high-tensile tow line, which is lightweight, easily stored, and can be attached anywhere on the bike.
For ease of use, we added the AltRider Side Stand Enlarger to keep the stand from sinking into soil when parked. AltRider also offers a DualControl brake footpeg, making it easy to use the rear brake both sitting and standing, both of which will be done frequently on long days off road. Topping of convenience features were Doubletake Folding Mirrors, which use RAM mounts to the handlebars for better durability and adjustability. Better than cracking the brake master cylinder when stock mirror stalks hit a rock.
It's imperative to see and be seen when riding a motorcycle. We achieved visibility with a Denali light kit, including bright-as-day DENALI D7 spotlights and DENALI D2 auxiliary running lights up front. For the marker lights we added DENALI T3 Switchback Signal Pods and a DENALI B6 auxiliary running and brake light mounted under the license plate.
Don't forget comfort, like that found in our KonTour, five-layer, air cooled, adjustable and breathable composite seat. Between the seat and rider, be sure to invest in waterproof and breathable boots, pants, jacket and gloves. Comfortable weatherproof gear is worth its weight in gold when living outside in the elements.
Some dual-sport bikes come with decent tires. When those wear out, and it's time don some new skins, you'd be hard pressed to find a better longevity or value in 50/50 on/off-road use tires than the Heidenau K 60 Scouts. We put these through the paces, and they are good on about every type of terrain.
We solved the gear storage problem with Jesse Luggage panniers and top case made from 2mm thick, 5052 aluminum. These bags took a beating, but remained intact and waterproof. The best feature is the friction hinge, which stays in position when opened, making a great roadside tool shelf or lunch table.
Top the hard bags off (or replace it entirely) with some wonderful, waterproof, welded seam (WP), Wolfman Luggage, with quick-release mounting system. The Enduro Tank Bag keeps small important items at arm's reach. Pannier mounted Rolie Bags were the perfect size to stuff a tent and sleeping mat into.
The Expedition Duffel is where you keep anything that doesn't fit in the panniers. When packing light, the Duffel can be used as checked luggage on flights, then folds up small and fits inside a pannier, or as a liner for the top case. We also recommend packing various size ROK Straps bungees, to hold anything in place.
Don't forget to pack simple first-aid and tool kits, including tire repair necessities — and know how to use them. Being able to fix small problems yourself can prevent huge headaches when far away from assistance, or phone service.
Escape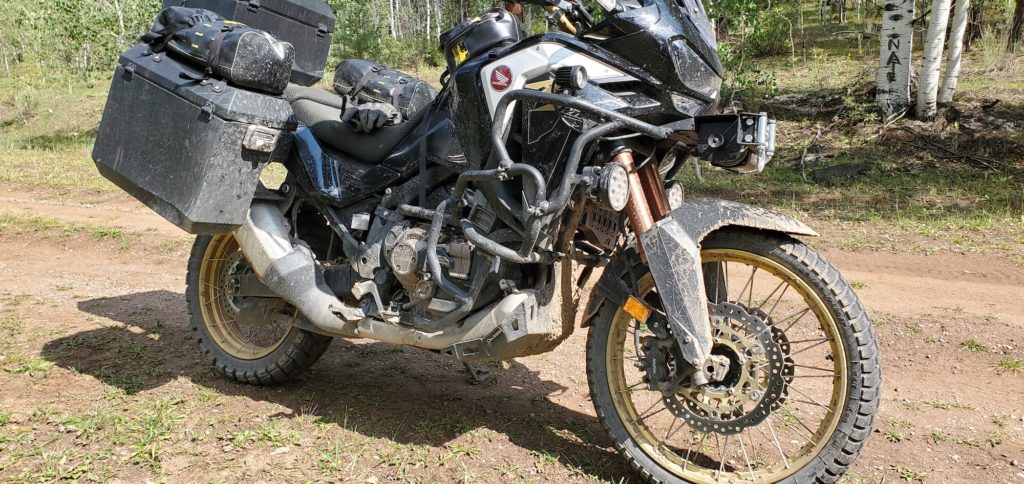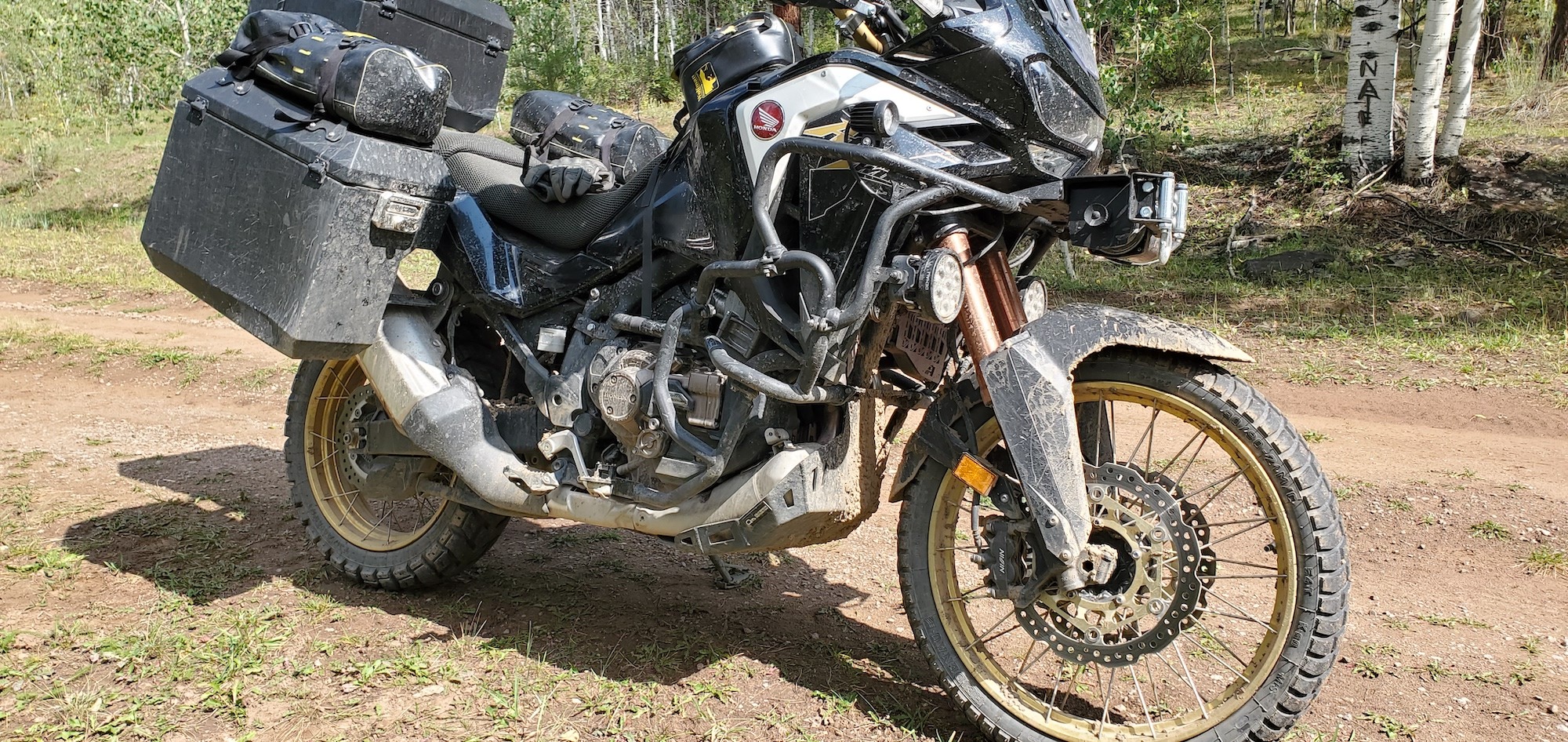 Adventuring through the world can be done with much more — or less — than mentioned here. One thing everyone needs, however, is an exit strategy. This is even more imperative on a motorcycle. That's because there is no protection from the elements. And any get-off can cause injuries that prevent continuing. The emergency beacon provided by the Garmin inReach is a great tool to have after a fall, but there are other smart things you can do before you leave.
When planning to camp, identify locations to pitch a tent long before nightfall. These could be dispersed camping on public lands or at a paid campground with amenities. If the weather is too cold or wet, identify a town nearby that you can drop into before dark, every night, for a hotel room. Extended travel is also a good excuse to call those long-lost friends and relatives. Tell them about your travels and ask for a hot meal and a cot.
Refrigeration and cooking are not practical on a motorcycle. So be sure carry plenty of water and dry foods like jerky, trail mix and Meals Ready to Eat (MRE). Plan to stop in towns to replenish supplies or grab hot meals along the way.
Carry both credit cards and cash for food, fuel, and emergencies. Consider a slush fund for extraction. Something as simple as replacing a tire, or towing a disabled bike can become daunting, and expensive when off the beaten path. If you're not willing to leave your equipment behind, be sure to budget for its return.
Start small with day trips along fire and logging roads before attempting desert crossings or mountain passes. Pack light on early trips and have easy exit strategies. Add more complexity to your gear and route as you become more proficient. Find a mentor or club and absorb as much knowledge as you can. Most importantly, stop talking about adventures and start taking them.