By: Bill Dragoo
For this How-to, Bill and Susan Dragoo took Overland Expo's 2021 Ultimate Overland Motorcycle, Honda Africa Twin DCT, through a portion of the Colorado Rockies. The Africa Twin will be a part of other storytelling throughout the year. Follow the Africa Twin's adventures on its official landing page.
Overlanding has many faces. Typically, the image comes to mind of a well set-up rig like a 70 Series Toyota Land Cruiser, a Unimog, or a luxury-built Sprinter van. Certainly, however, there is also room for motorcycles in the community of overlanders.
Although they comprise a small percentage of those who choose vehicle-based adventure travel, men and women who explore the rough on two wheels are a passionate group. The skill required to include the tougher trails in our travels demands a higher than average level of commitment. Tools of the trade must be intentionally selected to tackle the task at hand and training and much practice are essential for successful completion of said tough trails. There is no faking it when the terrain turns steep and rocky on a loaded, balance-oriented machine weighing more than a quarter-ton.
My latest overlanding foray into the mountains of Colorado was on Overland Expo's Ultimate Overland Motorcycle. The 2021 Honda Africa Twin was purpose-built by the crew at Overland Expo for a wide range of tasks, from the evil necessity of pavement cruising to exploring the nether regions of the San Juans. Adventure waited just beyond the tarmac and I was eager to get rolling.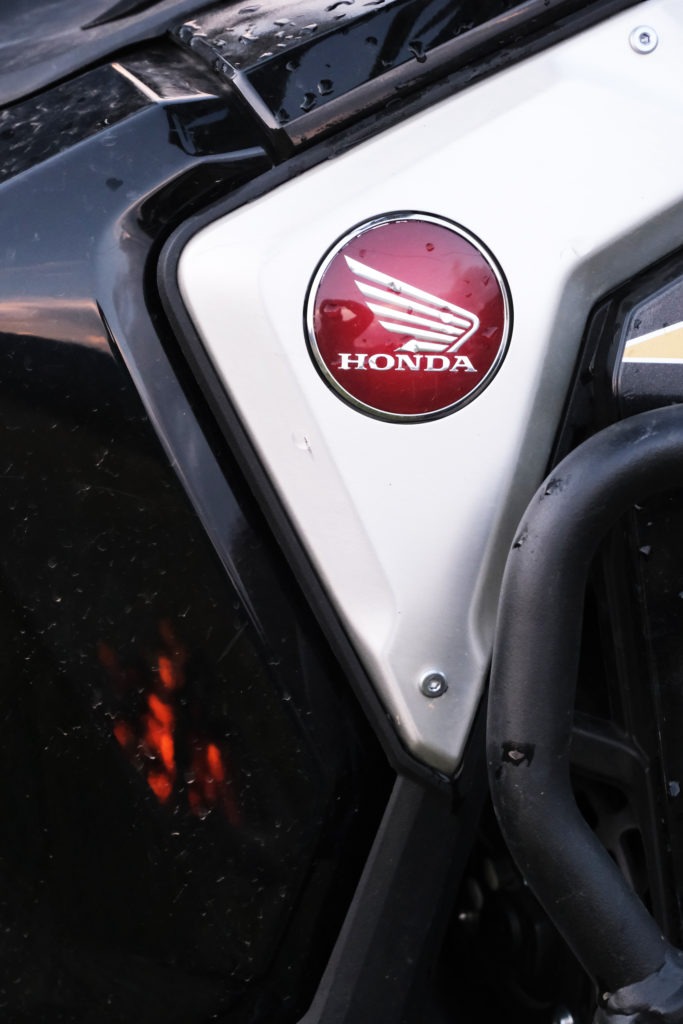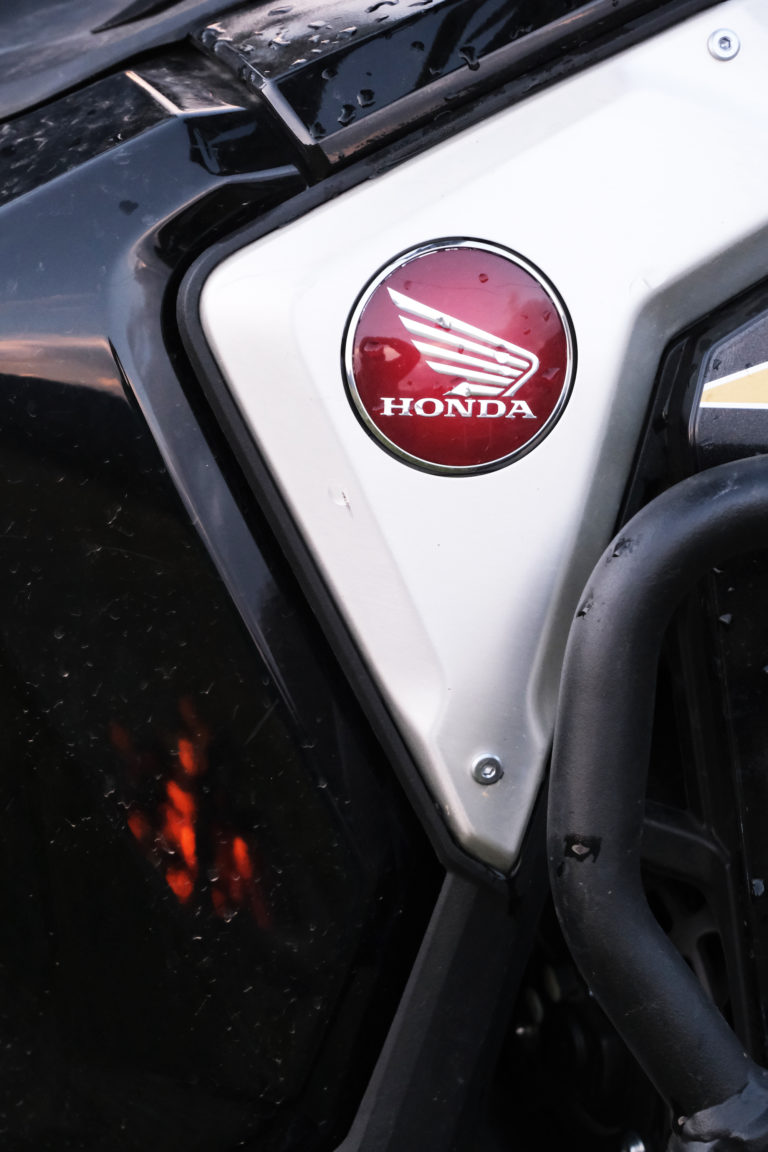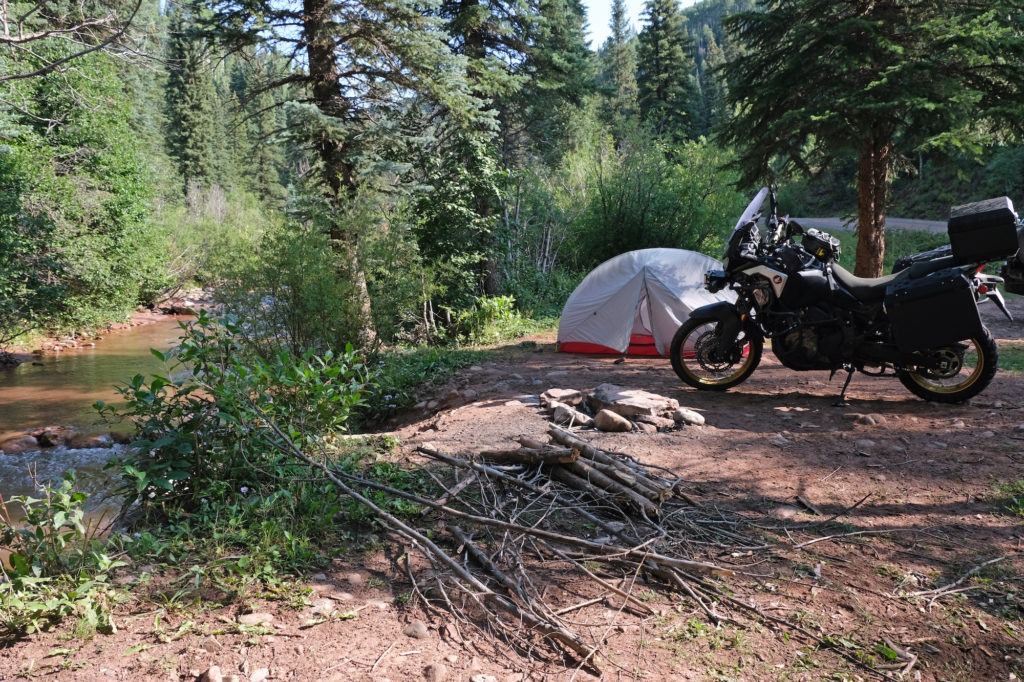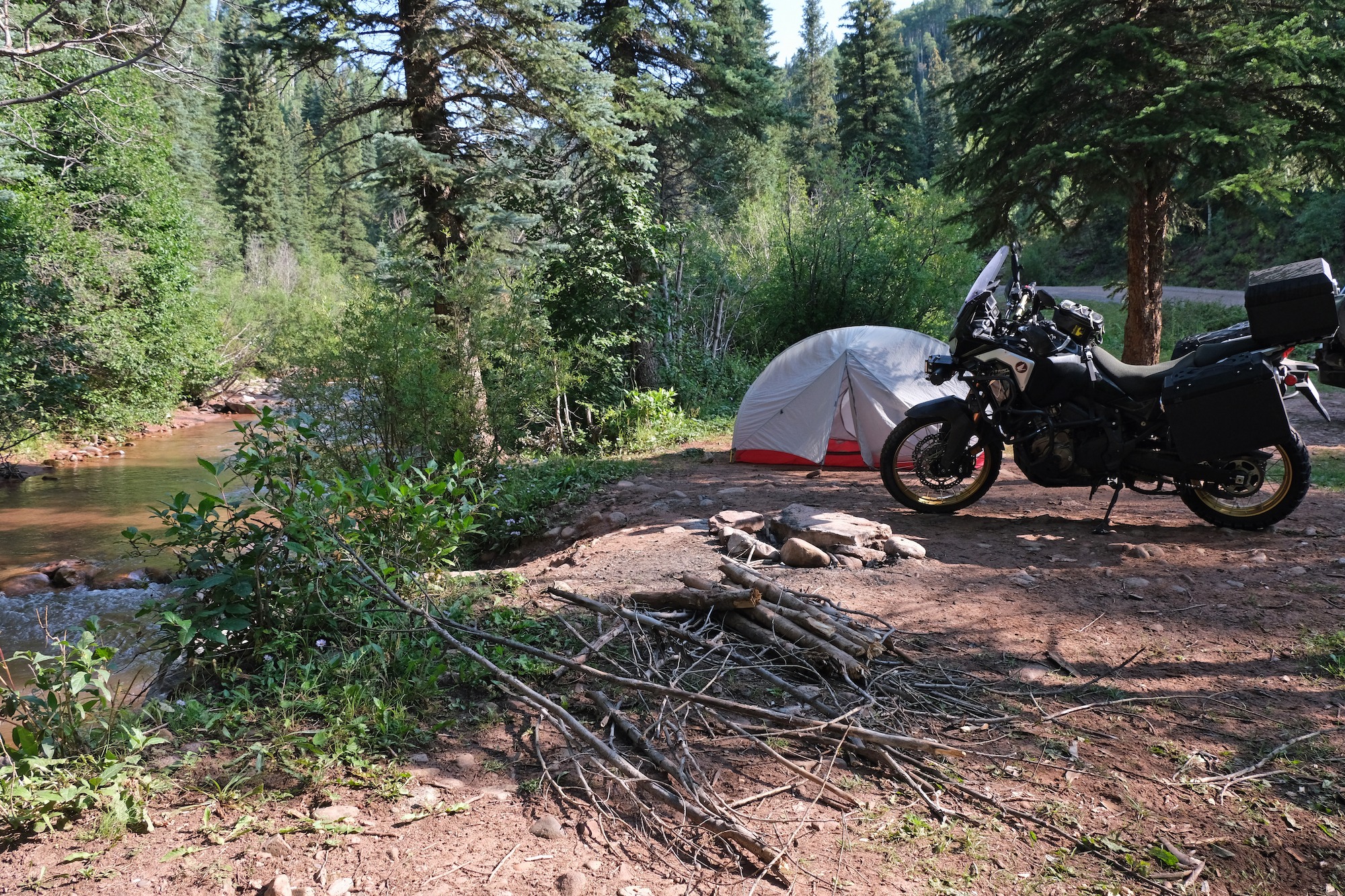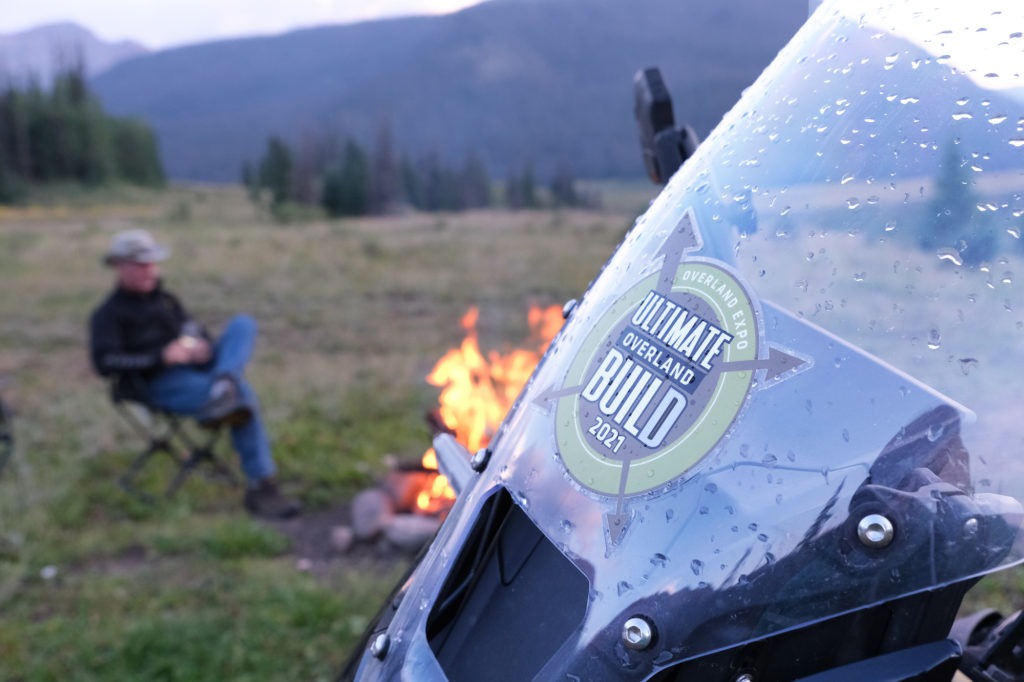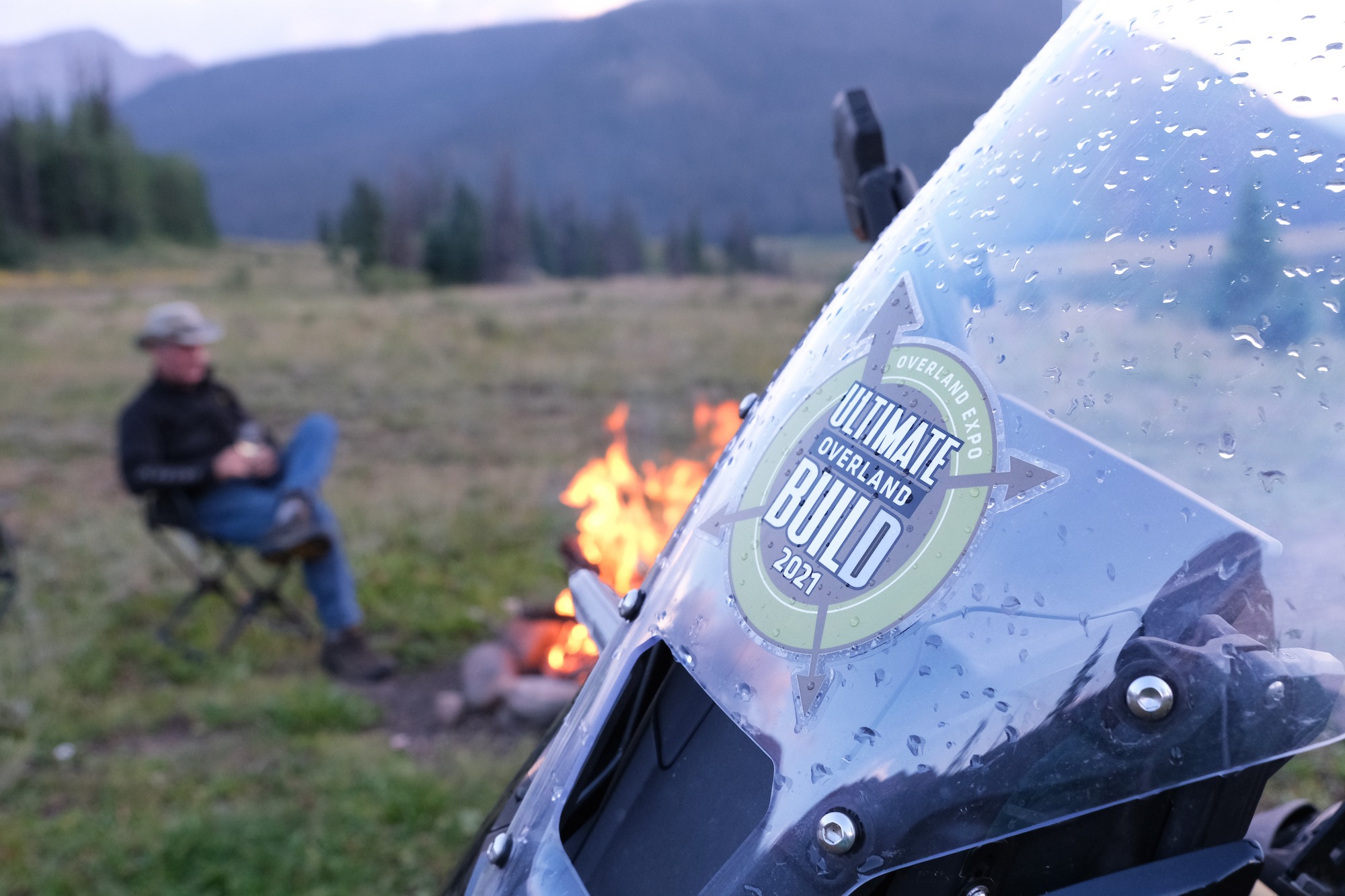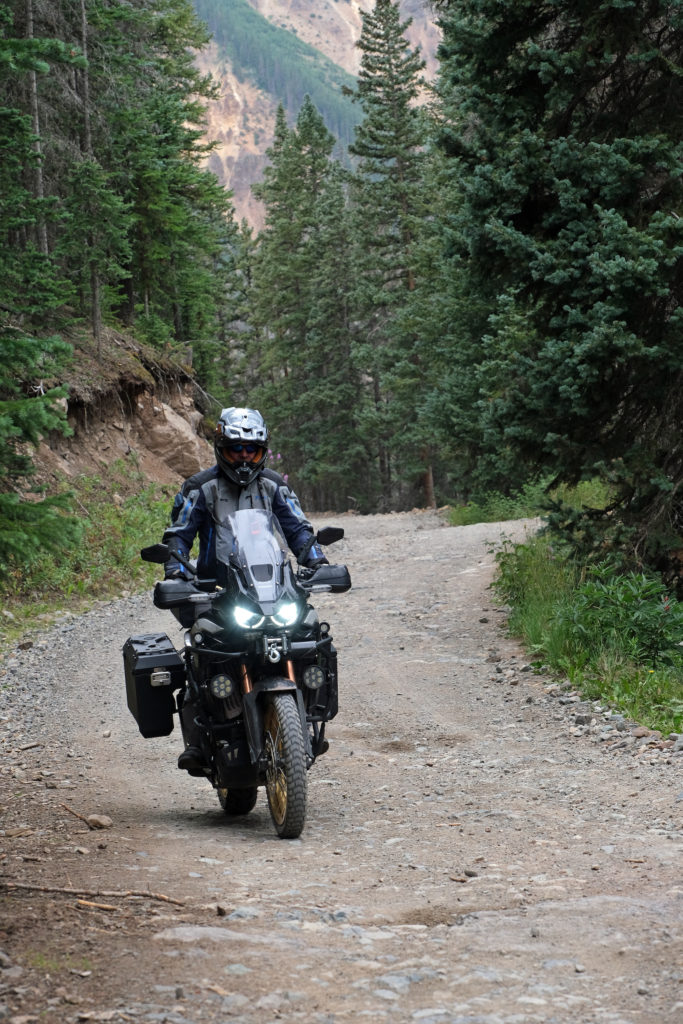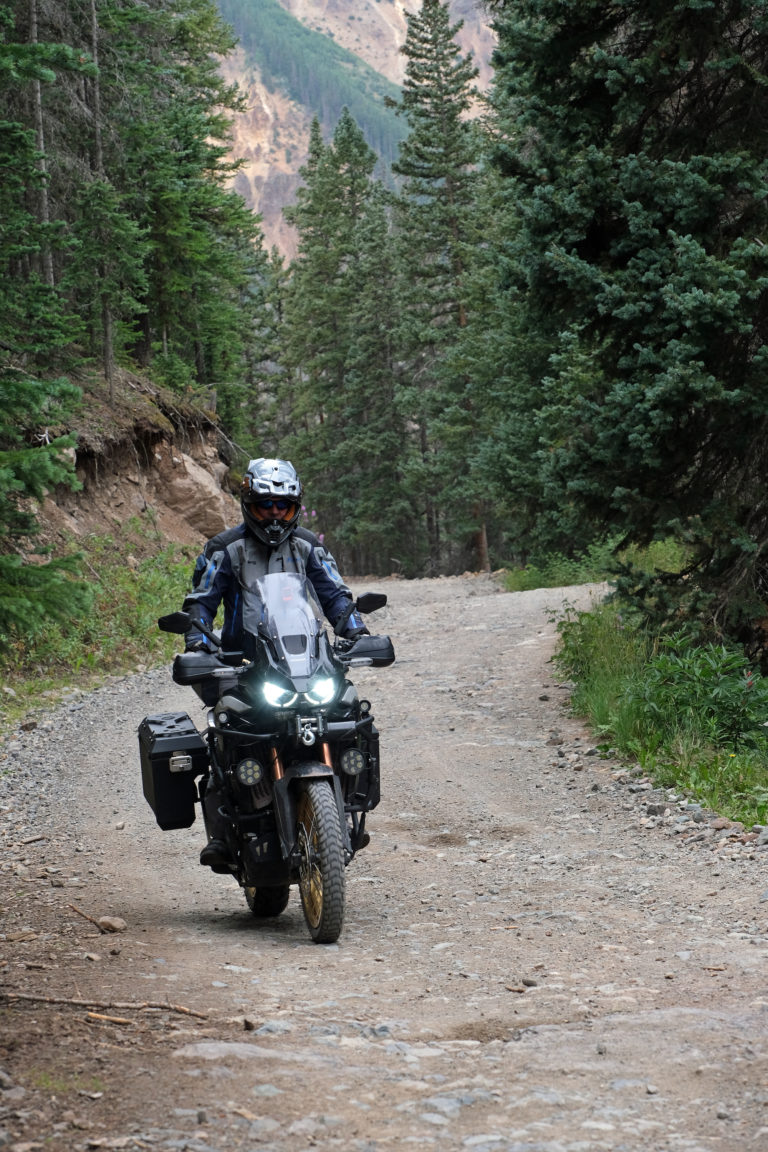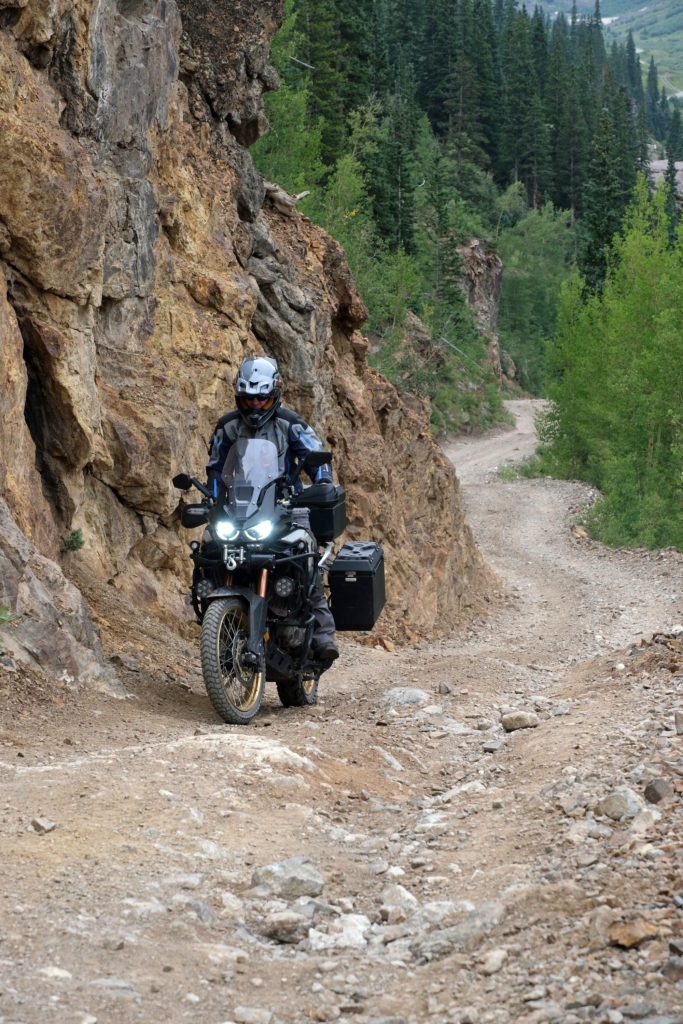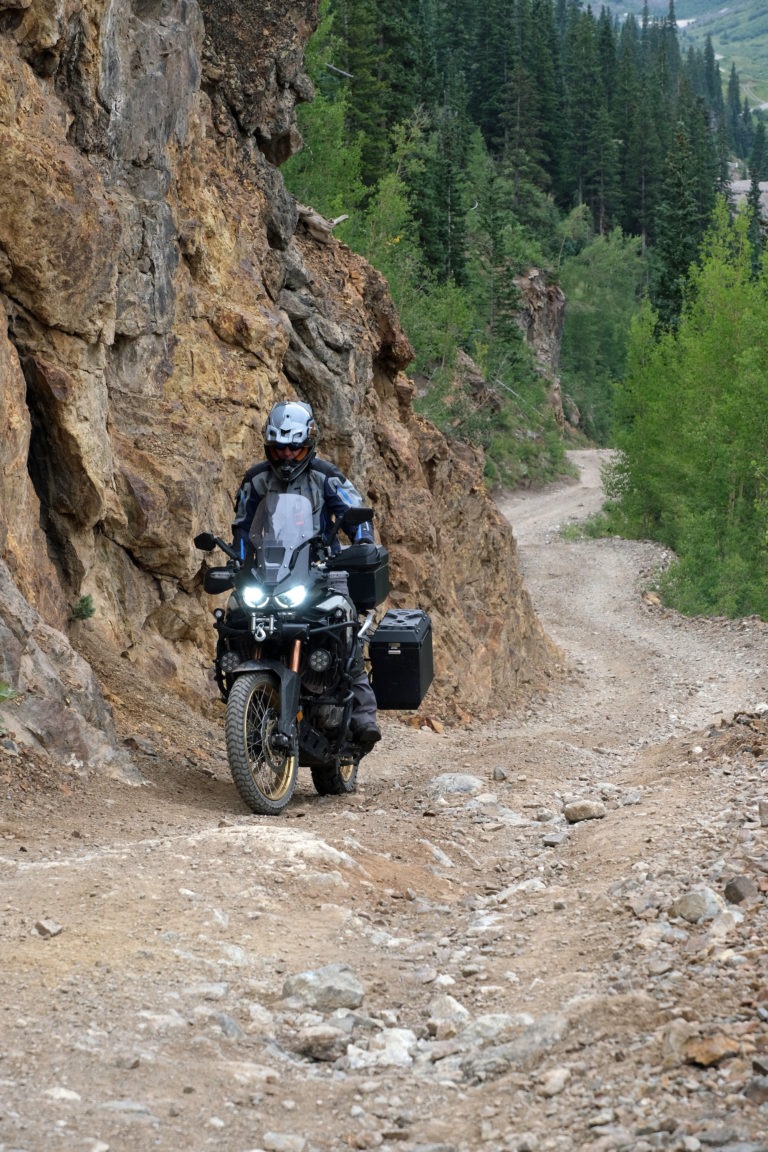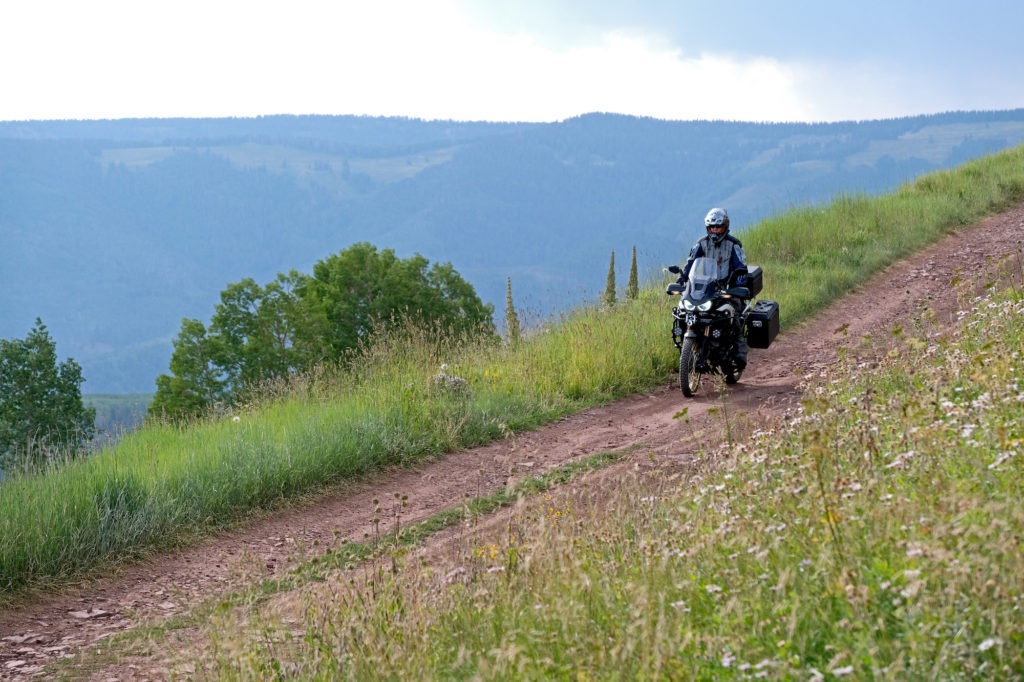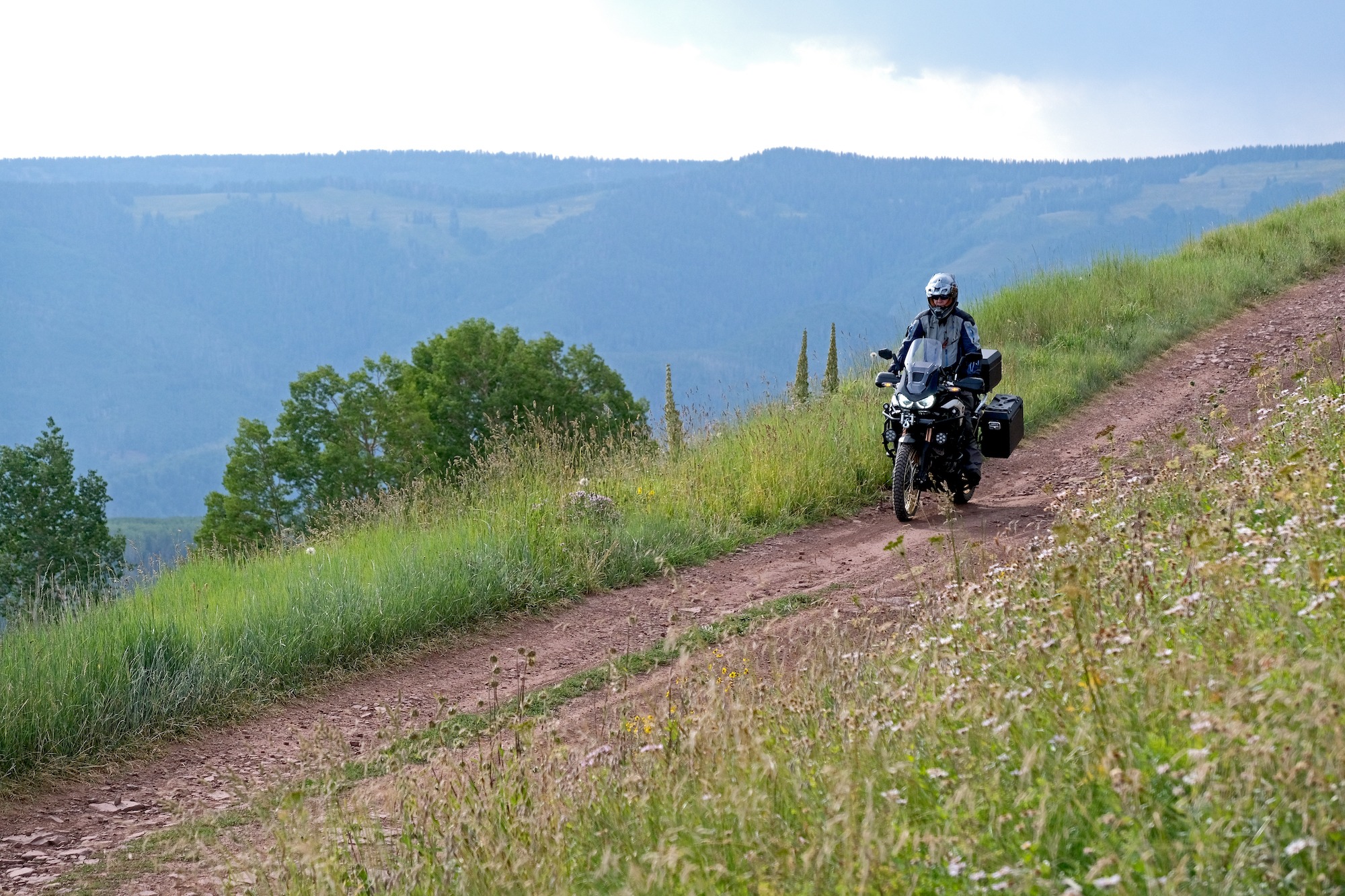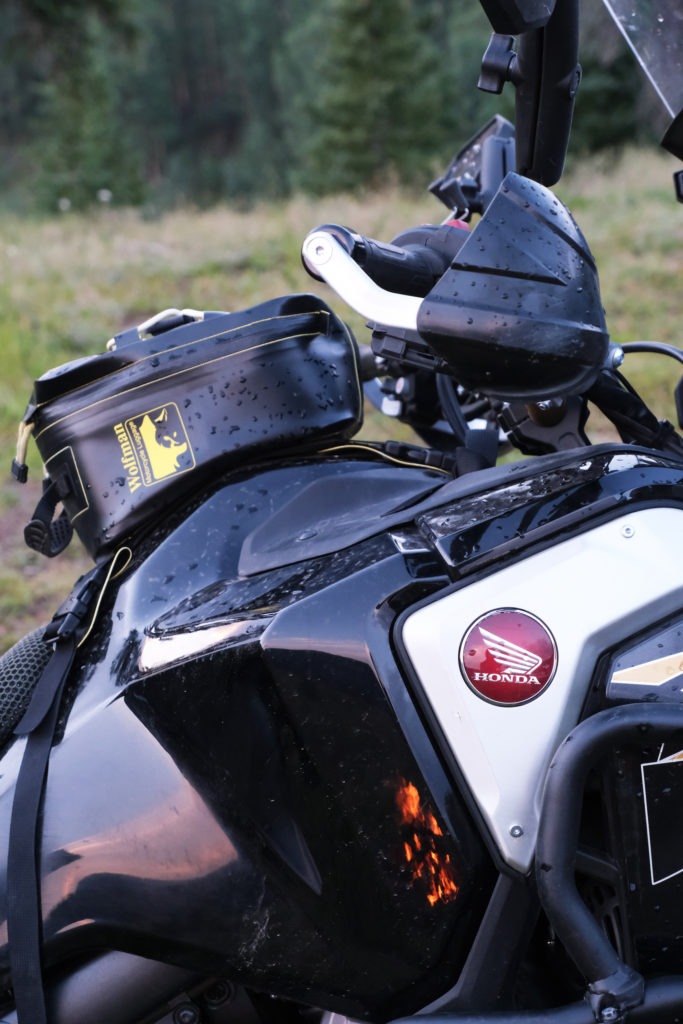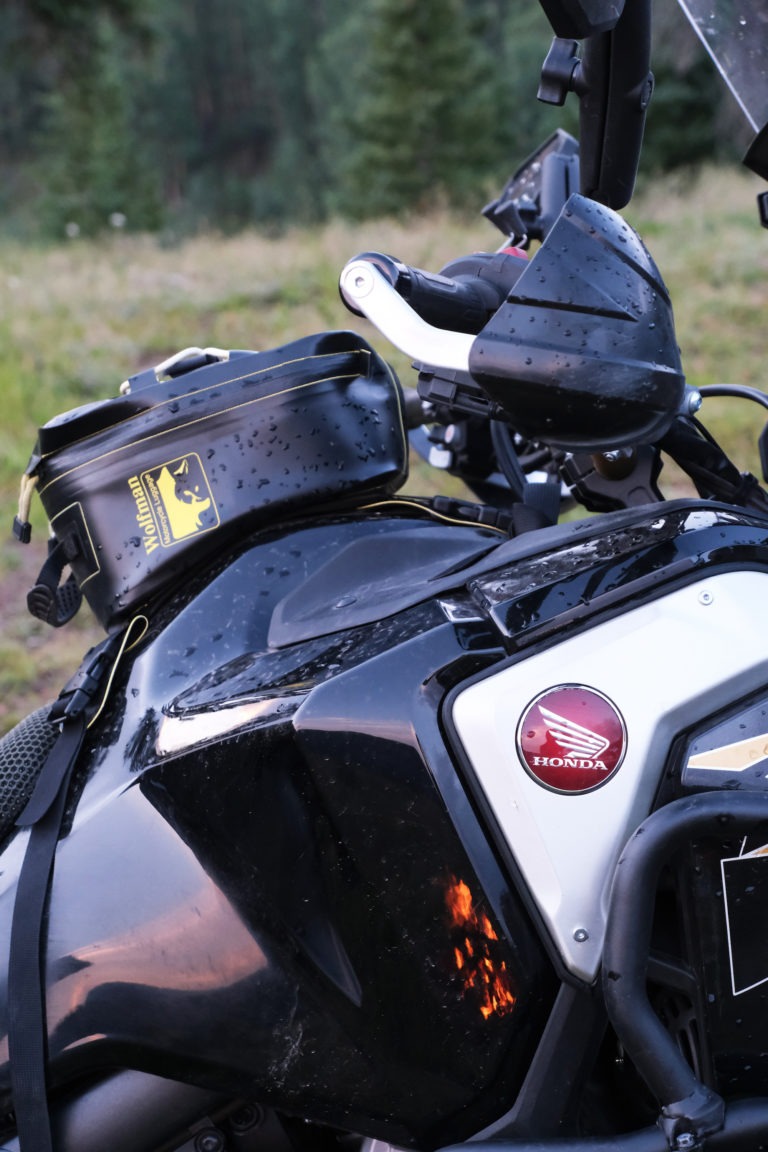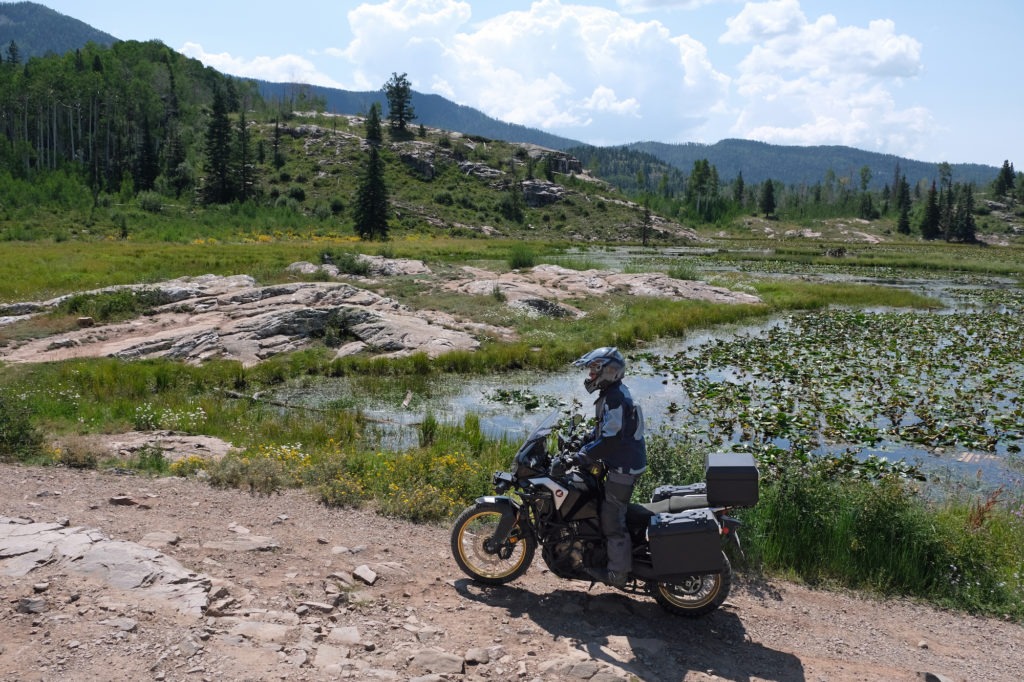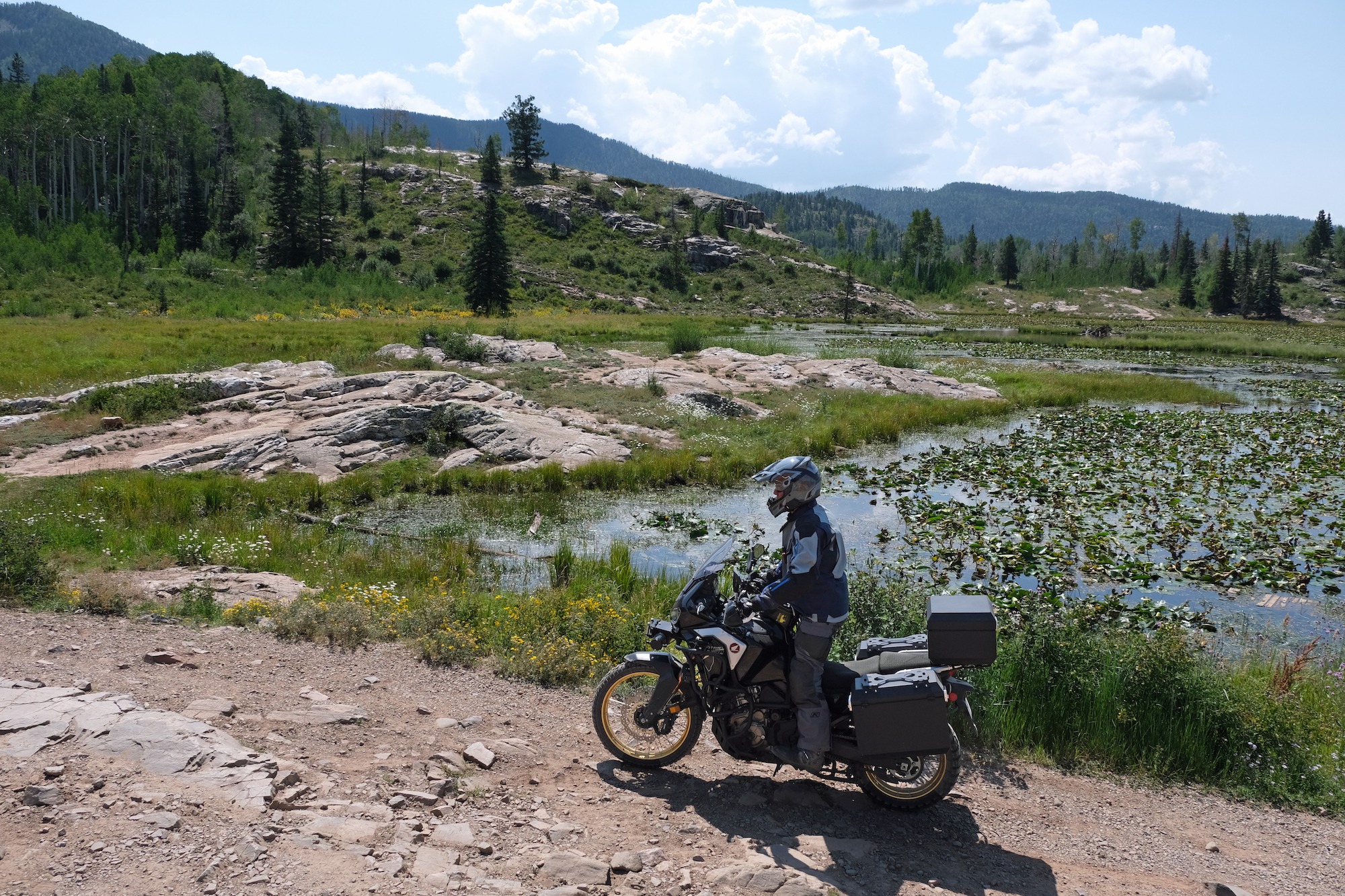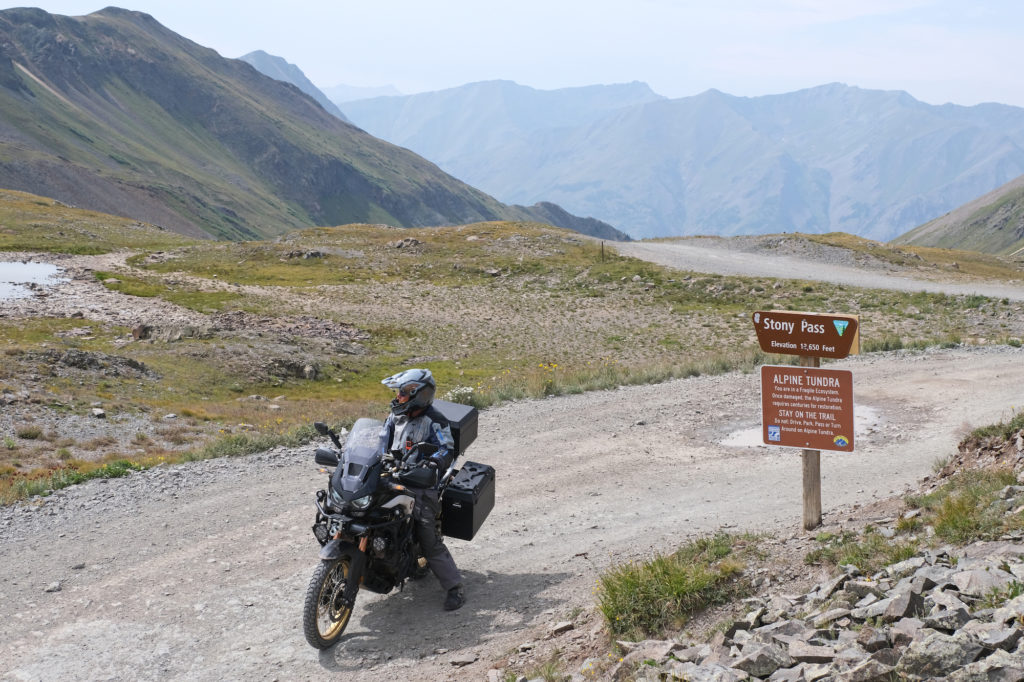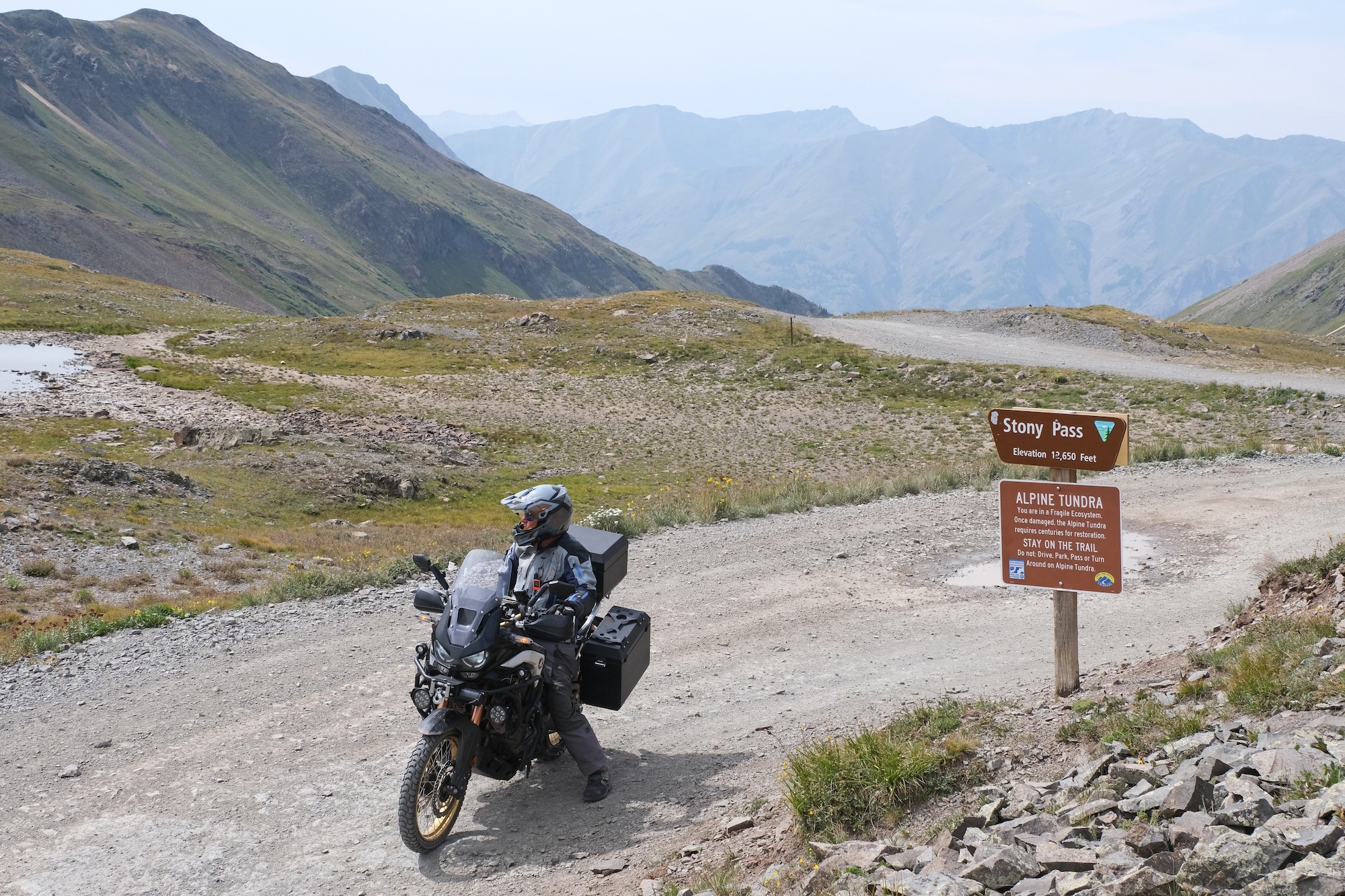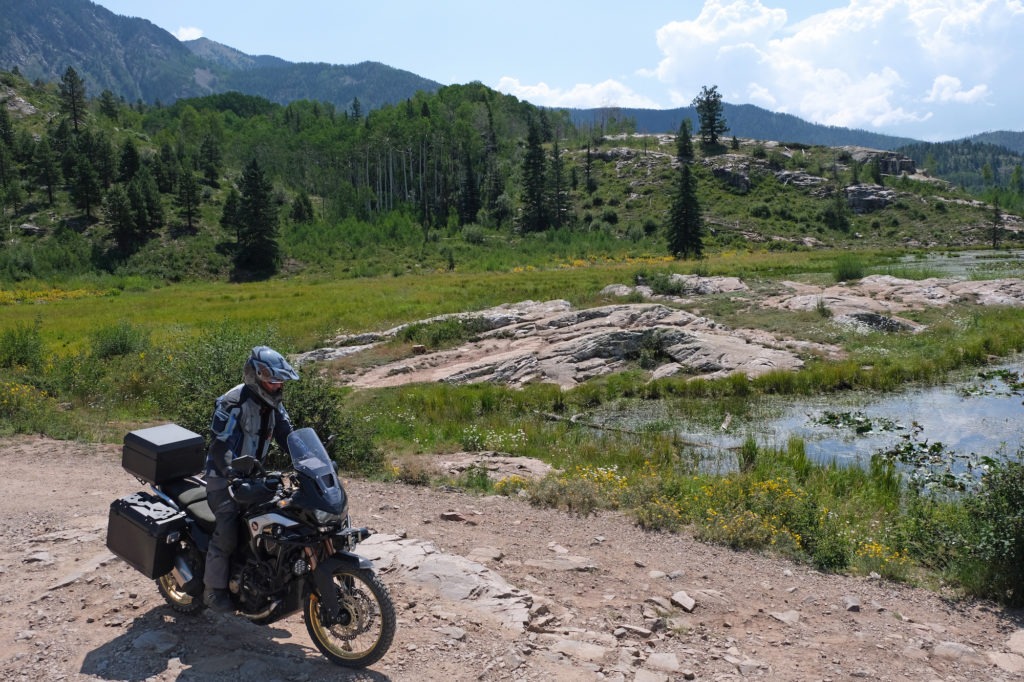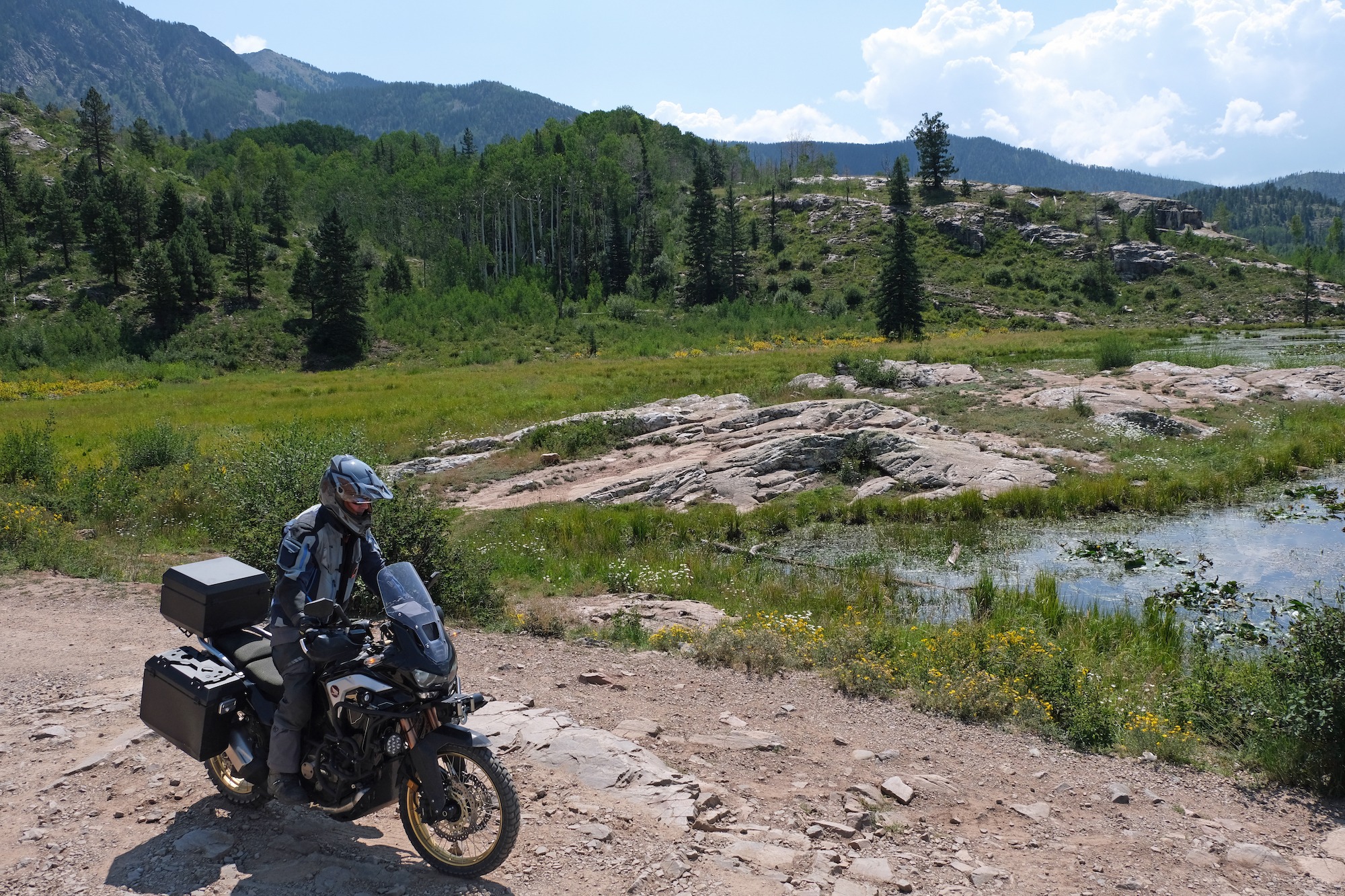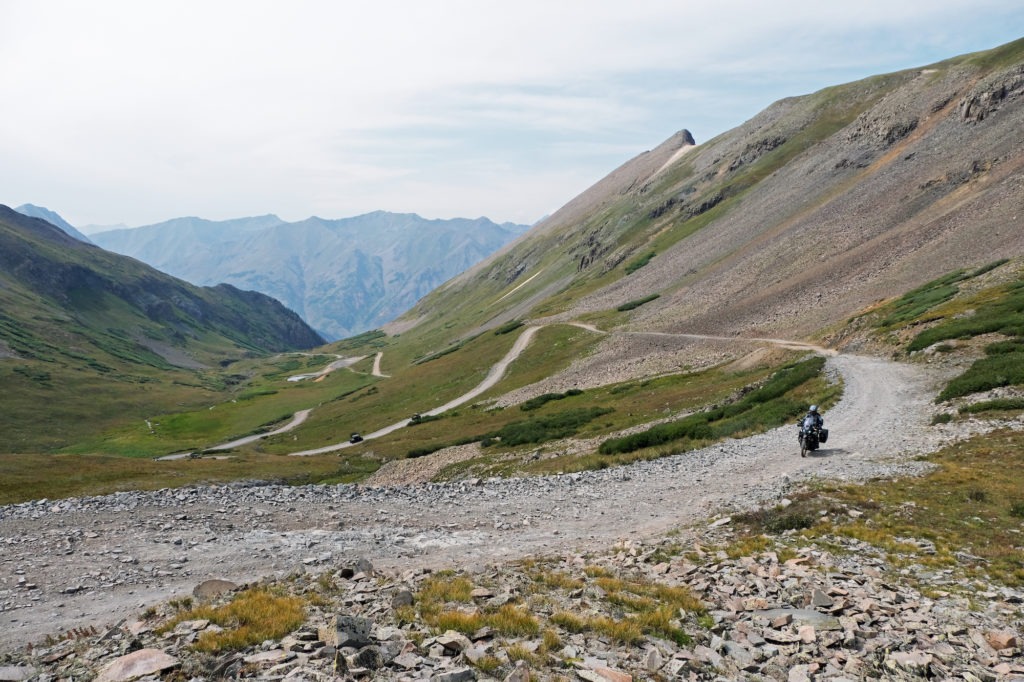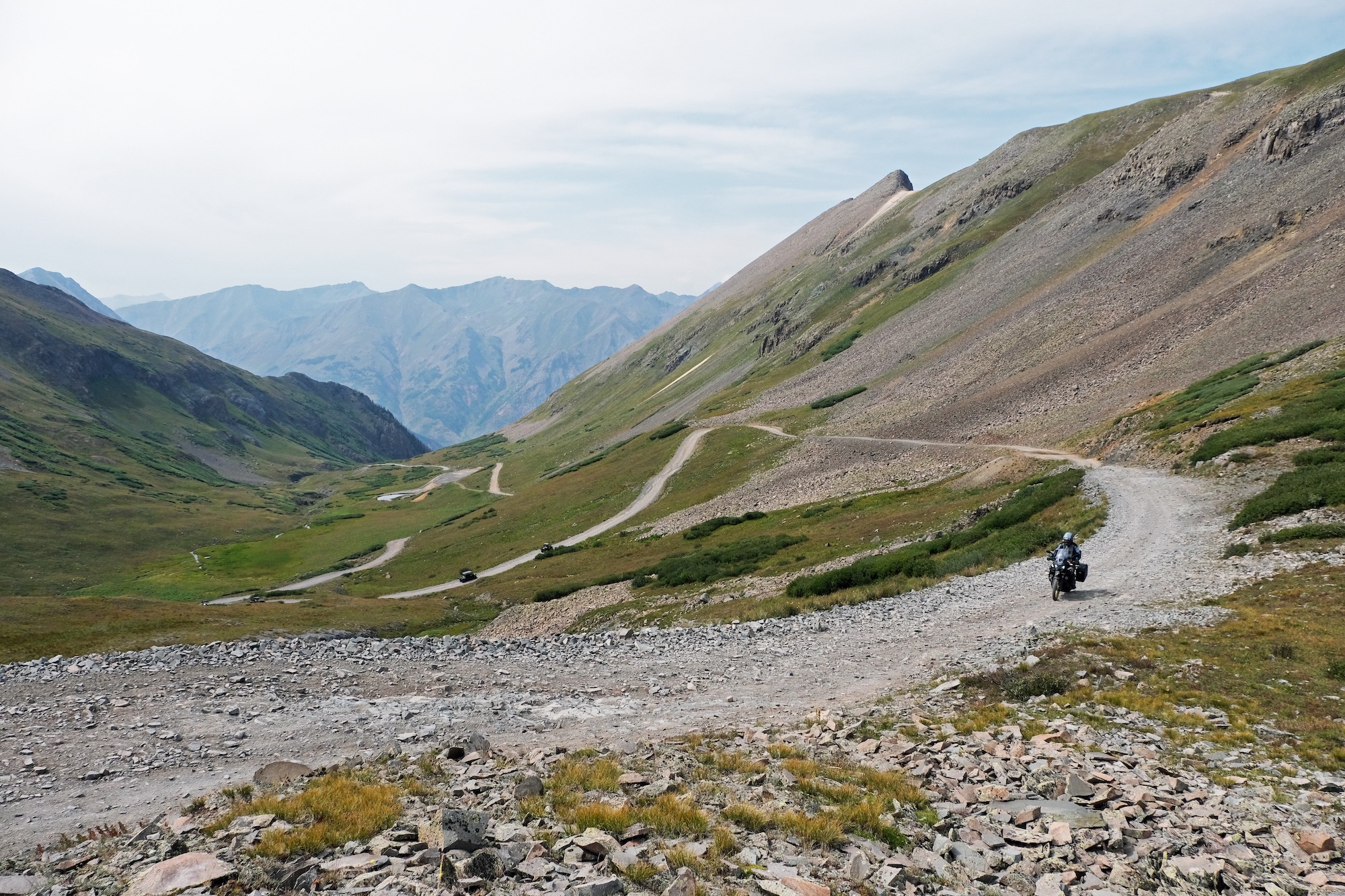 A common theme among overlanders is the willingness to help one another. Our ride began in Cortez, Colorado at the home of JJ Lewis of the Good Adventure Company. JJ was kind enough to provide a launch point. What's more, he stabled the machine at his home for my wife, Susan, and me until we could begin our travels.
I would ride the bike and Susan would join me in her own overland rig, a fifth-generation 4Runner, also built for the task. It has Icon Stage VII Suspension, Falken Wildpeak tires, CBI bumpers and Warn Zeon 10-S winch. We pondered riding two-up on the bike. Considering the level of technical terrain we planned to encounter and the gear needed to support us, it seemed prudent to share the load, so to speak.
Setting out from JJ's, we made our way up Highway 145 to the Roaring Forks turn-off near Rico, Colorado. High elevation brings cold nights, even in August. The day was growing late, so our plan was to cross the Continental Divide and camp somewhere on the east side of the slope to catch the sun's early morning rays the next day.
As we approached our turn-off, a small group of dirt bikes pulled out ahead and motored on up 145. We tailed them a few miles per hour below the speed limit through a typical afternoon Rocky Mountain shower. Eventually, they turned onto what was to be our route.
I saw the riders do a double take when they noticed our 1100cc machine outfitted with the full regalia of aluminum Jesse panniers and a miniature Superwinch mounted to the front. This adventure bike shared a fair likeness with an FJ40, which had been run lengthwise through a band saw. It had all the capability and half the wheels.
The likeness ended there, however, as the Dual Clutch Transmission (DCT) absolved any need to shift except when I chose to run in the Manual mode, my preference actually. Then my left thumb and index finger took over the duties of fingers and toes for powertrain ratio management. I skipped over the three Sport modes. However, I could appreciate the middle option for those wanting the machine to do all the work with a bit more enthusiasm than full auto or "D." It seemed odd, but oddly fun too.
I harkened back to riding my vintage BSAs and Norton, which had the shifter and brake reversed. The Honda required a deliberate focus not to wave my fingers in search of a clutch and wag my boot at the void where the shifter should have been.
Incredible views greeted us, as we climbed toward our evening goal. Mountain vistas are a big part of the allure to overlanders regardless of wheel count and ours did not disappoint. Urgency swapped places with our desire to linger and take photographs as the sun dropped low behind us and our shadows ahead grew long.
The Colorado Trail and the Great Divide Trails crossed our path, as did hikers and mountain bikers huffing their way along powered by Mountain House and Ramen Noodles. Campsites were plenty; some occupied and some beckoning us to stop early and pitch our tent in what would be shade the next morning.
I prefer not to pack wet gear when practical and a few minutes of sunshine in this dry climate puts things right in a jiffy. We pressed on toward the eastern slope, stopping once more to ask a local woman in a pickup truck for campsite recommendations along Hermosa Creek. Her counsel proved good, as we ducked into a grove along the water's edge, getting set up just before dark.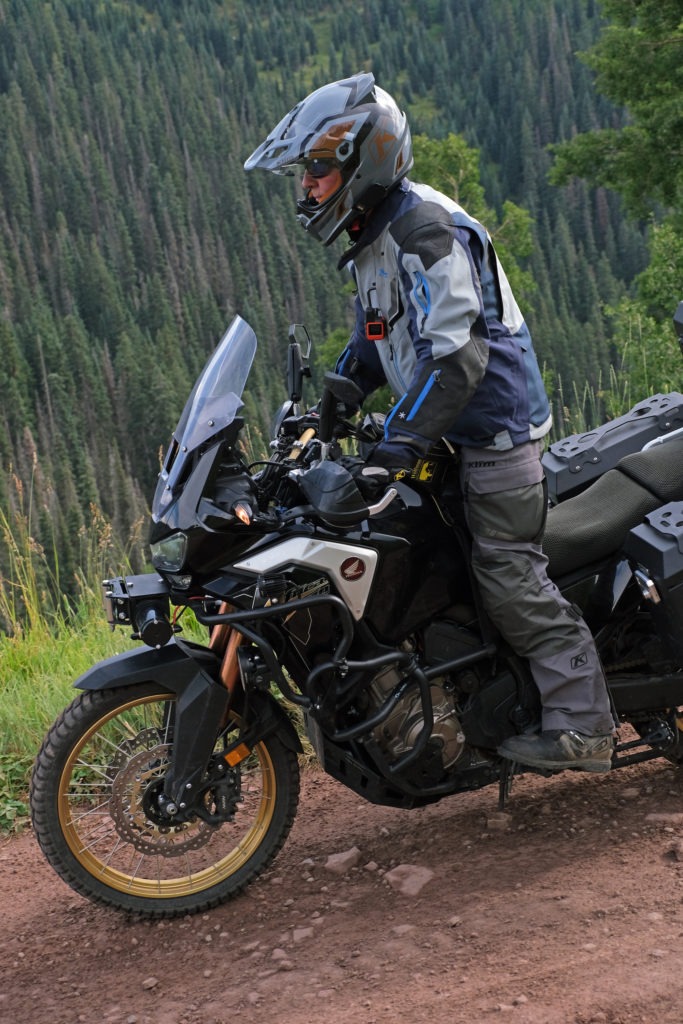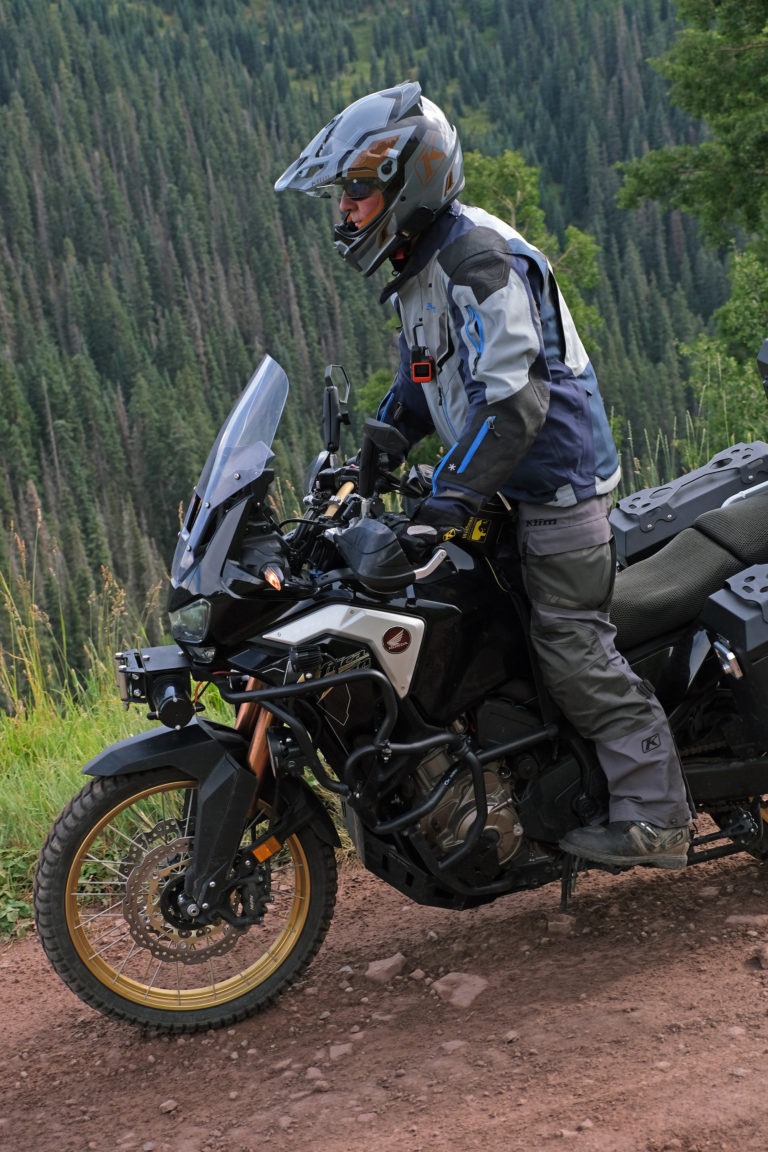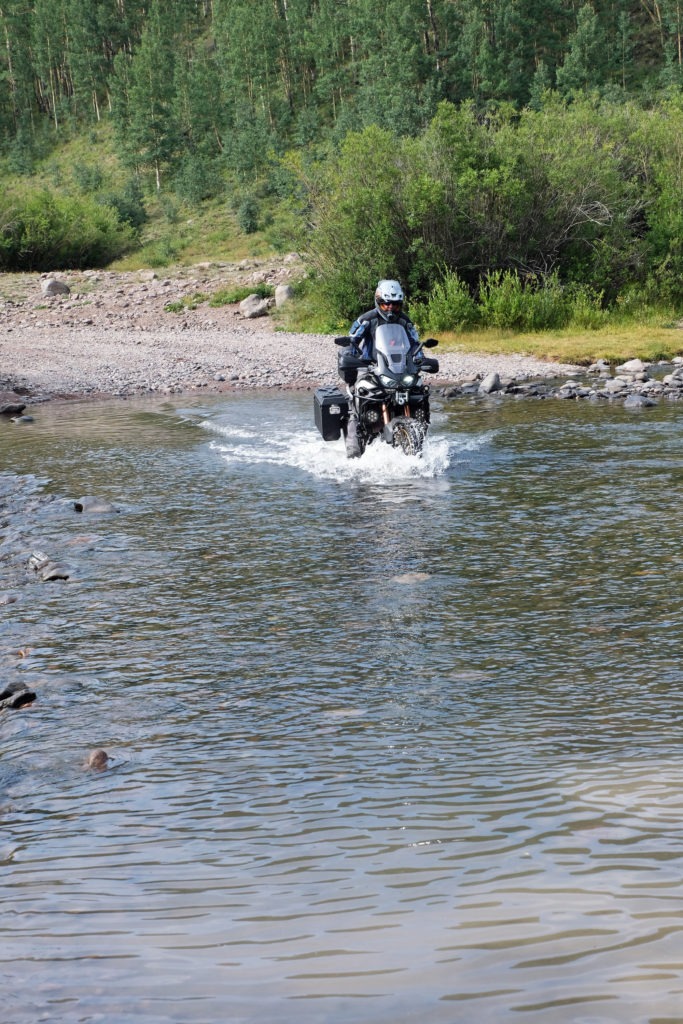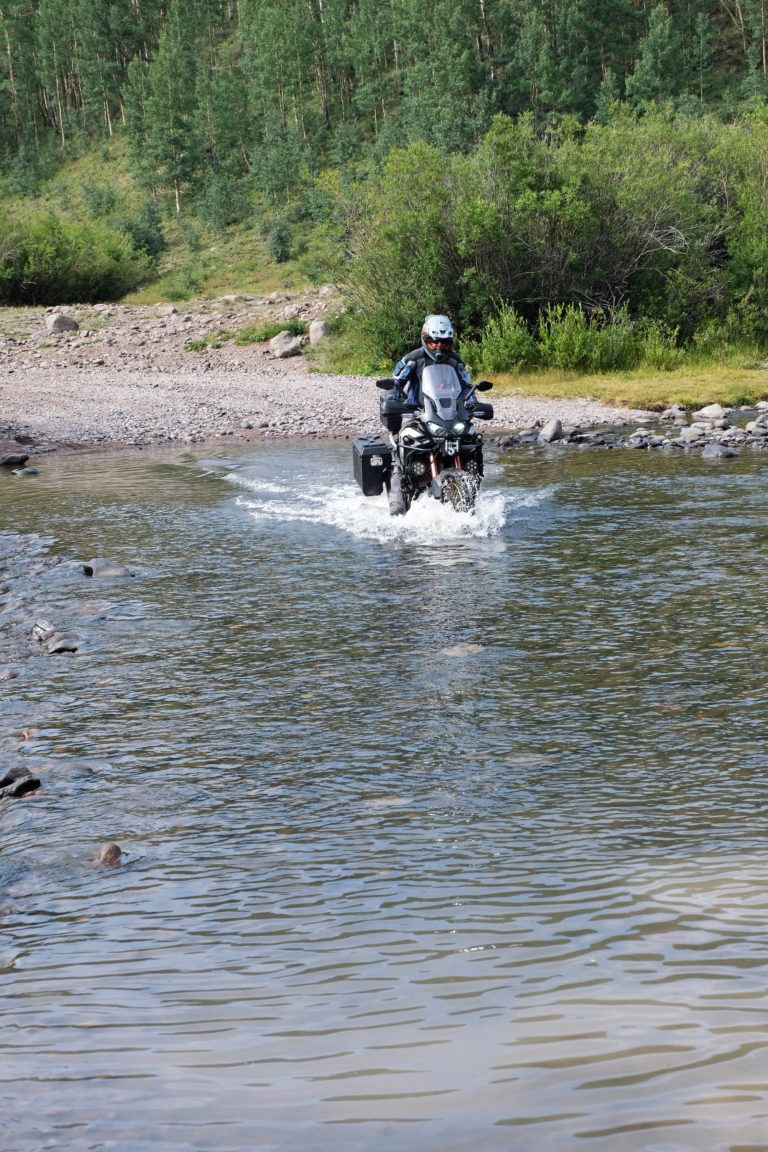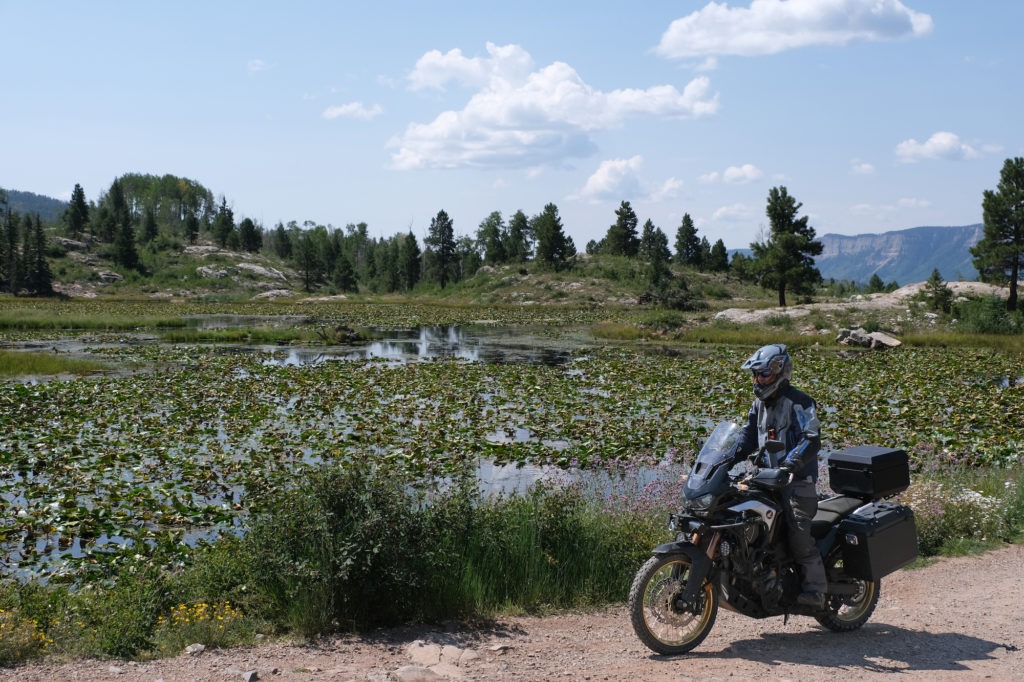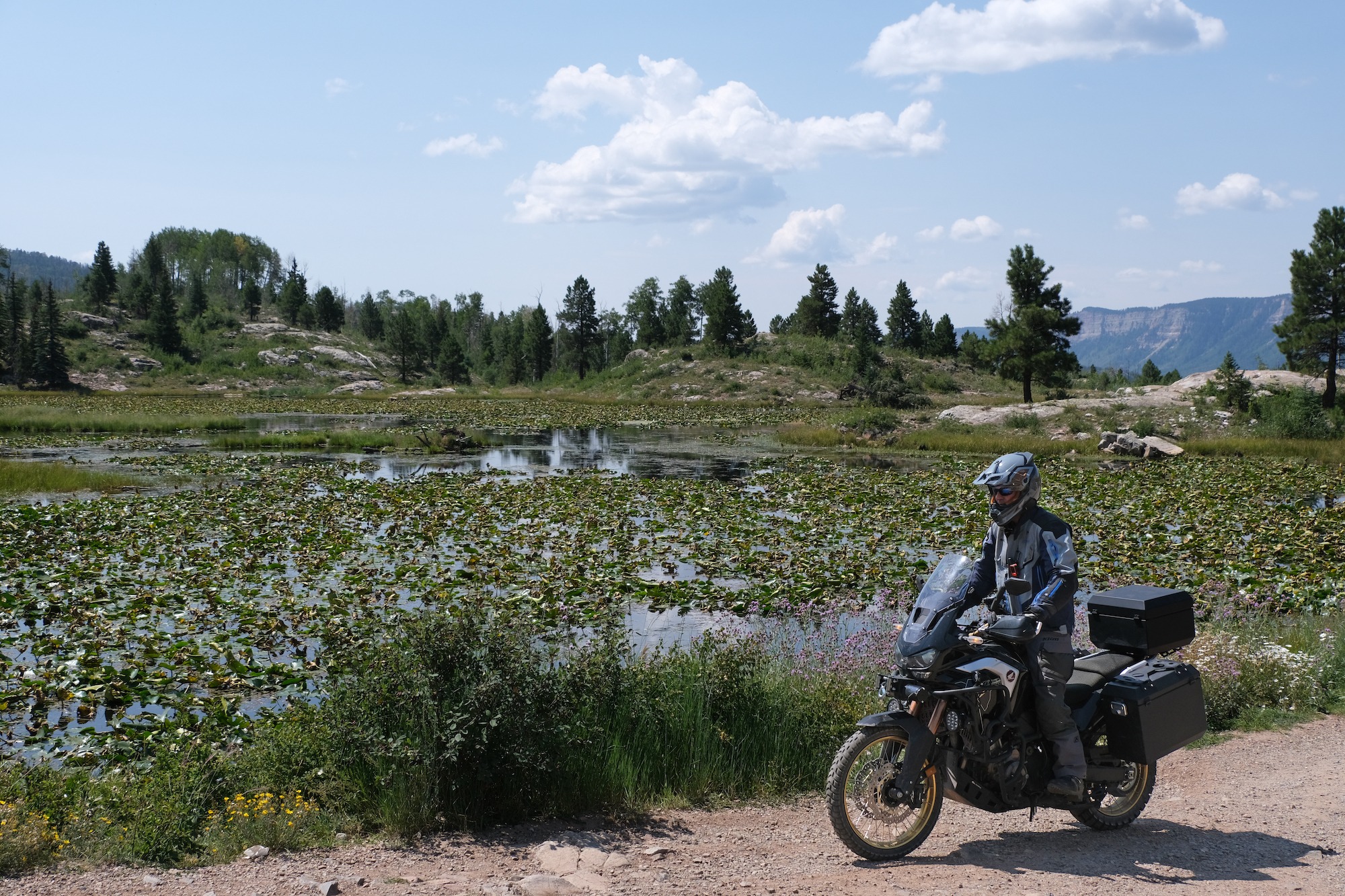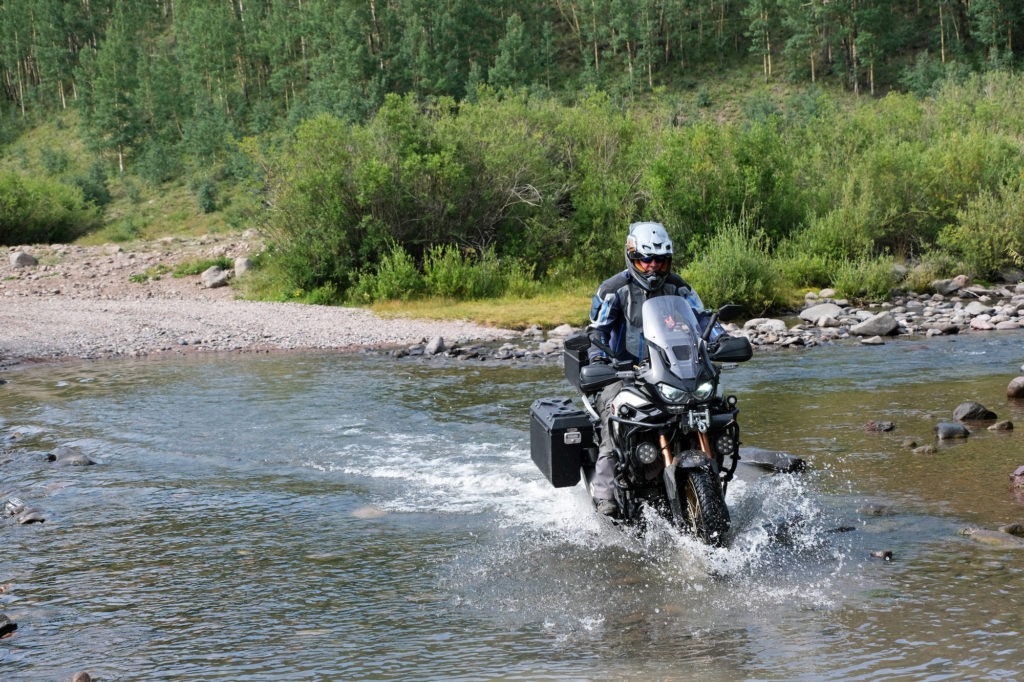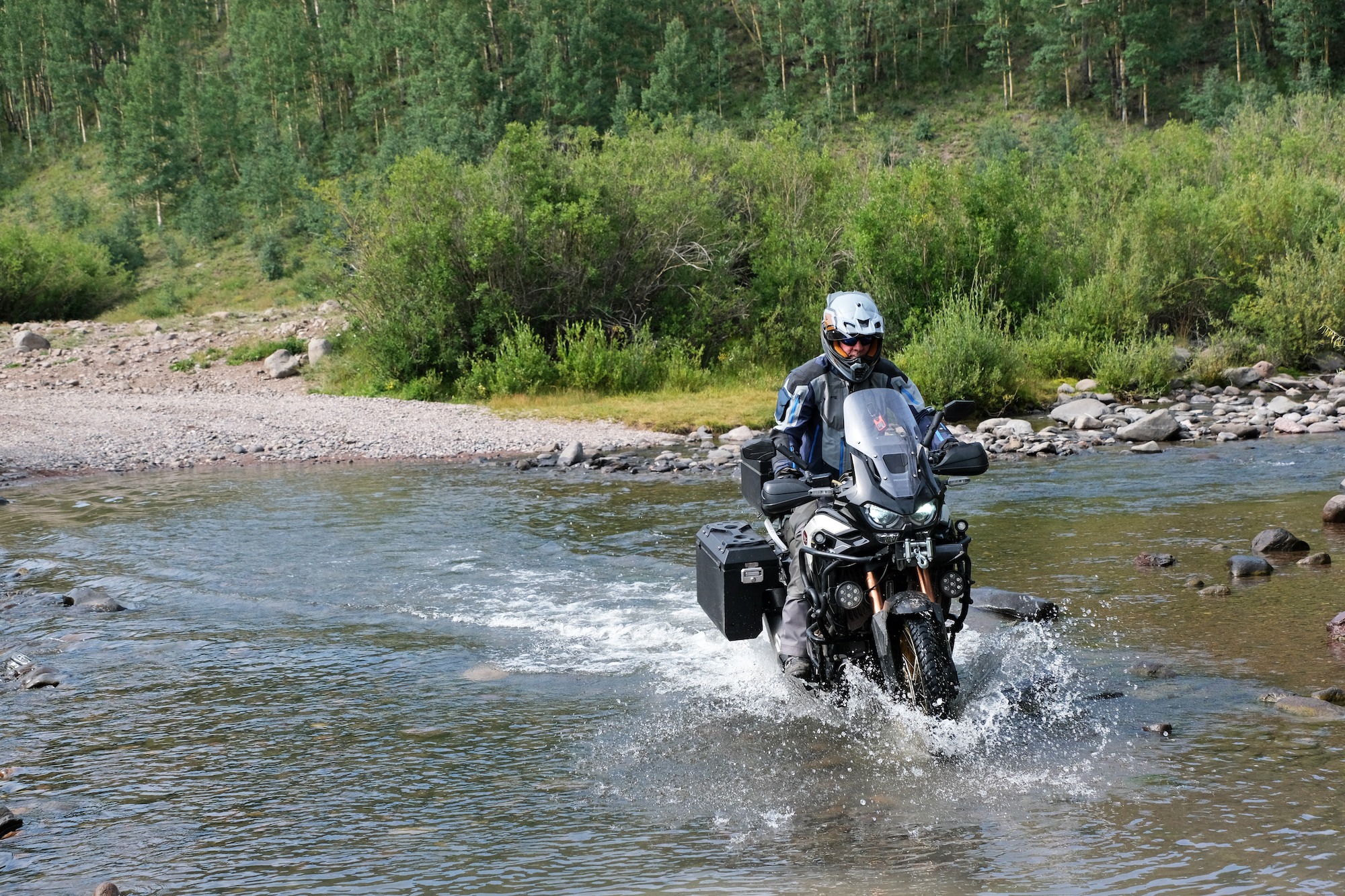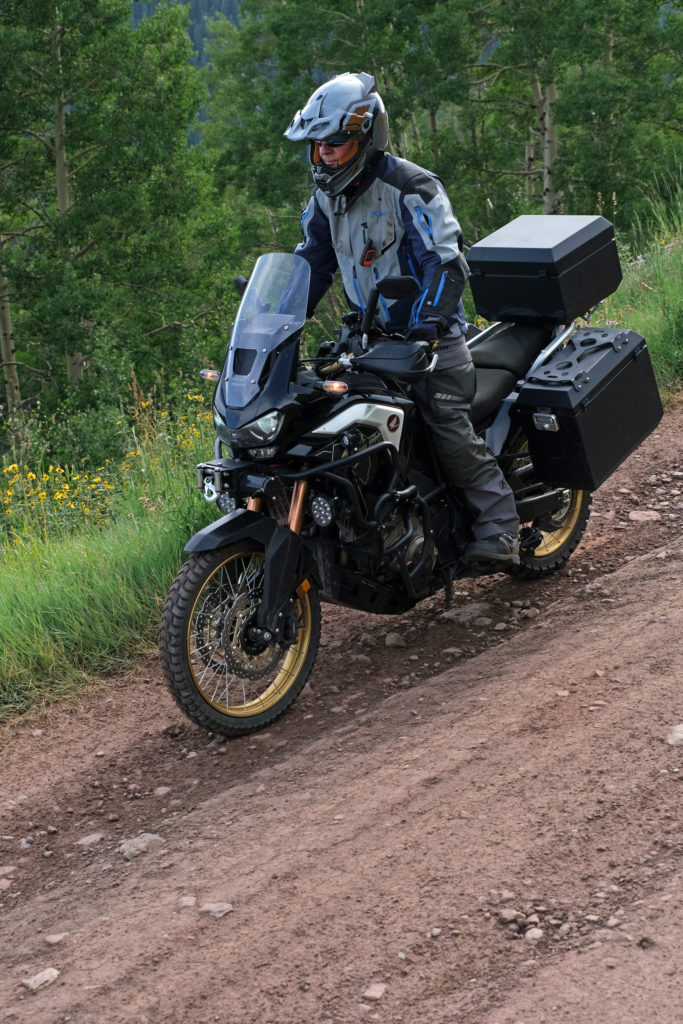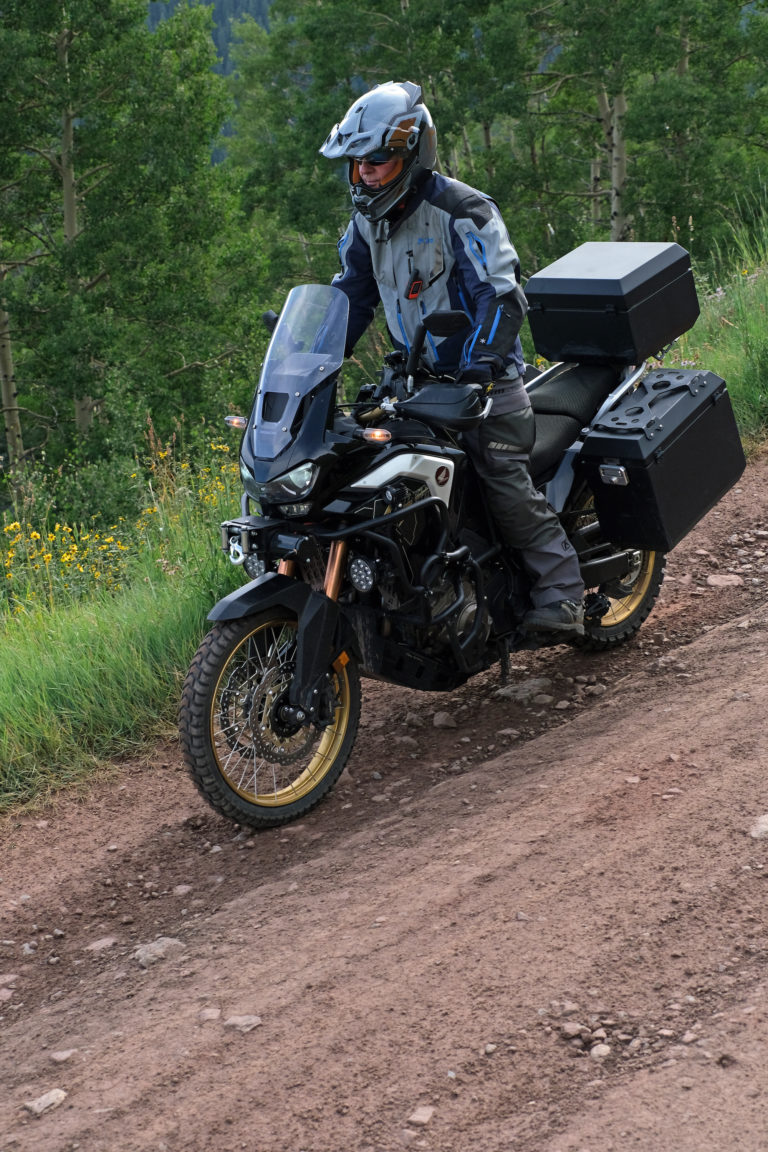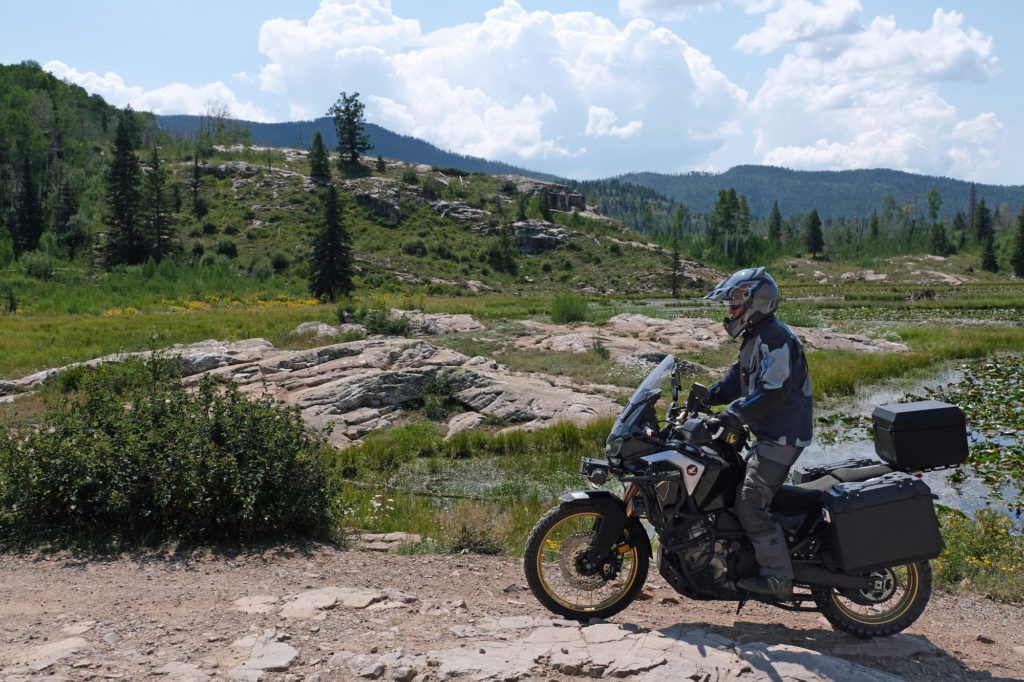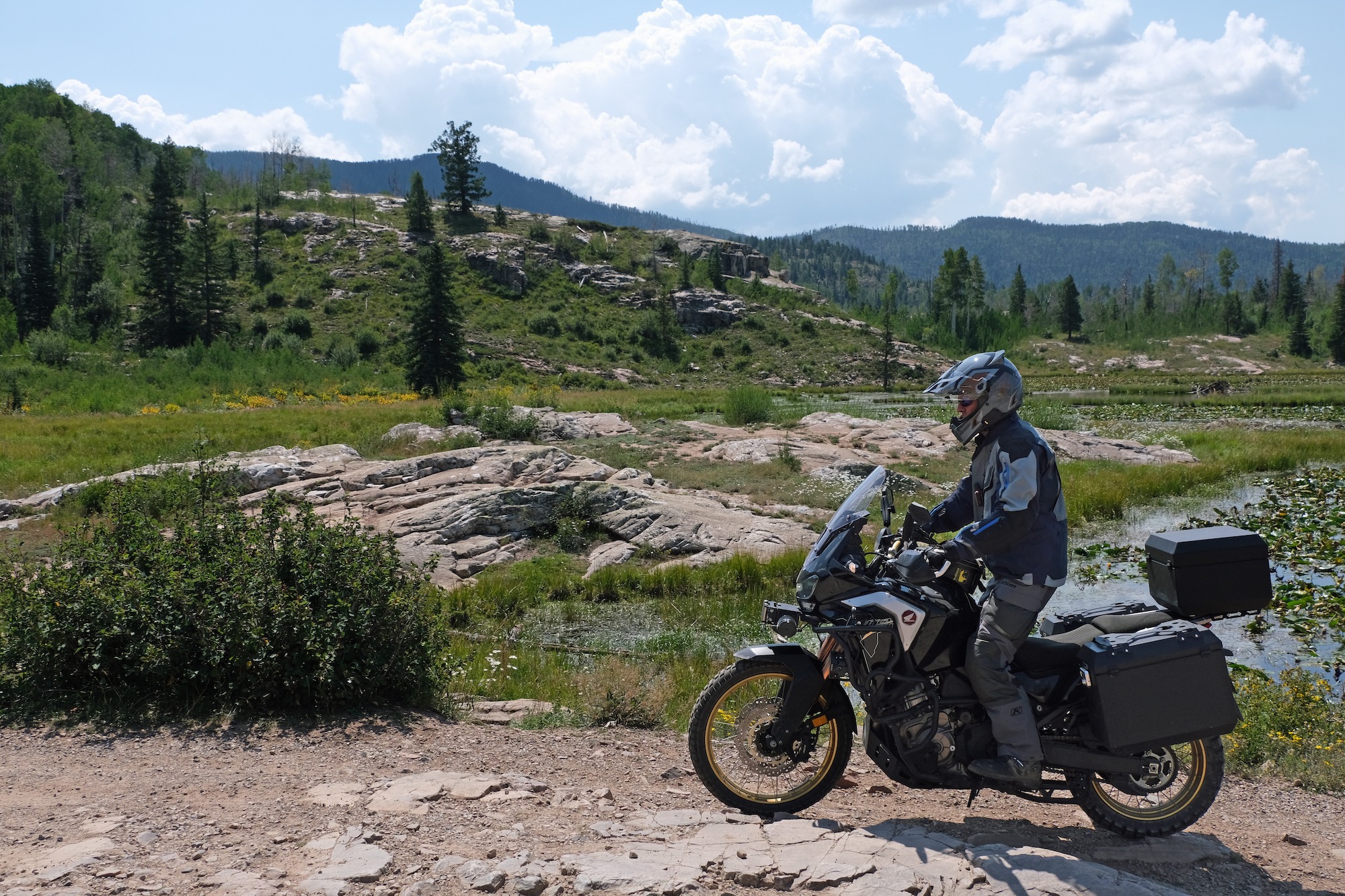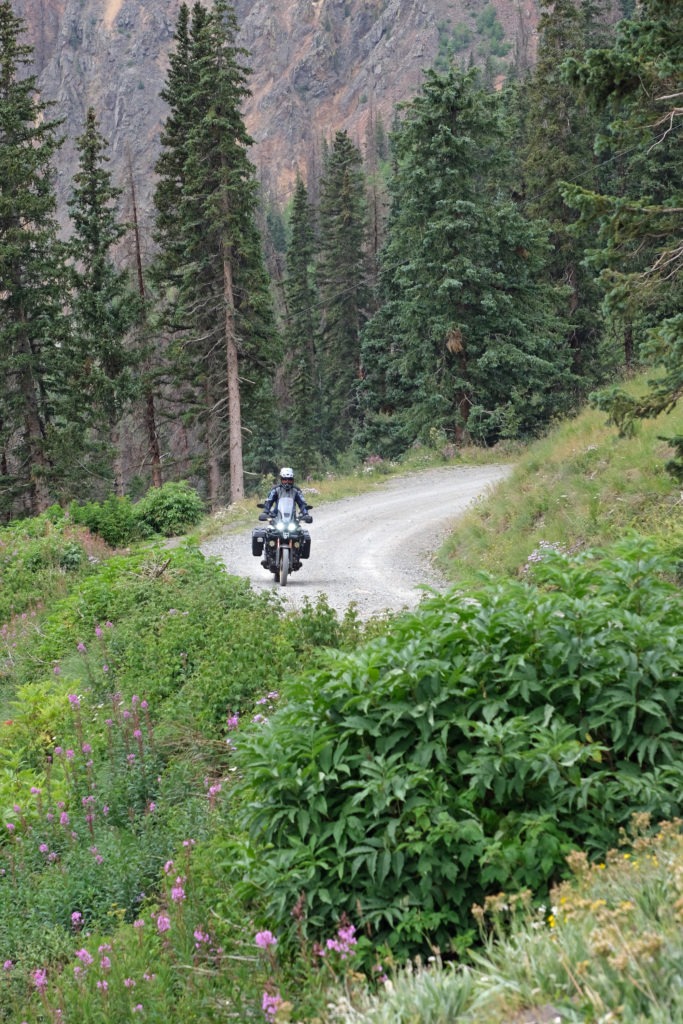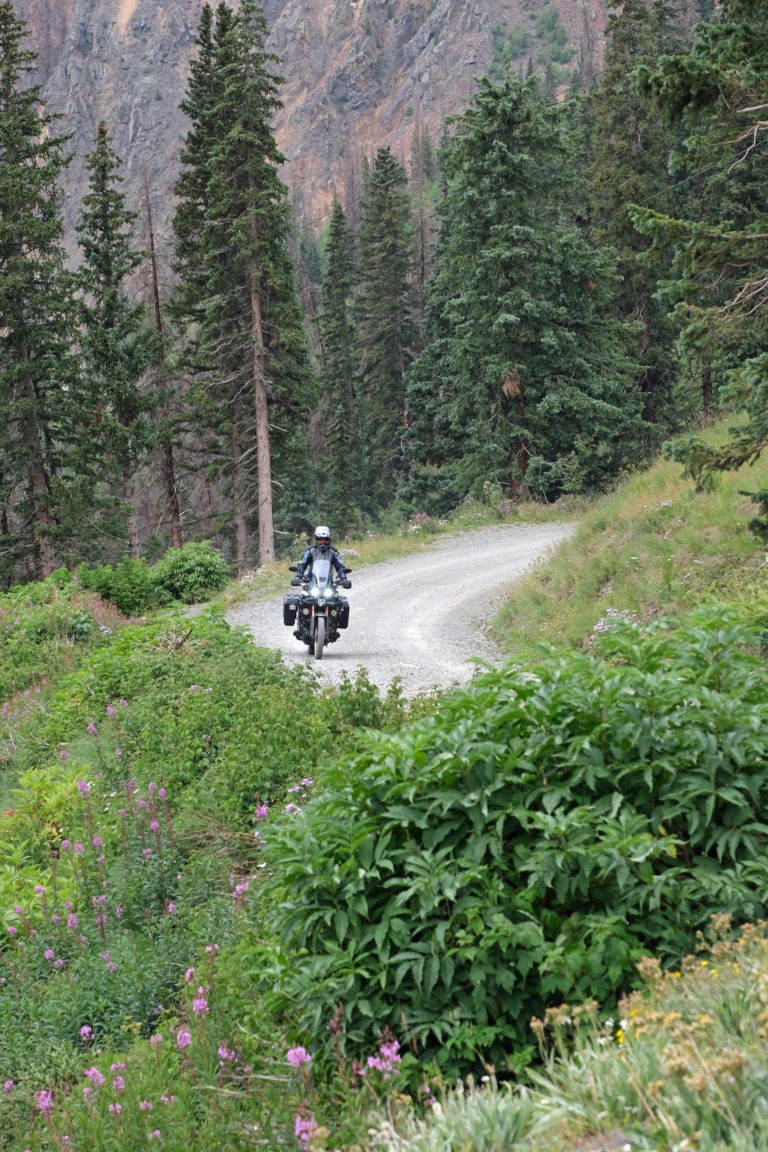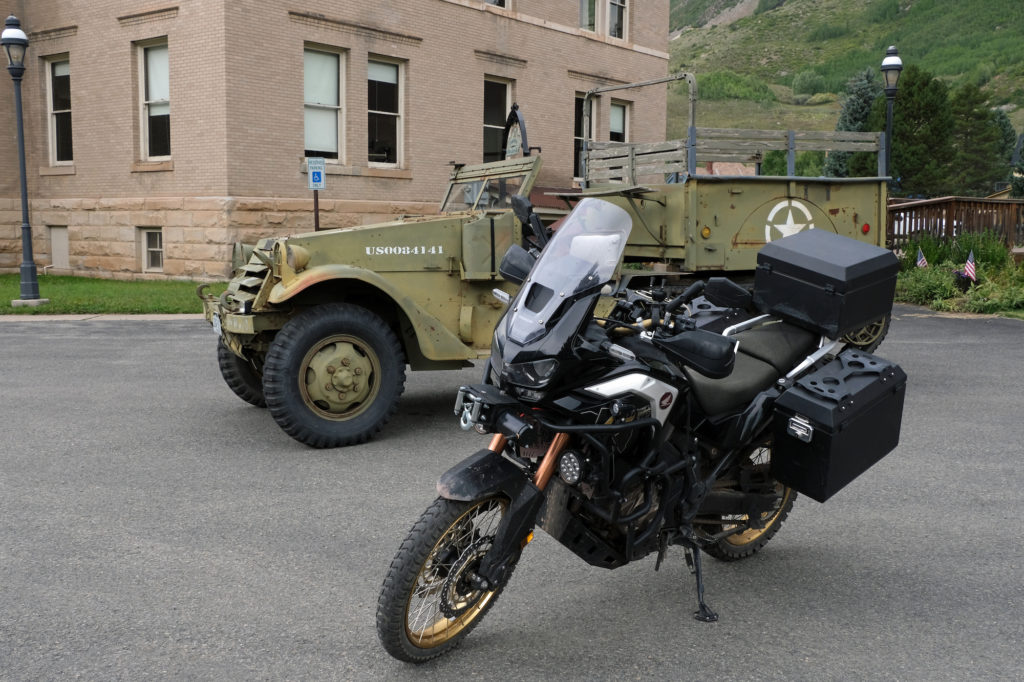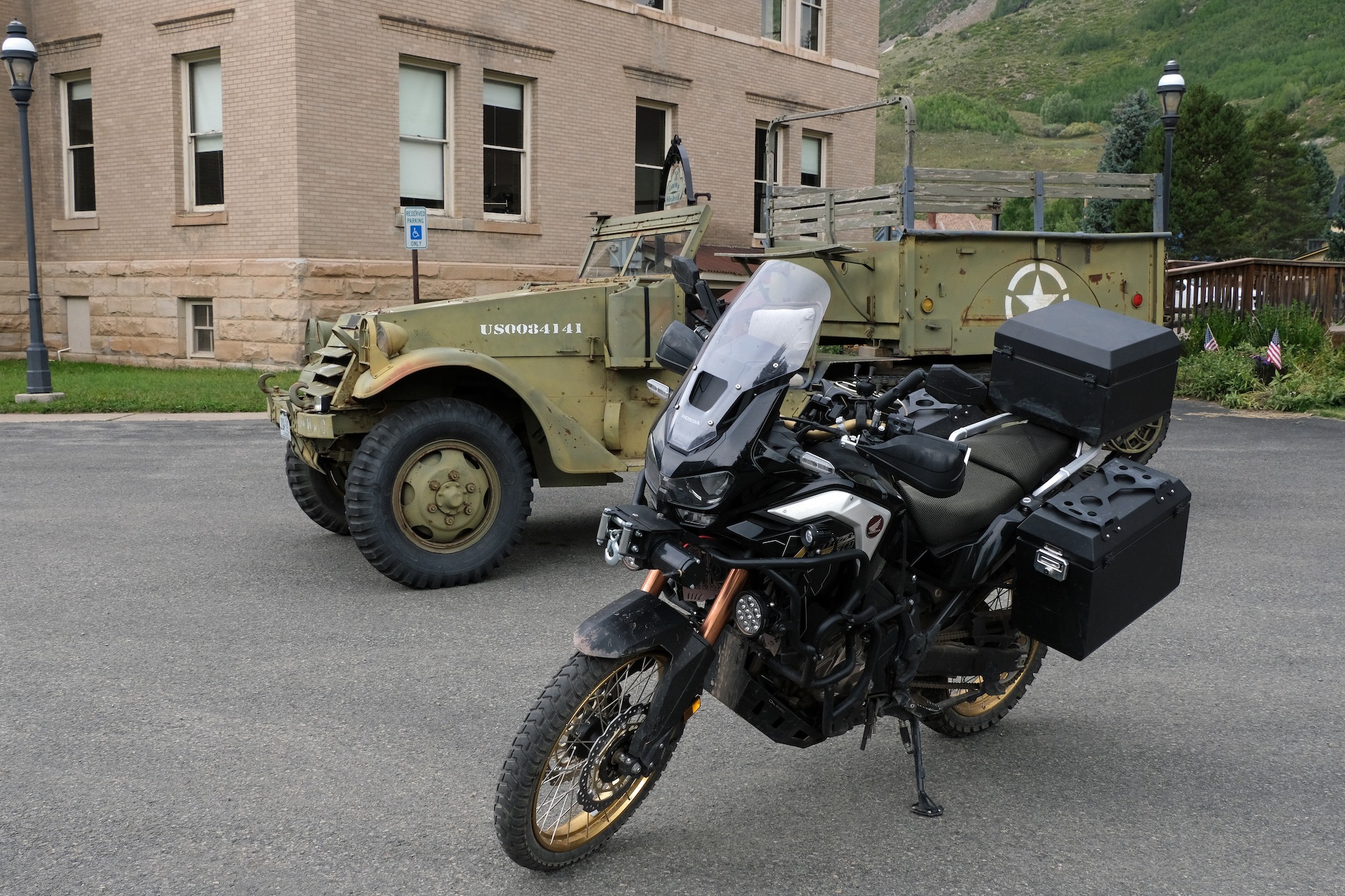 Susan, a vegetarian, proved her love for her hungry husband by producing a thick, juicy steak from our National Luna Fridge to accompany skewers of fresh vegetables on our Trailmaster Trailside Grill. This collaborative travel arrangement of truck and bike was working well and sleep came easily after a long day.
The morning sun did its work just in time for us to pack up and get back on the trail. We paused momentarily in Purgatory to review our route, not wishing to delay there too long … there are better places to be.
A brief run up Highway 550 led us to the Lime Creek Trail turnoff. I heard a story once about a fellow who tried to take his motorhome through there. His rig wound up soundly trapped on a tight turn overlooking the creek, bottlenecking the road for a few days until a plucky wrecker driver could rescue him. Judgment should be part and parcel to any foray in these parts, by any means.
My son and I first rode this trail at a brisk pace with JJ Lewis last summer. That brisk pace cost Ben a blown front shock absorber and a few bruises from a lowside on loose terrain. That "judgment" factor is no joke. Our more leisurely pace this trip allowed me to grab a nap in a quiet place among the aspen while Susan slipped in a nice walk.
Lime Creek Trail dumped us back onto Highway 550, just below Coal Bank Creek Pass. Our two-vehicle convoy continued north to the bustling mining, turned tourist town of Silverton, turnaround point for the Durango and Silverton Narrow Gauge Railroad and Silverton Train. This whistling, steam and smoke-pouring relic from the 19th century was heralded as "the beautiful daughter of the D & RG" (Denver and Rio Grande Railroads) by C.W. McCall in his popular song, "The Silverton Train." Mr. McCall, whose real name is Bill Fries, served many years as mayor of Ouray, 25 miles north of Silverton.
Gassing up in Silverton, we began the climb past the Old Hundred Gold Mine where tours can still be had, then on up and over Stony Pass. Stony is aptly named, with its rock-strewn two-track leading to the headwaters of the Rio Grande River. For an Okie, meeting the mighty Rio Grande at its birthplace is somewhat disorienting. The Rio Grande River is the border between the United States and Mexico in south Texas, where it runs slow and wide. Here, one can step across its upper tributaries before it gathers enough volume and momentum from the melting snow to fill the Rio Grande Reservoir before picking up steam on its way south and east, eventually emptying into the Gulf of Mexico.
Here is also where the Africa Twin's technology gave pause in this curmudgeon's normally calm demeanor. Stony Pass has enough loose rocks and ledges to satisfy a light brigade of rigs destined for the King of the Hammers. It took a bit of fiddling to push all the buttons in the appropriate order to override the bike's desire to save me from myself. Wheel spin is managed by Honda's very aggressive Torque Control, which, when not properly assigned, also limits power when most needed.
Admittedly, I should have read the owner's manual before setting off. Honda's engineers have spent a lot of time and energy creating appropriate settings for most, if not all, riding styles. But it is advisable to learn the nuances before testing them on Stony Pass or its like.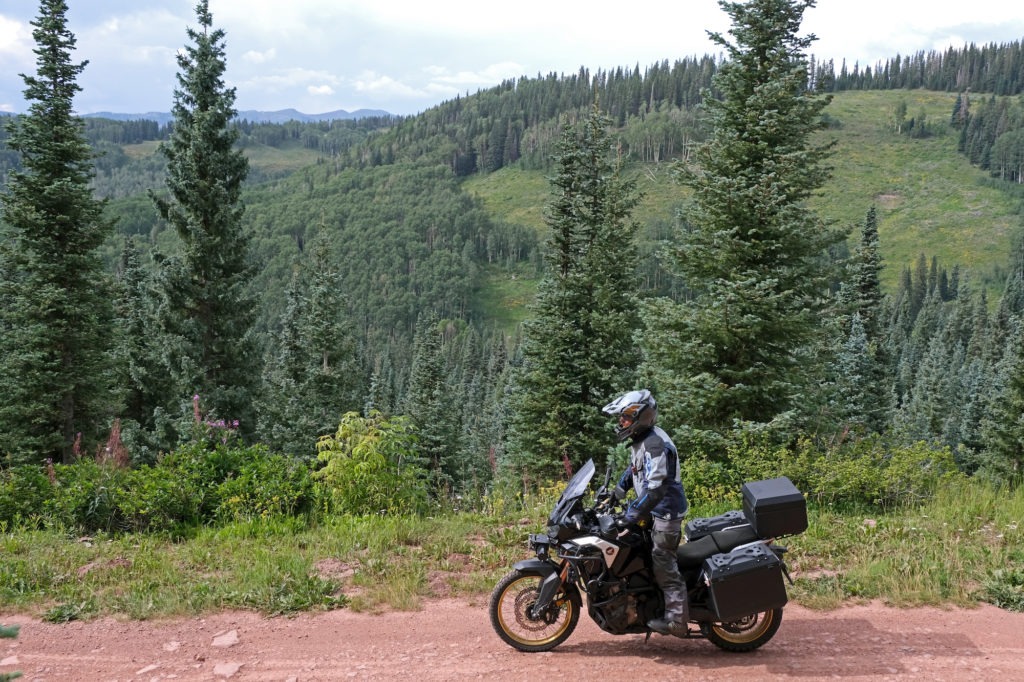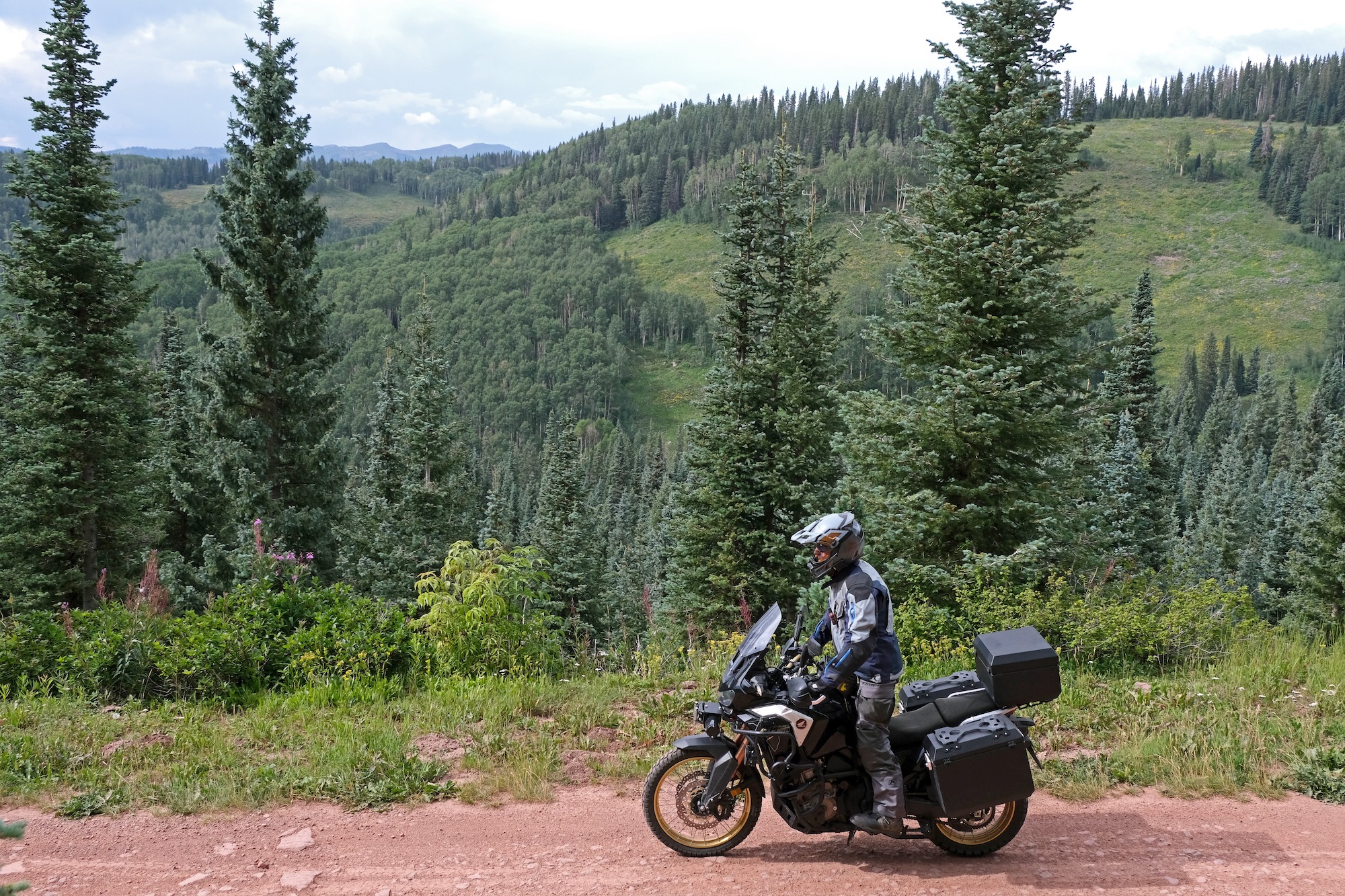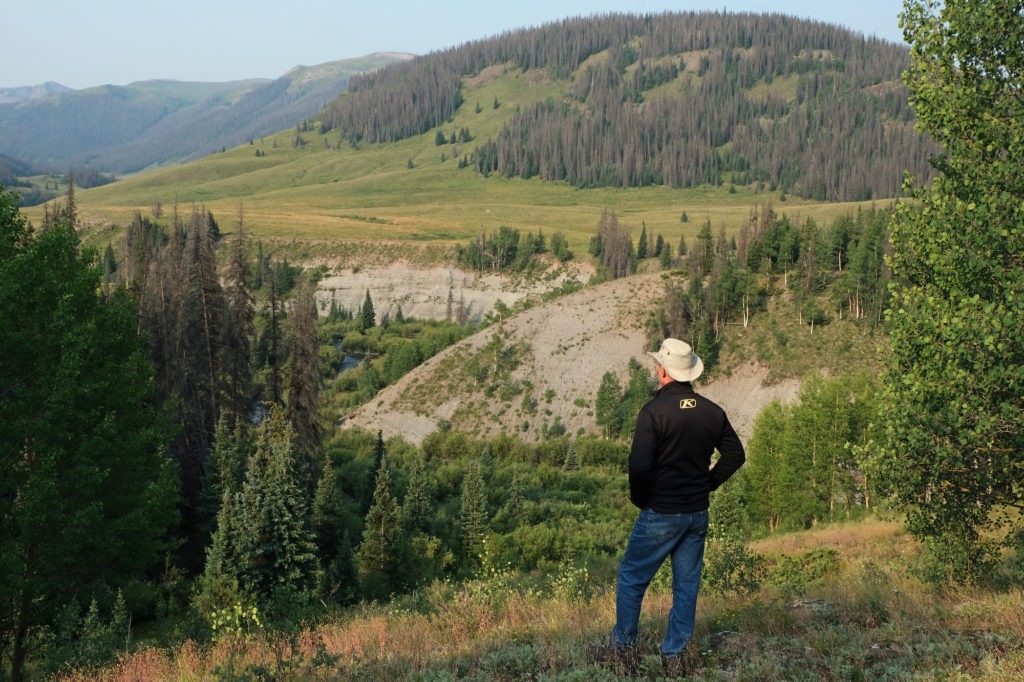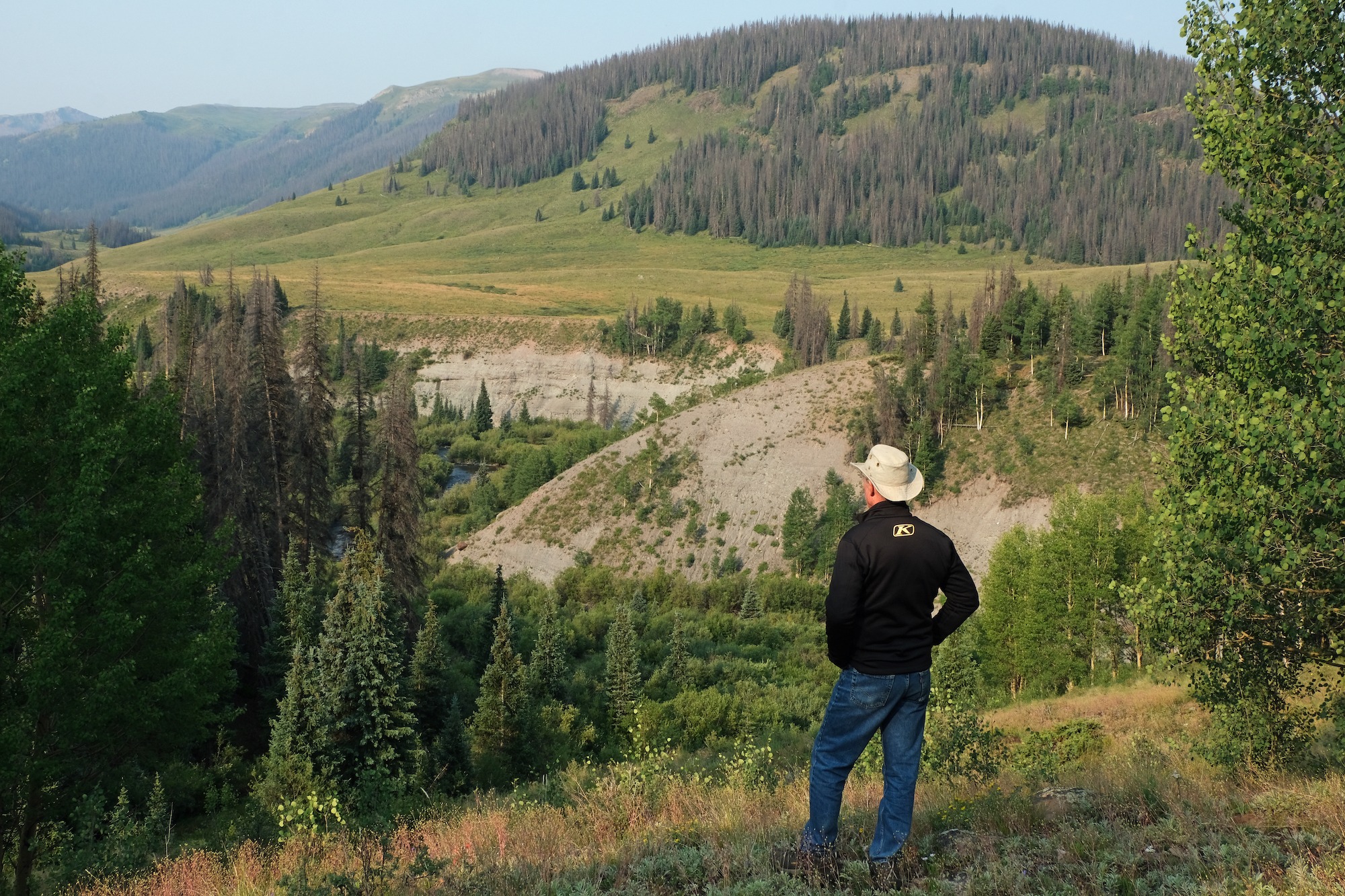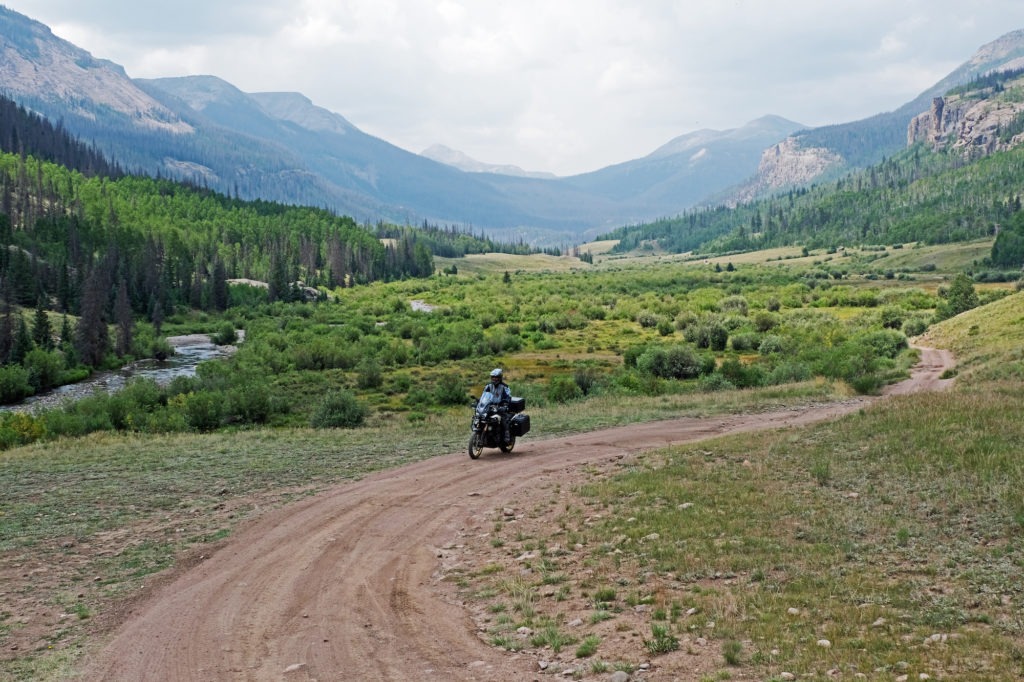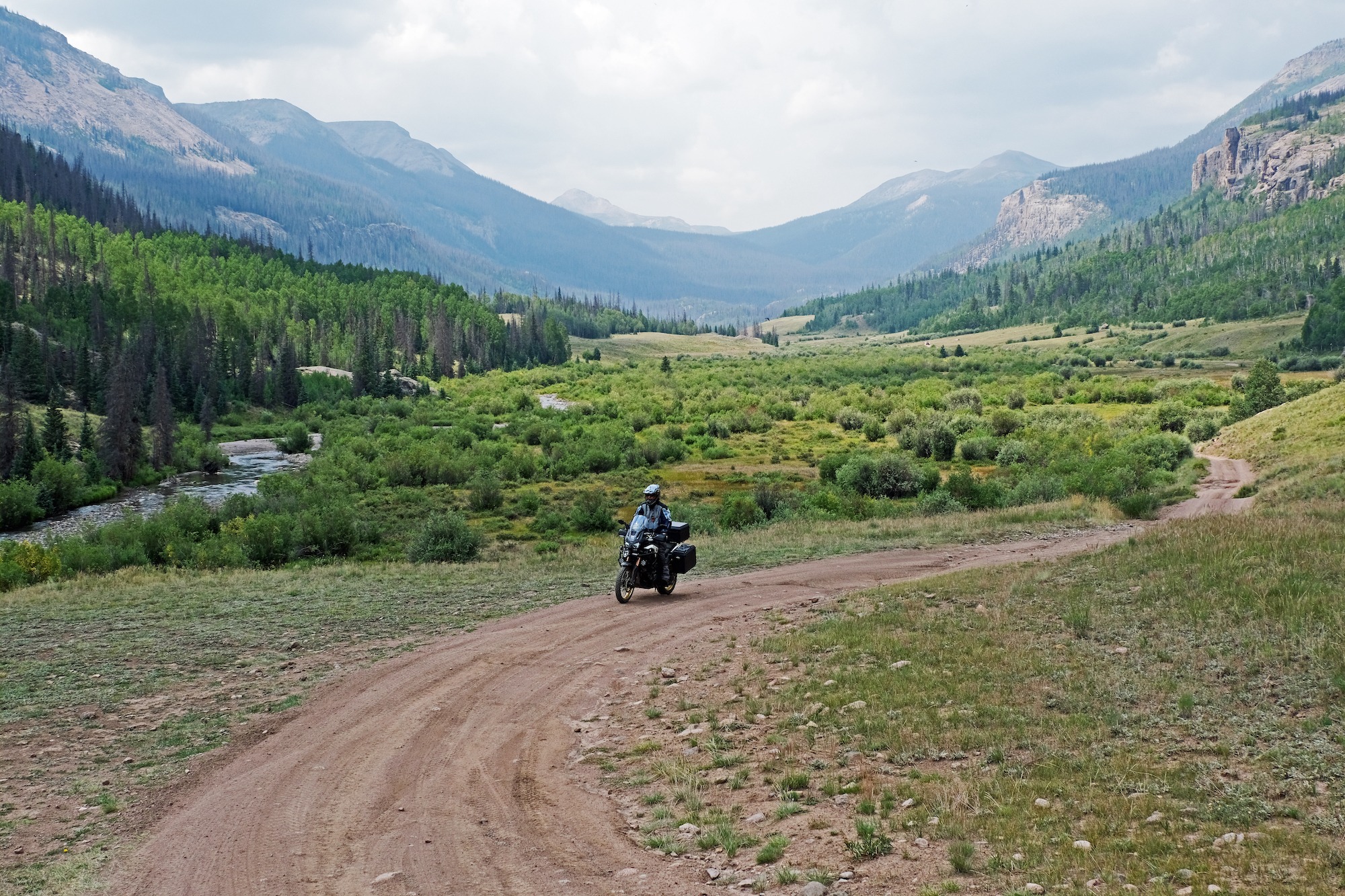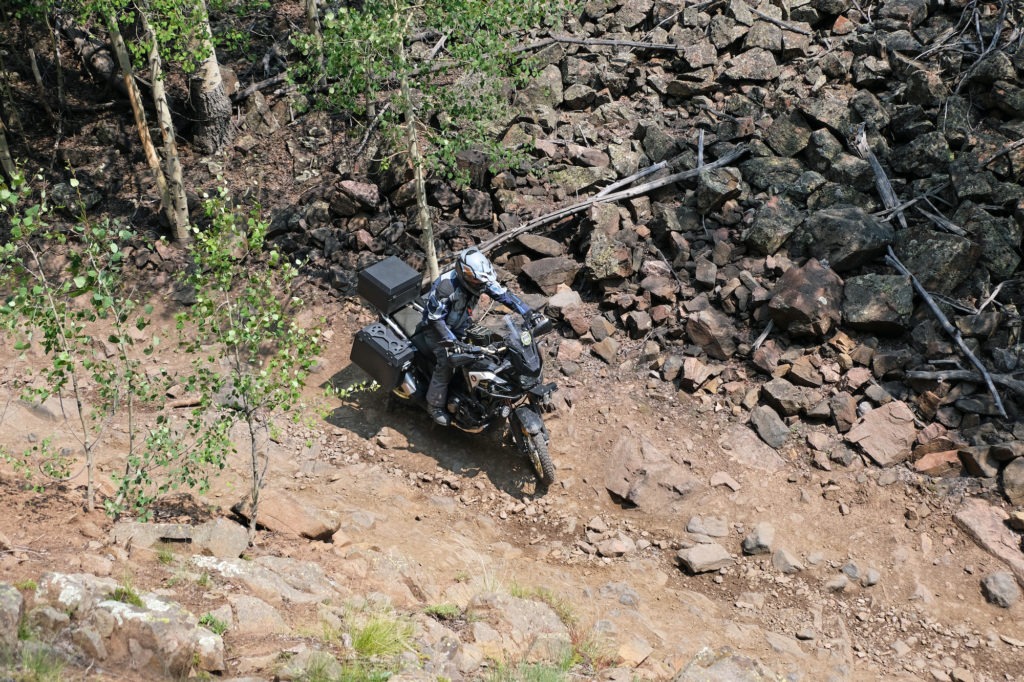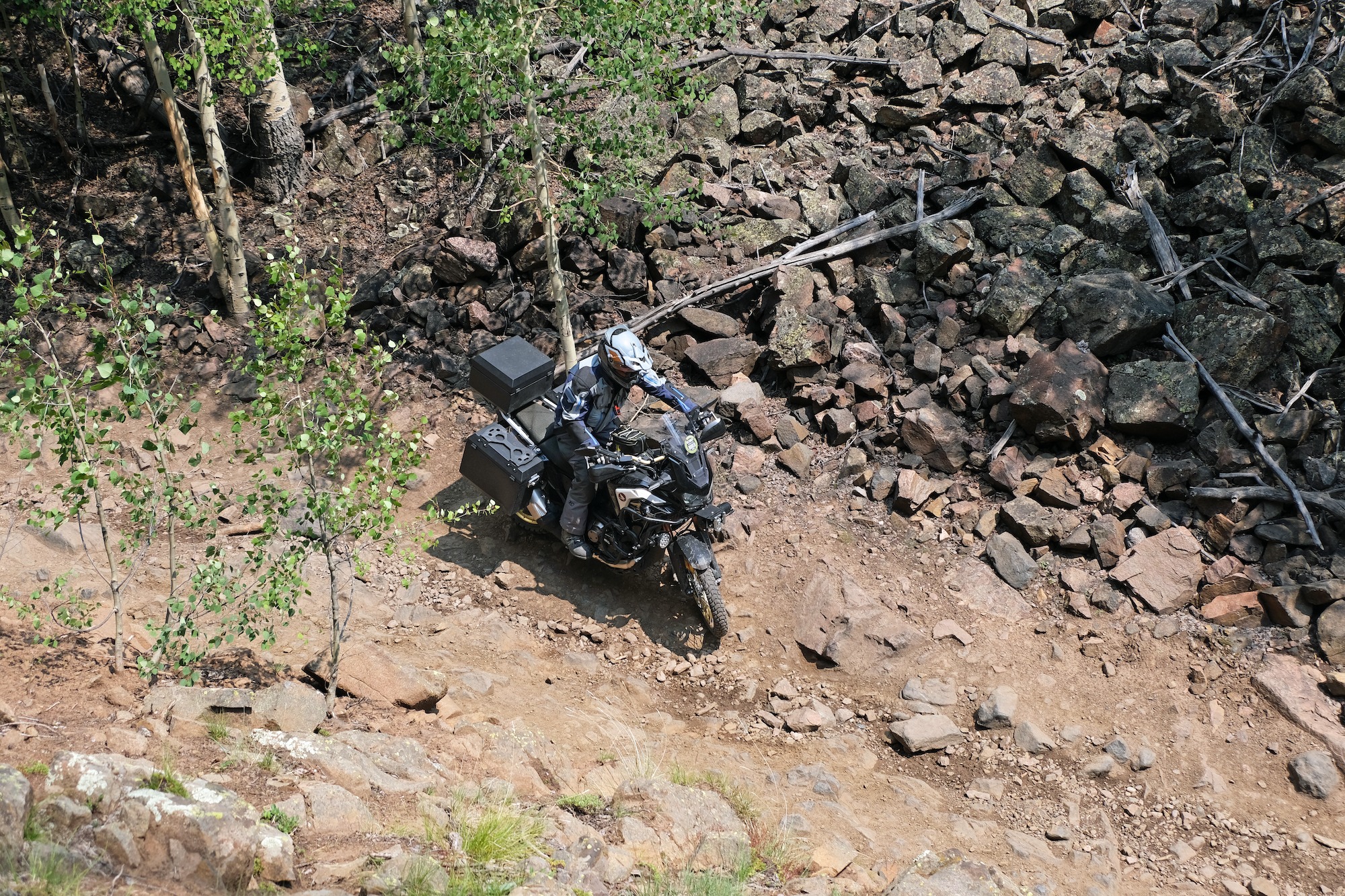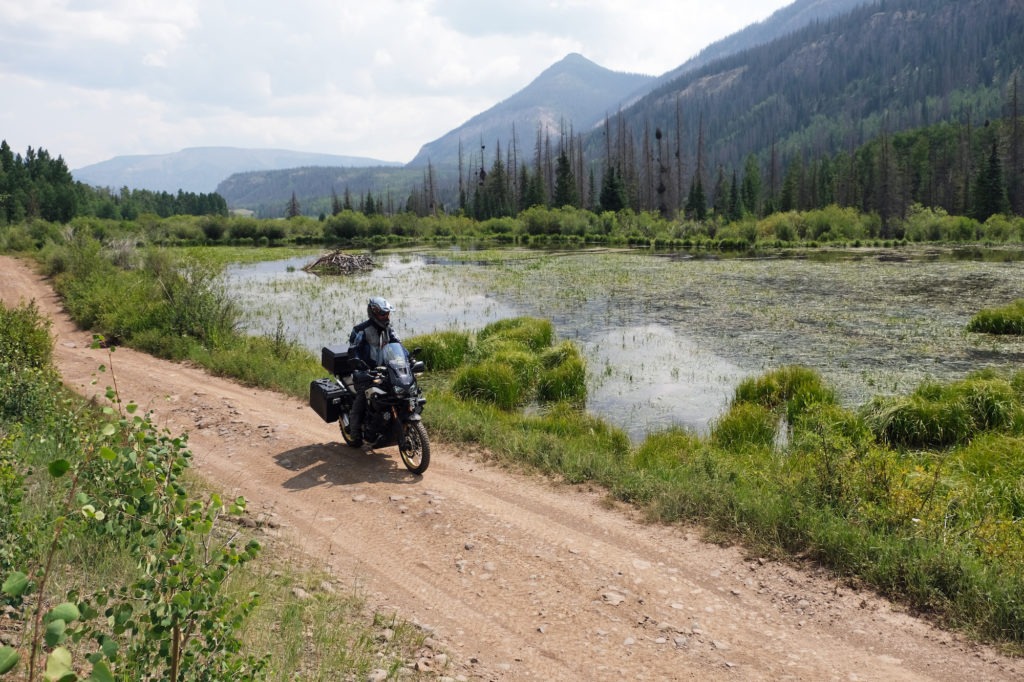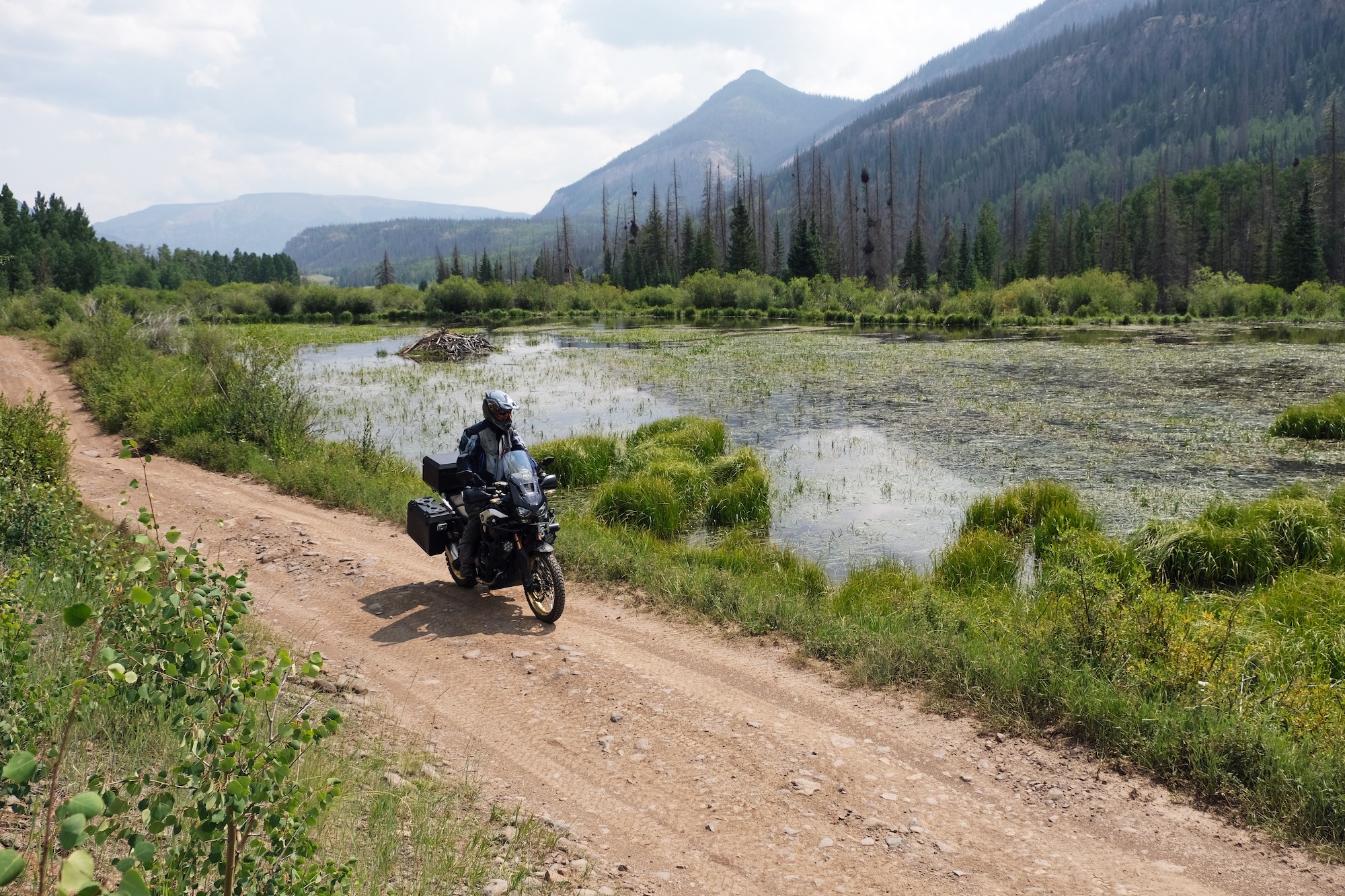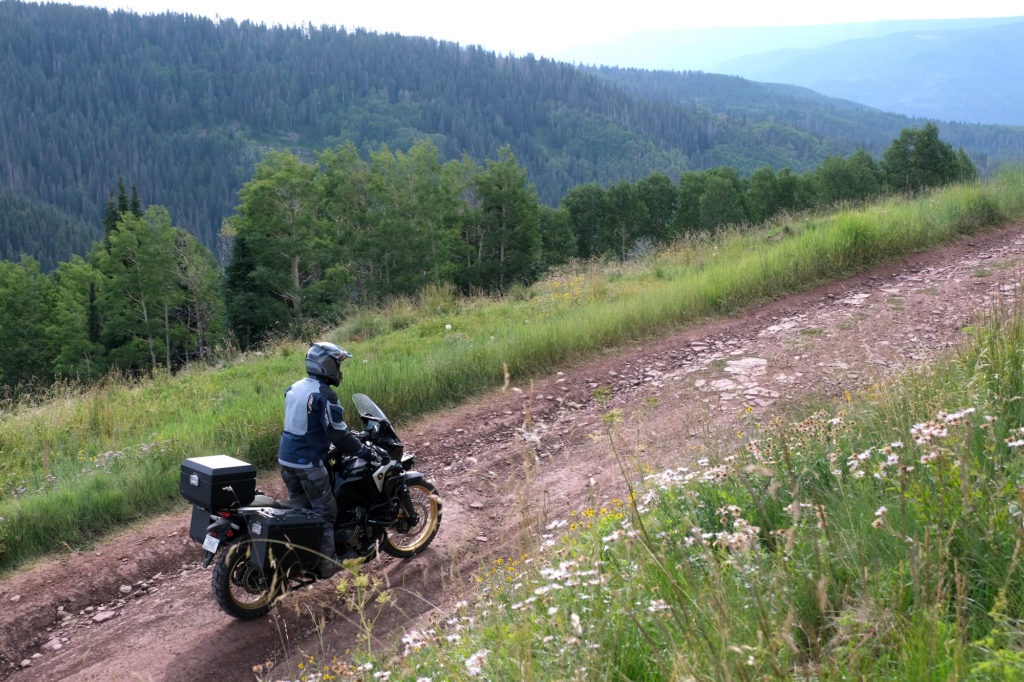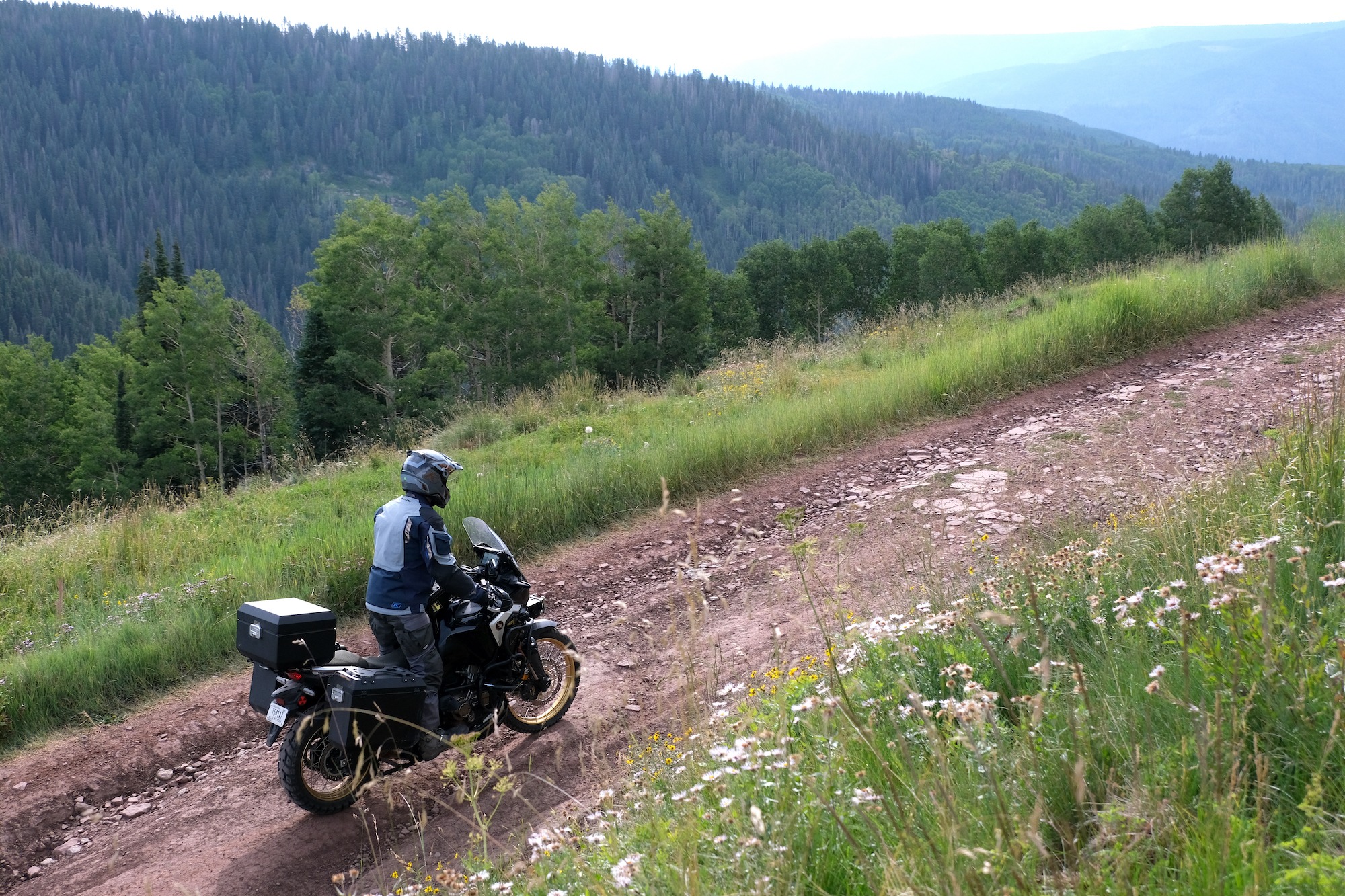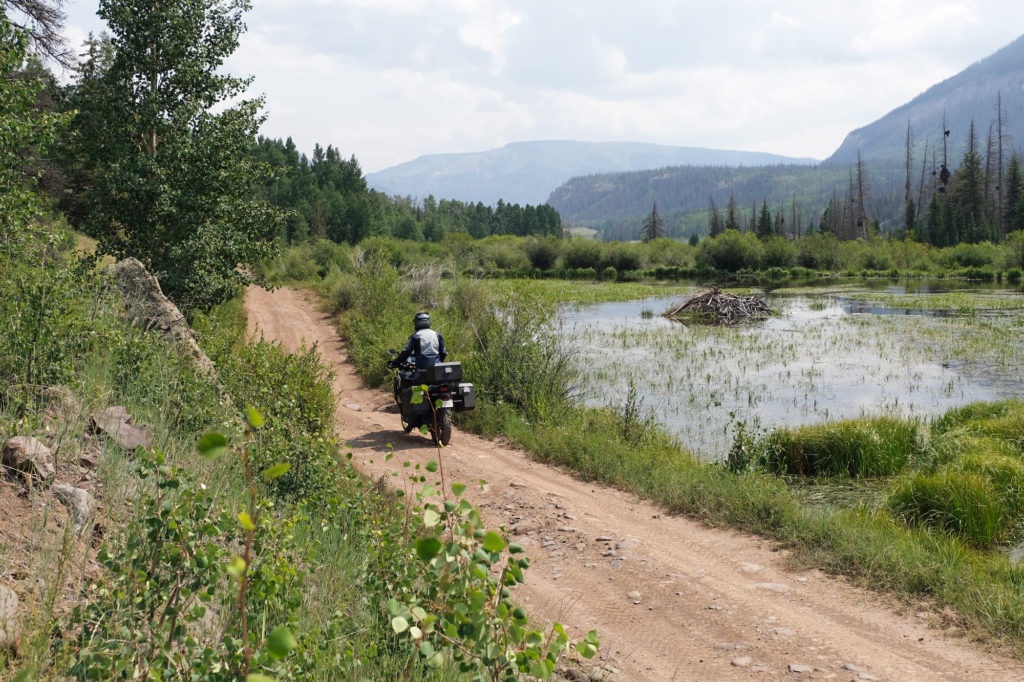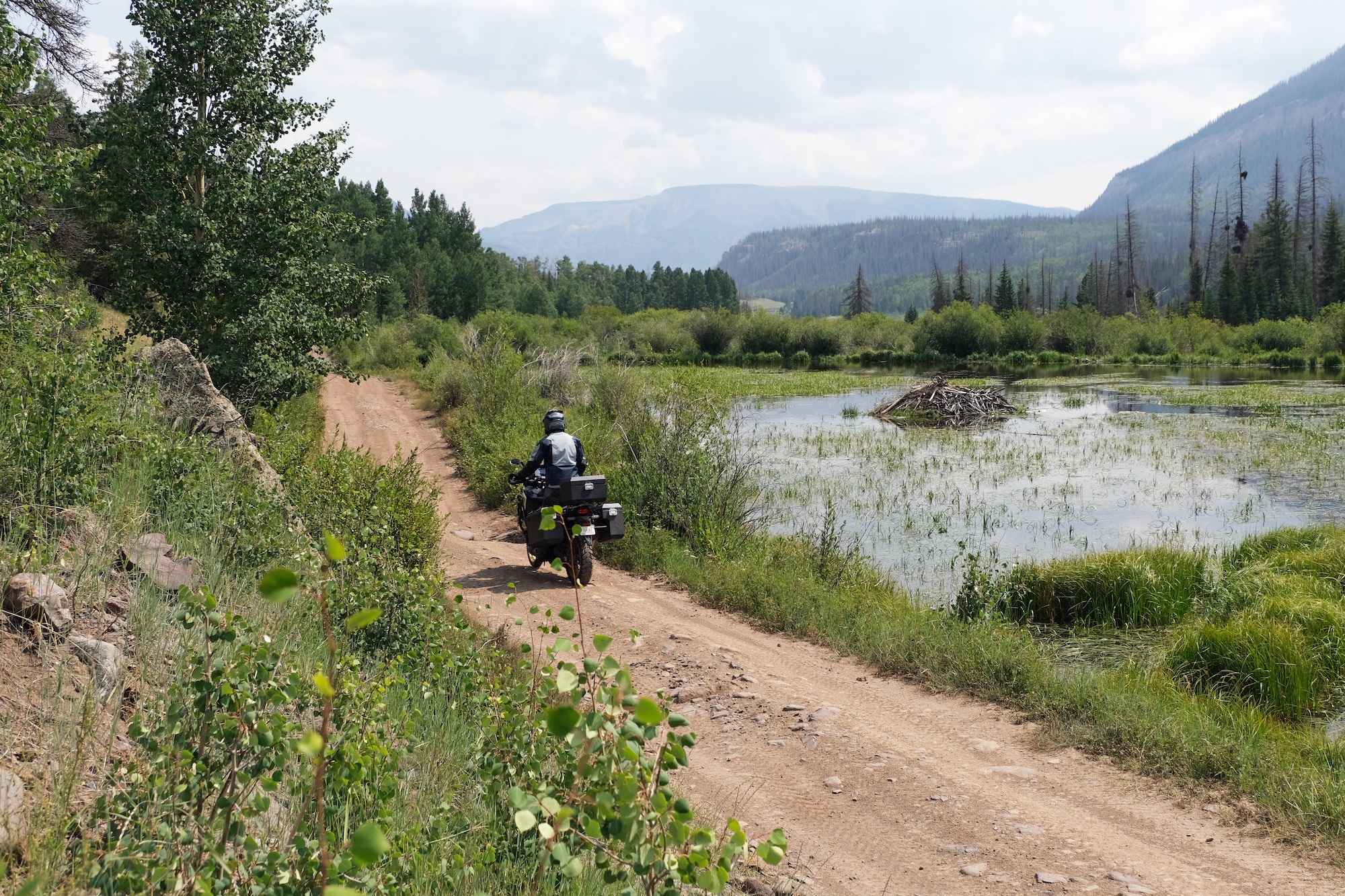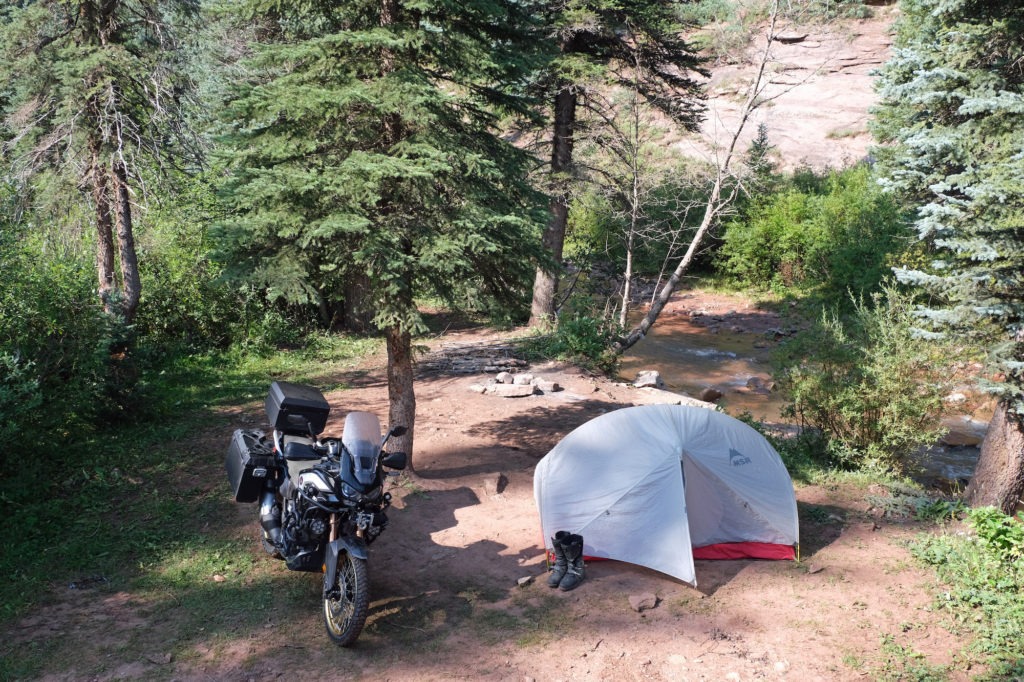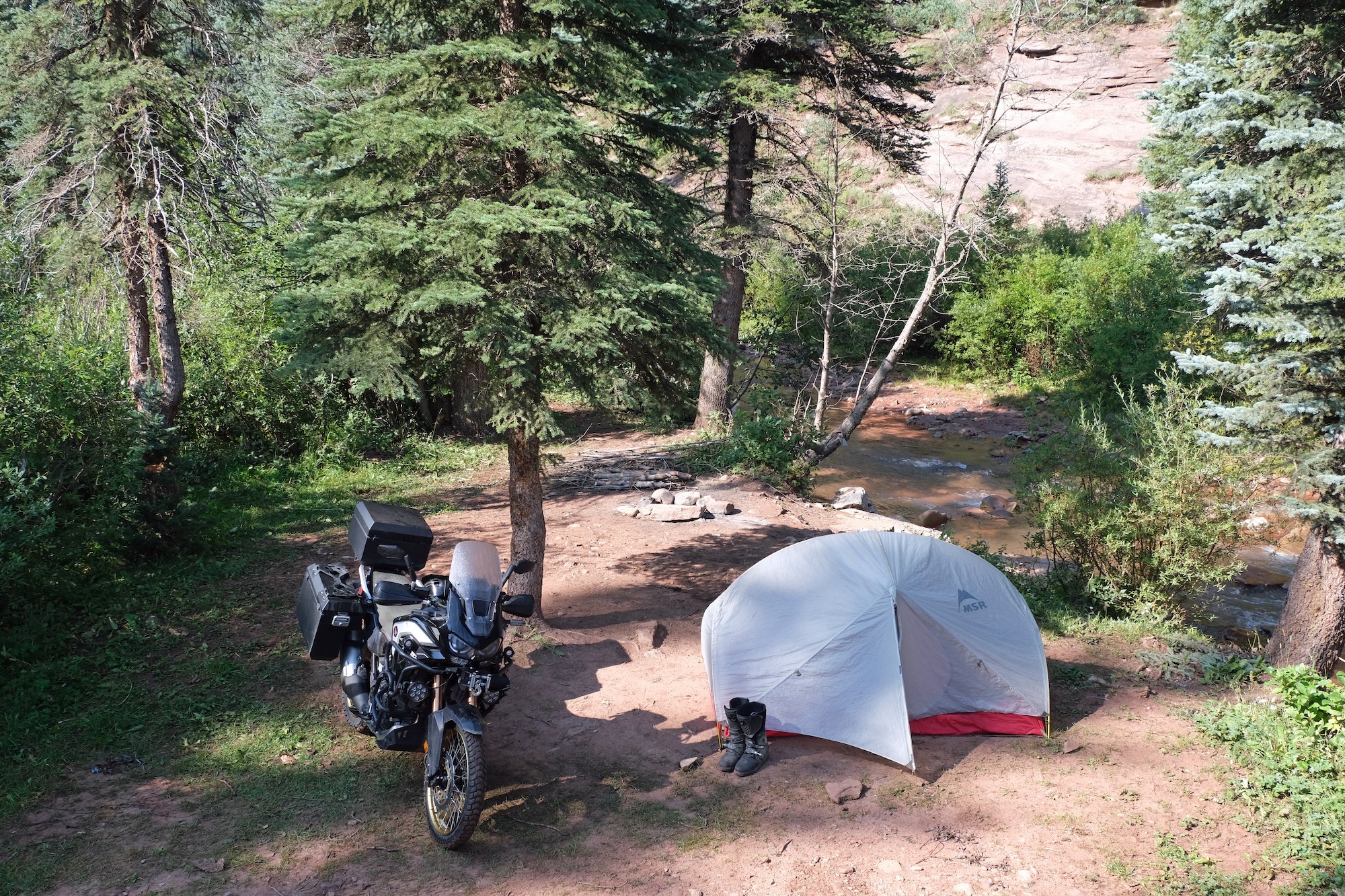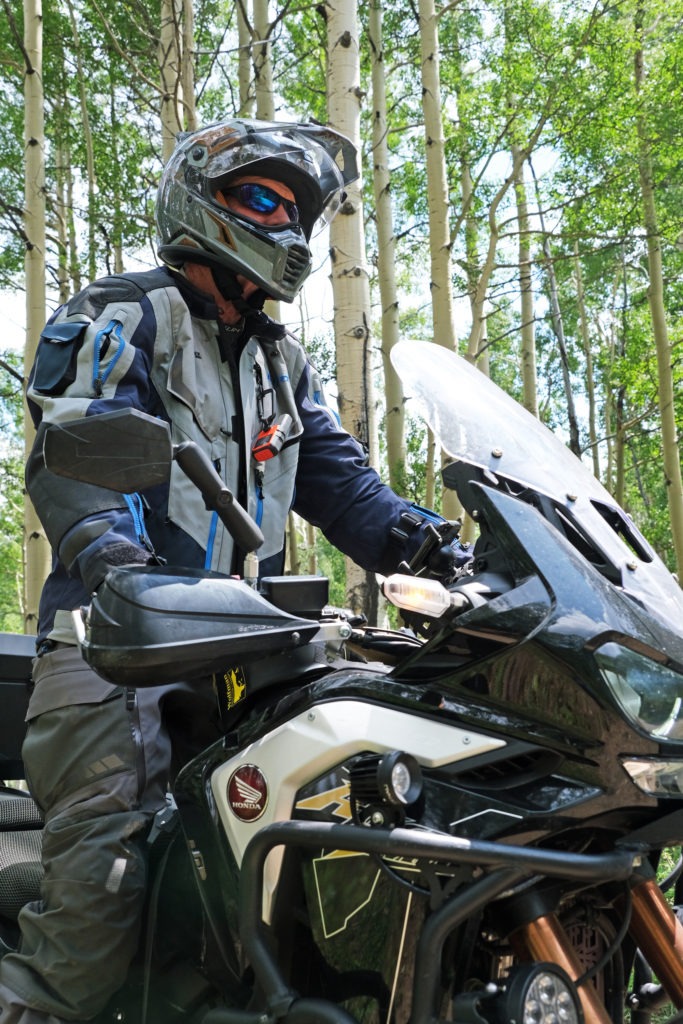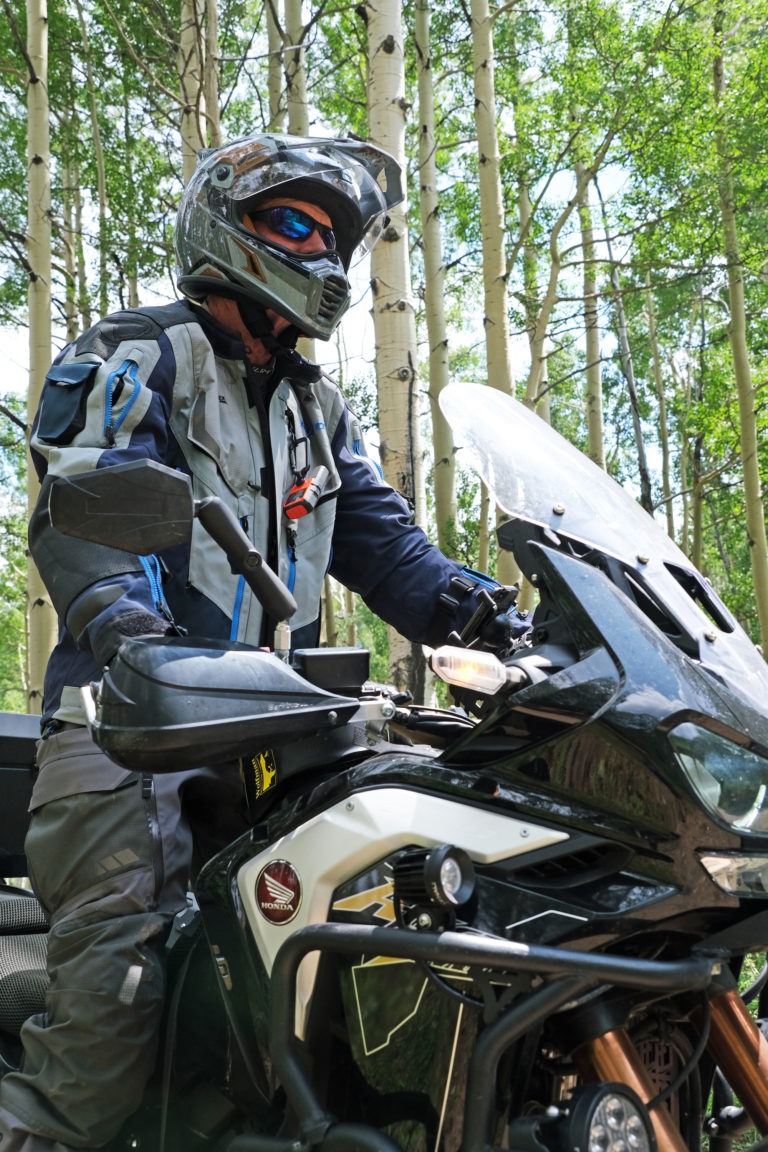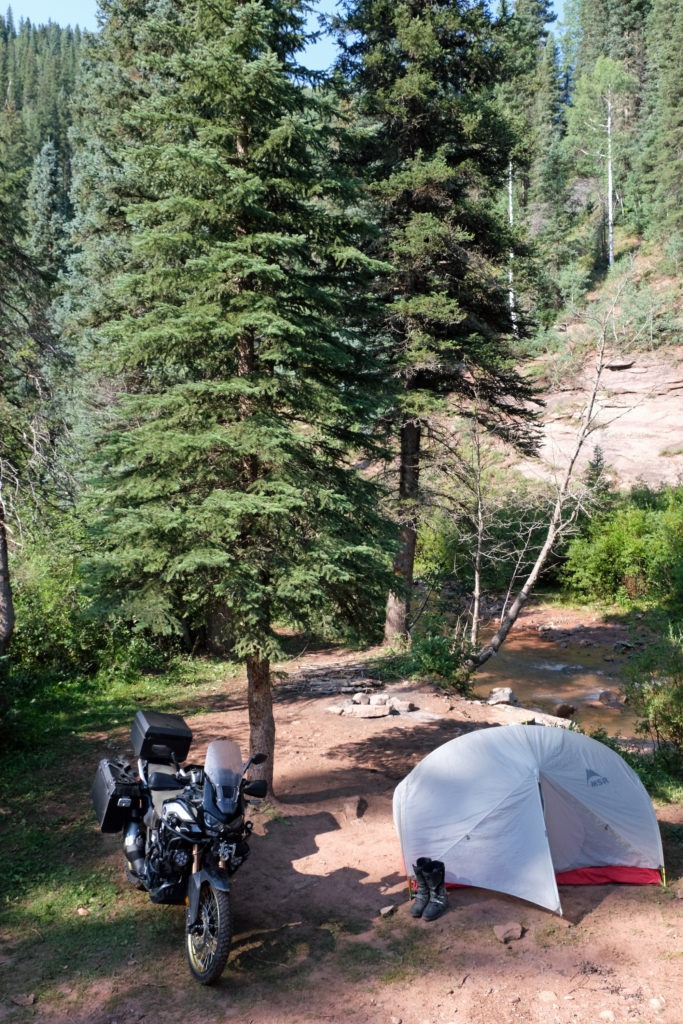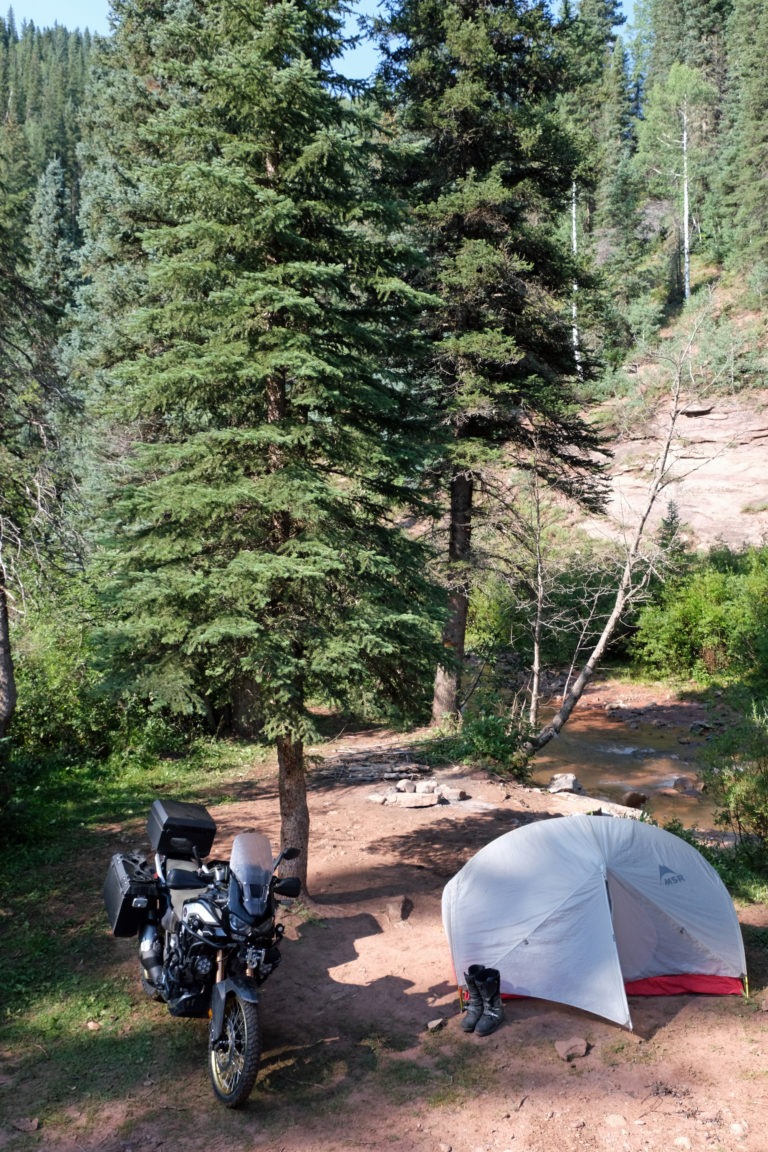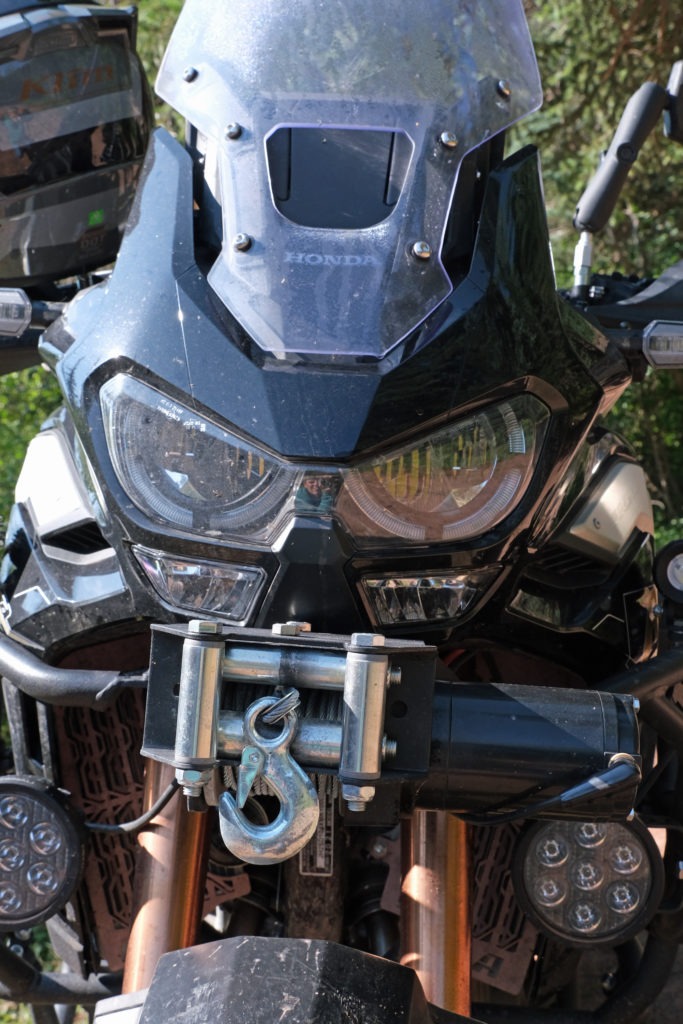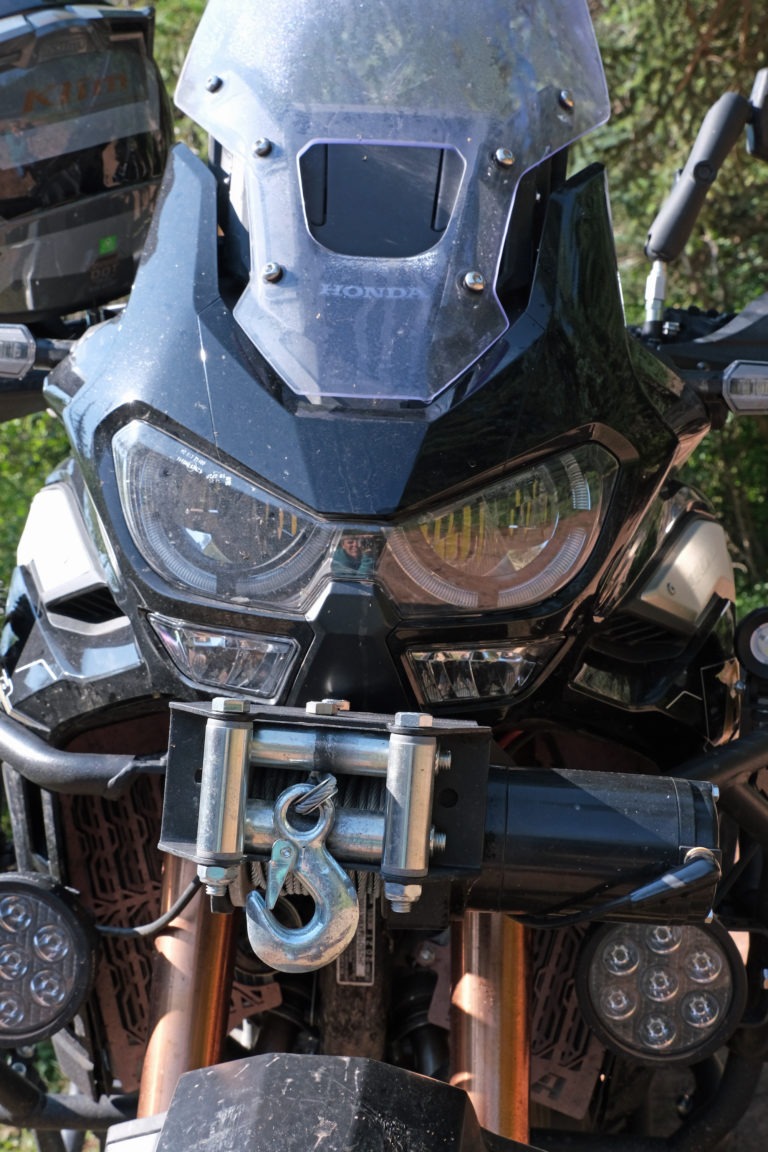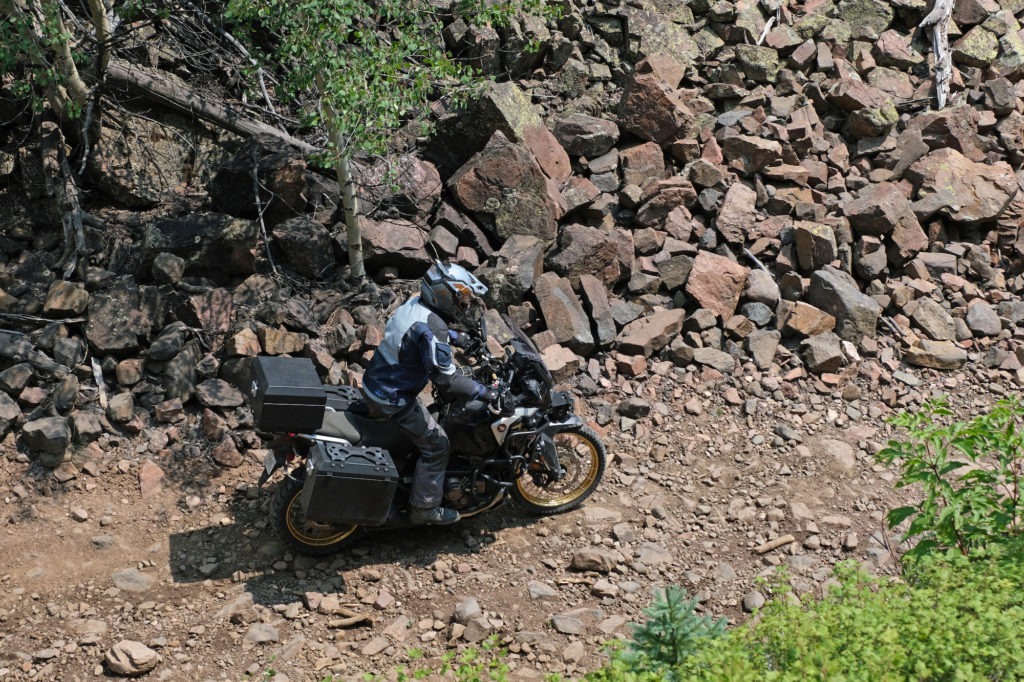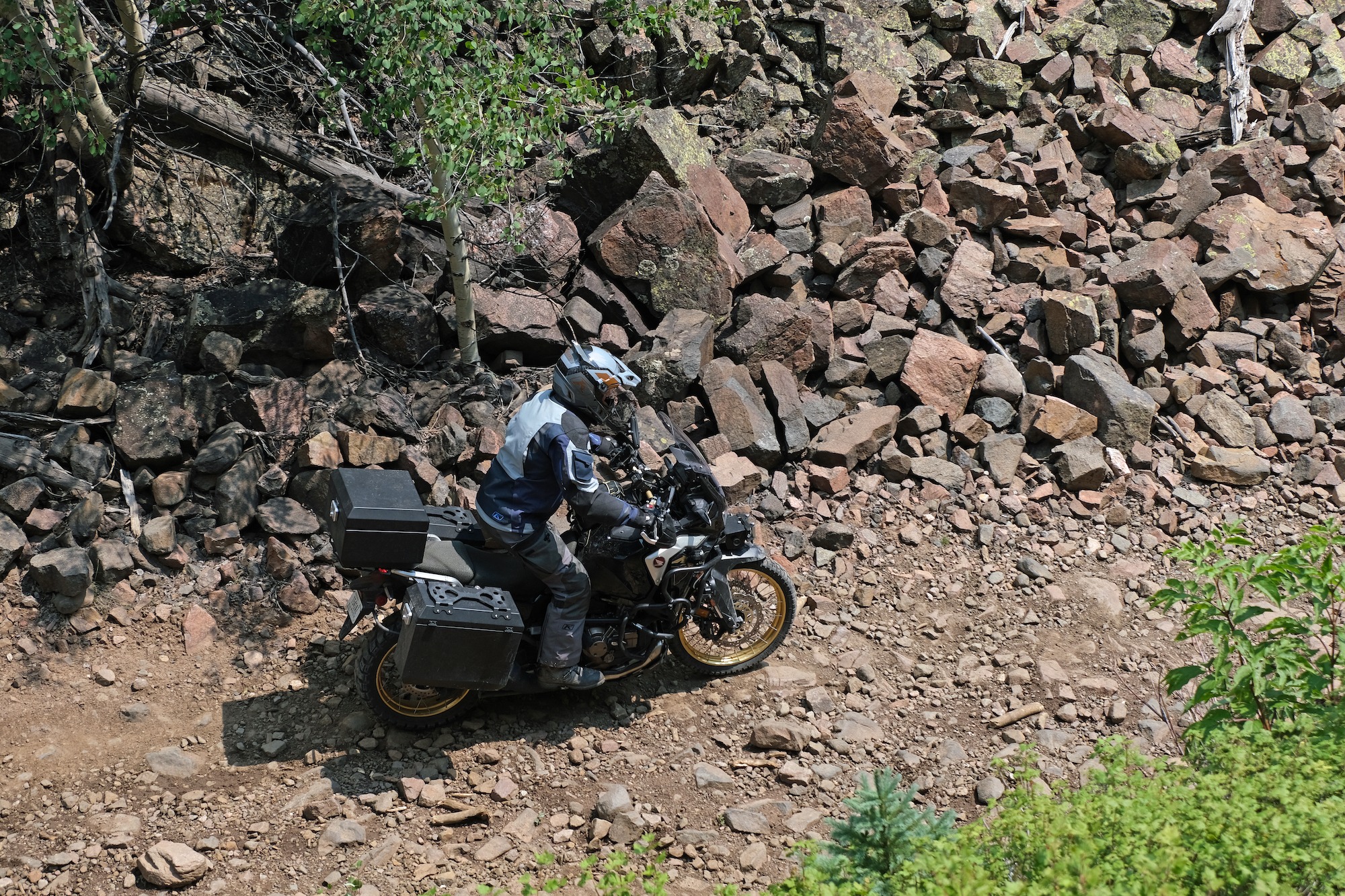 I managed to make the climb unscathed and was rewarded with more incredible views of rust-colored, iron-laden mountains and wide, verdant vistas where sheep and side-by-sides have replaced miners as local inhabitants. Picas and marmots scamper among the rocks as though playing tag with one another and hide and seek with travelers like us. We even spied a hiker, sitting beside a massive bulldozer, filtering water for the next leg of his hike along the Continental Divide Trail, a stark contrast of mechanism and minimalism at 11,000 feet.
The trip down was also a contrast as the Honda's excellent suspension made short work of the rocks, ruts and ledges. Jeepers and RZR riders stifled mouths agape as this land yacht danced with uncanny dexterity past where their wheels would slip and grab while they scraped and screeched their way up the mountainside.
I had made a pact with Susan that we would stop sooner than the previous night to allow more time to set up, dine, and enjoy a glass of wine at sunset.
We found the perfect place, well off the trail, just past where Pole Creek crosses The Lost Trail to Creede before joining the upper trickles of the Rio Grande. Our view grew more stunning as the day waned into sunset. Thunder rolled across the horizon and a small shower provided a damp transition from the day's warmth to the evening's chill. The smell of pines was accentuated by the moist and stormy atmosphere. An umbrella kept our pre-set fire ready to touch off at the first signs of goosebumps.
Our next morning began with a hike above our campsite. Signs warned of no vehicle travel but, sadly, four-wheeled tracks led well beyond that point. Deep, fall-line ruts guided rainfalls, cutting their paths ever deeper into the alpine tundra. Unfortunately, there are people who will ignore laws intended to help keep our lands open and available, consequently further limiting our access by any mechanized means. Still, our hike yielded a diamond in the rough: a narrow single-track trail through a tunnel of stunted, twisted, high-elevation tree growth. A stream crossing added intrigue to the moment, luring us a bit farther before our need to press on with our intended journey turned us back to camp.
Back aboard our respective machines, we continued our descent, past the Rio Grande Reservoir and into the canopied forest roads below. An intense rain began again a few miles outside Creede. We stopped in for a store-bought lunch at The Creede Hotel and Restaurant, our first such indulgence in a couple of days. We sat, catching up on emails and messages until we were run out of the place by the staff. Clearly we had overstayed our welcome.
Our two-tracked adventures were a welcome reprieve from the trappings of daily life in the city and the Honda Africa Twin had served us well as we crossed the Continental Divide and a few other moderate passes between Cortez and Creede.
In the end, I developed a fondness for the clutchless, shiftlessness of the DCT. I found it easy to ride under most circumstances and its simplicity allowed other uses for the narrow bandwidth of my easily distracted brain.
More on the Africa Twin DCT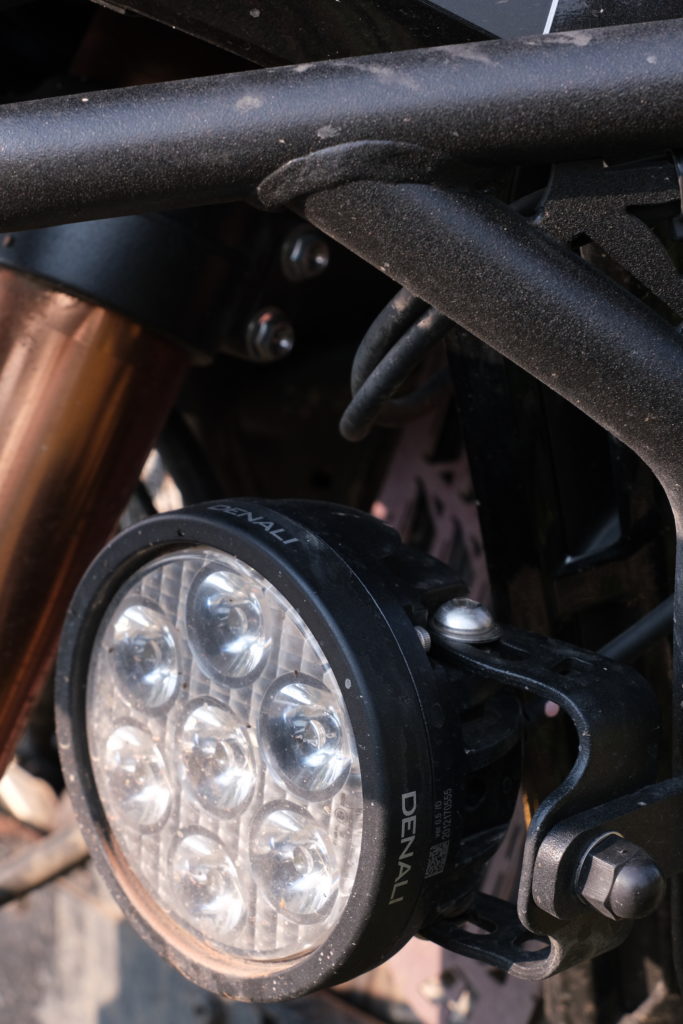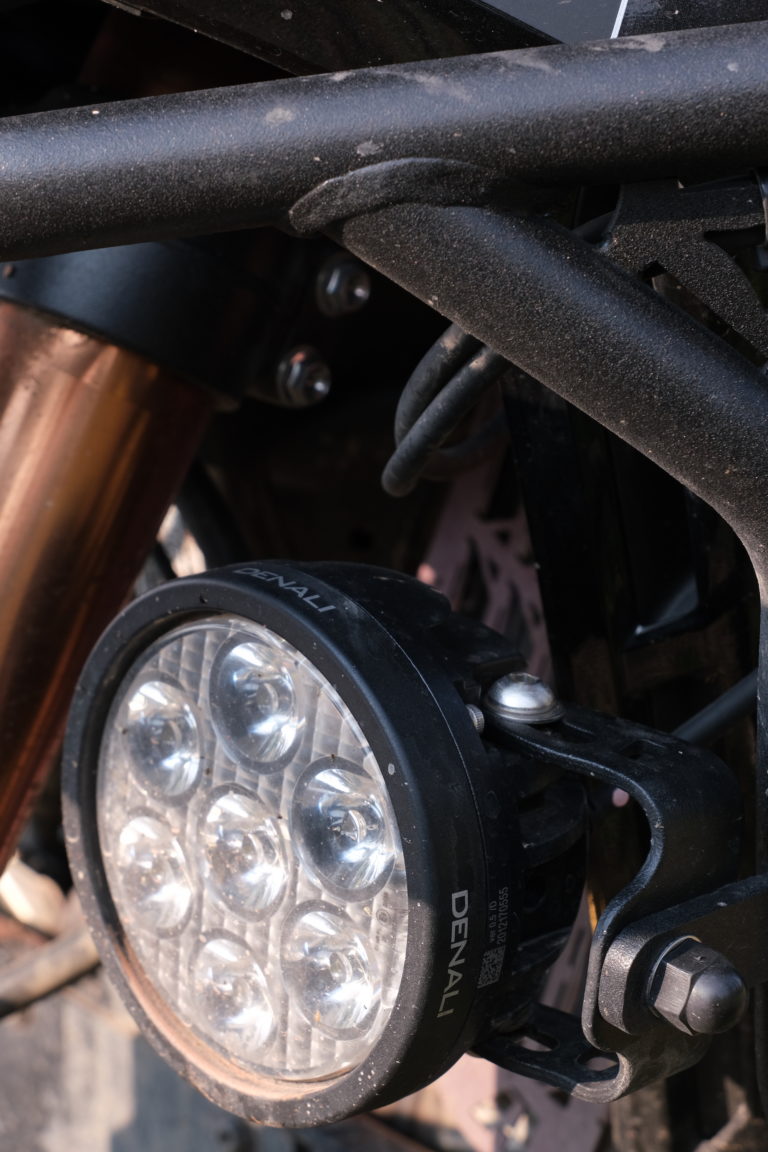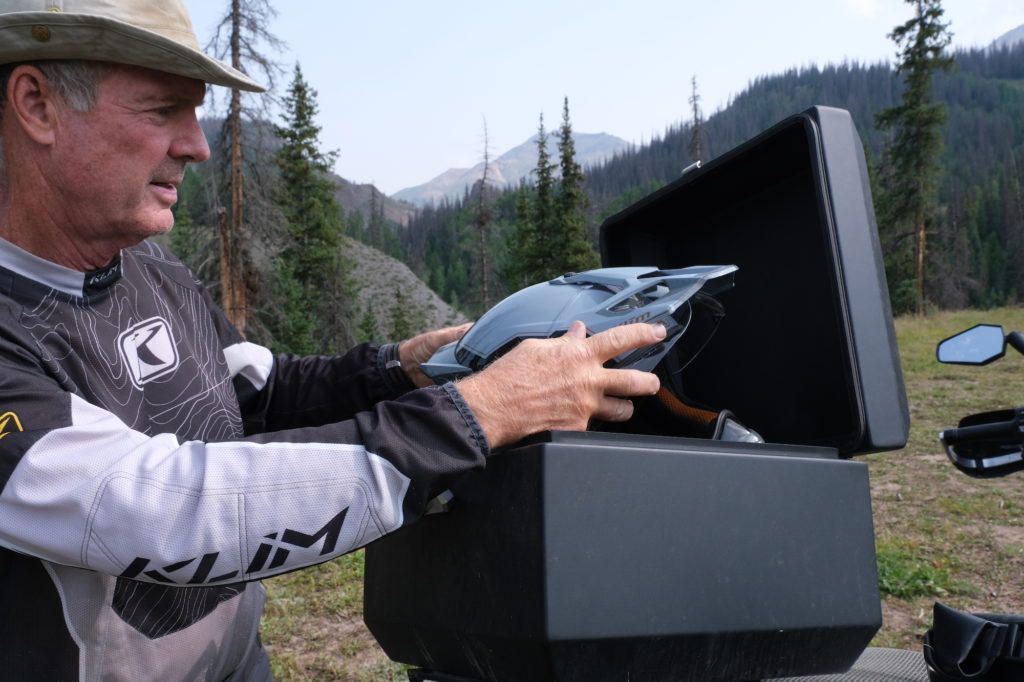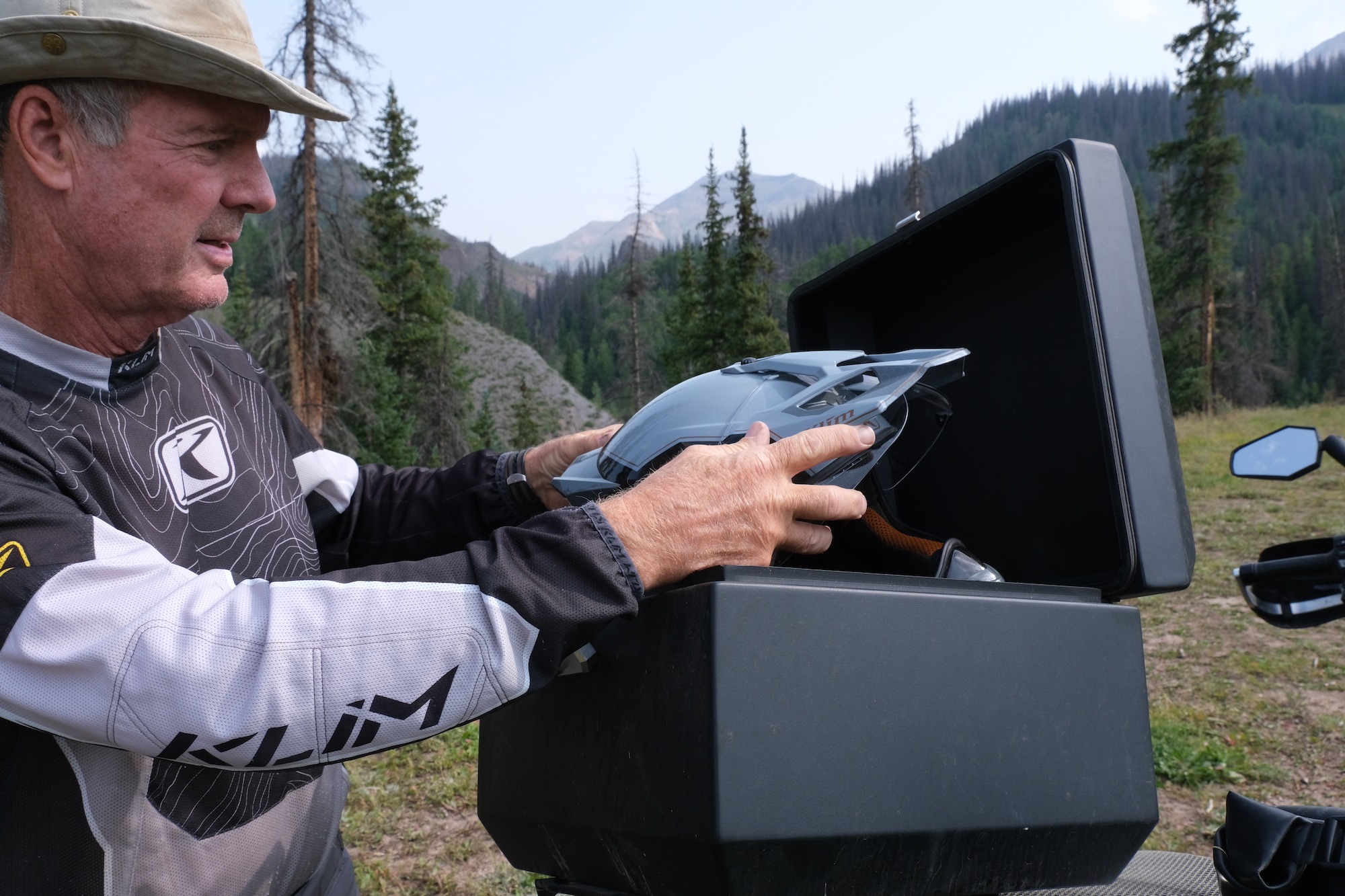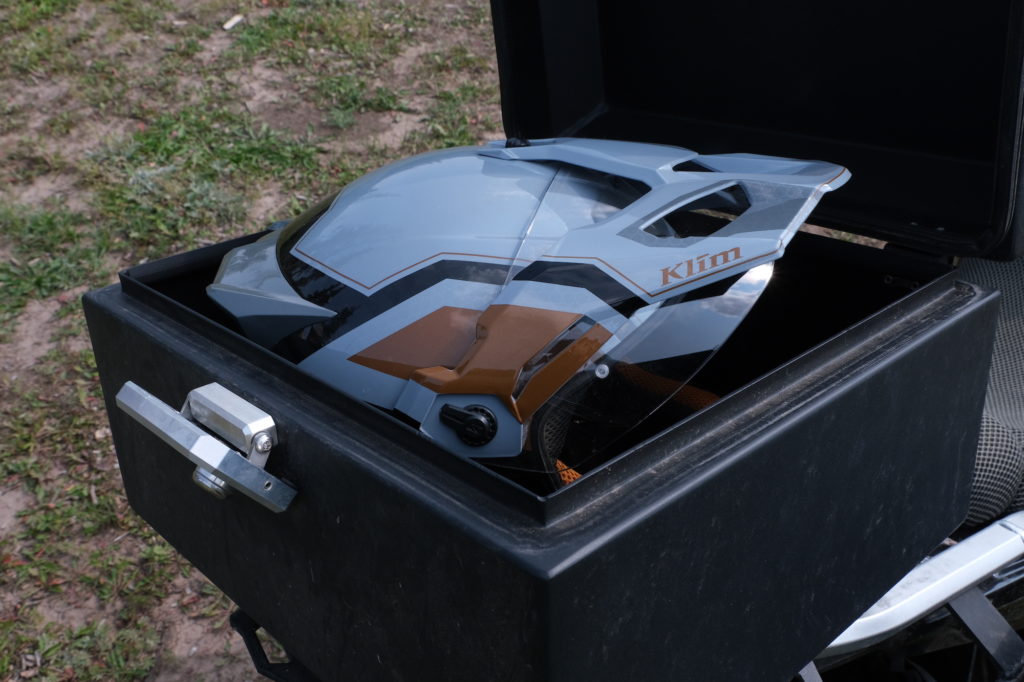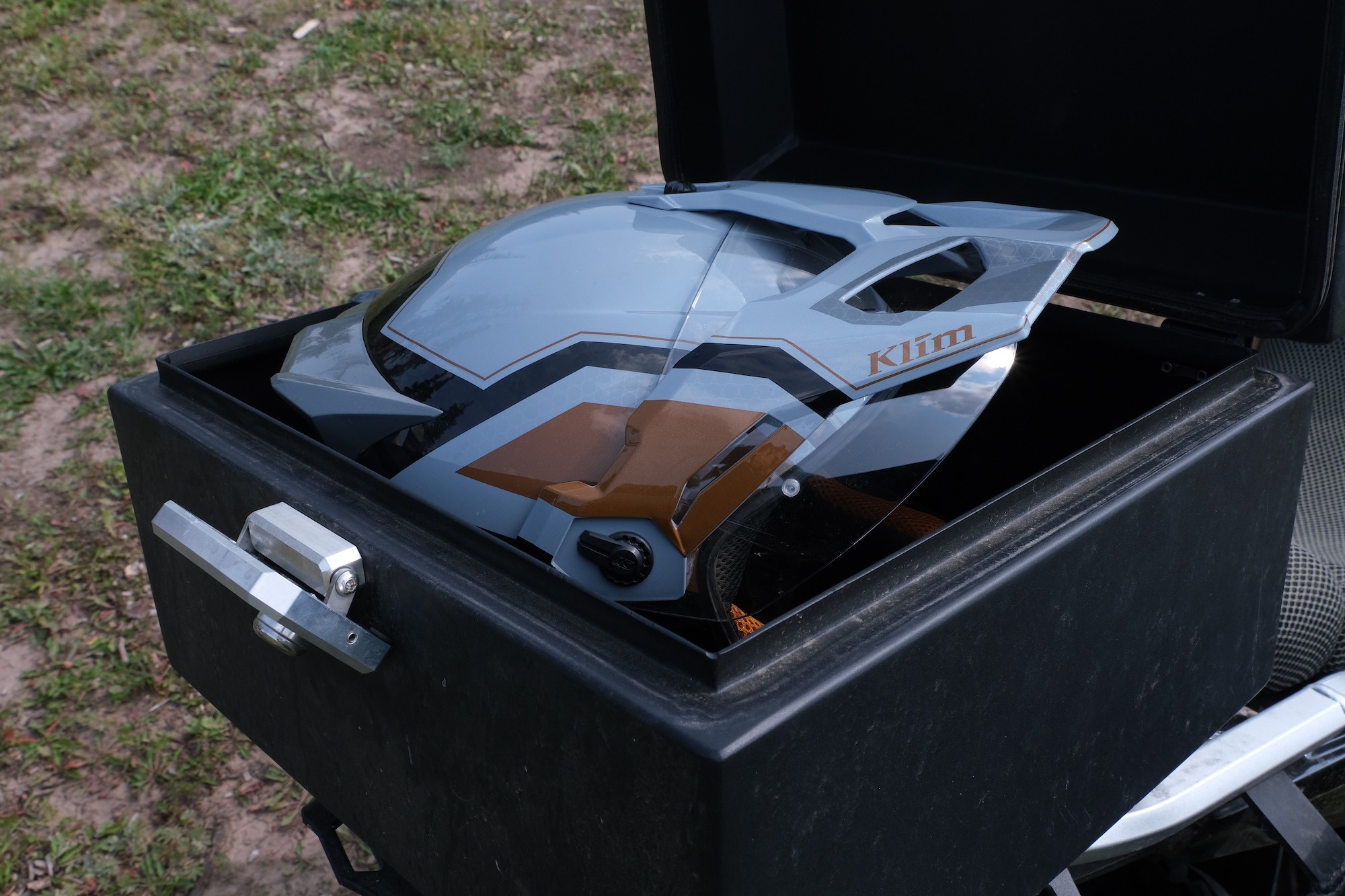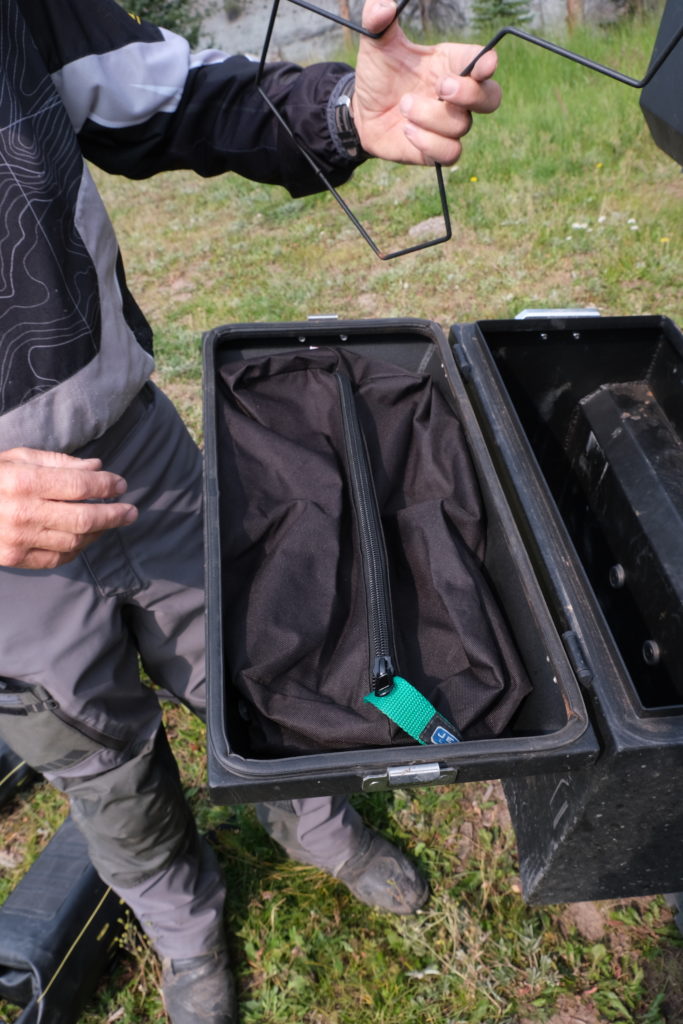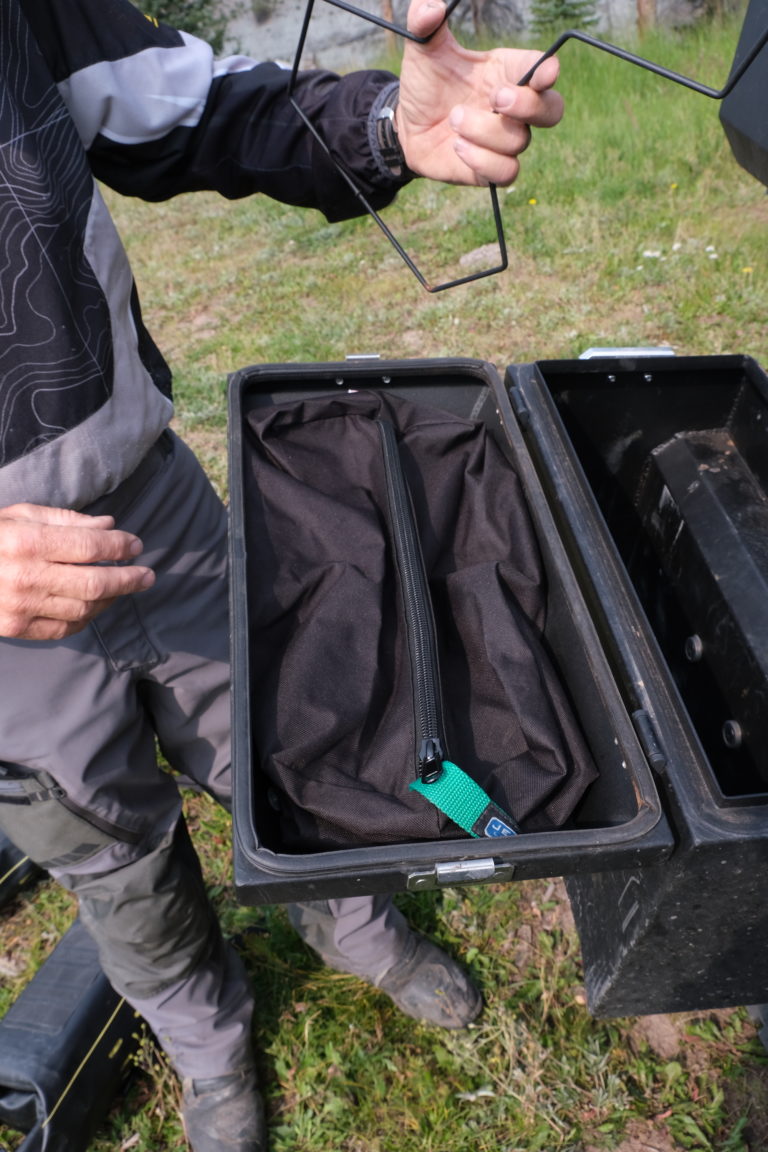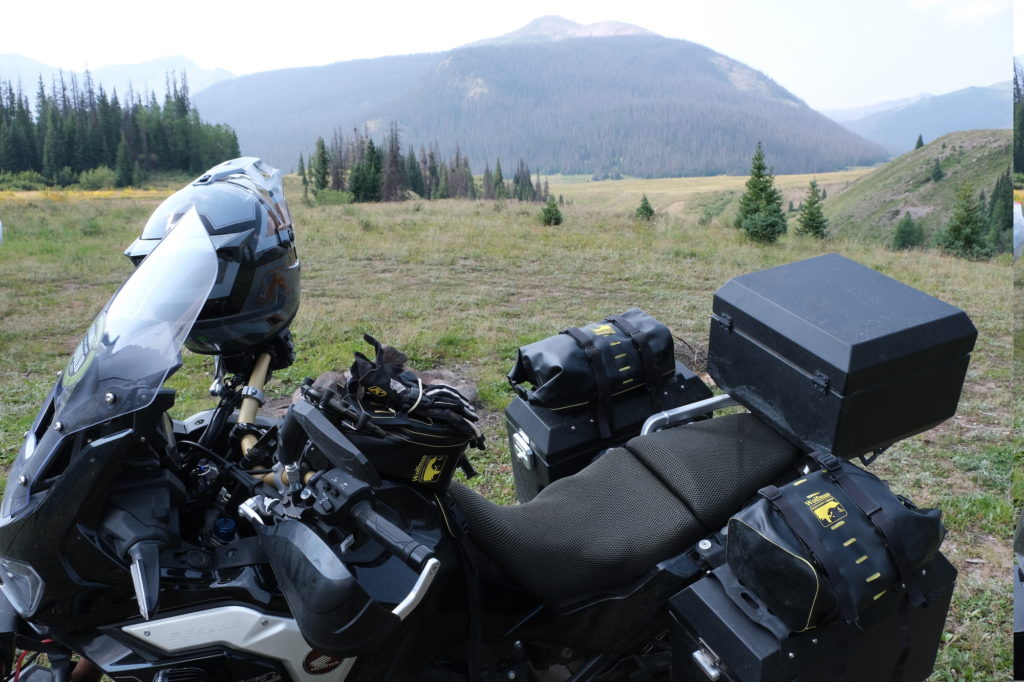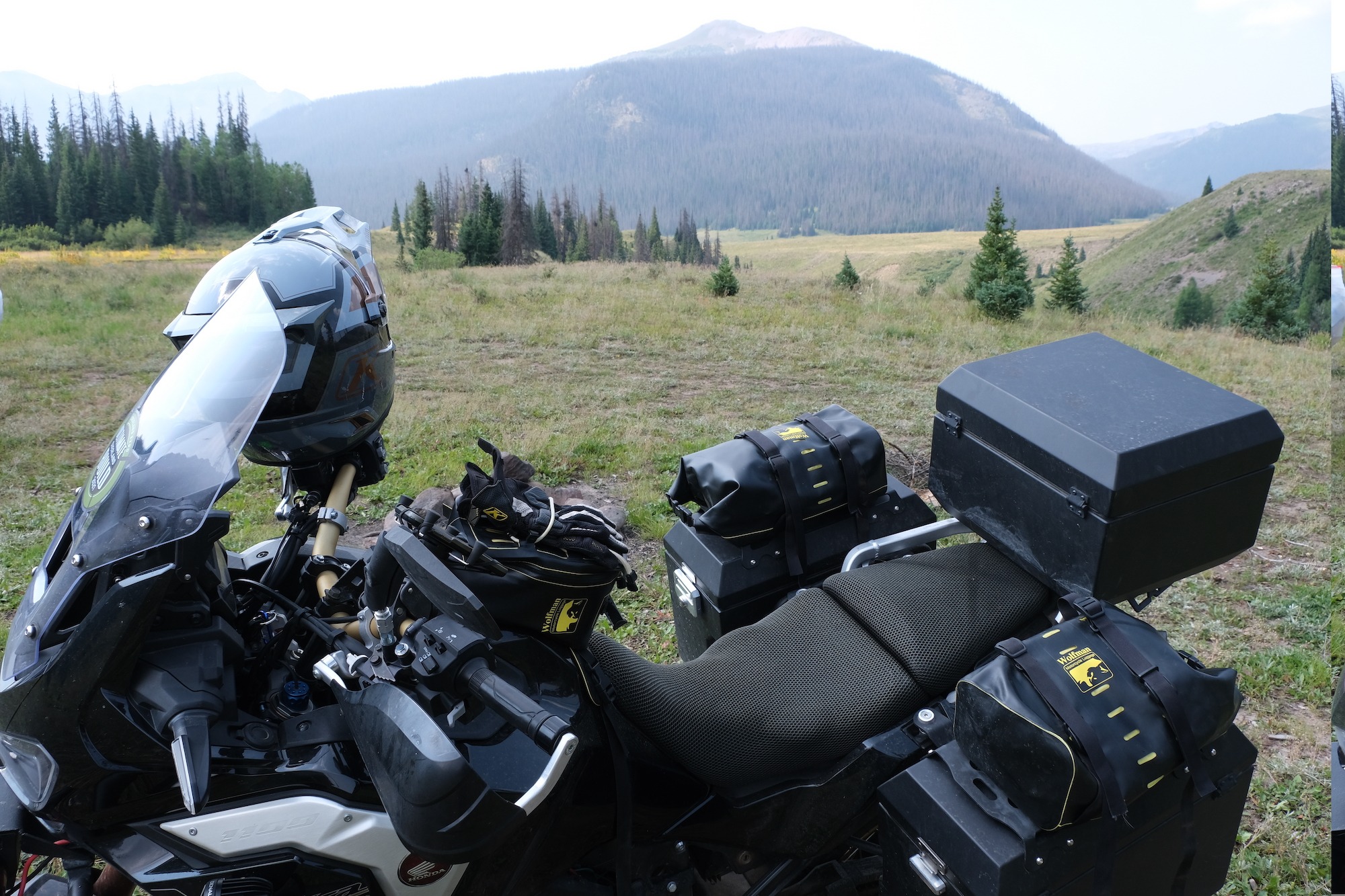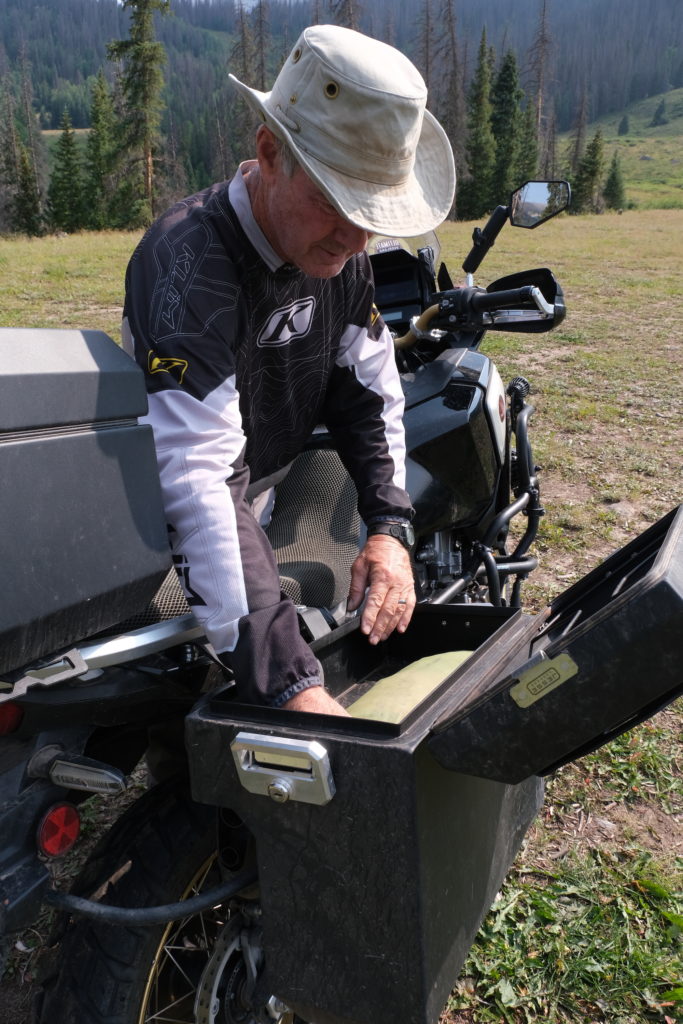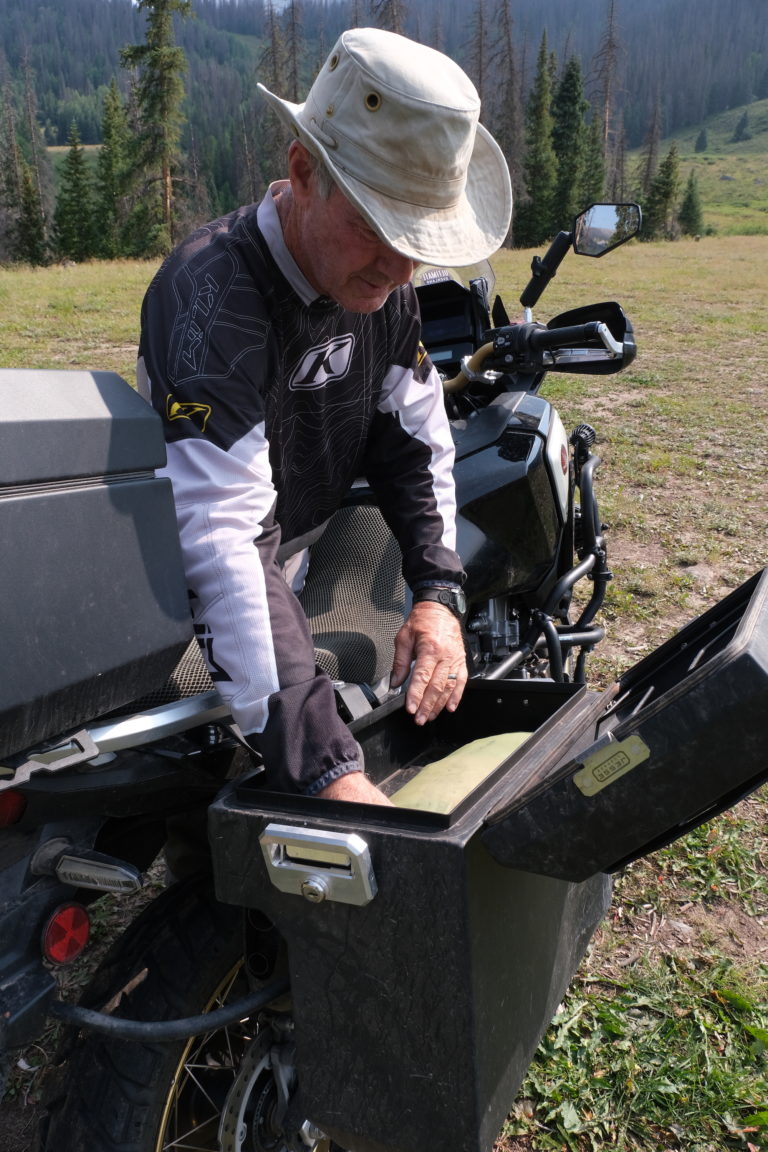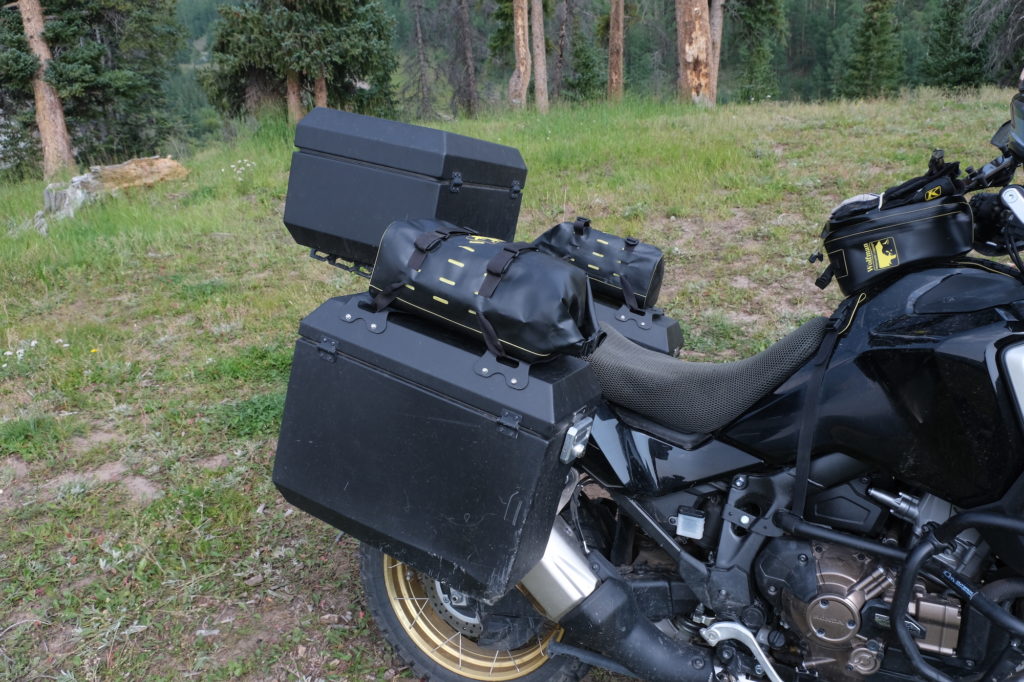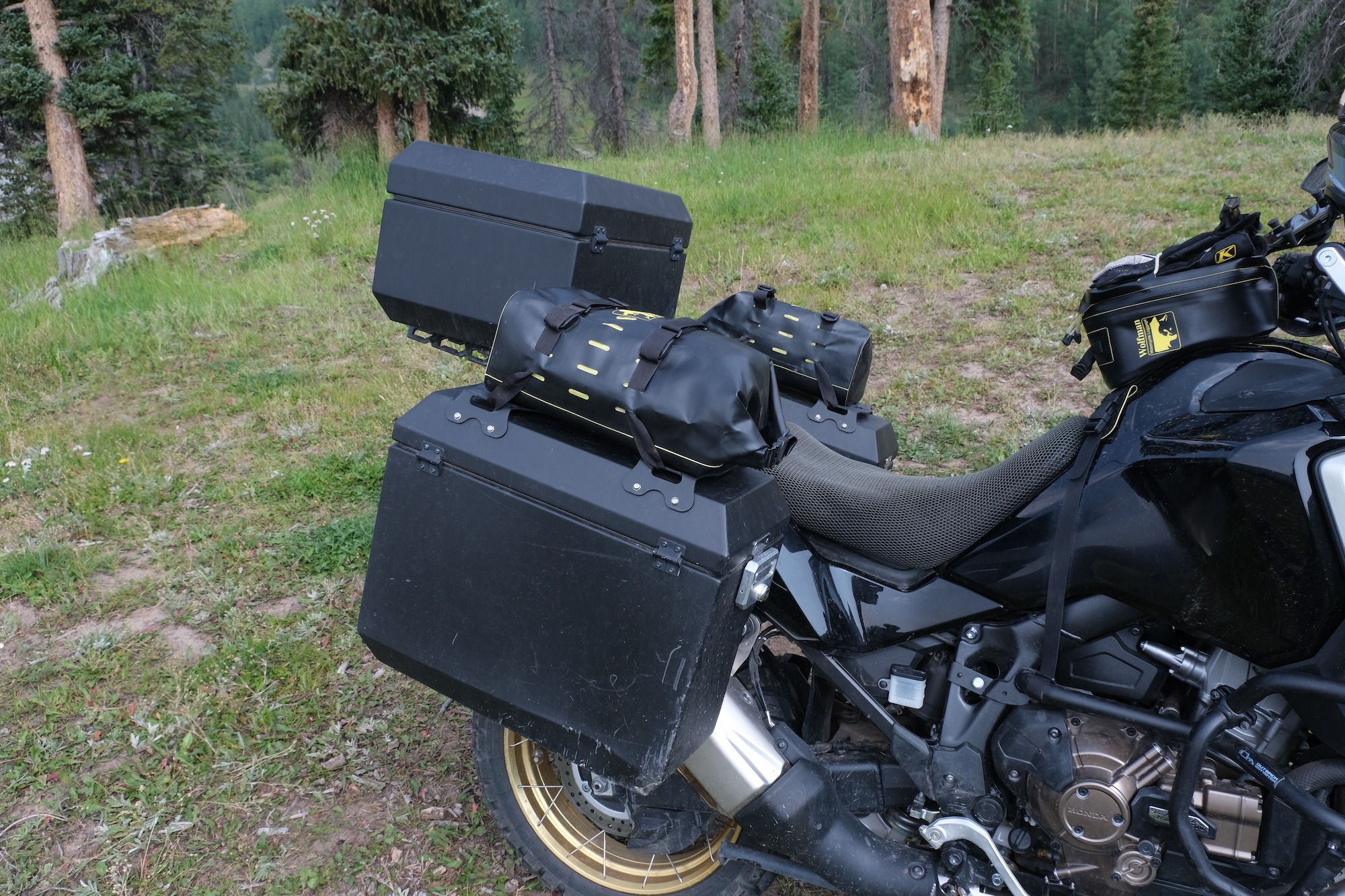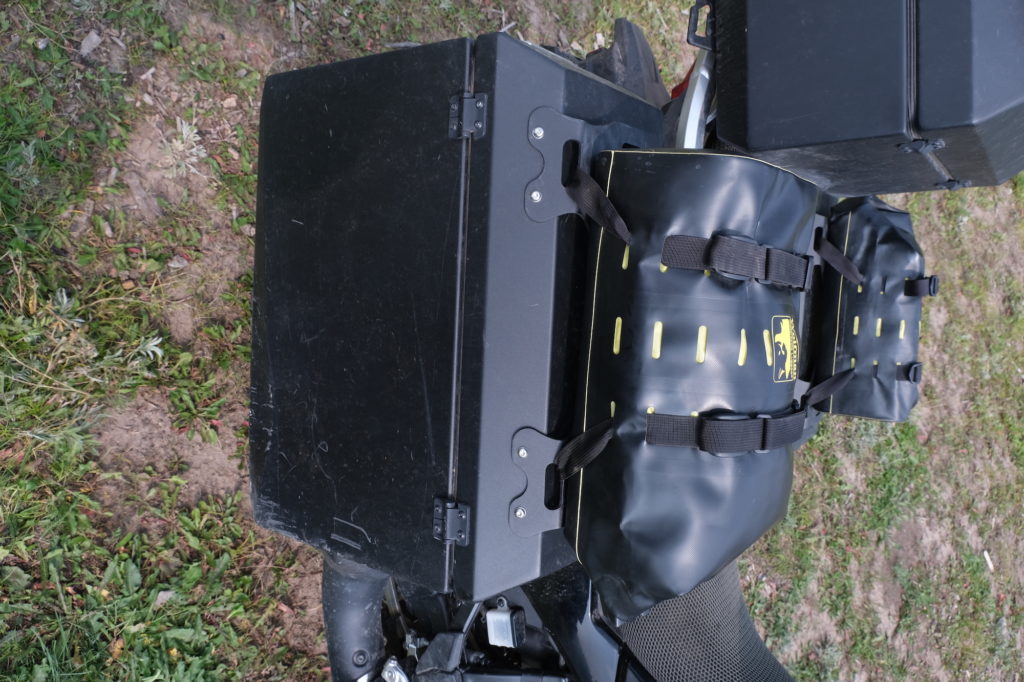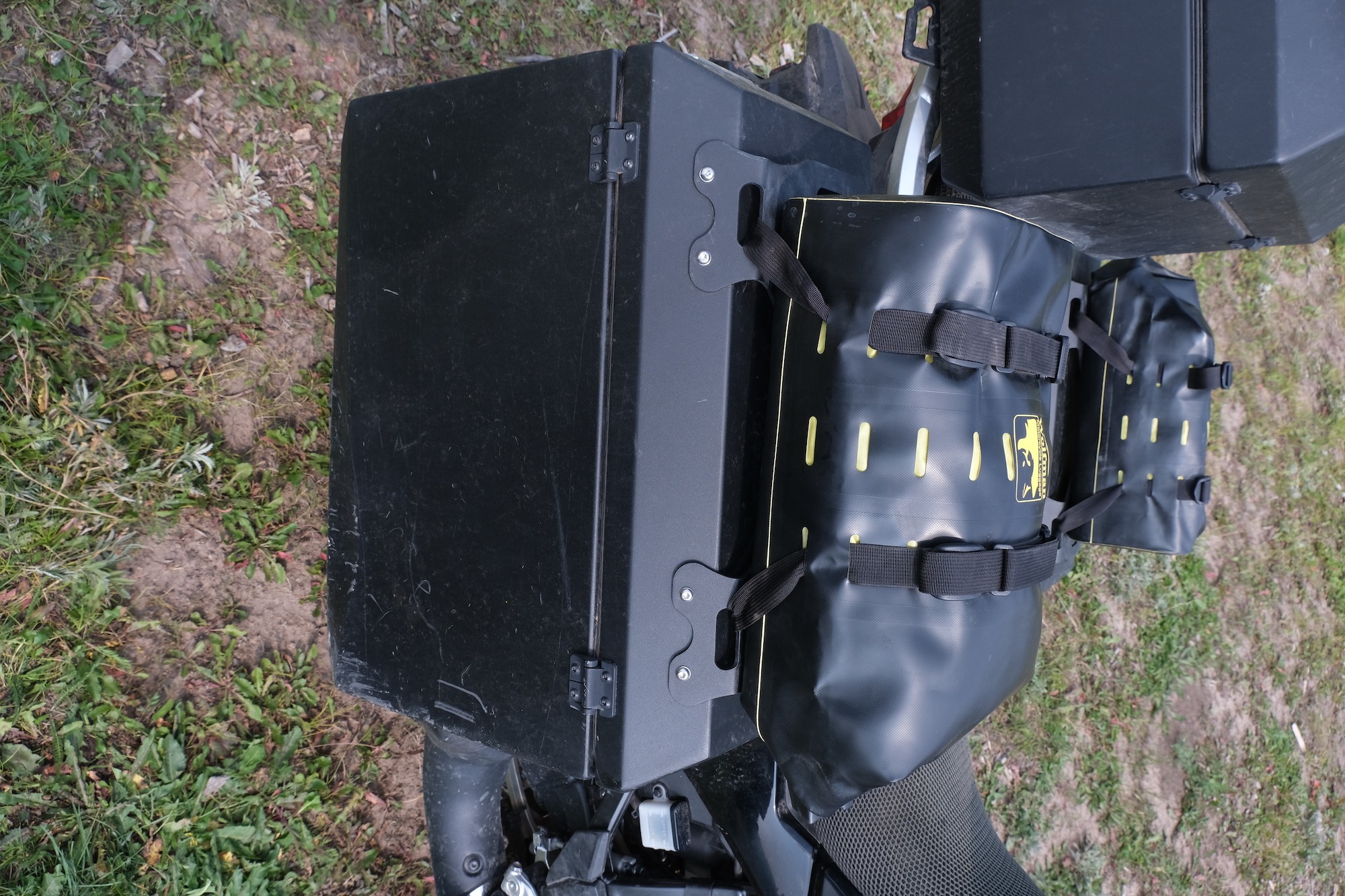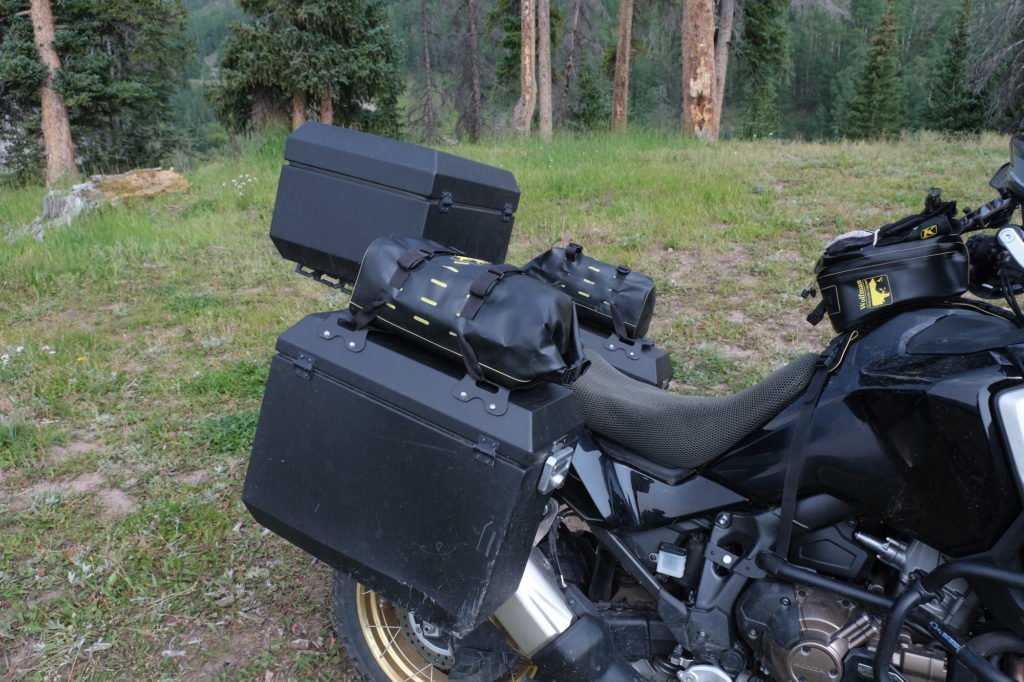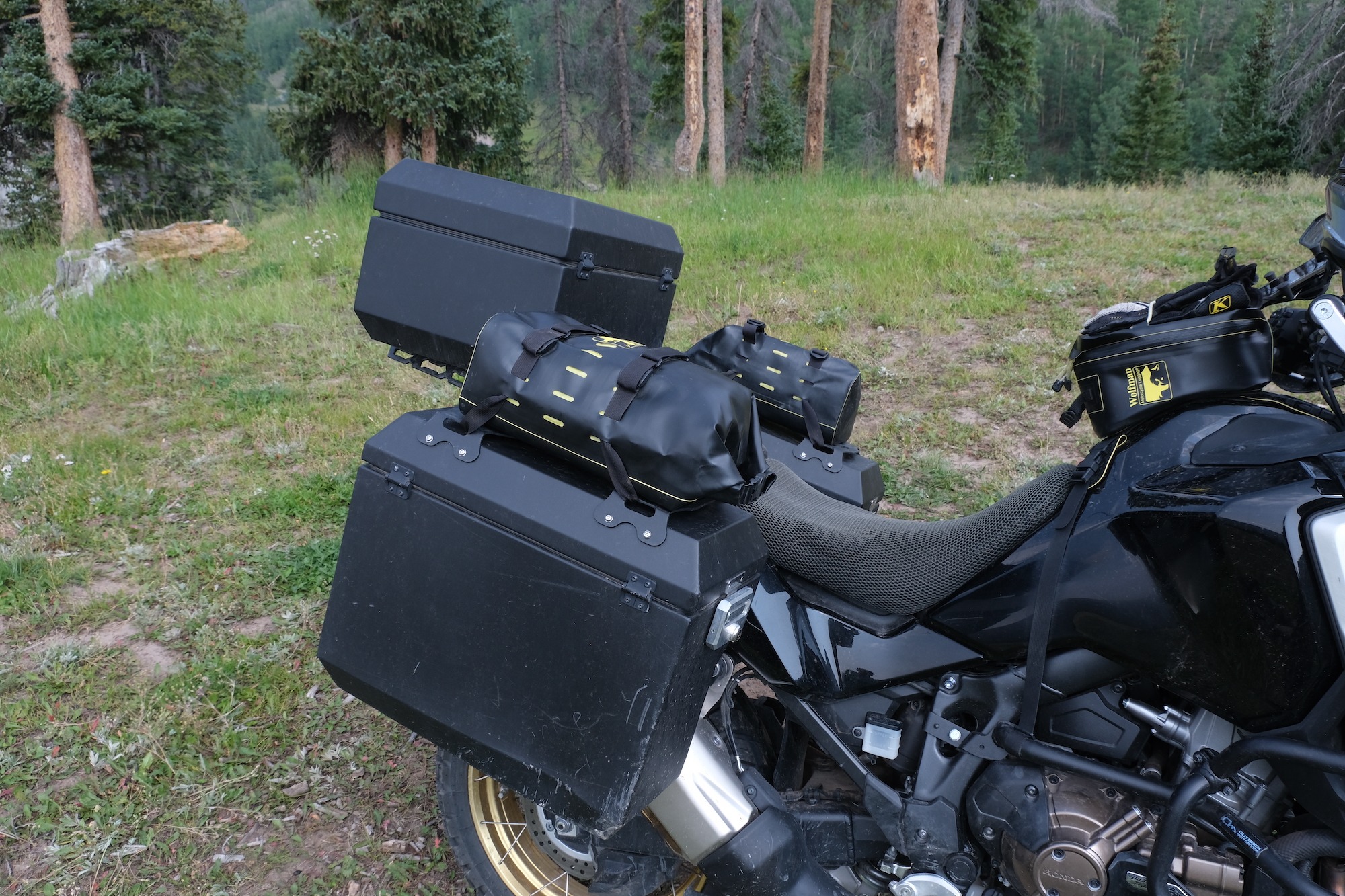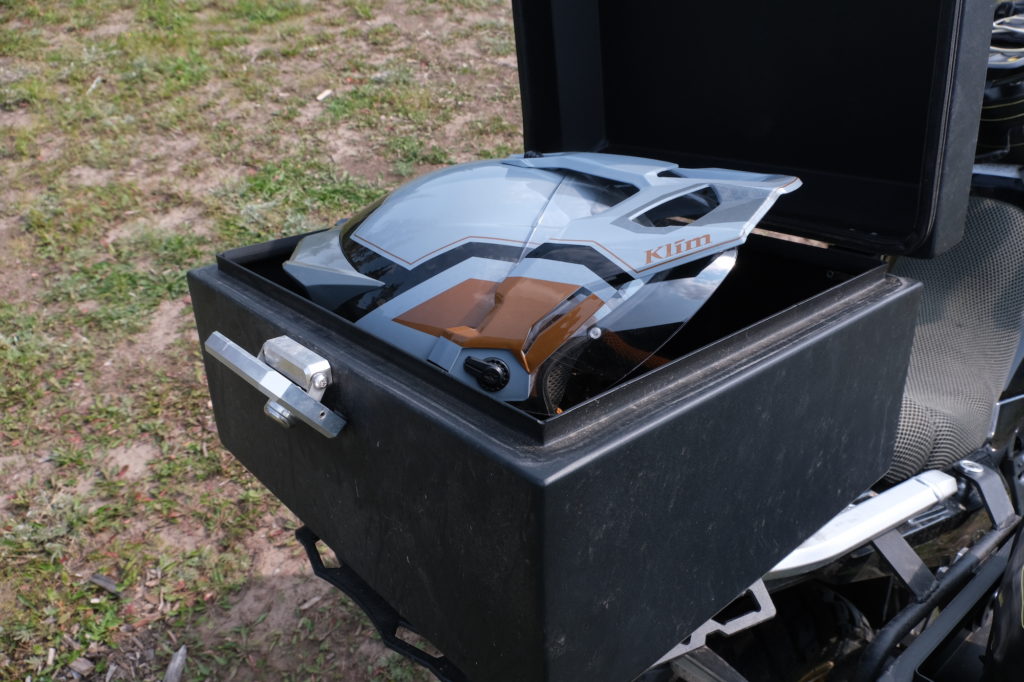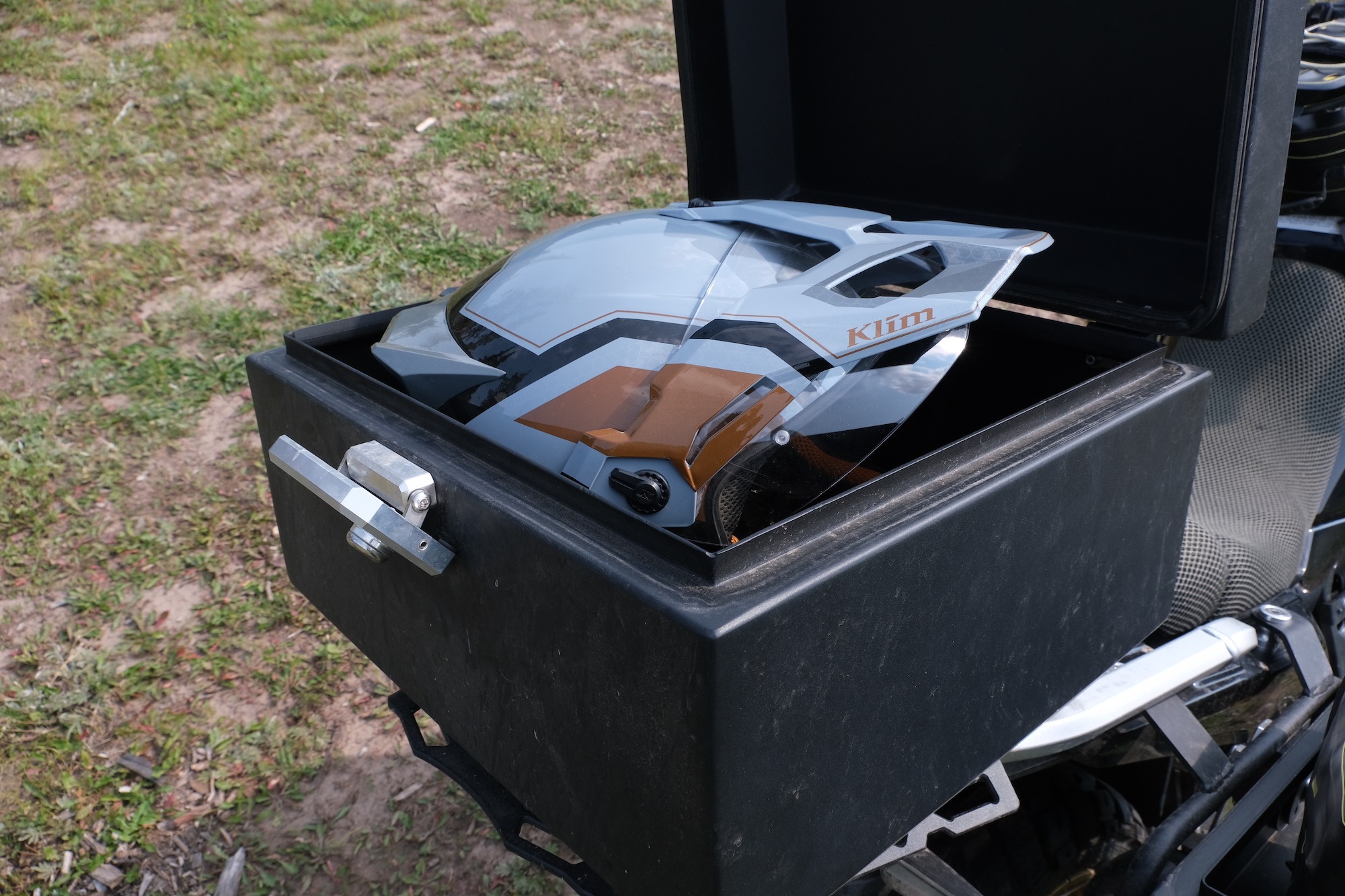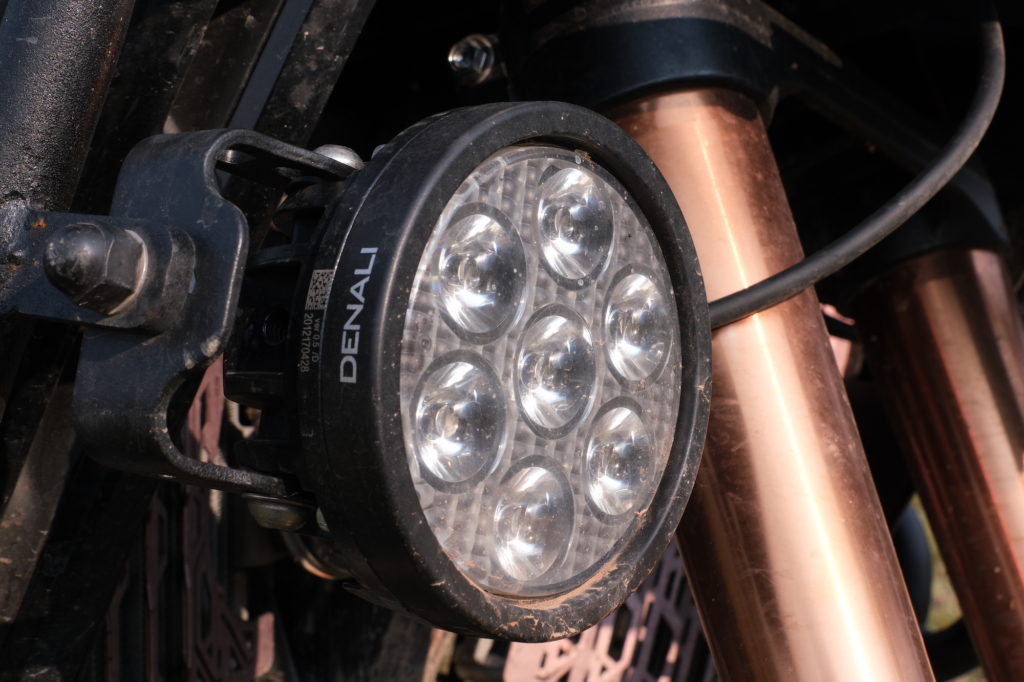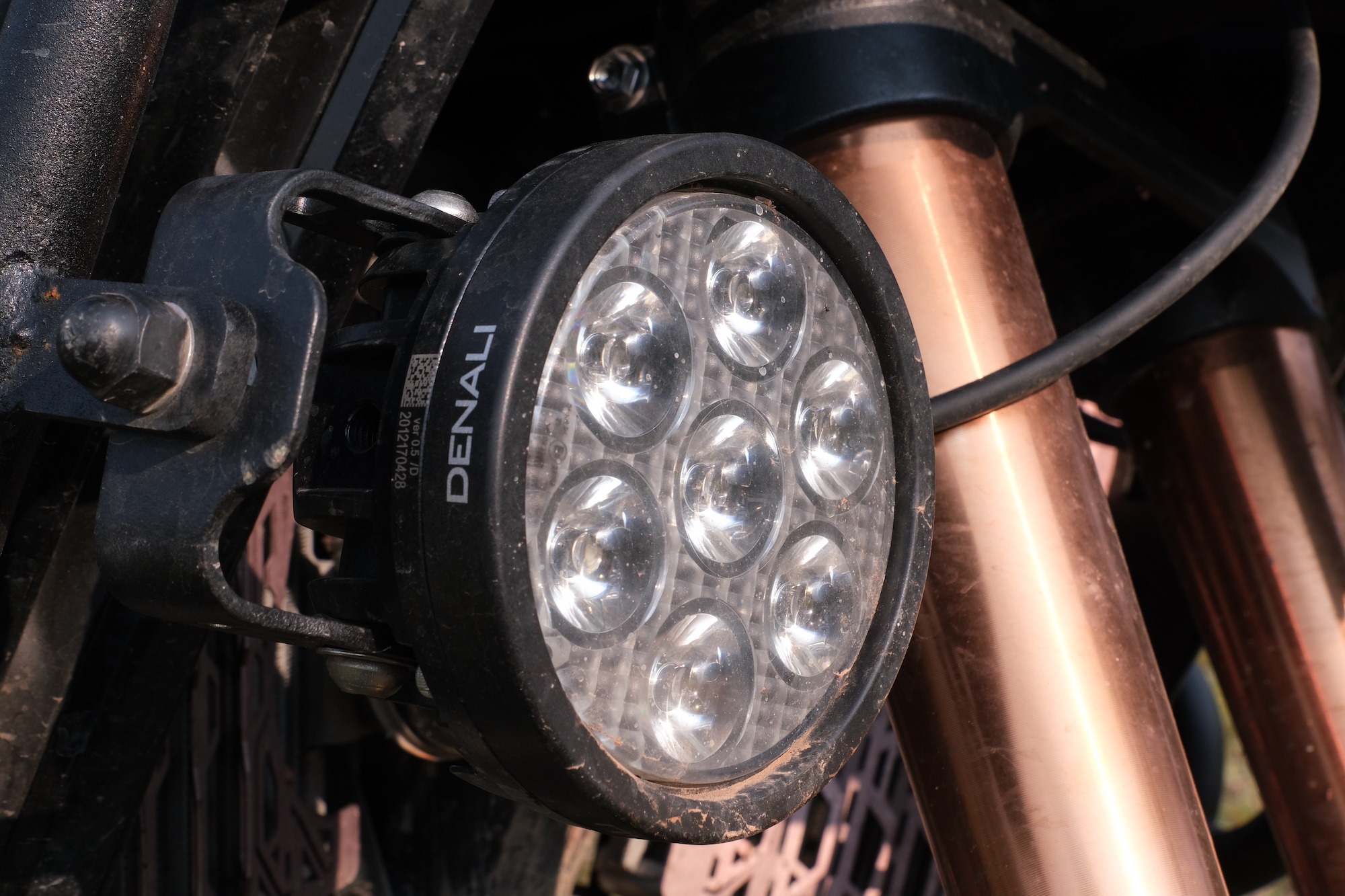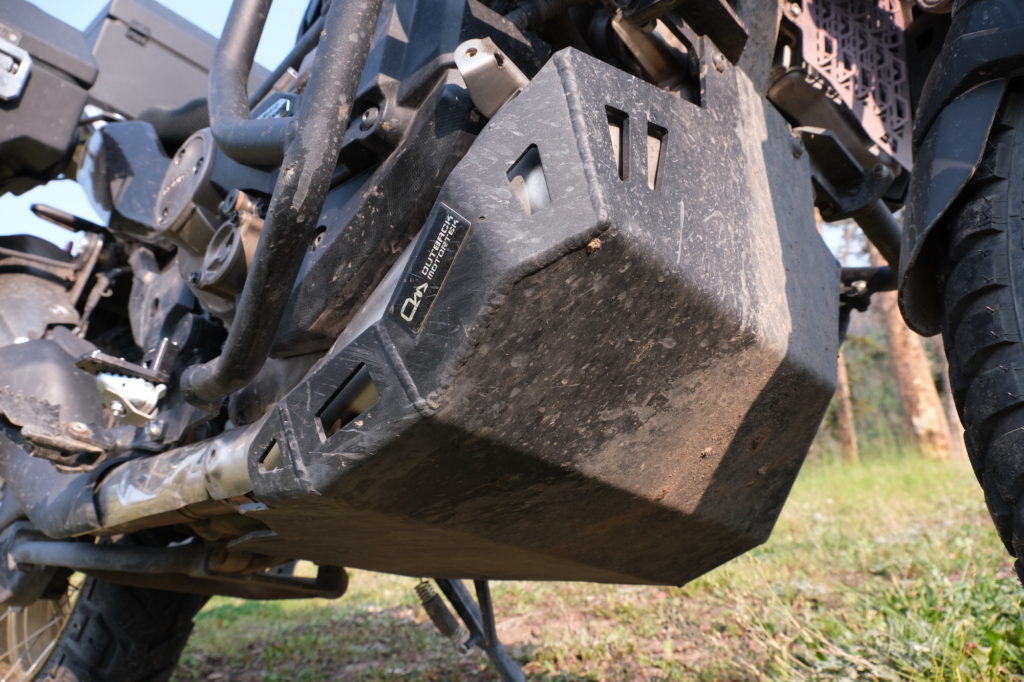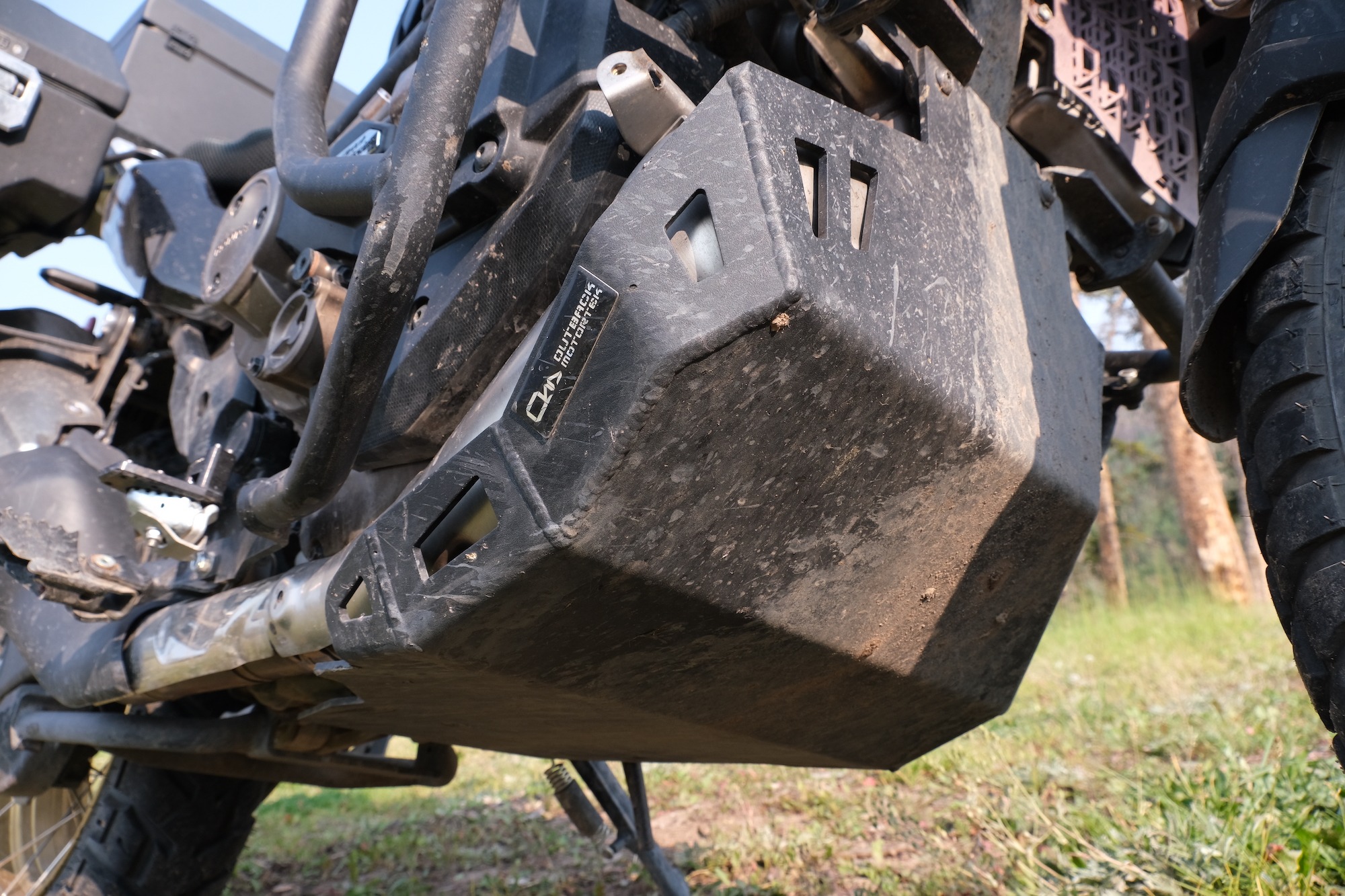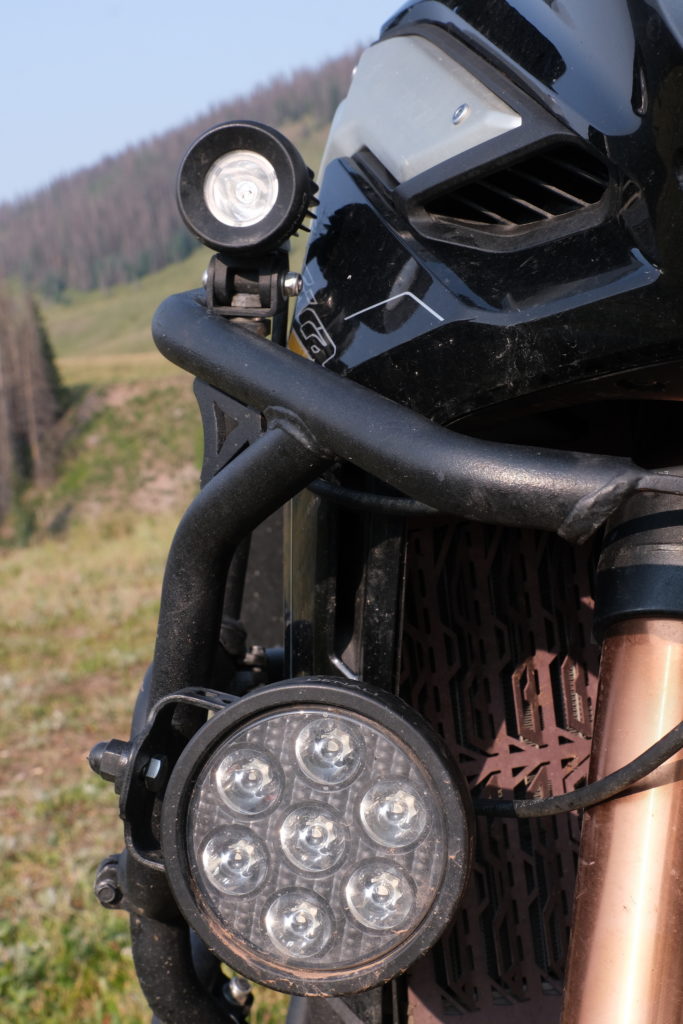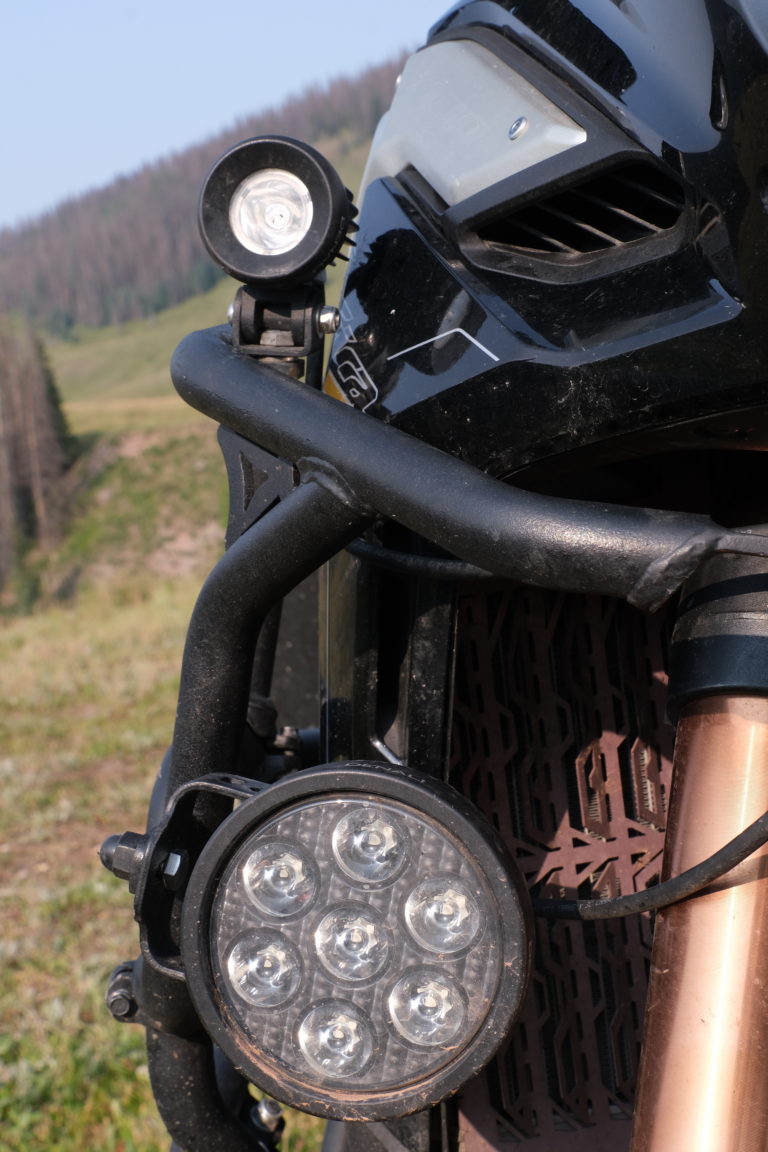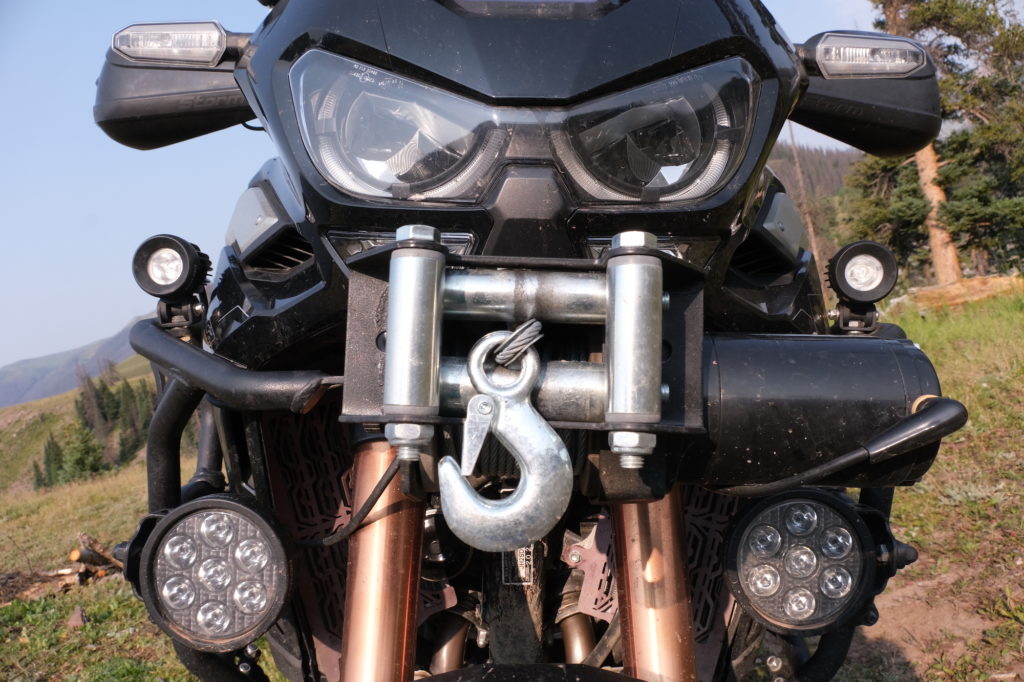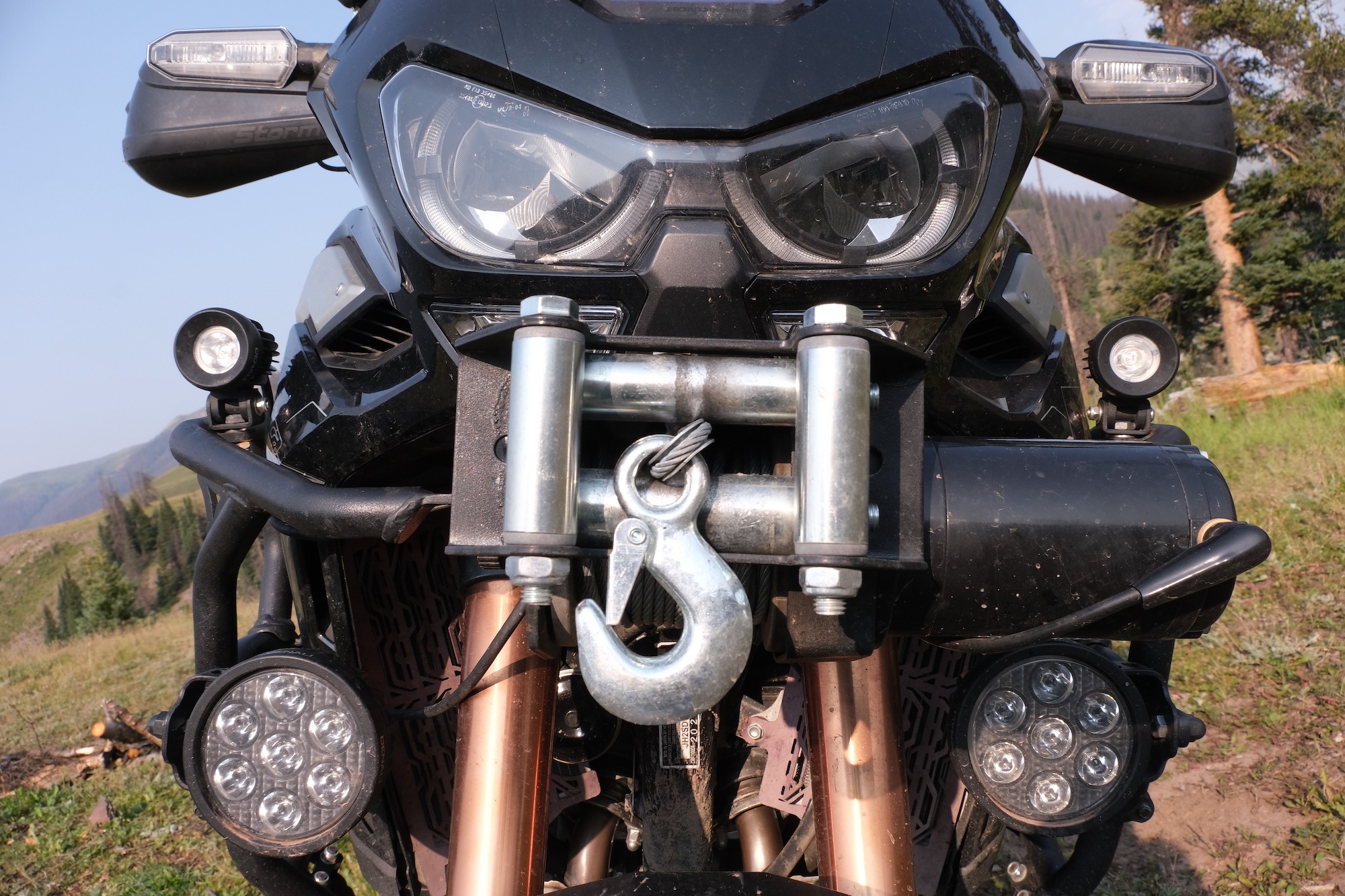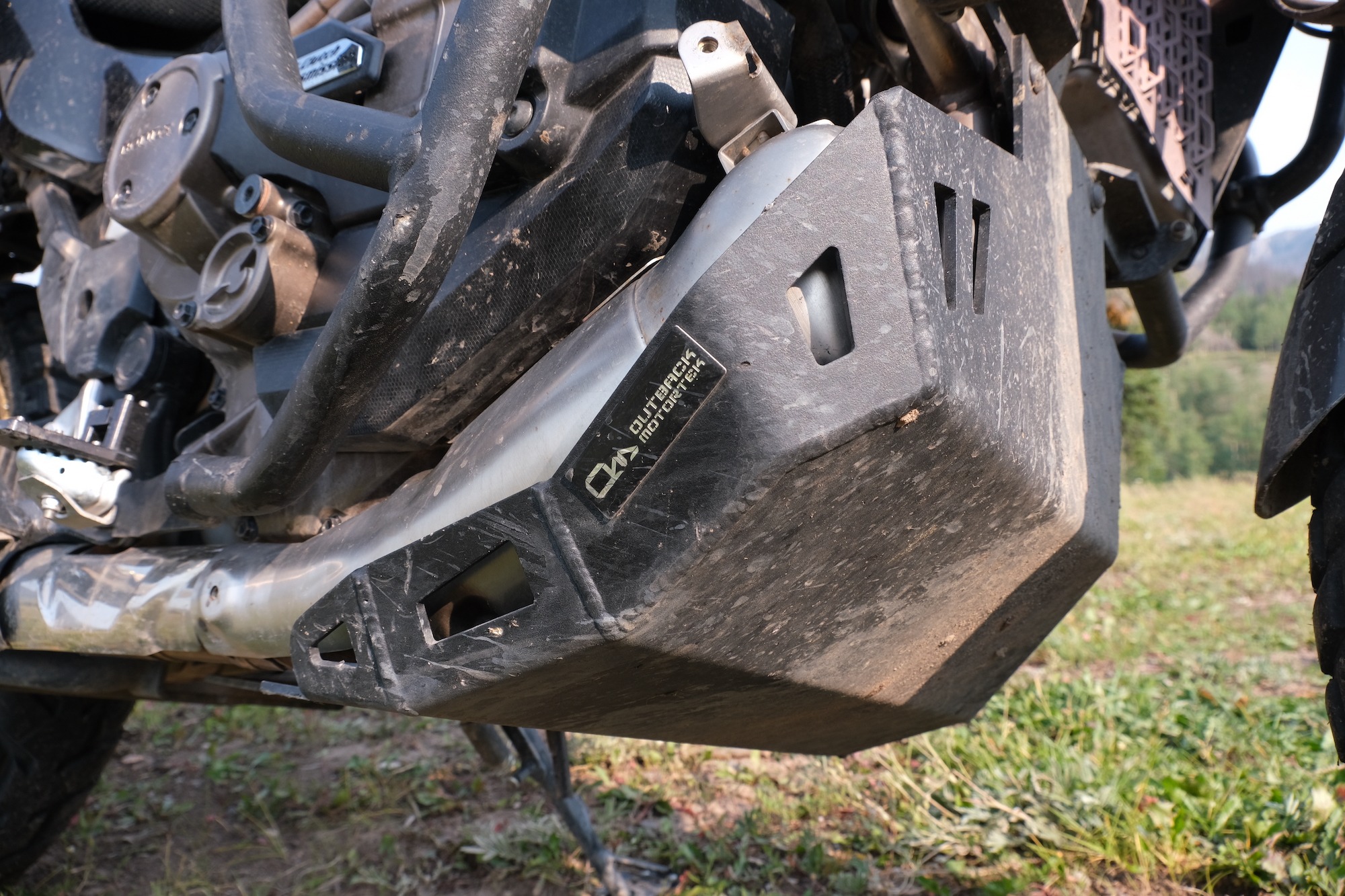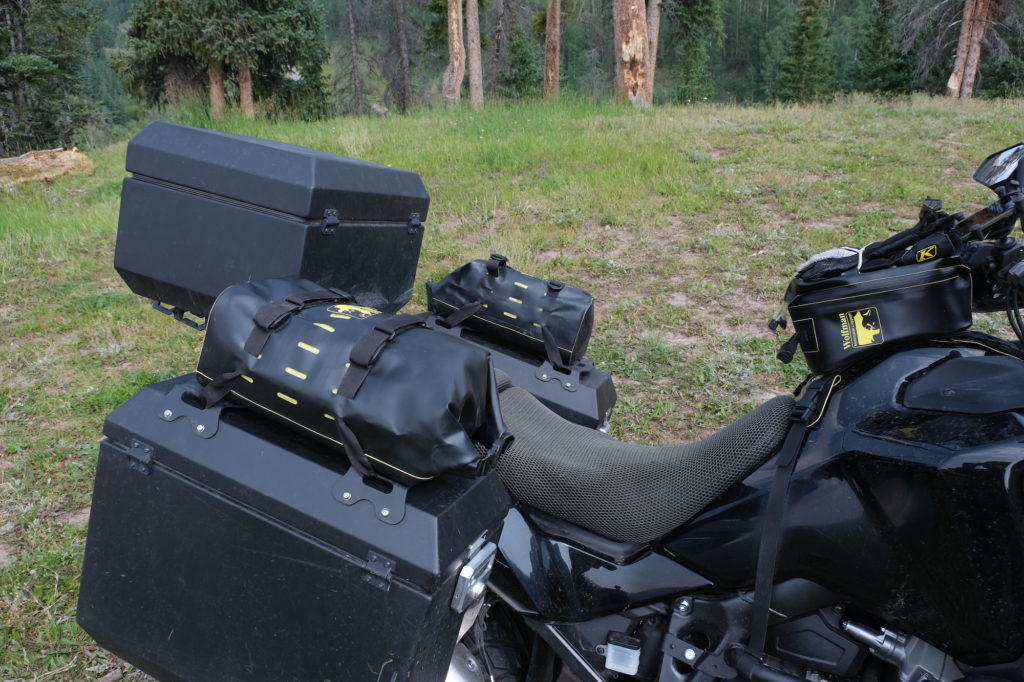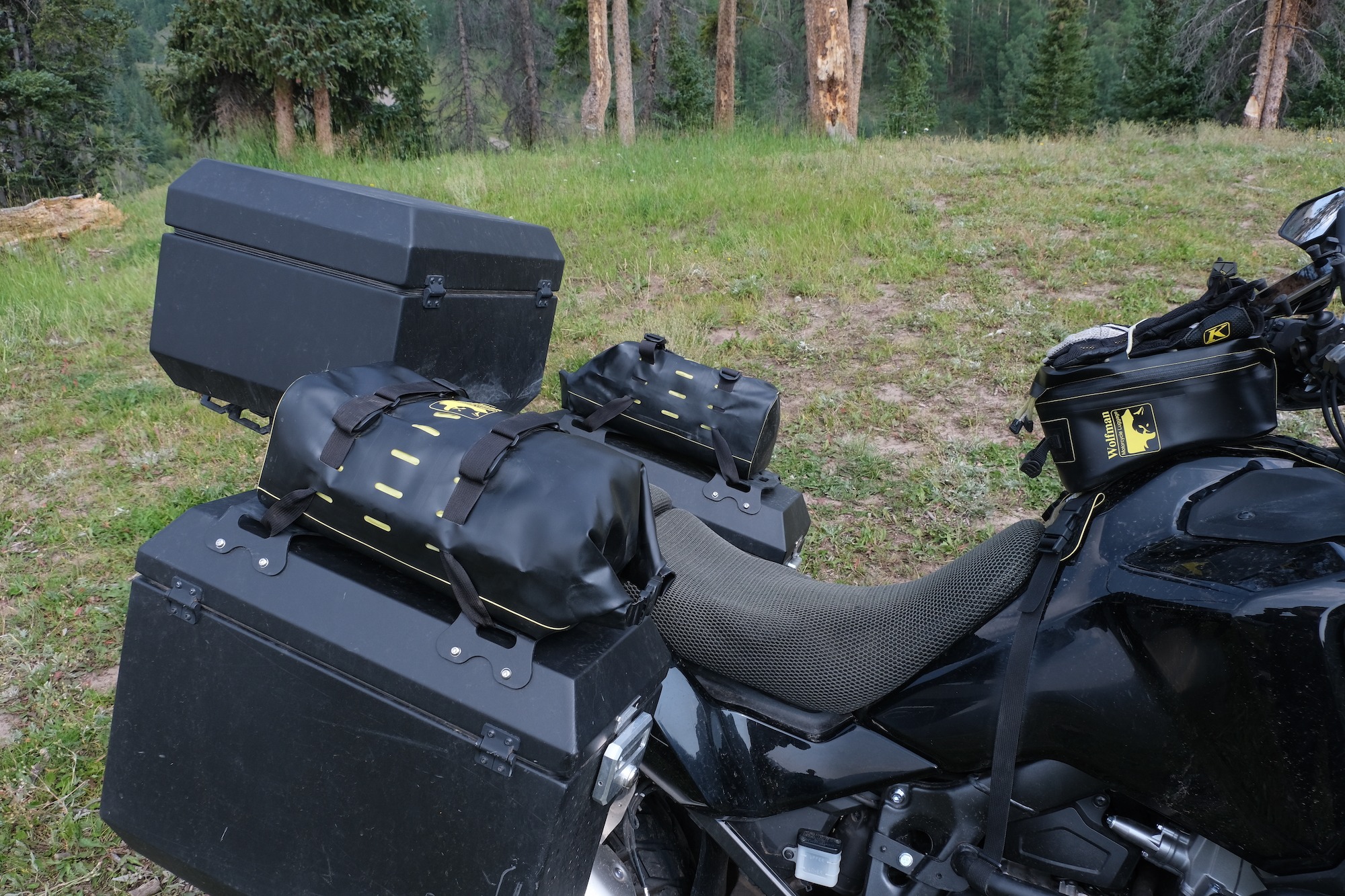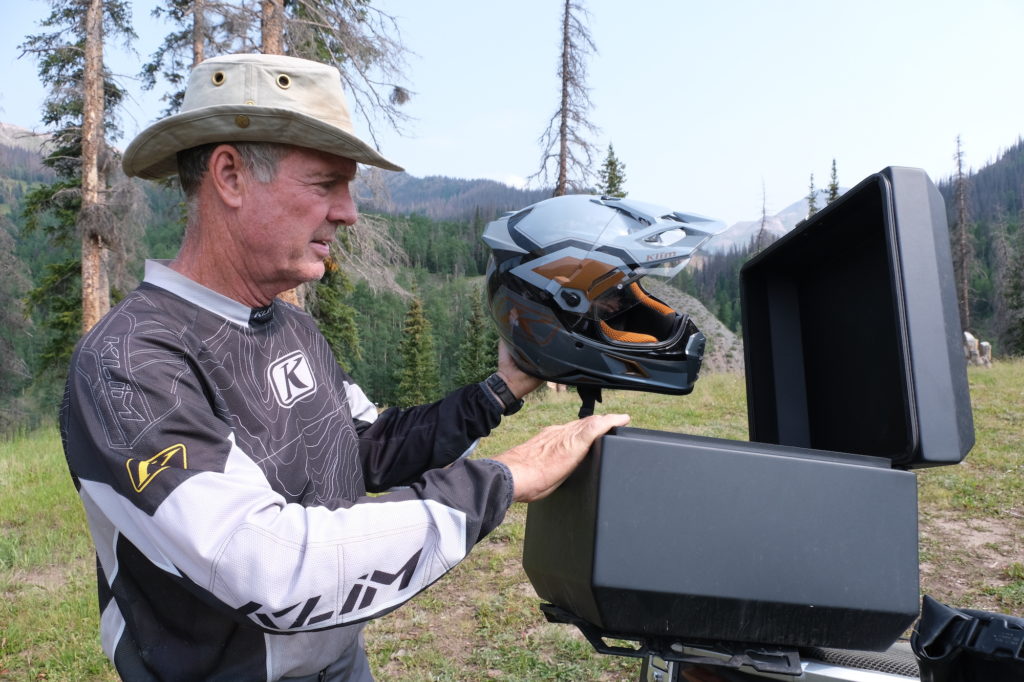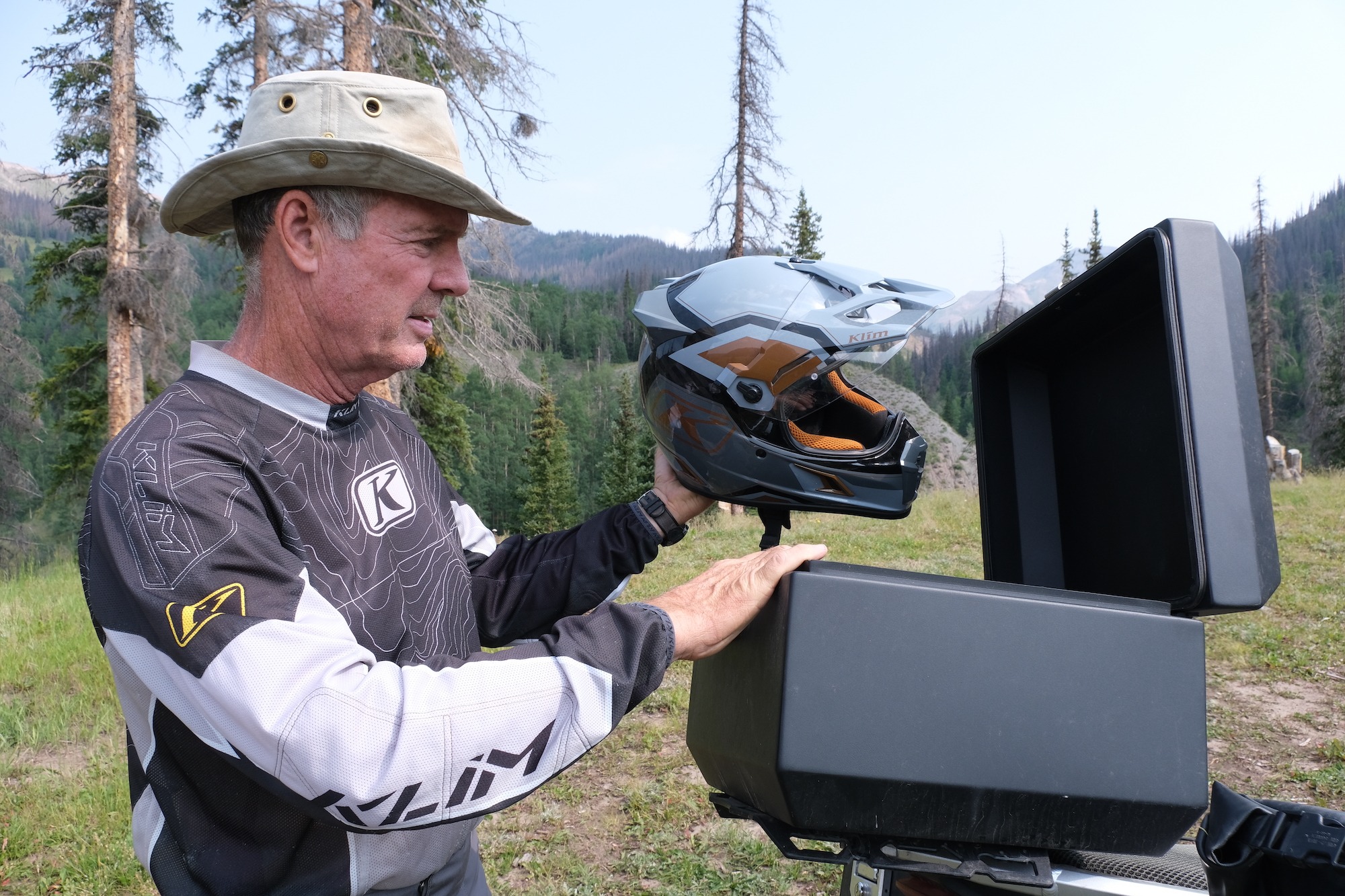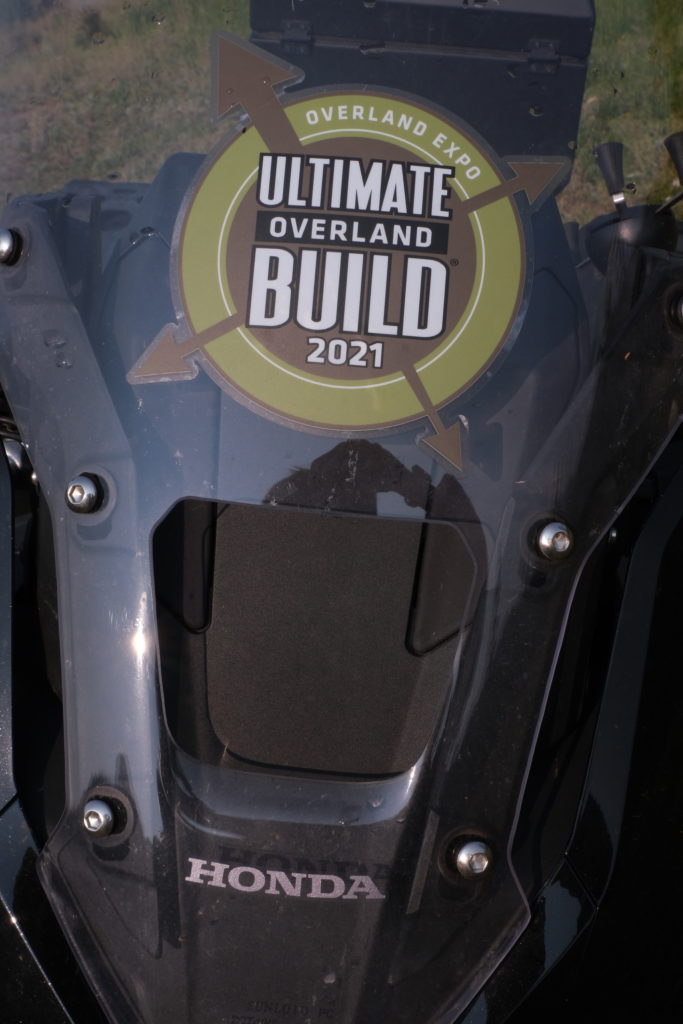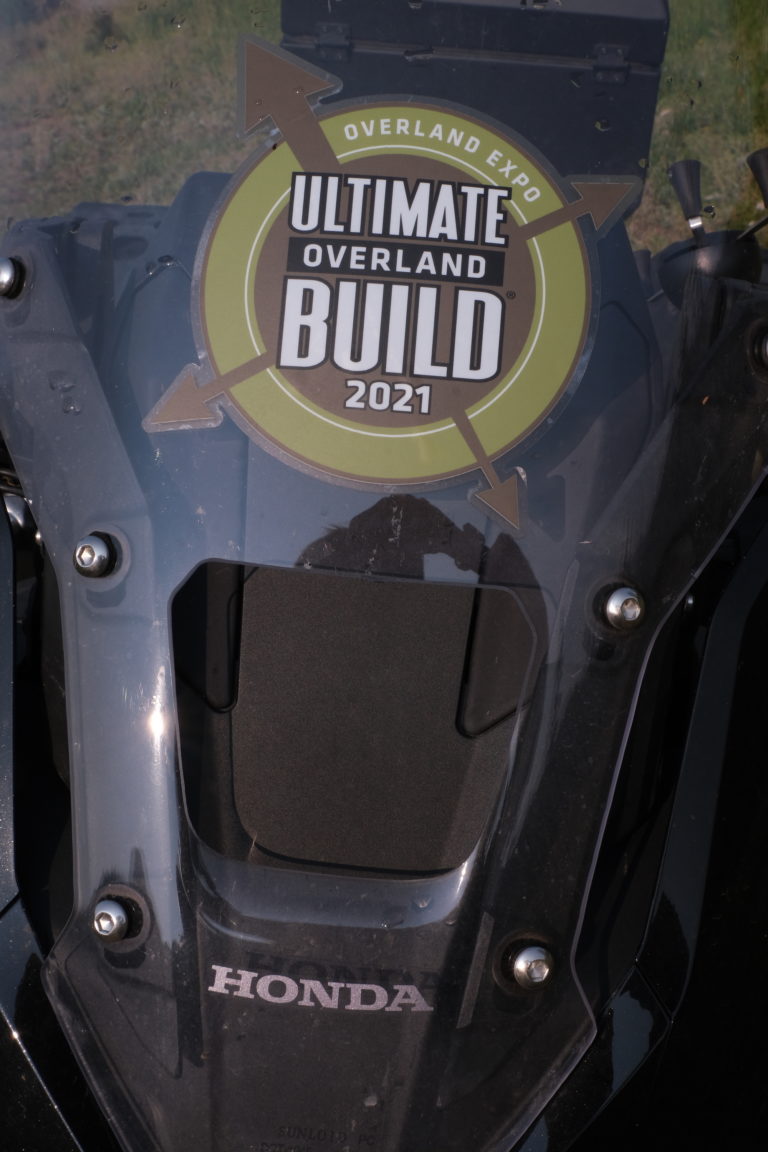 My mount for our two-tracked adventure proved about right for the task at hand. It had been well equipped for the long haul with massive aluminum panniers from Jesse. We dealt with a few niggling issues with latches but later learned that proper adjustment of hardware could have prevented any such fuss. They were roomy, durable and weather tight. Their mounting was rock solid, even against the constant bashing and bouncing on the rough trails we encountered each day. Jesse bags come with durable, perfectly fitting inner stowage bags, too. The giant top box was large enough to fit a full-face helmet. All boxes could be securely latched with a common key. Even the tops of the side panniers held gear in their voids, kept in place by an expandable hoop. Caution should be used, however, when running hard panniers in rough terrain as they can cause injury to legs when stepping down for balance.
Wolfman Rolie Bags augmented the Jesse system, adding quickly accessible, waterproof storage on top. A Wolfman Enduro tank bag capped off the fuel tank, offering even more handy waterproof storage within easy reach.
Denali D2 and D7 lights were mounted to a robust latticework of Outback Motortek engine and radiator protection. Even the belly of the motor was armored against rocks by an Outback Motortek skidplate. I happily confess that although I never fell to test the crash bars, the engine guard resounded numerous times from strikes with rocks of all sizes and shapes and came out seemingly unscathed.
Time-tested Doubletake mirrors provided reliable rearward vision through their gin-clear glass and bulletproof Ram mounting system.
The brake pedal was enhanced with AltRider's Dual Control Brake System, which enlarges the boot contact area and provides a second step for use while standing versus sitting. Although I seldom found the upper step necessary, the large platform was well placed and aligned perfectly with the factory footpegs. I did remove the rubber inserts from the footpegs, which improved their grip, but the pegs themselves were too small for extended stand-up riding on rough terrain.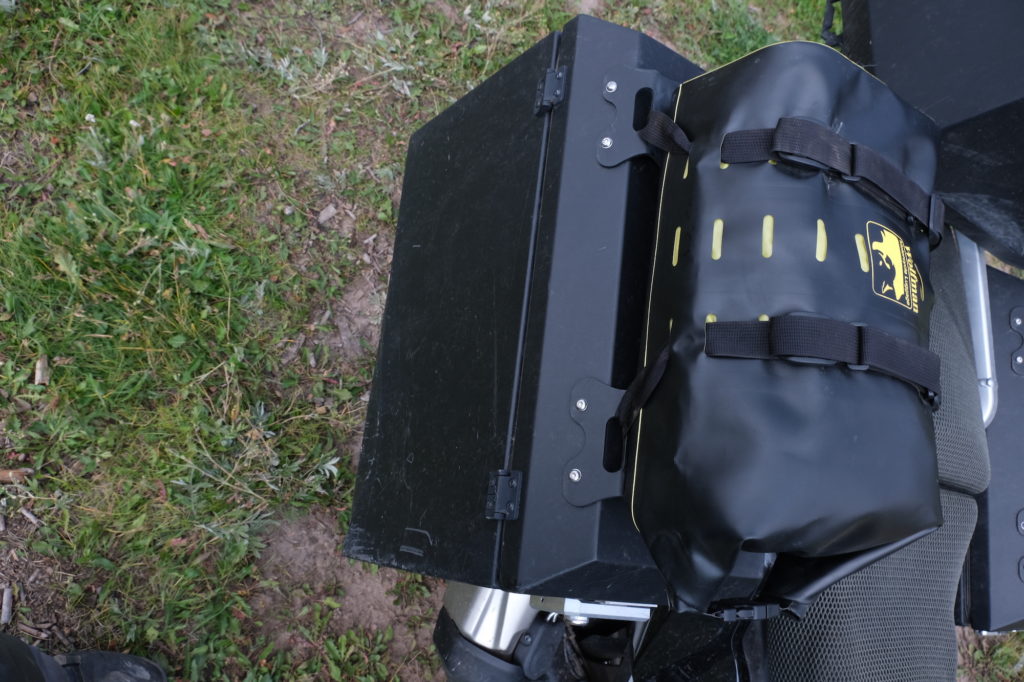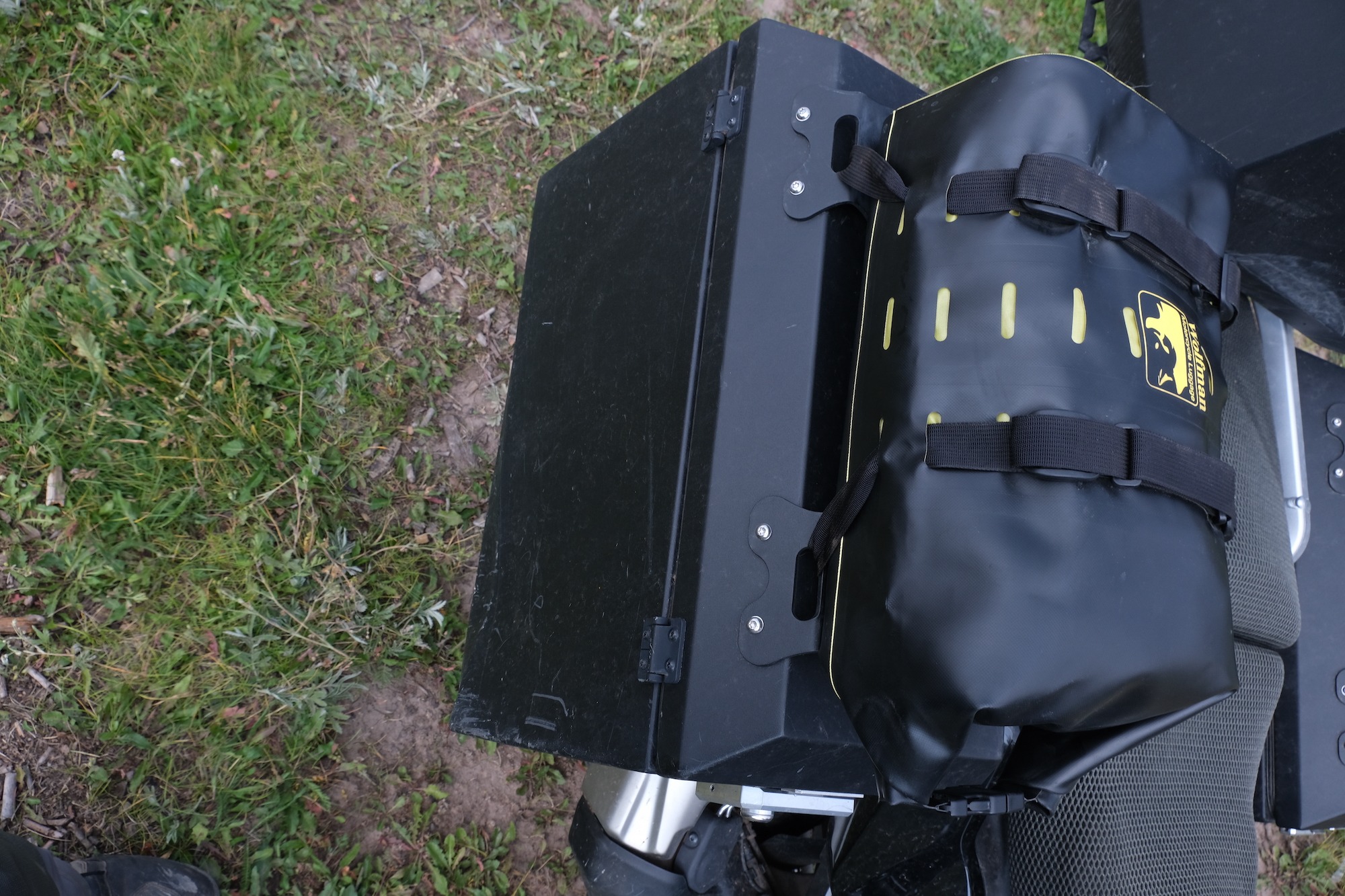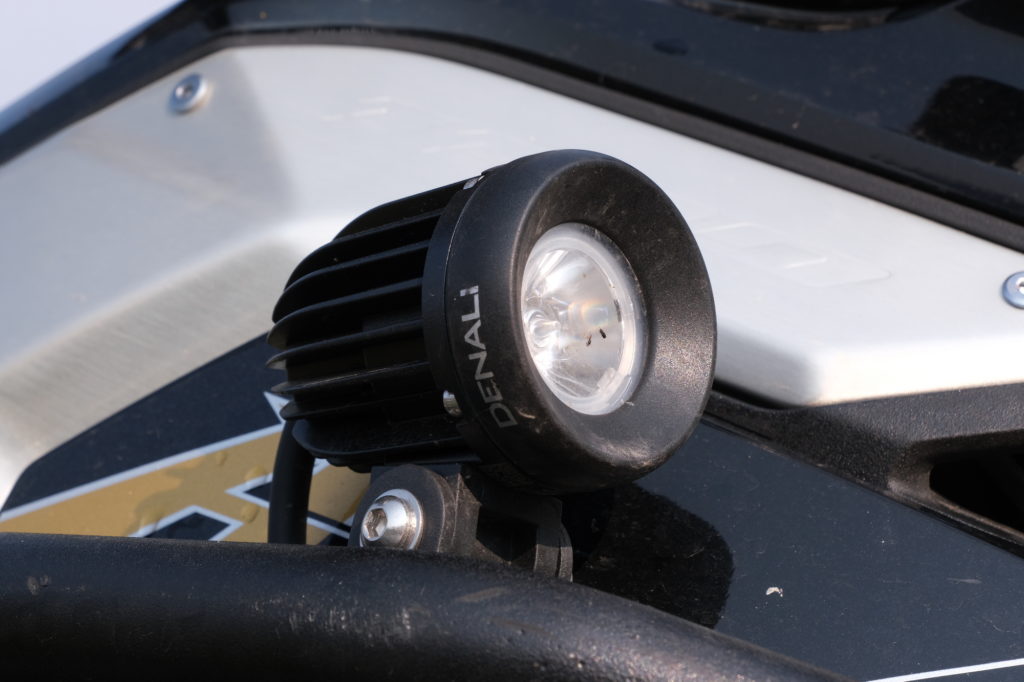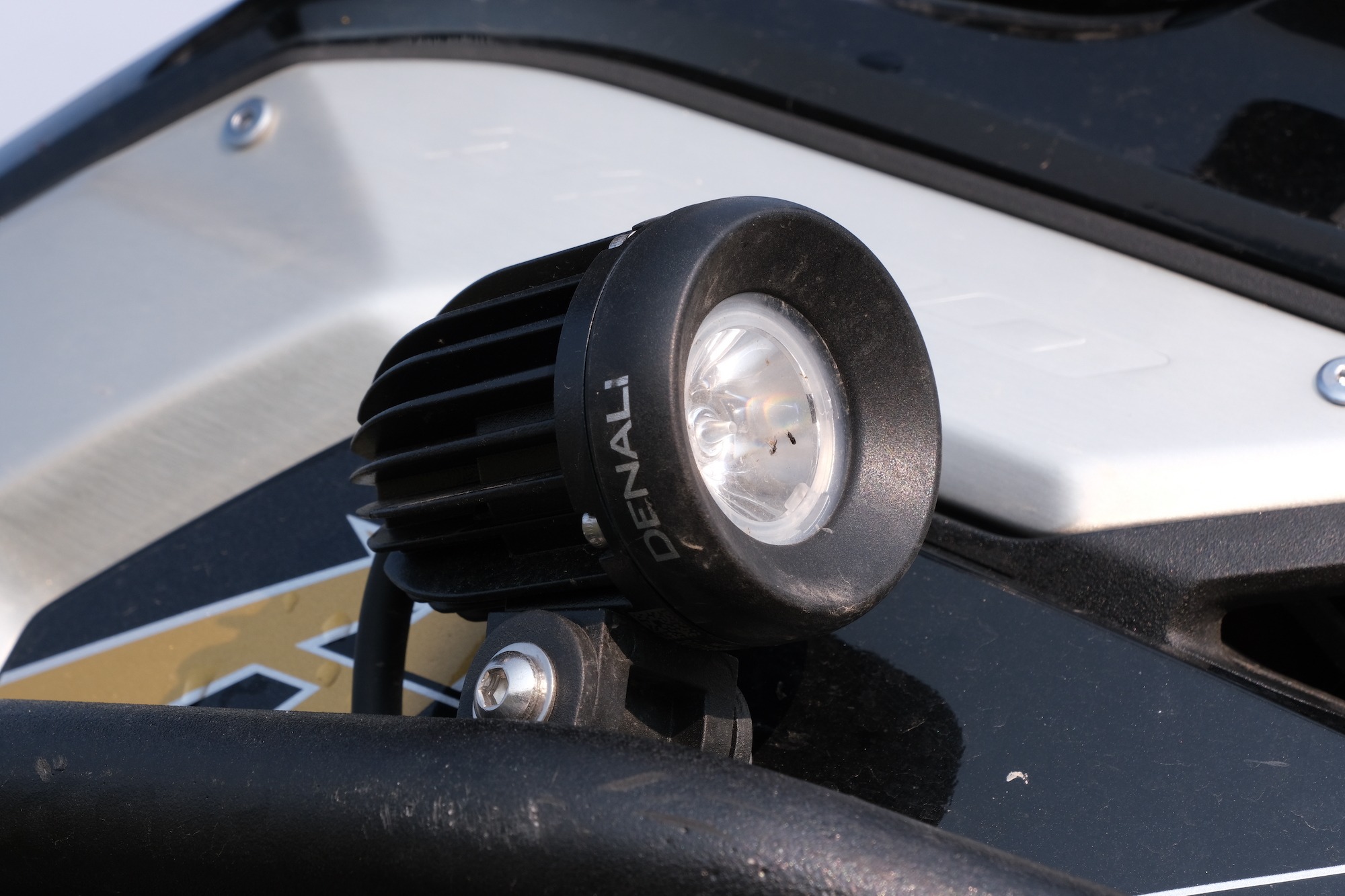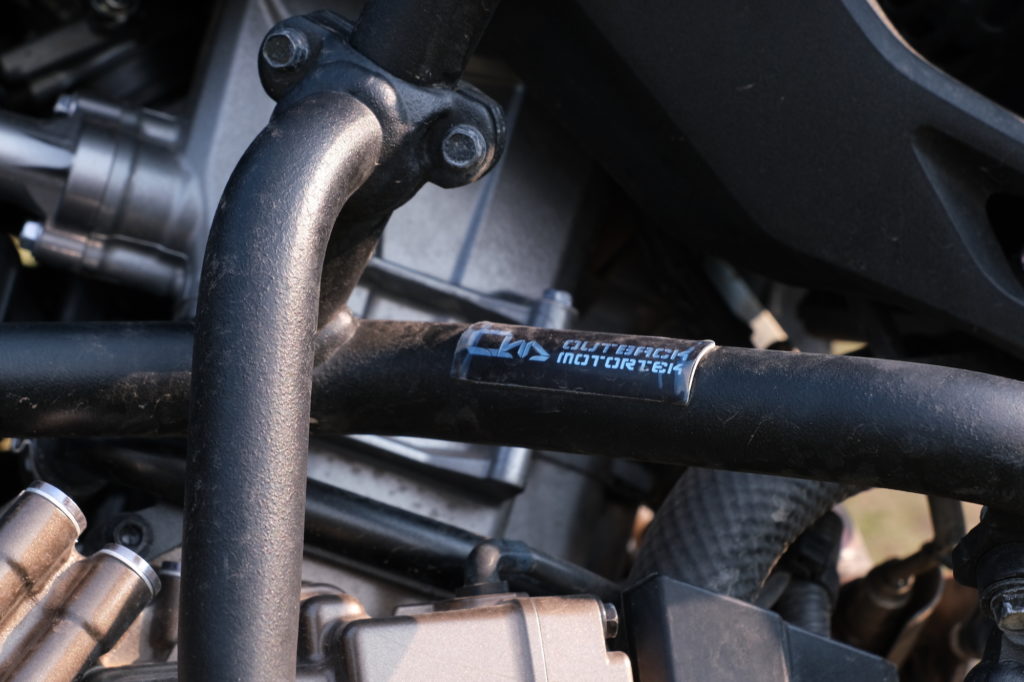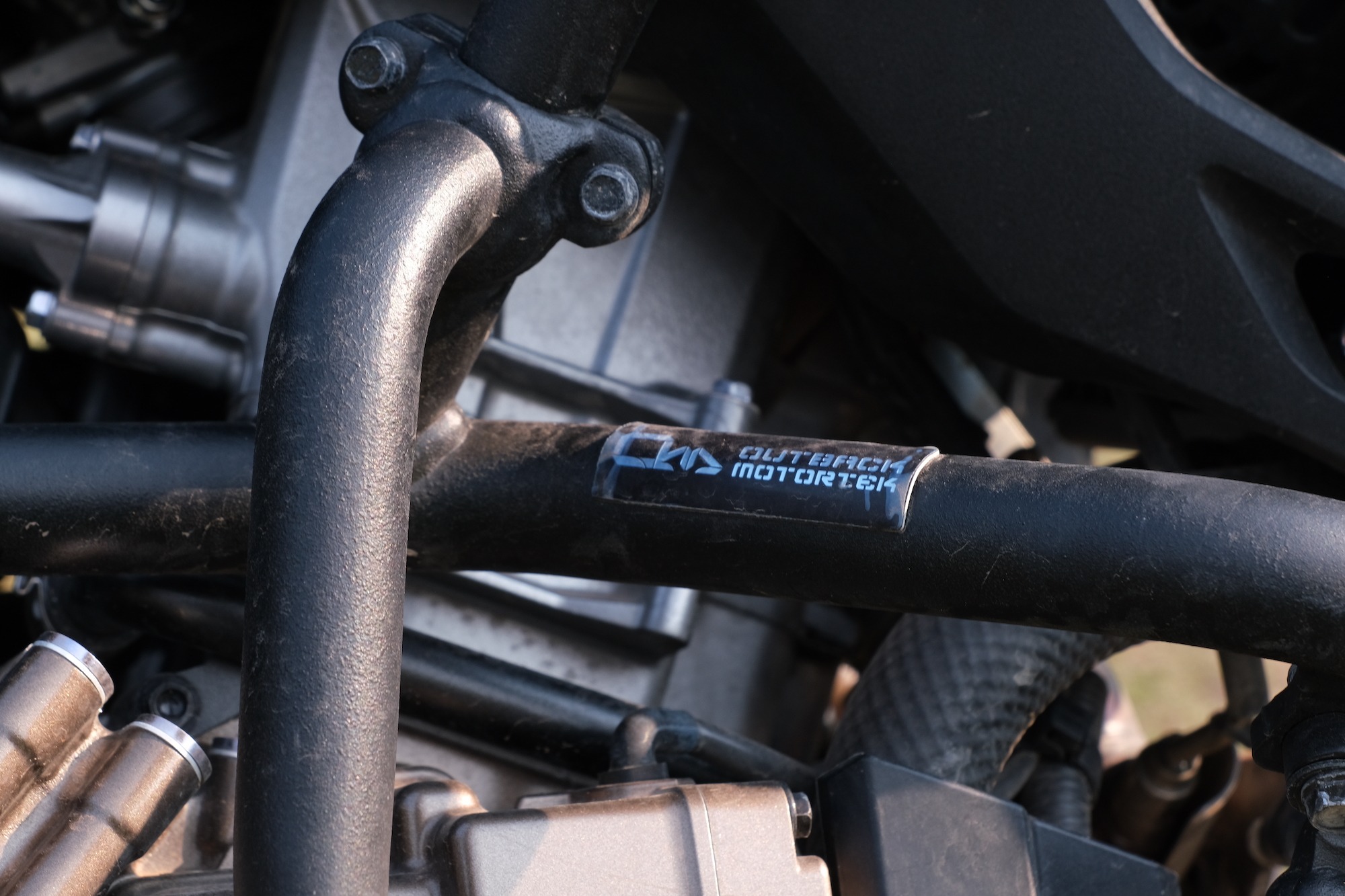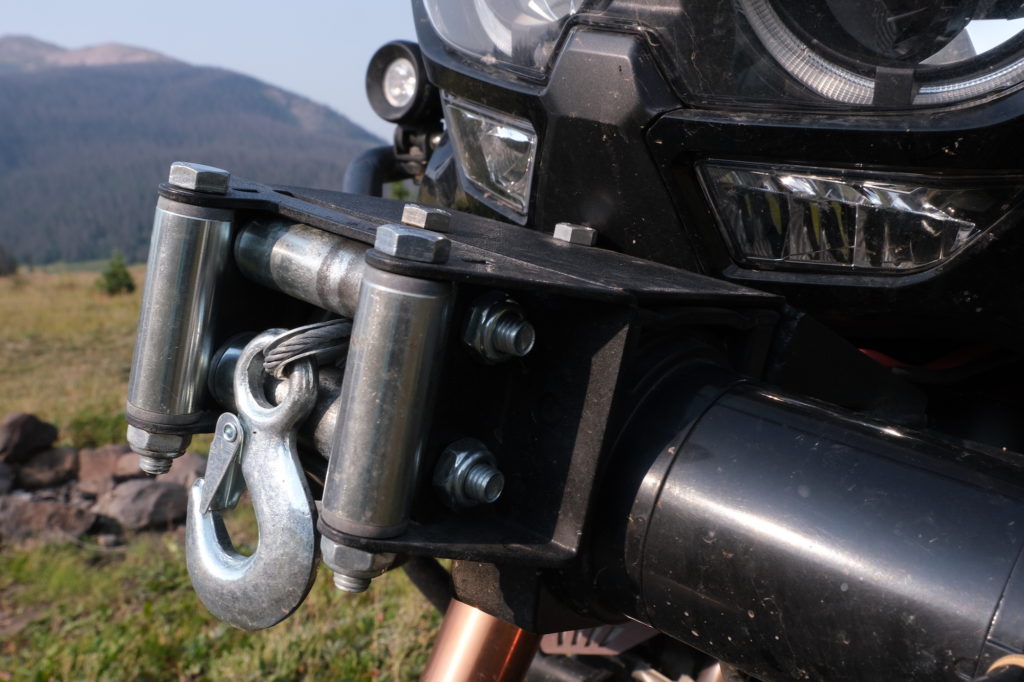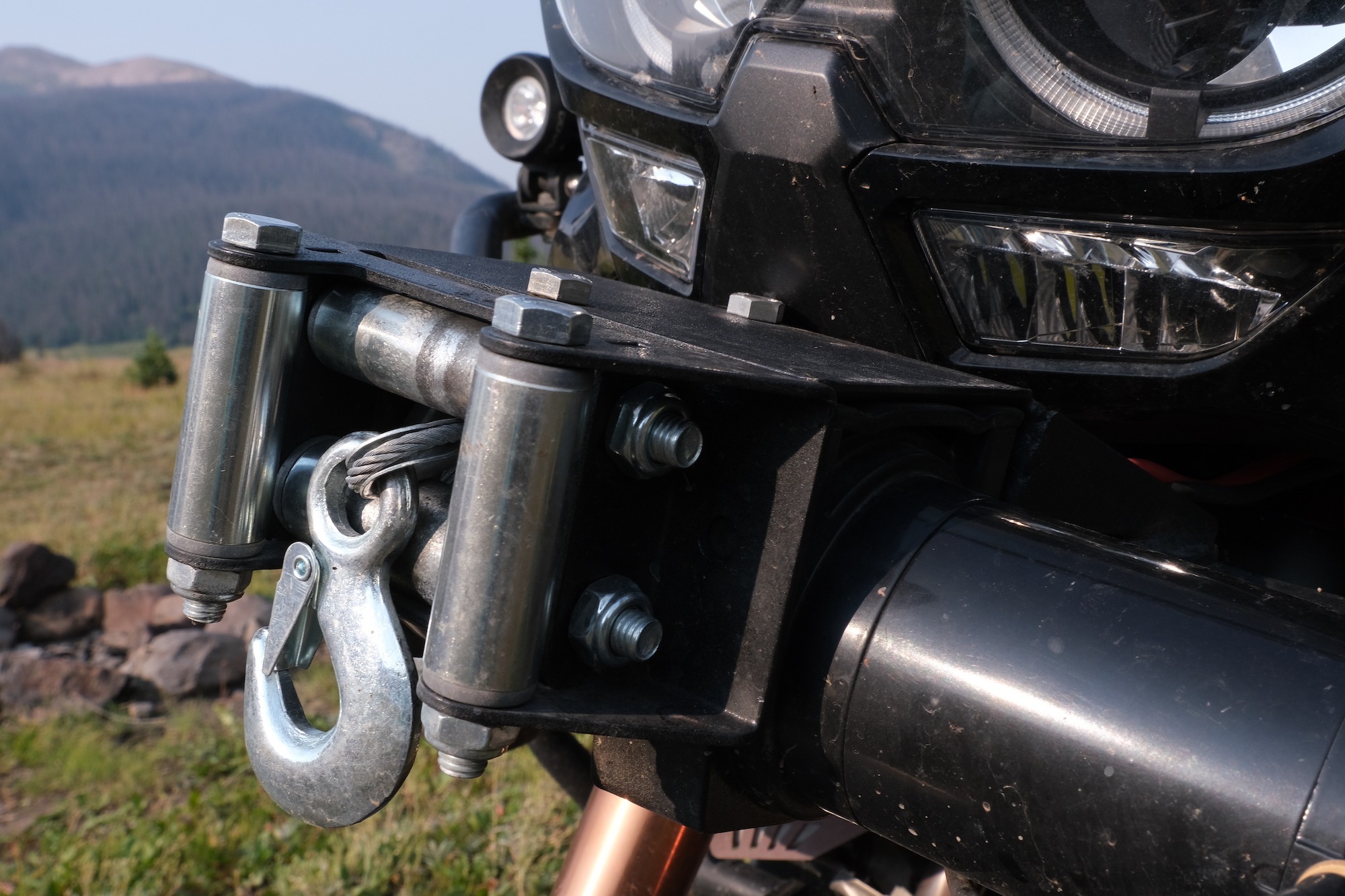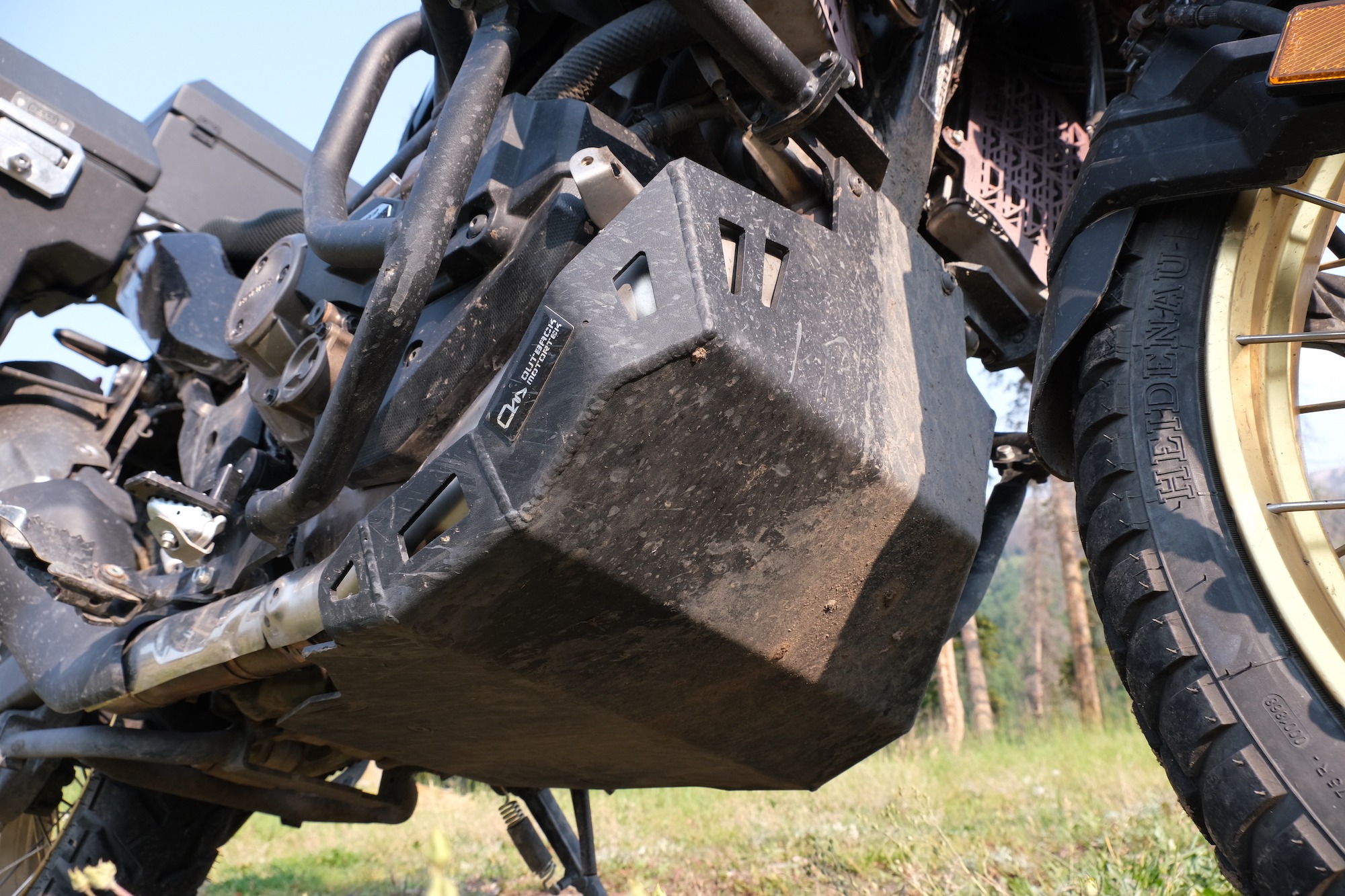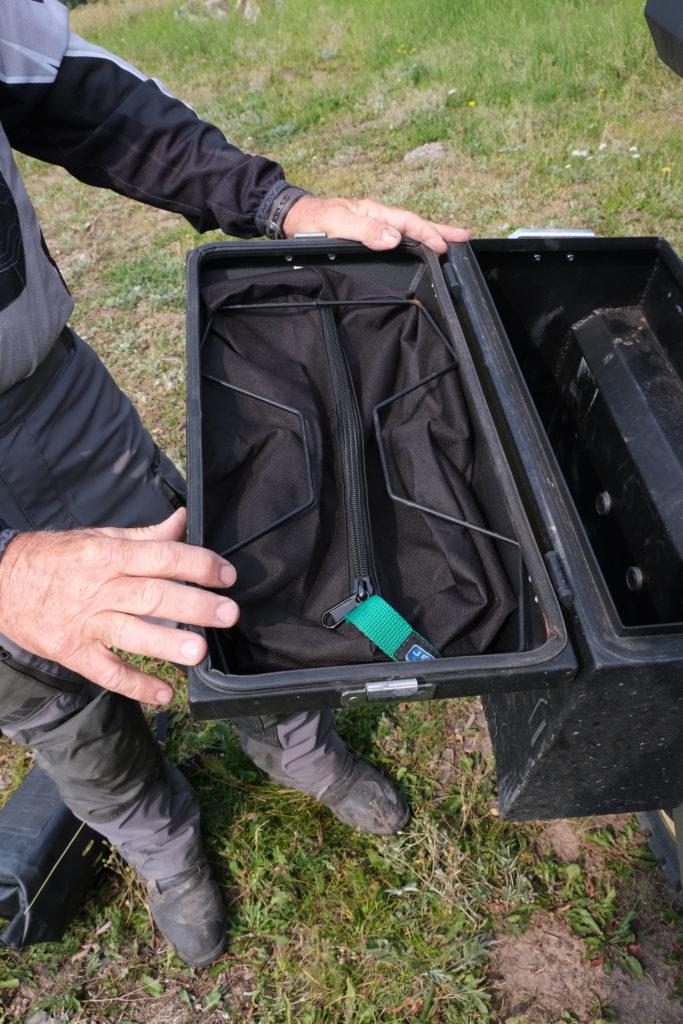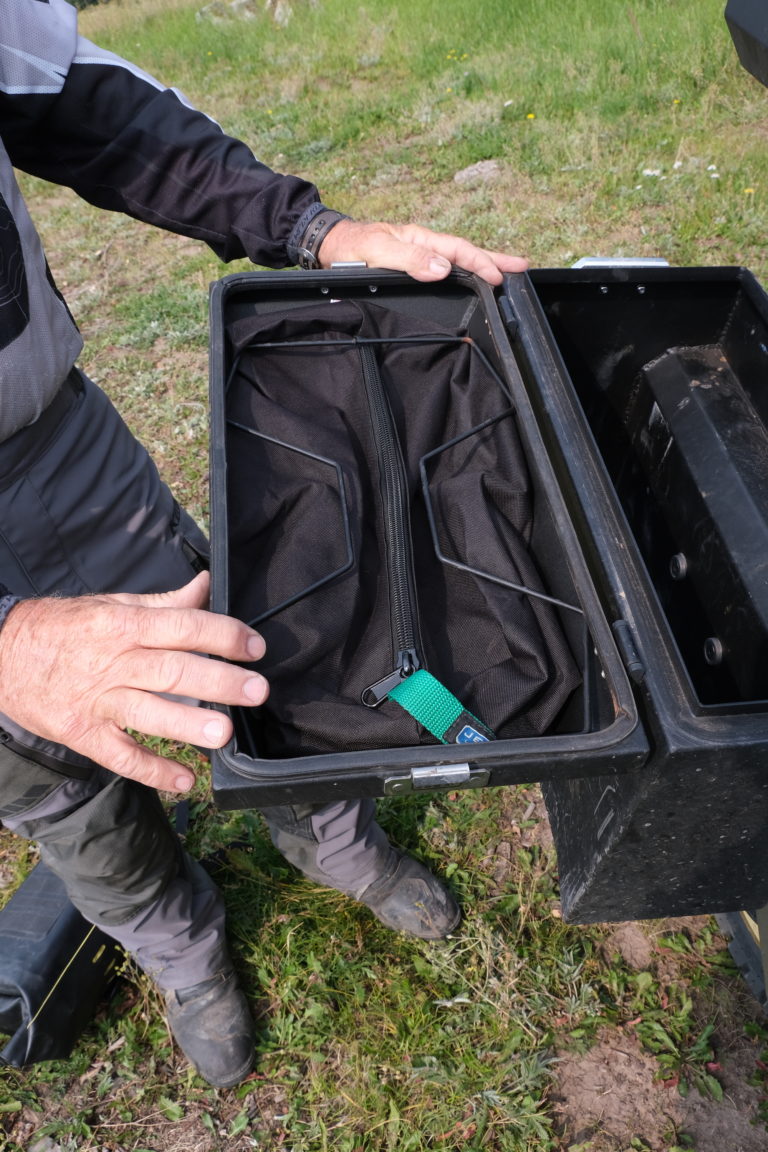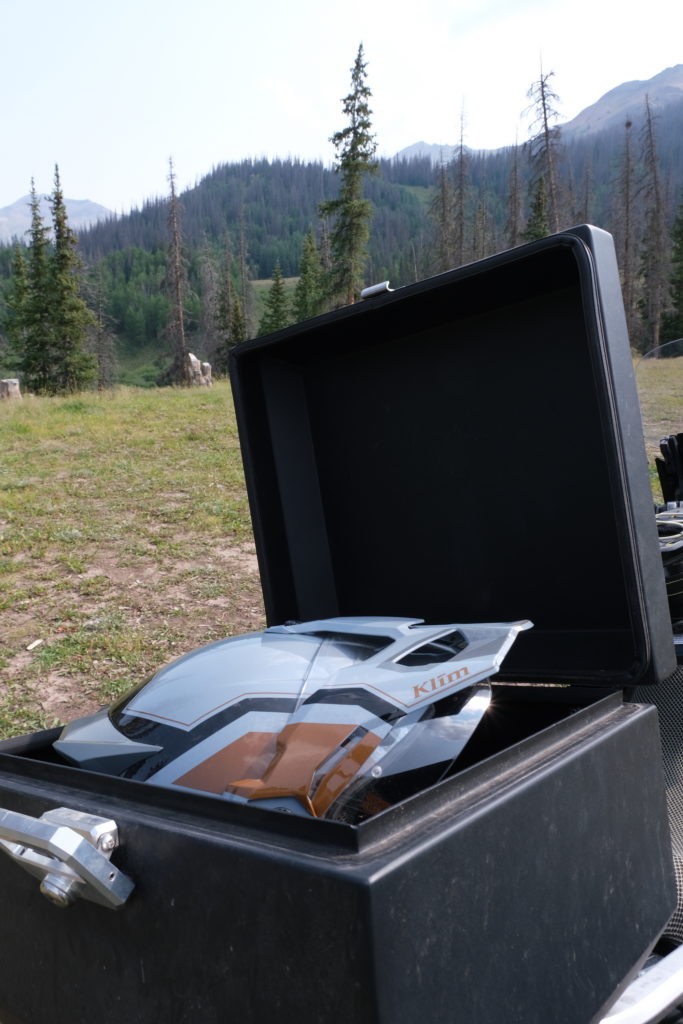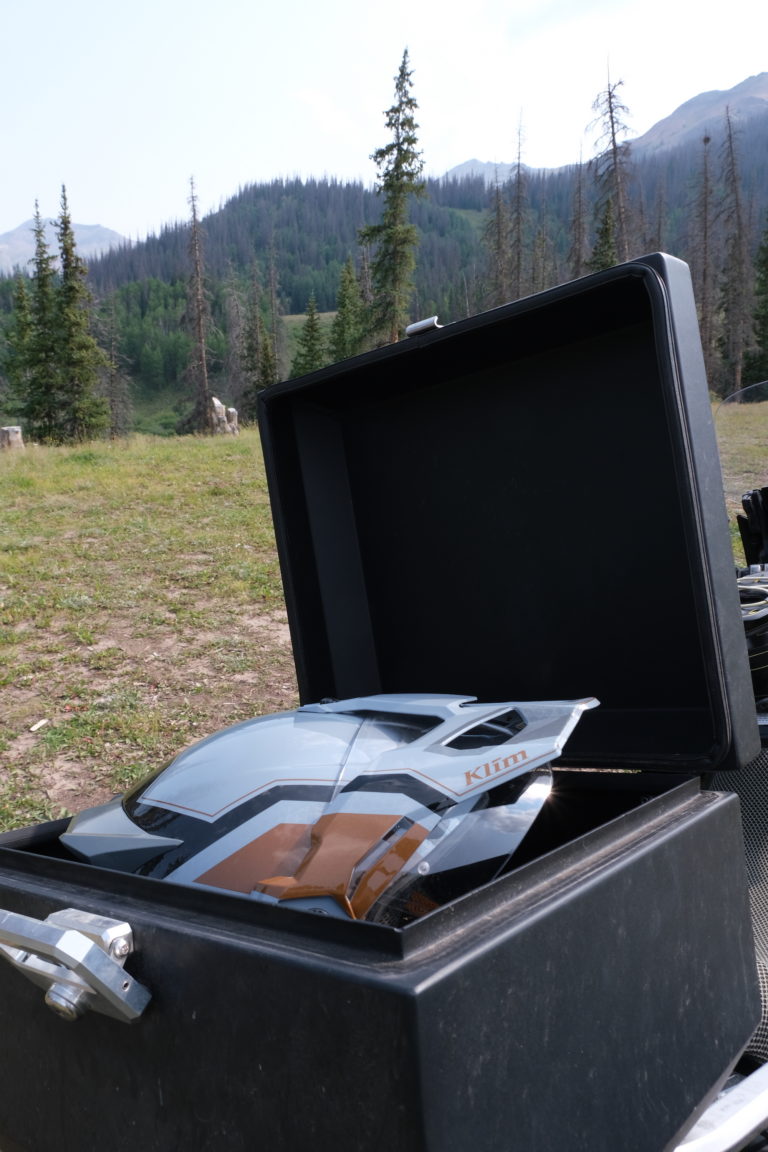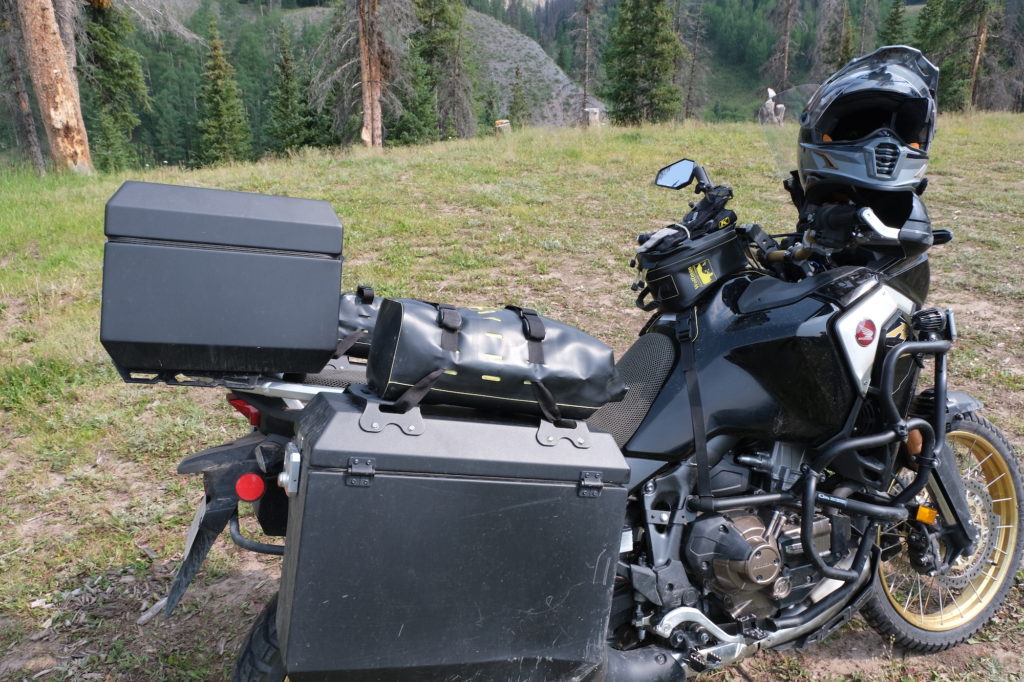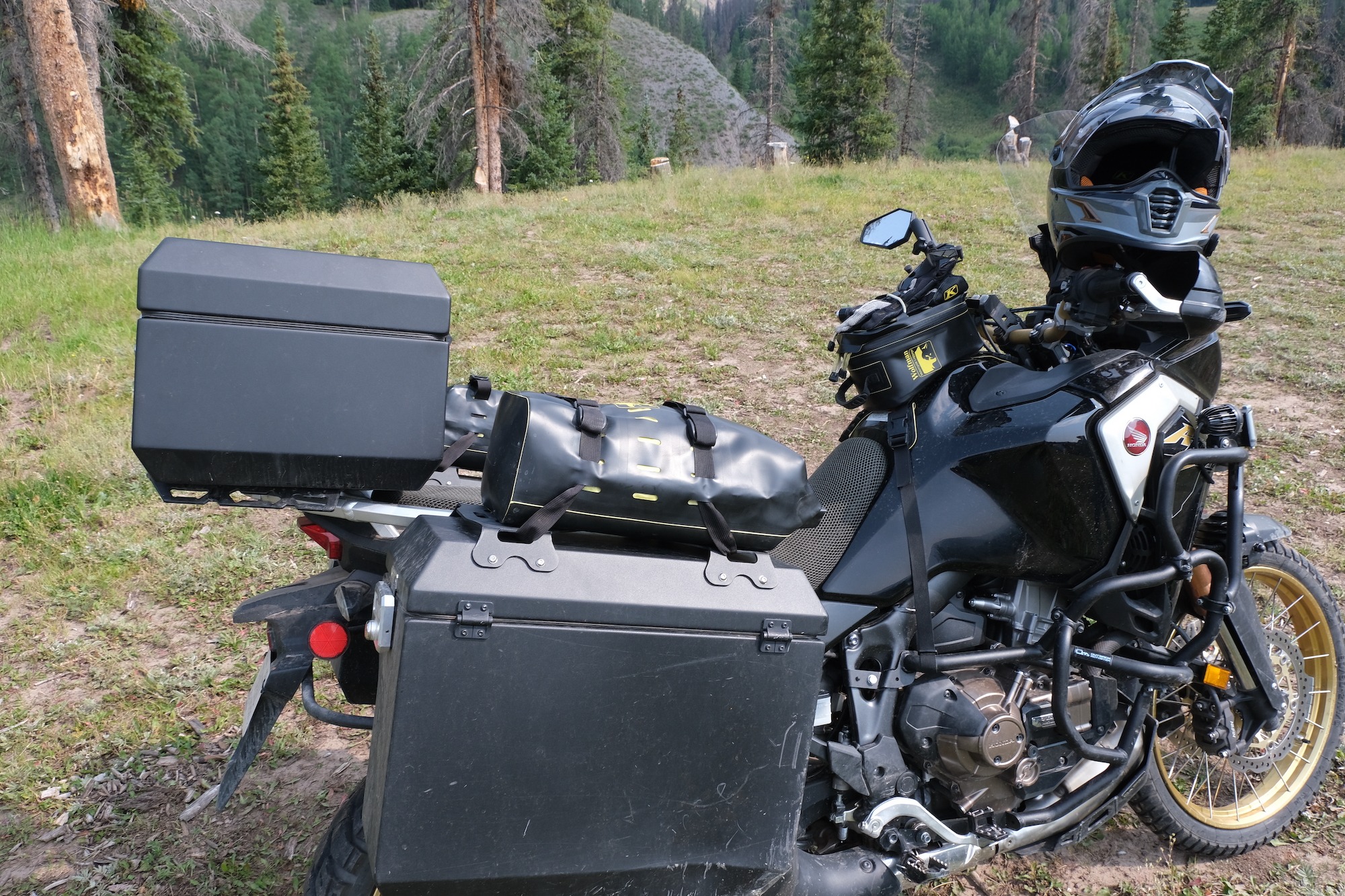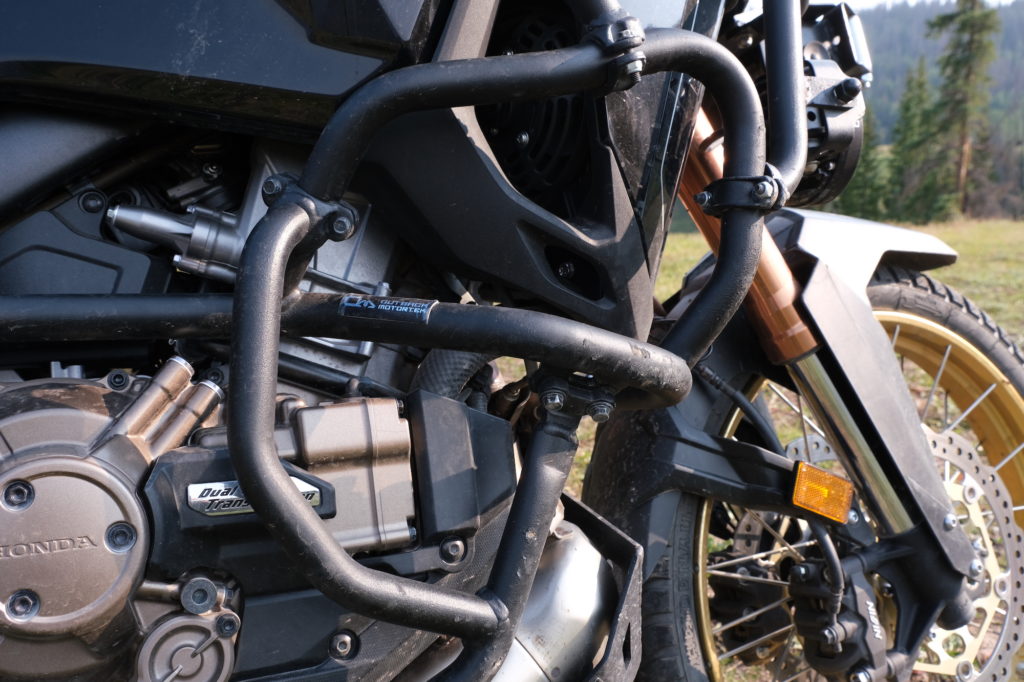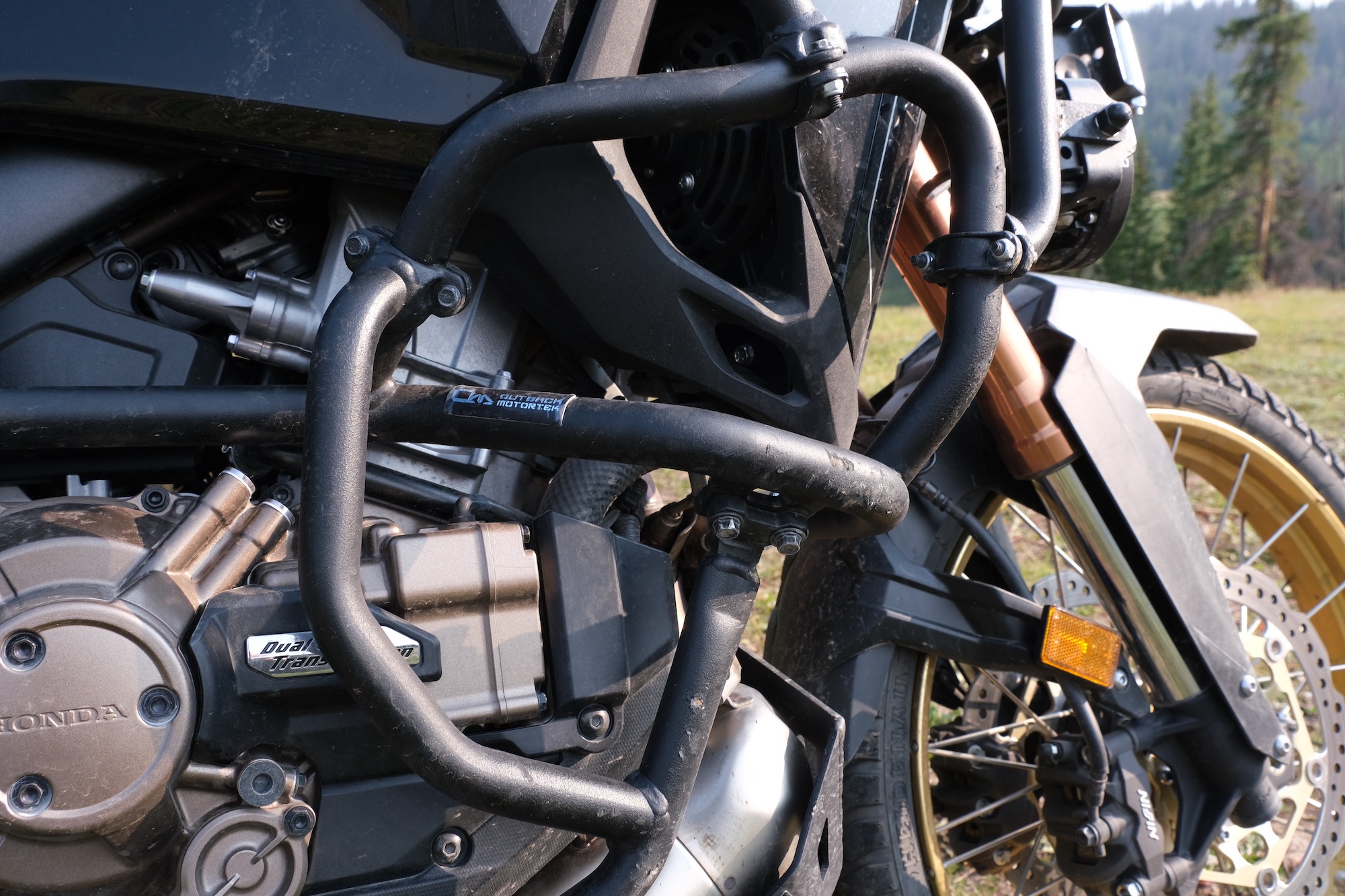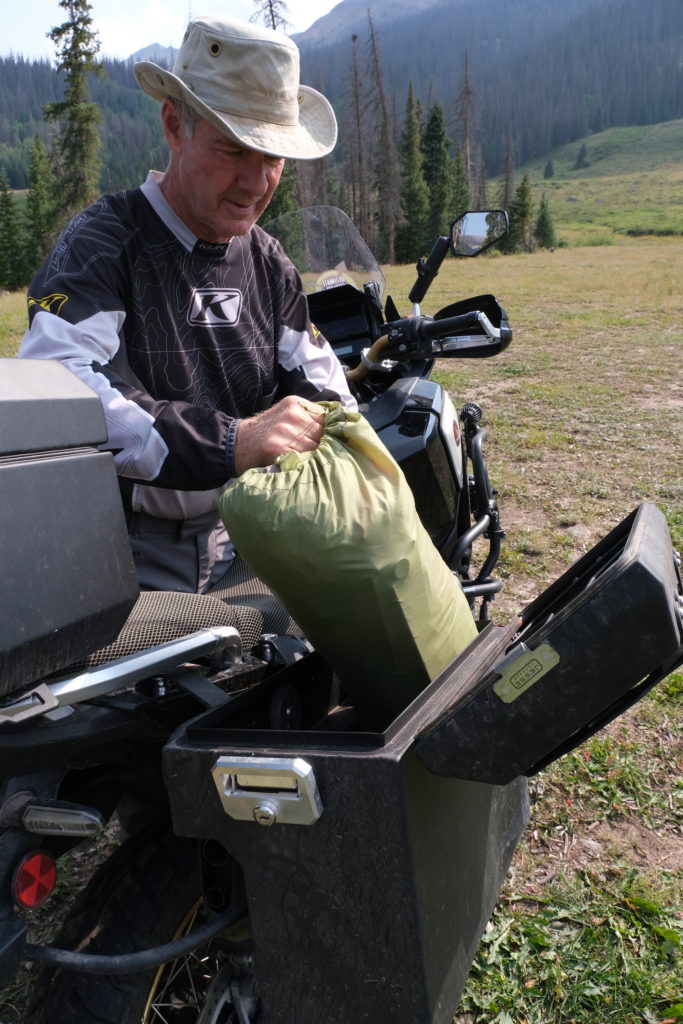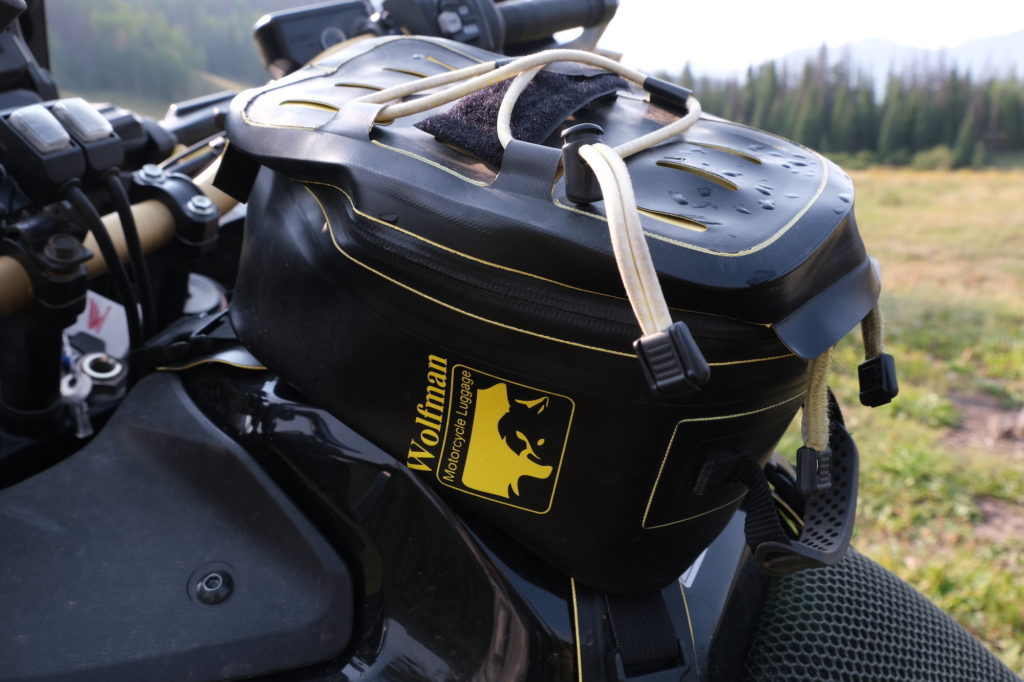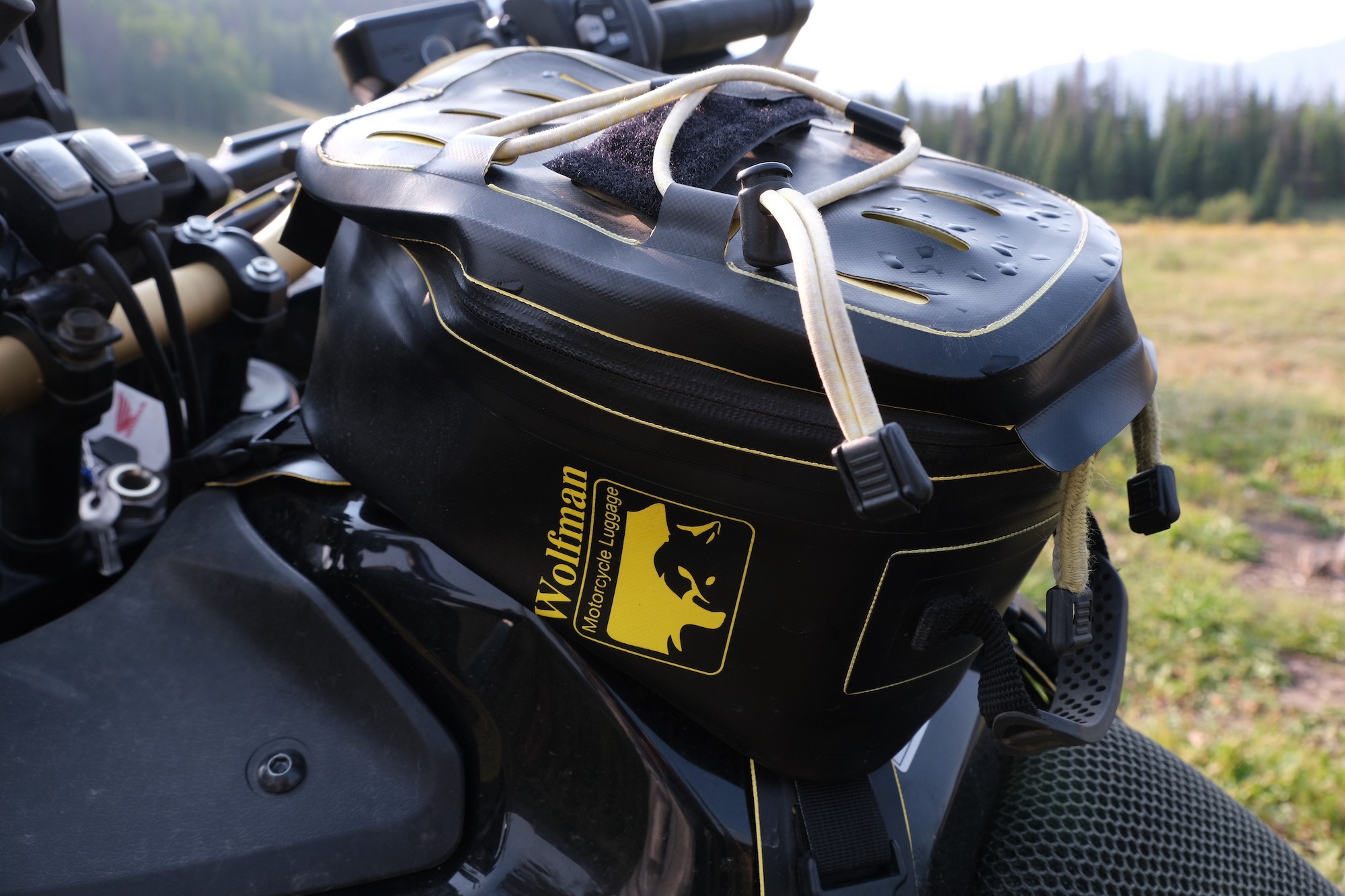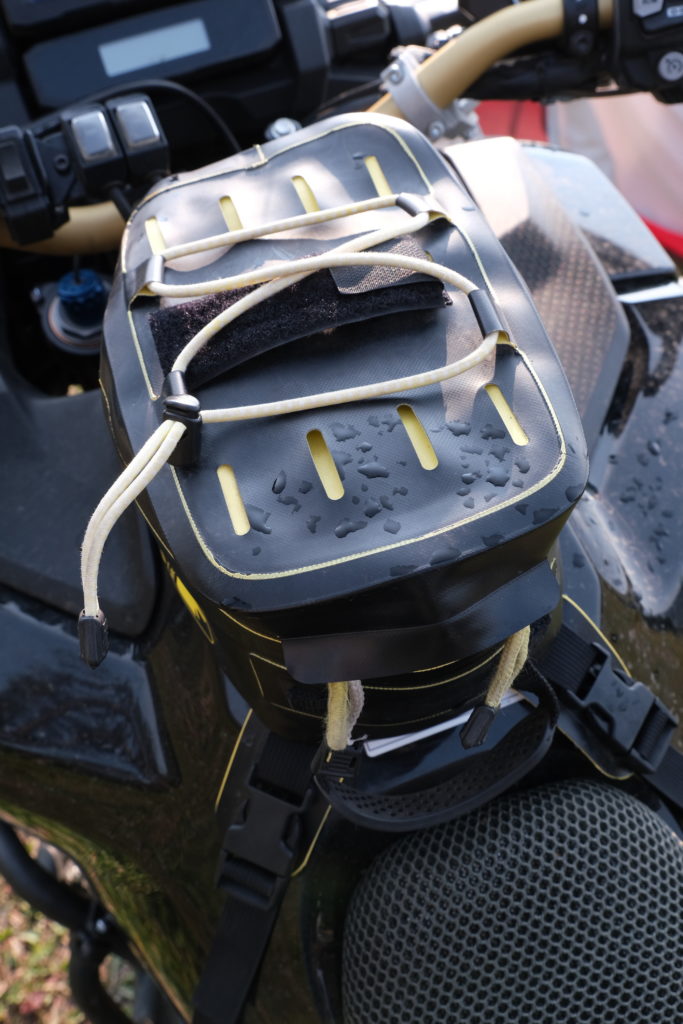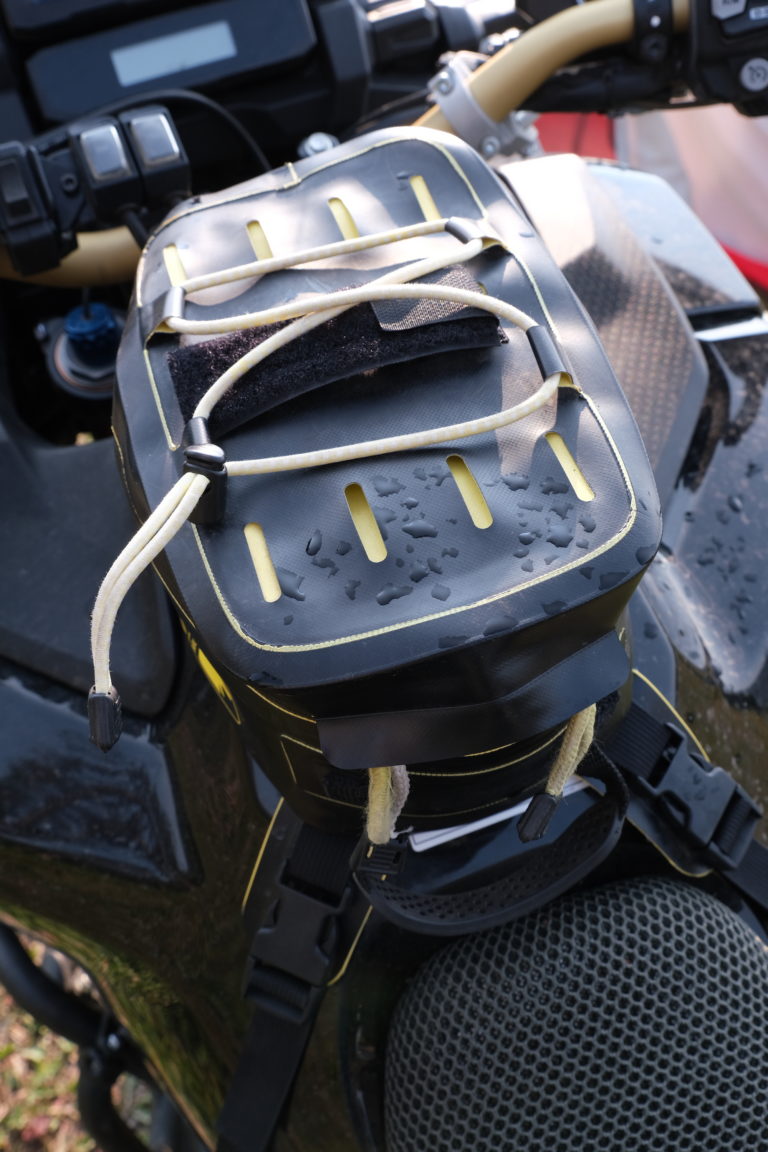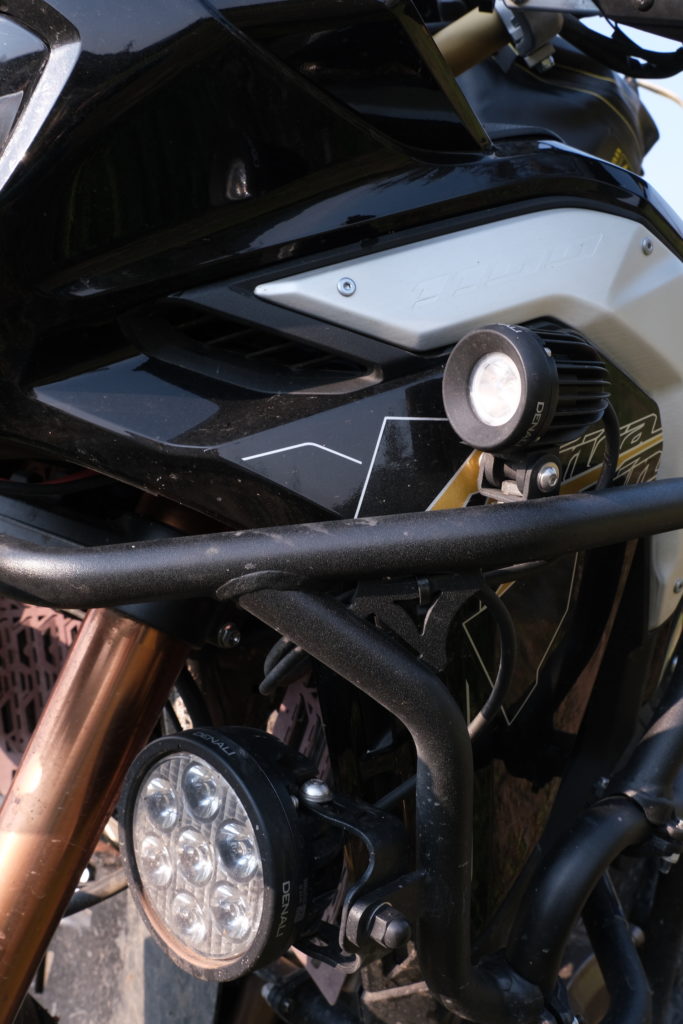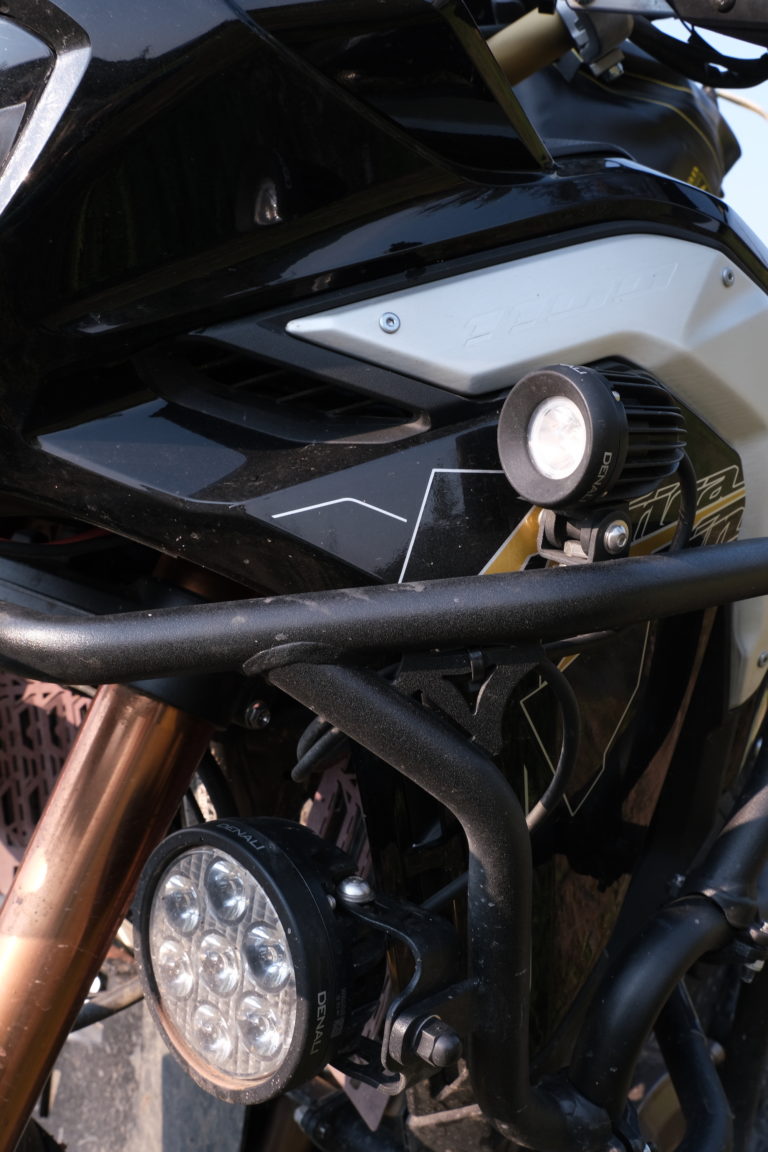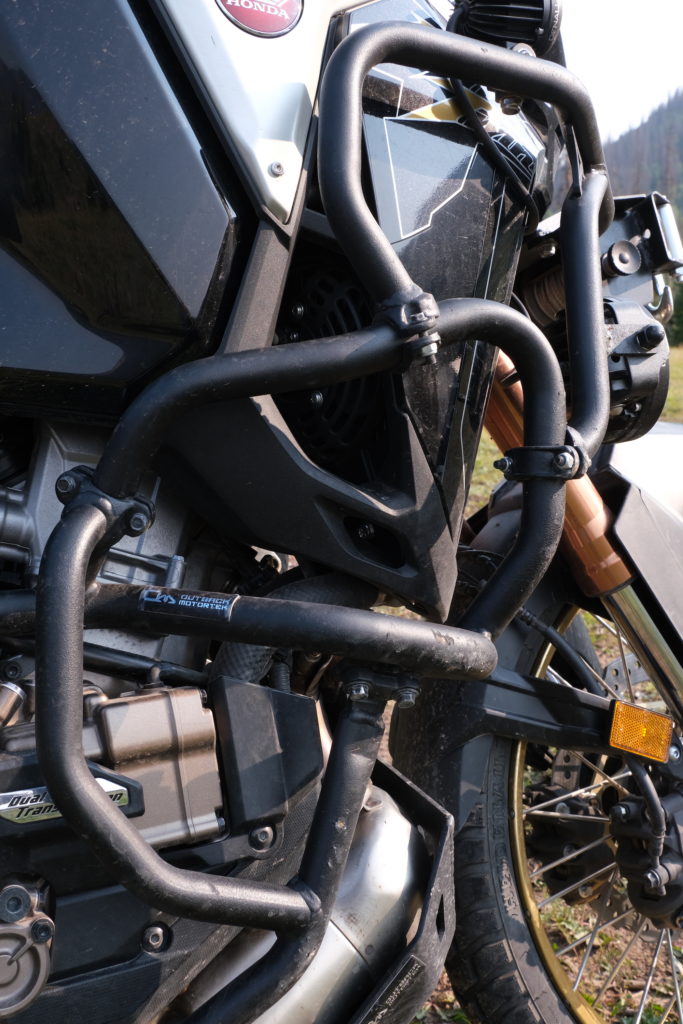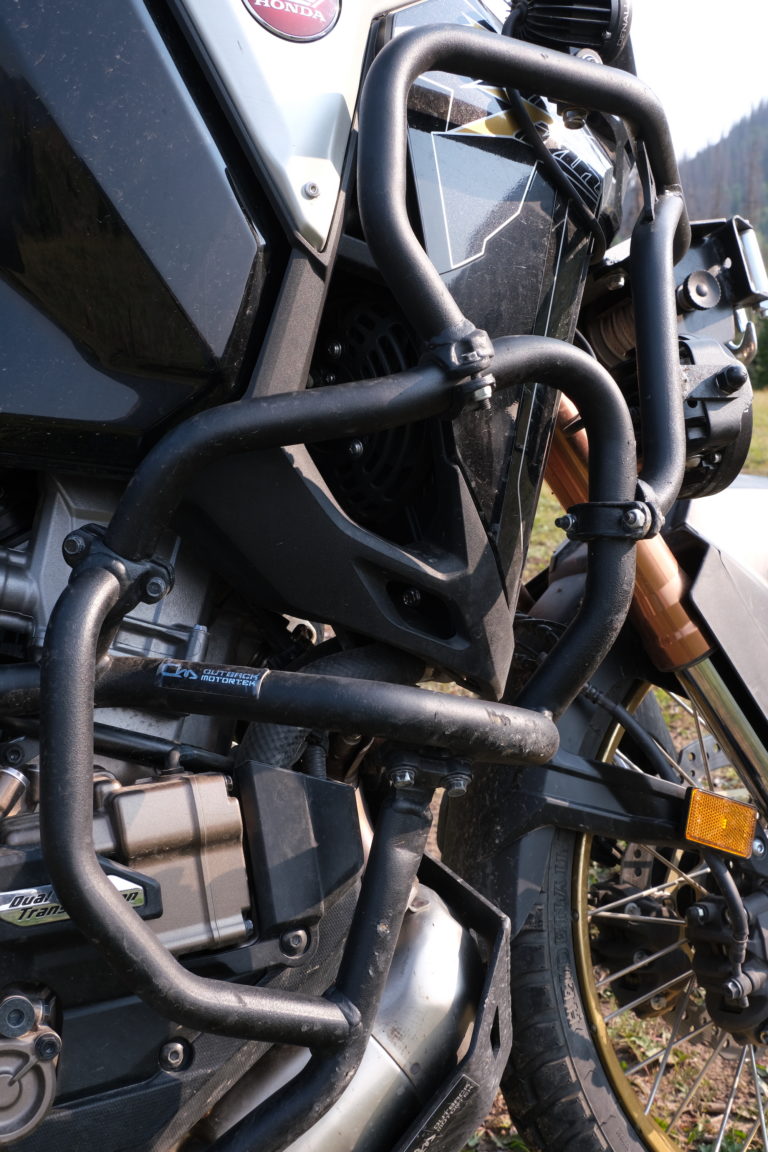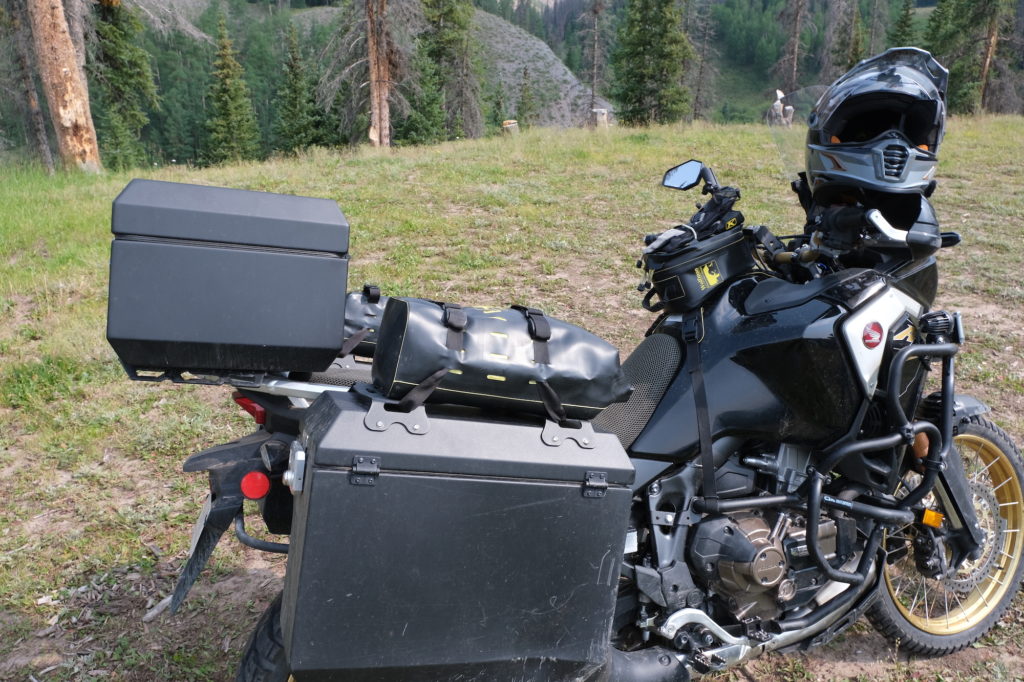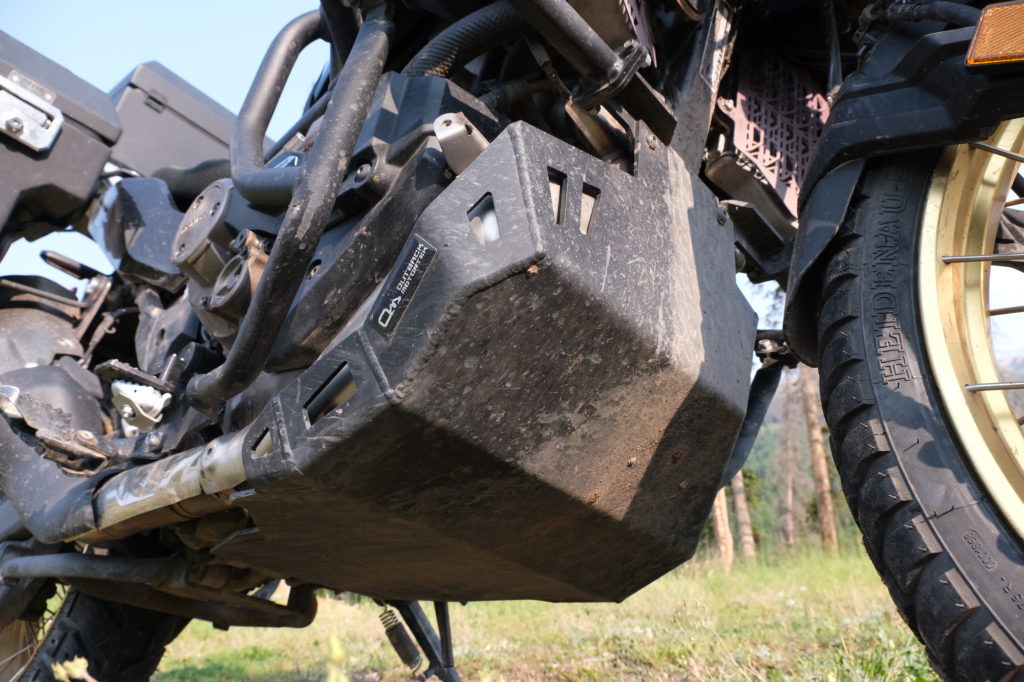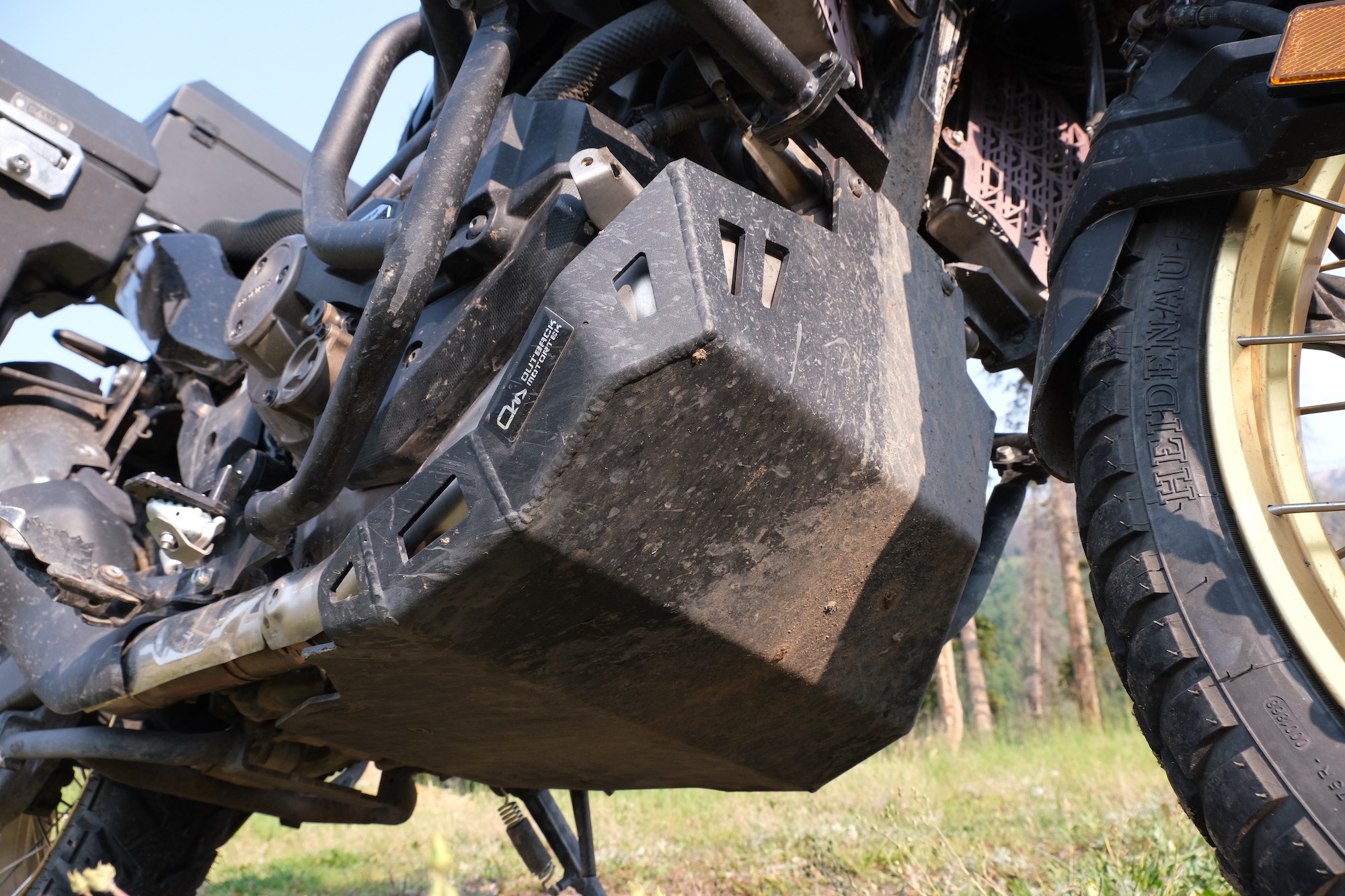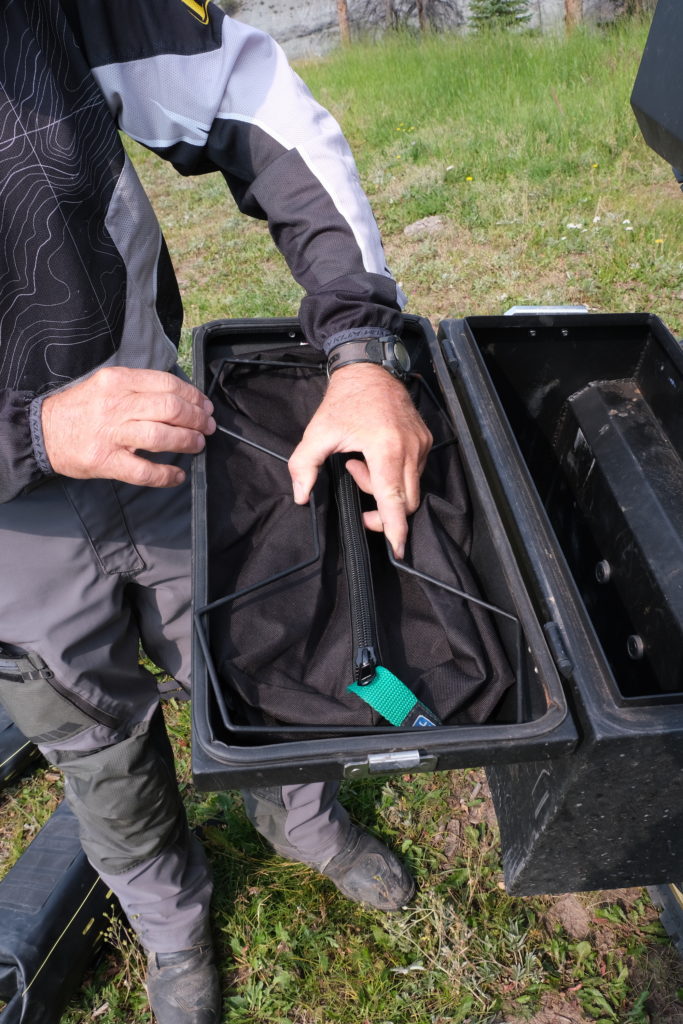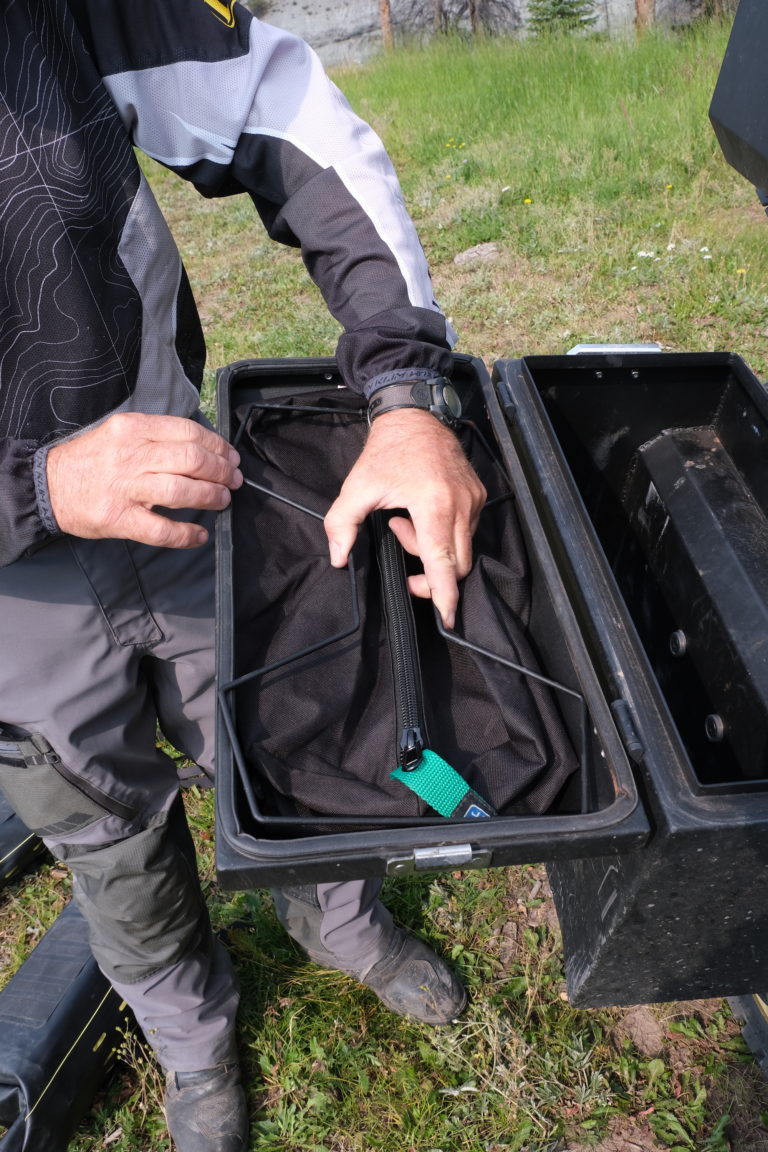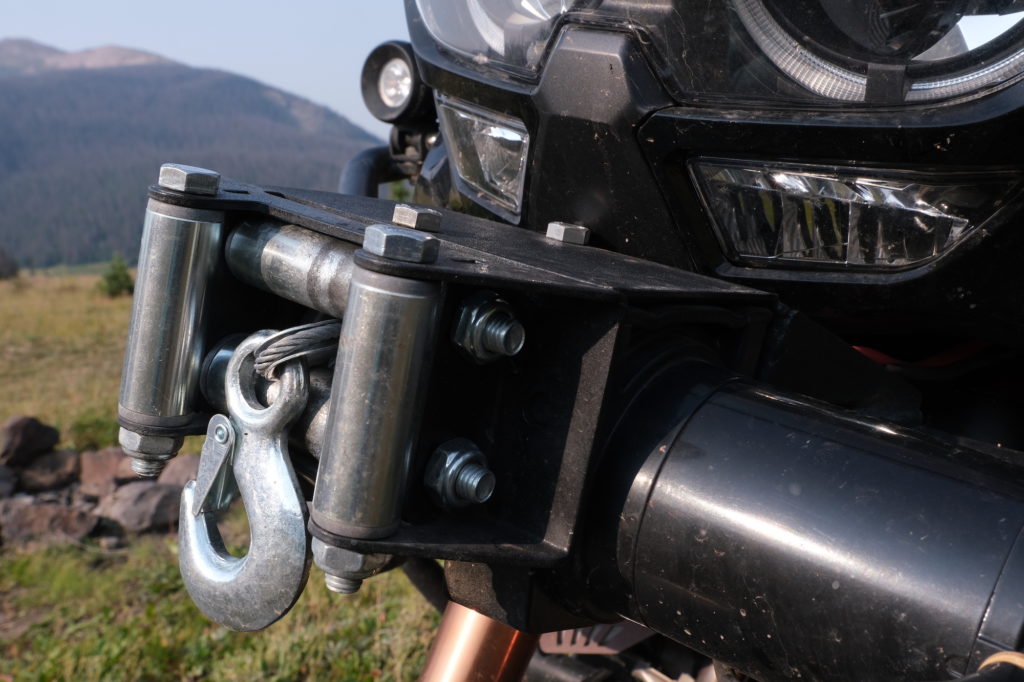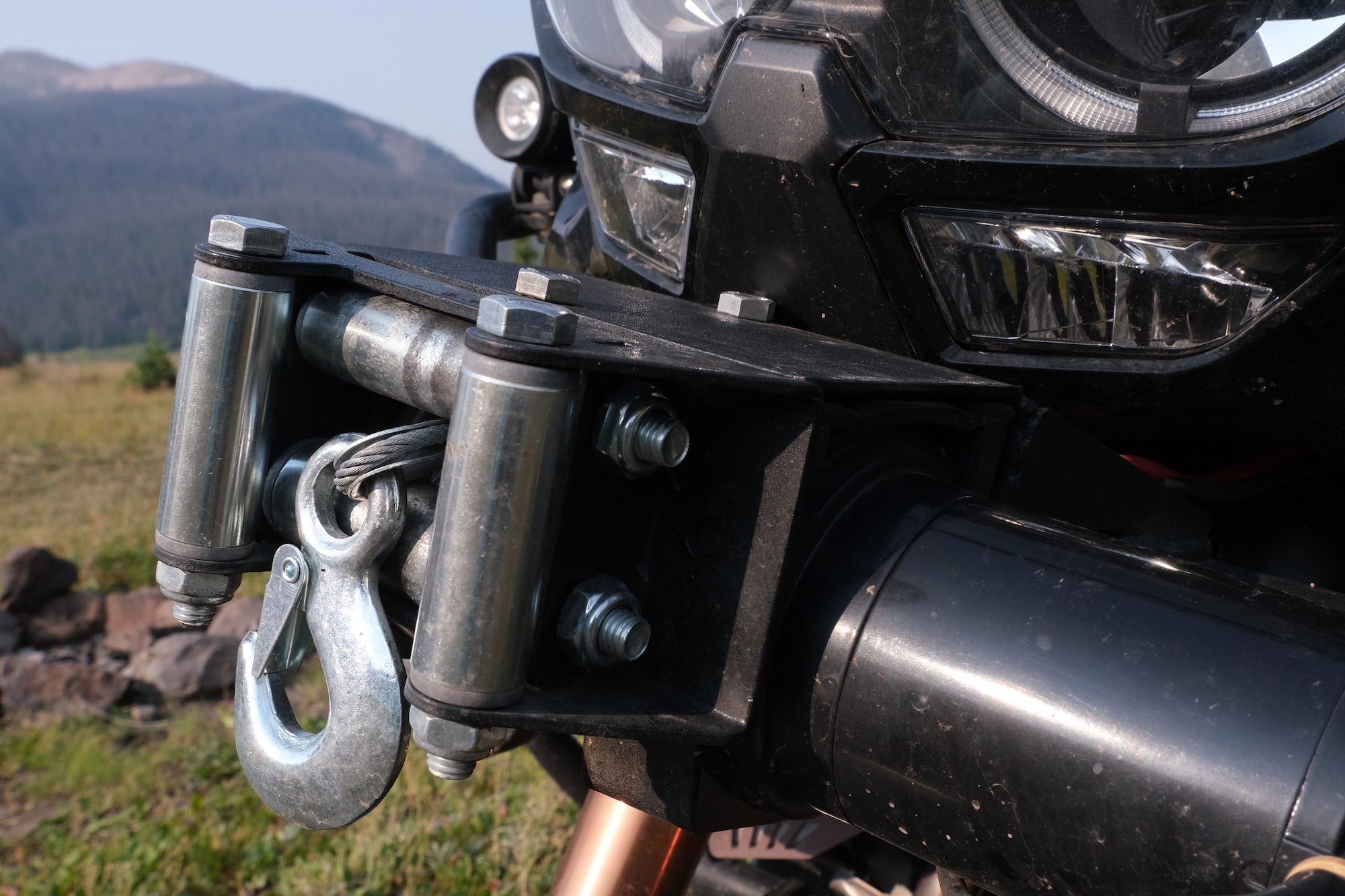 My iPhone was held securely by a Ram X Mount, keeping it visible for navigation and accessible throughout the ride.
I kept Garmin's InReach Mini satellite communicator secured to my Klim Badlands Pro jacket, a comforting, but thankfully unused, handy device for summoning help whenever needed.
A Superwinch with custom mounting system was welded to the front of the crash bars. We found the winch capable but fussy to use in the mounted configuration. Perhaps a portable version could be a benefit in extreme circumstances.
Overall impressions of the bike were good. Suspension was surprisingly compliant considering the rough terrain and adaptable to a wide range of conditions.
My greatest complaint was the plethora of buttons and switches and the cryptic methodology required to completely defeat the traction control. Even so, for long haul work and mild to moderate terrain, the DCT version of Honda's flagship overlanding motorcycle was a relaxing way to traverse roads and even a fair bit of two-track.
About the author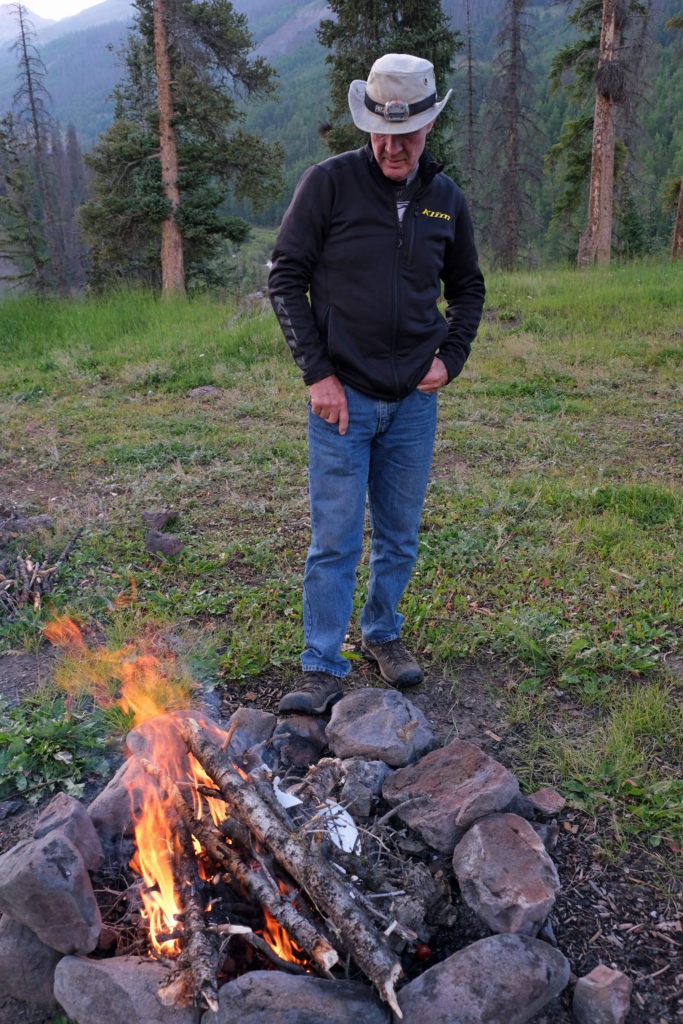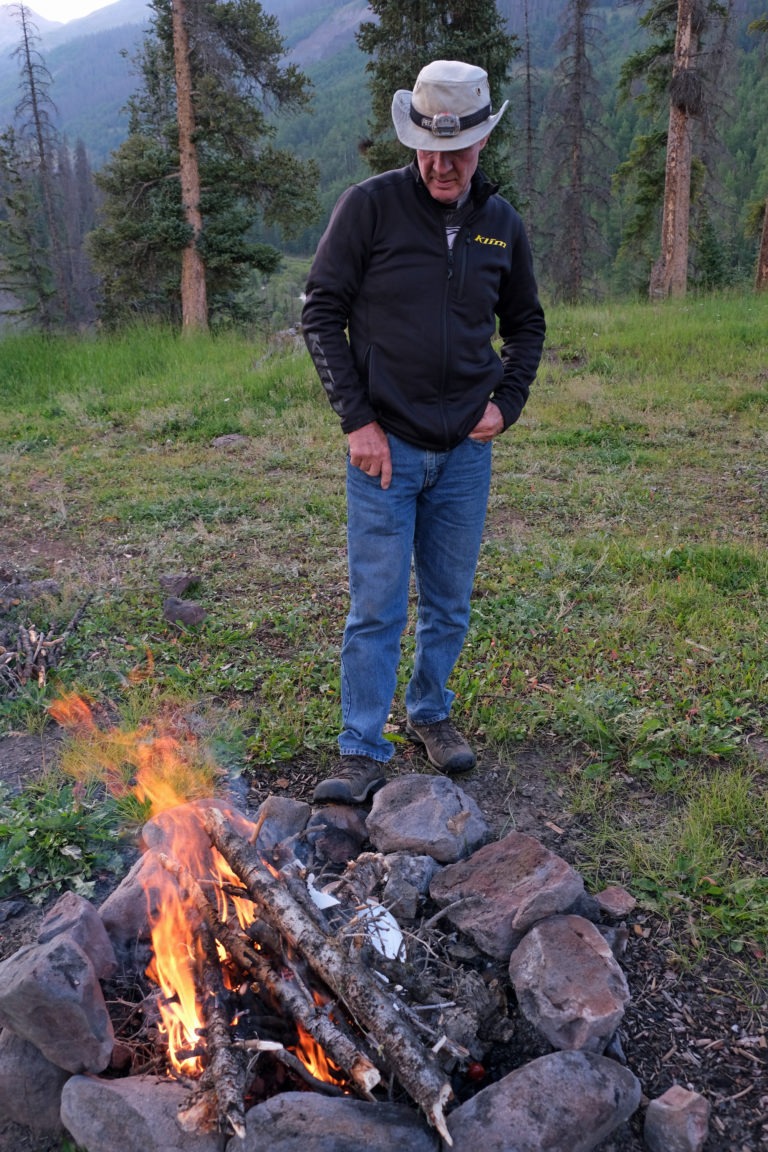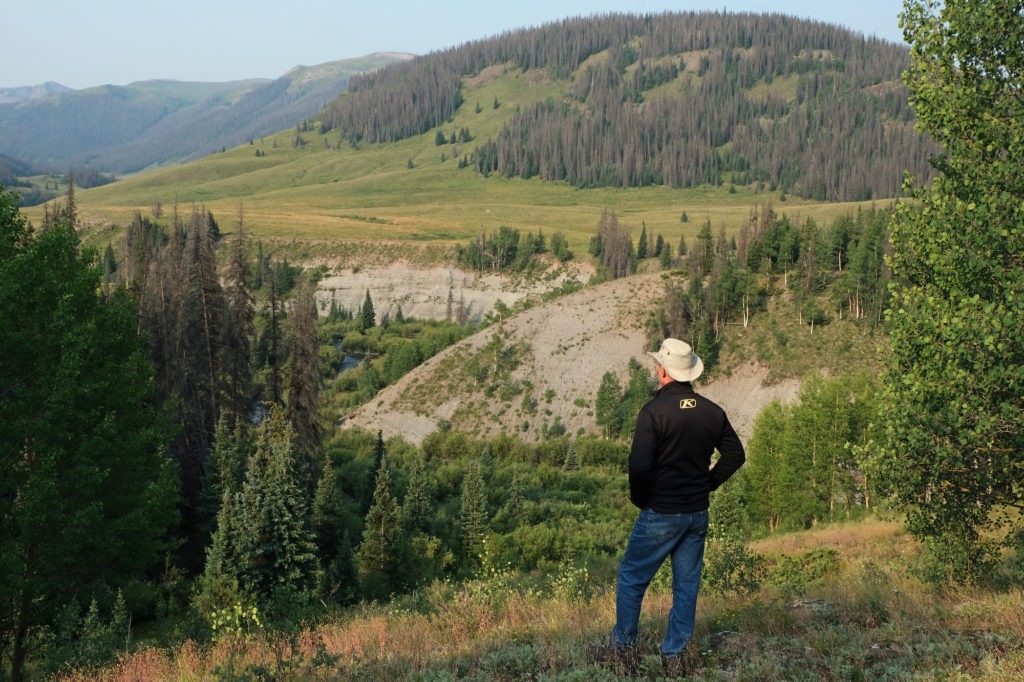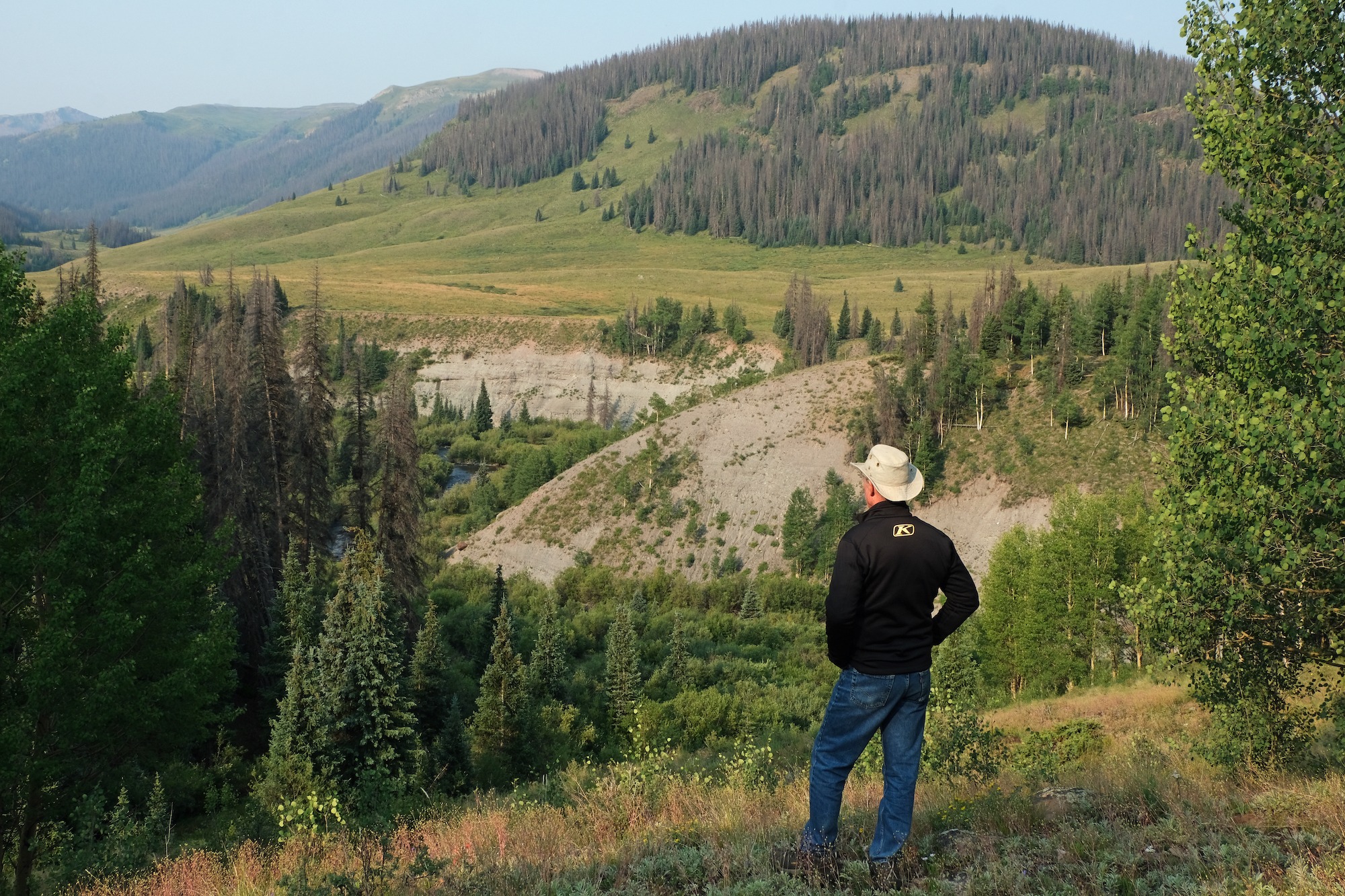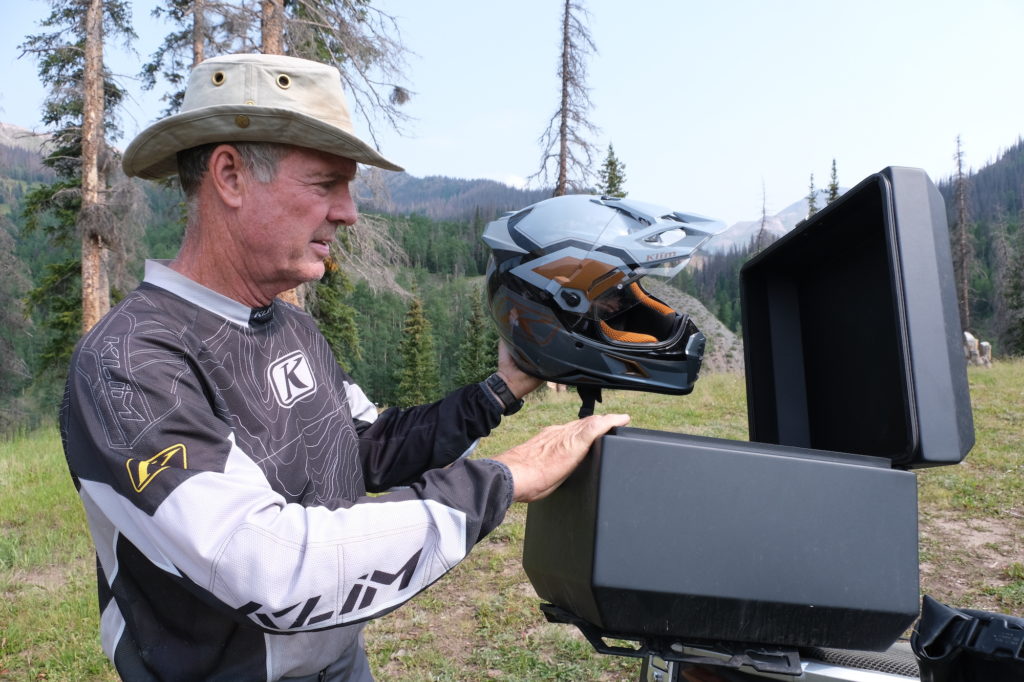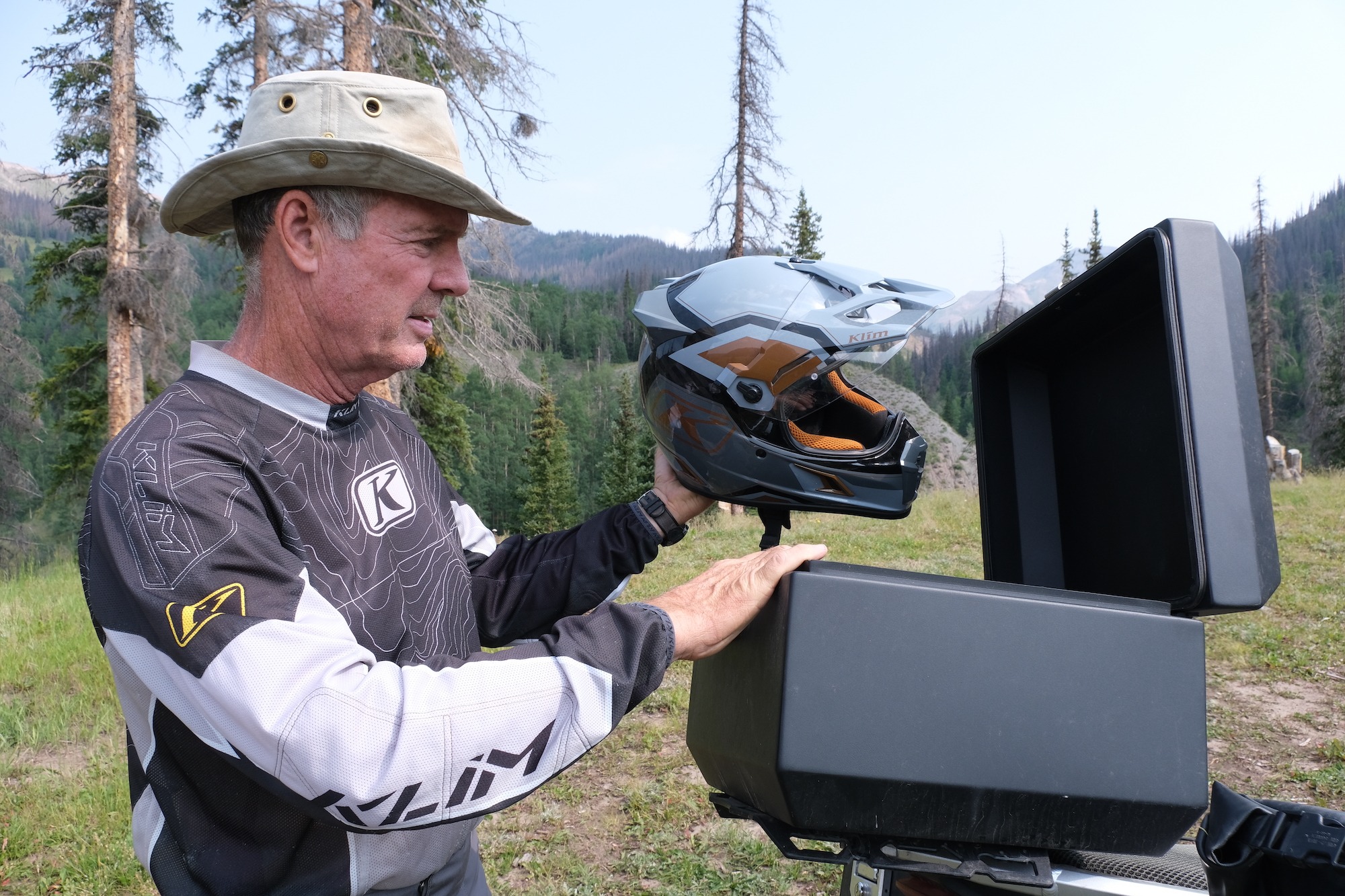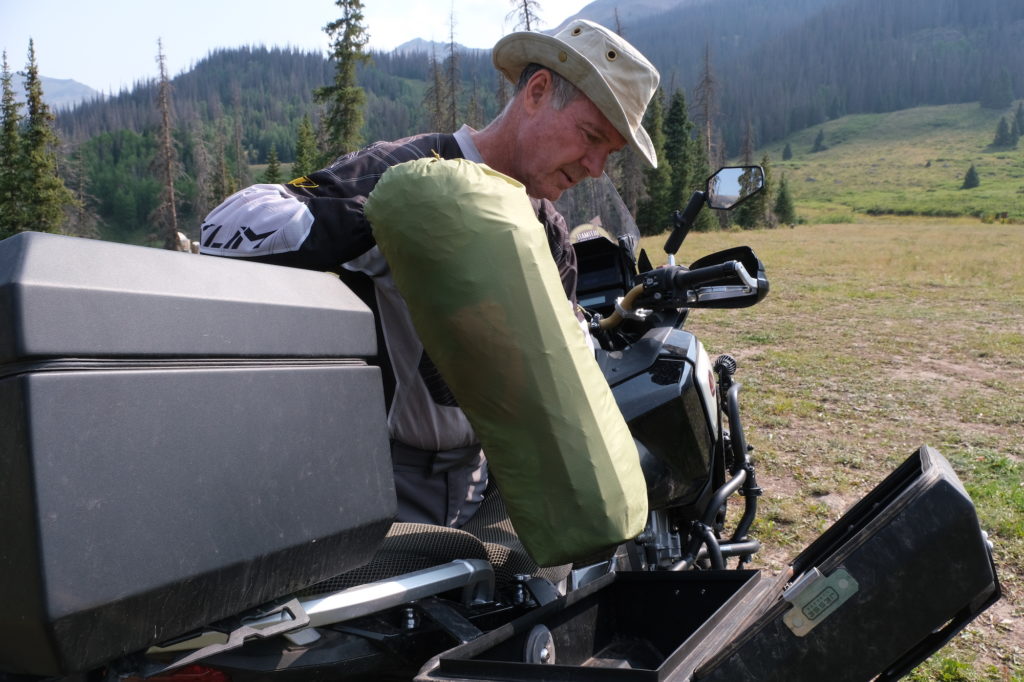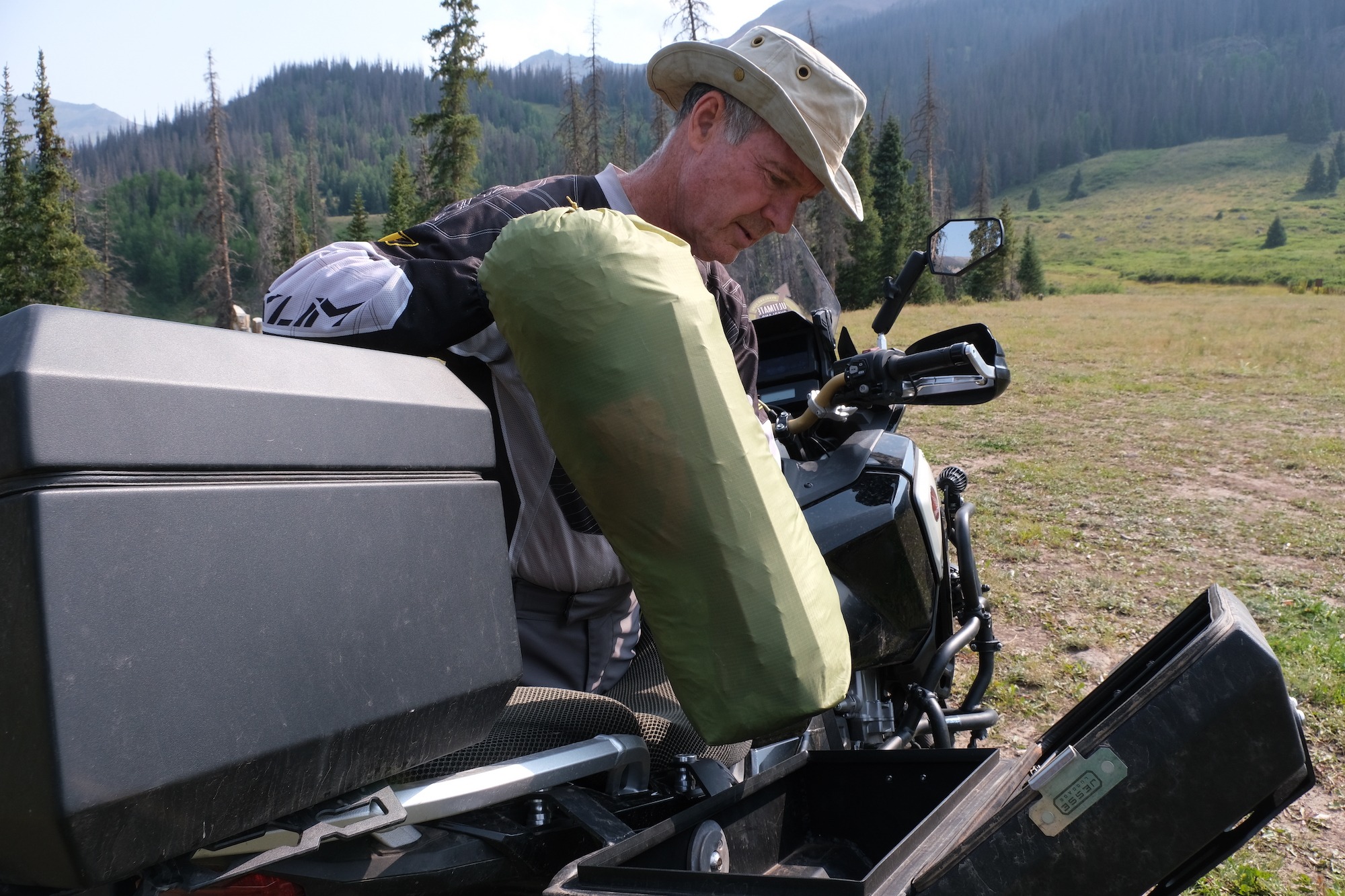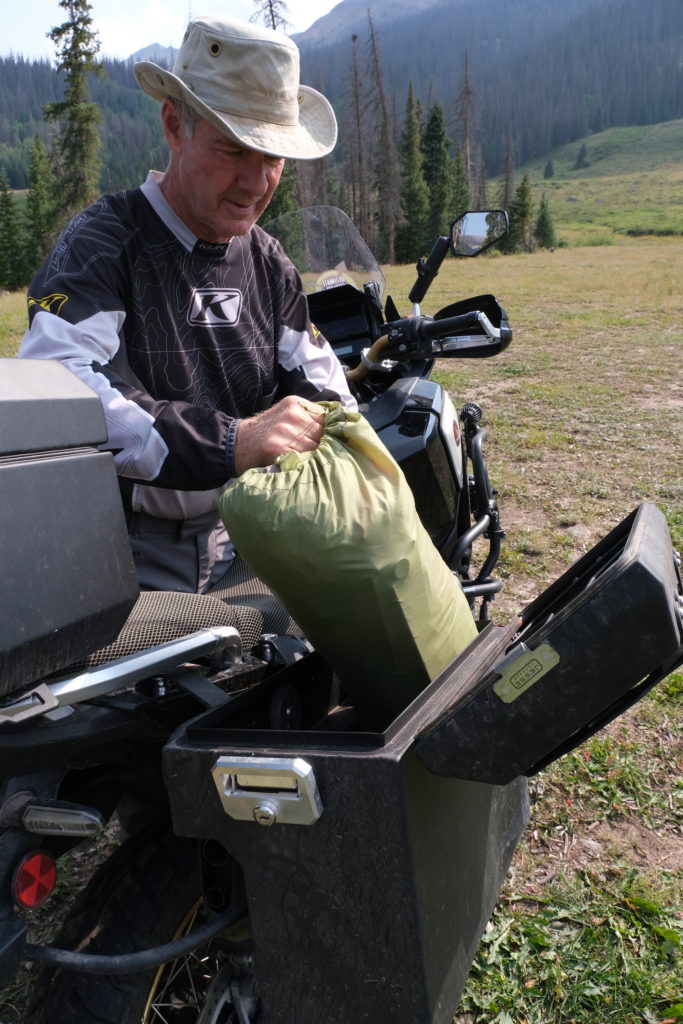 Bill Dragoo is an adventure journalist, BMW Motorrad Certified Off-Road Instructor and owns and operates DART (Dragoo Adventure Rider Training) in Norman, Oklahoma. All brands are welcome. Billdragoo.com
Skills: Hill Fail Recovery on an Africa Twin DCT
The Africa Twin DCT begs a bit of remapping of the brain when tackling technical terrain or situations. Dragoo Adventure Rider Training (D.A.R.T.) helps students with the transition by adapting a special procedure for the hill fail recovery. On a non-DCT machine, the clutch is creatively used by skilled adventure riders to help back the bike down a ramp, recover from a failed hill climb attempt or park on a hill so the bike won't roll forward off the side stand. The most critical of these alternate uses for the left hand lever is the Hill Fail Recovery. The Dual Clutch Transmission (DCT) only connects the engine to the transmission when the rider turns the throttle on a running engine; consequently, the bike will coast either forward or backward without brakes being applied, even when in gear. This can be disconcerting to anyone expecting the bike to stop in a situation where releasing the clutch would prevent movement.
When a skilled rider realizes that a hill fail recovery is imminent, on a conventional clutch motorcycle they will simply dump the clutch with the throttle off, killing the engine and locking the rear wheel. This process prevents rearward movement on all but the steepest or most slippery of hills. From there, the rider will enter the recovery mode and mindset. At D.A.R.T., we teach that in a recovery situation we first call AAA. For us, AAA means Assess, Accept and Act. To assess, we consider, how bad is it? What is our best course of action? Should we try to continue forward or is it best to retreat? If we want to retreat, should we back down or turn the bike around? Either way, without a conventional clutch, the rider on a DCT machine must use the parking brake, located in the clutch position, instead of the clutch lever to arrest their descent. Doing this requires a bit of a reach because the parking brake lever is set well away from the handlebar. An attempt to use the rear brake instead can end in disaster if the rider loses balance and abandons the pedal. The front brake, being the uphill brake, is not very effective on a steep incline. The engine may or may not be turned off during this phase of the recovery.
After assessing, choosing a path of travel, looking for obstacles, ruts, danger points, etc., the rider can employ the second "A." It is time to own the situation and accept that help is not coming. Then they must go to work and begin the third "A," act.
The parking brake can now be progressively operated on and off, easing the bike backwards and through the turnaround process. As the bike swings to one side, the rider's downhill foot should be placed on the footpeg and the bike leaned somewhat towards the hill to prevent loss of balance. If the bike falls towards the hill, it is easy to pick up and poses little risk. If it falls on the downhill side, there is more risk of damage and injury. When practicing, it's a good idea to have a stout friend on hand to spot the rider. Backing and turning should be done smoothly without jerky movements of the brake, which can pitch the bike over or cause a tire to suddenly slip downhill.
When the bike reaches approximately a 90-degree angle to the slope, it may become challenging to move much farther. At this point, the rider should begin working the handlebars left and right between the steering stops. This action will cause the front wheel to slip sideways in a controlled manner, improving the descent angle and path of travel back down. Once the rider is happy with his proposed route, the engine can be restarted and the bike can be ridden down. Push off with the uphill foot to initiate the roll. It is usually best to add a touch of power at the onset to prevent loss of balance during the first few feet of the descent.
Having a plan for most foreseeable recovery situations reduces risk and stress. The Africa Twin DCT need not be feared as long as one has practiced for what may come.