For 25 years TOTAL CHAOS Fabrication has been affiliated in the sport of off road – participating as racers, chasers, spectators, weekend warriors, customers and as a manufacturer. Over the years they've watched the industry progress with products and designs along with components and technology. Their commitment to customer service and building the highest quality bolt-on Toyota suspension systems and accessories has escalated them to a level of global racing recognition. Total Chaos parts are currently adventuring and exploring off road trails and rally racing on every continent excluding Antarctica.
Reliable and durable suspension is a key component to ride quality and handling when commuting to the office or going off grid. That's why we chose the bombproof suspension products from TOTAL CHAOS Fabrication for our Toyota 4Runner build.
Adding weight to your vehicle from the laundry list of aftermarket overland gear that is available tends to increase body roll when rubber control arm bushings are installed. Outfitting your vehicle with a long travel suspension system from TOTAL CHAOS (TC) and coil over shocks from RadFlo increases steering response while cornering, reduces nose diving during high-speed braking, and allows the vehicle to articulate with less wallow or body roll when driving off road. Comfort is the name of the game.
TC's KDSS-compatible 2" Expedition Series long travel kit is designed using 2 inch extended 4130 chromoly upper and lower control arms that will increase your track width by 4" and cycle 11.5" of suspension travel. Ball joints are upgraded to 1" stainless steel uniball's with an added PTFE liner for noise reduction and component strength. A custom TC uniball cup is integrated into the boxed lower control arms retaining maximum turning radius and steering stop tabs are added to contact the stock lower ball joint cradle. Urethane bushings replace the rubber bushings to omit deflection and provide better steering response and handling. All control arm pivots include zerk fittings for easy lubrication and maintenance. The suspension system comes complete with all mounting hardware and does include adjustable limit straps. Custom extended axles to retain 4WD and longer shocks are not included.
Durability requires knowing what additional OE components will need to be reinforced to keep your vehicle dependable on any long-distance expedition or trail adventure. Being a Toyota suspension specialist and focusing on the brand's 4WD platforms since 1986 has allowed TOTAL CHAOS the opportunity to learn first hand what parts can fail or be problematic on the trail. OE Toyota spindles can bend or crack from hard front load impacts. To combat this, TC offers 1/8" mild steel weld-on spindle gussets with sway bar mounts. Another weak point on Toyotas is the factory lower control arm cam tab brackets. We have all experienced a hard impact that has knocked our vehicle out of alignment spec by bending the ears and allowing the cam bolt to shift. The TC weld-on cam tab plates have more robust ears to prevent the cam bolt from shifting during these hard impacts thus helping maintain your alignment on your vehicle.
Now that we have tackled performance on the front end of the rig, it is time to upgrade the rear suspension to balance out the ride. We are outfitting this 4Runner with an adjustable rear link system and some factory bracket protection. TC rear links are constructed from 1.25" .375 wall 4130 chromoly tubing and are considerably stronger than the OEM steel units. Stainless steel heim joints on the upper links, lower links, and pan hard bar will allow maximum length adjustability. On the upper and lower links, greaseable urethane bushing pivots with steel inner sleeves reduce deflection compared to the stock rubber bushings. TC link mount skid plates will be installed to protect the front mounts on the lower links from impact with rocks and other trail obstacles.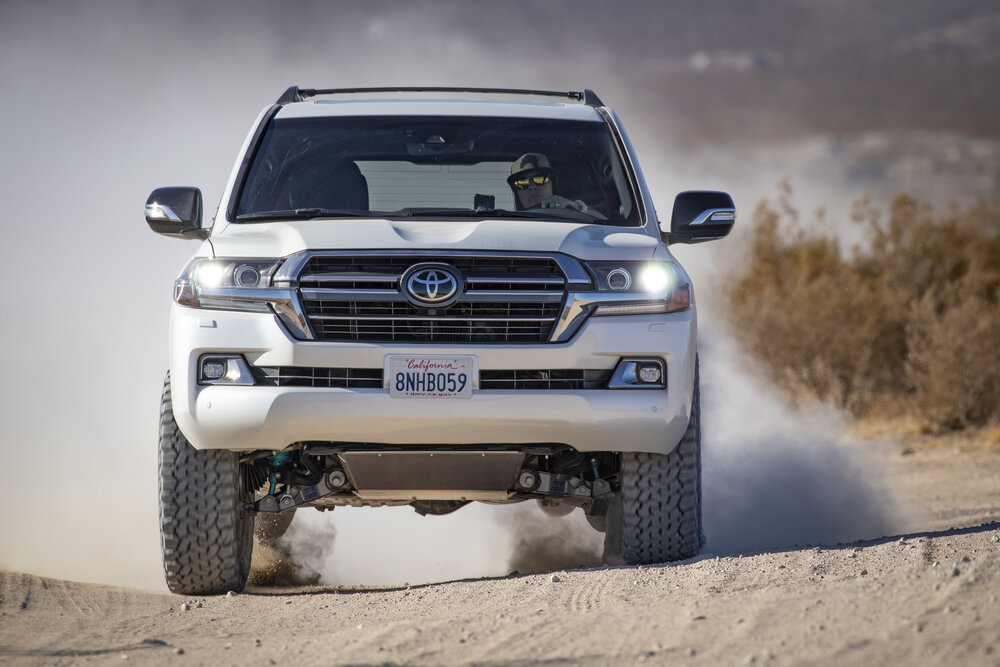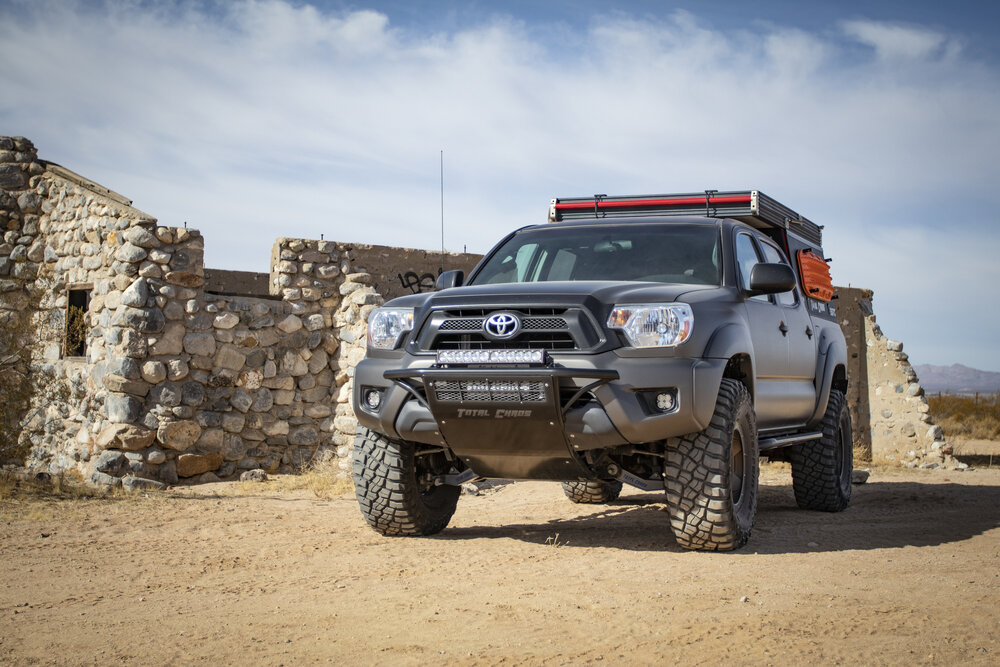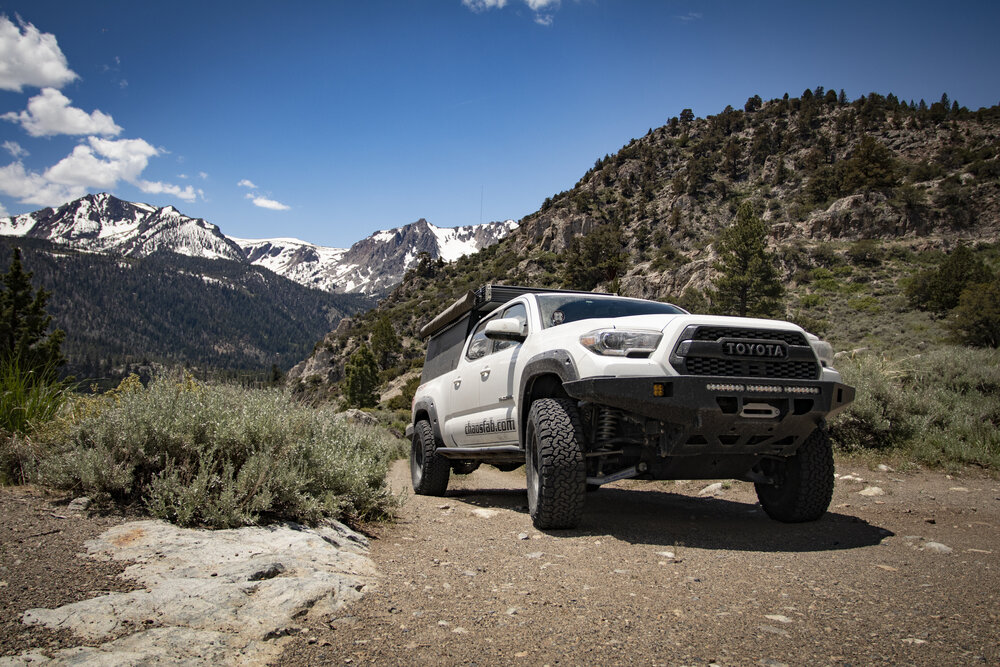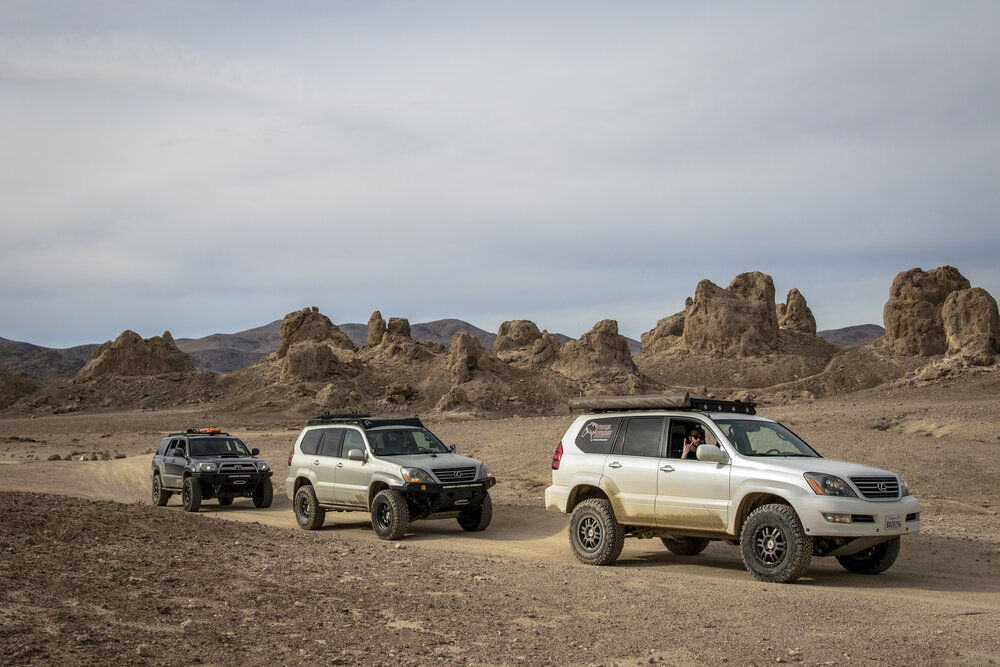 Full List of Suspension Products from TOTAL CHAOS going on the Toyota 4Runner
2" Expedition Series Long Travel Kit
The 2″ Expedition Series kit features a redesigned lower control arm serving as an evolution of the Race Series LCAs with select features to improve component strength, function and vehicle handling.
4340 Extended Axle Shafts (+2")
Designed for use with TC +2″ long travel systems.

4340 heat treated 2″ extended axle shafts and clamps are included.

Re-uses factory Toyota inner and outer CV joints and boots.
Spindle Gussets with Sway Bar Mounts
Must have reinforcement for anyone who wants to play in the dirt!
Strengthens spindle uprights and prevents the knuckle from damage during hard impacts.

1/8″ prebent laser cut mild steel brackets.

Retains the factory sway bar and includes an additional steering arm gusset.
Lower Control Arm Cam Tab Gussets
Reinforces weak factory alignment cam tab plates that bend during bottom outs or hard front impacts.

CNC laser cut 1/8″ 4130 chromoly replacement cam plates weld-to the frame.

1/4″ thick lower alignment cam tabs will not bend like factory tabs.
Weld-On Body Mount Chop Plates
Designed to reinforce factory body mounts after the required trimming to clearance the installation of larger tires.
1/8″ thick laser cut plates.
Rear Link Mount Skid Plate
100% bolt on.

Grade 8 – 9/16″ mounting hardware is included.

Laser cut pre bent 3/16″ mild steel brackets.

Compatible only with TC or stock links.

Can be welded on for maximum protection.
Complete Adjustable Rear Link Kit
100% bolt on.

Constructed from 1 1/4″ .375 wall 4130 chromoly tubing for maximum strength.

Offers 1.5″ more droop travel over stock when longer shocks are installed.

Includes urethane pivot bushings.

Upper, lower and pan hard bars are designed to incorporate a heim joint making the entire rear link system length adjustable.

Hi-misalignment spacers and hardware are included.
---
Header Photo: Jim Barnett All Other Photos: TOTAL CHAOS Fabrication