For those of you in the upper northwest or mountain west portion of the country looking for a stunningly beautiful starter overlanding track, look no further than the Magruder Road Corridor. This 101-mile primitive road straddles the Idaho/Montana border and splits two wilderness areas: Selway-Bitterroot Wilderness to the north and Frank Church – River of No Return Wilderness to the south.
Workers employed by the Civilian Conservation Corps (CCC) first blazed the road in the 1930s. However, the corridor was not officially established until 1980. The namesake of the corridor reaches much further back than its official establishment.
Magruder Road Corridor is named for Lloyd Magruder who, along with four others, was murdered in 1863 at mile 44.2. Marguder's murderers were eventually caught and hanged — the first legal hanging in the territory.
Don't let the grizzly history dissuade you. You'll find pristine nature and expansive mountain views on the road — nothing nefarious.
The best time to travel the 101-mile Magruder is between July and October. However, given the elevation, snow storms are possible at any time. Pack accordingly. You can traverse the entire road in six to eight hours, if you blow straight through at 12-15 miles per hour.
It's recommended you take your time and camp at one of the many dispersed or primitive camping sites along the way. There are more than twenty hiking trails along the Magruder and a fishing hole, too. So, you might as well take your time and enjoy the splendor Magruder has to offer.
When camping along Magruder, the Forest Service asks that you camp more than 200 feet from trails or water. For campfires, it's specified you use existing fire grates or fire rings. And, as with any overlanding journey, it's expected that you pack out all trash with you, leaving no trace of your stay.
As for vehicle requirements, most of the trail can be easily handled by 4x4s and adventure motos alike. The Forest Service warns that low-clearance vehicles and those towing trailers ought not attempt to traverse the road, as it is primitive, rough, steep, and winding. YouTube videos of Maguder depict much less intimidating road conditions, though.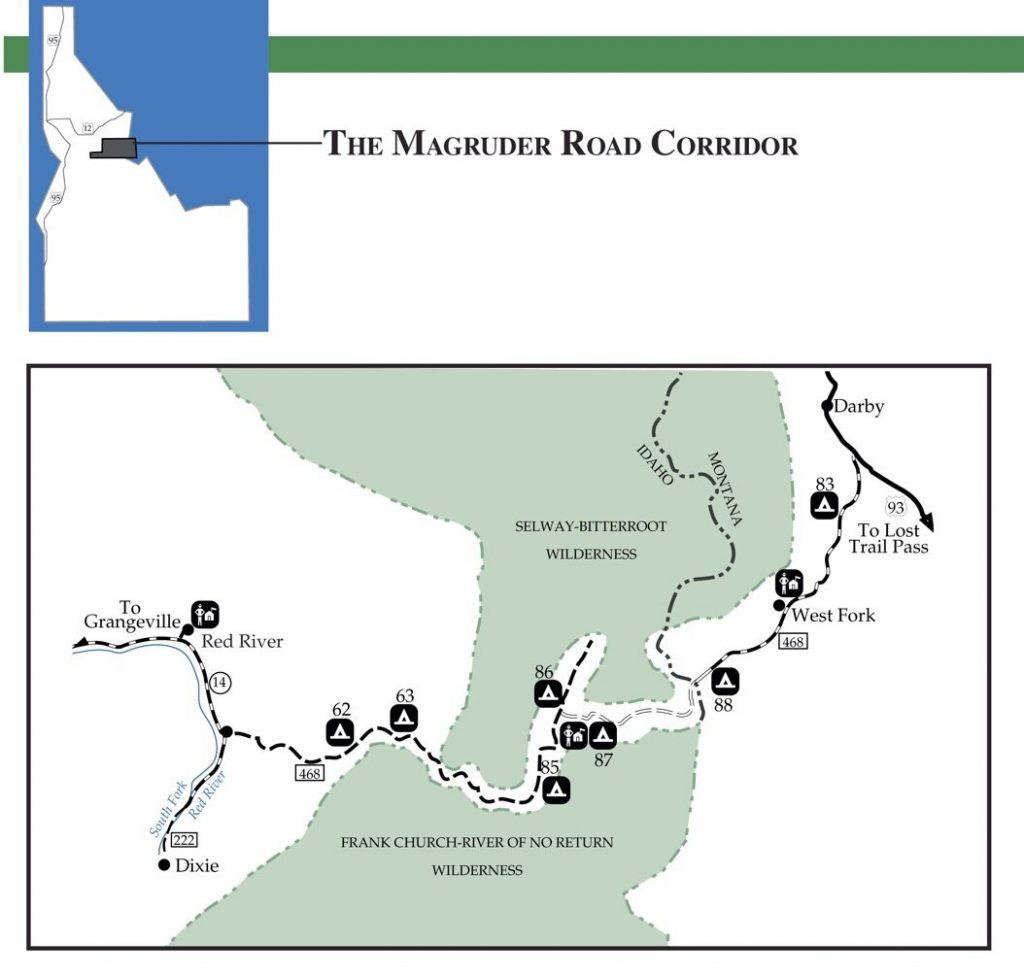 What to know:
Time: 6-8 hours (nonstop) or 2 days (with camping overnight)
Distance: 101 miles
Fuel: Fuel stations can be found in towns on either side of the corridor. Plan to fill up before the Magruder Road Corridor. Also bring extra fuel just in case.
Water: Water is available from natural sources along the route. Plan to treat the water (boiling for more than five minutes or using a water filter) before consuming it. Regardless, bring more water than you anticipate needing.
Permits: Permits are not required to drive the Magruder Road Corridor.
Other considerations: July through October is the ideal time of year to consider traversing the Magruder Road Corridor. However, snow storms can be possible year round. So pack and plan accordingly.