Revealed globally in 2011, the current generation of Ranger is old. It's not Toyota 4Runner old, but it's old. Despite debuting in the U.S. in 2018 for the 2019 model year, this generation of Ranger originally debuted globally in 2010 as a 2011. So, it's pretty old.
I'll grant you that when Ford brought the Ranger stateside in several years ago, the Blue Oval's engineers did try to modernize it a bit. Engineers updated their now-long-in-the-tooth mid-size truck by stuffing a contemporary powertrain underneath the Ranger's sculpted hood, a turbocharged 2.3-liter EcoBoost four-cylinder mated to a 10-speed automatic. This powertrain made the Ranger a bit more competitive than a then-six-year-old truck might otherwise have been.
The engine and transmission might be new-ish, but the rest of the bits are old … and you can tell.
Take the interior, for example. It looks like it was developed 14 years ago. That's because it was. Seas of hard (i.e. rattle-y) plastic abound. These seas of tinny plastic are dotted by ill-fitting, ill-placed, and now-ancient switchgear. It's not just the dash; even the doors are tinny. Shut any one of the Ranger's four doors and the twang they admit emit is tonally reminiscent of 1980s Toyotas — not a sound you want to hear in 2021 from a $38,000 truck. These issues persist even when you spec the current Ranger up to top Lariat trim, around the $45,000 mark, which is a bit demoralizing.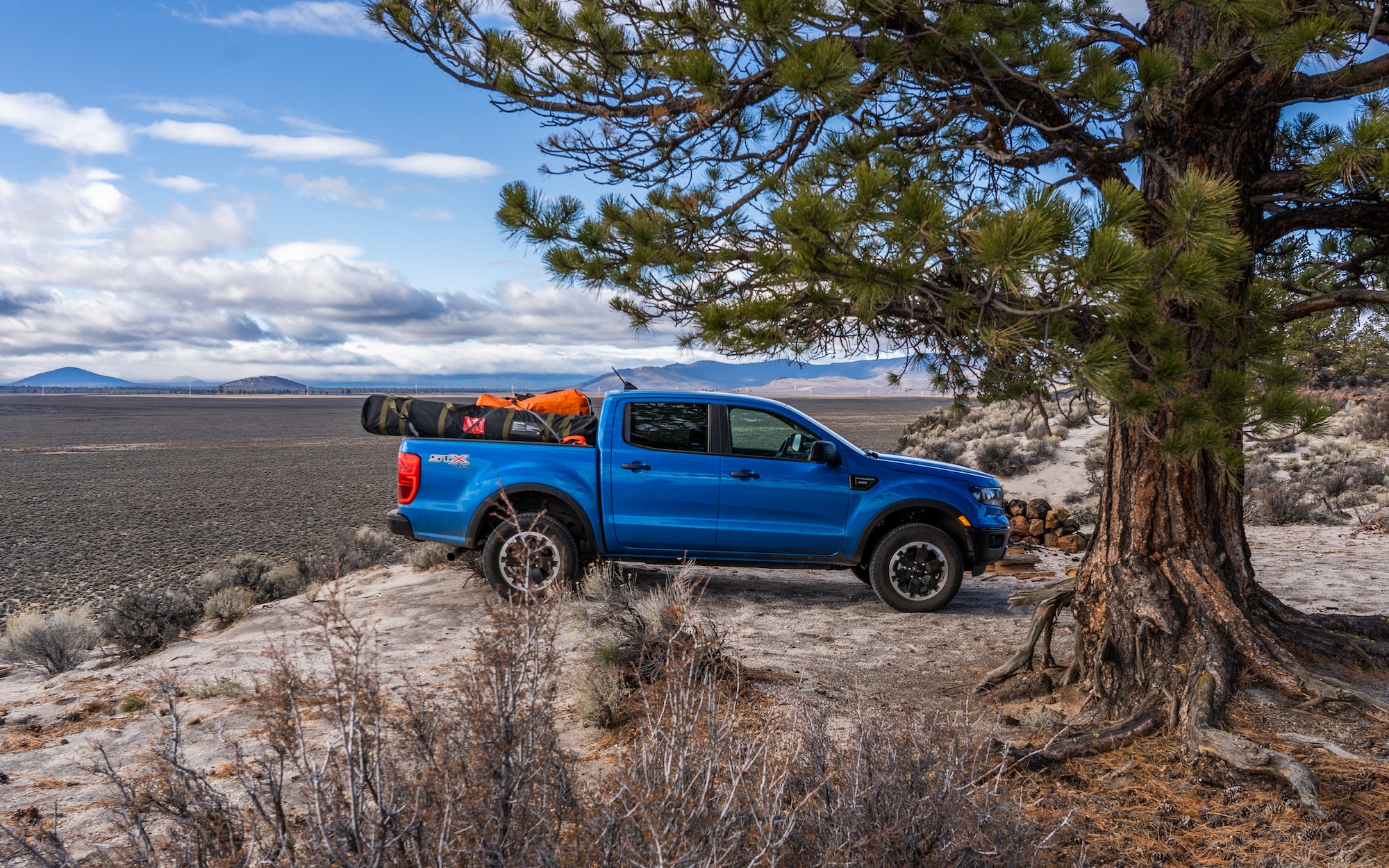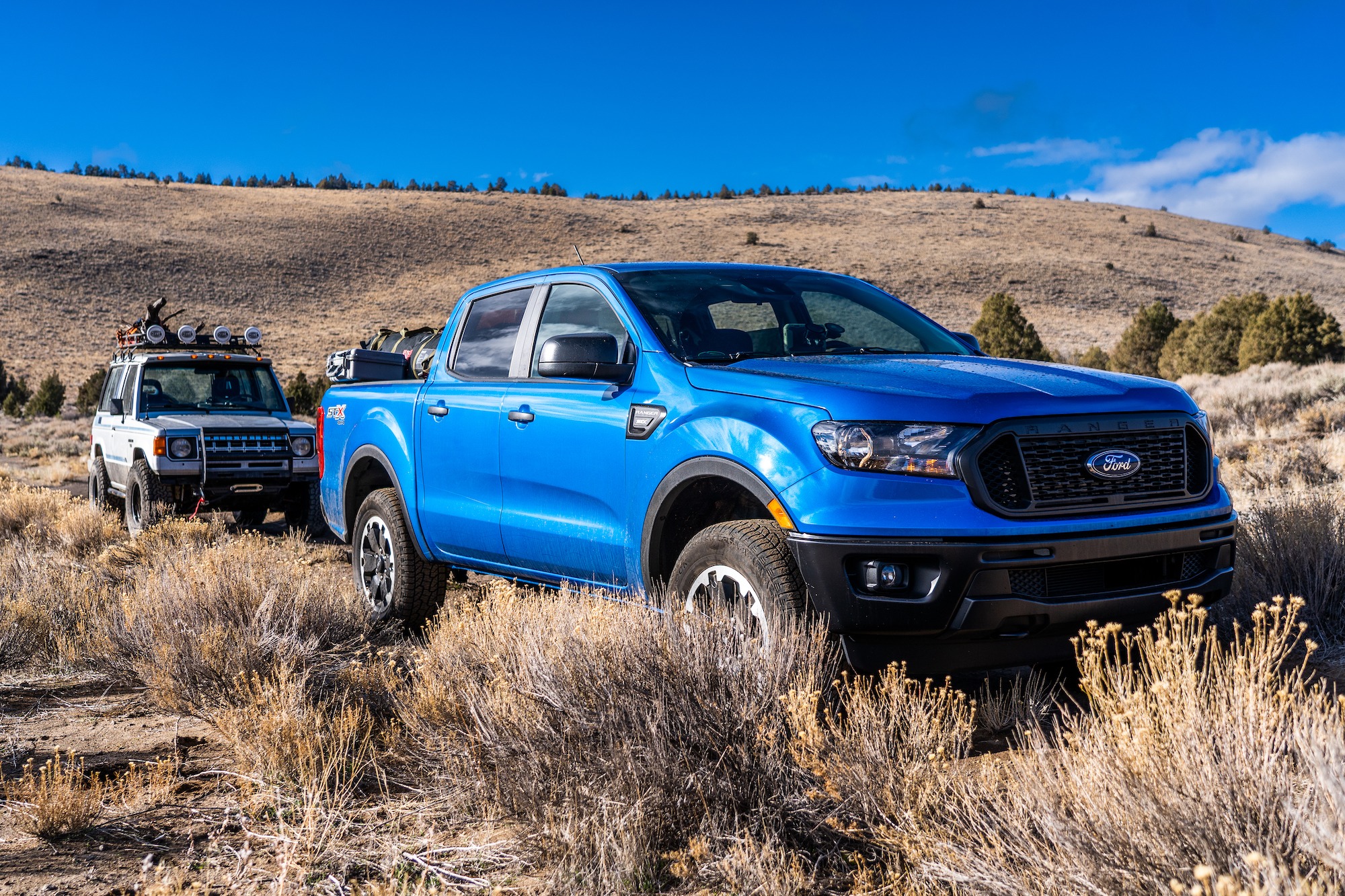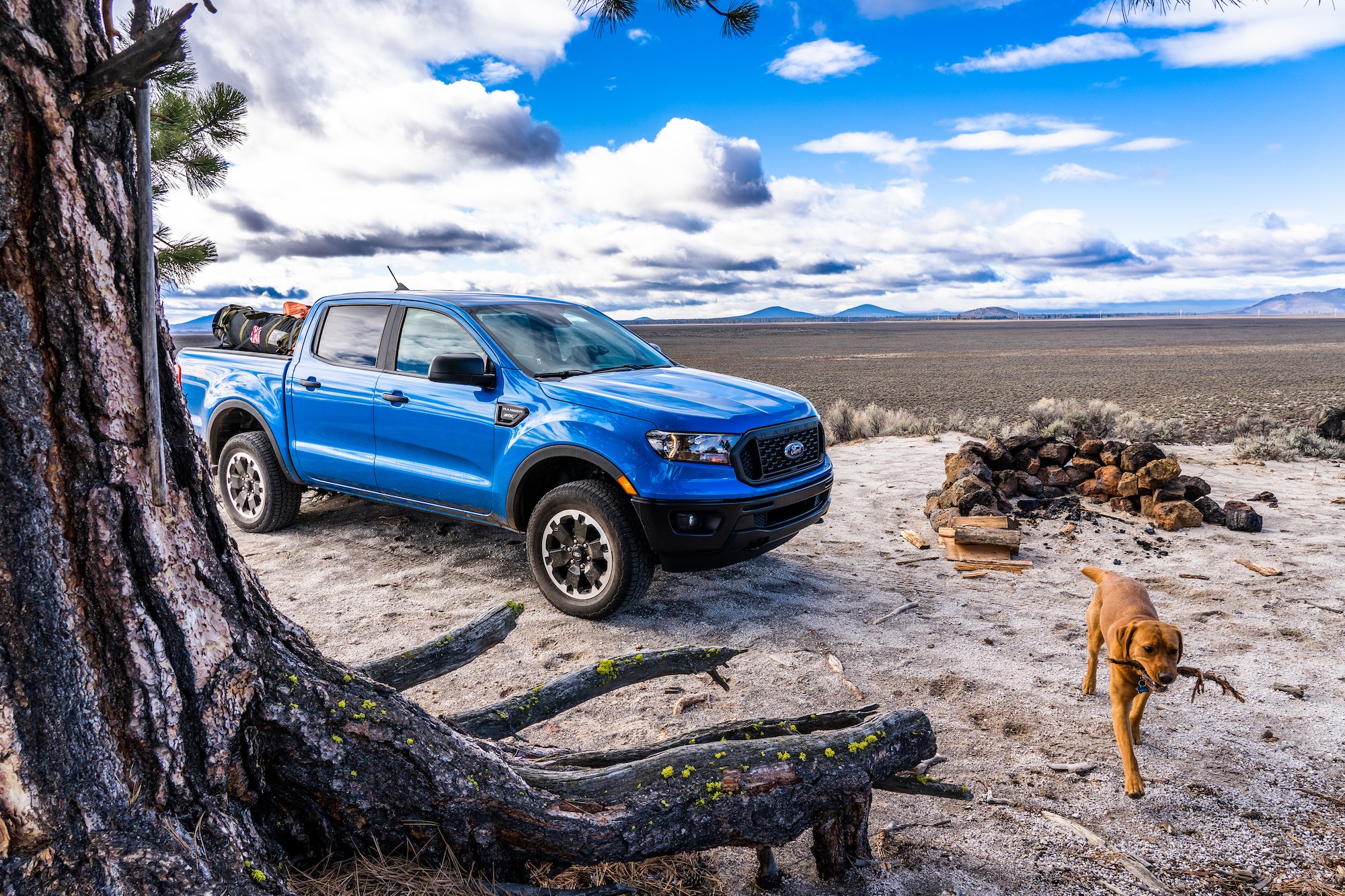 When I took delivery of the $37,205 Ranger 4×4 STX Special Edition (not to be confused with the STX Appearance Package, which my tester truck also has) for my review, I was a bit skeptical it would win me over (see chintzy interior).
Although the Ranger XL has a true 4×4 system with a two-speed transfer case and solid rear axle, it lacks a rear locker or any sort of fancy drive modes like its brand stablemate, the Bronco I tested this summer. So, I was immediately reluctant to push the truck too much for fear I'd get it stuck or, worse yet, damaged on the trail.
Nevertheless, with all my stuff ratchet-strapped into the bed and my buddy Eric riding shotgun, I headed out on a four-day overlanding trip through Central Oregon — just outside of where the 2022 Overland Expo Pacific Northwest will be held — to put the Ranger STX through its paces.
Down in or around (I don't quite recall) the Lost Forest, the Ranger STX's charms won me over.
Some reviewers have called the stock Ranger suspension twitchy — and it is, until you load it up. With several hundreds of pounds of gear in the bed and several hundred more in the cab (two grown men), the Ranger rode incredibly smoothly off-road. I don't just mean that its shocks absorbed trail imperfections, which they did. The suspension, despite being independent in the front and having leaf springs in the rear, articulated nicely. The suspension remained impressively compliant even on higher-speed washboard, too.
Despite looking decidedly dated, I actually became fond of the interior. Although SYNC 3 kind of stinks, the eight-inch center touchscreen allowed me to run Apple CarPlay, which more than made up for any of SYNC's failings. Beneath that, a dual-zone climate control kept the cabin expertly conditioned. The vinyl-covered seats were very supportive (the driver seat has lumbar support). Even at six-foot-five, I had huge amounts of headroom to boot.
The feature I liked most about the STX was its vinyl floor coverings. I love the sound-deadening of carpet. For overlanding, though, I'd much rather have a rubberized floor covering every day of the week. In this case, it was cost-cutting measures for the win.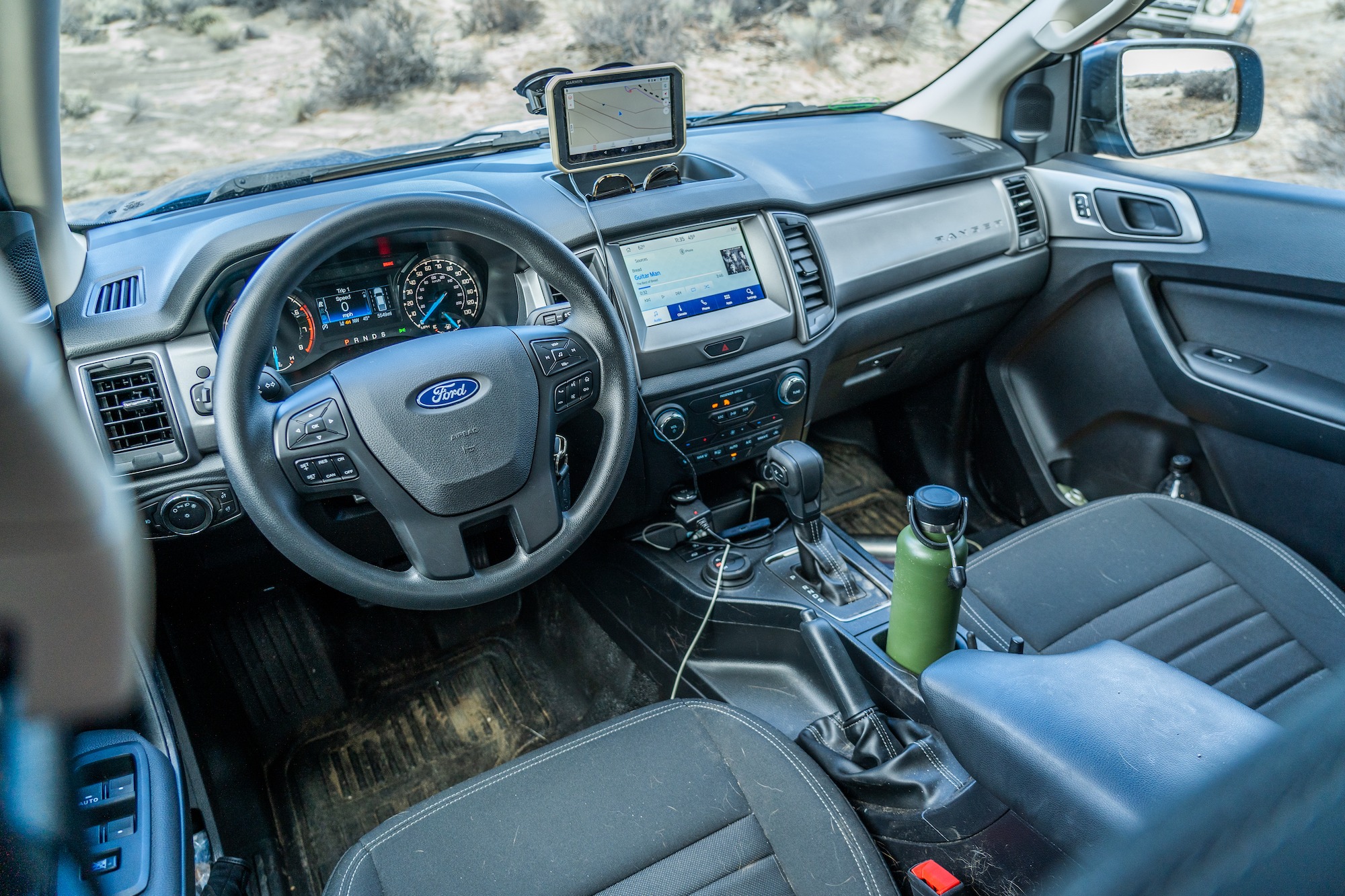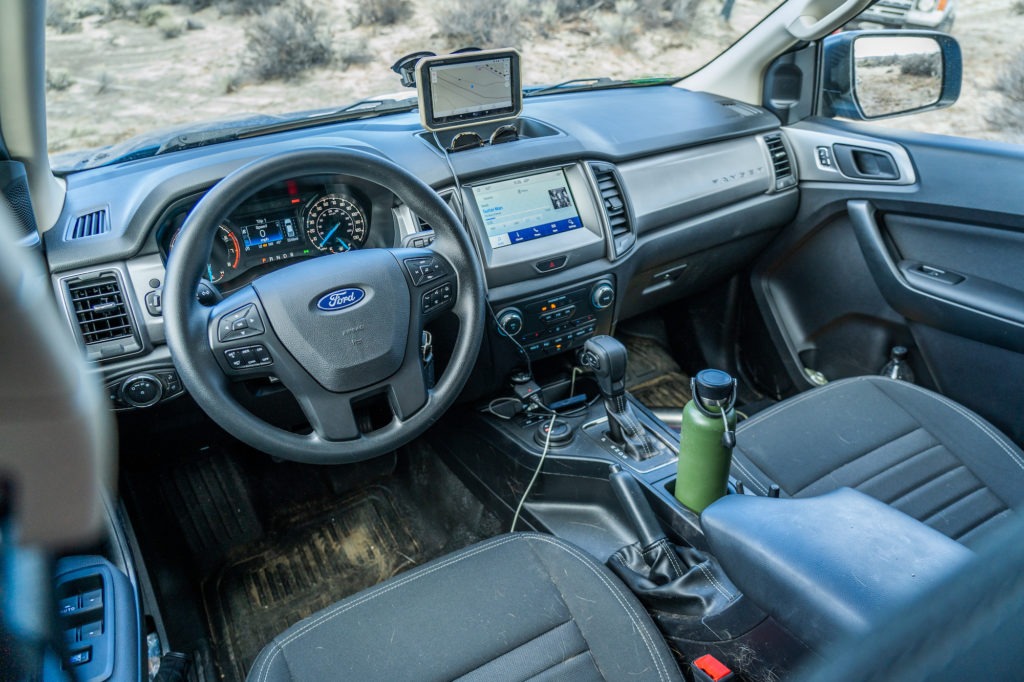 One good (or bad, depending on how you slice it) thing about the current-gen Ranger is that it is offered with that sole auto-backed four-banger powertrain. You can't get a more potent motor even if you wanted. That's OK, though, because the 2.3-liter EcoBoost simply rocks. It kicks major butt. Not only does it scoot, it's also miserly with fuel. I averaged 21 miles per gallon on my trip with the Ranger STX and maybe a fourth of that time was spent in low-range on dirt. For me, cracking 20 MPG on an overlanding journey is an incredible feat.
Beyond fuel economy, the Ranger impressed me at literally every turn. It was a delight on the highway. It was compliant, quiet, and comfortable on the trail. It looks great. And the STX is very well priced for the features it offers.
All of these thoughts lead me to my bigger point. After having spent a week with it, I think the Ranger — not the Tacoma — should be the de facto, go-to overlanding platform. I am sure many of you Toyota purists are clutching your pearls with a gasp of disbelief. So, let me explain by comparing the Ranger and Tacoma side by side.
The Ranger has a 1,609- to 2,128-pound payload. The Tacoma's ranges from 1,050 to 1,685 pounds. The Ranger has a combined fuel economy rating of 22 MPG. Tacoma gets 20 MPG. Ranger's engine makes 270 HP but 310 foot-pounds of torque. Tacoma pushes out 278 HP and 265 torques. Ranger has a 10-speed auto. Tacoma has a six-speed.
I highlight those features specifically because I think that, for overlanding, these specs are most important. How much you can carry and how far between fuel stops is the most basic metric you can or should measure an overlanding rig. However, the Ranger doesn't just best the Tacoma in just those places — the comparisons continue.
Ranger has rear disc brakes. Tacoma has drums. I think the Ranger is quieter and more comfortable inside with a better seating position. And although there may be fewer aftermarket overlanding-focused components available for Ranger, there are some really cool components available. The suite of components from ARB, for example, make the current Ranger look absolutely incredible.
Don't get me wrong: the Tacoma is a great truck. But it's become staid, it lags behind its competitors in tons of ways. And I think it's more popular than it deserves to be. For me, the Tacoma's ubiquity is a detraction and not a feature. On the other hand, the Ranger isn't nearly as commonplace in U.S. overlanding circles. That means it's cool, good, and sort of uncommon, which makes it even cooler in my eyes.
I realize some of these arguments might be moot; we've already seen the next-gen Ranger. So, this current generation is quite literally old hat. Still, the current one is on sale now, moderately available at nearby Ford stores, and has heaps of available up-fitter gear ready to be bought and bolted to your rig, making it the Ranger of your dreams.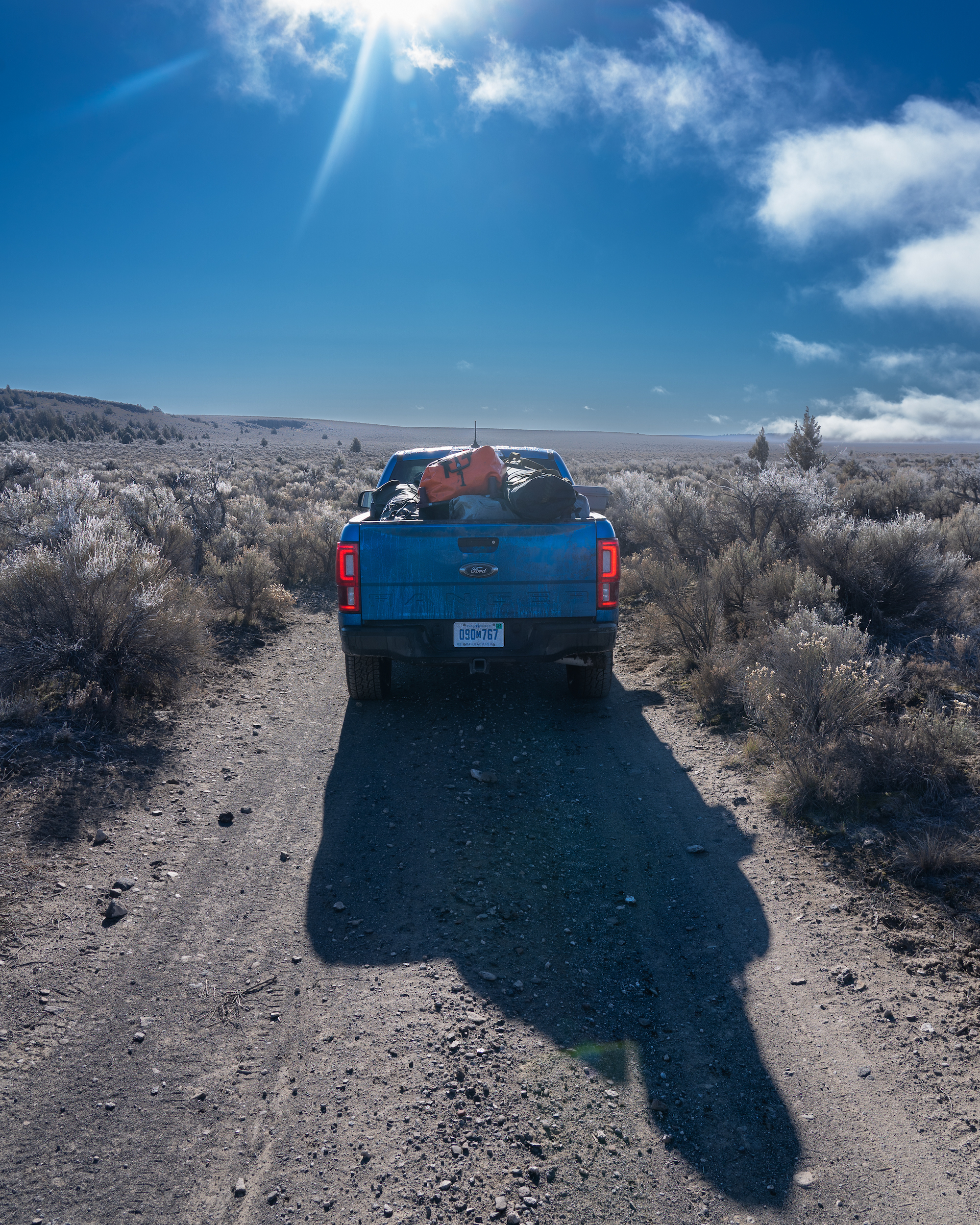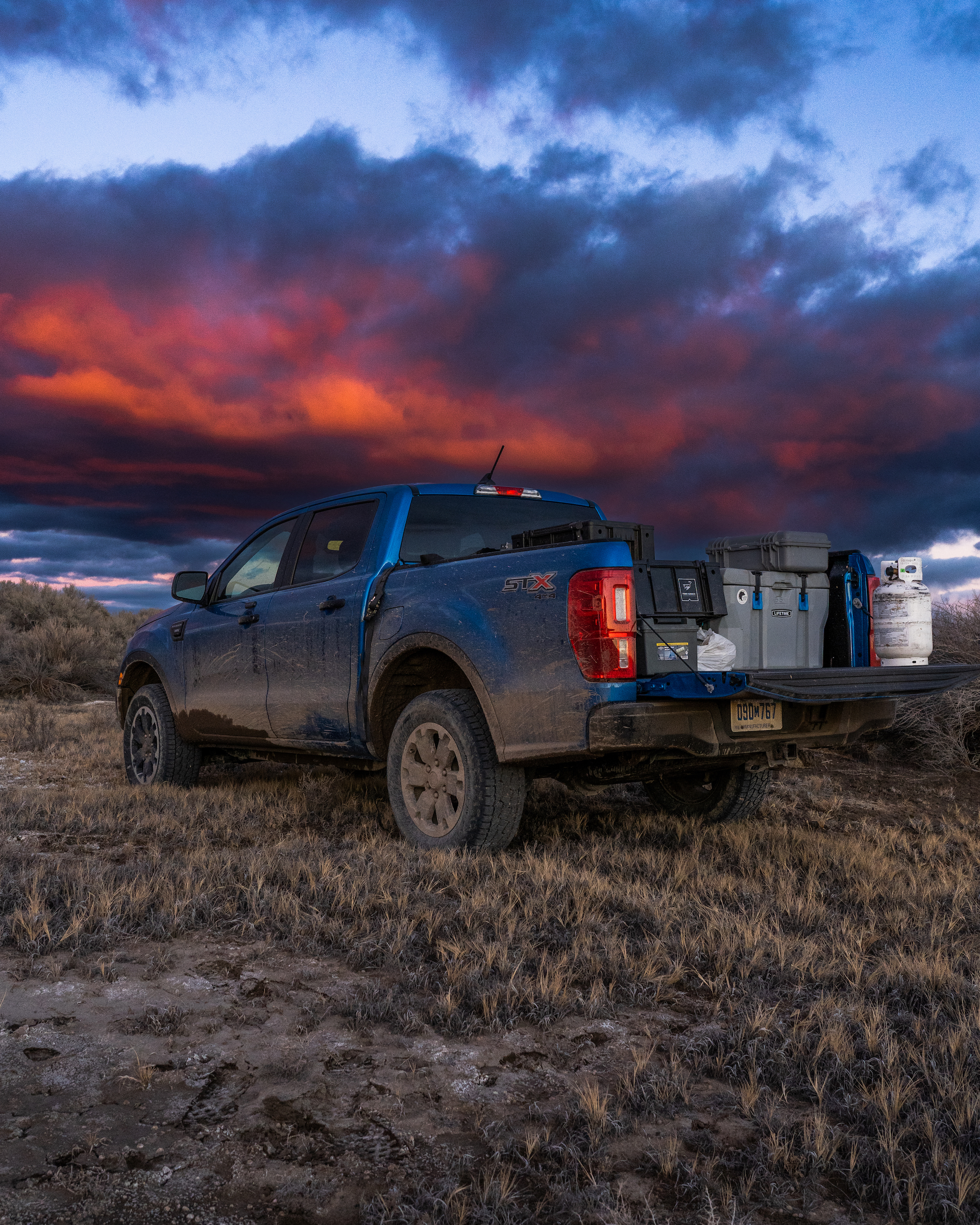 Setting aside Taco bashing for a moment (sorry not sorry), I will say that what I liked best about the Ranger was its ability to float effortlessly between two roles: comfy daily driver and gear-hauling trail runner. Especially in the STX trim, the Ranger rode the line perfectly between utility and livability enviably well at a very competitive price.
Few trucks I've ever driven have been both at the same time everyday and special. Ford designers did a great job blending subdued features and styling with smart capability. And then slathered it in a really great color of blue. But they would; they work for the Blue Oval after all.
What to know:
Base price: $31,075 (Ranger SuperCrew XL 4×4)
Features:

STX Special Edition

Unique 18-inch black-painted wheels with machined-finished edges
8-inch center touchscreen
SYNC 3 with Apple CarPlay and Android Auto, SiriusXM, AppLink
Dual-zone climate control
Silver-painted interior accents and privacy glass with rear defrost

Optional extras:

Ford Co-Pilot 360
Trail Tow Package
Fog Lamps
Spray-In Bedliner

Power output: 270 horsepower, 310 foot-pounds (2.3-liter EcoBoost)
Fuel economy:

20 city
24 highway
22 combined

Price as tested: $37,205