Quick take: The MXPW500 Ammo Can Base Station from Midland provides overlanders with a mobile home base station to maintain a connection with your party at camp while others in the group enjoy the backcountry. It is designed to be compact, lightweight and rugged, which is perfect for vehicle-based adventures. It also come with a solar panel that allows you to keep it charged wherever the trails take you. This base station is built into a genuine surplus 5.56 ammo can, making it waterproof and nearly crushproof. 
Having the ability to communicate off-grid is of the utmost importance for any overland trip. A General Mobile Radio Service (GMRS) communication device gives you the ability to contact others in an emergency, or simply while on the trail for efficient and safe driving if traveling with a group. The Midland MXPW500 Ammo Can Base Station was designed to make communication off-grid easier, more reliable and safer.
Fishing Trip
Following Overland Expo East 2022, my dear friend, Lane, invited me to join him on an overland trip to go fishing along the Snake River in Southwest Idaho. I figured this trip was the perfect chance to give the Base Station a proper test run. I was feeling eager to learn more about it, due to how technical of a product it is and the sheer size of it.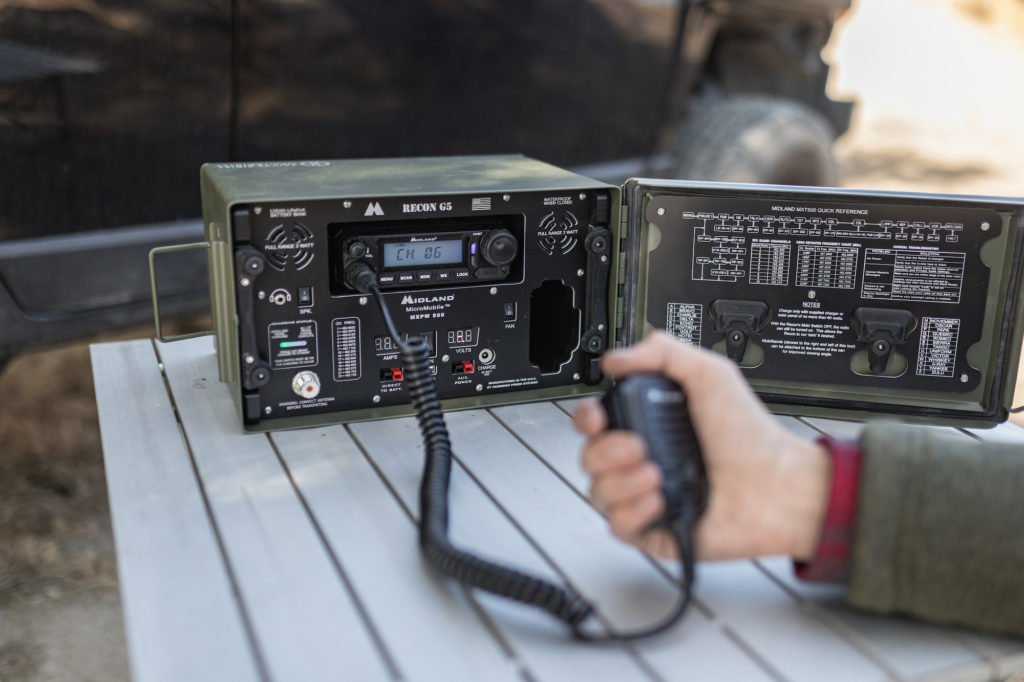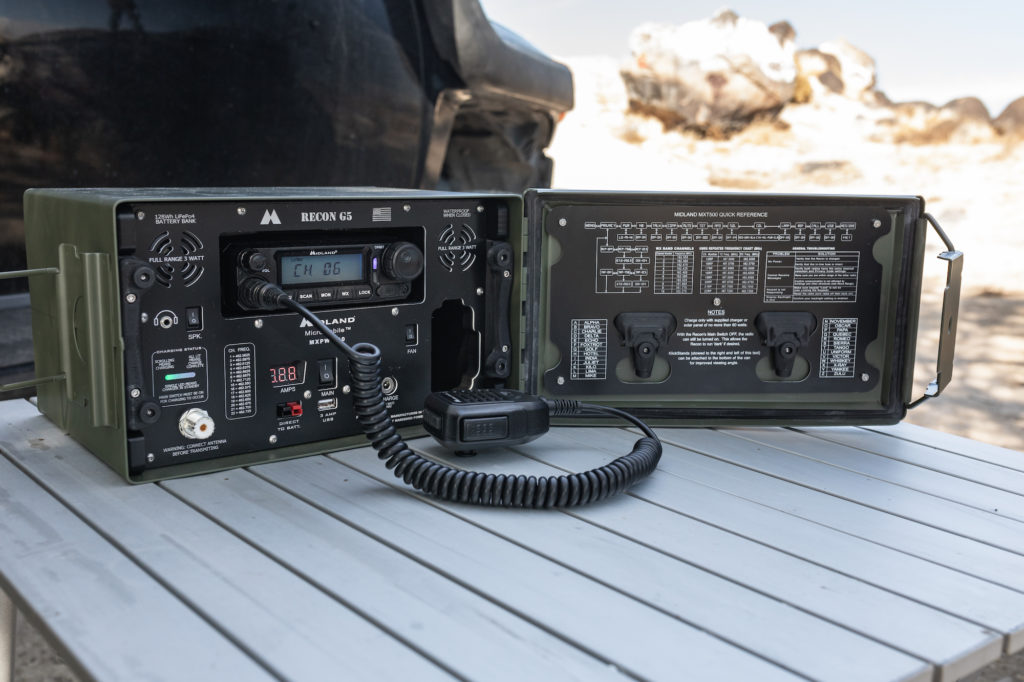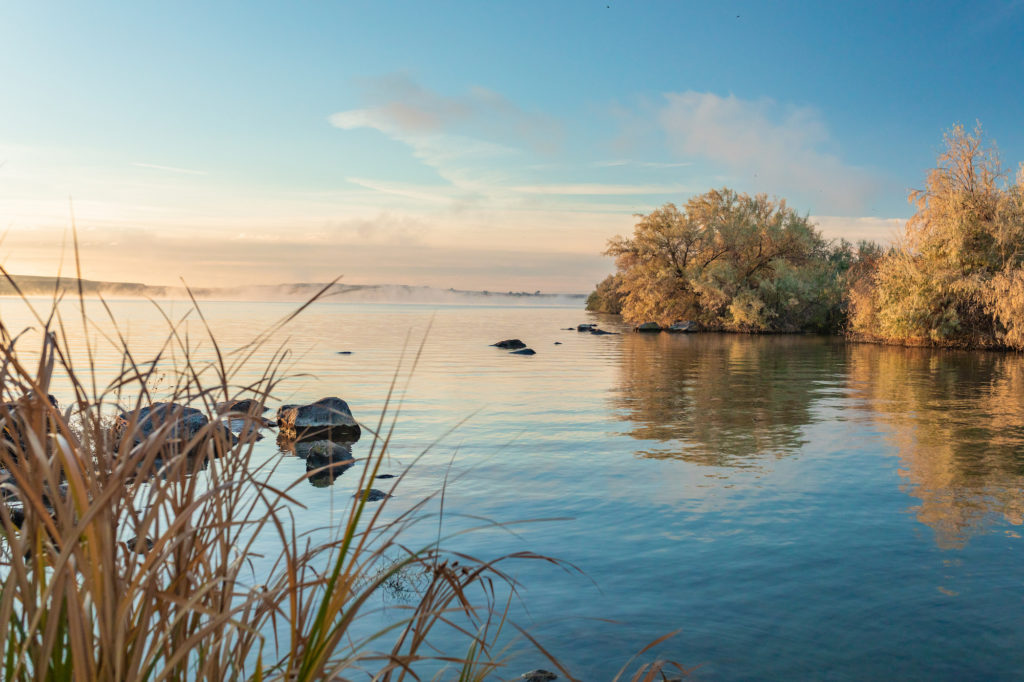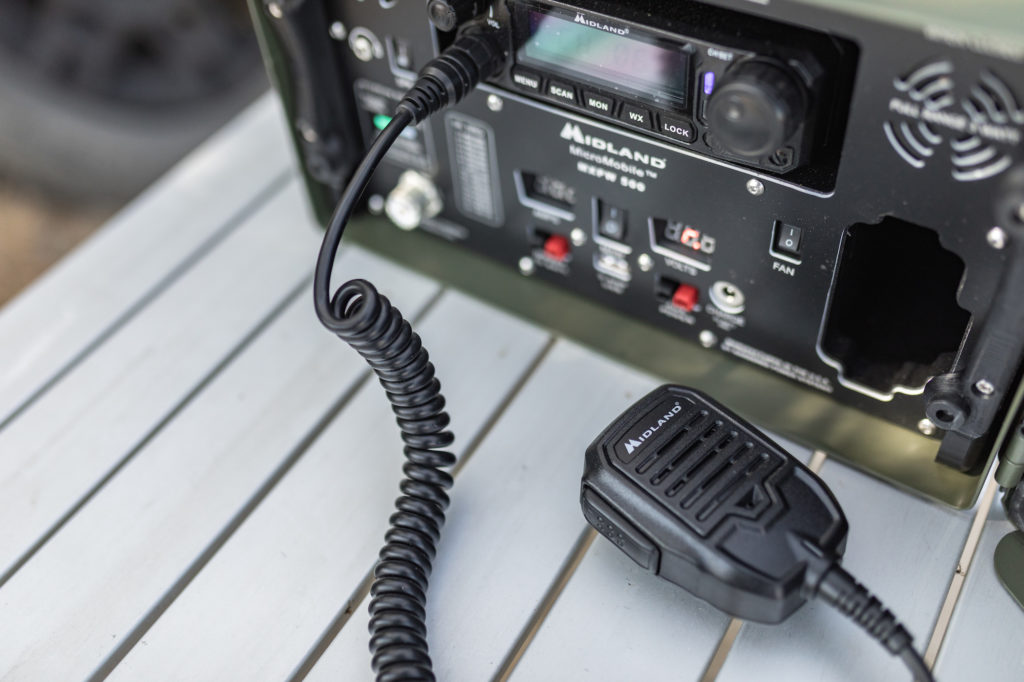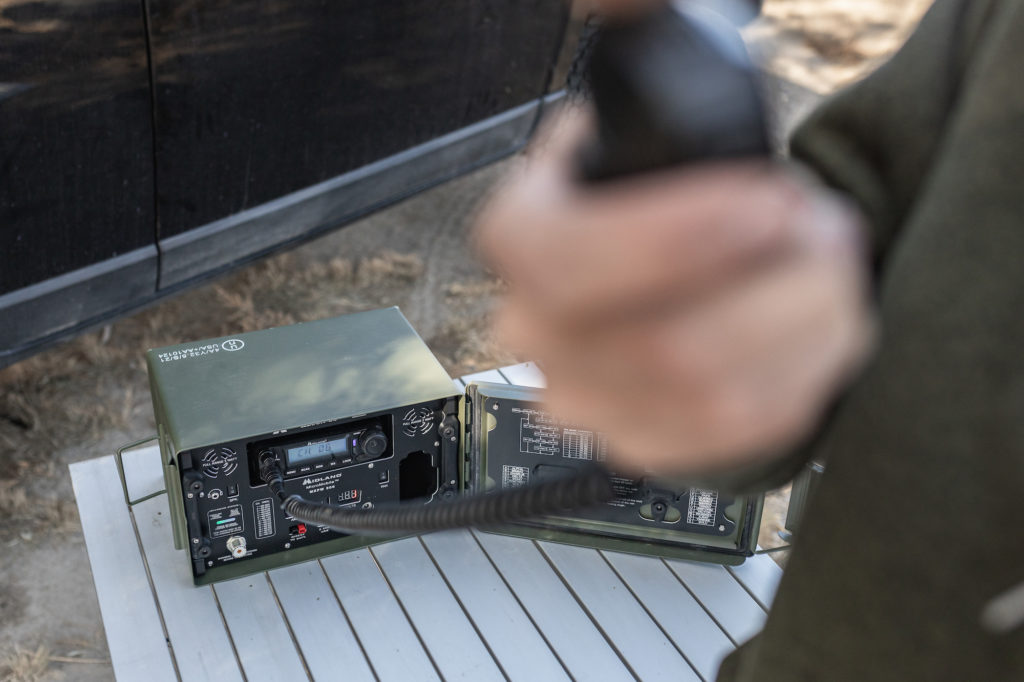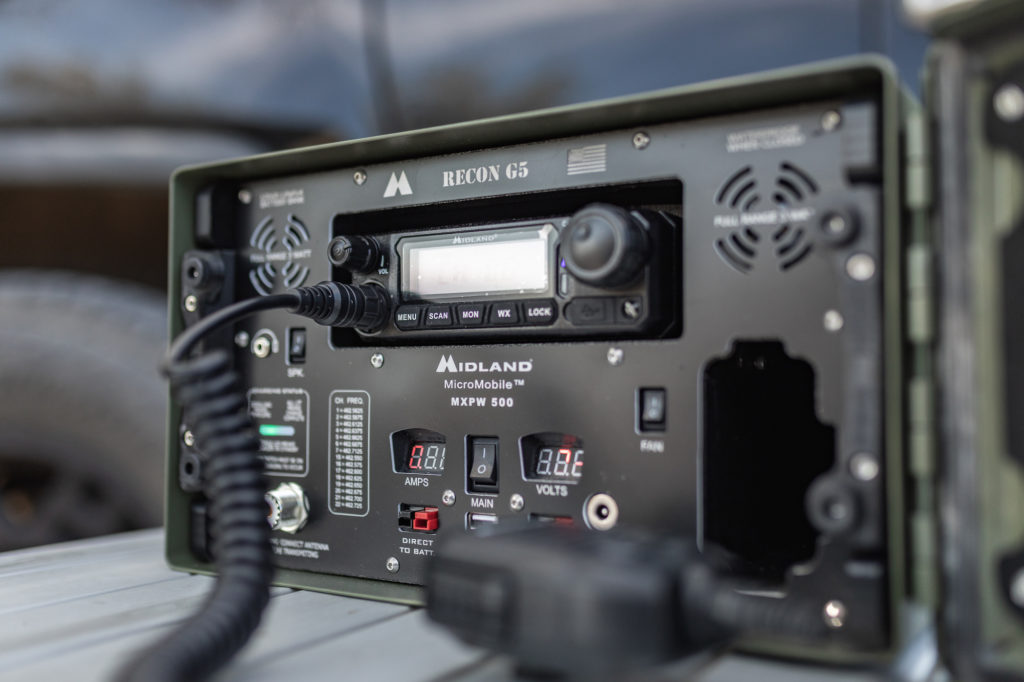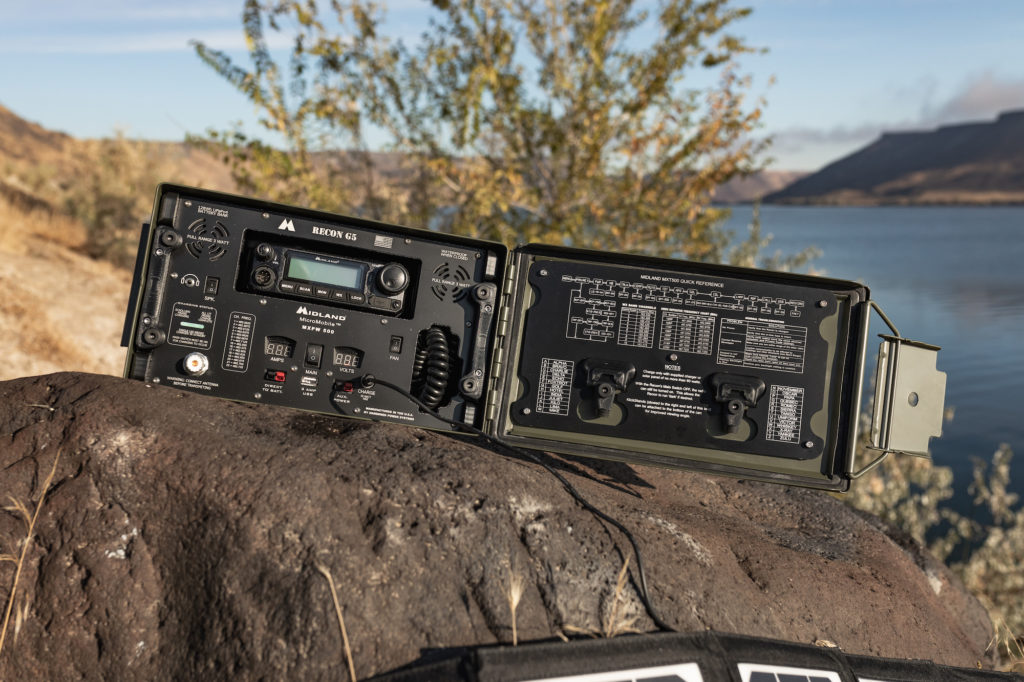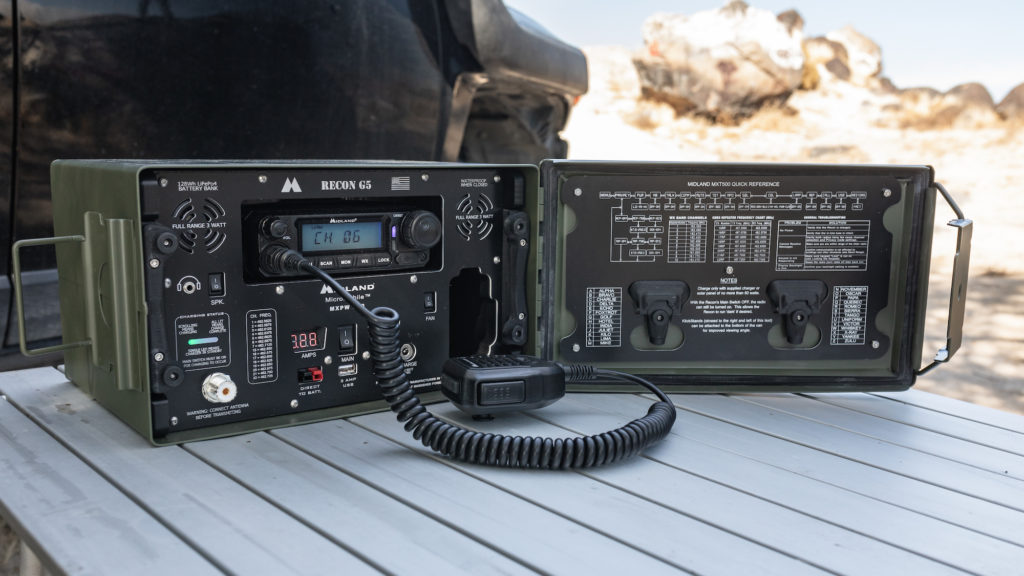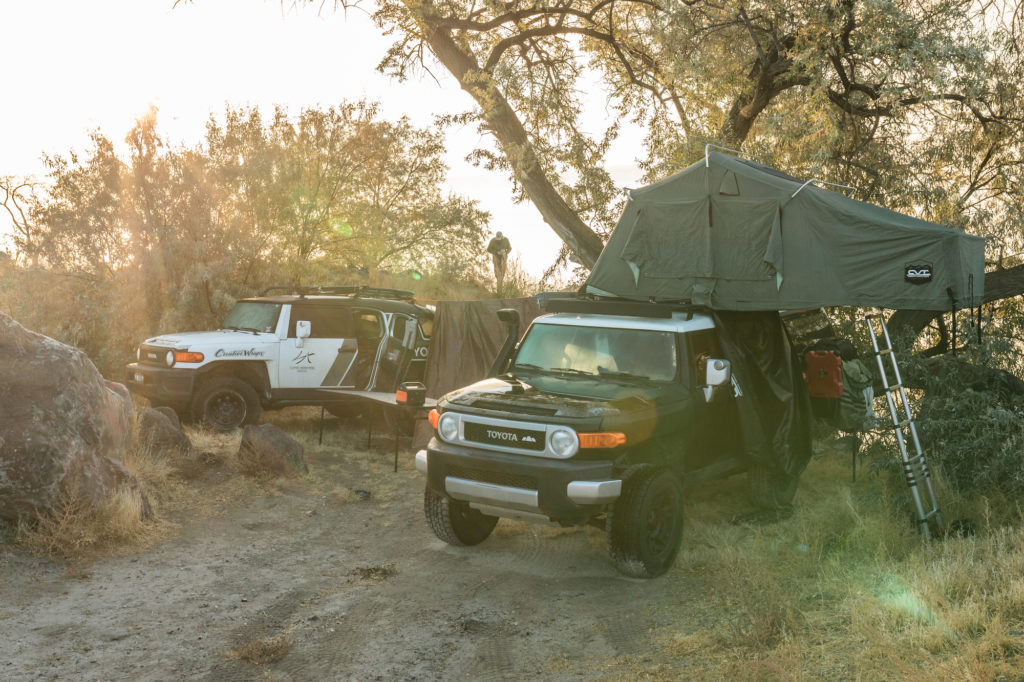 Before this review, I had very limited experience with GMRS communication. It was a chance for me to educate myself through real-world application.
Solid Construction, Easy Set-Up
The MXPW500 Base Station was incredibly easy to set up and honestly quite fun putting it all together. The MXT500 GMRS radio fits easily into the designated slot, held firmly with a top plate with thick rubber bands to keep it in place.
The Base Station was made with an intuitive design and user experience in mind. Nearly crushproof and well-articulated being built in a genuine 5.56 ammo can, clever slots and storage compartments were catered into the overall design in a way that keeps it organized and uncluttered with wires, and it even has a specific place to store the antenna and microphone, keeping the entire setup compact.
The easy-to-understand design and configuration made it a breeze to fine-tune some controls and settings for a better experience. Don't know or can't remember where something is on the MXPW500? Midland so intuitively put a 'Quick Reference' on the inside of the ammo can lid to help.
Staying Charged & Connected
A cool feature of the MXPW500 Base Station is its ability to be charged via solar. Midland supplies it with a 40-watt solar panel that can give it full charge in two hours or less. The first-time setup with the solar panel was very easy. I was able to enjoy my morning cup of coffee while it charged the MXPW500 for the day's adventures. Lane wanted to cast some lines in the C J Strike Reservoir away from camp.
With a Midland GMRS walkie-talkie in hand, he made his way along the river while I checked in periodically with the Base Station.
First impression: this thing is fun to use. The audio clarity coming from the Base Station was crystal clear as if my friend was right next to me. We had zero issues maintaining communication as he made his way further and further from camp.
Conclusion
I believe the MXPW500 Base Station is a great communication device for group trips or scenarios with a base camp for an extended period. Though it's great for group situations, the MXPW500 Base Station is not needed for the typical vehicle-based adventure. Most of us have a GMRS or CB radio in our rigs, or at the very least walkie-talkies for short-distance communication.
Another factor to consider with the Base Station is that it's heavy. Despite its compact size, the total weight with the radio installed is about 20 lbs. It may not seem like that much but when considering the overall vehicle payload and how much weight you can safely carry on your vehicle for overlanding trips, you might want to consider a lighter option.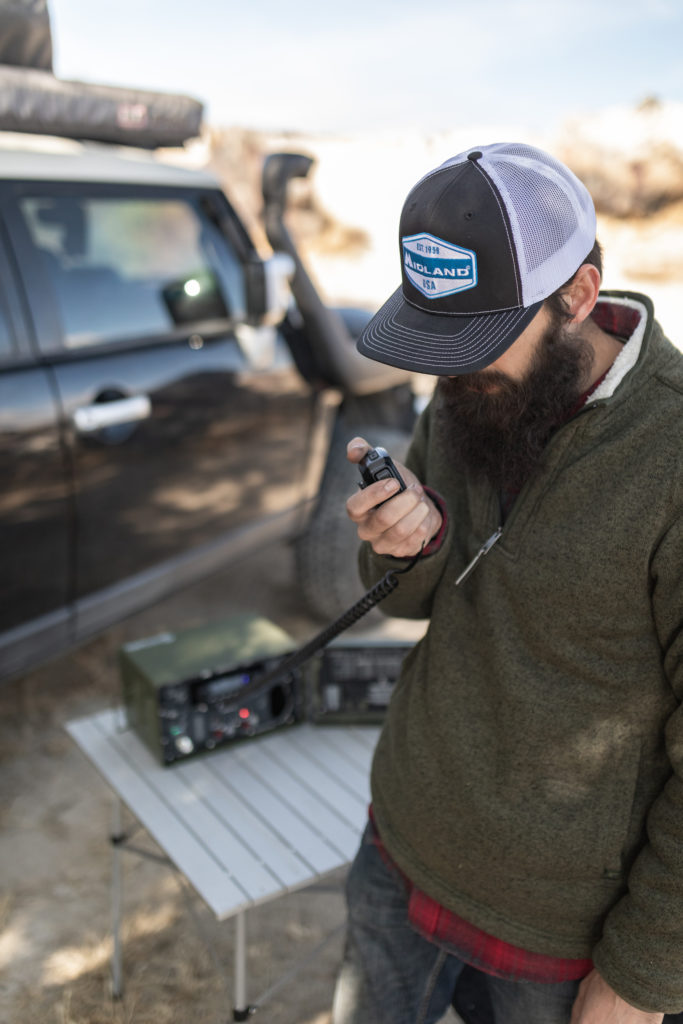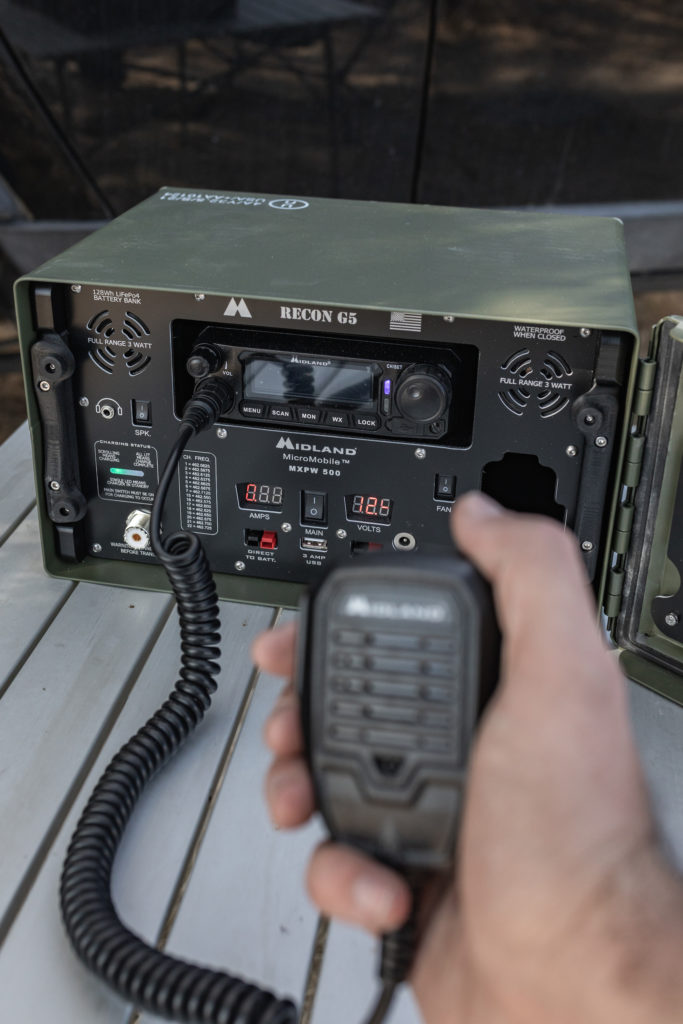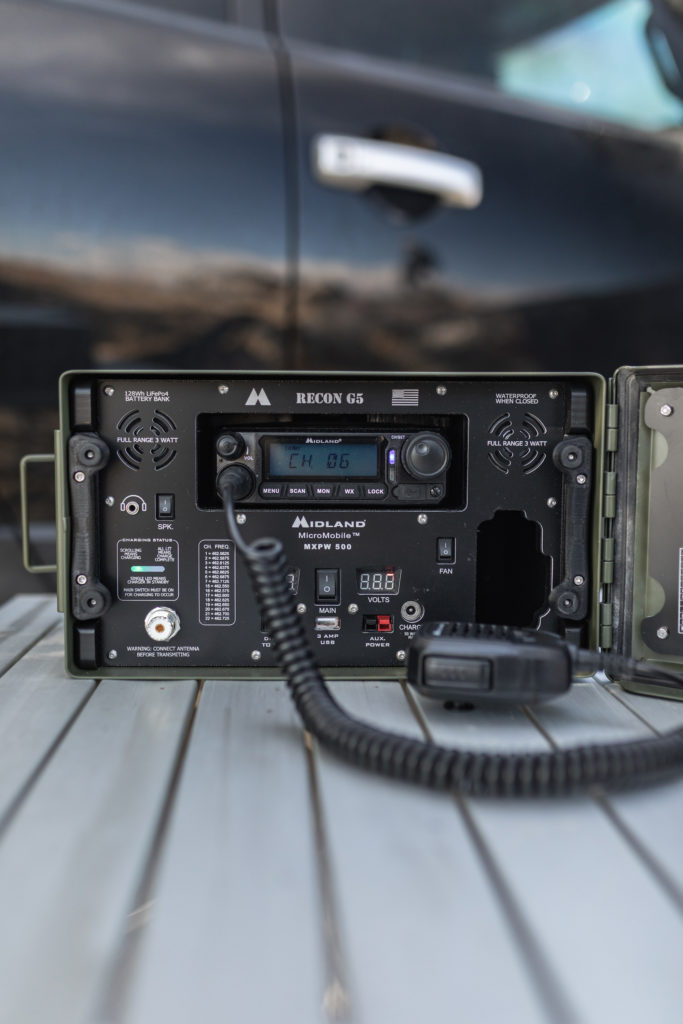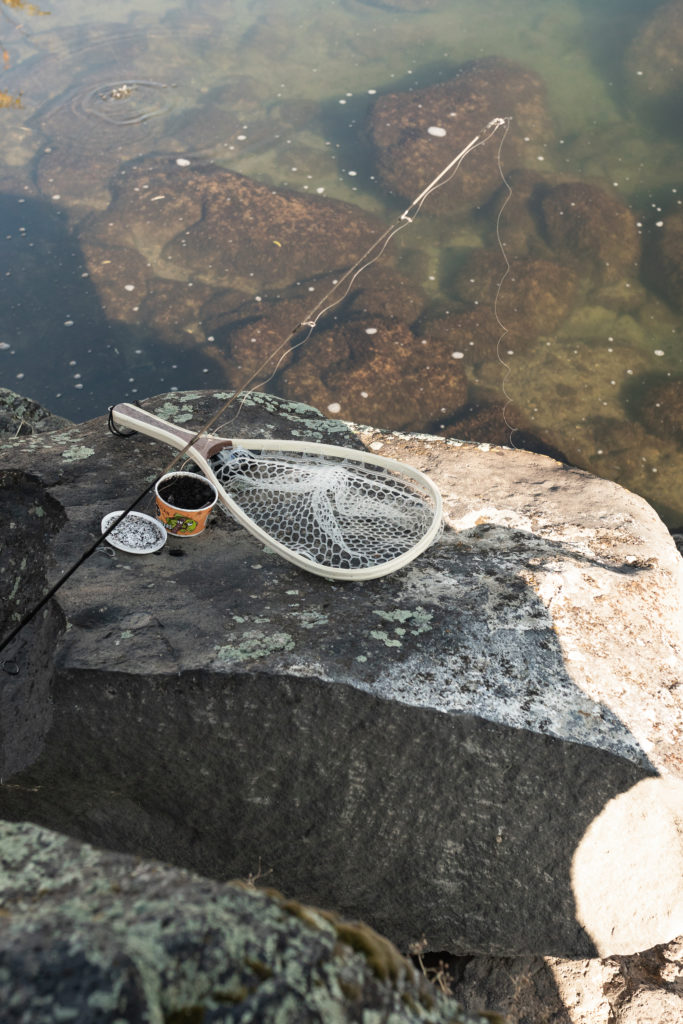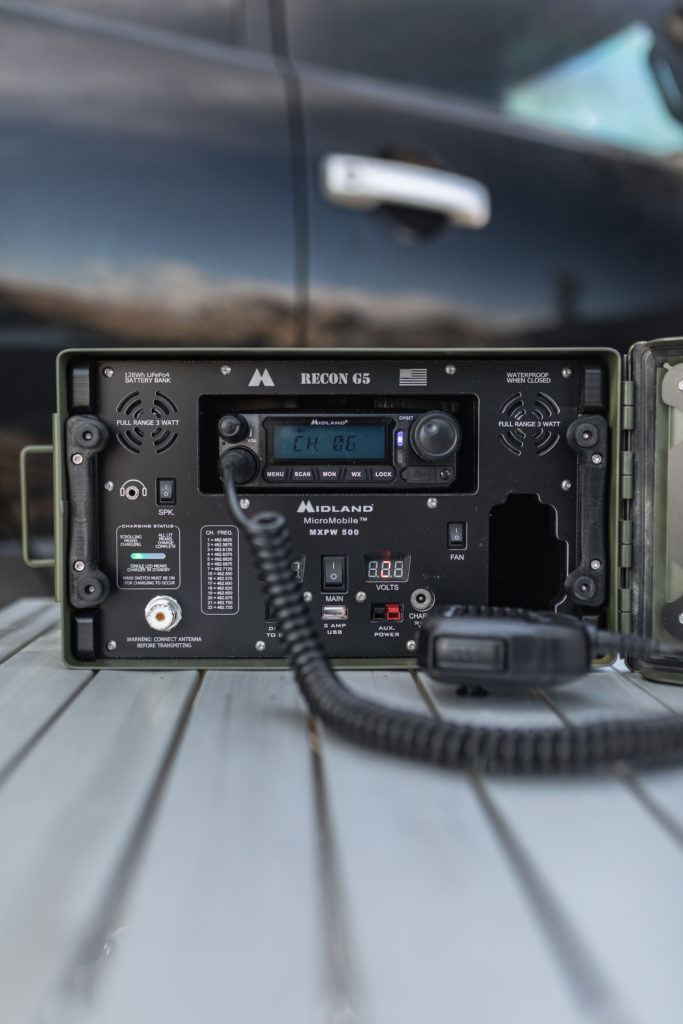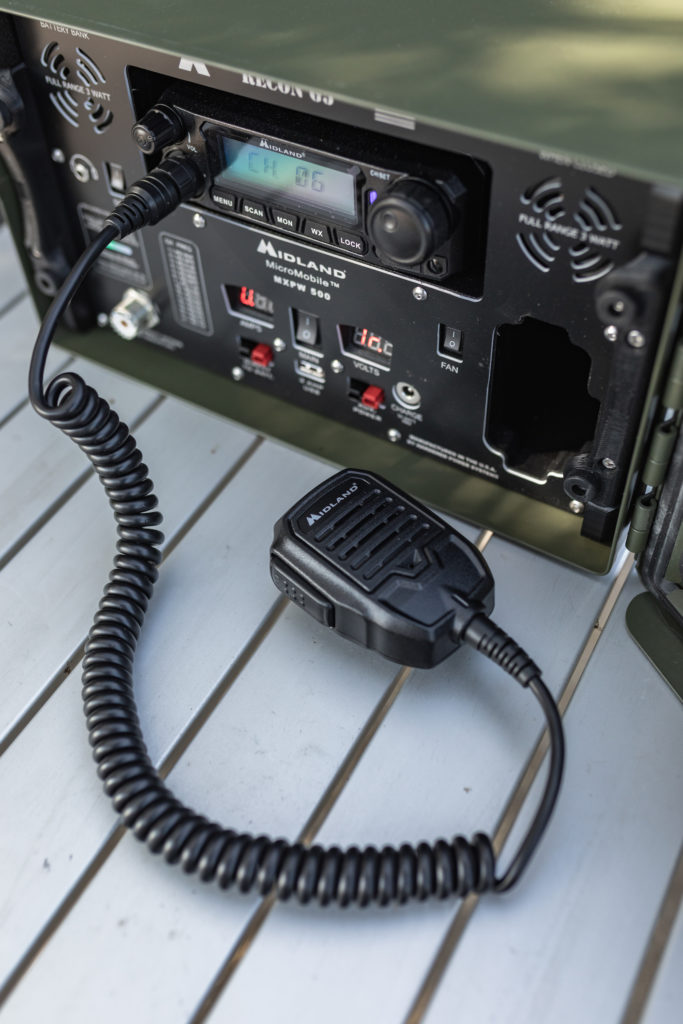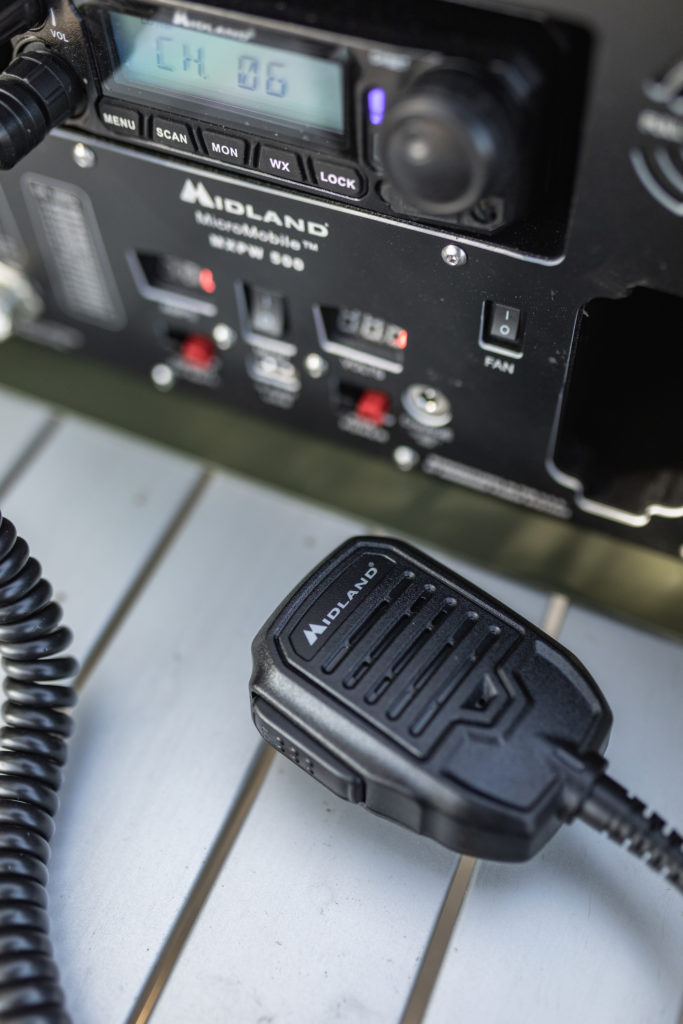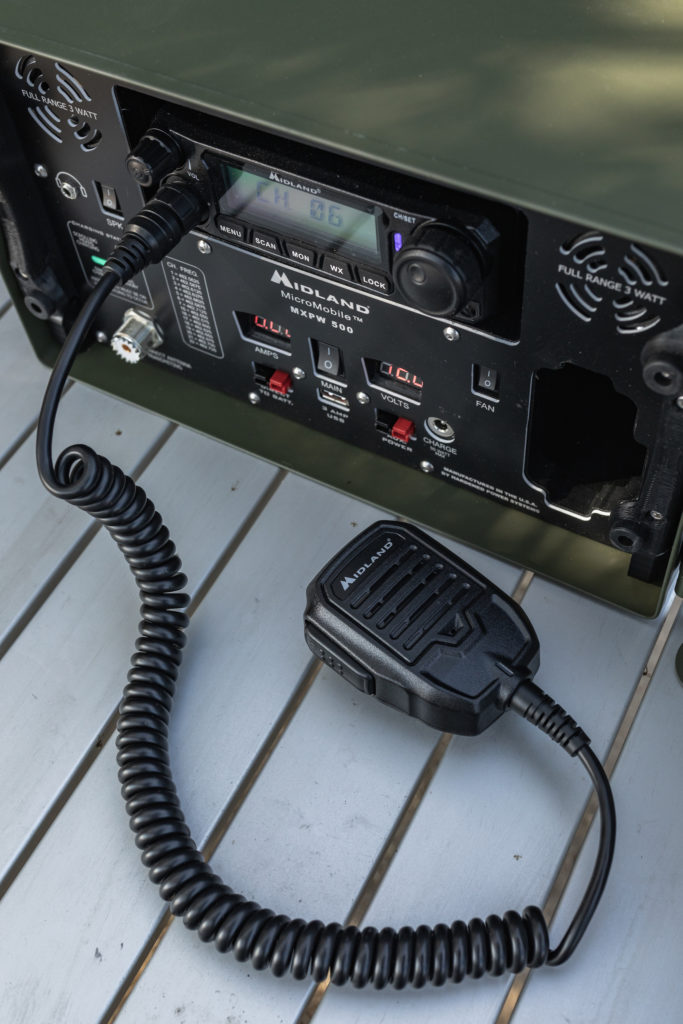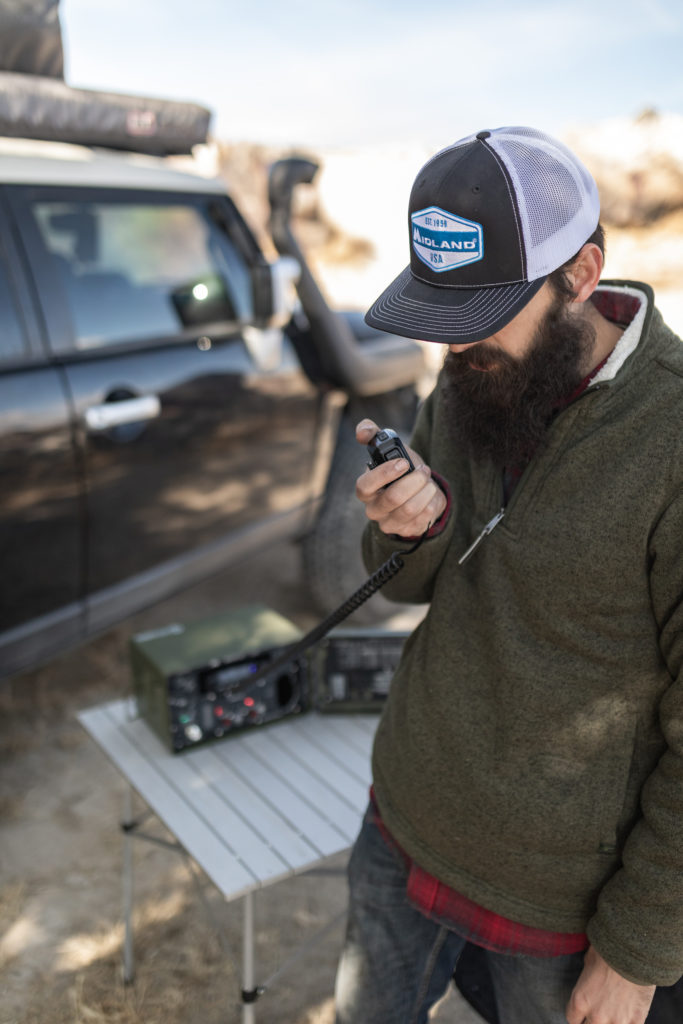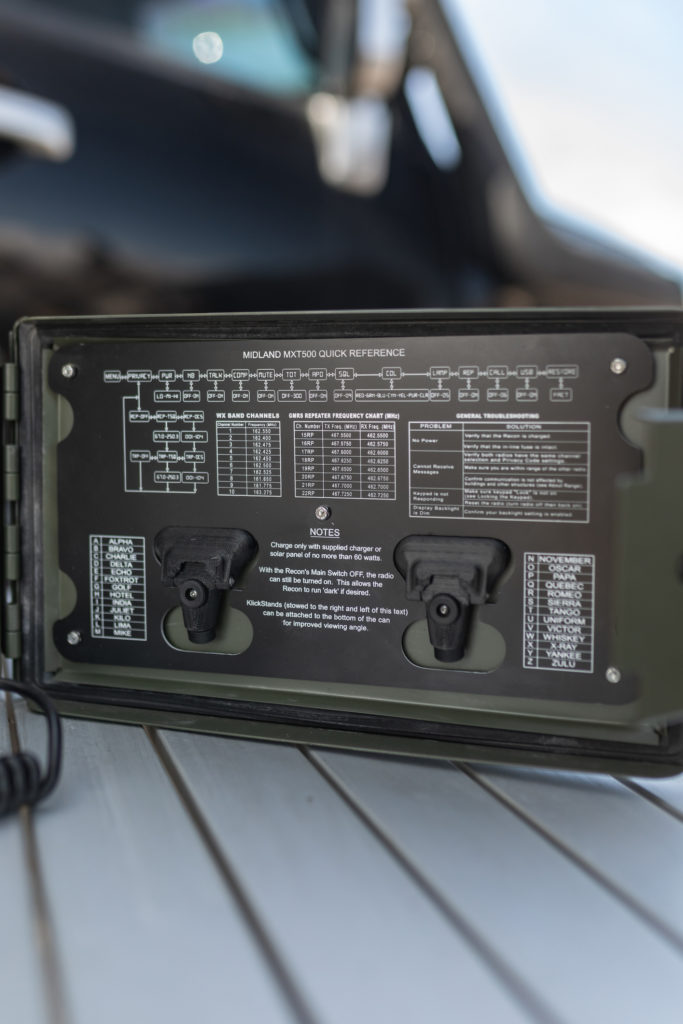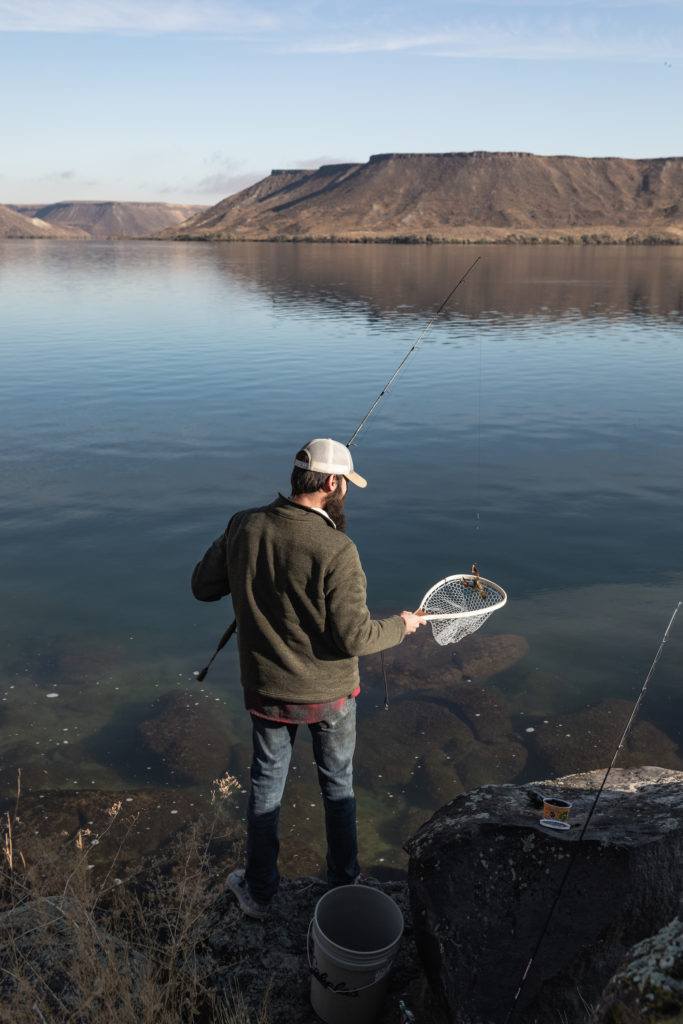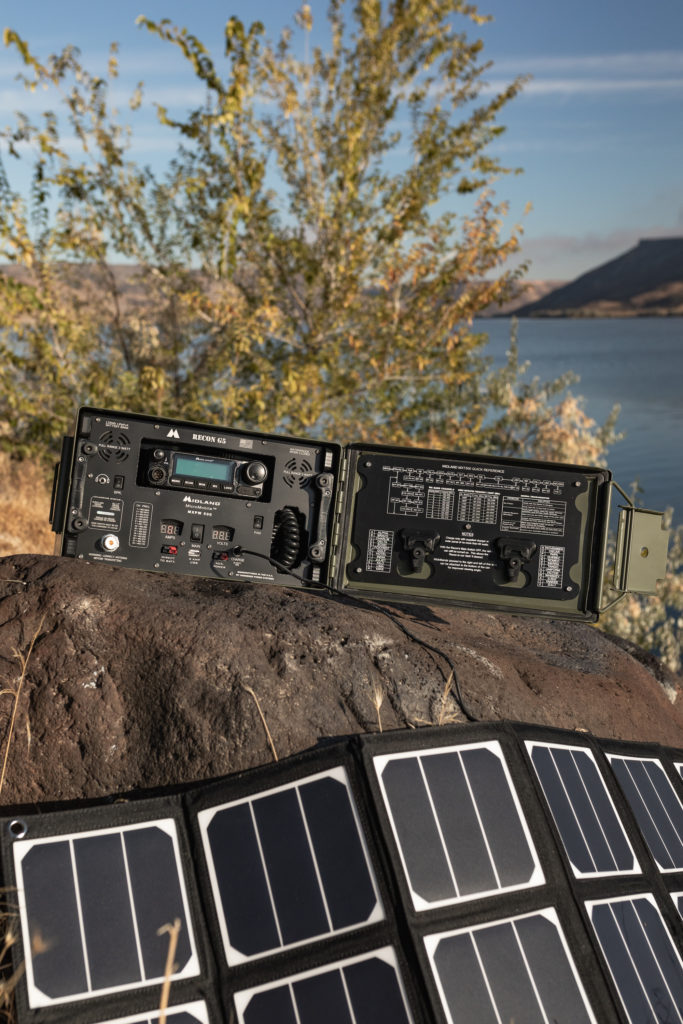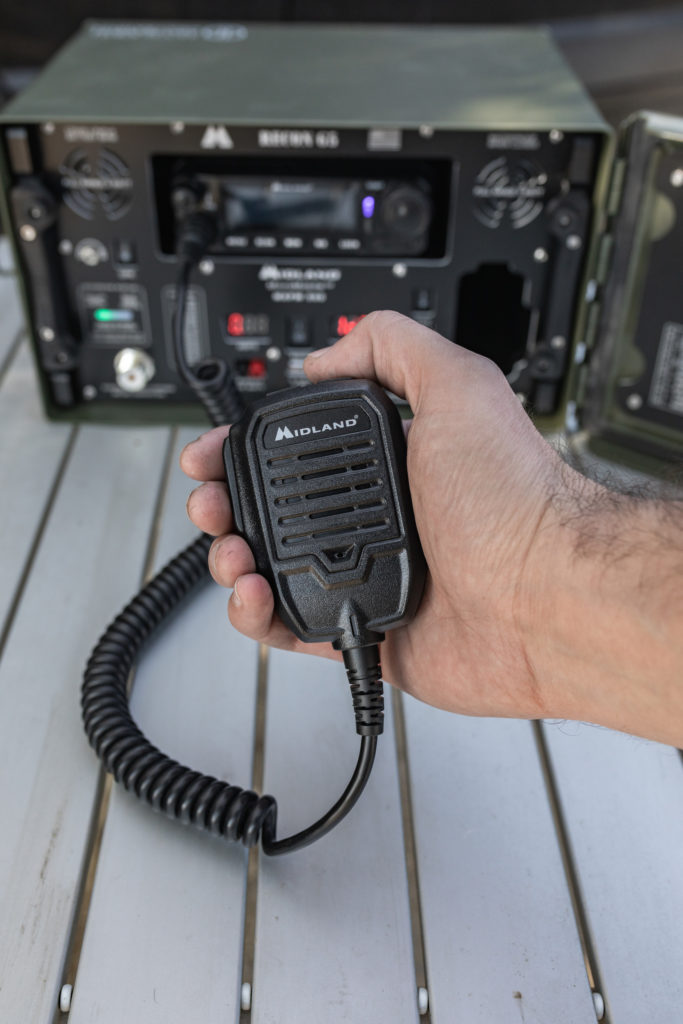 Aside from this, I am excited and look forward to the opportunity to use this Base Station on my future group overland trips. I believe the MXPW500 is an excellent communication station to have at your camp. It's easy for anyone to set up and use, the ease of staying connected and charged without drawing power from your vehicle is a plus, and it's great knowing people in your party can effortlessly contact base camp while they are out exploring the backcountry around it.
---
What to know:
MODEL: MXPW500
MATERIAL: Genuine surplus 5.56 ammo can
COLOR: Green/Black
DIMENSIONS: 12.75″ x 7.25″ x  8.625″
POWER: Solar (up to 60 Watts) or AC
BATTERY: 10Ah LifePo4 Battery
METERS: Volt & Amp meters
WEIGHT (no radio): 17 pounds
WEIGHT (with radio): 20 pounds
FEATURES: Dual speakers, waterproof & nearly crushproof, USB port, headphone jack
MSRP: $649.99
---