The holidays are upon us, and it's never too early to get started on your shopping list. We've rounded up some of the best gear to outfit adventurers heading into the new year.
We've put together our ultimate holiday gift guide organized by price point here to make it easy for you to shop based on your budget. From dog coats, camp chairs, and radios to lift kits, cargo boxes, and rooftop tents, we've got something for everyone on your list.

Defiance Tools – BBQ Multi-Tool 6 in 1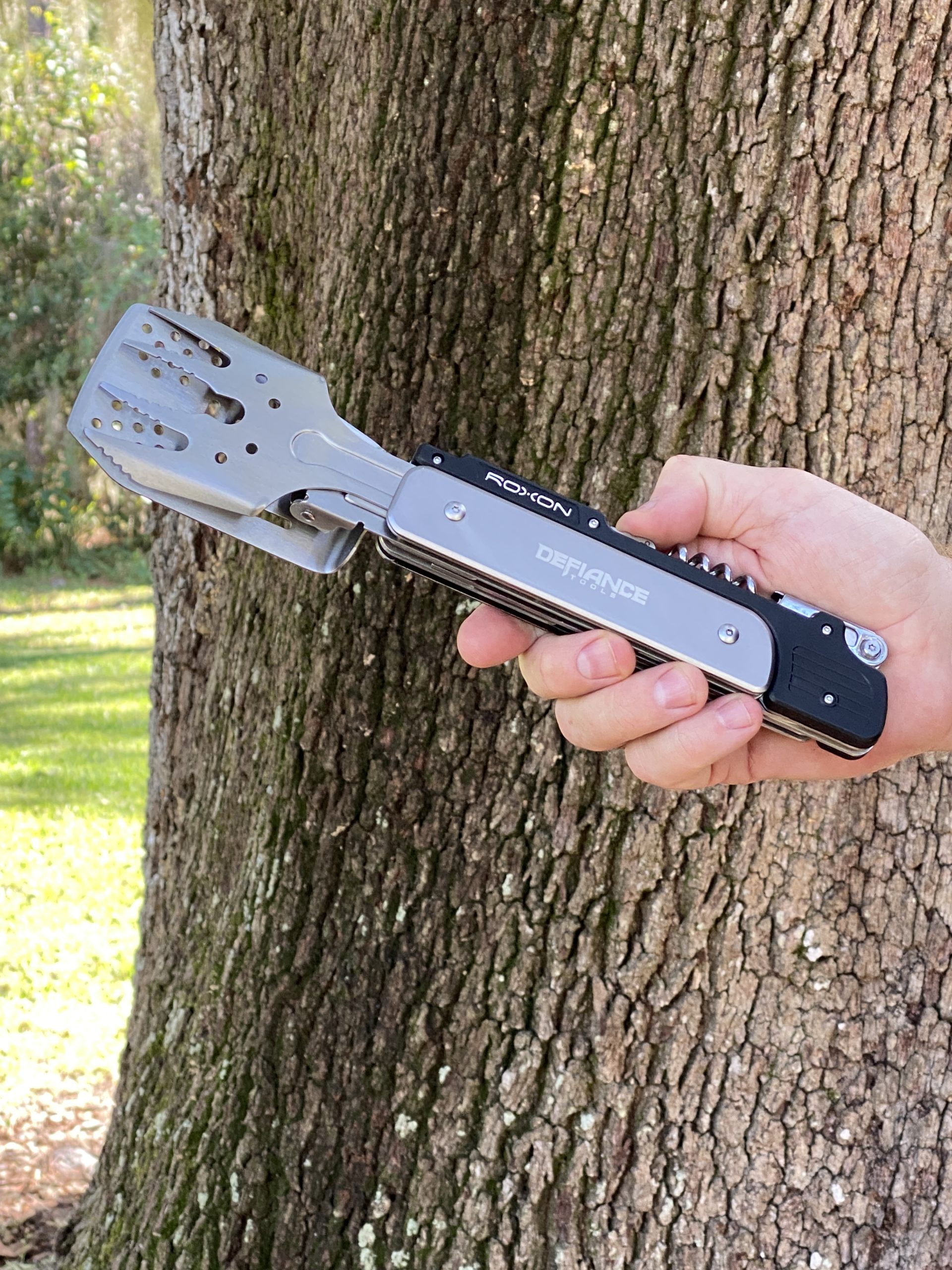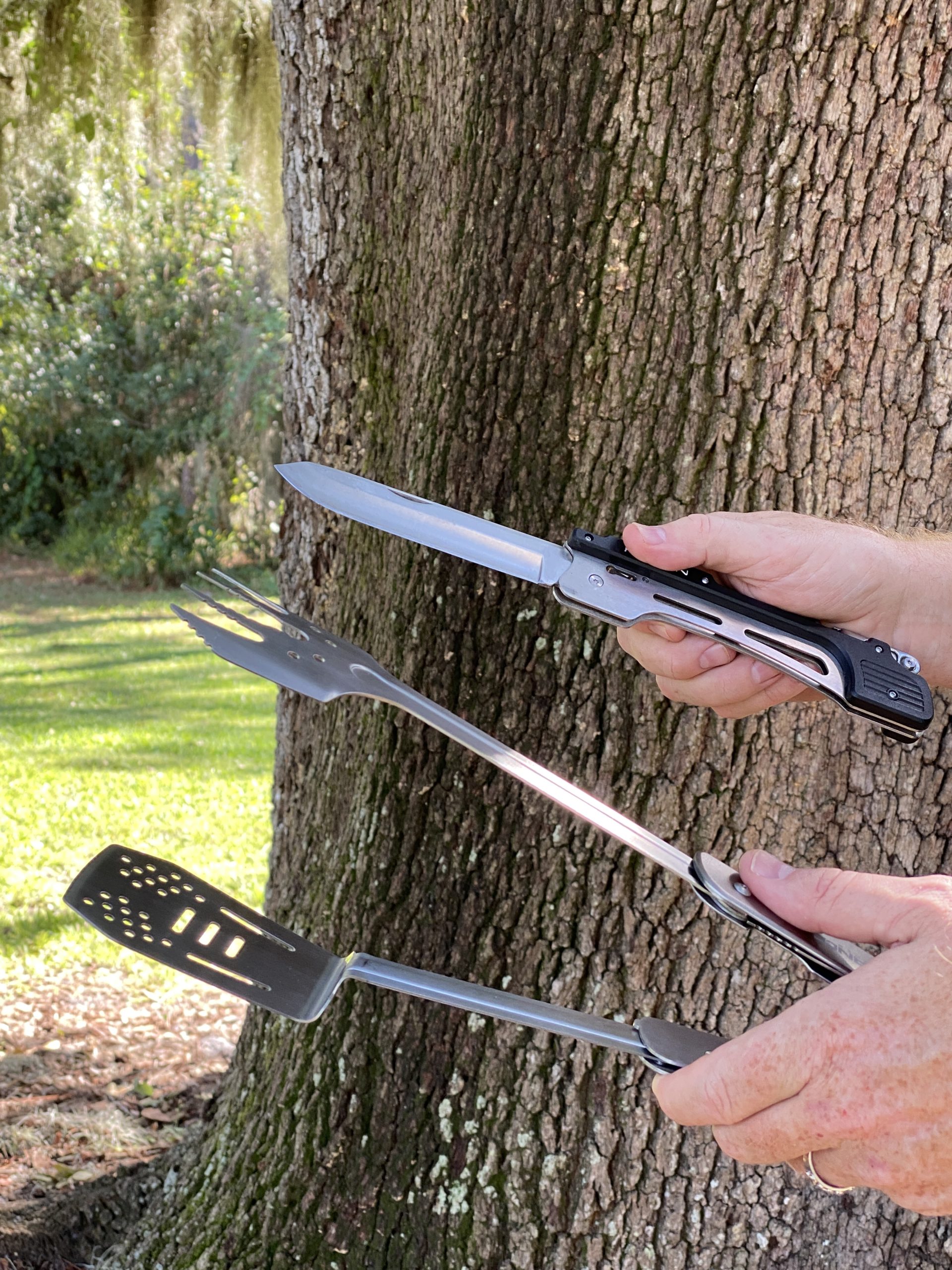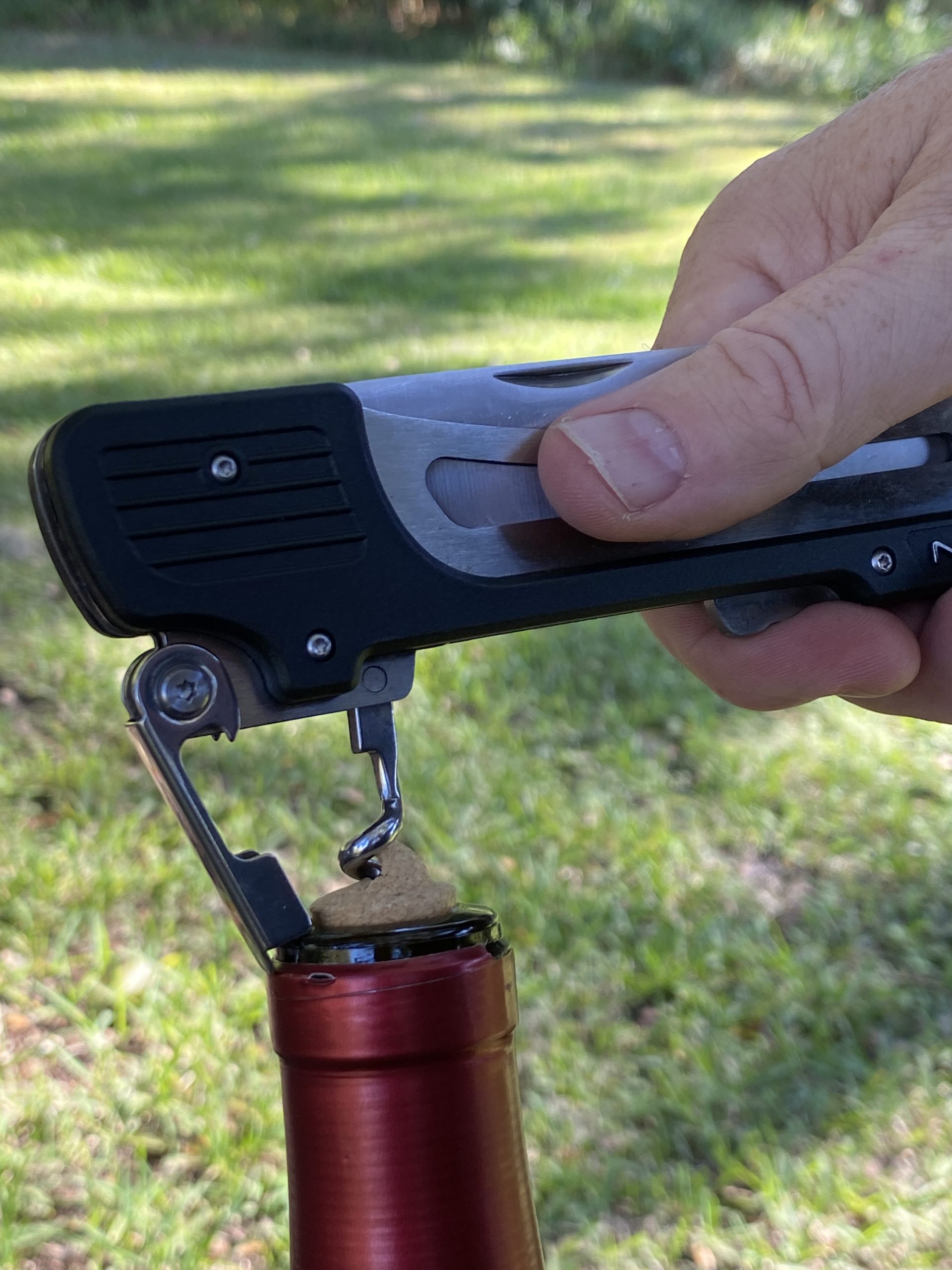 As you prepare for your next adventure, you need gear that is rugged and compact. The Defiance Tools BBQ Multi-Tool packs all the tools you need for cooking and grilling into one compact foldable package. It weighs under two pounds and offers a complete set of grill tools packed into a very clever design.
This innovative Stainless Steel BBQ Multi-Tool has 6 tools in 1 and packs away in its own nylon storage/carry pouch. You can flip a burger, grab a hot dog or sausage, cut up vegetables, or even open your favorite beverage. Designed to stand up to the toughest outdoor conditions, the utensils are built of high-quality stainless steel that can stand up to the heat of the grill or campfire.
The BBQ Multi-Tool has six tool functions including a spatula and grill fork that can be transformed into tongs, a 5-inch prep knife, bottle opener, and corkscrew. The prep knife locks open and closed from a 6.75" handle made of stainless steel and super tough polypropylene. To store simply stow the knife and fold down the spatula and grill fork and snap them onto the sides of the knife handle.
The BBQ Multi-Tool is the perfect multi-tool for you, or give it as a gift to any overlander, off-roader, or backyard BBQ griller. At Defiance Tools you decide the adventure, our gear makes it better!
MSRP $49.99
HydraPak – Seeker 3L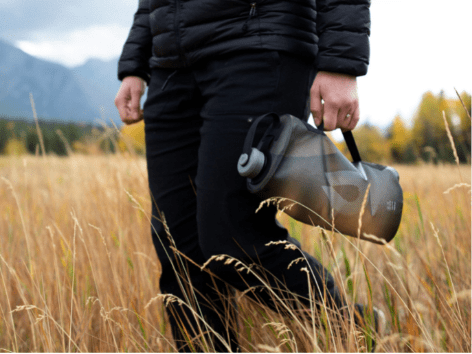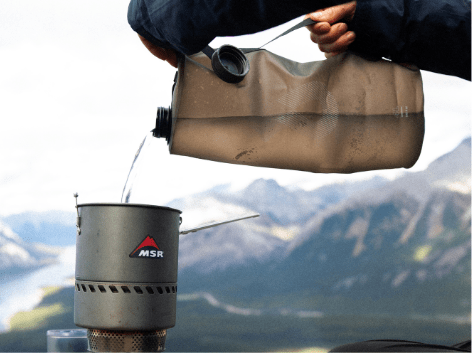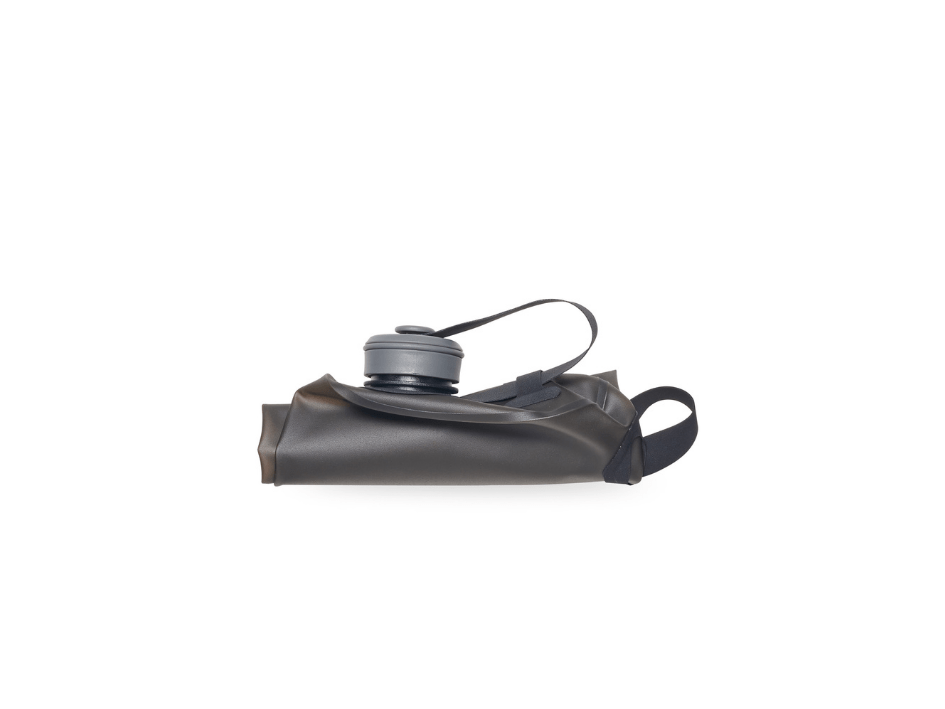 Get out and stay out. The Seeker 3 L from HydraPak is a durable, ultra-light hydration storage system for all your long-haul excursions. A weather-resistant pour handle, and two side lash points for hanging or pack attachment make it the perfect backcountry tool. You can freeze it to use as an ice pack or keep it in your camp kit for your go-to filter bag. Adventure seekers, this one is for you.
The Seeker 3L is incredibly and can fold to fit in practically any space. Durability isn't an issue since the abrasion-resistant TPU and RF welded seams add elasticity. The mouth of the Seeker 3L is compatible with most 42mm threaded water filters.
MSRP $28.00
Kurgo – Loft Coat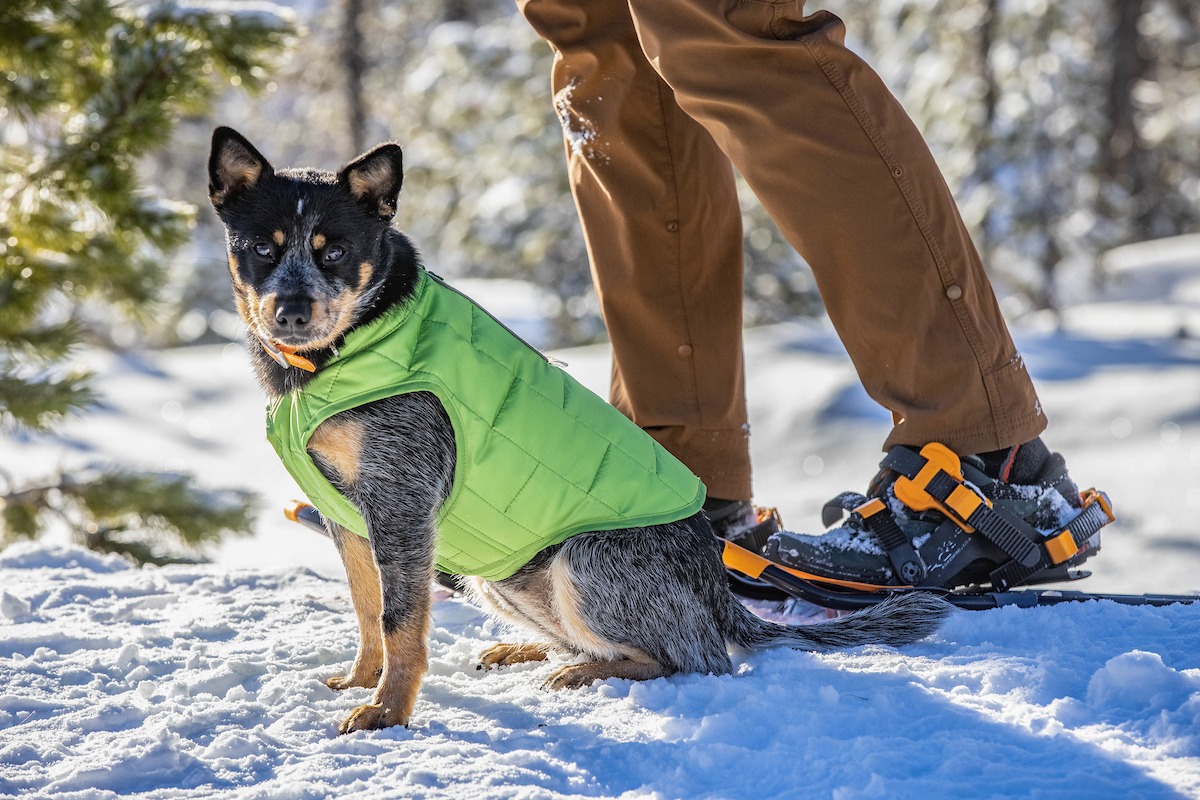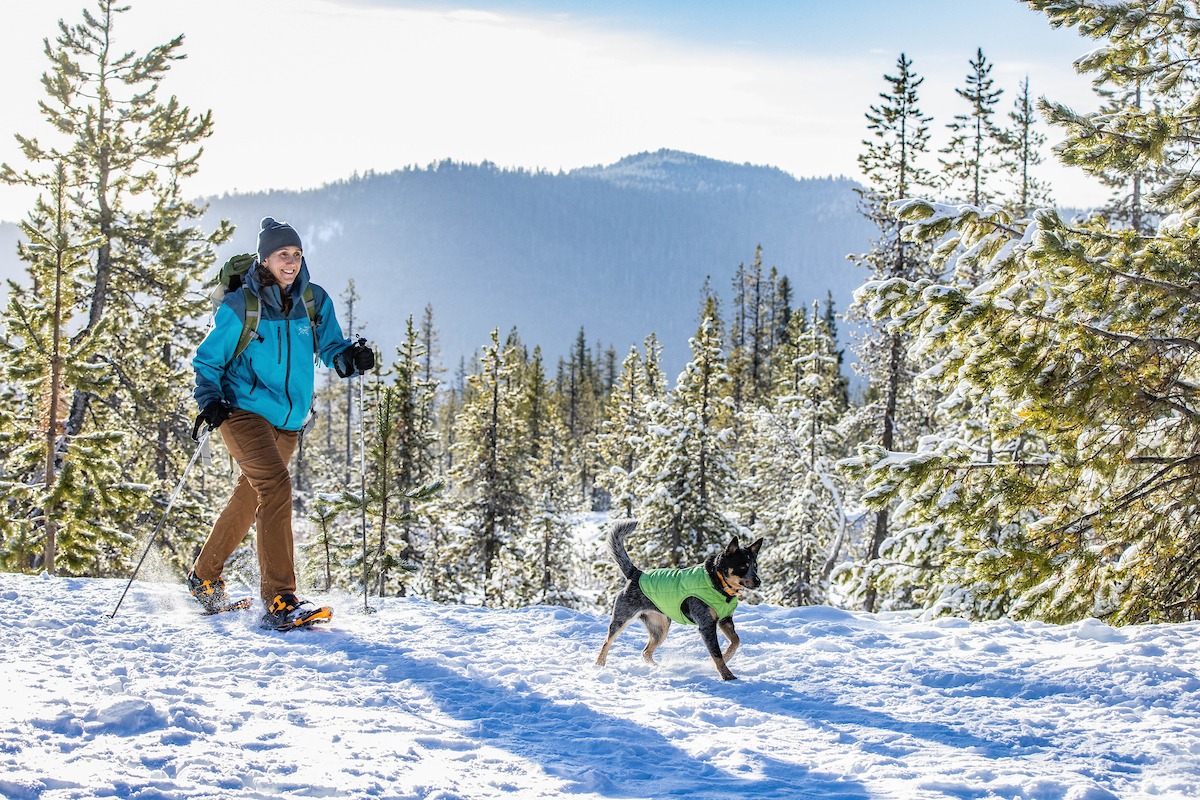 Adventure comes every day, so why not get an everyday jacket that's up to the task? Meet the do-everything, get-it-done, all-in-one, never-fail insulated jacket that's short on shortcomings and long on versatility (and hyphens, apparently). Designed for cold days, rainy days, and everything in between, the fit is athletic, which means your dog will be ready for every sprint, stroll, jump, roll, and nap that comes her way. And with several color options—each one of which is reversible—she'll be as fashionable as she is cozy.
The Loft Coat from Kurgo is constructed of Microtomic Ripstop material that's water-resistant and includes polytech fill. It has two side adjustments points with hook and loop material to ensure a custom fit. The reflective accents keep your pup visible and safe. Until November 30th you can receive 20% off the price of the Loft Jacket.
MSRP $39.99
Mule Expedition Outfitters – Dr. Livingstone's Spun Steel Camp Ovens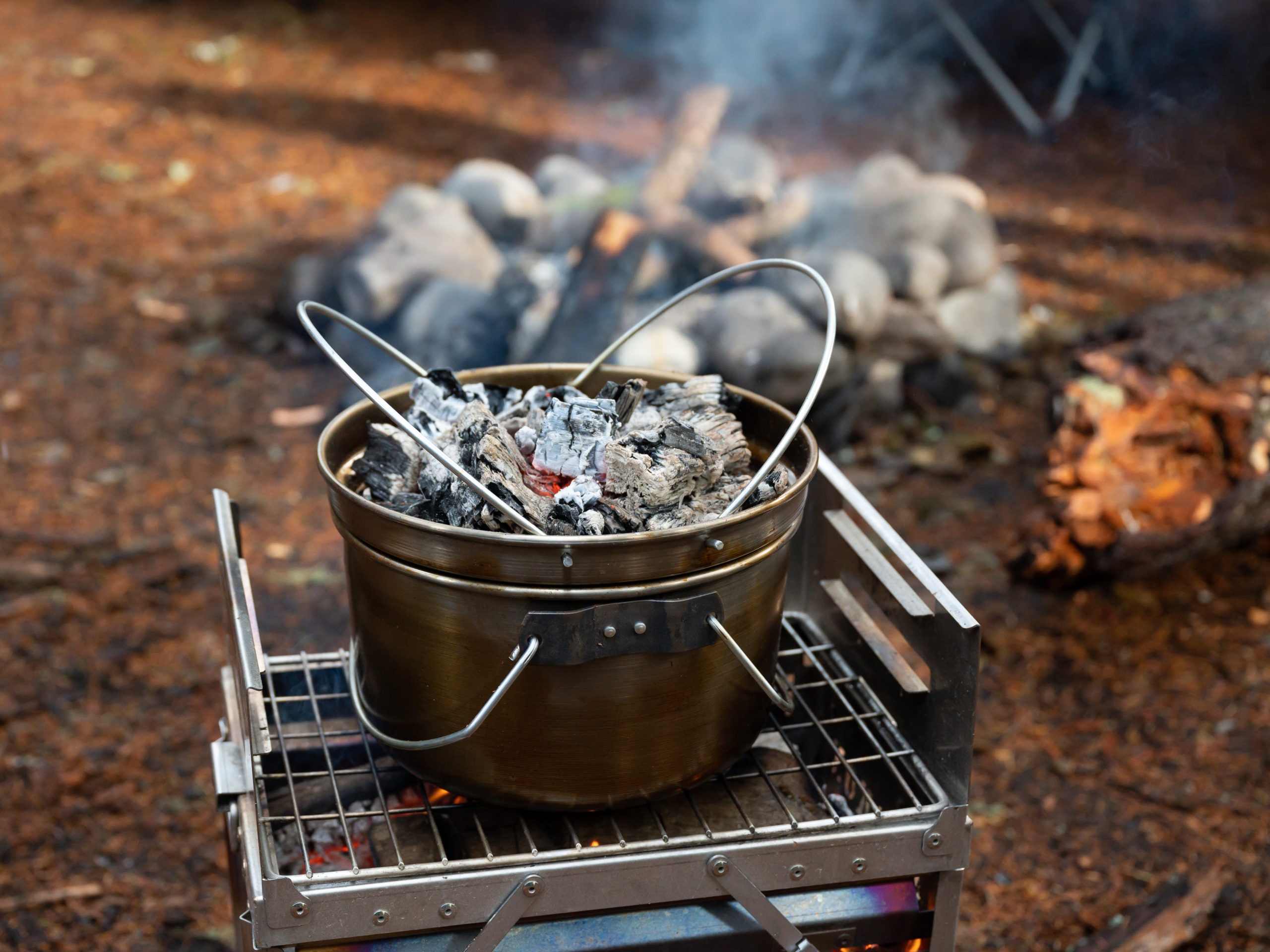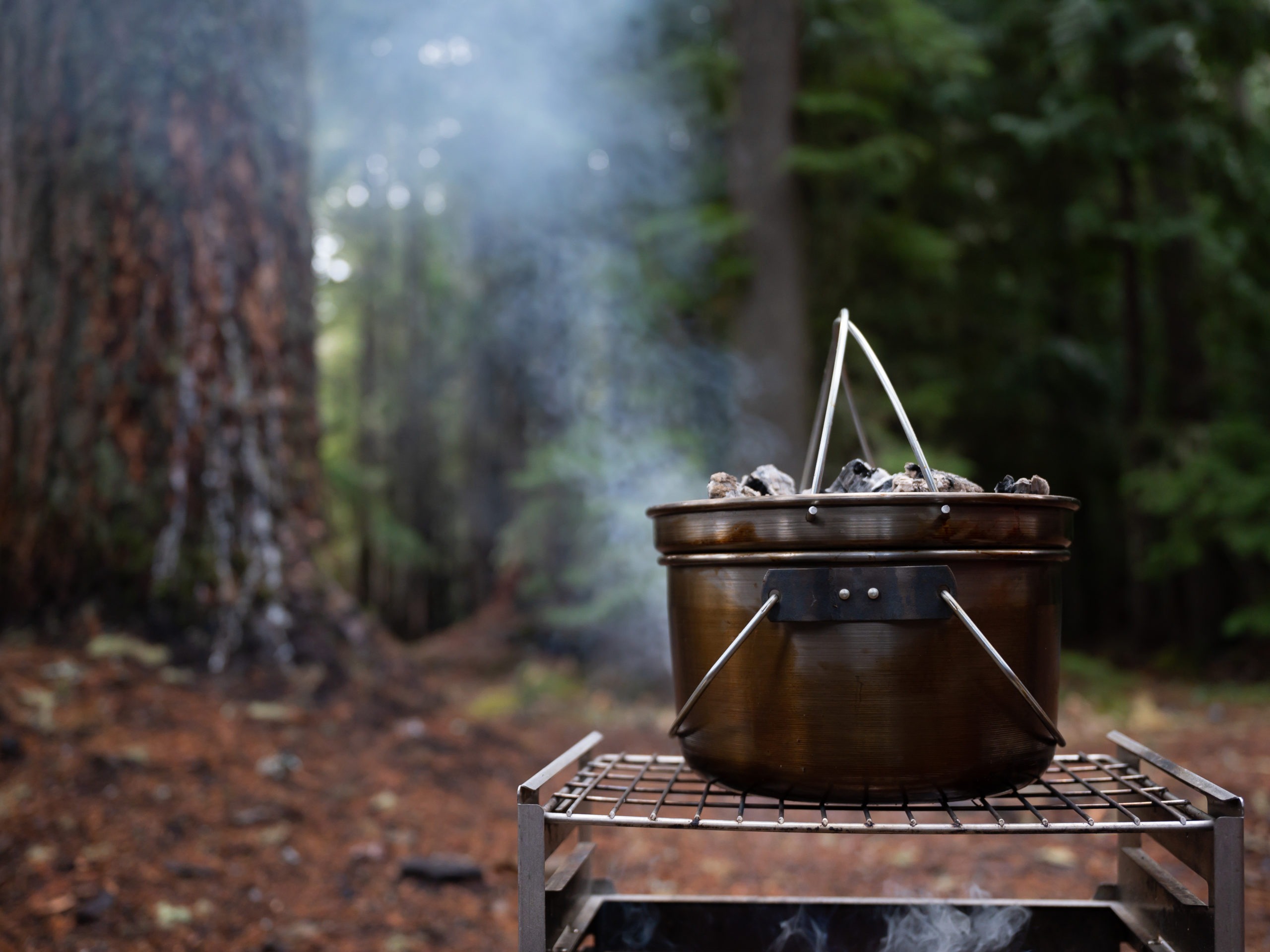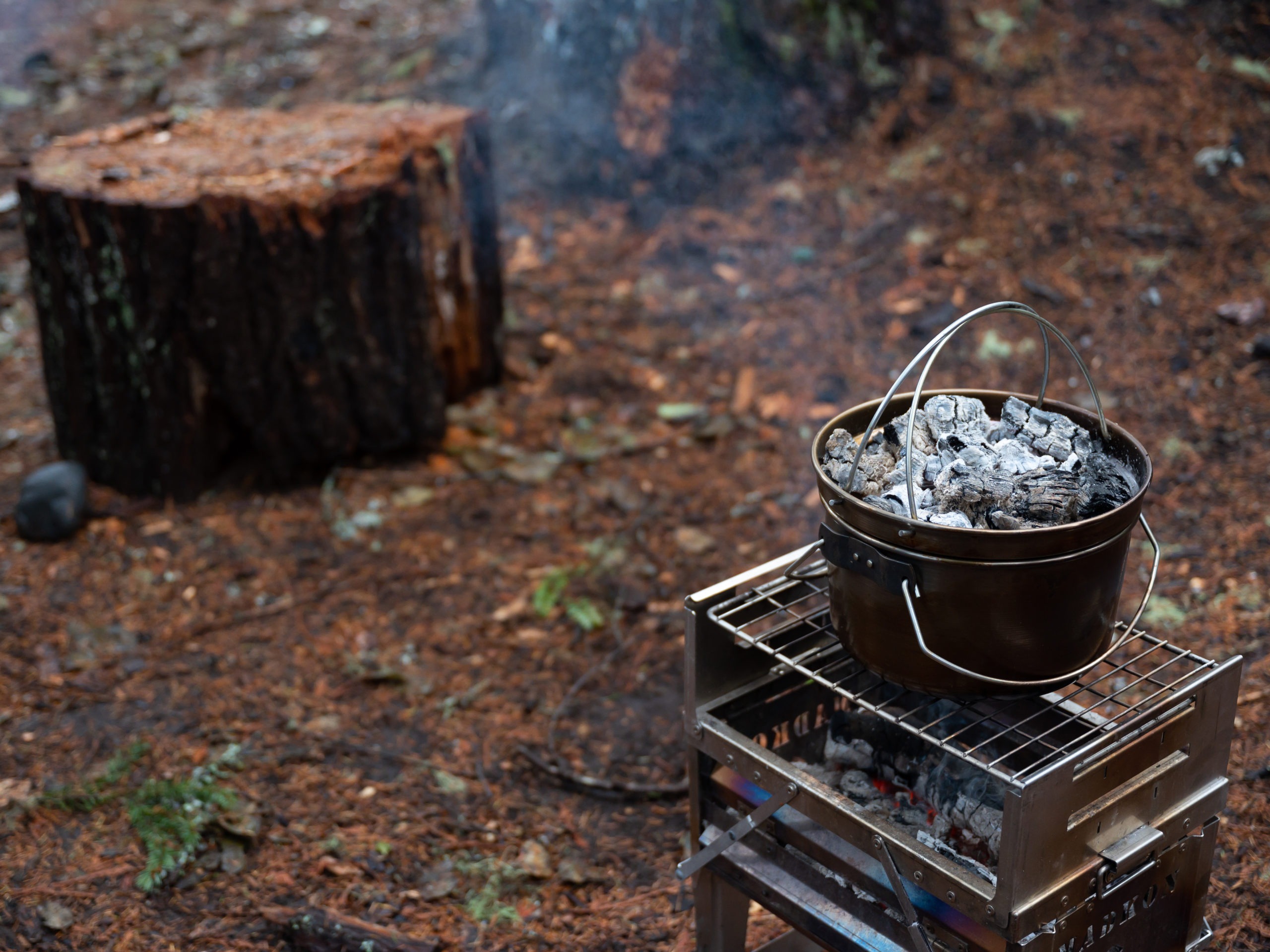 Dr. Livingstone's Spun Steel Camp Ovens, brought to you by Mule Expedition Outfitters, is a single "pot" cooking system for your next outdoor adventure. It can be used as a frypan, boiler, hanging pot, and of course a camp oven.
If you were ever looking for a piece of cooking equipment that can do it all then this is a versatile piece of kit. It is made from the highest quality spun carbon steel available in Australia for long-lasting durability and features fixed handles that will not fall off and rounded corners making this spun steel camp oven very easy to clean. Alternatively, the lid doubles as a handy frypan so you can sit it on top of your hot coals and cook some bacon and eggs for breakfast or use the strong lifting handle to suspend the oven from a tripod for cooking or boiling water over an open flame. This complete camp pan range is designed for outdoor cooking, over a campfire, on a charcoal grill, or wood stove.
Save some valuable weight today and replace your old cast iron dutch oven with a Spun Steel Aussie Camp Oven.
MSRP $69.95-$72.95

Belltech – Lift Kit for 2016+ 3rd Generation Tacoma 4WD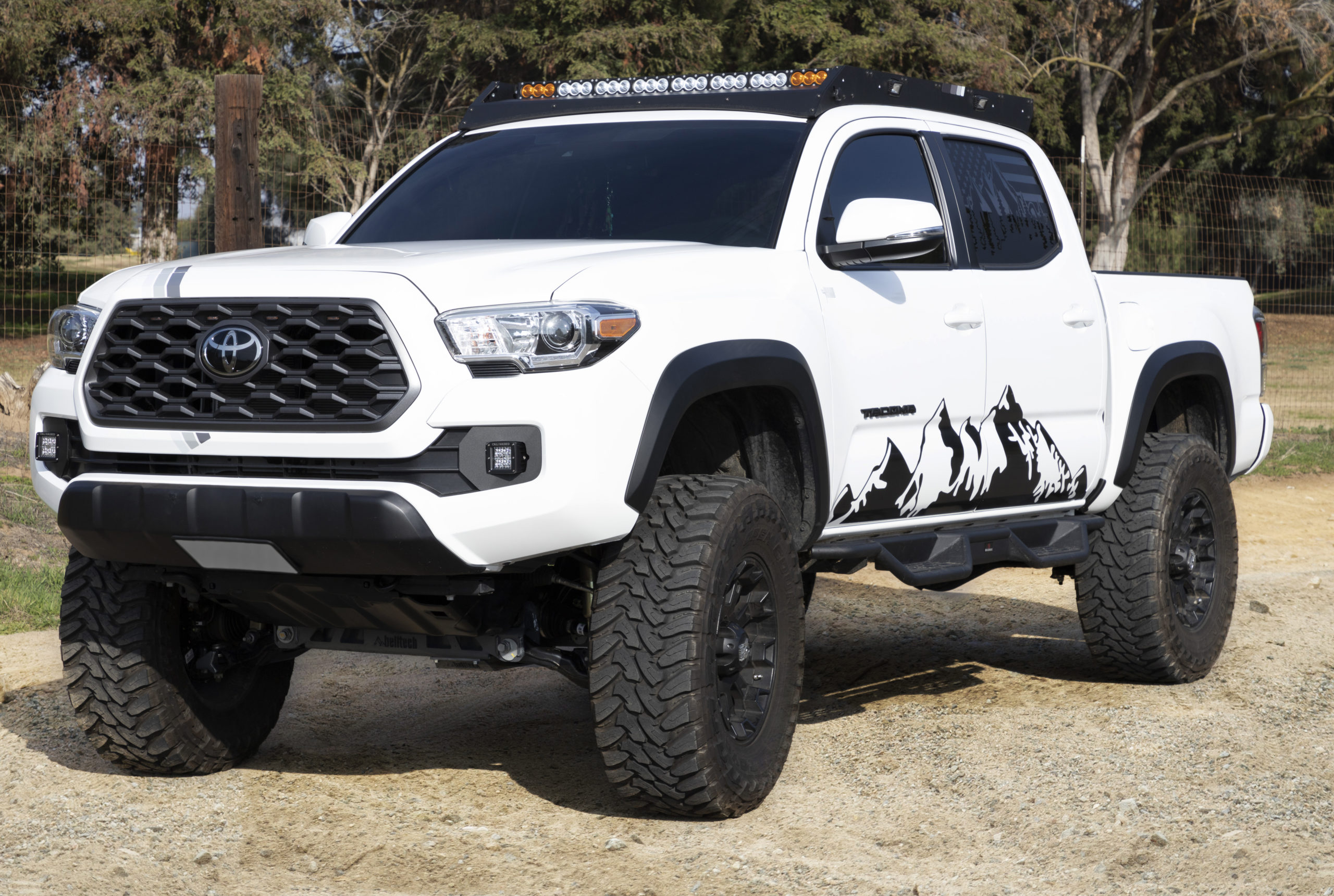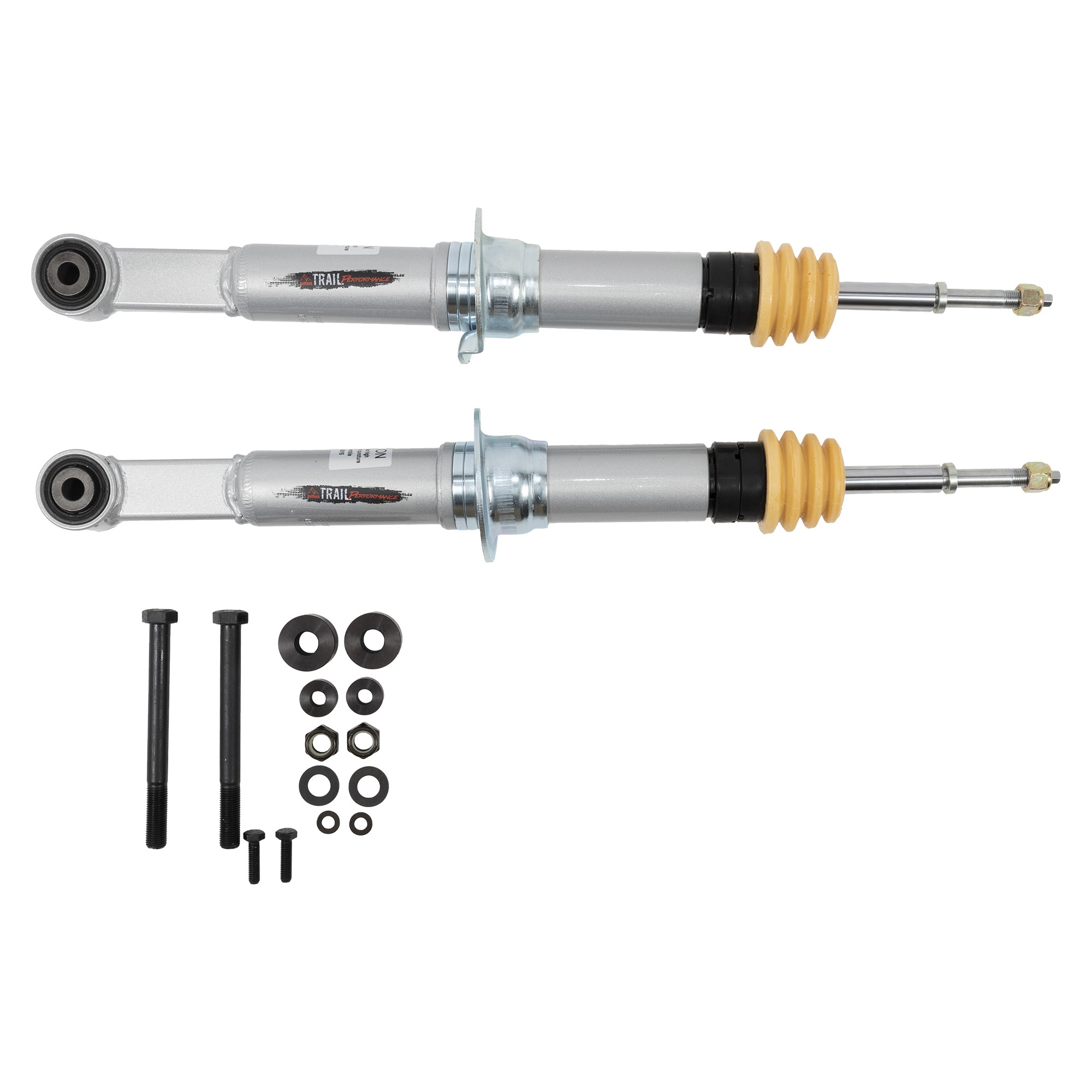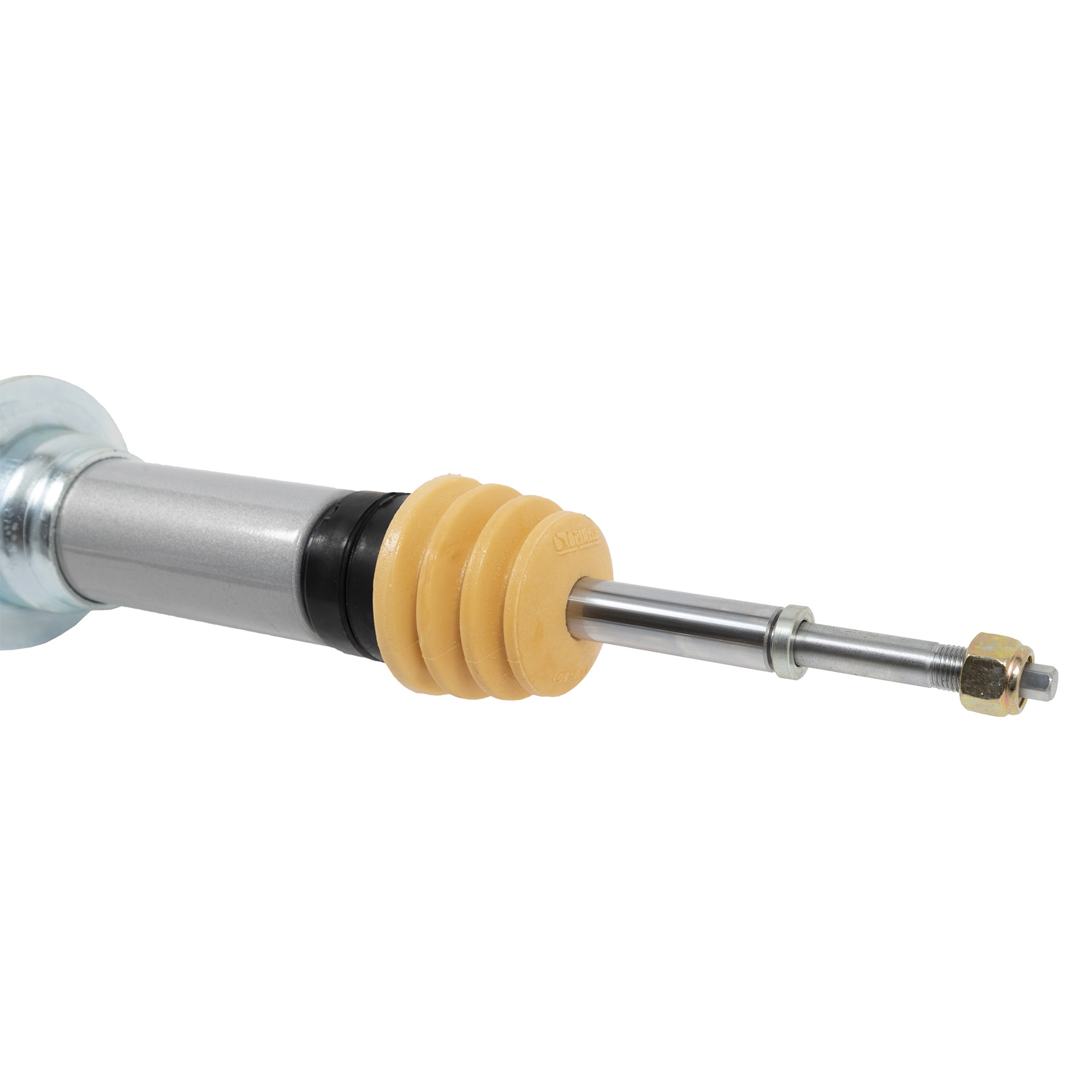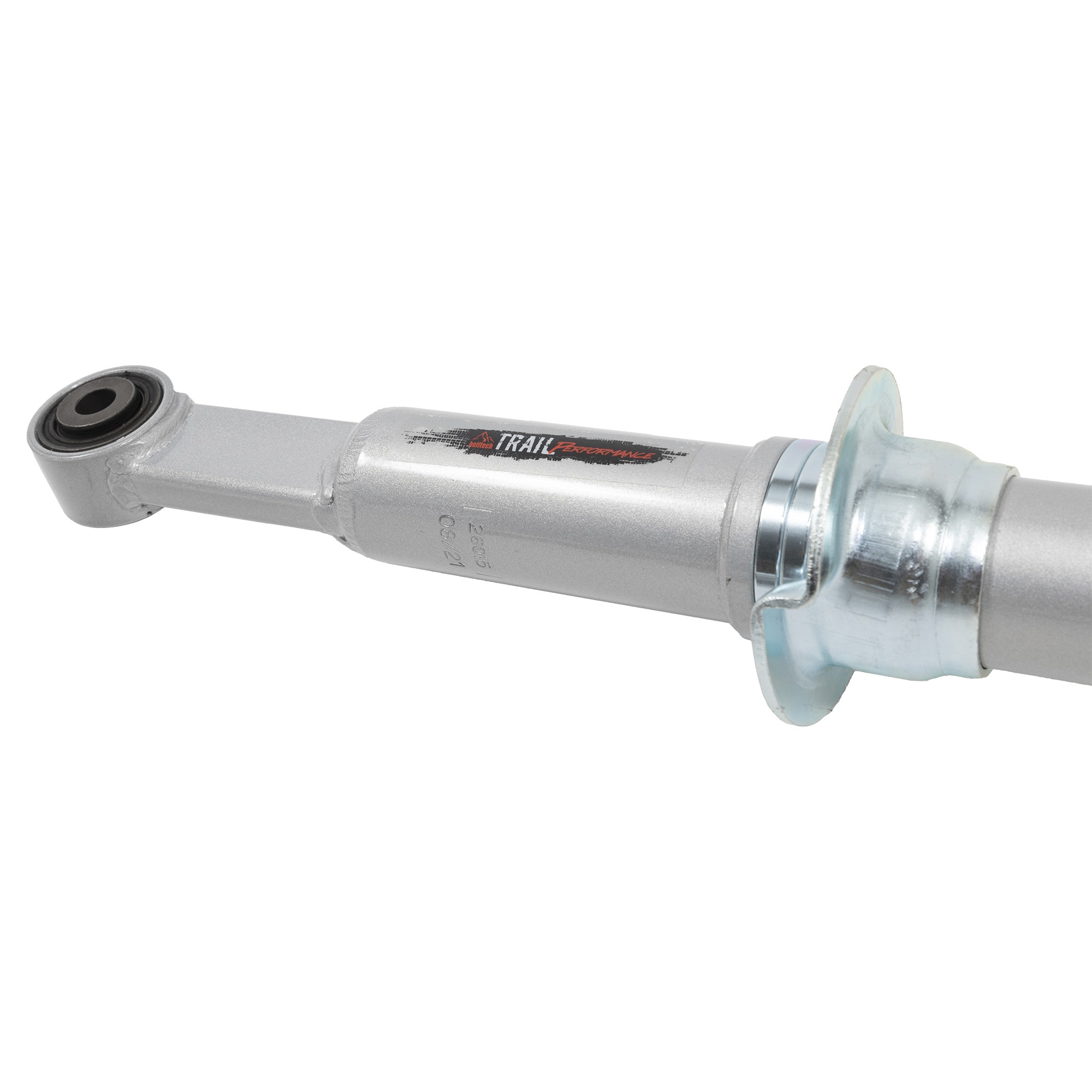 Your truck was made to do more than get you from one place to another. You own a Toyota, which means you are the kind of person who seeks fun and adventure and requires more versatility from your vehicle. Because of this, Belltech has created a kit that will give your truck and your spirit a boost. The 154302TP is a front, height adjustable lift kit for your 2016+ Toyota Tacoma 4WD. This kit is compiled of high-quality, heavy-duty components that achieve improved performance, additional clearance, and room for larger tires and wheels. The front-end features two Trail Performance lift struts with perfected, preset dampers. The dampers are constructed of steel and powder coated for longevity. They have large, 60mm damper bodies and 35mm independent valves that work together to keep oil cool for consistent damping throughout your journey.
To offer lift customization, the strut design uses height adjustable rings, and once your preference is set, you will never have to worry about the stature changing or settling over time. After you decide on the front-end height of your vehicle, Belltech uses another type of ring called a packer to perfect bump stop engagement. The packers, paired with our progressive rate polymer, open-cell, bump stop, make driving over speed bumps or rocky trails nice and smooth. To add strength and durability, Belltech struts use a 22mm hardened chrome piston rod. The strut also includes a custom Spring perch that accompanies your OE spring and a high durometer vulcanized rubber bushing, which reduces noise and vibrations. To preserve factory geometry, the kit also contains a differential drop kit. This detail is important because it allows the front axels to run at an appropriate angle and prevents them from undergoing any undue wear. Though all these components are quite complex, the kit itself is quick and easy to install. Belltech engineers thought of every detail while designing this kit. Like you, their vehicles are more than modes of transportation; they are means for great travel, enjoyment, and in some ways, are even a lifestyle. Brave new trails and create new memories with Belltech's Trail performance Lift Kits.
MSRP $239.72
Fireside Outdoor – Pop-Up Fire Pit with Head Shield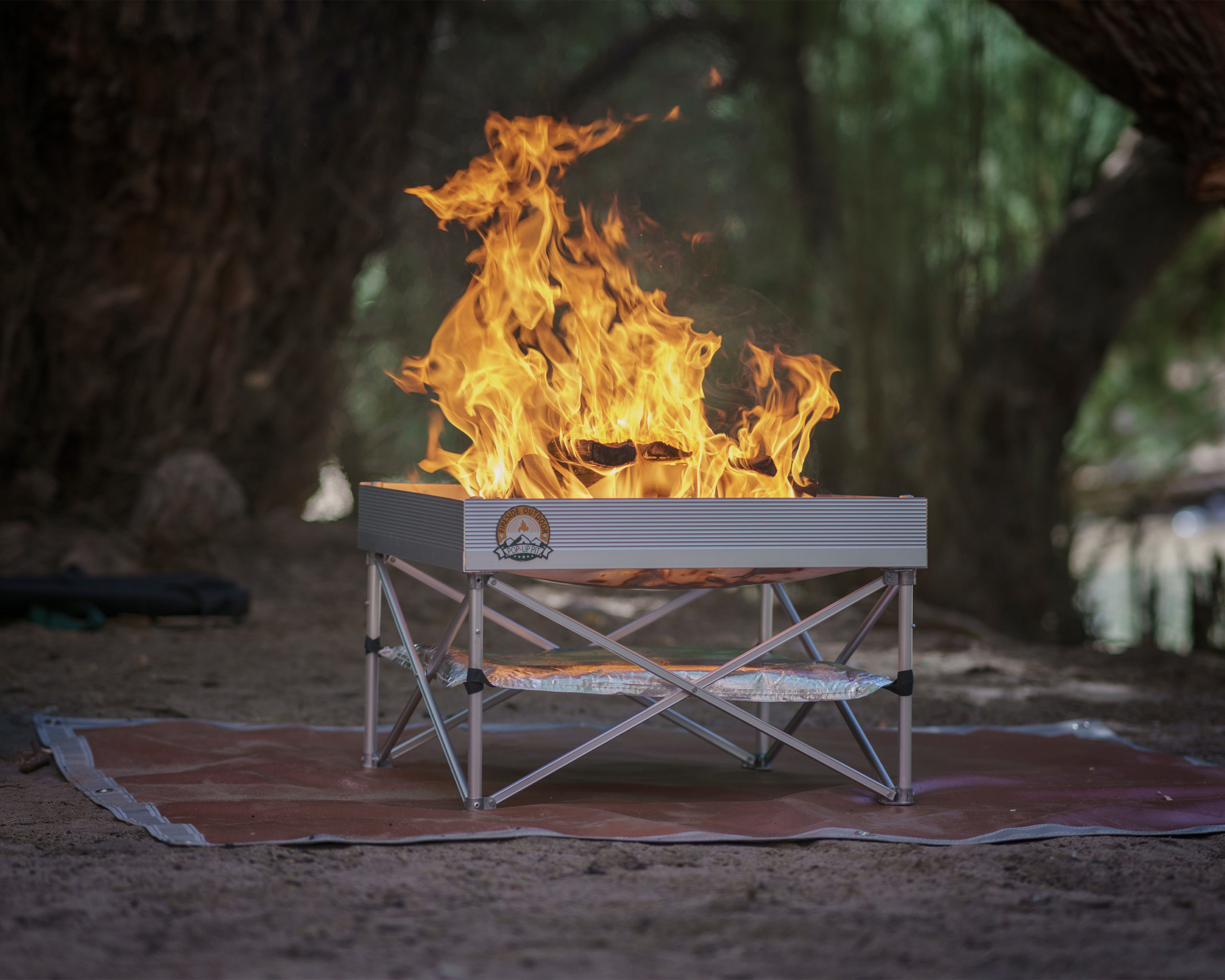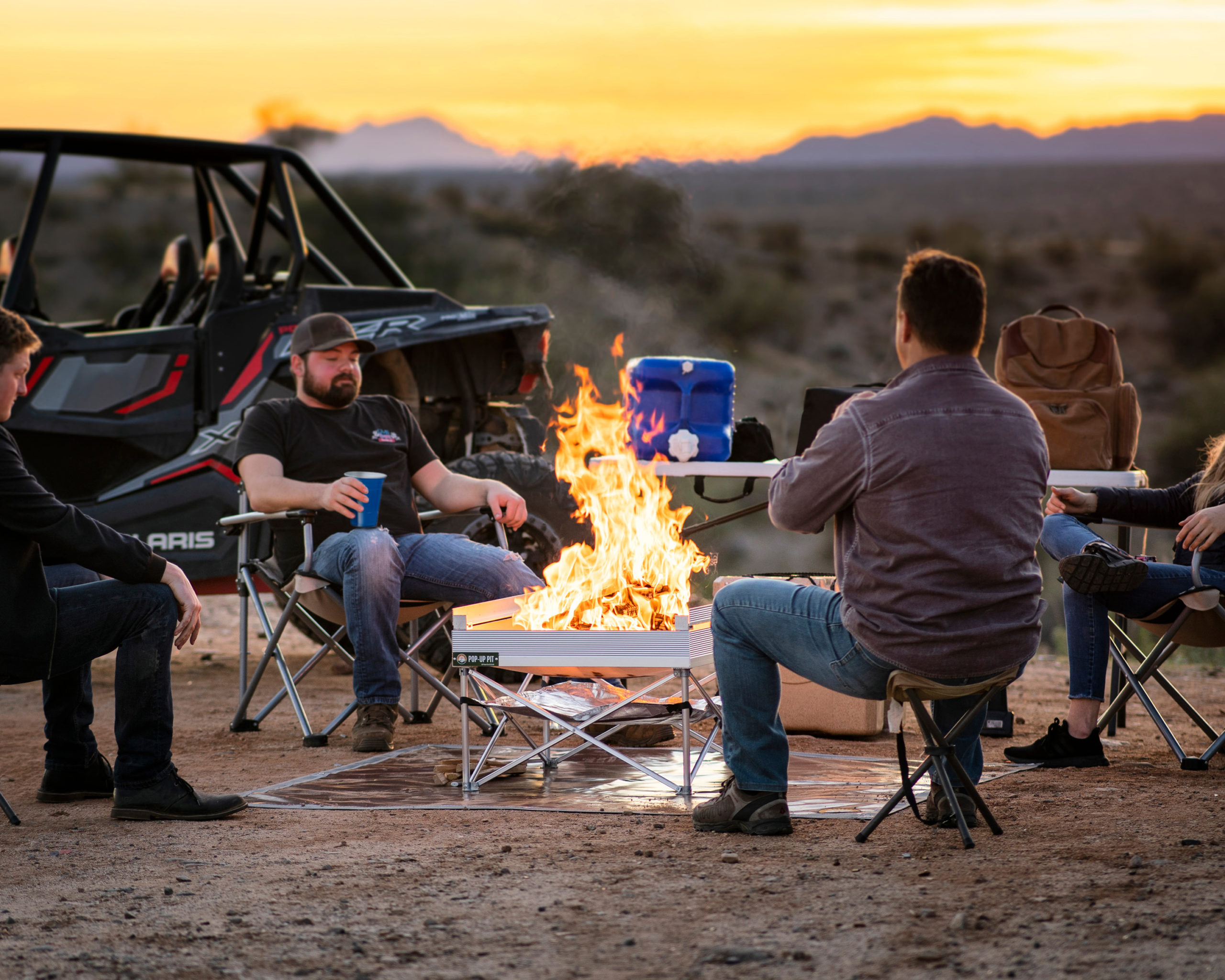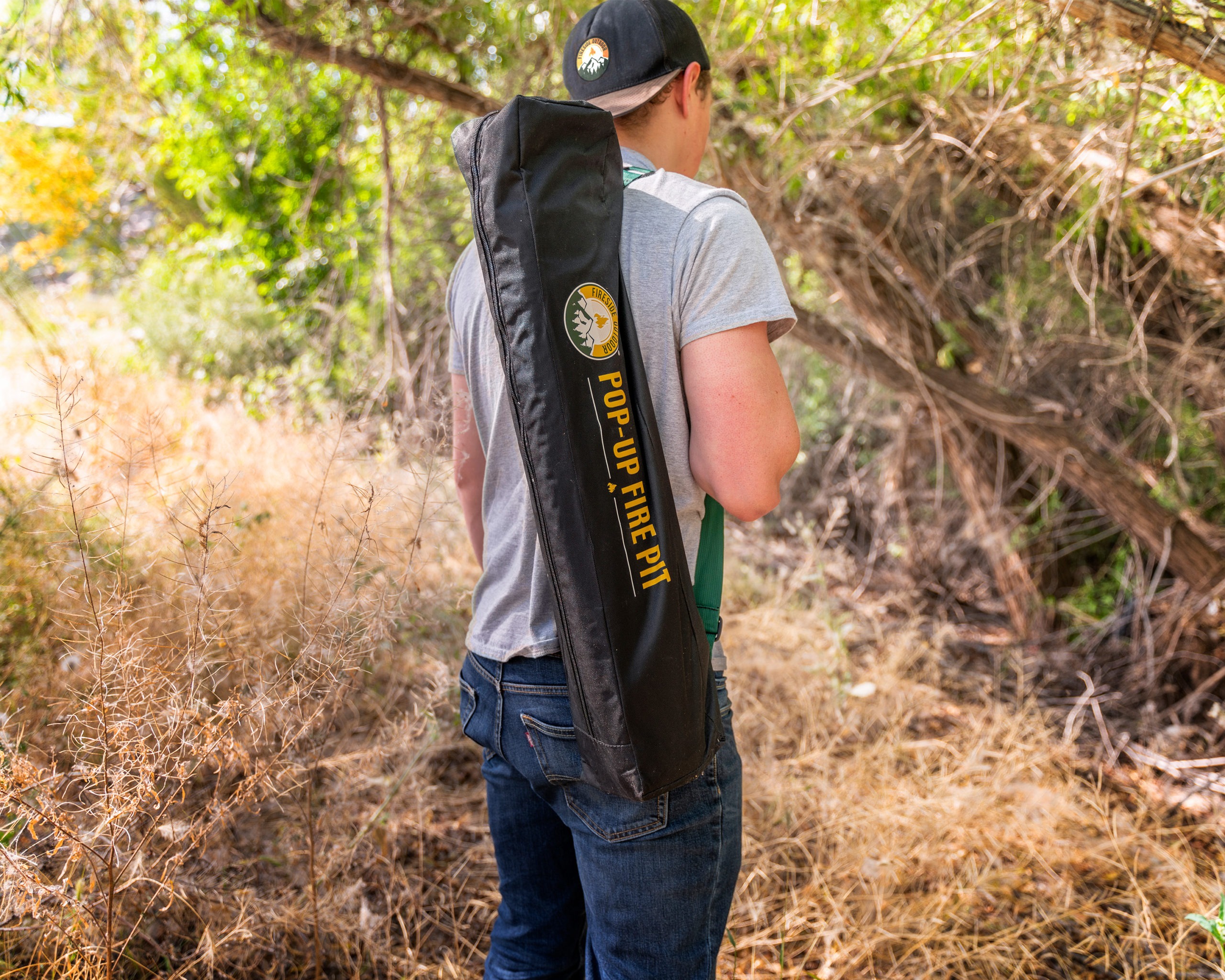 The Pop-Up Fire Pit from Fireside Outdoor is the first truly portable wood or charcoal-burning fire pit. This lightweight portable fire pit makes campfires possible anywhere, anytime which makes it the perfect for backyard, to the backwoods companion for all outdoor enthusiasts. The Pop-Up Fire Pits state-of-art design allows for quick and easy assembly then collapses and packs away at a moment's notice. Its clean burn technology produces captivating flames and substantial heat output with 80% less smoke for a more enjoyable campfire experience.
The Pop-Up Fire Pit opens to 24×24-inches and only weighs 8-lbs. The aluminum and stainless steel construction provides years of corrosion-free use. The fire pit is compatible with multiple fuel types including charcoal, wood, and wax logs. Patented fire mesh technology increases airflow for brighter, hotter fires with 80% less smoke. The included heat shield allows having a fire on any surface without damaging the ground underneath. The Pop-Up Fire Pit meets all USFS and BLM fire pan regulations.
MSRP $119.95
Giant Loop – Armadillo Bag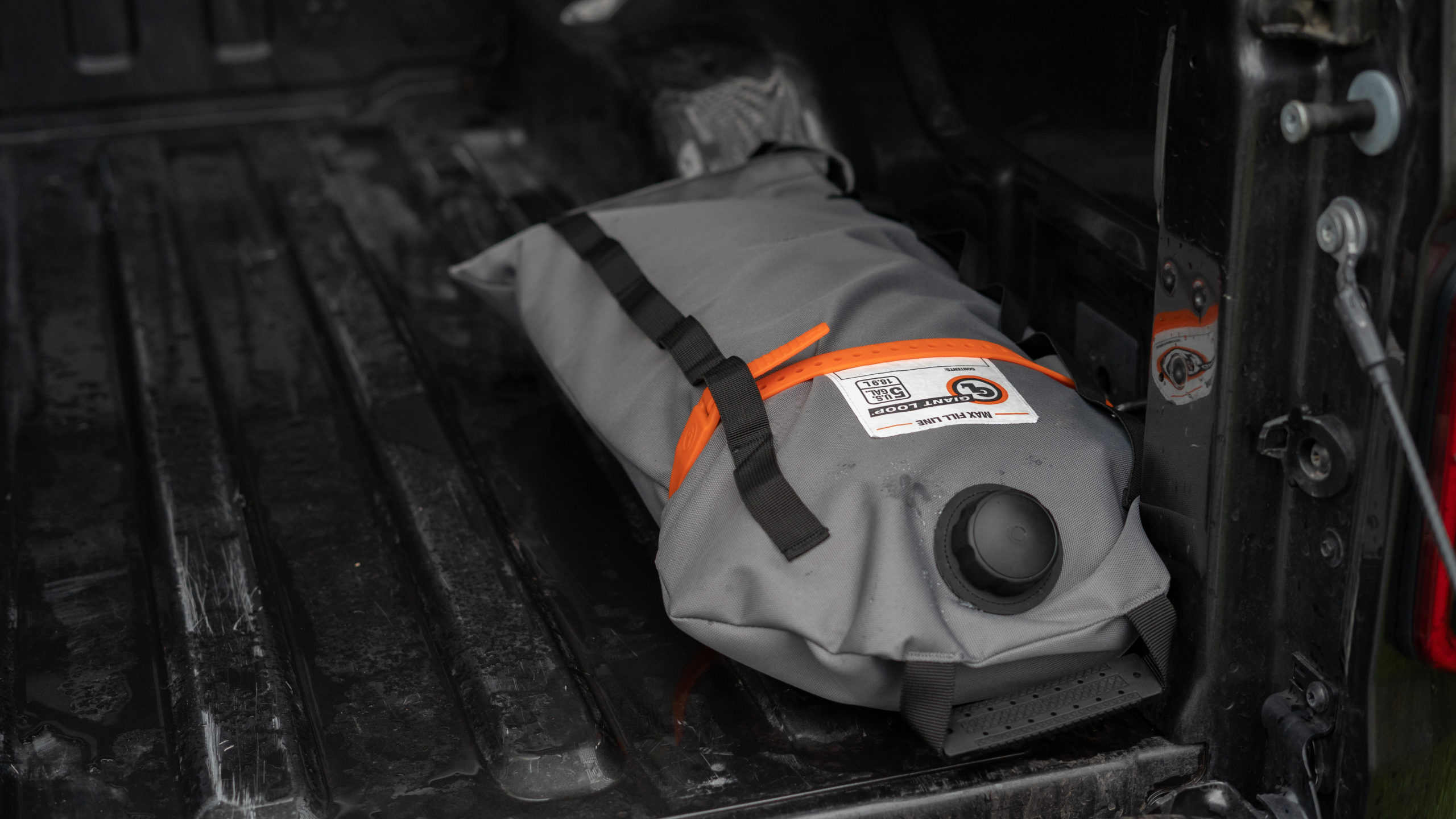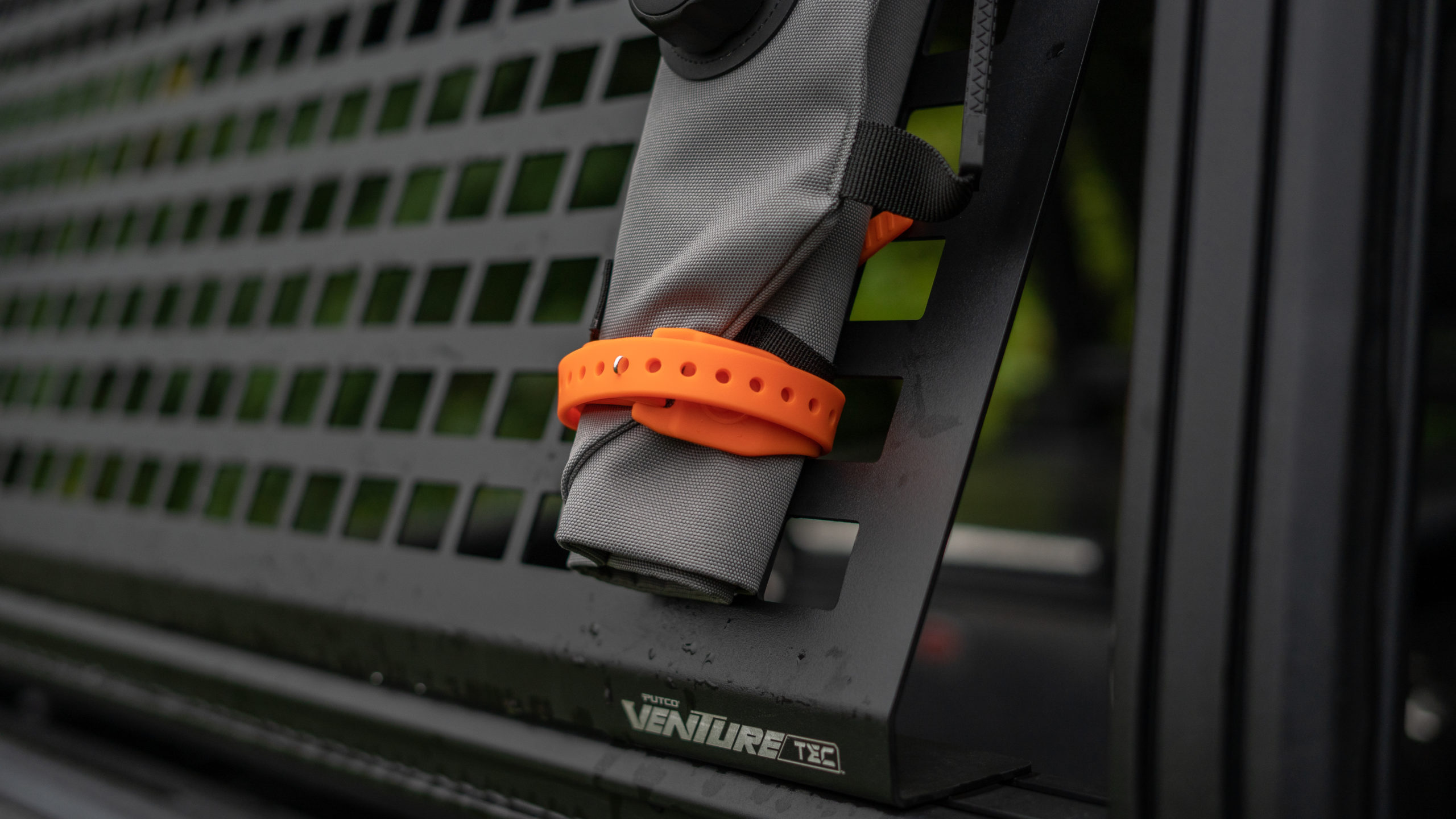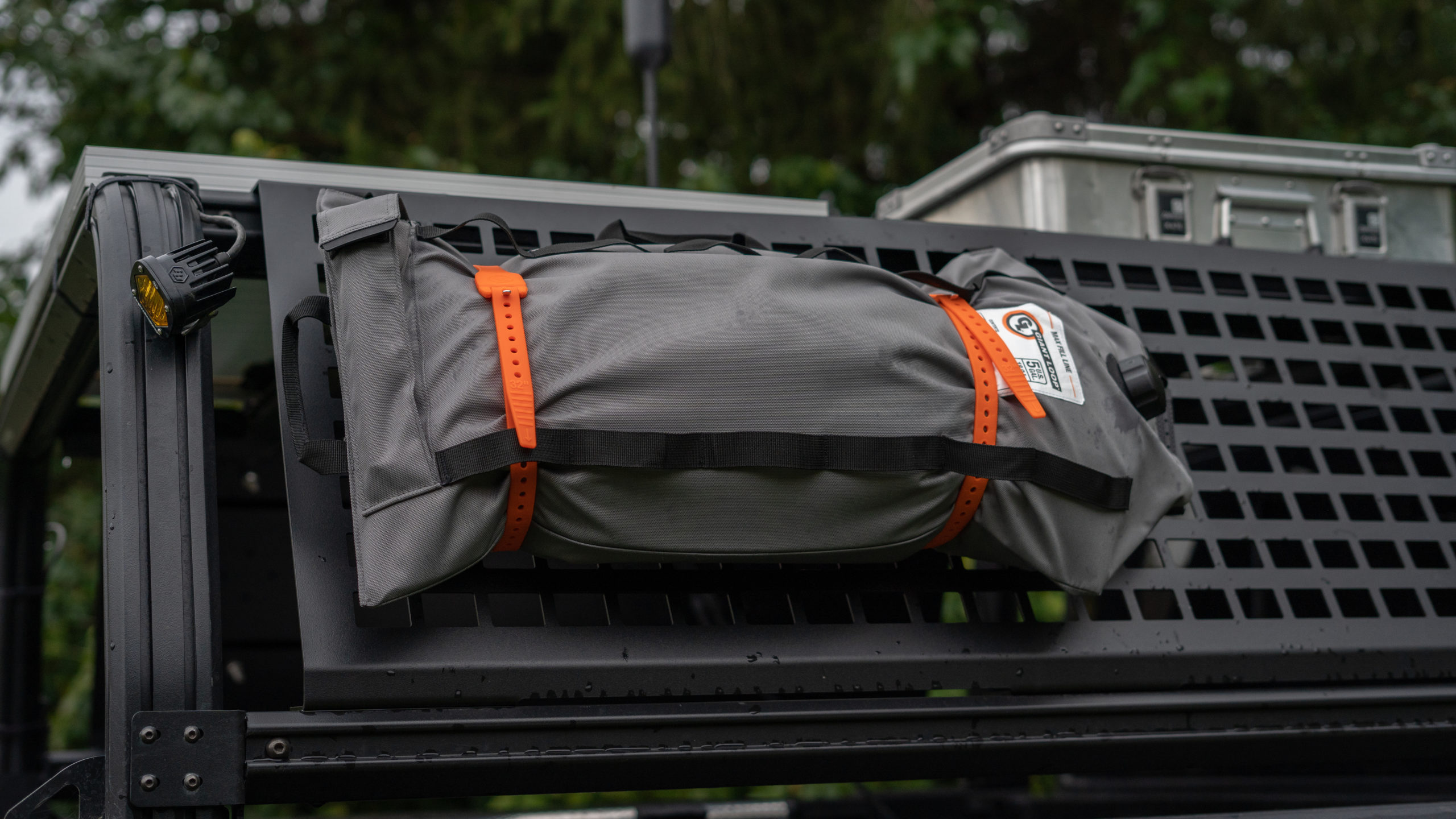 Adventure-proof packing systems and gear company Giant Loop® brings the convenience of super rugged, lightweight, collapsible Armadillo Bag™ Liquid Power Reservoirs to international overland travelers, off-road racers, and power sports enthusiasts across the globe. Armadillo Bags are available in 1-, 2-, 3- and 5-gallon capacities.
Named after the tough armadillo that rolls into a ball to defend itself, expedition-ready Armadillo Bags are designed for the safe temporary storage and transport of a broad range of essential automotive and power sports fluids. When empty, Armadillo Bags roll up or pack flat for convenient storage, and they weigh a fraction of rigid plastic and metal containers, which remain the same size whether full or empty.
Armadillo Bags feature an RF-welded inner bladder contained within and protected by a highly abrasion-resistant sewn Cordura® outer sleeve. Webbing and rubber-molded handles provide easy anchors to hang the reservoirs while filling and installing the included pour spout, and to grip the bags while dispensing liquids. Webbing daisy chains run the length of Armadillo Bags to prevent them from sliding out from under tie-down straps. The included plastic pour spout conveniently stows away in a pocket on the outer sleeve.
Each reservoir is individually pressurized and tested at the factory, and Armadillo Bags are scrutinized in multi-point random tests and inspections. Although allowed usage depends on local laws, rules, and regulations in the countries where Armadillo Bags are being used*, the materials themselves are compatible with hydrocarbon fuels, such as gasoline, diesel, kerosene, and jet, as well as coolant water, hydrocarbon-based lubricants and other automotive and industrial fluids.
MSRP $99.99- $199.99
Lava Linens – Lava Classic + Mini Travel Towel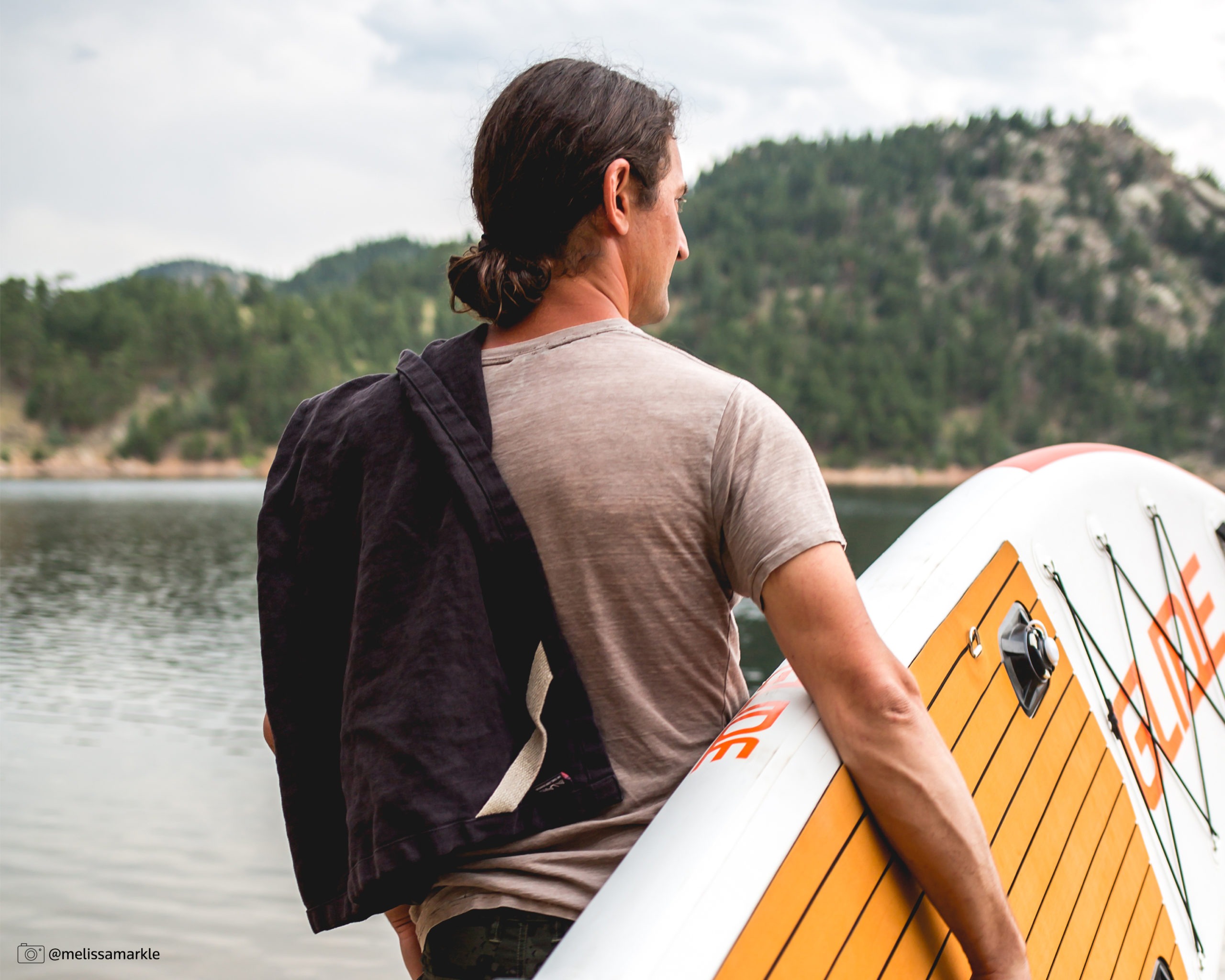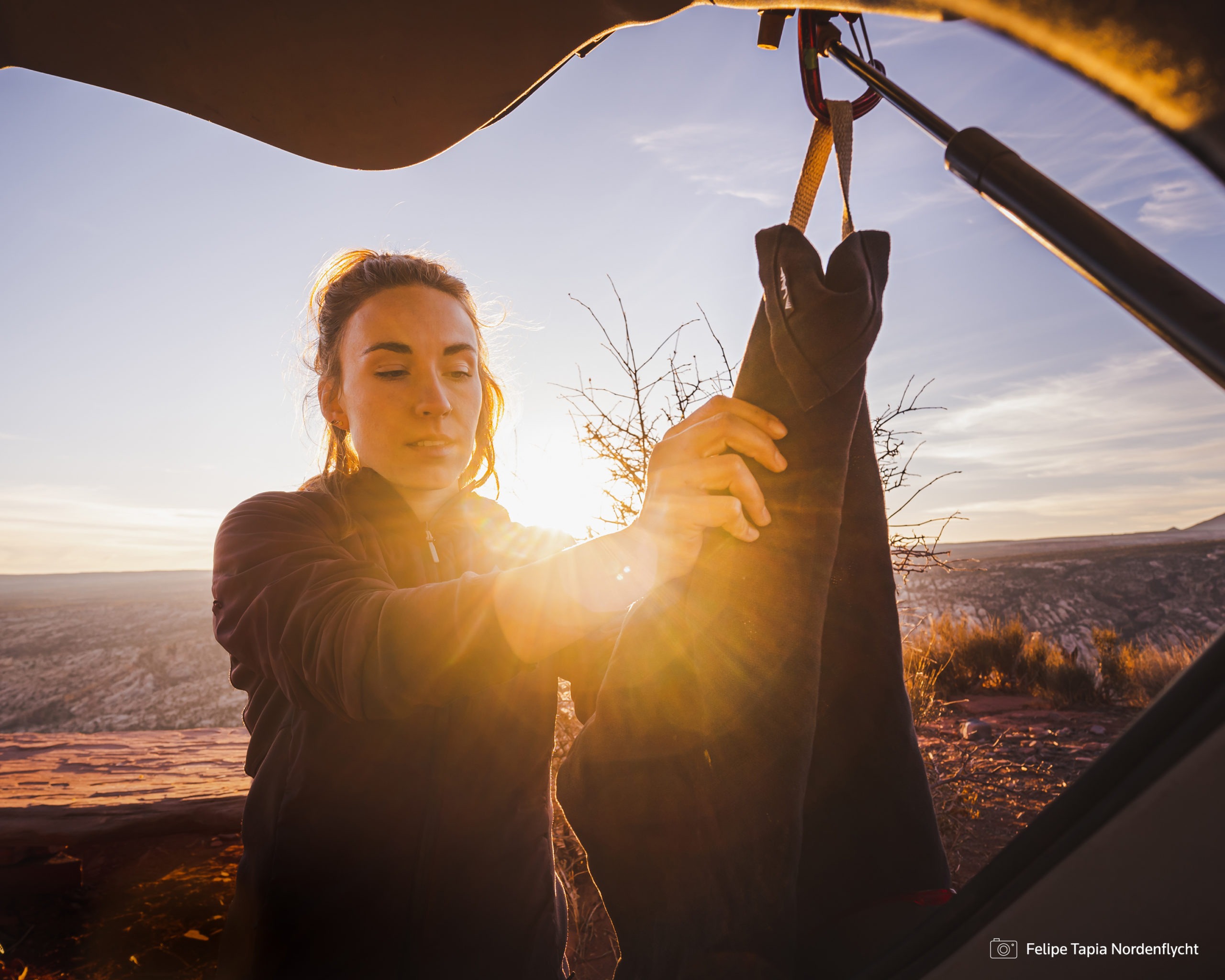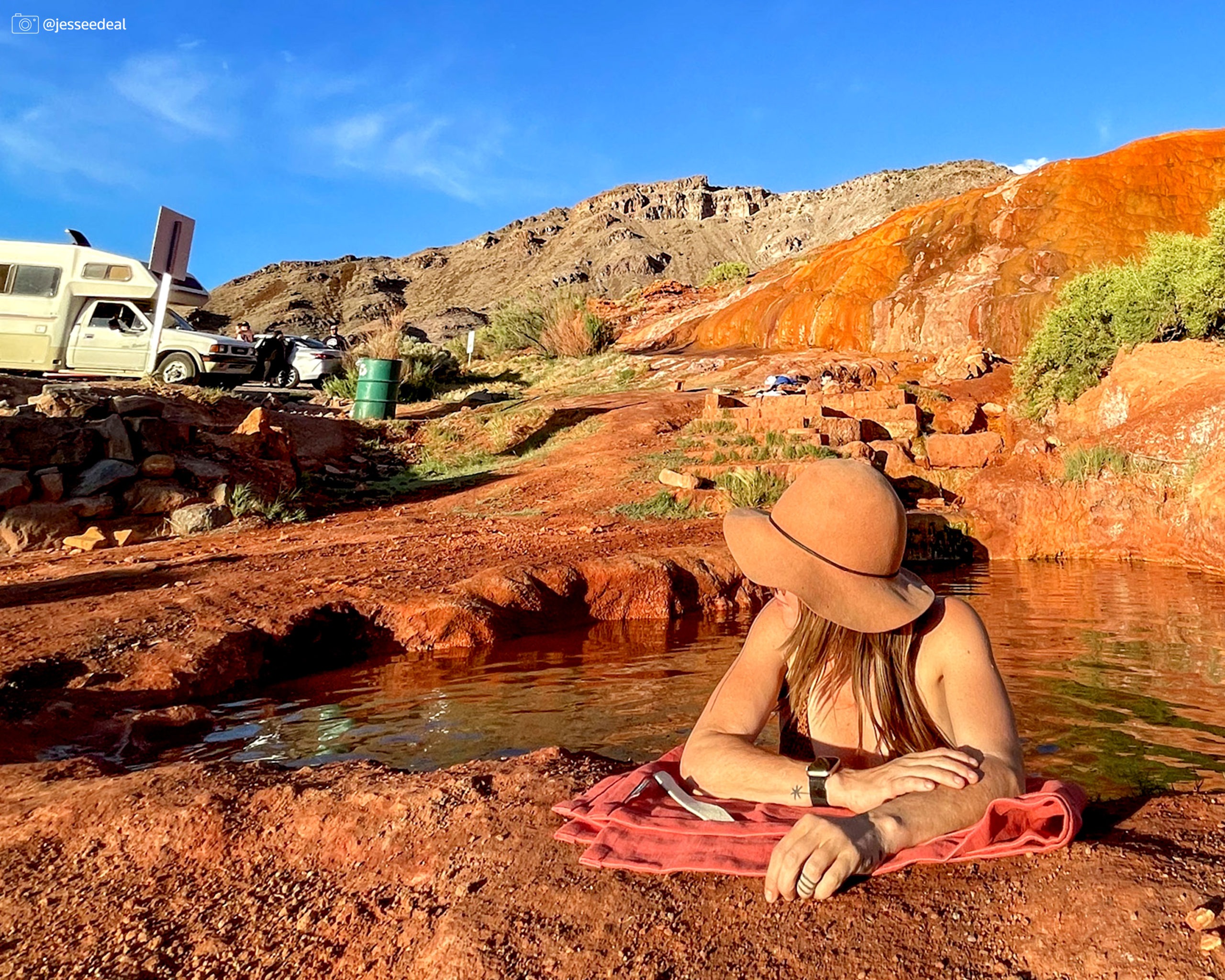 The Lava Classic and Mini Travel Towel Duo offers a different way to adventure. Made of premium flax fibers, Lava towels absorb up to 50% more water than microfiber, are quick to dry, and are designed to last through your most rugged of adventures.
As an oversized hand towel, the Lava Mini is a favorite among camp chefs, bike-packers, fishermen, van-lifers, and overlanders. Very absorbent and with just the right texture, the Mini makes it easy to wipe your hands clean and quickly return to your favorite activities.
The Lava Classic is the only bath towel you'll ever need. It's designed for all sorts of situations including trips to the hot springs, showering outdoors, or bathing in your home. Unlike cotton, flax is naturally antimicrobial, so you don't need to worry about your towel smelling up your rig in between uses.
The hemp loop on both the Mini and Classic assures your Lava towels are always within reach. Hang them from your apron, your belt loop, your pack, or even a branch. When you're ready to pack up, the Mini rolls to the size of a 12 oz glass and the Classic to the size of a 32 oz water bottle.
Lava Linens strongly stands behind their products, offering lifetime repairs and vowing to never use microfiber, cotton nor animal fibers.
"We spent almost a year searching for just the right weight and texture of flax linen for our adventure towels. We knew we wanted a towel that was different, that when you held it in your hands you would immediately recognize its durability and craftsmanship. And that when you used it, you wouldn't believe how well it absorbed the water and how it continued to get better over time. Finally, the hard work and persistence paid off with a sample that arrived from France. We knew then, this was it." Mary, CEO and Co-founder of Lava Linens.
The Lava Linens feature reinforced hanging loops, stain and debris resistance, natural antimicrobial properties, they are hypoallergenic, and made in the USA.
Special discounts include:
20% off all products for Women-Led Wednesday Code: THRIVE20, November 24
15% off all products Code: SHOPSMALL15, November 26-28
MSRP: $128
Midland Radio – ORMXT115VP MicroMobile®-GXT Bundle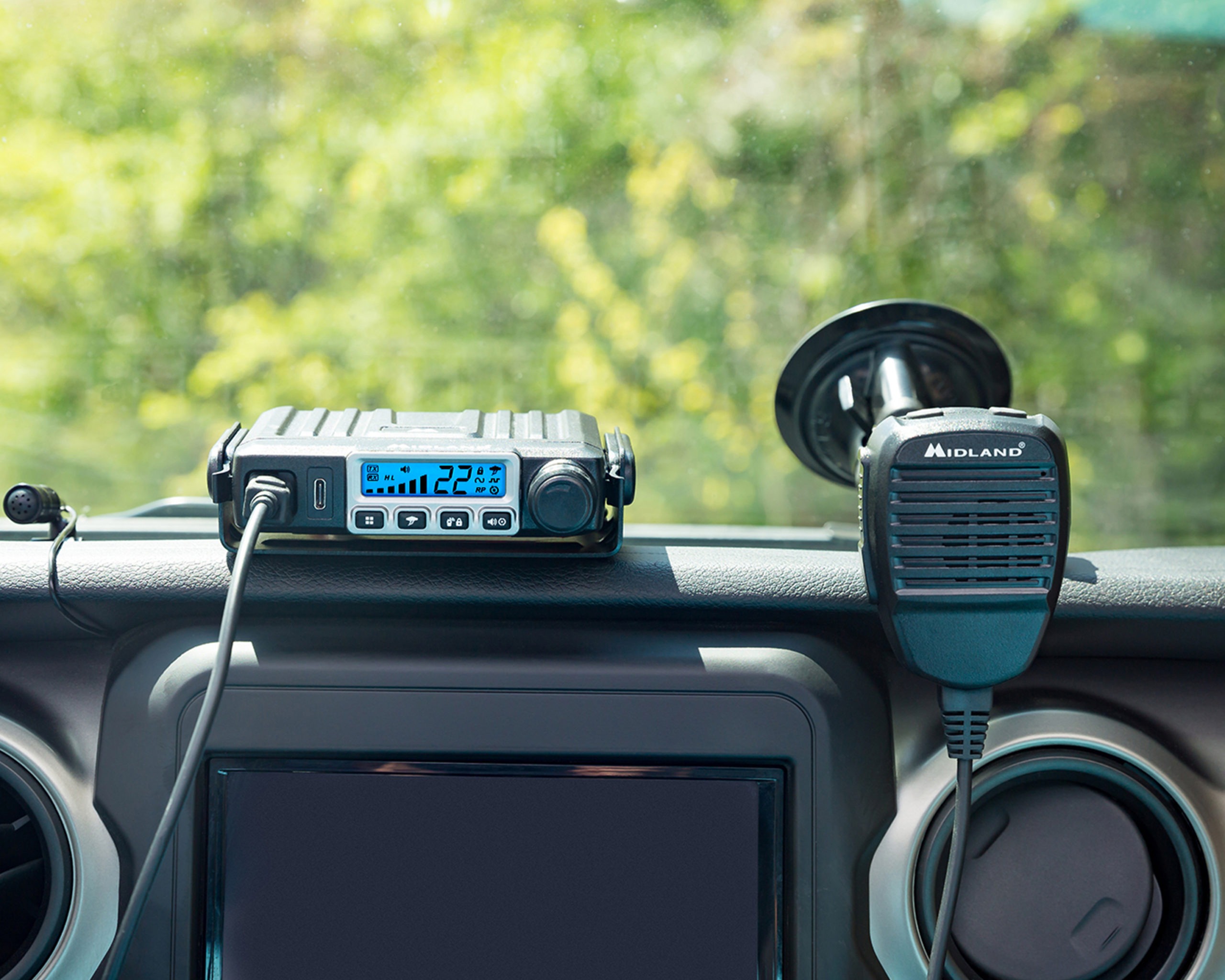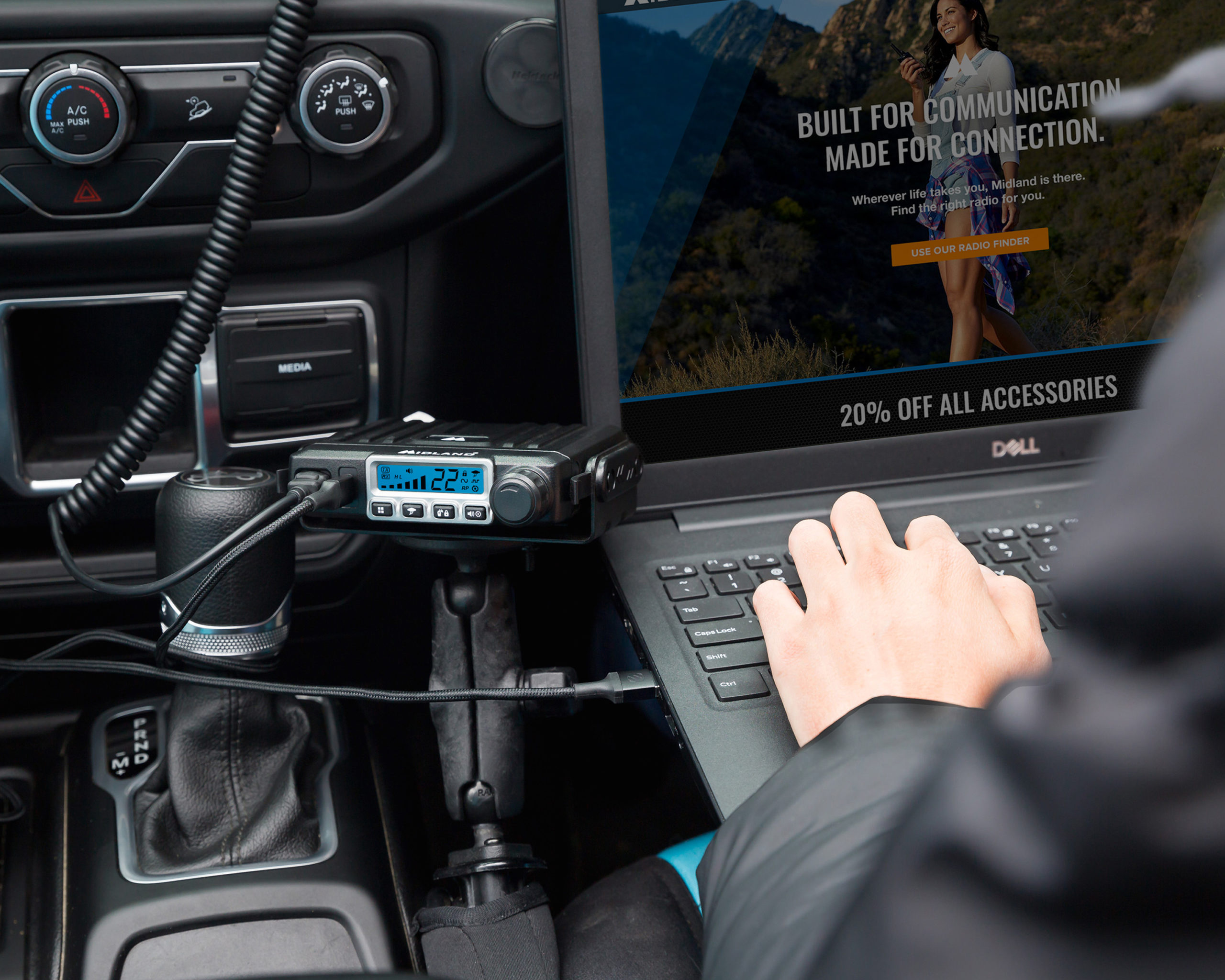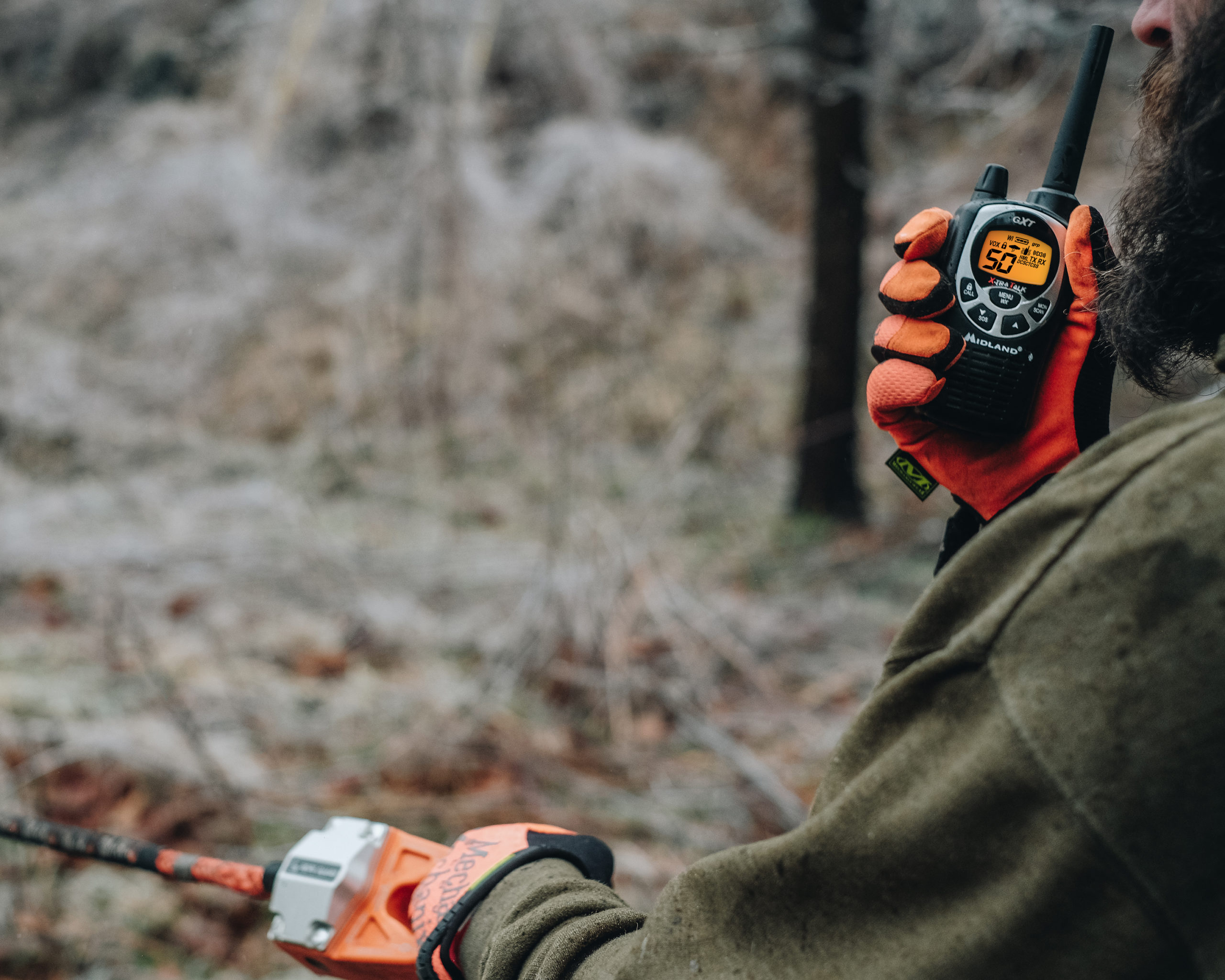 Holiday shopping for your outdoor adventurer isn't always easy but look no further. Midland Radio's ORMXT115VP MicroMobile®-GXT Bundle should be at the top of your holiday shopping list.
The ORMXT115VP MicroMobile®-GXT Bundle includes Midland's MXT115 MicroMobile® Two-Way Radio and a set of GXT1000 walkie-talkies.
Whether your loved one is tackling the trails in Moab, Utah or cruising along Cape Cod's National Seashore, Midland's ORMXT115VP MicroMobile®- GXT Bundle will take your communication to new levels. Midland's MXT115 GMRS MicroMobile® boasts more than three times the power than that of CB radio. With its 15 watts of power, you'll be able to communicate with others near and far. The MXT115 has a maximum range of up to 50 miles. This radio brings clear and reliable communication to every adventure. When the MXT115 is installed in your vehicle, you won't have to worry about battery life with your devices like cellphones, tablets, and walkie-talkies. The MXT115 is equipped with a powerful USB-C charging port that charges your devices up to 20x faster than regular USB. Additionally, the MXT115 is compatible with all Midland FRS and GMRS walkie-talkies.
Midland Radio's GXT1000 two-way handheld radios are the #1 selling consumer walkie-talkies in the country and for good reason. These GMRS walkie-talkies are the perfect match for Midland's MXT115. With Midland's "X-tra Talk" power, the GXT1000 walkie-talkies bring maximum range straight to your fingertips. Give these walkie-talkies to your friend who might not have a radio, use them when spotting and helping drivers take on the next obstacle, or when assisting in a recovery. Midland's walkie-talkies give you the ability to communicate inside and outside of the vehicle.
Not only does this bundle make communicating more efficient, but it will also give your loved ones the opportunity to take safety into their own hands. These reliable and durable radios make communicating possible when you don't have cellphone service. When using these radios, you can alert others in the group if you're experiencing an issue with your vehicle or have encountered any other emergency. Both the MXT115 and GXT1000 are equipped with NOAA Weather Alert Radio. This technology will keep you up to date with real-time weather information helping you stay ahead of inclement weather entering the area.
Since its founding in 1959, Midland Radio has been known for its strong reputation in improving communication. Reliable, durable, and clear communication is the key to connecting with others while exploring the outdoors and making your safety the number one priority.
The ORMXT115VP bundle includes a MXT115 two-way radio, mount and its hardware, magnetic mount antenna with a six-meter cable, microphone, microphone holder, 12V power chord with DC power adapter, and two walkie talkies, desktop charger, rechargeable battery packs, AC adapter, DC adapter, belt clips, and pair of boom mic headsets.
Special discounts include:
Black Friday Sale, 15% Off Sitewide, November 24-28
Cyber Monday Sale, $50 Off $250, November 29-30
Radius Outfitters – Gear Box 3500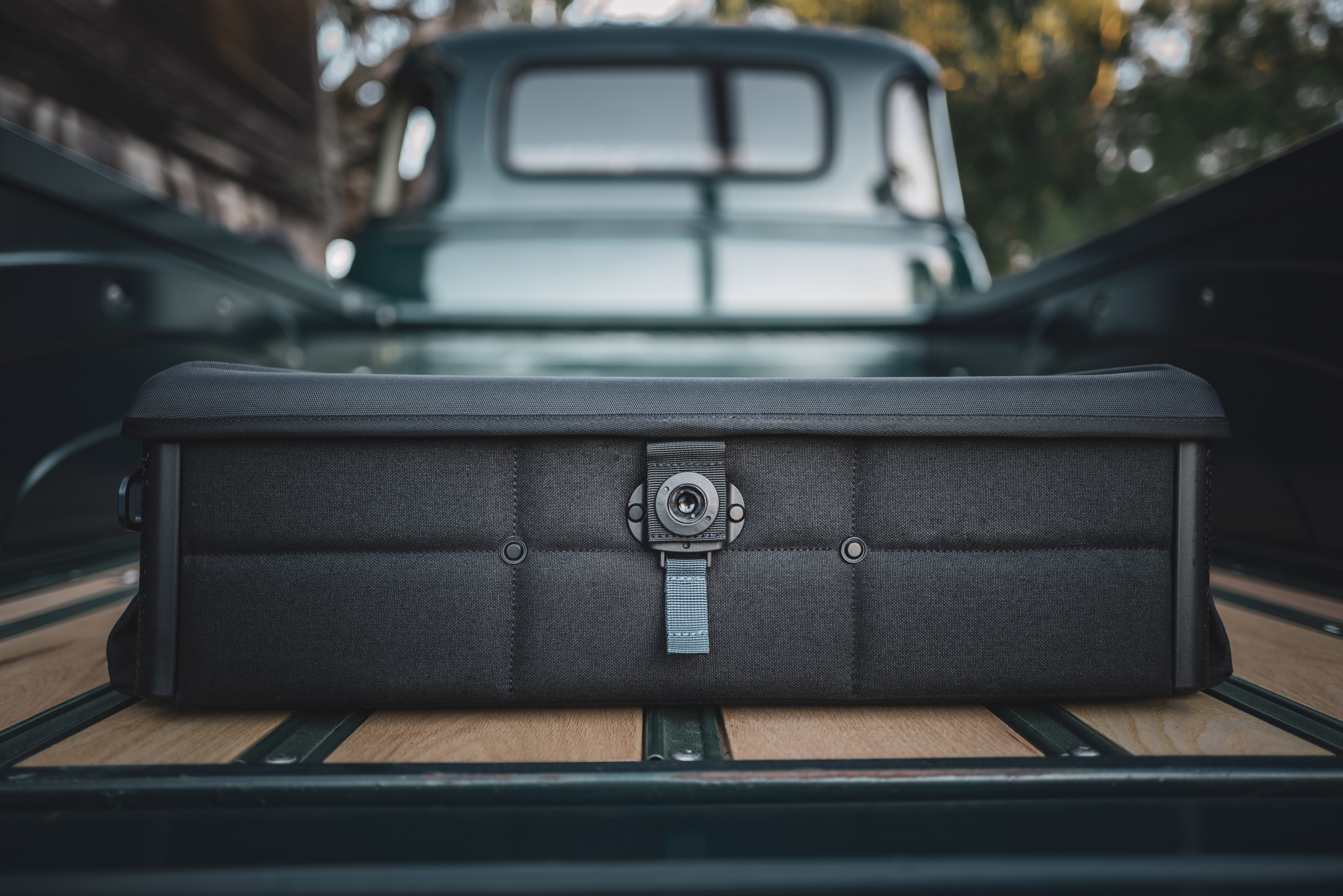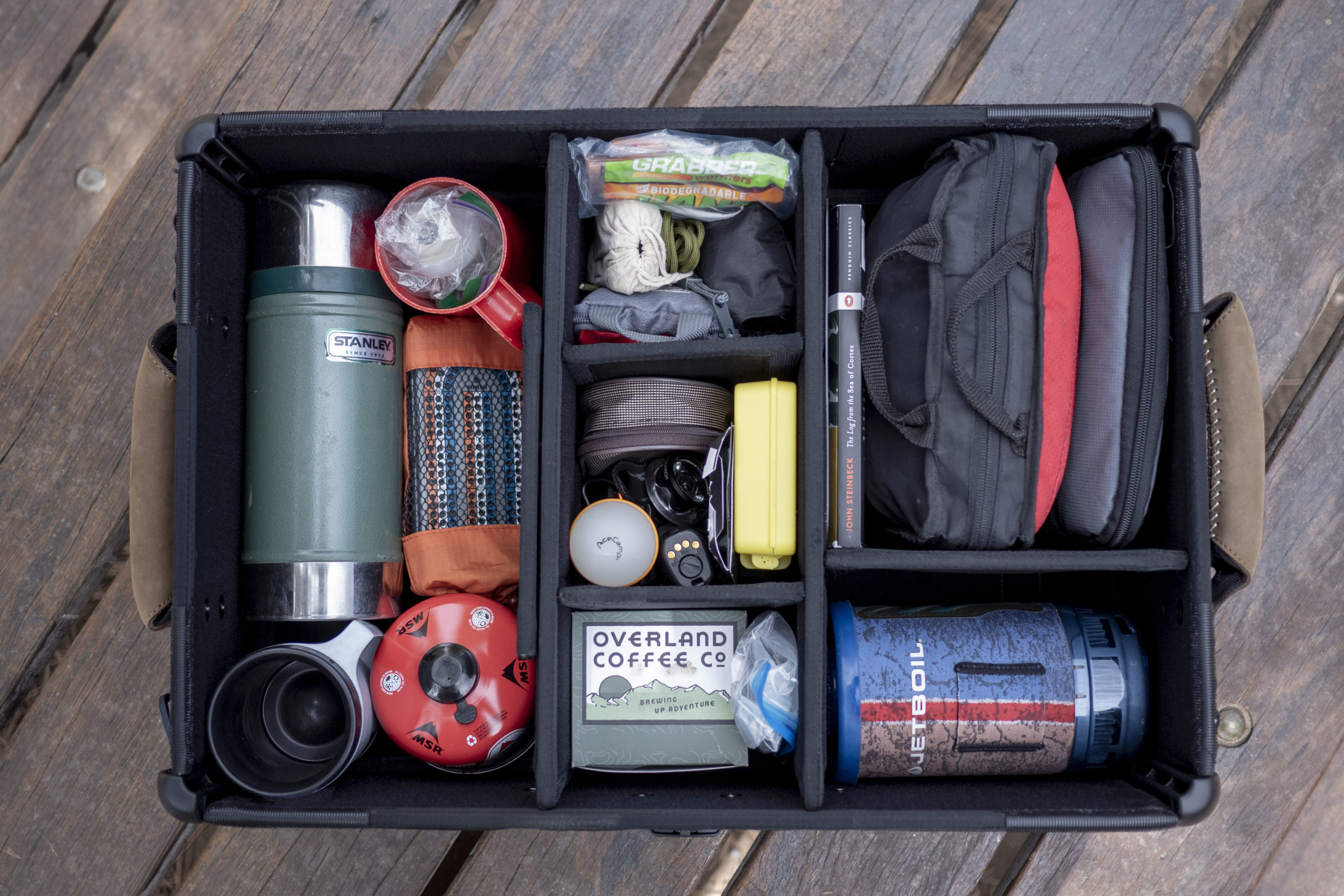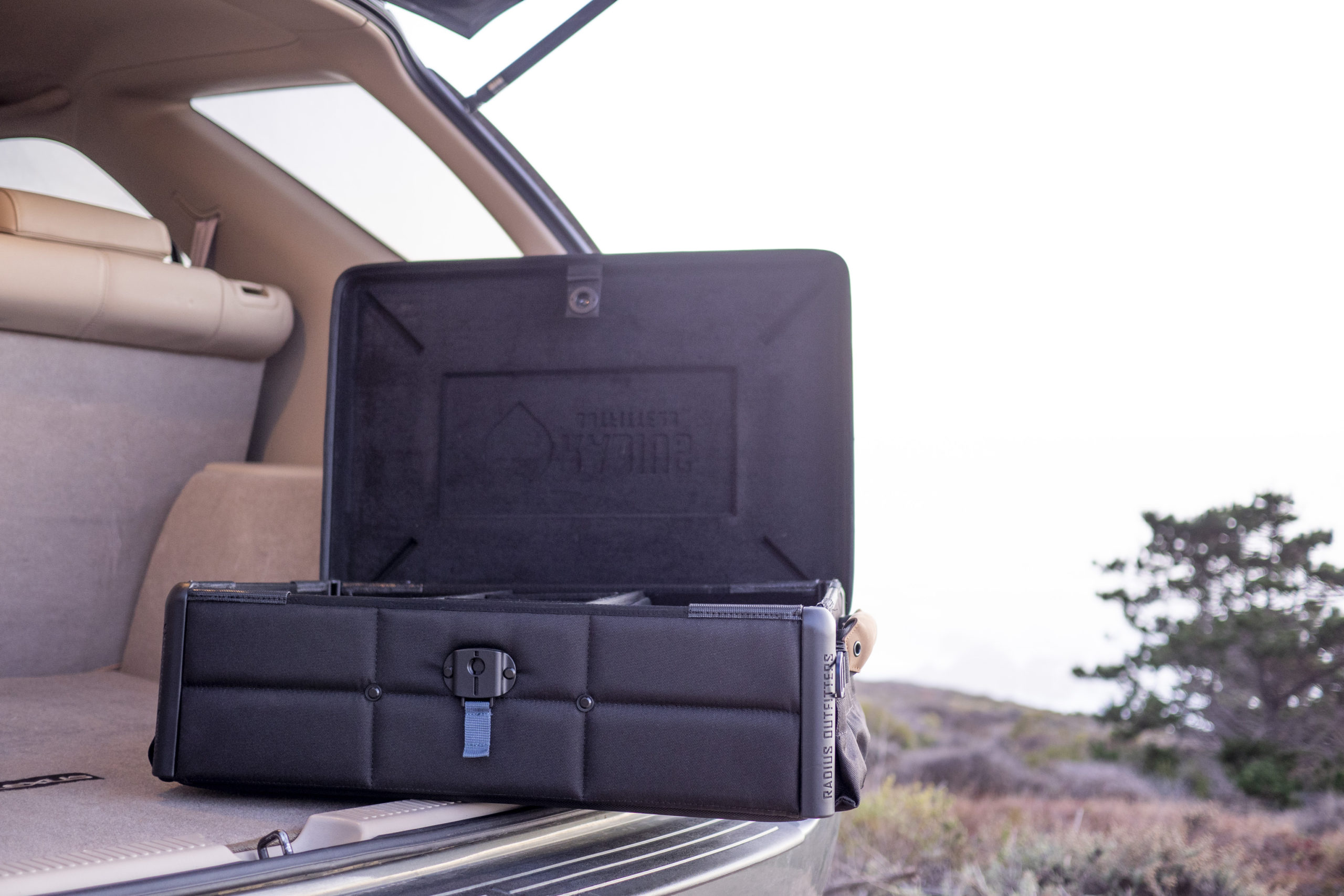 The Gear Box 3500 is our initial design of the three sizes and the most popular. It is engineered to keep you organized off-road and look good doing it. With quick access and customizable dividers, it's great for those grab-and-go moments we all need on the run. Perfect for storing smaller gear that tends to get buried or lost: headlamps, batteries, first aid, recovery gear, cameras & electronics, pet stuff, energy bars, kitchen & toiletries, cam straps, tools… whatever you need.
The Radius Outfitters Gear Box 3500 has multiple features that make it rugged, comfortable to handle and nice to look at. The grab handles are real leather and perfect for keeping a firm grip when it's fully loaded. Ballistic top/bottom, injection-molded corners, and 1680D Cordura outer make this thing tough and able to handle plenty of weight on top of it. The soft interiors are great for dampening sound for a quiet ride, especially when driving down washboard roads. It also comes with an optional magnetic Fidlock catch. If you drive a Mercedes Sprinter, it fits under the seat without the Fidlock. There are expandable pockets on each end, allowing easy storage for even smaller items. And pro tip: use the included insert to move the velcro dividers into whatever configuration suits you.
The Gear Box 3500 is built for and tested by folks who like to wander and forge new trails. Since Radius Outfitters was born from a love of the off-road and nomadic life, we appreciate specialized gear which makes that possible. That's why all our products are carefully engineered, high quality and durable. For the overland life we all need products we can trust and that allow us to focus on the adventure. All the Radius Gear Boxes have free shipping within the US. They are shipped flat and quickly assembled by inserting the injection-molded corners. Exterior w/ handles compressed is 25.25″ x 16.75″ x 7.375″ tall and Interior is 21″ x 14.25″ x 6.375″ tall. Check out the Radius website for product videos and more information.
MSRP $195.00
Zoleo – Global Satellite Communicator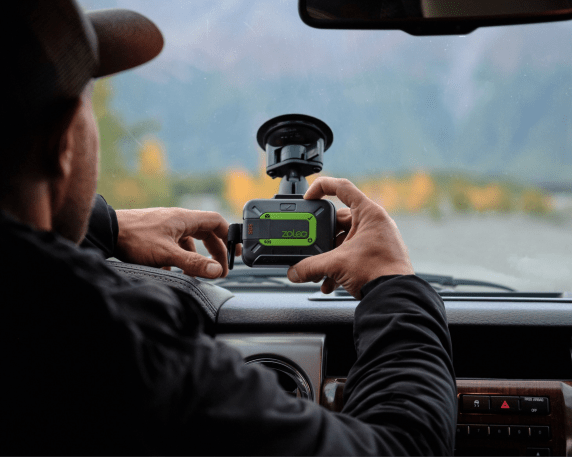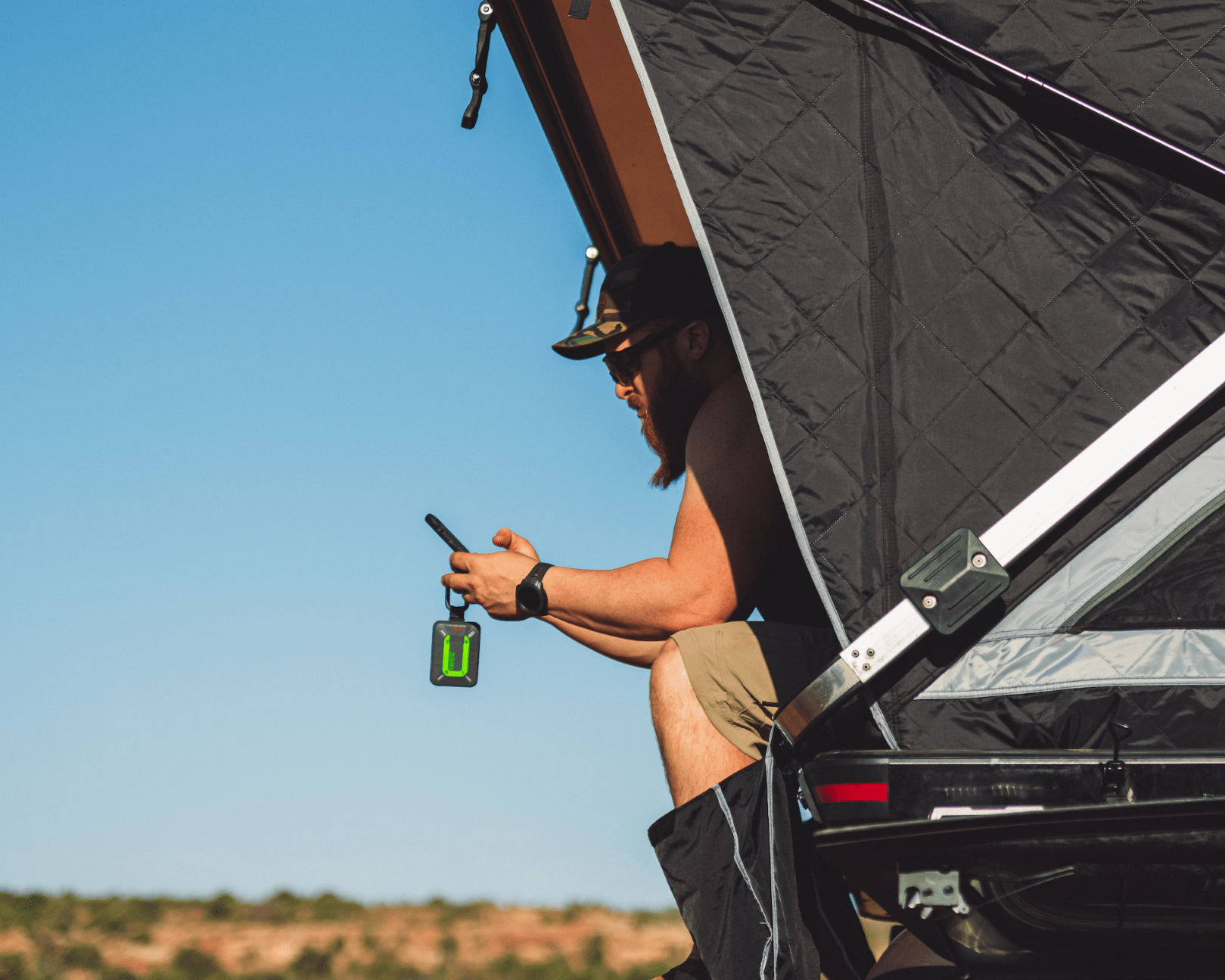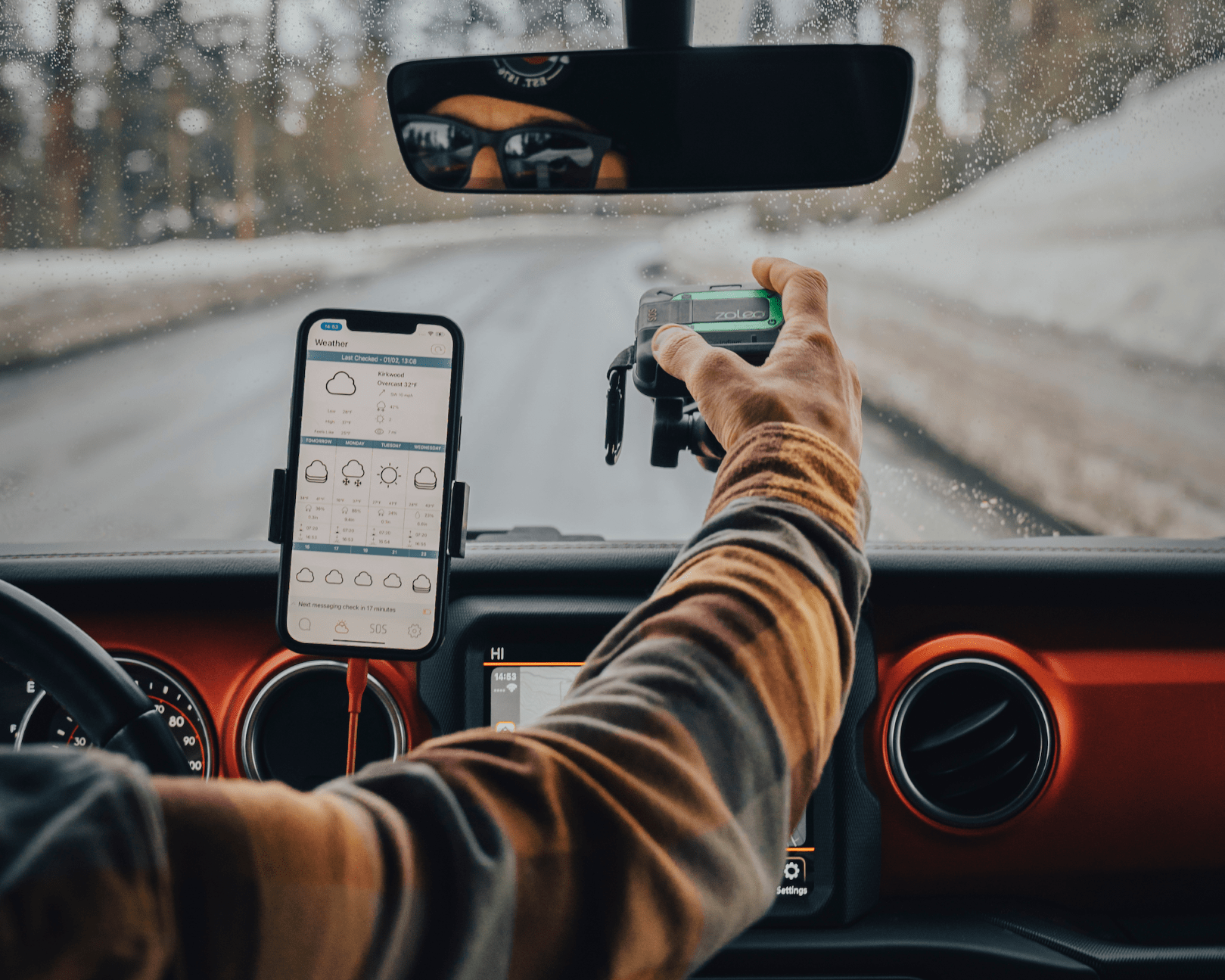 Seamless global messaging for smartphones is here! Only ZOLEO connects with your smartphone or tablet to provide messaging that follows you in and out of cell coverage, plus safety features you can count on worldwide. When you're outside cell coverage, ZOLEO uses the Iridium satellite network — the only network to cover 100% of Earth, including all landmasses, oceans and Polar Regions — to send or receive messages. When you're within cell coverage, ZOLEO delivers messages over cellular and Wi-Fi. ZOLEO pairs with your smartphone or tablet via Bluetooth and the free ZOLEO app to easily message your contacts right out of the box. What's more, your contacts can proactively reach out to you by sending a message to your ZOLEO dedicated SMS number and email address.
Safety is paramount no matter the location or ambition of your next overlanding adventure. With ZOLEO, you can trigger SOS alerts, send check-in messages, receive weather forecasts and even share your GPS location. Built for your toughest adventures, the ZOLEO device is shock, dust and water-resistant (up to 1.5m / 4.9 ft for 30 min with a MIL-STD 810G and IP68 rating), making it a rugged companion for wherever you go.

Monthly plans range from $20 for 25 satellite messages to $50 for an unlimited amount. All plans include unlimited SOS messaging with 24/7 emergency response monitoring, a dedicated ZOLEO SMS number, and email address and the flexibility to change, suspend or cancel your plan after the first three months.
For $6 a month, ZOLEO users can also subscribe to the Location Share+ add-on. This optional feature enhances the ZOLEO experience by enabling you to automatically share your location with your check-in contacts, on a user-selected interval from every six minutes to four hours. You and your check-in recipients will be able to use the free ZOLEO app to view the current location and breadcrumb trail on a map. You can start/stop location sharing any time and download maps for use offline. This add-on includes unlimited Location Share+ and check-in messages!
Special discounts include:
Currently, you can save $50 on your ZOLEO device until Nov 30th, 2021, and activate your monthly plan by Jan 31st, 2022 to receive a free six-month Gaia GPS Premium Membership!
MSRP $199.00

23 Zero – 102L Overland Gear Box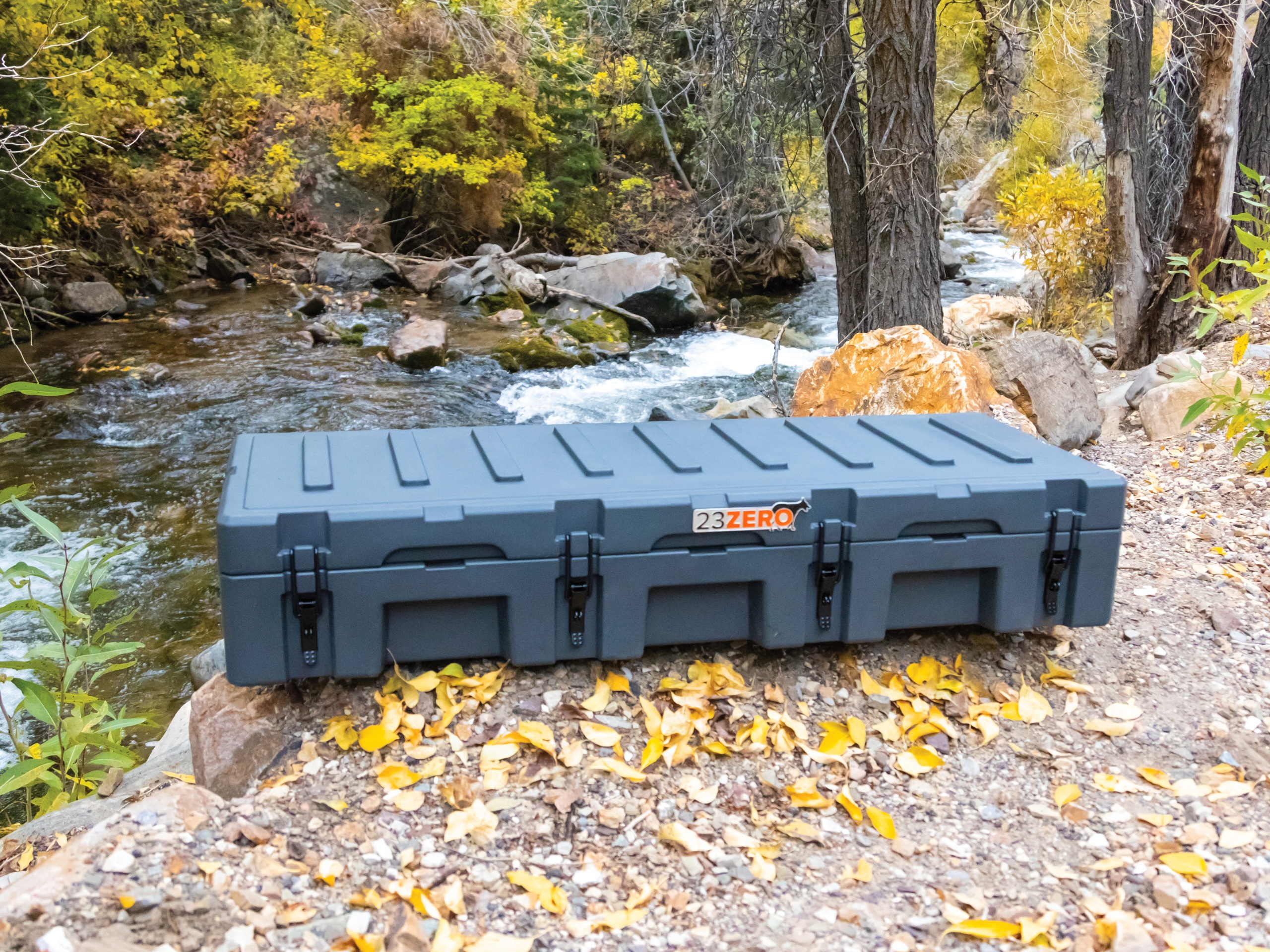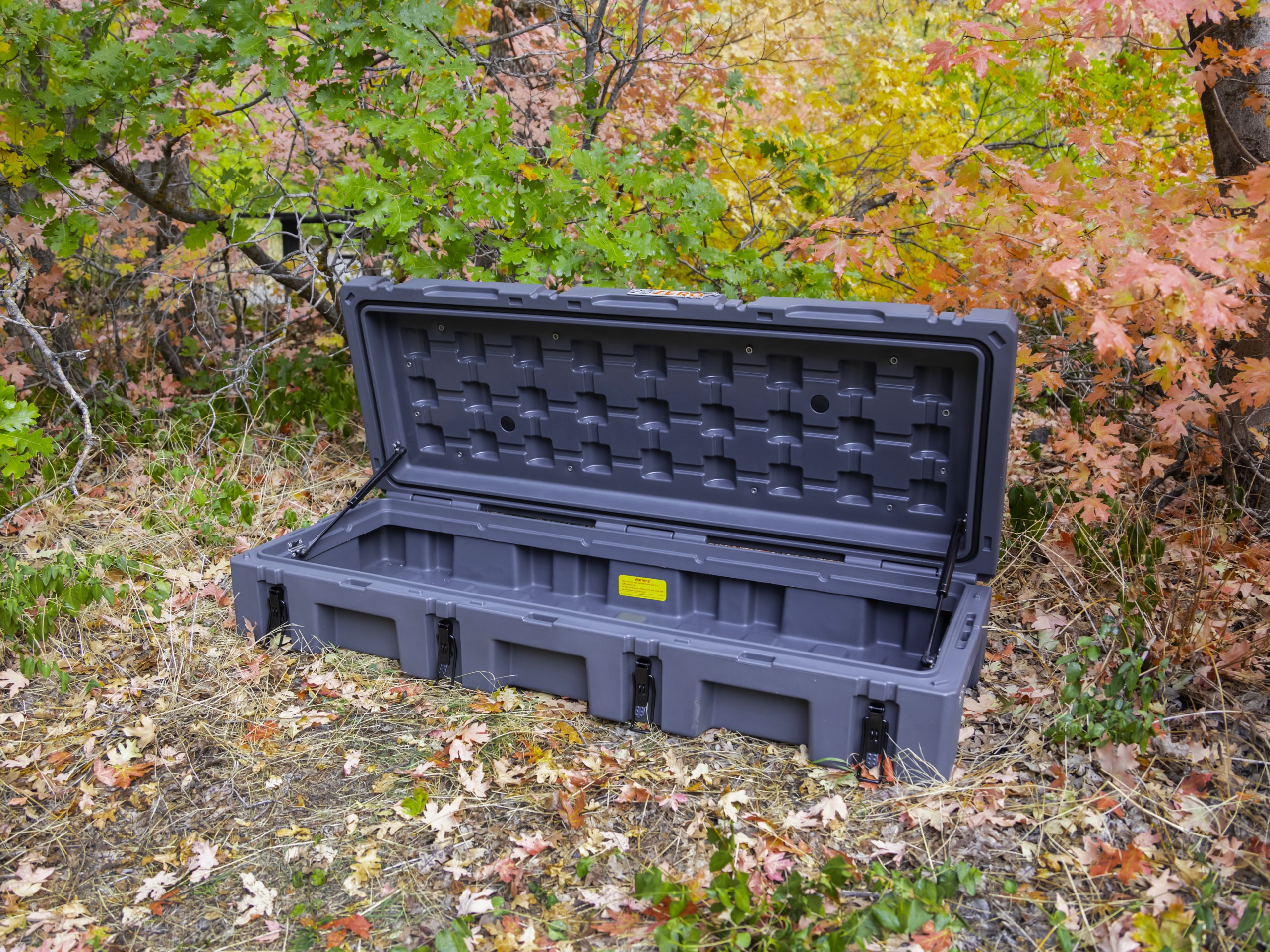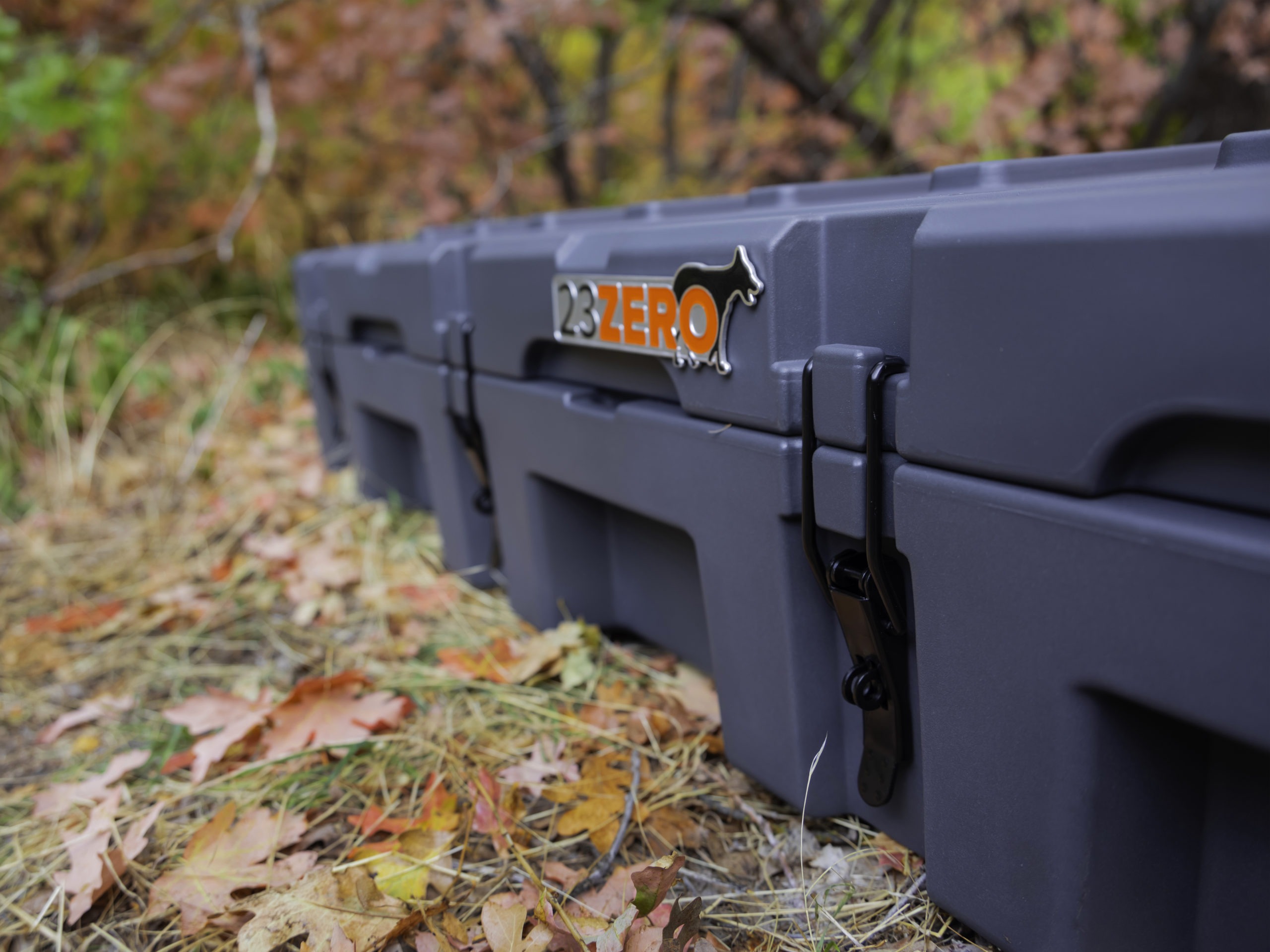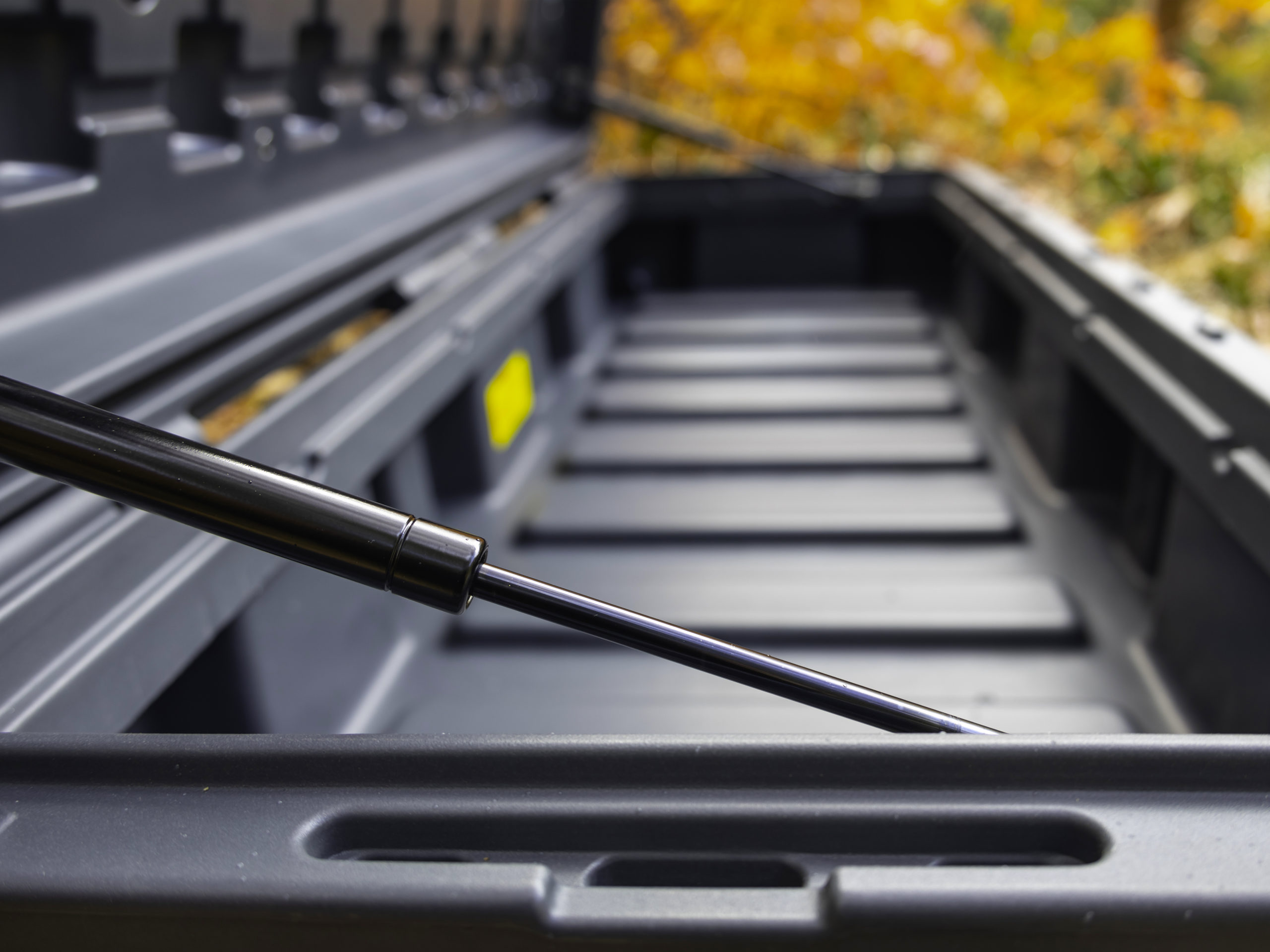 The 23 Zero Overland Gear Box™ is the go-to storage solution to keep your Overlanding gear organized. It allows your recovery and camping gear to be safely locked away and protected from the elements. This premium overland storage box has an added level of protection with a superior waterproof and dust-proof seal. It is made from a durable LDPE shell and features durable handles, lockable latches, pre-installed gas struts, and rivet nuts in the lid. It even has a drain plug for when you need to clean out spills. 23 Zero has 7 overland storage box sizes to choose from, ensuring your equipment can accompany you on all of your expeditions. The 102 Liter is our newest size and weighs in at just 30-lbs. and it's large enough to fit MaxTrax or a Hi-Lift Jack.
MSRP $369.00
Eibach – Load Leveling System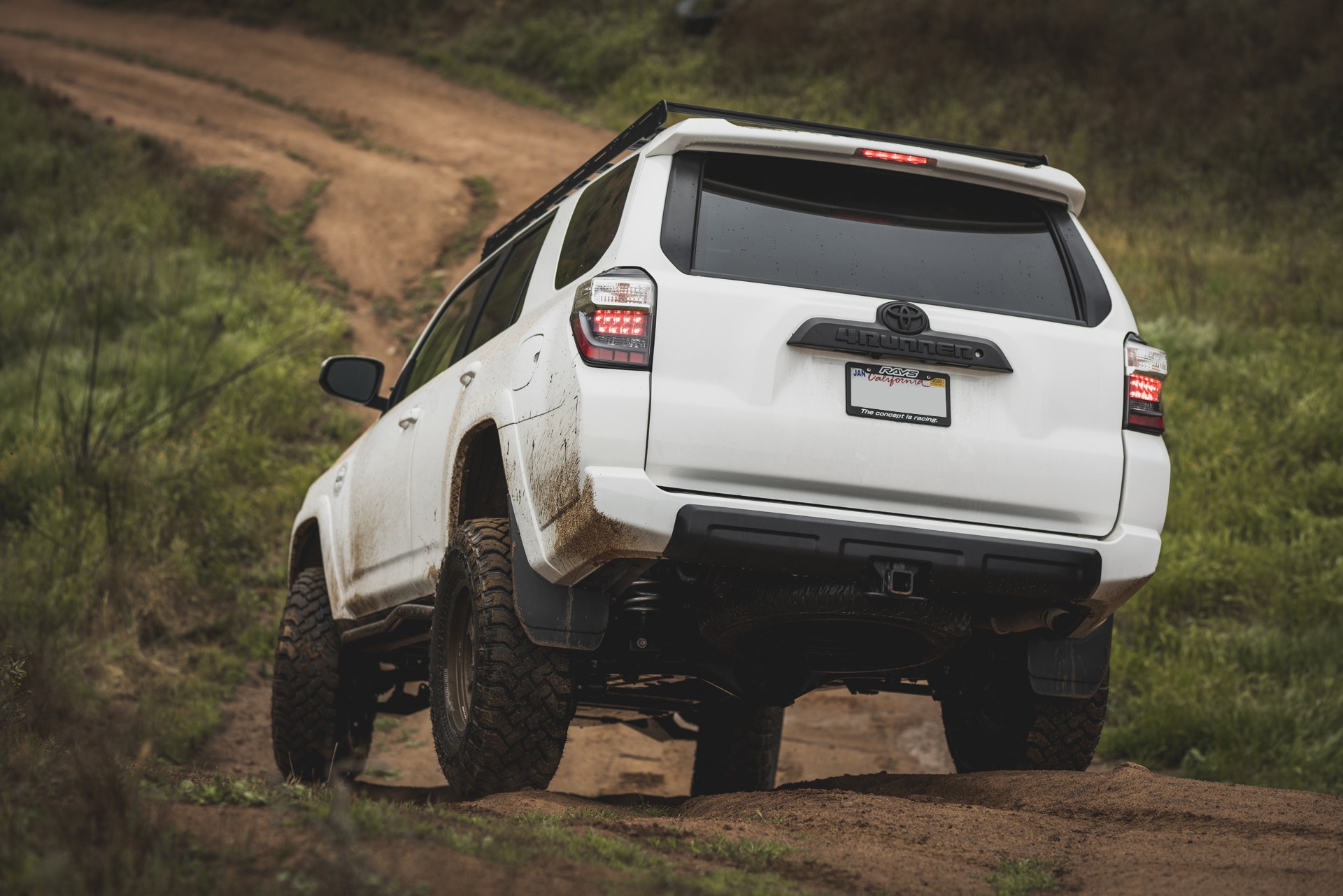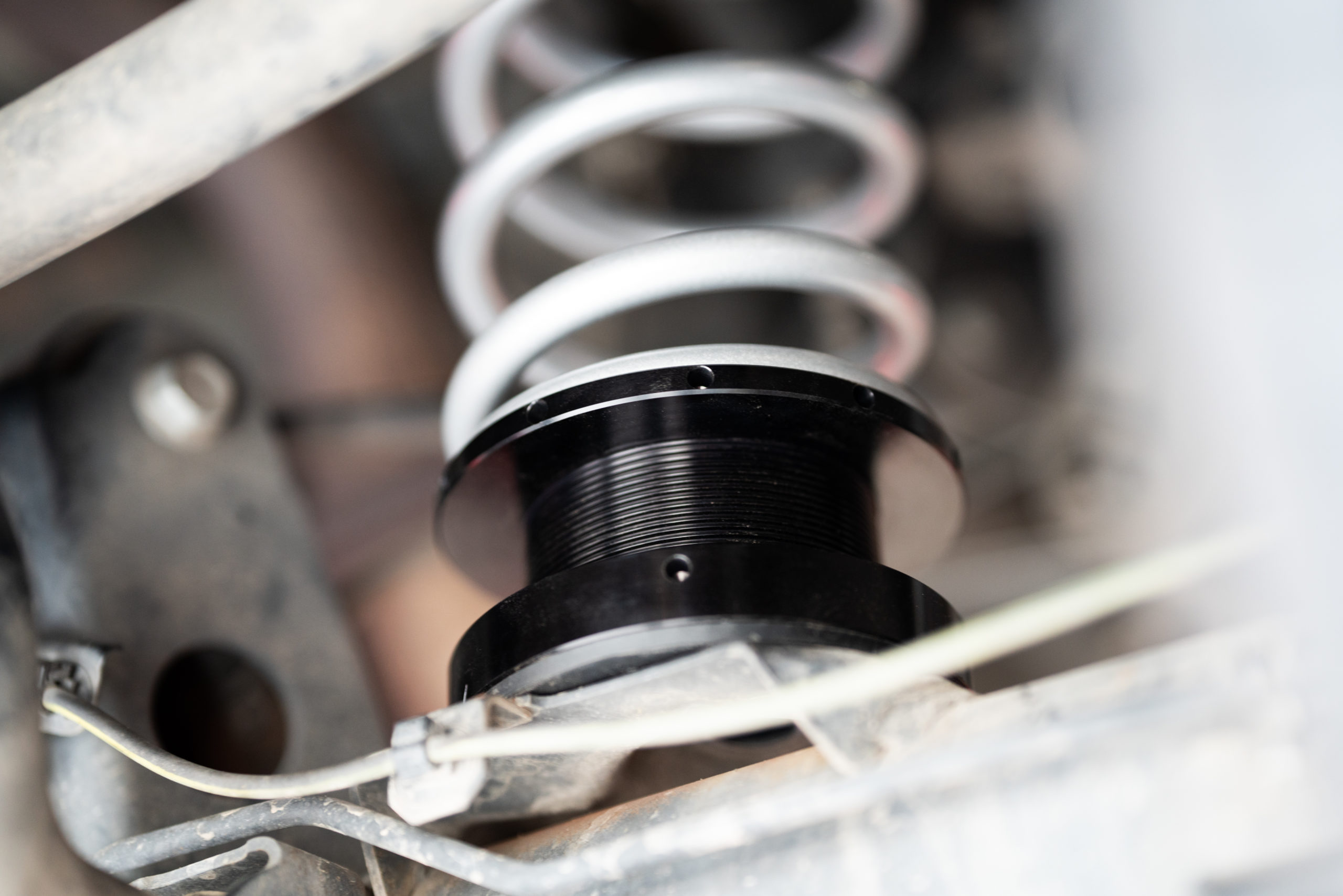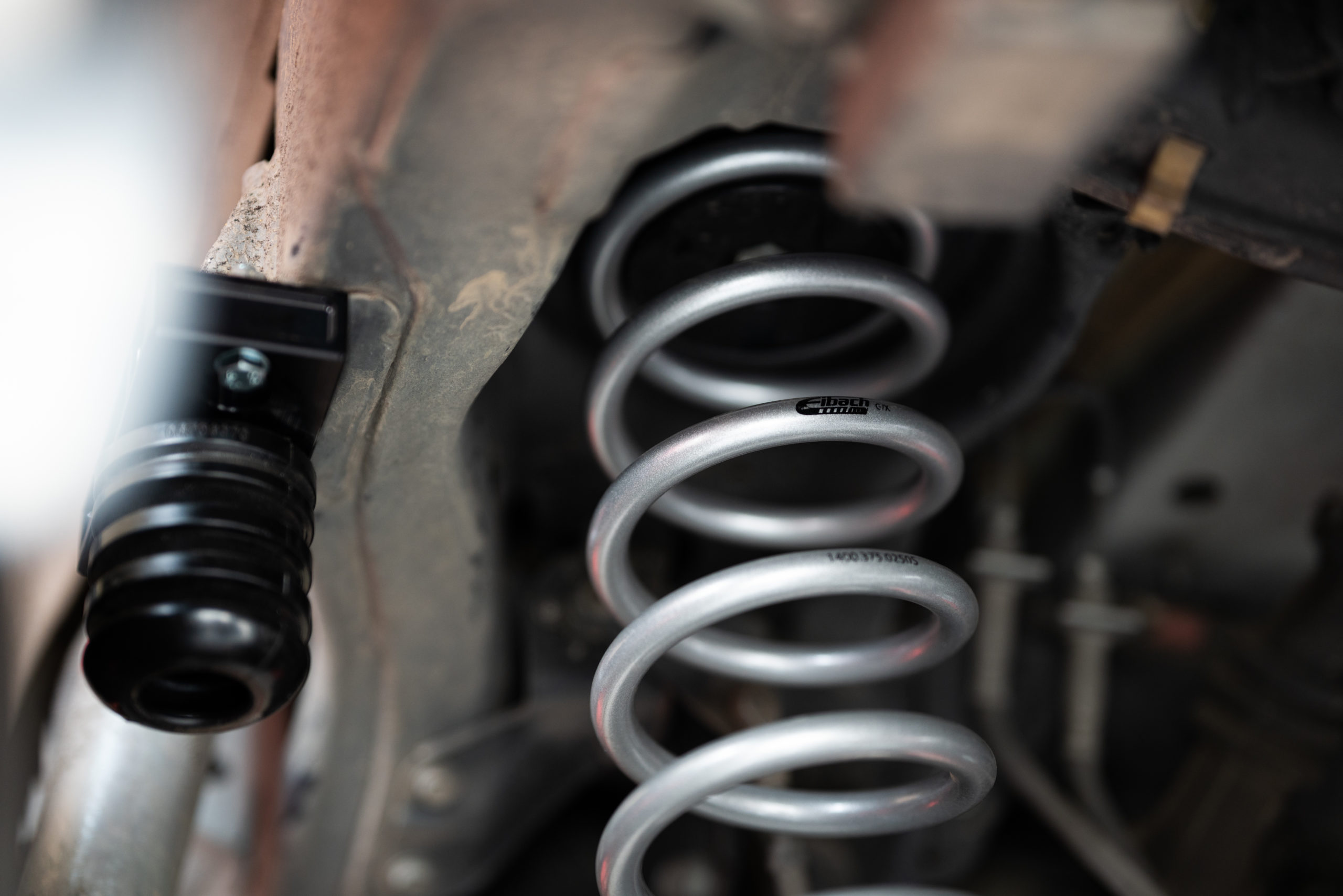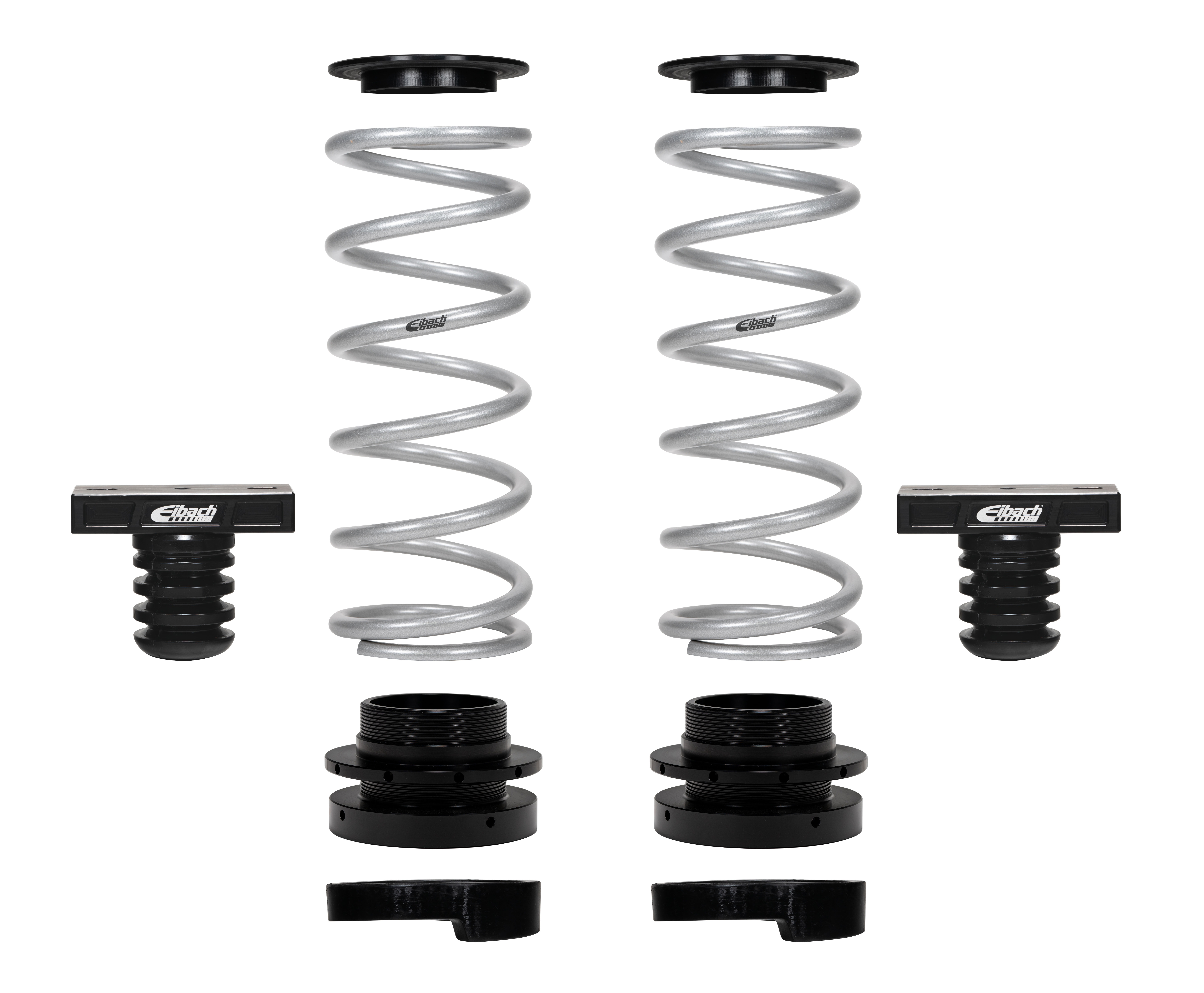 For those on your shopping list with solid-axle-equipped rigs, our Eibach Rear LOAD-LEVELING-SYSTEM is the perfect solution for improving ride quality and off-road clearance when they're loaded up with gear. It utilizes a combination of precision engineered Eibach race springs, adjustable-threaded spring seats, and aftermarket bump stops to allow fine-tuning of load capacity and ride height.
This system is available in three different load ratings: 0-200 lbs., 200-400 lbs., and 400+ lbs. Each has been tested to deliver up to 2" of rear lift while still working within the range of the Eibach Pro-Truck-Shocks. It's also compatible with our extensive catalog of readily available 3.75" ID Eibach ERO Race Springs. This allows you to fine-tune ride quality as your setup evolves, including adding or subtracting weight over the rear axle.
Our Rear LOAD-LEVELING-SYSTEM is designed for vehicles that are frequently loaded and unloaded for overland expeditions, towing, and even quick weekend getaways. Armor, roof-top tents, storage shelving, full-size spares, and tire carriers increase weight and ultimately affect the static ride height of the vehicle. Our system improves ride quality and compliance, on and off-road, while maintaining necessary tire and ground clearances while loaded up.
The addition of our height-adjustable perch allows fine-tuning of the rear ride height, keeping your rig's body and chassis clear from obstacles, and tires clear from their fenders.
At Eibach, the quality of our materials is second to none. Our Rear LOAD-LEVELING-SYSTEM consists of 6061-T6 billet aluminum-threaded spring seats for corrosion resistance and easy adjustment, hi-durometer polyurethane spring seat isolators to reduce noise, vibration, and harshness through the axle and frame, progressive polyurethane bump stops to improve control over large bumps and obstacles and relocating adapter hardware to make installation a breeze. We firmly stand behind the quality of our products: all components are proudly engineered and produced in the USA.
MSRP $499.00
LifeSaver – Jerrycan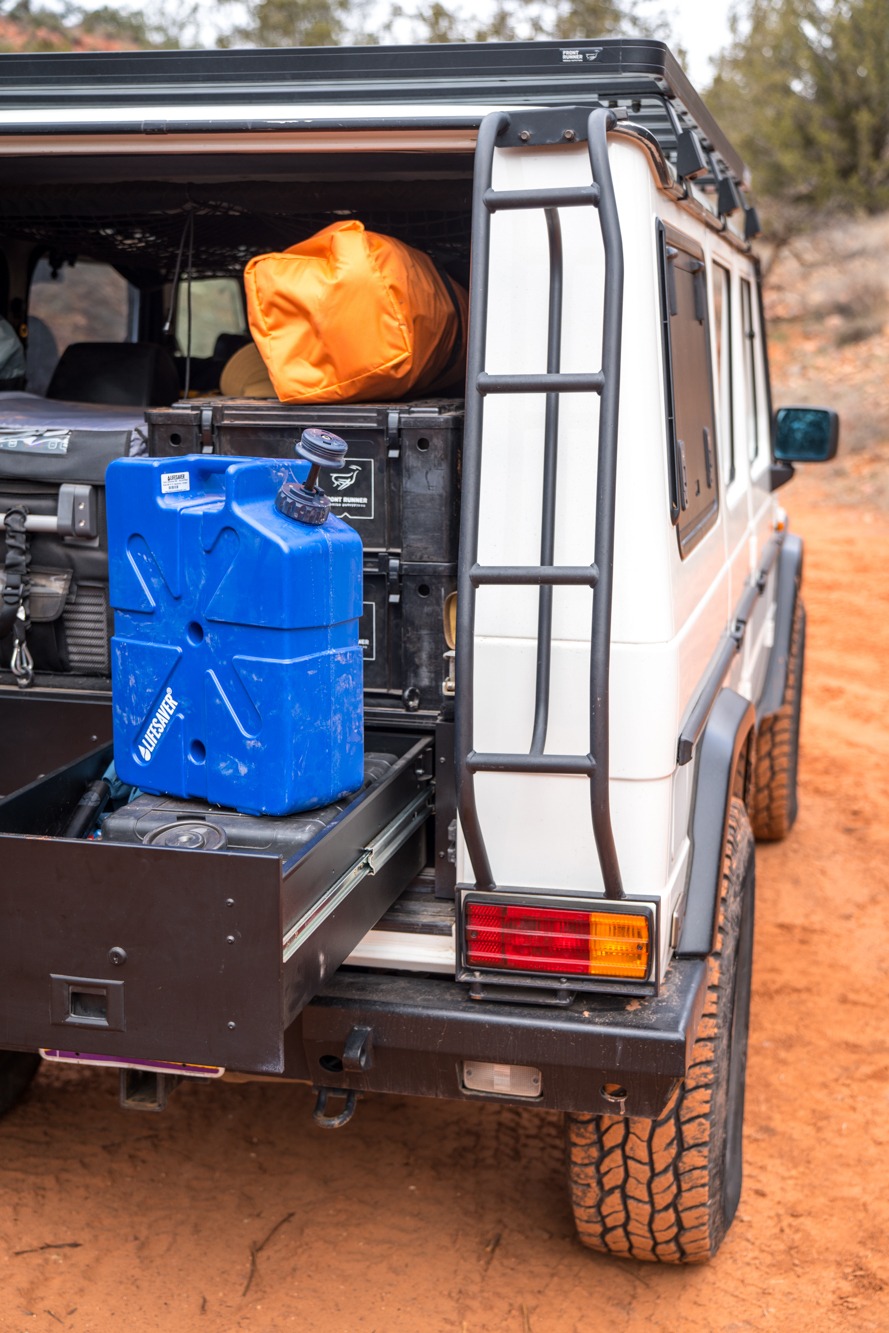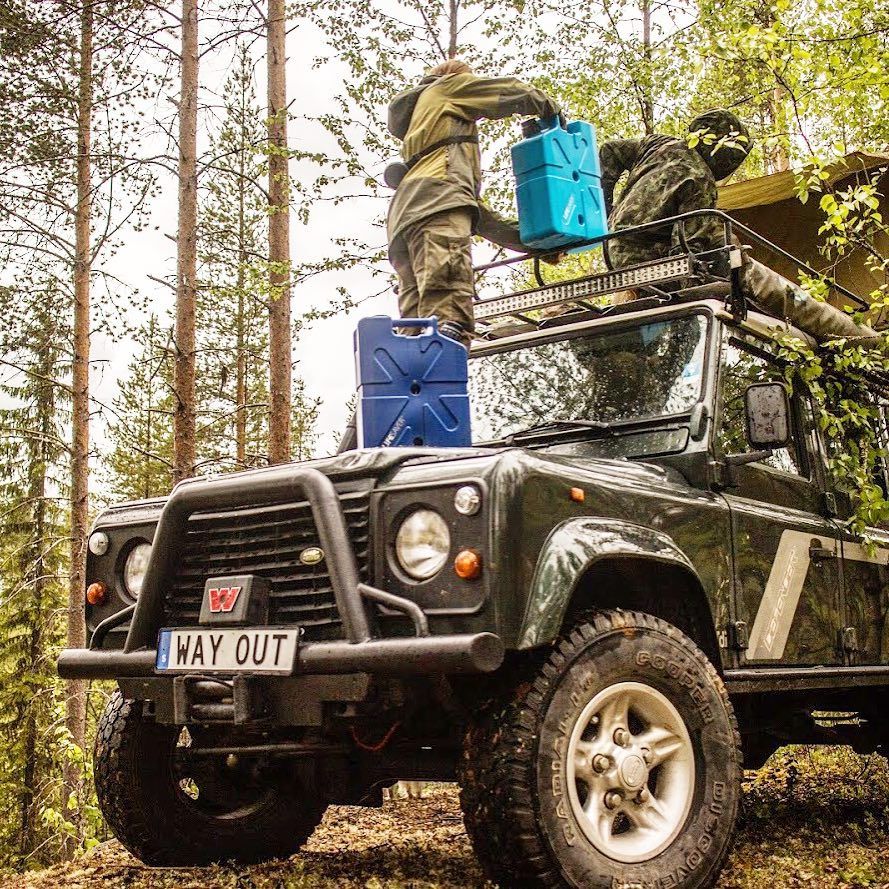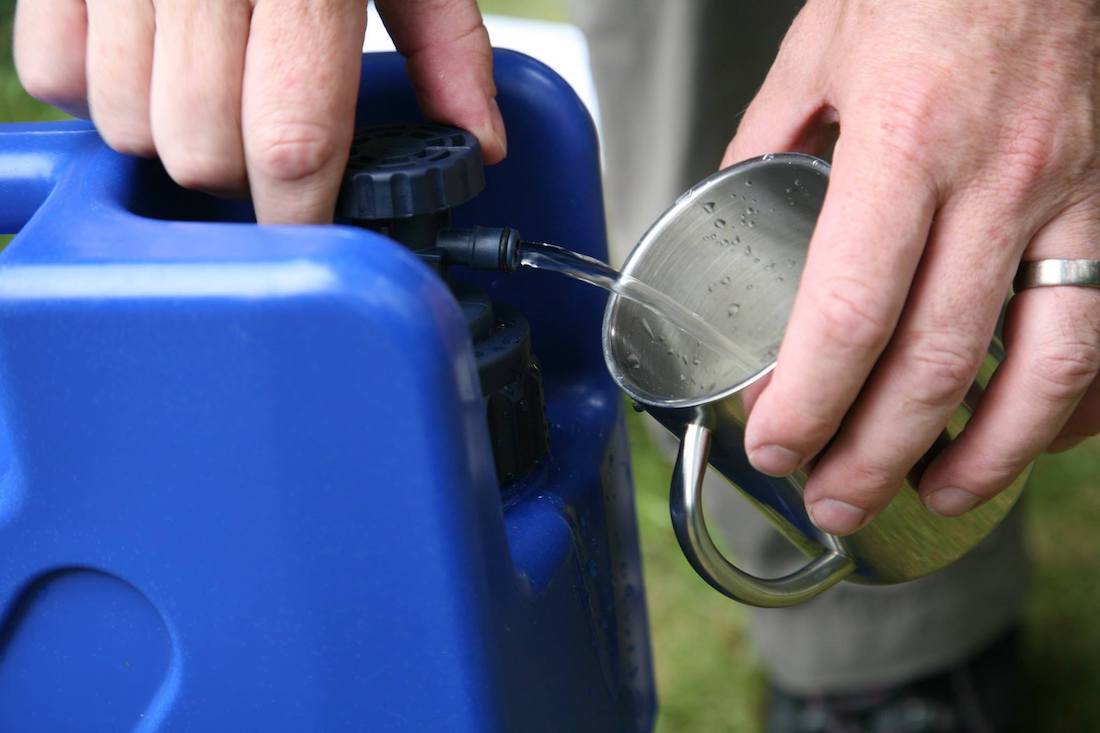 Filtering and transporting drinking water is never easier than when using the LifeSaver Jerrycan. This sturdy container not only protects against punctures and spills but also removes viruses, bacteria, cysts, and parasites so that it's ready to drink safely. With an 18.5-liter capacity, it can provide drinking water for a couple of adventurers for a long weekend. It's as simple as filling the jerry can and pumping water through the filter to have on-demand clean water regardless of the water source. With a filter life of 20,000 liters, it will provide safe drinking water for years to come. When the filter has come to the end of its service life, an automatic indicator lets you know it's time for it to be replaced. There really is no better way to keep large quantities of clean water readily accessible on your overland adventure than the LifeSaver Jerrycan.
The LifeSaver JerryCan is a high-volume and portable solution for purifying questionable water sources. Great for expeditions, off-grid living, and overland adventures, the JerryCan purifies and filters water without the need for chemicals or UV light. The high-flow rate pumps out 4 litres of clean water per minute, so there's no waiting around when it's time to prep dinner. The NATO dimension Jerrycan fits most jerrycan cages/ racks available and will purify over 5000 US Gallons over the filter lifespan. Fill, Pump and Drink.
MSRP: $299.95
OME Gear – The Wanderr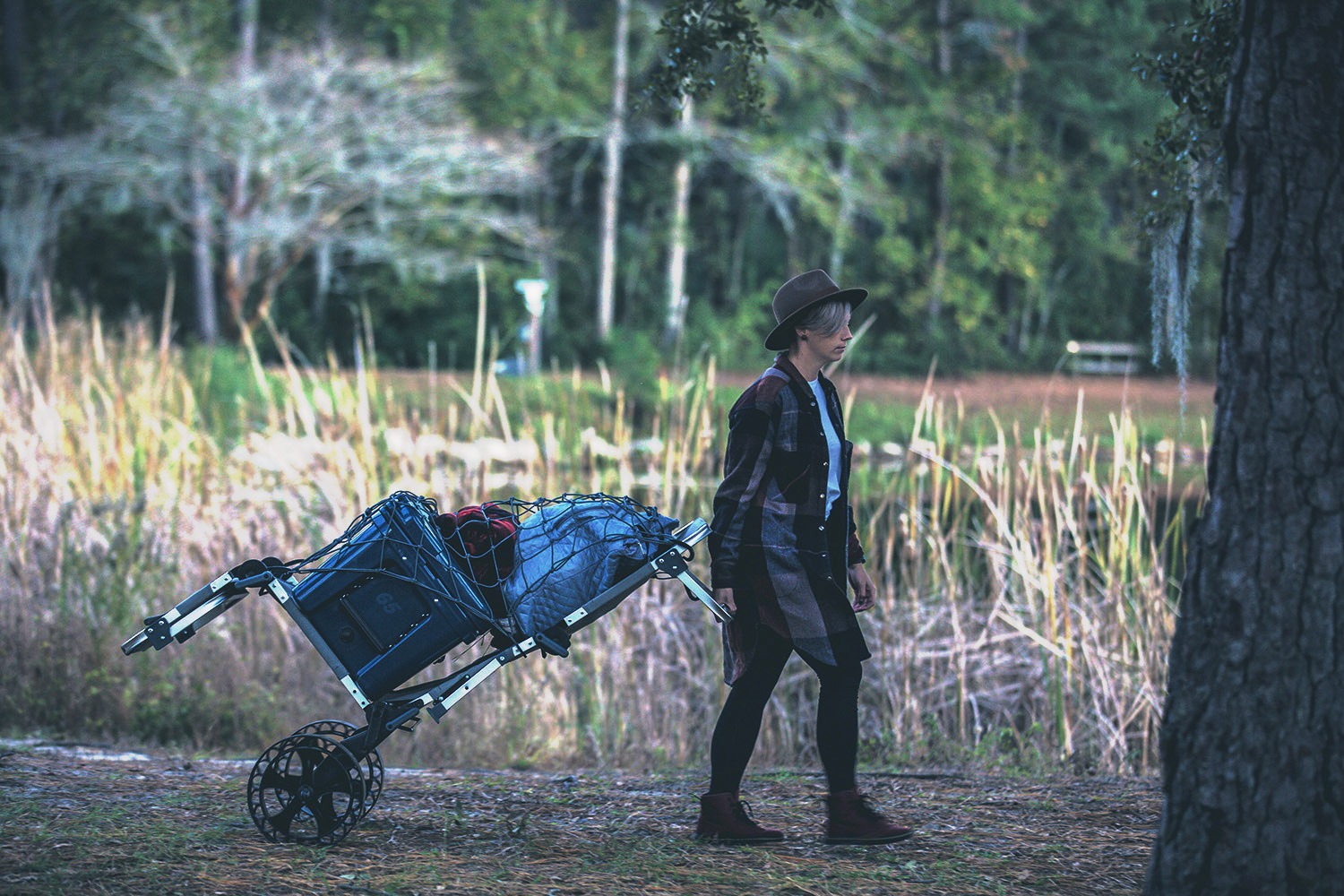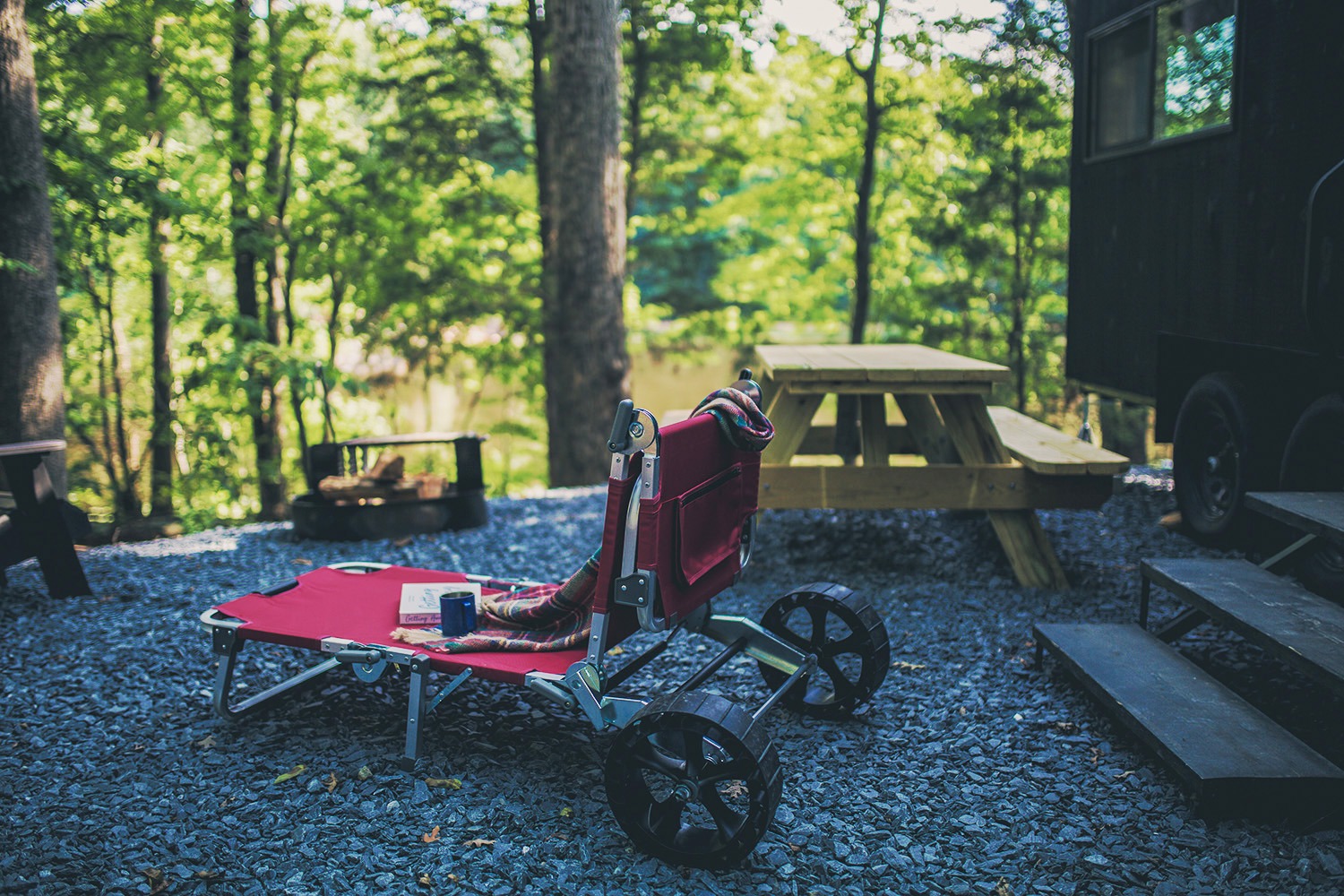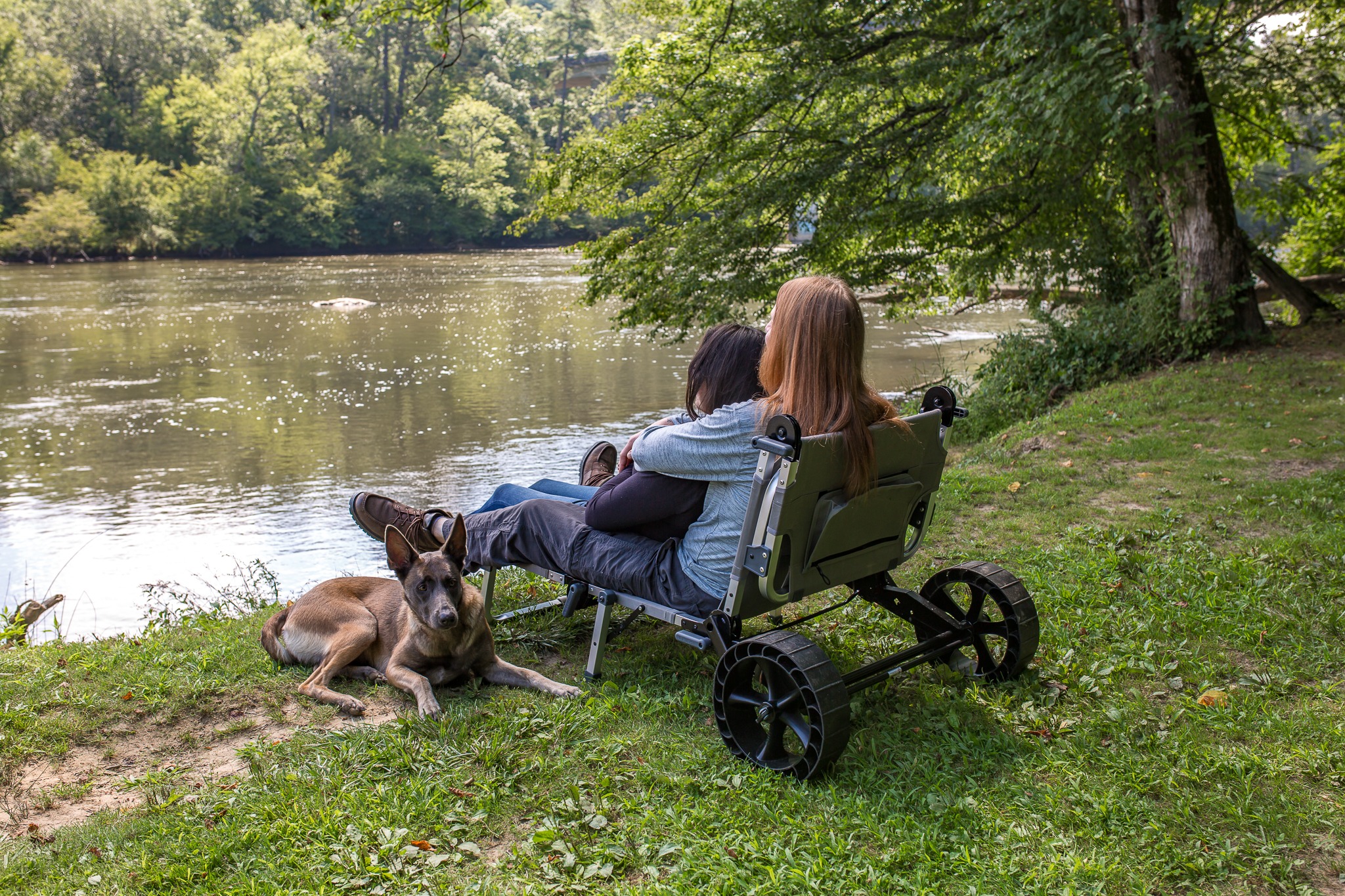 Finally, a quality product with non-air-filled wheels – that rolls easily on any terrain, including soft sand!!
The Wanderr® from OME Gear is perfect for camping, fishing, hunting, the beach, festivals, kids sporting events, equestrian, etc. It's the best choice any time you need to haul something and then have comfortable seating options once you've arrived. A first-of-its-kind, durable 5-in-1 patented outdoor recreational product that easily transforms from a cart to a lower beach-type chair, a higher field/camping chair, a fully reclinable lounger, and a camping cot/bench.
No more throwing away those cheaply made outdoor chairs, carts, and wagons after a season or two, the Wanderr is built to last! Our goal at OME Gear® is to Lighten Your Load® so you can get outside more!
The Wanderr boasts a seating capacity of 300 lbs. and up to 150 lbs in cart mode. The chair is fully reclinable and includes dual cup holders. It's constructed with a tough aluminum frame and durable UV-resistant fabric. The oversized bungie cargo net is included so that you can keep your gear on the cart while crossing bumpy terrain.
Special discounts include:
OVERLAND50, November 5 – December 31
MSRP $399.00
Putco – MOLLE Rack System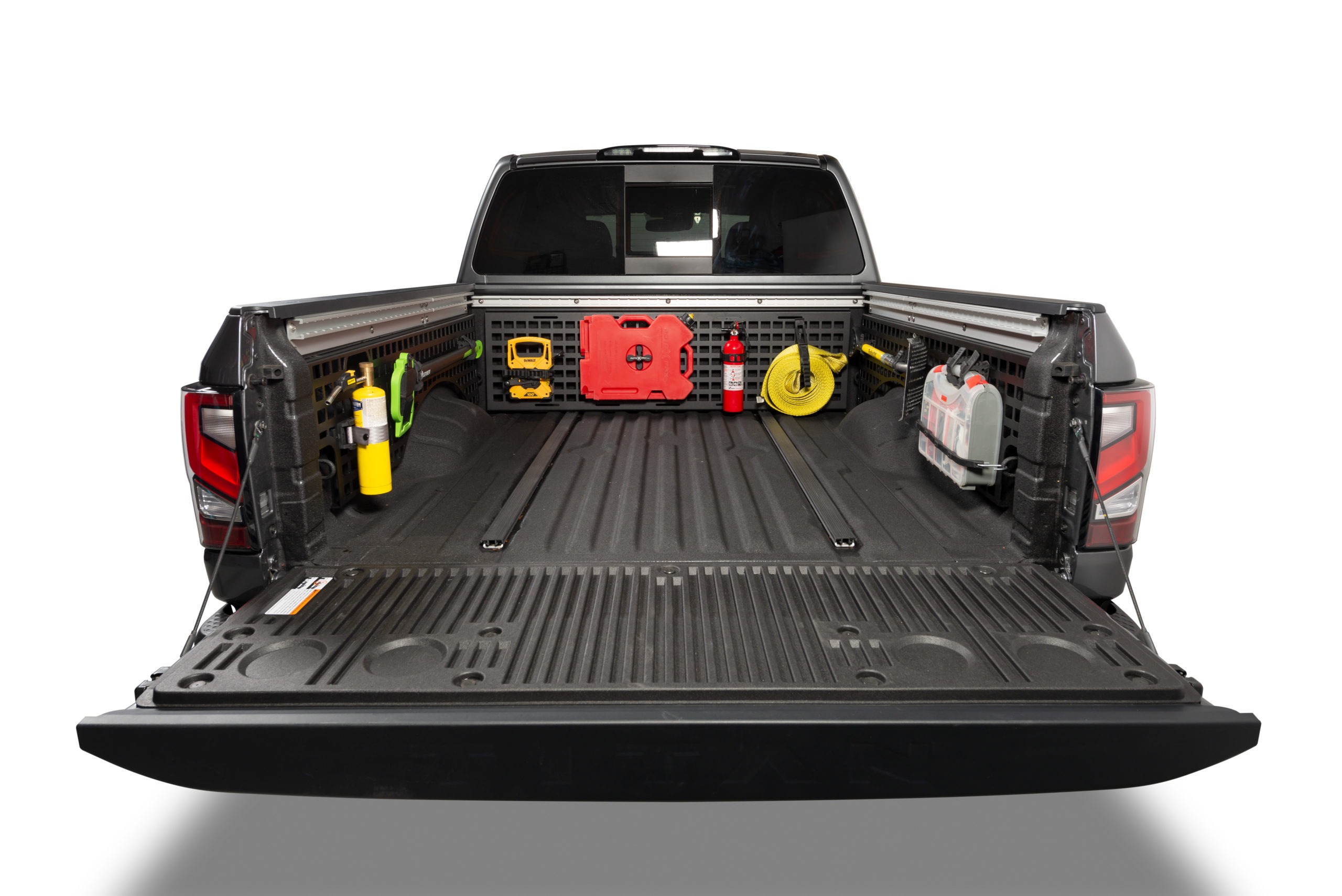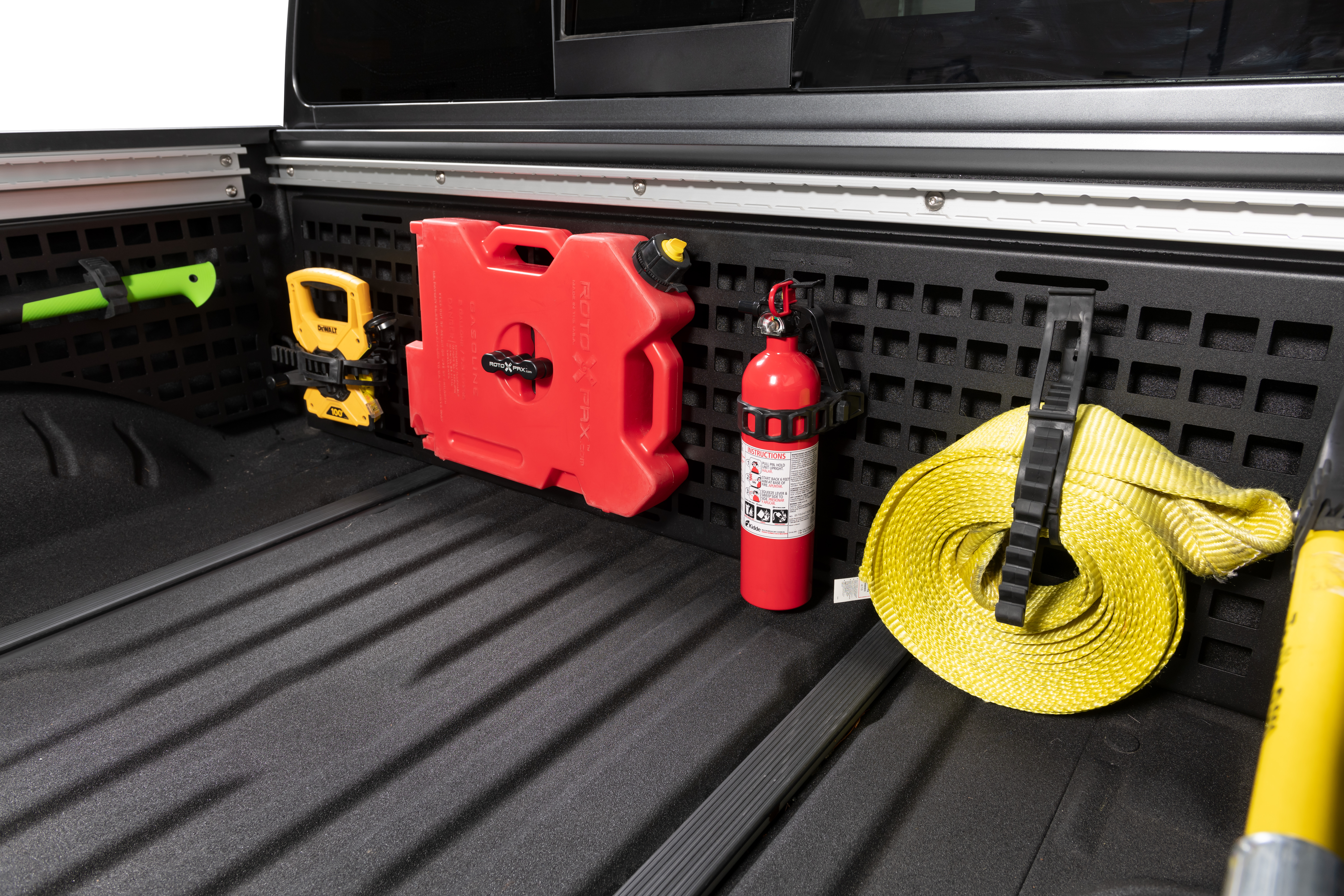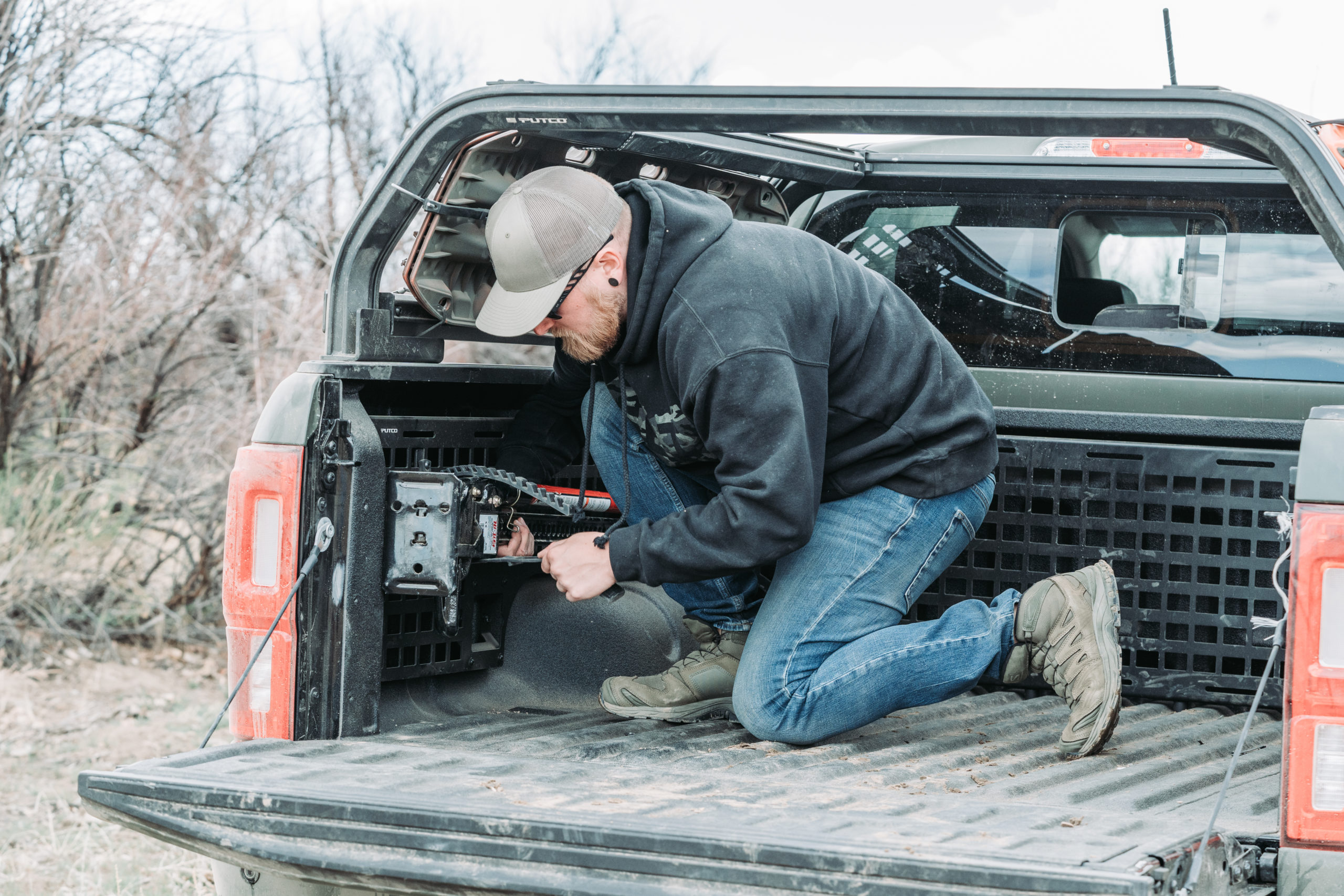 A pickup full of gear doesn't have to be a jumbled mess. Whatever you're doing, it's inevitable; at some point, you're going to end up with a bed full of gear. The Putco MOLLE Rack System is custom engineered to fit directly to each make and model using the existing OEM mounting points in the bed. The rack systems allow you to keep your gear organized, easily accessible, and secure. They work with all MOLLE, PALS, Quick Fist, and many other gear strapping systems to hold your cargo in place on the roughest roads.
Each fitment is designed with custom brackets and MOLLE panels engineered to be mounted directly to OEM mount locations. Our custom designs provide no cut & no-drill installations which can be done in a matter of minutes. They're also compatible with bed covers so your gear can be organized and protected. You can still access bed tie-outs, outlets, and lighting.
The MOLLE Rack panels are fully manufactured in the USA. They're backed by Putco's limited 3-year warranty.
Special discounts include:
MSRP $257.99-$639.99

Bundutec USA – BunduTop Rooftop Tents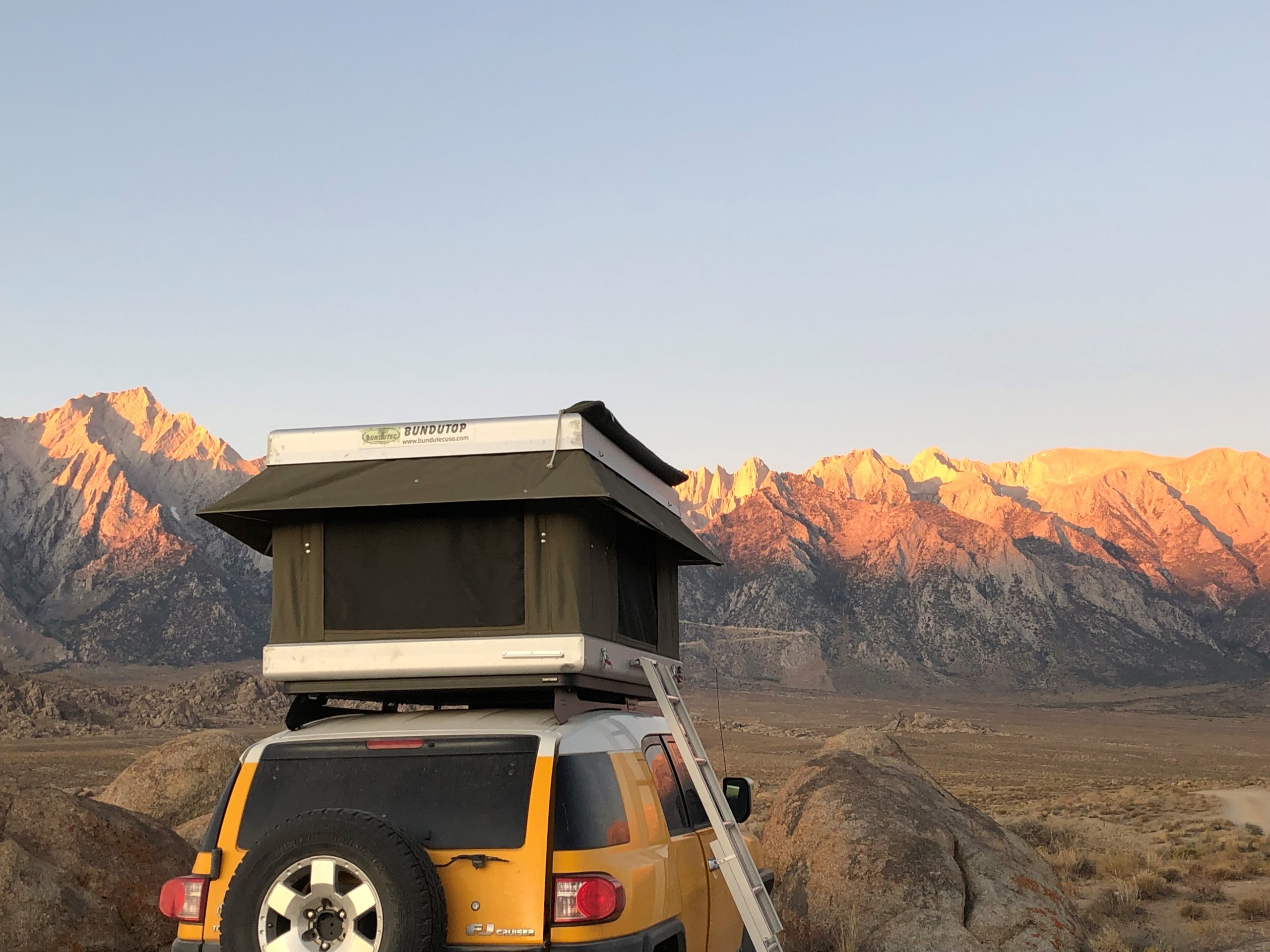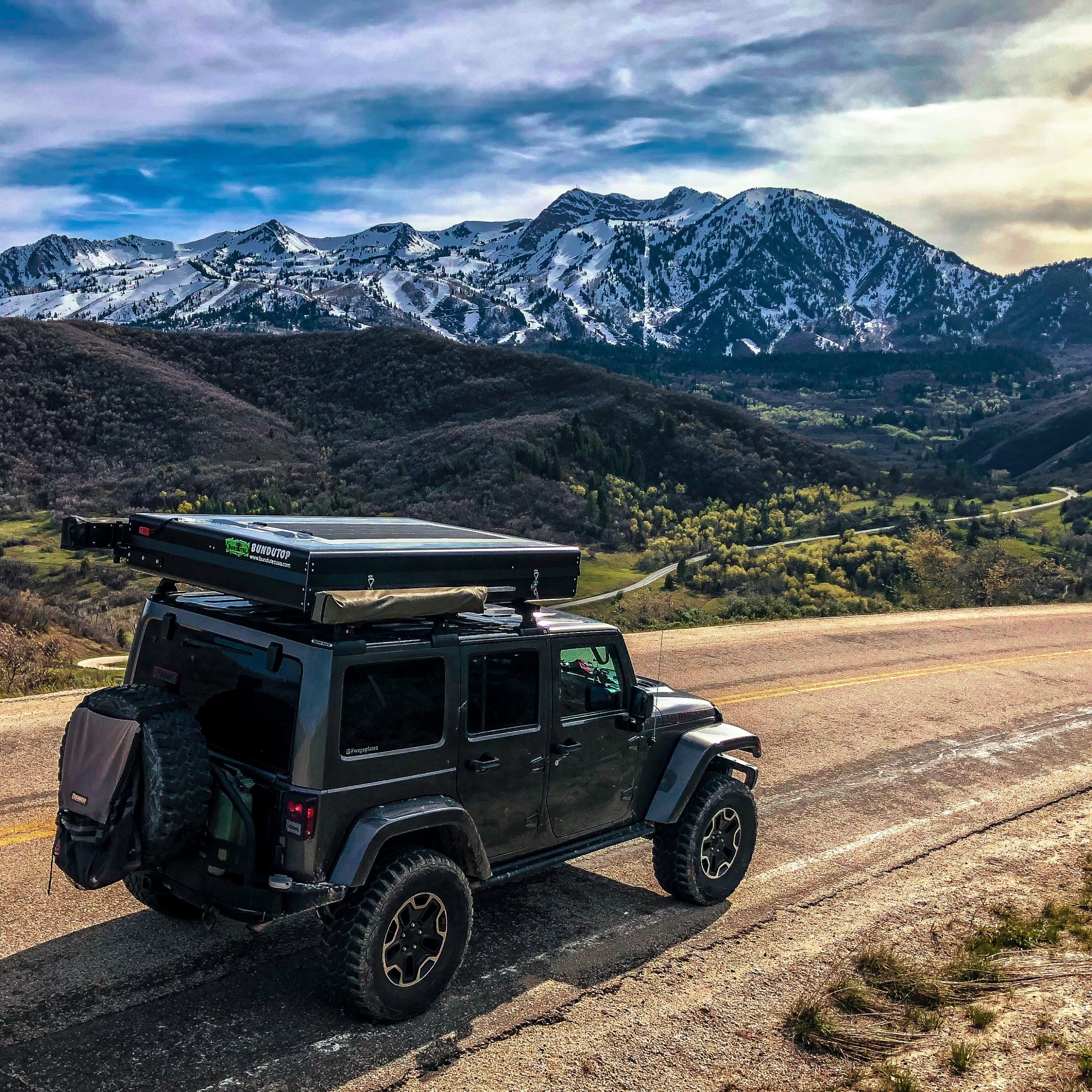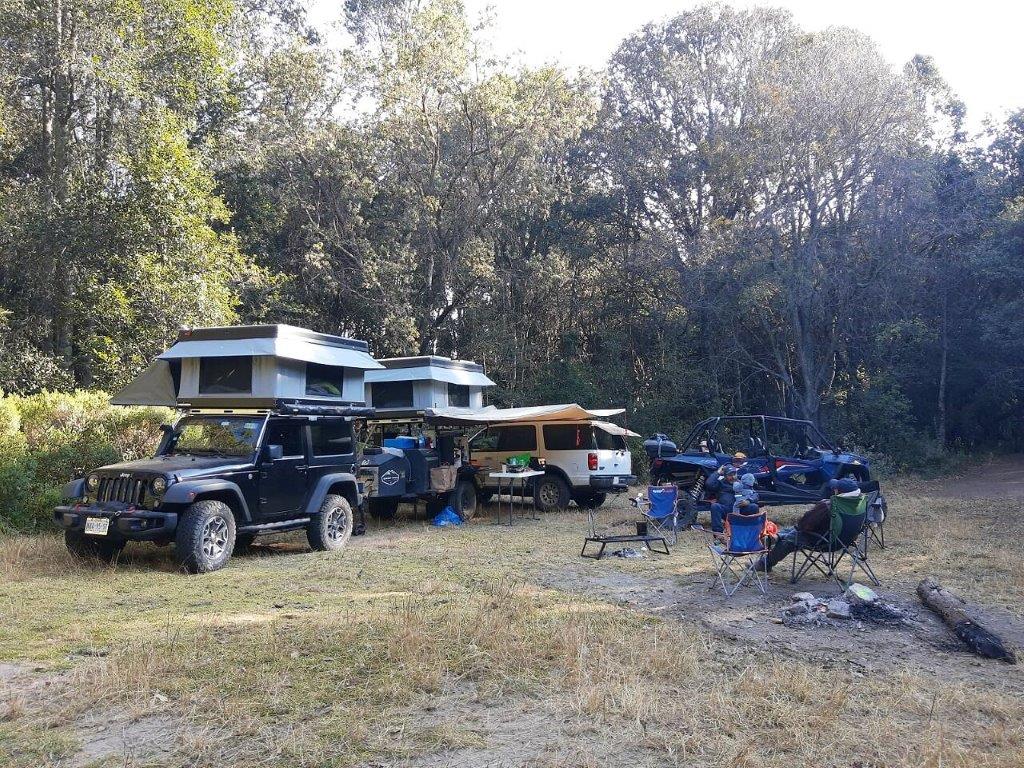 The BunduTop from Bundutec is suited for anyone looking for a casual, lightweight, foolproof, and easy way to travel from one side of the country to another without spending hours sorting through ropes and poles when setting up camp. The BunduTop allows you the luxury of a ready-made bed in the middle of the day for a nap or after a long day of driving simply by unhooking four throw-over catches and merely pushing the power-up button. Tear down is just as simple as the push of the down button. Once deployed, you can also quickly charge any of your devices on the built-in dual-USB or 12v outlet. The roof-mounted LED light eliminates the need to wear a headlamp when winding down in the tent for the night. You will wake up the following day with four spacious windows to help you enjoy 360 degrees of your surroundings. With the built-in 45° rainfly all the way around, you can leave the windows partially open even in the most brutal rain fall without getting yourself or your bedding wet. Each tent features raw sheet aluminum on the roof, giving you maximum heat reflection allowing you to stay comfortable in even the warmest temperatures. The BunduTops foam-backed roof lining will also absorb moisture to avoid condensation and unwanted dripping on the interior.
The BunduTop is available in three sizes: Standard (82" x 53"), King (82" x 63"), and Super King (118" x 63"). All tent sizes are complete aluminum construction, keeping them lightweight, and the base frame built into the tent gives additional strength and allows for a versatile mount to any flat or barrack system. All tents are also pre-wired for easy solar addition. The 4" high-density foam mattress is one of the best on the market. Each tent's slide ladder will slide down to 53" in length or extend to a full 98", making it customizable for any vehicle or terrain. The ladder can be flipped for foot comfort, offering you either a round or square rung depending on top orientation and preference. The BunduTop is perfect for any age group, gender, or experience level. It looks complicated but is so easy; anyone can use it! It utilizes Pro Pitch® Technology, which incorporates feedback from various climates, regions, and countries that keep the Bundutec Brand at the top of the market. This holiday season (Nov. 15th – Dec. 20th, 2021), purchase your very own BunduTop and get the Annex with drop-down panel installed before shipment, FREE by using the code HolidayGuide during checkout. The only thing left to do is decide the orientation of your tent and point of entry for your Annex!
MSRP $3,860 – $4,820
Eibach – Pro-Truck Lift Stage 2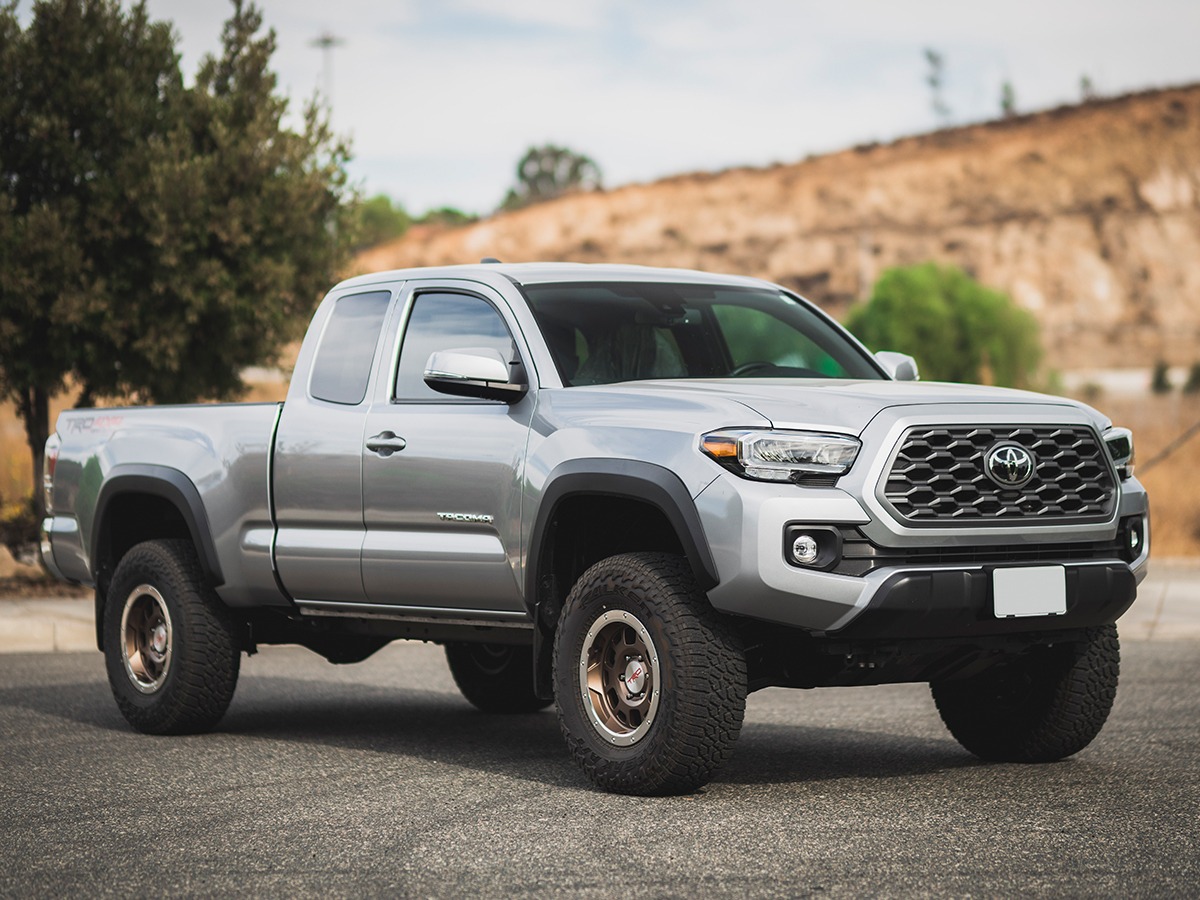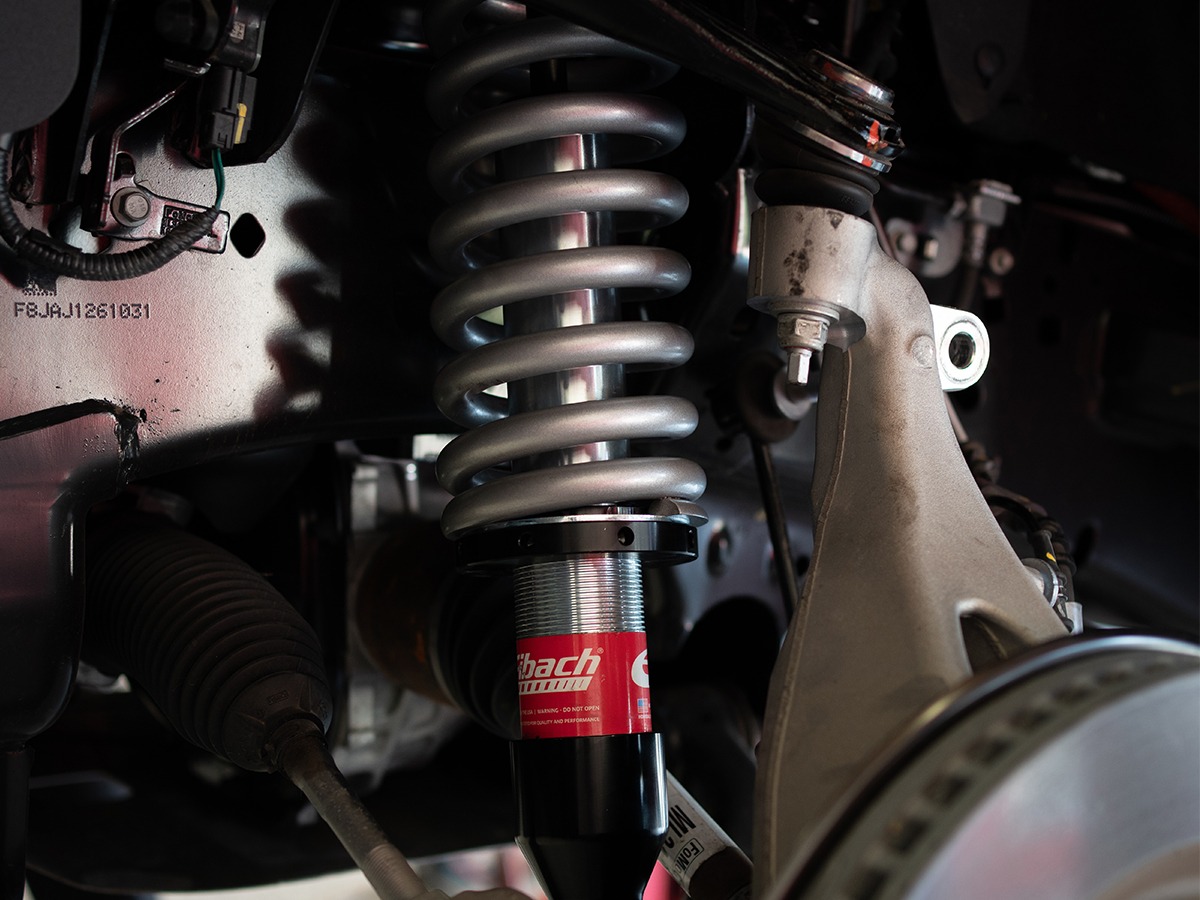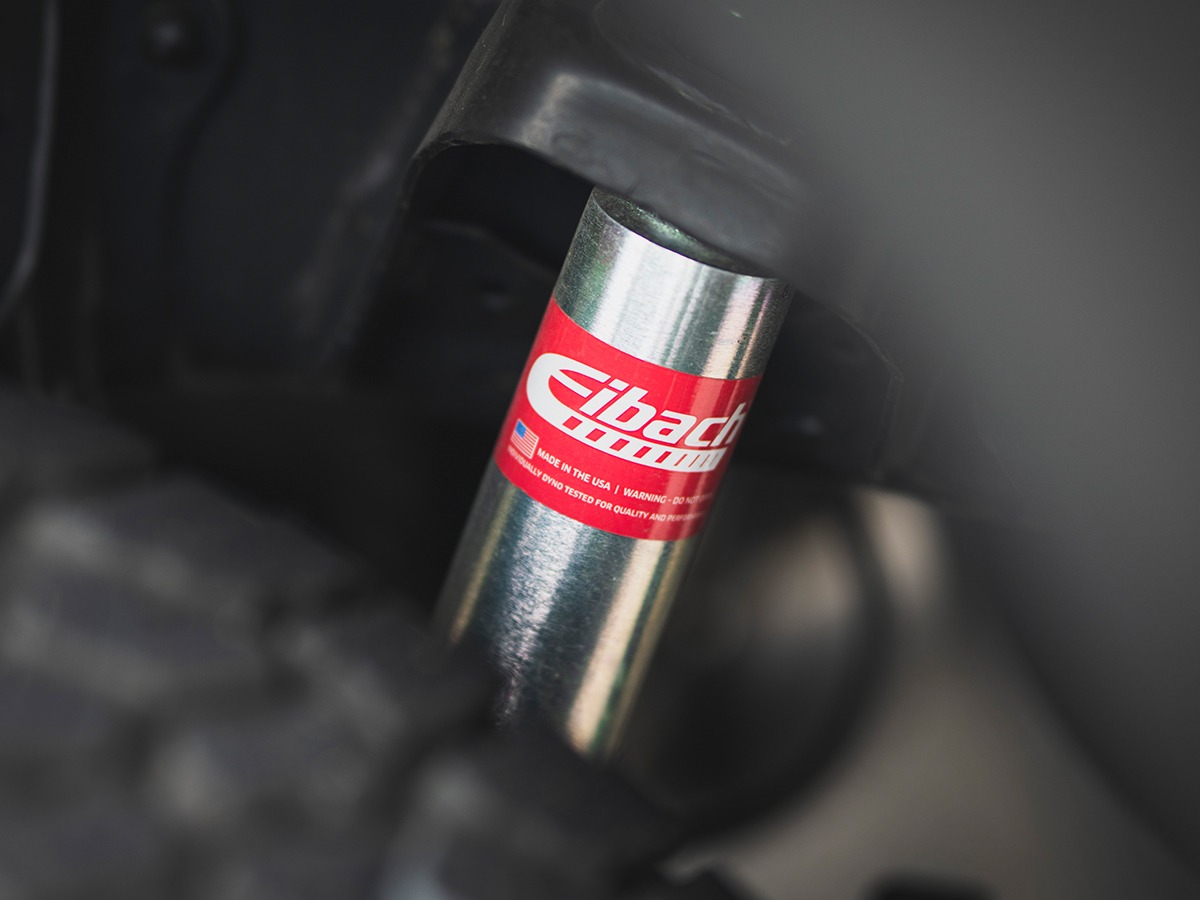 The Eibach Pro-Truck-Lift Stage 2 System shares the same rear components (lift springs, sport shocks, airbag delete) as our STAGE 1 system with an upgrade in adjustability up front. The front 2.0 coilovers were developed utilizing our extended-travel monotube design and variable force valving that delivers control during on-road transit and compliance for maximum traction on the trails. Designed for use with our championship-winning ERO Off-Road Race Springs, this system allows for various combinations to fine-tune ride height and load capacity from fully loaded crawlers to factory weight vehicles.
The Pro-Truck-Lift system utilizes ERO spring manufactured using race-winning off-road spring technology. The front coilovers allow adjustment of up to +3.75-inches. The pre-assembled for direct bolt-on installation and the out-of-the-box height is set to match the rear height. The kit is designed to work with factory control arms for an increase in height without accelerated wear to ball joints and bushings. The entire package is made in the USA.
The Stage 2 Kit includes
2 – Billet aluminum top mount
2 – Polyurethane elastomer bump stops
2 – Front coilover threaded body shocks
2 – Front Eibach linear race springs
2 – Billet aluminum spring perches
1 – 6mm adjustment spanner wrench
All Required Mounting Hardware
MSRP $1,099.00
Radflo – 2.5-Inch OE Replacement Coil Over Kit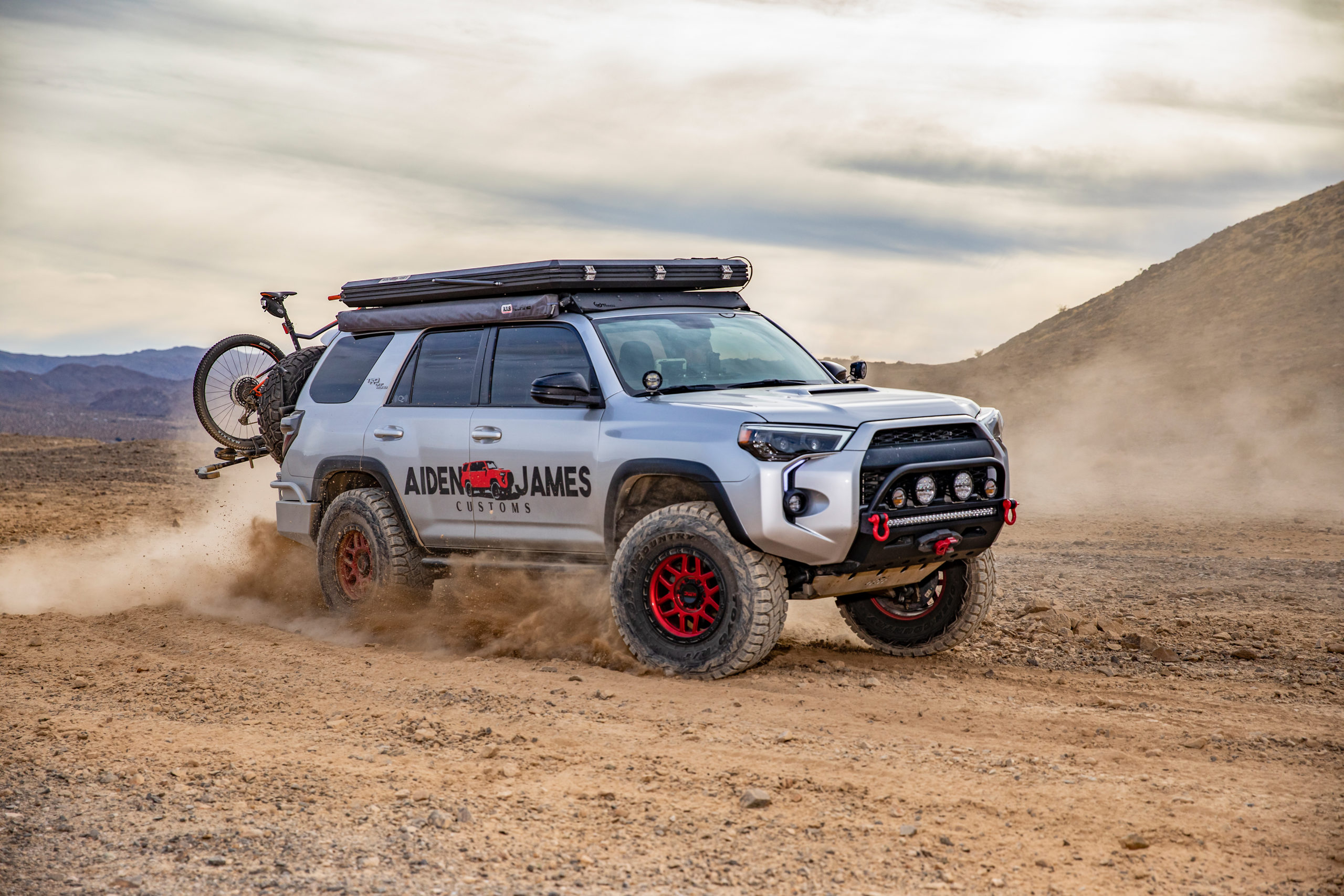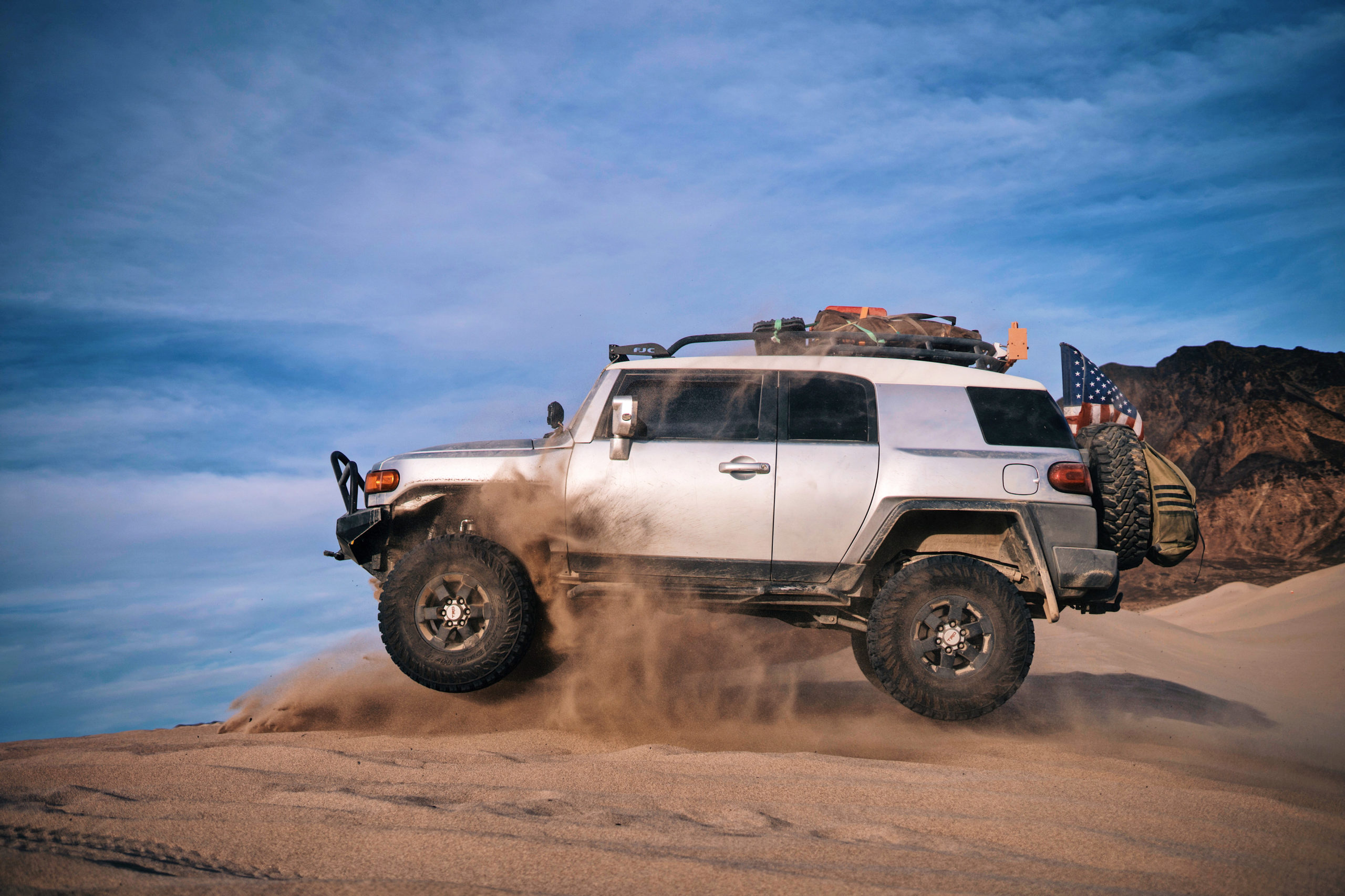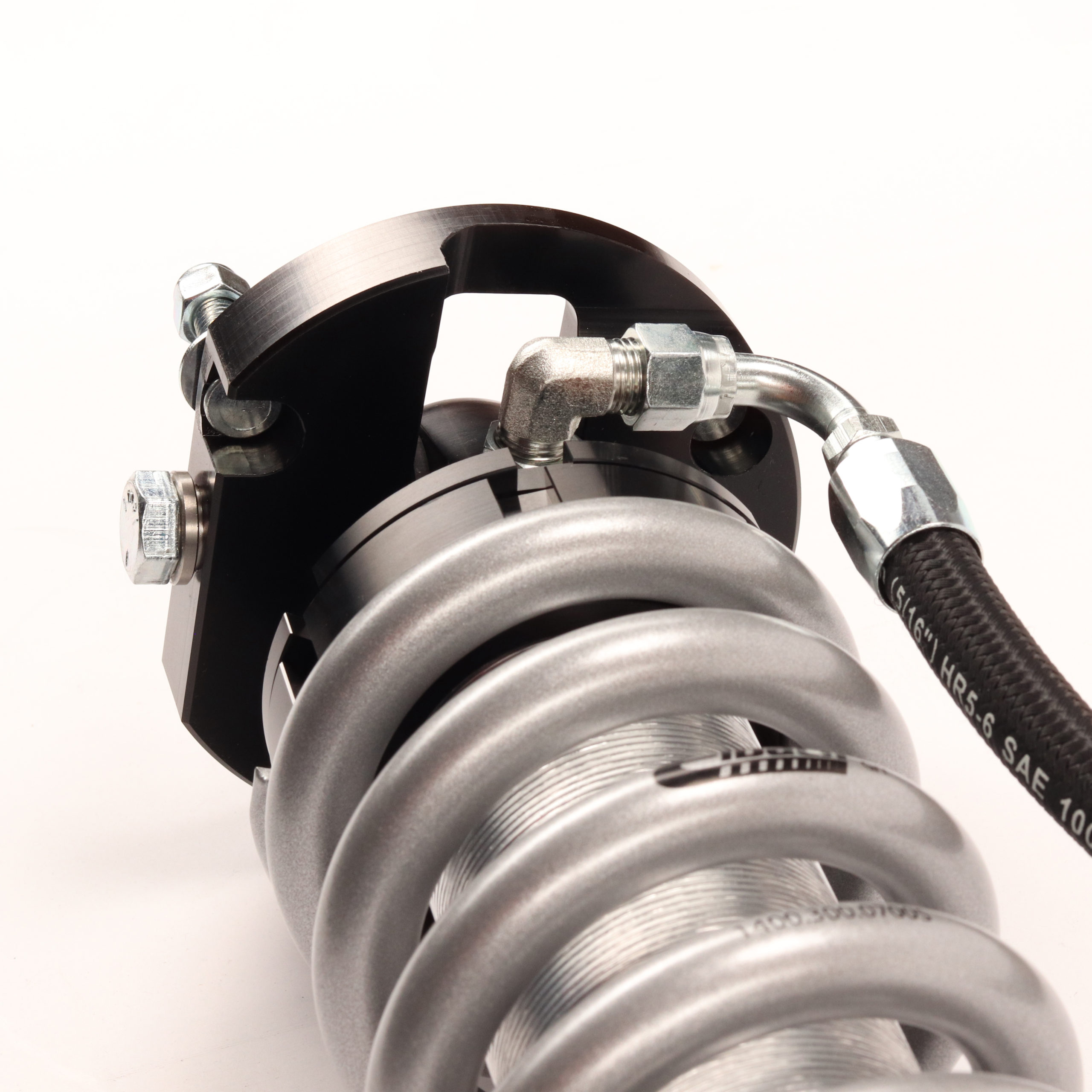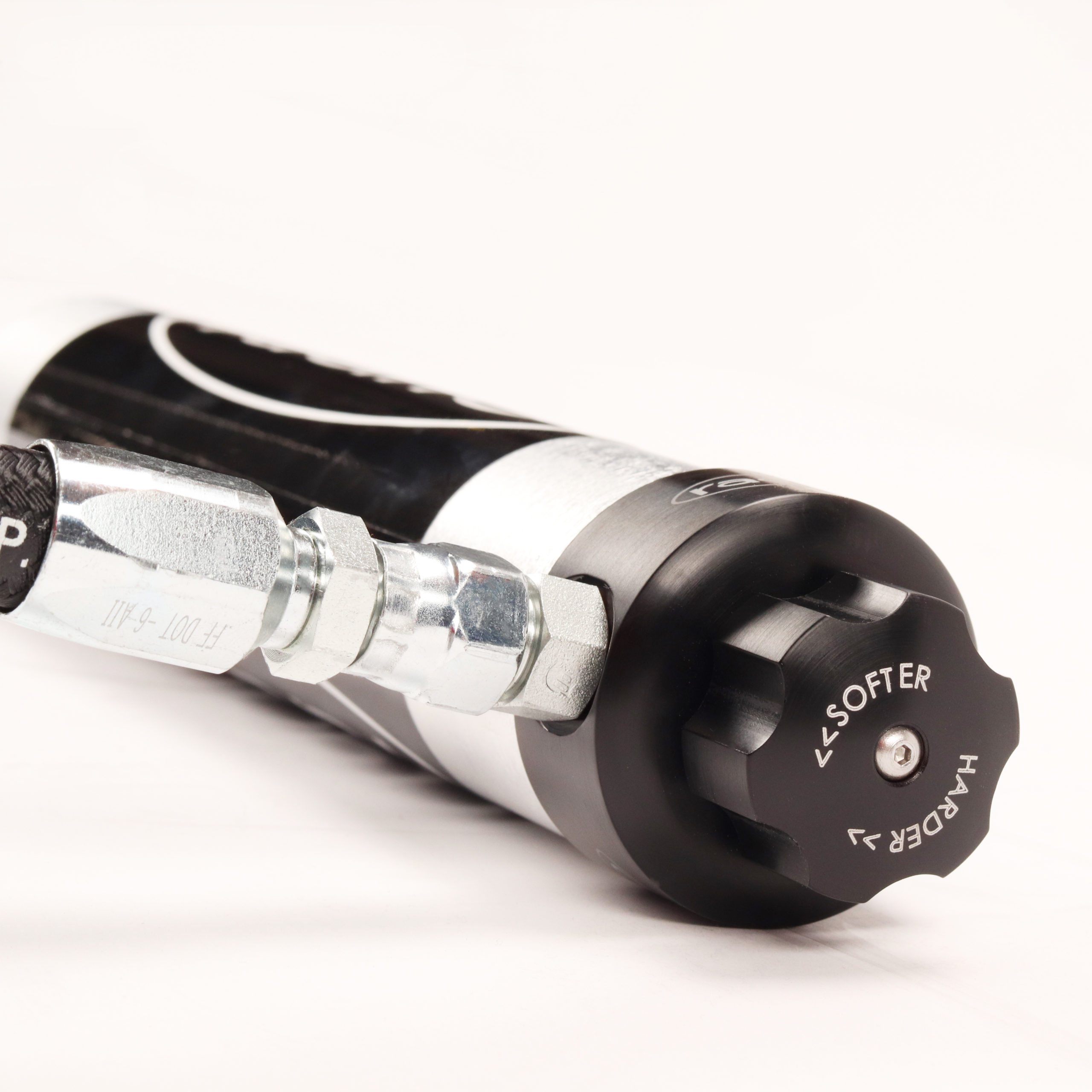 For more than 15 years, Radflo has been manufacturing some of the highest quality shock absorbers on the market. Our shocks are built to outlast and outperform the competition. Our shocks are used on some of the biggest and best race trucks, rock bouncers, and crawlers in the world. Our experience in the racing world was rolled over into our OE Replacement shocks, offering the daily drivers and overlanders a high-quality shock with race-proven damping characteristics. Through years of refined craftsmanship, Radflo has been able to offer their customers a premier, American-made product at competitive price points, coupled with excellent customer service!

Radflo's 2.5" Diameter OE Replacement Coil Over kit for Toyota FJ Cruiser, '10+ 4Runner and Lexus GX460 showcases 15+ years of damping mastery rolled into an easy to install package for your overland rig. Our coil over kits come complete with sway bar relocation brackets and reservoir mounting brackets to make your upgrade as easy as possible.

This kit is Radflo's extended length option, for use with an aftermarket upper control arm. This set also features a remote reservoir which allows the shock to operate at a lower temperature during high-speed use. Radflo offers their remote reservoir shocks with an additional upgrade, the optional compression adjuster. This adjuster controls low speed compression and allows the end-user to fine-tune each corner of their vehicle's suspension.
MSRP $2,0455.00/pair
Truma Cooler – C96 DZ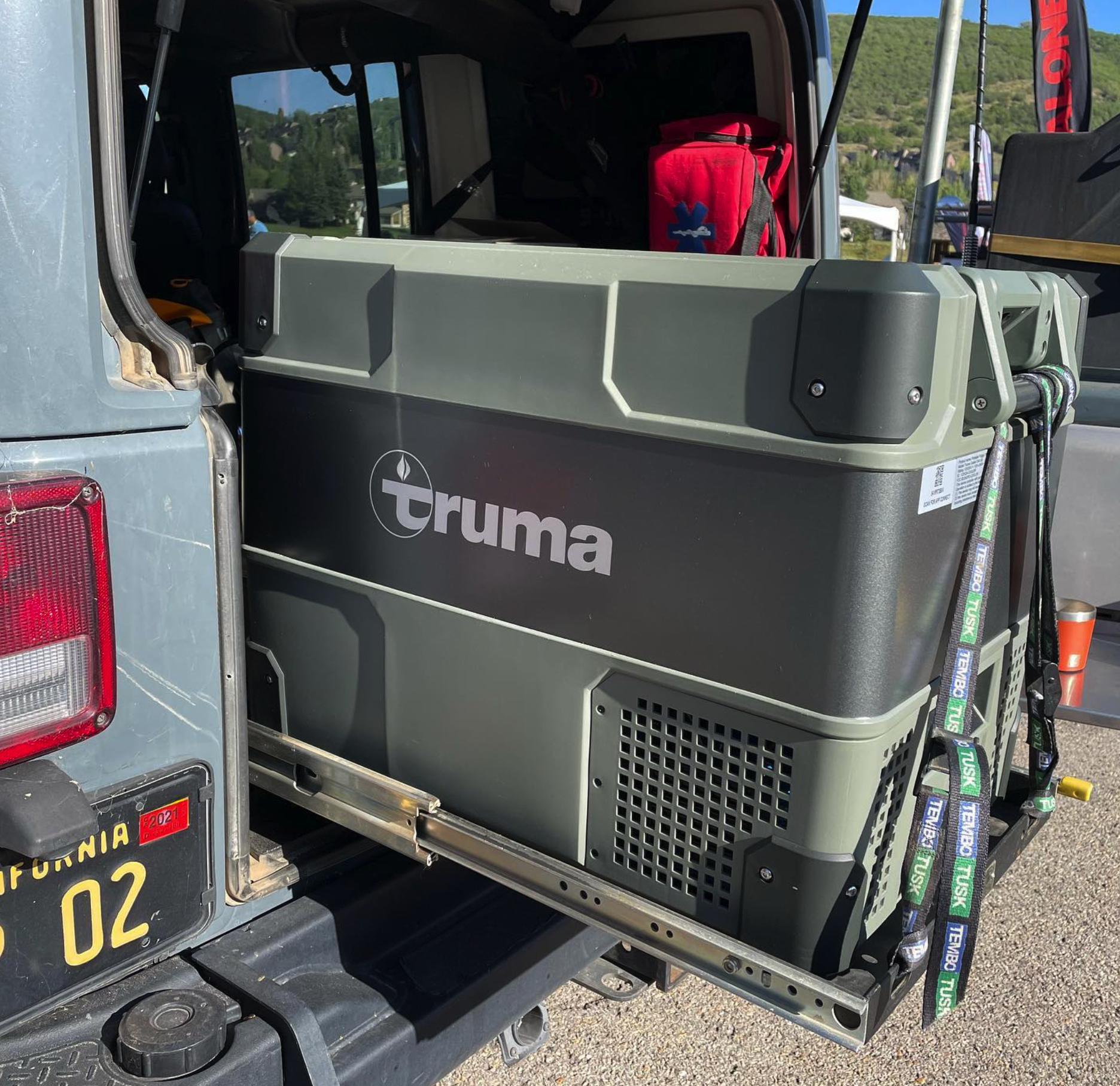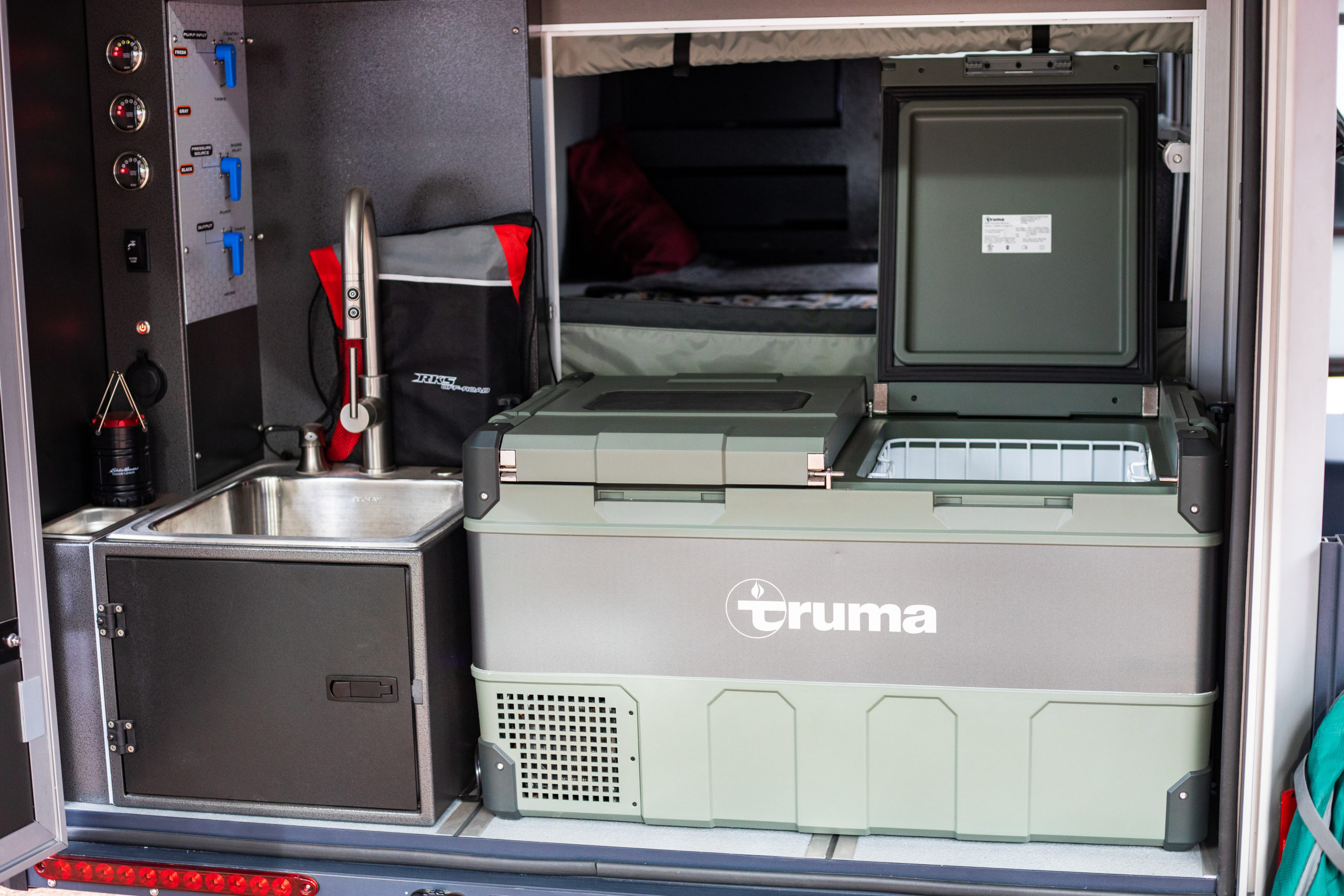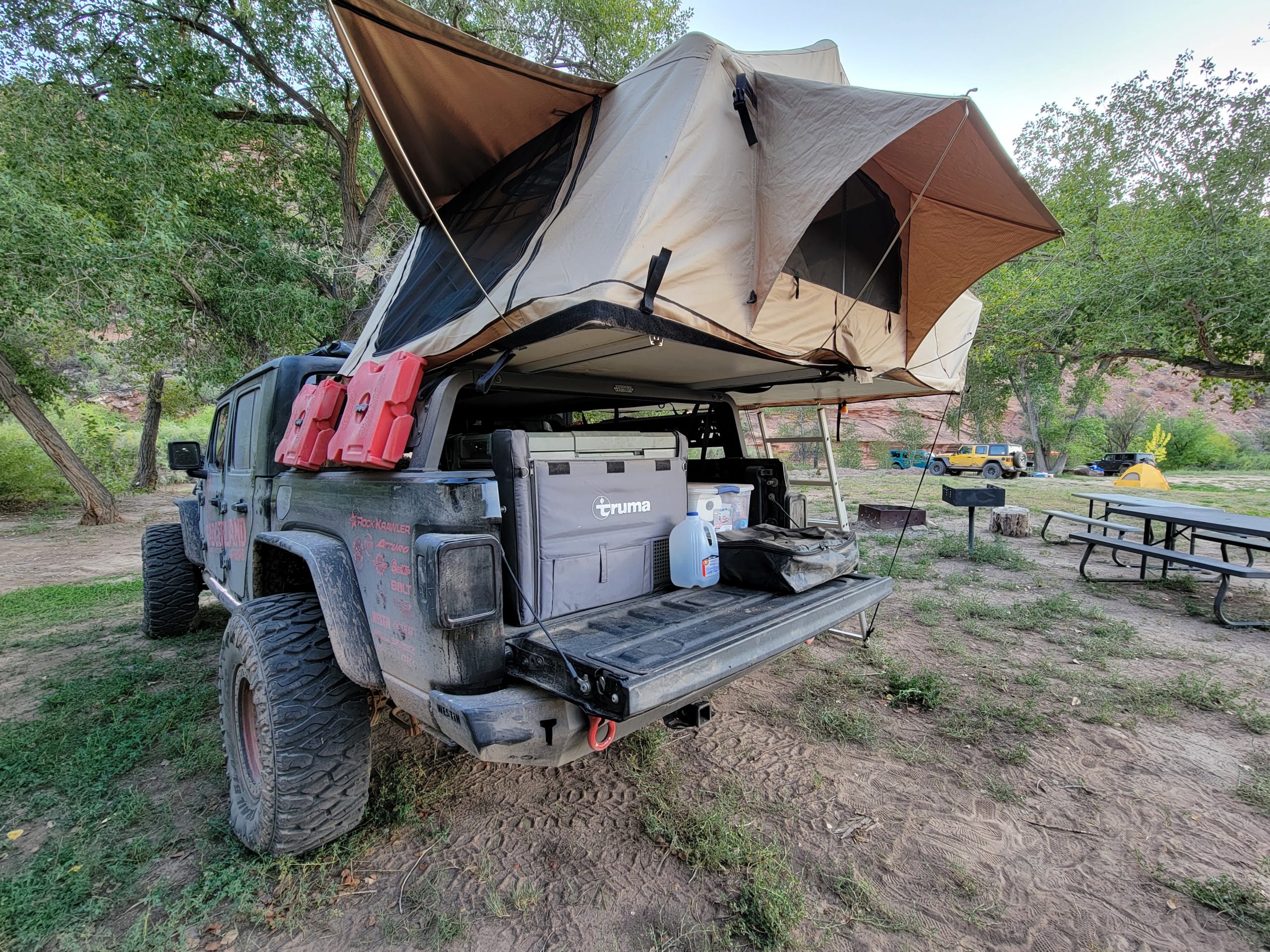 The Truma Cooler portable fridge and freezers are the perfect mobile fridge for camping, traveling, and leisure. Truma coolers reliably cool or freeze products down to -8° F (-22° C), even in high outdoor temperatures. Dual Zone models, like the Truma Cooler C96 D, include two individually adjustable temperature zones allowing campers to have both a refrigerator and a freezer on the go. Truma Coolers are built for continuous and robust use, with reinforced corners and stainless-steel hinges. Truma also took special care to make their fridge/freezers flexible and space-conscious by adding 12/24 volt connections on both sides of the cooler as well as allowing the lid to be installed to open from either side. The handles also fold flush to the side walls to avoid wasting valuable space in the rig.
Key features of the Truma Cooler C96 DZ includes the durable Blue Compressor, low-noise operation, high-quality insulation, and low current consumption. The large evaporator ensures even temperature inside the cooler. If there's a risk of overheating, the cooler will automatically shut off.
The Truma Cooler C96 DZ can be controlled via Bluetooth with the Truma Cooler App, available as a free download on the App Store and Google Play. The Truma Cooler App allows campers to check their cooler's temperature and control functions remotely within Bluetooth range. This is perfect for long road trips so a passenger can check the temperature on their phone and make adjustments on the road. This eliminates extra stops to check the cooler and ensures you never arrive at your destination with spoiled food or melted popsicles.
MSRP $1,749.99
Wagan Tech – Lithium Cube and Lithium Cube Solar Combo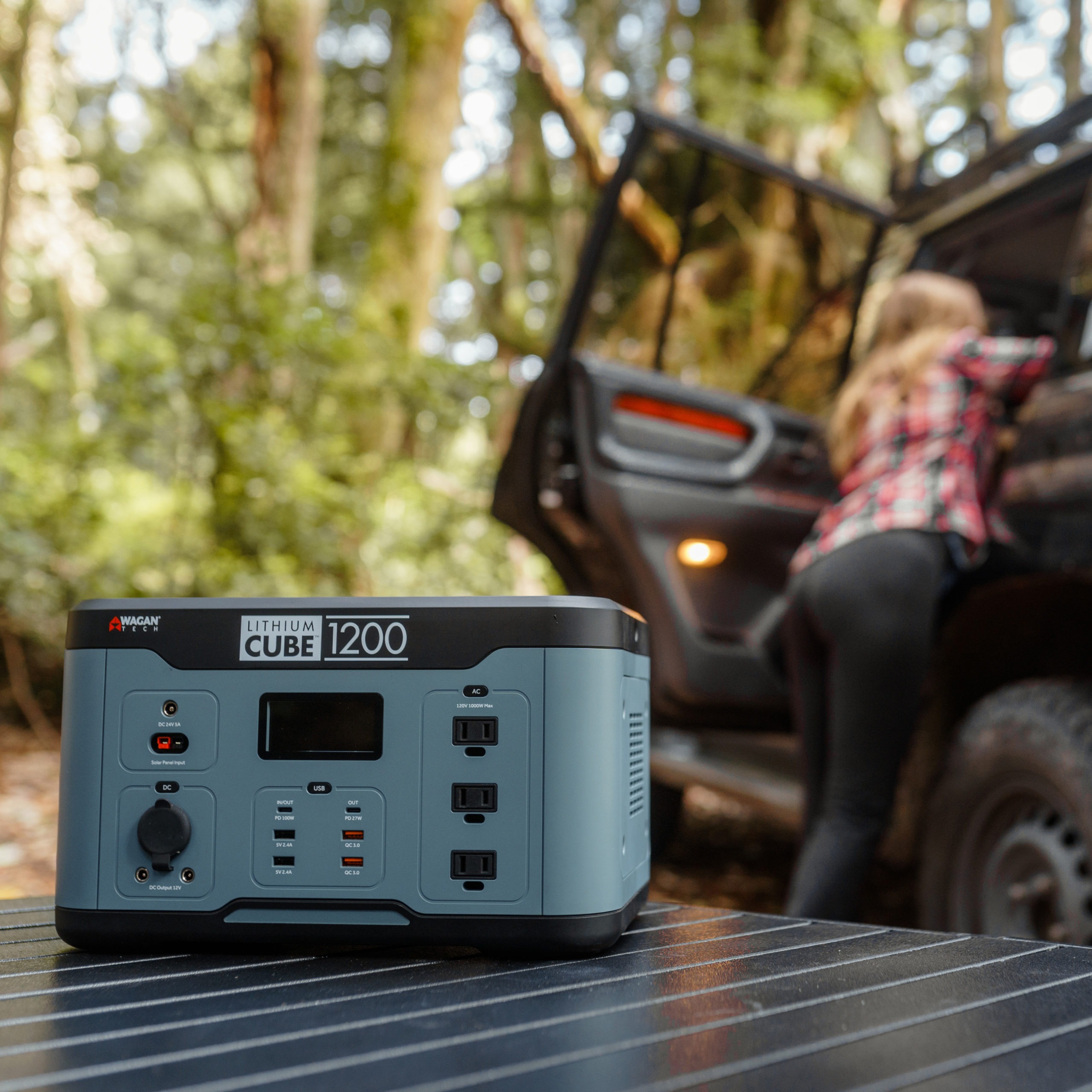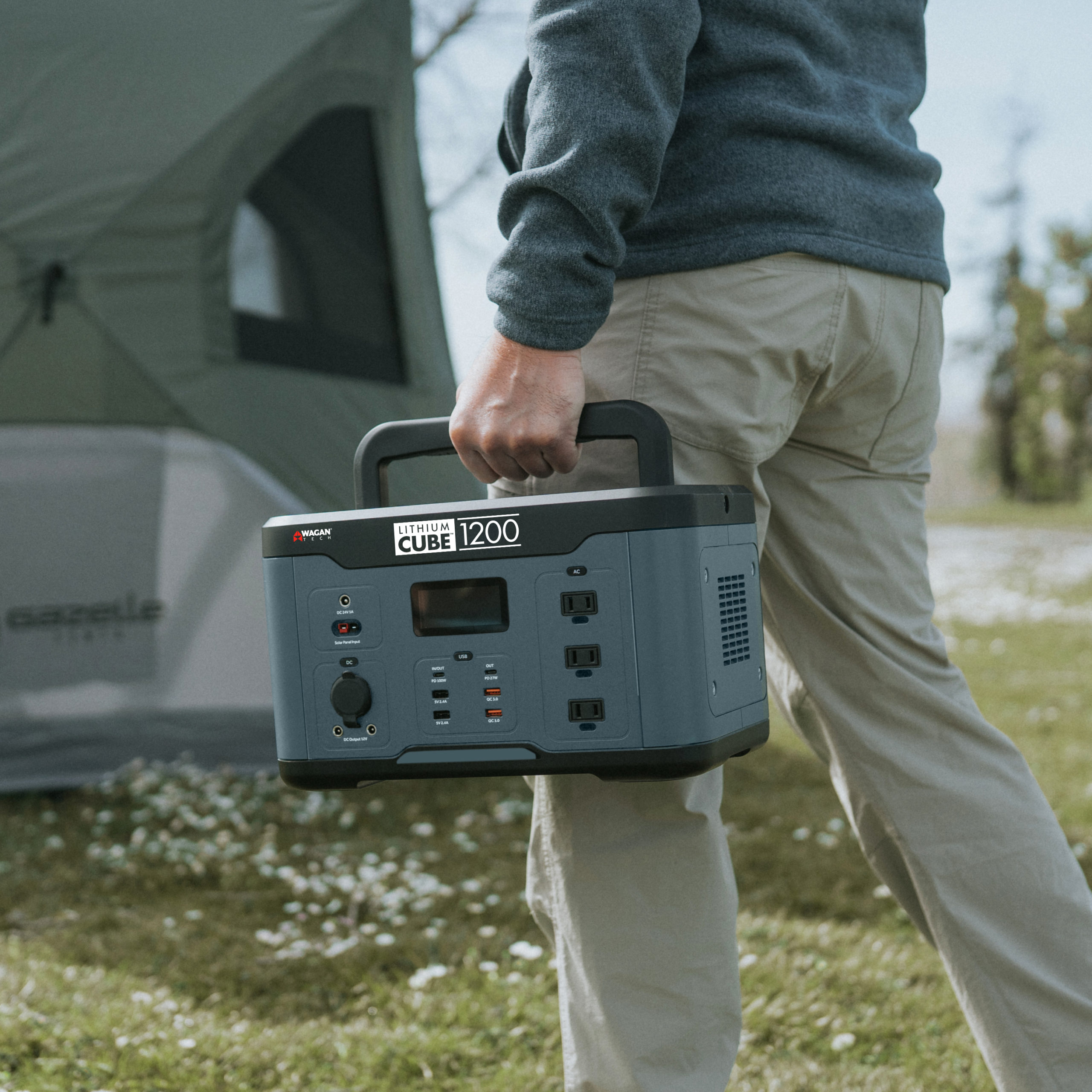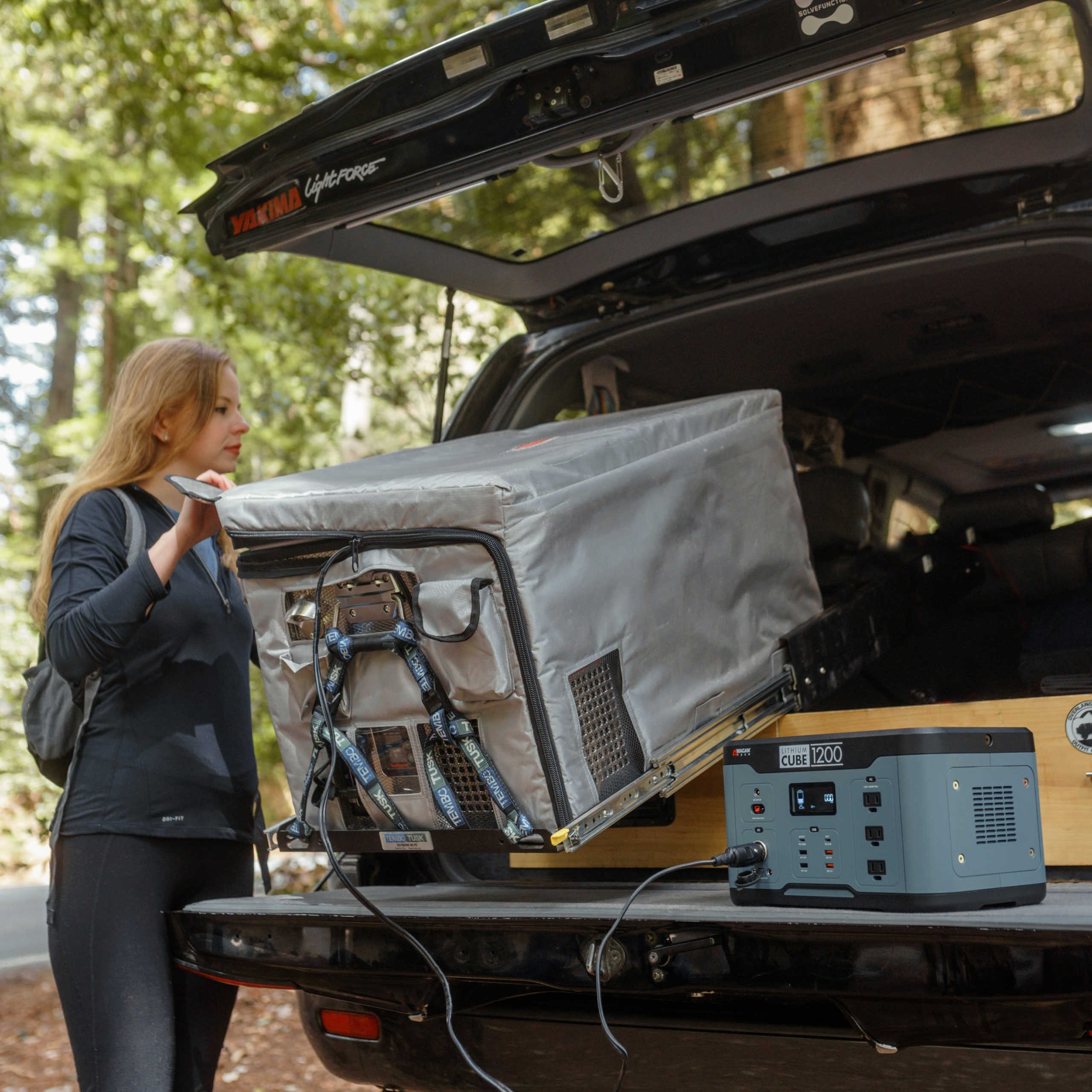 The Wagan Tech's Lithium Cube™ is a culmination of 30 years' worth of power supply knowledge with cues taken from our popular jump-starter, power inverter, and Solar Cube lines. That knowledge cultivated the perfect lithium power supply; one that was full-featured with a solid build quality, could be used anywhere, and is reliable as all can be
We designed the Lithium Cube to be user friendly and accessible to everyone, everywhere. No proprietary plugs, no special connectors, no hassle finding compatible accessories; our Lithium Cube will work with the set-up you already have and with readily-available components
The Lithium Cube 1200 is no slouch; with a 1000W PSW inverter paired with the 1166Wh lithium-ion battery, you'll have the power you need to get the job done with 120V AC outlets, 12V DC Socket, and fast-charging USB Power ports. Whether you need to power a battery charger, refrigerator, CPAP machine, laptop, smartphone, tablets, or lighting for remote photography, we have you covered! Power where you want to be™
Take the guess-work out of using our Lithium Cube! Our Full Featured Display will let you know what is happening at a glance.
Battery Percentage Remaining
Power Output Status
Battery Hours Remaining (until charged/until discharged)
Wattage (input/output current)
Fan On
Error Detection
Features:
1000w Pure Sine Wave Inverter
1166Wh Lithium-ion Battery
Full Color Digital LCD Display
Pass-thru charging
3x 120V AC Outlets
12V Regulated DC Socket with 2x DC Barrel Outputs
2x USB-C Outputs (100W PD, input/output & 27W PD output) with 4x Standard USB Outputs (2x QC3.0 & 2x 2.4A)
Anderson Powerpole 100W Solar Input MPPT Controller
Rechargeable via: AC, DC, Solar, USB-C, Wind/Water Turbine
Folding Handle offers a flat-top design for easy packing/stacking
Thermal/Load controlled cooling fan
Weight: 24.5 lbs.
Special discounts include:
OXDEAL, November 18 – December 26
MSRP $1,249.95