We could write an entire blog post on the history surrounding the iconic El Camino Del Diablo that has existed in the Sonoran Desert of Southern Arizona for thousands of years. Instead we are going to summarize navigating the route in your overland vehicle of choice. The El Camino Del Diablo is 130 miles of unforgiving climate, endlessly controversial politics, and breathtakingly beautiful scenery.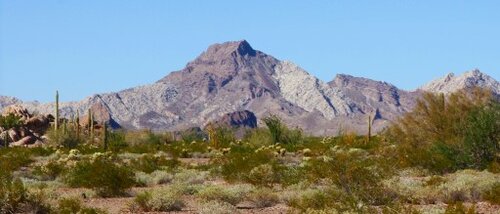 The El Camino Del Diablo, "The Way of the Devil" in Spanish, is over 200 miles of remote and rugged desert roads along the Mexican border in Southern Arizona. The section we will be focusing on is the 130 miles between Ajo and Yuma, Arizona. El Camino Del Diablo exists in its entirety in the Sonoran and Yuma Deserts and passes through the Barry Goldwater Air Force Range, Cabeza Prieta National Wildlife Refuge, and Organ Pipe Cactus National Monument.
The right time to travel El Camino Del Diablo is between the months of October and April. Temperatures in the desert outside of these months can reach 120 degrees Fahrenheit or higher and thousands of people have died along this route from dehydration, heat exhaustion, exposure, and hyperthermia. If traveling in the winter months, come prepared for anything as overnight temperatures can be quite frigid.
The road itself is quite easy (Green on OnXOffroad) for the average 4×4 or high-clearance motorcycle, with the exception of several sections of loose and deep sand. An increased effort by the United States Government to build a more comprehensive border wall in this area has resulted in much of the previous road being converted to wide gravel roads capable of accommodating passenger cars, semis and large equipment. This is unfortunate for those that weren't able to traverse the road before the increased traffic in the area, but the landscape remains mostly untouched and absolutely breathtaking.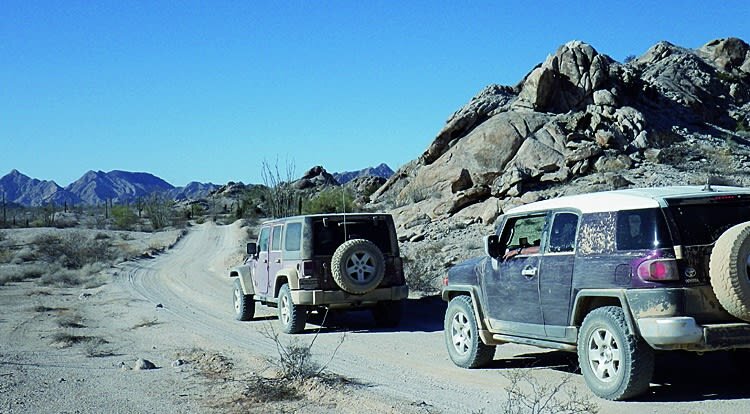 Although someone could blast through this trail in a full day, we don't advise it. Your speed will be dictated by how much dust you can tolerate in your face, vehicle interior, and air filter. A secondary limitation to your speed will be the number of interactions that you have with United States Border Patrol agents that patrol and maintain checkpoints in this area. This portion of the border is one of the most deadly crossings for immigrants along the entire border due to the inhospitable environment. Lastly, we don't recommend speeding through any trip as you will likely miss the most important parts.
With the extra couple of days that you have allowed yourself, consider side trips to Organ Pipe Cactus National Monument, Bates Well, Tule Well Tanks, and The High Tanks. We advise bringing along extra fuel and water to explore the many side trails in the area, many of which provide access to some of the most spectacularly remote campsites in the lower forty-eight states. 
WHAT TO KNOW:
Time: 1-3 Days
Distance: 130 miles
Fuel: Gas is available at either end of the route in Ajo, AZ or Yuma, AZ. Even if you fill up to start, it's advisable to bring supplementary fuel along just in case.
Highest elevation: 1,858 feet
Water: Plan for at least two gallons of water per person per day. DO NOT count on finding a natural water source anywhere in the Sonoran Desert.
Permits: Permits are required to pass through the Barry Goldwater Air Force Range and Cabeza Prieta National Wildlife Refuge.
Other considerations: Desert roads are extremely susceptible to flash flooding and fast-moving water can appear in seconds. Always plan wash crossings and campsites with the likelihood of flash floods in mind.
It is advisable to check in with the various managing agencies before traveling to the area to obtain permits and confirm land-use and campsite regulations.
Barry M Goldwater Air Force Range: (623) 856-8516
Cabeza Prieta National Wildlife Refuge: (520) 387-6483
Organ Pipe Cactus National Monument: (520) 387-6849