NOTICE: This trail is closed due to fire damage. This is subject to change. We encourage you do your own research to ensure the trail is open before you depart for your trip.
With the mercury rising across the country, it's a great time to seek out adventures that might help you find some cooler weather. One of the best ways to beat the heat is to head for higher elevations, and the Medano Pass tops out at 10,000 feet, so you can wager that it will be a bit cooler at the top.
The 22-mile long Medano Pass Primitive Road connects Colorado Highway 69 with Great Sand Dunes National Preserve and Great Sand Dunes National Park. As you climb to the 10,040 ft. peak, you'll tackle rock gardens, nine water crossings, and of course, sandy sections. This route is only accessible by 4WD vehicles due to the possibility of deep water, ruts in the trail, and soft sand. When the route initially leaves Highway 69, the road is hard-packed and wide enough for two vehicles to pass. As it continues west, it becomes rougher and narrows. While it's always a good idea to travel with another vehicle, the possibility of requiring recovery assistance on this route makes it an even better idea.
Airing down is a must on this road. While most overlanders have their own air compressor, the park does have a free air station available at the south entrance during the summer months.
The area offers plenty of opportunities to camp, with 21 marked primitive sites along the trail. These sites are first-come-first-serve and free of charge. Be extra cautious storing food, beverages, and other scented items. The park provides bear boxes at each campsite.
This trail is best tackled in summer or fall. Snow can linger at higher elevations well into summer. Parts of the trail offer excellent fall foliage viewing. The park's weather page provides information on creek levels and other special alerts, or the park's visitor center is available for up-to-date trail information at 719-378-6395. A forest fire burned a portion of the route in 2010, but the beautiful aspens have grown back, and their brilliant foliage is a massive plus to visiting in the early fall.
While there, visitors can check out the tallest dunes in North America, explore numerous hiking trails, keep an eye out for bighorn sheep, and enjoy the incredible stargazing afforded by the lack of light pollution. Given the variety of environments and the unique dunes, the photographic opportunities are bountiful.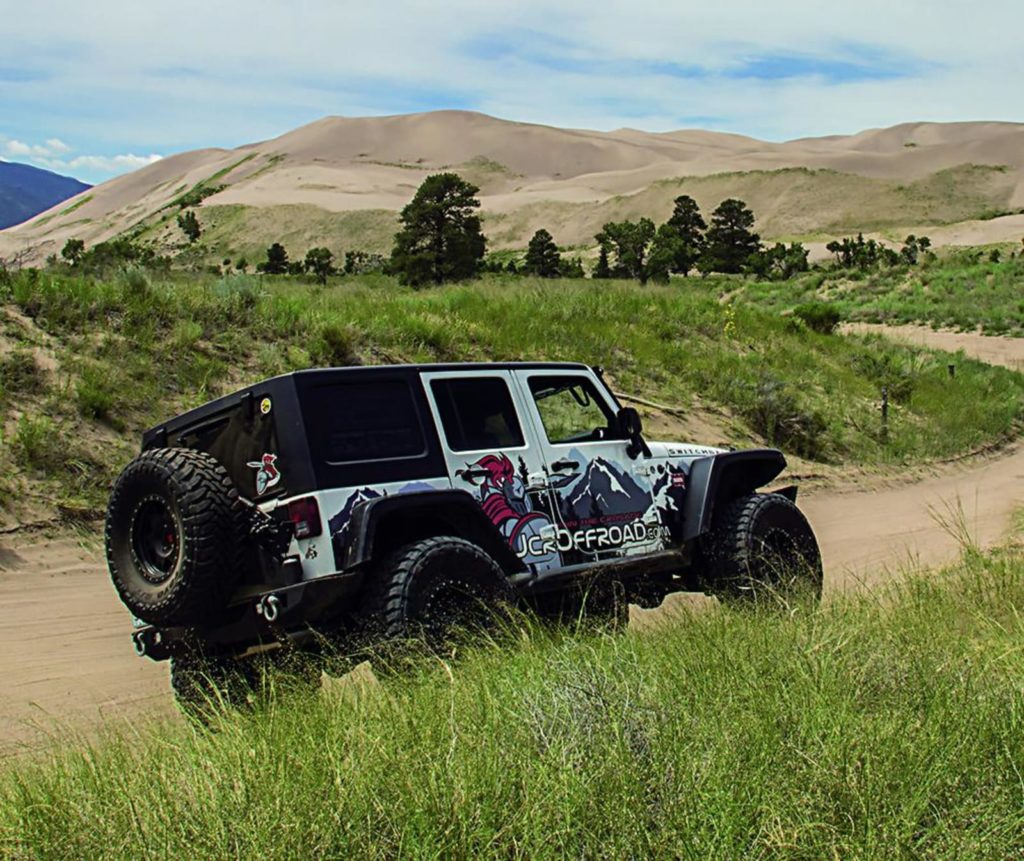 For the overlanders that enjoy fly fishing, Medano Creek is worth a pit stop. Cutthroat/Brooke trout hybrids are present in the creek. The Rio Grande Cutthroat trout only occupy a small portion of their original range due to competition with exotic fish species introduced into many watersheds. The Medano Creek watershed is a closed system and is under catch and release regulations. Anyone that chooses to wet a line needs to be sure to follow all Colorado fishing regulations.
If you visit in the fall, you may be able to witness the sandhill crane migration that visits the valley. Over 20,000 cranes spend part of the spring and fall in the area.
WHAT TO KNOW:
Time: 3 Hours
Distance: 22 Miles
Fuel: Fuel is available just outside of Great Sand Dunes National Preserve.
Highest elevation: 3,882 feet
Water: Outside of availability at stores and gas stations, water is also available, with proper filtration, at the water crossings on the trail
Other considerations: Tents must be located within 40 feet of the bear box at each site. Fires are only allowed in the pre-existing fire rings. Pets must be leashed. Only highway-legal vehicles recognized by Colorado are permitted on the road. The road is typically closed from November through May.