If you're looking for a lengthy adventure before or after Overland Expo Pacific Northwest in Bend this summer, consider Route 3 of the Oregon Back Country Discovery Route from OOHVA. It's a 378-mile trail accessible from the Santiam Highway at the Hoodoo / Big Lake junction near Sisters, Oregon at the northern terminus or Klamath, CA at the southern terminus.
Over the next few months, we'll be highlighting adventuresome places in and around Bend, as well as Oregon in general.
Oregon Back Country Discovery, Route 3
The route is moderate in skill level and appropriate for either 4×4 vehicles or adventure motorcycles and serves up some of the best scenery in the Oregon Cascades. As you travel the remote back country through the Deschutes, Umpqua, and Winema National Forests, you'll drive or ride through varied terrain and pass remote waterfalls, crystal clear mountain lakes, and the Crown Jewels of the Cascade Range.
You'll want to attempt this route in the summer months as the trail will meander over several high mountain passes near 6000 feet in elevation. Obviously, snow can be an issue too early in the season, and you will need to backtrack (sometimes hundreds of miles) to get around it.
Maps are available (for a nominal fee) through The Oregon Off-Highway Vehicle Association website – the folks who developed and expanded this route over the years. We encourage you to support the community that put the time and effort into creating and maintaining this route.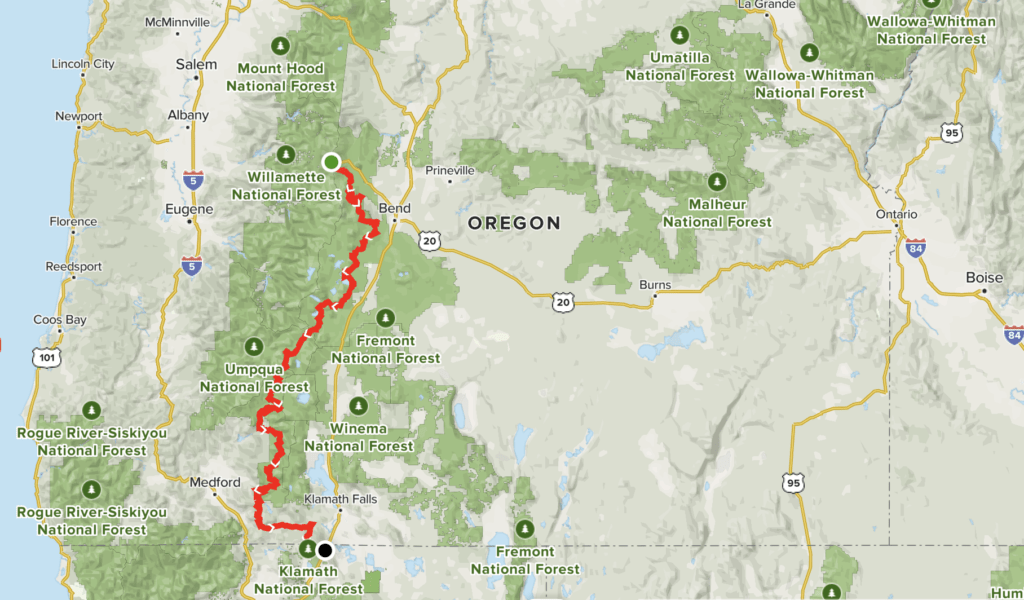 What to Know
Time: Give yourself a minimum of six days for this point-to-point drive, but consider spending more time exploring the area.
Distance: 378-miles
Elevation gain: 30,741-feet
Fuel: Fuel is available along the route, but bring plenty of extra fuel for emergency situations.
Water: Water is available along the route. During the summer months, temperatures can top 100 degrees, so bring more water than you plan to use.
Permits: Oregon State ATV Permit Required this permit helps keep the back country open and keeps trails in top shape.
Campfires: Campfires are permitted, but please keep them small and don't leave them unattended. High winds and dry conditions can fuel a wildfire even at unlikely times of the year.
Other considerations: This route is remote, and visitors should be equipped to be self-sufficient. Drivers and moto riders should wear appropriate safety gear, carry a first aid kit, and never ride alone. Most Forest Service and BLM personnel have radios and can give assistance, but don't rely on seeing anyone else on this route.
If you have 20 spare minutes, check out this great YouTube video from High Sierra Yota.
Note: This editorial is for informational purposes only. Trail conditions are variable and should be researched and confirmed by you prior to use. Always obey property lines and use common sense to verify boundaries, roads, and trails.