Over the last few years, full-size pickup trucks slowly crept into the overlanding industry. Once a pastime dominated by mid-size trucks and SUVs, overlanding has begun to see an emergence of much larger trucks in its midst.
Aside from their novelty as an overlanding platform, full-size trucks offer a lot of benefits over their mid-sized counterparts. Chief among them is their refinement. The five automakers who build full-size pickup trucks for the American market build and sell millions of them each year. For this reason, full-size trucks demand heaps of R&D funds, the most brilliant engineering teams, and the best and newest innovations each respective automaker can muster.
There is no better example of this than GMC's first-ever Sierra 1500 AT4X. It's a truck that blends General Motors' best in one incredible package. We'll get to the spec sheet later, but let's highlight just a few outstanding features: 420-horsepower 6.2-liter V8; heated, cooled, and massaging front seats; front and rear electronic locking differentials; smooth-riding Multimatic DSSV spool-valve dampers at all four corners; and a massive 13.4-inch-diagonal color center touchscreen.
With that gauntlet thrown down, let's dig into why the GMC Sierra 1500 AT4X was our ideal canvas for the Ultimate Overland Vehicle 2022.
Refinement & room
Aside from its off-road prowess, perhaps the biggest change to the current-gen Sierra 1500 for the 2022 model year mid-cycle refresh came in the interior. For 2022, and especially in the AT4X, the Sierra 1500 is a much nicer, more luxurious, and tech-savvy place to be.
A quick glance at the center dash tells you everything you need to know about the 2022 AT4X. It features a new, larger 13.4-inch-diagonal color touchscreen. This massive touchscreen is complemented with a new 12.3-inch-diagonal configurable digital instrument cluster and 15-inch-diagonal multicolor Head-Up Display (HUD). These screens and HUD combine to provide more than 40 diagonal inches of digital display — the most in its class.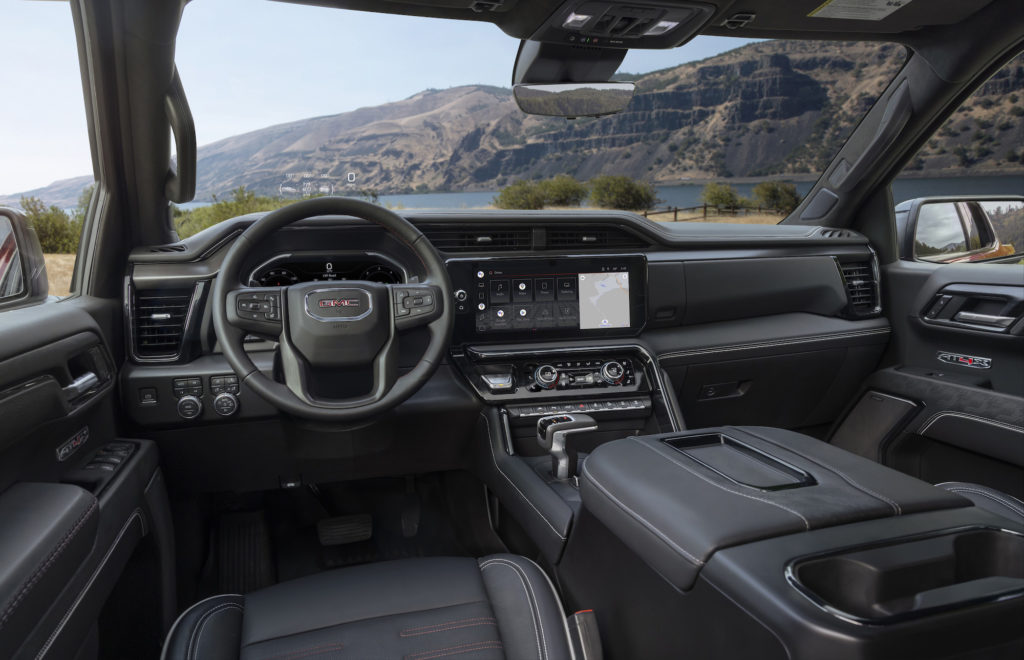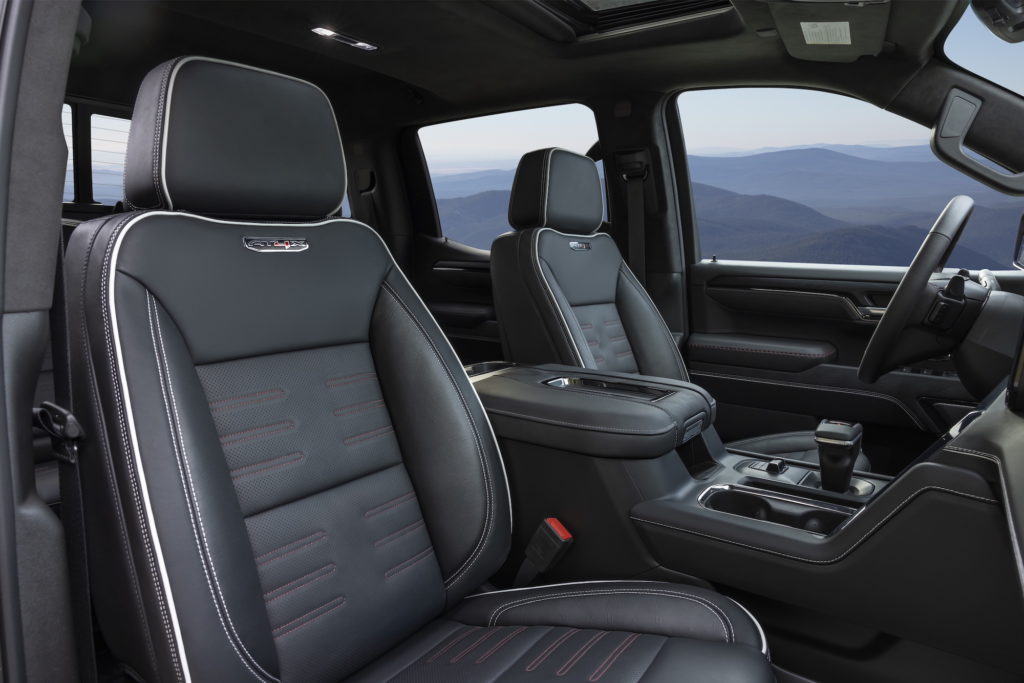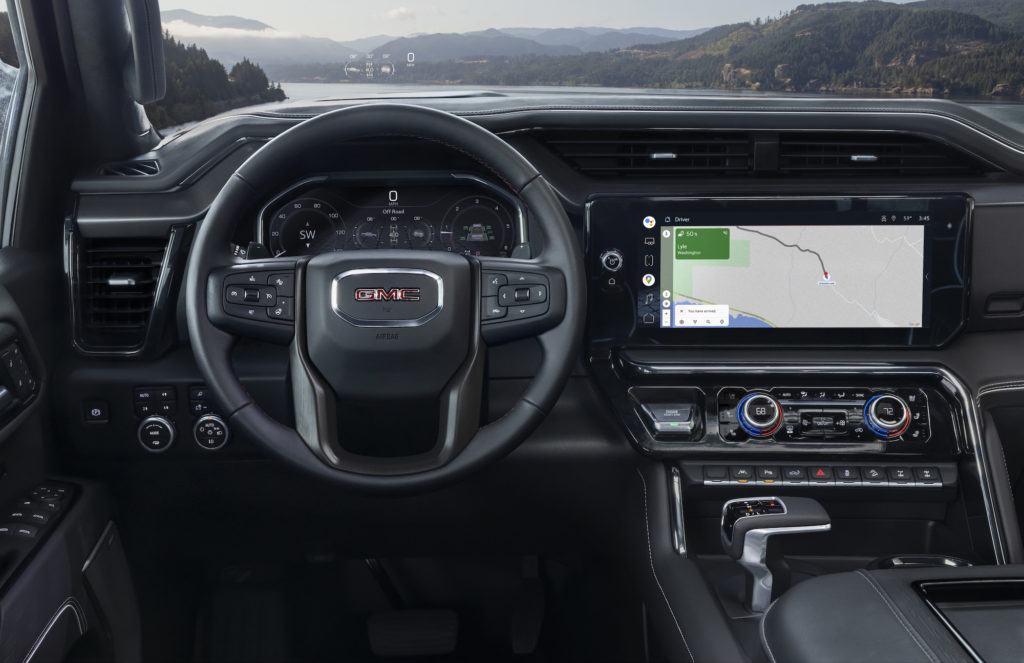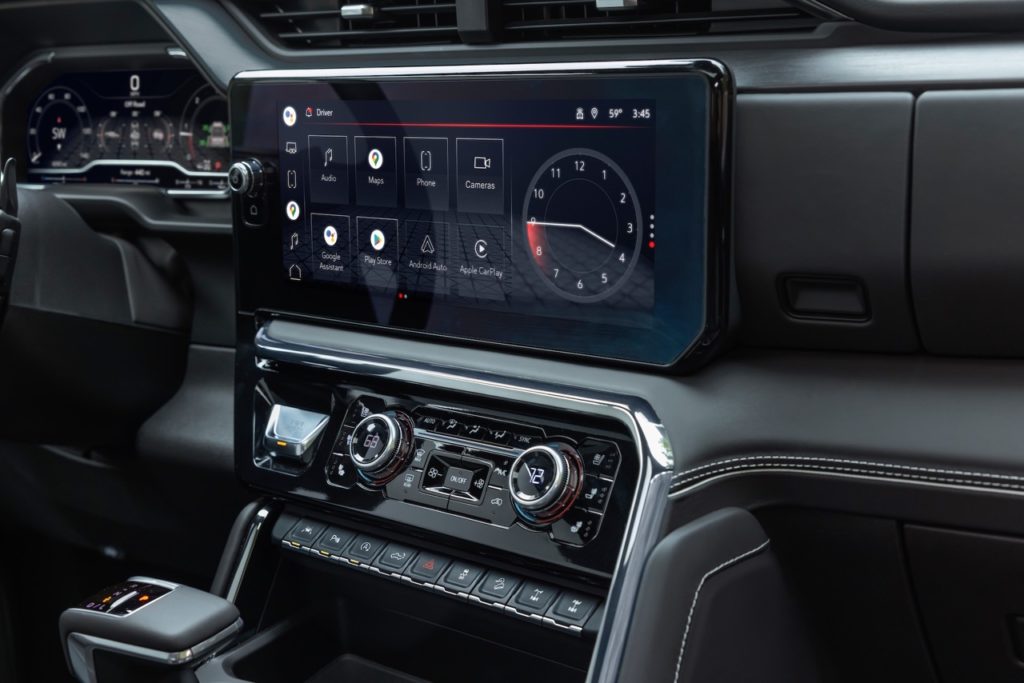 More than just full of displays, the dashboard has wood and leather accents and soft-touch materials throughout. As we mentioned before, the leather-trimmed front seats are heated, cooled, and feature massagers. The steering wheel is heated, too. It's amazing to think that technology and features once reserved for top-end Mercedes-Benz limousines are now standard in trail-capable GMCs.
Not surprisingly, the interior of the Sierra 1500 is large, offering lots of space for passengers. But it's also large enough to support a lot of gear — inside and out. The Crew Cab, like our AT4X, has a large roof ideal for a platform rack. And the short box bed might be "short" but it's not tiny. At 5.8 feet long, it's plenty long and wide enough for a ton of overland gear.
Drivability & reliability
There's no question that GM gave its Sierra engineering team all the funds they needed to create the AT4X. Climb into the cabin, press the brake pedal, and hit the ignition button. The engine comes to life with a roar and those 40 inches of displays illuminate.
Fit and finish is top notch. The steering wheel feels good in your hands. The new center console-mounted shifter is clicky and satisfying to activate. You sit up high in the truck, giving a king's view of the land ahead. And the standard moonroof spills light into the well-appointed cabin.
Get out on the road and the AT4X drives like a sports truck. The Multimatic DSSV spool-valve dampers keep the ride taut but also expertly iron out roadway imperfections. You feel like you're flying at 10,000 feet but without feeling completely separate from the road.
420 horsepower and 460 foot-pounds of torque are available at virtually any speed, thanks to the Sierra 1500's 10-speed automatic transmission. Whether you're at 7 or 70 mph, toe into the accelerator pedal just a bit and you're rocketing forward with a roar only a 6.2-liter V8 can muster. That heap of low-end torque comes in handy on the trail, too, when summiting obstacles.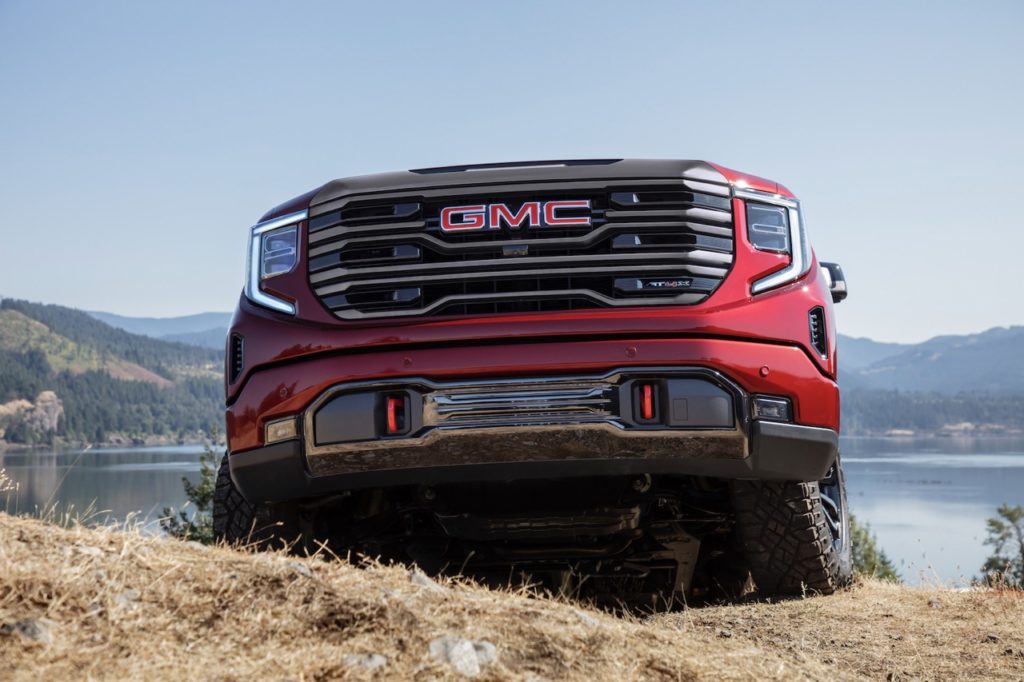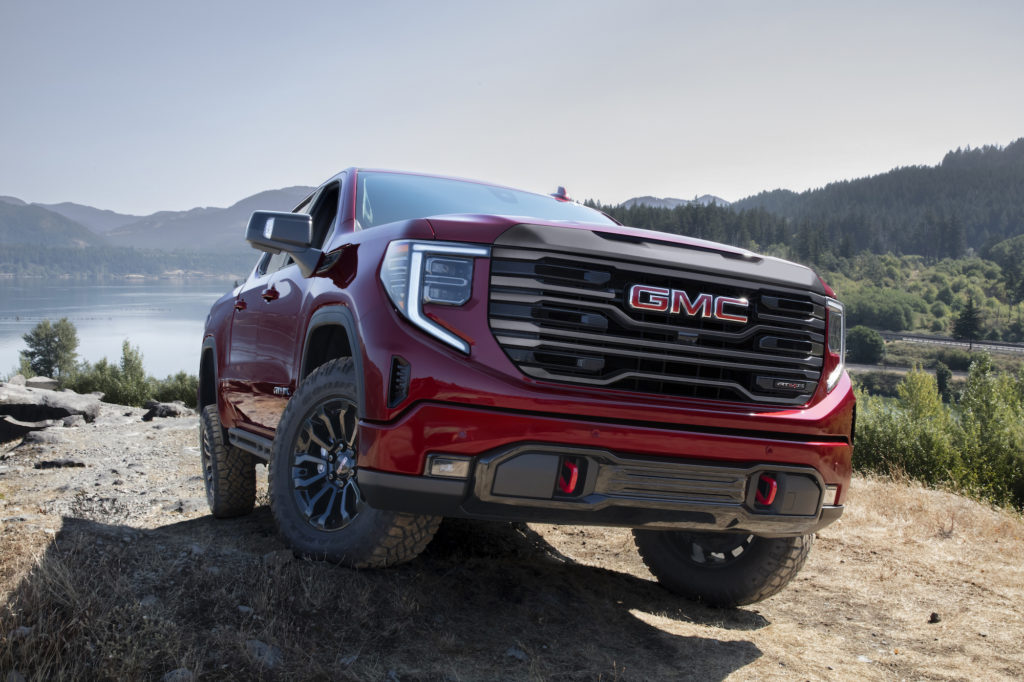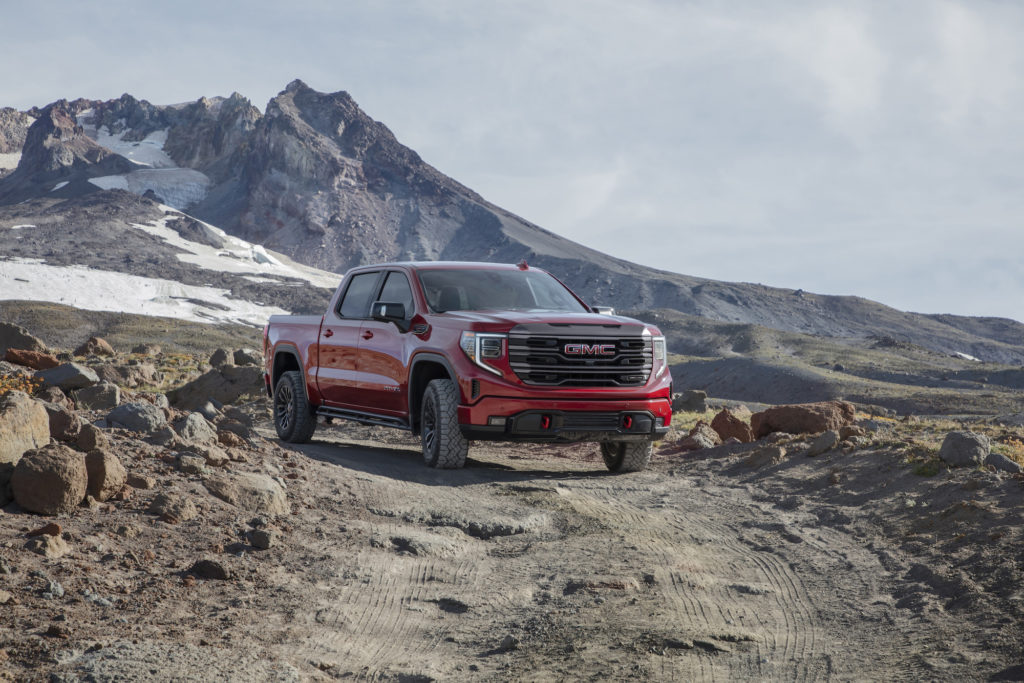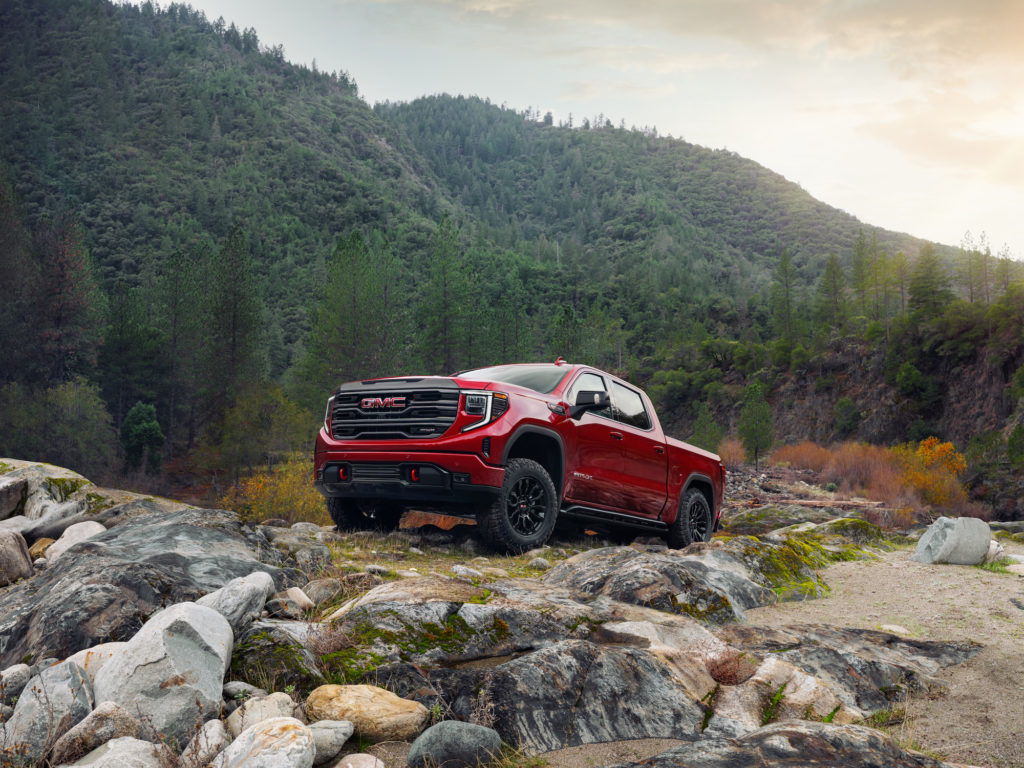 Its on-road manners aren't the AT4X's only advantages. One of the many things that drew us to the Sierra 1500 was not just its packages and appointments but also its ubiquity and reliability. GMC sells roughly a quarter-million Sierras each year. The AT4X trim may be new, but the Sierra isn't. And that's a good thing.
Millions of Sierras on the road means that parts are readily available throughout North America. It's likely that, no matter where you are in North America, you're never more than 100 miles from GMC Sierra parts, which should take a lot of worry out of any overlander's mind.
GM's light-duty pickups are all over the place, yes, but they are also tried and true. The 6.2-liter V8, for example, has been around for a while now. It's a powertrain that you can set your watch to. It might feature push-rod technology from the turn of the 20th century. But it also has high-tech features, too, like cylinder deactivation, which saves fuel on the freeway.
Cutting-edge capabilities
Luxury, reliability, and spaciousness aren't the only reasons we picked the AT4X. Ultimately, the truck has to be capable in order to be a meaningful overlanding rig. AT4X has that in spades. A two-speed transfer case is just the first line of defense against trail obstacles. Electronically lockable front and rear differentials ensure that traction is achieved in virtually any terrain.
We haven't tested it yet, but AT4X also includes Terrain Mode with one-pedal crawling. This enables the driver to crawl over technical terrain using just one pedal. This takes a lot of the guesswork out of technical off-road driving. And we're very excited to test it for ourselves on the trail this year.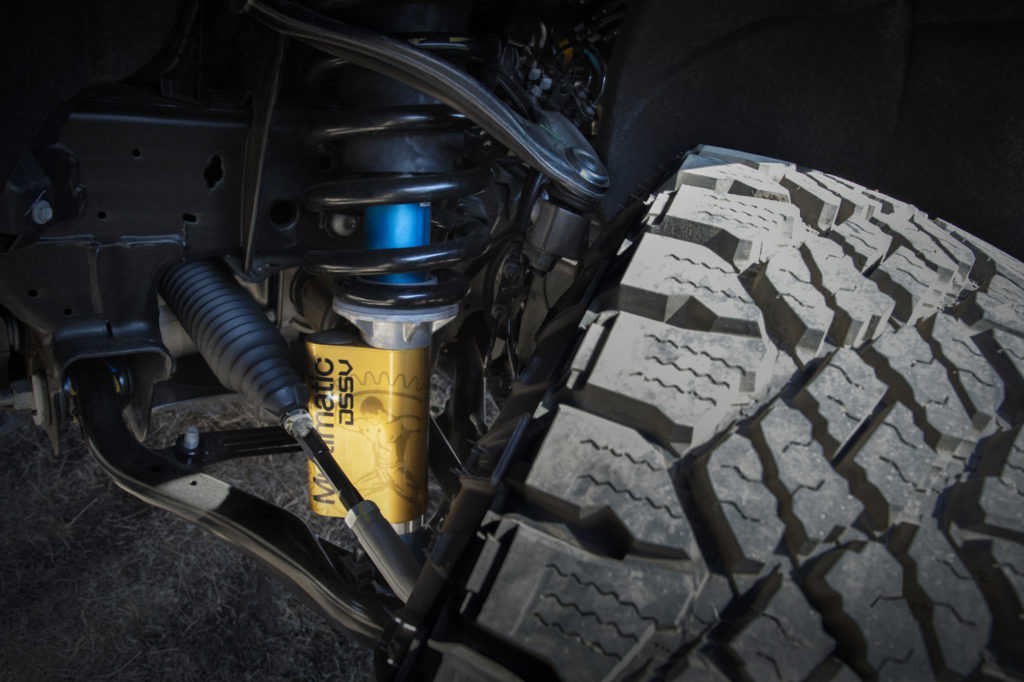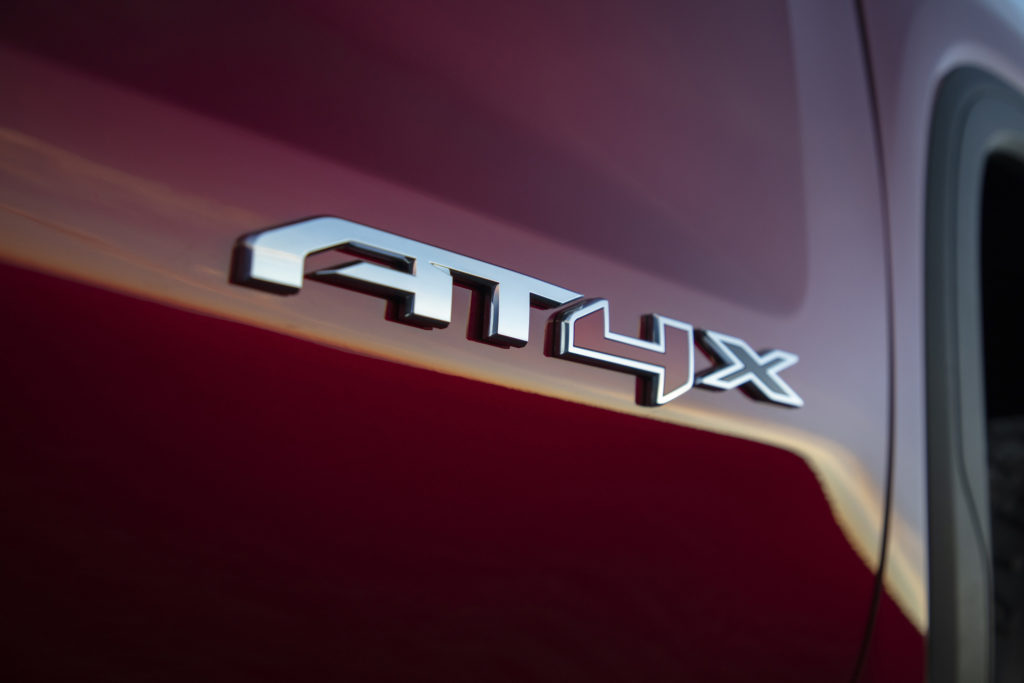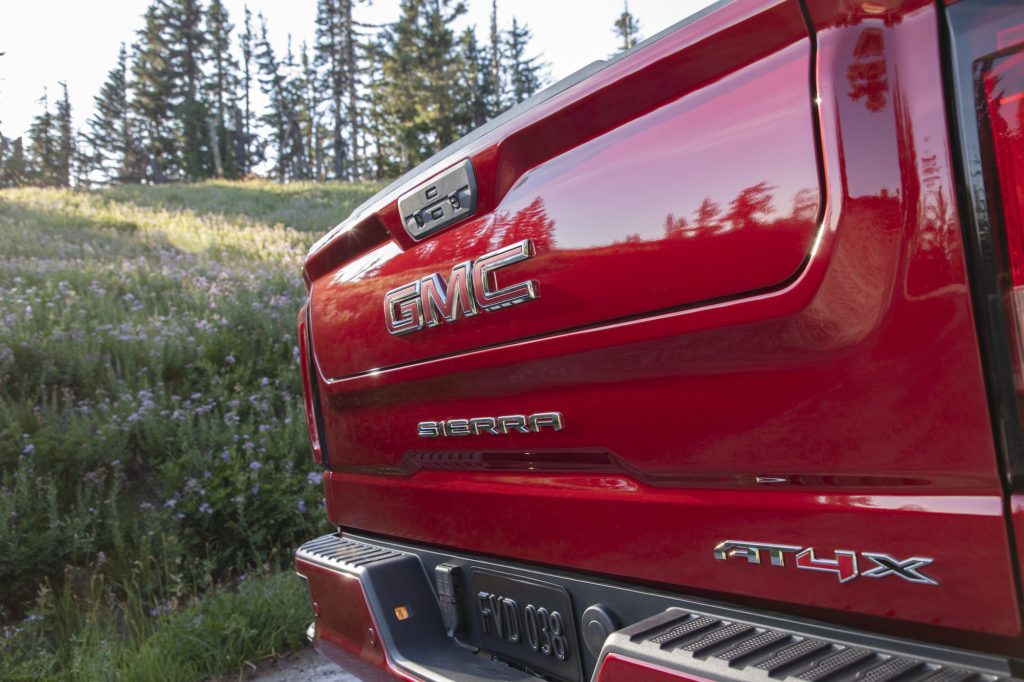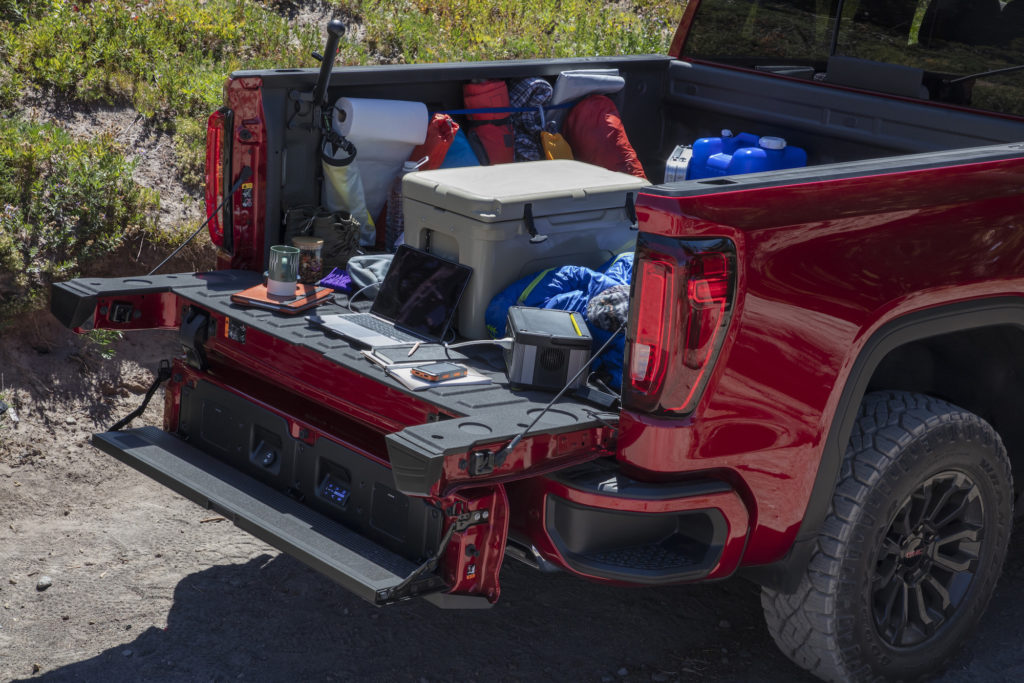 The AT4X's Multimatic dampers also enhance traction. Compared to the AT4 trim, the AT4X's suspension travel increases by 1.9 inches (50 mm) in the front and 0.98 inches (25 mm) in the rear. Anyone who's attempted challenging off-road driving knows that sometimes even a half an inch of additional suspension travel can mean the difference between moving forward and being stuck. And should clearance not be enough, engineers beefed up the t-case shield just in case you happen to scrape on the trail a bit.
Our plans
Right off the showroom floor, we know that the AT4X can handle most every overland trip we could plan for it. Sierra 1500 AT4X wouldn't be our vision of an Ultimate Overland Vehicle, though, without some modifications.
The super-capable AT4X comes in the middle of the lifecycle of the current Sierra 1500. That means it shares the same body, engine, and chassis as previous model years of this generation. So, we can outfit our Ultimate Overland Vehicle with the greatest gear available right now without waiting 18 months for components to be designed, tested, and shipped.
With our build, we are going to create a very capable, comfortable, and compelling full-size overlanding rig that doesn't go overboard with accessories and gear. We've selected enough to be comfortable and tackle remote trails, but nothing extraneous.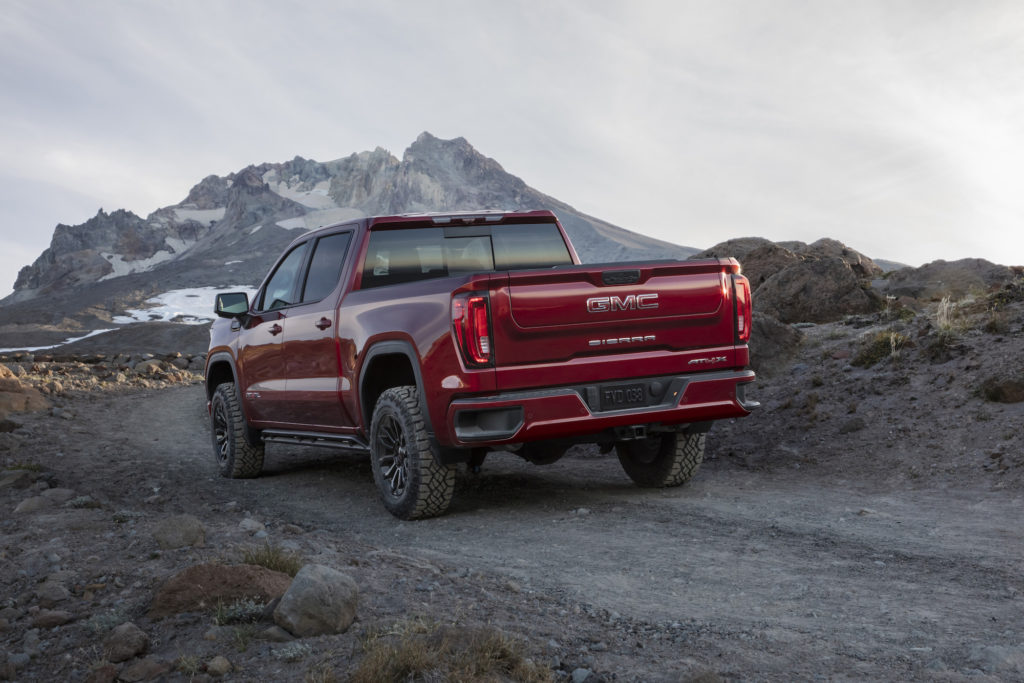 Our build, well, builds on the AT4X's personality. It is premium, capable, and comfortable without being too flashy. It is stylish and rugged but doesn't go overboard or beat you over the head with its appearance. The AT4X was designed with years of experience and know-how, from street to track to off-road, and because of these years of high-performance influences, it can be relied upon for years to come no matter how we use it.
We think AT4X with its unmatched capabilities in its class paired with an extensive list of exclusive features makes it the perfect base for our Ultimate Overland Build for 2022.
You can learn more about the 2022 GMC Sierra AT4X on the official website: www.gmc.com/trucks/sierra/1500
What to know:
Key features:
Standard aluminum 6.2L V8 engine, producing 420 horsepower, 460 foot-pounds of torque
10-speed automatic transmission
Unique Multimatic DSSV spool-valve dampers
Unique springs that, with the Multimatic dampers, increase maximum front and rear suspension travel by 50 mm and 25 mm, respectively, compared with the standard AT4 suspension
The new, larger 13.4-inch-diagonal color touchscreen is complemented with a new 12.3-inch-diagonal configurable digital instrument cluster and 15-inch-diagonal multicolor Head-Up Display
Two-speed transfer case, with selectable modes for different off-road conditions, including Terrain Mode, which allows one-pedal rock crawling
Front and rear e-locking differentials, a combination not offered by any other competitor in its class
Specific off-road chassis and suspension calibrations
Unique, larger steel transfer case shield
18-inch black wheels with LT265/70R18 Goodyear Wrangler DuraTrac Mud-Terrain tires
Available rocker guard accessory
New dual-projector LED headlamps, along with a revised execution of GMC's signature C-shaped daytime running lamps, giving the Sierra a bolder, wider appearance
Key specs:
5,240-pound curb weight
8,900-pound trailering weight capacity
1,420-pound total payload capacity
147.4-inch wheel base
232.9-inch overall length
81.2-inch width without mirrors; 97.6-inch width with mirrors
78.4-inch overall height
10.9-inch ground clearance
25.5-degree approach angle
23.0-degree departure angle
22.7-degree breakover angle
24-gallon fuel tank