Typically, automakers refresh a model every three years and completely remake a model in six years. Not Toyota. Toyota waited 15 years between Tundra generations.
To put it into perspective, George W. Bush was in office the last time Toyota debuted an all-new Tundra. The last — and current — generation of Tundra was revealed in 2006. So, to use a phrase like 'once in a lifetime' isn't accurate. But it's not wholly inaccurate either. Does that make sense?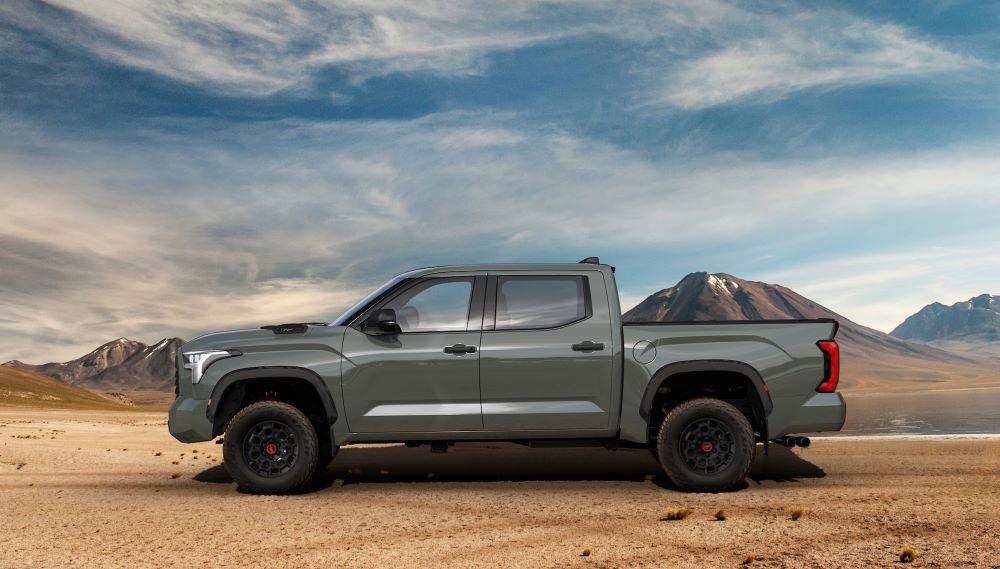 To paraphrase a friend, "Buying a brand-new Tundra past 2013 was a bit like going to the animal shelter and coming home with a Stegosaurus."
The only thing I can think of that comes around less frequently than new Tundras are the cicada broods that emerge every 17 years. Never mind. Let's talk about the finally new Tundra.
MAX power
Let's start under the hood. The 2022 Tundra will be powered by two similar powertrains: an i-FORCE 3.5-liter twin-turbocharged gasoline V6 or the uprated i-FORCE MAX 3.5-liter twin-turbocharged gasoline V6 with an electric motor-generator integrated into its bell housing.
The standard 3.5-liter puts out 389 horsepower and 479 foot-pounds of torque. The MAX, however, churns out an impressive 437 hp and 583 ft-lbs. Both the 'standard' and the MAX power plants are mated to a 10-speed automatic. Toyota hasn't said 0 to 60 times yet. But if you're wondering about those numbers, you're reading the wrong story.
It's fair, however, to wonder about fuel economy. Toyota hasn't given those numbers yet either.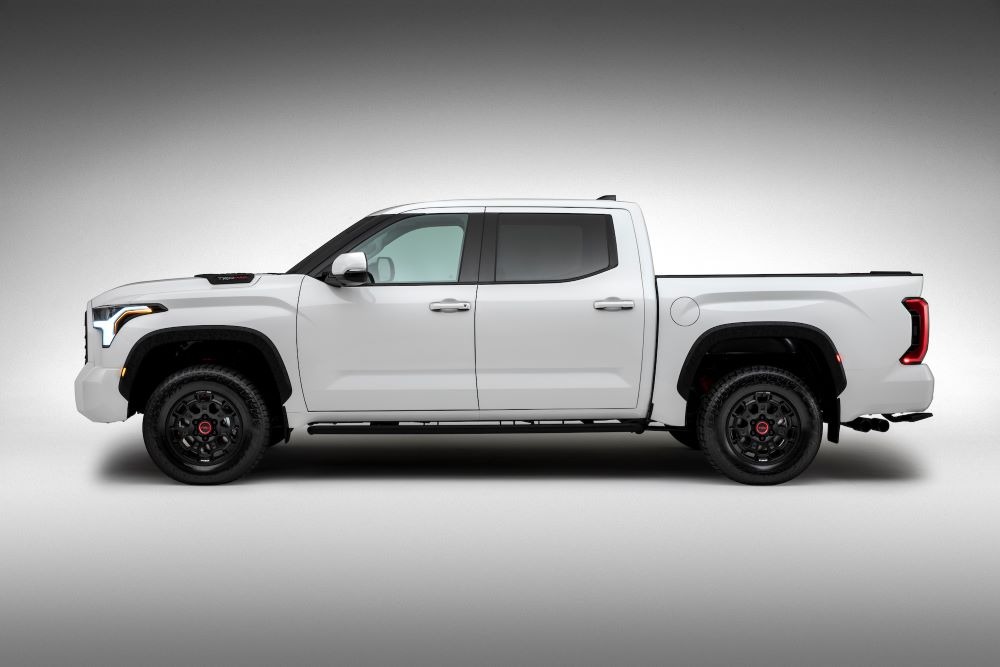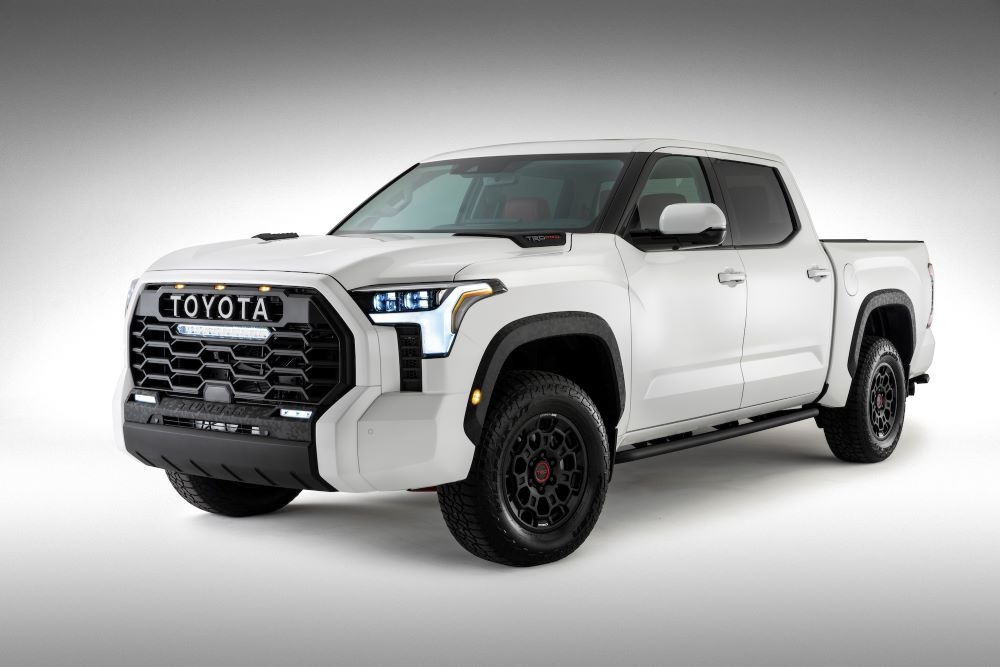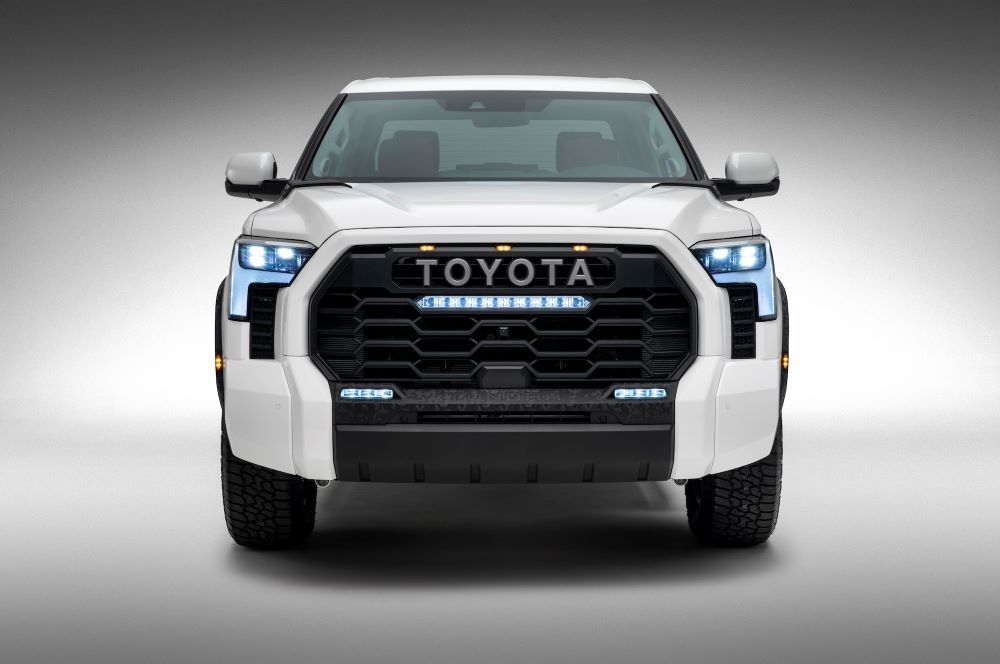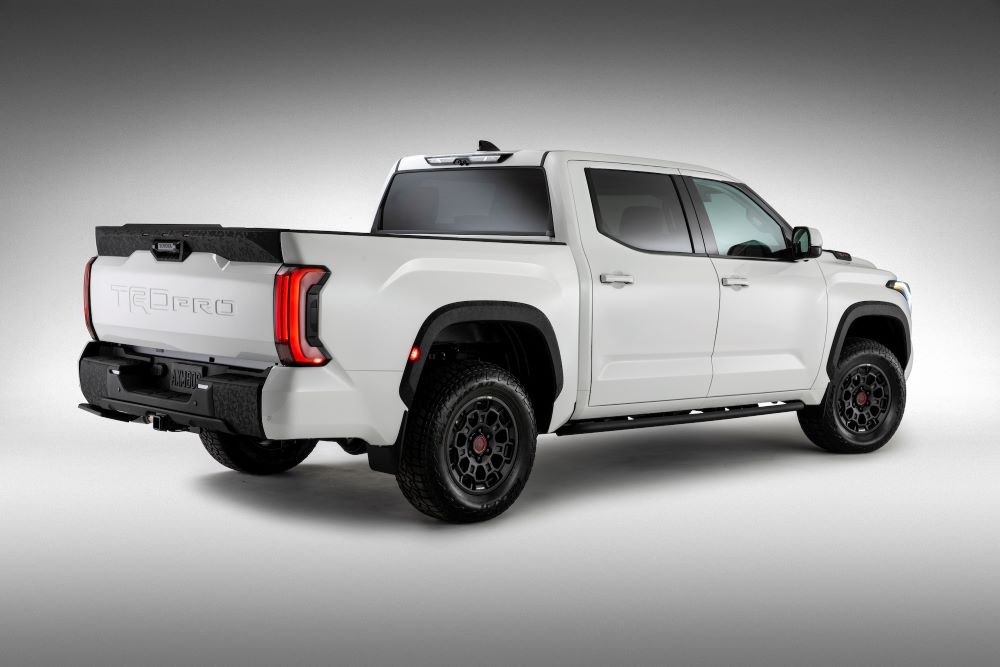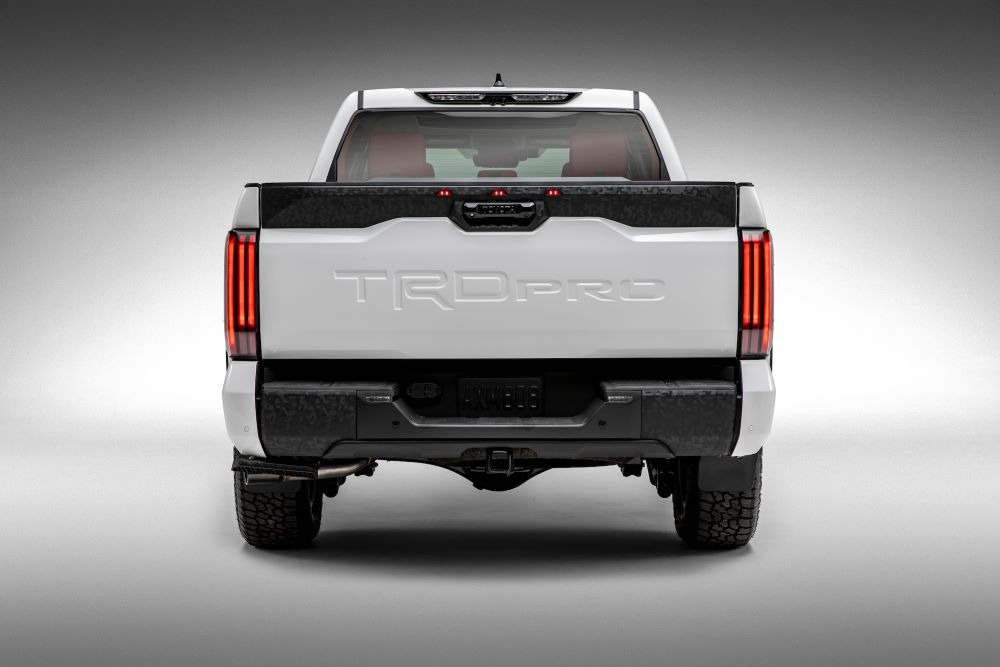 Three composite beds
I can tell you, though, that the Tundra will tow up to 12,000 pounds (17.6% higher than the current-gen) and have a 1,940-pound payload (up 11% over today's Tundra).
A lot of those hauling gains can be attributed to the Tundra's new fully boxed, high-strength steel ladder frame. That's supported in the rear by a strengthened crossmember. And, for the first time, there's a front crossmember, too, which supports the steering gear.
Mounted over that tougher frame is a bed made of composite that's reinforced by aluminum. This new lightweight bed is available in three sizes: 5.5-, 6.5-, and 8.1-foot.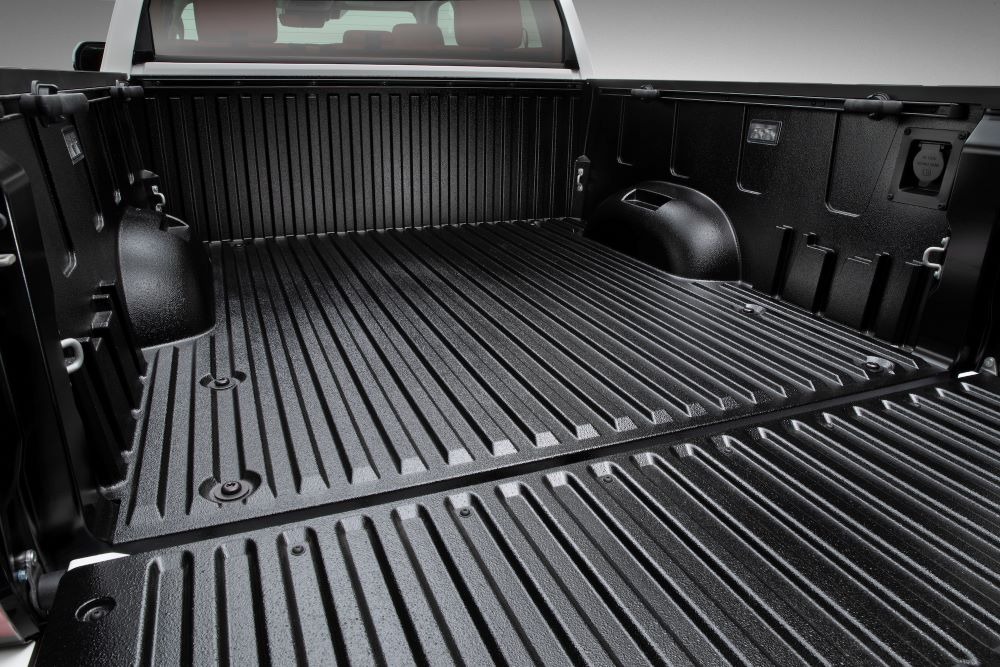 Composite beds are becoming commonplace in the full-size truck market. Though lightweight, they pose problems for accessorization. But we can talk about that another time.
One neat feature of that new composite bed is that the tailgate can be lowered automatically with a push of a button on the keyfob — a standard feature on all Tundra models.
TRD Off-Road package
Speaking of models, Toyota product planners have shaken them up a bit. There are SR, SR5, Limited, Platinum, 1794, and TRD Pro models. Oh, and it should be noted that TRD Pro will only be offered with the i-FORCE MAX powertrain. So, expect big power and a bigger MSRP from that bad boy.
No, I didn't skip the TRD Off-Road model. That becomes a package for 2022 that can be added to SR5, Limited, and 1794 — even to 2WD models. Yes, that's right, you don't need to get 4×4 to tick the TRD Off-Road package box. If you do get 4×4 with TRD Off-Road, though, you also get a locking rear differential, which is nice.
TRD Off-Road adds 18-inch wheels, TRD grille, off-road suspension, skid plates, mud guards, and a leather shifter knob.
Suspension
Some of the biggest changes (yes, there are more changes) in the new Tundra come in the bits that keep the wheels pressed to the pavement or dirt trail, the suspension.
The Tundra has redesigned front and rear suspension. The rear is a redesigned multi-link setup with a solid axle. It has leveling air suspension that can raise and lower the vehicle. It has High, Low, and Normal modes. High is for low-speed off-roading and self-disengages over 18 mph.
Front suspension is an independent double wishbone setup.
TRD Off-Road package models get monotube Bilstein shocks. The TRD Pro model, however, gets 2.5-inch-diameter piggyback reservoir FOX shocks and a 1.1-inch front suspension lift.
TRD Tundras ride on 285/65/18 (32.6-inch) "unique" Falken all-terrain tires.
Lap of luxury
Inside the new Tundra, well, it looks nothing like the outgoing model. There's a standard 8.0-inch touchscreen in the center dash, which can be upgraded to a 14-inch unit. Over in front of the driver is a standard 12.3-inch instrument display. And fancy things like a panoramic roof and heated and ventilated seats can be specified. As evidenced by the press images, no red cow hides were spared in the outfitting of the interior. Tres chic.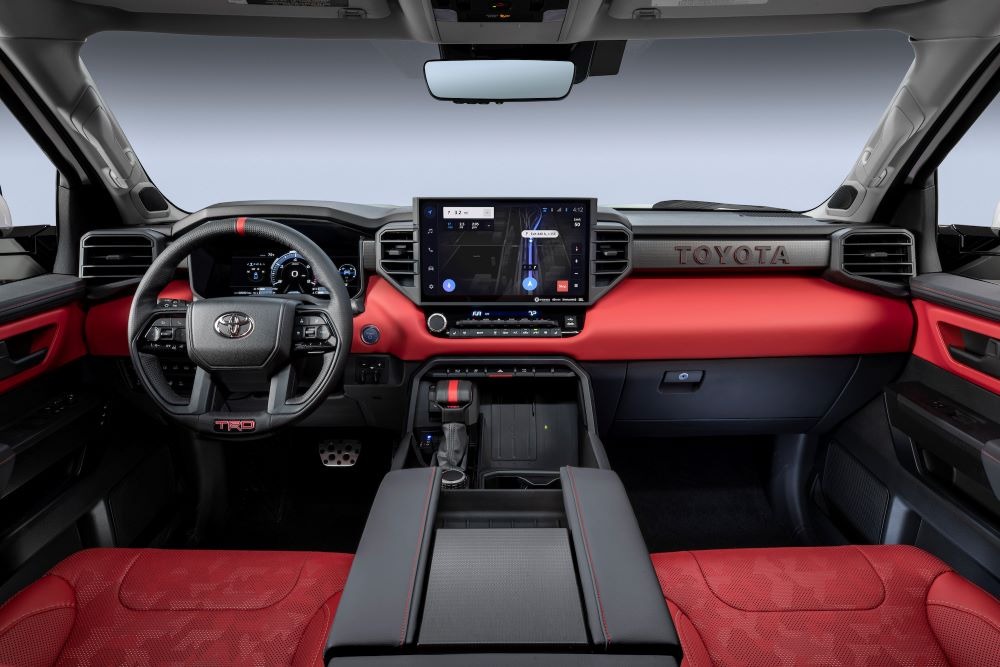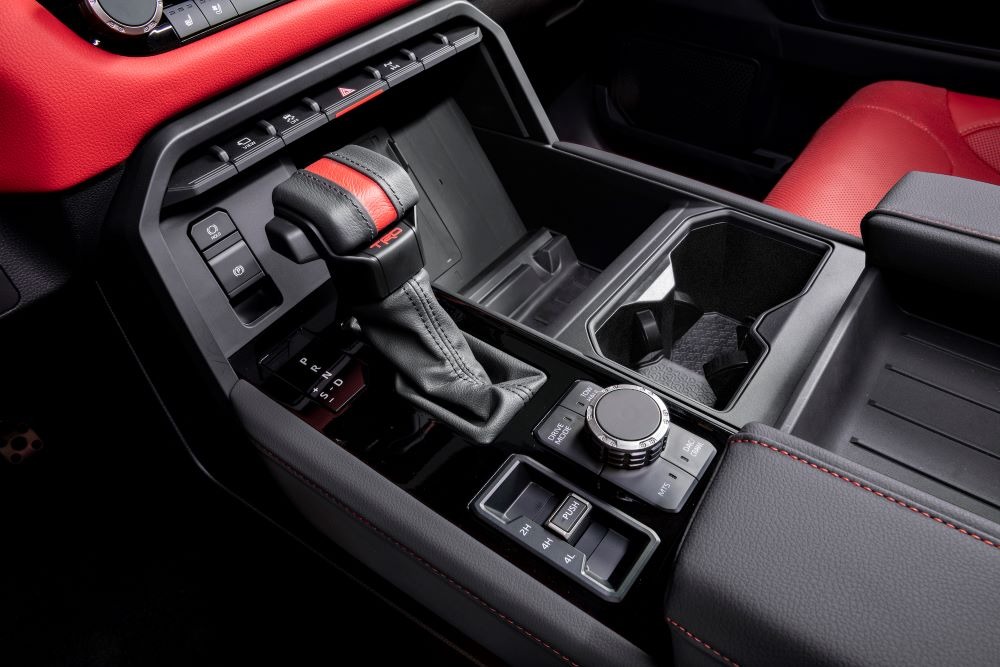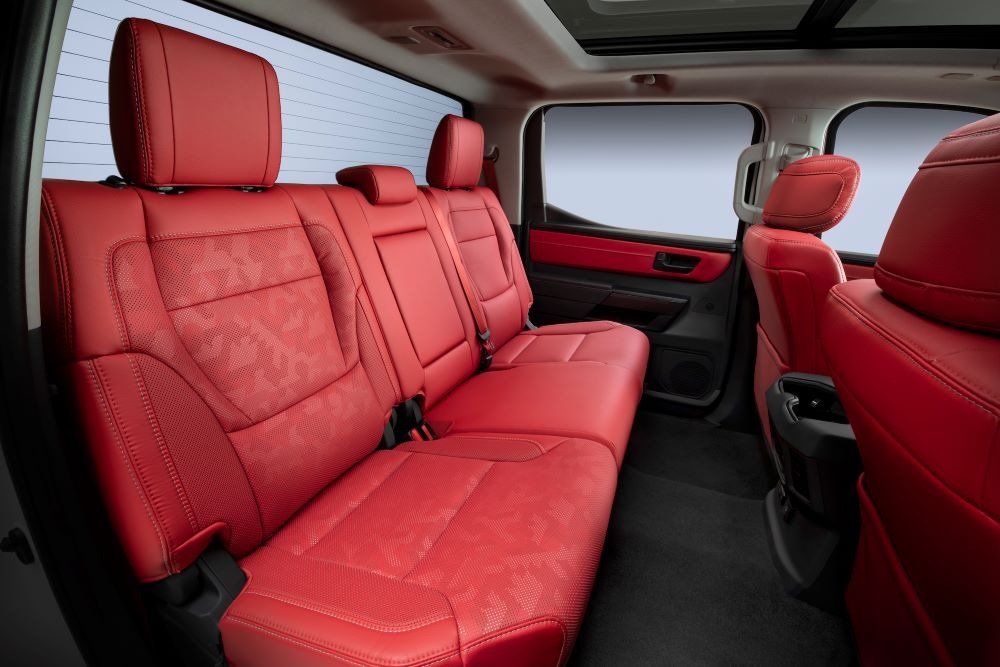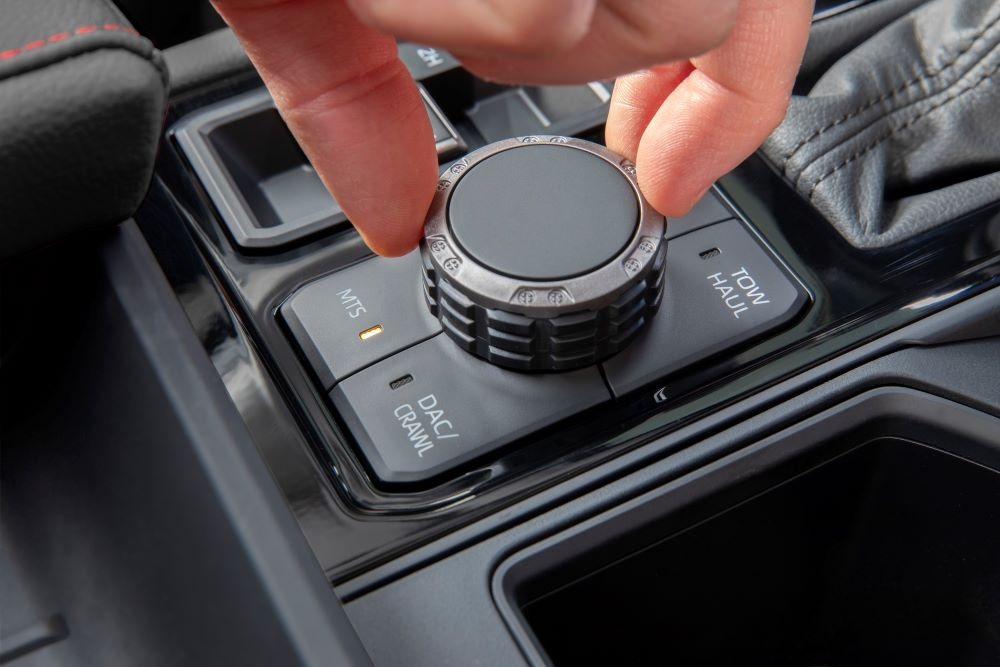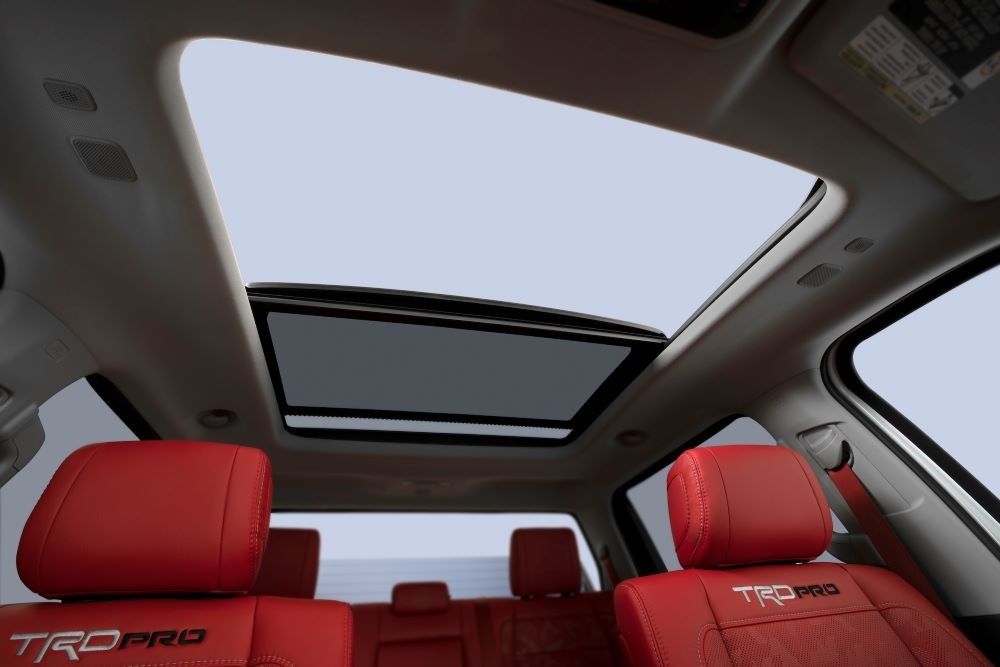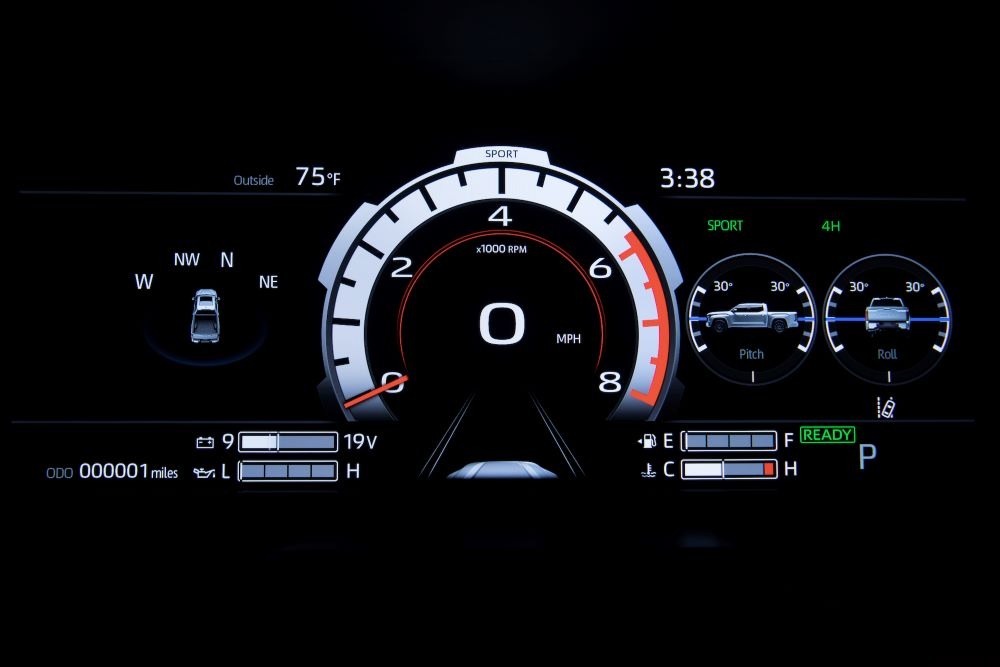 Can it overland?
I beat up on Toyota a bit in the intro for skipping a couple of Tundra generations. Maybe that's not totally fair.
This current generation has served its master well. Save a couple of lean years during the Great Recession, the Tundra has sold roughly between 115,000 and 118,000 units per year. That doesn't make it a sales juggernaut in the full-size truck market (GM and Ford each move nearly a million full-size trucks per year). However, 115k is nothing to sneeze at.
I suspect, though, that with this new Tundra, Toyota is hoping to crest the 200,000 units per year mark and steal a hefty share of sales from the Big Three.
If it will remains to be seen.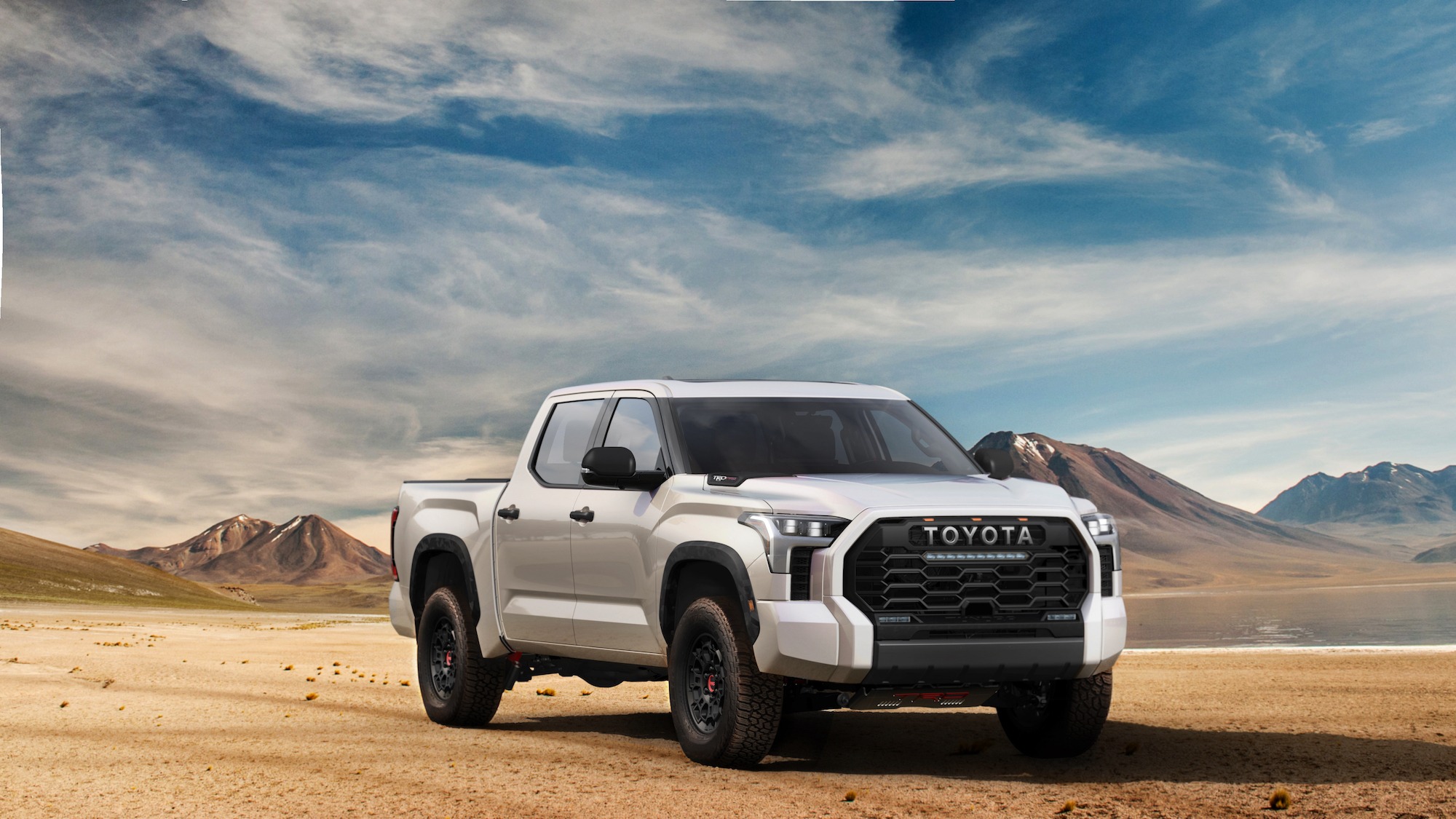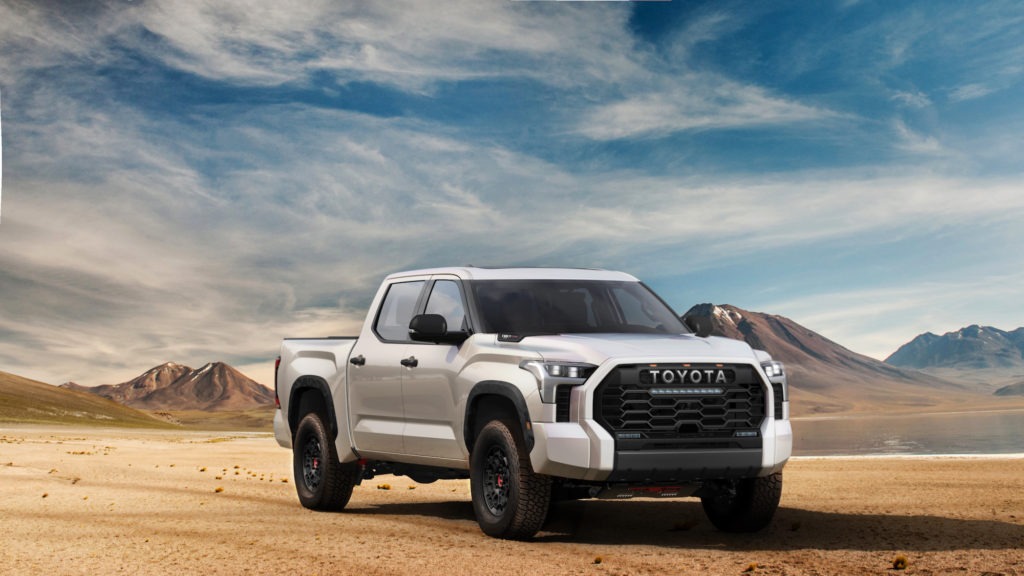 But what about us overlanders?
More importantly, we have not yet seen a lot of evidence that this Tundra is well suited to overlanding. Yes, it can tow and hold a lot. That does not a great overland rig make. What are its approach, breakover, and departure angles? What's the suspension articulation like? How many power ports are there throughout the rig? Exactly how big is it?
These are things we'll know sooner than later, I wager. But until then, I can't make a fair assessment of what this truck means for us.
What I can say for now is that it's nice to finally see a new Tundra. I got rather tired of looking at the current Tundra on the trails.