The long winter nights make for a great excuse to make camp early and spend plenty of time around the campfire cooking and preparing a great dinner to bookend your day. At the same time, minimizing clean up and staying organized will keep you from rummaging around in the dark, wishing you could get back to the fire. This month we've rounded up some of our favorite gear to make sure you have a delicious and easy meal to warm your belly before you tuck into your sleeping bag for the night.
Barebones — Stainless Steel Cleaning Mesh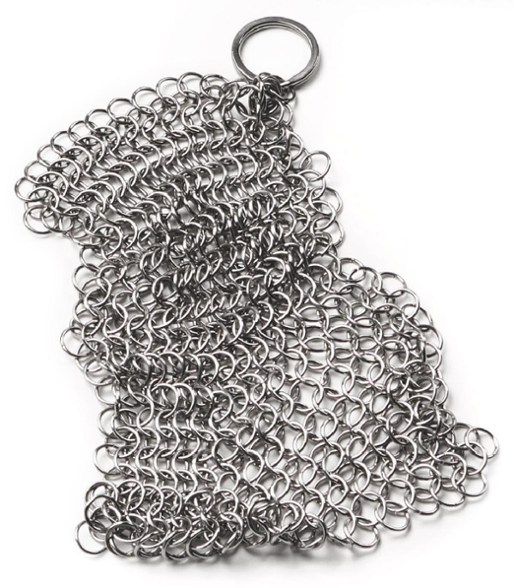 Cooking with cast iron is a time-tested and well-loved part of camp cooking. However, the cleanup, especially if things don't go exactly as planned, can be a bit daunting.
A great tool to keep in your cook kit is a dedicated metal mesh cleaner like this one from Barebones. It will remove cooked-on foods, sauces, syrups, and gravies with ease, returning your cast iron pieces to their seasoned beauty without scratching the cooking surface.
It's also safe to use on porcelain, glass, and other types of cooking surfaces. Just like your cast iron skillet, this cleaning mesh is bound to last a lifetime with proper care.
MSRP: $20.00
Dometic — GO Hydration Water Faucet
The Dometic GO series of gear has been out for a while now, and it quickly became popular with the overlanding community, and with good reason. One of our favorite pieces from this collection is the GO Hydration Water Faucet.
This compact battery-powered faucet can be used in conjunction with Dometic's water jug, or pretty much any other container. It allows you to dispense water at the push of a button. The magnetic base offers extremely flexible mounting options.
When it's cold out, the last thing you want to do is risk spilling water all over yourself when using a cumbersome jug or large container. Eliminate that risk, and up your camp cleanup game with this awesome faucet.
MSRP: $99.95
Dometic — CFX3 75 Dual Zone Powered Cooler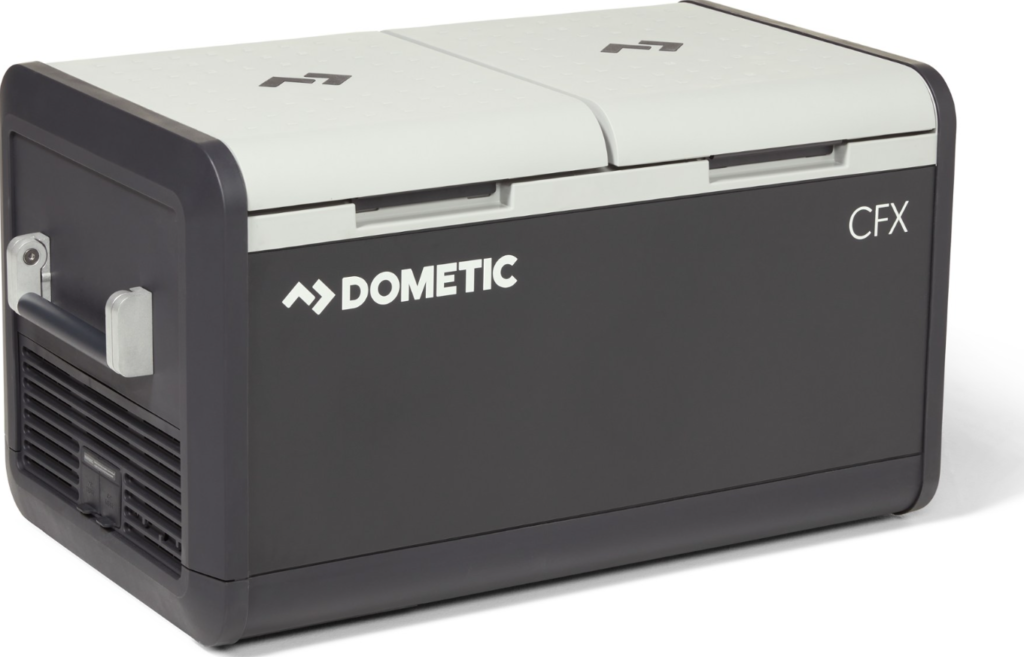 If you're shopping for a medium to large dual-zone fridge, you definitely want to take a look at the Dometic CFX3 series. Dometic has continuously updated their line and worked to bring the end user high-performance fridge/freezers that can stand up to the tough times and harsh conditions that you can encounter on extended journeys.
The CFX3 75 liter is equipped with a powerful VMSO3 compressor cooling technology efficiently refrigerates and deep-freezes to -7°F. It offers 4576.78 cubic inches of space, so it's great for extended off-grid trips or traveling with a large group. With two doors and two independent comparments allow you simultaneous store cooled and frozen food.
Like the rest of the CFX3 series, this fridge offers three levels of battery protection and it's compatible with Dometic's mobile app that allows you monitor the battery level and make adjustments to the temperature.
MSRP: $1,400.00
HitchFire — Forge 15 Grill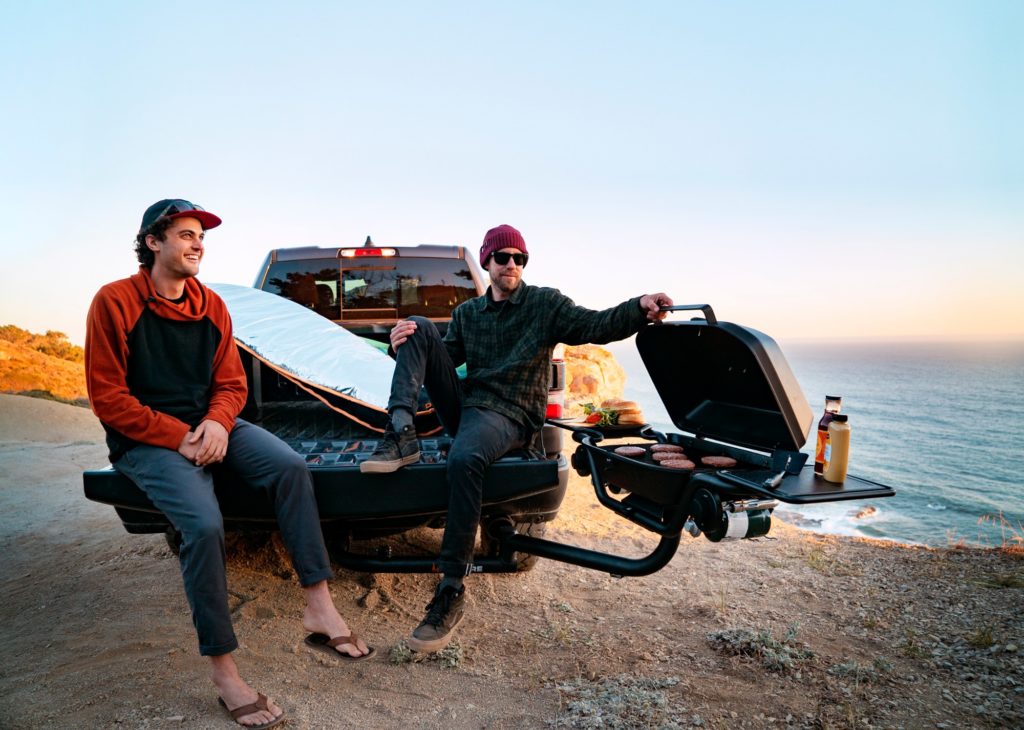 The HitchFire Forge 15 Grill adds unexpected functionality to the swing-out hitch accessory market. Mounting to your vehicle's 2-inch hitch, it provides a stable and convenient cooking surface while also leaving room on your tailgate or table to dedicate to prep or eating.
Two high-output burners produce 7,500 BTUs each, for a total output of 15,000 BTUs. The cooking surface is 22 x 18 in. and provides 355 sq. in. of cooking space. That's enough cooking space to feed eight to ten people.
It opens both 90° and 180° so you can position the grill where you want it, and the grill detaches from the swing arm for tabletop use. Not to waste space, HitchFire includes a bottle opener, so you don't have to stray away from the grill to open a drink.
MSRP: $379.93
Lodge — Reversible Griddle Grill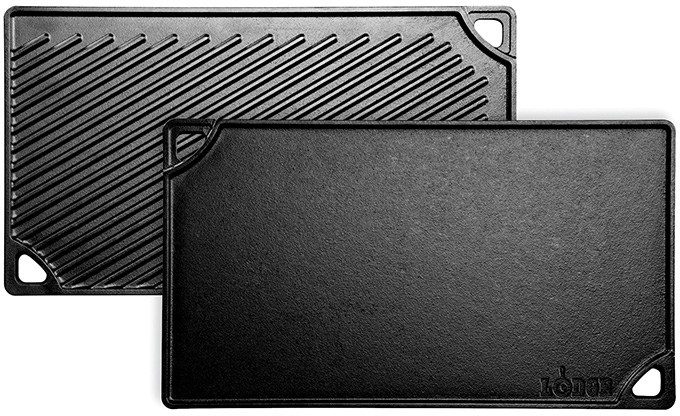 We've already talked about keeping your cast iron clean, but this awesome product is a great way to expand your culinary horizons beyond the humble cast iron skillet. With this Reversible Griddle Grill from Lodge, you can upgrade your camp stove to a whole new level.
Measuring 16.75 x 9.5 inches, the Griddle Grill provides plenty of space to whip up fajitas, hibachi, or a heap of breakfast food. There's a reason lots of professional kitchens rely on flat-top grills, and now you can take one into the backcountry.
As an added bonus, the Reversible Griddle Grill is campfire safe, so you can go old school and turn the adventure vibes up to 11 when it's time to dine.
MSRP: $47.95
Metolius — Camp Table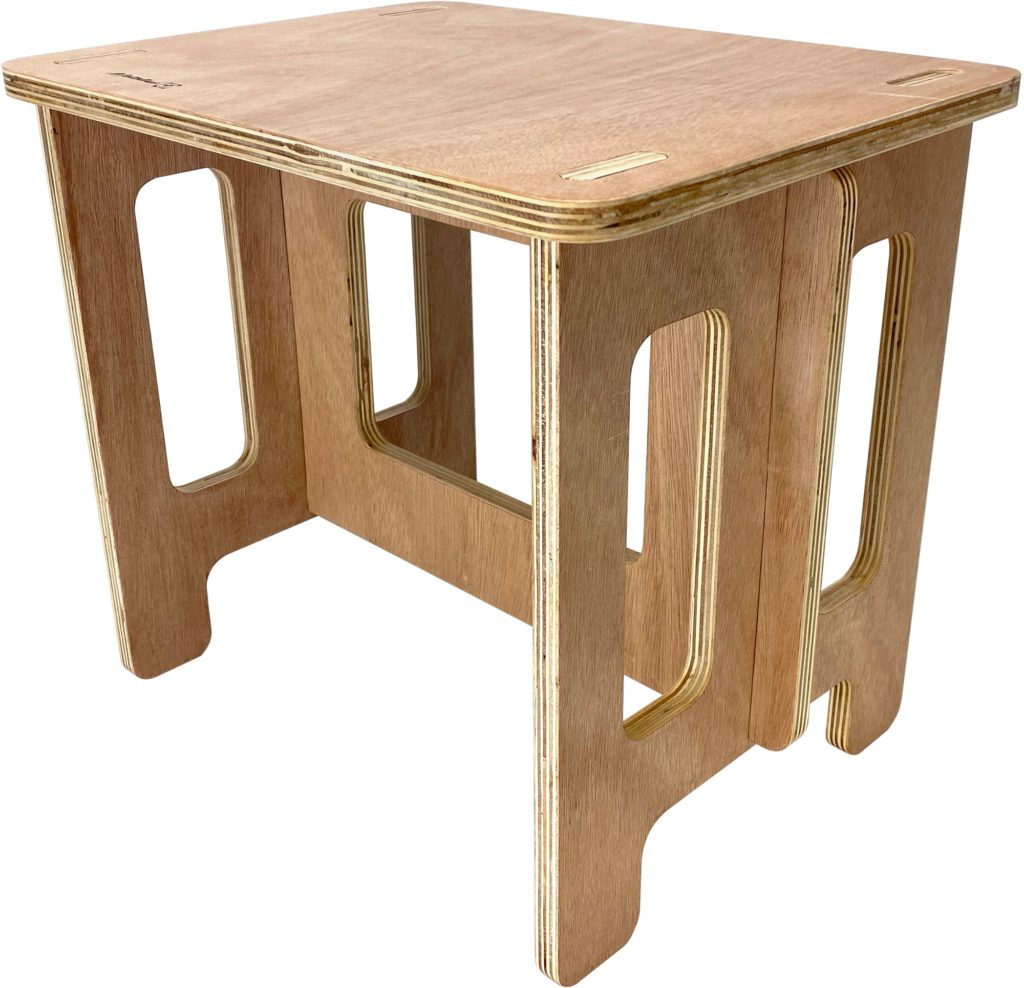 A nice flat surface is indispensable when cooking in the backcountry. Nothing ruins dinner faster than dumping a dish when you're trying to precariously balance something on a rock or log. That's why a camp table that's sturdy and easy to transport is a great overlanding accessory.
While we've seen plenty of camp tables, they're usually metal, but Metolius took another direction when it came to designing their table. Constructed of plywood and designed to pack flat when not in use, this table would be just at home in a modern minimalist interior as it is in the backcountry. The included strap keeps the pieces secure while you're on the move.
MSRP: $59.95
outdoor element — Camp Kitchen Cleaning Set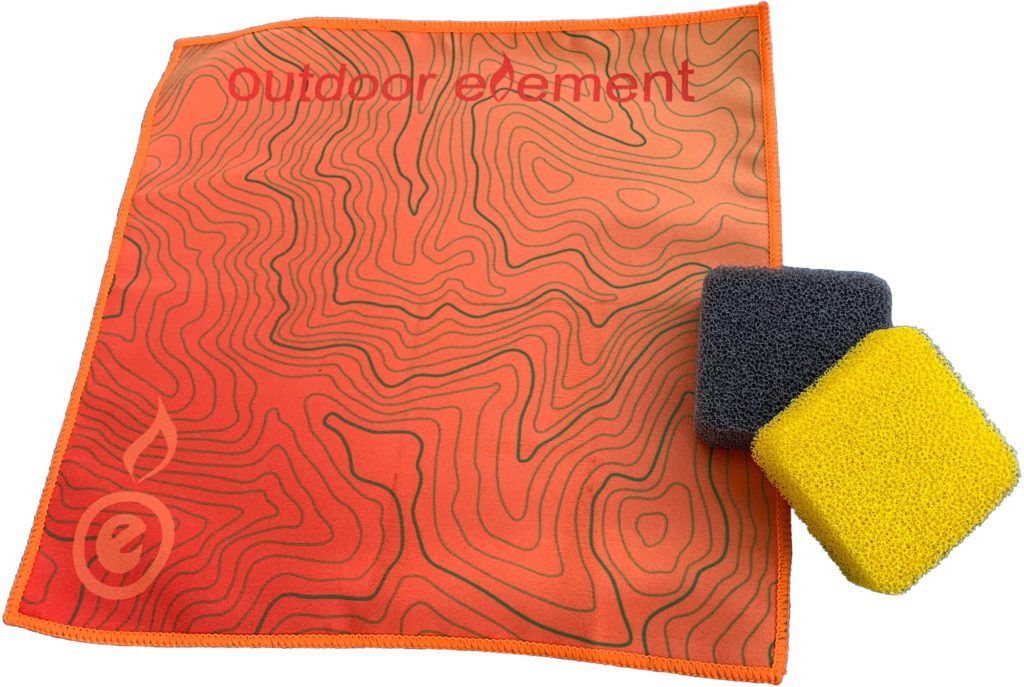 A towel, it says, is about the most massively useful thing an overlander can have. Wait that doesn't sound exactly right.
Regardless of what the rule book says, a quick-drying towel is infinitely useful in the backcountry kitchen. As an added bonus, this one is made from recycled water bottles, and it wrings out almost entirely dry after use. Plus, it has a topographic print. I think we can all agree that detail adds some cool points to the equation.
The included sponges are silicone based, so they won't scratch your utensils and cooking surface. The silicone construction also helps them to avoid mildew and that undesirable dirty dish smell.
MSRP: $6.95
Sea to Summit — Camp Kitchen Tool Kit
We've talked about the dangers of overpacking on several occasions. The camp kitchen is one of those areas where it's tempting to throw everything, and the kitchen sink, into your rig. In all honesty, you can get by and eat well with very little.
The Sea to Summit Camp Kitchen Tool Kit is a perfect example of a well-equipped and minimalistic backcountry kitchen. It includes a folding camp spatula, a folding camp serving spoon, three reusable spice/oil bottles, a pot scrubber, a double-sided washcloth, a Dry-Lite towel, and 50 ml Wilderness Wash. The whole kit fits into a hanging nylon roll that allows easy access to everything inside.
MSRP: $39.95
Snow Peak — Takibi Fire & Grill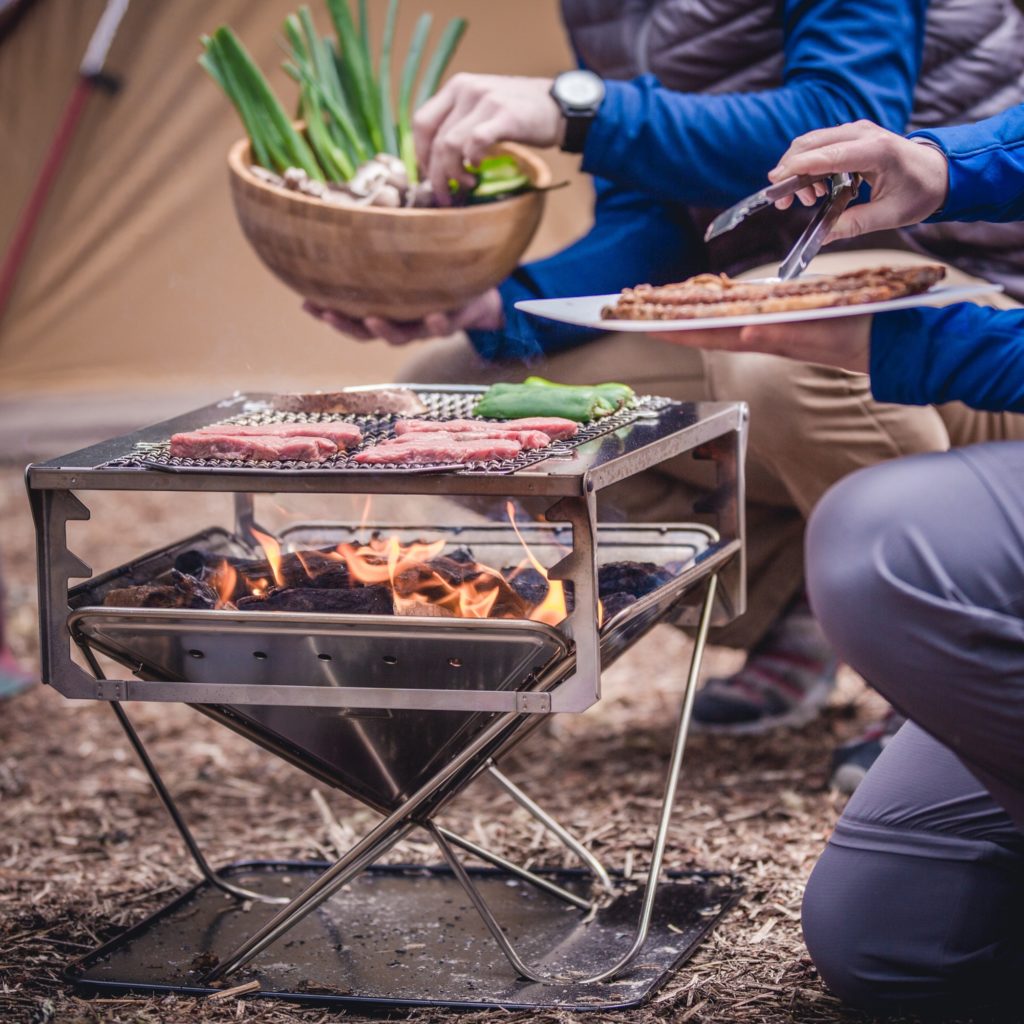 Snow Peak makes essentially everything you need for a super functional and arguably fashionable backcountry experience. Amongst all of that great kit, the Takibi Fire & Grill is one of our favorite items.
Available in four sizes to meet the culinary needs and space restrictions of pretty much any traveler, the grill plate, grill bridge, fire pit, and baseplate all fit into the included heavy-duty tote bag.
The grill bridge allows you to fine-tune the heat from the fire, so you have optimal control over the temperature. The unique inverted pyramid design of the firepit provides a nearly smokeless campfire experience once it gets going.
This kit is destined to provide countless hours of enjoyment and plenty of backcountry meals for decades to come.
MSRP: $349.95
Trail Meals — Wander Edition Pocket Cookbook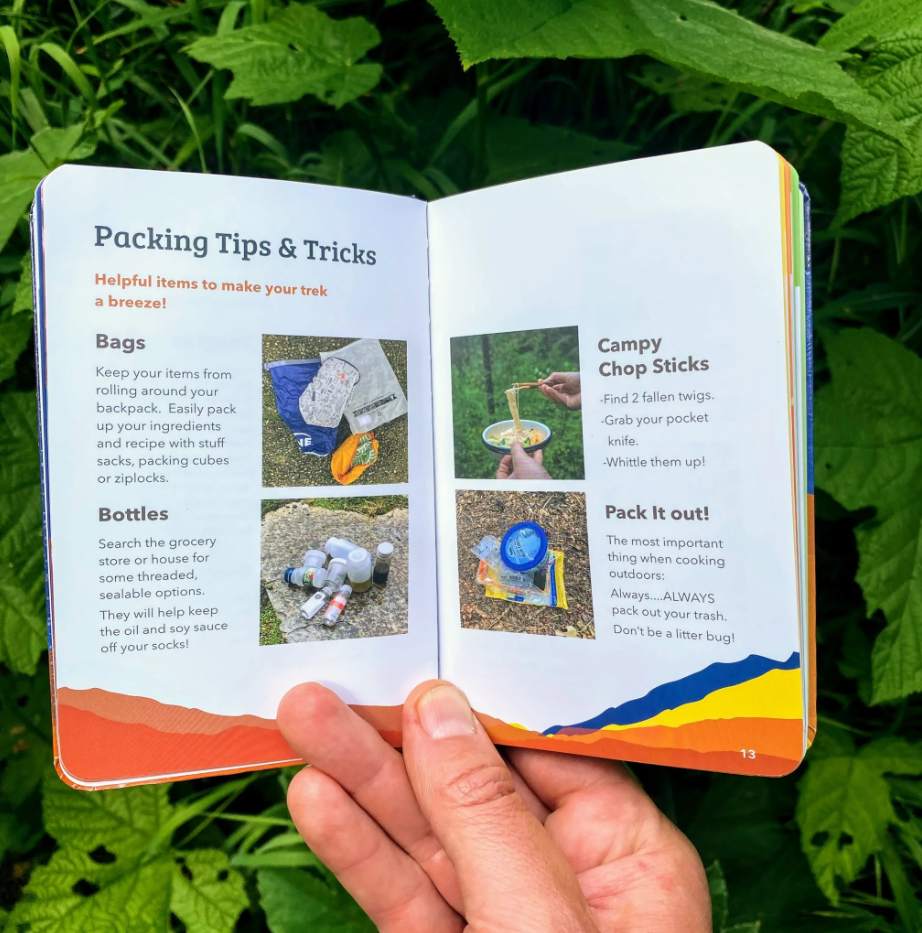 Sometimes the hardest part of the backcountry dining experience isn't how you're going to cook but more what you're going to cook. This compact cookbook from Trail Meals and Chef Corso offers plenty of culinary inspiration specifically designed to offer a delicious and hassle-free backcountry culinary experience.
It includes 20 meals designed around a no prep, no dehydrating philosophy. Each meal takes less than 30 minutes and includes less than ten ingredients. Chef Corso has prepared these pocket-sized cookbooks to make eating healthy and delicious meals easy while on the road.
MSRP: $13.99