Audi is back in Saudi Arabia for the 2023 Dakar Rally Raid with an updated hybrid-electric vehicle it hopes will surpass the results of the RS Q e-tron from 2022 — and by a fair bit. Audi took 12th at the 2022 Dakar Rally.
However, the race layout has also seen changes that could make life difficult for the Audi e-team. The stages between the Red Sea and the Persian Gulf are longer and more difficult than last year, and now stretch 250 to 500 km (215 to 310 miles). The "Empty Quarter," renowned for its sea of tall dunes, presents another formidable challenge.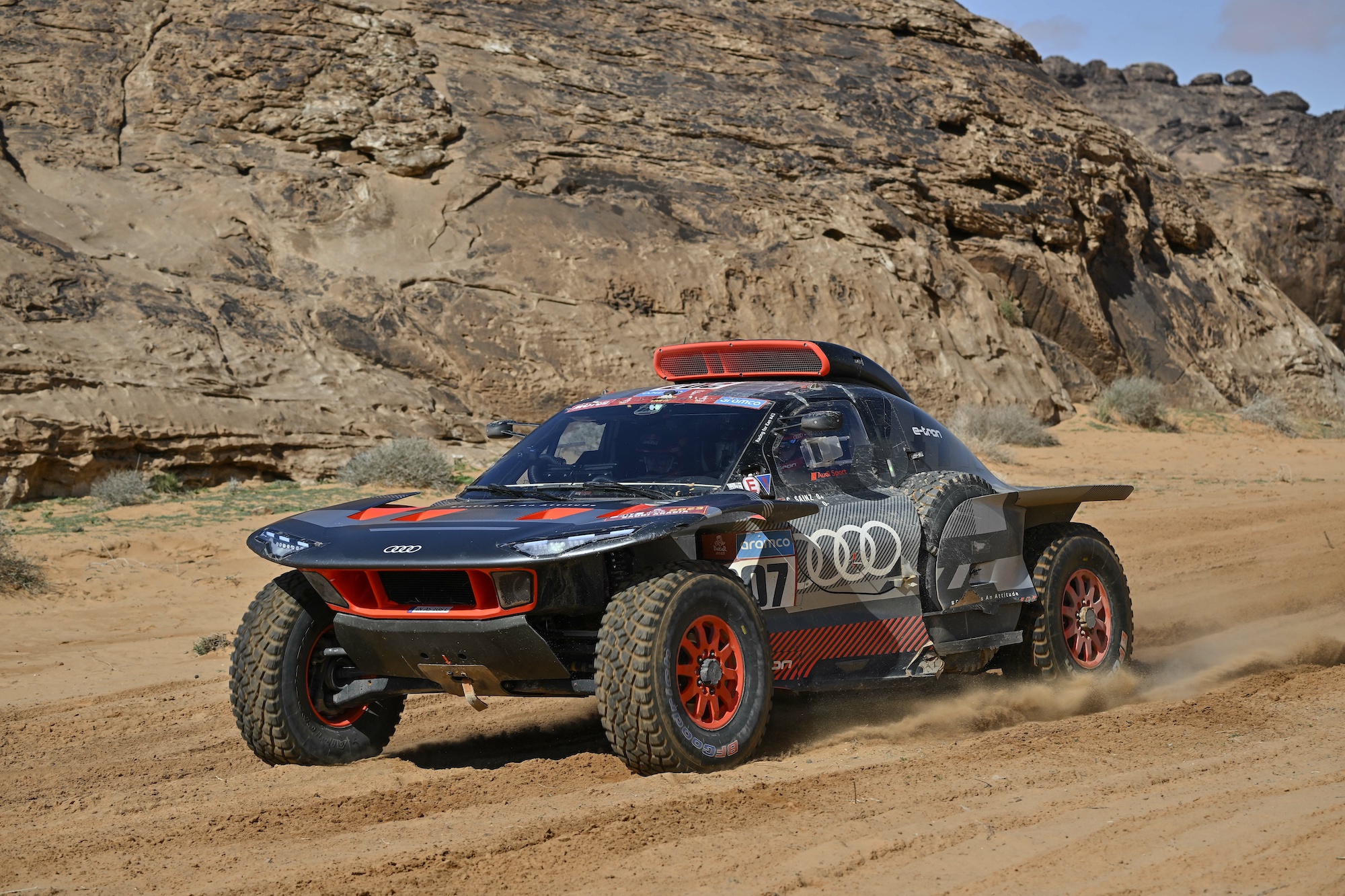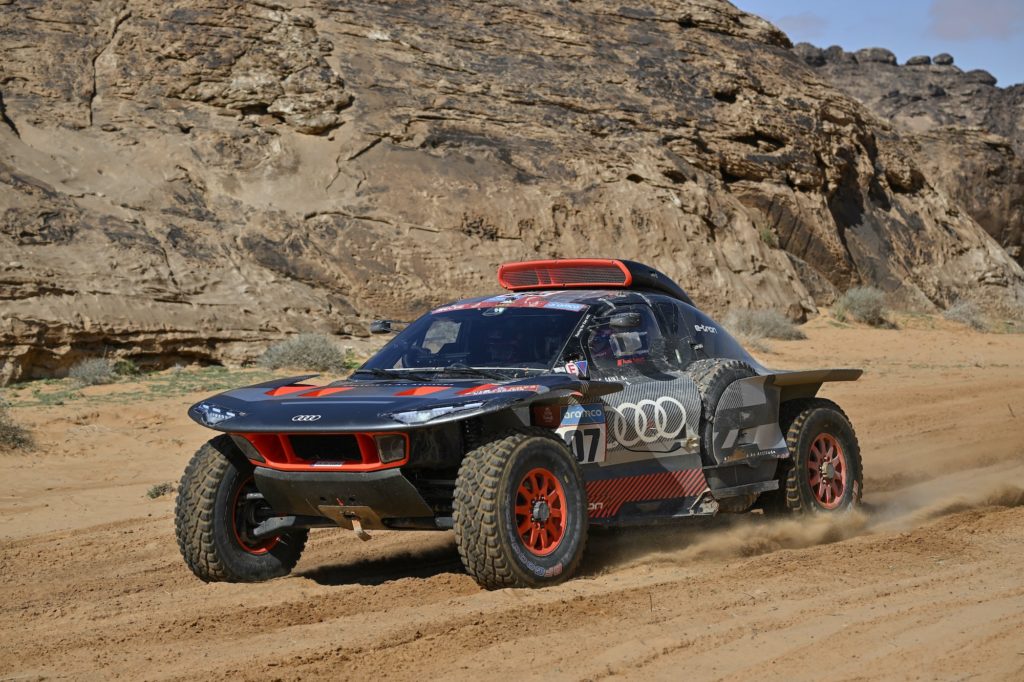 But Audi says it is ready to meet the challenges. "We feel a nice sporting tension but also feel thoroughly prepared for the rally," says Rolf Michl, Head of Motorsport at Audi said in a press release. "Our car is now very reliable. The improvements compared to the first-generation RS Q e-tron are significant."
The RS Q e-tron has a bit of a new look, and if you're thinking it could sail across the local lake as well as churn up a steep sand dune, you're not mistaken: the car's design takes cues from watercraft to cut aerodynamic drag by a claimed 15%.
As noted, the RS Q e-tron is essentially an electric car, but it does include a turbocharged 2.0-liter inline four-cylinder engine running on Refuel gas that's largely derived from plants. But the pistons are not hooked up to the drivetrain, which is all electric with a 50kWh battery and a pair of electric motors that makes just a tick over 400 horsepower total.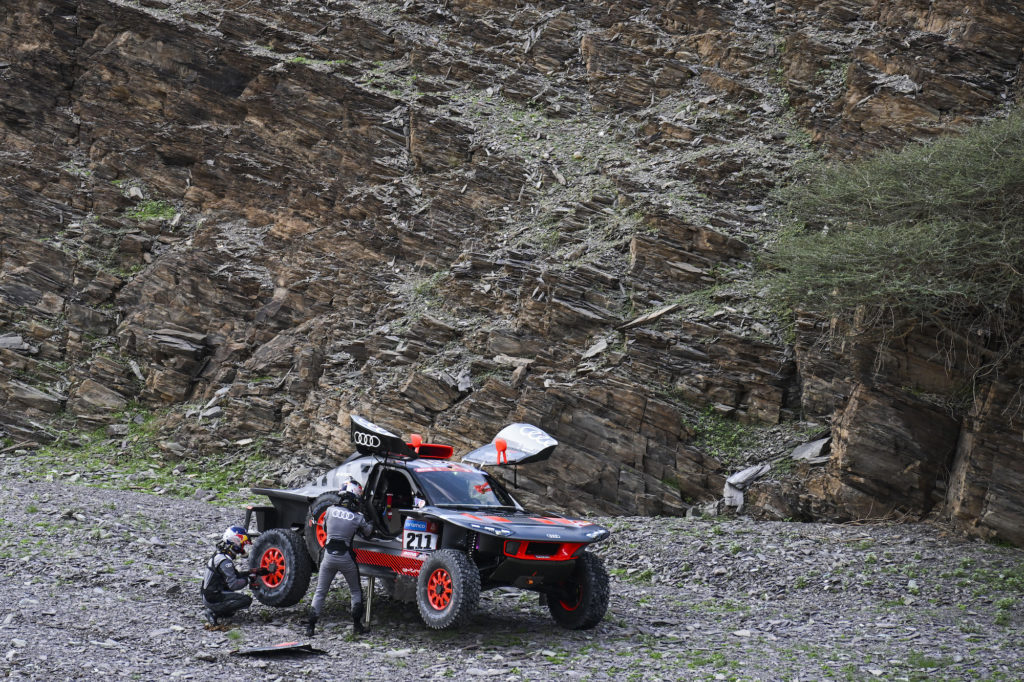 When the battery gets low, the gas engine kicks in and spins to 5,000rpm to generate the power the car requires to keep racing while it also charges the battery. The engine runs at that 5,000rpm level no matter what the car is doing: top speed, braking, or churning up a sand dune.
Being an Audi, power is spread to all four wheels through its quattro all-wheel drive system of course, with full (and adjustable) torque vectoring. Top speed is about 105 mph, or 170 kmh. That's plenty fast for desert racing where control and perseverance are more important than outright top speed. Audi also made it easier for the crew to swap out a flat tire in the field without needing help from a crew truck.
The changes did not go unnoticed as the RS nabbed the "Racecar Powertrain of the Year" win from a panel of judges from Race Tech magazine. And while the powertrain remains on the fringes of motoring technology, it is competitive.
Early in 2022, the team of Stéphane Peterhansel and Edouard Boulanger won the Abu Dhabi Desert Challenge, the first victory of a prototype with an alternative drivetrain. Audi says they aren't just looking finish Dakar, they are looking to win stages and more both this year and moving forward.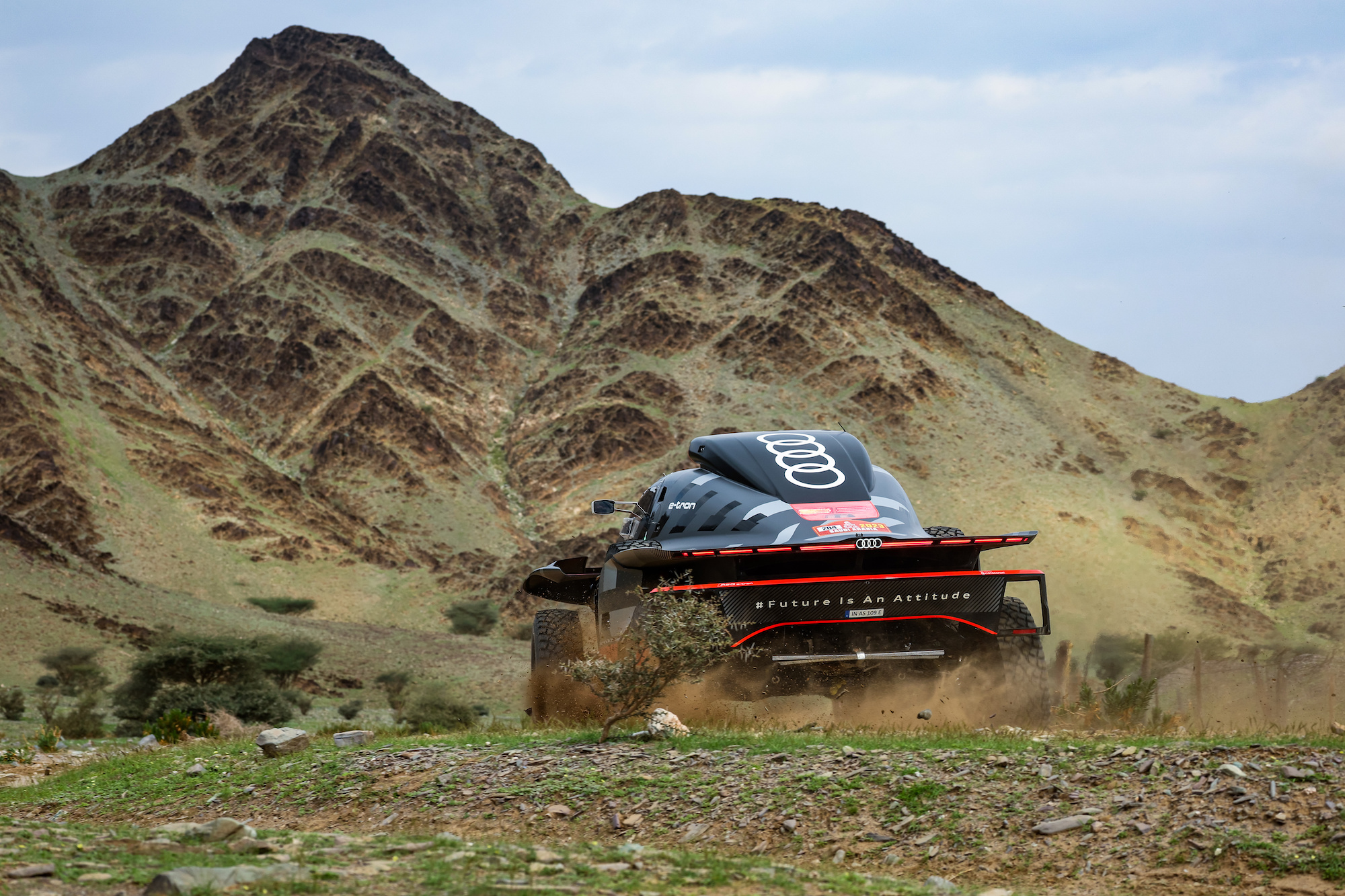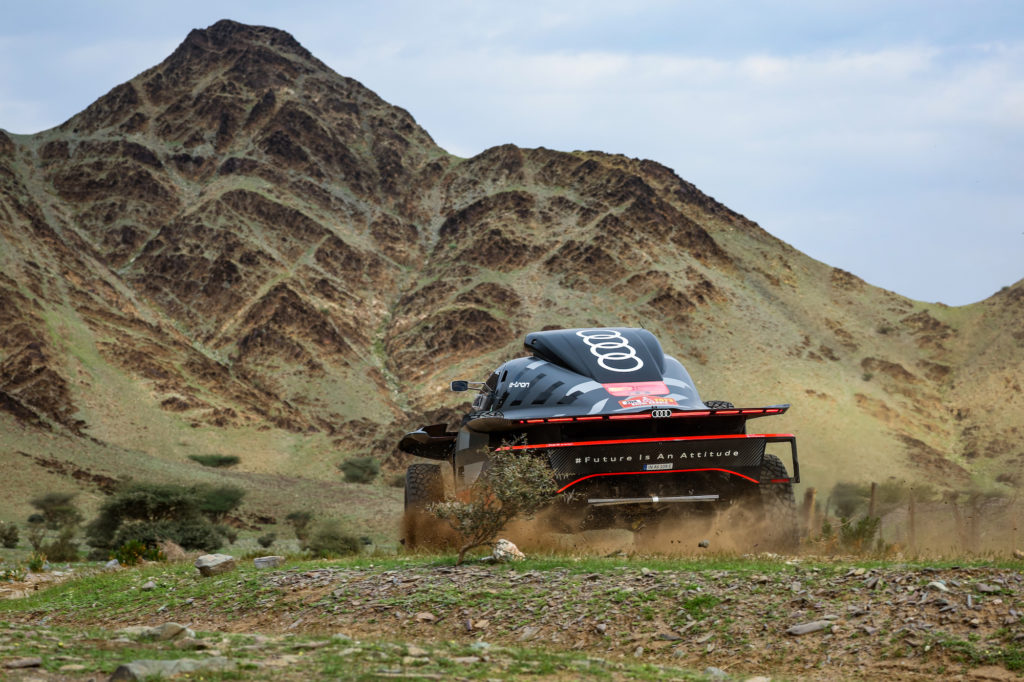 And while the Dakar Rally and the highly specialized RS Q e-tron are home to exotic materials and technology under development, success is racing typically means that the tech, ideas, and performance will trickle down to consumer vehicles as well.
Might we see a battery-electric hybrid performance off-road and overlanding-capable machine from Audi with all the Department of Transportation (DOT) bits needed for street-legal driving?
Audi is famous for transferring its racing lessons to its consumer cars. With the popularity of off-road and overland-capable vehicles on the rise, it wouldn't shock us to see some Dakar DNA find its way into future Audi SUVs.
In the meantime, we'll keep tabs on Audi's performance at this year's Dakar competition.