Out of all the motorcycle gear you should never leave home without, your helmet is at the top of the list. There is no piece of gear more critical to your safety, well-being, and comfort than your trusty head-protector. With a vast array of helmets on the market that take into account fit and features, we've narrowed the list down to a few of our favorites.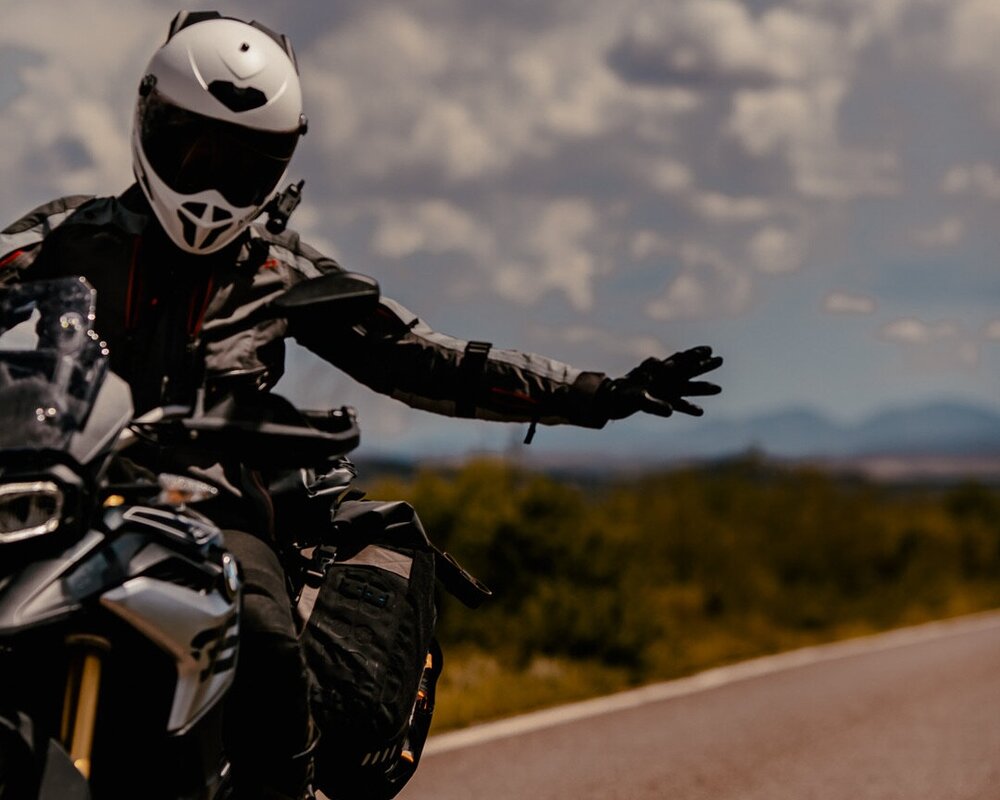 Arai XD-4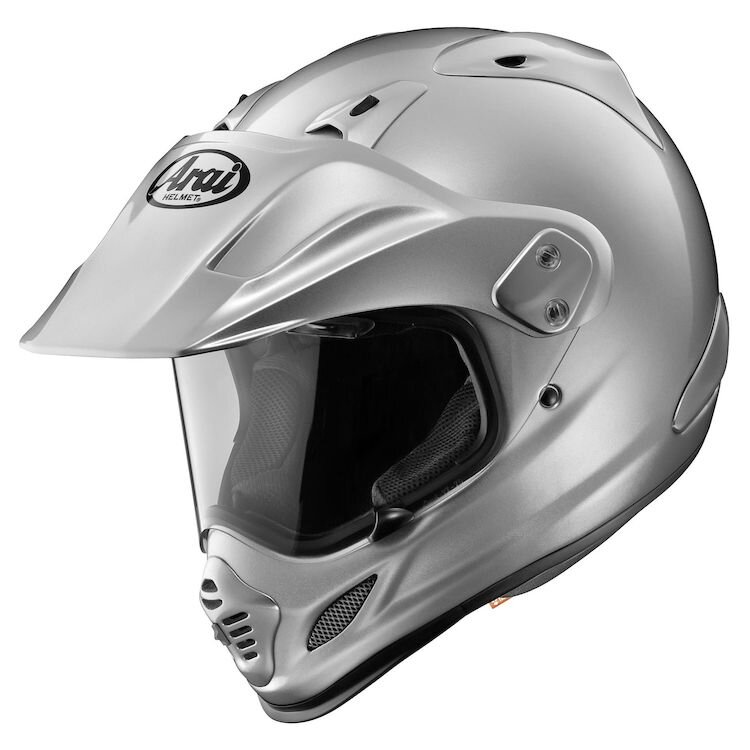 Arai is synonymous with adventure riding, and their helmets have proven to be some of the best and most reliable over the years. As one of the few ADV helmets that achieve a Snell safety rating, the XD4 incorporates a comfort liner with 5mm peel-away pads so you can tailor the fit. The shell and peak of the Arai XD4 Helmet are aerodynamically tuned and funnel air into the vents, maximizing airflow and minimizing buffeting at speed. Arai's fully removable/washable interior padding also features a quick-release system for easy helmet removal in a medical emergency.
MSRP: $639.95
Bell MX-9 Adventure MIPS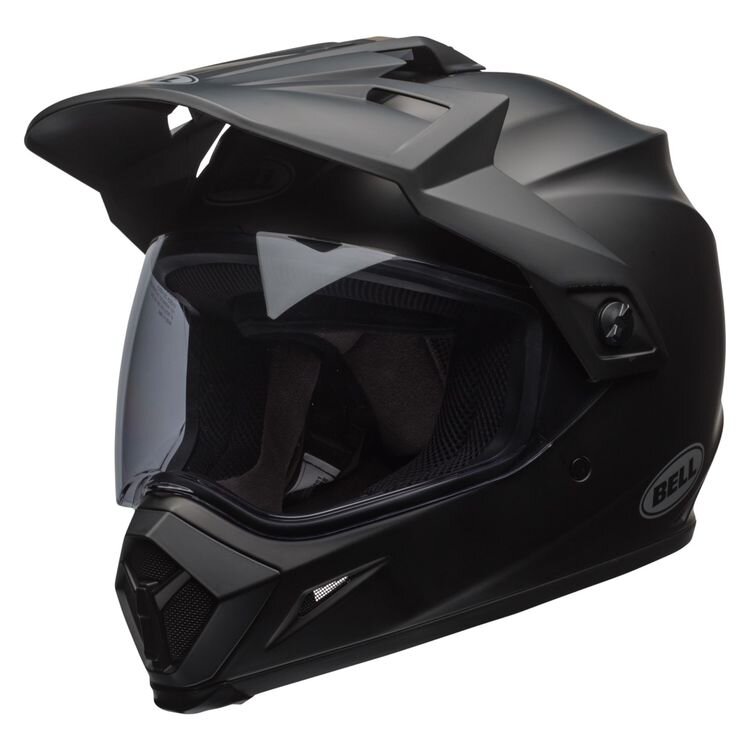 We don't advise penny-pinching when it comes to the piece of gear protecting your brain, but the Bell MX-9 Adventure packs a ton of ADV features into a budget-friendly helmet. In addition to being DOT and ECE certified, the MX-9 is also equipped with MIPS, which stands for Multi-Directional Impact Protection System, a leading slip-plane technology system inside the helmet designed to reduce rotational forces from impacts. Bell added an anti-fog, anti-scratch clear face shield that is goggle-compatible, and their Velocity-flow ventilation system provides cooling and comfort control. The removable/washable liner is moisture-wicking, antimicrobial, and has built-in speaker pockets. All that equals a ton of features for a helmet in the $200 range.
MSRP: $229.95
Klim Krios Pro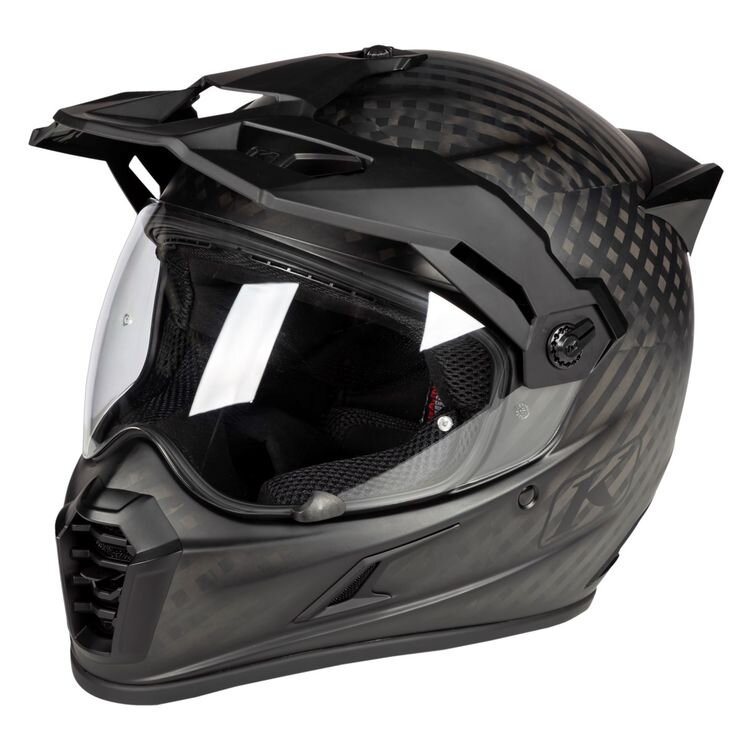 The ultra-versatile Krios Pro has a full-carbon shell and features a sleek-looking wide weave that cuts weight and provides superior protection. In addition to meeting ECE and DOT standards, this is the first ADV-specific DOT helmet in North America to integrate Koroyd materials. Koroyd is designed to crush and decelerate the impact energy to reduce head trauma in the event of a crash. The Krios Pro comes with a Transitions Photochromic lens that darkens to take on varying light conditions, and the ventilation is second to none. The Krios is super-comfortable and the shield and visor system can be adjusted easily or removed altogether, without tools to adapt to varying riding conditions.
MSRP: $749.99
Nexx X.WED2 Purist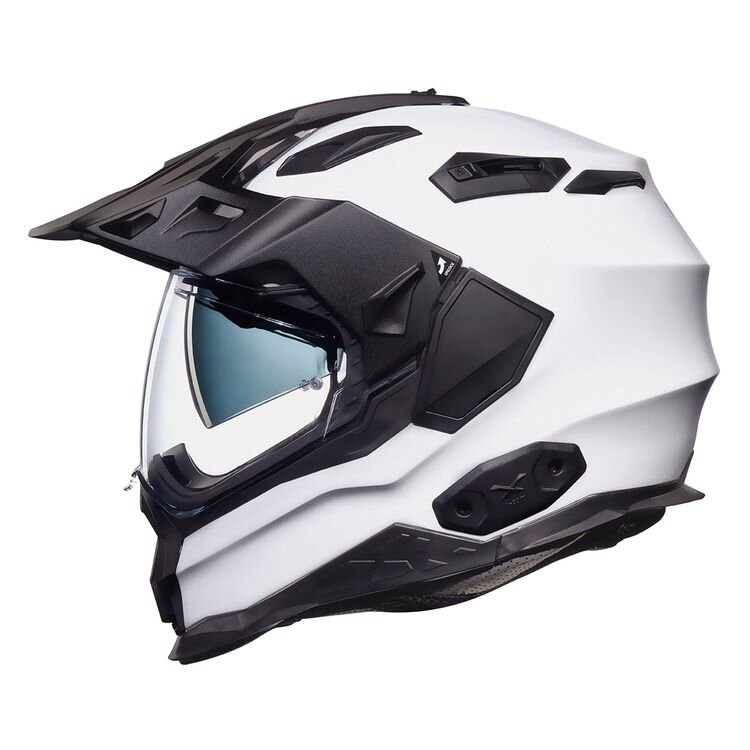 Behind all of the impressive good looks of the Nexx X.WED2 are a ton of great features. Designed with the comfort of a touring helmet plus the performance you need for adventure riding, the X.WED2 is constructed of multiaxial fiberglass plus carbon fiber, and the helmet's design lends itself to maximizing airflow. The Air Dynamic System has three inlets and four outlets to give you a ton of ventilation. Nexx's Panoramic Eye Port gives you more peripheral vision than virtually any other helmet on the market, and the dropdown internal visor is perfect for keeping the sun out of your eyes as you cruise the trails.
MSRP: $499.95
Shoei Hornet X2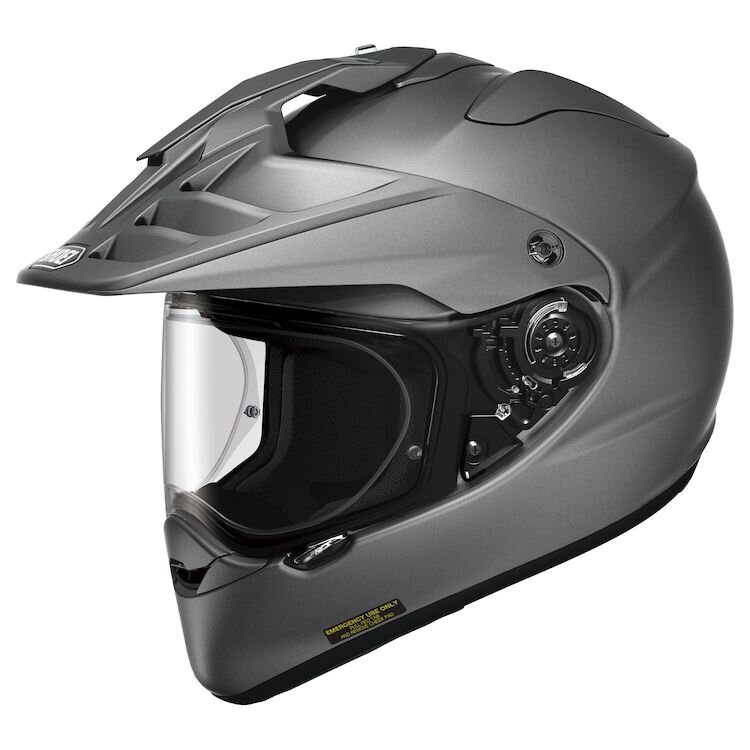 Designed to excel in both on- and off-road performance, the Shoei Hornet has a redesigned visor with an innovative wedge shape to strike a balance between aerodynamics and traditional functionality. Adventure helmets require airflow, noise, and functionality; Shoei strikes a perfect balance between the three. The Hornet is highly vented with ample airspace for off-road riding and comes equipped with a multi-stage lower vent shutter to fine-tune airflow for inclement riding conditions. In addition, the EPS liner has been engineered to provide varying densities of foam in key impact areas around the head, providing enhanced impact absorption and minimizing the inevitable ambient noise while riding.
MSRP: $599.99
Schuberth E1 Endurance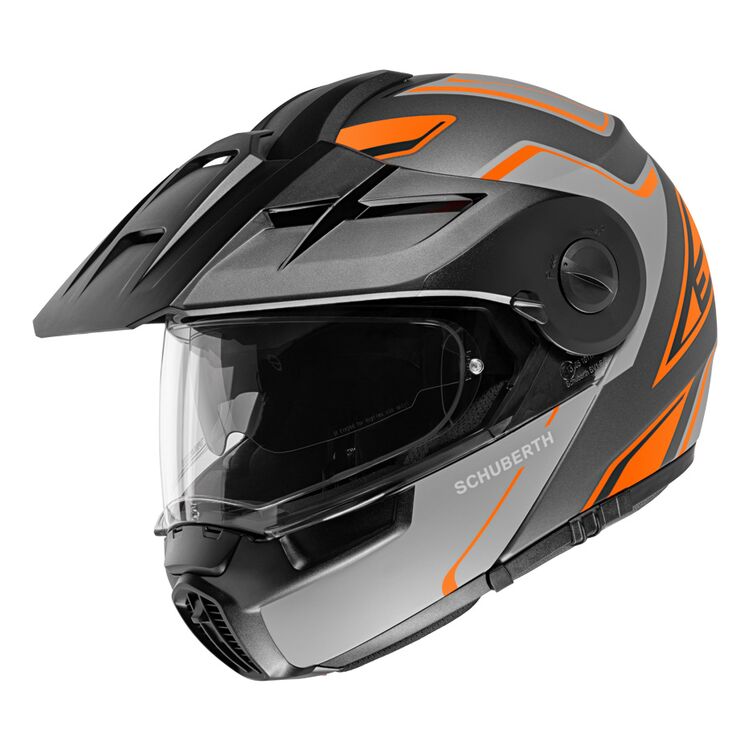 The Schuberth E1 modular helmet is designed to perform on and off the pavement. Optimized for both aerodynamic and aeroacoustic performance, the E1 is quiet and sophisticated. The ventilation system provides a constant flow of fresh air to keep the shield fog-free, and the internal visor flips easily into place when the sun hits. The fully articulating peak can be adjusted to three different positions independently from the shield and modular chin bar, and the E1 can be worn with both the face shield and peak in place, or they can be easily removed. Plus, the E1 is pre-loaded with FM and Bluetooth antennas that work with Schuberth's communication system to talk with your riding buddies or play your tunes.
MSRP: $749.00
AUDIO ACCESSORIES
As nice as it is to listen to yourself talk inside your helmet, no motorcycle trip is complete without a great soundtrack. Adding an audio communication system not only lets you rock your riding playlist but gives you the tool you need to stay on the same page with your pals. Here are a couple of our favorite Bluetooth systems to add to your helmet.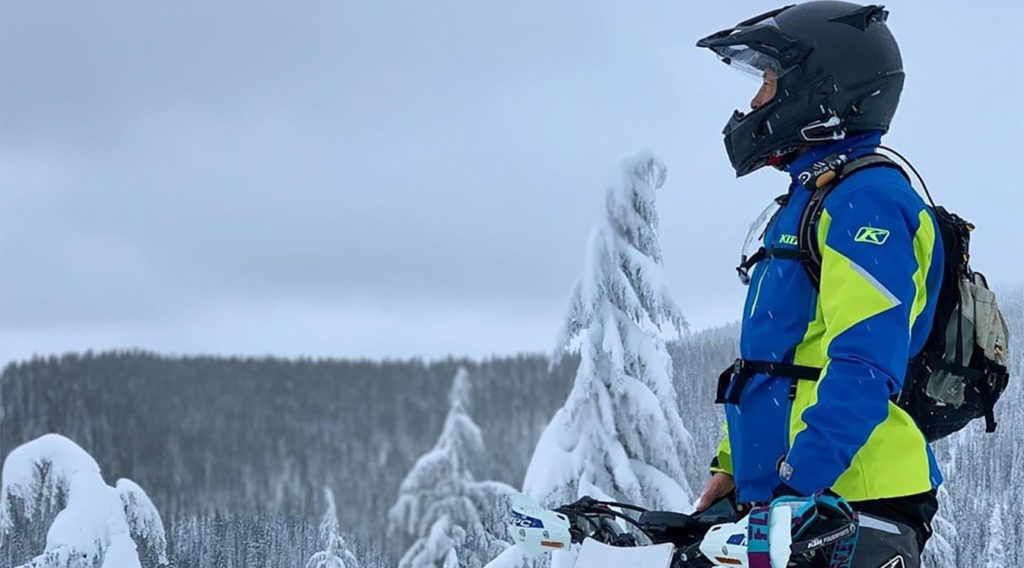 Sena 50S Mesh 2.0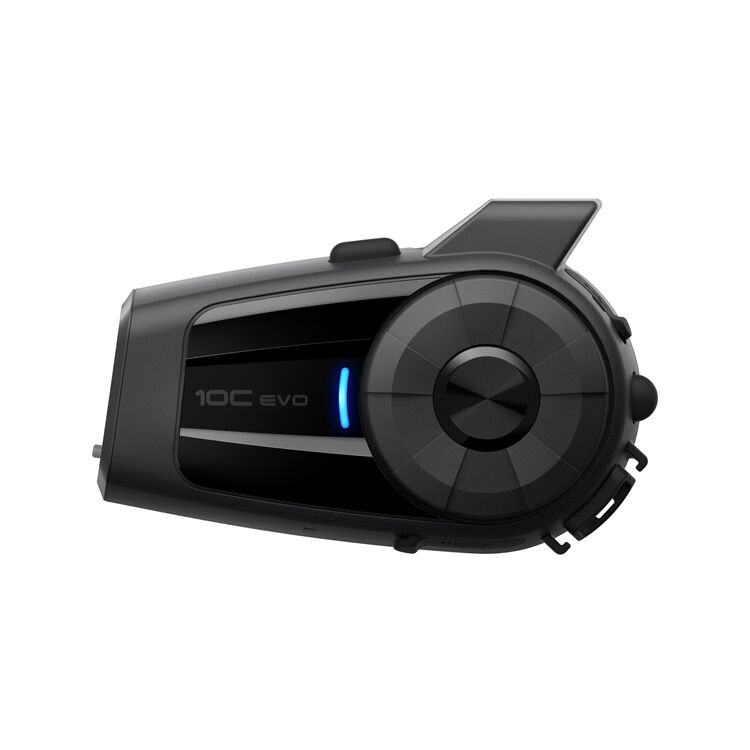 The Sena 10C EVO Bluetooth Headset and Camera has an exceptional communication network and one-touch video on the fly. The ideal moto-vlogging and communication tool, the 10C mixes audio from the intercom and music from your smartphone into your video as it happens. When activated, Video Tagging saves 60 seconds of past, present, and future footage to give you three one-minute clips that capture the event and the context in which it happened.
MSRP: $399.00
Cardo Freecom 4+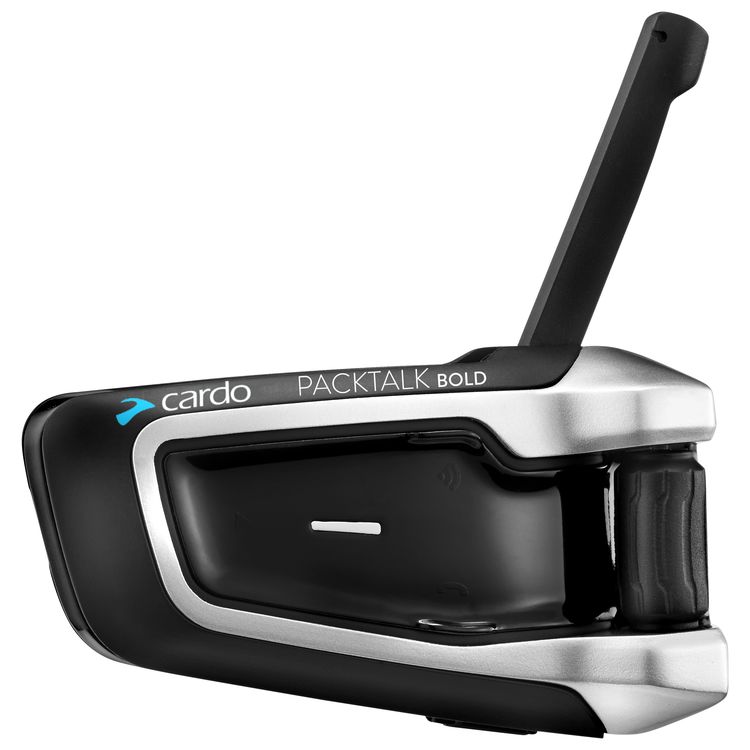 The Cardo Freecom 4+ has a slim jog dial for tactile menu navigation and a high level of waterproofing. Whether riding solo or with friends, the Freecom 4+ delivers an excellent audio and communication experience. The JBL speakers included with the Freecom 4+ measure 40mm across for a full-range immersive listening experience. You'll hear balanced bass, crisp treble, and conversations with your riding buddies like never before.
MSRP: $288.96