Whether you're picky about your rubber or don't care what sort of skins are wrapped around your rims, you're bound to burn through quite a few sets of tires while ripping around on your motorcycle. For adventure riding, you want a tire that's designed specifically for your adventure bike and performs well both on-road and off. Following are some of our favorite tires and a couple of key tools to bring along on every adventure.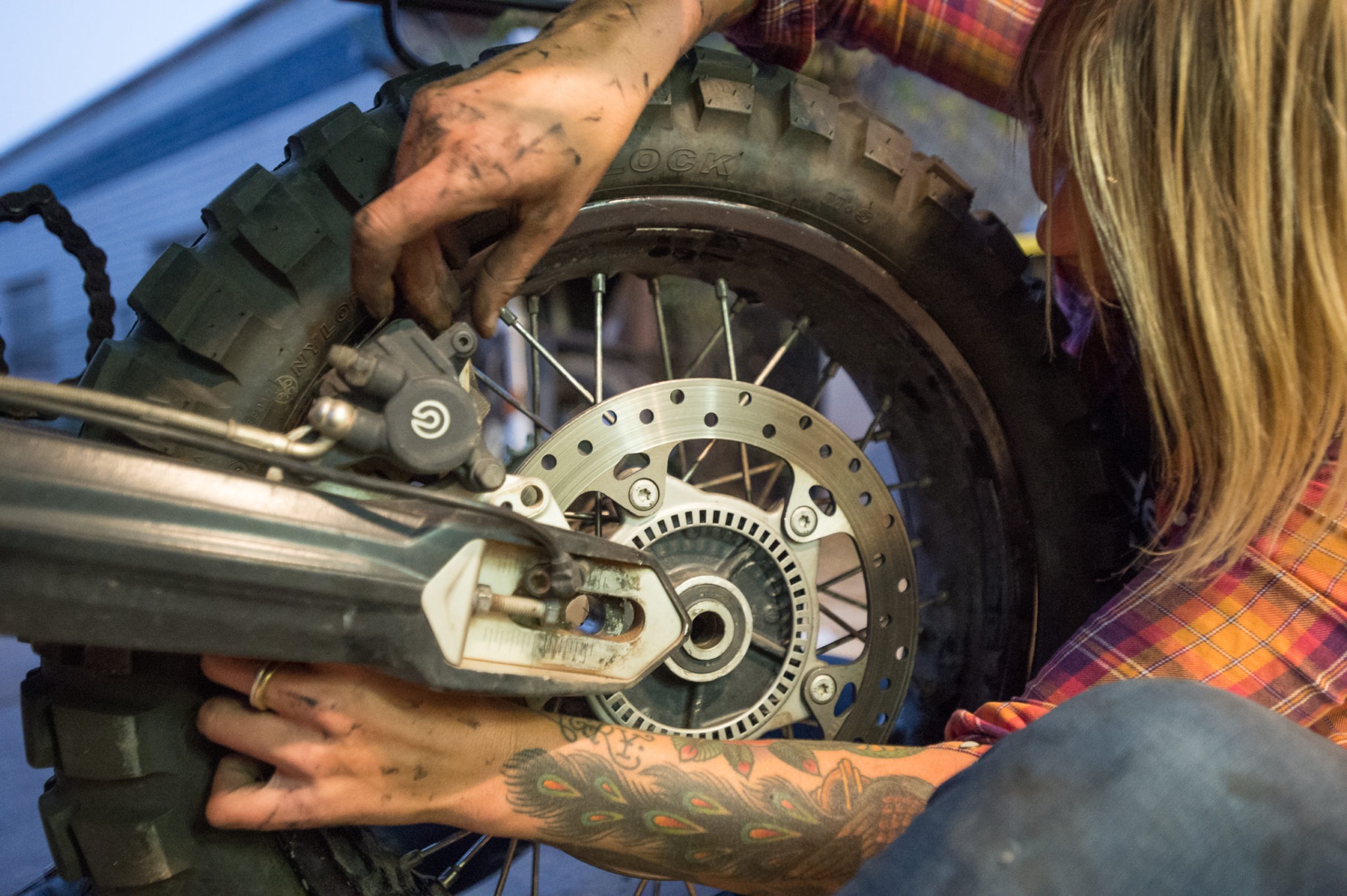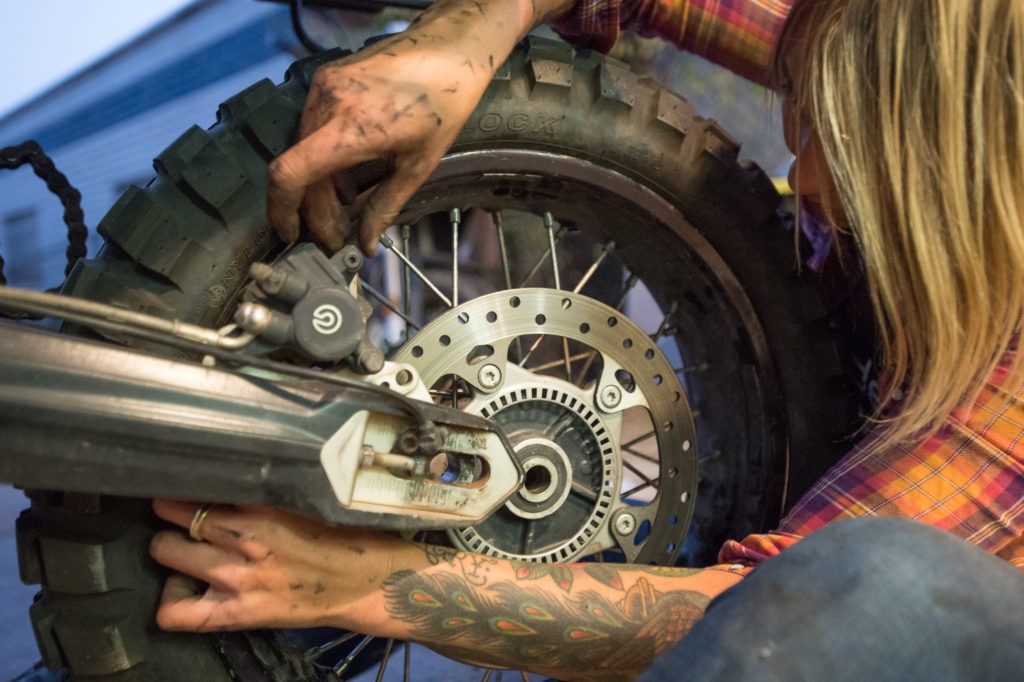 When you're choosing tires for ADV riding, you'll notice the balance between the off-road/on-road use ratio referenced, and adventure tires often fall into the 50/50 or 40/60 category, with more purpose-driven outliers in the 80/20 range. This is because, like all things in life, there's a bit of a compromise when it comes to choosing tires. Your 50/50 tires are going to last a little longer than the 60/40s and will inherently perform a bit better on the tarmac. 60/40 tires will give you the upper hand in the dirt, but are generally made of a softer compound with deeper treads, so you'll burn through them quicker than a set of 50/50s.
Bridgestone Battlax Adventurecross AX41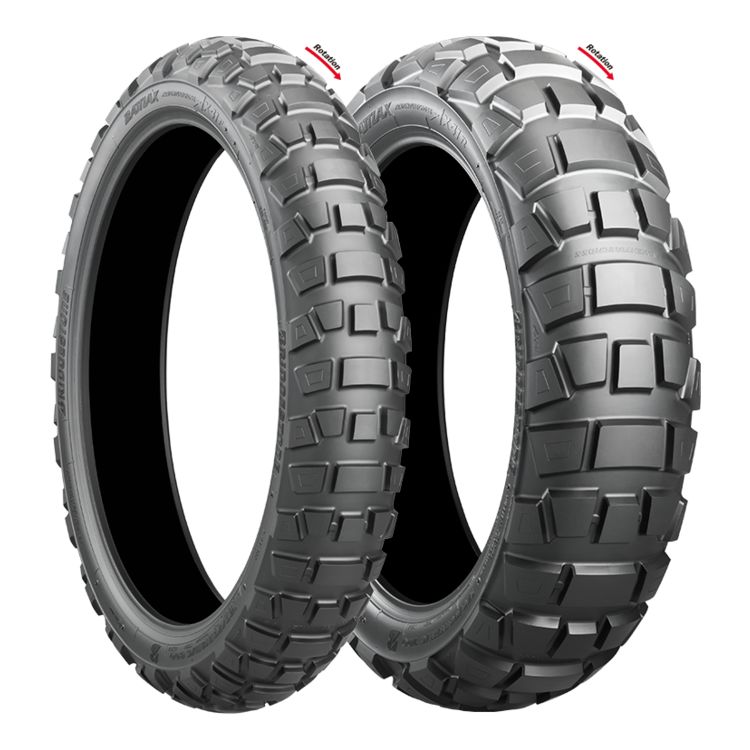 When the pavement is merely a means to the dirt, the Bridgestone Battlax Adventurecross is a rock-solid choice for 40/60 riding. Bridgestone reworked the tread pattern and block shape on both the front and rear tires to improve performance. The redesigned contact patch and tougher rubber compound increase durability and get you to the trails with ease. We fitted our 2022 Ultimate Overland Motorcycle Build, a Yamaha Tenere 700, with the AX41s and found them to hit the sweet spot between longevity and off-road performance.
MSRP: $109.38 – $227.68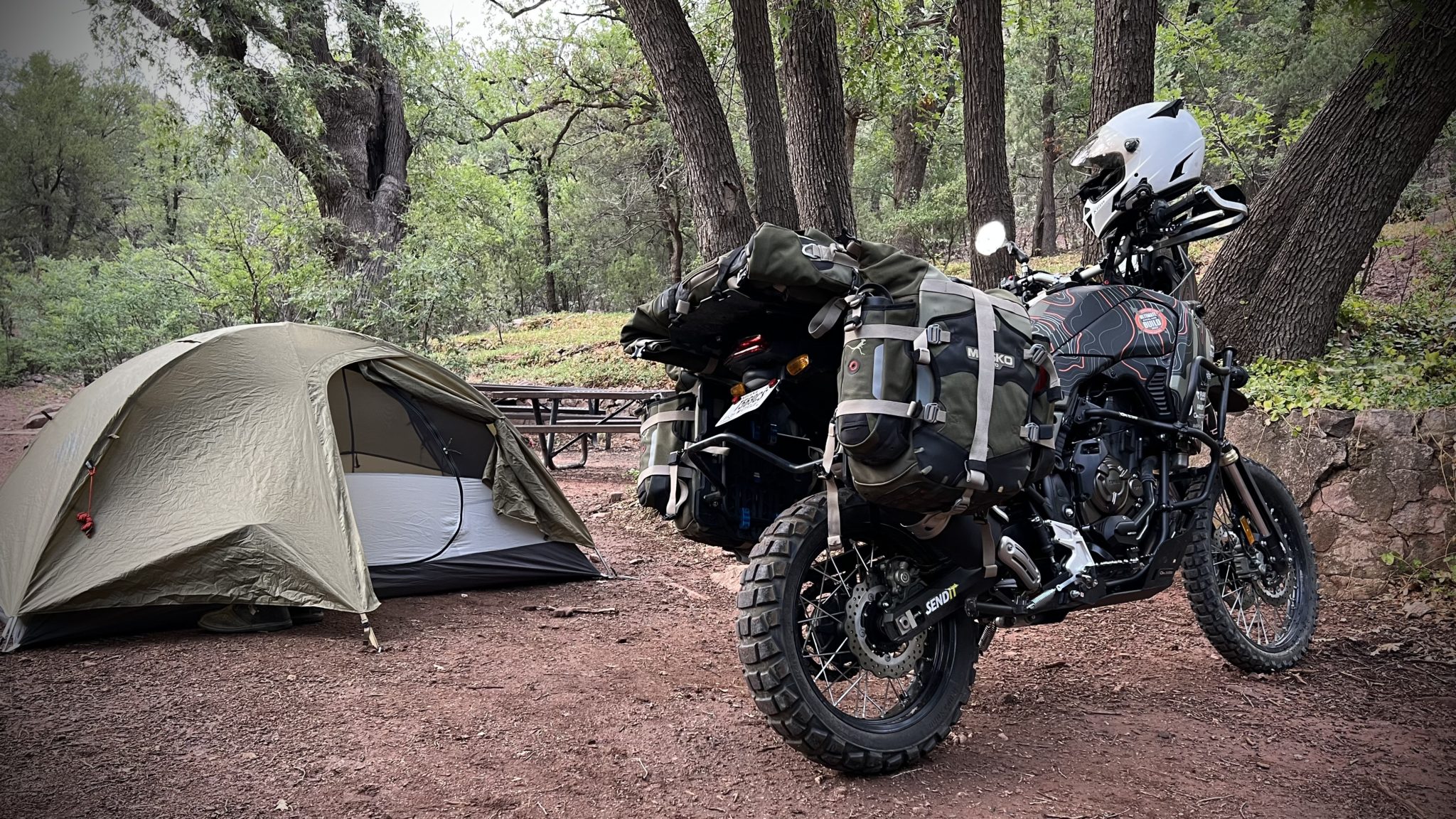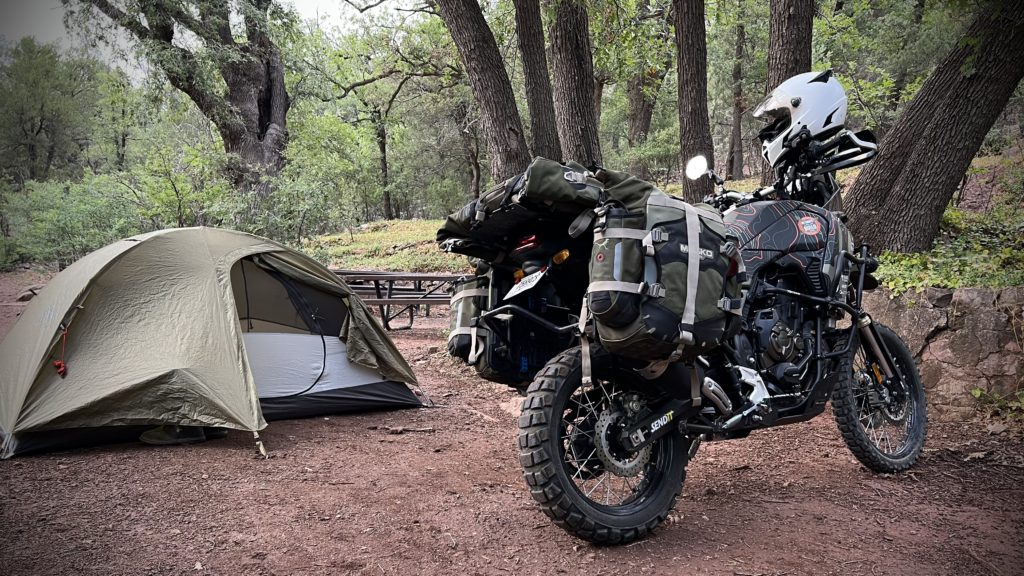 Continental Twinduro TKC80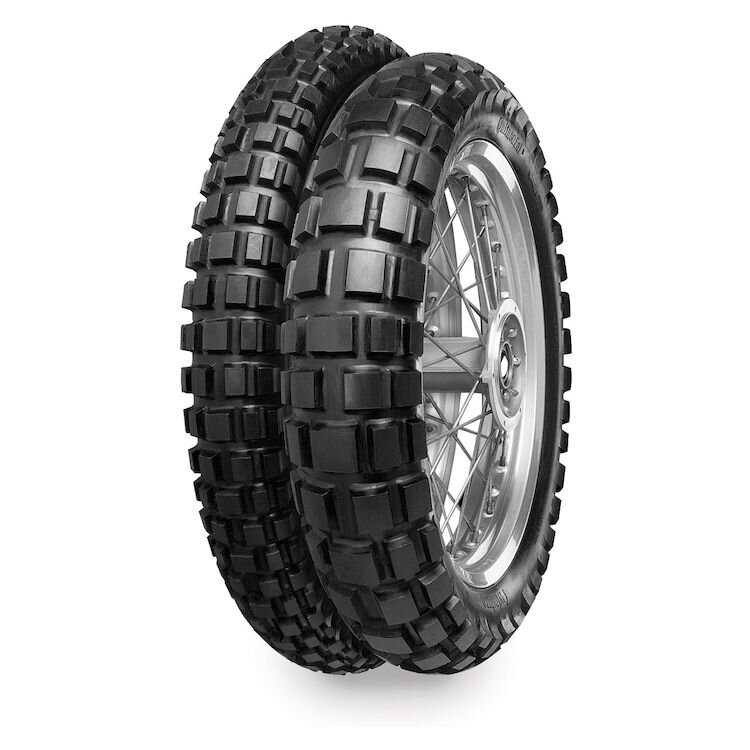 No list of ADV tires would be complete without the Continental TKC80, easily one of the most ubiquitous and best-performing set of skins on the market today. Also falling into the 40/60 category of adventure tires, the TKC's block-pattern knobs excel off-road while hinting at a street-tire profile to maintain tarmac traction. What this tire lacks in longevity, it makes up for in performance. The big block pattern scares the dirt into submission and gives you tons of grip, braking power, and traction on a wide range of surfaces from loose to hard pack. 
MSRP: $178.00 – $331.00
Dunlop Trailmax Mission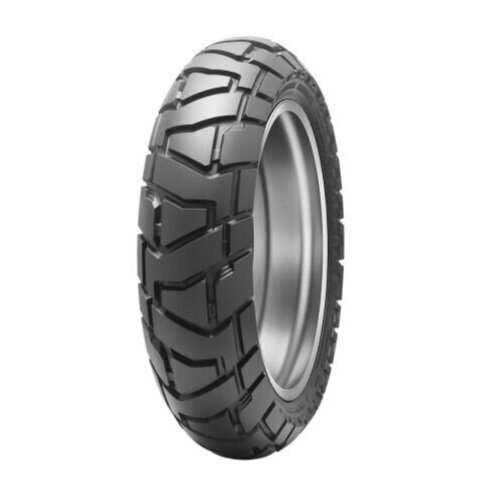 The Trailmax Mission Tire is one of the best 50/50 adventure tires on the market today. A relatively new addition to Dunlop's lineup, the Mission delivers knobby-like performance off-road, has an impressive grip on the street, and the darn things last forever! Dunlop claims that you'll get an impressive 8,000 miles out of the rear tire, virtually twice the longevity of the TKC80. The tread design uses deep, widely spaced lugs cut into the tire's profile to deliver sure-footed road carving. The wraparound tread blocks reach around the sidewall, increasing puncture resistance and traction while ripping off-road.
MSRP: $122.00 – $245.00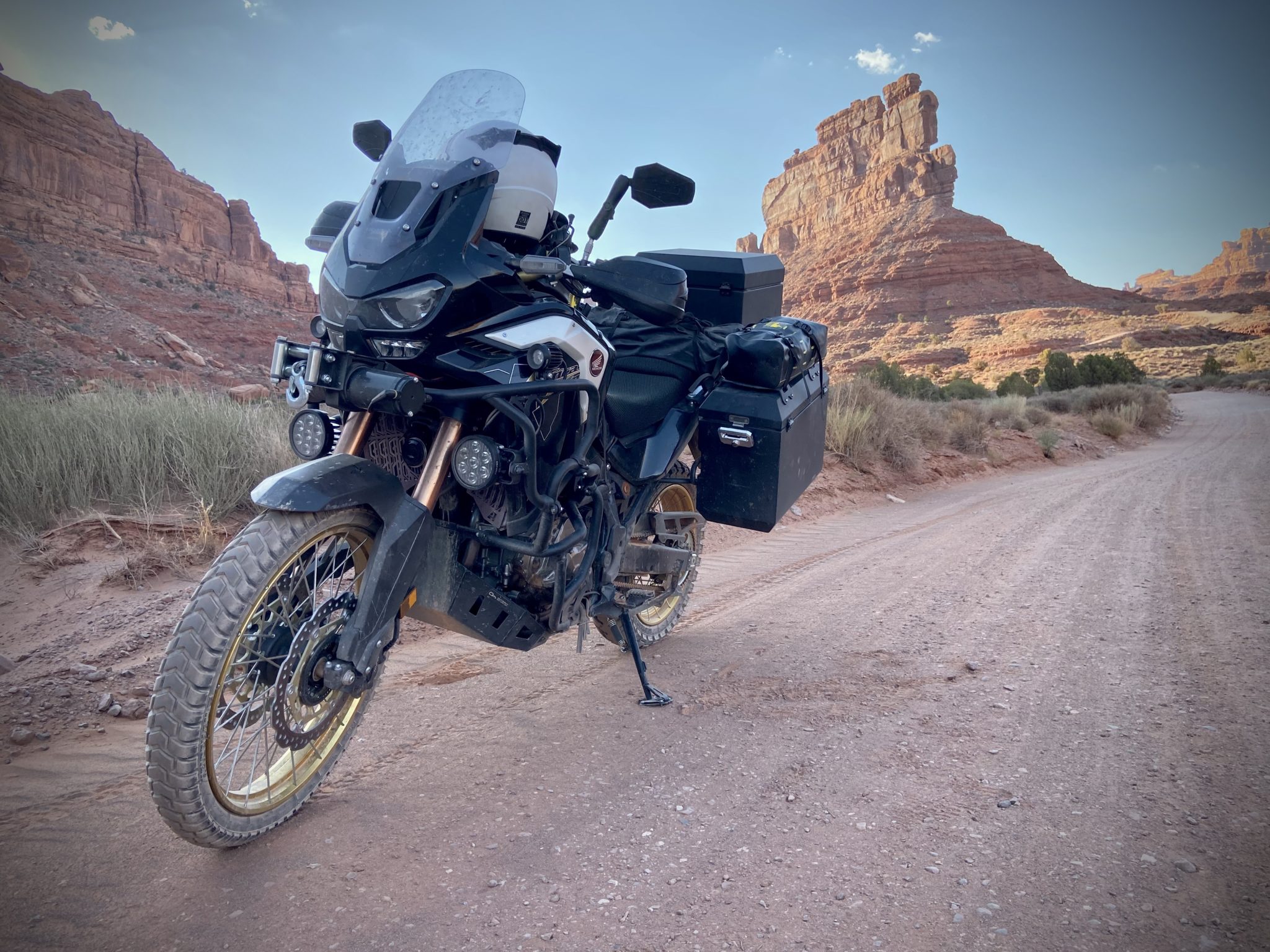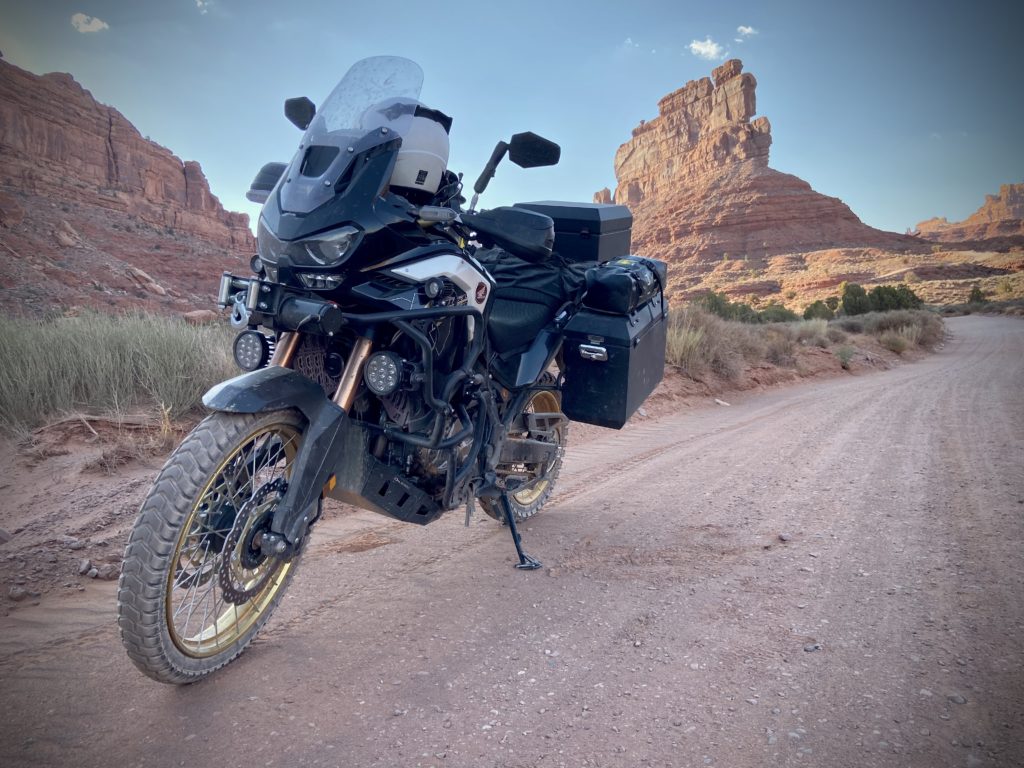 Heidenau K60 Scout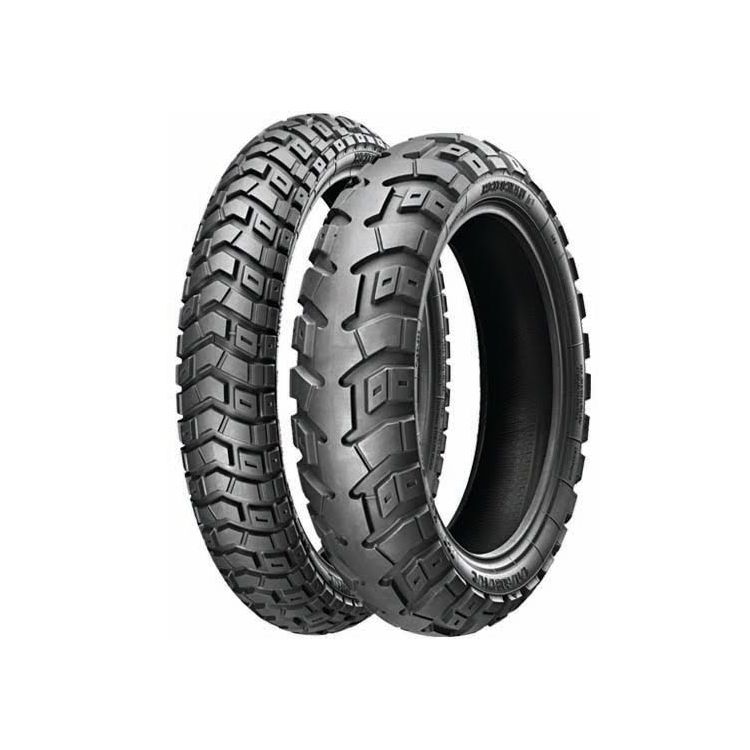 Heidenau's K60 Scout has a tread pattern that handles the tough stuff with ease, making it a go-to choice for adventure riders the world over. The K60 Scout has your back with virtually unrivaled longevity— it is not uncommon to get 20,000 miles on a front and 10,000 miles on a rear. Heidenau's tire compound uses a high natural rubber content, which is incredibly resilient and durable. When combined with sturdy belted construction, this makes for one of the most trusted, longest-lasting tires available to long-distance travelers.
MSRP: $131.00 – $239.00
Mitas E-07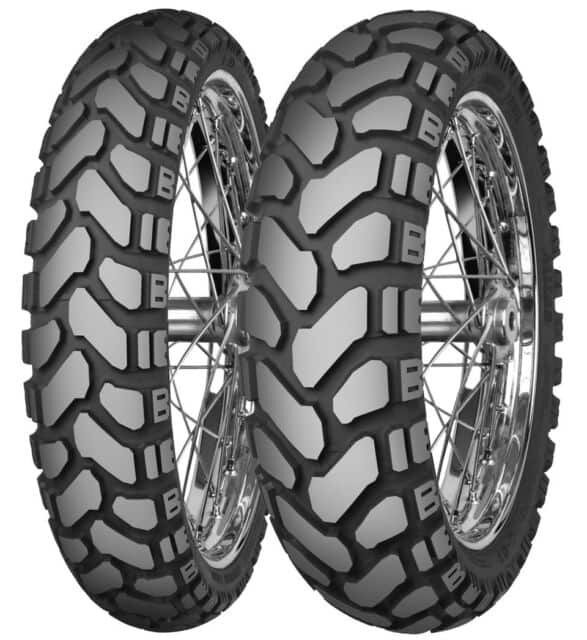 The iconic Mitas E-07 is a 50/50 tire developed with the weight and power of big adventure machines in mind. Due to its hard-wearing bias-ply construction and optimal on- and off-road performance, the E-07 is a popular ADV tire for round the world trips and home turf adventures alike. The chevron tread arrangement maximizes biting edges with sufficient gaps between tread blocks to ensure good traction in tricky off-road situations. Suited for tubeless and tubed tires, on pavement, the versatile E-07 instills confidence when cornering and in wet conditions with stability and comfort even at highway speeds.
MSRP: $79.51 – $243.40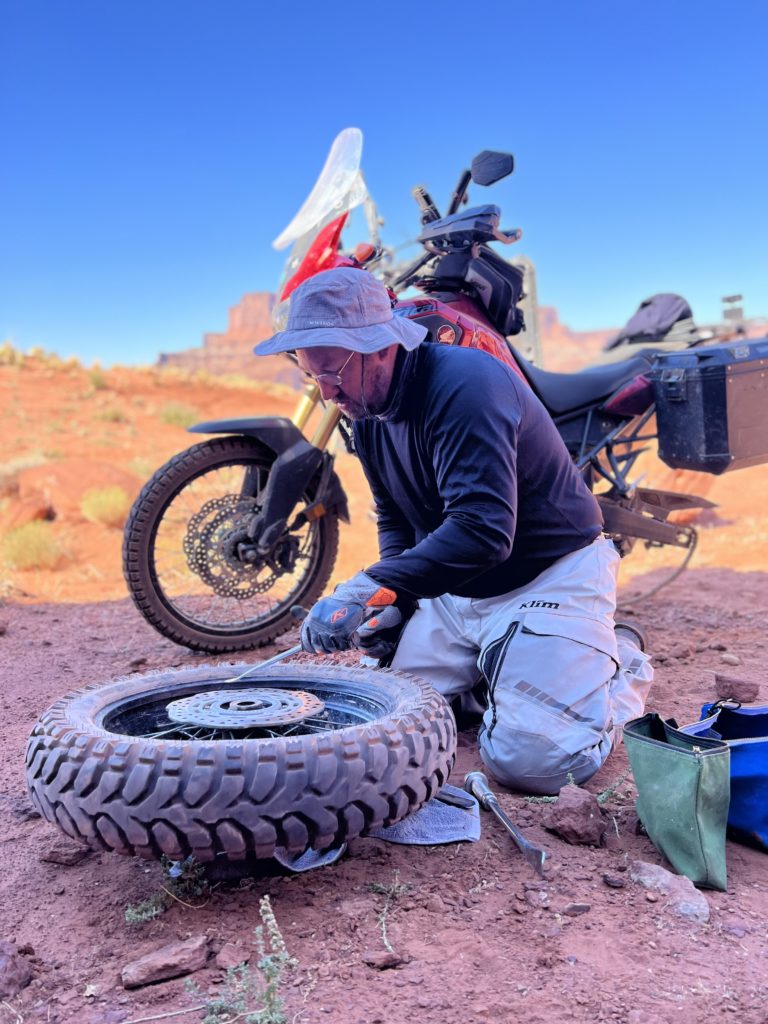 Pirelli Scorpion Rally STR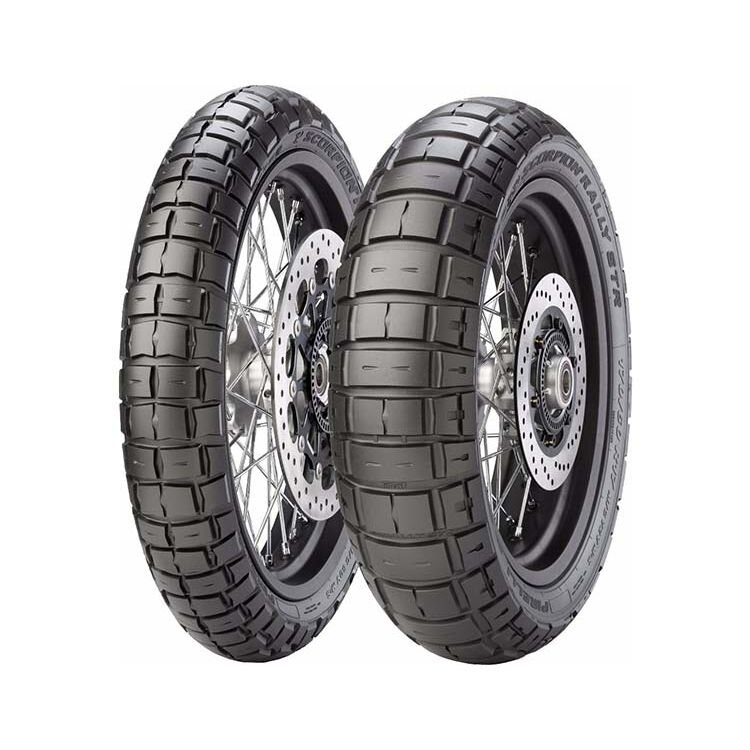 The Scorpion Rally STR is another 80/20 tire that offers decent off-road grip and longevity that goes the distance. The Rally STR features a road-derived profile and a silica-rich compound that works well on the pavement, even in wet or cold conditions. This profile and compound, combined with a unique tread design, results in a consistent contact patch that delivers serious canyon carving performance. When your adventure takes you off the tarmac, the refined tread design makes quick work of gravel, sand or dirt, especially if you air down a bit. 
MSRP: $166.27 – $294.97
Tire Tools and Accessories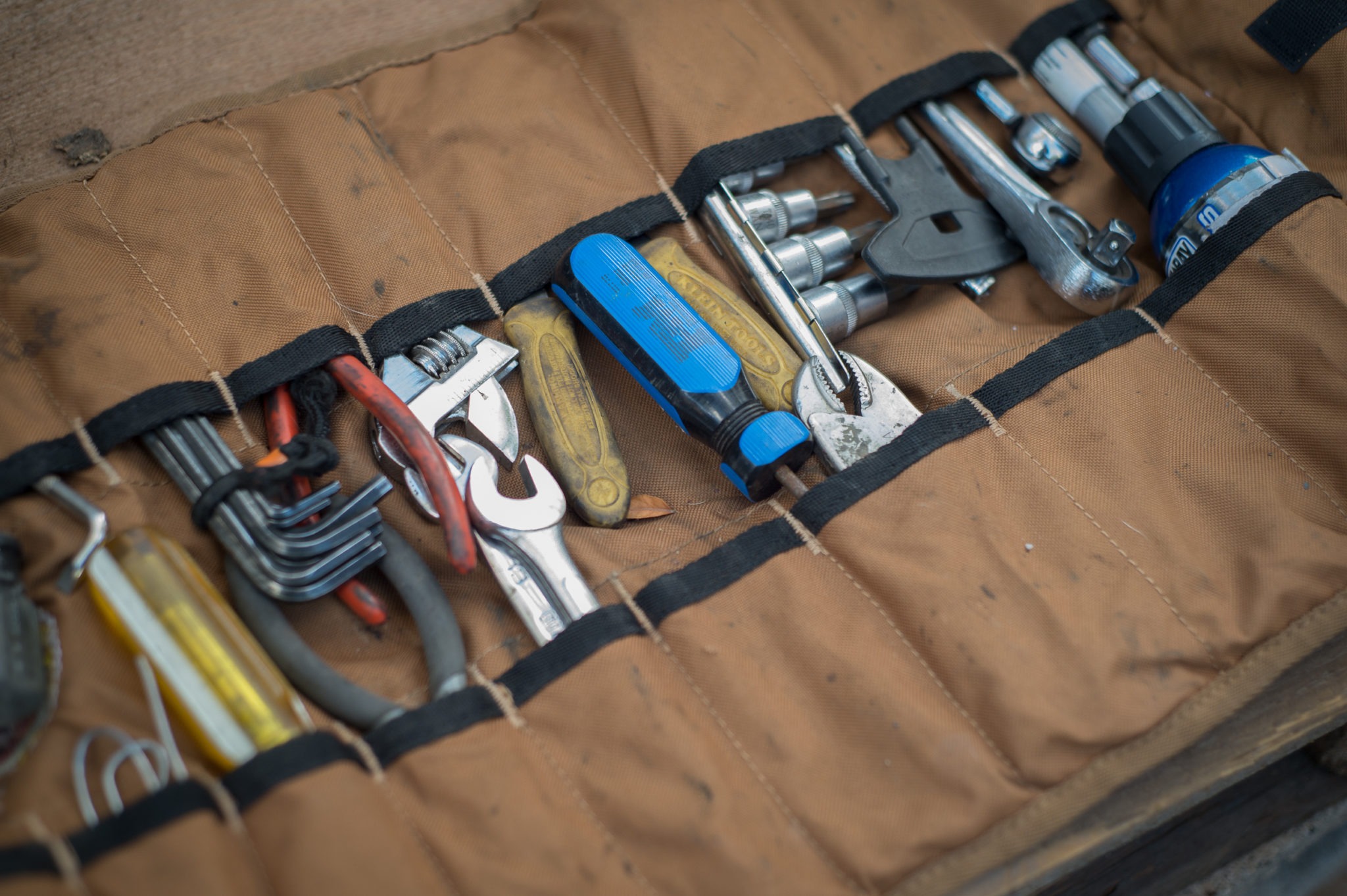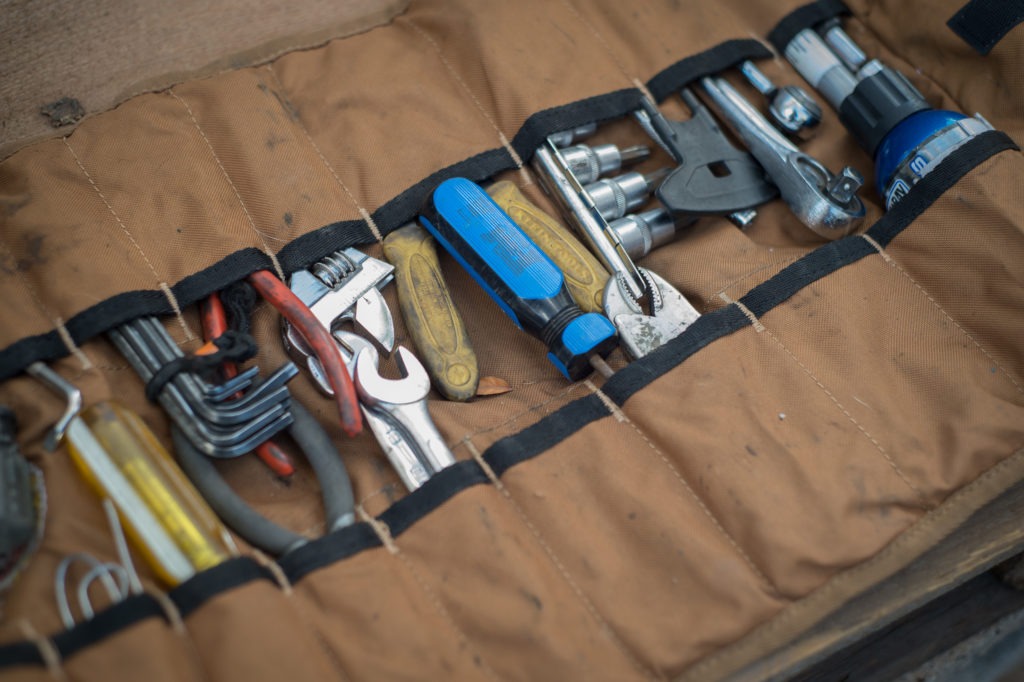 Slime Power Sports G2 Tire Inflator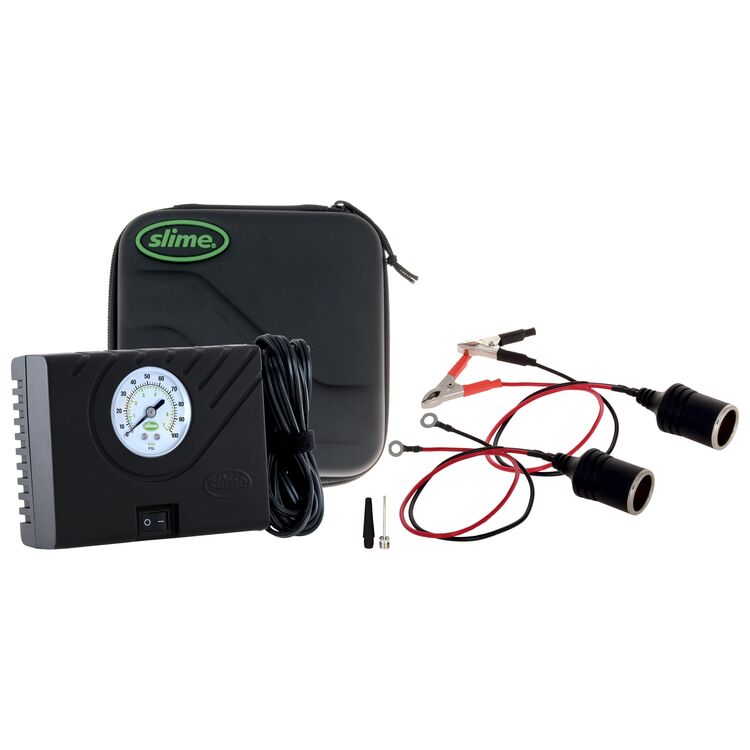 The Slime Power Sports G2 Tire Inflator is so compact, not to mention essential for emergency tire repair, there's no reason to leave home without it. The built-in gauge allows you to observe the increased pressure with a reading up to 100 psi and the bright, built-in LED sheds plenty of light on the situation. This powerful mini-pump will inflate your motorcycle tire in a jiffy and then stow away neatly in its rigid carrying case.
MSRP: $46.36
BikeMaster Tire And Tube Flat Repair Kit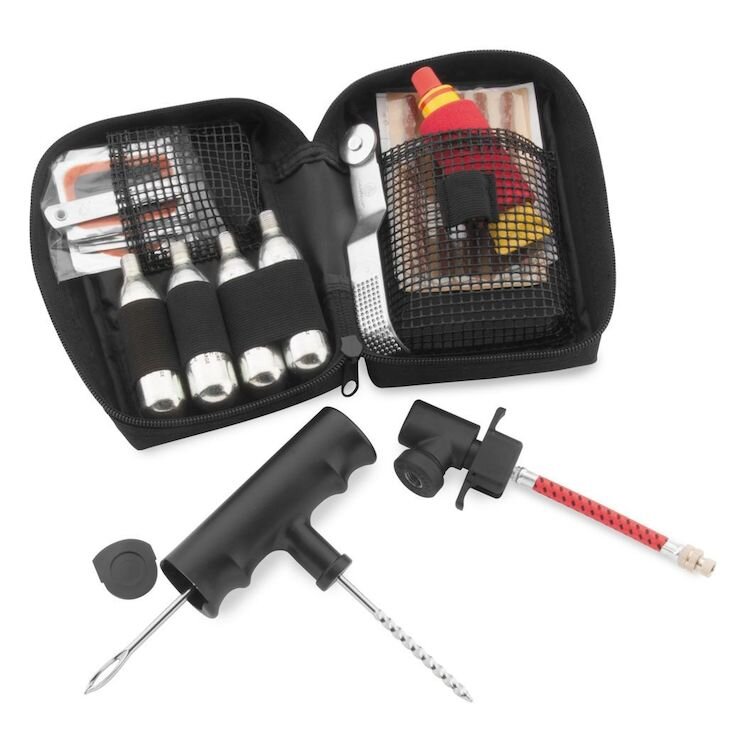 With space of the essence when adventure riding, making your tool kit as bike specific as possible is always a good idea. That said, looking out for yourself and your buddies on the trail is always worth the extra ounces and I always carry tire repair for tube-type and tubeless tires. The BikeMaster kit comes with all the patches, plugs, and tools you need to take care of everyone on the trail, no matter what type of tires they're running.
MSRP: $42.89
Motion Pro T6 Tire Levers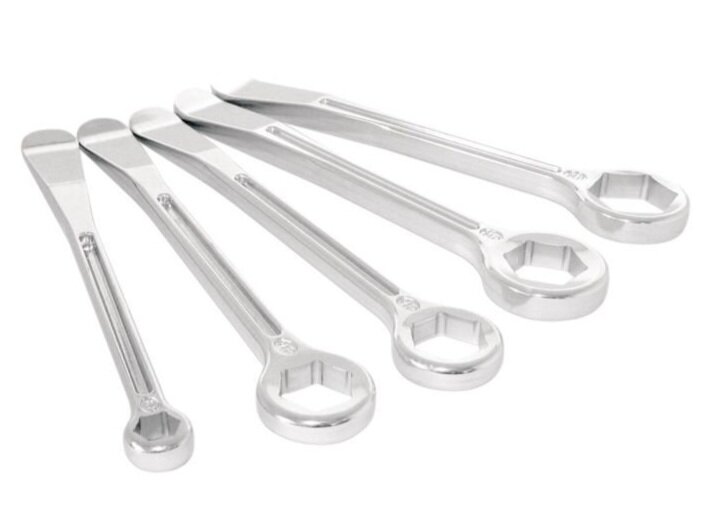 The Motion Pro Tire Levers have a space-saving dual-ended design with a tire spoon on one end and hex wrench on the other. Trailside tire changes are always a pain, but the clever lip design on these tire spoons makes things a little easier. The hex end comes in a variety of sizes so you can select the most useful set for your individual bike.
MSRP: $34.99