With the limited space in the half-canopy of our GMC Sierra AT4X build, we sought an efficient way to store all of our cooking equipment. We'd heard of Green Goat Outdoors' Camp Kitchen concept and lucky for us, they were eager for real-world testing. They manufactured their first batch of prototypes just in time for our build.
We thought we were getting a storage container for cooking supplies, but we got way more than that—a camp cooking system that takes the headaches out of overlanding meal prep.
When all stowed up, the Green Goat Outdoors Camp Kitchen appears to be just a high-quality storage case. The build quality is impressive: laser-cut aircraft grade aluminum, precision folded, and the lid is TIG welded.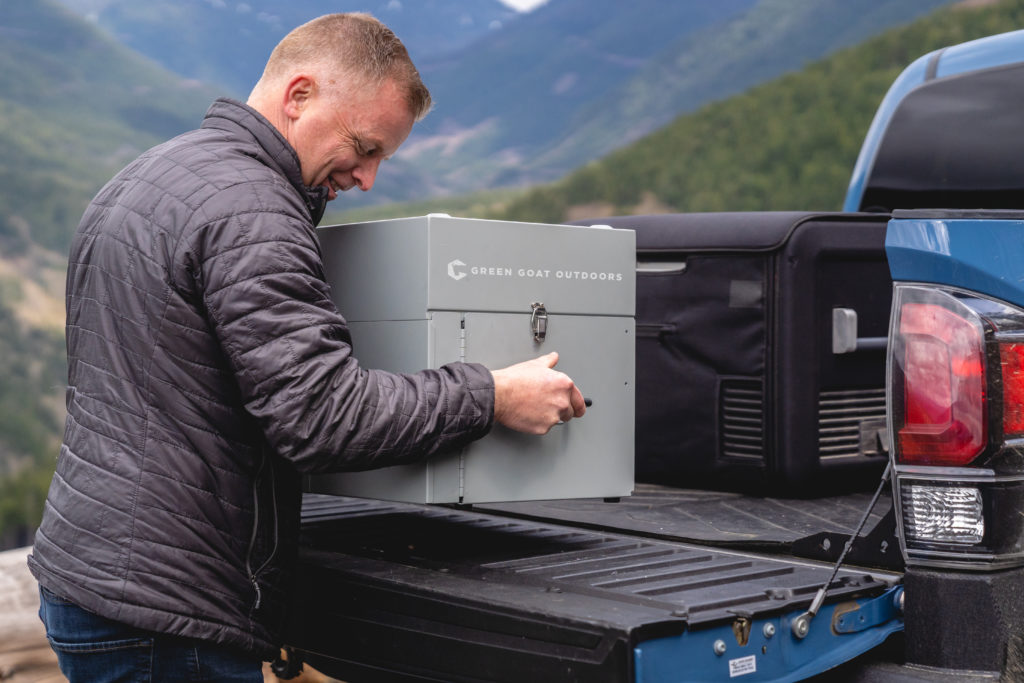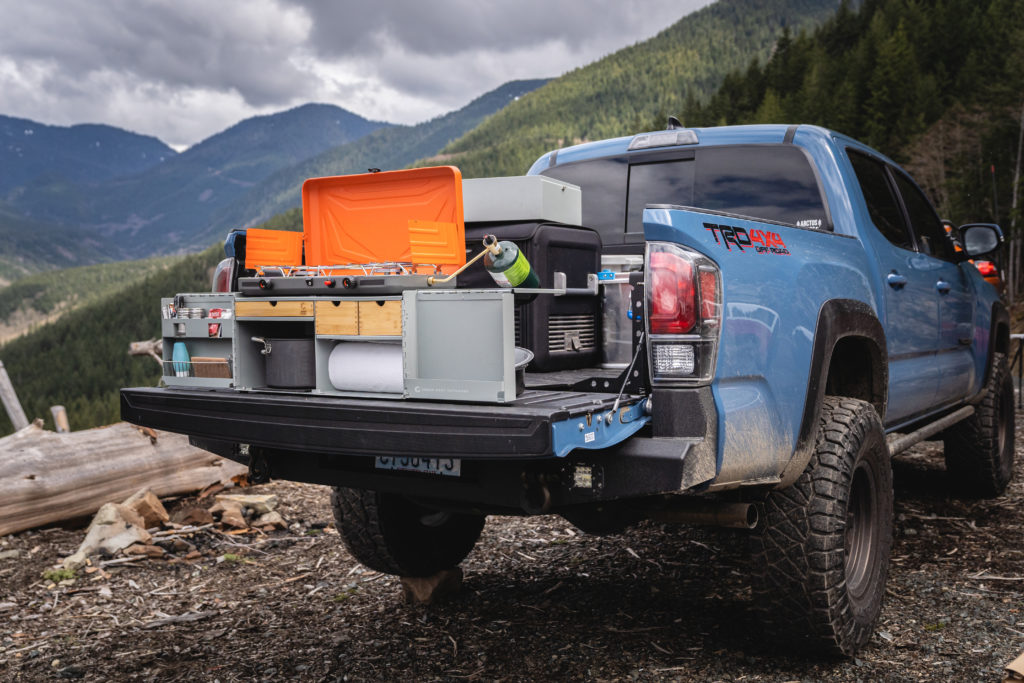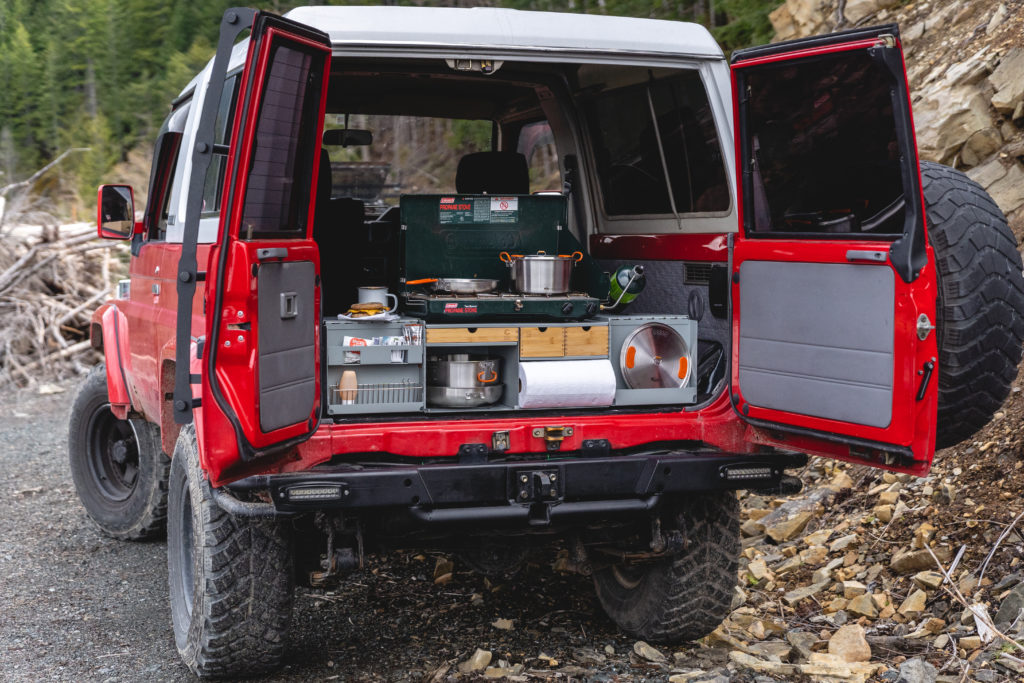 Open it up, and you realize this is a masterpiece of clever design, like a cross between a Swiss Army knife and Optimus Prime.
Unlatch the lid and the sturdy base supports a two-burner stove. Swing out the front doors, raise the wings, and you have two stable surfaces to rest your cooking tools and ingredients while cooking. Underneath, everything else you need is neatly organized and easily accessible. No more fumbling through different containers to find that certain something.
Three box-jointed, solid bamboo drawers hold full-size utensils and cooking tools. In the large lower compartments, there's room for a large 10-inch frypan, a 4-6 person cook set, as well as full-sized cups and a 16-ounce propane bottle. So you're not limited to sporks and a kid-sized cookware.
The aluminum bins in the wings securely hold spice containers, cooking oil, and open there are open bins to place the ingredients you're using while you cook. The hinged rear compartment holds a griddle and a cutting board. Again, all this is accessible while cooking. You don't have to move something to get to something else. Flip over the lid and it's a sizable wash basin. There's even a stainless-steel wash basket that hangs on the side and holds your dish soap and a scrubber.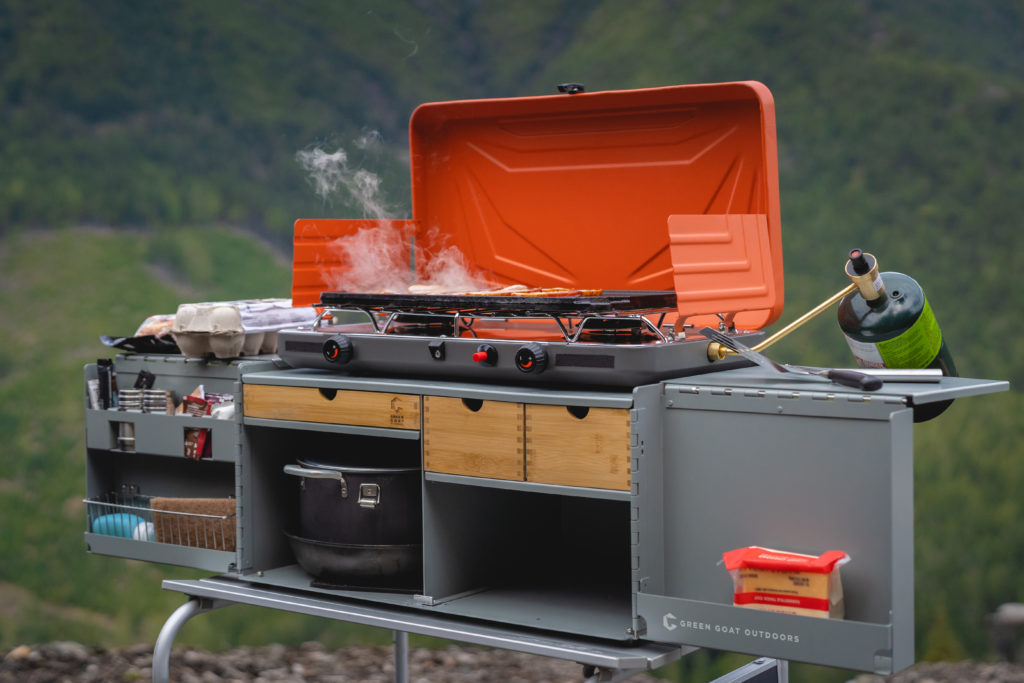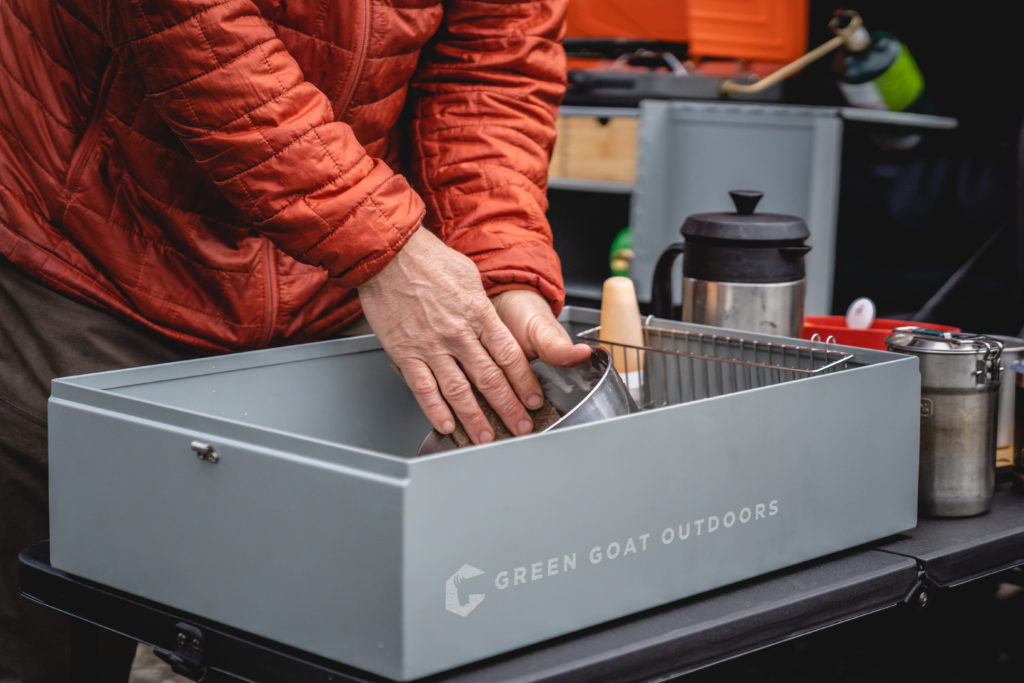 And perhaps the best part? At only 22.65" Long x 15" Wide x 15.72" High, this fits easily in your lifted Prius as well as a on the shelf in your garage. All your cooking kit is stored in one place and ready for your next adventure.
Conclusion? This isn't your grandfather's chuck-box nor is it another trendy consumer-grade camp gadget. This is a rugged, lightweight, and compact camp cooking system that transforms the way you cook on and off road.
What to Know:
22.65" Long x 15" Wide x 15.72′ High
Three box-jointed bamboo drawers
Holds all cookware, utensils, and spices
Lid becomes the washbasin for cleaning
MSRP: TBA