The age of electric overlanding cometh, and who better to make it right than Oregon-based crafters EarthCruiser Overland Vehicles, who have teamed with GMC to bring about a new overlanding (we assume) vehicle based on the heavyweight Hummer EV pickup truck.
GMC is working with EC's EarthCruiser Innovations department to outfit the Hummer EV, and an initial image released shows a topper over the pickup's bed lined with solar panels – but not much else. (Dropping the image in Photoshop and playing around reveals solar panels and an EarthCruiser logo on one window). Otherwise, the Hummer looks pretty much stock, indicating there's likely a lot more work to come beyond a bed cover and some solar cells.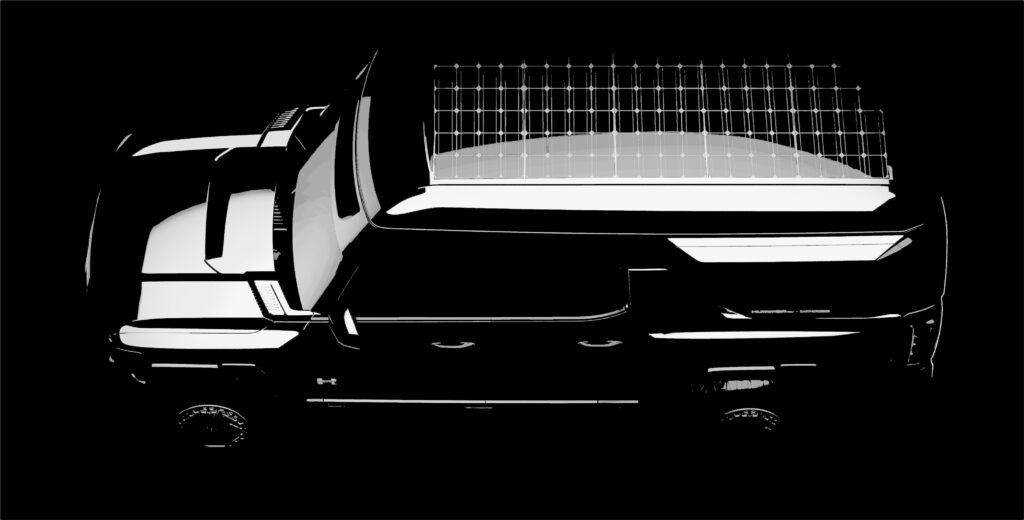 "EarthCruiser designs its vehicles to thrive in the most extreme, toughest environments imaginable," EarthCruiser CEO/Founder Lance Gillies said in a press release. "From the Australian Outback to the Alaskan wilderness and everywhere in between, an EarthCruiser was made to tackle tough terrain. As we consider the future of overlanding, we are continuing to look toward key technologies like electrification that will help us explore for decades to come. Electrification presents exciting opportunities for overland use, such as precise torque control over terrain and ease of use, in addition to zero-tailpipe emissions. We're thrilled to be working with GM's team of top-tier EV engineers and look to develop an overland vehicle that's truly made for, and will define, the future of this industry."
GMC said, "EarthCruiser's engineering technologies have resulted in unique and innovative self-contained living habitats while keeping capability and agility at the forefront," and "these two iconic brands share a vision for an electric future."
Technically, overlanding in a Hummer-type electric vehicle can make a lot of sense. The Hummer carries an enormous battery pack (depending on how it's optioned), giving it a lot of range. Also, off-road driving is typically done at low speeds, which plays towards an EV's maximum range numbers. Off-road EVs like the Hummer (and future electric pickups) feature highly adjustable, high-torque all-wheel drive systems and high ground clearance with no driveshafts, which will allow passage through more difficult terrain. A Hummer itself can even "crab" using its four-wheel steering capabilities, a feature that will likely show up in EV pickups sooner than later.
Of course, once on site, campers will be sitting on a literal ton (or tons) of battery power for running any number of electrically powered goodies, from coffee makers to chainsaws to electric blankets and, of course, all manner of communications and entertainment tech. And while the solar roof shown in the attached image indicates at least some ability to charge the battery, in truth, even that size panel would take a very long time to top up a battery the size of the Hummer's typical 200-plus kWh pack. A larger fold-out solar array that compliments the rooftop array – and perhaps also works as an awning – could be (SHOULD be) a future option. Solar arrays are easily foldable and stowable, making them practical to bring along. Bottom line: recharging a Hummer EV in the wild, even if it takes a while, is a viable solution for overlanders once on site.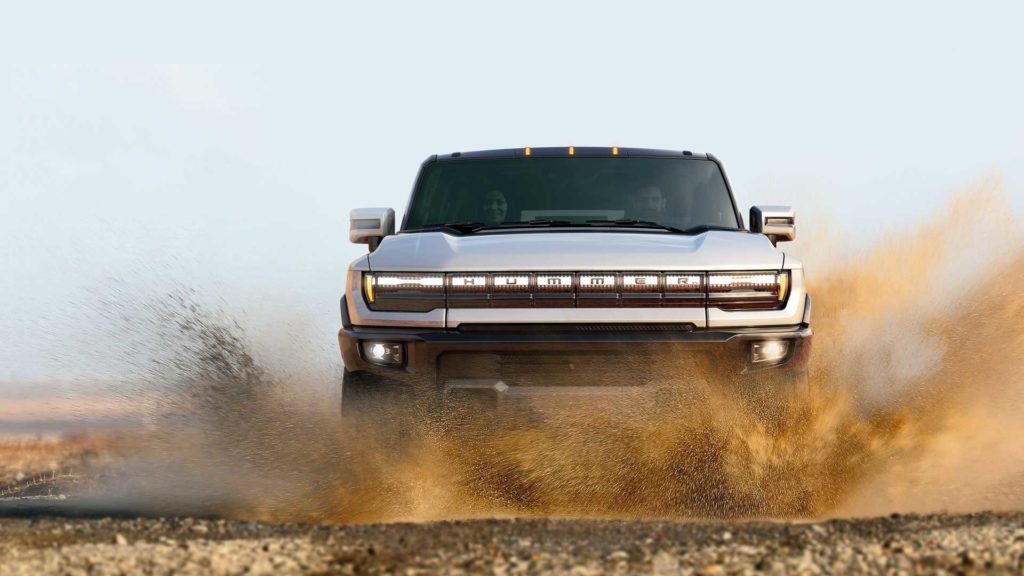 How might EarhtCruiser spec out a Hummer EV? The size and capabilities of the stock vehicle are already impressive, and if you disregard the weight penalty (it weighs around 9,000 pounds as stock), adding the bed cover or modifying the bed area for habitation could result in a compact overlanding rig with massive capabilities, including hauling a trailer, boat or camp trailer for more room and stowage. Really, the options are wide and varied. It will be interesting to see how EarthCruiser proceeds with the project. Having GMC in the mix also brings expertise and, more importantly, some standardization across the build, streamlining the process and perhaps beginning it at a price point far below a full-blown custom EC vehicle.
Overland Expo has Oregon-based correspondents that will keep tabs on GMC/EarthCruiser's progress on the project. Stay tuned.