Ford has taken the wraps off the updated Ranger pickup truck, and it shows that the competition in the mid-size (and more affordable) segment is hotter than ever. Chevrolet recently introduced its reskinned Colorado mid-size, which we drove, Jeep offers the Gladiator middie, and Toyota is about to debut its new Tacoma at Overland Expo West next week. It's a good time to be shopping for a mid-size hauler.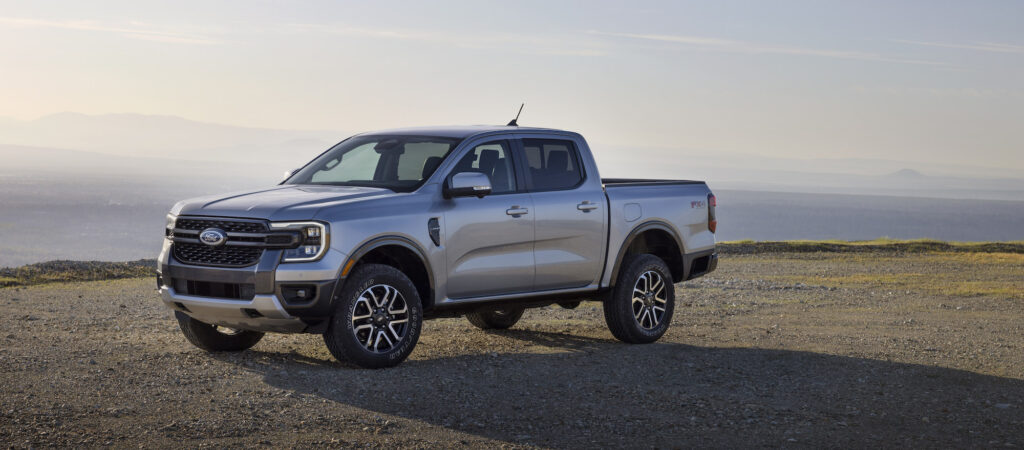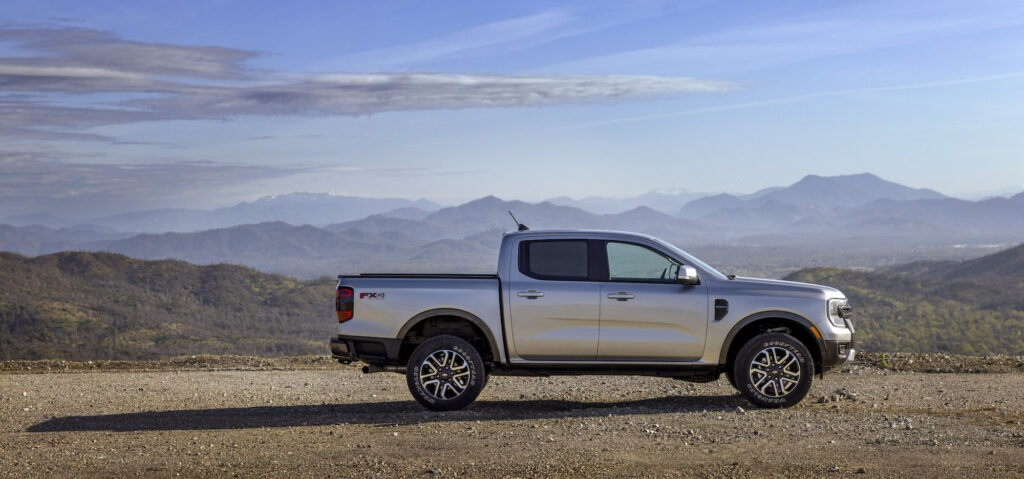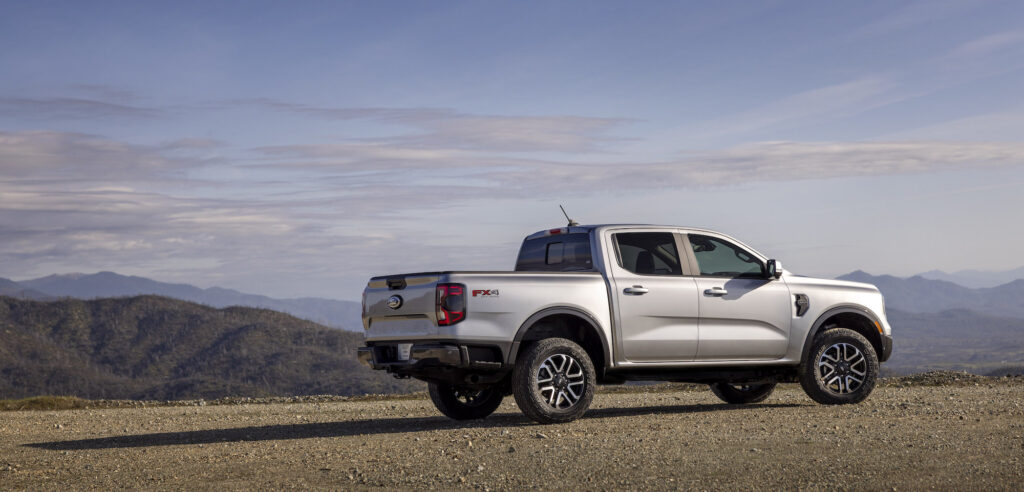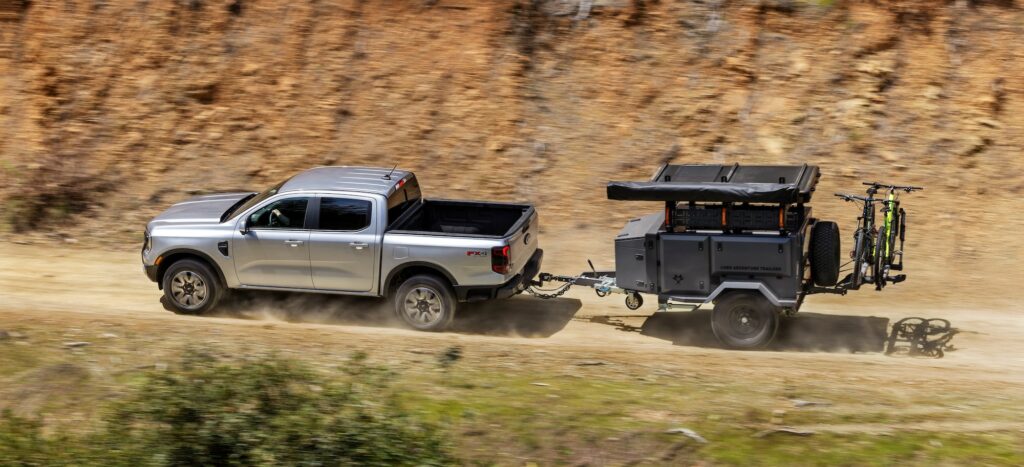 The updated Ranger will arrive in Ford's four standard XL, XLT, Lariat, and Raptor trims, with sub-trims such as the XLT Sport and others also available. Pricing has not been released, but we expect the numbers to fall in line with the competition's range from the low $20,000 mark for the base XL "work truck" trim to around $50,000 for the top-spec race-bred Raptor. No electric or hybrid models were announced. A long options list will tempt buyers to add in more cash, of course.
A base 2.3-liter turbocharged EcoBoost four-cylinder engine making 270 horsepower and 310 nits of torque will power most Ranger models, with a turbo 2.7-liter V6 spinning up 315 ponies and 400 pound-feet of twist available as an option. All models will use Ford's 10-speed auto and push-button (or knob-turned) 4×4 modes. No manual version was specified in the Ford press release. The top-spec Raptor piles on with a 3.0-liter V6 turbo that makes 405 horsepower and 430 pound-feet of torque. More on that beast in a moment.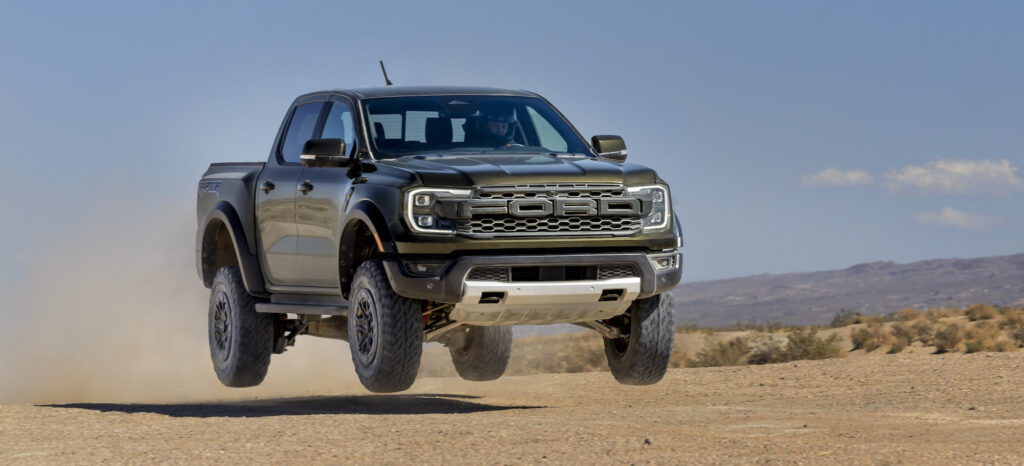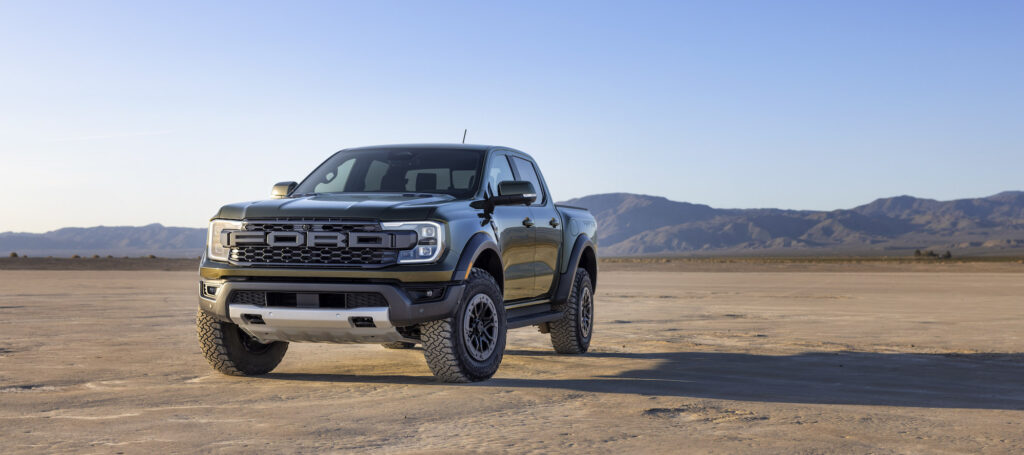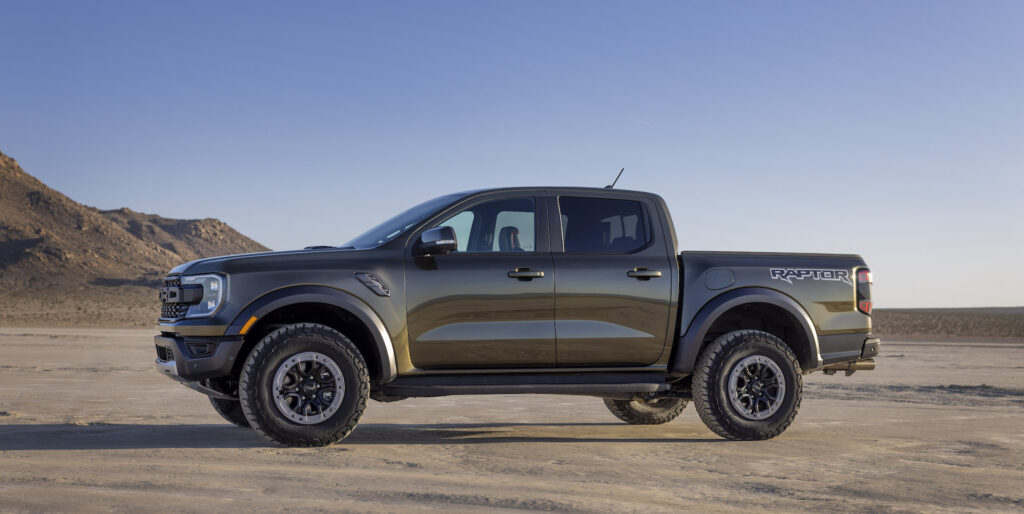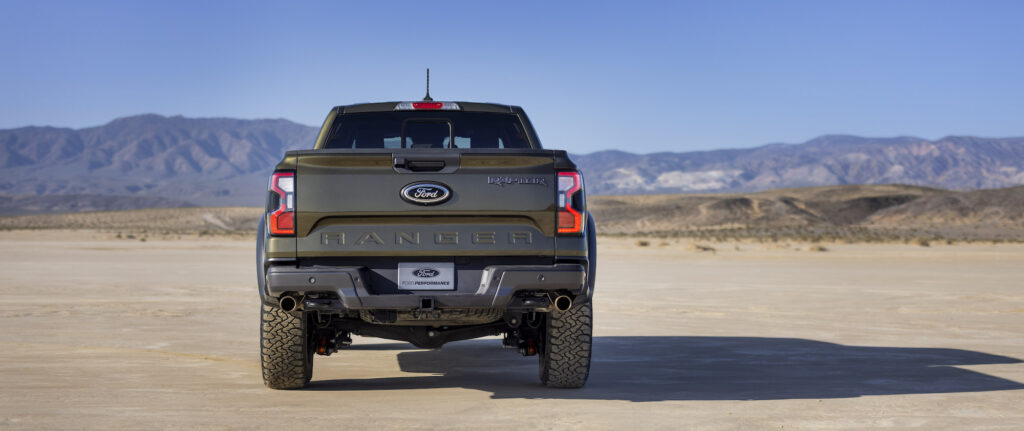 While the Ranger is "mid-size," what constitutes a mid-size "size" seems to be a moving target these days as Ford has punched out the Ranger a couple of inches in all directions, widening the space between the wheel wells to over 48 inches – good news for ATV haulers – and lengthening the truck overall a bit a well, which should improve interior comfort and cargo space. Despite the uptick in length and girth, Ford says approach and departure angle have been improved but did not release specific numbers. Ford did say the new dimensions allowed them to move the rear shock mounts outside the frame rails on the new Ranger, hopefully simplifying suspension upgrades.
Indeed, making use of every bit of space has become a thing in the mid-size battle, and Ford has included more and larger cubbies and storage options throughout the new Ranger. There's improved under-seat storage below the rear seats, which now feature fold-flat backs for better handling of large loads that need to be in the cab rather than in the bed. Ford has also integrated larger step-side spaces for climbing in and out of the bed or just reaching in to grab gear.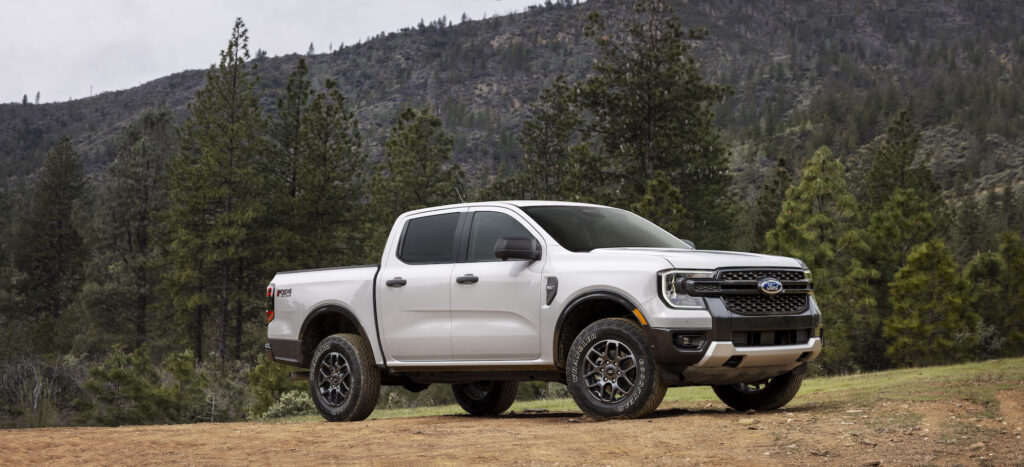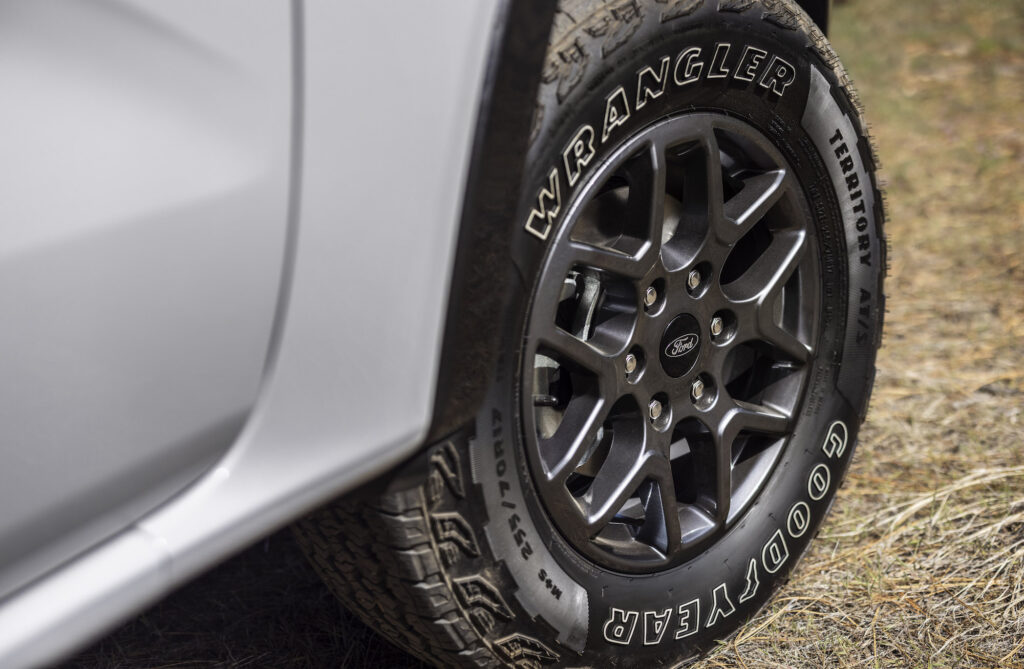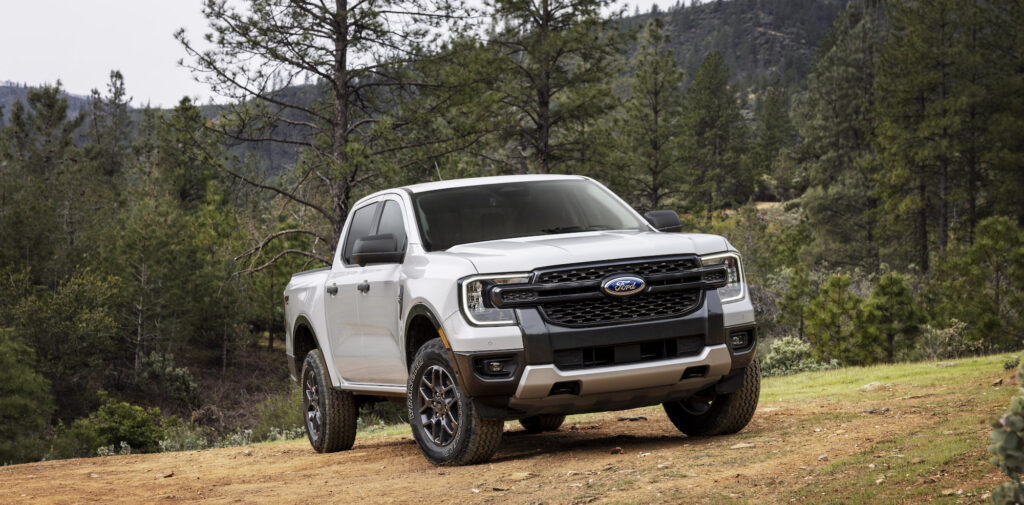 Tech is a popular focus in this segment as well, and the Ranger features a base 8-inch touchscreen across all models with an option to bump that to a full 12-inch panel. While some marques have moved away from device-specific connectivity systems, Ford did show the Ranger with Apple CarPlay on screen. Fortunately, climate controls and such are still operated with analog knobs and buttons below the screen.
4G LTE connectivity and wifi connectivity will allow Ford to update the new Ranger over the air (OTA), giving more possible functionality in the future. Bright LED "zone lighting" around the truck and in the bed helps out with nighttime camp or work setups, and buyers can also option a 400-watt 120-volt inverter with outlets in the bed and cabin for running power tools and camping gear. Many of the truck's tech features can be operated via smartphone and the FordPass app.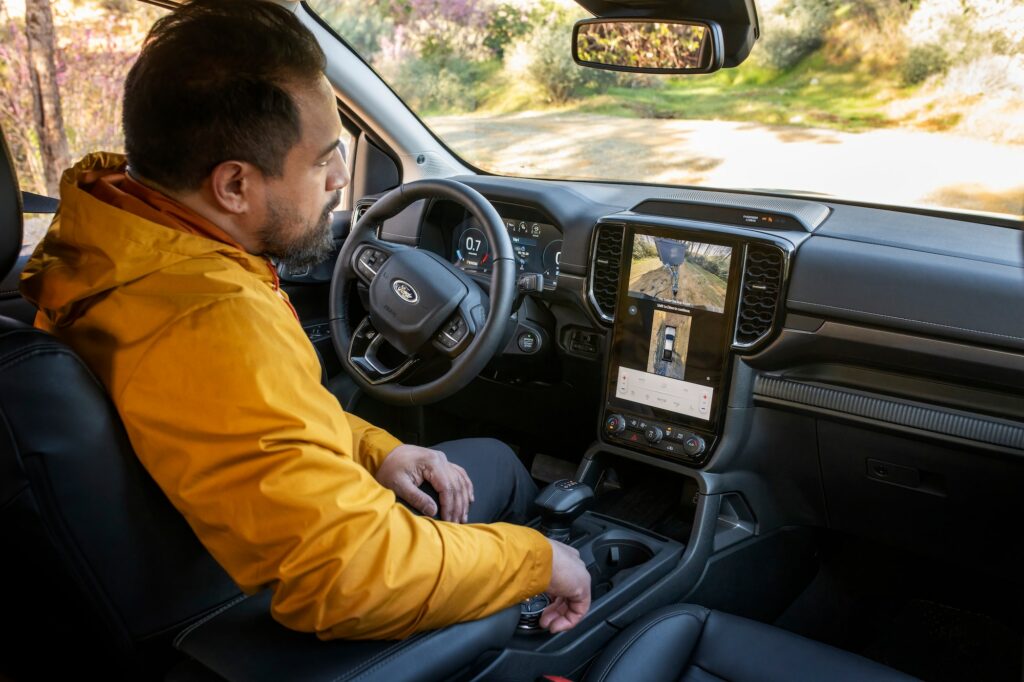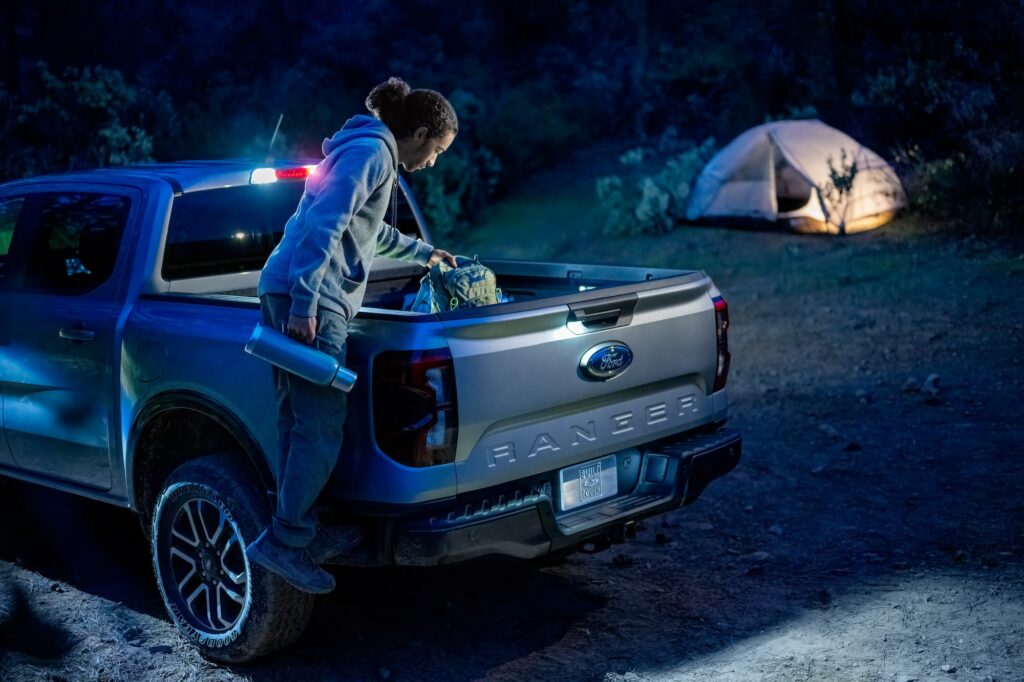 Ford says the Ranger can help out drivers with up to 31 tech-assisted features, including 360-degree cameras, the now usual safety suite of proximity sensors and driving assist nannies, and both Pro Trailer Backup Assist and Trailer Reverse Guidance for looking like an old pro when backing up your trailer into that tight spot. Hauling ability has been increased as well, with a 1,805 pound "available" cargo limit and towing up to 7,500 pounds. Bed size for the Ranger appears to be a standard short box, and Ford did not say if longer beds will be an option.
Naturally, the Ranger Raptor is high on many off-roader's wish lists, and Ford says the top-tier variant will include a long list of goodies, including 10.7 inches of ground clearance as stock from a suite of Fox live-valve internal bypass long-travel shocks. There are also locking diffs, three additional Raptor off-road drive modes, and that stout 400-plus horsepower turbo V6. Expect a well-tuned interior as part of the Raptor package.
Buyers can get in the order queue beginning later this month, and Ford says Ranger production will commence later this summer, with the 2.7-liter version appearing in late fall. Again, pricing has not yet been announced.