Bronco has been at the 2022 Overland Expo shows offering ride-along opportunities for attendees. From the passenger seat of the all-new Bronco, fans have been able to sample some of the bucking Bronc's off-road prowess.

But riding shotgun doesn't tell the entire story. Namely, we were curious how Ford engineers designed the Bronco with overlanders in mind — if at all. So we sat down with Bronco Brand Manager Matt Winter and asked him some questions about the Bronco's R&D program, which Ford dubbed "Born Wild" and claimed was its most strenuous R&D program to date. And while we had him, we asked about his favorite Bronco trim for overlanders.
---
Overland Expo: What made the development of Bronco so much more involved, in depth, and strenuous than others?
Matt Winter: In Johnson Valley, you really have every type of off-roading. You have rock crawling, you have high-speed desert racing, you could even get a little rain out there and get some mud. We really wanted a vehicle that was going to excel in a lot of those environments, knowing that you can't be everything to everyone at all times. So, we did break out some different series to kind of focus on the specialties of off-roading and make sure that we were setting people up for success right out of the box with the best units, the best tires, the best combinations we could. But really we wanted it to build an off-road machine that people could take anywhere and do anything and really put through that strenuous testing. You can see that with our work definitely trickles down to the customer.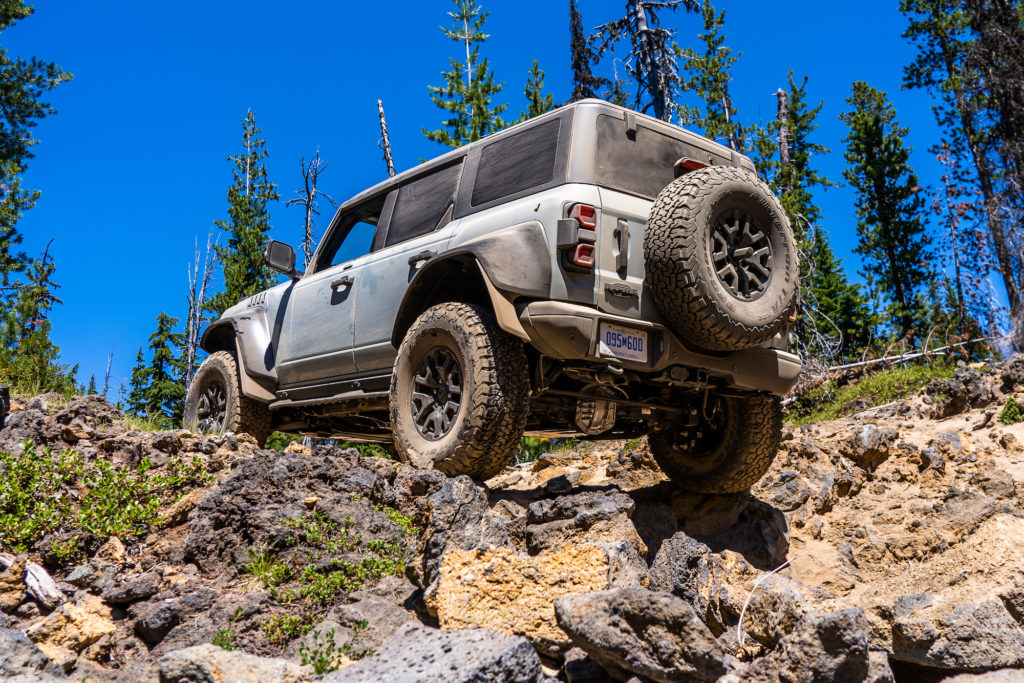 OX: Why did Bronco get a more strenuous R&D program than the F-150 Raptor?
MW: So the F-150 Raptor is an amazing truck. But it is built specifically for Baja racing. So it's got to handle high-speed desert running. It's got a longer wheel base, a little bit more capacity. It's really made for just bombing through the desert at high speed. With the Bronco, we knew that that's a particular type of off-roading, but not necessarily what everyone's gonna do. If you're in New Hampshire, Tennessee, those kinds of areas, you're not going to find these wide open places with sand and rock like you would out in the American Southwest. So, with Bronco Raptor, we wanted to do something a little bit different. Bronco Raptor, unlike the F-150 Raptor, has a front locker. It also has a sway bar disconnect, so you can get greater articulation if you're going over rocks, rock crawling — those kinds of activities. So, as an all-round vehicle, it's purpose built for a little bit different environment than the F-150 Raptor.
OX: Bronco is built on Ford's next-gen global platform of mid-size ladder frame trucks. What sort of lessons were learned during Bronco development that were carried over to the platform as a whole?
MW: Strategic reinforcement is one. Light-weighting is another. We know customers are going to add weight with components. We wanted to ensure structural rigidity without sacrificing fuel economy. Bronco isn't just a weekend toy; it's a daily driver, too.  We wanted to provide a frame and a platform that would provide the best on road as well as off-road stability for people. Through the engineering process, they were able to really tweak that frame and the ladder frame.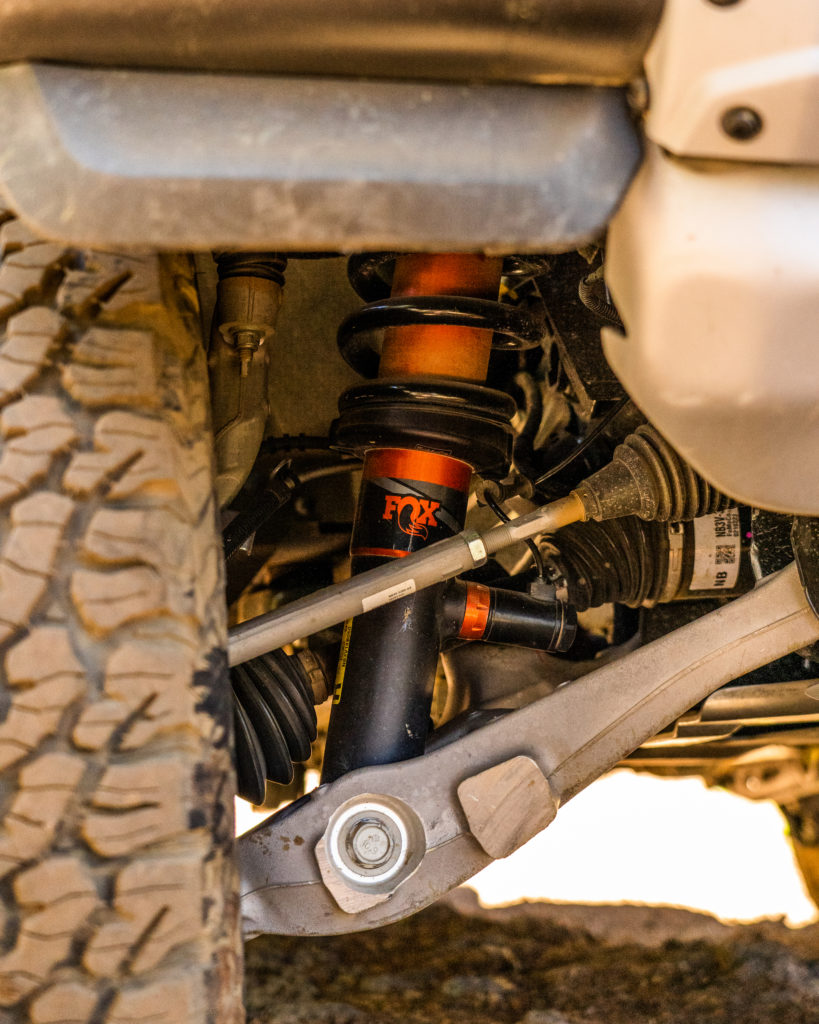 OX: Let's talk for a second about that independent friend suspension. I think it is an outstanding feature. Certainly, there have been other off-road trucks with IFS before it. But it bucks the trend of the Jeep Wrangler. I'm curious, what sort of technological or design fixes did you guys have to implement to ensure that it was just as good on the highway as it would be off road in Johnson Valley?
MW: The smaller front of Axle is tried and true. It's been around for a long time and there is a lot of aftermarket support. But you just are not going to get the same on-road performance and understanding. Our customer wants the vehicle that they can take out to the dunes. They can take out and go mudding. They can go rock crawling on the weekend. But then they need something that they can drive to work on Monday. We wanted to provide them an experience that would be good off-road and on-road.
OX: We think the Bronco sweet spot for overlanding is the Everglades trim. What, what was the genesis of that?
MW: We understand overlanding is a very large, growing market. A lot of people are getting into overlanding right now. We wanted to provide a really good canvas from the start. So we wanted to provide customers with a good starter vehicle that had a lot of the basics that people would want in an over landing rig, but still with plenty of space to customize and create. We looked at a lot of the areas people might want to go, how they're going to go there, and what features they would need and tried to incorporate those into the vehicle. Everglades has Sasquatch package standard, a unique wheel and tire combo that's great in the mud, winch comes standard as well, and the snorkel.
OX: What is the forwarding depth rating?
MW: 36 inches. We really are proud of the snorkel. We like how it contours to the hood. I think it's just a real sharp design as well as a removable. You could have the intake either be in the front or the back depending on your activity. So, if you were to take it somewhere a little bit dustier, you could flip that around and just suck in clean air from the back instead of having to worry about dust and debris coming into the front.
OX: Switching gears, it's not been clear whether you'd be able to get a manual transmission with Sasquatch. Once and for all: can you get a manual transmission and Sasquatch package?
MW: We are bringing that in as an option. But for Everglades, it's gonna just be the 10-speed automatic behind that 2.3-liter, EcoBoost four-cylinder.
OX: On what trim level will customers be able to get manual transmission and Sasquatch?
MW: You can get that on the Big Bend — with either the 2.3-liter inline-four or 2.7-liter V6.
OX: Oh, really? We thought manual transmission was only on 2.3-liter. You're saying, on some trims, you can get the 2.7 V6 with a manual and Sasquatch?
MW: Yes.
OX: Whoa. That's gonna be a rare bird. What's the take rate right now on manual?
MW: We're a little bit shy at 10%. It's not super popular, but we're trying to support that part of the community as much as we can.