This story originally appeared in the Overland Expo Sourcebook 2022.
By Alison DeLapp 
Rarely is there a specific event in your life that you can look back on and can say, "Yeah, that's a moment that changed my life." In 2009, discovering overlanding was one of those moments.
I was car camping in Joshua Tree National Park with my then-husband when a motorcyclist, heavily-packed and wearing weather-worn leather jacket and pants, circled the campsites. It was the second time he passed when I told my husband to invite him over. We had a fire going and cold beer, and I was sure he had stories to trade. He did.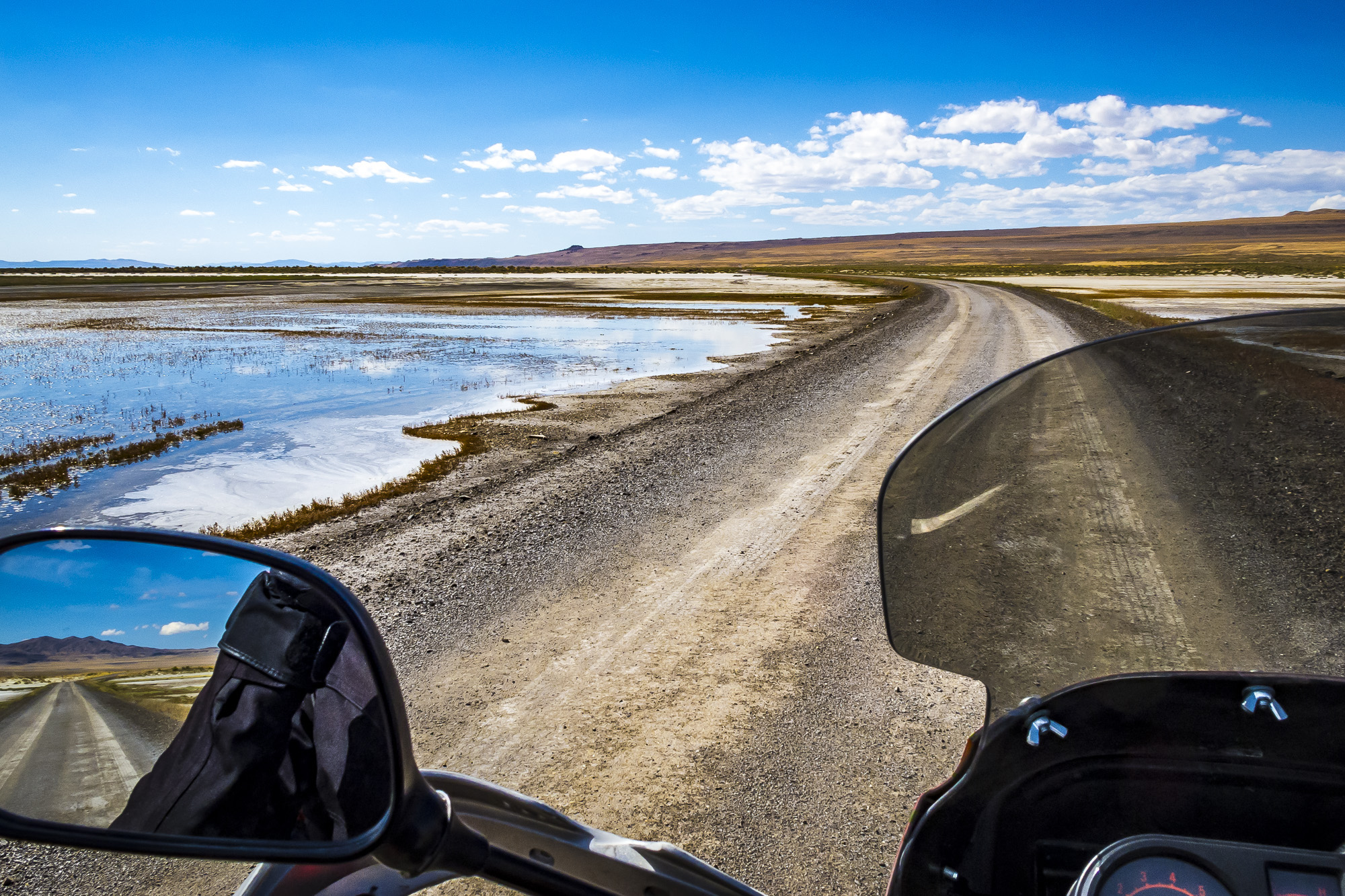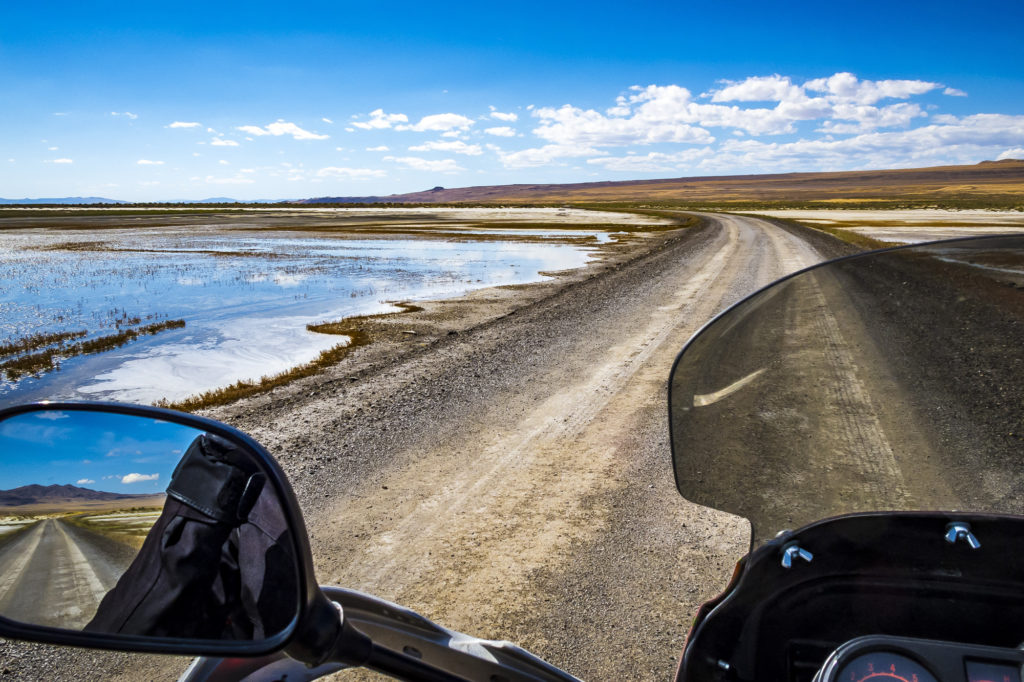 The rider, whose name I've long forgotten, lived in Alaska. He painted houses during the summer and spent the winters traveling the lower 48. I was in awe of his chosen lifestyle. He had the freedom to decide each day where he wanted to go, which route to take, and how long to stay. He was traveling for the sake of the journey. By then, I had been motorcycling for six years and camping my entire life. When I realized I could combine the two, there was no going back. I wanted to experience that liberation for myself.
A year, a divorce, and a dual-sport motorcycle later, I set out on that journey.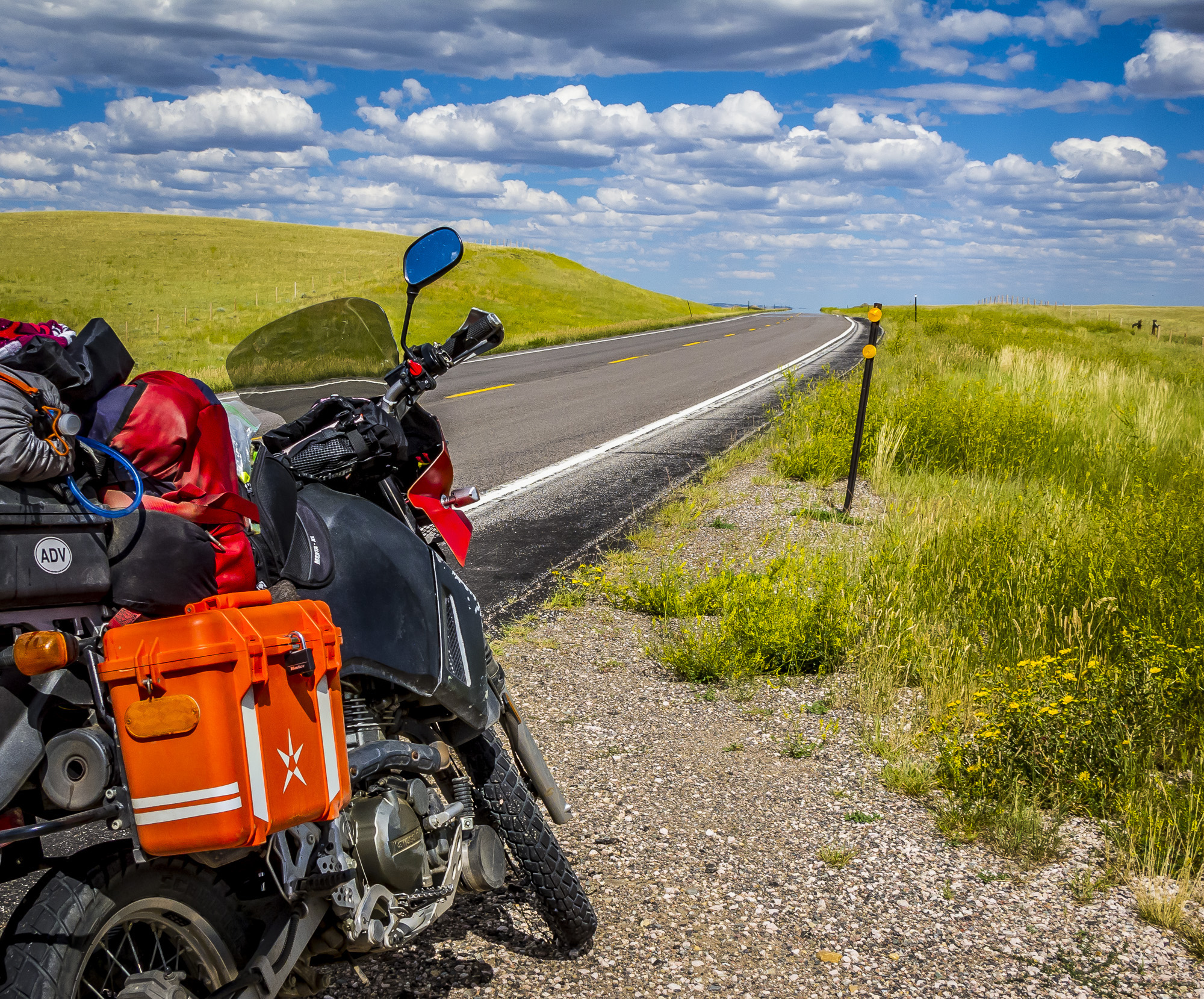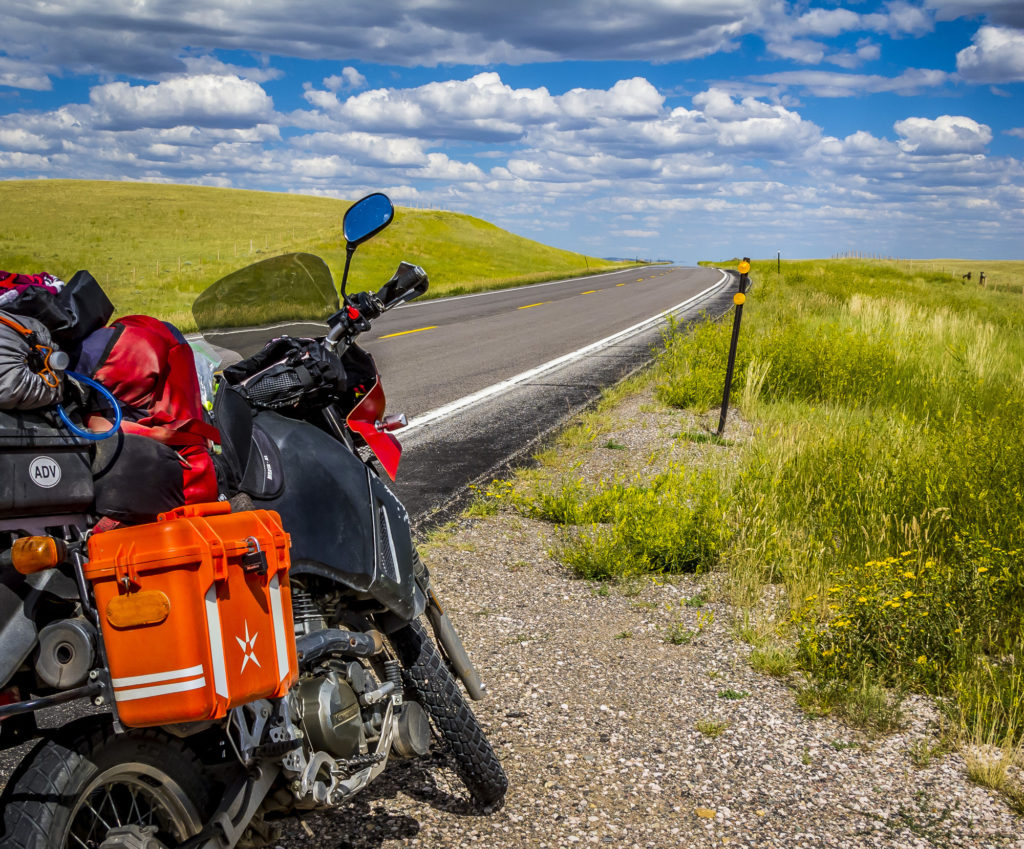 I chose a 2001 Kawasaki KLR650 because it was considered the swiss-army knife of bikes. Whether riding on- or off-road, it gets you where you're going. It's heavy, does everything, but it does nothing well. Eventually, KLR riders tend to go one of two ways: they buy a lighter more dirt-worthy motorcycle or buy a heavier more road-worthy motorcycle. For me, it was the perfect introduction to dual-sport riding. And, if (maybe I should say when) it breaks down along the way, it was easy enough for me to fix.
I joke that the best thing my ex-husband ever did was not let me do things the easy way. When I told him that I wanted to ride, he brought home a 1978 Honda CB400, cobwebs and all. Before I could ride that bike, however, I had to learn how to fix it. So, I spent all summer taking apart every piece of that bike, cleaning it, and putting it back together with the proper gaskets and lubricants, and replaced bolts that had rusted out. The process demystified the motorcycle as a machine and, in turn, made me a more confident rider.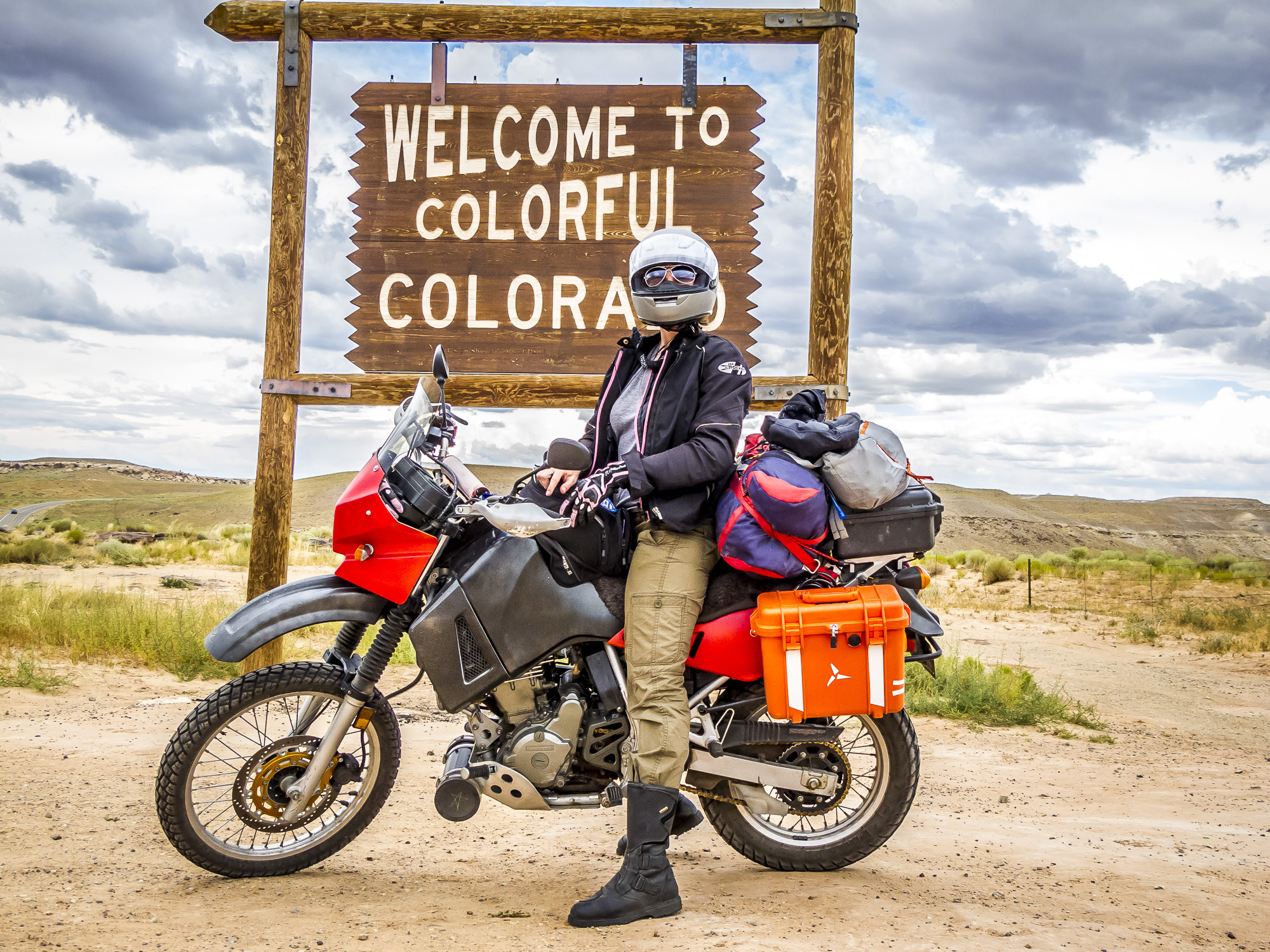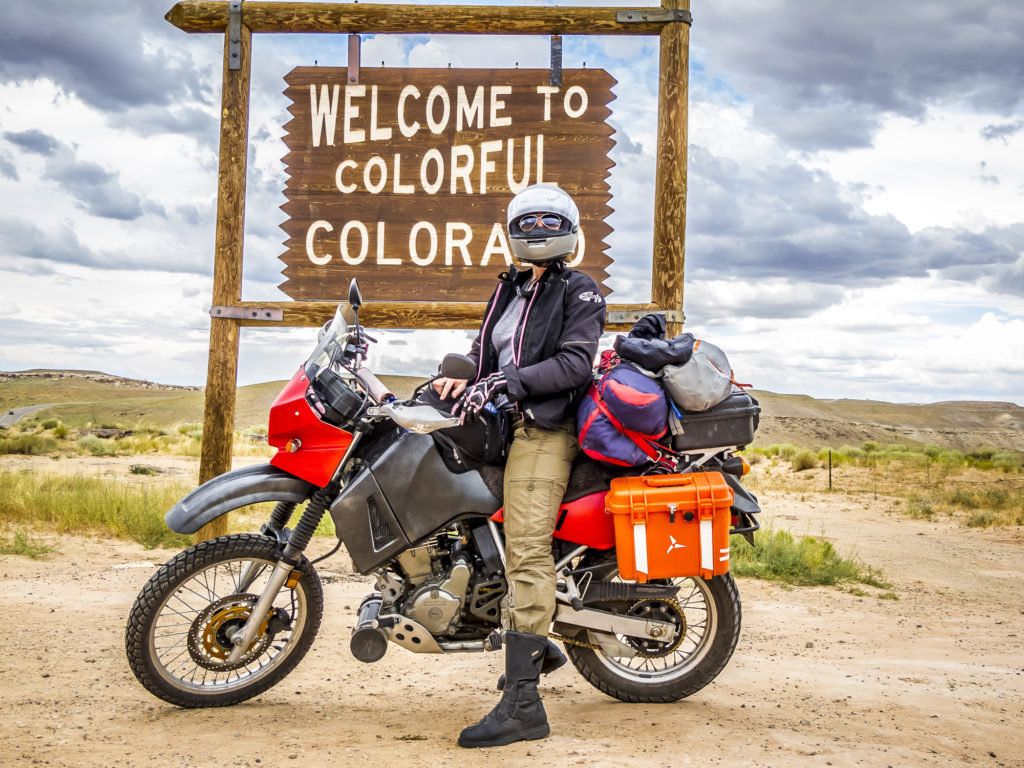 At the time I set out to take my first solo motorcycle trip, I lived in Los Angeles and worked as a freelancer in the entertainment industry. Luckily, summer was my slow time.
I decided to take a couple of months off and travel around the Southwest. In early June, after learning to ride my KLR off-road all winter and spring with a local moto group, it was time for me to go. By then I had bolted on crash bars and a skid plate, upgraded the rear suspension for better handling on dirt roads, swapped the seat for a taller and cushier one, changed the handlebar ergonomics to suit my height and riding style, upgraded the doohickey, and cleaned the carburetor countless times.
The protective jacket and pants I would be living in day after day were already comfortably broken in so I added some rain gear that I could throw on since I was headed to the Southwest in the summer. I had gathered all the things I was going to pack and take with me. However, I had never tried packing it all until the day I had set out to leave. That was my first mistake.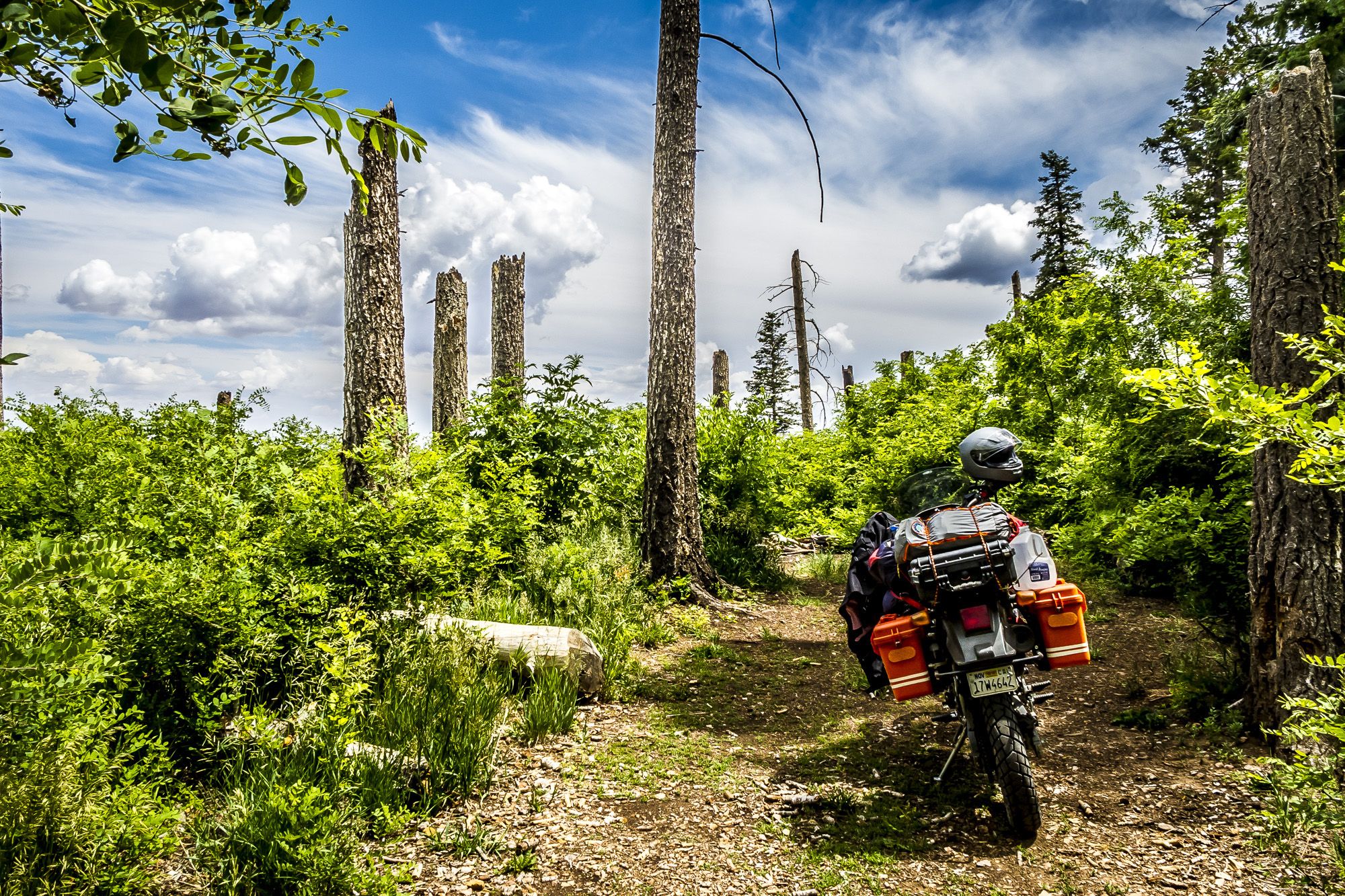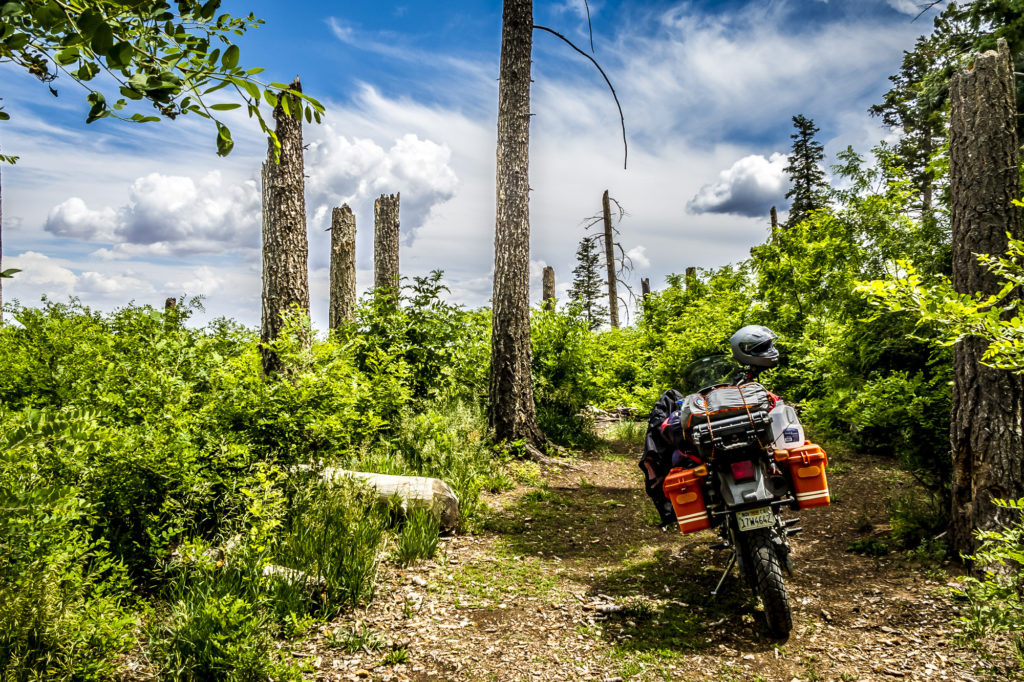 The day passed quickly as I tried to fit and organize all the items I thought I needed into and onto my KLR. The two Pelican side-cases were full, an over-sized tank bag was full, and the seat behind me was full. The last item I strapped to my top case was my tent. The motorcycle was already sagging when I threw my leg over, needing to sandwich myself between the tank bag and waterproof hiking backpack I was using for clothes storage. I pressed the starter button. My second mistake that day was departing as late as I did.
Rush-hour traffic was already in effect, as I merged onto the I-10. I got as far as one exit, maybe two, before another car started merging into me. I grabbed a handful of brakes and swerved to the right in order to miss the side of the car. At this point, the tent that I thought was secure got sucked into my rear wheel and it momentarily locked-up. I limped my bike to the shoulder and, with my heart racing from a near collision, I pulled pieces of ripstop nylon from my brake calipers with shaky hands. It took me a moment — or three — to calm down enough to get on the bike again. Luckily, traffic had slowed to a crawl. Little by little, I navigated the shoulder and got off at the next exit to return home via side roads without any rear brakes.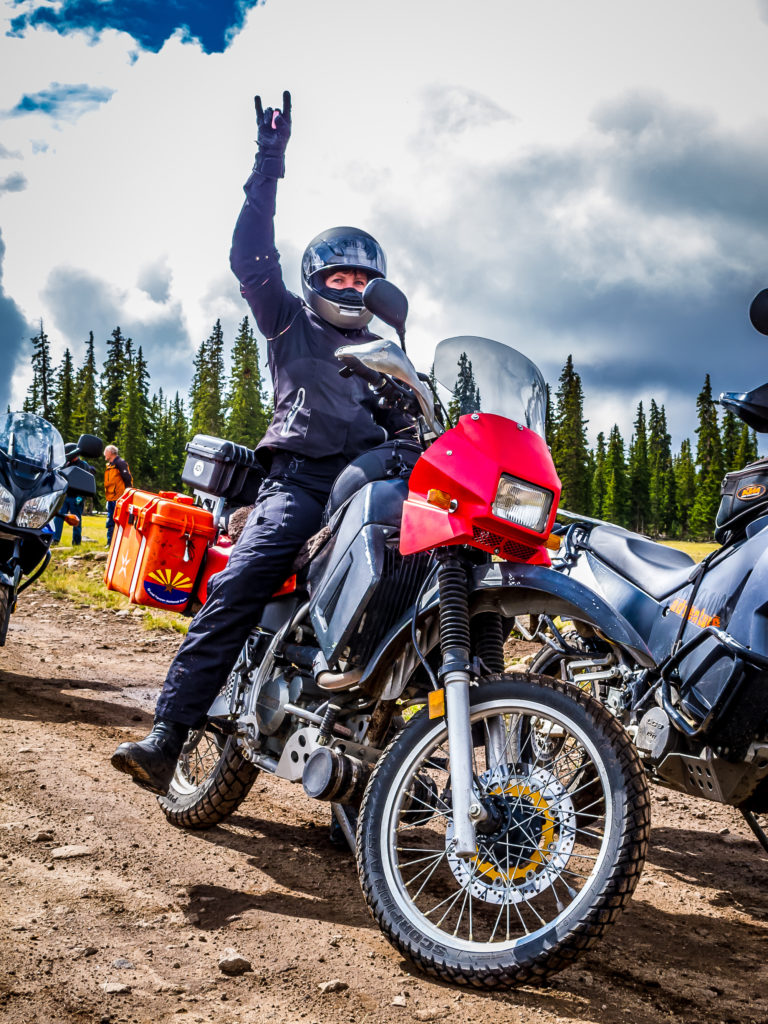 It was two weeks before I was willing to shake the fear, fix my brake calipers, and go for a ride. I grappled with feeling like I had failed. I was uncertain if I should try again.
One Saturday, I headed to the ocean. I took Pacific Coast Highway south as far as Sunset Beach. I sat on the sand in my moto gear, helmet next to me. I reflected on all that had transpired over the past few weeks and the past year, culminating with the ending of a difficult 10-year marriage.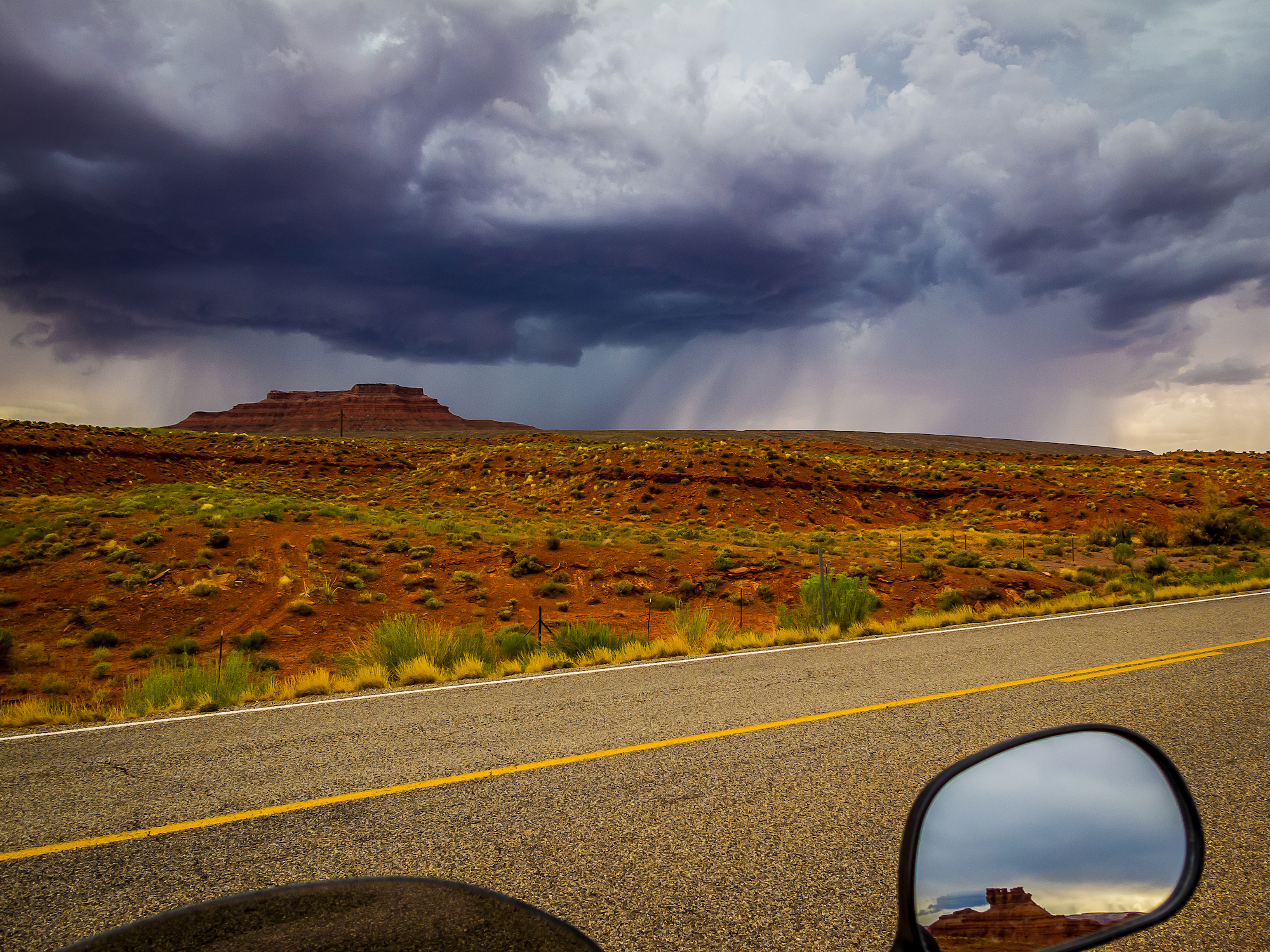 I heard a motorcycle pull up, and the engine cut off. I looked around but didn't see anyone, so I assumed they parked in the nearby garage. I hoped they didn't mind that I was sitting on the beach in front of their house.
A moment later I heard someone come up from behind me and ask if everything was OK. I paused before I answered him and asked him, "Do you know what it's like to fail?"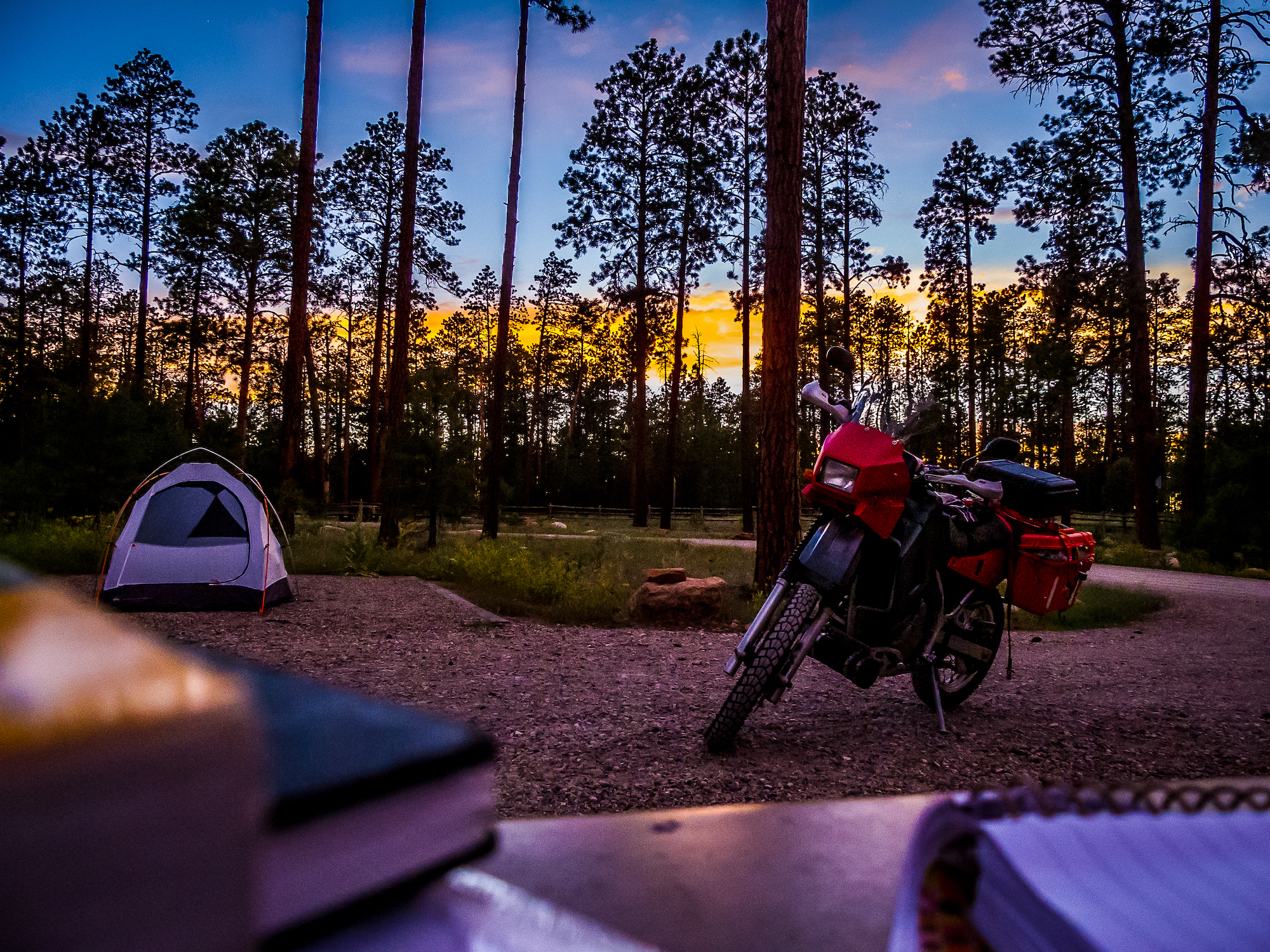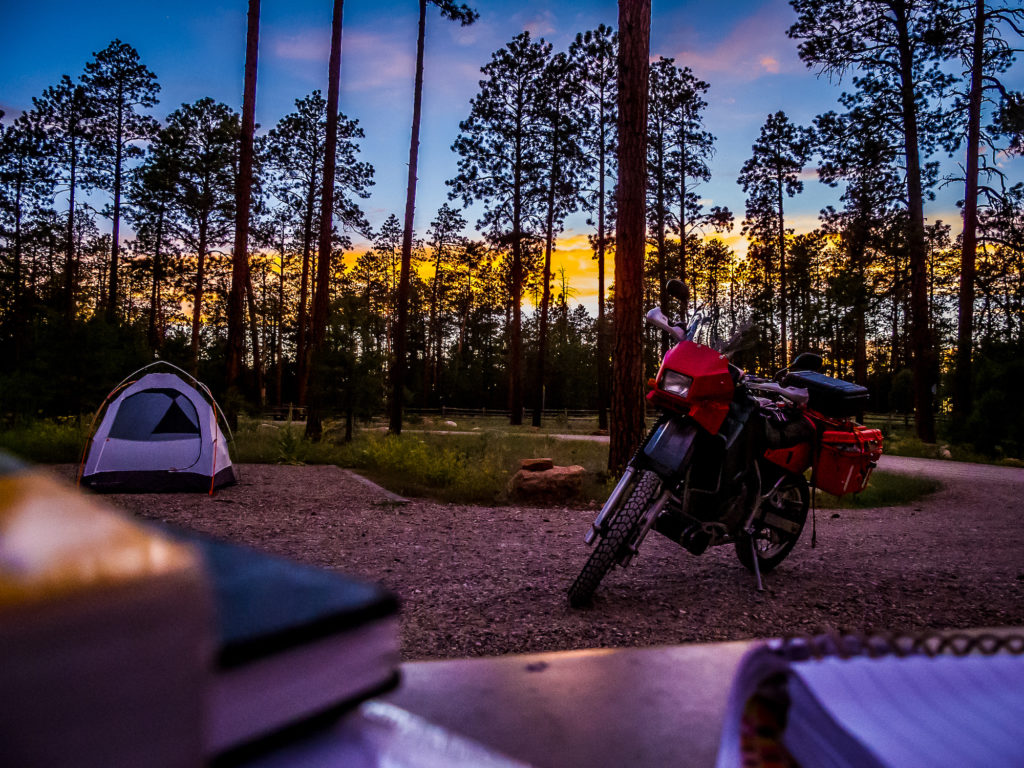 The man laughed in an acknowledging sort of way. "Yeah, I do. But what matters more is what you do after you fail."
He left it at that and returned to his house. I stayed there a little longer and then made my way back home. It wasn't until I was on the road that I realized who I had just asked what. I had just asked Jesse James, famed motorcycle builder, if he knew what failure was like. I had to laugh at myself, and all of my sullenness. Knowing failure was all the more reason I needed to take my planned trip; I needed to regain my confidence and independence.
The six weeks I spent recuperating, honing my on-road skills, and paring down my packing to the essentials were much-needed. I finally departed for my trip in mid-July, leaving before noon and riding until the sun went down. It felt good to be on the open road and it felt right to have finally left. I made it across state lines and into Arizona before finding a campsite for the night.
Although my trip was shorter than originally intended, I still spent six weeks traveling around the Southwest and beyond.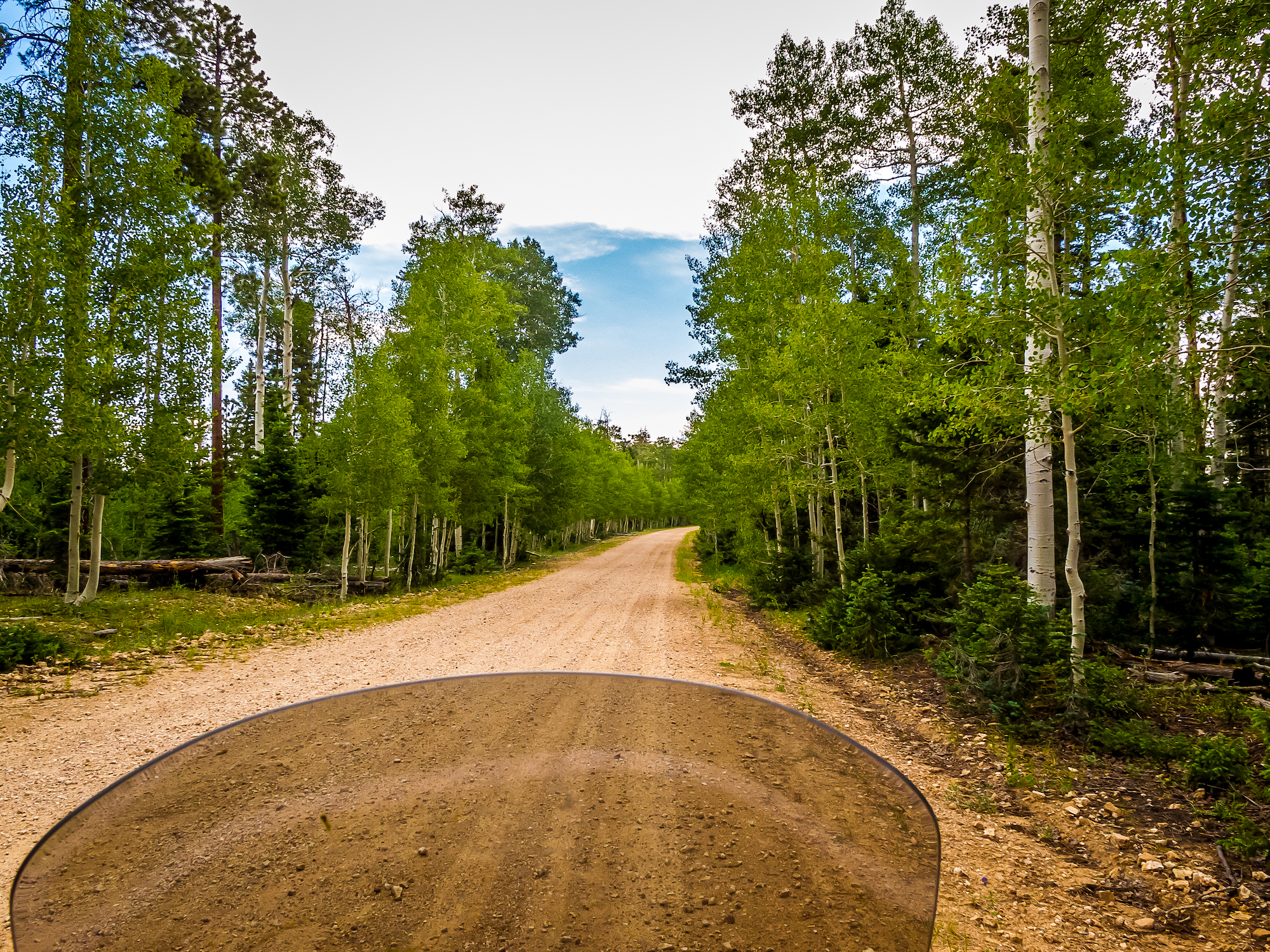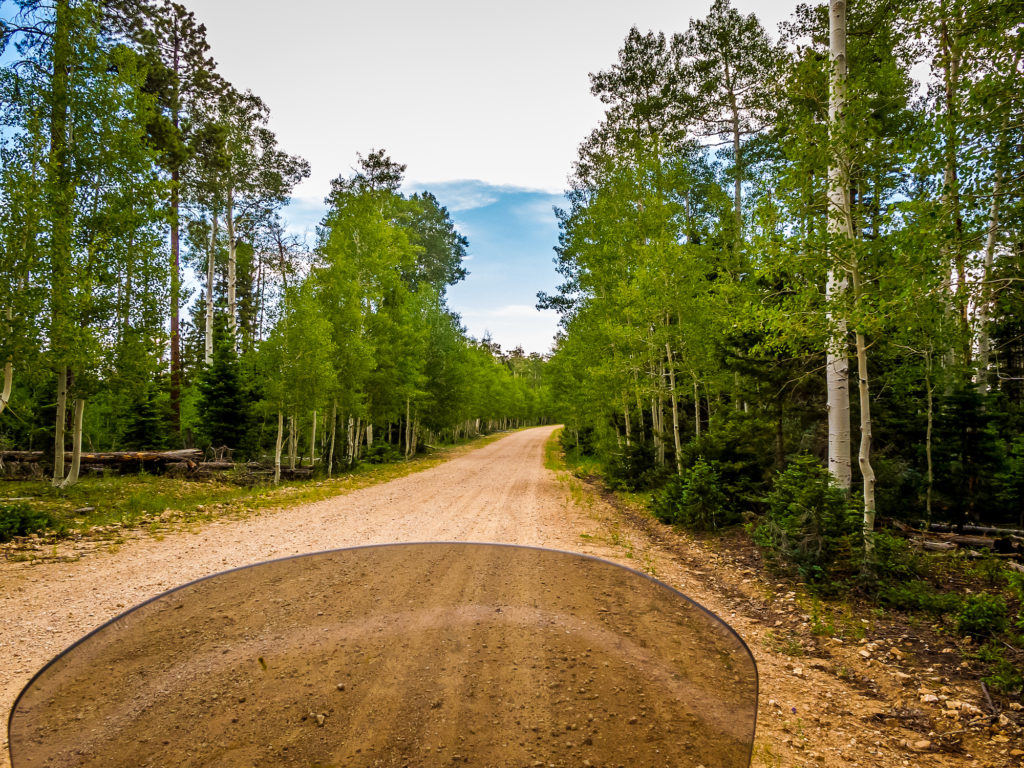 In Arizona, I rode with white-knuckles on steeply-graded backroads with hairpin turns all the while trying to avoid lighting and the monsoons. Then in Utah I cherished the open spaces on the hunt for land art. It was on these sparsely-traveled sandy tracks that I found out was what it took to upright a loaded KLR all by myself—confidence boost, check.
In Colorado, some days the aspens and cows were my only companions. Other days, I was thankful to have met up with other dual-sport riders who provided guidance down steep, rocky descents and shared stories over a camp-stove cooked meal.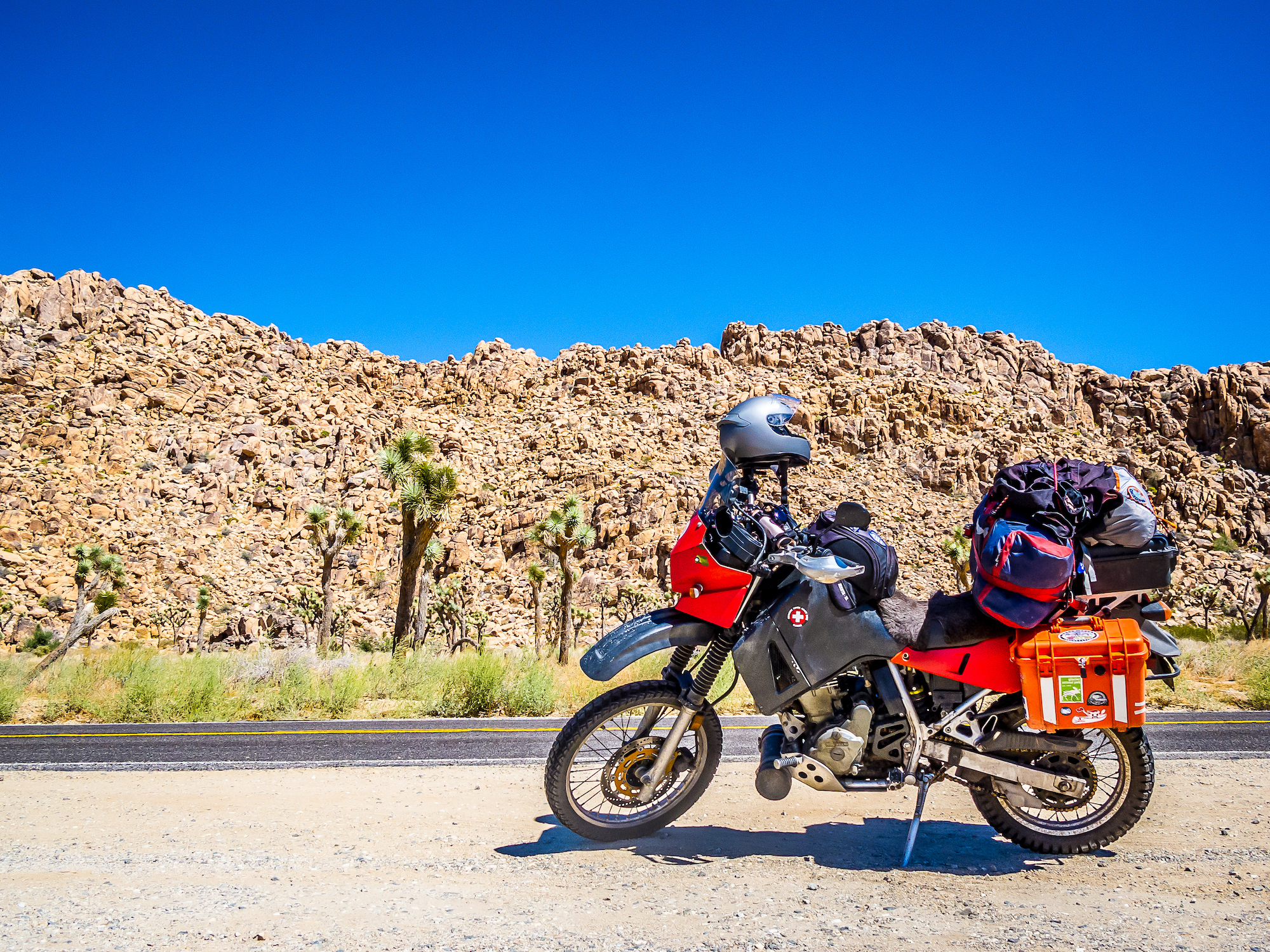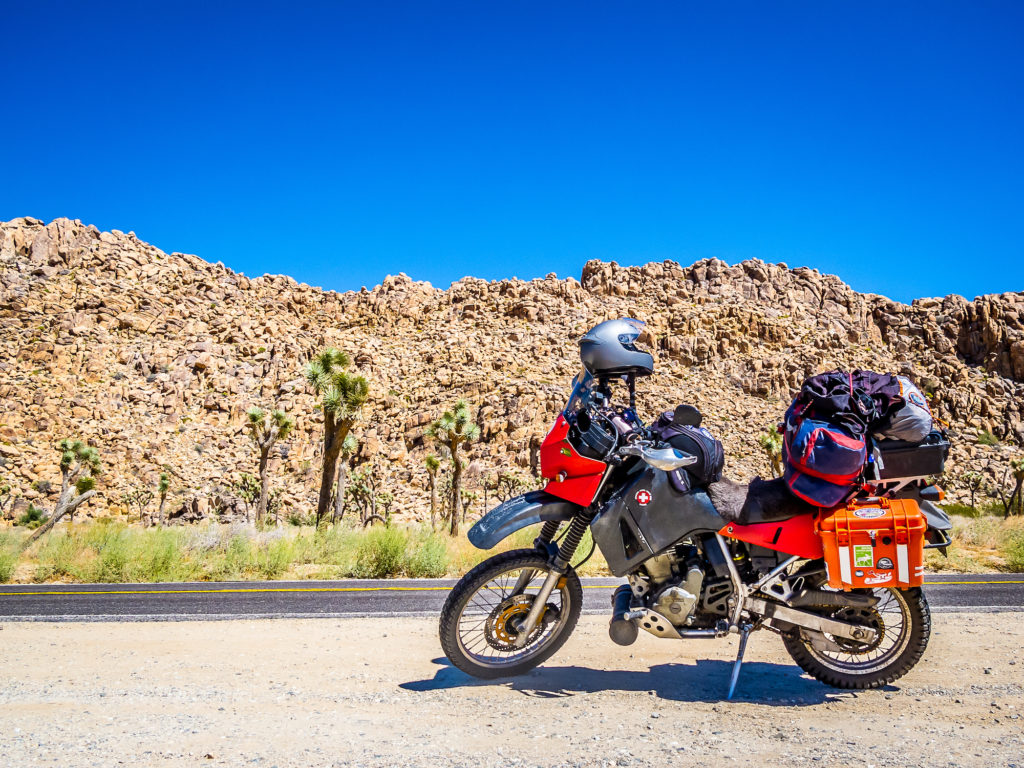 I rode onward through the prairies in Wyoming, where I finally started to relax. In South Dakota, I traversed gnarled roads in the Black Hills that most Harleys wouldn't go on. Then up to Montana to cross the Continental Divide and ride the Going-to-the-Sun Road, detouring in Alberta, Canada for ice cream.
I swung by Idaho to ride 99 miles of curves. I wasn't ready to go home yet. After four weeks, there was still so much to see and I was finally getting into the rhythm of the days. I headed south to Nevada, into Utah again, and then to New Mexico to watch grains of white sand dance along the dunes. I touched my toe in Texas before I retreated back to California.
On the long slog back to Los Angeles along the I-10, I stopped in Joshua Tree National Park for a last night with my bike and my tent. Gazing up through clear skies at millions of stars, I had a smile on my face.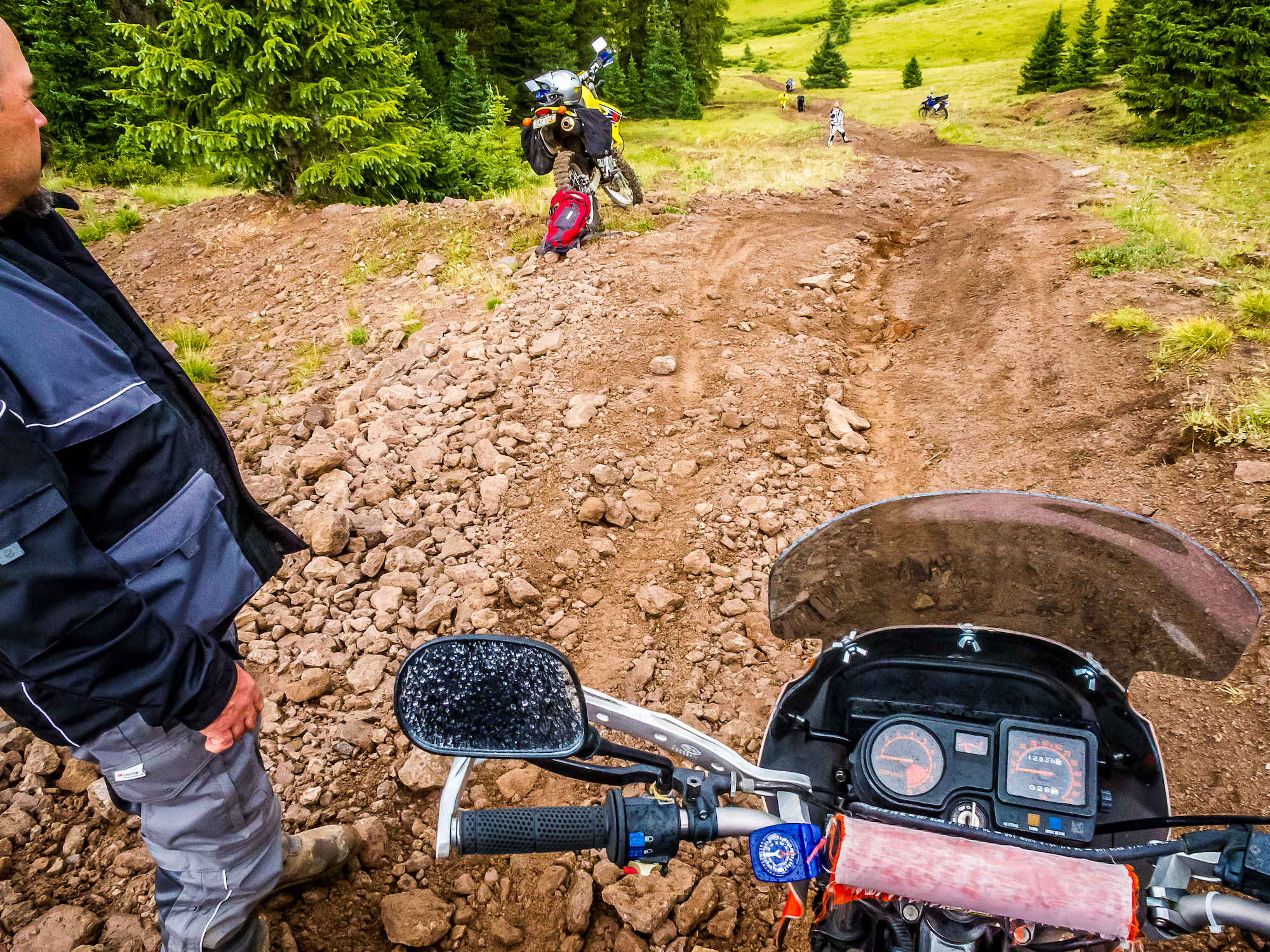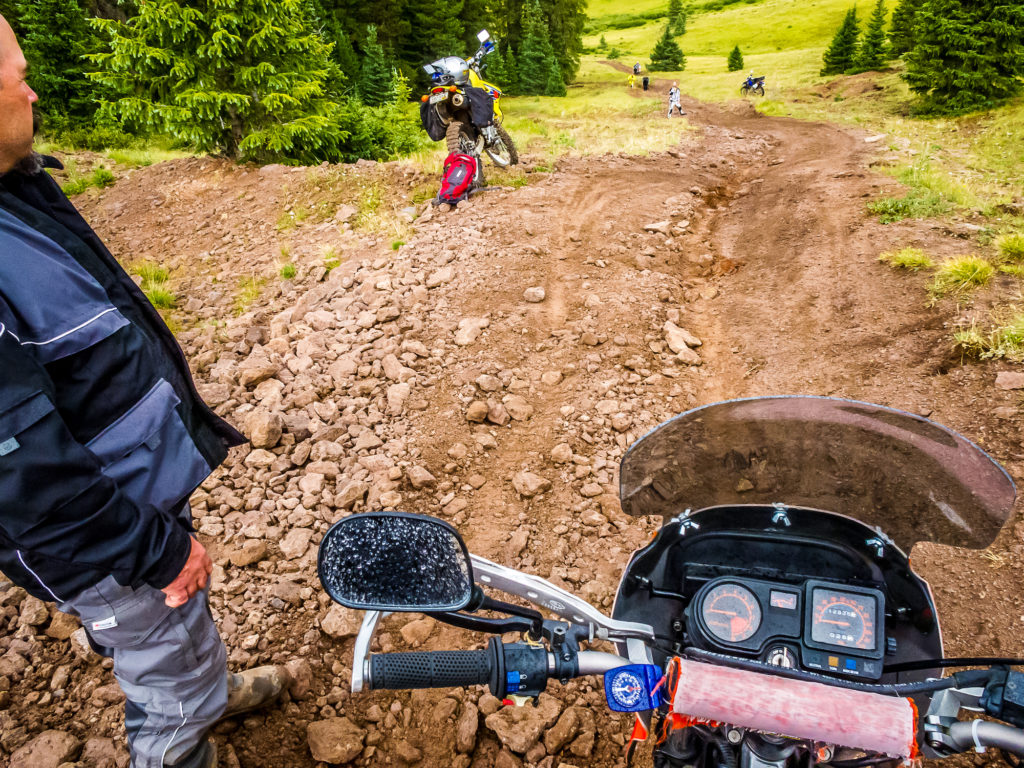 I understood how one could live this way endlessly. Traveling in this manner had stripped away all the worries of city life, leaving the necessities of daily survival: eat, sleep, fuel, and repeat. I got caught up in the simplicity and ease of being somewhere new each day, with no attachments to where I had been. Until this trip, I had spent so much time reflecting on the past I forgot what it was like to plan for the future, and more so, to be in the present moment. I took in each day as a new experience and savoring it for what it was: good, bad, and sometimes, indifferent as I throttled onward.
Experiencing this chaos of emotions tapped into something I hadn't felt in a long time. It made me feel alive again.
As I laid in my tent for one last night looking at the boundless stars, I knew this was not the end of a trip, but the beginning of a craved lifestyle. A next trip would happen, but tomorrow, it was time to go home.
---
Alison DeLapp has ridden more than 100,000 miles from California to Alaska to Argentina and many places in between. She has published two books about her solo motorcycle travels, "Chaos in Harmony "and "How Far is North? "