The electrification of transportation has given vehicle designers new room to innovate, and while vehicle chassis and drivetrain systems are seeing radical changes, one constant remains: You have to carry fuel with you, whether it's liquid dinosaurs or slates of electron-filled batteries. At present, the ubiquitous "skateboard" format is dominant for EVs, but it's also space-constrained. Want more range? You'll need to add more battery capacity, and now Ford has filed a patent to put some additional battery capacity in an unusual but not entirely unexpected spot: the roof.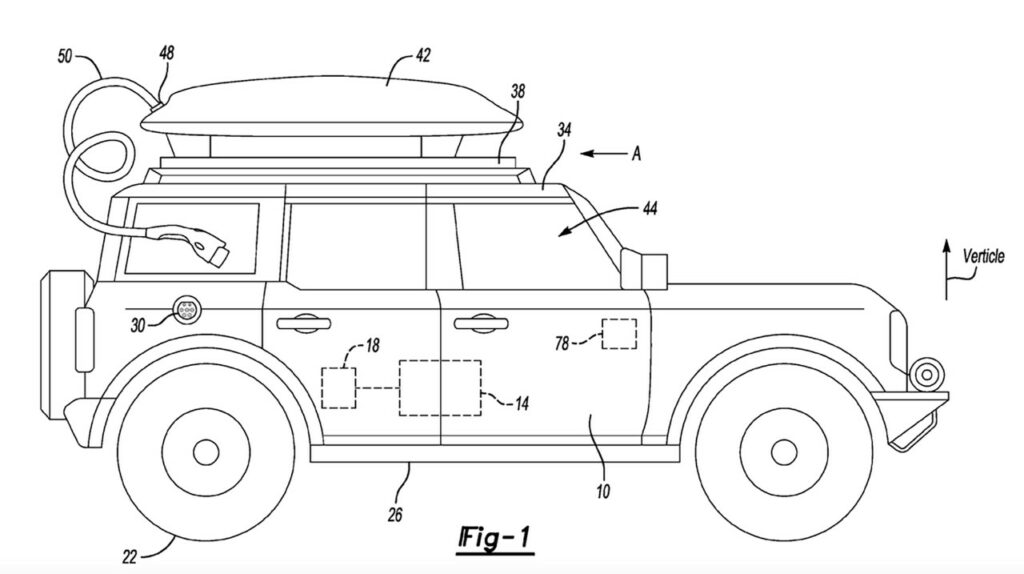 Overlanders have carried gas/jerry cans, bikes, water toys, and everything else up top forever, so it's not an entirely original idea. Ford's patent drawings (top) show a Bronco-type vehicle profile with the battery in a vessel resembling a rooftop cargo carrier. If the extra battery product/accessory ever comes to fruition, it's a good bet Ford will modify the design to allow additional cargo (canoes, kayaks, tents, bikes, etc.) to ride atop the extra power pack. And if they are really smart about it, they will either offer or include a solar panel array on the pack so it can charge while sitting or driving.
That would be possible since the patent drawing shows that the rooftop pack would essentially plug into the car's charging port via a cable. Most EVs won't let you drive with the charging cable plugged in, but that's likely solvable with software/firmware/hardware modifications, however silly it may look. Once parked, the top battery could then "charge" the main battery – or perhaps function as a large on-site power source for all the things that might require power at the campsite without draining the primary vehicle battery. Even a "small" rooftop battery could reasonably hold 10 to 12 kWh worth of juice.
However, while the rooftop battery idea may seem like a bit of a no-brainer, there are several potential concerns with the idea. First off, depending on how large the rooftop pack is, it will likely add a lot of weight to the top of the vehicle, which could adversely affect handling – especially in an emergency maneuver – and especially so if even more stuff gets piled on top. Ford may even forbid top-loading gear above the battery per their legal team, taking away a primary storage spot for overlanders.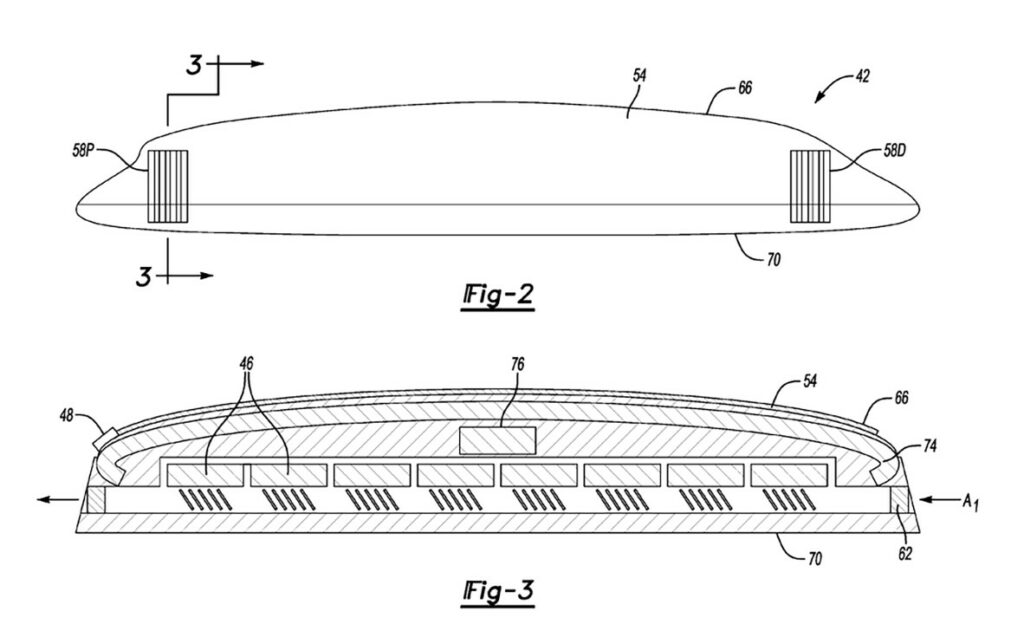 Also, drivers should have the ability to just switch on the battery for additional range from inside the vehicle, requiring some fairly heavy-duty wiring up to the battery. That isn't shown in the patent drawings, but it seems pretty obvious that will likely be a customer demand if this accessory ever comes to fruition.
Then there's the aftermarket. Now that Ford has essentially broken the seal on a large rooftop battery concept, you can bet accessory makers are considering offering their own versions of the same idea with just enough differences to avoid a patent fight, and probably at a much lower price as well.
As electric vehicle range figures continue to ratchet up, the need for a recharge out in the wild may be as simple as plugging the roof of your rig. Ford has not announced any specific plans to produce the rooftop battery.