Staying clean on the trail helps you stay out longer, keeps morale high, and in all honesty, it just makes for a nicer overall adventure. We've rounded up some of our favorite products that help you transport water, shower and change in private, filter water, and even a shower that fits in your pocket.
23 Zero – Peregrine Shower Enclosure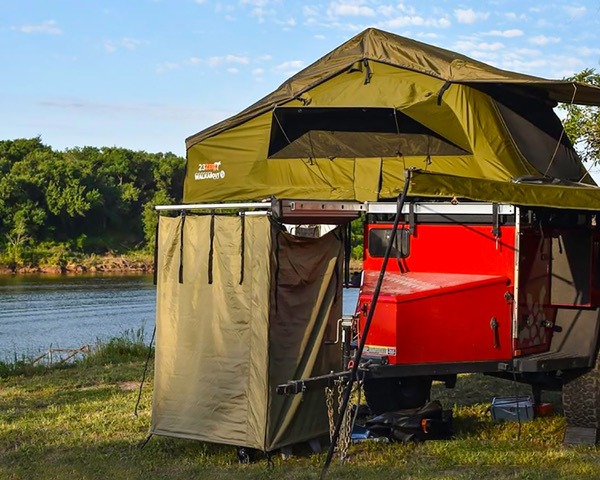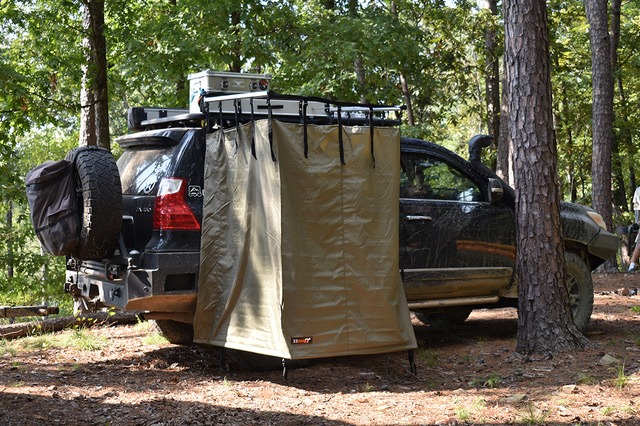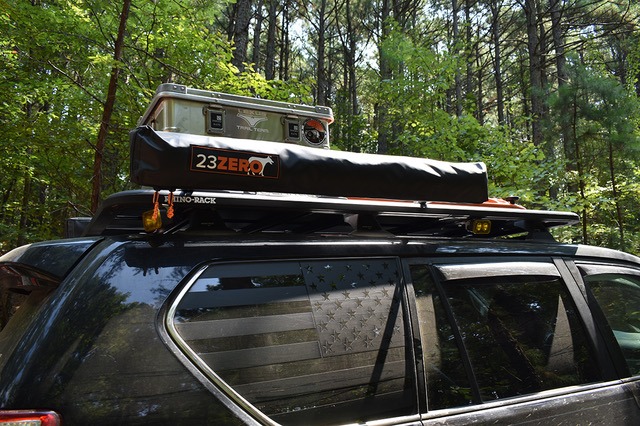 The 23 Zero Peregrine vehicle shower enclosure is the perfect addition to add some privacy while showering or using a portable toilet when out overlanding. Once mounted to your roof racks, the Peregrine car shower awning is an easy 2-step setup with adjustable height all the way around. Weights sewn into the bottom edges help keep the sides from flapping. It has four stake points to assist this even further. A full-length zipper in one corner allows easy access and a zippered panel on the back wall allows for access to your hot water system or vehicle.
With a mounting length of 42 inches, the shower enclosure can fit the sides or rear of many roof racks via its simple L. In addition, the two arm folding frame opens up to provide a 41 x 41-inch area, so you'll have plenty of room to shower.
MSRP: $329.00
Equipt Expedition Outfitters – K9 40L Water Container & Mount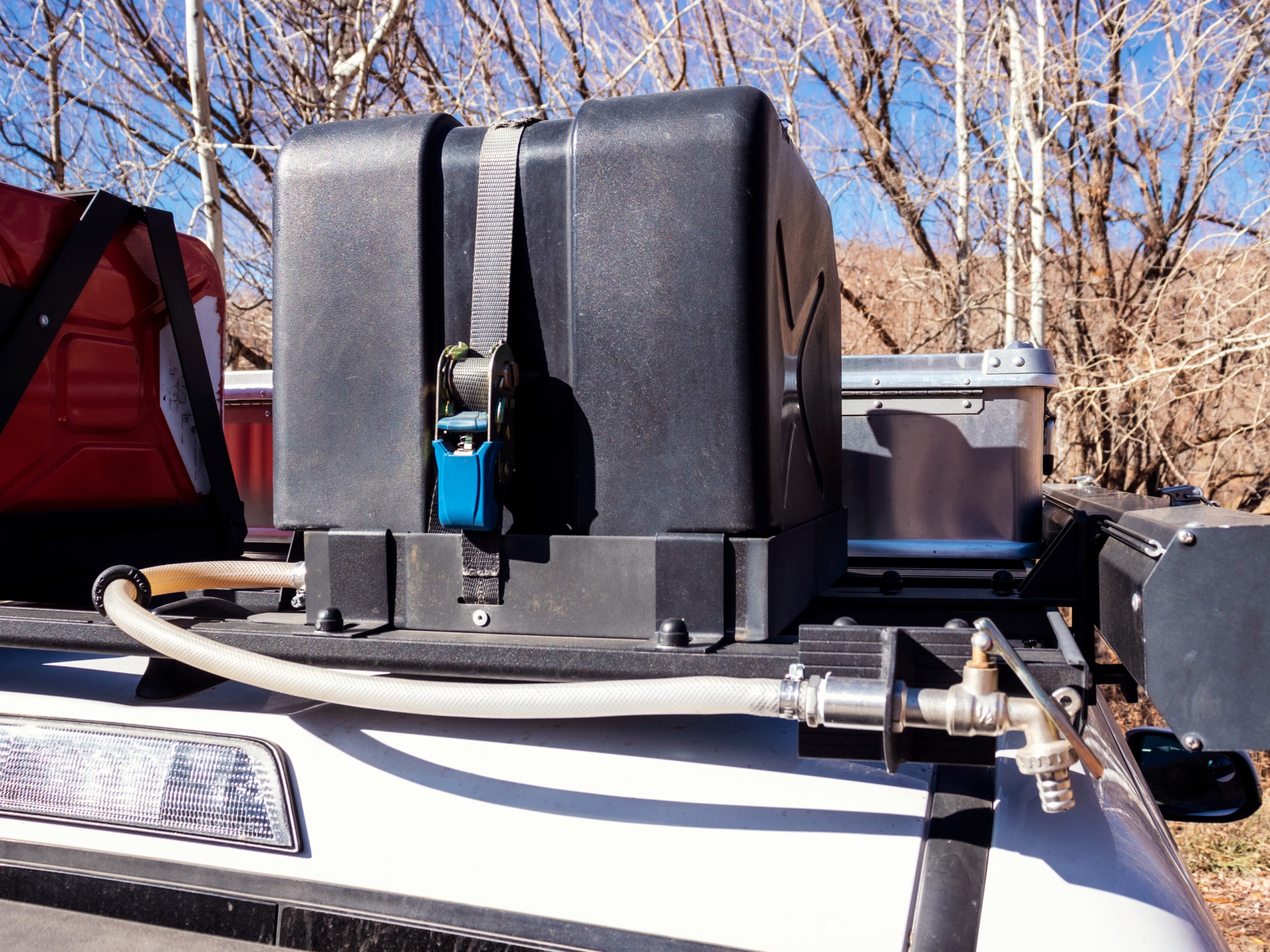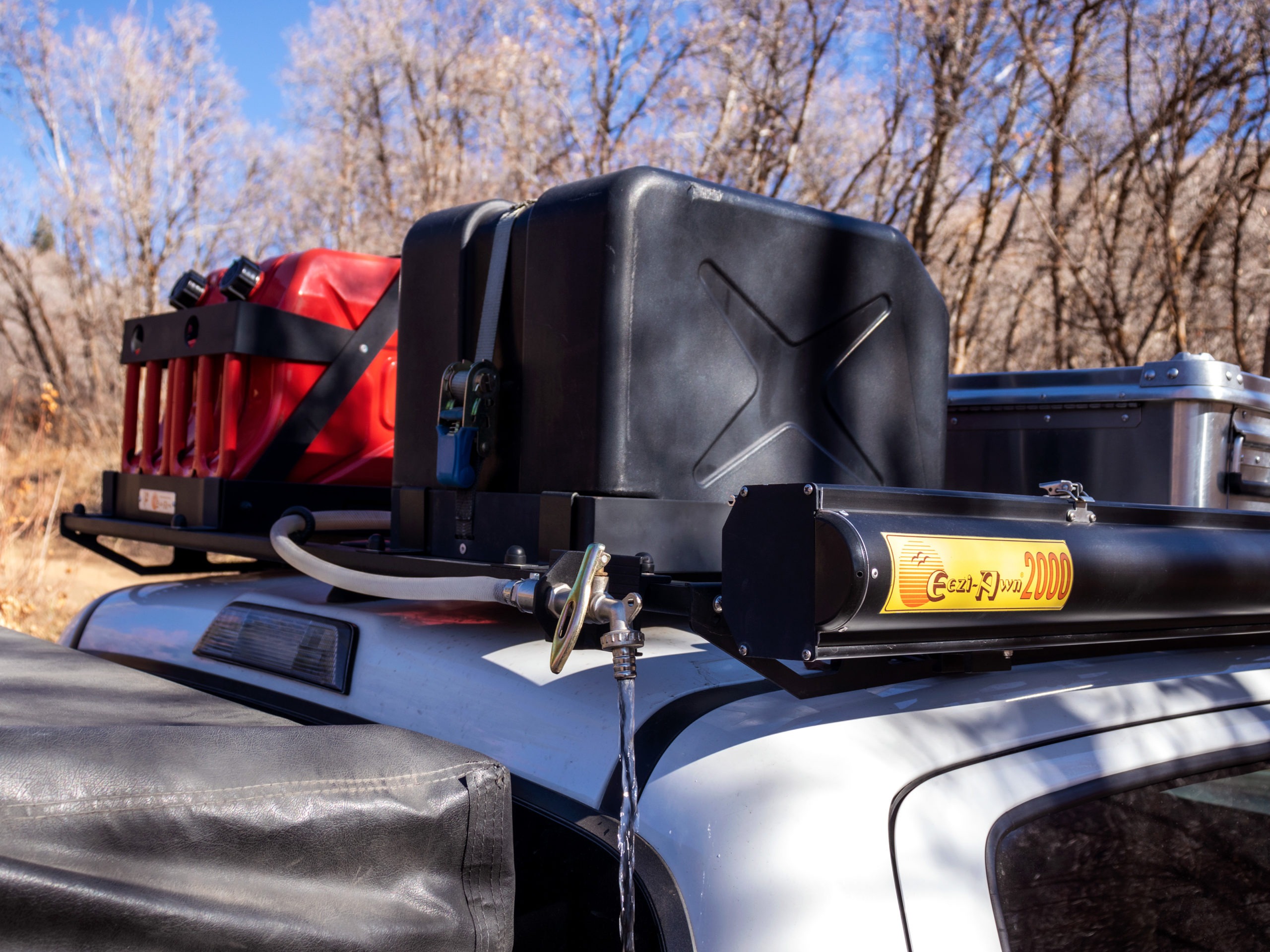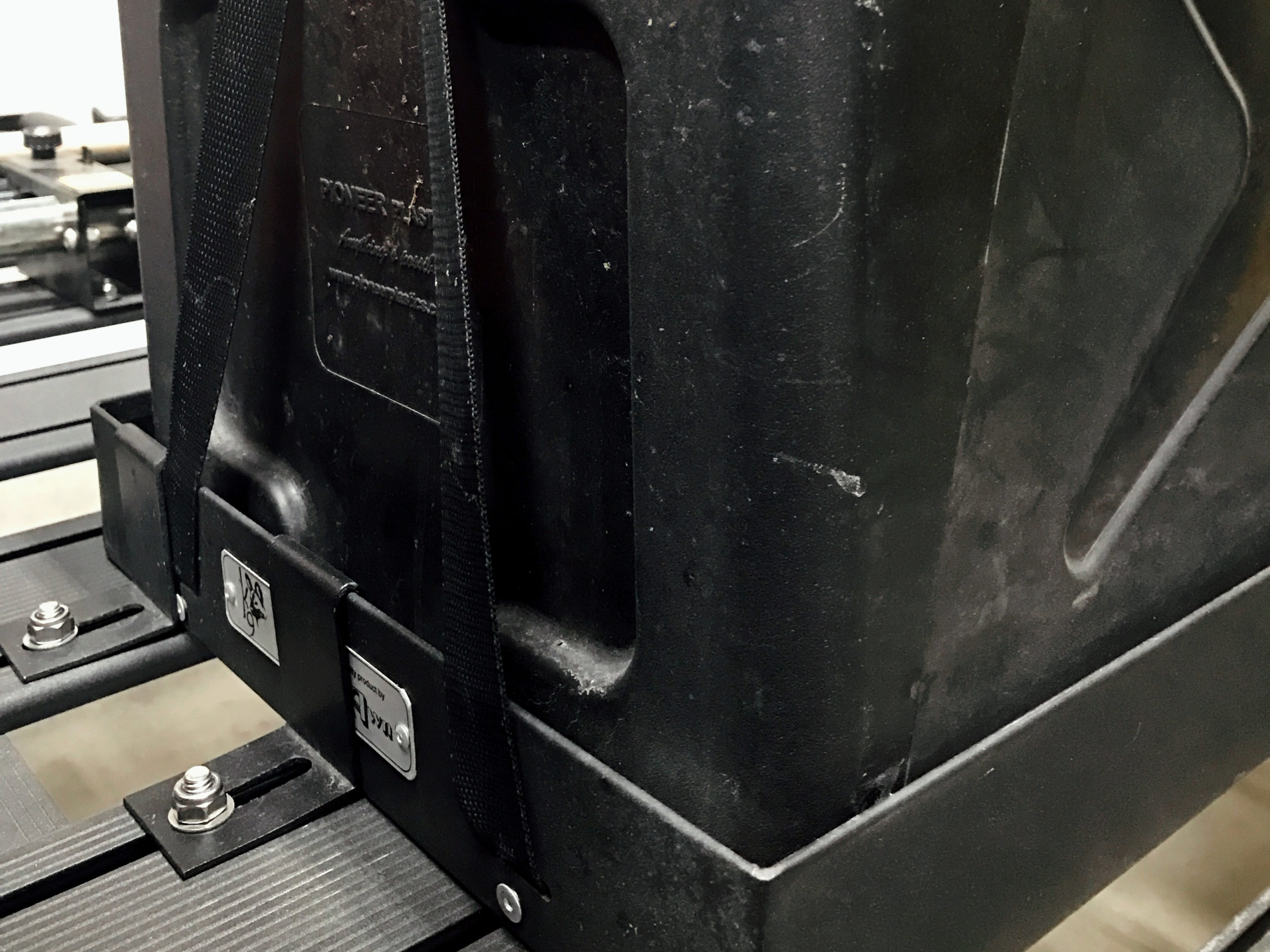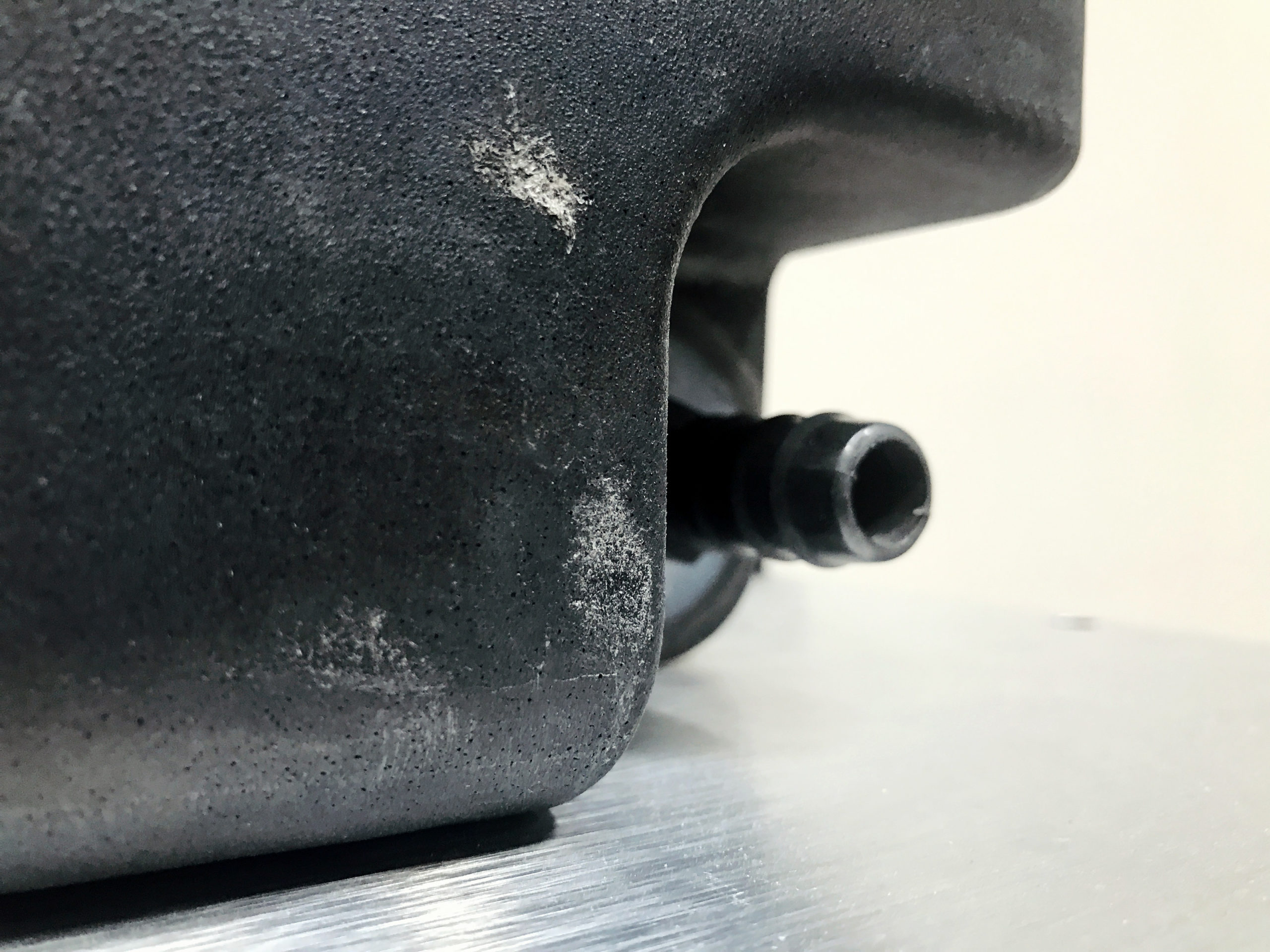 When you're on the road, water storage is essential, and you need at least 1 gallon a day per person–this 40L container makes your solution no brainer for a weekend getaway with extra to spare for all the additional ways you're guaranteed to use it. Equipt's 40L Water Container with Mounting Kit comes with both a 40L (10 gallons) container for water storage and a compatible strapped mounting system made from powder-coated black anodized steel. This system is originally designed to be compatible with the Eezi-Awn K9 Roof Rack System but can work with any t-slot roof rack.
When paired with the K9 Water Tank Tap & Bracket add-on accessories, a simple and strong aluminum bracket that bolts into the side of the rack to hold the water container's top-quality brass lockable tap, this already useful container transforms into an endlessly versatile water source. Use it as an overhead shower, quick-access dispenser for hand washing, a mobile kitchen faucet to get those dirty dishes clean, and more. It goes without saying that when you buy from South African based Eezi-Awn, you're purchasing a proven product that has stood the test of time in the harshest conditions, so of course, this container won't leak, won't crack in sun, nor will it vibrate loose while driving. They've tested it all, and they've made the best.
MSRP: $225.00
Geyser – Shower System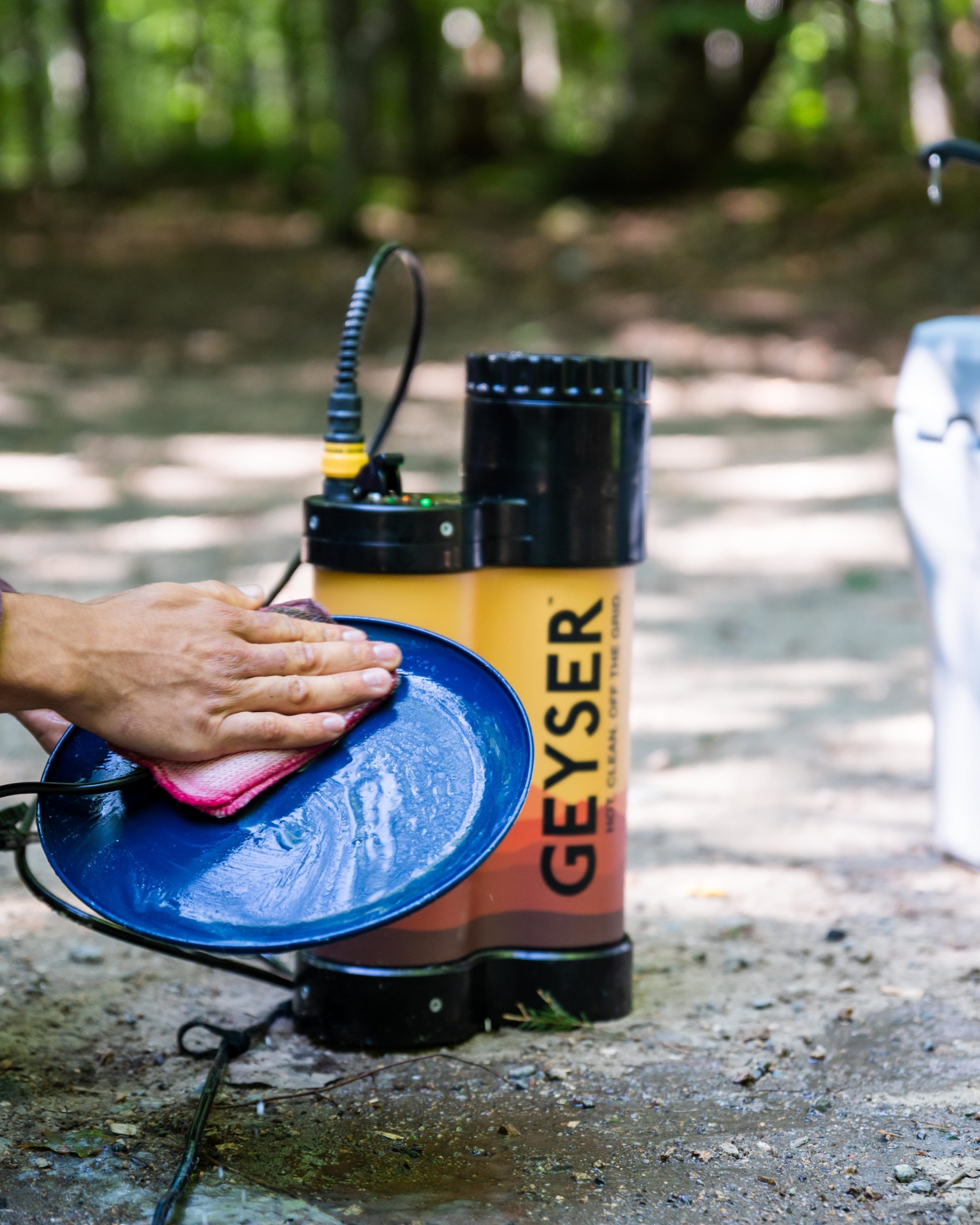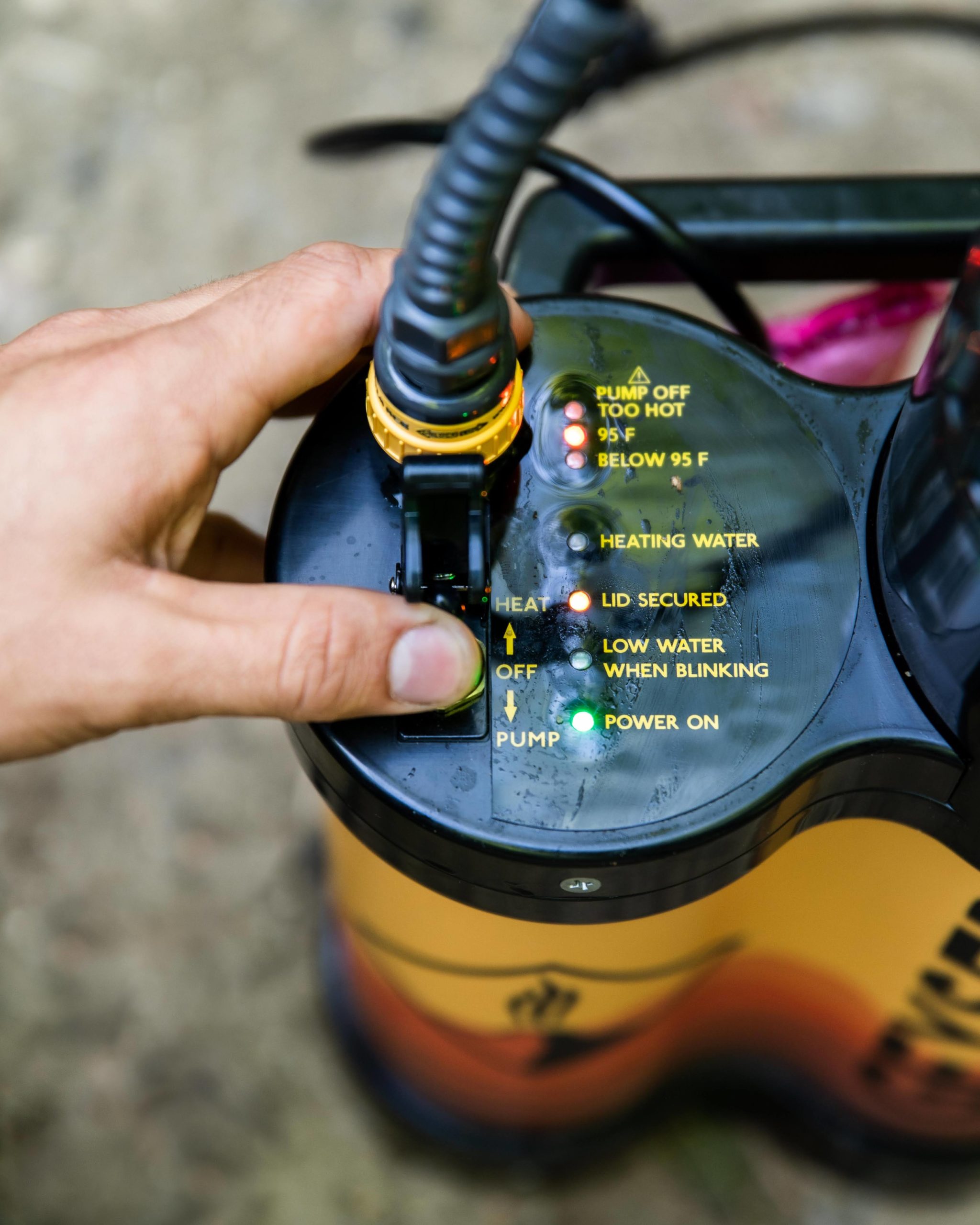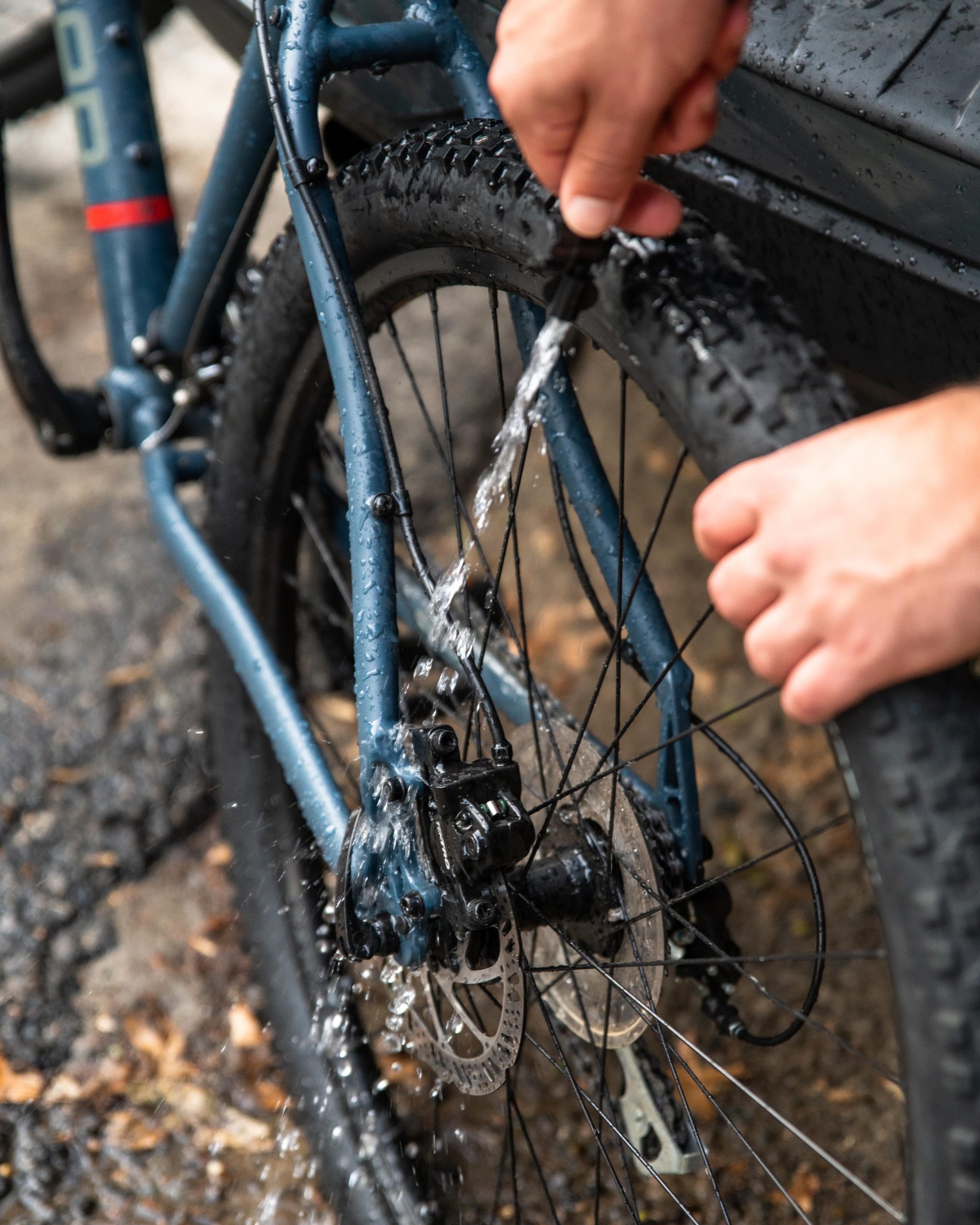 Back in 2016, medical device engineer Jonathan Ballesteros decided to break away from corporate America and rediscover a sense of adventure. Over the course of the year, he traveled across the remote Australian outback and lived out of his 1989 Toyota Troopy. As the days and weeks of exploring the arid wilderness began to add up, Jonathan faced an ongoing decision, did he use his limited water supply to shower and then seek out a refill, or did he save it for drinking water and forgo the shower?
More often than not, he decided to stay out in the bush. "I didn't realize it at first, but all that time spent isolated and feeling dirty was really taking a toll on me." When he did finally return to the grid to stay with friends, he had his first shower in months. To say the experience was refreshing is an understatement.
"That shower changed my life. It gave me a lot of compassion for what 2.3 billion people in water-stressed regions all over the world deal with each and every day. They have a limited relationship to water. I just want you to imagine what it's like to not restore your dignity by getting clean – what it's like to not have a revived sense of the human spirit. I decided then and there to commit my life to redefine the approach to every drop of water."
Putting his medical engineering experience to work, Jonathan set about inventing much more than a hot portable shower system, but a means to make the most of every drop of water. The Geyser System was born. The Geyser System uses any 12-volt power to provide water for showers or dishes on the go. With interchangeable scrubber heads, you can apply water and scrub away dirt exactly where you need it. The LED display provides information on water temperature, the heating element, low water warning, and if the lid is secure.
MSRP: $324.95
HydraPak – 8 Liter Expedition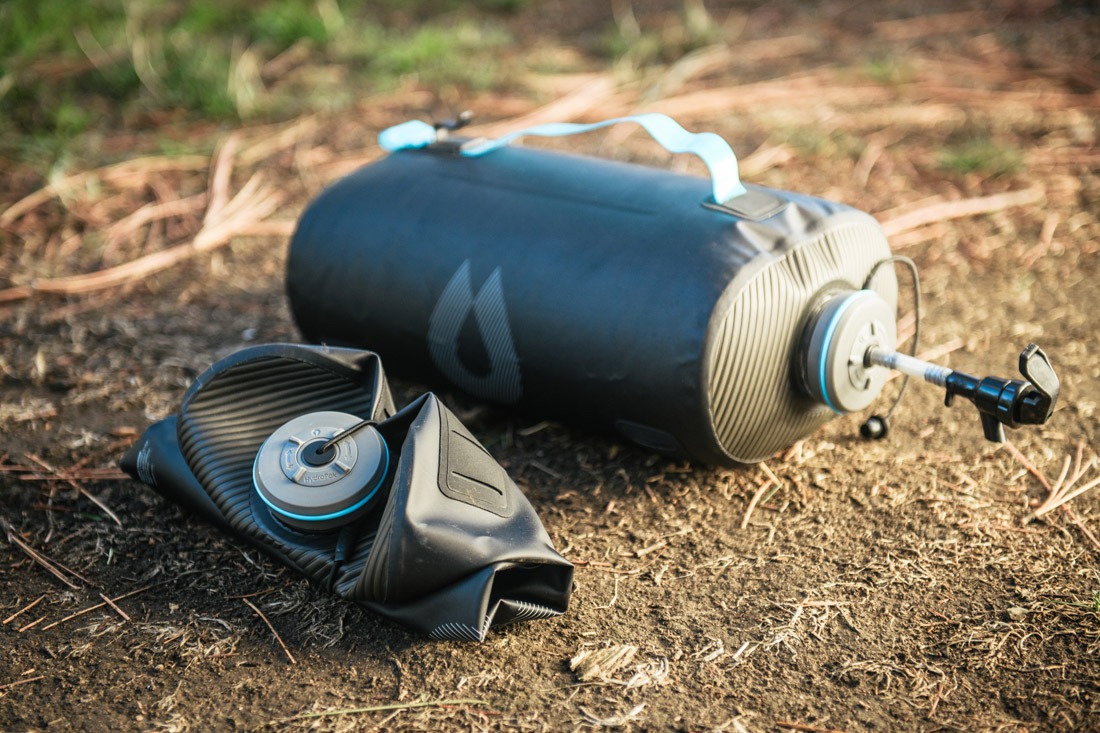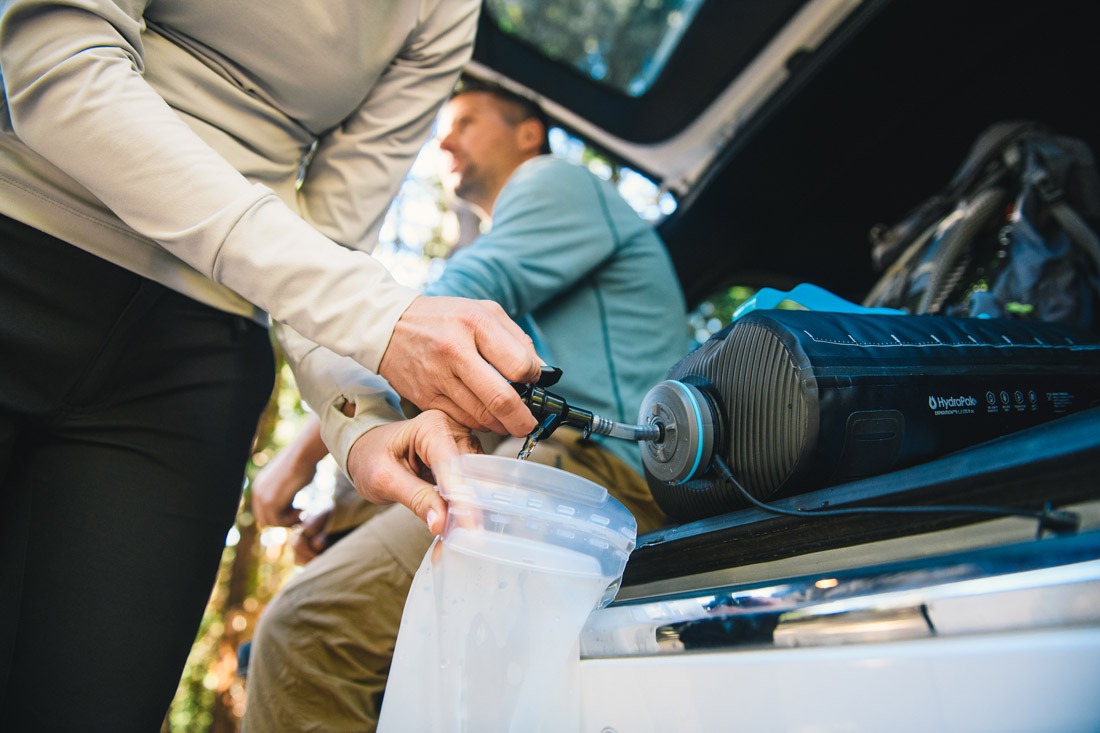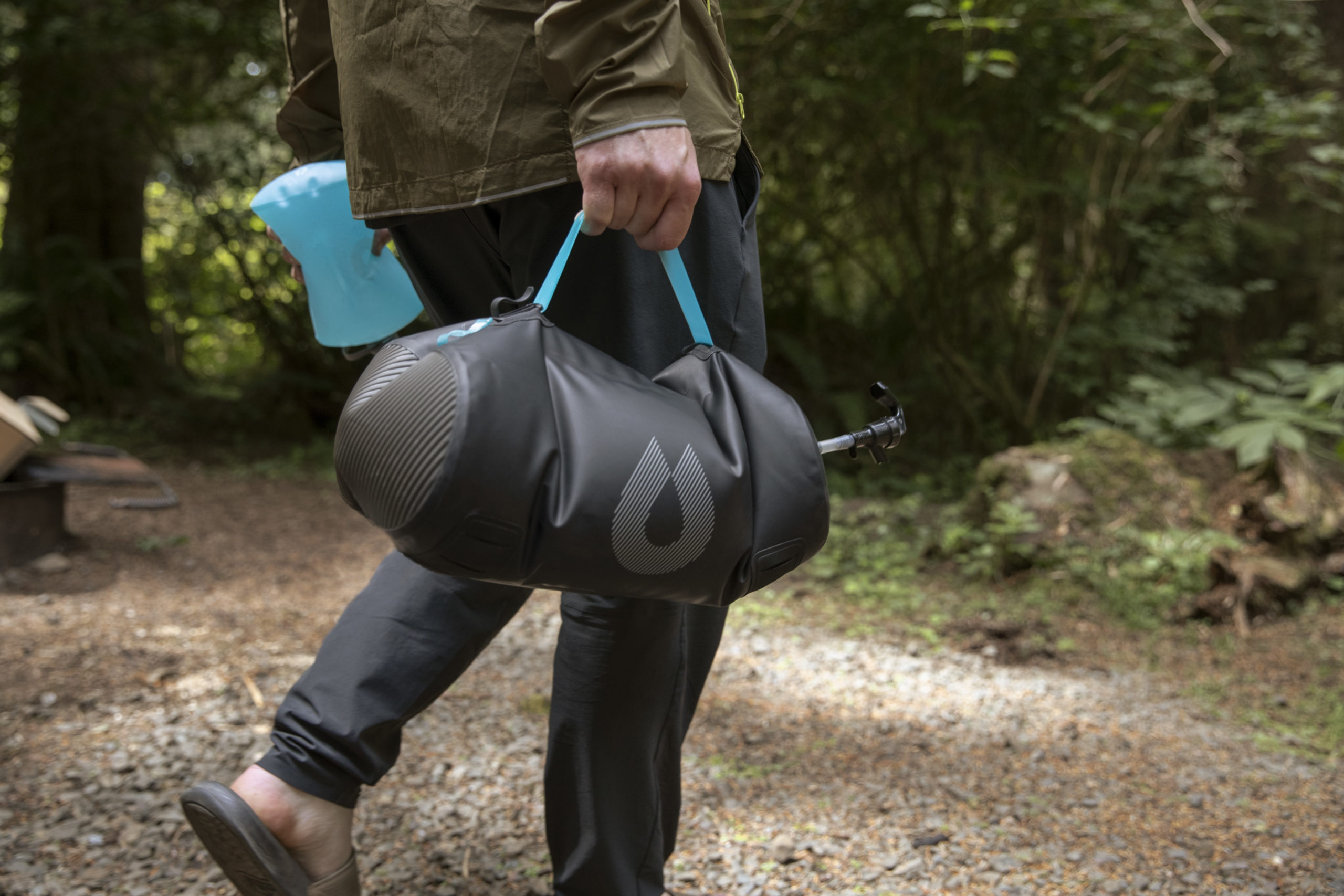 Water is life, and the ability to safely and securely transport water helps you adventure longer. The HydraPak 8 Liter Expedition bladder is perfect for car camping or water for your base camp. Some large containers are cumbersome and easy to spill. The 8 Liter Expedition bladder has a wide-mouth Plug-N-Play cap for easy pouring and a flexible handle for effortless carrying and hanging. It's free-standing, and dual baffles provide stability.
When it's empty, you can compact it totally flat so packing up camp is a breeze. Speaking of transportation, a low-profile daisy chain and the unbreakable webbing handle provide plenty of ways to secure the 8 Liter Expedition when you're on the move. The waterproof TPU film laminate construction adds durability and versatility.
MSR $60.00
InstaPrivy – Portable Toilet Kit with Privacy Tent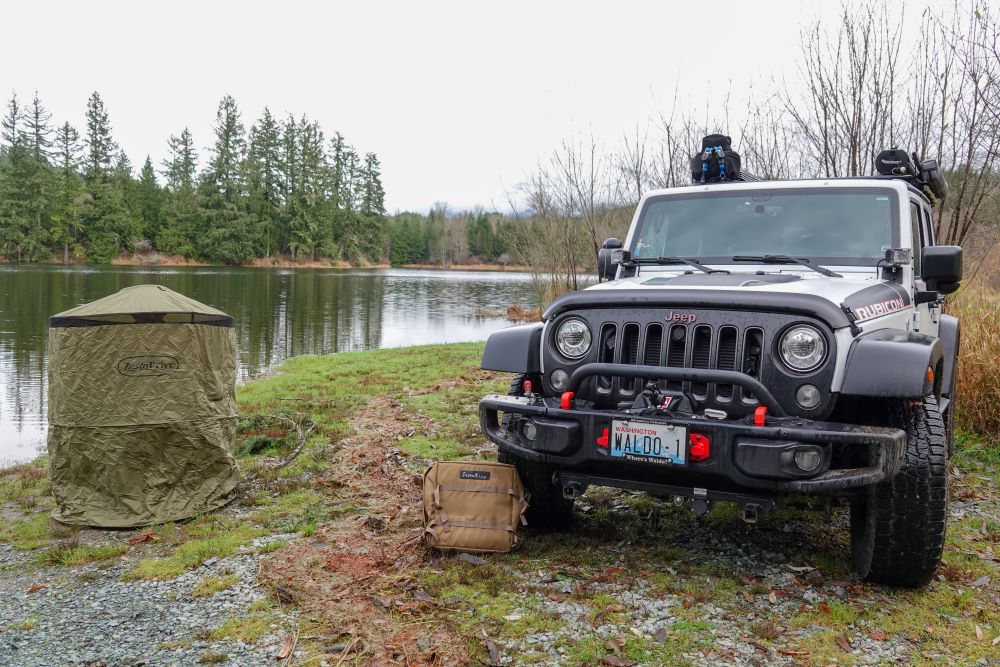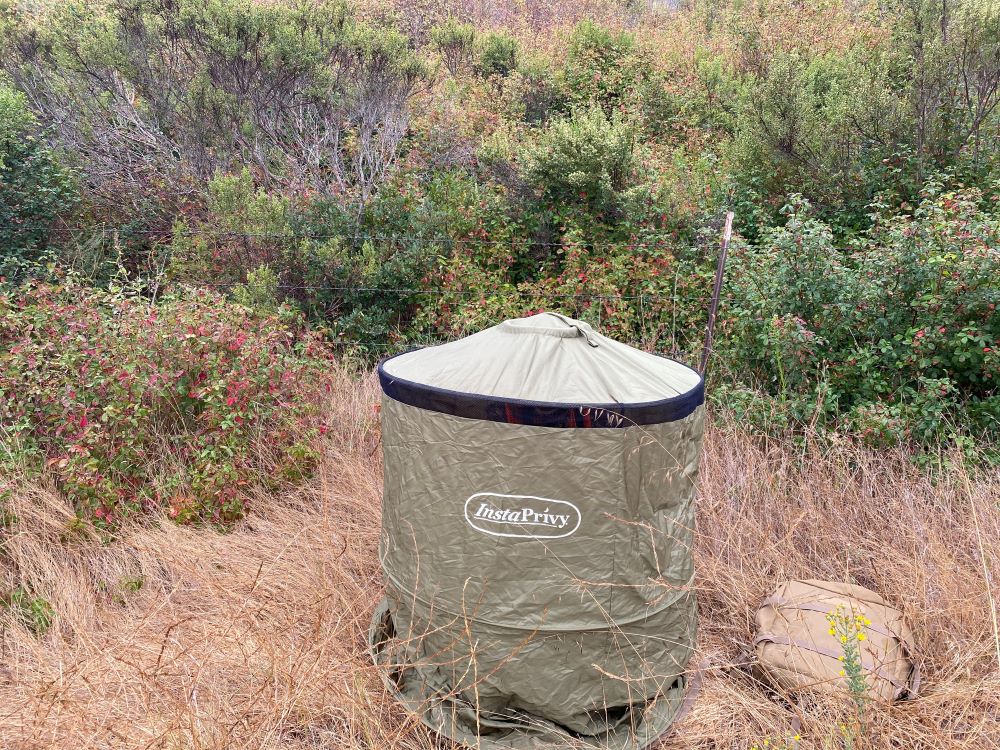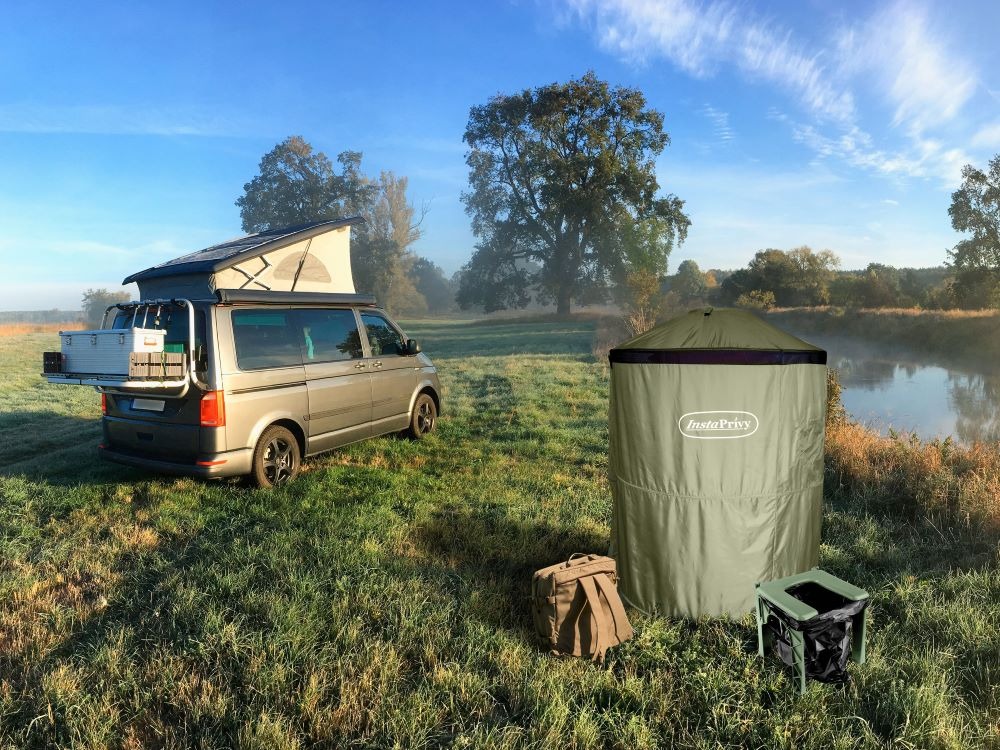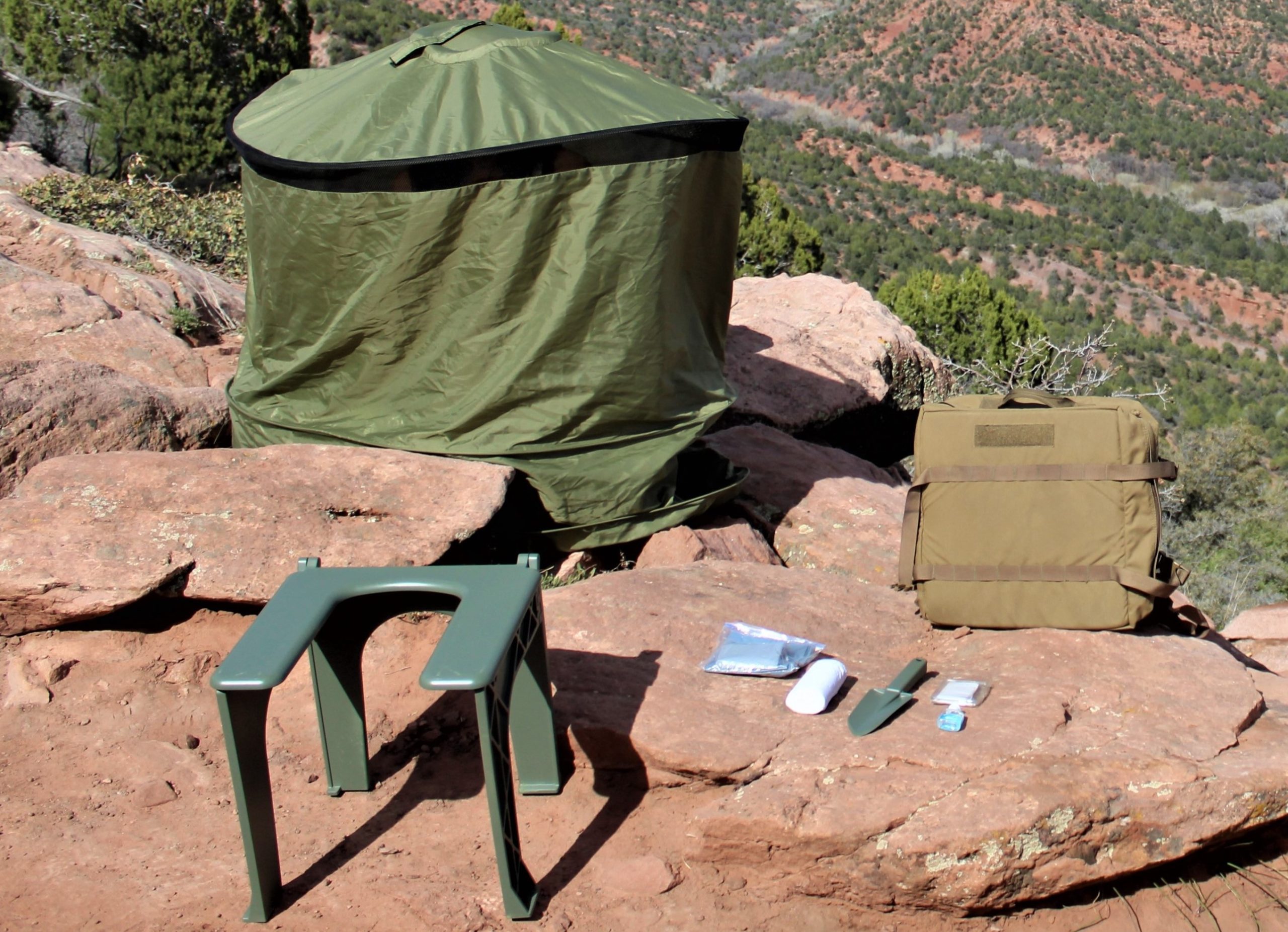 The InstaPrivy is a portable toilet kit in a backpack that weighs just 7 pounds. It's designed to take with you wherever you go, as it takes up very little space and fits in every vehicle. It is perfect for quick pit stops along your overland route or at your campsite at the end of the day.
This complete kit comes with everything you need to take care of your business; A toilet chair, privacy tent, waste bags, a hand shovel, toilet paper, hand sanitizer, and of course the customized InstaPrivy backpack. The compact kit folds out instantly with a comfortable and sturdy foldout toilet chair and a roomy pop-out tent that rests on your head while in use. After you're finished, both chair and tent fold back up and stow just as quickly as they came out of the bag.
The InstaPrivy tent is a multi-purpose privacy tent and is ideal for every adventure. In addition to bathroom use, the handle at the top of the tent allows it to be hung from a vehicle hatchback or tree limb for changing clothes or a shower while out on the trail. The tent is made of a coated ripstop material that is quick-drying and easy to clean. The tent also features a screen at the top that allows you to see out and prevents others from seeing in. The screen also provides a little fresh air if needed.
As we all strive to be good stewards in our outdoor playground, the quick and simple design of the InstaPrivy makes it easier than ever to quickly take care of business and leave no trace when the task is complete. If you are looking for that perfect gift to let your Overland enthusiast who has "almost" everything, the new InstaPrivy portable toilet kit may be the perfect gift to let them know you truly care!
MSRP: $155.00
Kinsmen Hardware – Drop Stall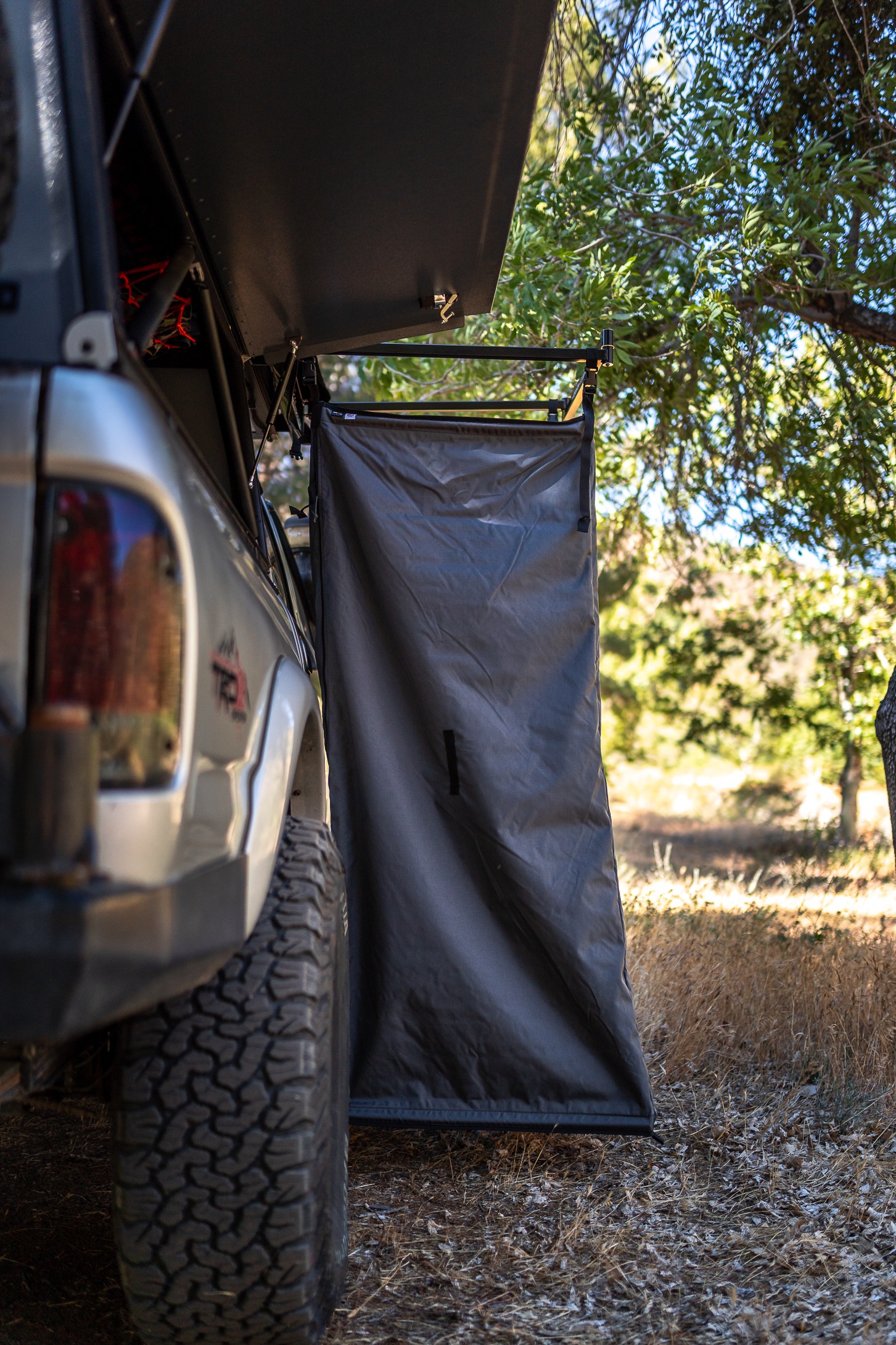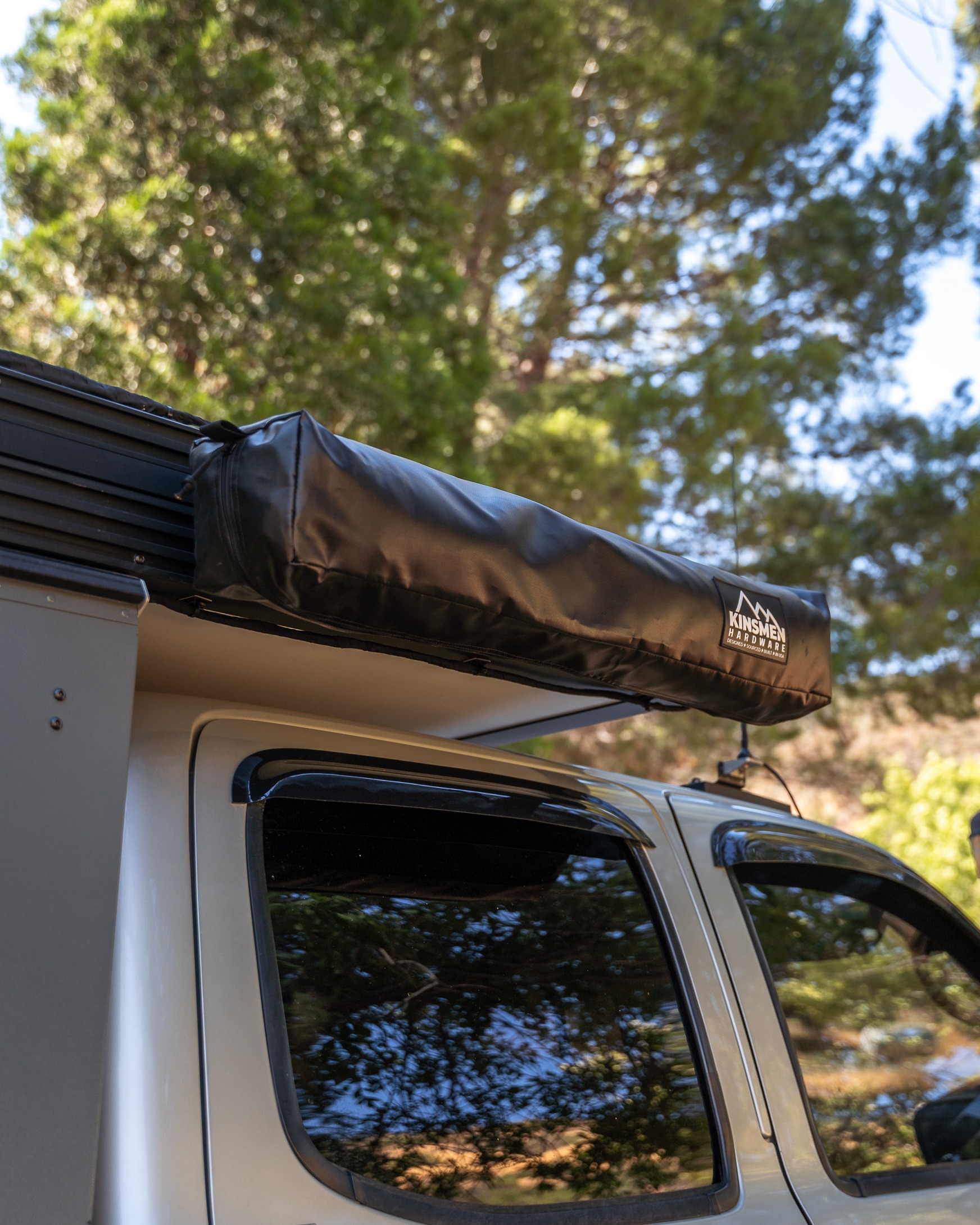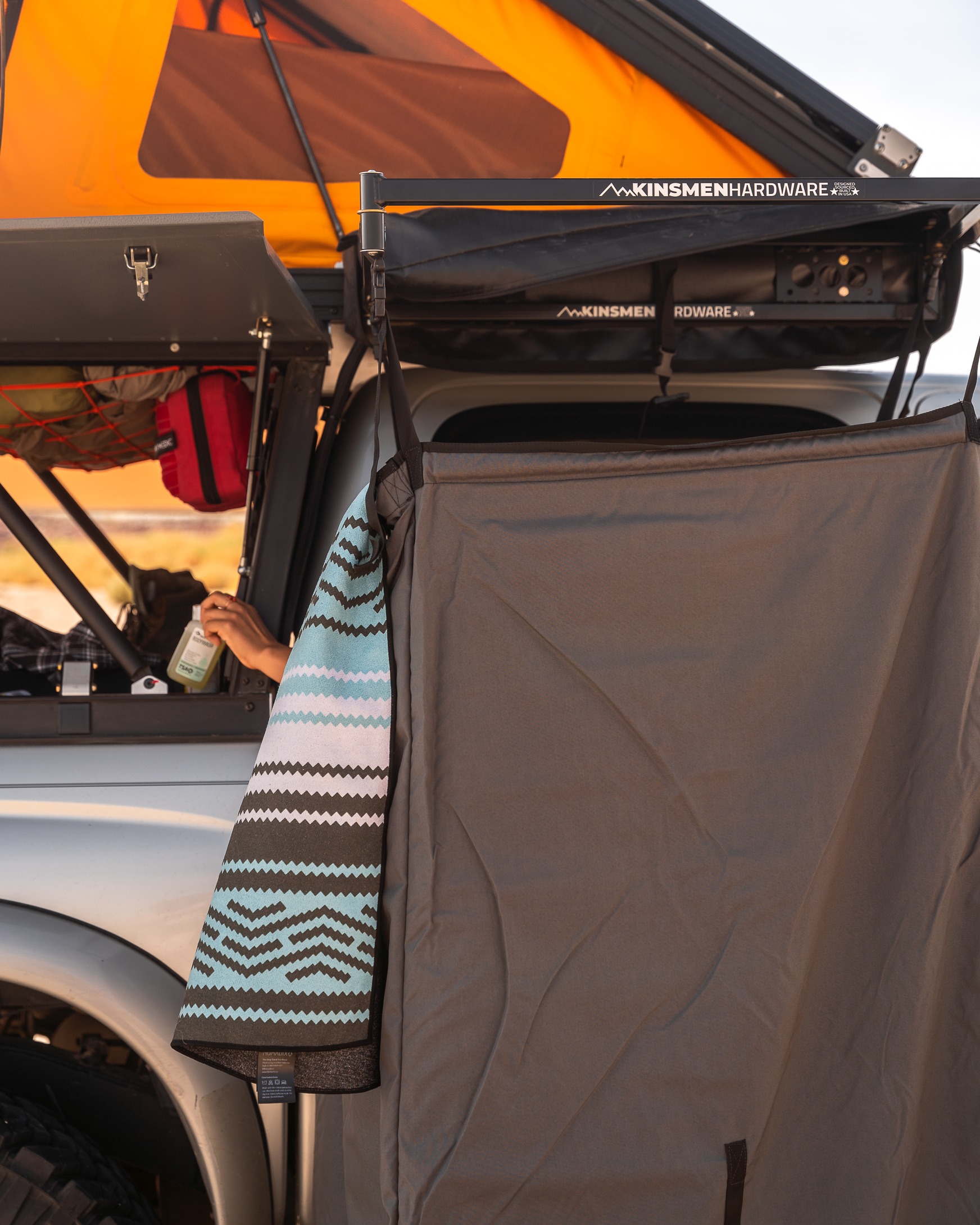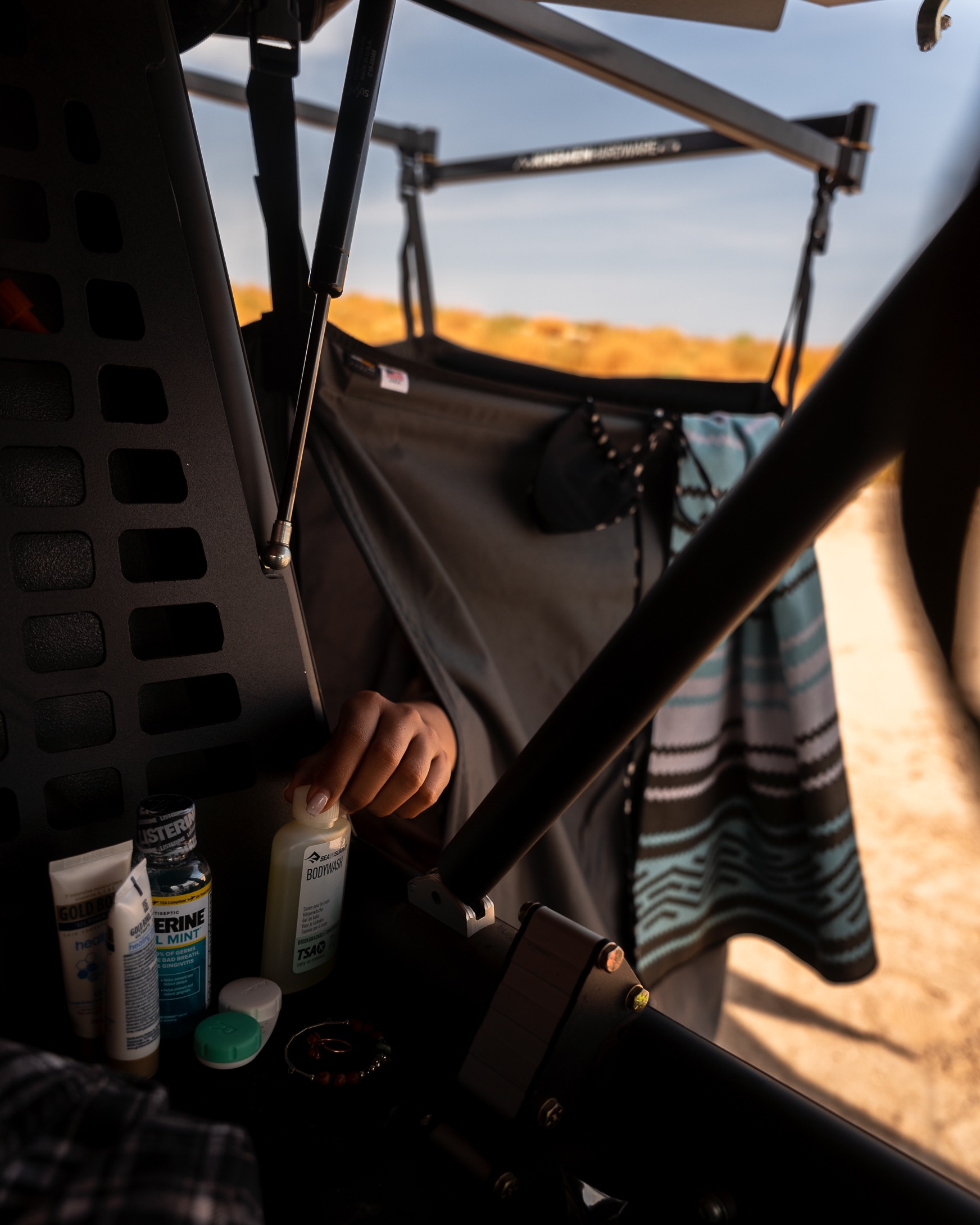 Staying clean while on extended adventures isn't hygienic, and it's also a great morale booster. When cleaning up is private, quick, and convenient its even better. The Drop Stall from Kinsmen Hardware helps you stay clean by providing all of the above, plus it's 100% Made in the USA. It's constructed of a semi-gloss black powder-coated frame so items can easily be attached via magnets. All of the included hardware is stainless and brass, with poly bushings in each arm hinge so you can be sure the Drop Stall will operate smoothly for years to come.
The Drop Stall is incredibly easy to deploy and store in the vinyl-coated polyester cover with a flexible YKK zipper. The open stall provides a 28 x 28-inch top that tapers to a 36 x 36-inch bottom. This roomy shower stall packs into a 36 x 6 x 8-inch storage bag, and the Drop Stall weighs in at 20 lbs. The stall is also customizable to ensure it works for your rig. The fabric is attached to the frame with buckles so it can be easily rotated so that the zipper is oriented to the most convenient opening direction. The fabric height is also adjustable at each corner, so the stall isn't collecting unnecessary mud and dust.
Like all Kinsmen Hardware products, the Drop Stall is ready for high winds and inclement weather. It features stake webbing loops at each corner, and the guy-line kit provides eight Easton aluminum ground stakes, four adjustable paracord guy-lines, and a storage bag to keep the kit organized and at the ready.
MSRP: $850.00
RRE Global – Famous Water Filtration System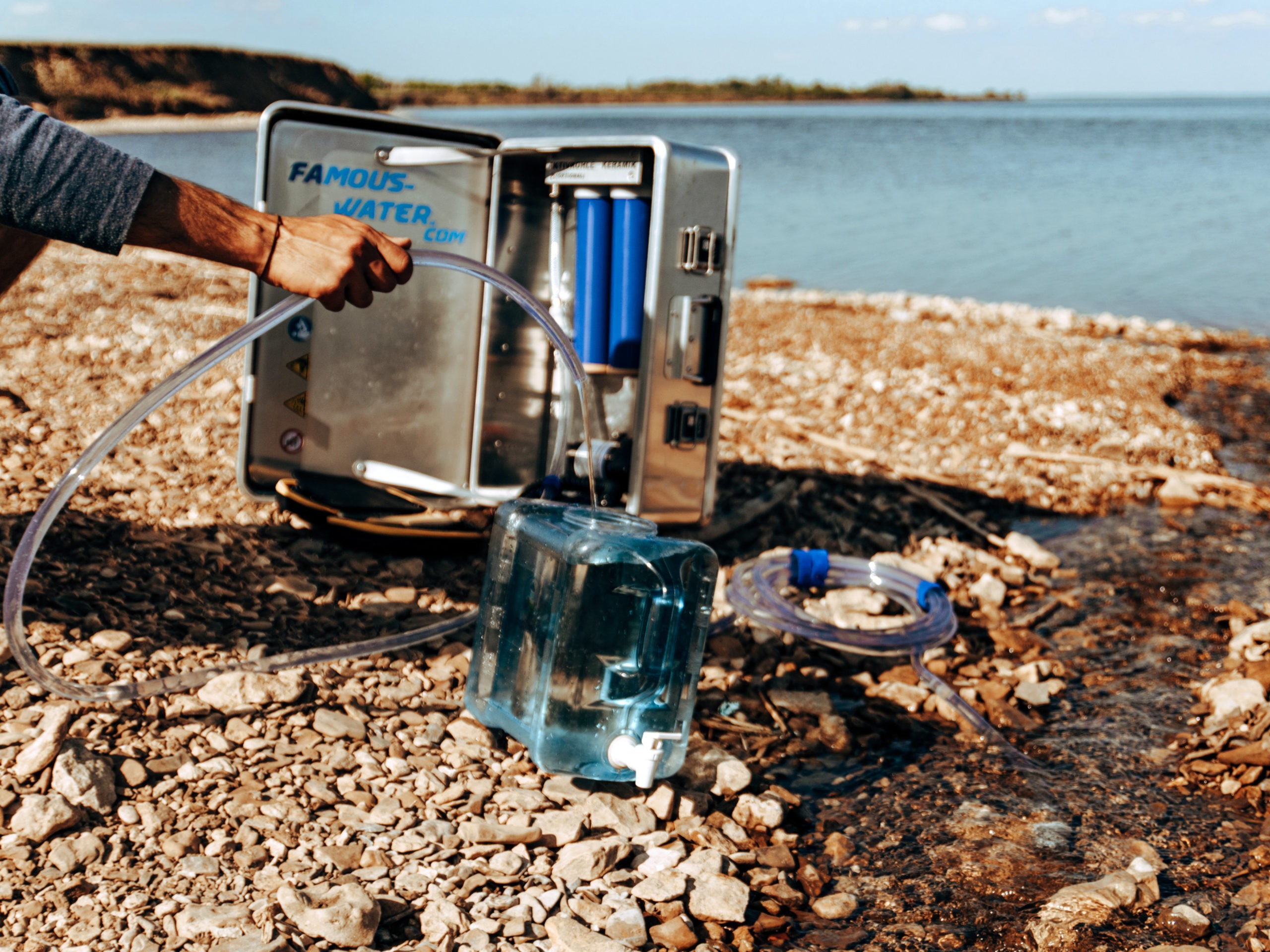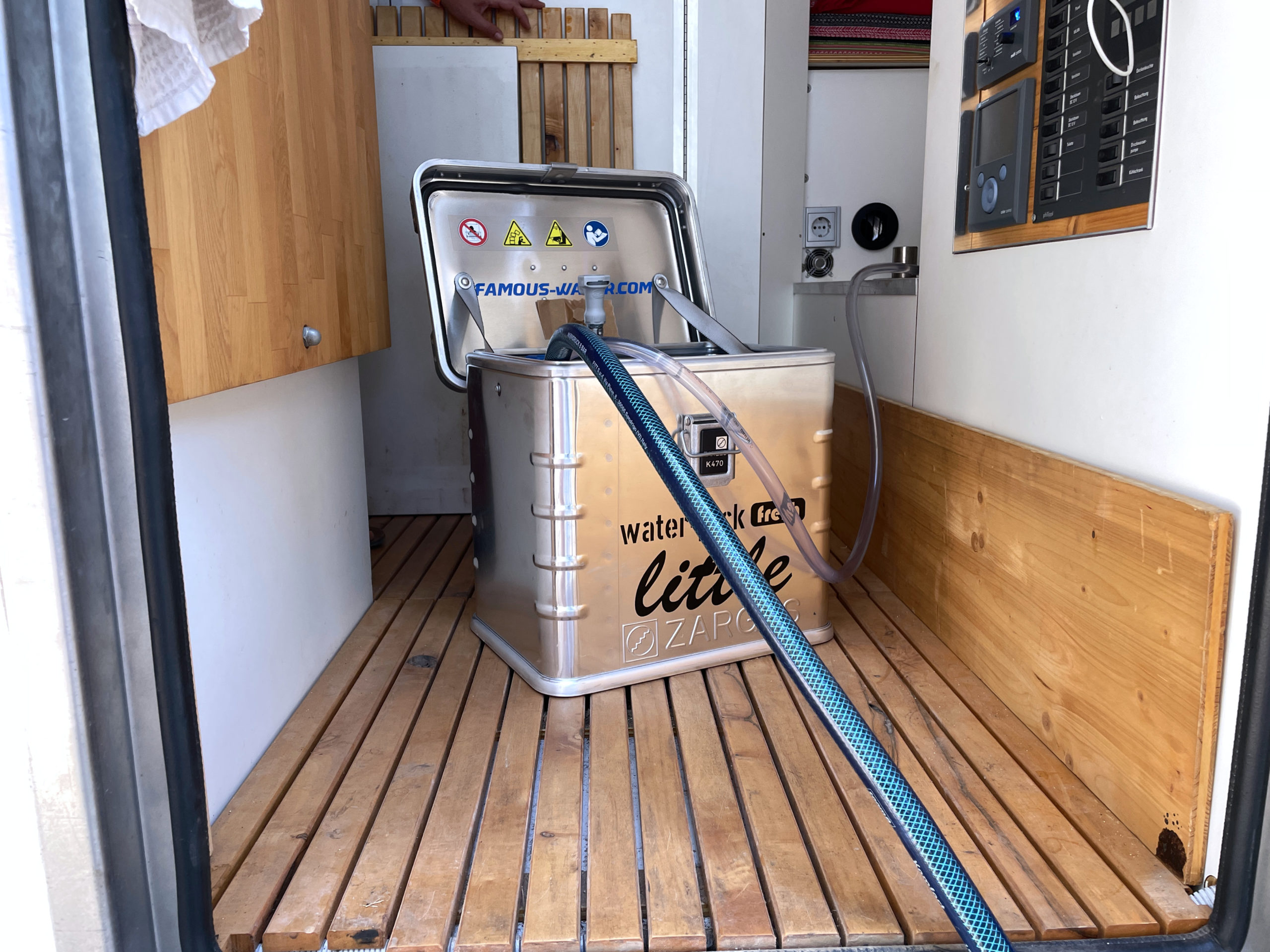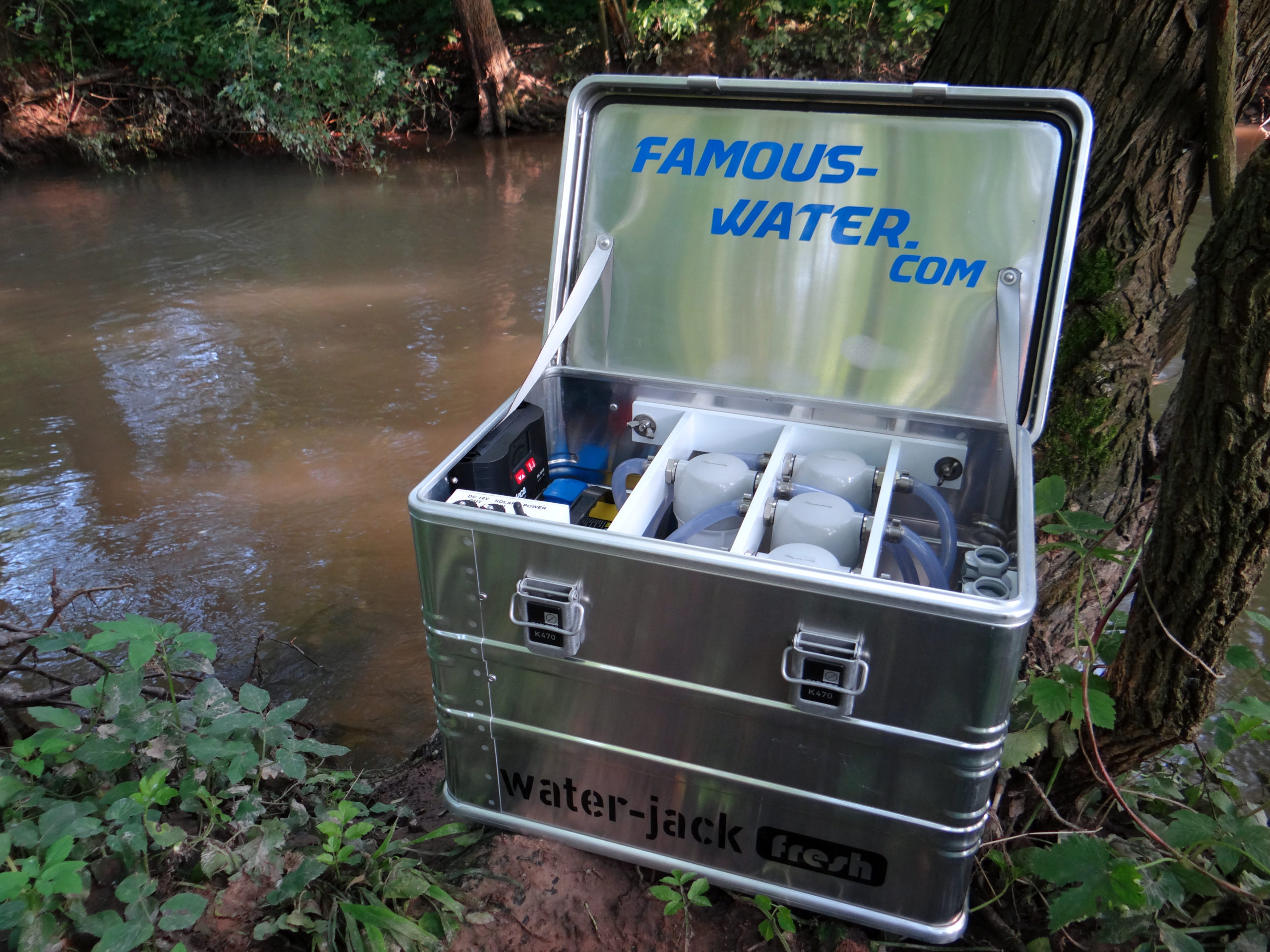 Famous Water from RRE Global is building custom water filtration solutions based on their customers' requirements in order to provide convenient, clean water on the road. The system is customizable in terms of tank size, pumps, and the ability to use water from streams and lakes with an additional inlet pump. Four models are available, so customers can pick the best system for their purposes.
Supplied in robust Zarges aluminum cases, these portable, autonomous systems purify dirty and contaminated fresh water using a combination of microfiltration and absorption to remove harmful, pathogenic bacteria or protozoa, and reduce levels of chemicals (such as chlorine), heavy metals, pesticides, and organic impurities. Unpleasant taste and odors can be removed with an active-carbon filter. Famous Water Filtration Systems use world-class Katadyn filter elements.
The microporous permanent filter elements can filter many hundreds of thousands of liters before they need to be replaced. The water-jack fresh filter systems are individually manufactured according to your requirements and are operated either fully manually with a hand pump or with 12V DC resp. 24V DC electrical pump. Depending on the configuration, power is supplied by an external power source or as a completely self-contained unit, with a powerful integrated battery and foldable solar panel.
MSRP: $990.00
Shower Pouch – 20-pack Camping Shower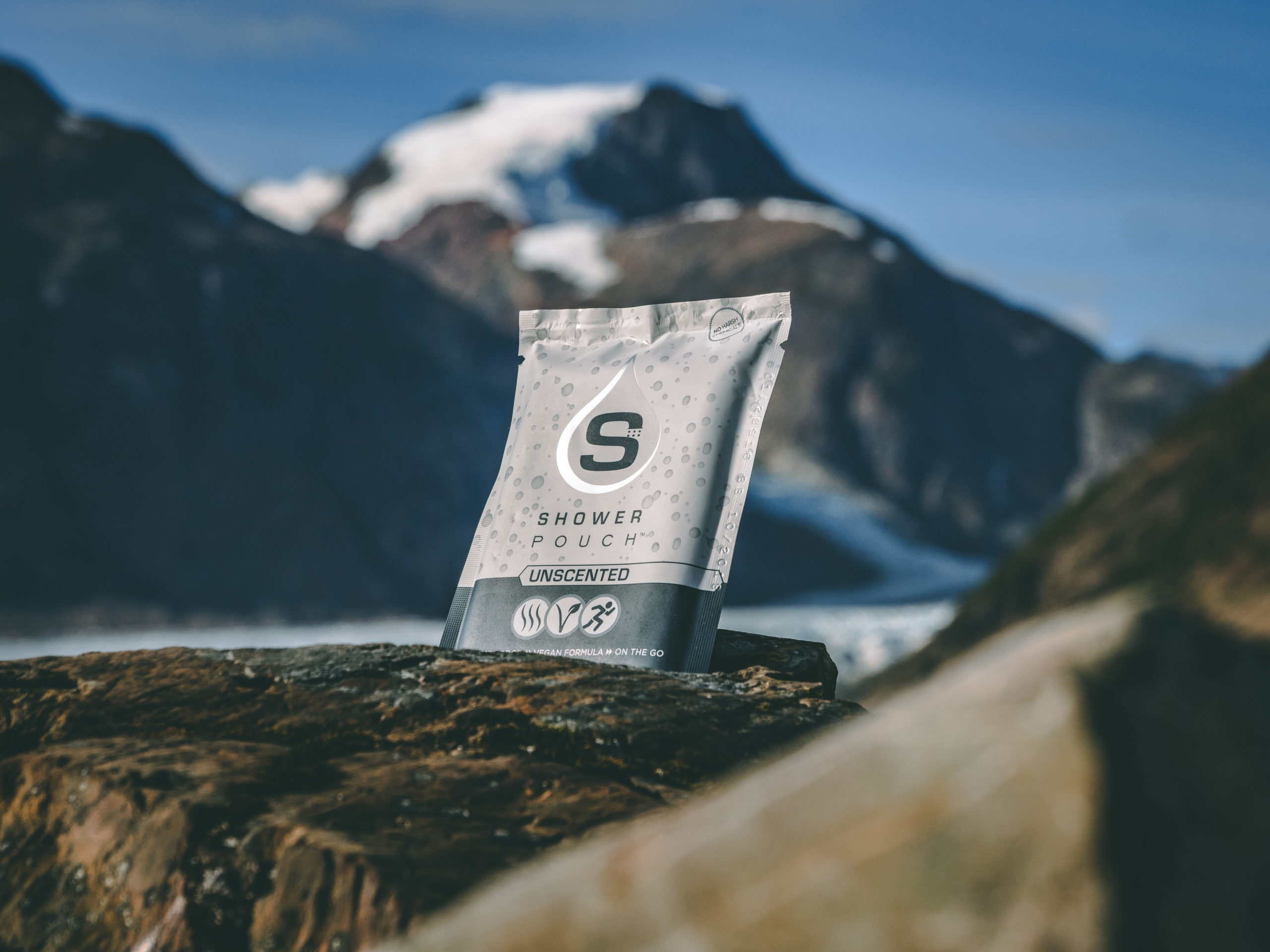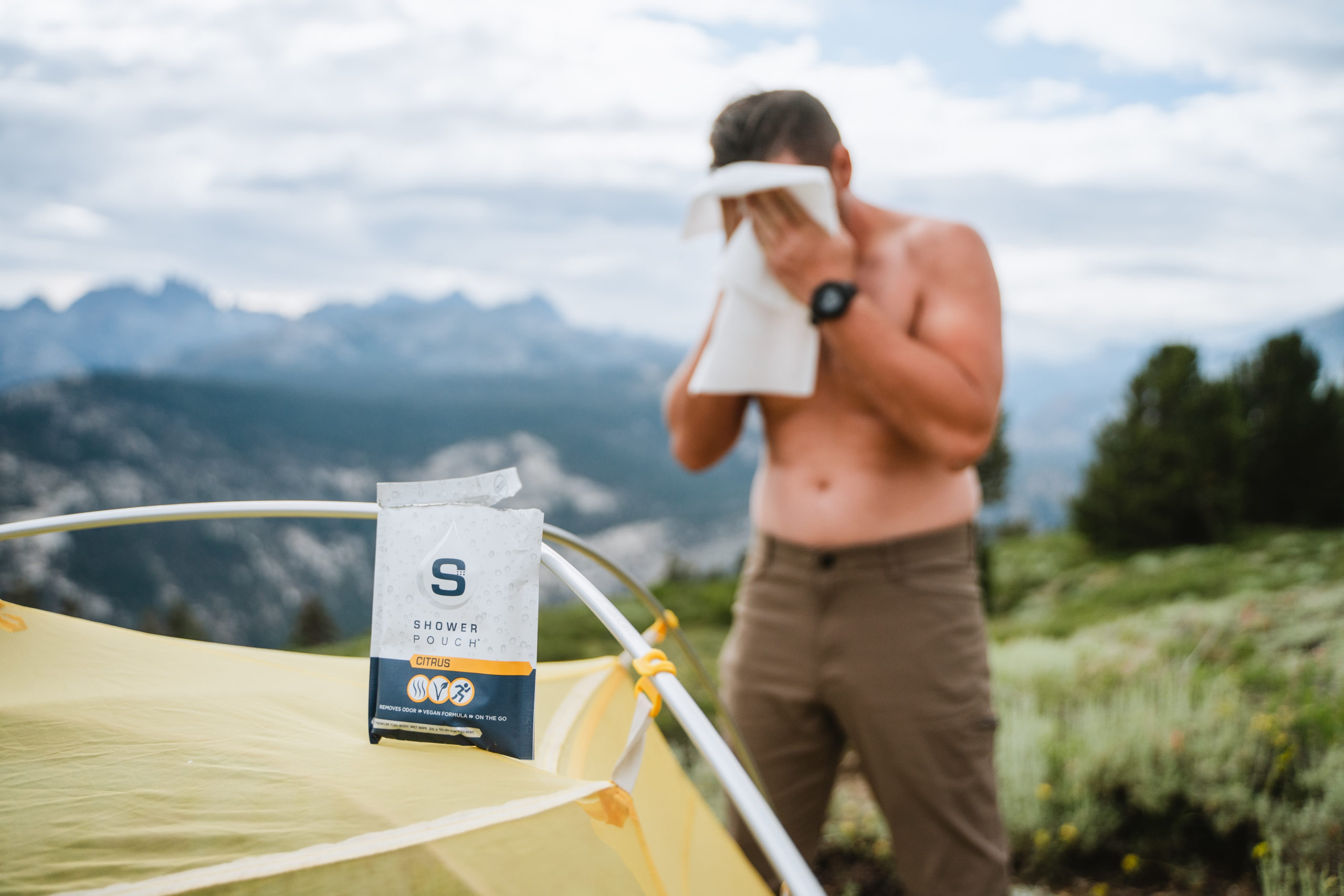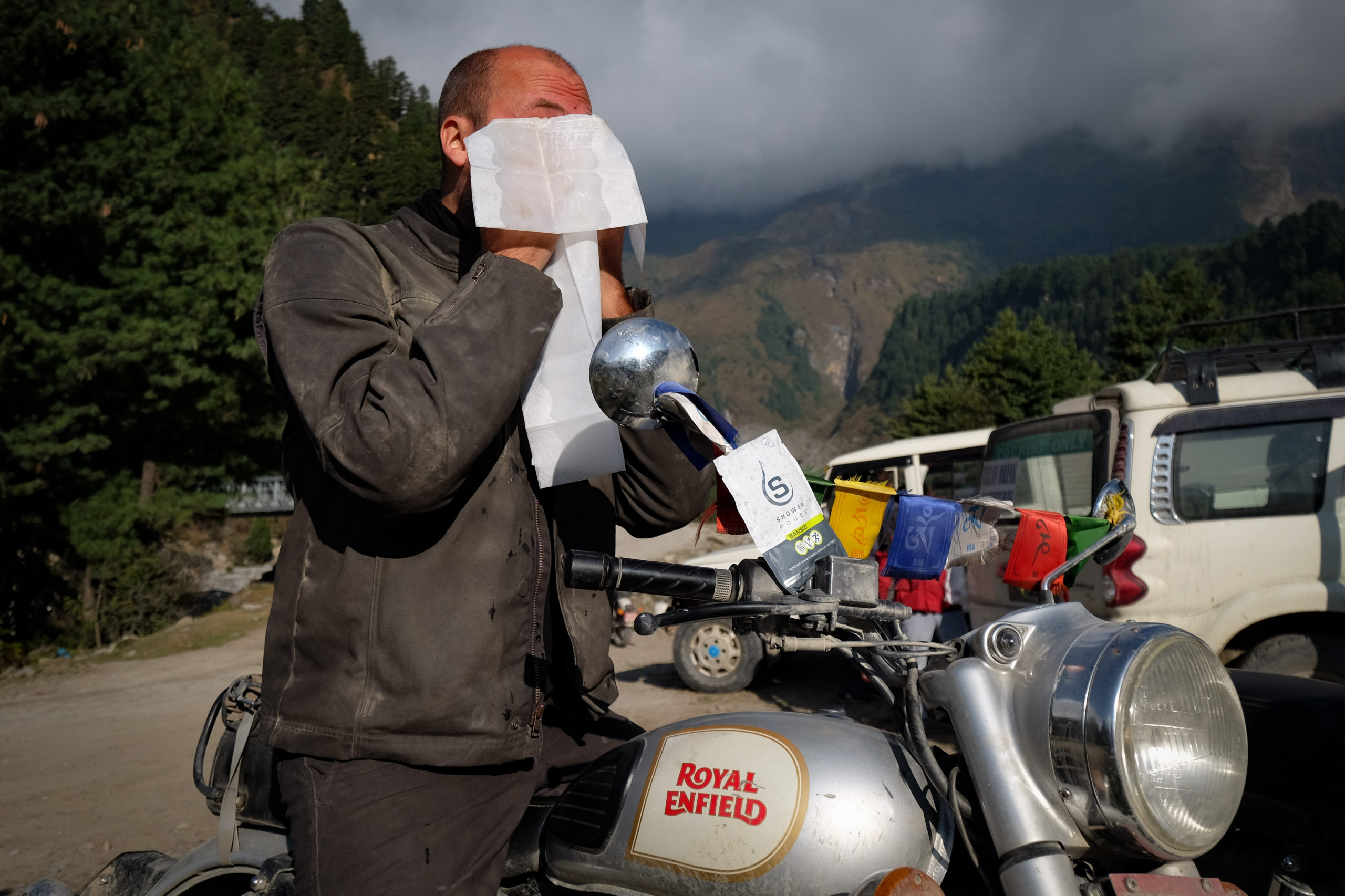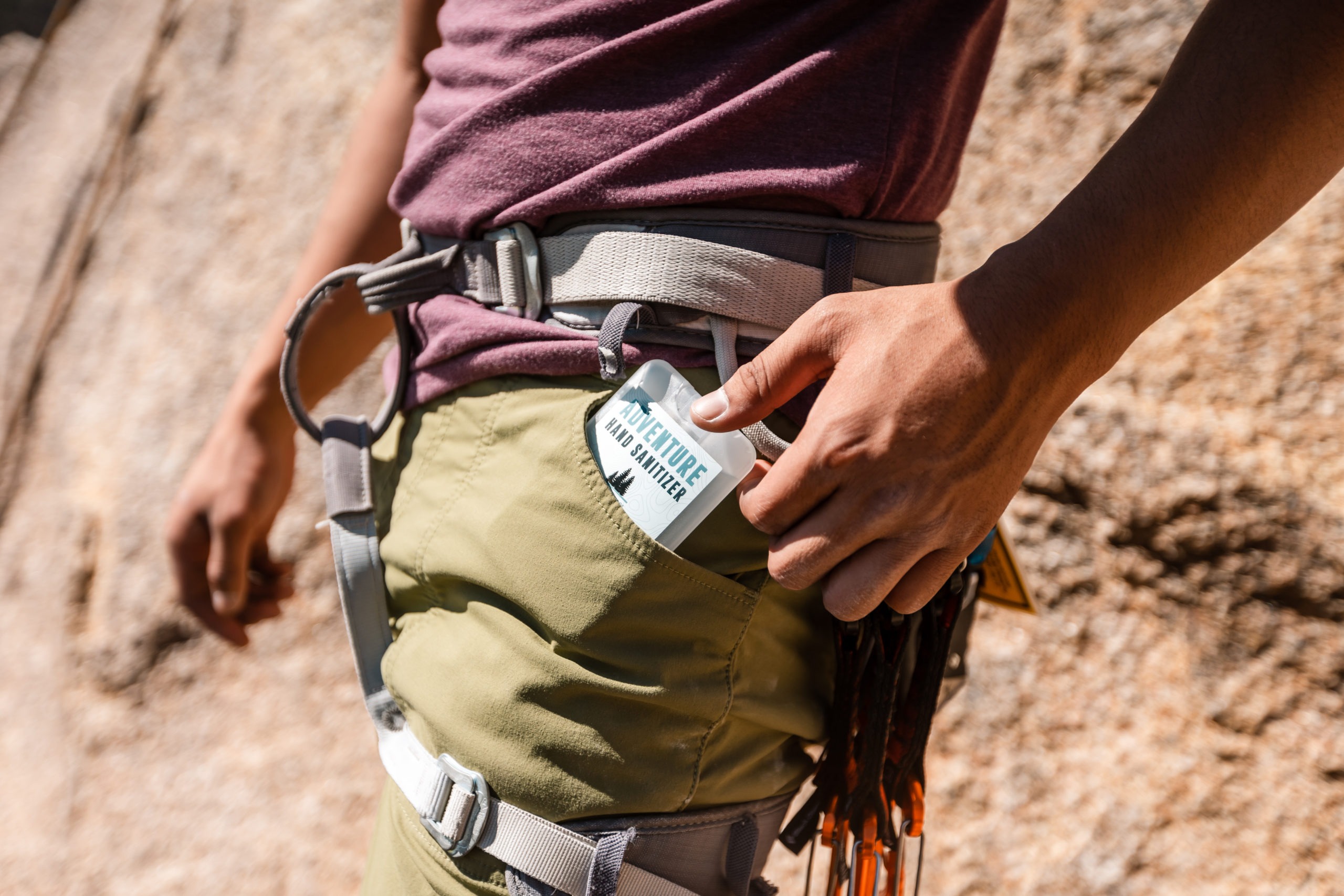 One of the biggest challenges for outdoor enthusiasts is maintaining good hygiene when a shower or access to water is limited. Shower Pouch developed a large 2 x 1-foot reusable full body wet wipe to address your shower needs. All aspects of the packaging are developed in the USA.
The original product concept came from the founder's father while he was stationed at Camp Leatherneck in 2012. He needed a product that could keep him clean on the go. Hence, the birth of Shower Pouch. The pouch material is intentionally designed from food-grade foil so it can be boiled or heated to your ideal temperature to eliminate cold wipe downs!
After the cloth is used, we designed it as a durable good so you can wash it with your dirty clothes and give it a second life. Shower Pouch stands behind the fact that only one body wipe will clean you from head to toe. Their goal is to be your go-to hygiene essential brand for the outdoor adventure community. In the coming months, they will be launching a new spray deodorant and tablet toothpaste.
MSRP: $80.00
Thunderbox – Australian Outback Toilet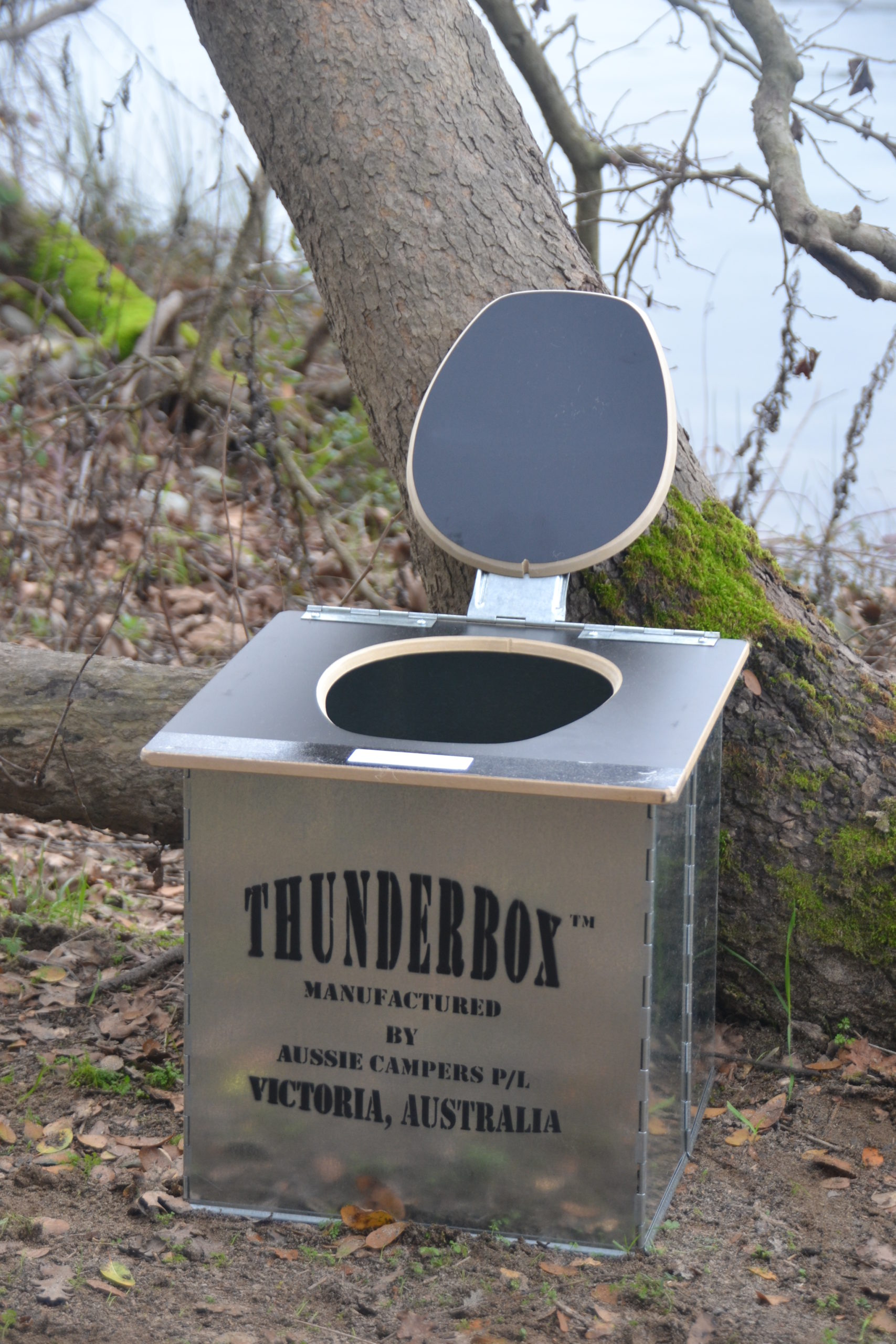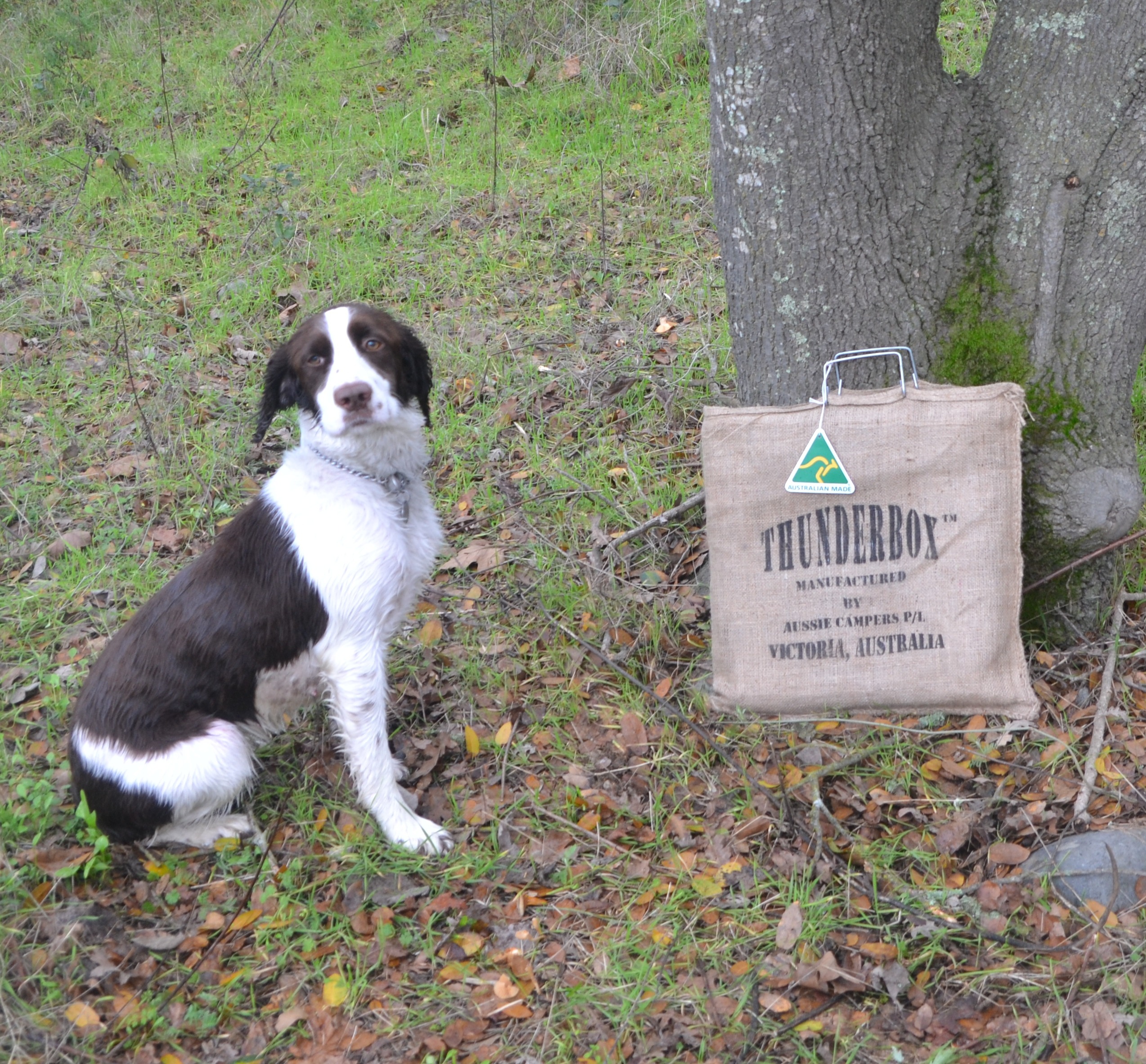 Each Thunderbox™ is hand-made by Australian craftsmen from all-Australian materials. It's incredibly rugged and built of heavy-duty galvanized steel and MDF wood. The Thunderbox™ is stable and sturdy when set up. It's been tested to the extreme and even held over more than 500 lbs of bricks on top! But all of that "ruggedness" doesn't detract from the "soft side" of the Thunderbox™ : the seat height and the size of the hole are the same as the standard toilet found in most bathrooms across the country, making it feel very familiar and comfortable. While there may be better places to spend your time, many overlanders have reported greatly enjoying their "morning constitutional" from the seat of their Thunderbox™.
But the real beauty of the Thunderbox™ is its compact simplicity. It folds down to one inch thick with a 16 X 16-inch footprint and weighs about nine pounds. To deploy the Thunderbox to "fully functional" mode takes just seconds, requiring only a few hinges and a latch. Thunderbox is the poster child of the KISS principle (keep it simple, stupid!).
When combined with In-viro™ degradable bags, the options for "waste management" while off-grid camping are many. Thunderbox suggests the burying method, but in those situations where that's not an option, there are several brands of "wag bags" that work well with Thunderbox™.
While it is great that more people are enjoying the outdoors than ever before, the impact of human encroachment on the natural environment is increasingly evident. The goal of Thunderbox™ is to minimize the impact of human waste on the great outdoors. Sure, we've all heard the saying "Does a Bear Poop in the Woods", and it does, but imagine the effects of hundreds or even thousands of bears pooping in your favorite recreation area. There are a few things that mar an outdoor experience like seeing bits of stained toilet paper, or "poo tickets", as they say in Australia. Proper use of Thunderbox™ contains waste to a small "footprint," where it can be buried or packed out for later disposal.
MSRP: $175.00