This month we've rounded up some awesome products to get you kitted out to be comfortable and capable on your next overland journey. From backcountry beds to secure gear storage, there's a little bit of everything for adventure travel near and far.
Be sure to check out these great brands in person at one of our events this year. Overland Expo West will be here before you know it!
Big Slack Off-Road — Slacklander Off-Road Camping Trailer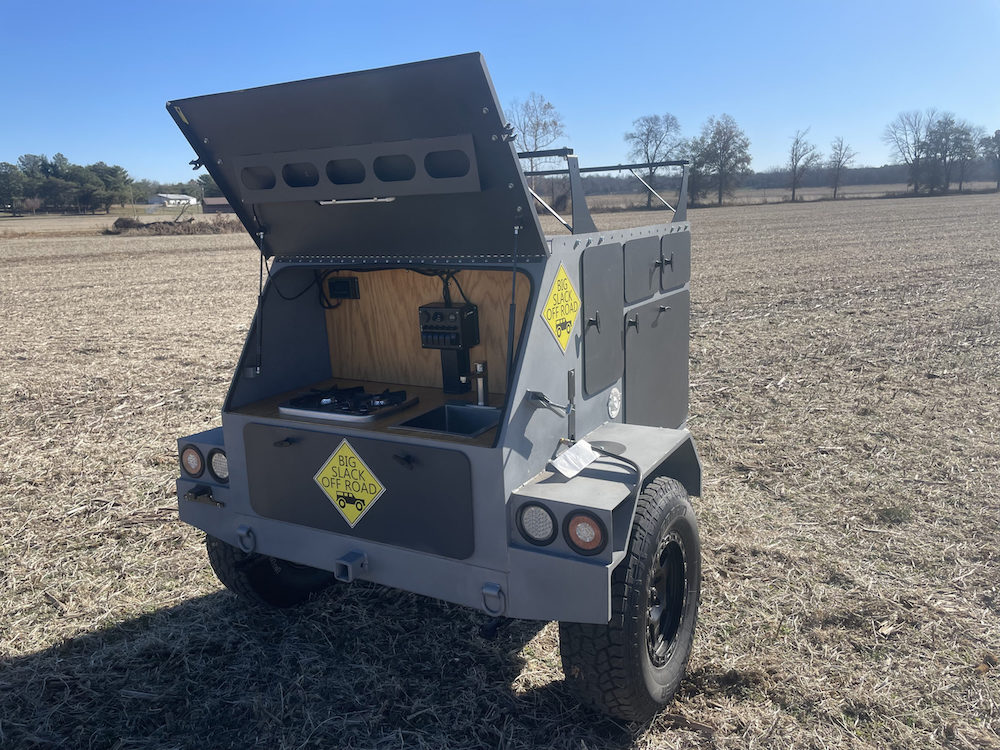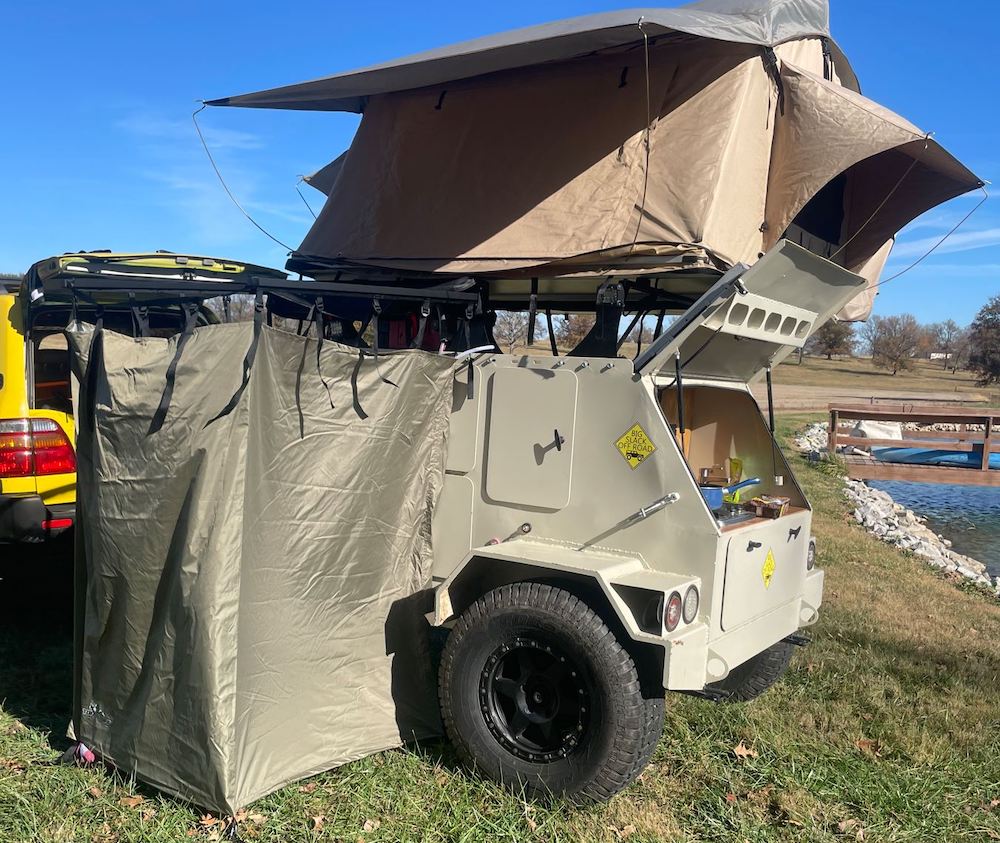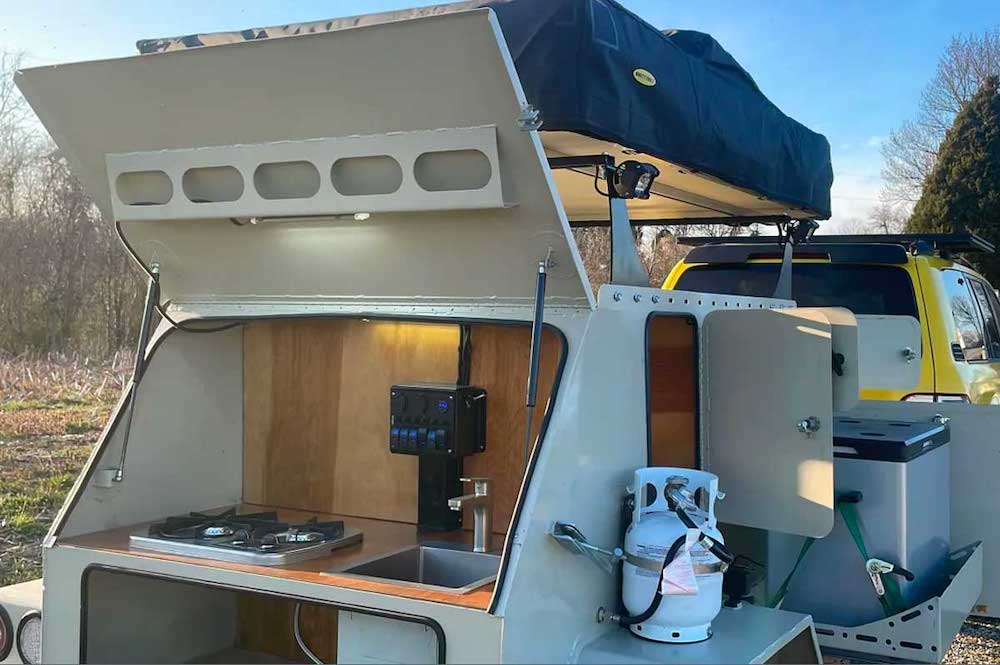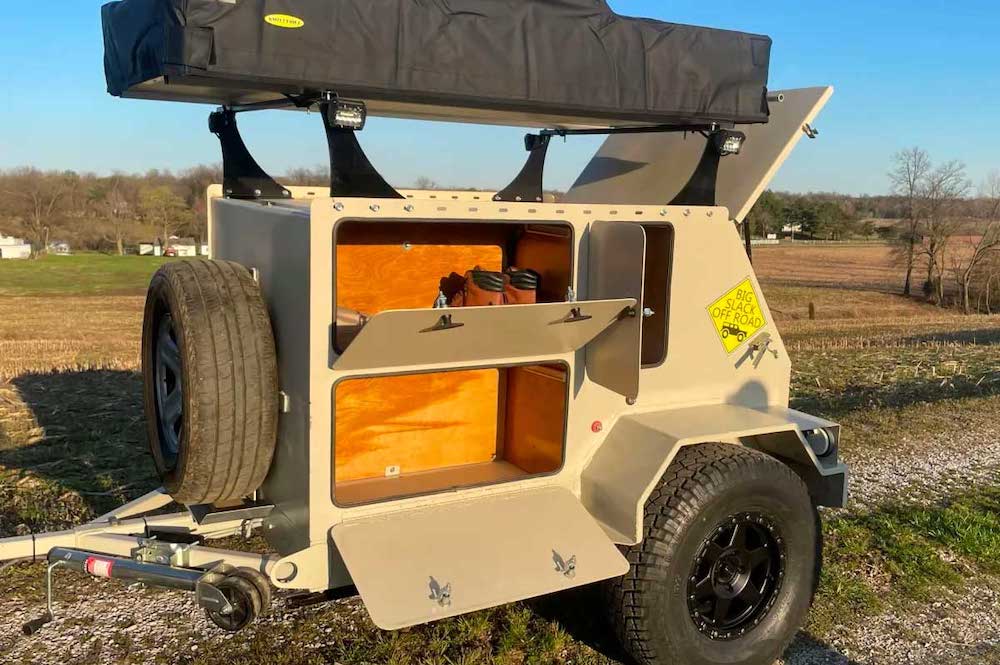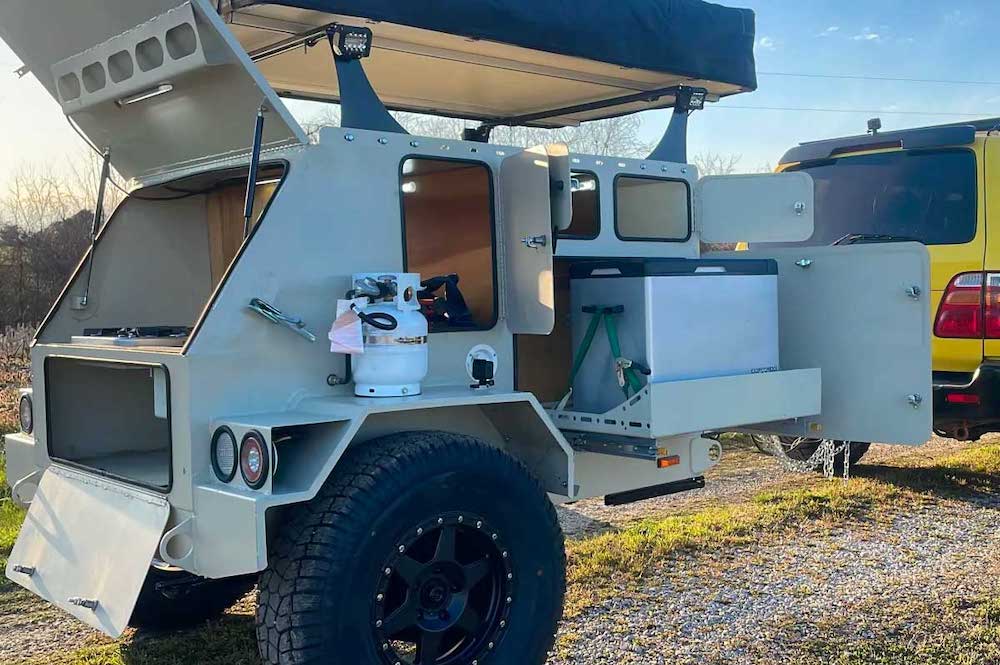 The Slacklander overland trailer from Big Slack Off-Road weighs in at just 1200 lbs, light enough to be pulled by just about any rig. With only a 72-inch fender width and a 46-inch body width, it fits down any trail easily and tracks with your vehicle. The modular assembly system allows for expandability and additional options and upgrades in the future. The rear-facing kitchen with hatch-style operation provides a universal setup for most campsites.
With payload capacity starting at 1000lbs and large compartments all the way around, gear and storage are easily accessible, and everything fits. Slacklander can be optioned with roof top tent mounts that will support any of the industry-standard roof top tents. Slacklander can also be equipped with a full kitchen, 15-gallon water tank, solar panel, lock and roll hitch, tons of lights, and even a shower.
MSRP: $10,999
Born Outdoor — Badger Bed Sierra Bundle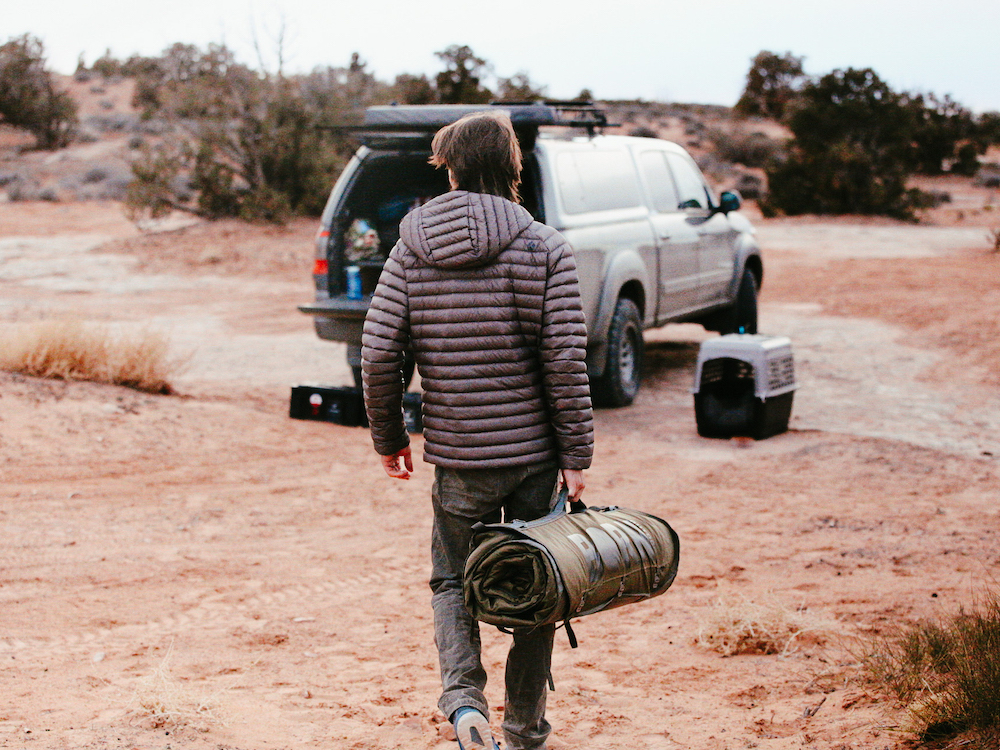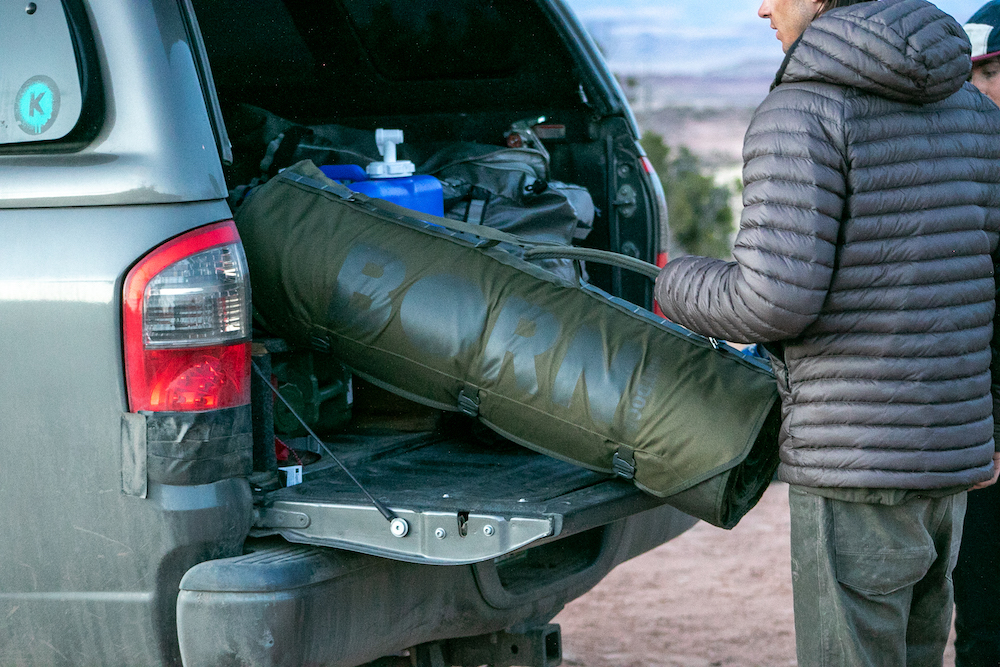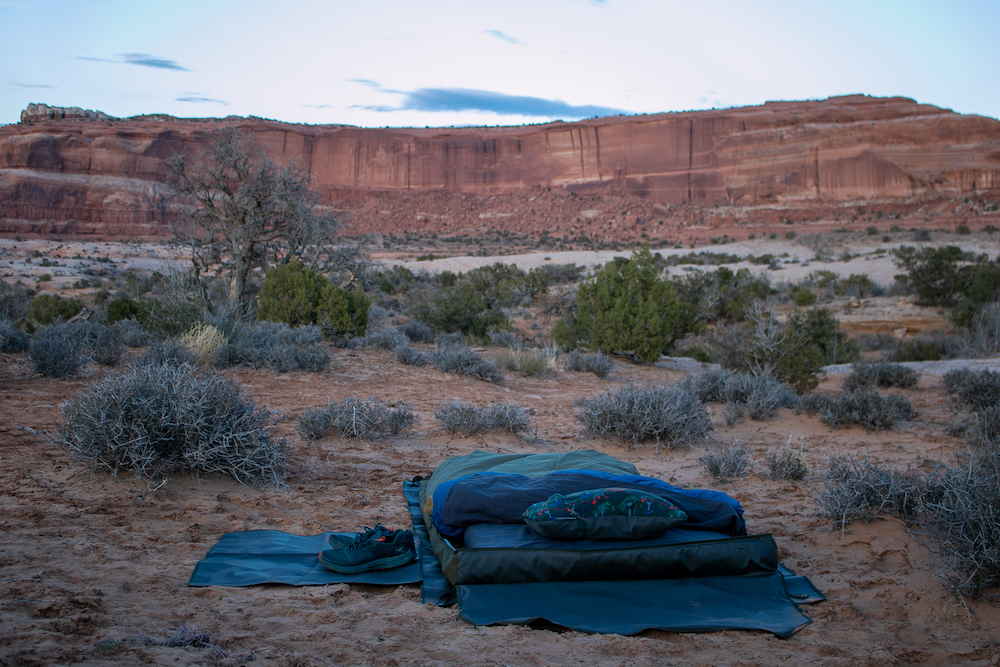 "How did you sleep?" It's always the first question we get in the morning.
Sleeping, even for the most experienced overlander can be an ordeal. Trailers and RTTs are great, but they come with their own challenges, and there is a reason why we don't use sleeping bags at home.
Born Outdoor has introduced the four-season Badger Bed, their take on the classic bedroll. It's comfortable, flexible, and rugged enough for you to sleep anywhere. The Badger Bed – Sierra Bundle contains the Badger Bed, a 30" wide Therm-a-Rest MondoKing mattress, Sierra Down Quilt (600 fill), and Cascade Flannel Sheets.
The bottom of the Badger Bed uses a 600 denier weather-proof ripstop tarpaulin that fully protects the 4-inch mattress. It's designed so you can sleep directly on the ground cowboy style, in your vehicle, or wherever you decide to lay your head. A soft two-way stretch material with a light weather protective coating covers the top. Inside are three pockets to keep your keys, wallet, phone, and headlamp readily accessible.
Born Outdoor offers either a poly-cotton or flannel sheet set with a fitted bottom and a flat top sheet. They also have the Sierra Down quilt that can be layered and connected to the Baja synthetic quilt. There isn't an ASTM test for bedrolls, so no insulation ratings are available. Experience in the field has shown the Sierra Down quilt is comfortable at 30 F, add the Baja quilt, and it's good down to 10 F, and two Sierra Down quilts have been used at 0 F. A pair of loops at the foot of the Badger Bed keep your sheets and quilts in place. Everything is easily removed and can be machine washed and ready for your next trip.
The cost of the Badger Bed Sierra Bundle is $825, which makes it a premium product. We've all experienced the false economy of buying something cheap and having it not work. The Badger Bed is a high-quality product that will meet your needs for years to come. We spend a third of our time in camp sleeping, so consider it money well spent.
Born Outdoor also sells each product separately, so you can use the gear you already have. The Badger Bed fits inside the Portage 120L duffel bag to store it in your truck bed or roof rack.
Overall, the Badger Bed is a game-changer in the world of outdoor sleeping gear. Its modular design, durable construction, and customizable features make it a must-have for any outdoor enthusiast looking for a portable yet deluxe sleeping experience. Wherever your vehicle-based adventures take you, the Badger Bed is your perfect companion for every season.
MSRP: $825
deepsleep — Solo Mats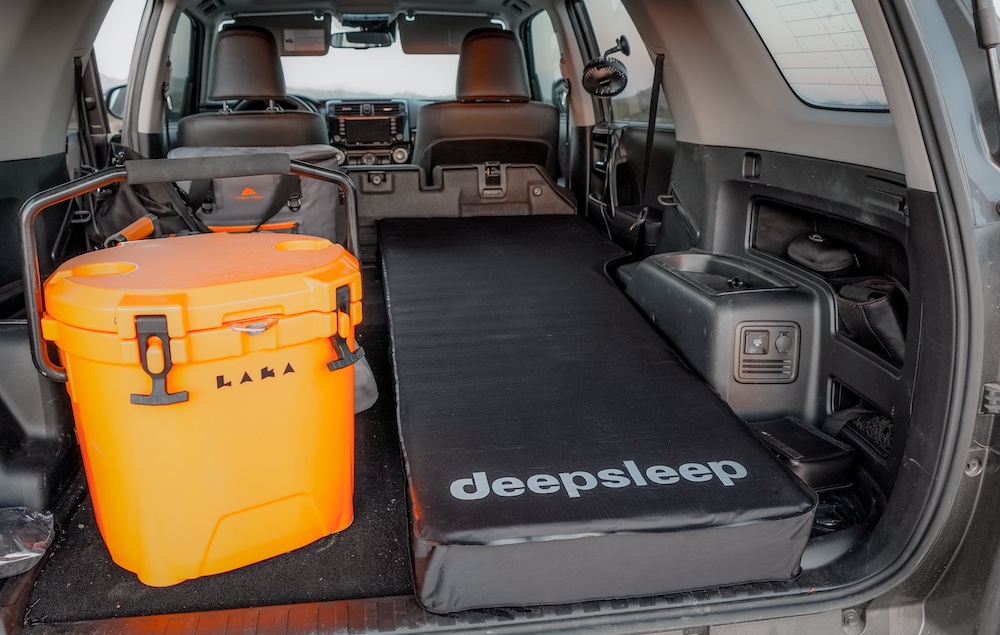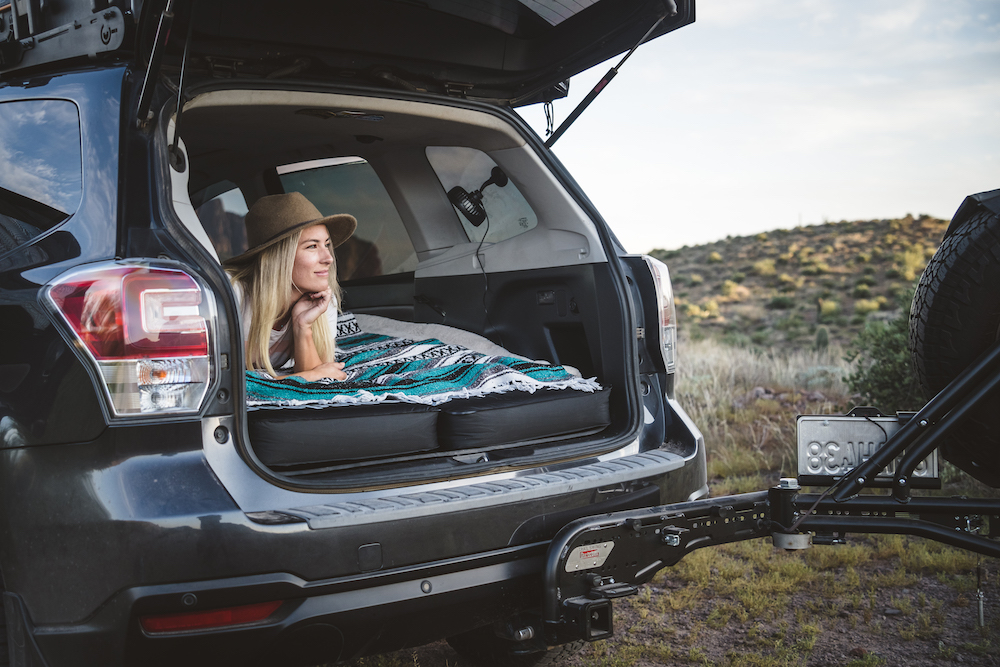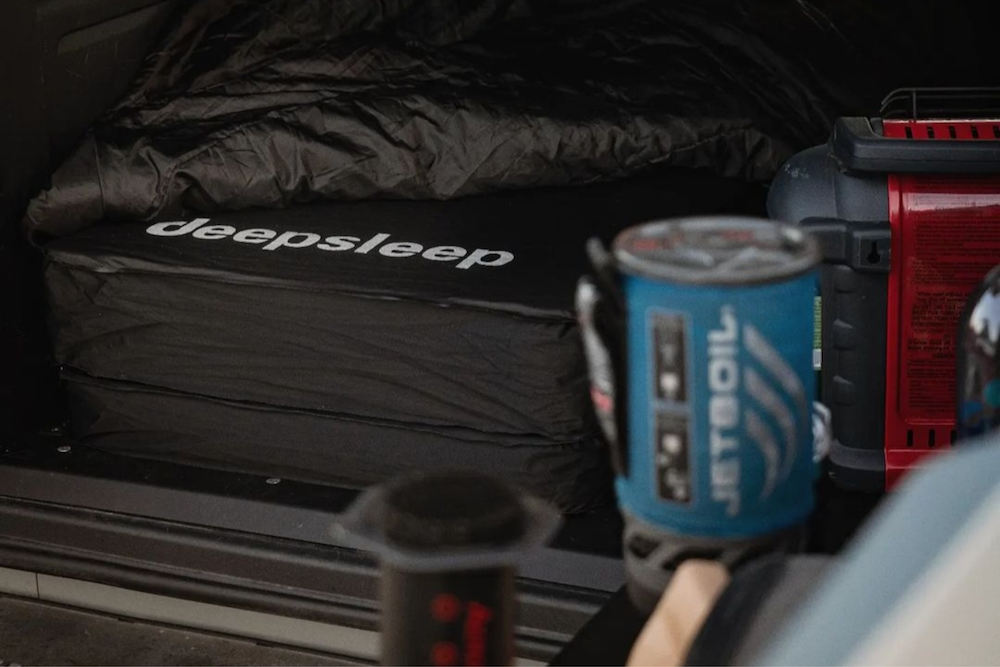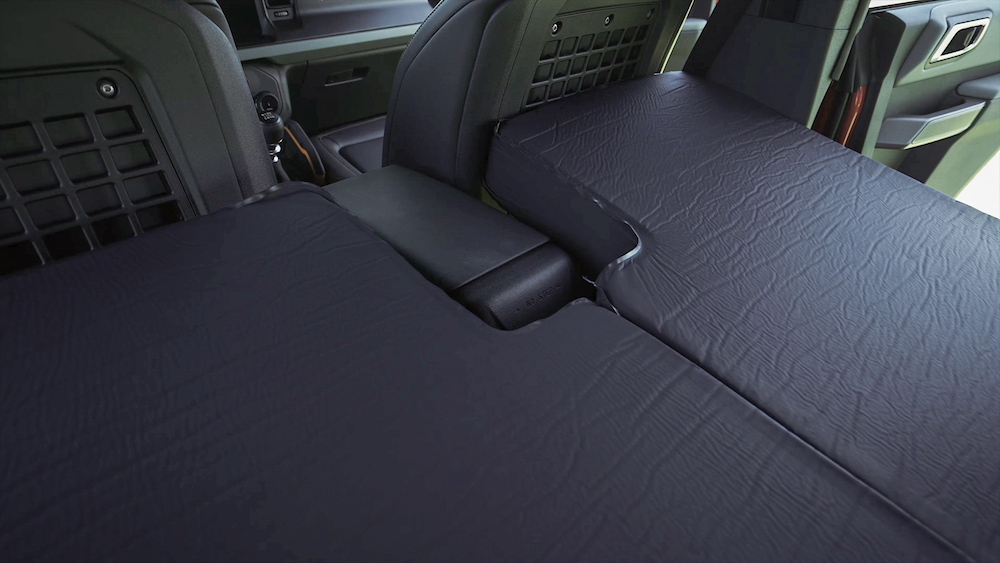 You may have first come to know deepsleep as the company that makes beds for Jeeps, but this brand has long been expanding their product line to fit almost any SUV or tent for unmatched sleeping comfort on the trails. Deepsleep was founded in 2016 and funded on Kickstarter in 2017 for designing the first contoured bed for an SUV.
The deepsleep self-inflating Solo mats are the latest hot commodity on the trails to achieve the same quality of sleep outdoors that you'd get at home. At 5 inches thick when fully inflated, these boast a whopping 18 R-value for all-season camping and use an air+foam hybrid technology for the best of both mattress types. Solo campers have the option to purchase a single side and leave room for gear storage or a portable fridge or cooler. Two fit together as a set for door-to-door comfort and will easily fit two adults and a child or pet in your vehicle. Their patented designs contour around wheel wells and center consoles for the best use of space. You'll also get a nice 'goldilocks' moment when you use the adjustable air release valve to set the firmness level of your mattress, which is a game-changer for two sleepers with different comfort preferences.
Deepsleep carries several sizes of solo mats that are contoured to fit SUVs like a glove and just released two new modular sizes for their rooftop tent/ground tent series. For car campers: don't forget to check out their accessories like window screens and window-mounted fans to complete your comfortable car camping adventures.
MSRP: Starting at $179
DiamondBack Covers — DiamondBack HD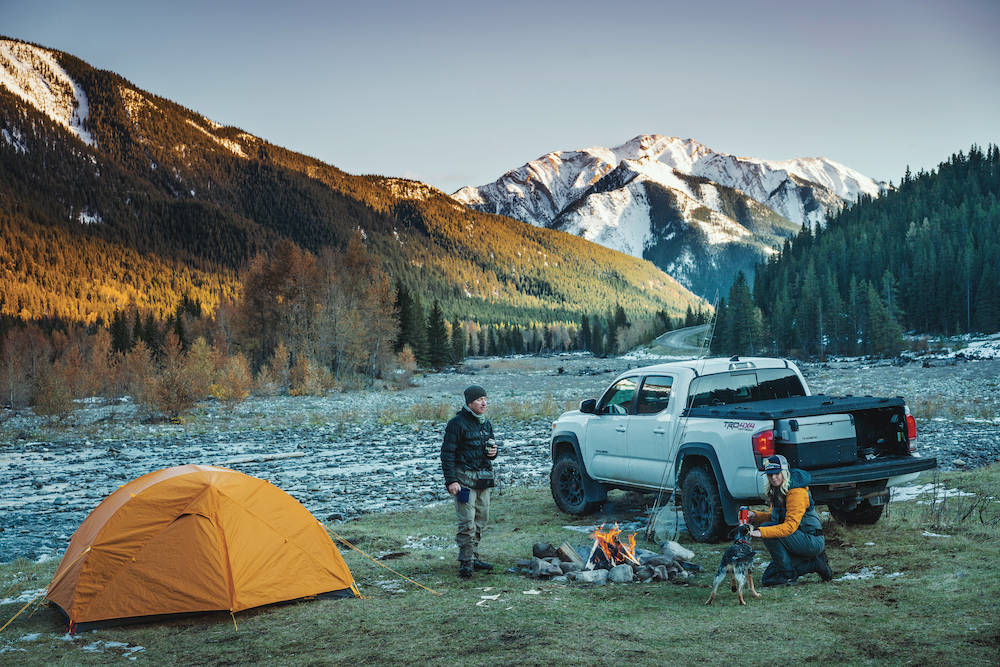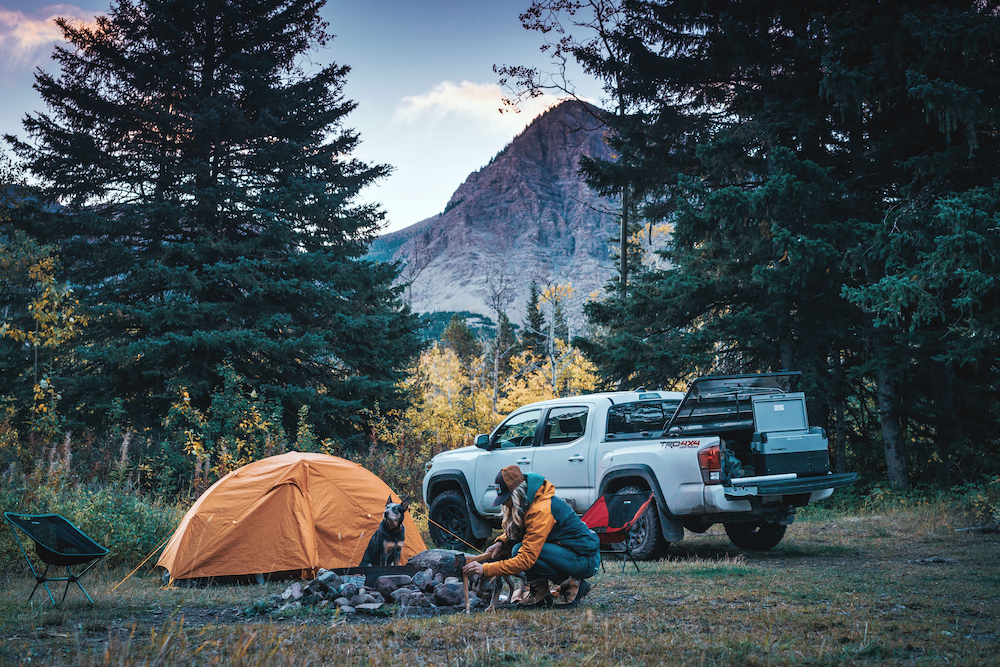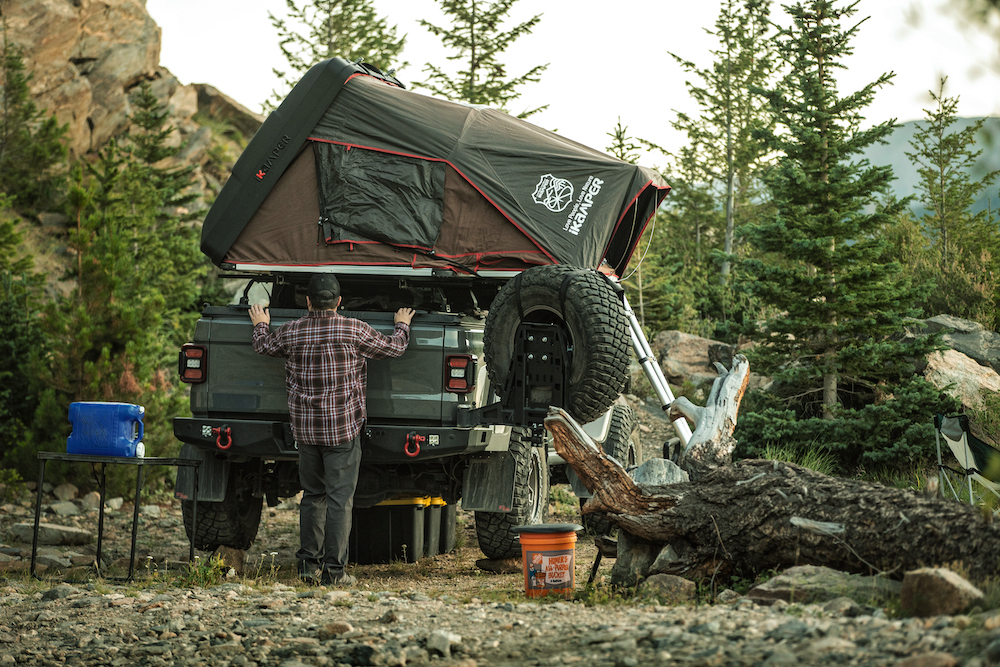 How do you protect the gear in your truck from weather and theft?
The team at DiamondBack Covers has been obsessing over that question since 2003. The company launched soon after the theft of gear from a truck belonging to one of its founders. At the time, Matt and Ethan were engineering students at Penn State. When Matt approached his pickup to discover that a tree stand had been stolen, he began looking for a solution like he would for any problem in front of him.
When the market failed to offer a bed cover that lived up to the challenges of his outdoor pursuits, Matt marched into the shop and crafted one for himself. As you'd expect from a pissed-off engineer, he overbuilt the thing a bit. His work resulted in the patented DiamondBack HD bed cover, featuring dead-bolt locks, hinged panels with forward and rear access, a neoprene barrier to rain, and a 1600-pound dynamic load rating.
Twenty years and more than 100,000 customers later, DiamondBack Covers is an institution trusted by adventurers the world over to guard their gear and keep it dry without compromising the utility of their truck. While DiamondBack's ultra-secure bed covers are inspired by the original, and the vast majority of their early models are still in use, every aspect of the bed cover has been improved and strengthened. The company has also grown their catalog, now offering many of the unlimited racks and accessories that can be bolted to their platform.
DiamondBack's rugged aluminum bed covers are a far cry from their vinyl, ABS plastic, and fiberglass competitors, but it's the locking mechanism that's an unfair advantage. Zinc-coated stainless steel lock rods extend underneath the bed rails of your pickup, and are operated by a stainless steel handle, which can only be budged after being unlocked with a one-of-a-kind, multi-angle cut key. It really is unrivaled security and durability.
Each DiamondBack is hand-built with premium materials from the best American suppliers, welded and assembled by a talented and passionate team of American welders, and shipped to customers unwilling to settle for anything less than the best. Their Pennsylvania-based team of 140+ proudly backs every DiamondBack product with a lifetime warranty and customer service that has won the company an army of raving fans. Count us among them.
MSRP: $2,299 including shipping
GODZ MFG — Bed Rack and Retrax Bed Rack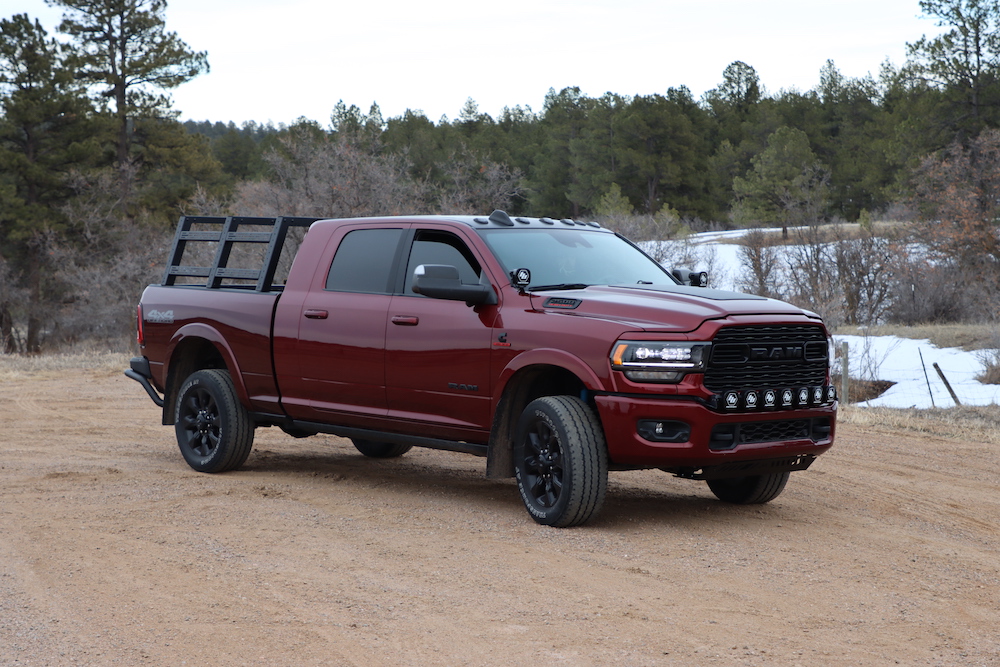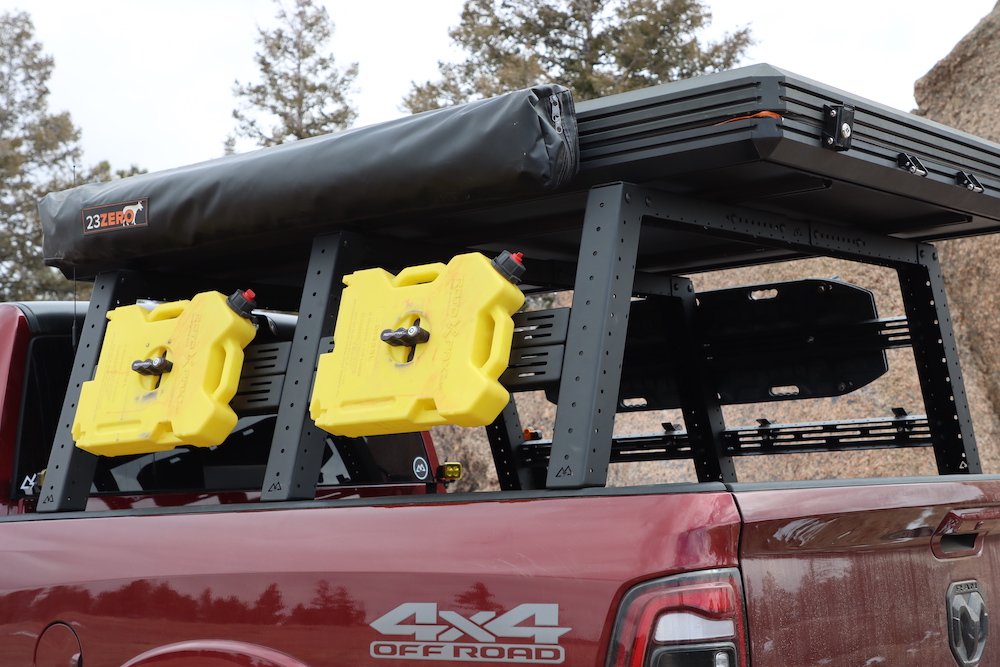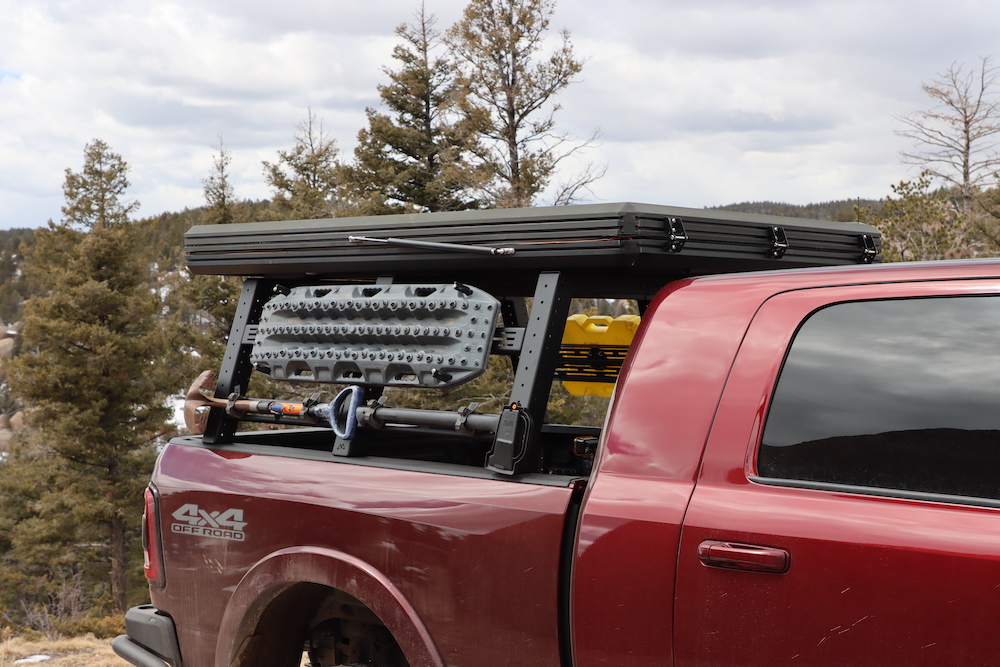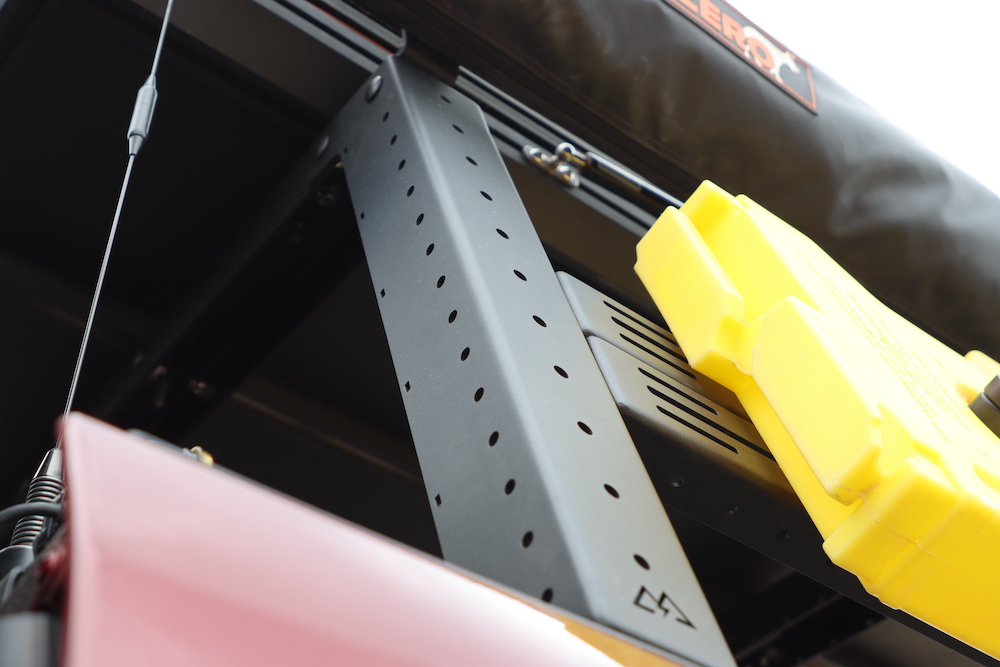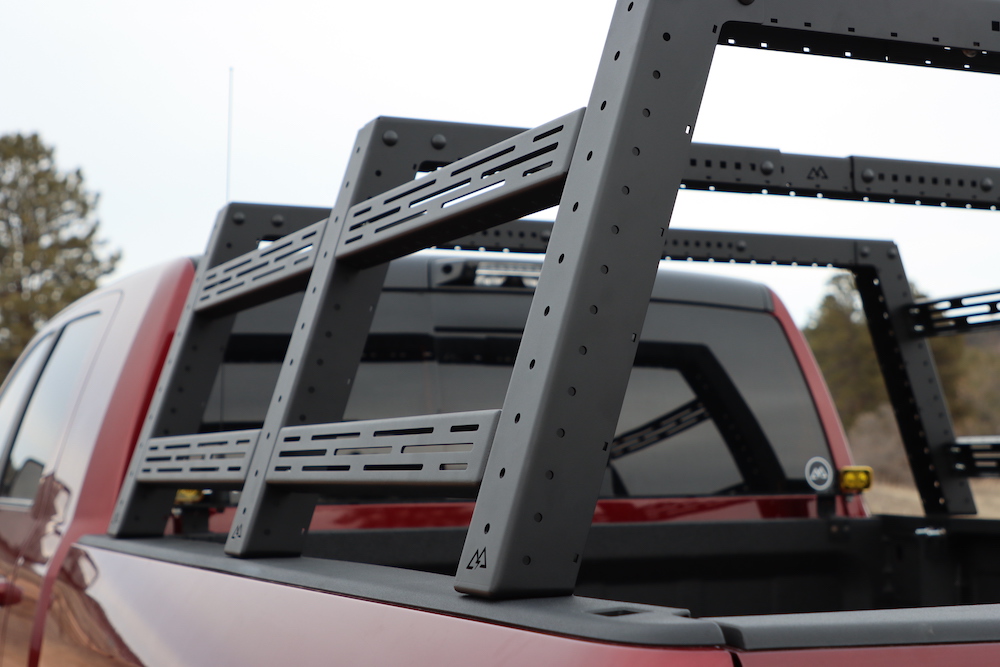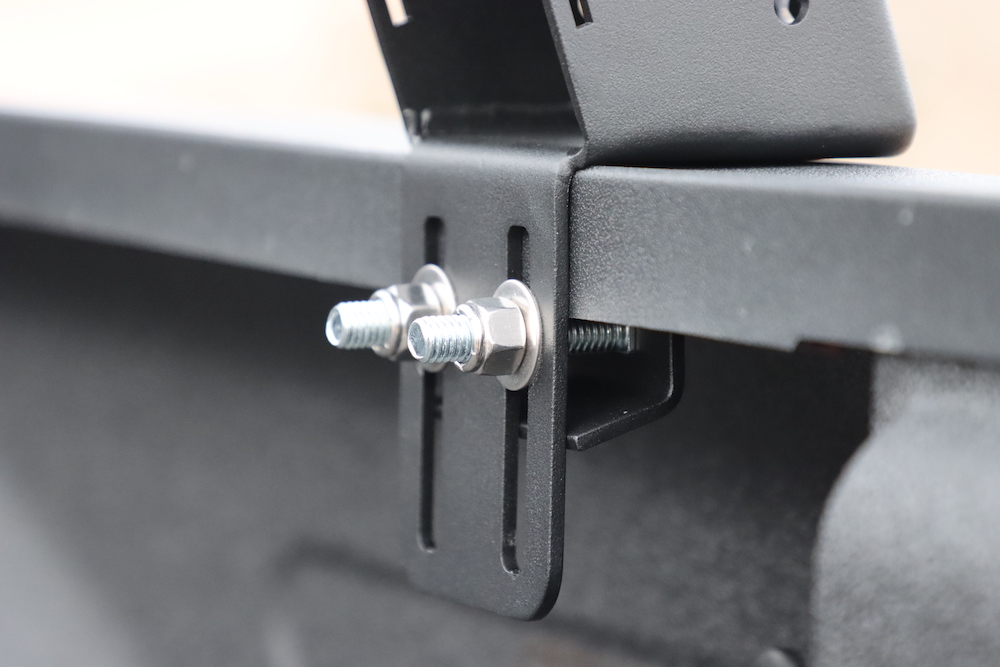 GODZ MFG is a Colorado-based company with a deep passion for full-size overland builds. Their goal is to offer the best accessories for ½ ton, ¾ ton, and 1-ton trucks. Amongst a wide selection of products they produce, their new bed rack is here to offer more modularity, increased strength, and easier installation for anyone ready to kick off their next build.
Take your off-road adventures to the next level with the GODZ MFG Bed Rack. Designed for rugged use, this bed rack utilizes ten-gauge steel legs and aluminum leg braces. Plus, large 3/8-inch stainless steel hardware is used to assemble the bed rack, allowing for uncompromised durability. All components utilize a textured powder coat finish so you can fearlessly tackle the toughest terrains without fail.
At the core of their bed rack is the best-in-class, adjustable Infinity Bar. This three-piece design also features a super tough ten-gauge steel construction in order to give you the stability you need, whether you're in the muddy woods of Pennsylvania or high in the mountains of the Colorado Rockies. The Infinity Bar allows for infinite adjustability, so you can fit truck bed widths ranging from 54 to 75 inches with no concern about overhanging bars or bars that are too small for your rig.
GODZ MFG's bed rack has enough features to make any adventure fun. Integrated zip-tie mounts allow for clean wiring when installing accessories such as lights and antennas. Slots on the top of the Infinity Bar allow for direct roof top tent mounting, meaning you no longer need to rely on flimsy clamps. Numerous mounting positions for the included aluminum leg braces allow for simple mounting of ActionTrax, shovels, axes, and more. Additionally, all offered bed racks utilize a no-drill mounting solution. Their bed clamps are strong, easy to install, and offer unlimited truck fitment. If you run a tonneau cover on your truck, GODZ MFG has you covered with fitments for Retrax XR and DiamondBack tonneau covers as well. Whether you drive a Ford, RAM, Chevy, GMC, Nissan, or Toyota truck, they are guaranteed to have a no-drill fit.
Are you ready to experience an adventure like never before? Try the GODZ MFG Bed Rack!
MSRP: Starting at $1,699
Ironman 4×4 — Uberlite Rooftop Tent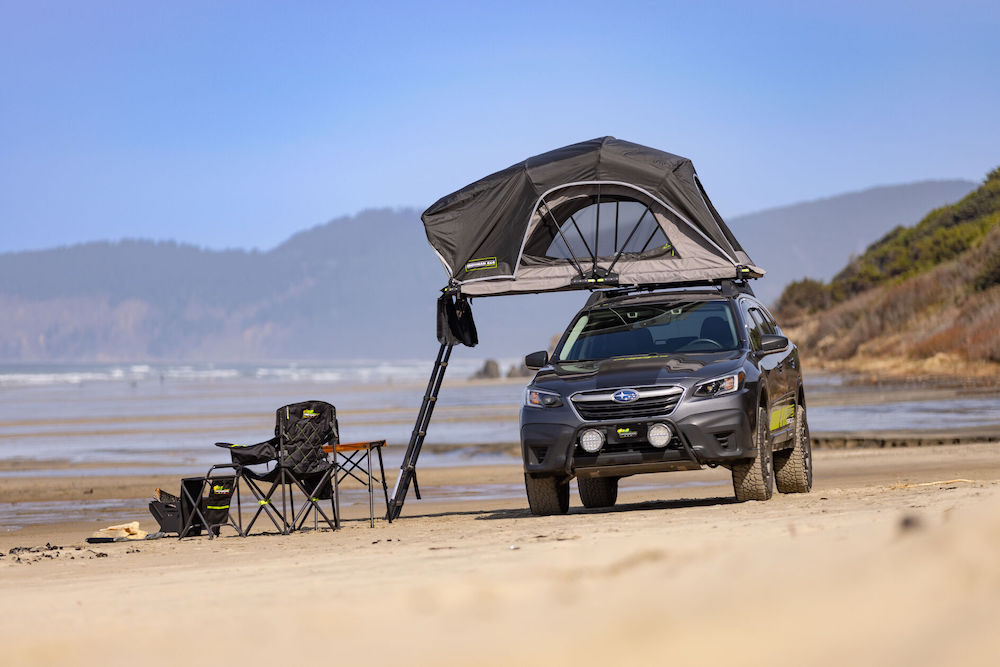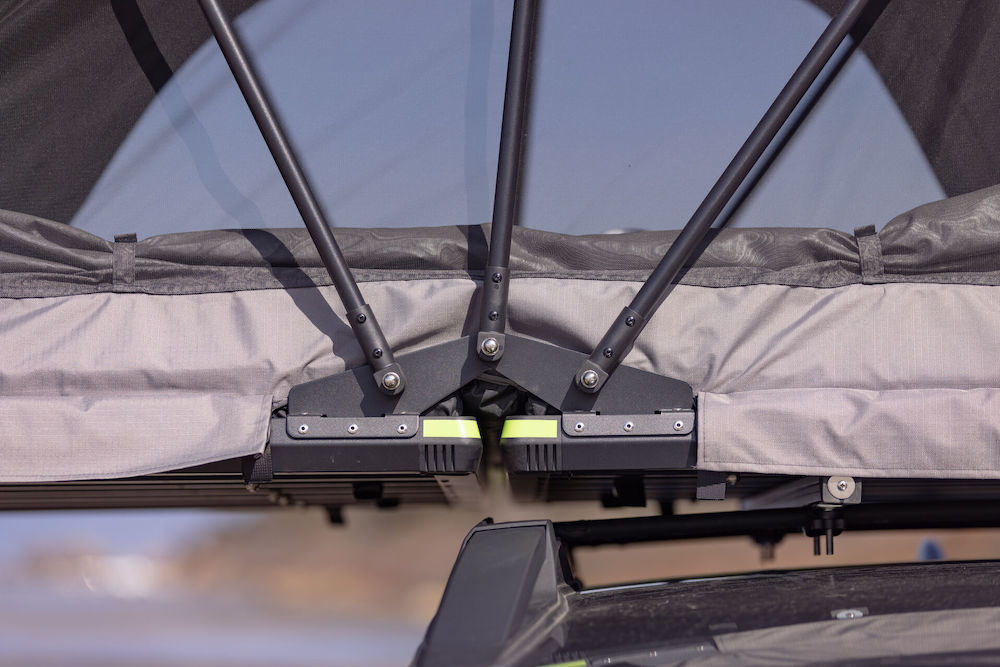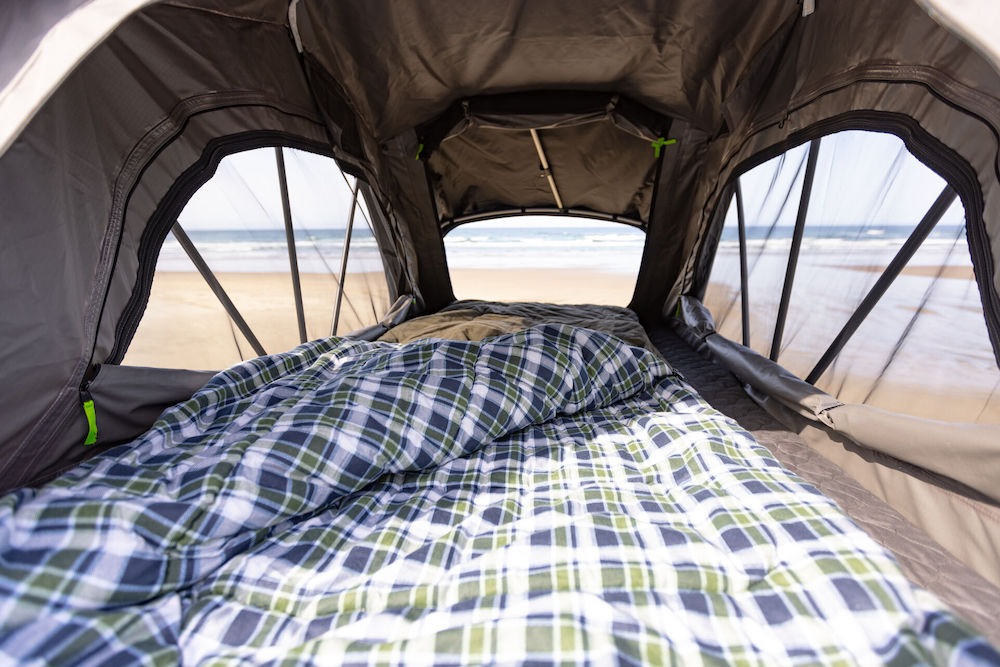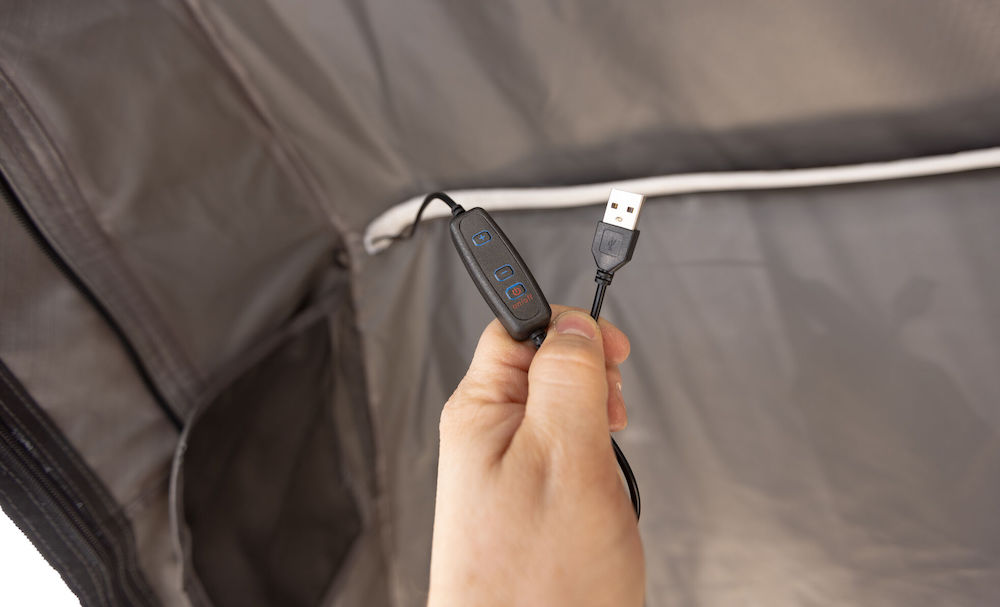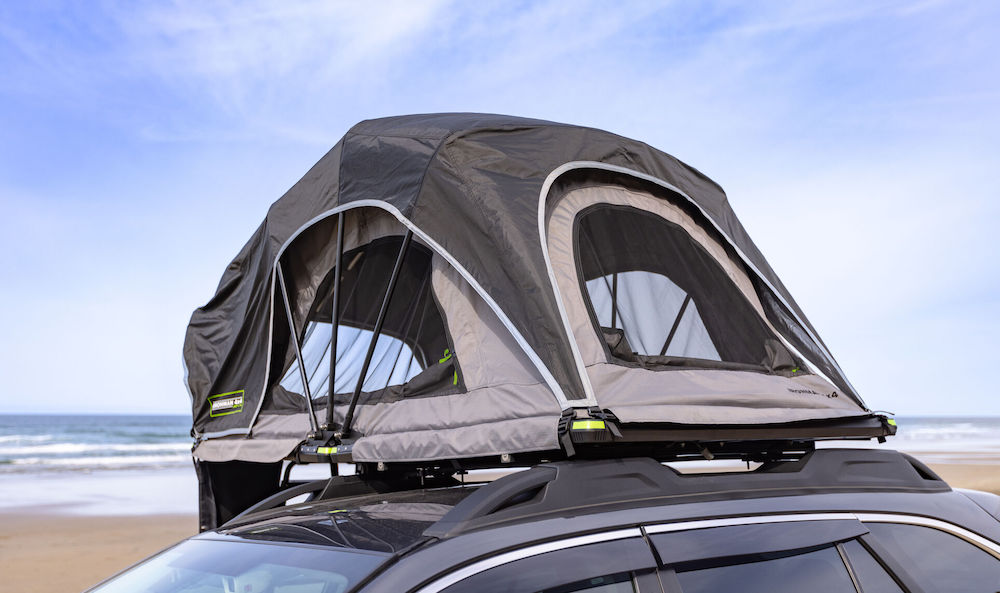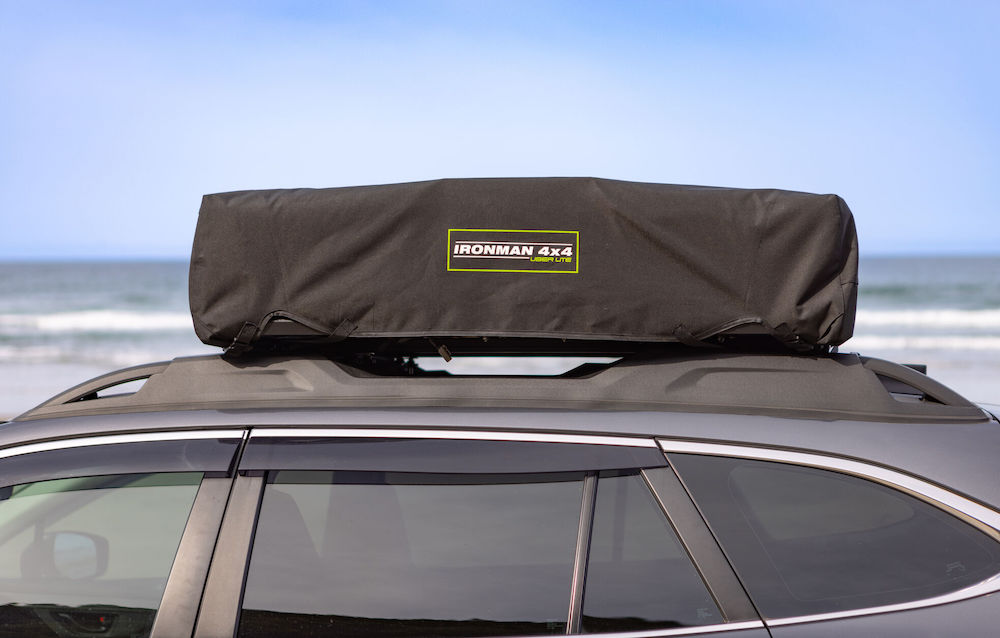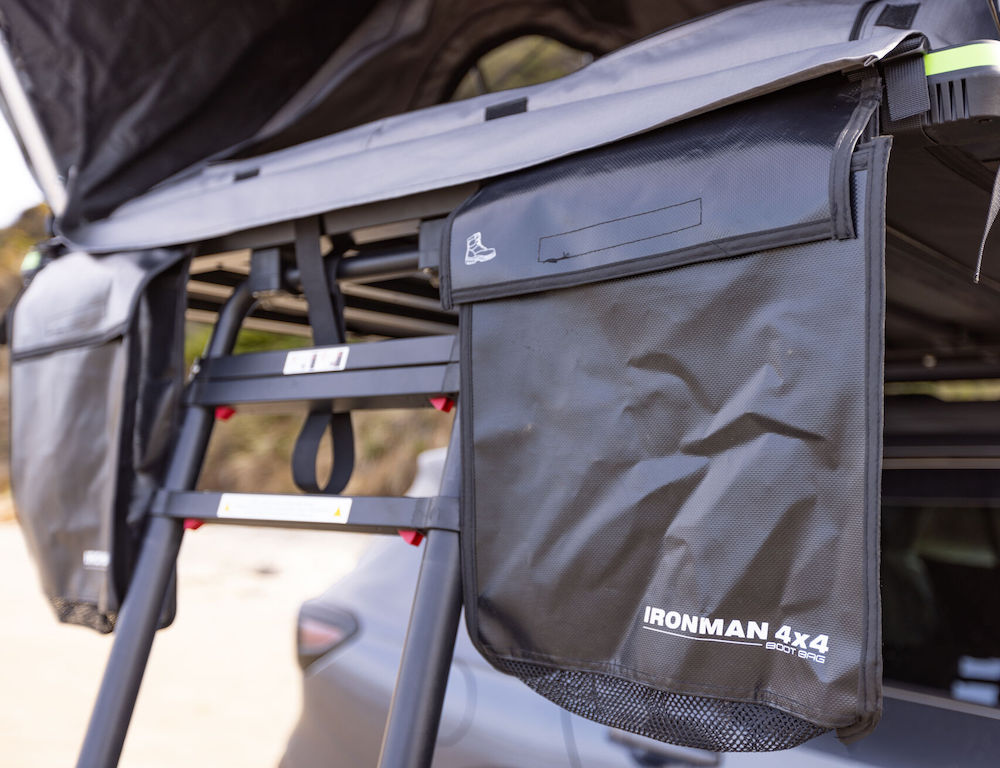 The new Ironman 4×4 Uber Lite Rooftop Tent packs a bunch of great features into a lightweight package that makes it an excellent option for camping and outdoor enthusiasts who prioritize convenience, mobility, and weight savings.
Its lightweight aluminum slat base and frame make it easy to carry and install. This is critical for smaller CUV/SUV vehicles that may not have the capacity to carry heavier rooftop tents.
The Ripstop material used for the tent is highly water-resistant and can withstand heavy rain and other harsh weather conditions, so you stay warm and dry.
The high-density foam mattress provides a comfortable sleeping experience for campers, while the built-in LED light strip adds night-time convenience and peace of mind.
The collapsible ladder makes it easy to climb up and down from the tent, while the boot storage bags keep your dirty shoes out of the tent and provide additional space for your gear and other essentials.
The Ironman 4×4 Uber Lite Rooftop Tent is an excellent option for campers who prioritize mobility, convenience, and comfort. Its lightweight and compact size makes it ideal for smaller vehicles, while its sturdy construction and water-resistant material ensure that it can withstand what Mother Nature throws at you.
MSRP: $2,499
Red River Rigs — American Safari JXL Extended Camper Conversion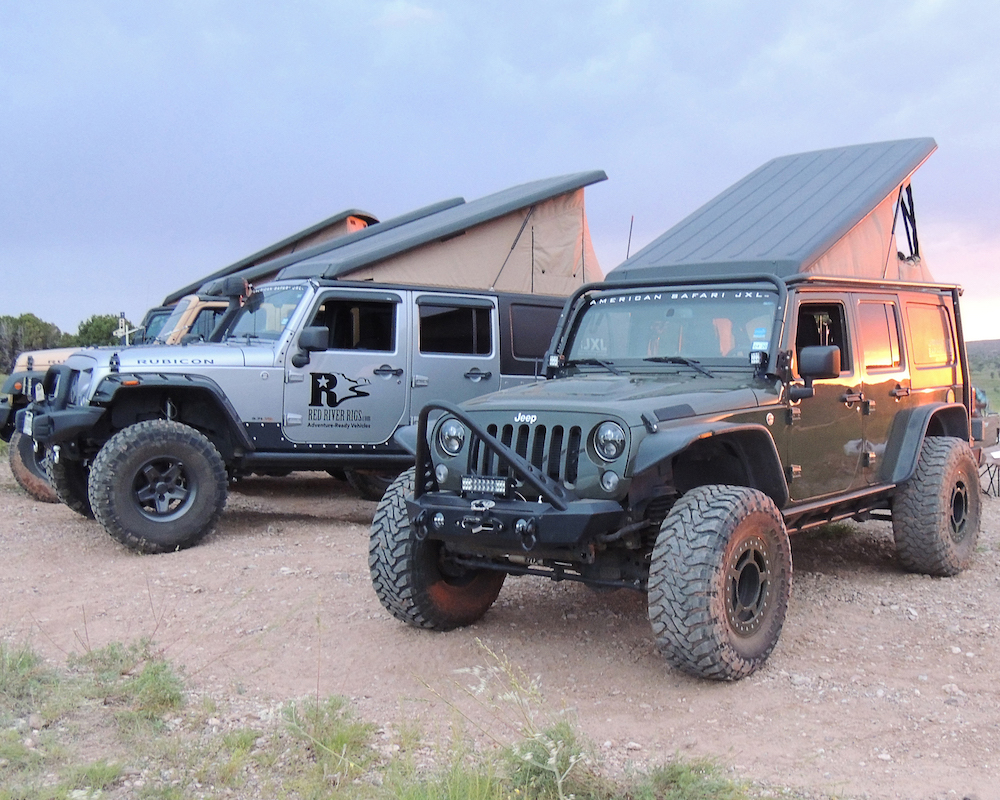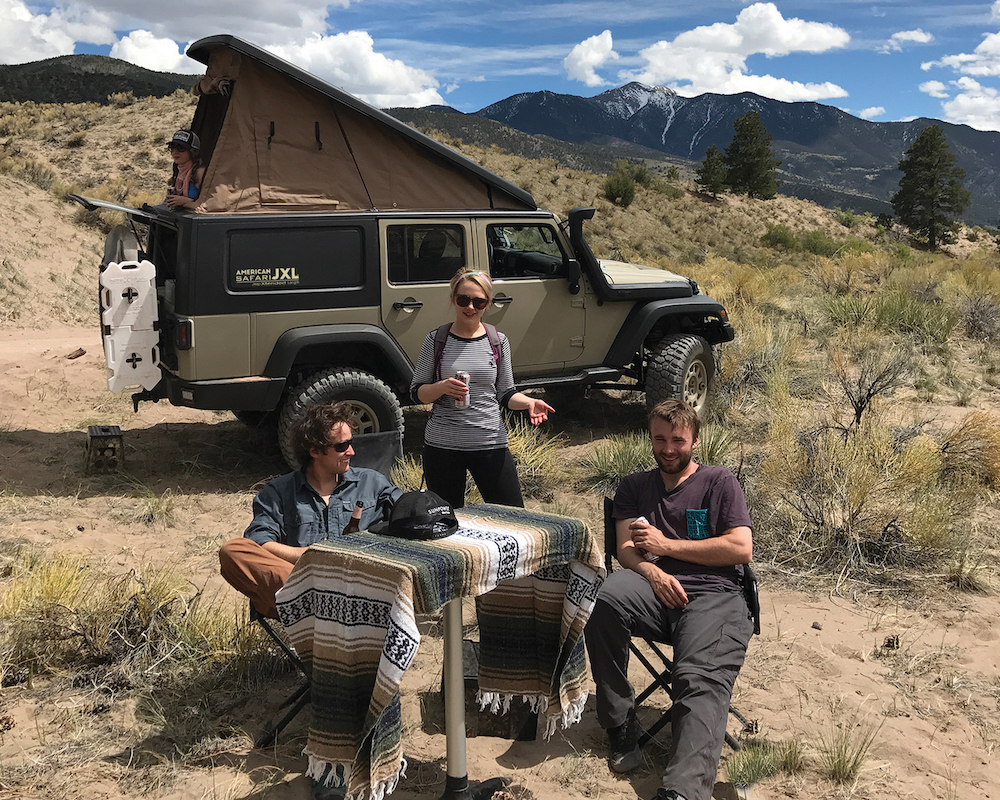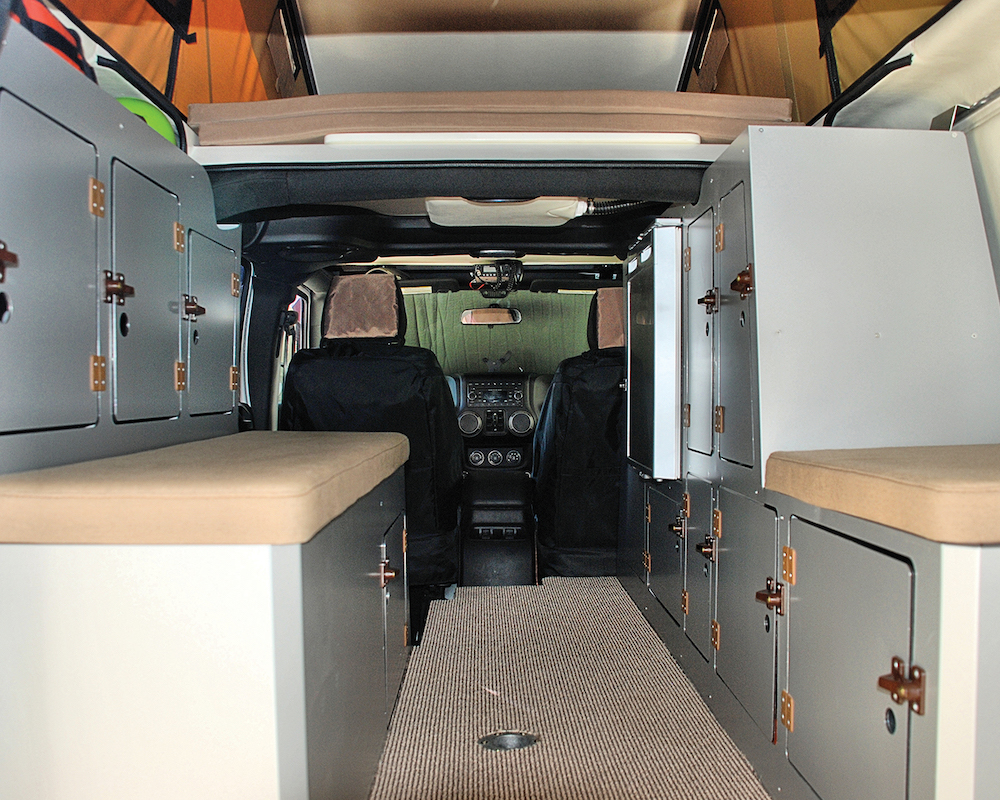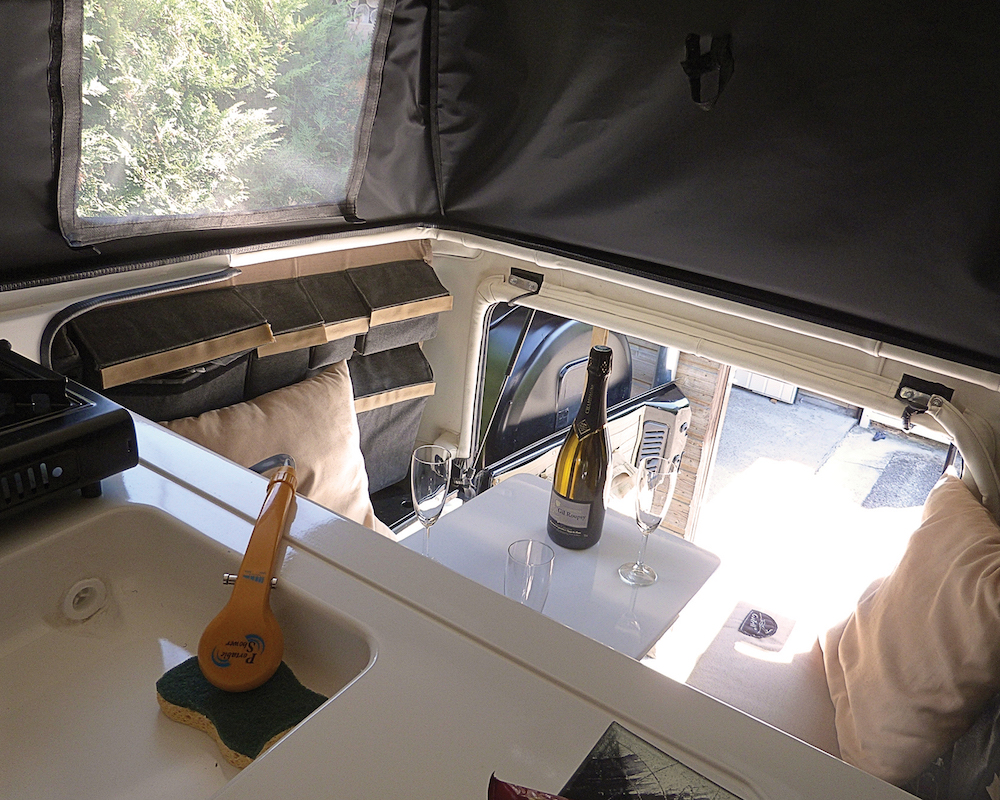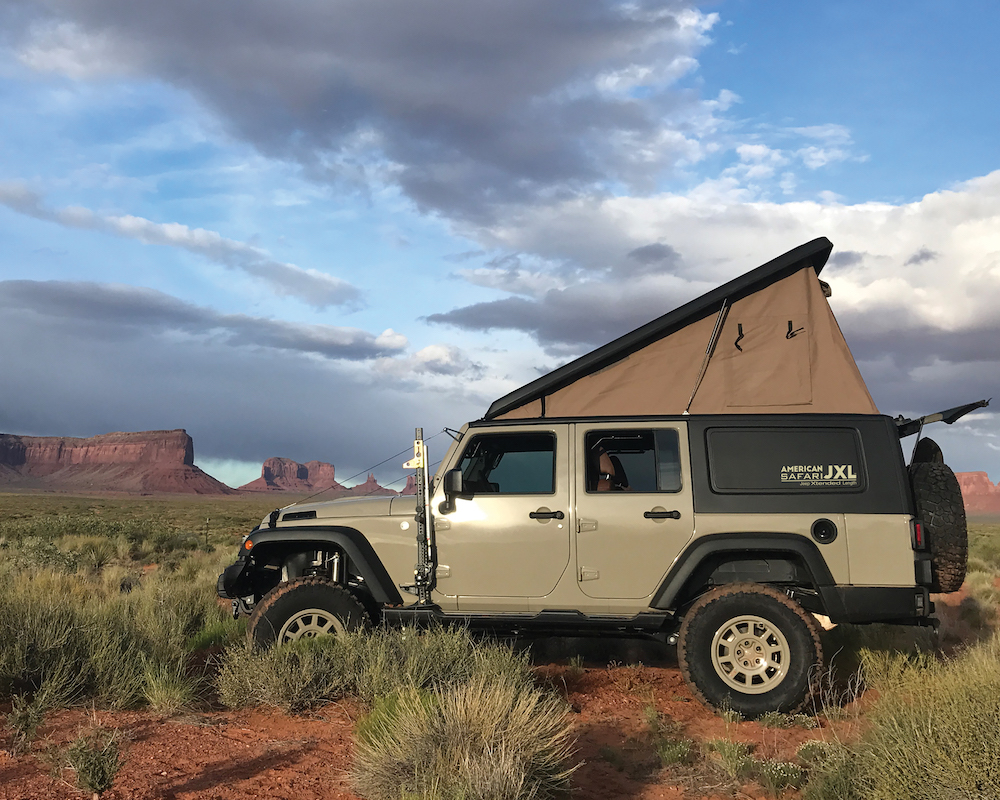 Wouldn't it be wonderful if you had the excellent off-road capability of a Jeep Wrangler, the full cargo room of a mid-sized SUV, a built-in camper, plus all the accessories and options to make your vehicle your own personal, self-contained, interior camping system? Now, you can with the America Safari JXL™ Extended Jeep Camper Conversion. The "JXL" adds 50% more cargo room to a stock Jeep with the addition of an ingenious body extension system that easily installs by bolting onto factory locations. The longer top, which contains the integrated pop-up tent, bed bunk, wash and cook platform, along with the extended bumper system nestling a self-contained entrance ladder, completes the perfect solution for your overlanding adventures.
The American Safari JXL™, from Amarillo, Texas-based Red River Rigs, is a unique, self-contained Jeep camper accommodating room for the whole family with dual-level sleeping options suited for four people. Different interior camping configurations add to your off-grid enjoyment. The Open Concept option offers adventurers the most interior cargo room available in a Jeep Wrangler with the flexibility to accommodate custom cargo, camping, or overland gear arrangements.
Explore in the most off-road capable camper in the overlanding community without losing comfort or convenience. The camper I design features two convenient padded storage benches and a removable table for an interior cooking and seated dining arrangement. The Camper II layout includes two rows of lightweight cabinetry and longer flooring into the backseat row as well as an interior dining set up with seating and table. All JXL Systems come with an interior cooking and wash platform with an integrated sink as standard gear. Optional water, shower, and cassette toilet systems are easily fit within the spacious rear cargo area.
For the serious overlander who needs even more gear, Red River Rigs offers optional patent-pending accessories such as the two-tiered Expedition Roof, allowing for a plush four-inch mattress and increased headroom, the unique Swing-Out Cargo Rack for easy gear access, and the innovative Ring Rack for mounting awnings and lights while still permitting the roof and tent to raise without interference. And for the rugged off-roader, the steel Expedition Bumper includes extended side armor to protect the JXL body extension, integrated Aussie-style side storage in the bumper itself, as well as rear lights, a spare tire swing out, and an interior access ladder.
Red River Rigs offers the JXL System in three ways. Turnkey American Safari JXL Jeeps are available with off-road builds, and the JXL System is already installed. JXL System installation for your overland Jeep is available at the corporate headquarters in Texas. And the JXL System can be shipped for local installation.
MSRP: Starting at $19,499.99
Village Camp — Luxury Adventure Cabins in Flagstaff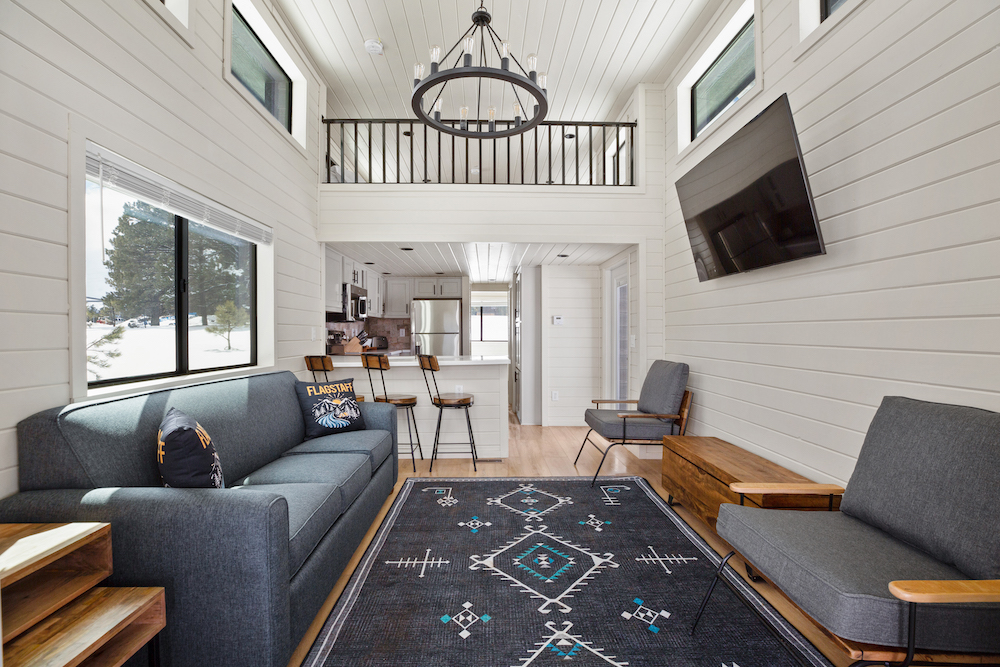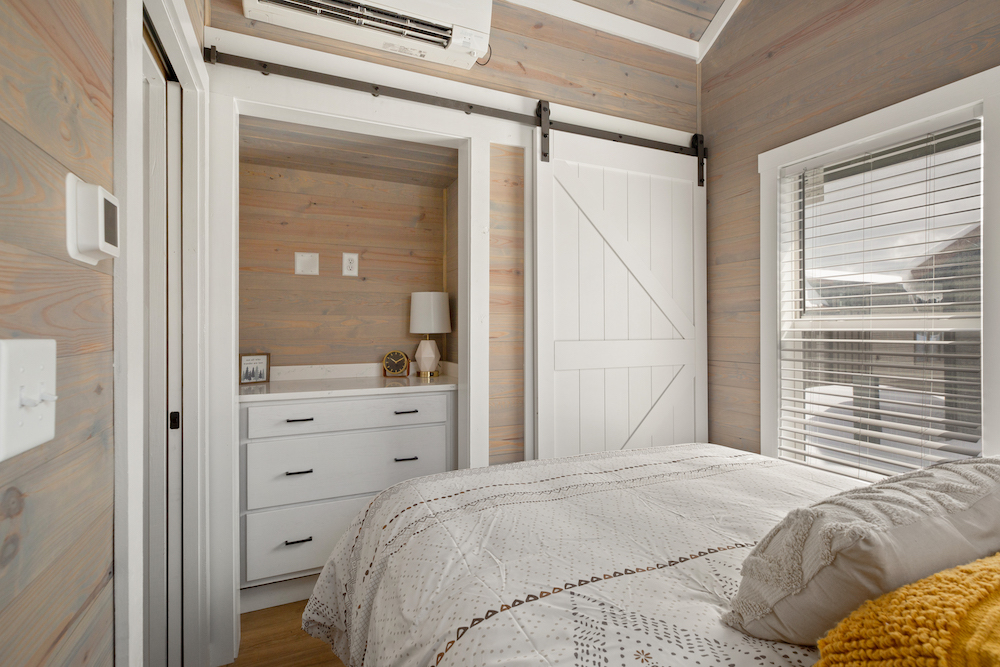 Village Camp Flagstaff is a new type of luxury outdoor resort community nestled in the scenic mountains of Northern Arizona. Designed for second homeowners who crave the mountain-loving lifestyle. Modern outdoor-inspired cabins combine all the luxury comforts you deserve with the outdoor adventure you desire.
All cabins feature one bedroom, one bathroom, a loft, and a kitchen with full-size appliances. With multiple models to choose from, you can find a cabin to fit your needs. Additional bunk beds for more guests or a rooftop deck for stargazing, Village Camp has an Adventure Cabin for you to create your very own basecamp.
Village Camp also features modern amenities designed to enhance connectivity to nature as well as fellow travelers. Enjoy the state-of-the-art clubhouse with unobstructed views of Humphrey's Peak, a resort pool, an amphitheater for live music, a bistro, and so much more! On-site outfitters can curate custom experiences for you and your family.
Conveniently located off the I-40 just 10 minutes west of Flagstaff, Village Camp also features RV Sites and Cabin Rentals for Adventurers to stay their own way.
MSRP: $259,995
TuffStuff Overland — Alpine SixtyOne Roof Top Tent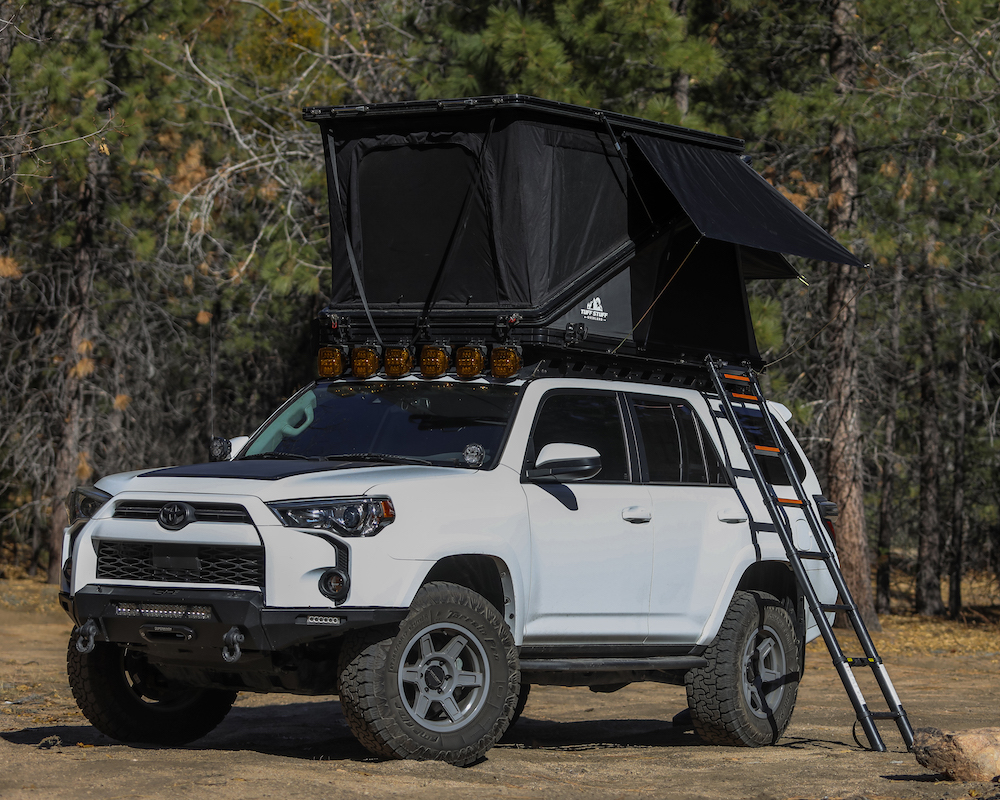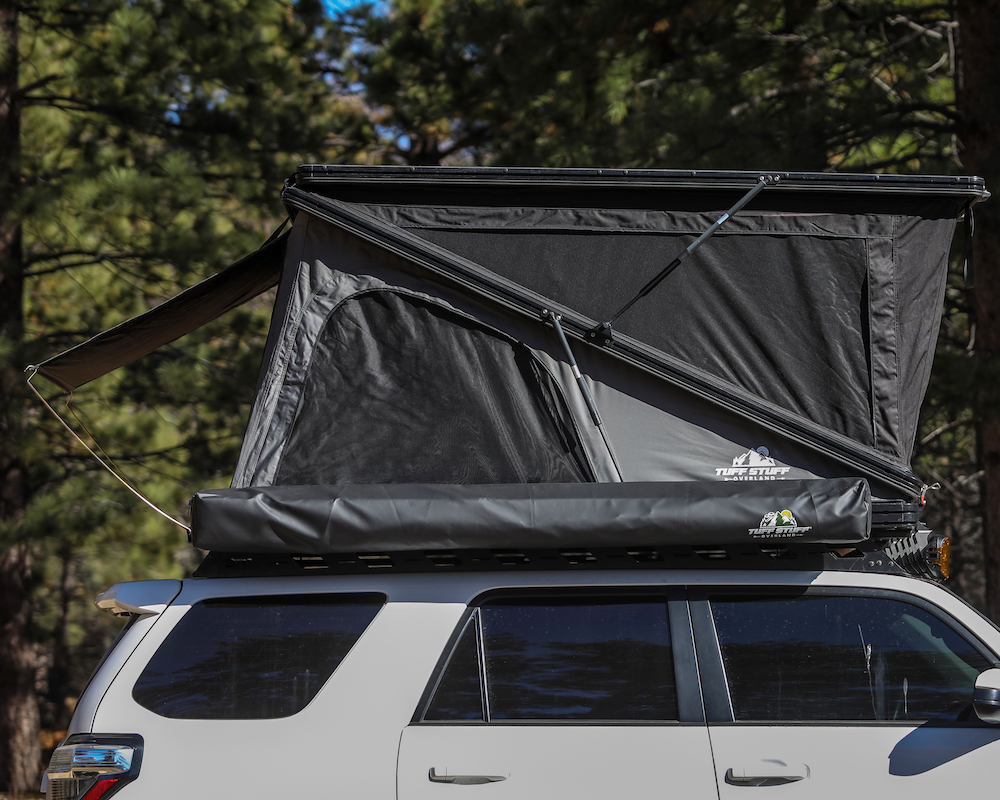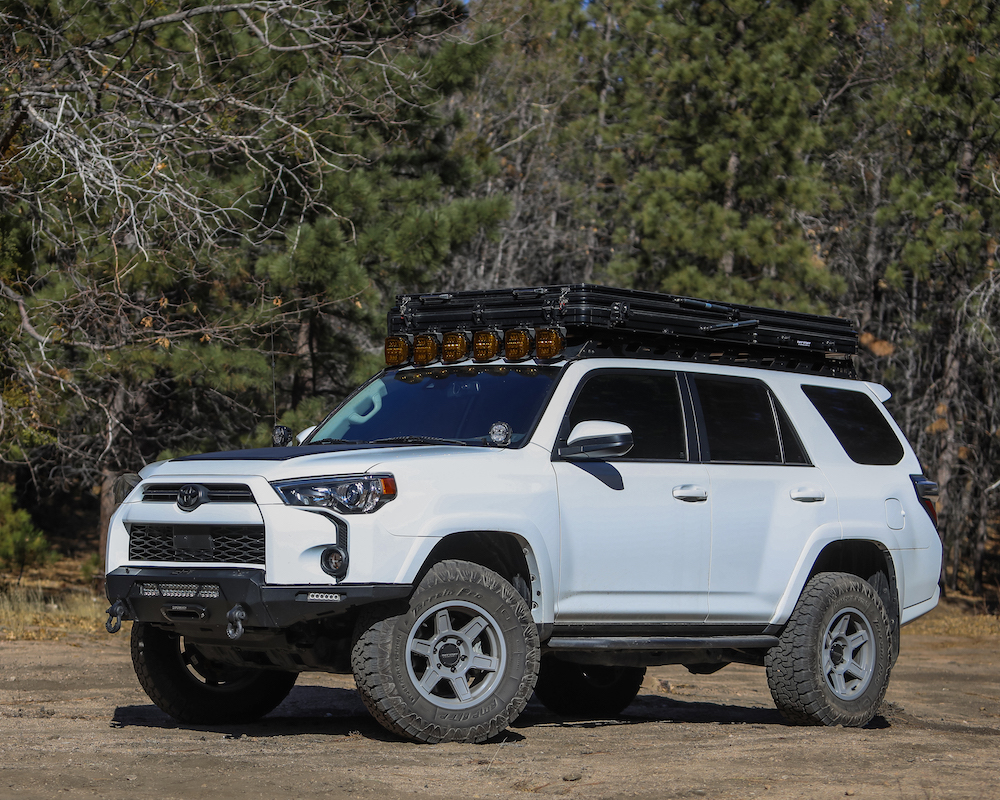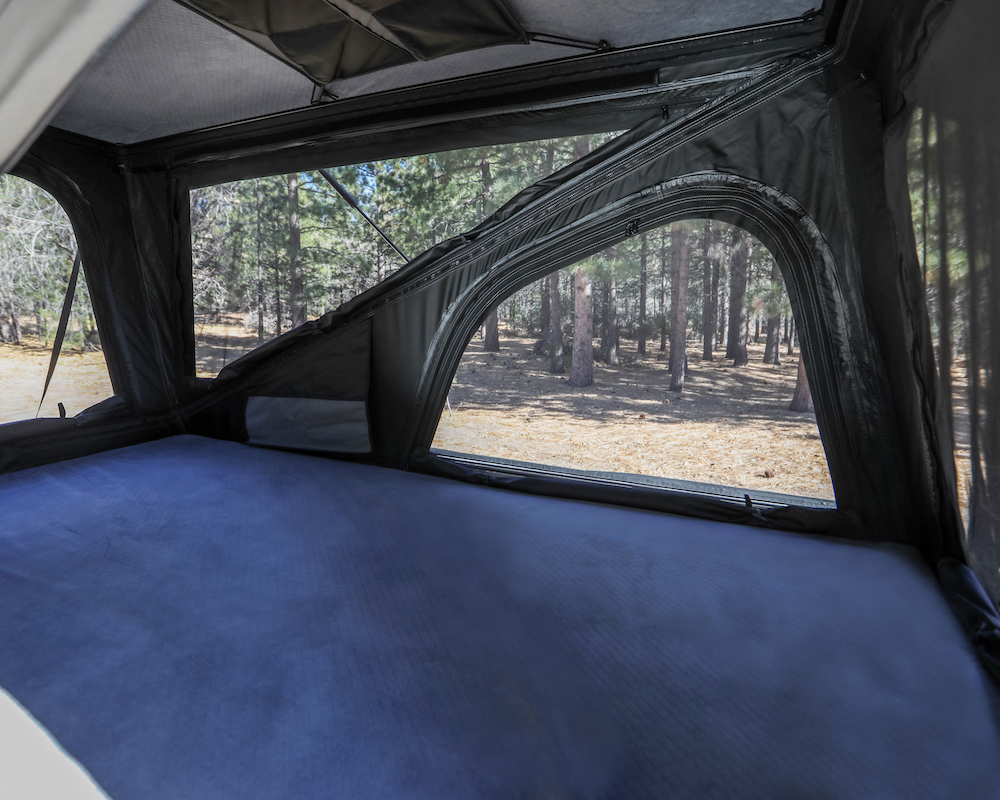 Tuff Stuff Overland's Alpine FiftyOne (51" wide) and SixtyOne (61" wide) rooftop tent is built to last. Their aluminum hard shell and roof rack is top-in-class and strong enough to carry your mountain bike, surfboards, kayak, rooftop storage, or anything else you plan to bring on your next Overland adventure.
Their Alpine Roof Top Tent features a dual-action opening roof. Open the rear section of the tent for a wedge or open the front section for a full pop-up and additional windows with screens. One person can deploy the Alpine in one minute for quick & easy setup and pack down! It's constructed with durable antibacterial waterproof, high tear resistance, and stronger tensile than normal rooftop tent fabric. Their Alpine is the ultimate aluminum rooftop tent that can withstand the elements for 4 season camping!
MSRP: $3,499.99 – $3,999.99
Xpedition Trailers — Voyager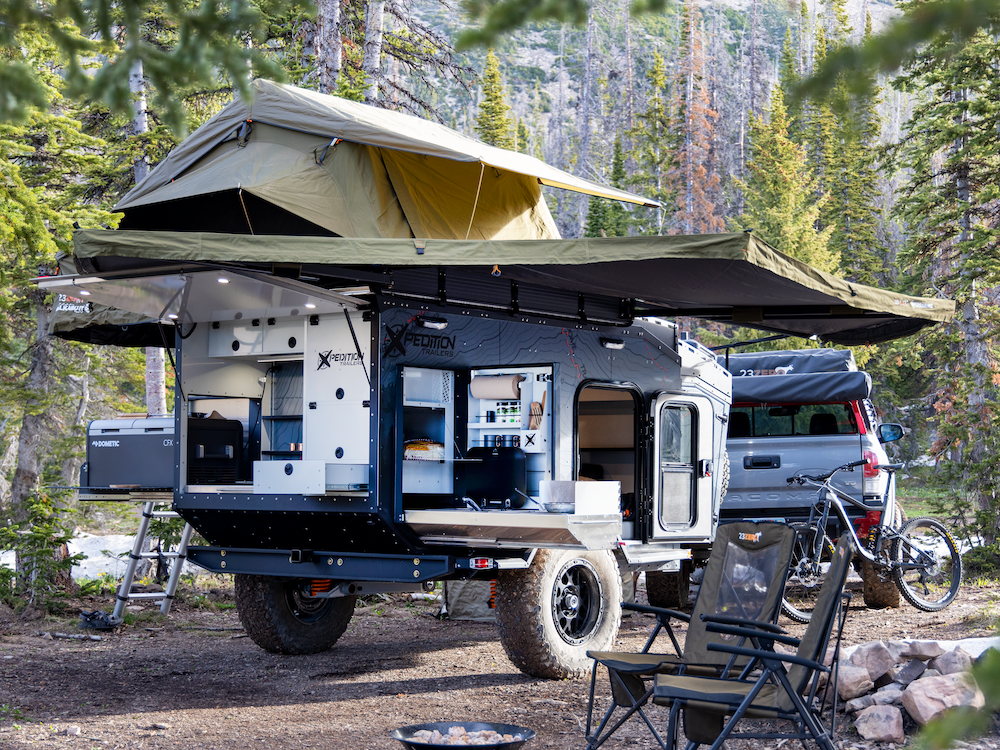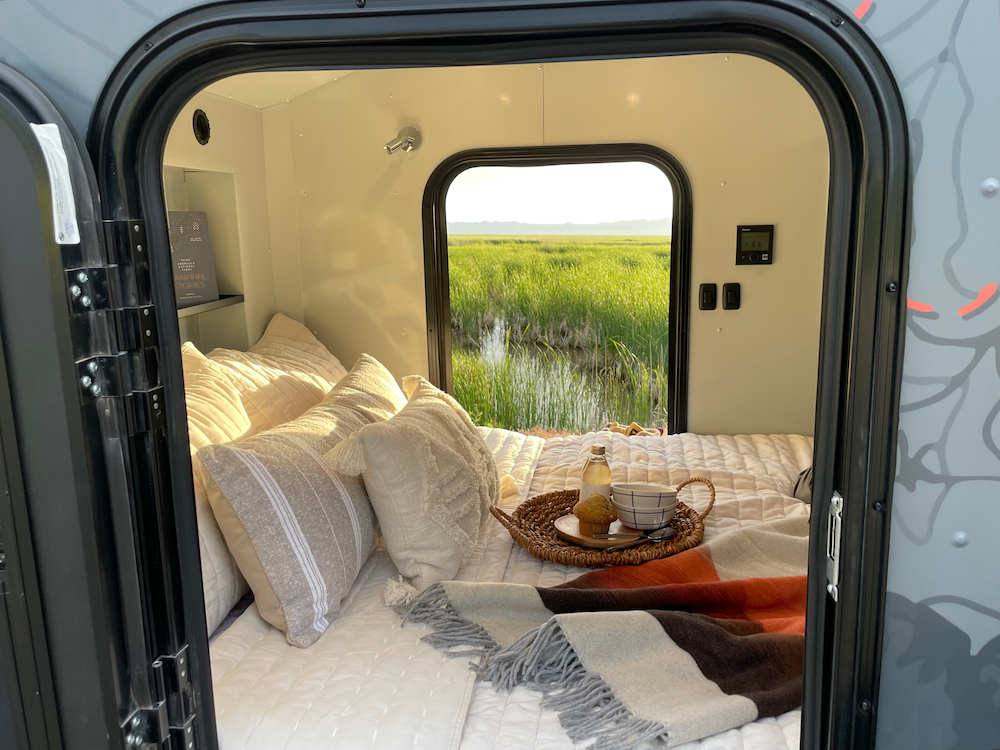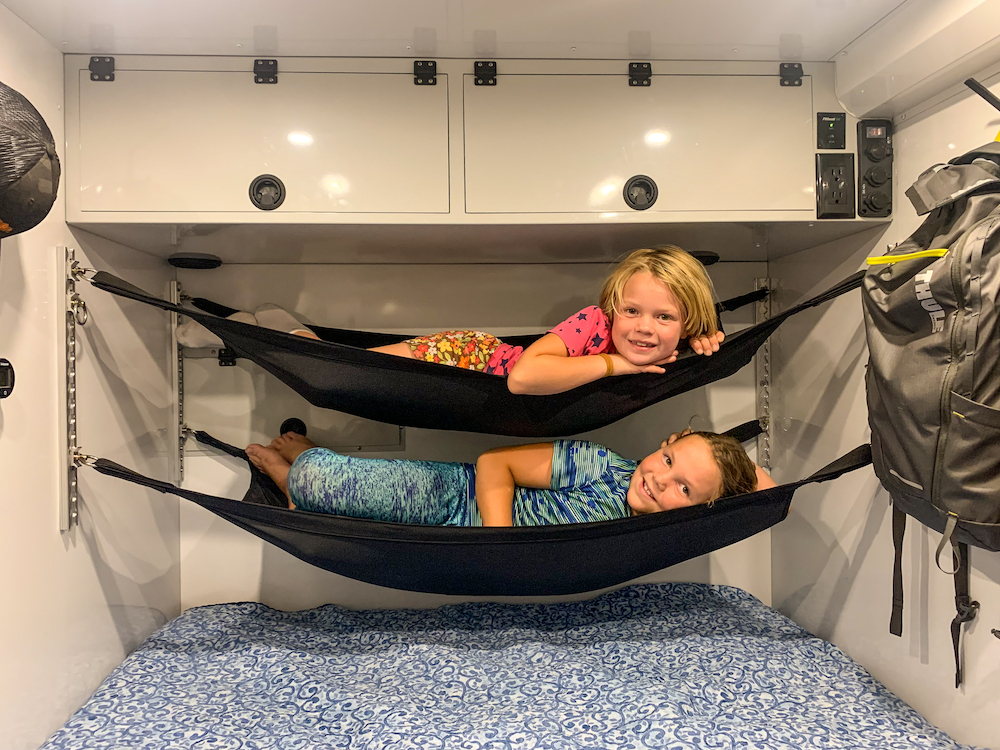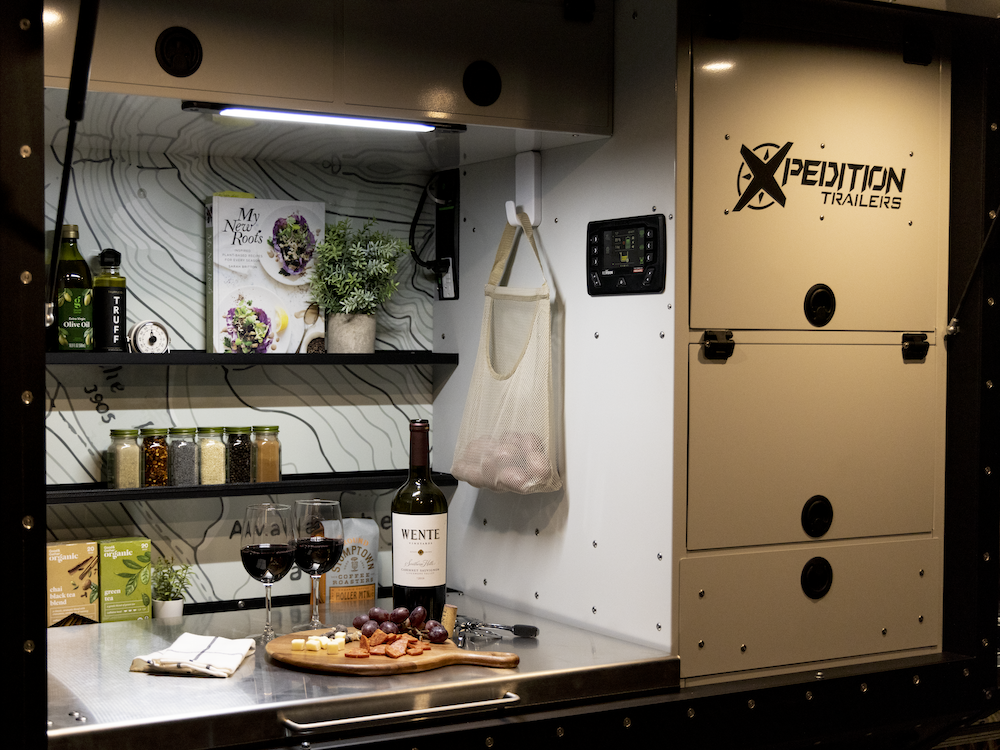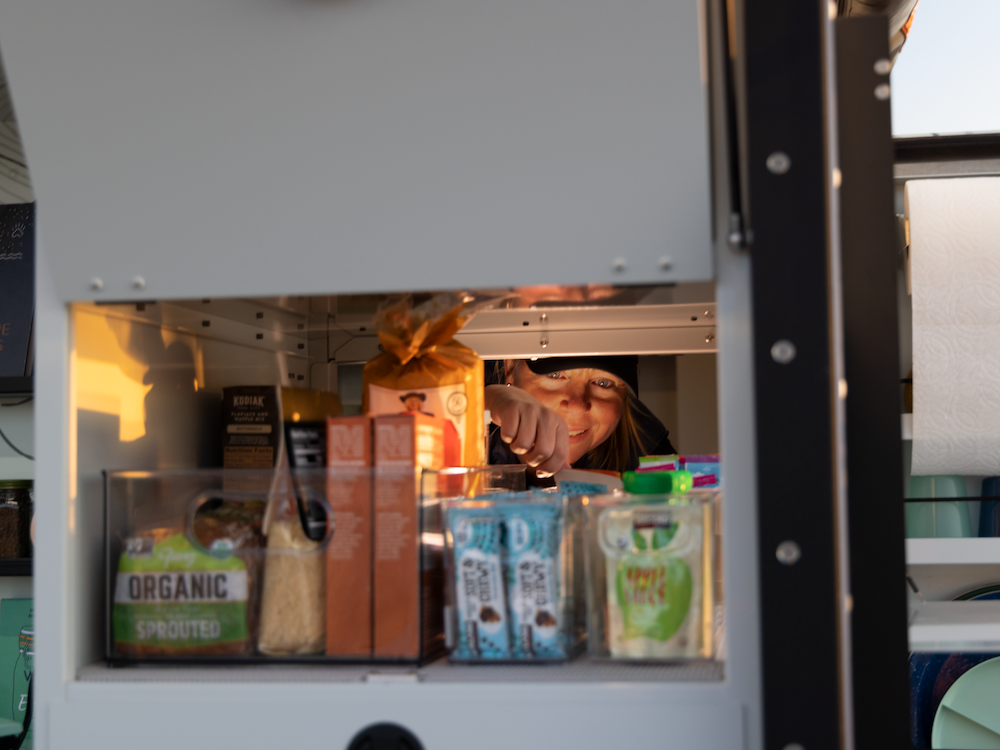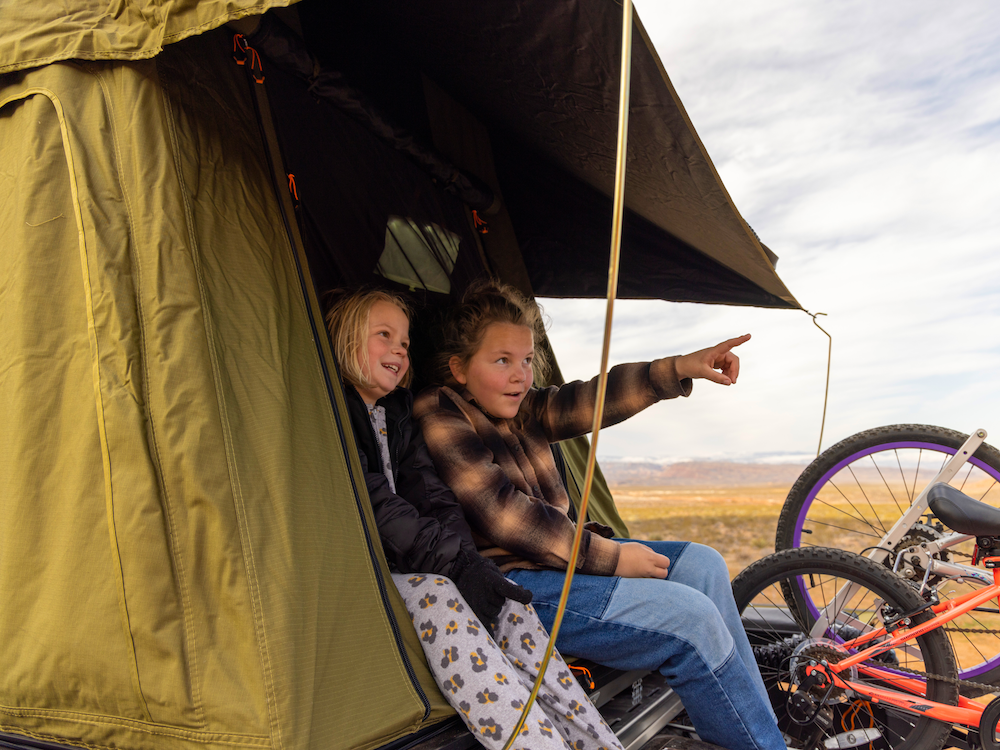 Sleeping on or near the trail has never been easier or more comfortable than with Xpedition Trailers' Voyager Trailer. The Voyager can get you closer to those backcountry trails than any other trailer in the industry. This baby is built for the trail; with its in-house engineered and manufactured X-Ride suspension, off-road tires & rugged structure. Just hitch it up to your off-road vehicle and head off-grid.
Take all the comforts of home on the trail with you; take a hot shower, enjoy a nice warm dinner, brush your teeth in the kitchen slide-out sink, tuck yourself into the heated cabin, and get yourself a good night's rest before your feet hit the trail when the sun comes up. Sleep in comfort year-round with the Voyager's Truma Combi Eco® standard furnace, multi-speed reversible fan, working screened windows, and our optional A/C unit. If you need extra space for kids or friends, choose the optional roof-top tent and use the standard heat port to pump that nice toasty air right into the tent so everyone sleeps comfortably in any season.
With its all-aluminum construction and a base dry weight of only 2,600 lbs, this trailer packs a lot into a small package. The Voyager's thoughtful and efficient design makes it so you don't have to settle for less when choosing a teardrop trailer. Its spacious, fully insulated, 130 cubic ft cabin area is equipped with ample storage areas, reading lights, dimmable cabin lights, power for all your devices, and a high-density convertible mattress. And if, after a long day on the trail, those midnight snack cravings hit hard, don't worry. We've got you covered! Our kitchen pantry snack cabinet is accessible from inside the main cabin, so you don't even have to get out of bed when that craving hits.
And speaking of food, there's nothing like going to bed with a nice warm tummy after a "home-away-from-home-cooked" meal. Cook up anything you want in our gourmet galley-style kitchen, the largest in the teardrop industry. The Voyager kitchen features three separate prepping areas, three extra-large cabinets, an oversized drawer with a cutting board, two pull-outs that can be used in multiple configurations, and a door organizer for all your spices, cooking utensils & tableware. There really are no limits to what kind of trail snacks or post-adventure meals you could whip up in the Voyager's well-equipped kitchen.
Sleep in comfort anywhere your adventures take you with the Voyager by Xpedition Trailers. Designed, engineered, and built in North Salt Lake, UT, USA.
MSRP: Starting at $47,000