Kurgo wants to make sure that your canine companion is just as prepared for adventure as you are. Their product line includes a host of harnesses, hydration solutions, and everything else a backcountry buddy needs to stay safe, fueled, and ready to go.
Cooling Coat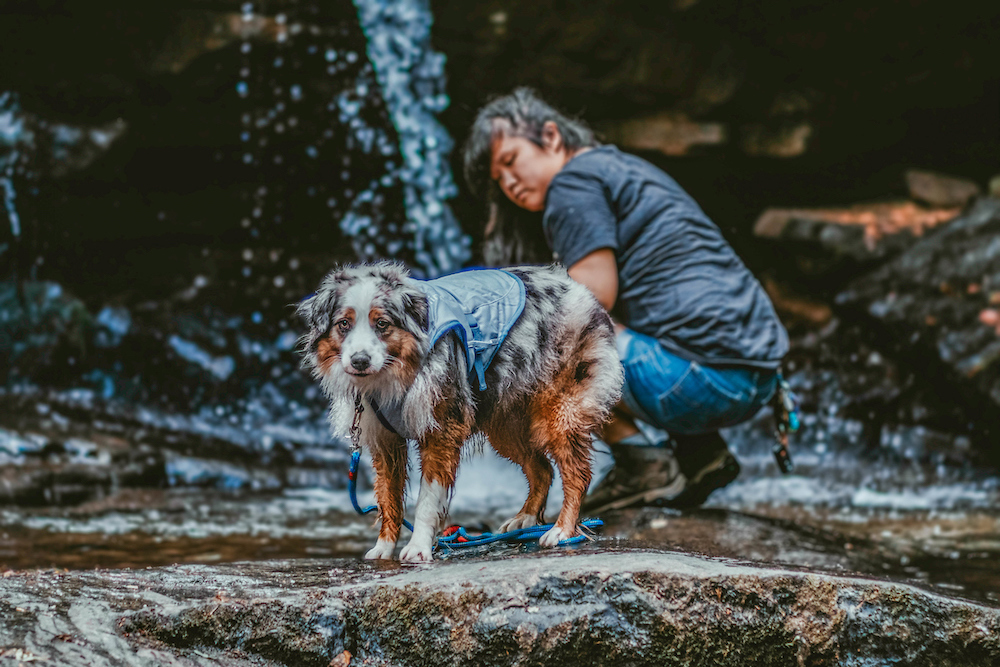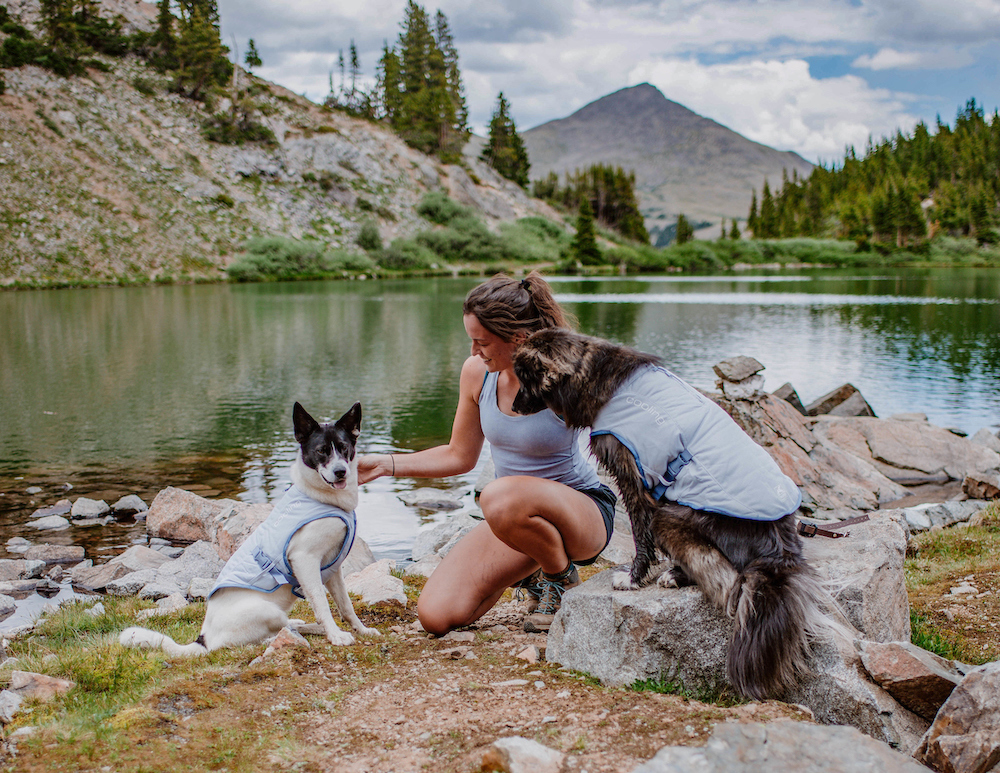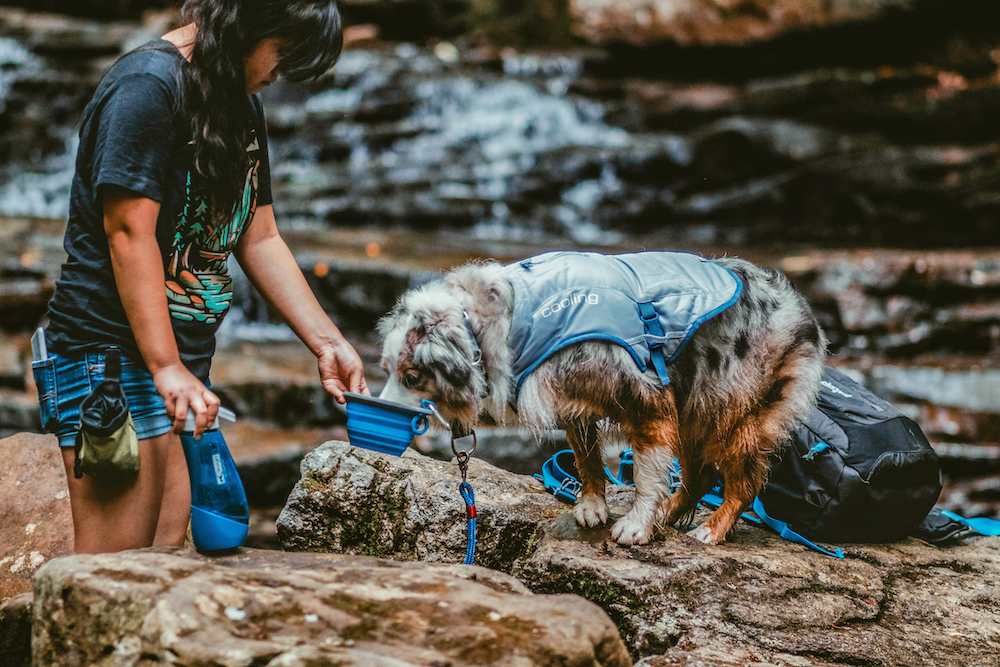 The Core Cooling Vest is the answer to wearing a fur coat you can never really take off. Simply wet the vest with cool water, wring it out, and strap it on. As the water evaporates, it takes your dog's body heat with it, keeping him fresh and comfy. Re-wet as many times as is necessary to make it to the end of the outing.
The two way zipper is great for accessing a harness or collar, and two side adjustment points featuring Nifco release buckles make it easy for dialing in the fit. The color not only looks good, but it also reflects the sun's heat. The Cooling Coat also features reflective accents for added safety.
MSRP: $58.95
Tailgate Dumpster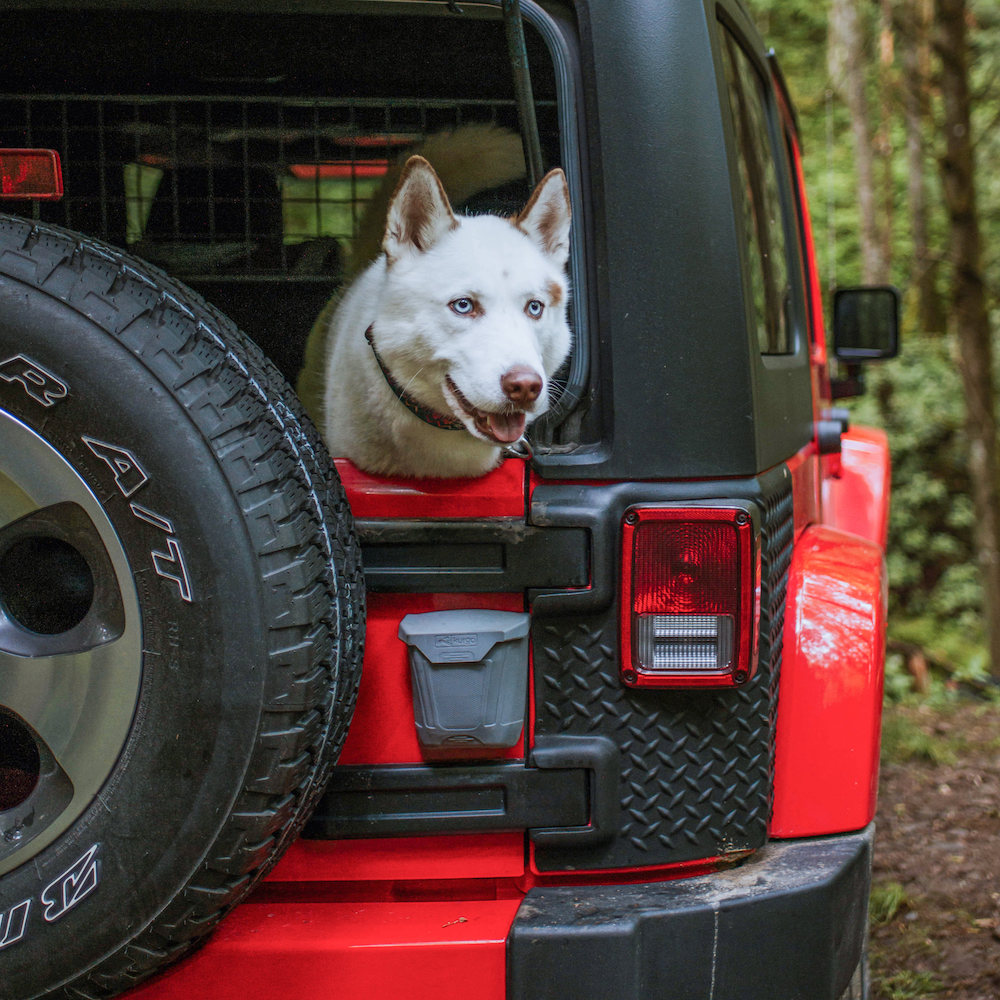 Picking up your dog's poop is one thing. Carrying it around for an hour-and-a-half looking for a trashcan is another.
The Tailgate Dumpster is a simple, long-overdue idea: a silicone wastebasket that attaches magnetically to your vehicle. A single-magnet closure ensures the poop is put away and stays away.
It fits one or two full waste bags in a 5 x 5.5 x 2.5 inch package. The silicone construction means it's easy to clean.
MSRP: $19.95
Wander Splash Free Bowl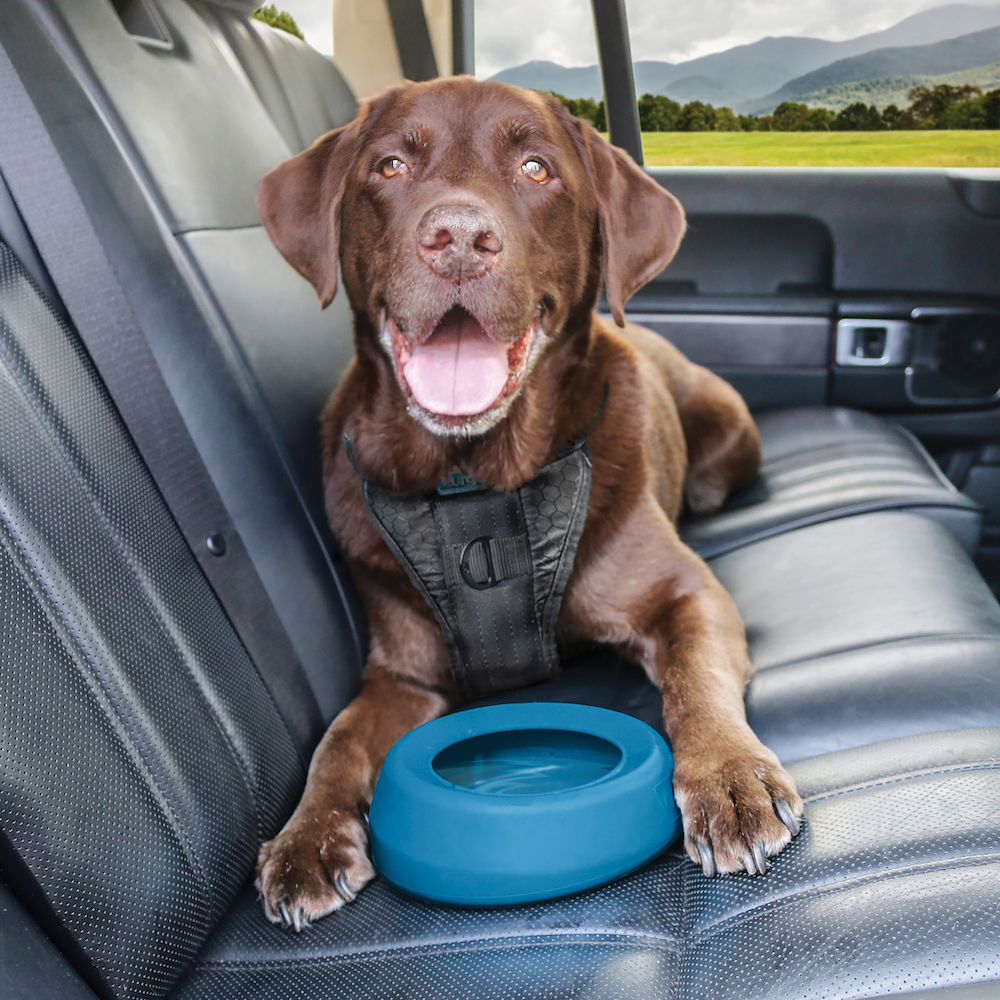 It seems slightly cruel that dogs get as thirsty as they do, yet can't hold to-go cups.
Our Splash-Free Wander Water Bowl has cracked the code. The high sides and tapered lip prevent splashing, while the unique wedge design ensures that it lays flat on the seat. Because having a refreshing drink whenever you want it really softens the blow of missing out on opposable thumbs.
The Wonder Splash Free Bowl holds 24 ounces of water, and it's PVC and BPA free. It's great for food and water so your canine companion can stay refreshed and full. Once you return home, you can toss it in the dishwasher so it will be clean and ready for your next adventure.
MSRP: $13.95
Baxter Dog Backpack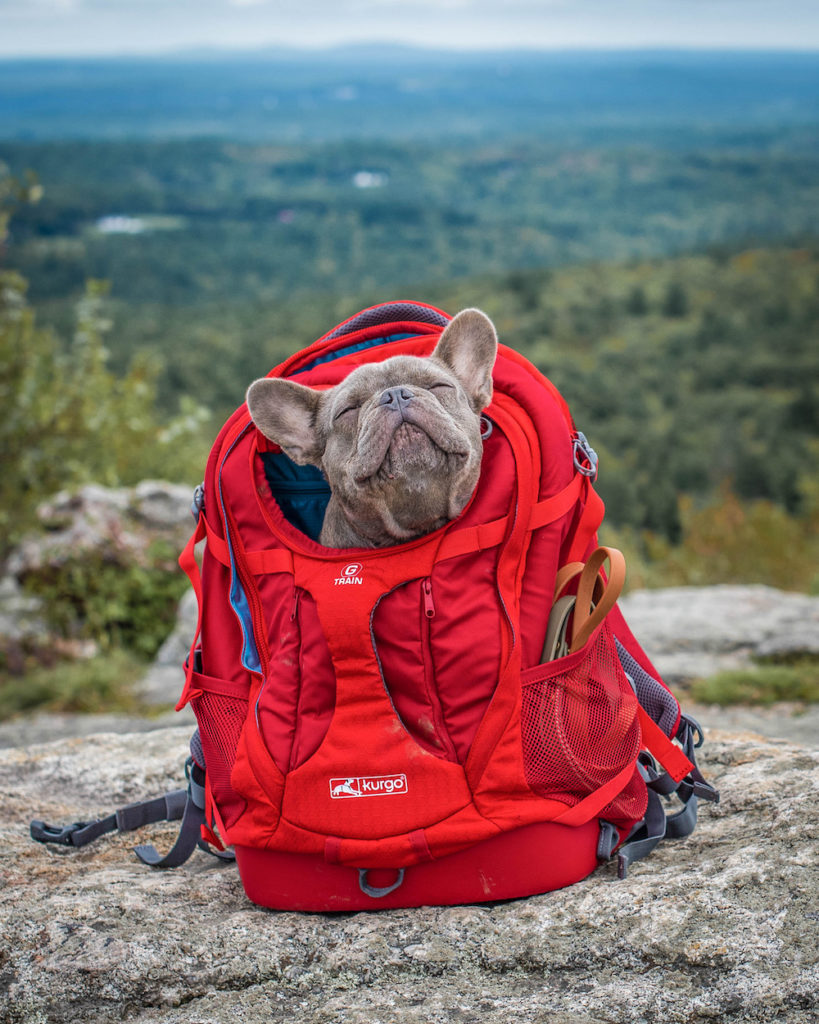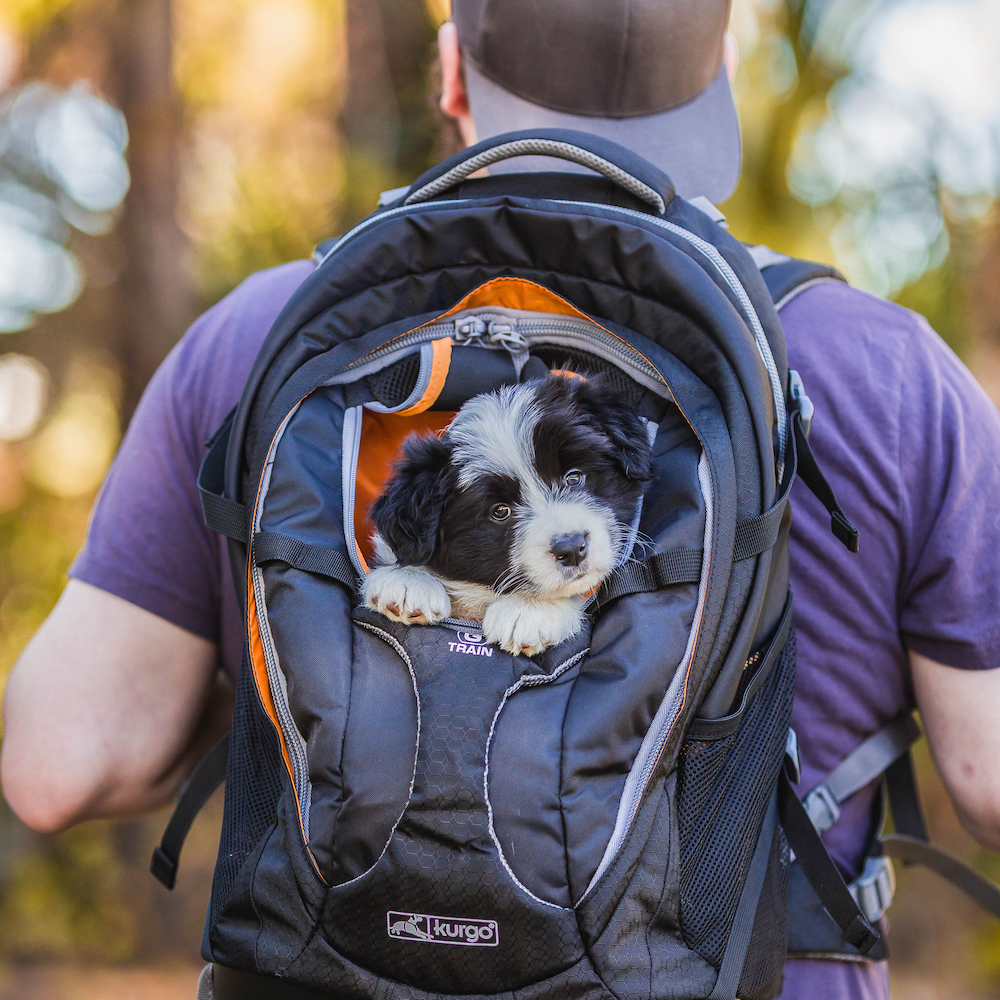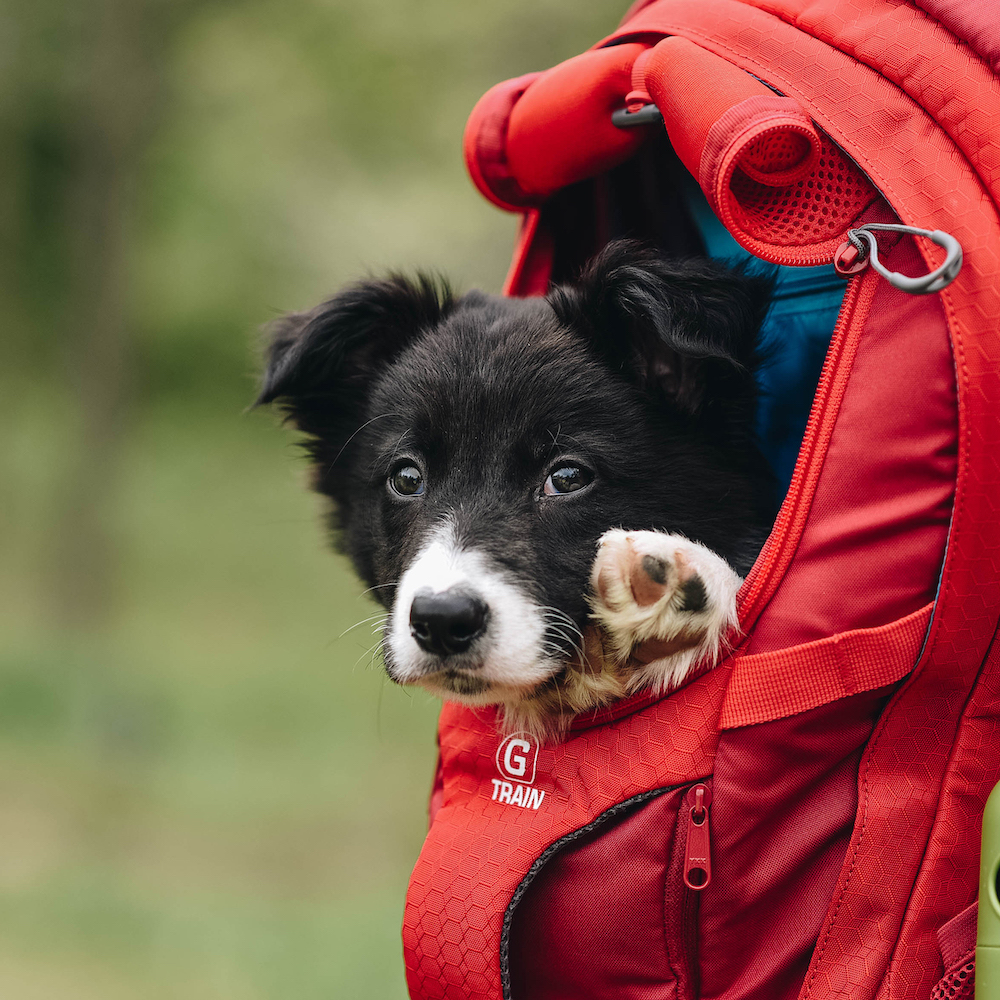 Your dog just wants to help. Let her.
The Baxter Pack lets your dog share the load when you're off on an adventure. Lightweight, durable, and fully adjustable with eight different adjustment points, it features ergonomic spine support and perfect balance for even weight distribution and ultimate comfort. It also features a large, handle on the back, because we all need a helping hand from time to time. Fill it with treats, toys, first aid supplies, and anything else she might need along the way, and let her feel useful.
With eight adjustment points the Baxter Pack can fit a wide variety of canine body types. The two saddlebags have plenty of room for a balanced backcountry loadout. The handle is helpful for control or assistance over obstacles. A rear-mounted leash hook keeps everyone safe and under control. Most importantly, the ergonomic support contours to your dog's back for a comfortable fit.
MSRP: $59.95
G-Train Backpack Dog Carrier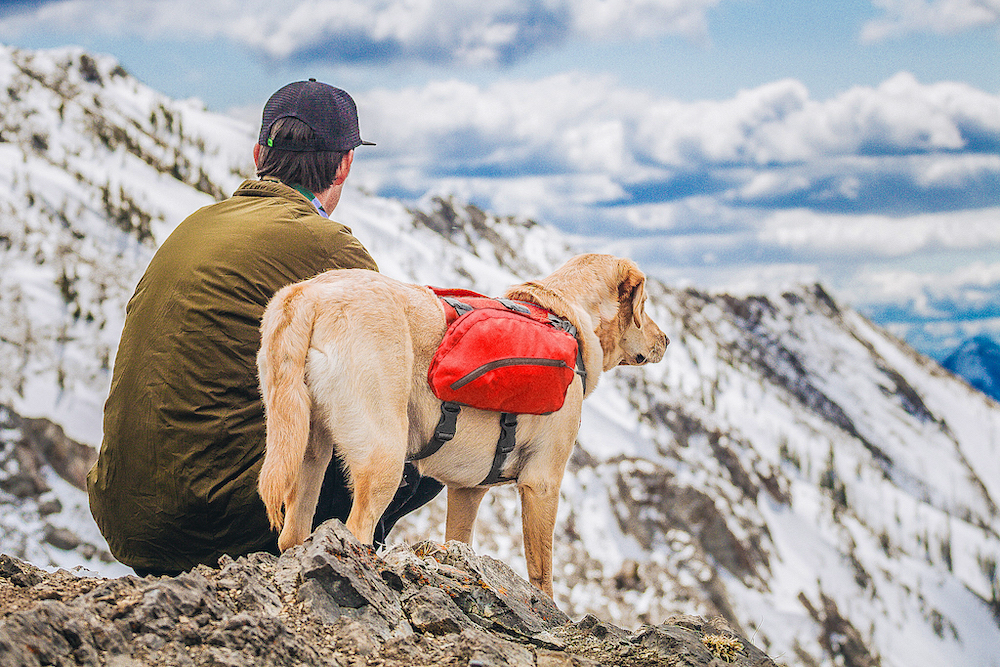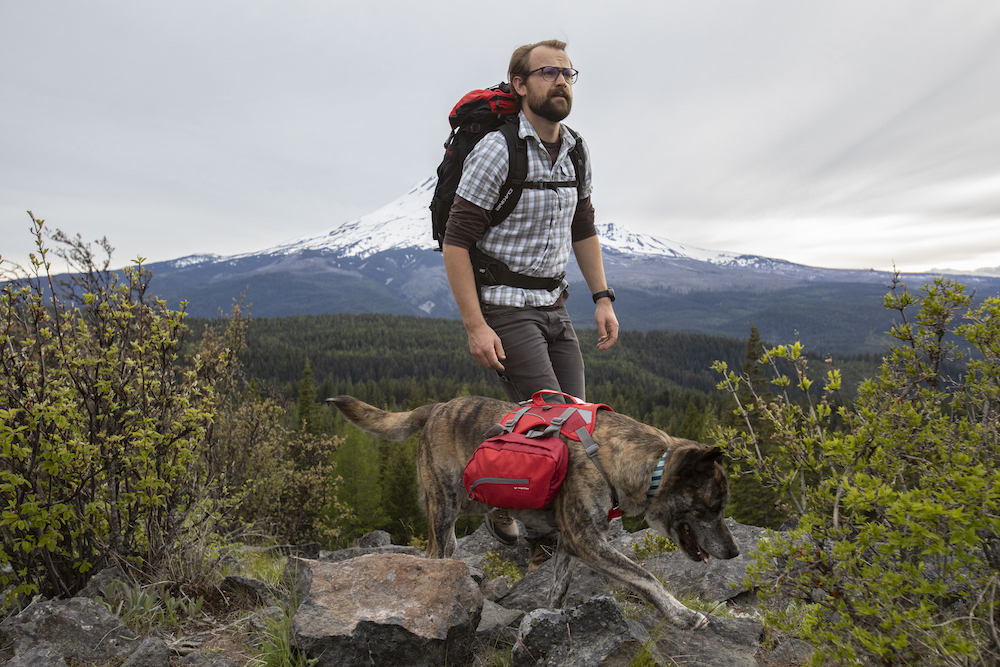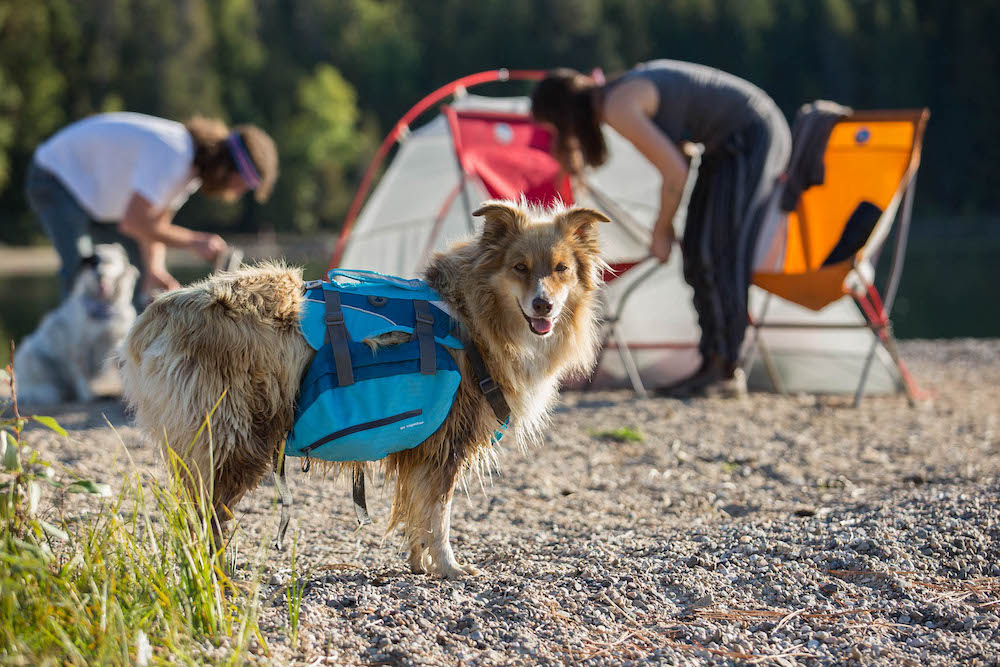 Going for a day hike? Pack all the necessities. Like your dog.
As rugged and thoughtfully engineered as the best daypacks—think padded laptop compartment, a pair of water bottle holders, and an ample supply of zippered storage— the G-Train K9 Pack adds a pet carrier compartment with a zip-open mesh top that rolls neatly out of the way. You think your dog is cute now? Wait until you see his little face sticking out of the G-Train, watching the scenery roll by.
The G-Train Backpack is suitable for dogs up to 25 pounds. Fiberglass support rods add structural stability so it's a comfortable carry for you. The bottom makes sure your buddy stays dry with a waterproof and muck-proof Armosole material. Inside you'll find a tether to make sure your furry friend doesn't make a break for it.
Just because you pack your pup doesn't mean you have to leave your regular items behind. The G-Train has a dedicated laptop sleeve and two water bottle sleeves.
MSRP: $144.95
Journey Air Harness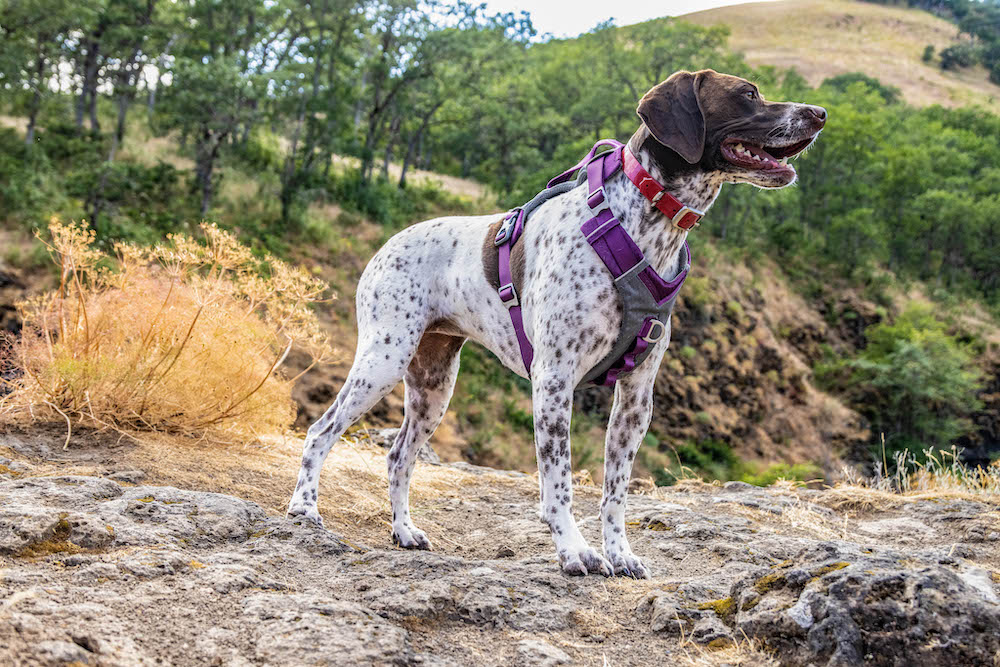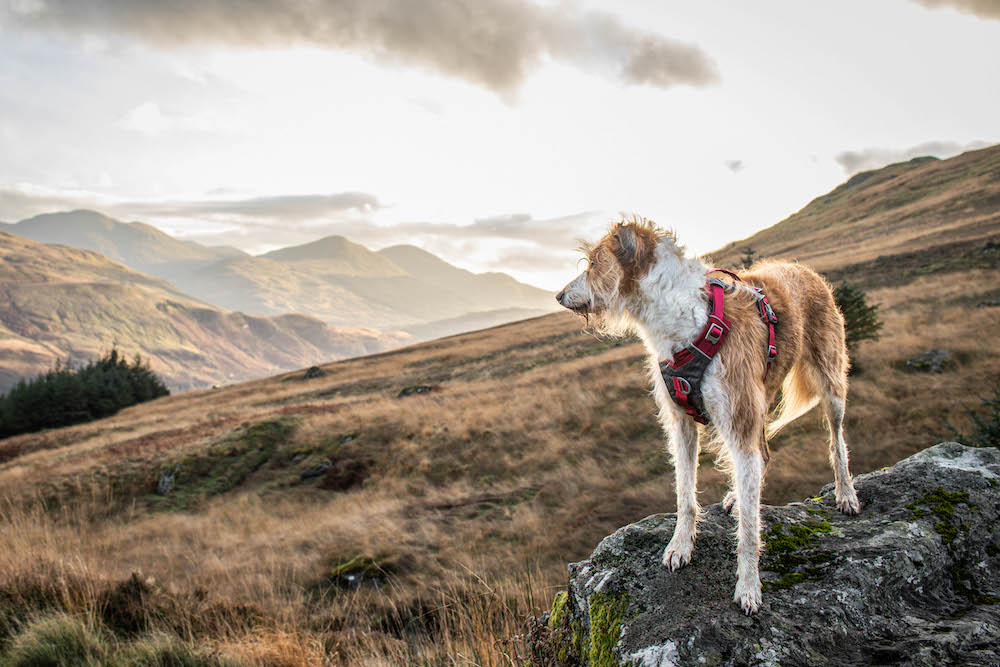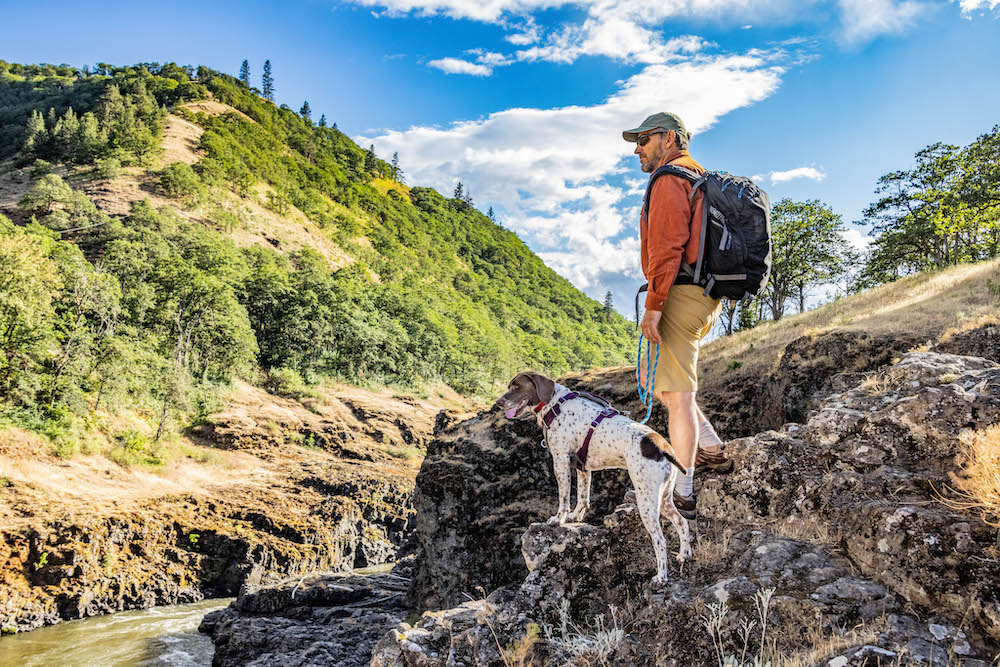 Designed for active dogs that are always out in front (you know the kind), the Journey Air takes the all the best features of the original—the athletic cut, the convenient handle on the back—and ups the ante.
It's a breathable harness featuring a deep V-neck that keeps the shoulders free (and shows off that chest hair), plus features a wide, padded chest plate that helps cut down on strain to the neck. And with rust-free all-aluminum hardware, it comes in at a featherweight 8 oz., so your dog can forget the harness and focus on more important things, like smelling stuff, running, chasing things, and smelling stuff. We think this is the beginning of a beautiful friendship.
A back handle is there to help your dog in and out of vehicles, or over obstacles. The Journey Air Harness offers options for a front and back leash attachment. With lightweight aluminum hardware, Nifco quick release buckles, and four adjustment points for a near custom fit.
MSRP: $39.95
RSG Townie Harness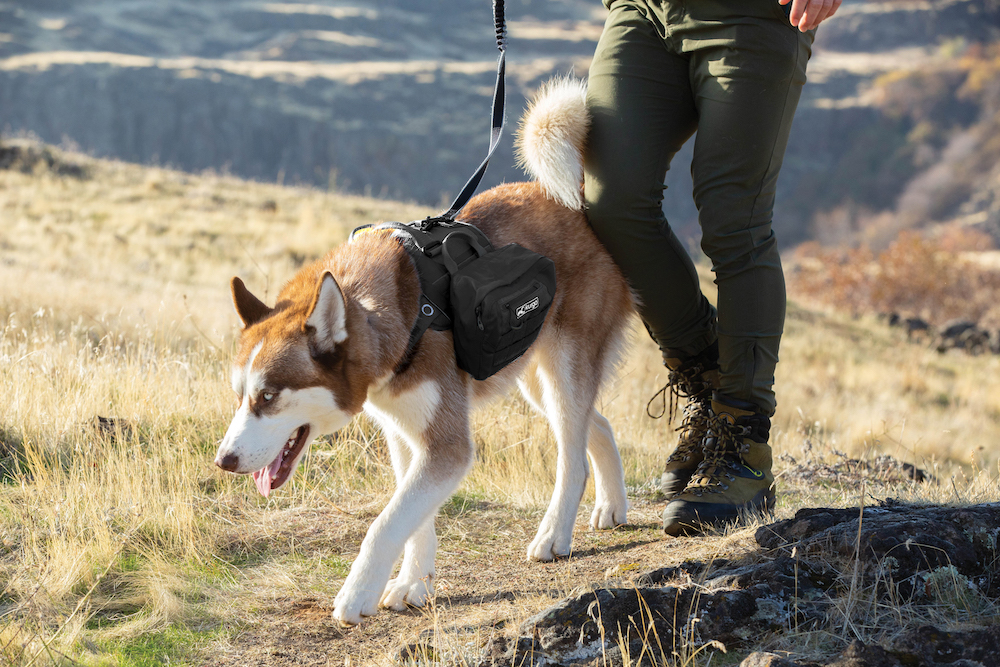 It's time for adventure! Let's not spend 15 minutes putting on the dog harness
Getting your dog in and out of her harness doesn't get much easier than the RSG Townie Harness, with its single-buckle design. Lightweight and simple in the extreme, it's the harness for dogs and their parents who see every snap, clip, and strap as a barrier to fun. But simplicity doesn't mean sacrificing strength. The Townie stands up to even the strongest dogs and their ambitious adventures. And with the MOLLE-compatible design, you can easily attach everything from an RSG Hydration Flask to Panniers, and you're off in the flash.
The RSG Townie Harness is made from 400D Ripstop with a breathable mesh underside. It's designed for a simple on and off for quick accessibility. With so many great features it's no wonder that this harness is widely used by K9 athletes and service dogs.
MSRP: $52.95 – $58.95
Stash-n-Dash Harness
There when you need it…easily stowed away when you don't.
Part of being an excellent dog mom or dad is preparing for all kinds of situations before you head out the door with your pup. The Stash 'n Dash harness is a minimalist, lightweight adventure harness that can be used for all sort of activities like running or climbing.
The Stash 'n Dash is easily packable. When not in use, it "folds" back into itself using an integrated pouch. Once packed away, the small bag will not take up much space in your backpack. When you need to quickly swap out a collar for a sturdy harness, simply "unfold" the harness from its pouch in just a few steps.
MSRP: $39.95
Ridgeline Tie Out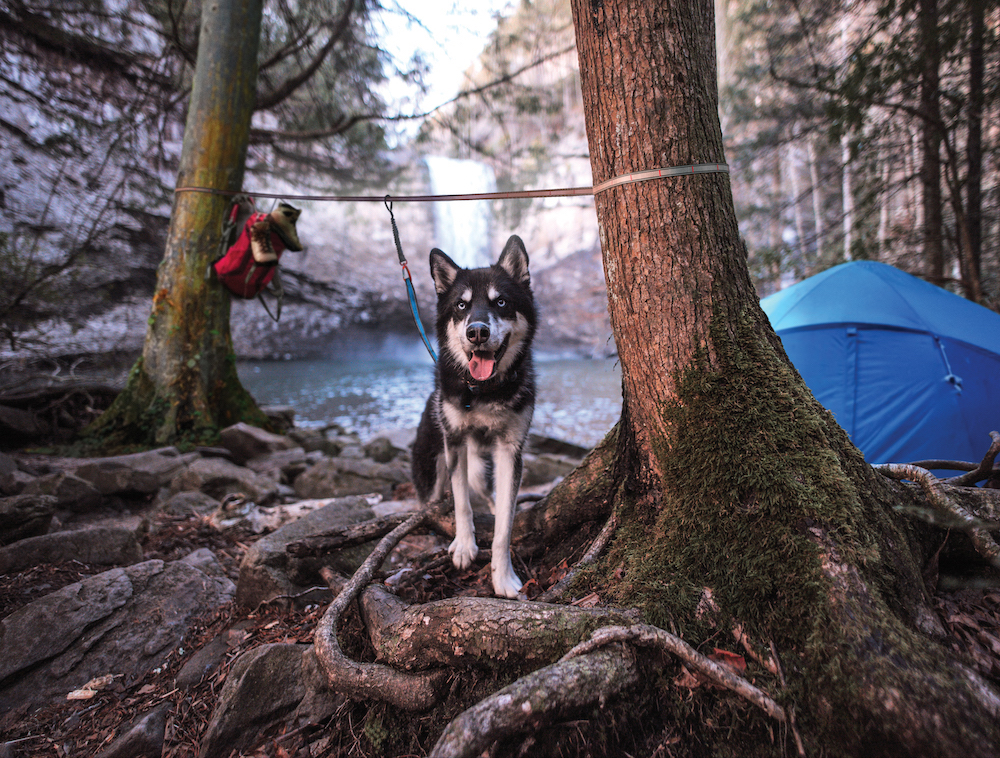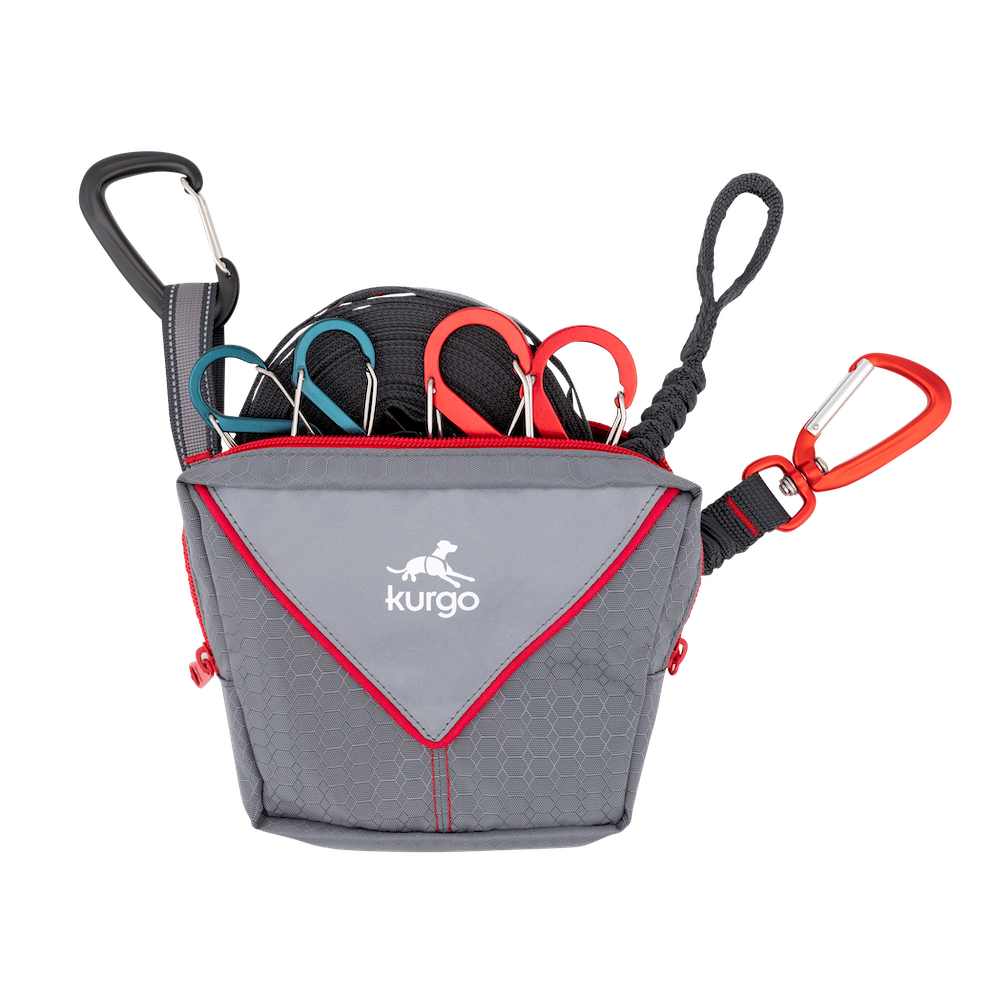 The Ridgeline Tie Out is an all-in-one kit that includes a bungee dog tether, a 30' line, and a reflective carrying case for easy packing. It's a real space-saver. You can even use the integrated daisy chain loops on the webbing to hang your extra gear.
This all in one system includes 30 feet of zipline, 9.75 ft. of bungee tether, and four aluminum s-clips. Plus, it all fits in a convenient carry pouch. The tree friendly flat webbing isn't harsh on trees. The webbing also features daisy chain loops on either end for easy attachment and for hanging equipment.
MSRP: $53.95
Kibble Carrier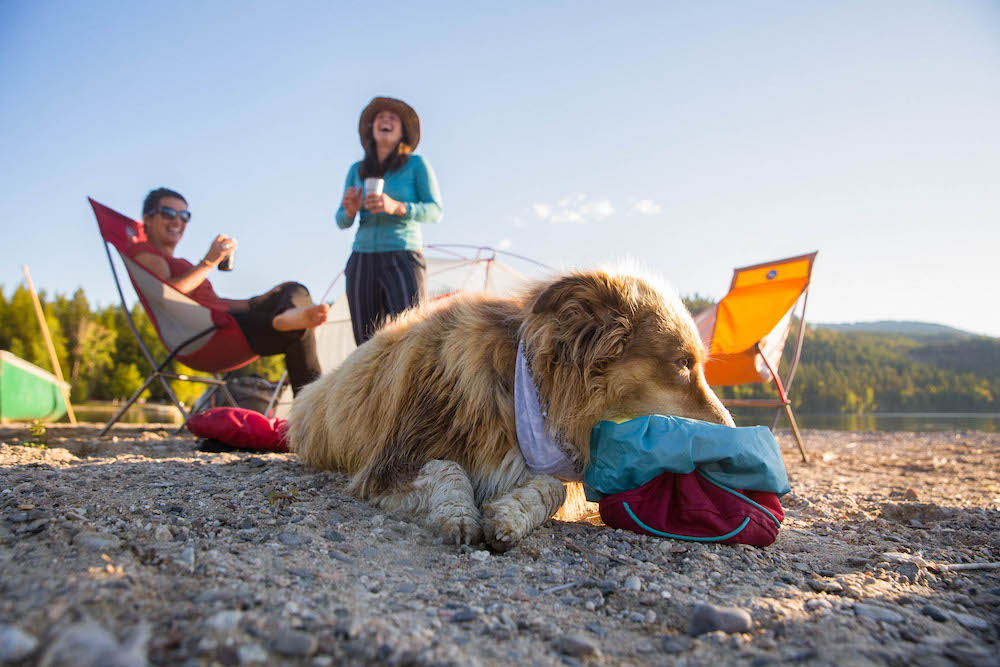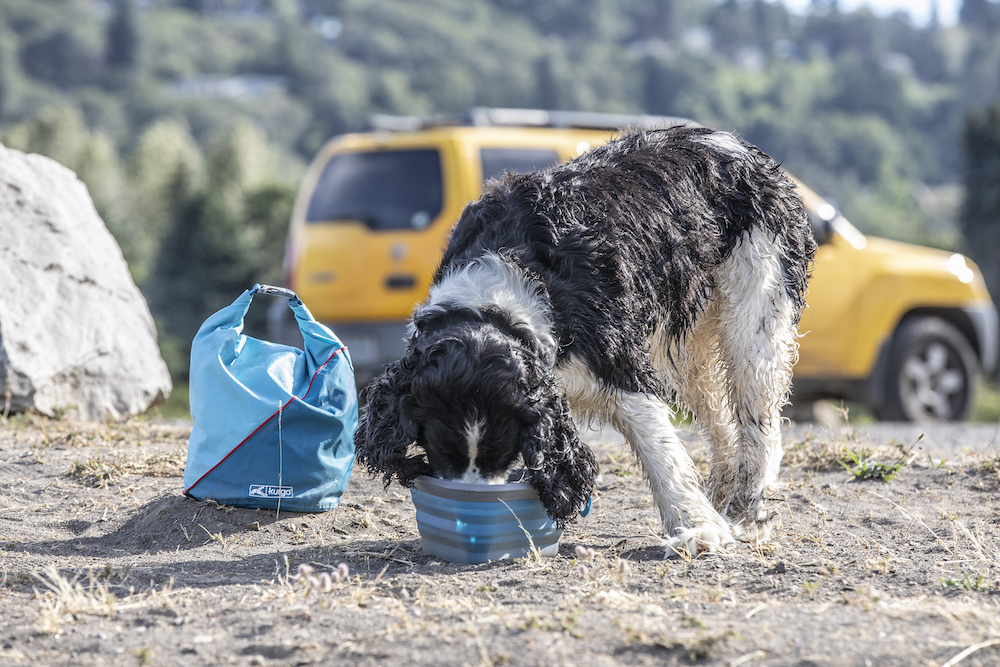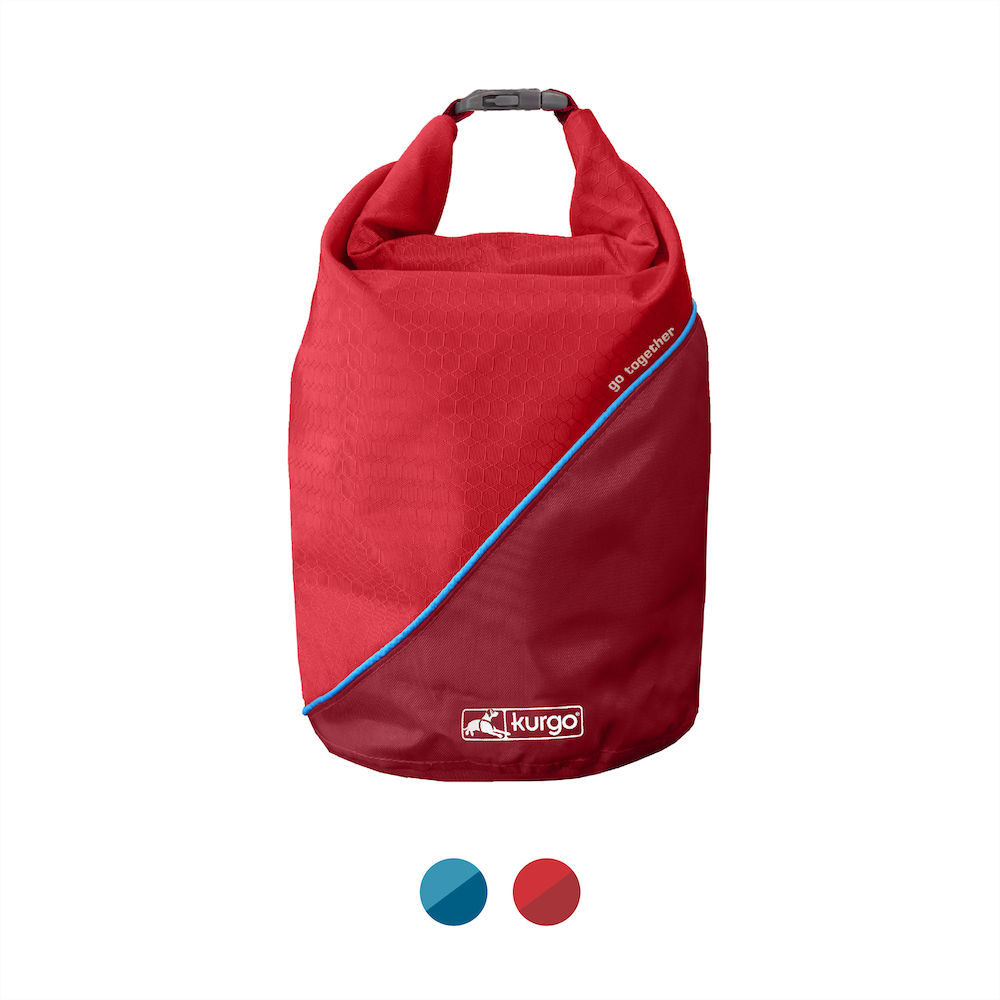 If your dog could talk, she'd tell you: protect the food at all costs
The Kibble Carrier is constructed from tough ripstop material, so your dog can rest easy knowing her kibble is safe and all is right with the world. Engineered like a waterproof river bag, the top rolls and clips, ensuring security and freshness. A discreet zippered pocket at the bottom is perfect for a Collaps-A-Bowl (not included). The zippered side pocket is perfect for extra treats (your dog just whispered that to us).
With the ability to hold up to 5 pounds of dry food you can pack plenty of chow for your pup on extended trips. As the food is used the roll top design packs down to maximize compression and for easy storage.
The Kibble Carrier includes a food-safe PEVA liner with heat sealed seams to prevent kibble oil seepage. It's easy to clean with a simple hand wash and air dry, so it's always fresh for the next adventure.
MSRP: $19.95