The Overland Expo Holiday Gift Guide is back, and we've rounded up a huge list of gear that the adventure lover on your shopping list will love. From small things that make a big difference in the backcountry to expedition-grade equipment that could take you around the world, there's something for every overlander!
23Zero — Armadillo A3 Rooftop Tent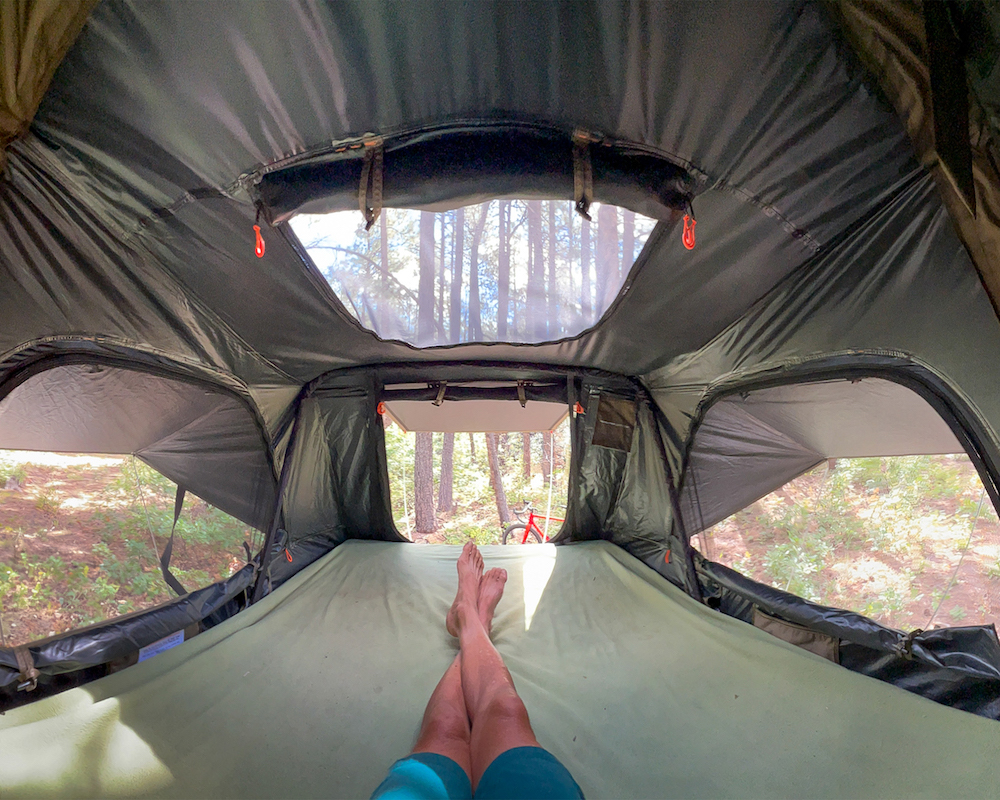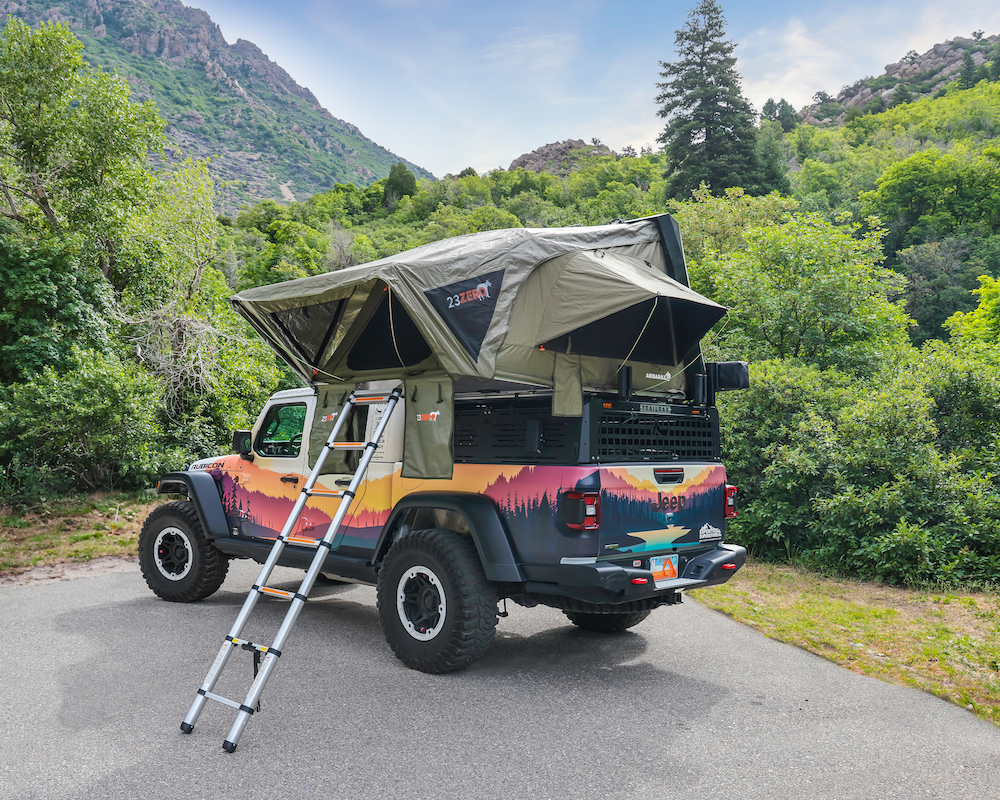 The 23Zero Armadillo A3 is a rugged, 14 gauge, fully welded, Aluminum, four-season, hard-shell roof-top-tent. Its shell is uniquely aerodynamic styled with a semi-textured, high-gloss, black, trail-hardened finish, ready to deflect low-hanging branches or high-speed roadways in all conditions.
The lift and fold-out design allows for easy and quick deployment, perfect for long stays or a quick overnighter. The shell includes T-slot mounting rails ready for you to mount solar panels, racks, gear boxes, etc., so you can travel with additional gear that might otherwise be left at home.
It includes our revolutionary LST (light suppression technology) feature, which reduces light penetration to almost zero light until any windows are opened. Also, your RTT will maintain temperatures inside the tent that are up to 15% cooler. You can sleep better than ever before in our rooftop tents.
The Armadillo A3 feels spacious and plush and is ideal for individuals, couples, or families. Extra space is created inside the tent when the shell is opened, allowing for gear to be stored inside, and the internal quilted headliner feels cozy. An Annex is available as an additional option, enclosing the ladder and providing a privacy space all the way from the base of the tent to the ground.
Additionally, the Armadillo includes a portable USB LED clip-on-pole light, anti-rattle zippers, internal power supply pouches, and two external hanging boot bags. The 2-inch Rebound Foam mattress is newly engineered with a higher latex content to resume its original shape much faster than traditional high-density foam roof-top-tent mattresses. It feels firmer, and side-sleepers will not slowly sink to the bottom, and it comes with a breathable, removable quilted topper.
The Armadillo A3 can be purchased with a right or left-side deployment option, which allows for optimized placement on your choice of overland rig ranging from wagons to bed-mounted mid-sized 4×4s to monster custom builds. The A3 measures 72 inches wide by 86 inches long and is a 3-4 person tent. The A2 measures 56 inches wide by 78 inches long and is a 2-3 person tent. See our website for more dimensions, technical specifications, and detailed information.
$450 off NOW $3,445 until December 15
MSRP: $3,995
Alu-Cab USA & OK4WD — 180° Shadow Awning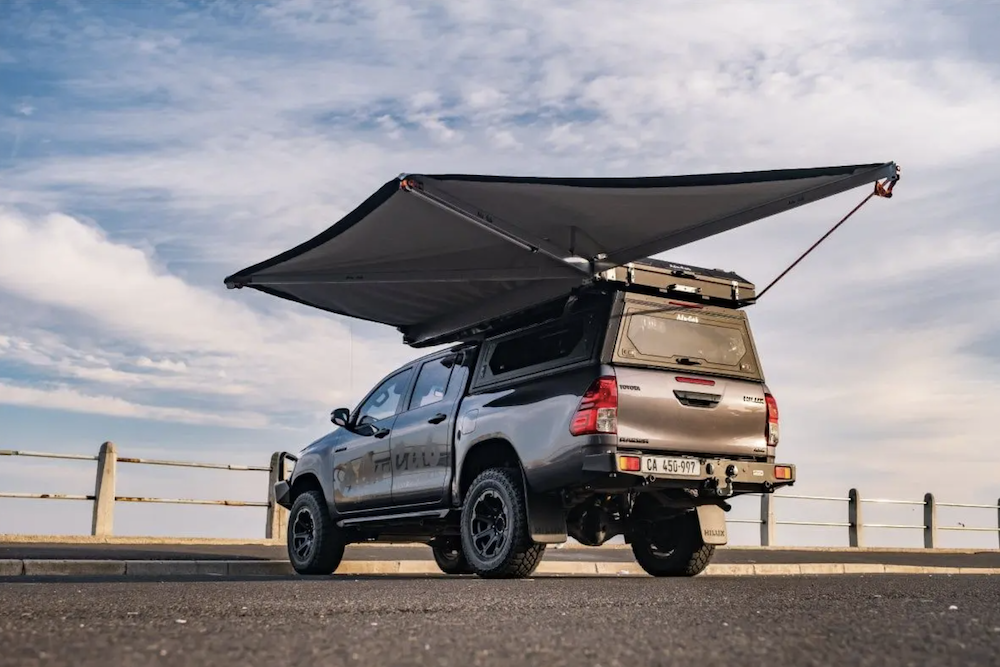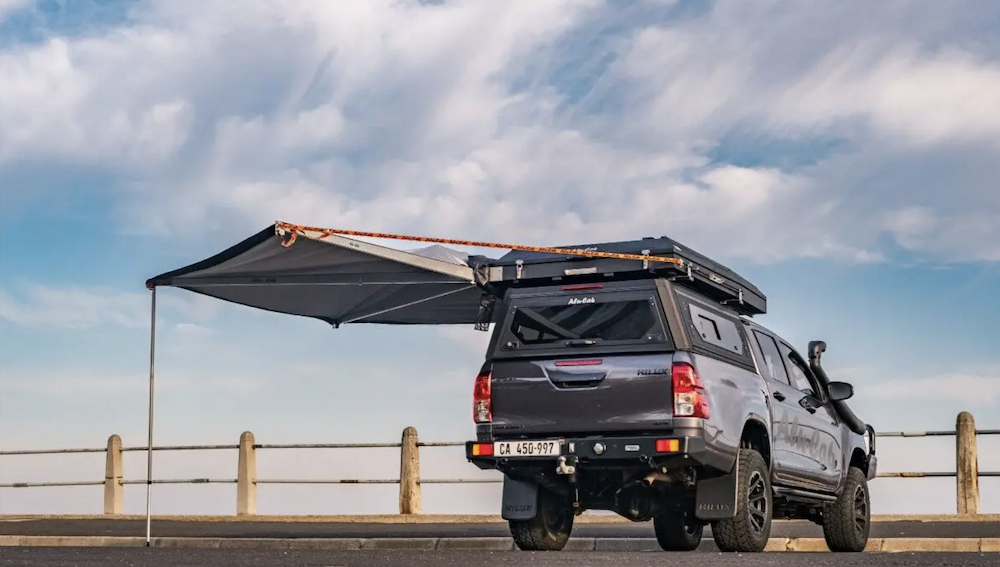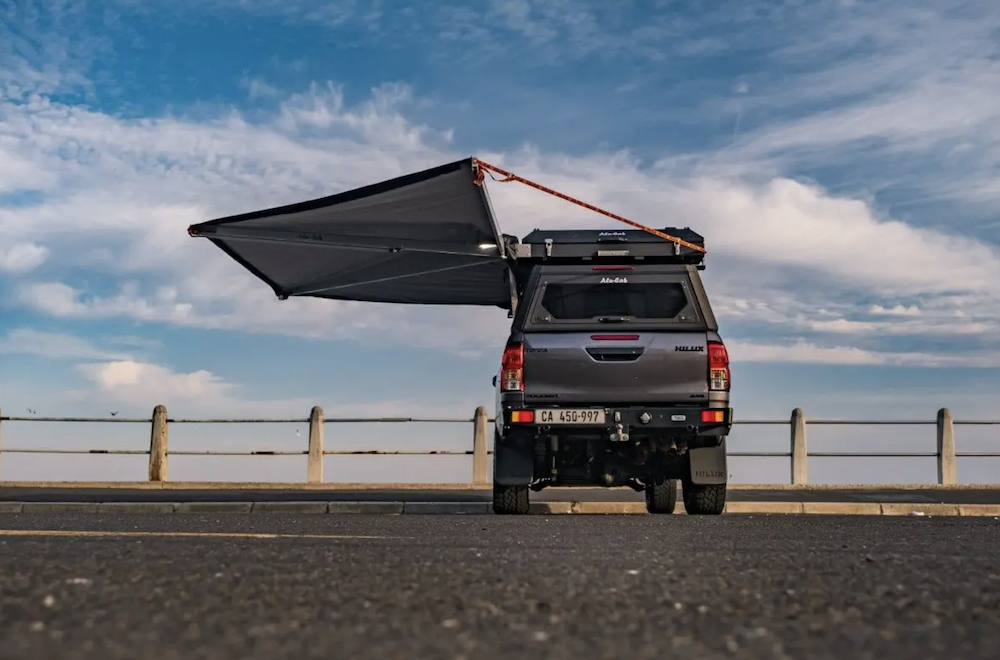 The newest awning in the Alu-Cab Shadow Awning range is the 180° Shadow Awning. Once opened, this free-standing awning folds out to be parallel with your vehicle, allowing access to the rear of your vehicle, where your drawer system, fridge, and supplies are stored. There are no additional steps or poles to pitch; simply unzip the bag and walk the awning through its 180 degrees of coverage. It is so easy; one person can manage it.
The new 180º shares the same strength, durability, and quality you find in Alu-Cab's 270° awning. The 180º Shadow Awning is made from reflective ripstop material, which assists in casting a noticeably lower-shade temperature. For seasoned campers, an awning is very often the first accessory they bolt to their vehicle, knowing that the ability to cast as much shade as possible (in the quickest time) is crucial to overland travel. For inclement weather, guy ropes can be used to prevent the pooling of water on the canvas and to guide water runoff in preferred places.
The 180º Shadow Awning measures 2.6 meters long when closed, weighs in at 53 pounds, and covers over 82 square feet, so you'll have plenty of shade and weather protection. Fitment brackets for various mounting options are available so that it can easily be attached to a strong roof rack, tents, campers, or load bars.
MSRP: $1,399
Battle Born Batteries — 270Ah 12V GC3 Gamechanger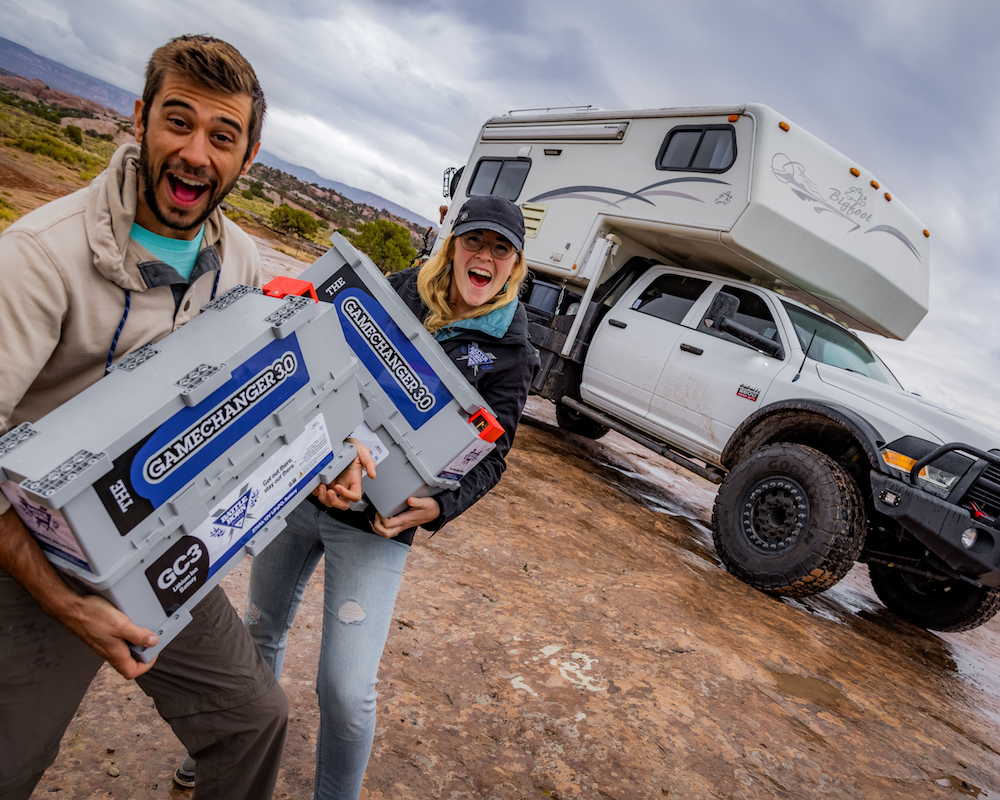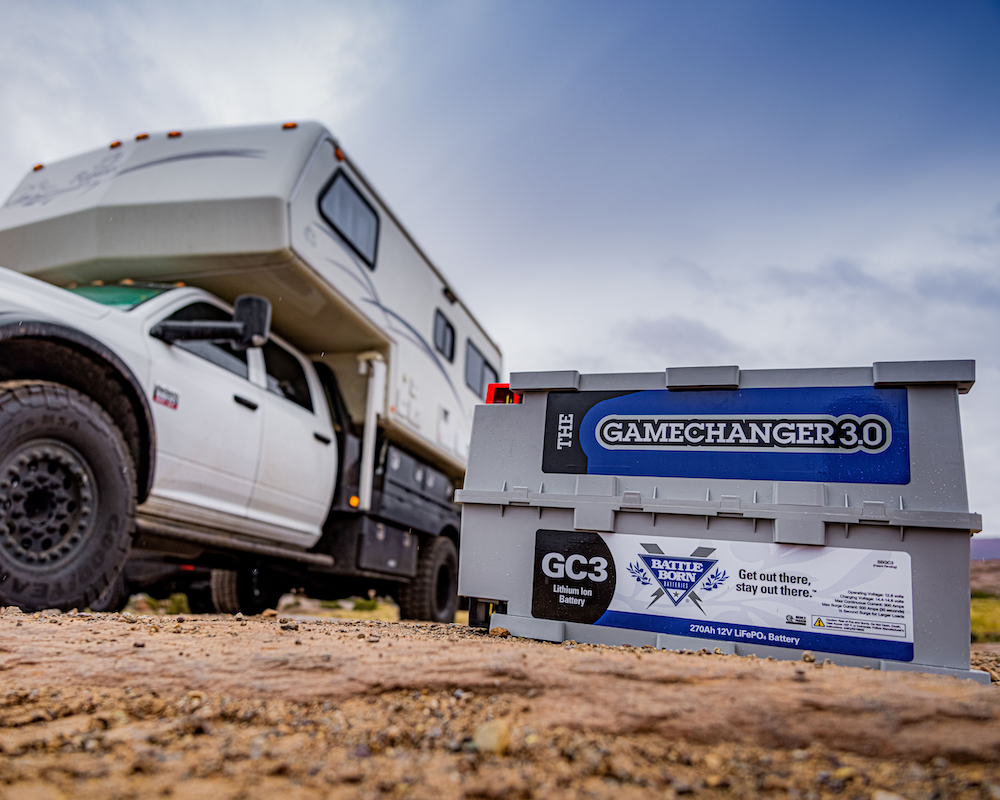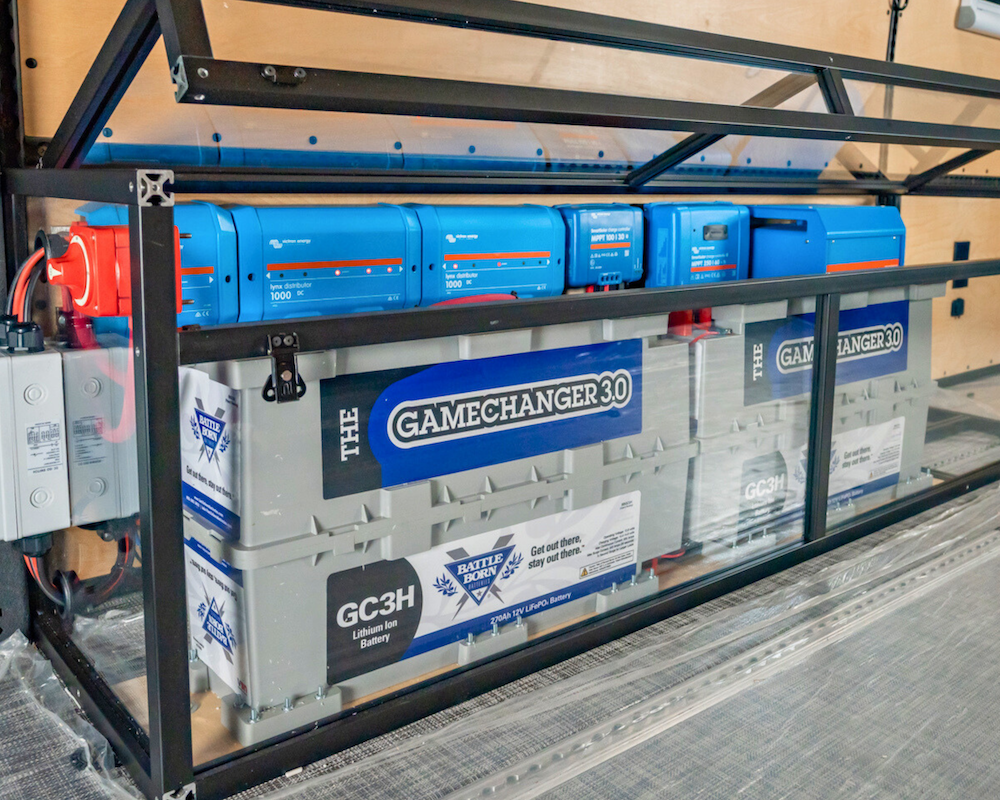 Built for rugged adventures, the Battle Born Batteries 270 Amp-hour 12-Volt GC3 Gamechanger is the LiFePO4 battery to give users the freedom to take advantage of limited spaces inside their overland rigs, RVs, campers, vans, boats, and off-grid properties. Designed in a unique form factor, the GC3 is not only capable of delivering 270Ah of superior power and is lightweight at just under 81 pounds, but this innovative lithium-ion battery also allows for maximum possibilities. Its tall, narrow design and its ability to be mounted in any orientation allow adventurers and overlanders to install this energy storage solution anywhere in their system.
Constructed with safe and reliable lithium iron phosphate chemistry (LiFePO4), Battle Born's lithium-ion batteries are capable of up to a decade of use, lasting 3,000-5,000 deep discharge cycles, and backed by a 10-year warranty. The GC3 and all Battle Born Batteries are also outfitted with an internal Battery Management System (BMS), providing the ultimate protection from common battery failures like high and low voltage, short circuits, and hot and cold temperatures—protecting both your investment and your lifestyle. An internally heated 270Ah 12V GC3 is also available, equipping overlanders like you with reliable power in any climate.
Ready to change the game with this Chamechanger? The Battle Born Batteries 270Ah 12V GC3 is the powerful energy storage solution made to elevate your outdoor adventures. Battle Born Batteries' USA-based team of Technical Specialists is always just a phone call away and ready to help any overlander build out the power system of their dreams: 855-292-2831.
Use Code OVERLANDHOLIDAY for $50 OFF Any Battery and 25% OFF Apparel & Gear, now through December 31, 2023.
MSRP: $2,499
BundutecUSA — BunduAwn Awning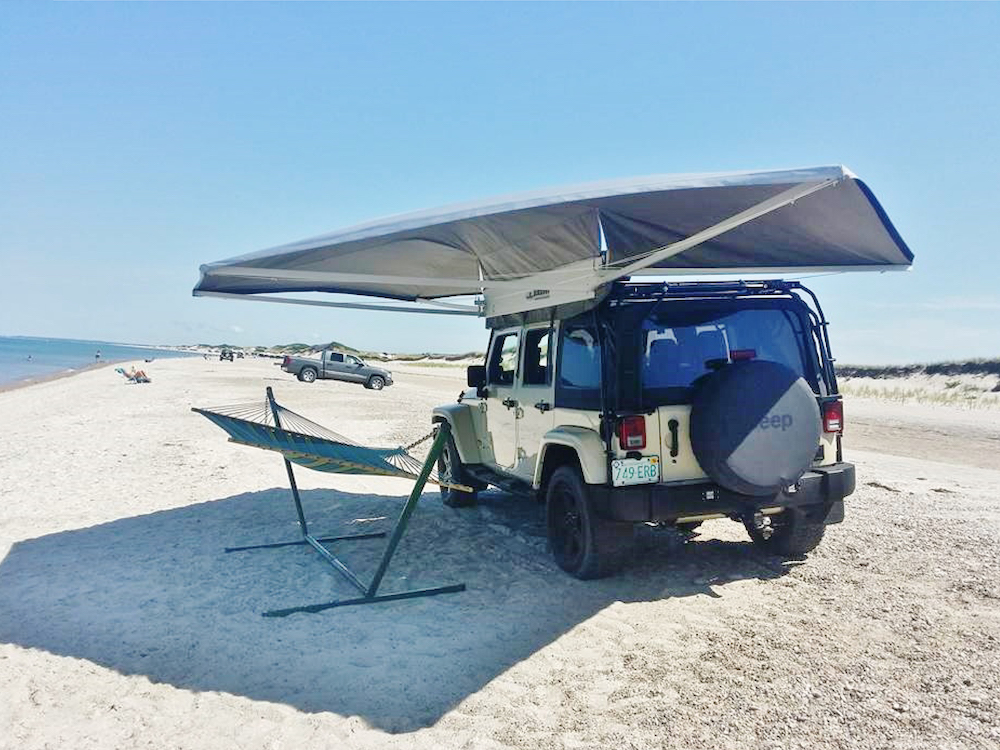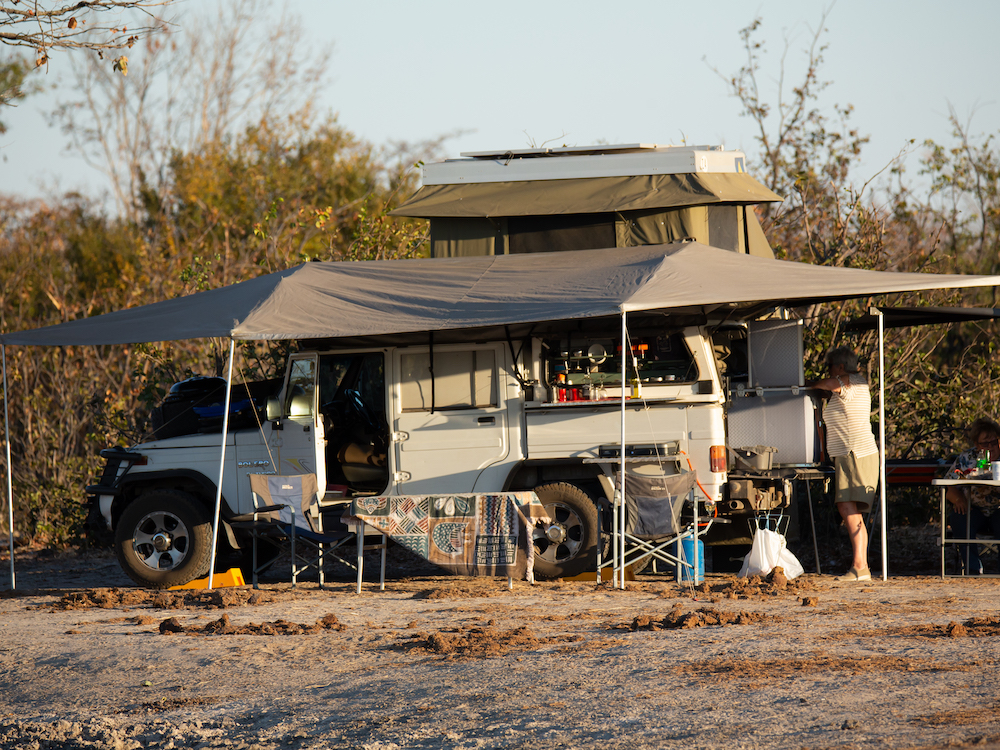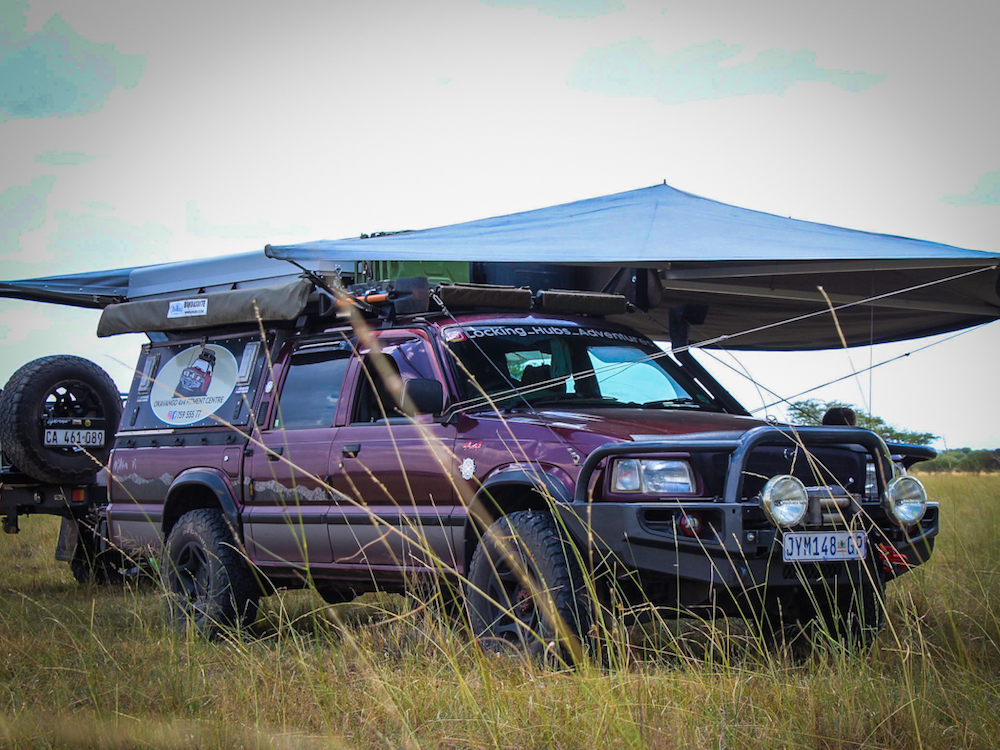 As an overlander, protecting your vehicle and creating a comfortable campsite is crucial. The BunduAwn by BundutecUSA is an innovative, self-supported awning that offers unparalleled vehicle protection and shade. Designed as a 360-degree awning, the BunduAwn easily unfolds to cover the front, side, and rear of your campsite. And with a variety of variations available, it can be customized to fit most overlanding rigs. The 90-degree BunduHalf and the original BunduAwn are both fully self-supported, while the 270-degree designs require one pole for additional structural security.
BunduAwns are stocked in lengths of 8 feet and 9 feet 6 inches, but special orders can be placed for longer or in-between sizes depending on the awning configuration. All BunduAwns come equipped with integrated lift arms that move freely as you open and close the awning, providing 19 inches of lift. This lift allows for heat to escape from underneath, making it the perfect shady spot to enjoy your campsite without getting too hot. The aluminized material used in the construction of the BunduAwn also reflects heat away from your campsite, keeping you and your vehicle cool and comfortable. BunduAwns also features self-storing guide ropes for added security in windy conditions. Don't settle for an ordinary awning when you can experience the ultimate in vehicle protection with the innovative self-supported BunduAwn from BundutecUSA.
Save 25% now until November 30, and in addition to significant savings, you get FREE shipping anywhere in the lower 48.
MSRP: Starting at $1,710
Go Power! — 100Ah Advanced Lithium Battery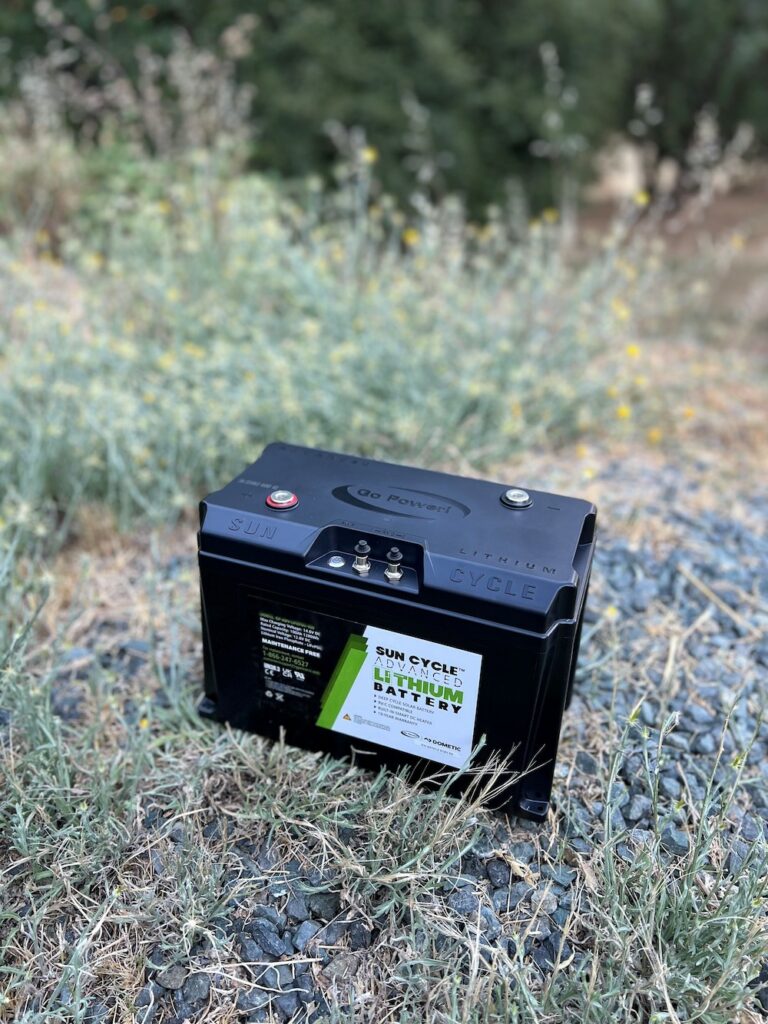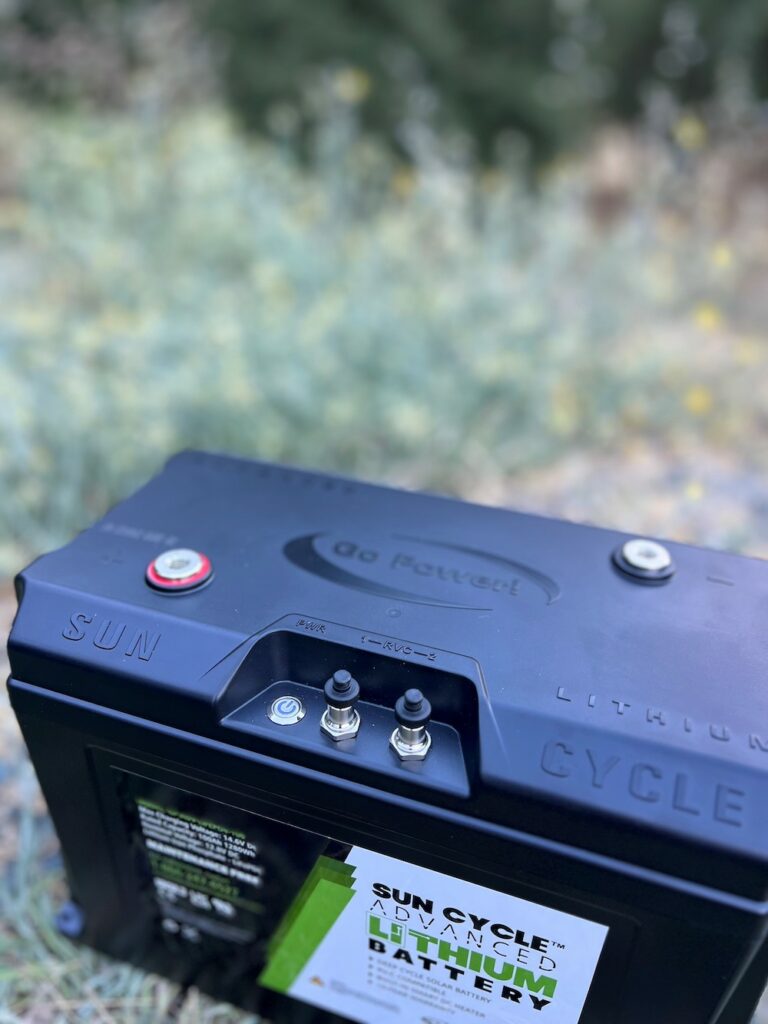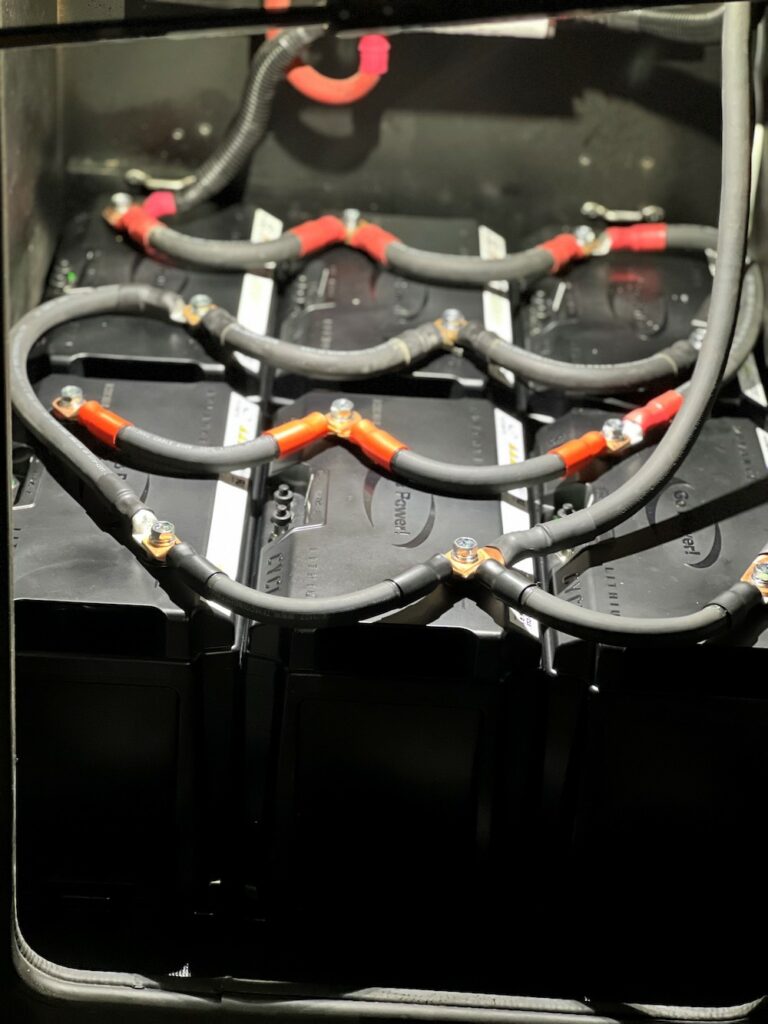 Introducing the Go Power 100 Amp-hour Advanced Lithium Battery, a cutting-edge energy solution that promises to revolutionize how you power your adventures and everyday life. Designed for durability and ease of use, this battery offers unparalleled performance, durability, and convenience. Whether you're embarking on a cross-country road trip, setting up an off-grid cabin, or need a reliable backup power source, the Go Power 100Ah Advanced Lithium Battery is here to meet all your energy needs.
With a robust 100Ah capacity, this lithium battery ensures you have ample energy to keep your devices and appliances running for extended periods without recharging constantly. Plus, with an impressive lifespan of up to 5000 cycles, this battery far outlasts traditional lead-acid counterparts, making it a cost-effective and eco-friendly choice. It weighs 56% less than a lead-acid battery of the same size, so it's easy to transport and install. Its rapid recharge capability allows you to spend more time enjoying your adventures and less time waiting for your battery to power up. Use solar or alternator charging to keep it topped up and ready to power your adventures. The battery is equipped with an integrated BMS, ensuring the safety and longevity of your battery.
The Go Power 100Ah Advanced Lithium Battery is perfect for powering lights, fans, and charging phones. With a built-in DC heater, there's no need to worry about camping in the cold. This battery features a built-in heater that allows it to accept a charge when it's freezing outside. With the built-in mounting hardware and several positioning options, you can mount this battery wherever it fits. The accompanying mobile app lets you view essential battery stats from the palm of your hand. Pair this battery with solar and charge up using the power of the sun.
The Go Power 100Ah Advanced Lithium Battery is not just a power source; it's a lifestyle enhancer. It offers a reliable, clean, and efficient energy source. With its impressive capacity and long-lasting performance, this battery reduces the need for frequent recharges, making it a top choice for adventurers who value convenience and reliability.
Whether you're a weekend explorer, a full-time nomad, or simply looking for a dependable backup power source, the Go Power 100Ah Advanced Lithium Battery is your ideal companion.
The advanced technology, smart features, and durability ensure you're never left in the dark. Make the smart choice today and embrace the future of power with the Go Power 100Ah Advanced Lithium Battery.
MSRP: $1,099
Guzzle H20 — Stream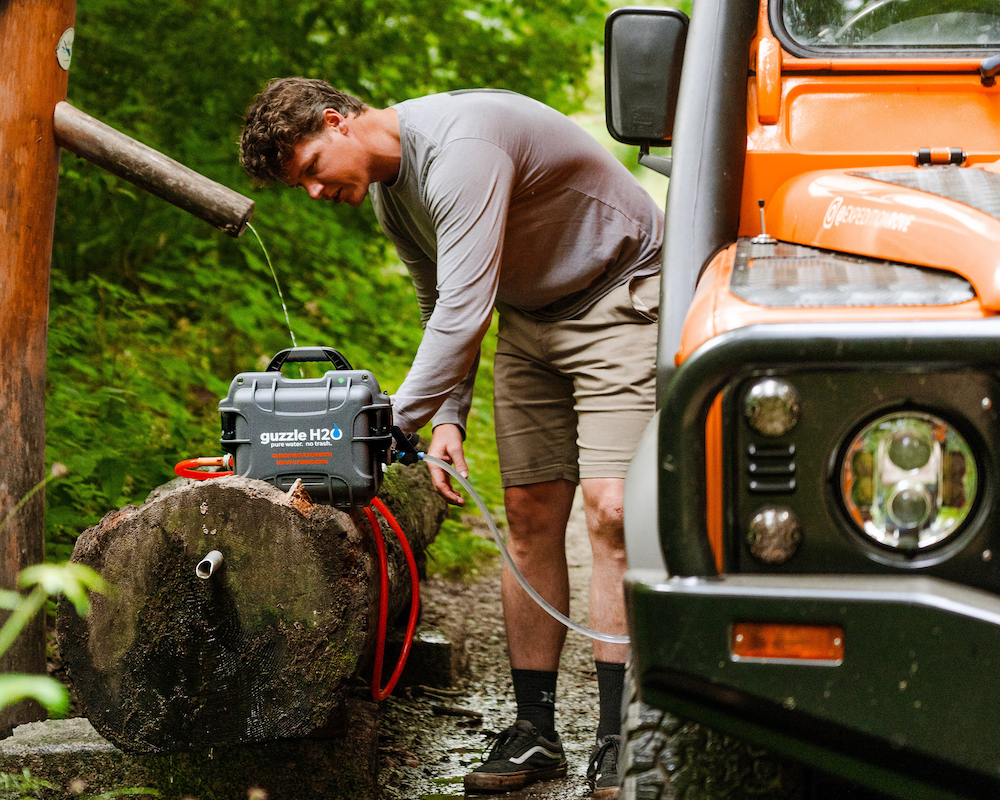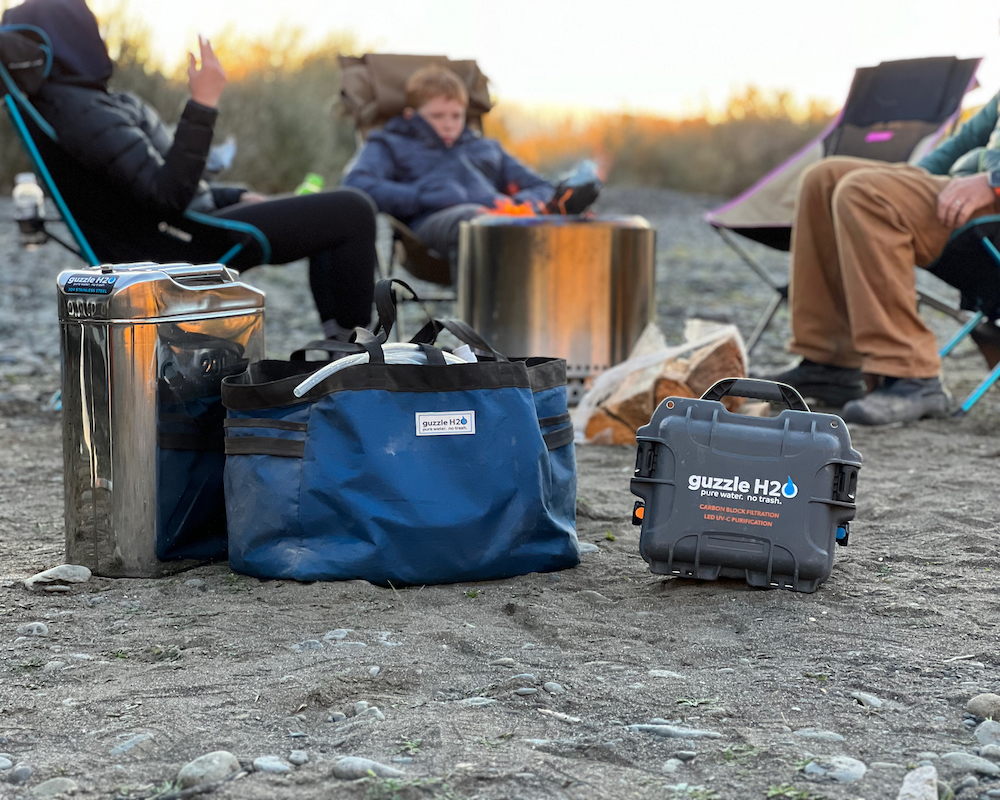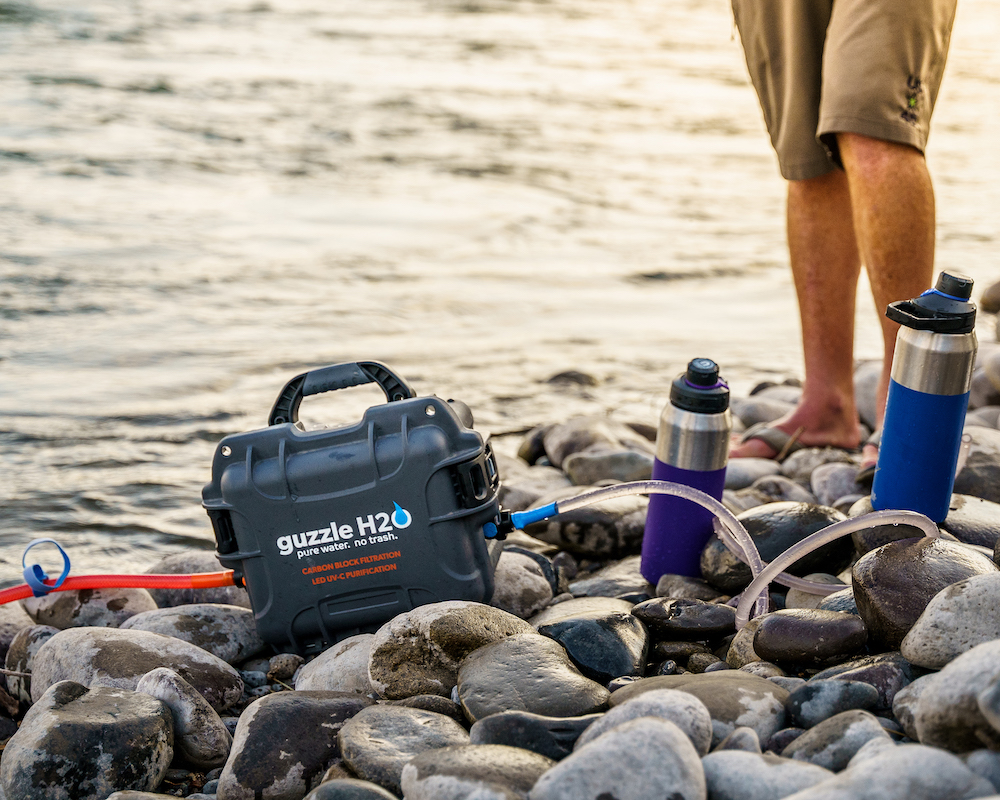 The Guzzle H2O Stream leverages the well-tested water treatment technologies of ultraviolet (UV) light purification and carbon filtration in a rugged case for the overland traveler. LED UV-C unlocks the ability to quickly treat water from any freshwater source with a hefty dose of bug-killing UV rays. Paired with a sediment pre-filter to remove crunchy contaminants and a solid-activated 0.5-micron carbon block filter to remove chemicals, the Stream covers the full range of drinking water issues an overlander might encounter in the backcountry or traveling the world. And it works fast, so you can get onto the adventure. No pumping by hand, adding chemicals, or waiting for water to percolate through gravity filters. It puts clean water directly into your onboard tanks or jerry cans.
The Guzzle H2O Stream has a built-in LiFePO4 battery, which can treat up to 35 gallons of water per charge. It pumps, filters, and purifies water at 0.75 gallons per minute, allowing for quick filling of large containers, or onboard water tanks. The carbon filter removes sediment and microplastics and adsorbs a wide range of chemicals, including chlorine, VOCs, metals, and NSF 41 emerging chemicals. Carbon block is also very effective at improving the taste of drinking water. The NSF 55 listed LED UV-C purification chamber is 3rd party tested to inactivate 99.99% of bacteria, protozoa, and viruses. If you are in a remote village or campground that has water on tap, you can also use the Stream as an inline filter to make sure your drinking water supply stays clean. The LED UV element is maintenance-free, and the carbon filter lasts for 1,000 gallons or six months.
The Stream is built in the USA and features a supporting ecosystem of accessories to tailor the system to your specific adventure vehicle needs. The Backcountry Bundle pairs the most popular accessories for you and offers $100 savings.
MSRP: $1,358
Midland Radio Corp — MXR500AG MicroMobile Repeater Bundle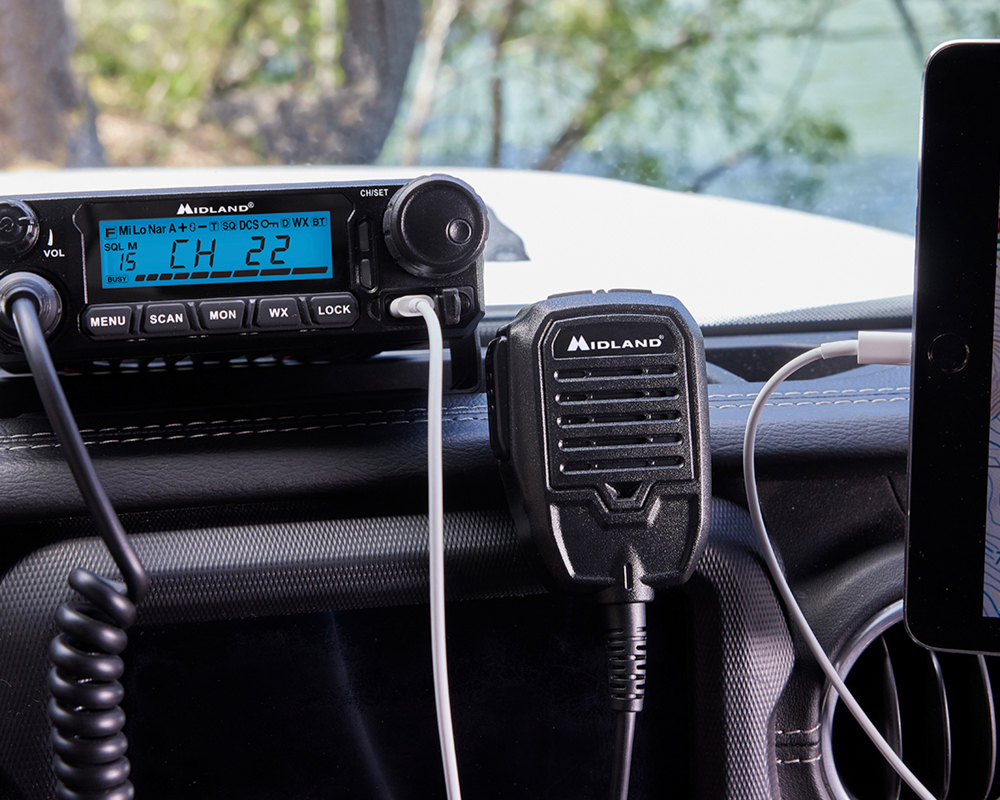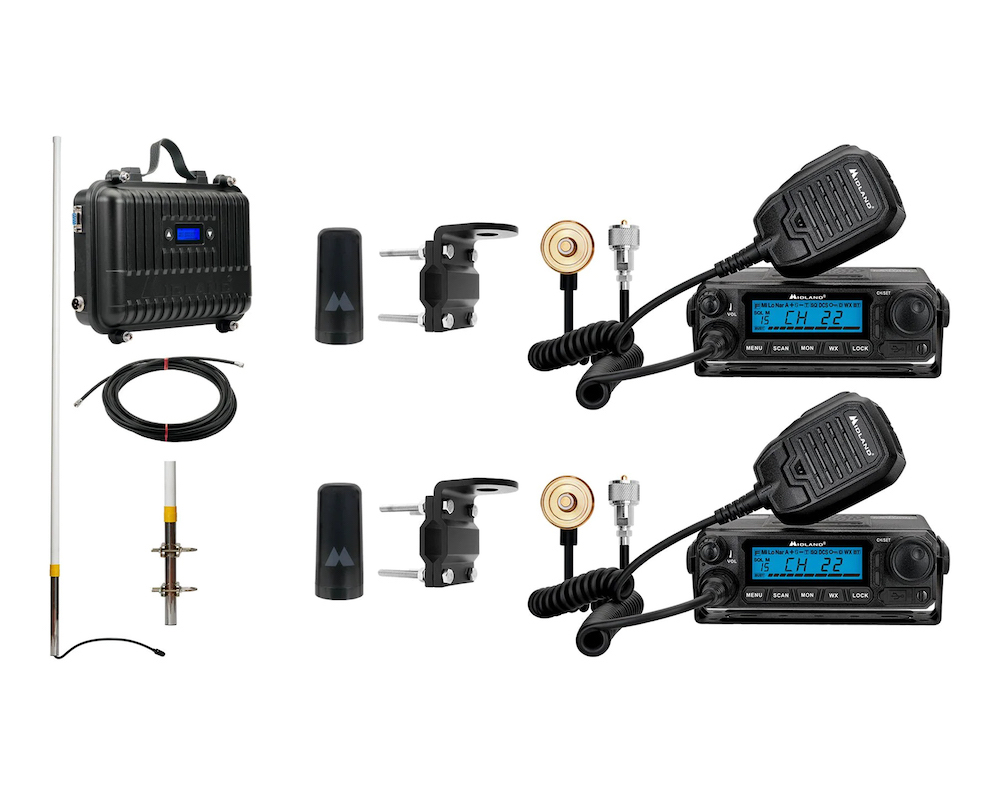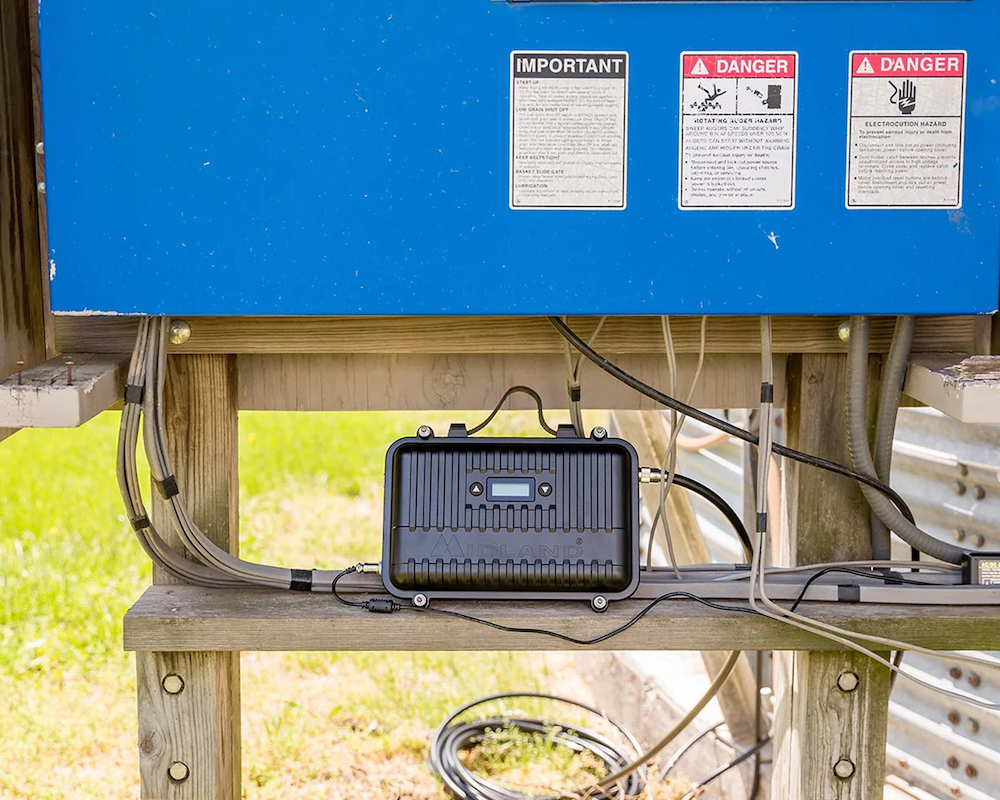 Reach maximum two-way radio communication power with Midland's new bundle- the MXR500AG MicroMobile® Repeater Bundle. With a truly impressive range, the MXR500AG MicroMobile Repeater Bundle is perfect for sprawling properties.
This bundle is packed with Midland's favorite products, including two MXT500 MicroMobile Two-Way Radios, two MXTA25 3 dB Gain Ghost Antennas, two MXTA23 Roll Bar/Mirror Mounting Brackets, two MXTA24 Low Profile Antenna Cables, and the MXR10VP Repeater.
Midland's MXT500 MicroMobiles truly bring the power as they're equipped with the maximum wattage allowed by law- 50 Watts of output. This two-way radio utilizes 15 GMRS channels and eight high-powered repeater channels. With an IP66 rating, the MXT500 doesn't just bring the power, it's also fit for the most intense environments. With its NOAA Weather Radio capabilities, the MXT500 gives adventurers the latest, most accurate information straight from the National Weather Service. The MXT500 also has USB-C charging, meaning outdoor enthusiasts can get the fastest charge time possible for their other devices like walkie-talkies, tablets, and cellphones. Compatible with all Midland FRS and GMRS two-way radios, the MXT500 makes communication versatile. With two of the MXT500s in one bundle, communication will be crisp, clear, and unmatched in power.
For a seamless two-way radio installation, the MXR500AG MicroMobile® Repeater Bundle also includes the necessary accessories to extend radio range. The Roll Bar/Mirror Mounting Bracket easily attaches to roll bars, roof racks, and mirrors. The 3 dB Ghost Antenna is one of Midland's most popular accessories. Its low-profile appearance doesn't just blend in with adventurers' vehicles, and it won't get in the way of incoming obstructions like trees. Beyond its appearance and ability to withstand anything the environment throws at it, the Ghost Antenna doubles signal output to lead the way to improved radio range and clarity. Adventurers will also need an antenna cable, and because this bundle comes with it, installation will be that much easier. It is straightforward when users need to route it and install it through grommets and firewalls, cutting down on time away from adventure.
The real extender of two-way radio range comes with the MXR10VP Repeater. Repeaters act as a combination of a radio receiver and a radio transmitter. It serves as the middle man between GMRS repeater-capable radios like the MXT500. The Midland Repeater doesn't just impressively stretch communication range; it also improves clarity. The repeater also includes the antenna, which users will want to install as high as possible. Adventurers will maximize two-way radio range with Midland's repeater, antenna, mount, and 50-foot cable.
This bundle has everything needed to bring reliable, unmatched two-way radio communication to any large piece of land that will keep its users connected no matter where their adventure takes them.
MSRP: $1,259.99
RiGd Supply — UltraSwing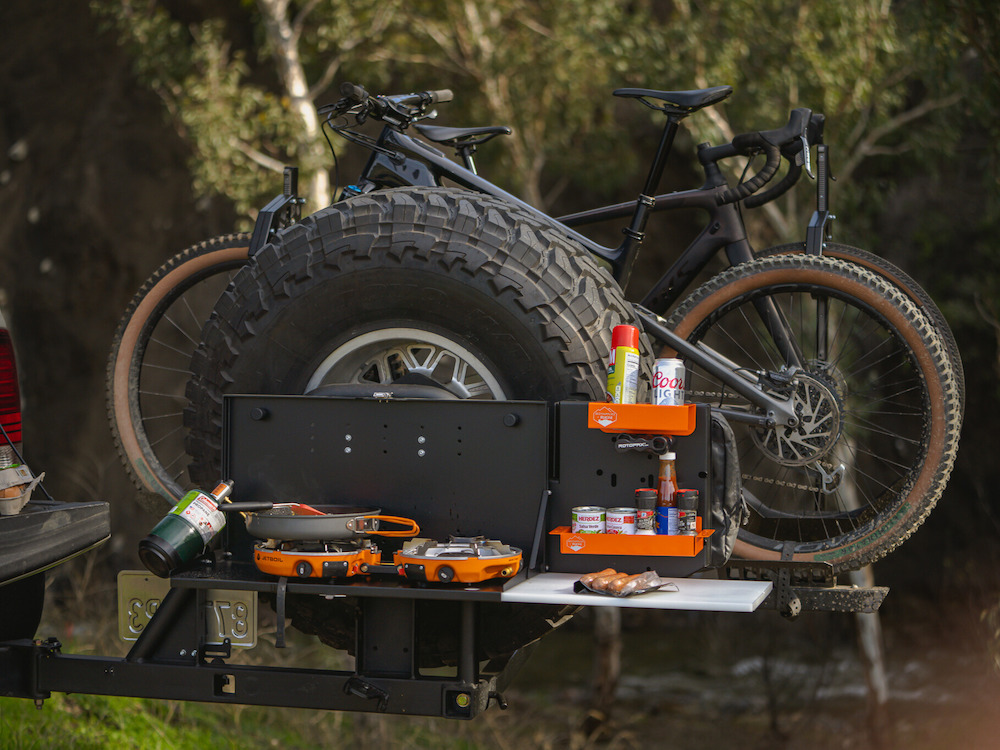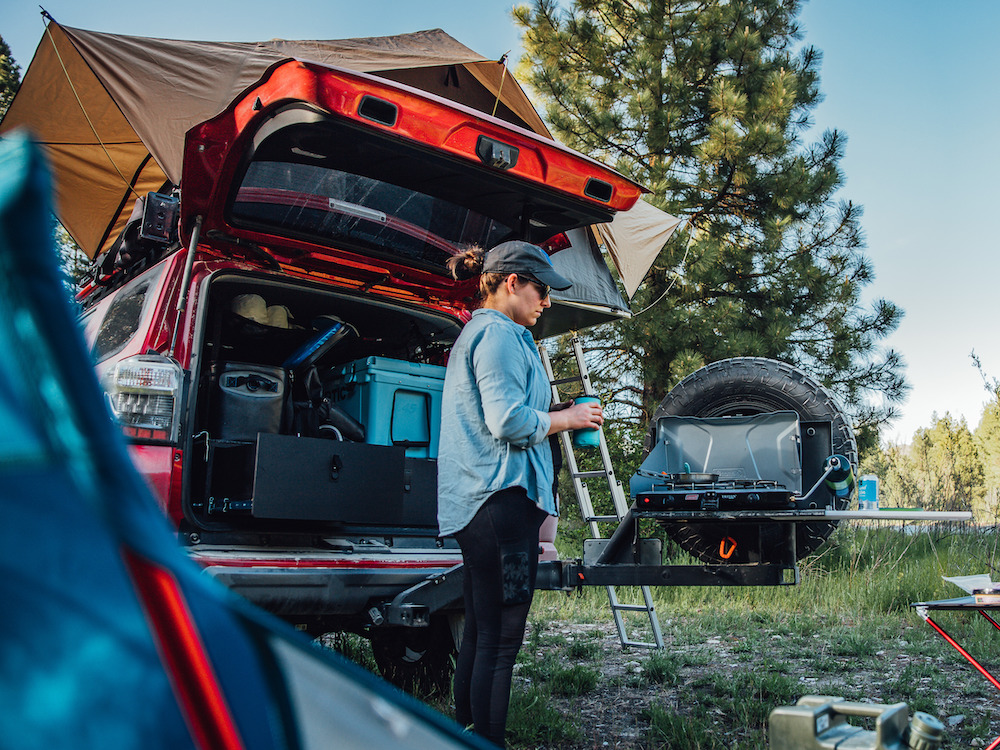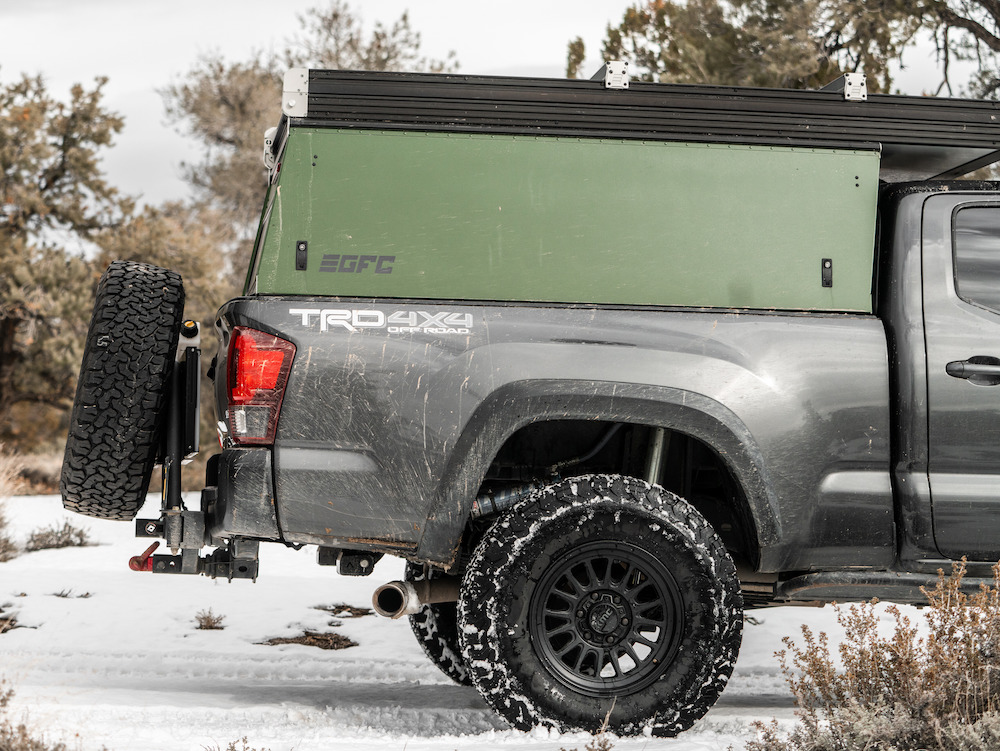 The UltraSwing exists because overlanders want a rock-solid, lightweight solution for carrying a full-size spare tire, bikes, and other essentials like a camp table, extra fuel, and recovery gear. We couldn't find anything that met all these requirements and also weren't happy with the fitment of other hitch-mounted solutions until we found the UltraSwing. RiGd has the philosophy that just because something is hitch-mounted doesn't mean it can't fit on your rig as properly as a bumper/swing-out. The UltraSwing is the ultimate combination of functionality and reduced weight to be your companion on the aimless journey.
The RIGd UltraSwing is available in three sizes: 5th Generation 4Runner Specific, Multi-Fit for most mid-size trucks and SUVs, and Mega-Fit for full-size trucks, SUVs, and vans.
All UltraSwing versions feature an adjustable/removable wheel plate that can accommodate tires up to 37 inches (or 40 inches on the Mega-Fit), a secondary swinging hitch (for bike racks), an integrated license plate relocation mount, as well as a lower receiver tow-rated to 10,000 lbs. Don't need a spare tire carrier yet? The UltraSwing's front plate has plug-n-play mounts for RotopaX and can also be used for mounting items like a WaterPORT. The UltraSwing weighs 65 pounds and can carry a load on the swingarm of up to 250 pounds (spare tire, bikes, fuel, etc.).
UltraSwing accessories include the UltraTable drop-down camp table, as well as mounts for Hi-Lift, RotopaX, jerry cans, and a molle panel to mount just about anything you can think of. Plus, RIGd offers a range of backup camera relocation options for most popular vehicles. The UltraSwing is proudly made in the USA.
MSRP: $1,569
TRUKD — Overlander V2 Bed Rack —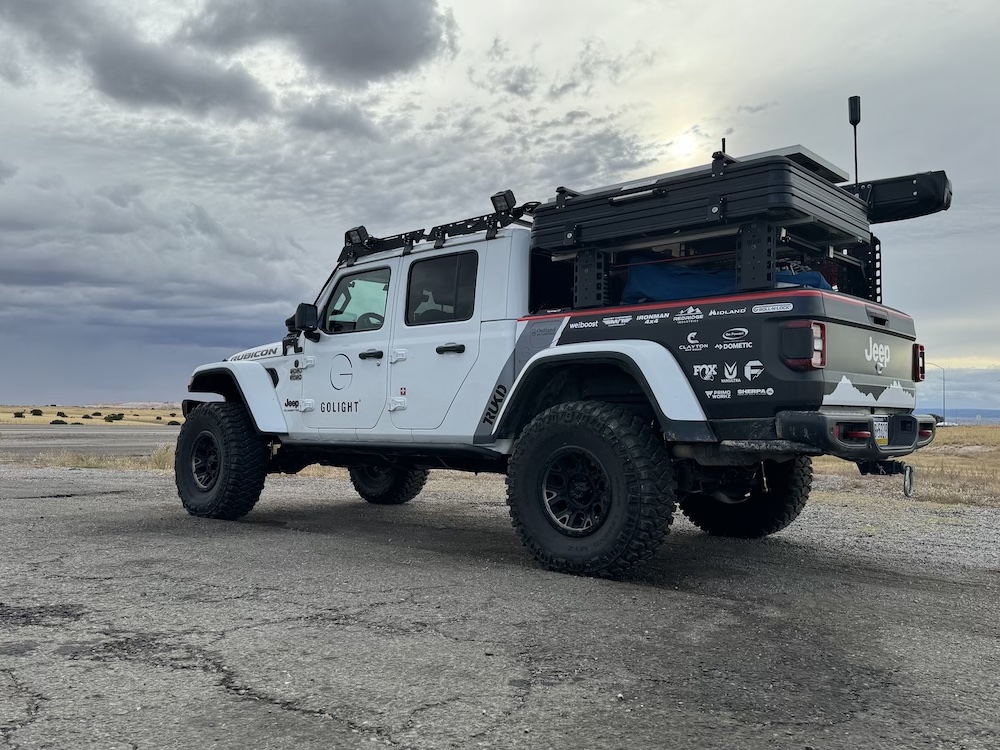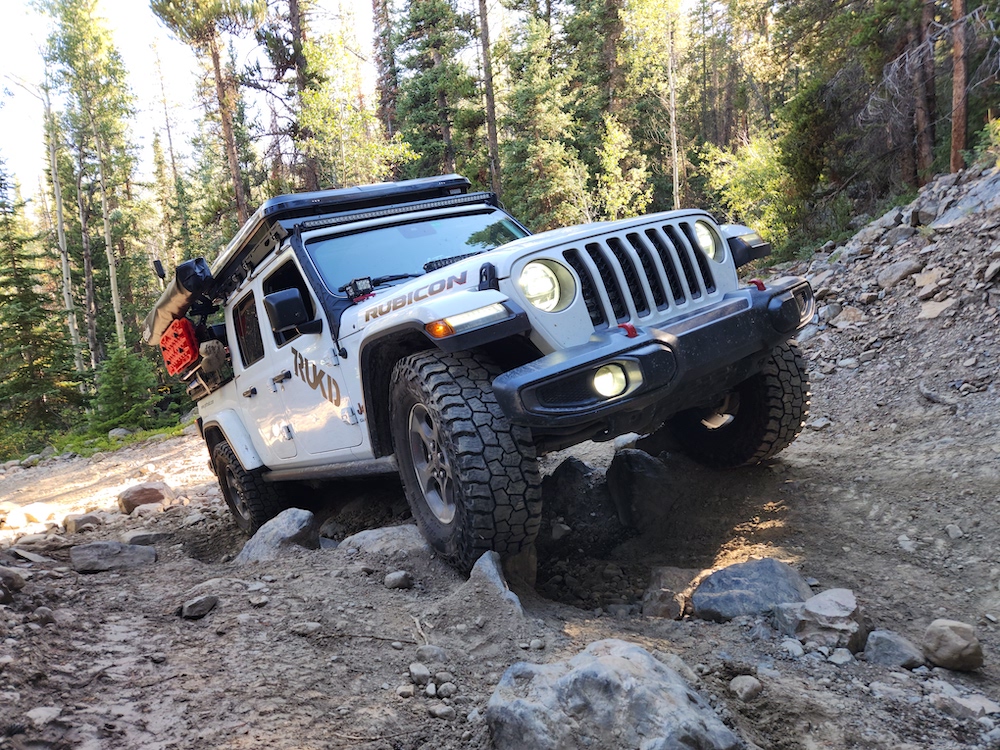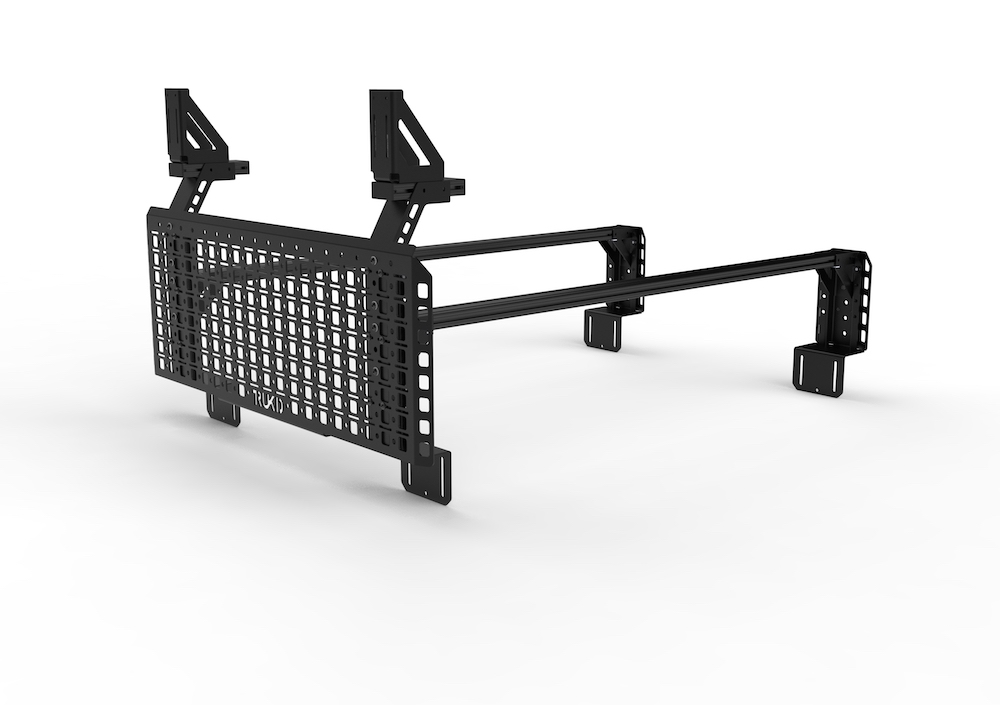 TRUKD's Overlander V2 Bed Rack is one of the most unique racks on the market. It is designed specifically for the overlander who travels with a rooftop tent and awning on the back of their truck. The design gives users the benefits of a full-height rack and a mid-height rack in one: keep your RTT down low while your awning stays up high enough to walk underneath comfortably. This rack also comes with an 18.5 by 52 inch accessory panel, giving plenty of room to mount your recovery gear, cooking gear, or anything else on the side of your vehicle. It leaves the opposite side open to allow access to the bed.
Finally, the rack is designed to work with roll-up tonneau covers like the popular Mopar Roll-up, Bestop EZ Roll, or Truxedo Truxport and gives you easy access from one side into your truck bed. This rack has three different bed mounting options, making it compatible with nearly all makes and models and compatible with Retrax and Roll'n'Lock tonneau covers with T-slots.
TRUKD Holiday Deal Available Exclusively through our dealer network: $150 off from November 10 through December 15.
MSRP: $1,749
WildTop — Truck Caps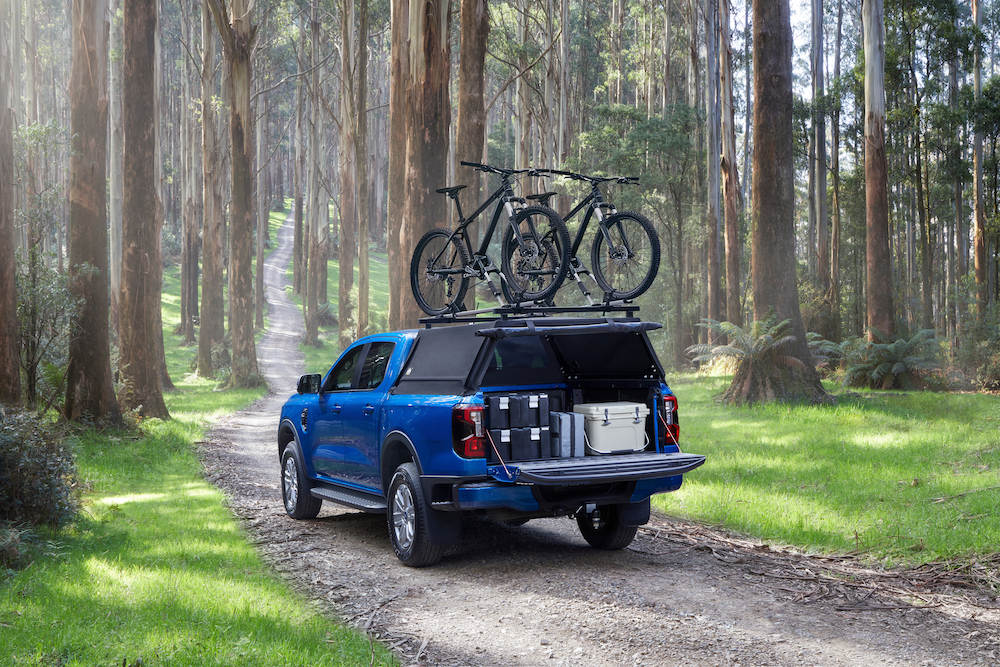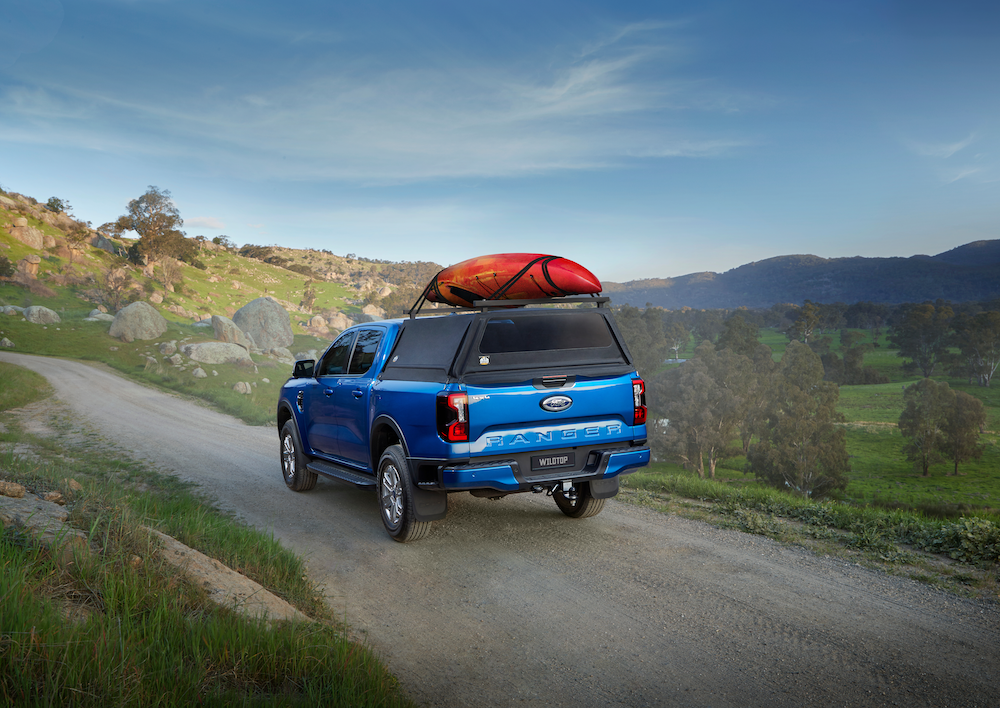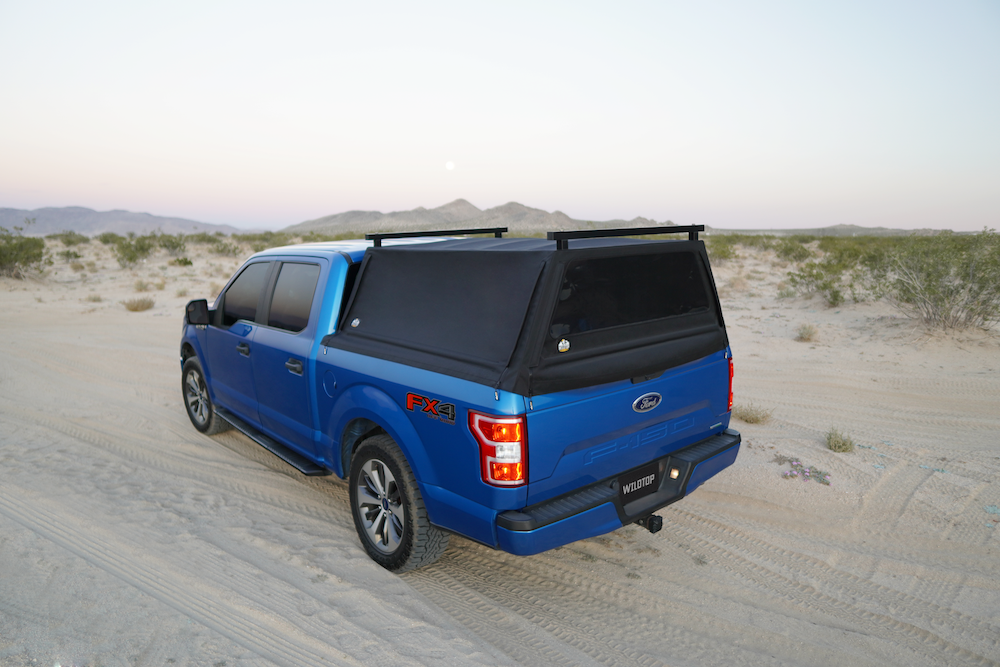 In the heart of Australia, where rugged terrain meets unyielding spirit, the WildTop Truck Cap was born. Crafted by the industry leader in tonneau covers, Tuff Tonneaus, the WildTop embodies the essence of the Australian Outback, marrying strength, space, and simplicity to offer a game-changing solution for your truck.
Strength to Support Your Adventures: The WildTop Truck Cap is engineered for the most adventurous souls. Featuring integrated ladder racks with a 770lb static and 220lb dynamic weight capacity, this cap provides an unbreakable foundation for your gear, allowing you to explore without limitations. Whether you're carrying sports equipment, camping gear, or work materials, rest assured that your cargo is in capable hands.
Rugged Durability: Crafted from premium 16oz heavy-duty waterproof Australian Outback canvas, the WildTop not only shields your belongings from the harshest weather conditions but also exudes a sense of rugged sophistication. It's a testament to the spirit of the Australian Outback, where toughness is a way of life.
Running out of space is never a concern with the WildTop Truck Cap. It ingeniously doubles your truck bed storage space, ensuring that you have room for everything you need on your journey. This extra space allows you to be fully prepared for your adventures, whether it's a weekend getaway or a long-haul road trip.
When it comes to accessing your cargo, the WildTop makes it simple. Equipped with heavy-duty YKK zippers and magnetic straps, you can effortlessly roll up all four sides for complete tub access. No more wrestling with complicated systems – the WildTop offers convenient and quick access to your gear.
Say goodbye to the days of struggling with complicated installations. The WildTop Truck Cap is designed for simplicity. Its lightweight design, weighing less than 60 lbs, makes it a breeze for a quick and easy two-person lift. The DIY installation and removal process ensures you spend less time setting up and more time on the road.
At the core of the WildTop Truck Cap is a commitment to providing a product that enhances your truck's capabilities, allowing you to explore the world with confidence. Inspired by the Australian Outback's enduring spirit, this cap is the embodiment of strength and resilience, ensuring that you're well-prepared for any adventure that comes your way.
Discover the perfect balance between strength, space, and simplicity with the WildTop Truck Cap. It's more than just a truck accessory; it's a gateway to new horizons, ready to accompany you on your journey of discovery.
Use Code OXDEAL for 10% Off Your Next Order.
MSRP: Starting at $1,199
Wrappon USA — Trekker WT-4 Toilet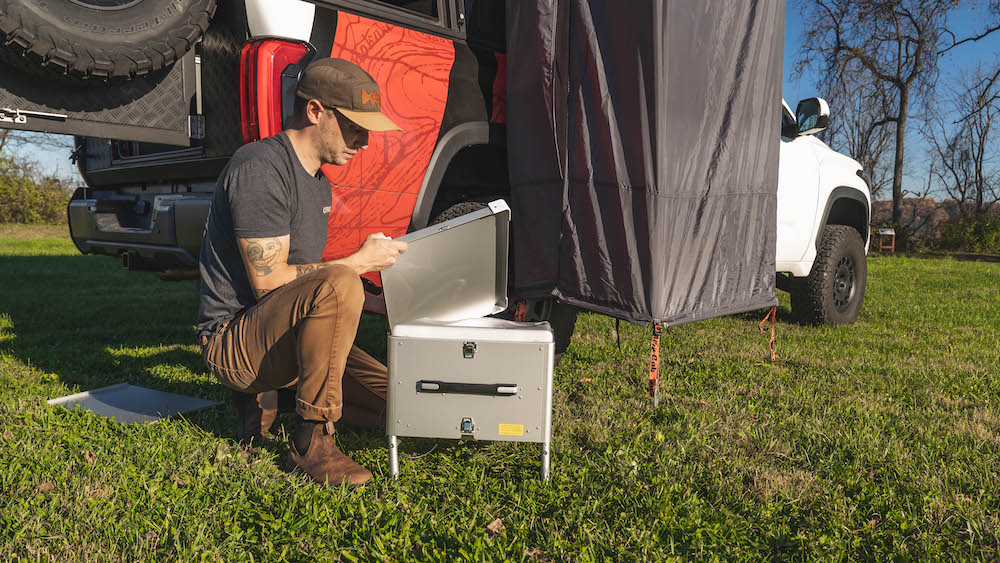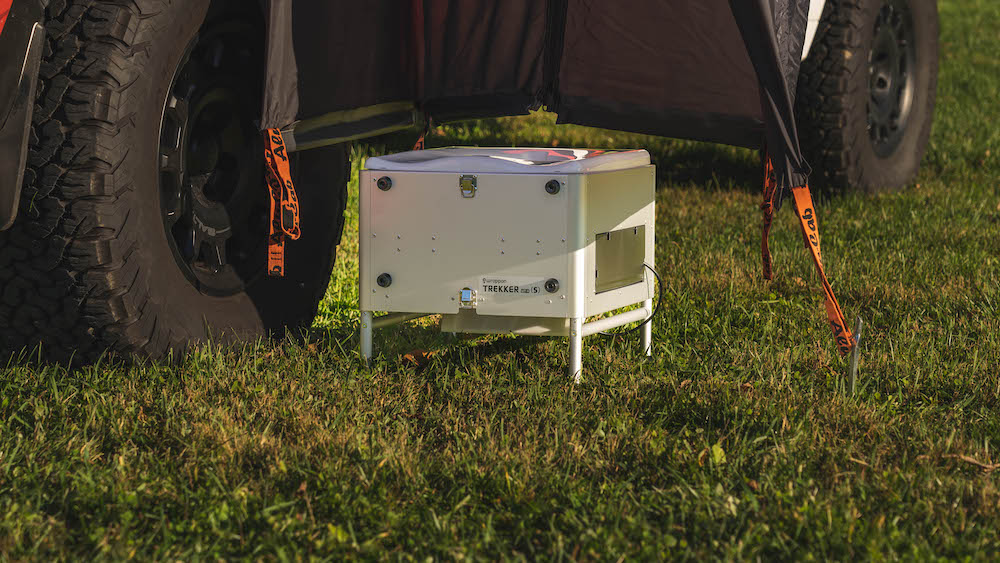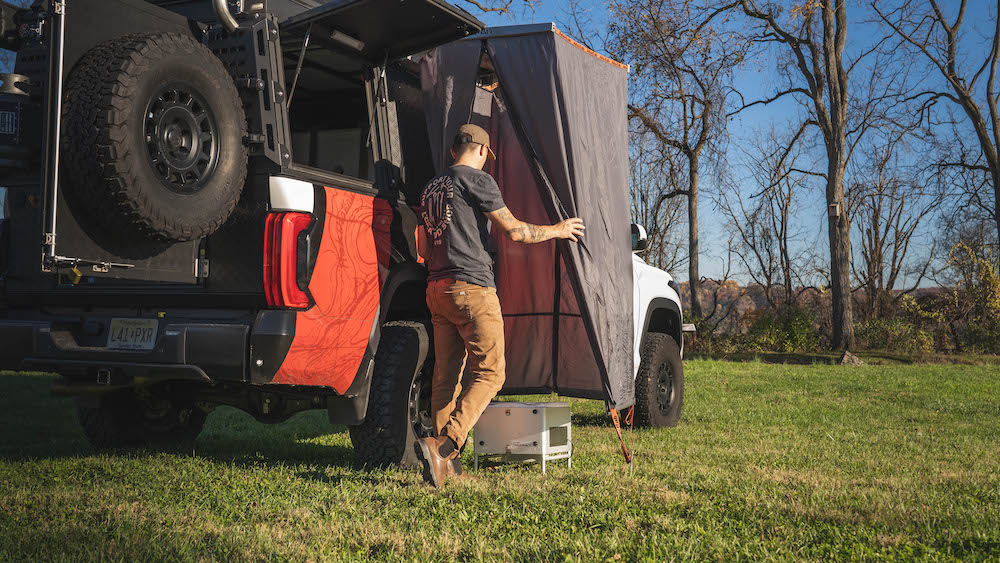 The Wrappon Trekker WT-4 Toilet is a game-changer for anyone who loves to travel off the beaten path. Its compact, simple, and hermetically sealing toilet eliminates all the drawbacks of traditional portable camp toilets. With the Trekker, you won't have to deal with the mess and hassle found when using buckets, cassettes, or compost toilets. The Japanesse-designed Wrappon products were designed to support areas affected by natural disasters and have found their way to the overland community.
Operating the Trekker is simple: start by installing the 50-count roll of triple-layered, tear-resistant waste bags, and let the Trekker do the rest. When you're done, press the flush button on the remote, and the Trekker will hermetically seal waste and odor and dispense the air-tight waste bag that's safe to dispose of in any waste bin.
Adding Wrappon's supplied Powder Coagulant to the waste bag, made of super-absorbent resin that quickly solidifies liquids, provides an extra safeguard for keeping waste contained. The Coagulating Powder contains a deodorizing agent to work in conjunction with the Wrappon waste bag to ensure that no odor escapes the sealed waste pouch.
The Wrappon Trekker also has other impressive features, such as a remote that tracks your flushes so you know when it's time to reload another 50-count roll of waste bags. Its compact design breaks down into a suitcase-sized box, making storage a breeze, and the waste bags can remain in place. Plus, it's powered by a 12-volt power supply that works in all vehicles, or opt for Wrappon's rechargeable power pack. The Wrappon Trekker is an excellent option for vans, trailers, and Overland travel vehicles.
MSRP: $1,595.95