Taking care of the wilderness is a hot topic these days. As I'm sure you've noticed, more people are taking to the backcountry than ever before, and the impact of increased visitation is undeniable. Whether you're complaining about the crowds or thrilled that more people are finally off the couch and out camping, I'm sure we can all agree that the world will be a better place if we all just clean up after ourselves!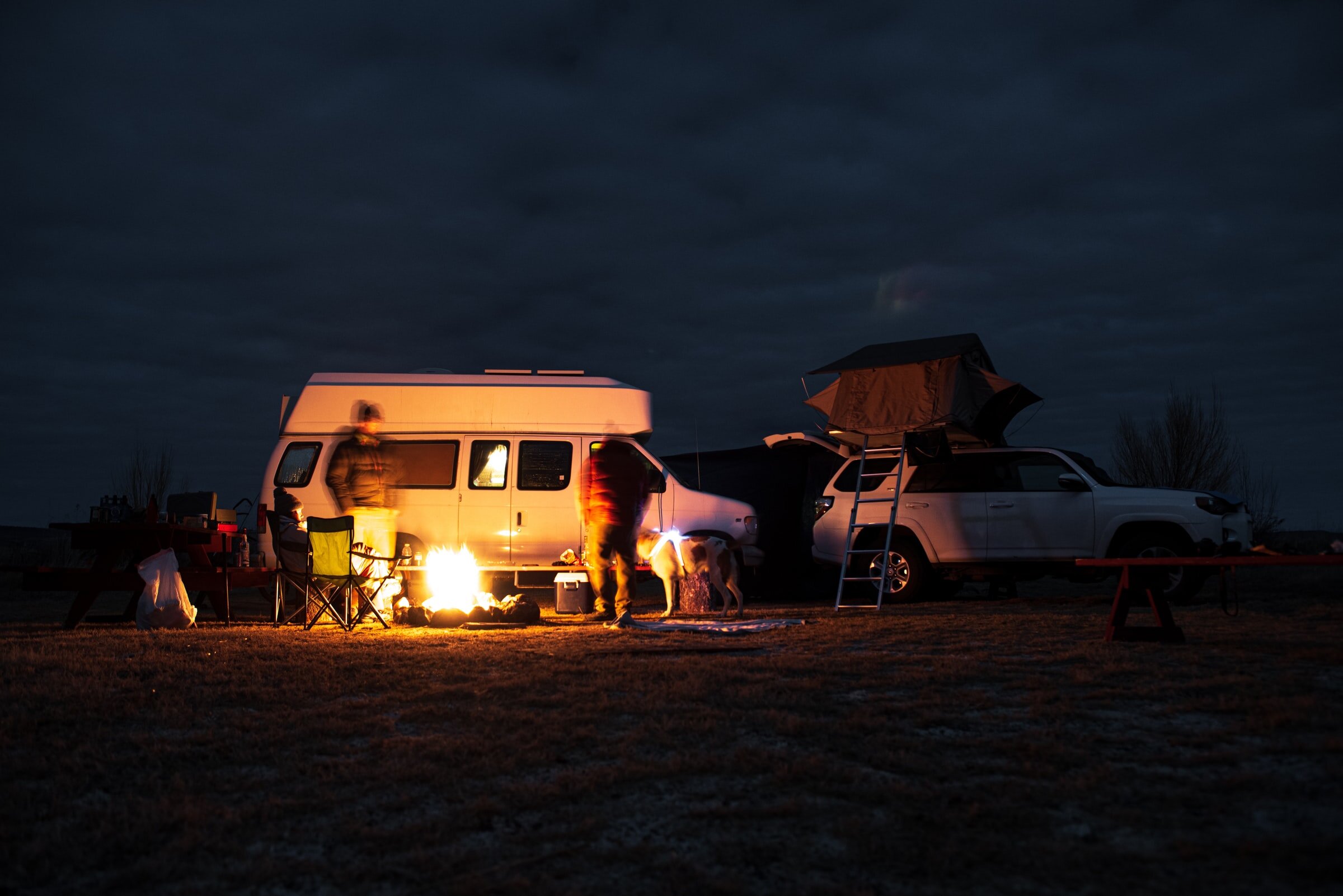 Photo by McKayla Crump
The idea of "leaving no trace" began in the 1960s as outdoor recreation gained popularity. The federal land management agencies developed brochures with catchy titles such as "Wilderness Manners" and "No-Trace Camping", full of helpful tips on how to not ruin the wilderness while you're out recreating. The Leave No Trace nonprofit was incorporated in 1994 with a mission of fostering responsibility and stewardship for the outdoors.
LNT's minimum-impact messages are targeted to non-motorized recreational activities, but we overlanders have a separate set of responsibilities because of our vehicles. As soon as you bring a motor into the mix, the potential to cause problems, impact the land, and reduce recreation opportunities increases exponentially.
For those who prefer petroleum with their playtime, Tread Lightly promotes excellent outdoor ethics to address the unique impacts of motorized recreation. Started as a campaign to address issues from off-road vehicles by the United States Forest Service in 1985, Tread Lightly leads a national initiative to protect and enhance recreation access and opportunities. With an eye on good stewardship, Tread Lightly's goal is to balance the needs of the people who enjoy outdoor recreation with our need to maintain healthy ecosystems.
I'm of the mindset that our public lands here in the U.S. are one of the most valuable resources we have. So, whether you're riding your mountain bike or your dirt bike, here are a few common-sense tips to remember while recreating so we can keep having backcountry fun for generations to come!
---
Pack it in… pack it out!
One of the most obvious parts of taking care of the wilderness is not leaving junk behind. Of course, you're not going to throw your cans in the woods or campfire ring, but when it comes to trash, every little thing counts. Be it bacon grease or banana peels, if you brought it in, you need to take it home too.
Micro-trash is one of the biggest offenders in the wilderness. Little bits of trash can virtually disappear when they hit the leaf litter but need packing out as much as the big stuff. Always take a few minutes to scour your campsite before hitting the road in the morning and make sure your trash, plus the trash from the camper before you, gets picked up.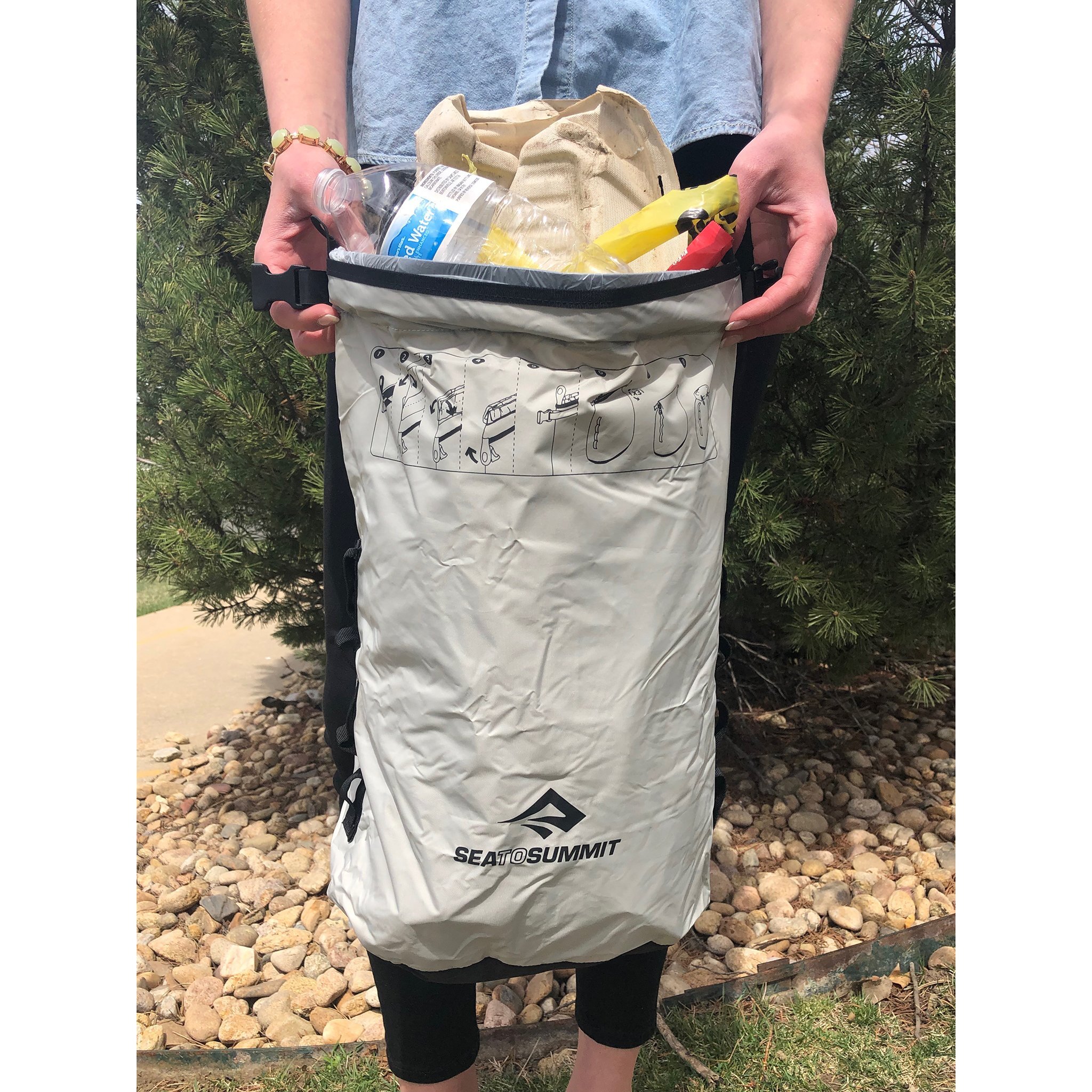 Keep a dedicated trash sack to make camp cleanup easy!
Sea to Summit's Trash Dry Sack provides waterproof and leakproof storage for cleaning up your campsite. The roll-top closure keeps trash tidy, and the webbing loops allow it to be hung from a tree to keep animals out of your waste.
---
That goes for human waste too!
Whether you're running a high-tech incinerating toilet or a trusty trowel, dealing with human waste is an increasing problem in the wilderness. Leave No Trace says that "proper disposal of human waste is important to avoid pollution of water sources, avoid the negative implications of someone else finding it, minimize the possibility of spreading disease, and maximize the rate of decomposition."
The classic cat-hole is the most widely accepted method for human waste disposal in the woods. Learn the techniques specific to your area and, between the fresh air and great scenery; you'll never want to use a smelly port-a-potty again.
When in doubt, go with the wag bag!
For particularly sensitive wilderness areas or pit stops in a pinch, keeping a wag bag in your rig is a good idea. Cleanwaste's GO Anywhere Toilet Kits contain a waste bag, puncture-resistant storage bag, toilet paper, and hand sanitizer. The bags neutralize odors and gels up to 32 oz. of liquids and solids for easy removal.
---
Campfire Safety
Wildfires are no joke. According to Leave No Trace, "Human-sparked fires are the cause of almost 90% of all wildfires in the U.S. and have been shown to burn at more than 2x the rate of those naturally occurring." That said, a little common sense goes a long way when it comes to minimizing the impacts of fire.
Wherever you're exploring, make sure to check the local regulations. If a burn ban is in effect, obviously a campfire is a no-go. That said, even without fire restrictions in place, if you're in a particularly dry environment, you might want to skip the s'mores and air on the side of safety.
READ MORE: HOW TO COOK OVER AN OPEN FIRE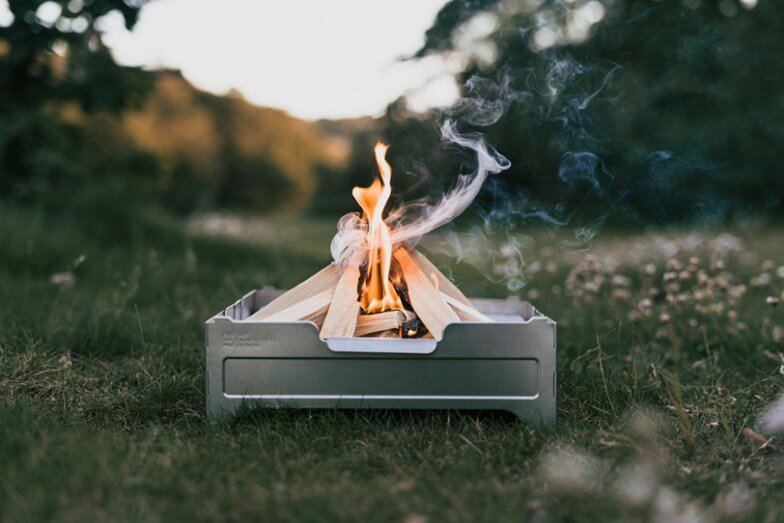 Use a fire pan, if you can!
If regulations permit and you do choose to build a fire, the Wolf and Grizzly Fire Safe is the perfect tool to create contained, minimal-trace campfires wherever you go. Weighing only 2 pounds, this foldable fire pit works perfectly with wood or charcoal.
---
Prepare to Share!
Respecting restrictions and using only trails open to your mode of transportation is essential. Be aware that, in many parts of the country, trails are open and shared by equestrians, bikers, hikers, and motorized vehicles. Trail sharing works when we all respect each other and work cooperatively to keep each other safe.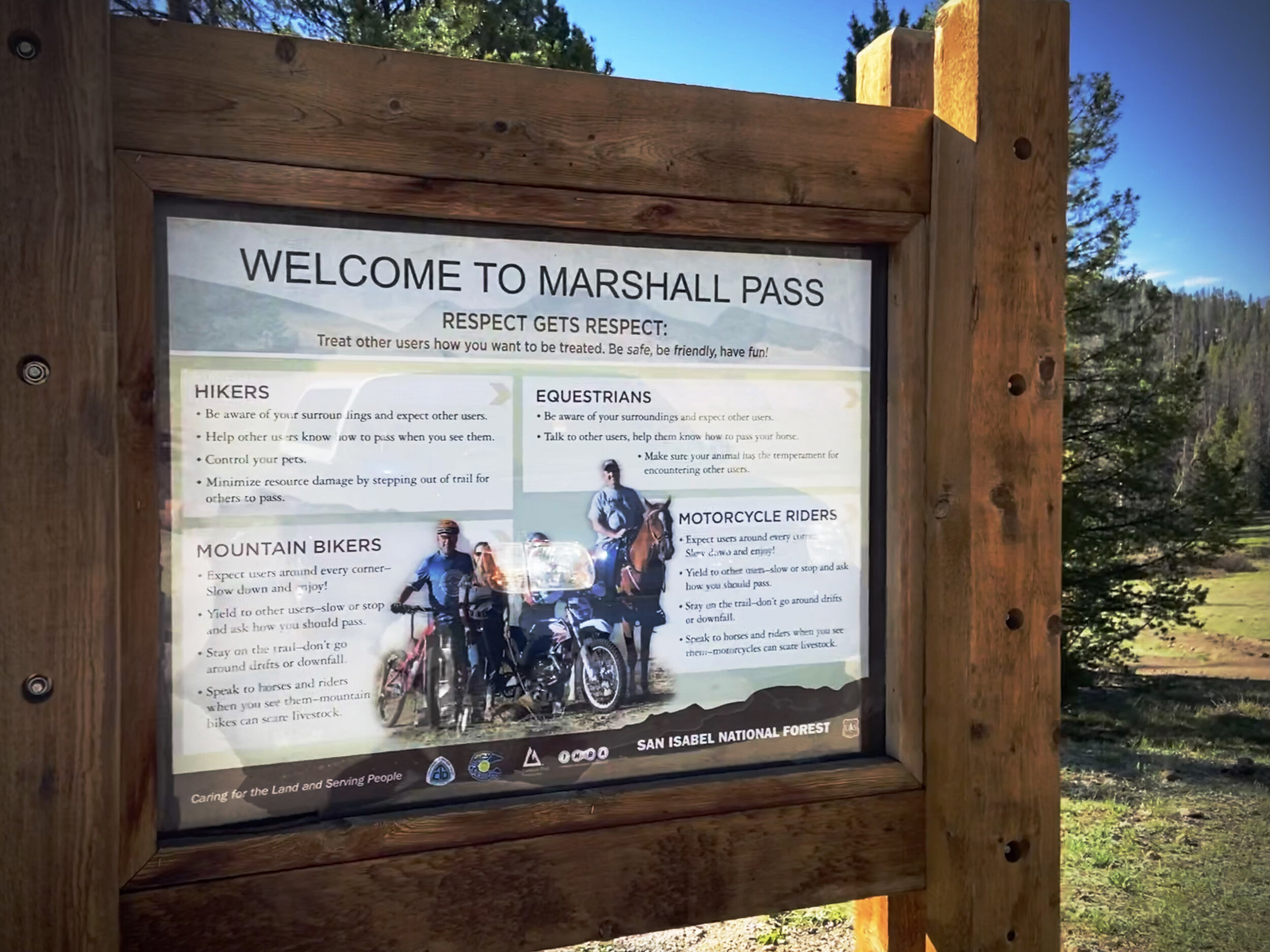 In shared use areas, there seems to be some confusion about who has the right of way and when to yield. The Forest Service says, "Wheels Yield to Heels" and it is your responsibility to yield to hikers, bikers, and horses when you're the one driving. A good rule of thumb is to yield the right of way to those passing you from behind (i.e., a motorcycle passing a truck) or traveling uphill. Always use extra caution when the terrain limits your line of sight. Those of us in motorized vehicles need to take extra care around mountain bikes, runners, hikers, and horses.
---
Travel Responsibly
Riding with a buddy is always a good idea for safety, but off-roading with a dozen rigs becomes exponentially more impactful. If you're traveling with multiple vehicles, take particular care when selecting campsites and choosing routes over obstacles as to not widen trails or overly impact camp areas.
Meadows, lakeshores, and wetlands are particularly fragile, so keeping on the designated route is especially important when driving through sensitive areas. This protects wildlife habitats and sensitive soils from damage.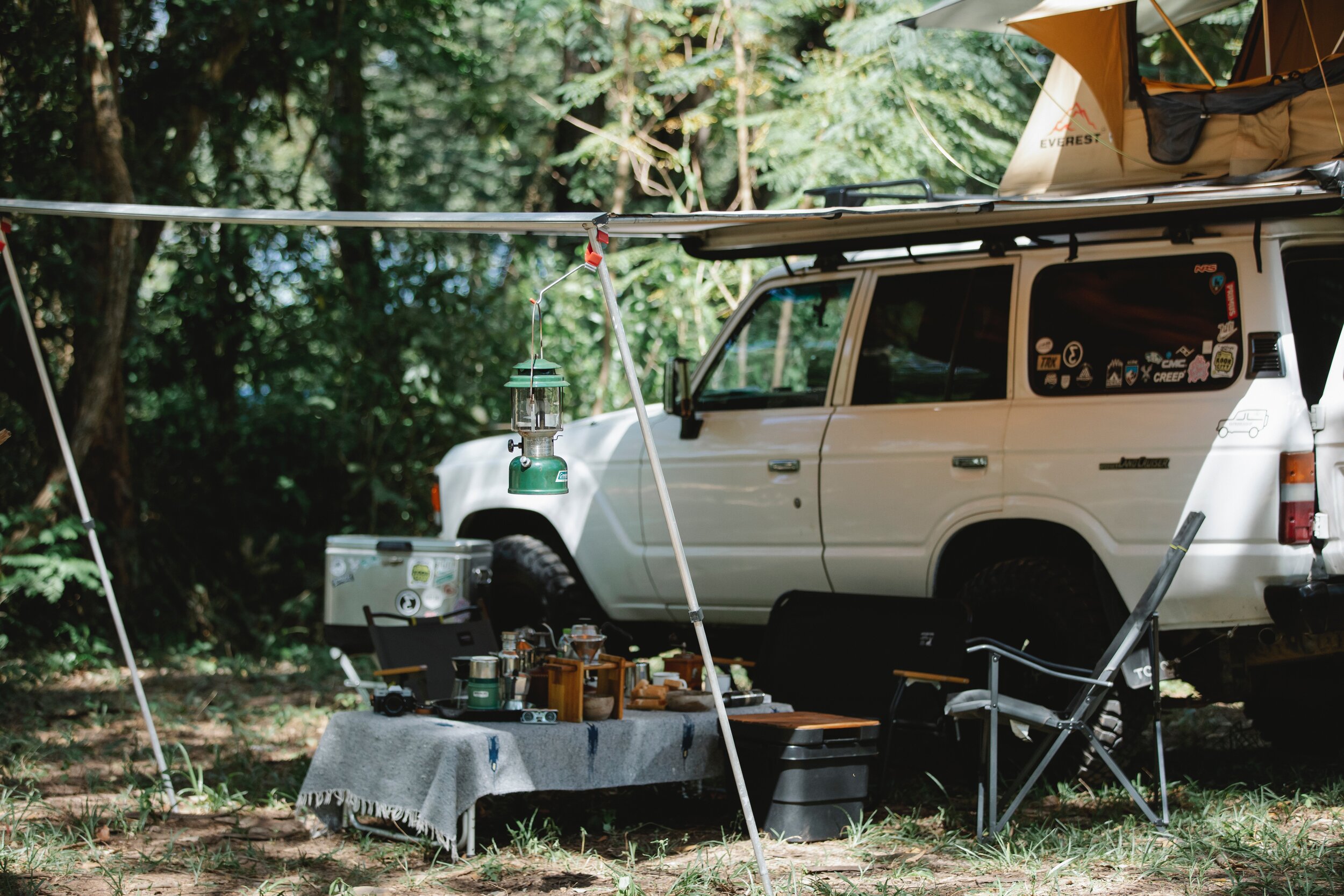 Photo: Photo by Uriel Mont
When selecting a campsite, the backcountry rule of thumb is that good campsites are found, not made. Choose a campsite that others have already used, if possible, rather than developing a new one. When you're pulling into camp, pay attention to the dimensions of your rig and make sure you're not plowing over foliage or damaging your vehicle.
---
Get Involved!
There is somewhere in the range of 640 million acres of public land in the United States, and if you're serious about protecting access for off-road adventuring, one of the best things you can do is to volunteer a bit of your time. Whether you're doing trail maintenance with your local off-road crew, picking up trash at the trailheads, or signing up for a Tread Lightly trainer course, every little bit of education and advocacy helps!