It's a great feeling to pack up your adventure moto and take off for a few days (or a few weeks) of camping and exploring, but just because you have limited room for your gear on your bike doesn't mean you have to sacrifice comfort and convenience.
Packing for adventure riding is an exercise in minimalism. Every pound of weight you strap, stow, or stuff into a pannier on the back of your bike equals lower gas mileage, increased tire wear, and decreased handling. Just because it will fit in your moto luggage doesn't mean you should bring it on your trip. The last thing you want to do is overpack and end up having a more limited experience by lugging around all of that gear.
Like all things overlanding, you'll figure out systems that work for you with time and experience. Remember that a handful of basics go a long way. Try to pack things that have multiple uses or, if they don't have multiple uses, pack items that you simply can't live without.
Here are a few tips to help you get geared up, pack smart, camp in comfort, and have an awesome adventure ride.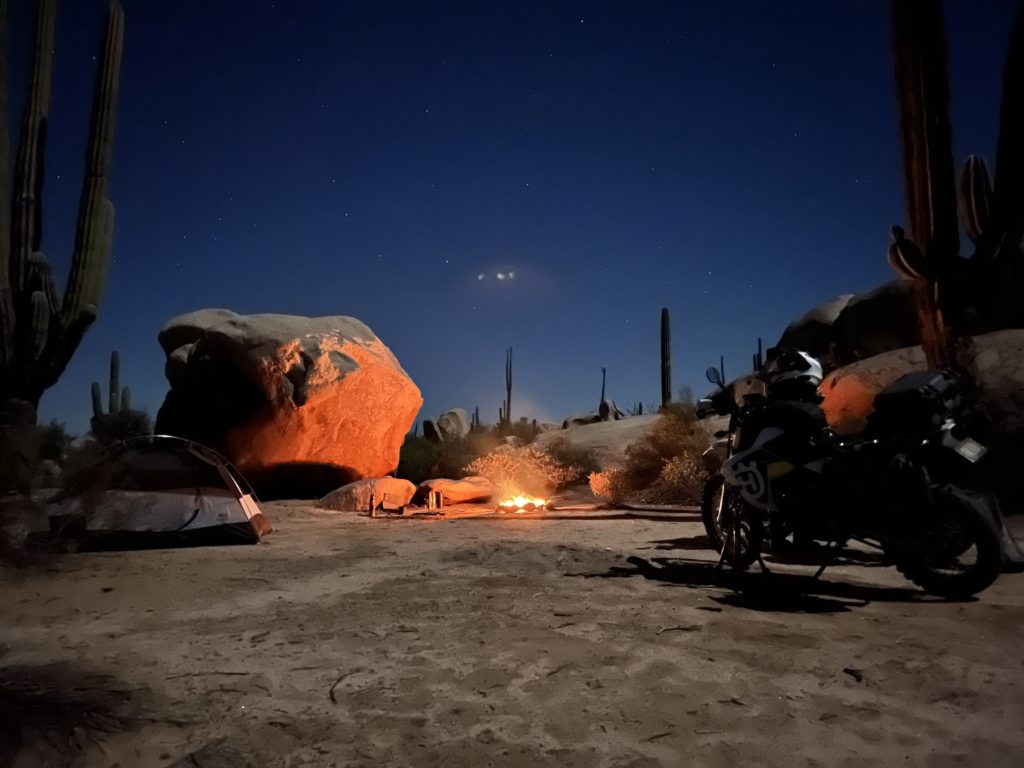 Adventure Motorcycle Packing – Luggage
When it comes to packing for adventure riding, one of the main considerations is how to actually carry your gear. The first part of that is keeping weight low, forward, and centered – as much as you possibly can. Remember, anything strapped to your bike behind the rear wheel or above the center of the bike is going to affect your handling both on– and off–road.
Of course, you can always strap a duffel bag down with bungee cords and hit the road, but when you're headed for some serious off-road, you'll want a system that's a bit more secure and efficient.
Whether you go with hard panniers, soft bags, or a combination of the two, your luggage should be super-durable and attach securely to your bike. Hard and soft bags each have their pros and cons, but selecting from the wide variety of moto luggage on the market is mainly a matter of preference. Take into consideration what sort of riding you'll be doing, and you'll find great options that suit your needs.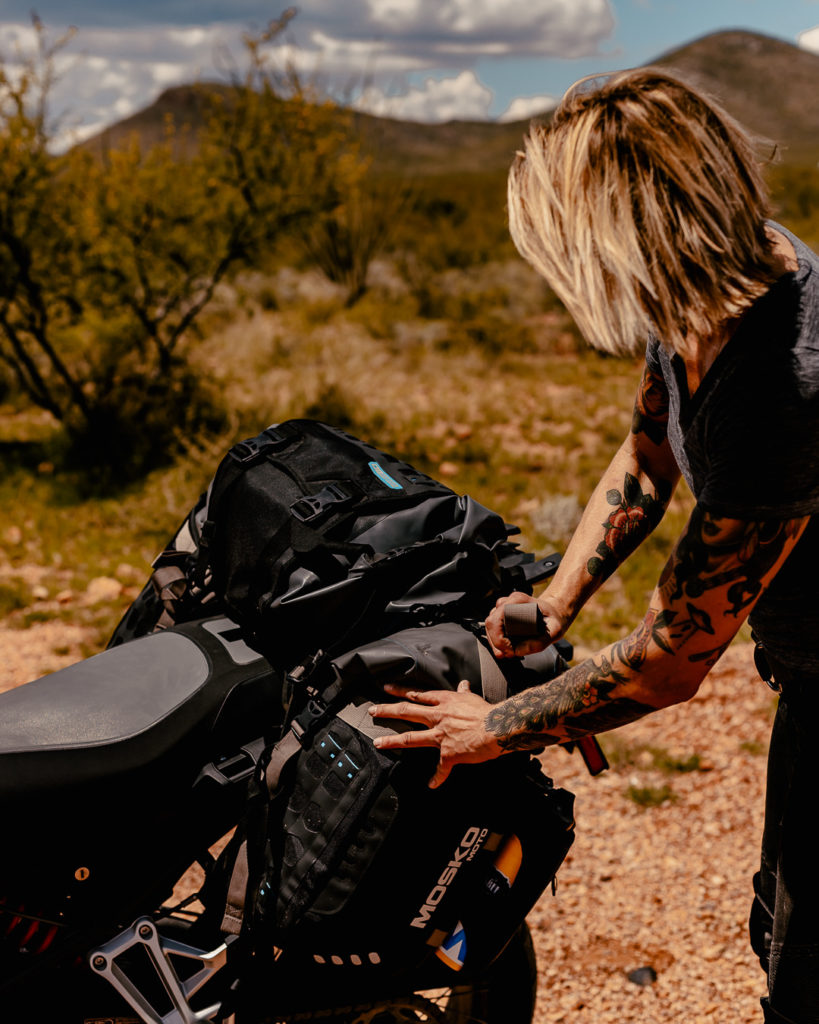 Soft luggage is generally made of ballistic nylon, making it abrasion resistant and durable. Often, soft luggage has roll-top closures and integrated waterproofing. Lighter than hard cases, soft luggage can be safer for off-road use as it reduces the risk of your leg being trapped between your pannier and bike when you fall.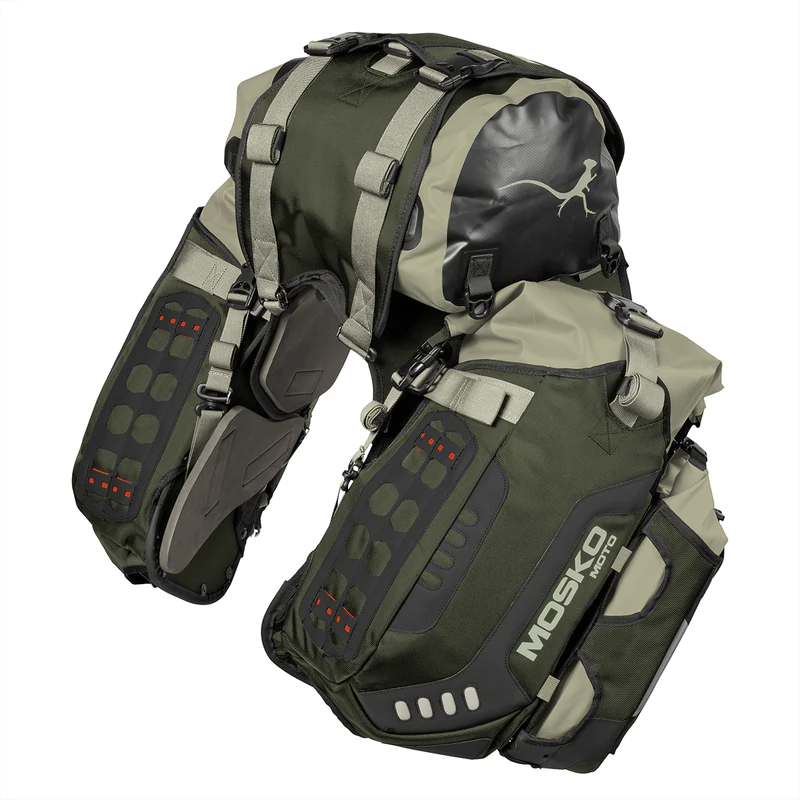 The Mosko Moto Reckless 80L doesn't require side pannier racks, saving significant weight and cost. The adjustable leg angle makes it equally at home on smaller enduros and on larger ADV bikes alike. It expands and contracts to accommodate a wide variety of loads, making it a super-versatile luggage system for all adventures, long or short. The Reckless 80 consists of a harness, two 25-liter dry bags, and a Stinger 22-liter tail bag.
MSRP: $930.00
Hard panniers are lockable and open conveniently, allowing for easy access to the contents inside. Generally made of aluminum or plastic, they are heavier than soft bags but are great for keeping valuables secure and protecting any expensive items from being crushed when your bike takes the occasional nap on the trail.
The Givi Outback Side Cases are built for rugged travel. Made entirely of aluminum, the Outback cases are designed with shock resistance and the stresses of off-road riding in mind. An innovative Monokey Side Cam system allows the top case and panniers to lock using the same key to keep things simple.
MSRP: $490.00 – $892.00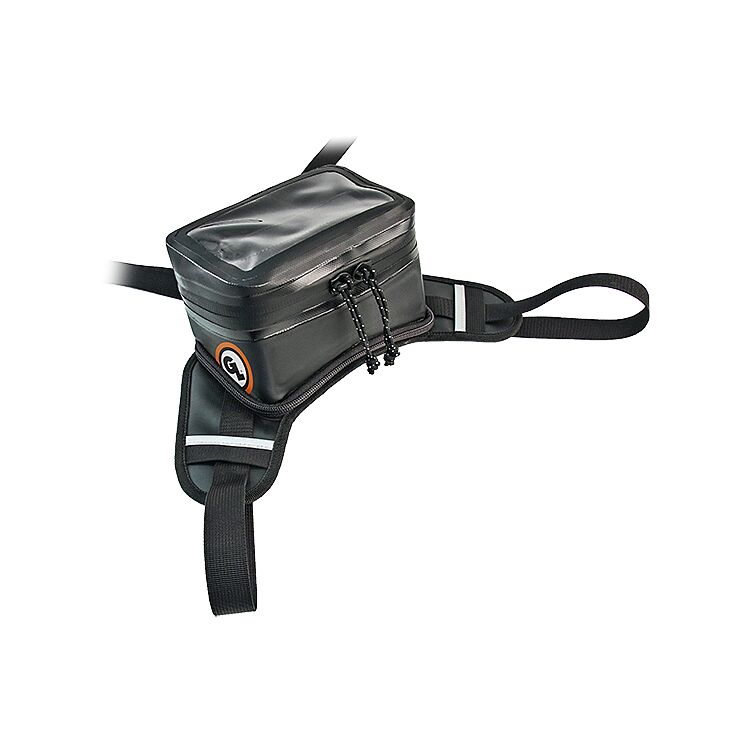 For easy access to the little necessities like your wallet, chapstick, and earplugs, a tank bag is the perfect solution. The super small, waterproof 1.5-liter Giant Loop Buckin' Roll Tank Bag is designed to carry the basic essentials that you'd want to keep dry when out on a ride. Its scant size allows the bag to be installed just behind the filler cap of most bikes, so you don't need to move it out of the way when filling up. The bag itself zippers off of the base harness for easy transitions between backwoods riding versus hare scrambles.
MSRP: $99.00
Adventure Motorcycle Packing – Tools
Having a reliable tool kit is critical for roadside repairs and daily bike maintenance. The SBVTools Pro Mechanic kit is easily the most cleverly designed tool roll on the market. Each tool is lightweight, high quality, and compact. Backed by a lifetime warranty and complete with Torx bits, Hex bits, wrenches, sockets, ratchets, and more, the SBV tool roll packs a garage-worth of tools into a tidy pouch.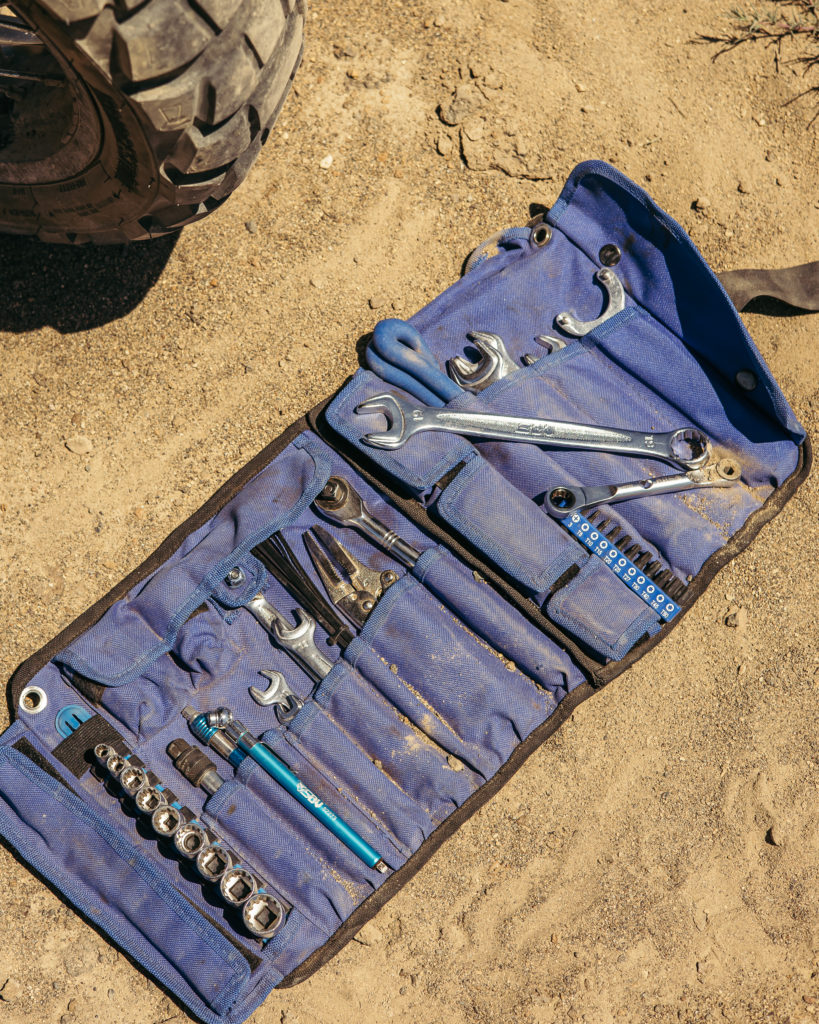 MSRP: $349.00
The BikeMaster Tire And Tube Flat Repair Kit includes everything you need to fix a tubeless or tube-type tire. Complete with patches, plugs, tools, glue, and more. It also includes four CO2 compressed air cylinders with an air valve and flexible line that connects directly to the tire valve, so you can air back up when the repair is done.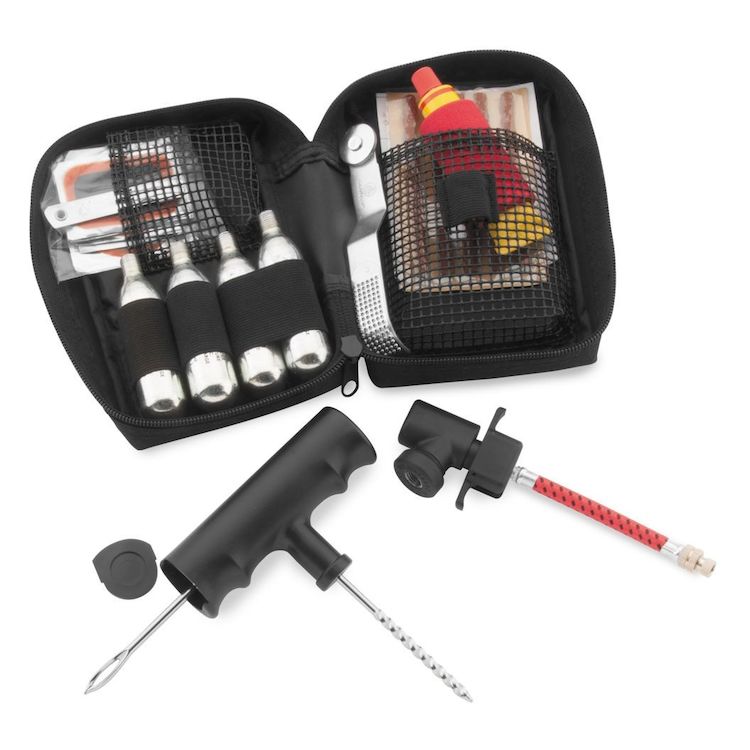 MSRP: $47.65
PACKING PRO TIP: No matter how much carrying capacity you have on your panniers, extra straps always comes in handy. Bring along some straps or extra webbing for lashing down your water bottle or dry bag to your saddlebags. They're also super useful for gathering firewood for camp!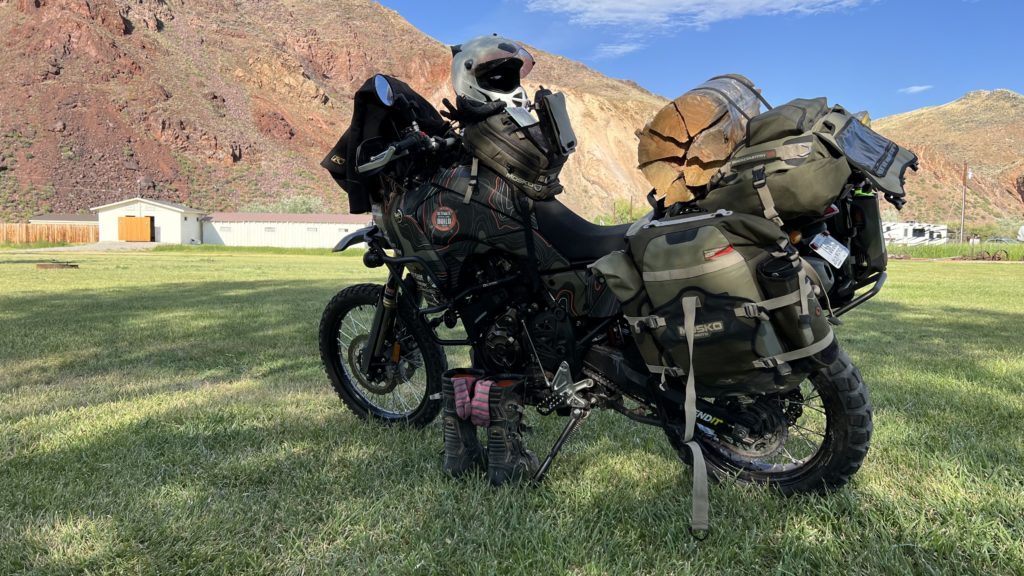 Adventure Motorcycle Packing – Camping Gear
When you're headed out on an extended adventure ride, your camping gear needs to be durable and suited to the environment that you're traveling in. Space is at a premium on your motorbike, so you'll want to choose gear that packs small and pulls its weight in more ways than one.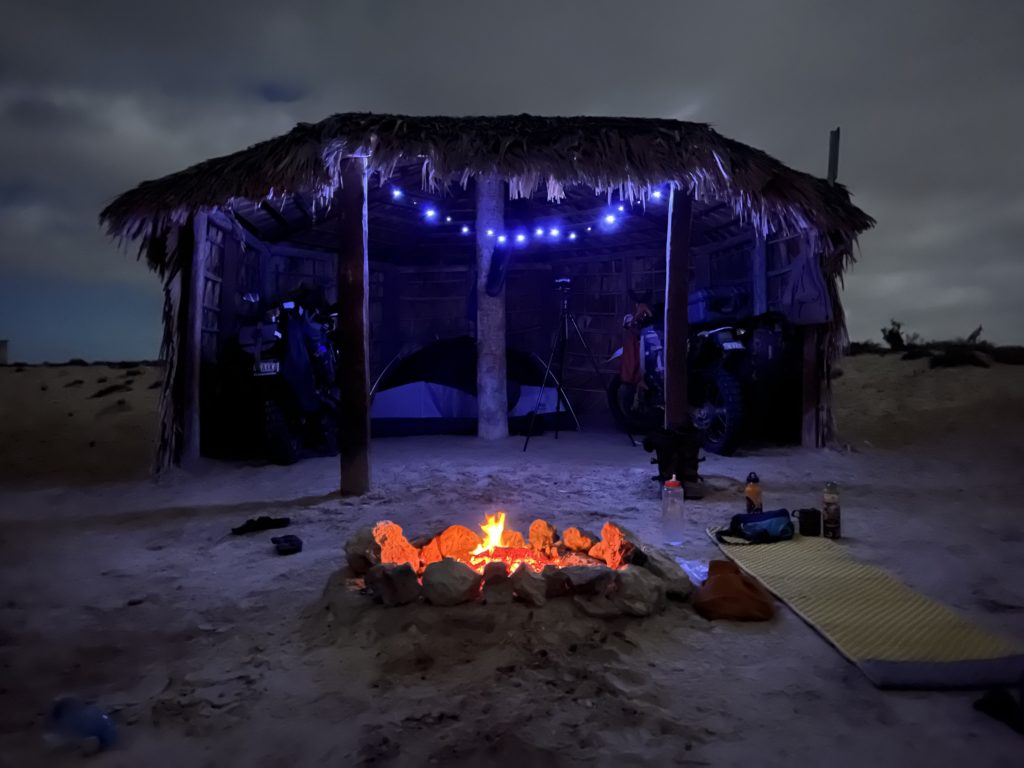 Having a tent that lets you sleep soundly through an overnight storm is essential, and when it doubles as a mosquito-free sanctuary in summer, even better. When it comes to choosing a tent for adventure riding, a one-person tent saves space, while a two-person tent gives you extra room to move or share the tent with your favorite riding buddy. Whichever way you go, choose a tent with plenty of vestibule space to stash your boots and gear someplace dry.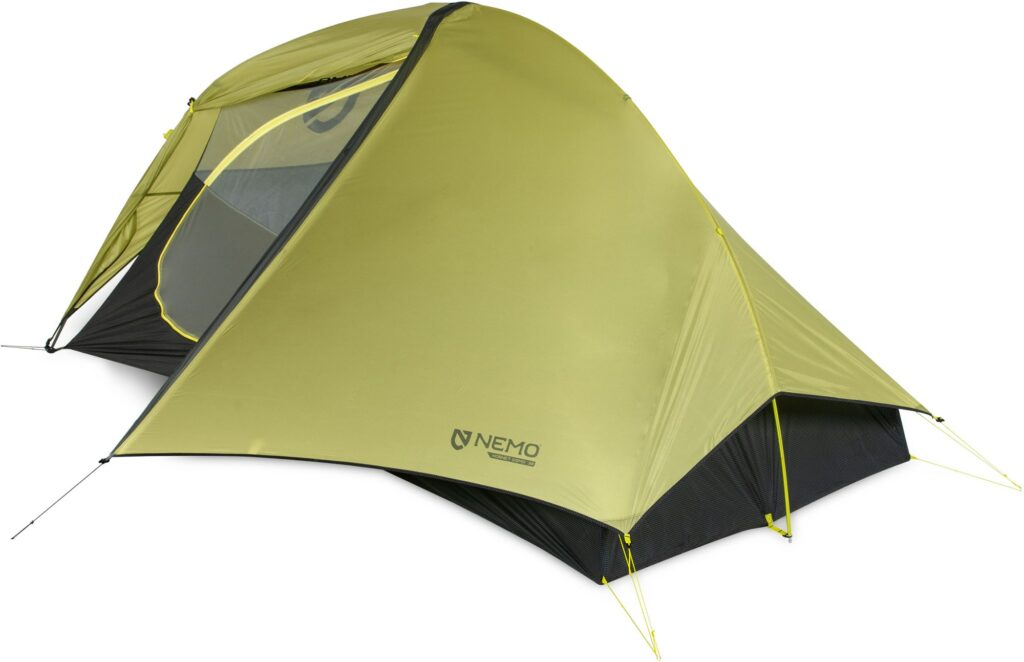 An ultralight two-person tent like the semi-freestanding NEMO Hornet Ultralight 2P Tent offers plenty of livability for adventure riding, thanks to its large door and a 39-inch peak height to provide plenty of headroom when you're inside. The trapezoidal vestibules with multiple roll-back points provide gear storage and a view of the stars on clear nights. Best of all, it packs down into its own stuff sack, making packing a breeze.
MSRP: $429.95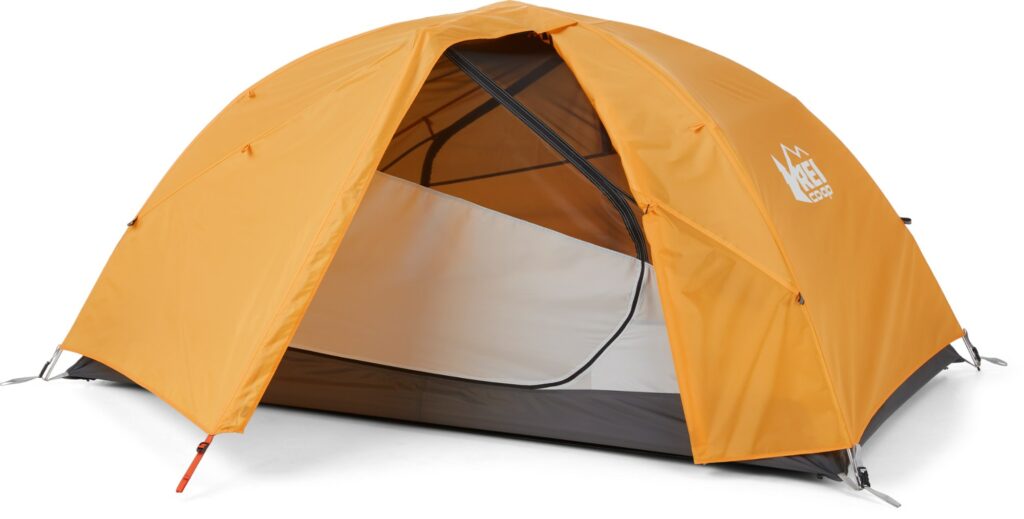 The REI Co-op Trail Hut 2 Tent with Footprint is a two-person freestanding dome that is easy to set up. With a door and vestibule on either side, the Trail Hut maximizes accessibility and makes for plenty of weatherproof gear storage and hangout space. Don't let the low price fool you. This tent is rugged enough for your moto travels.
MSRP: $199.95
Packing Pro Tip: When you pack your tent, ditch the stuff sack! Tents pack down small and can fill the nooks and crannies in your panniers to keep your other gear in place. You might even put the tent fly in one pannier and the mesh body in the other one— that way you can pitch one part without the other, and not have to unpack more than necessary.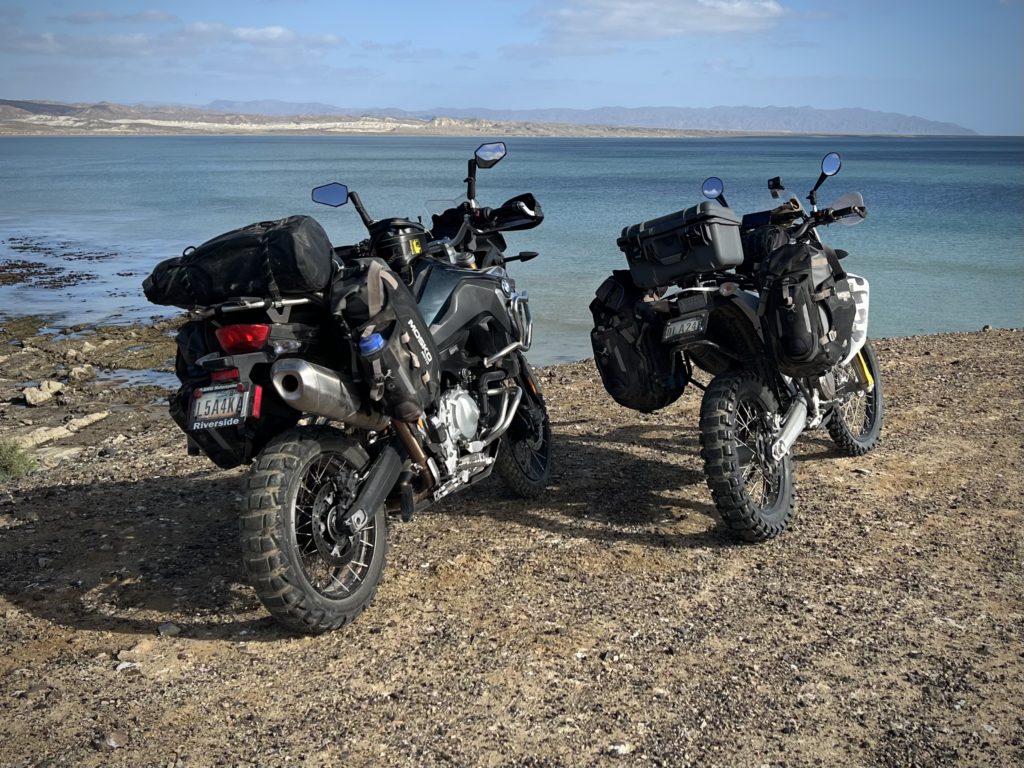 Your sleeping bag and pad are as much a matter of personal preference as anything in your adventure kit. Getting a good night's sleep fuels your adventure, and though you might be tempted to skimp on your sleep kit to save space, remember that catching some quality z's is essential to riding your best.
Down-filled bags pack smaller than synthetic ones, and the colder a bag is rated, the more space it will take up in your luggage. Bringing a lighter-weight bag and doubling down your long undies can certainly save valuable packing space. That said, you don't want to forgo an amazing campsite on the side of a mountain just because your sleeping bag is rated for the Sahara desert.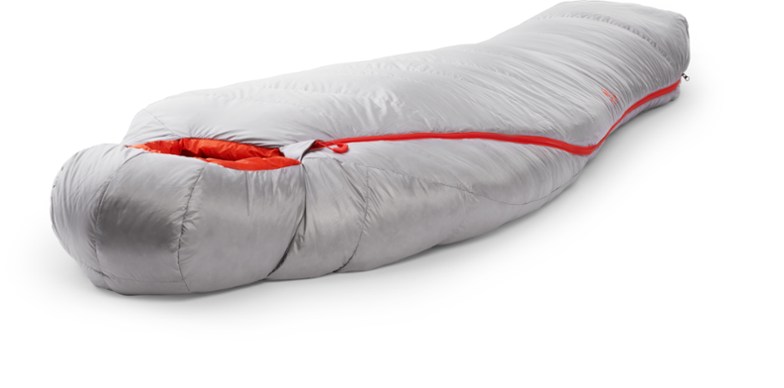 Insulated with water-resistant 850-fill-power goose down, the REI women's Magma 30 sleeping bag rides light in your panniers and delivers excellent warmth-to-weight ratio. The Men's Magma 30 can be found here.
MSRP: $349.00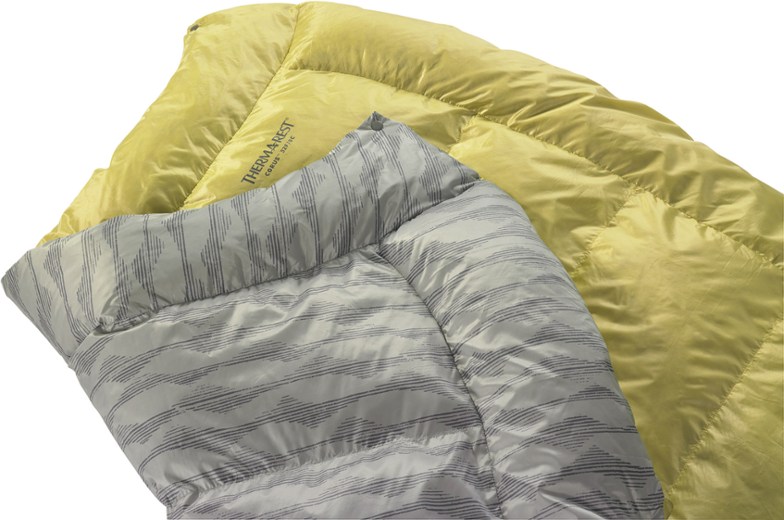 The Therm-a-Rest Corus 32 Quilt eliminates the bottom layer of your sleeping bag to save space on warm riding trips. The footbox slips over your pad to eliminate drafts, and the quilt features box baffled construction using mesh walls to maximize down loft and minimize cold spots
MSRP: $269.95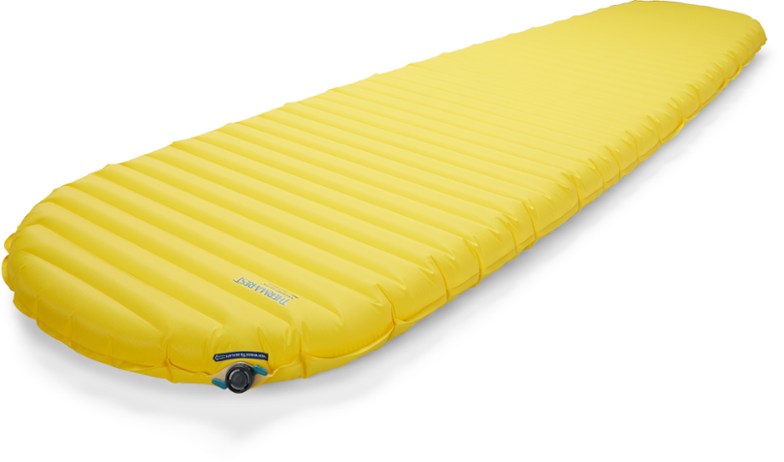 Sleeping on your riding jacket for padding is usually a bit of a bummer. Bringing along a sleeping pad keeps you off the ground, insulated, and way more comfortable. The Therm-a-rest Therm-a-Rest NeoAir XLite NXT Sleeping Pad packs down to the size of a water bottle, inflates easily, and adds a healthy dose of off-road comfort.
MSRP: $199.95 – $239.95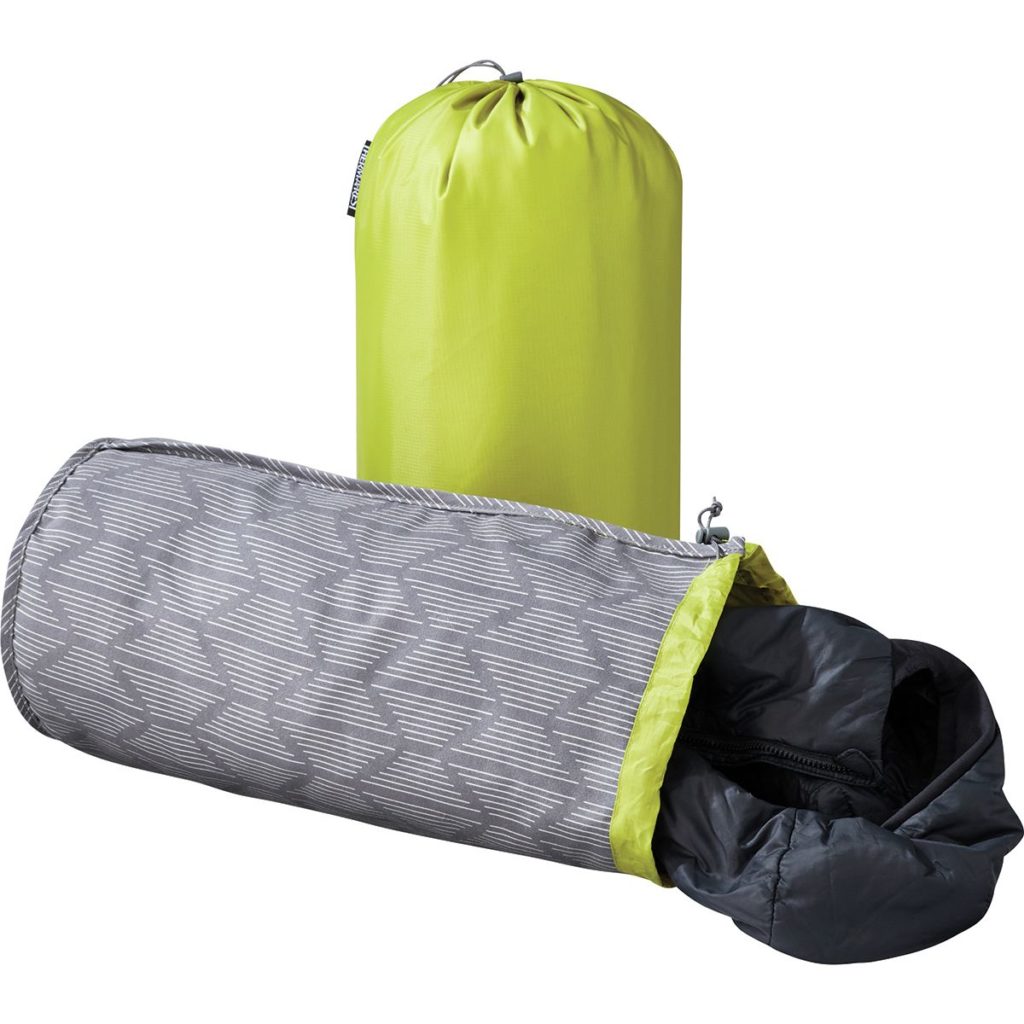 The Therm-A-Rest Stuff Sack Pillow is a dual-purpose storage sack that doubles as a pillow. When it's time to hit the hay, turn it inside out and stuff some clothes inside for an instant pillow. The brushed polyester reverse side is super comfy and guarantees sweet dreams of epic rides.
MSRP: $20.95
Packing Pro Tip: Waterproof stuff sacks keep your sleeping gear dry and double as an off-road washing machine. Just put your dirty clothes in with a squirt of soap and enough water, seal the dry bag up and knead it clean. Rinse your clothes and hang them on your bike to dry!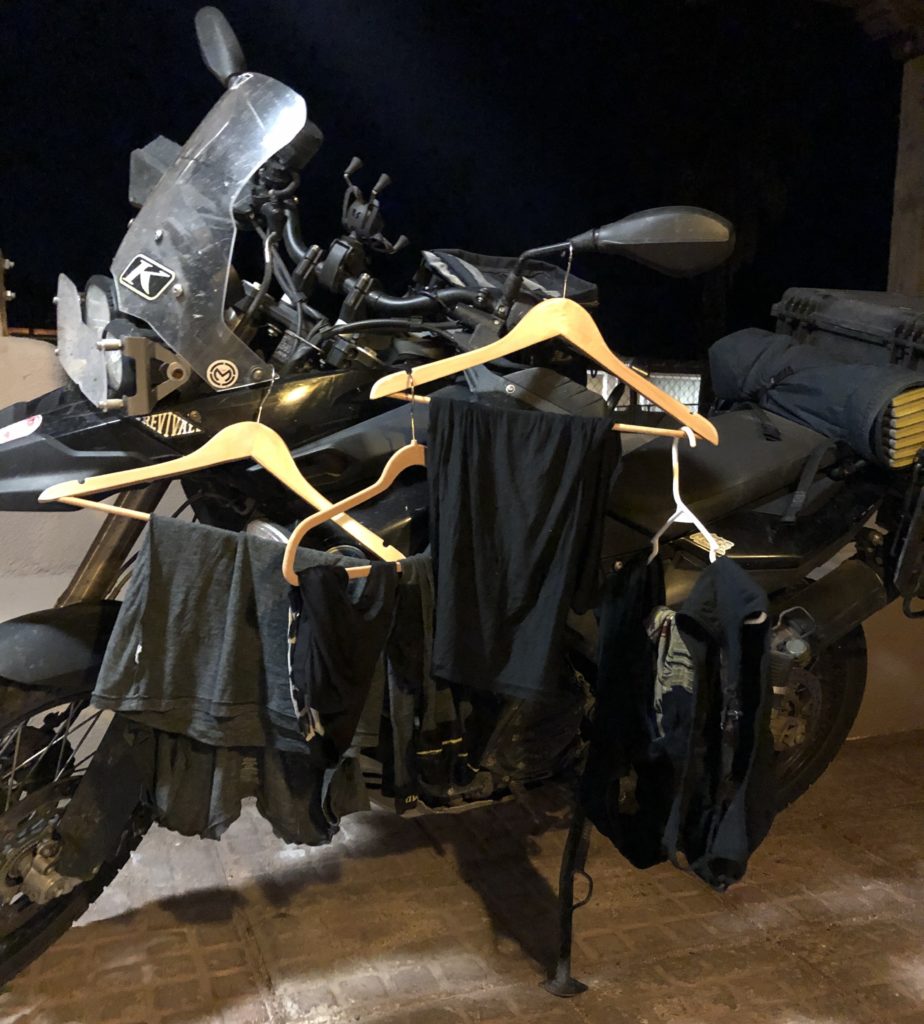 Adventure Motorcycle Packing – Cooking Gear
Dinner after a long day of riding may just be the best thing ever. Whatever you whip up on the trail is going to be particularly delicious, and keeping it simple is often the name of the game when space is limited. Your backcountry cooking, like the rest of your kit, will develop over time, but when you're new to longer adventure riding trips, start with the basics, and you'll be plenty satisfied.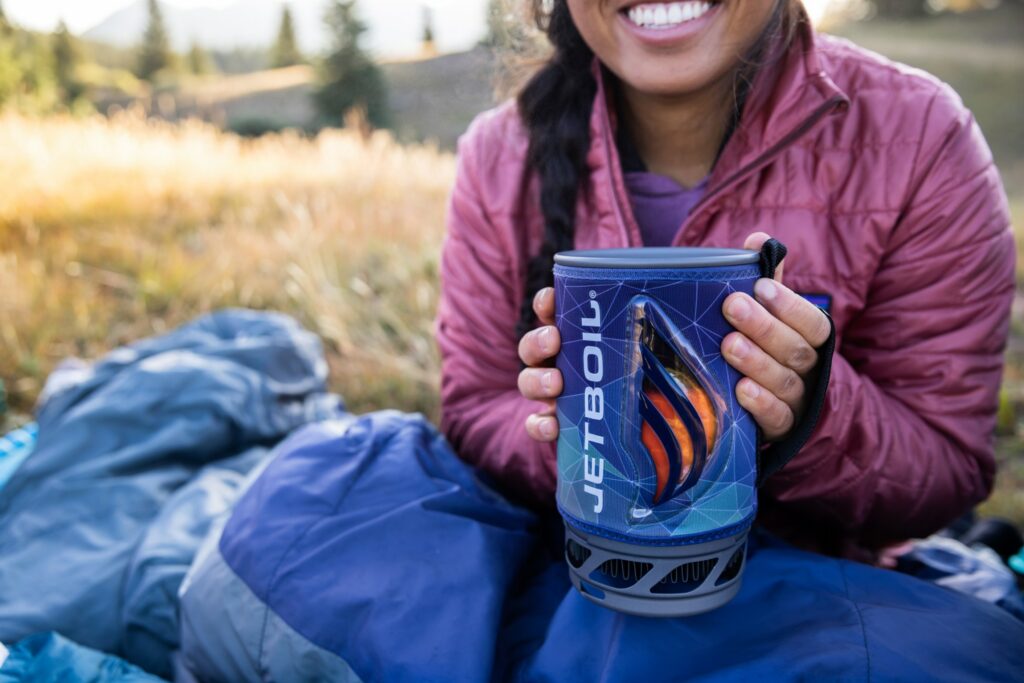 The Jetboil Flash is the classic do-it-all stove for moto camping. It boils water in less than two minutes, and the whole setup packs down into the cookpot for easy storage. The best part of this stove is that it is the same diameter as a standard French press, so bring along the plunger from your home press and brew your coffee in the Jetboil pot before you hit the trail.
MSRP: $124.95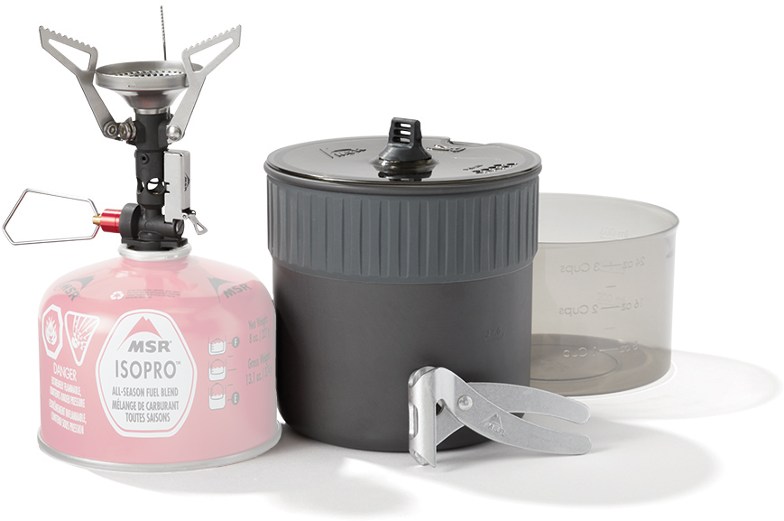 Big enough for two but small enough for one, the MSR PocketRocket Deluxe stove kit comes with a pressure-regulated, fast-boiling PocketRocket Deluxe stove that nests snugly in the kit's ultra-compact Trail Mini Duo cookset. The stove's push-start ignition, extra serving bowl, and broad burner make cooking easy. The aluminum pot is just the right size for simple meals and holds the stove, pot lifter, and fuel canister inside.
MSRP: $139.95
Adventure Motorcycle Packing – Water
Hydration is the key to happiness when you're riding, and bringing a combination of water bladders and insulated bottles is a winning combination. The 40 fl. oz. Hydro Flask Wide-Mouth vacuum water bottle keeps you quenched on the trail and keeps your water frosty cold. The 18/8 stainless-steel construction is bombproof and won't bust when you drop your bike on it. The proprietary powder coating is BPA-free and is ready to display all your favorite moto stickers.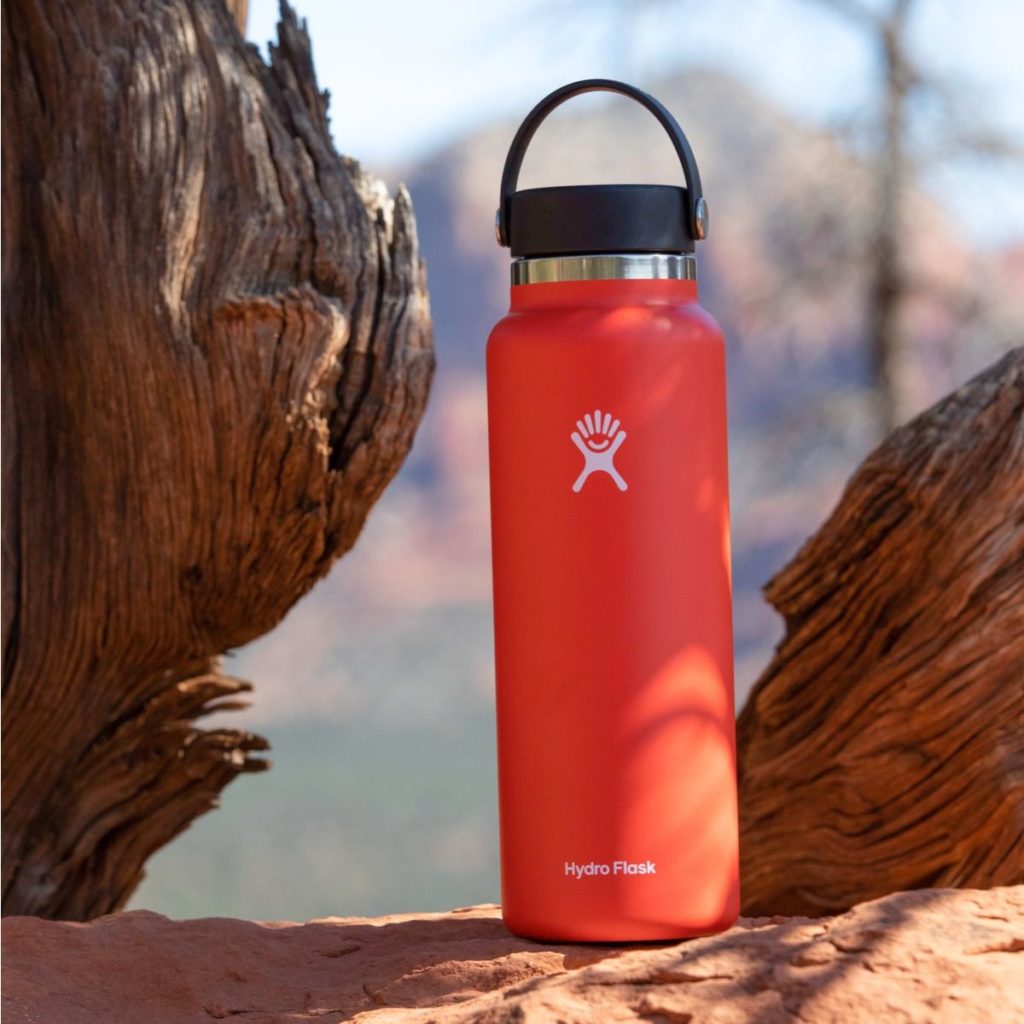 MSRP: $49.95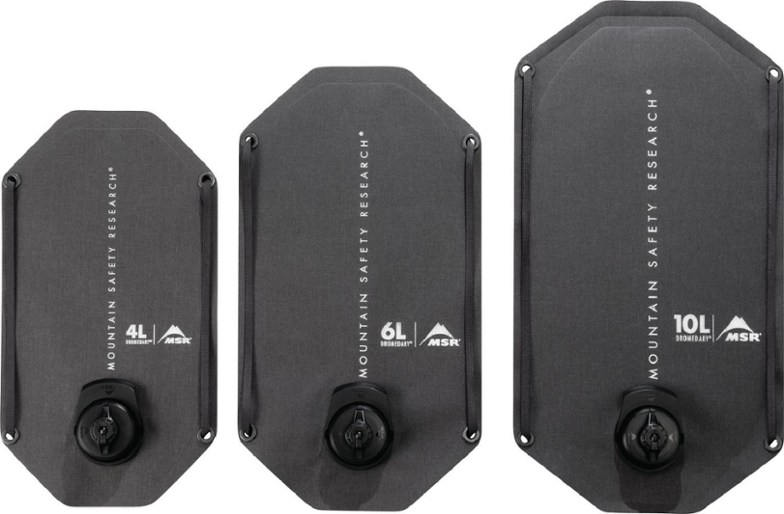 Pair your insulated bottles with an MSR Dromedary six-liter bag for maximum hydration. The drom is completely collapsible for efficient packing and offers serious water storage for trips through the drylands. Made of a tough 1000-denier exterior and laminated with an improved BPA-free food-grade lining, the bag is sturdy and keeps your water tasting good.
MSRP: $54.95