When it comes to cocktailing in the context of overlanding, I want to remind you that consuming alcohol and attempting any sort of vehicle-based activity is a terrible idea (not to mention, illegal). Save these boozy treats for camp with your kickstand fully down, keys out of the ignition, and fire stoked for an evening of hanging with friends— preferably someplace beautiful and remote.
A cold beer around the campfire is often the most delicious thing ever after a rugged ride, but transporting beer and keeping it cold has its own set of challenges. Like all things overlanding, a bit of preparation goes a long way, so here are some suggestions to take your off-road beer game from gas station swill to Campsite Cicerone in no time flat.
As you might know, the Cicerone Certification is for folks who really know their beer and, interestingly enough, the etymology of the word certainly suggests of overlanding. Cicerone is an old term for a guide, one who explains matters of archaeological, antiquarian, or historic interest— all of which are essential components of overland travel.
Cicerone Certification involves a rigorous course of study in selecting, acquiring, and serving today's wide range of beers. Of course, you won't get a fancy diploma from reading this article, but stepping up your après adventure beer scene upgrades your overall overland experience. So, drop your kickstand, chock your tires, and kick back in camp with these tips to amp up your Campsite Cicerone skills!
---
Choose Cans When You Can
When you're planning your beverage menu for overlanding, choose cans over bottles. Beyond being space efficient and crushable for easy recycling, cans are superior for preserving the flavor of your beer. Hops are light-sensitive and light-struck beer (yes, that's a technical term) is prone to skunking. Skunking, also a technical term, refers to the pungent smell that hop-derived photosensitive compounds in beer emit when exposed to light. In addition to preventing beer from being light-struck, cans are air-tight which minimizes oxidation. Oxidized beer is stale beer and you definitely don't want to drink stale beer when you're kicking back in the campsite of your dreams!
Just Chill with a Powered Cooler
If your truck has a powered cooler and you have plenty of space, transporting beer is easy. Don't worry about keeping your entire beer stash cold for the duration of your trip. Contrary to popular belief, beer can be stored at room temperature for multiple days without any degradation to the flavor. According to the Brewers Association, beer can be stored at temperatures as high as 90°F for up to three days and at room temperature (72°F) for up to 30 days without destroying the deliciousness.
When you first start out on a trip and your fridge is full of food, chilling just a night or two worth of brews is just fine. As you deplete your provisions, simply reload the cooler with cans for the evenings ahead. You can rest easy knowing you're not ruining your beer if it warms for a couple of days prior to chilling and drinking.
On the Rocks
If you're not running a fridge in your rig and are relying on ice to keep your chill on, I suggest using two coolers. Rather than storing all of your ice, beverages and perishables in the same cooler, dedicating one cooler to food and another to ice and beer preserves your ice and lets your grub last longer.
A packed cooler means less air space that needs to be chilled, which, in turn, means the ice will last longer. Separating your coolers also means you won't be opening the ice/beer cooler frequently during the day and warming up the ambient cooler temperature every time you go digging around for a snack.
---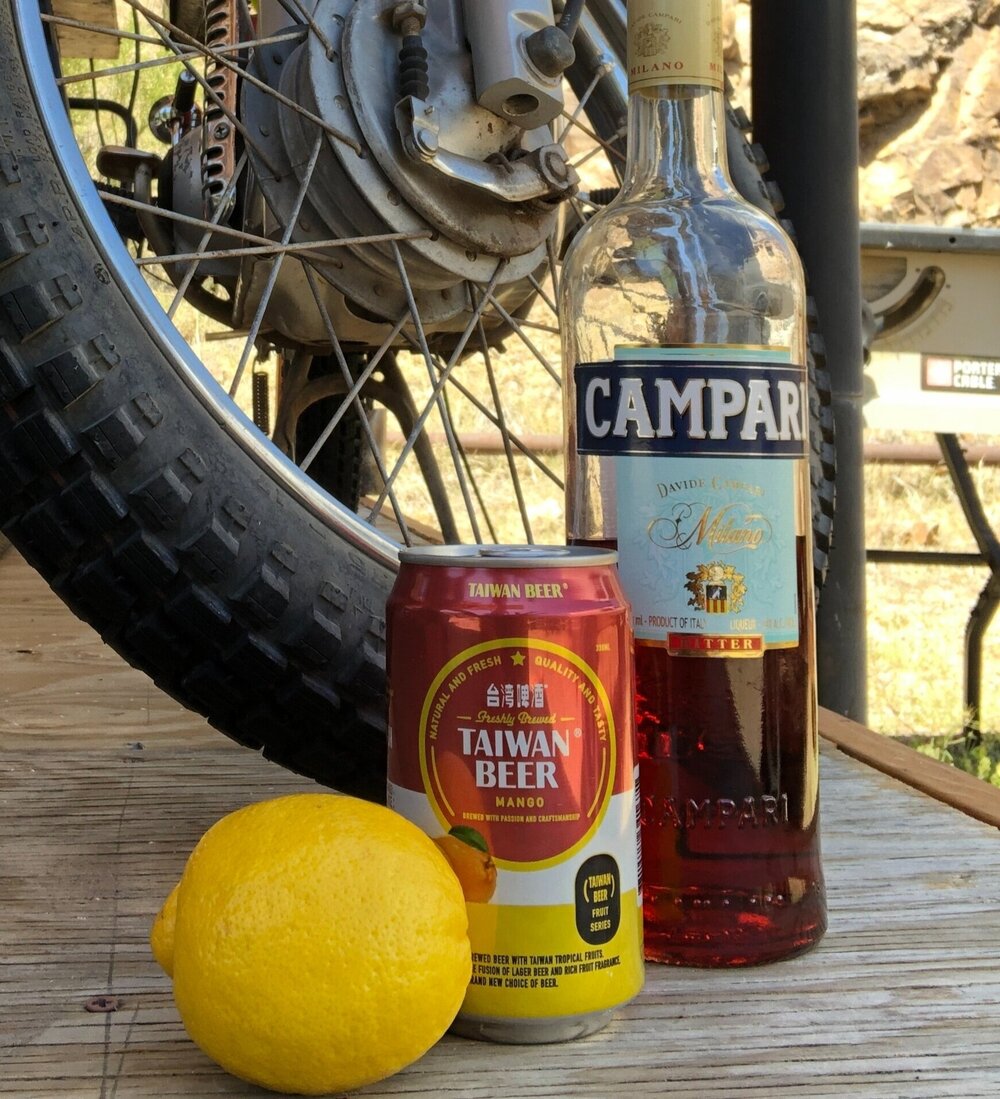 ---
Use Your Ice Twice
Ideally, your dedicated ice/beer cooler will yield clean, potable water as the ice melts. Before you load the cooler, clean it thoroughly with a food-grade sanitizer. Remove any beer packaging to save valuable space and wipe the cans clean. Starting with beer at the bottom, alternate layers of ice and cans until the cooler is packed full. As the ice melts during your daily adventures, it will reveal another layer of delicious beer for camp that evening.
As you're traveling, don't feel like you need to constantly drain the ice cooler. Melted water from your cooler is almost as cold as the ice itself, meaning the ice lasts longer with water in the cooler. Though it always seems like the water is depleting the ice, it actually keeps the ambient temperature of the cooler lower and lets your brews stay colder for longer.
When you can no longer resist the urge to drain the frosty water, rather than dumping it onto the side of the road, pour it into a container. Use that water for cooking and coffee or, if you haven't put your grubby hands in there too many times, fill your water bottle for frosty sipping.
Cold Beer For Adventure Riders
I wish I had some secret scientific method for chilling beer on an adventure motorcycle ride. However, when riding, space is super-limited and we rarely travel with ice or coolers on the bike. Therefore, an insulated bottle will be your beer's best friend après adventure riding.
A 24-ounce insulated bottle holds exactly two standard cans, so when you hit the last gas station at the end of the day, prior to heading to camp, buy a couple of beers and fill your bottle with beer to the brim. You'll want the beer to overflow just slightly as you're capping the bottle, which is essential to avoid air space. Leaving air in the insulated bottle lets the beer slosh around and will lead to a foamy mess in your pannier. Plus, the beer won't stay as cold if it's less than brimming because of the aforementioned air space situation.
Though I don't have any science to back me up here, when I fill a 24-ounce Hydro Flask with two beers and open it hours later at camp, it's about as darn cold as when it came out of the fridge. I suggest Hydro Flask because that's what I happen to own, but there are lots of other high-quality insulated bottles out there.
---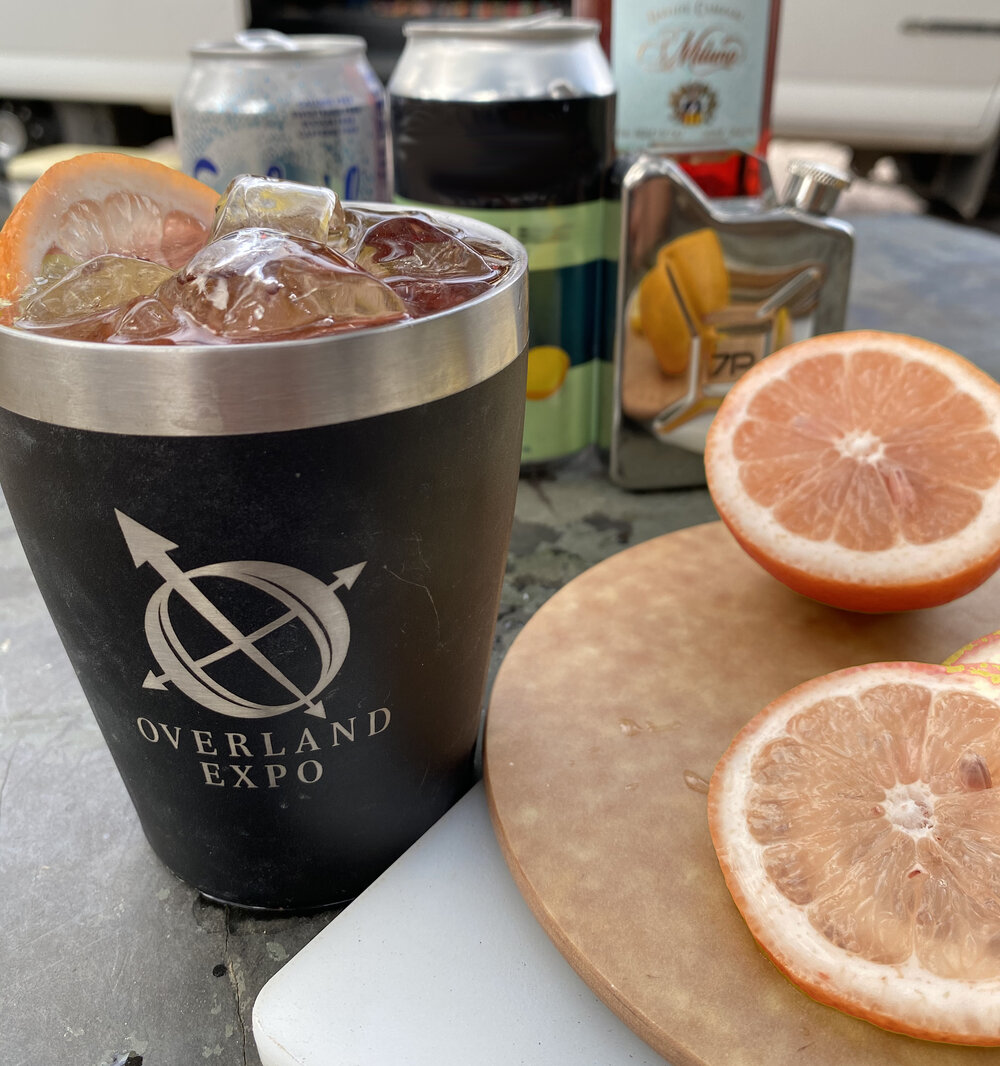 ---
Drink it Up
I'm a big fan of bringing fun drinkware for camp. Of course, just about any vessel will do for delivering the beer to your mouth (including the can it came in), but an upgraded cup selection makes your beer just that much more delicious.
There are two schools of thought to select a perfect camp cup. It must either enhance the beverage inside of it or have sentimental value that makes you feel good when drinking out of it.
When rocking your cicerone skills at the campsite, you can't go wrong with a classic stainless pint glass. The traditional pint shape allows you to get your nose close to the brew and breathe in all that hoppy goodness. Since taste and smell are inseparable, getting a good whiff is key to enjoying your off-road beverage.
When it comes to sentimental value, I don't mean you should be overlanding with your grandma's prized china collection, but over the course of your travels, I'm sure you've picked up a cool cup or two. Maybe it's an insulated mug you've adorned with rad stickers that speak to your off-road street cred or, perhaps, it's a haggard enamel mug that you've been toting around for years. Whatever it is, when you pour your perfectly chilled beverage into a vessel that you love, even if the shape of your special cup isn't recognized by the International Brewers Association, it's going to compliment your campsite location and make your beer taste even better.
---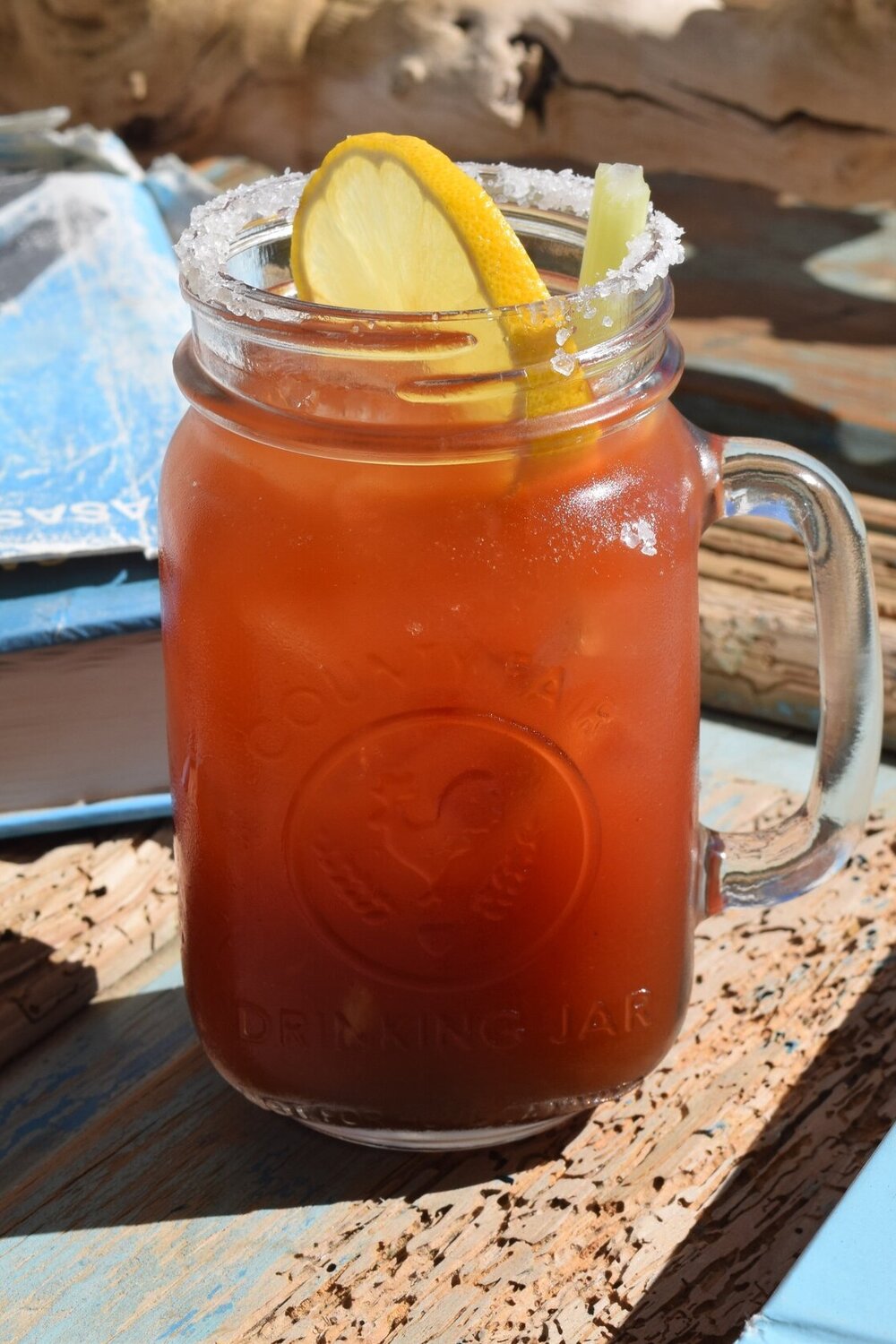 ---
Choose your Brews
Of course, you can grab whatever brew you find at the gas station on an overland trip. However, if you happen through a town with a groovy microbrewery scene, it's always a good idea to swing by a local brewery to stock up for camp. Plus, it's awesome to support the little guys, rather than just pouring another PBR down your throat. Local brews certainly speak to the flavor of a place and aren't local flavors at the essence of overlanding?
Thanks to all the awesome craft breweries out there, the American palate has shifted away from Bud Light in the last decade. Whether it's a Sierra Nevada Pale Ale or New Belgium Fat Tire, it's easier now than ever to find something truly tasty at gas stations, even off the beaten path.
That said, I'm pretty sure most of us have a go-to schwag beer, though we might not admit it in public (mine, if we're airing our laundry here, would be Coors Banquet or Mich Ultra). In the overland world, where everything seems like it needs to be all highbrow and refined, there's no shame in drinking less than fancy beer.
Your campsite beer is much like your favorite cup or a great meal cooked under the stars. The whole is greater than the sum of the parts. So, whether you're crushing a frosty Miller Lite or sipping a swanky Campari Radler, the experience of your environment can make just about any overland brew in camp taste amazing.
---
Photo Credit: Motorcycle Travel Channel
Special shout out to Mother Road Brewing in Flagstaff, AZ for making great beer!
Motorcycles and Mixology by Eva Rupert. Follow Eva @augusteva.