Outerly is a one-stop-shop van life solutions brand that is always innovating new products to make living on the road that much more enjoyable. Since they are also building new custom-designed vans every day, their innovation team is always designing new products and coming up with simple solutions for van life issues. As a result, their products and vans are fully tested before being released to their customers. Their focus is to make durable, long-lasting, lightweight products that can withstand many years of four-season adventures.
The Founder's Story
As a young handy outdoor enthusiast, Michael Soares was always striving for the next adventure. In his younger years, Michael was a snowboard enthusiast and went from being a snowboard salesman to a sales rep of snowboard gear and apparel companies in the winter. Michael quickly fell in love with life on the road traveling to different shops and teaching them about snowboard technologies. In the spring and summer months, Michael built high-end custom homes and was a jack of all trades, mastering everything from electrical, plumbing, carpentry, and even designing custom dining tables.
Michael started researching van life. Then he purchased a beat-up 2003 Dodge Sprinter van, did a minimal build, and lived in it for a year. Michael felt the freedom of living wherever he desired and knew this was the life for him. Michael then got an offer he could not refuse on his van and quickly purchased his second Mercedes Sprinter.
After the purchase of his second van, he was forced to travel back to his hometown to help his family. Within a few months, Michael finished the van in his family's driveway. The plan was to continue his van life journey when he was no longer needed. While on Long Island, he would take his finished van to the beaches with his friends. Inevitably the van would draw a crowd of people with questions, and people started inquiring about how they could get a van of their own. With people constantly asking Michael to build vans, he made business cards and handed them out.
Michael's first customer project required rush delivery, and he completed it solo in only three weeks. During this time, he was renting out his van to customers that were looking to try the van life before committing to a build. Michael quickly outgrew the small shop space with eight vans waiting to be built in the parking lot. Michael soon found a 10,000 sqft facility on the north fork of Long Island in the middle of wine country where Outerly now resides with the ability to work on seven vans at a time. This space also allowed Michael to hire a team and start designing and fabricating all the new innovative van life products he had been dreaming of building since the start of Outerly.
Swing Away Tire Carrier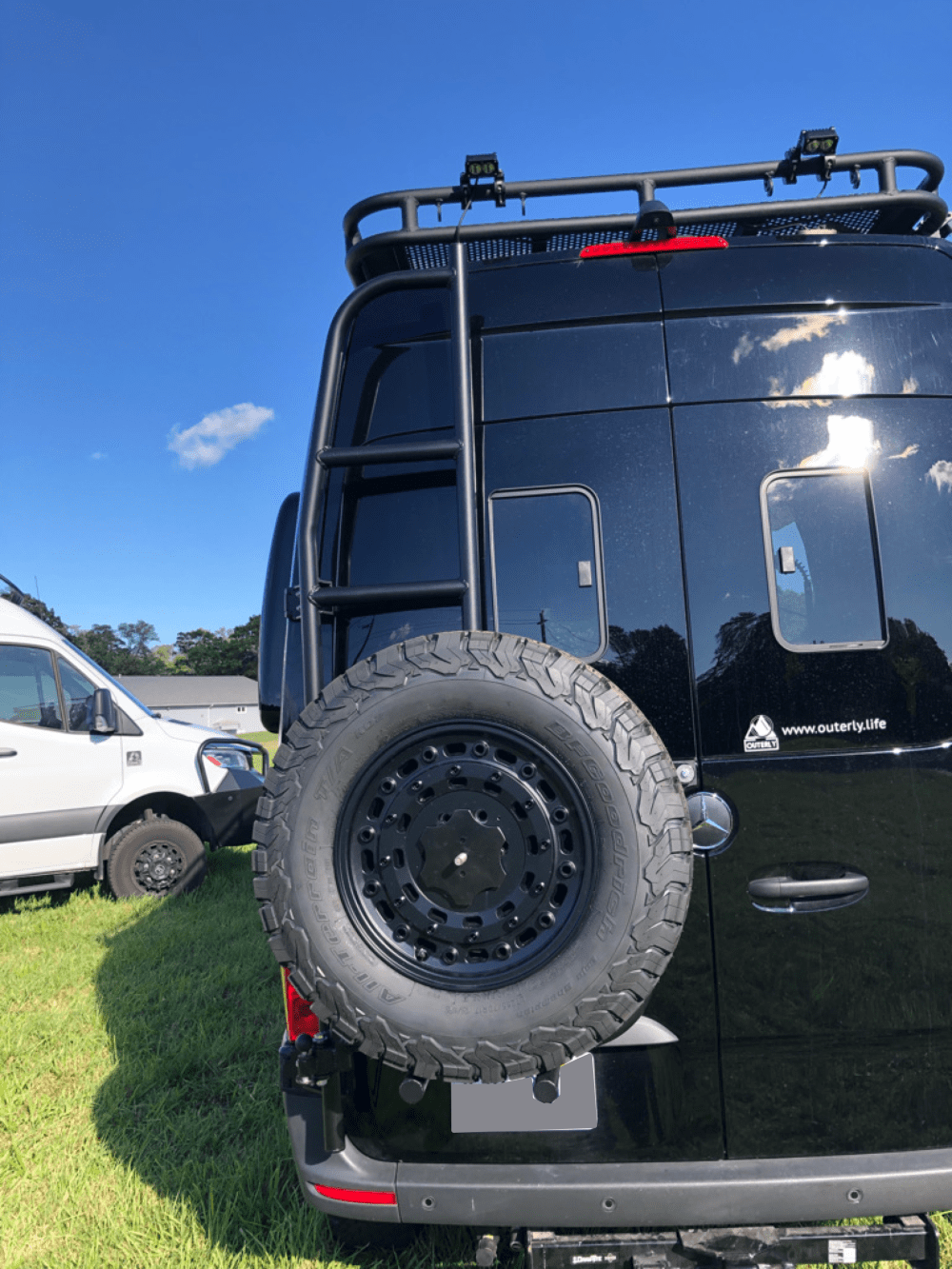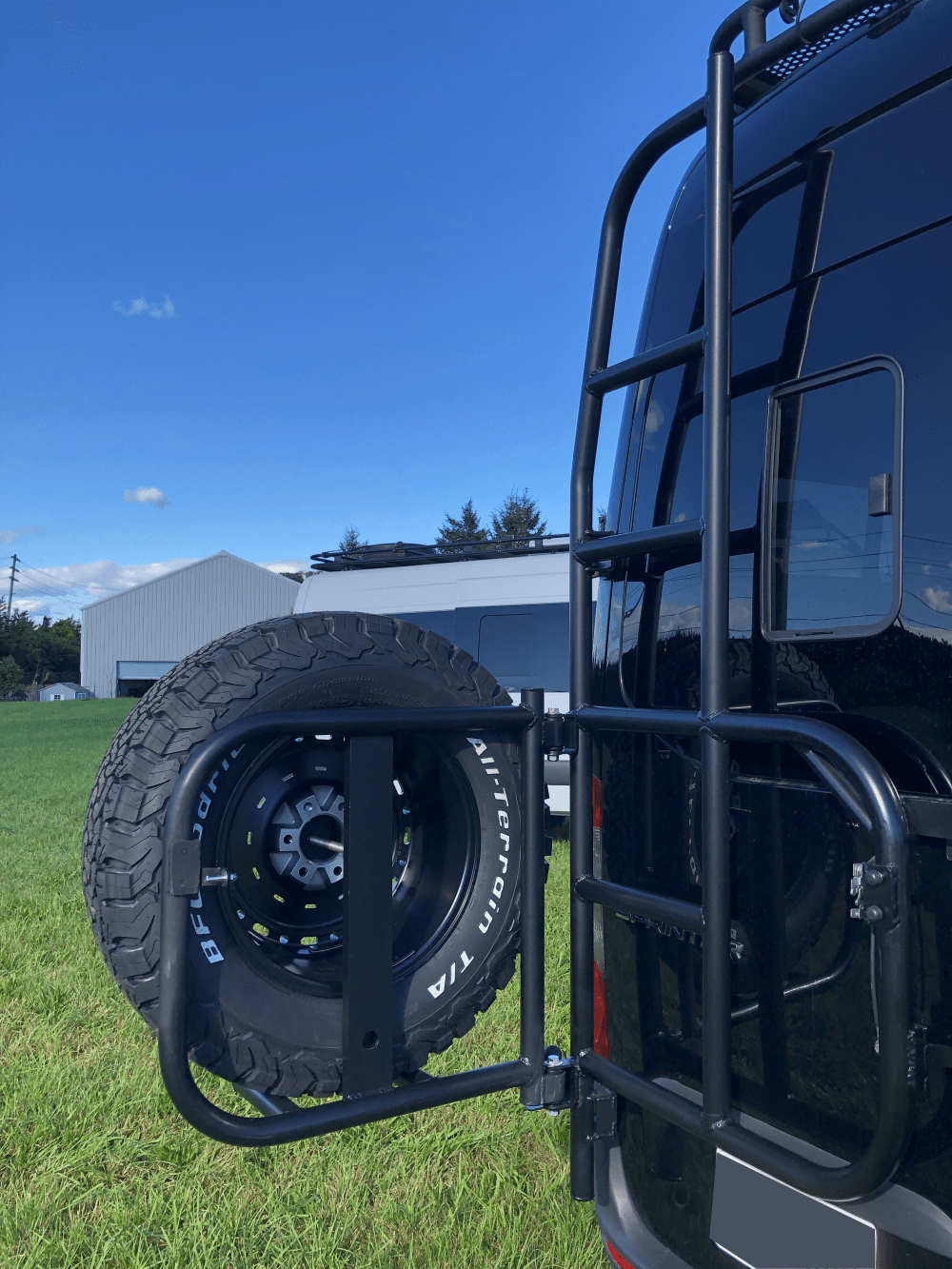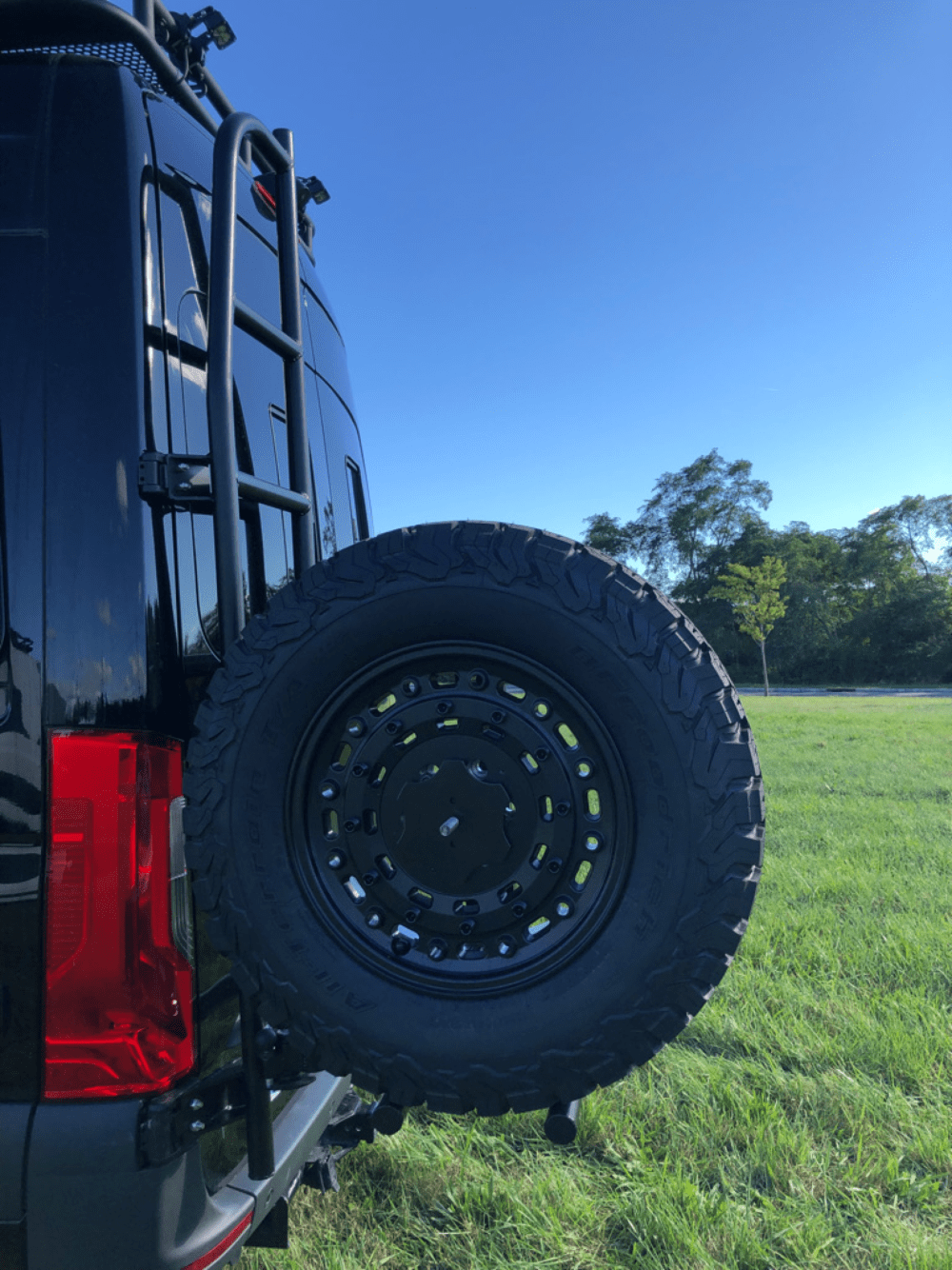 Are you sick of having to climb around your spare tire to get up your ladder? That's exactly why Outerly designed the very first swing-away ladder tire carrier. Now you can easily and safely access the roof of your van. In addition to allowing easy access to the roof of your van, you can also lock the carrier to limit access to your roof rack. This is especially handy for deterring unwanted attention from your solar panels and other expensive rooftop equipment. So if you're looking for a way to carry your van's spare, access your roof, and protect your rooftop cargo, then check out the Swing Away Ladder Tire Carrier.