The single most common question that is asked in Q & A sessions at Overland Expo events is "How Do You Afford Overlanding?" There are a handful of different ways to finance overland travel and we would wager that most of us fall into at least one of the following categories. In each category of traveler, we will highlight some challenges that come with that type of travel as well as some tips to be successful in each type. Keep in mind that there is only one wrong way to travel and that is not traveling.
Cash in and head out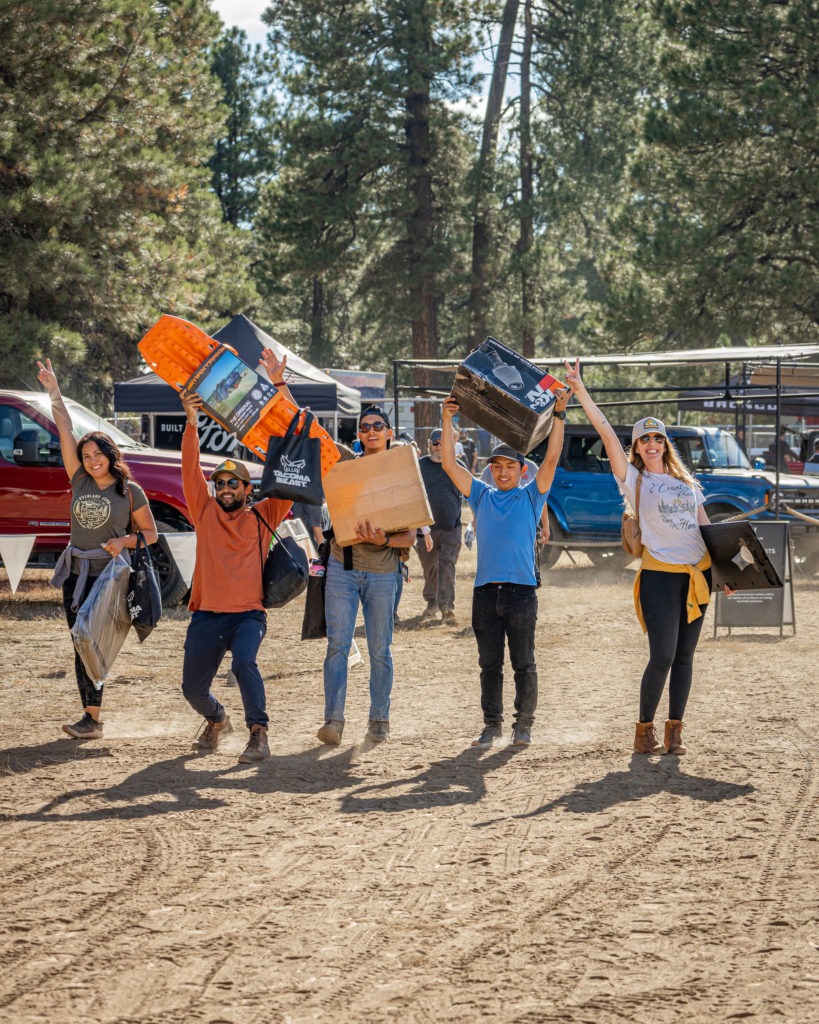 The retirement traveler is a person or couple who are cashing in on a lump sum of money like a retirement plan that has finally matured enough to quit working. One only has to look at the ever-growing Recreational Vehicle industry to see how popular of a plan this is for a lot of people.
The retirement model can be very appealing because most financial advisors will help you plan your retirement in a way that will allow you to maintain your quality of life as it was when you were working. When you decide to hit the road full-time in a vehicle, many of those costs don't exist or they are much lower and you can have a large amount of financial buffer to allow you to live comfortably.
The biggest challenge of waiting until retirement to travel extensively is you will likely be waiting for a very long time, well into your sixties to begin experiencing the world of vehicle based travel. This is problematic for a lot of reasons, but most notably, your body will not be able to do the same things that you could do at say, thirty years old.
Imagine visiting the Grand Canyon at sixty-eight years old and only being able to get off the shuttle, look into the depths for a few minutes and get back on the shuttle to make it back to the lodge for an early dinner. If you visit when you are younger, you can backpack to the bottom, take a dip in the Colorado River, and take in the beauty of the Canyon on a deeper level.
Tips for the retired traveler
If traveling with a spouse or partner, communication is key. You have been working for forty or more years, maybe raising a family at the same time, effective communication could be a little bit different when you begin living in a small space together, every second of every day.
Focus on the Four M's of Retirement: Money, Muscle, Memory, and Meaning. Assuming that the money is being supplied by your retirement account, use your time overlanding to focus on staying sharp physically and mentally with regular exercise and doing the things that you love.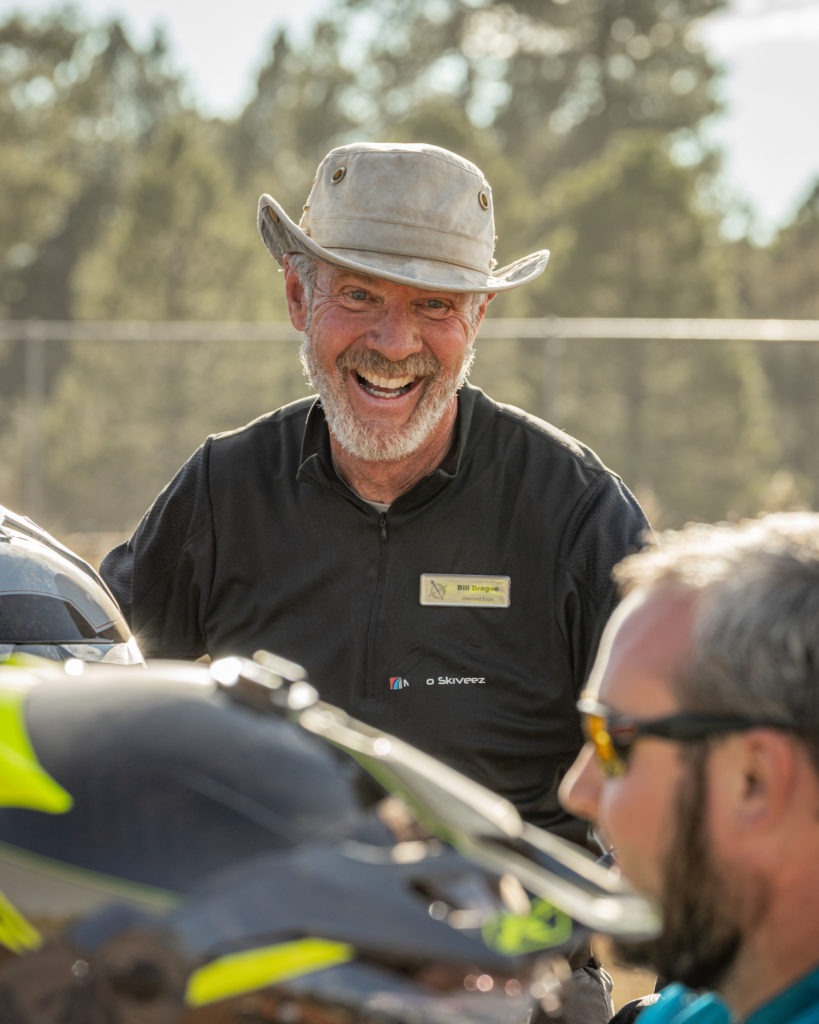 Don't be afraid to pick up extra work that coincides with your travel plans. If you had planned on exploring a region for a few months, look into becoming a camp host at a campground near where you want to explore. Housesitting is another great option for long-term travelers that want to spend longer stretches in a single city before moving on.
Sell it all and hit the road
The "Liquidator" type seems to get the most attention at Overland Expo events as they are "living the dream" that most of us want to live, or think we want to live. This traveler makes a plan to travel for an extended period of time, they sell the majority of their possessions and move into their vehicle for a long term trip or for full-time living. The proceeds from selling off their possessions at multiple garage sales, renting or selling their home, and minimizing their belongings to only the essentials is normally a good enough chunk of money to live on for quite a while.
The obvious advantage of traveling full time on a big chunk of money is that you don't NEED to work while you travel. The freedom to truly explore an area without the need to focus on emails, phone calls, or other work responsibilities is very rewarding. You can visit attractions on Monday morning when the tourists have left, enjoy blissfully quiet campsites, and generally experience towns and cities as locals do.
Selling off all of your belongings and traveling isn't without some challenges. Once you hand over the keys to your condo, house, or apartment, you are committed. Turning back to your old life is not financially reasonable and it will take as much work to get established again as it did to jettison that stage of your life. There is an inherent amount of risk involved with full-time vehicle based travel, especially when you consider the events of 2020 and how unexpected events like a global pandemic can challenge your plans.
Tips for the Liquidator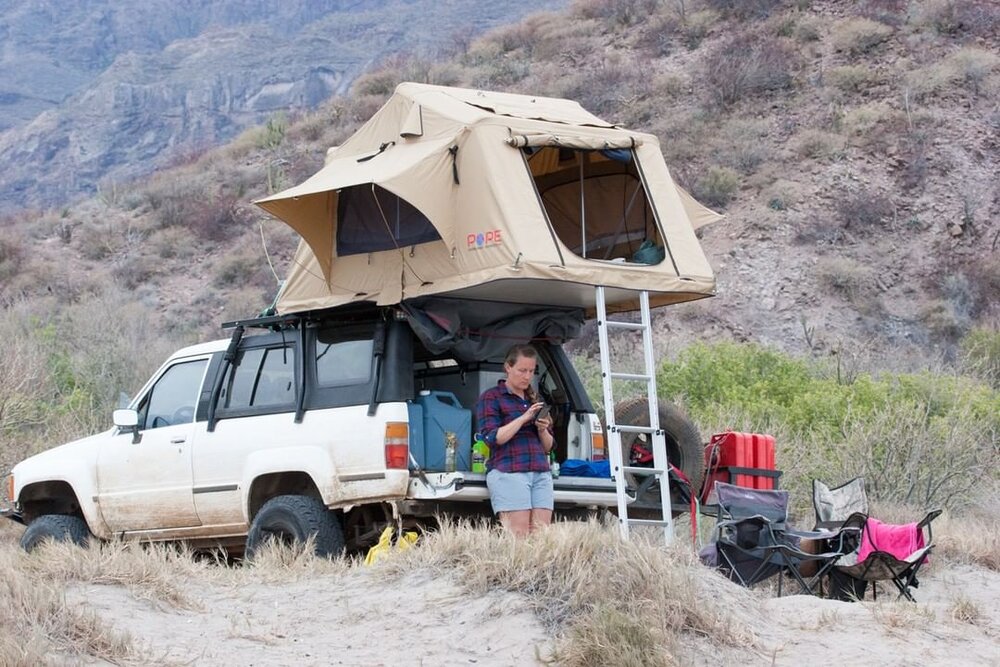 Zach and Rachael @okienomads:
Sell everything that you won't need while traveling or that you won't need to start over when/if you return to a normal life. Full-time travel was great and one of the best choices we have made, but having a small storage unit to store essentials and keepsakes was really important to us.
While planning your great escape use mechanisms to decide which items are worth keeping and which items can be sold or donated. For clothing, I would line up all of my hangers facing one direction and when I wore a shirt or pair of pants, I would flip the hanger and slide it to one end of the closet. At the end of a couple of months I had a fair idea of the clothing that I didn't need.
In the year before we left, we began to frame our purchases by asking the question "Would I rather have this than travel for X number of days?" We made decisions about purchases, how we would build out our vehicle, and how long we wanted to keep working within the framework of how long it would allow us to travel. We never regretted that mindset. "
A penny saved is a penny earned
A frugal overlander is a successful overlander more times than not. Many travelers focus on saving as much as they can, then loading up for several months or years and live off the savings. This method is extremely common with those that are able to work seasonally or perform contract work that doesn't continue all year. Professions like teaching, nursing, and recreation have many opportunities for seasonal work that opens up the rest of the year for travel. If you are able to combine the best qualities of the liquidator and the saver, you will be well-prepared for an extended overland journey.
Saving pennies to be able to afford a future trip is effective but can be challenging in its own way. When you begin saving you will feel like you are missing out on living your life where you are and sometimes that is difficult. A proper balance of expectations while sacrificing present happiness for future adventures is extremely important. Once you are able to afford to leave for your trip, the countdown begins on the amount of time you have on the road before you need to settle down again and save more money.
Tips for penny pinchers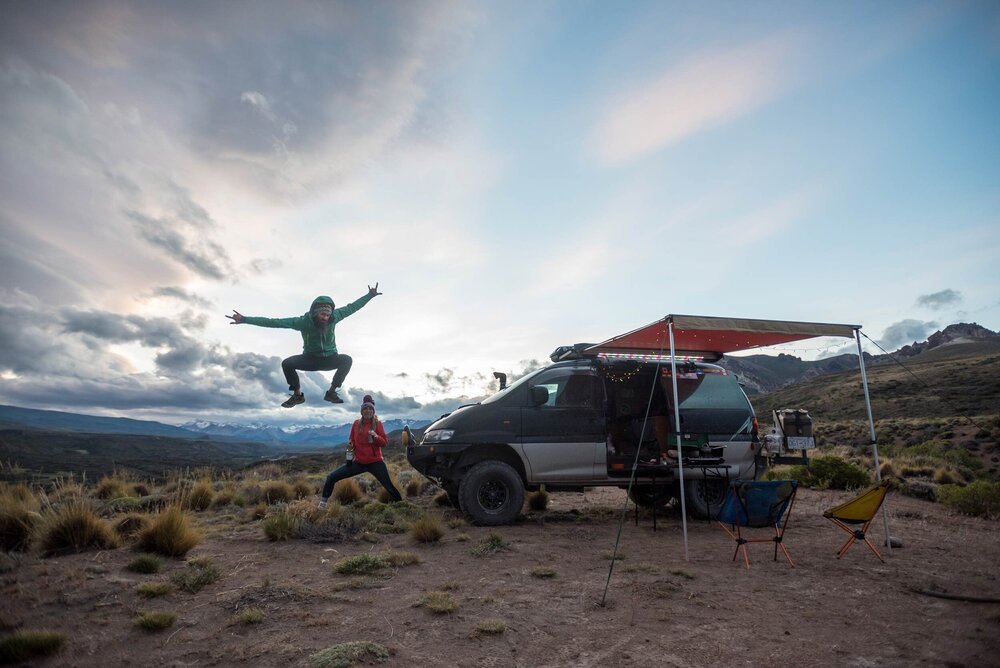 Candice and Jordan of @beoldlater:
Create a separate bank account for your travel fund. By setting up a direct deposit of money into your account after you pay your bills, you prevent future-you from spending that money.
Research other overlanders' budgets and you should be able to get a good idea of how much you will need to save for the amount of time you want to spend traveling.
Once on the road, track your expenses daily using a journal or application on your phone. Looking back on some days, once we got into the groove of traveling, we spent close to nothing. Other days we would have huge expenses like a head gasket repair. Keeping track of expenses while traveling allows you to keep yourself in check mentally as you consider new purchases.
Livin' For the Weekend
The most common of all overland travelers is the Weekend Warrior, for obvious reasons. "Weekend Warrior" is typically a term used for someone who works a regular job during the week and uses the weekend and their vacation each year to be outside and explore the world around them.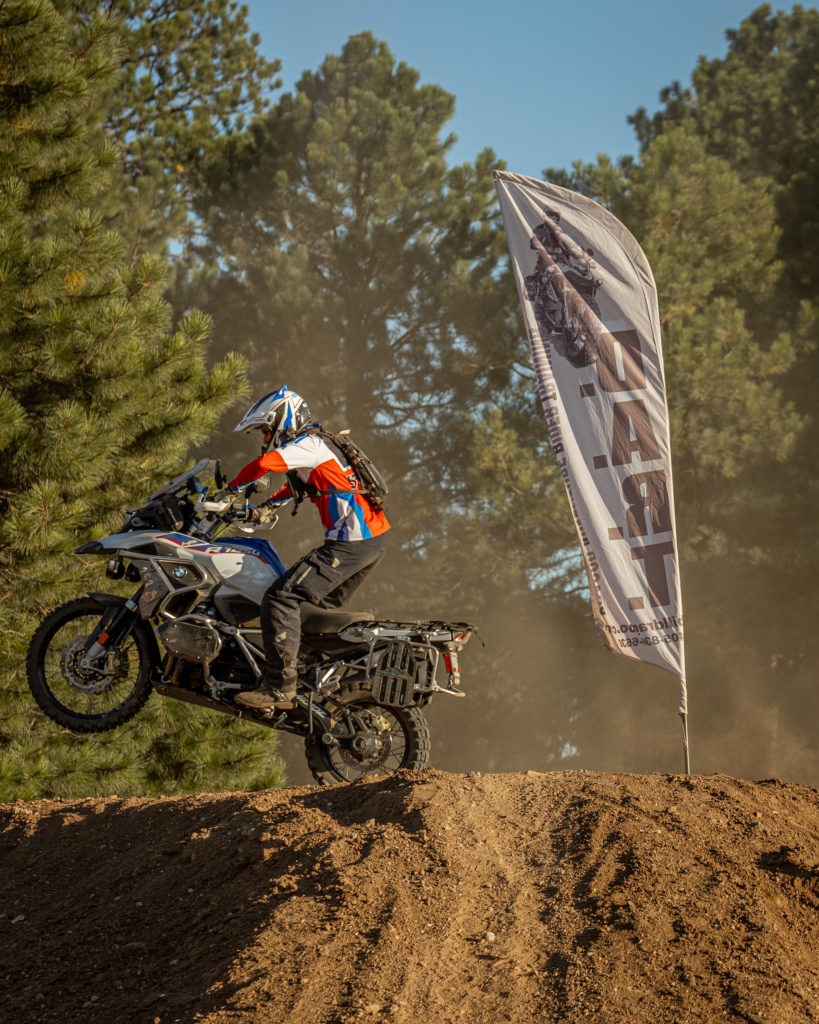 There are many reasons why travelers gravitate to part-time exploring but most do it because it allows them to enjoy the comforts of normal life and still spend time traveling to new places each year. Exploring on the weekends and a couple of weeks each year is a great way to hone your skills, learn the ins and outs of your vehicle and camp setup, and expose your family and friends to the hobby without taking them around the globe. By having a home-base to live and work from, Weekend Warriors can maintain jobs that allow for travel on days off from work and have a place to store, repair, and modify their vehicles. Having a garage to perform routine maintenance and repairs is like gold to a full-time traveler.
There is always a compromise when it comes to different types of travel and Weekend Warriors are not immune. Part-time travelers are often challenged most by the amount of time they have to explore and in turn, the places they can visit from where they live. For someone in Flagstaff, AZ, it is easy to explore every weekend for a lifetime and never run out of places to see and explore within a thousand miles or so.
For someone living in Detroit or Atlanta, it could be more difficult to fit a grand adventure into a week without spending the majority of the trip on the highway. Another limiting factor to traveling on weekends and holidays is that a big majority of the rest of the population is traveling at the same time. National Parks, campsites, and other attractions are more crowded on the weekends and holidays and accessibility can be very challenging.
Tips for weekend-warrior overlanders
Embrace the shoulder seasons for planning your vacations if you have the flexibility. Driving the Alpine Loop in June is ill-advised, but taking a trip to the mountains before the first big snowfall will likely yield less crowds.
Use your vehicle to get away from the crowds at campgrounds. Many National Parks and attractions worth visiting in the United States, especially out West, are near thousands of acres of public land, ready to be explored. The beauty of the self-sufficiency that comes with overlanding is the ability to skip out on developed campgrounds and get into the bush, often for free or a small fee.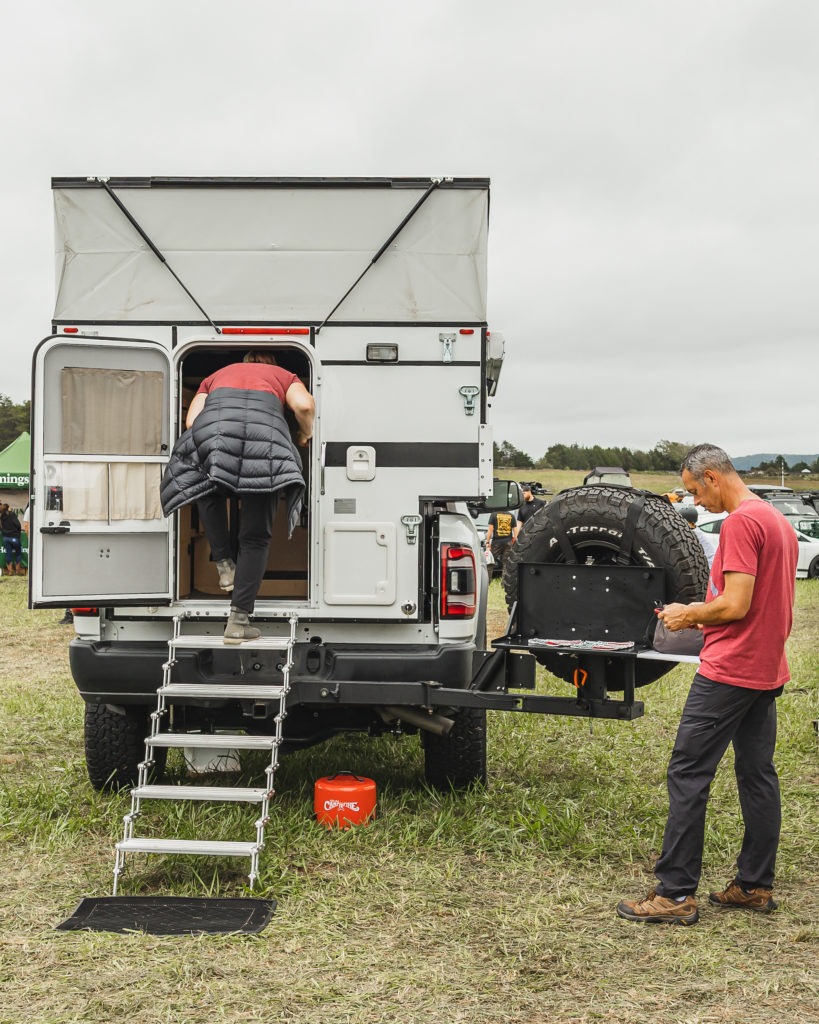 Plan a trip around exploring your own backyard. Most have a few go-to spots that they come back to over and over again on the weekend. Make a list at the beginning of the year of places close to you that you would like to explore for a week or more and visit those when your vacation comes around.
Work from anywhere
One of the most highly coveted ways to pay for overland travel is the ability to work from anywhere and simply move your office when you get tired of the view. This is the image portrayed in most of our Instagram feeds showing a tanned surfer checking his email from his expedition vehicle while he waits on the next set to come in. The work from anywhere traveler is often a business owner, has passive income, or has a web-based job that allows for travel as long as Wi-Fi is available nearby. We will include social influencers, affiliate marketers, and vloggers/bloggers in this category as well.
The COVID19 pandemic has forced many to shift from an office job to working from home and many are realizing that they can do most of their work from anywhere that a cell or WiFi signal is available. The ever-growing cell phone data network in the United States and around the developed world along with the presence of wireless internet in most cafes, restaurants, and campgrounds makes working from your truck seem very tempting.
Many see the opportunities available on platforms like social media and YouTube as an easy way to make money on the road while documenting your travels along the way. A handful of travelers have been able to produce quality content while traveling with weekly videos, blogs and stories written for online publication, and product review and promotion work. Although it is possible, many content creators will caution that creating compelling content is not all it is cracked up to be.
Tips for Work from Anywhere Overlanders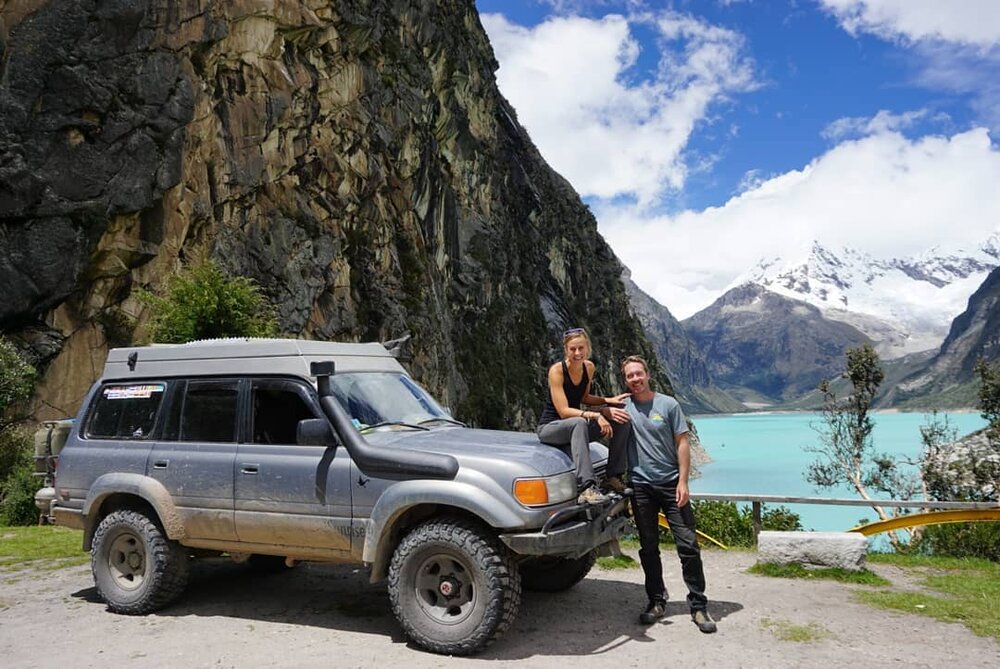 Tim and Kelsi of @dirtsunrise:
When considering writing articles for publication or producing YouTube episodes, remember that you will likely end up working 40-60 hours per week for a lot less money than you made before.
We were able to fly home to work off-road events, like Overland Expo, as an extension of work we had already been doing before leaving on our trip. A bonus of flying home was being able to visit friends and family and pick up any gear or parts that we couldn't source on our trip.
On our trip we met many travelers that were able to still do their full-time jobs as coders or business owners, they simply needed Wi-Fi to stay connected.