When scrolling through social media, it's easy to get the impression that in order to have a true overland adventure, you need a brand-new rig loaded down with all of the latest gear, and you have to take a trip to some far-flung exotic location for months at a time. While those epic trips in amazing rigs are great, and everyone can draw some inspiration from that sort of adventure, none of that is necessary to have an overland adventure. Now, before we dive into a few ways to hit the trails without breaking the bank, we should add that we are advocates of traveling with the right equipment and training to make sure you can stay safe on your journey.
Some of my earliest overland adventures were in a friend's bone-stock JK Jeep. Water crossings, remote campsites, and long miles made for plenty of adventure. We navigated by map, had to turn around plenty of times because our recovery gear was limited to a shovel and come-along, and we used a ground tent that took forever to set up and break down. The most shocking part of this whole situation? We rarely took any photos of the Jeep.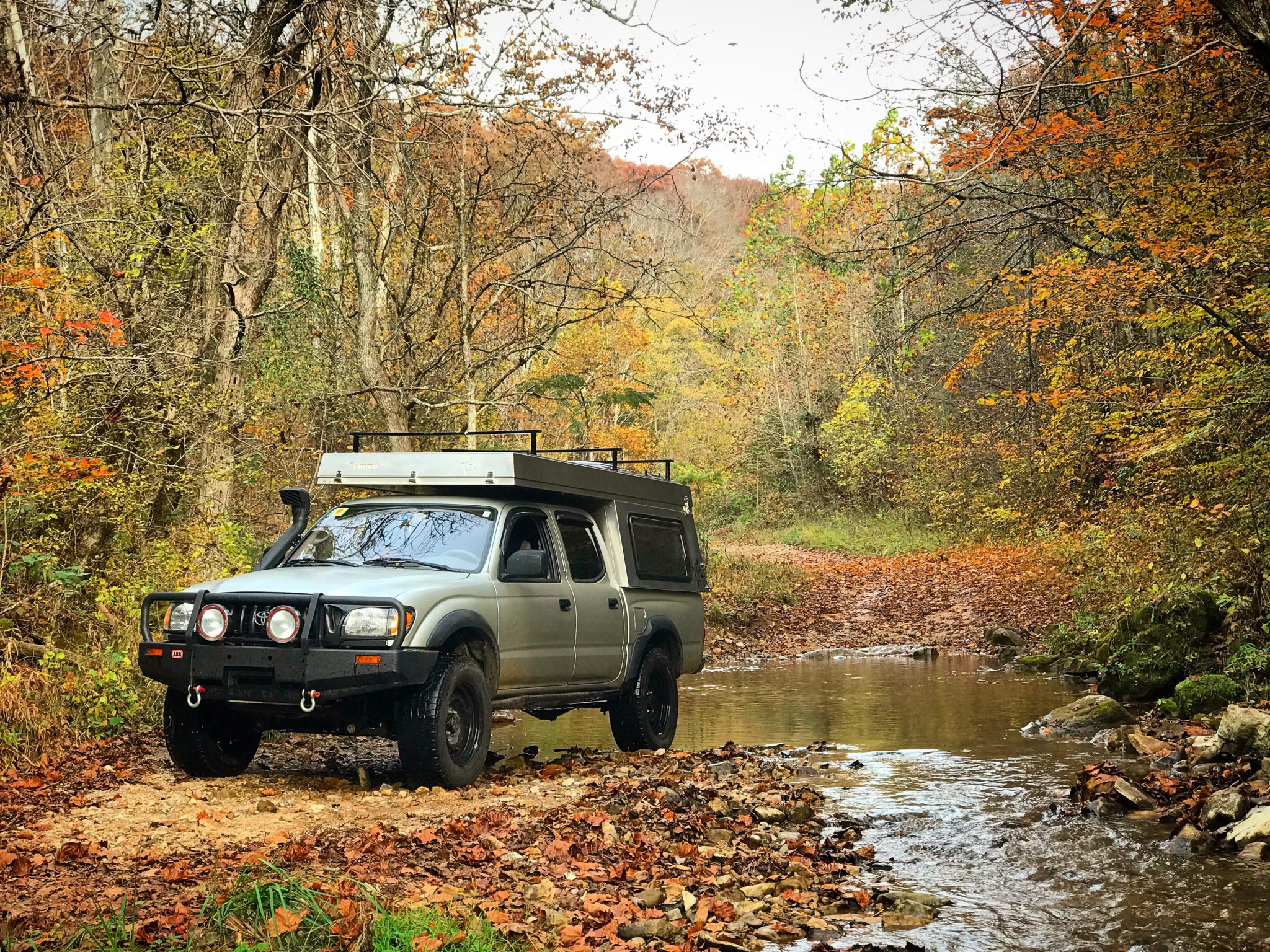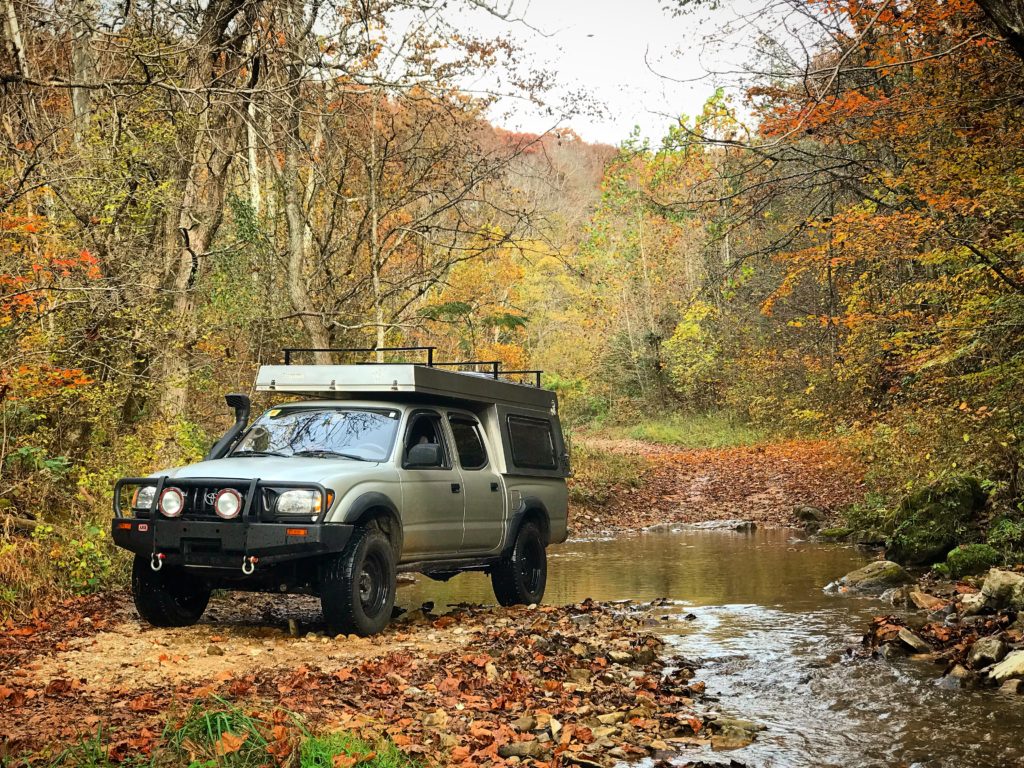 When I started shopping for my own backcountry-worthy rig, it took months to track down the truck I had my eye on. I finally found a four-wheel drive double cab first generation Tacoma with a rear locker. Over the next seven years, the Tacoma went through many different phases. For a while, I just had a second-hand fiberglass camper shell on the bed so that I could toss in a tent, a few milk crates, and a camp stove. Then I got a rooftop tent, and I built a DIY drawer system for more organization and easy access to gear. A few years later, I was fortunate to test out a wedge-style camper, so I built out the interior of the bed with a subfloor, a fridge, and some built-in storage.
Even considering the addition of a lift, a bull bar, a snorkel, and sliders, the Tacoma was a budget rig that carried me over countless miles of trails. After seven years and hundreds of thousands of miles, it was time to move on, and I traded it in for $1,000 less than I had paid for it.
It can be argued that even those two examples are "more" vehicle than you need to overland, but examples had enough capability to tackle some rougher trails, and to get us out of trouble if we were traveling solo. If you plan to stick to forest roads and mild trails you can get by with less ground clearance
The Vehicle
So obviously, you need a vehicle of some sort to start your overlanding adventure. Unfortunately, we live in the days when many classic four-wheel drive vehicles are fetching incredible prices. However, that doesn't mean there aren't deals to be had. You can take a look at mid-sized trucks and SUVs that have a few years on them, and of course, we're in full support of hitting the trail in a Subaru, or even a two-wheel drive.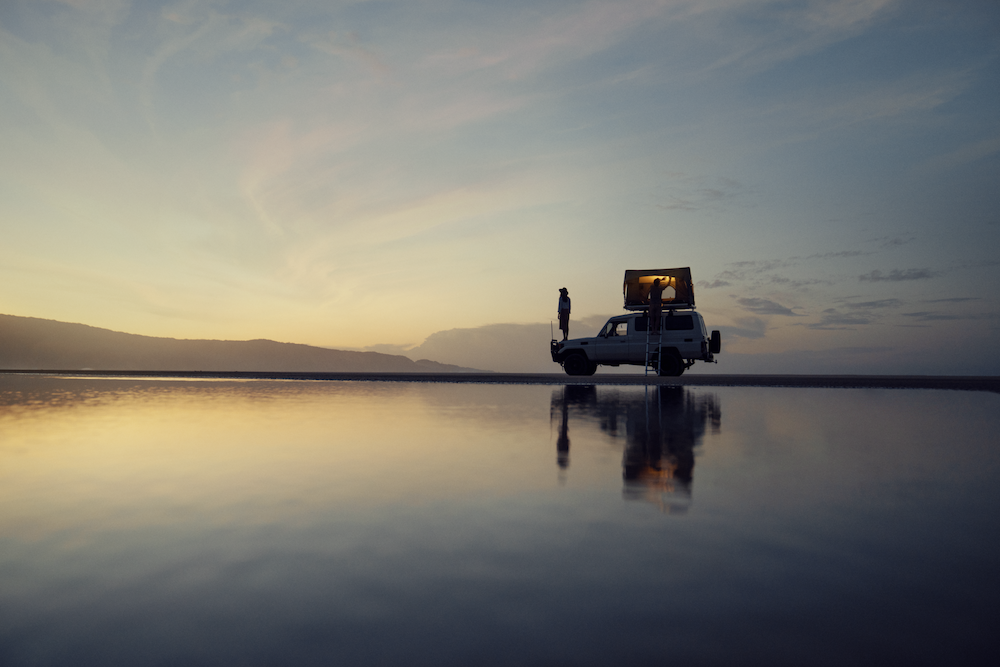 Depending on your vehicle choice, you can most likely leave your build stock for a bit. Throw a ground tent and cooler in the back and take it out on some easy trails and determine your needs from there. There's no need to outfit your vehicle with armor, bumpers, and winches if your plan is simply to get out onto some graded dirt roads for some backcountry camping. Save that money for a new mountain bike, fly fishing gear, or a standup paddleboard. Just make sure you leave your travel plans with someone at home and have an emergency kit in your vehicle.
When you're ready to begin outfitting your vehicle, choose the modifications that make sense for your style of travel first.
Don't have enough ground clearance on the trails you frequent? A suspension system and tires will get you a long way for a small investment.
Do you find yourself getting stuck and needing to wait for others to rescue you? Invest in a winch and winch bumper.
Do your aching bones in the morning cause you to hate your ground tent? Look into a rooftop tent with a nice, padded mattress.
Are you sick of waterlogged food or tired of looking for ice for your cooler? You might consider a 12v fridge/freezer.
What I'm trying to say is you should build out your vehicle at your own pace. Everything doesn't have to be completed at the same time. Thoughtful mods that reflect how you use your vehicle are way more useful than haphazard choices that end up costing you more money in the long run.
The other half of budgeting for overlanding is your daily travel expenses. Whether you're going out for three days or three years, food, communications, fuel, accommodation, fees, and vehicle maintenance and repairs are the main budgeting categories you should consider.
Accommodations
While my preferred campsite is a free dispersed spot in a quiet part of a national forest or Bureau of Land Management (BLM) land, that isn't always available. Sometimes you need to be closer to civilization or the dispersed sites are available in limited numbers.
Unfortunately, many of those options can be a costly endeavor. Check out alternative methods like hostels, Airbnb, or Hipcamp. Personally, I've found some great campsites on Hipcamp when the national forest and organized campgrounds were full. Airbnb can be hit or miss in terms of deals, but it's still worth checking out. Of course, hostels are still a great option for when you're just looking for a bed and shower without breaking the bank.
Food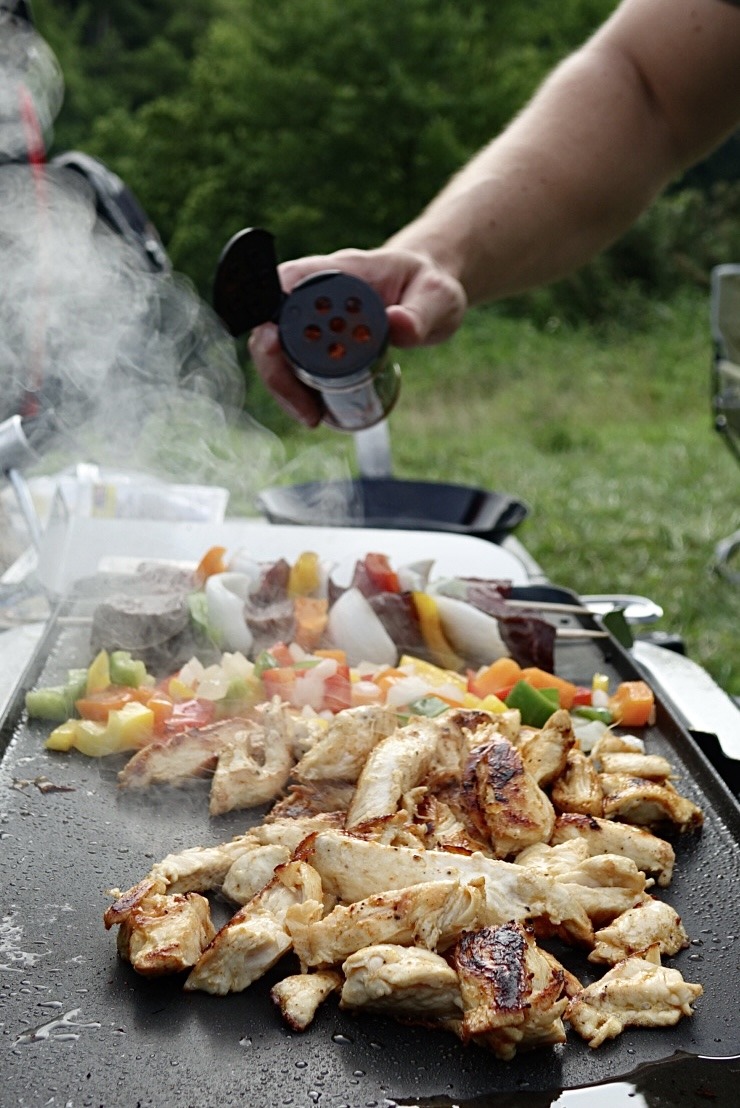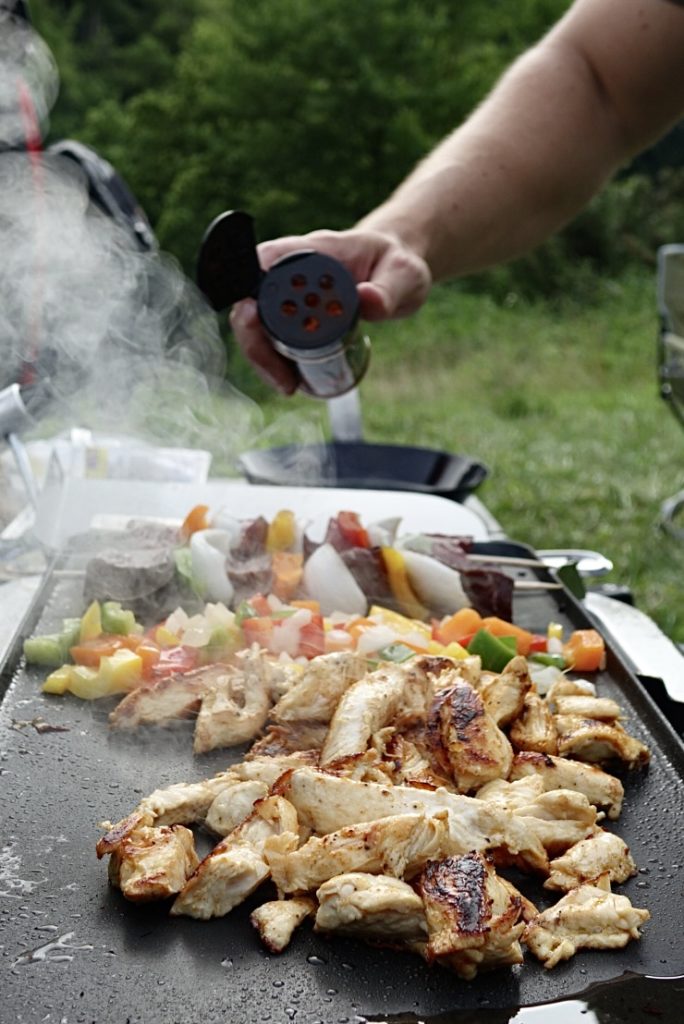 Buying your own groceries at a local market and making your own food is the least expensive way to eat while you're on the road. Street food in other countries is a viable and delicious alternative and is often quite inexpensive. But if you're plunking down $25 or more at each brewery you pass for a burger and a couple of beers, that is going to add up fast.
Communications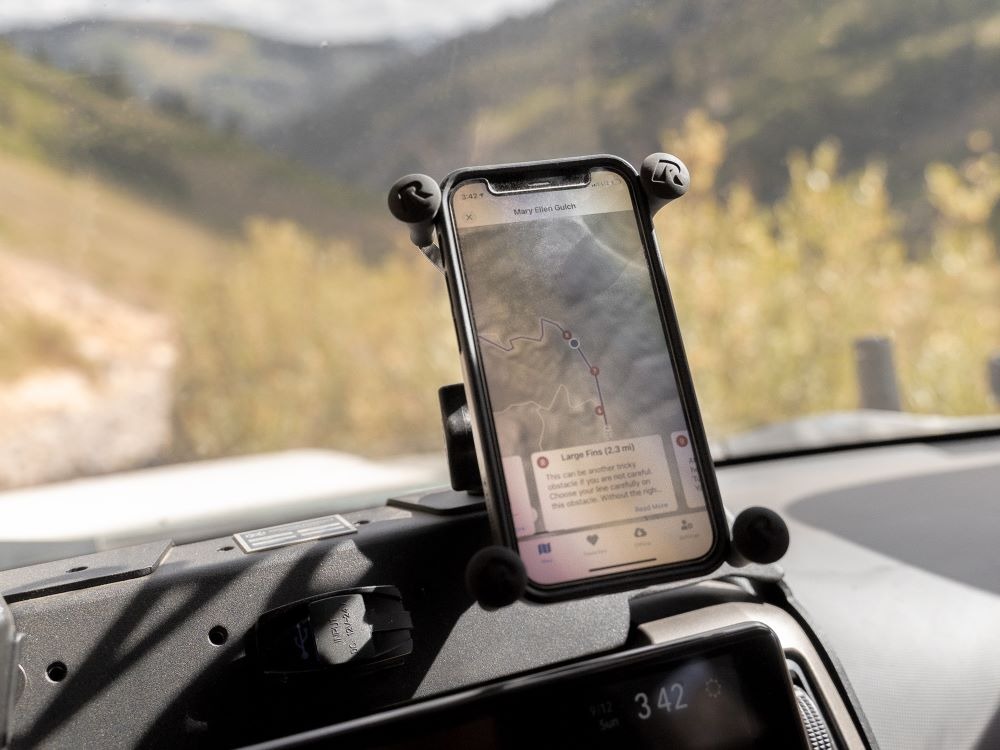 A mobile network plan with enough data to allow you to work on the road is going to run you at least $150.00 a month. Adding an international plan will allow you to make calls but doesn't usually cover your data. So, be aware of that when planning your budget. Using Wi-Fi in a restaurant, organized campground, RV park, or from a hotel might be your only choice in some matters — especially in the rural U.S. or Latin America.
Entertainment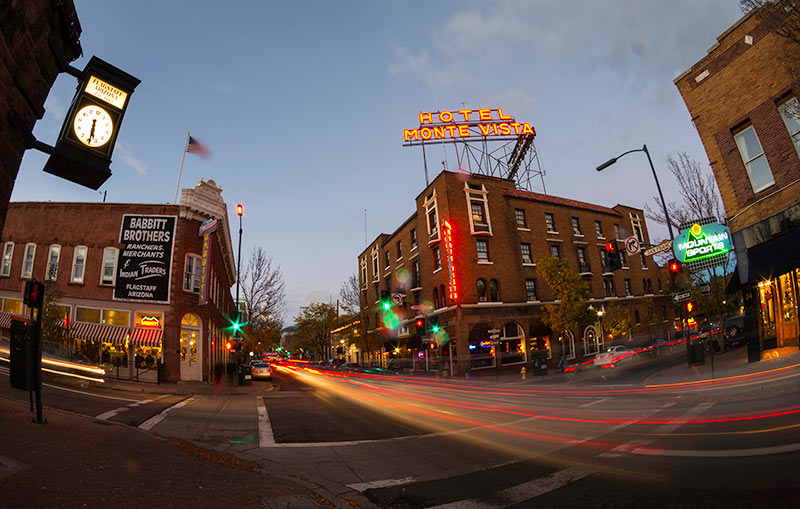 What is the point of travel if you don't have fun along the way? Be sure to budget for pricey items like national park entrance fees, museums, movies, tours, and special events. Keep an eye on social media for community events. You never know when you'll be near a free concert, a street fair, or some other opportunity to dive into local culture.
Fuel, Maintenance, and Repairs
Fuel will be the single largest budget item of your trip. The faster you move, the more prone you are to needing maintenance and repairs. Slowing your pace is often the easiest way to save money in this category when you're on the road. Knowing general maintenance, like how to do your own oil changes, tire rotation, and checking fluid levels, will save you a ton of money too.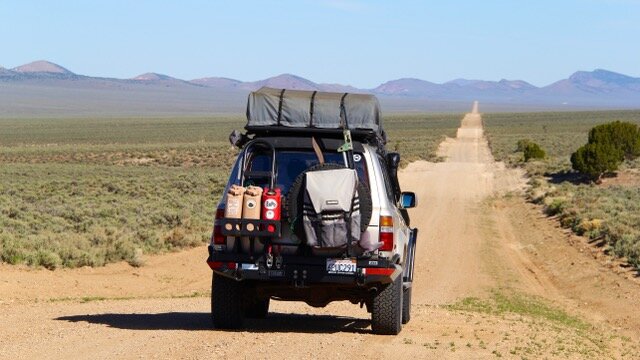 While it's easy to set high mileage goals for each day, slowing down not only burns less fuel, it also allows time to find cheaper places to camp, cook you're own food, and inspect your rig for any potential issues that might become costly repairs. Traveling slowly will help your bottom line in the long run, and slowing down allows you to be a traveler and not simply a tourist.
Overlanding is accessible to everyone, not just those who have the cash to outfit an expensive vehicle. Save your money by only modifying your vehicle if you really need it, and savor the experience of tracking down routes and destinations that are suitable to your rig. No matter if you're driving a two-wheel drive with a cooler and camp stove through the nearest National Forest or a lifted and outfitted four-wheel drive through a country on the other side of the globe, you can have a great overland adventure.