After traveling around the world by motorcycle since 2017, Kinga Tanajewska will finally make it to an Overland Expo West, and we could not be more thrilled to welcome her. Kinga will host an Ask Me Anything session on Saturday at 11:00 am in our Around the World Pavilion, so be prepared to come with your questions about solo motorcycle travel, what it's like to travel through Australia, Asia, Europe, and Africa, and what her plans are for the future. Beyond the immediately obvious continents she has yet to explore, be prepared to hear, "I'm not sure."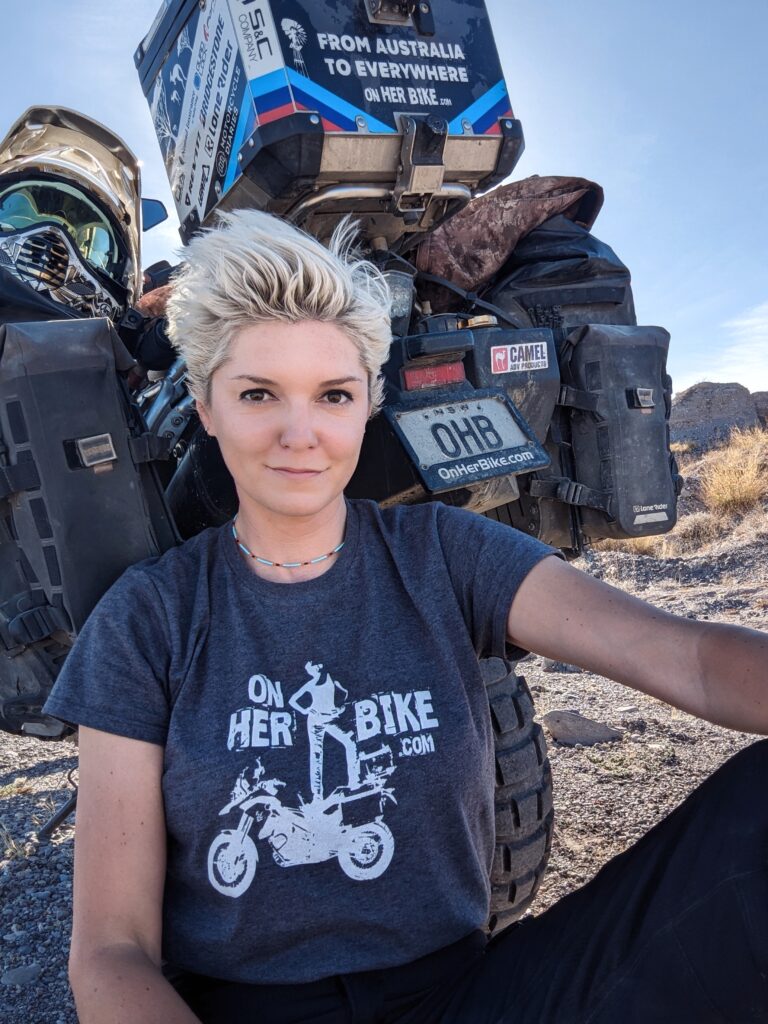 Originally from Poland, Kinga emigrated to Australia in 2006. With a background in civil and structural engineering, she has been riding since age 16. Once she moved to Australia, which some say is the birthplace of overlanding, Kinga naturally took up adventure motorcycling. Her first solo trip was around Australia, and it led to her 2017 departure for her ongoing world tour.
To learn more about Kinga, continue reading below. And if you're joining us this weekend, be sure to check her schedule in the app to see which roundtable discussions she will be participating on (in addition to her AMA). You'll also be able to find her in our new Creator Area adjacent to the Showcase & DIY Area at Overland Expo WEST 2023.
What is your all-time favorite campsite?
I've been to so many beautiful places. Camping in the wild or camping in established campgrounds when I need a shower or Wifi. Recently, I was in California and went to Alabama Hills. Honestly, I think that was the most beautiful campground I'd ever stayed at. Bonus points because it was free! There were beautiful rock formations with snowy white mountains in the background. You know, I've seen a lot, but Alabama Hills really made an impact on me.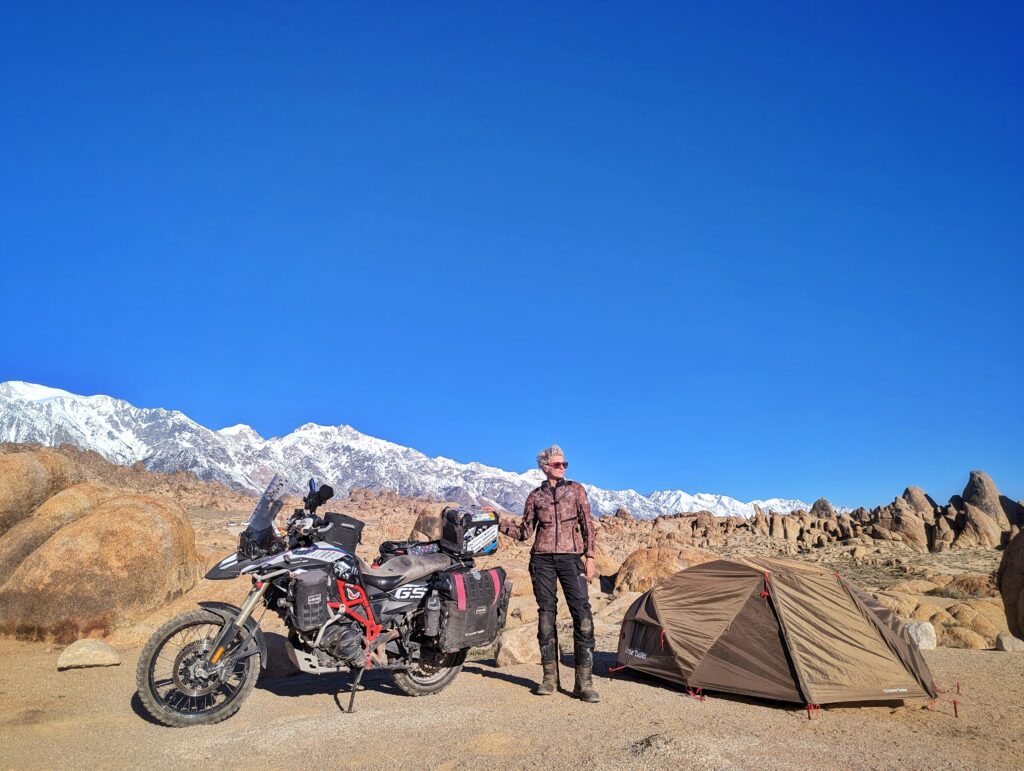 What is your go-to overlanding meal?
For six years, I've been eating WHATEVER. Normally, I hate cooking, and I would regularly have instant noodles, rice, and a can of tuna. But for the last two months, I've been on a vegan diet, and now my go-to meal is soy miso soup with noodles. I can do a lentil curry with coconut milk, too.
What is your best silver-lining story?
During six years, I've had a lot of breakdowns. But of all the worst drama, it was probably when my stuff got stolen. After 5.5 years, nothing had ever been stolen from me. I go to a hairdresser in News Brunswick, Canada, and a homeless guy just emptied my panniers. It was my bad: normally, I would put a bike cover on if I was leaving my bike unattended. But I figured, "This is Canada – everyone is nice here. Things can't go wrong in Canada. But they did."
He emptied my bag. Thousands of dollars worth of gear got stolen. My tools. My spare parts. All my camping gear. It was quite a drama because I was on my way to New Foundland, and the summer was so limited, so I was in a rush. But the silverling of that was, on my gosh, Canadians are such beautiful people. The riding community in Halifax and other people all chipped in, and they gave me their gear so that I could continue traveling. So yea, bad things happen, but thanks to that, I have so many great friends now in Canada, and people were so generous and kind.
Things can happen; such is life. We can never expect where it's going to happen, but for me being on the road for six years and nothing bad ever having happened to me, maybe I became too relaxed. It's good. Now I'm a little more aware. I don't leave my bike unattended for too long. I cover it up with a bike cover when I have to. So, you sometimes need to be reminded it's better to be safe than sorry and a little more careful.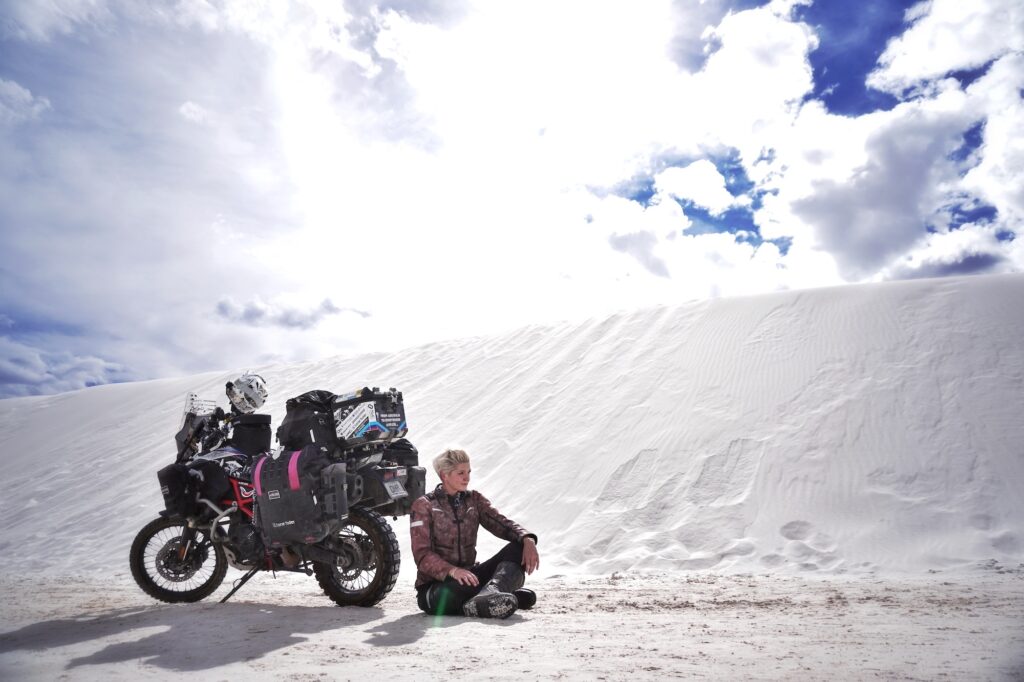 What is an area of overland travel that you think you have nailed? And what is an area of overland travel that you feel you could use some improvement in?
Honestly, because I've been on the road for so long, I feel like traveling overland is such a normal thing for me. It's been my life for so long, and I can't see myself doing anything else.
I'm not a professional mechanic, but I can do the basic servicing if I have to – a tire change, an oil change – a bit of simple stuff. But I'm lucky because I have an 800 GS. Chillie (my bike) has been so reliable, and I'm very proactive with my servicing. For example, I change the bearings before they fail – I'm trying not to wait until wear-and-tear issues appear.
What I love the most is riding through the deserts. I enjoy being in the deserts on my own. Maybe that's why I loved Australia so much because the outback is harsh, hot, and demanding, and I love the gravels. So, I think this is my element – traveling through the deserts. And I do like my own company, so I'm actually enjoying it when I'm by myself in remote places, camping in the wild.
What is an area you hope that you hope you can make some improvements in?
I was at the Revzilla event and did a little training. Before I left Australia, I was really involved in off-road training. And I was riding with good riders, so you can always learn from them.
But when you are riding solo, you become so conservative, and you just don't take risks because you're by yourself. So you don't push yourself, I think. Yea, I do travel sometimes through tricky challenging tracks with an overloaded bike. When you've crossed that route by yourself, you think, "Yea, that was cool." Just for me, no one else to prove it for. But I think I should go back for more training. I feel like traveling with an overloaded bike for so long, your posture changes, you tend not to take risks because you don't know if you'll be able to get out of it, and I think training always gives you more confidence. So I think I'm going to use this opportunity now while I'm still in the United States to do more training so I can flex my body a little more, so this is definitely an area to improve since I haven't done any training the last five years.